20 Best Prada Shoulder Bags
History is full of fashion staples. There's the mass-produced white T-shirt, the classic pair of jeans, and the traditional black bootie. In terms of accessories, we usually think of the iconic shoulder bag.
Considered a must-have for any trendsetter, it's viewed as a more stylish way to carry your belongings. We're spoiled with hundreds of unique designs, such as those offered at Prada.
Well known for its decadent assortment of purses, Prada features classic silhouettes, one-color palettes, and traditional fabrics.
They use a common mix of Saffiano leather and recycled nylon, with the addition of decorative accouterments such as metal hardware. Embellished with the signature brand logo, Prada purses are designed to be shown off.
From the Triangle purse to the Brushed Leather Femme carry-on, we've gathered a few of the best Prada shoulder bags that are sure to spice up any outfit.
We'll also provide some OOTD inspo and shopping advice.
Finding The Best Prada Shoulder Bag
There are no surprises when it comes to Prada's selection of fabrics. They use a common blend of recycled nylon and Saffiano leather, with the addition of straw and wicker.
Sturdy in design, customers don't have to worry about slumped silhouettes or environmental damage.
For embellishments, the brand typically features its signature logo as the main centerpiece. This piece is further complemented with metal hardware for a touch of elegance and it usually comes in silver.
Reinforced with zippers, buckles, and magnetic closures, Prada shoulder bags are designed with the same amount of practicality as other leading purses. As previously mentioned, the brand seems to prefer traditional shapes and monochrome colors.
So it's a great option for minimalists who aren't fans of the bold hues and patterns offered by other fashion designers.
The 20 Best Prada Shoulder Bags
#1: Prada Pre-Owned 2000s bow detailing shoulder bag - Brown
---
#2: Prada Pre-Owned 2000s key fob charm shoulder bag - Black
---
#3: Prada Pre-Owned 2000s triangle logo chunky chain shoulder bag - Black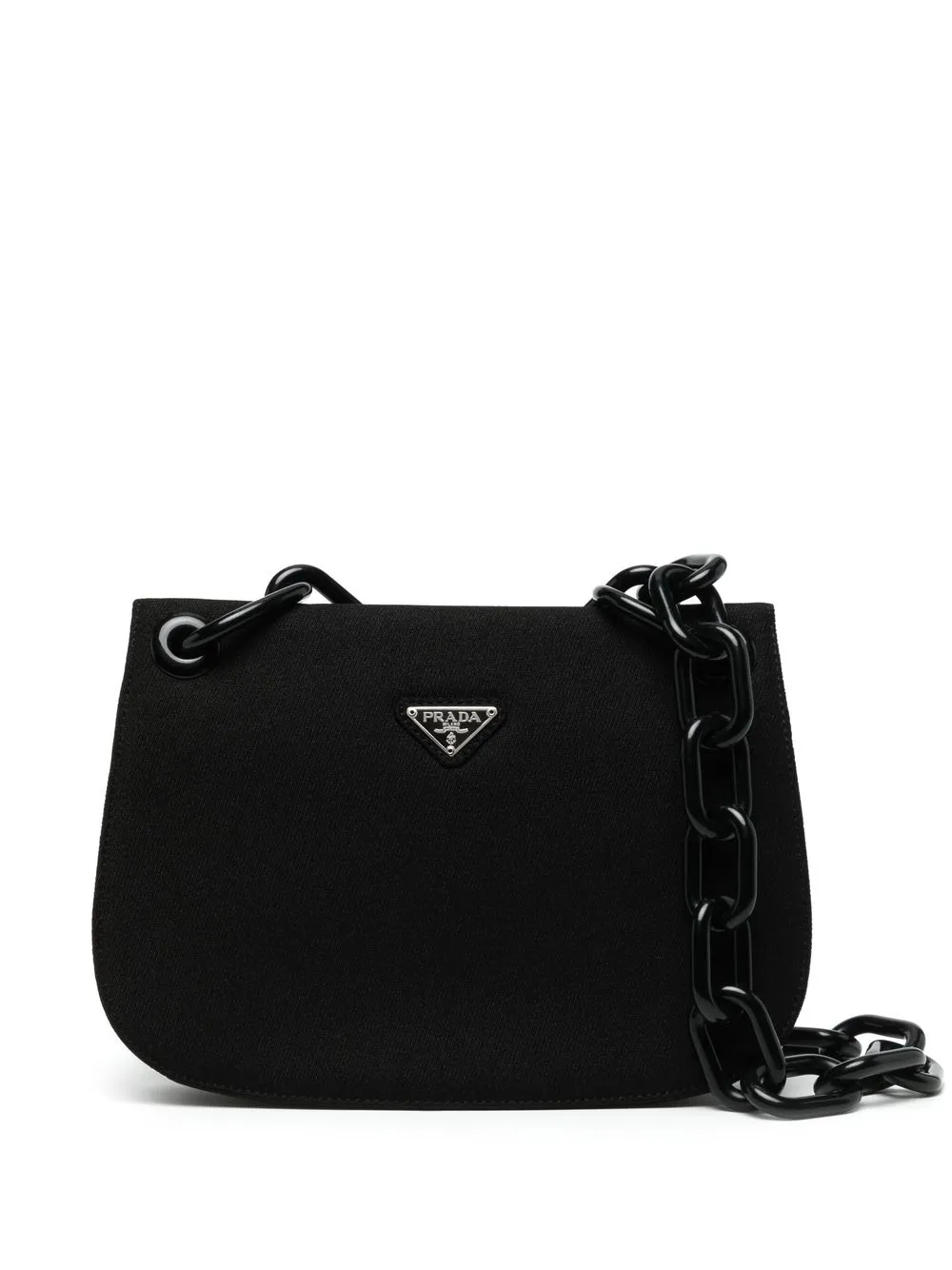 ---
#4: Prada Odette shoulder bag - Red
---
#5: Prada leather Triangle shoulder bag - White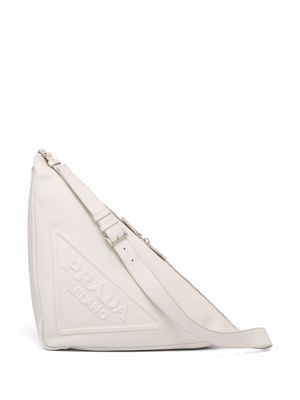 ---
#6: Prada Emblème triangle-logo leather shoulder bag - Brown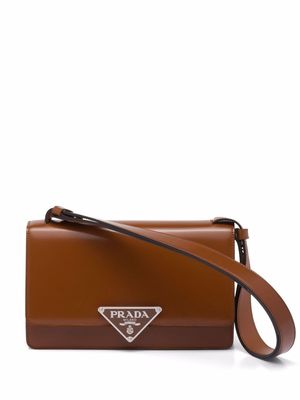 ---
#7: Prada stripe-pattern shoulder bag - Orange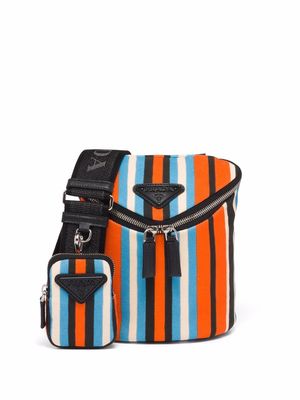 ---
#8: Tessuto Re-Nylon Flap Shoulder Bag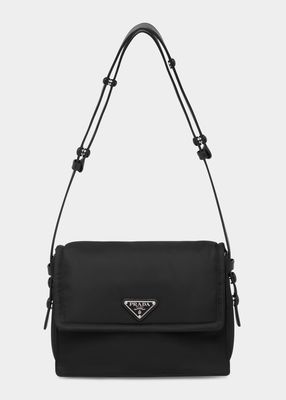 ---
#9: Prada triangle-logo shoulder bag - Green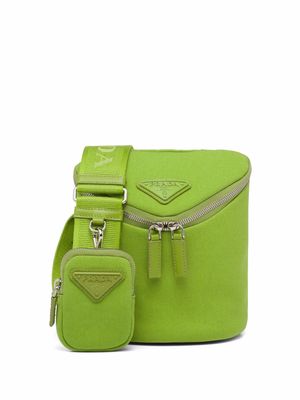 ---
#10: Prada triangle-logo leather shoulder bag - Red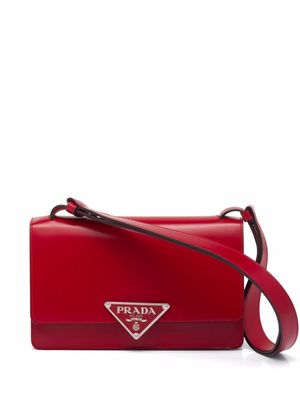 ---
#11: Prada Fabric Shoulder Bag - Blue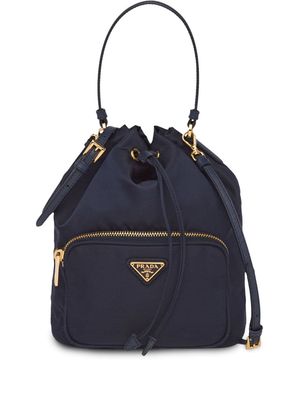 ---
#12: Prada Cahier leather shoulder bag - Blue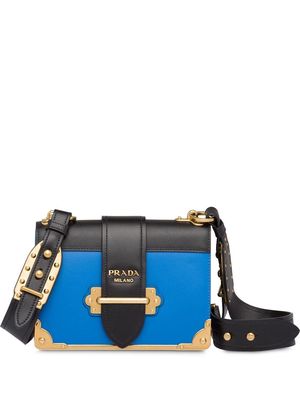 ---
#13: Prada - Re-edition 2005 Woven Shoulder Bag - Womens - Pink Stripe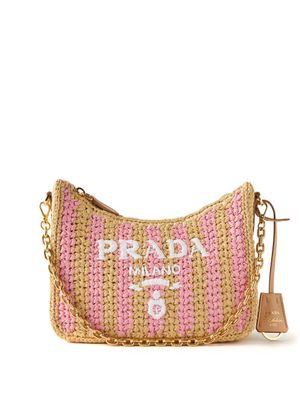 ---
#14: Spugna Triangle Pouch Faux-Fur Shoulder Bag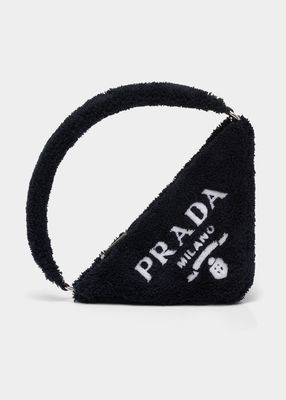 ---
#15: Prada Monochrome shoulder bag - Red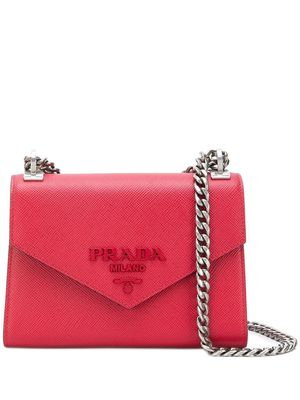 ---
#16: Triangle Logo Raffia Shoulder Bag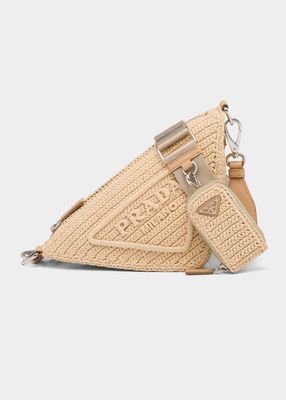 ---
#17: Napa Zip Shoulder Bag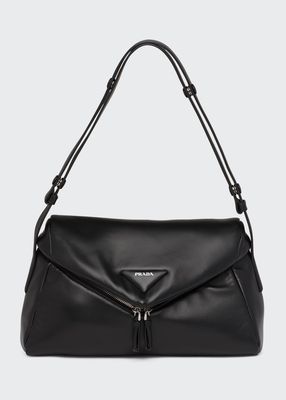 ---
#18: Calfskin Saddle Shoulder Bag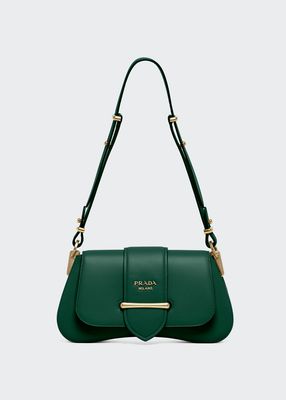 ---
#19: Prada Brique shoulder bag - Orange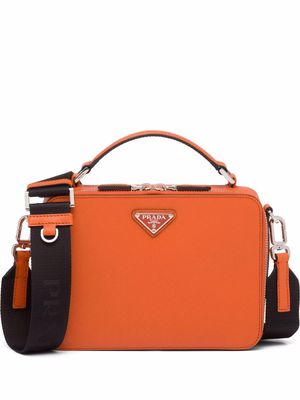 ---
#20: Cleo shoulder bag
---
What Are The Most Popular Prada Shoulder Bags?
If you follow fashion on TikTok, there's a good chance that you already know the answer to this nail-biting question. The Re-Edition 2005 Re-Nylon bag is the most popular design in Prada's entire collection.
Vintage in silhouette, its monochrome color palette paired with silver-toned decals makes for the perfect Y2K homage. Plus, this carry-on is super versatile to use, thanks to its lack of additional bells and whistles.
The Cleo bag takes second place, and it still features the classic 'scoop-line' silhouette that Prada is known for.
It doesn't come with the same amount of fancy details as the Re-Nylon bag, but it does exude that classic 'plain Jane' vibe for minimalist trendsetters. Simple but beautiful, this purse can go with several different outfits.
Is the Prada Cleo Shoulder Bag Worth It?
We're fully aware that the Cleo shoulder bag isn't the most affordable purse out there, but you can rest assured that it's worth the investment.
Refined in silhouette, it's the kind of design that will never go out of style. Of course, it provides the same degree of practicality as other carry-ons, since the Cleo can easily hold your phone, wallet, and keys.
Fortunately, the Cleo shoulder bag is worth a handsome sum if you plan to resell it. According to WhoWhatWear, a pre-owned version can retail for around $1,425 to $1,810.
How Can You Tell If A Prada Shoulder Bag Is Real?
There's no shortage of second-hand Prada bags online. eBay, Depop, and Facebook Marketplace are full of pre-owned designer goods.
Unfortunately, a good majority of them are counterfeits. With that in mind, how does one authenticate a bonafide Prada purse from a dupe? We're so glad you asked.
Check for poor construction: Those who make counterfeits will usually cut corners when it comes to quality control. Loose threads, uneven stitching, and printing errors are considered obvious red flags.
Search for identification tags: Serial numbers, laundry labels, and any type of original packaging are typically tell-tale signs of an authentic designer bag.
Consider where you bought it: Depop and eBay aren't the most credible places to find bonafide luxury bags. Instead, we recommend visiting consignment shops such as TheRealReal and the Vestiaire Collective.
How To Style A Prada Shoulder Bag
Outwardly flaunting your designer goods is definitely not a good look. That said, it seems like a waste to not sport your brand new luxury bag.
Instead of opting for head-to-toe haute couture, here are some ways to style your Prada shoulder purse in a more 'humble' manner.
Lacking pretentiousness, the 'humble brag outfit' is not difficult to put together.
If you prefer simplicity—as opposed to flaunting your designer items in a loud-and-proud manner—we recommend accessorizing your Prada shoulder bag with an oversized sweater and a pair of sunnies.
Minimalistic in silhouette, this outfit is a great example of subtle flexing.
You don't have to opt for a black shoulder bag. Fortunately, Prada offers other colors to choose from, such as Barbie pink.
Considered a simple way to jazz up any outfit, a pop of pink is just what you might need to lighten things up.
We highly recommend wearing a matching color for your ensemble, whether that be lavender or lime green.
Mixing and matching designer brands is the easiest way to gain street cred.
Case in point: we recommend adding a Dior scarf to your Prada bag. This individual chose a scarf that's the same color as her bag, which we highly recommend.
This styling idea keeps things classy and low-key—which is perfect for everyday, on-the-go use. Keen on adding a third label? If so, we suggest attaching a Chanel key ring for some extra bling.
---
Looking to stay up to date on all things Prada? We've got you covered:
Get Access to Exclusive Deals
Subscribe for free to get exclusive deals in your inbox. 100% privacy