20 Best Rick Owens Jeans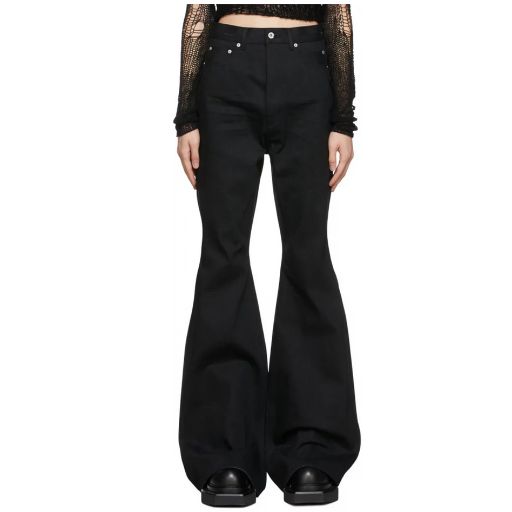 Rick Owens is known for his garish and bohemian designs but those qualities are toned down when it comes to his jeans.
They're a bit more humble—a rarity for the designer—but are still some of the most stylish pieces of denim on the market today.
I'll be ranking the best Rick Owen jeans by looking at how Owens applied his philosophy to perhaps the most versatile pant template in the world. I'll also offer criteria for picking your perfect pair. Let's dive in.
Finding The Best Rick Owens Jeans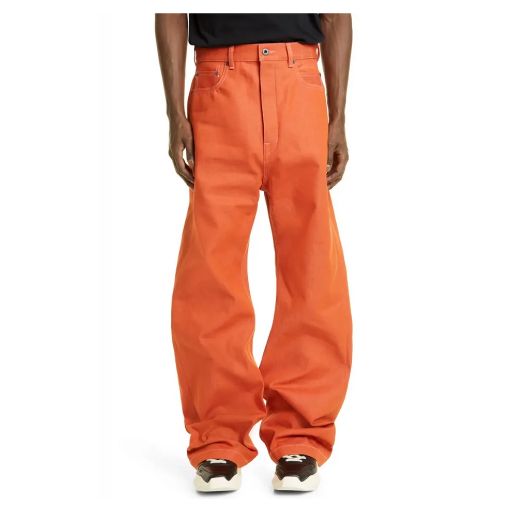 It's easier to recognize which are the best Rick Owens jeans for you than it is to know which of his other products would suit you best because, for the most part, his jeans are easier to assimilate into everyday fashion.
That's not the case for pieces like his heels, for example, but his jeans are fairly reliable. That said, there are a few distinguishing features that can make or break a pair of pants.
Cost is the biggest factor when it comes to jeans by Rick Owens. Some of these pants can cost over $1,000 while others are much less expensive. Set a budget that you're comfortable with and stick to it.
Another factor is the jeans' fit. They are slimmer than many popular jeans though there are a few items on this list with wider silhouettes. Knowing your body type and measurements can help you understand which type will best complement your body.
Finally, you should consider the visual design. Sure, you can always go with a minimal pair of black jeans, but you could purchase an edgy pair with brash designs, too.
There's room to experiment when it comes to the best Rick Owens jeans but you have to know what you're getting into.
The 20 Best Rick Owens Jeans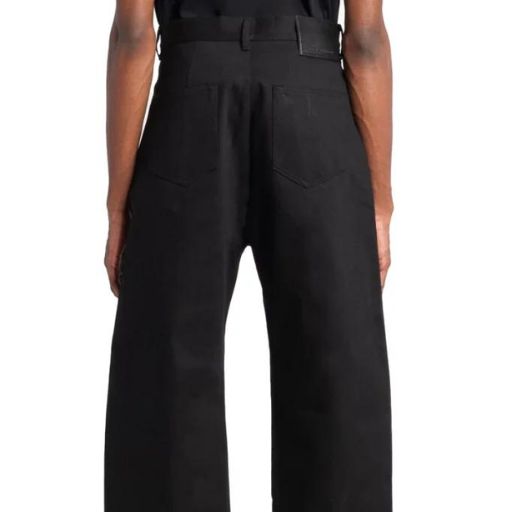 Now that you know how to find the best Rick Owens jeans, I'm going to get underway in my favorite pairs. I've selected these items not just as some form of wish fulfillment.
These Rick Owens jeans each pair the designer's vision and practices in consumer-friendly ways. I've selected them by comparing their prices, their designs, their materials, and their overall vibe.
#1: Rick Owens DRKSHDW slouchy wide-leg jeans - Orange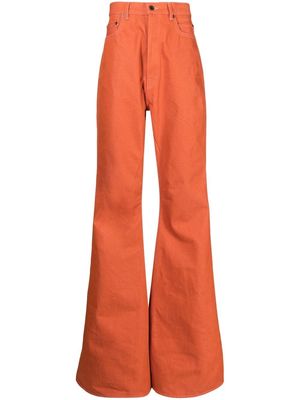 ---
#2: Rick Owens DRKSHDW cropped denim jeans - Purple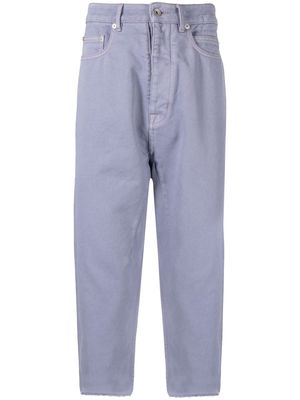 ---
#3: Rick Owens DRKSHDW Mastodon skinny cargo jeans - Neutrals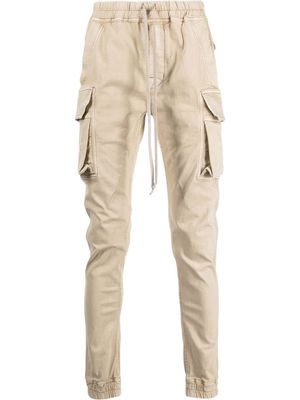 ---
#4: Rick Owens DRKSHDW Tyrone slim-cut jeans - Black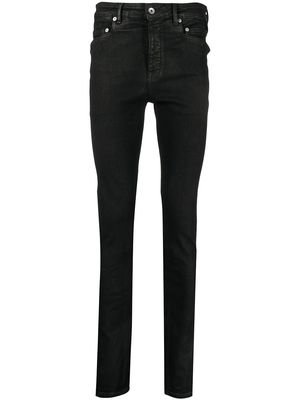 ---
#5: Rick Owens Bolan bootcut jeans - Neutrals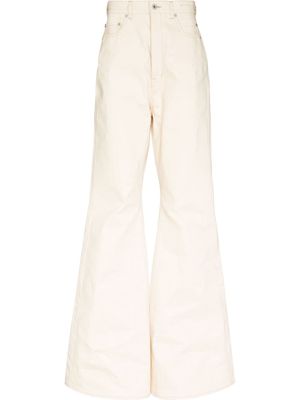 ---
#6: Rick Owens Bolan flared-leg jeans - Brown
---
#7: Rick Owens Drkshdw Black Mastodon Cargo Jeans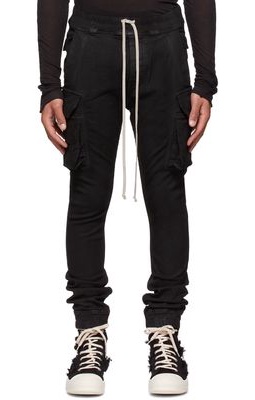 ---
#8: Rick Owens DRKSHDW high-waisted flared jeans - Grey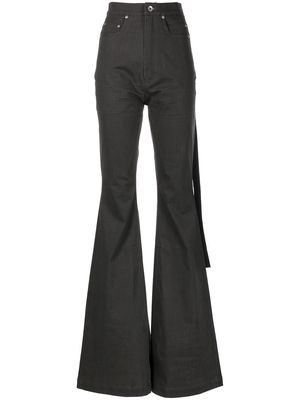 ---
#9: Rick Owens Bolan flared jeans - Blue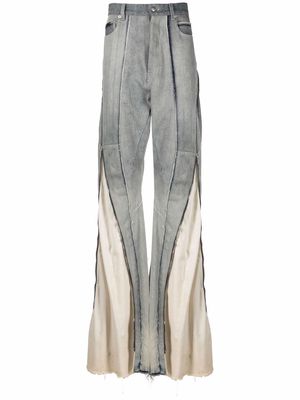 ---
#10: Rick Owens Drkshdw Orange Tyrone Jeans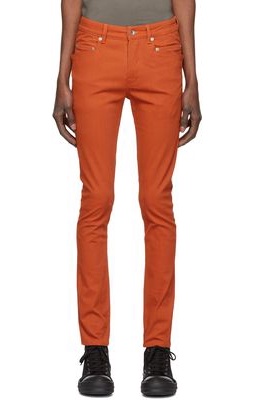 ---
#11: Rick Owens Tyrone skinny jeans - Yellow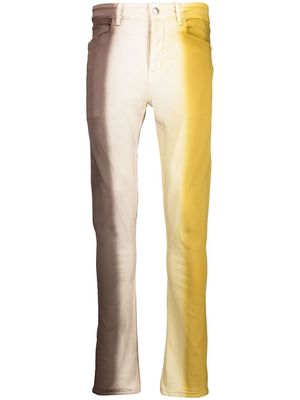 ---
#12: Rick Owens zip-detail slim-fit jeans - Black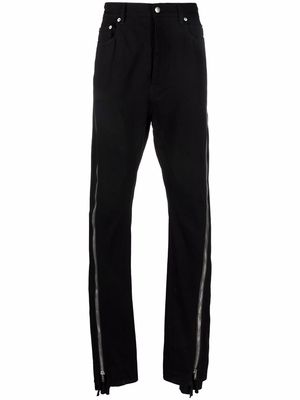 ---
#13: Rick Owens Drkshdw Off-White Detroit Slim Jeans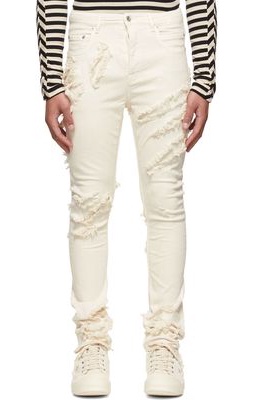 ---
#14: Rick Owens Drkshdw Beige Bolan Jeans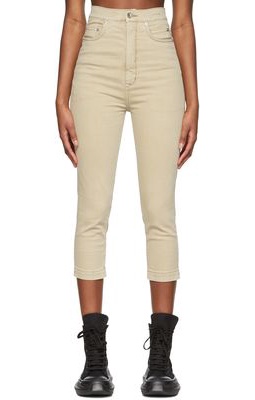 ---
#15: Rick Owens drop crotch cropped jeans - Blue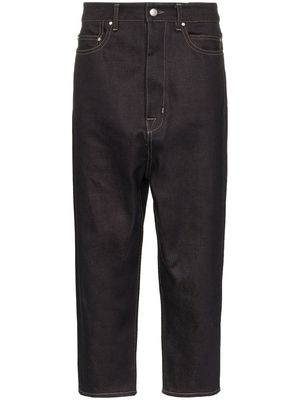 ---
#16: Rick Owens Black Spartan Jeans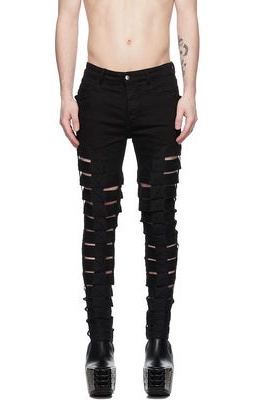 ---
#17: Rick Owens Drkshdw - Detroit Skinny Jeans - Mens - Black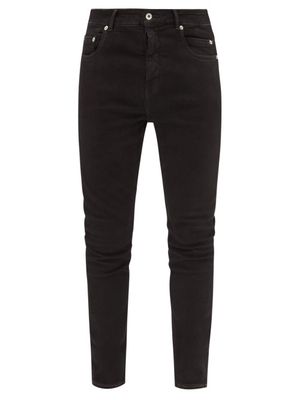 ---
#18: Rick Owens Drkshdw Black Slim Jeans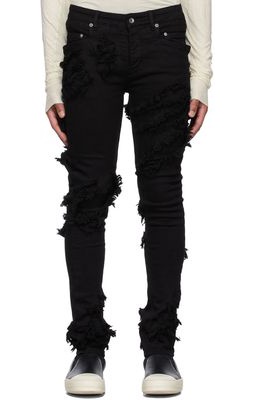 ---
#19: Rick Owens - Geth Straight-leg Jeans - Mens - Black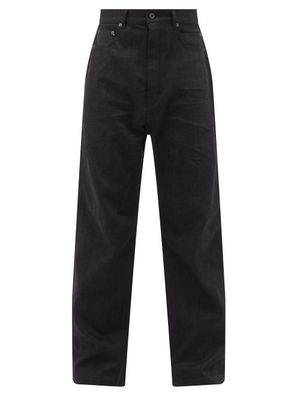 ---
#20: Rick Owens Tyrone slim-cut jeans - Neutrals
---
What Are The Most Popular Rick Owens Jeans?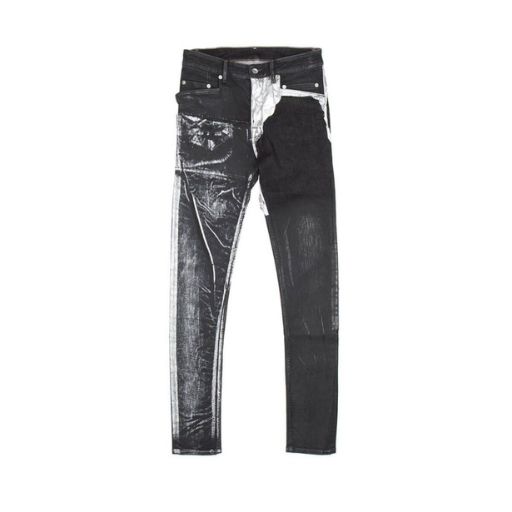 The most popular Rick Owens jeans are easily the DRKSHDW Jeans for Men. They are also sold in different varieties like the DRKSHDW Detroit Jeans and the DRKSHDW Duke Jeans.
How Can You Tell If Rick Owens Jeans Are Real?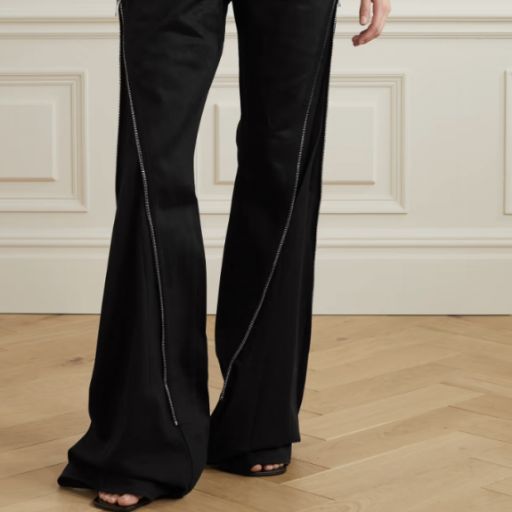 If you are ever confused about whether or not a pair of Rick Owens jeans are real then check the tag.
The tag contains information like the product code and the company's logo. Both of these are integral pieces of info that are hard to copy perfectly.
Where Are Rick Owens Jeans Made?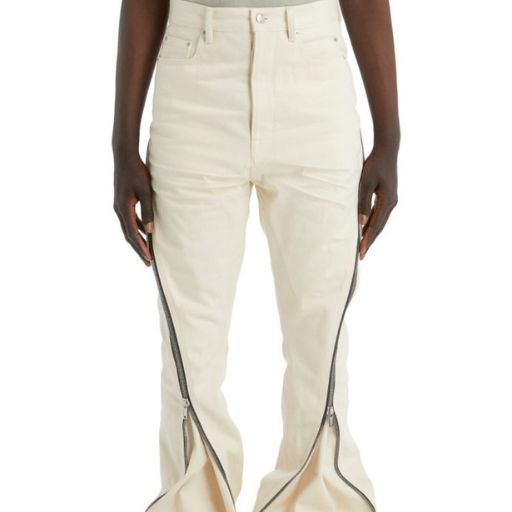 The best Rick Owens jeans are produced in the company's workhouses in Italy but there are some made in Japan.
Are Rick Owens Jeans Good Quality?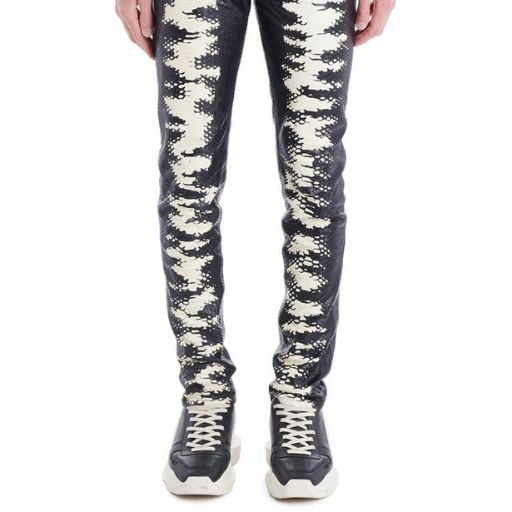 Rick Owens directs just as much of his attention towards his fabrics as he does his aesthetics.
As such, his jeans are always of high quality because of their intricate stitching and the brand's tight quality-control protocols.
Are Rick Owens Jeans Comfortable?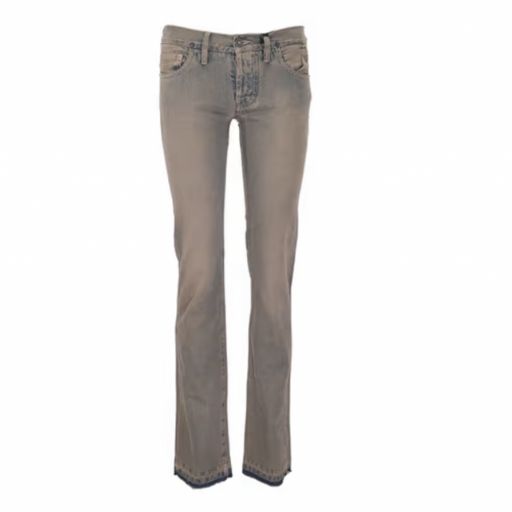 Owners of Rick Owens jeans assert that the pants are comfortable and easy to move around in. They say that the jeans' tough material doesn't hinder how good it feels to wear them.
How To Style Rick Owens Jeans
In contrast to most of his other designs, Rick Owens jeans are usually slim-fitting. They have a casual appearance because of their shape, color, and material.
This means you'll have more flexibility when styling them. For instance, you can fall back on the tried-and-true combination of jeans and a t-shirt. It's a simple outfit for sure, but there's elegance in its simplicity.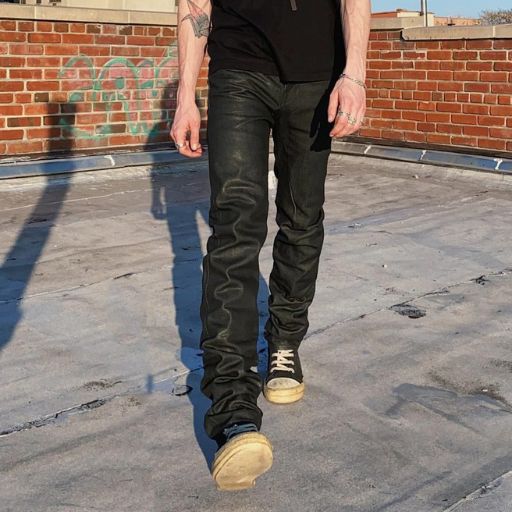 Another idea is to pair them with a multilayered top piece. This model is wearing a flashier pair of Rick Owens jeans but uses a patterned bottom layer and a plain top layer to achieve a bit of symmetry.
Neither the upper body nor the lower body feels like they're dominating the show.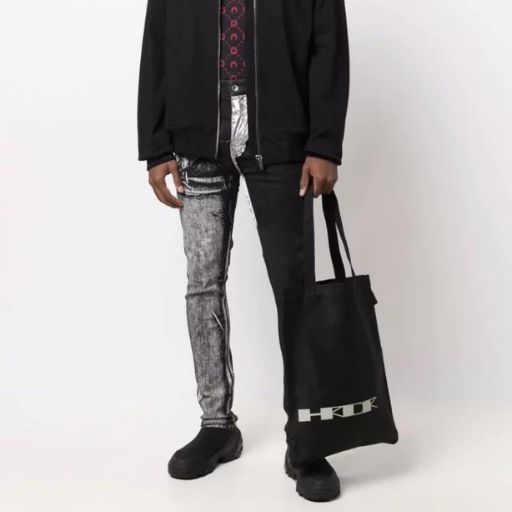 ---
Looking to stay up to date on all things Rick Owens? We've got you covered:
Get Access to Exclusive Deals
Subscribe for free to get exclusive deals in your inbox. 100% privacy