15 Best Rick Owens Shorts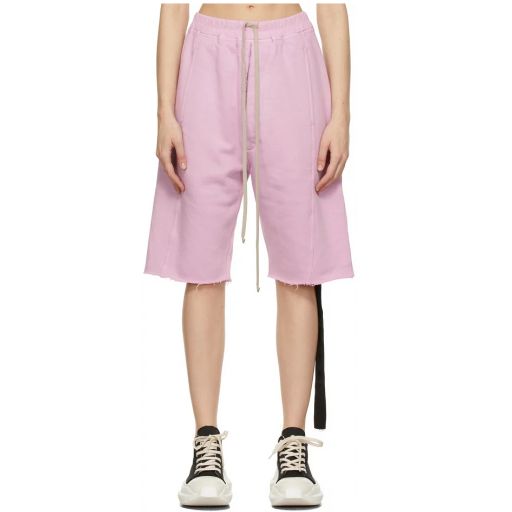 What's a better way to show off your new Rick Owens boots? How about buying one of the best pairs of Rick Owens shorts—a pair that give your boots enough room to shine while carrying their own weight in terms of style.
Today, I'll be looking at which of the rebellious designer's shorts are worth purchasing. So before you make space in your closet for a pair, check out the list of options below.
I'll also examine which shorts strike the best balance between overall aesthetics, construction, and radical energy.
Finding The Best Rick Owens Shorts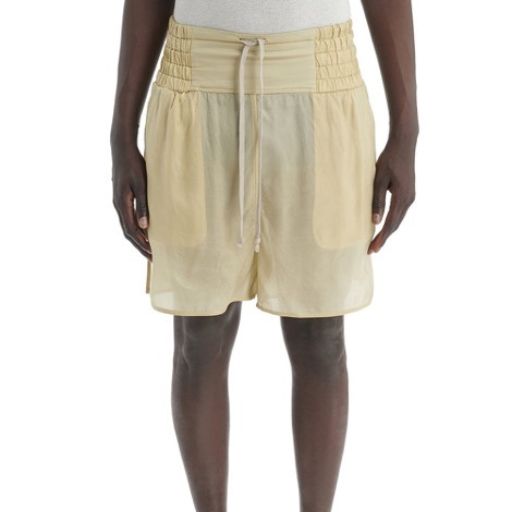 Shopping for Rick Owens merchandise is easy in some regards. That's because there are certain factors that you don't need to consider.
For instance, you won't have to worry about finding your favorite color or the cheapest shorts because most products are black and they're all pricey. 
However, you should still think about how versatile you'd like the shorts to be.
It's totally possible to own a pair of the best shorts by Rick Owens and only wear them a few times per year because they're so bold.
That being said, there are also some shorts that you can wear with multiple outfits.
Additionally, think about the shorts' fabric. You'll want something that's breathable, of course, since shorts are made for the summer.
The 15 Best Rick Owens Shorts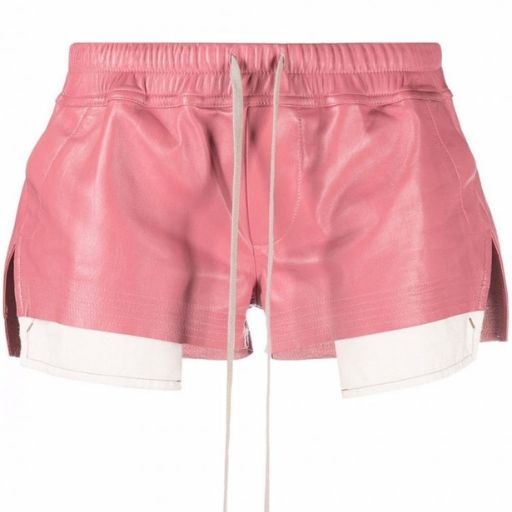 Okay, so now you know what you should look for when inspecting the best Rick Owens shorts. However, you still don't know which shorts are the best. Luckily, that's why I've put together this list. 
So keep reading to see how I break down each pair's price, material, and design. After that, you'll be able to decide which pairs stand out from the rest.
#1: Rick Owens DRKSHDW drawstring-fastening shorts - Purple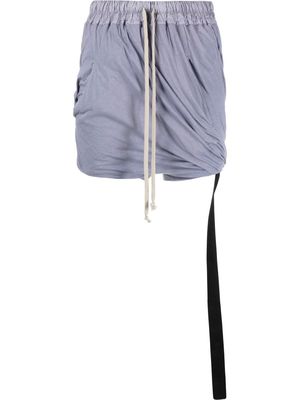 ---
#2: Rick Owens boxers leather drawstring shorts - Neutrals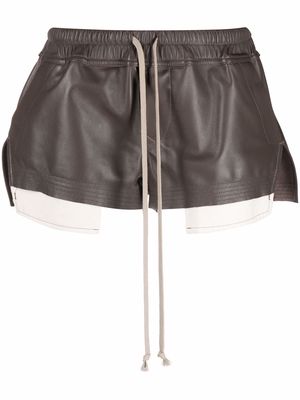 ---
#3: Rick Owens X Champion drawstring drop-crotch shorts - Black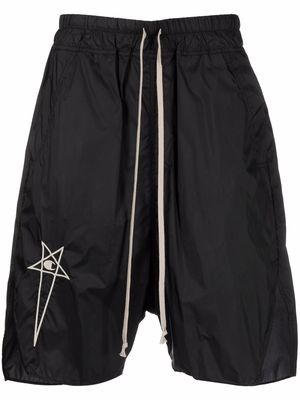 ---
#4: Rick Owens Black Satin Liquid Latex Bela Boxers Shorts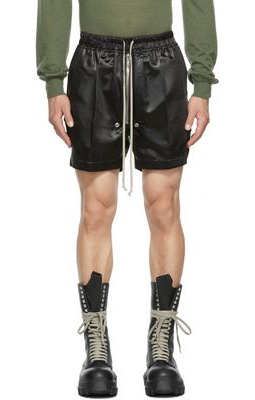 ---
#5: Rick Owens X Champion logo drawstring shorts - Black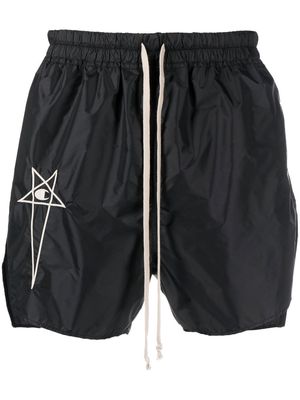 ---
#6: Rick Owens DRKSHDW Trucker drawstring shorts - White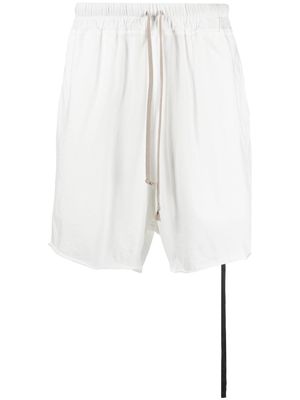 ---
#7: Rick Owens Phleg stretch-cotton track shorts - White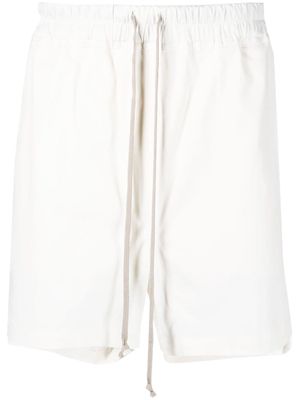 ---
#8: Rick Owens DRKSHDW Trucker drawstring shorts - Neutrals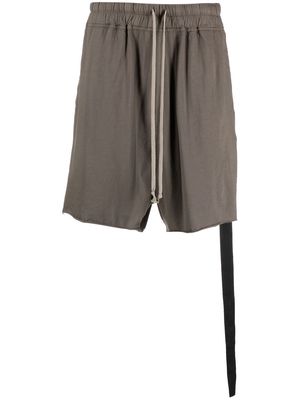 ---
#9: Rick Owens Grey Bela Boxers Shorts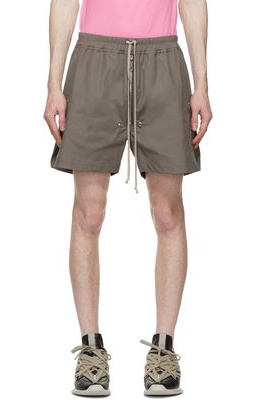 ---
#10: Drawstring Loose Fit Shorts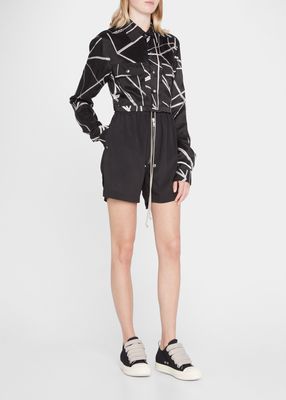 ---
#11: Rick Owens DRKSHDW Fogachine bermuda shorts - Orange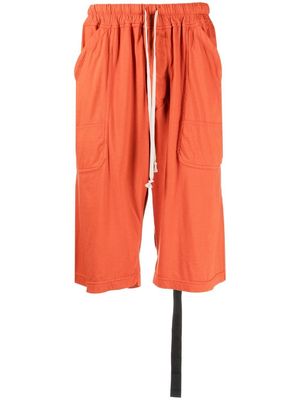 ---
#12: Rick Owens Black Denim Shorts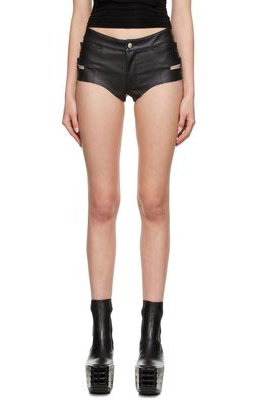 ---
#13: Rick Owens Black Organic Cotton Shorts
---
#14: Rick Owens Bela Boxer geometric-print shorts - White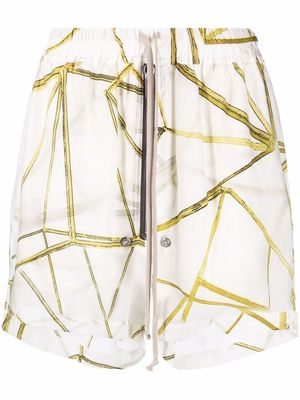 ---
#15: Rick Owens Fogcatcher panelled shorts - White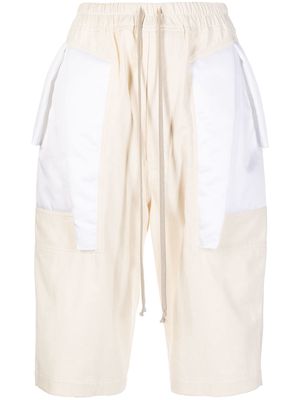 ---
What Are The Most Popular Rick Owens Shorts?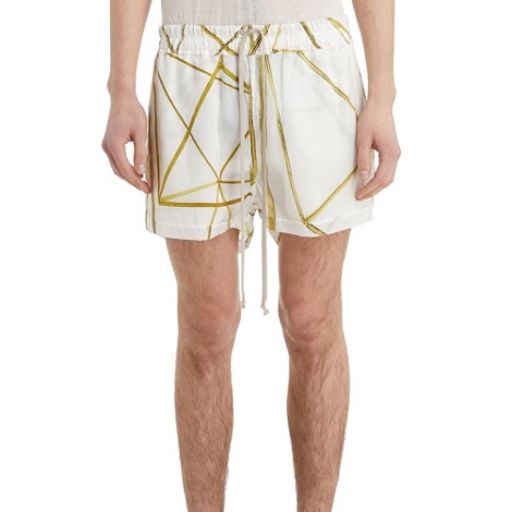 After perusing the internet, I've discovered which Rick Owens shorts are the most popular. Here are a couple of the most sought-after designs:
Rick Owens DRKSHDW Black Pods Shorts
Rick Owens Champion X Fleece Shorts
Do Rick Owens Shorts Fit True To Size?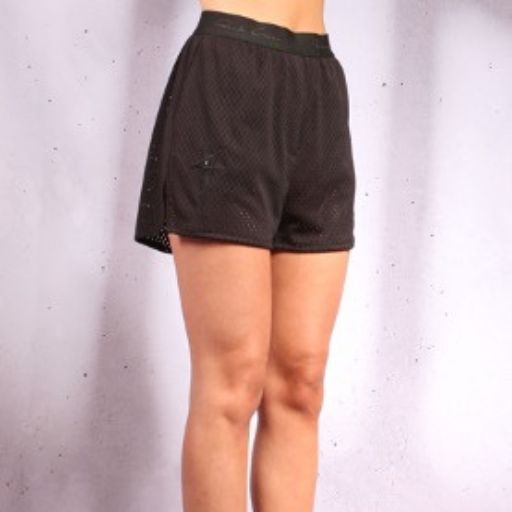 Like most Rick Owens products, his shorts fit true to size but tend to be baggy. So, you're going to want to buy a pair in your proper size in order to reap the benefits of his designs.
How Can You Tell If Rick Owens Shorts Are Real?
To find out whether your pair of shorts from the man himself is real or not, take a look at the tag.
You can compare the Rick Owens logo to others online. Also, check their size and how much space they occupy. Counterfeits will likely either have a misaligned logo or be slightly too large.
Where Are Rick Owens Shorts Made?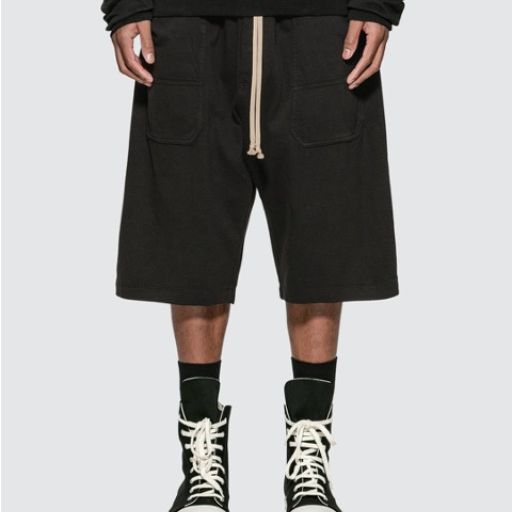 Most Rick Owens shorts are made in Italy, although some, like the Rick Owens DRKSHDW Pods Cargo Shorts, are also made in Japan.
Are Rick Owens Shorts Good Quality?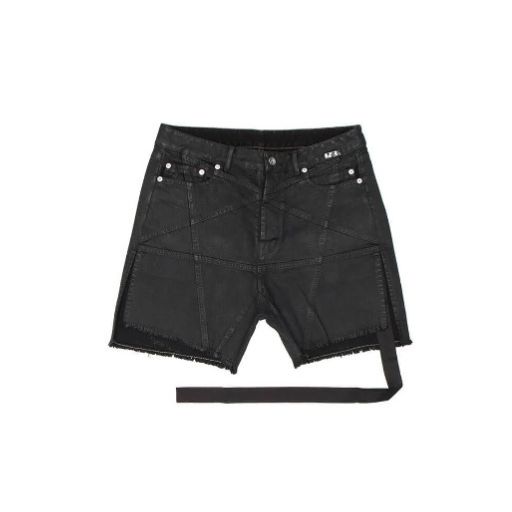 Yes, the best Rick Owens shorts are known to be of high quality. They can hold their shape even after surviving multiple washes. In fact, some individuals online claim that their Rick Owens shorts have lasted them for years.
How To Style Rick Owens Shorts
Oversized is the name of the styling game here. The best Rick Owens shorts are loose and breezy, so you'll want to build an outfit with that same vibe. 
I recommend wearing a baggy T-shirt and some low-key sneakers to capture the cool and careless attitude that Rick Owen is known for. 
On the other hand, you could go the opposite route by dressing up the shorts. This model is wearing a white blazer and a pair of Rick Owens boots—both of which are classier than the shorts.
However, the contrasted pairing means the outfit floats between edginess and high fashion. It's a tough look to pull off, but it'll showcase your confidence if you can do it successfully.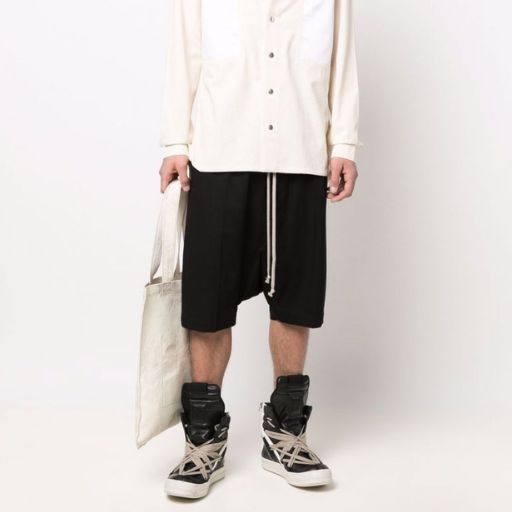 Finally, Rick Owens shorts were practically constructed as the one true love of the graphic tee. If you have a black graphic T-shirt then you'll be set for life, but honestly, any graphic T-shirt should pair magically with Rick Owens shorts.
---
Looking to stay up to date on all things Rick Owens? We've got you covered:
Get Access to Exclusive Deals
Subscribe for free to get exclusive deals in your inbox. 100% privacy