36 Best Rose Neck Tattoo Ideas 
About Rose Neck Tattoos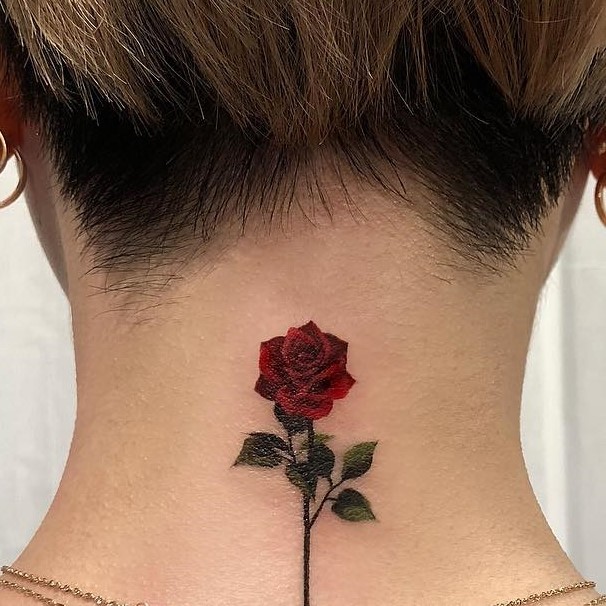 Among the countless tattoo designs available, the rose neck tattoo is a special choice. Located on a person's throat, side, or back of the neck, this tattoo is bold and symbolic.
You could get the ink to pay homage to a loved one, or just because it's pretty. But there are so many other meanings tied to this tattoo.
Since roses are a universal flower—because they literally grow all around the world—they have a solid history in many cultures. As a result, people worldwide appreciate and love these flowers. So, it's not surprising that rose tattoos have always been a popular option.
Sure, roses themselves have captured a dedicated audience since the beginning of time with their gorgeous perfume and elegant presence, but what about their history as a piece of neck art? That's a good question.
Rose neck tattoos are one of the original designs done by tattoo artists—even as far back as naval times, when sailors would get their neck's adorned with roses to represent their loved ones back home or to honor people they'd lost.
So, when you opt to get one of these beauties permanently inked on your neck, a piece of timeless art will be linked to your persona, which is a beautiful thing.
Regardless of the meaning, it's important to know what you're getting into if you've decided to get one. To help you out, I'll delve into their symbolism, placement, and cost.
Plus, I'll give you some style ideas, so that you'll know where to start, and where you're headed on your rose neck tattoo journey.
Let's get started by answering a question that many folks will ask you once you've gotten your new rose neck tattoo: "What does your rose neck tattoo mean?" But don't worry. There are plenty of good answers, and never a wrong response.
What Do Rose Neck Tattoos Mean And Symbolize?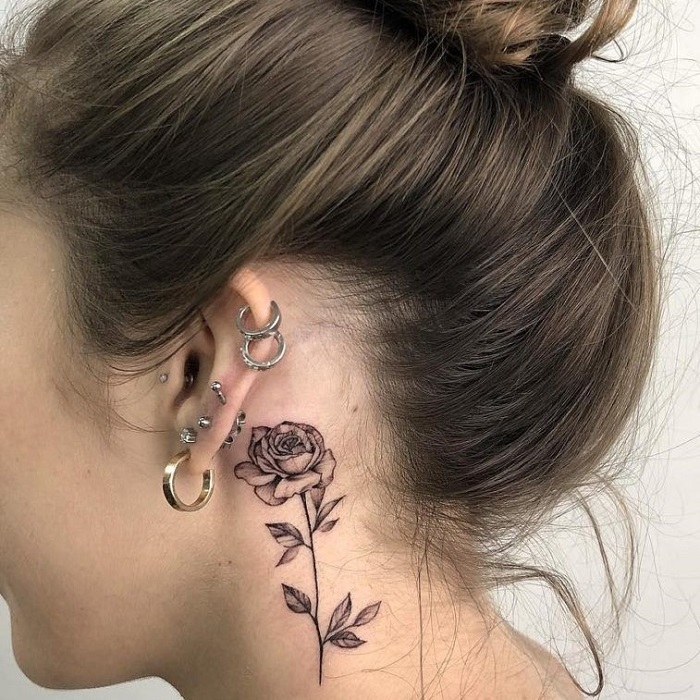 As I mentioned, roses are universal flowers. Not only are they a well-loved and widespread type of flora, but they have a reputation for being beautiful, and smelling great.
However, I want to discuss what else roses mean, outside of their gorgeous presence in our day-to-day lives as living breathing things.
If you haven't already noticed the presence of roses in our daily lives, then just look around you. You may realize that this gorgeous and vibrant flower has made its way into plenty of domains—such as pop culture, food, and perfumes.
And it doesn't stop there. Roses are featured in plenty of art, cartoons, and songs. Plus, they're a common tattoo choice, of course.
But these beautiful buds go way back—far beyond our modern understanding of stereotypes, our relationship with the media, and tattoo art.
In fact, roses have roots in ancient times due to their elegance, their deliciousness, and their scent. So, it's no wonder that rose neck tattoos are a popular and significant way to showcase this blossom and all its glory.
In addition, roses carry further meaning and symbolism, including passion, sorrow, remembrance, and secrecy. Plus, this tattoo could represent growth, pay homage to a loved one, or simply represent the beauty that lives within. As an iconic flower, the meaning of a rose is diverse and relatively unlimited.
As a bountiful and regal flower, a rose neck tattoo can bring with it a fair share of meanings, including but not limited to the symbolism listed below.
Death
Strength
Respect
Hope
Love
Elegance
Bounty
Keep in mind that the meanings behind rose neck designs aren't limited to the symbols mentioned in this article. I just want to give you a jumping-off point, to help you get an idea of what type you might get, and where you'd like to place it, which is what I'll talk about next.
Where To Get A Rose Neck Tattoo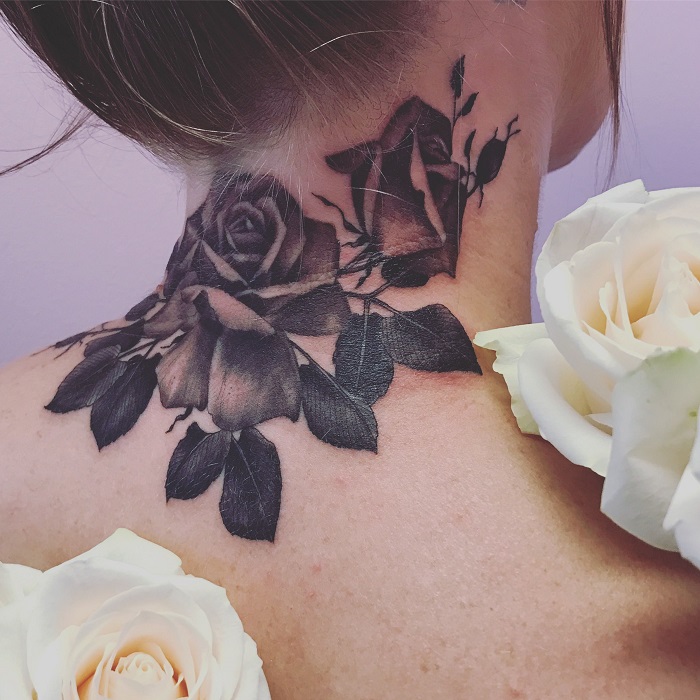 You can choose to get a rose tattoo anywhere on your body. But a rose neck tattoo, in particular, carries a unique significance.
Although the neck is a smaller piece of real estate compared to other areas, like the back or leg, rose neck ideas are still vast and diverse.
For example, if you're hoping to get something bold and visual, you can get a rose neck tattoo on the side of your neck, about the size of a palm if you desire to go that big.
Alternatively, if you'd prefer to be a little more discreet with your placement, you can get your rose tattoo on the nape of your neck. That way it'll still carry significant meaning, but it won't be as visible to onlookers.
Keep in mind that since you're choosing to ink such a vulnerable area, less can sometimes be more. For instance, you can still get a rose neck tattoo right on the front of your throat, but perhaps you'll choose not to go as big with it. Plus, you could keep shading to a minimum, and omit color altogether.
Wherever you choose to get your rose neck tattoo, remember that selecting such a visible and vulnerable location is already a statement in itself. And that as long as it carries importance to you, it doesn't matter how big, small, colorful, or simple it ends up being.
How Much Do Rose Neck Tattoos Cost?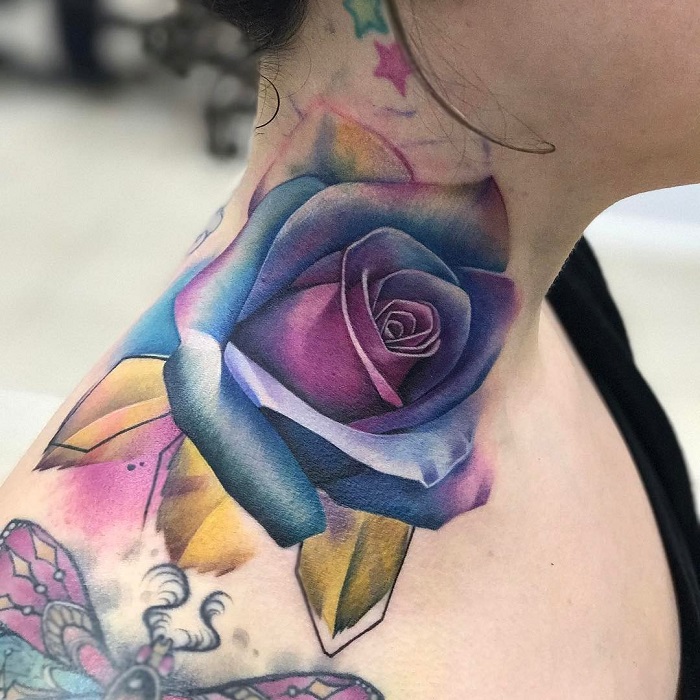 How much your rose neck tattoo will cost will depend on the size and detail of your design. Since the neck, as a canvas, is a relatively similar size across all humans, it's likely you can only go as big as a large palm (about 3-4" in diameter).
However, when determining the cost, size is only one factor to consider. You must also keep the details in mind.
If you've opted for something on the smaller side, that's black ink only, and more of an outline than a shaded drawing, then you're likely looking at a minimum charge.
This will be around $100 on average. However, the bigger your design, the more time it will take, and tattoo artists typically charge an hourly rate.
For example, if you'd prefer a bigger-sized tattoo with full color and detail, then it might cost closer to $400.
Below is a sliding scale that can give you a better idea of what your final cost might be. However, try to keep in mind that every artist's prices will differ. So, to get the best quote, speaking directly with a tattoo artist beforehand is a good idea.
Basic black, 2" x 2": $100–$150
Basic black, 4" x 4": $200–$300
Color, 2" x 2": $200–$300
Color, 4" x 4": $400–$500
36 Best Rose Neck Tattoo Designs
#1: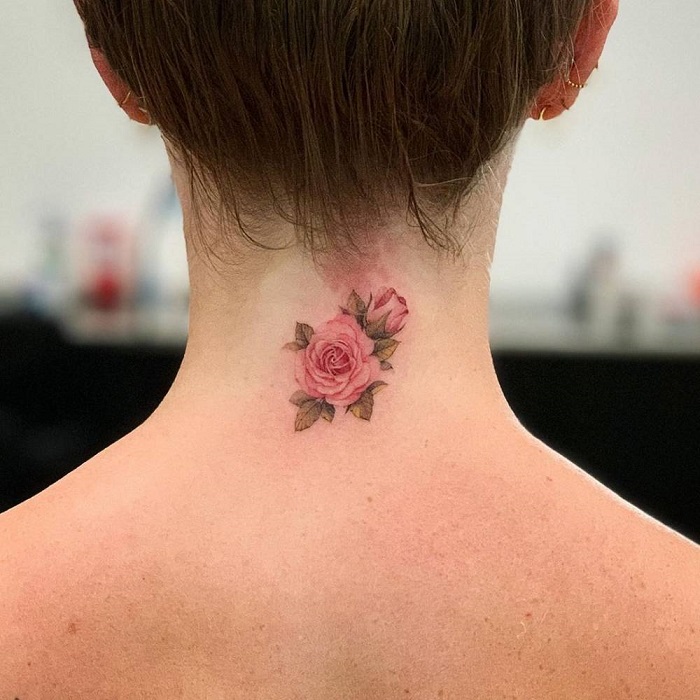 #2: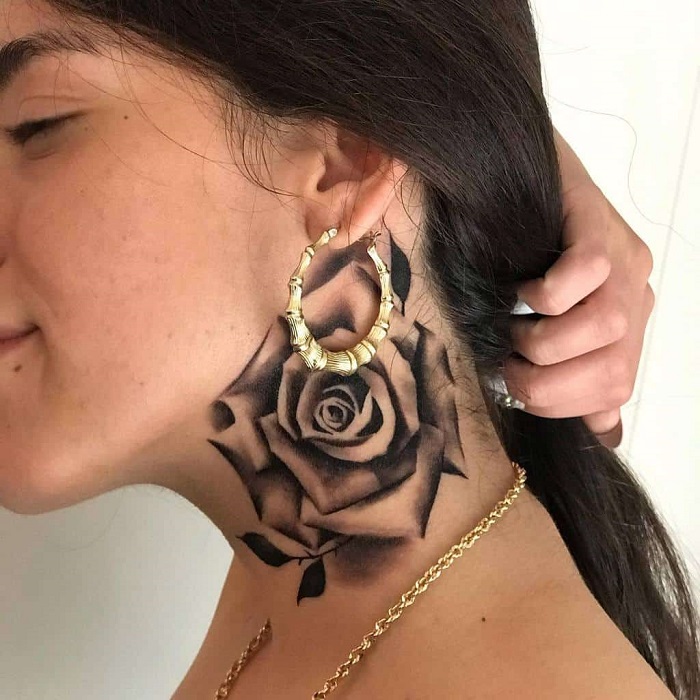 #3: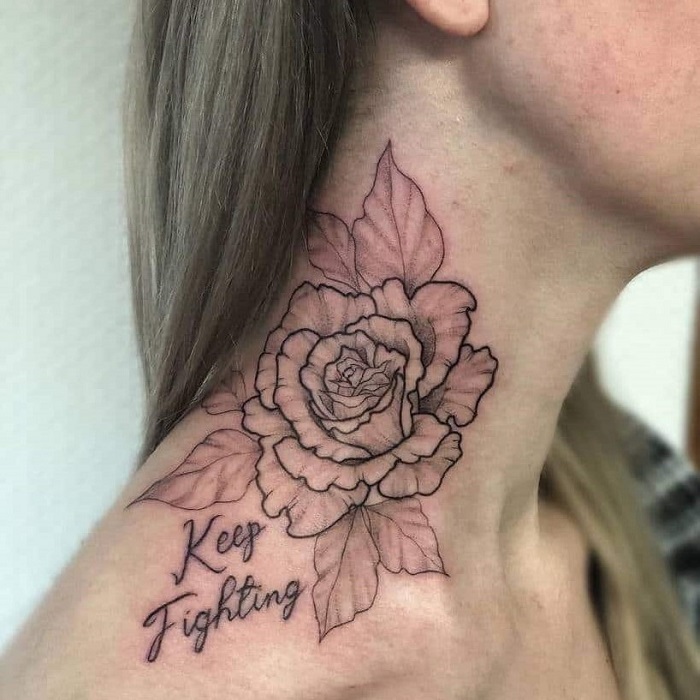 #4: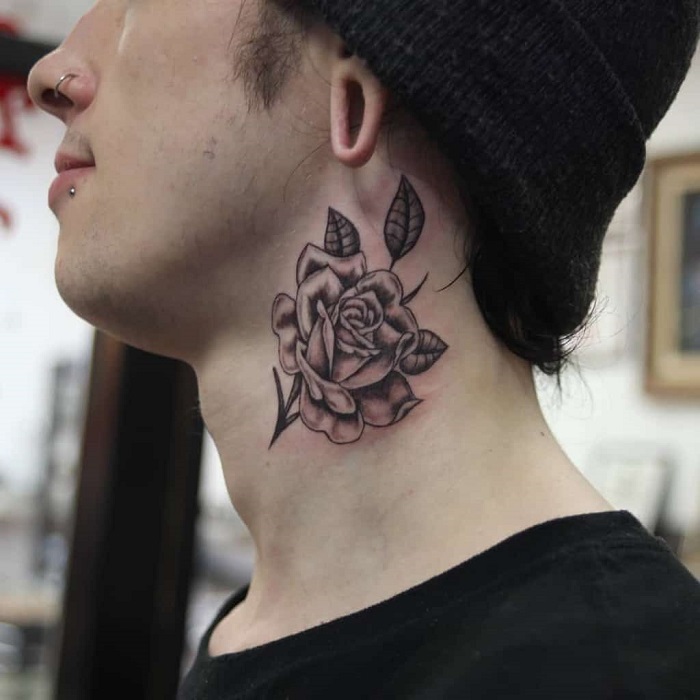 #5:
#6: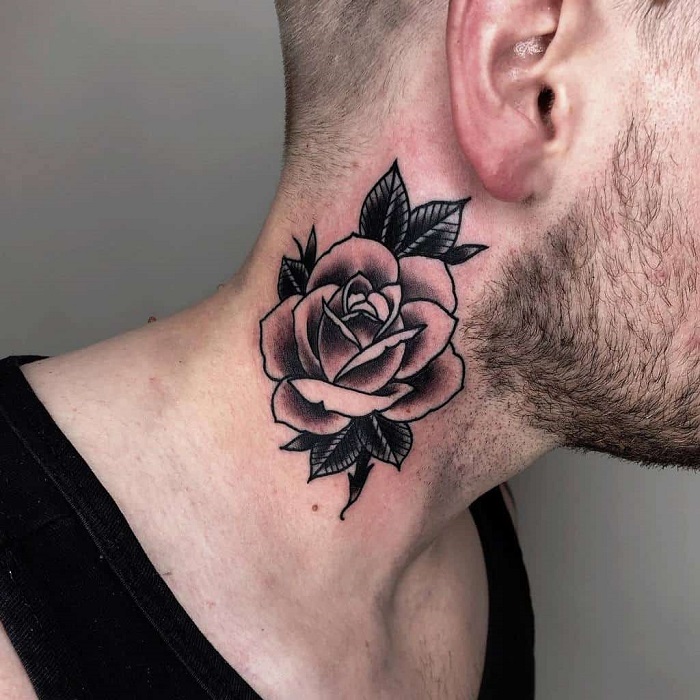 #7: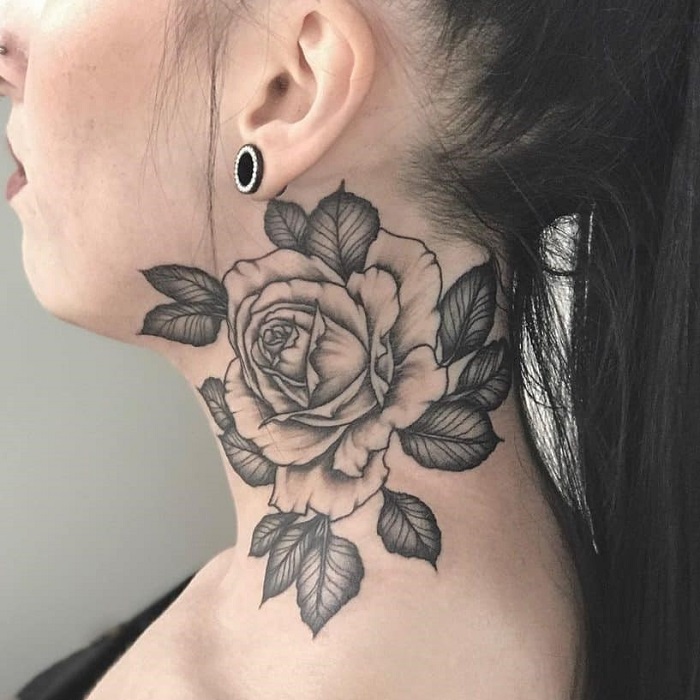 #8: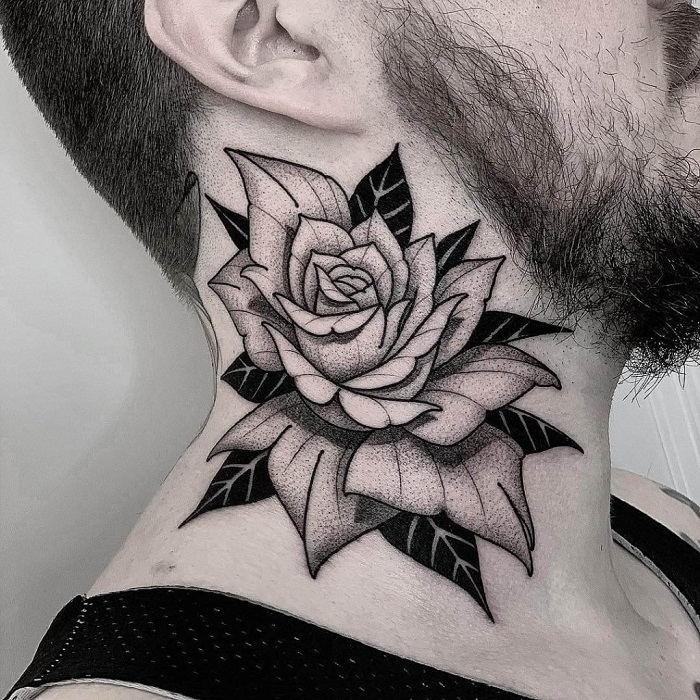 #9: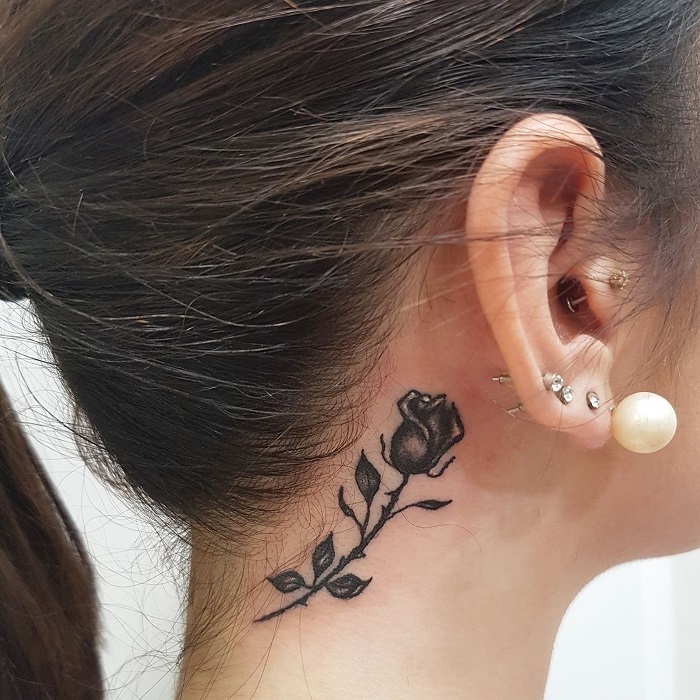 #10: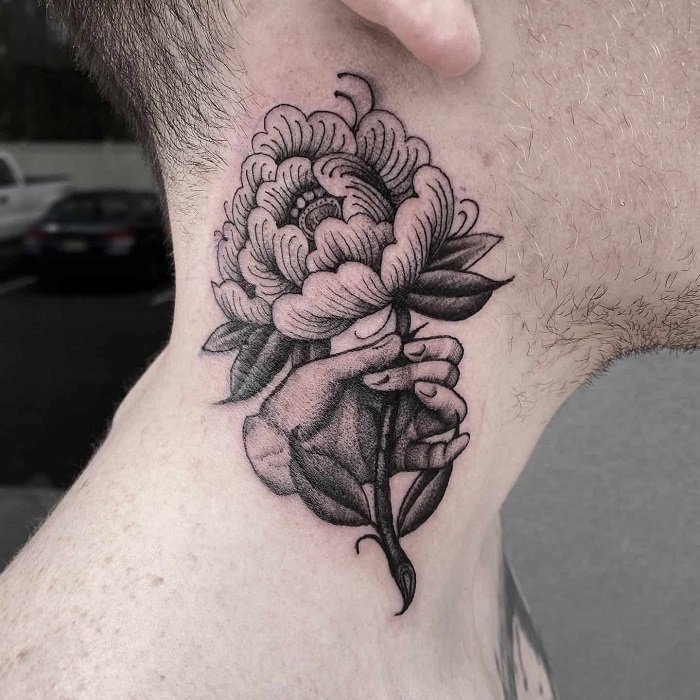 #11: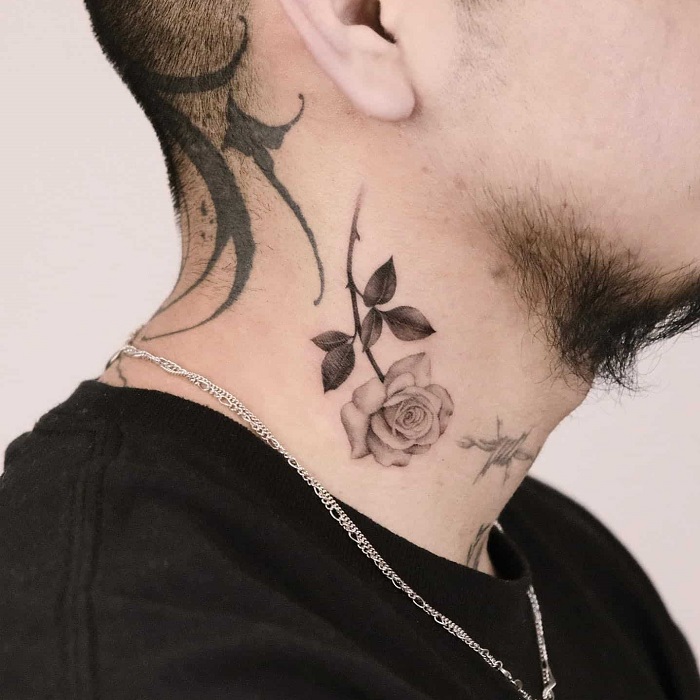 #12: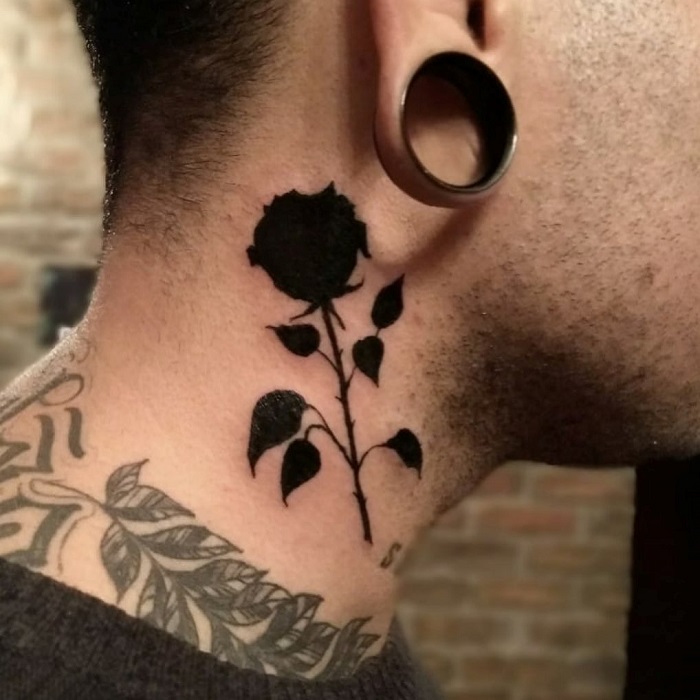 #13: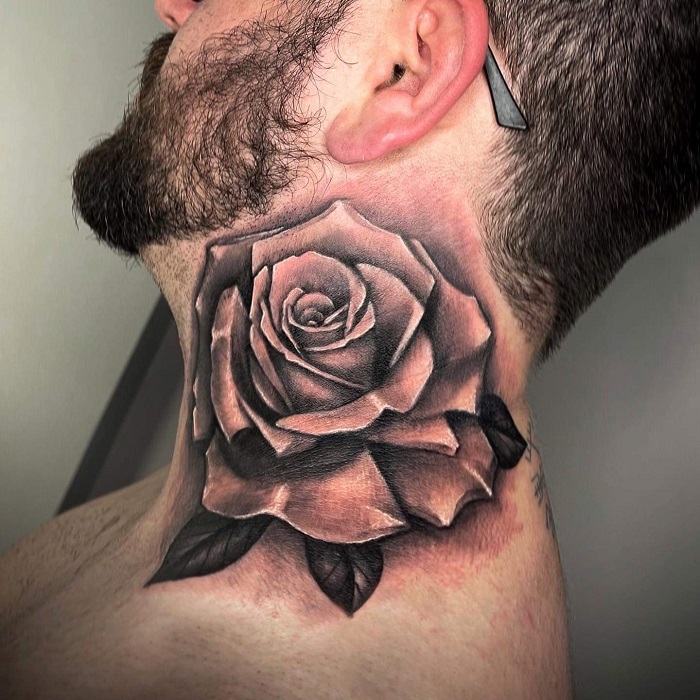 #14: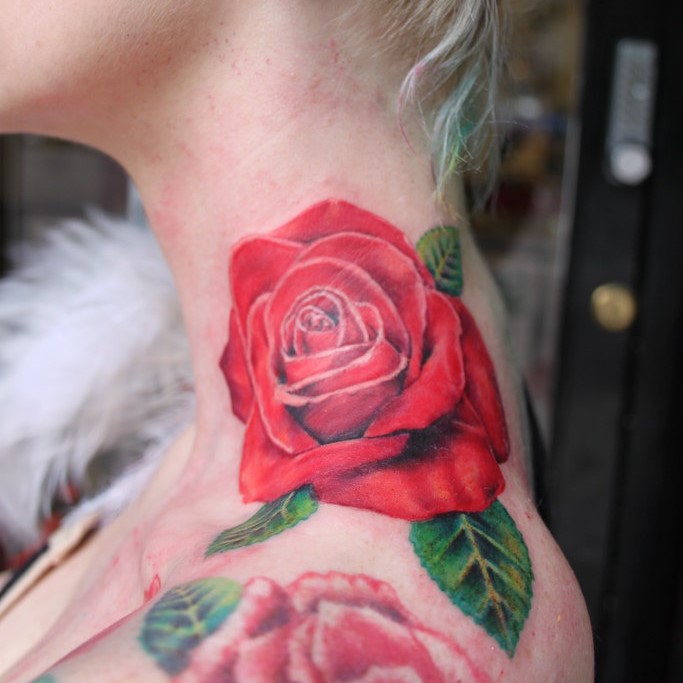 #15: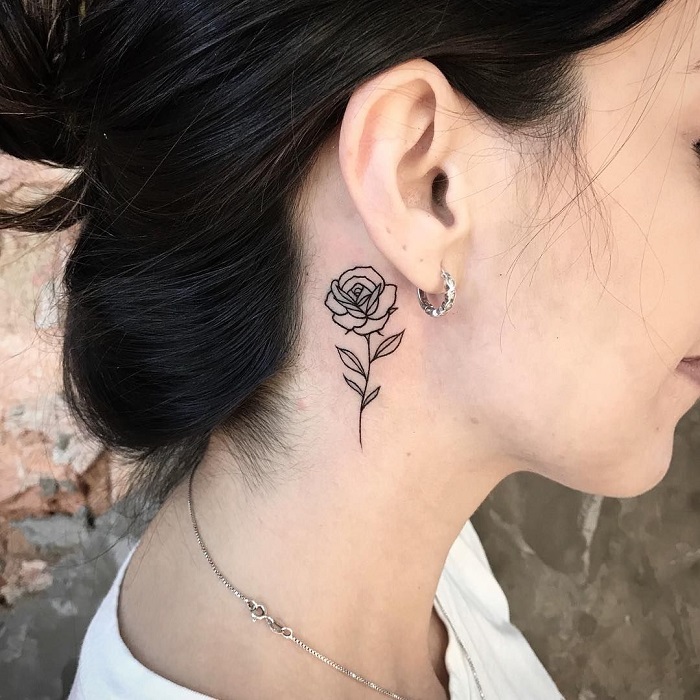 #16: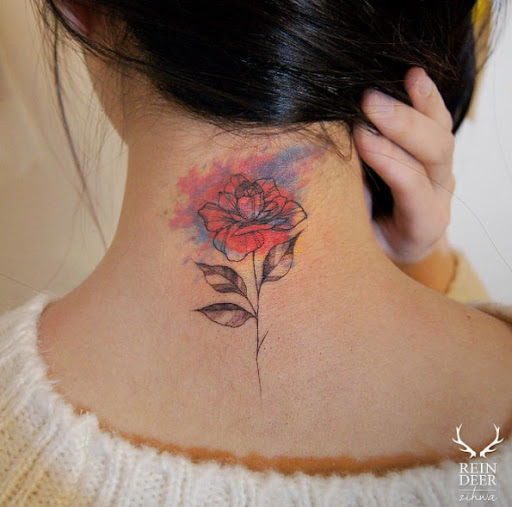 #17: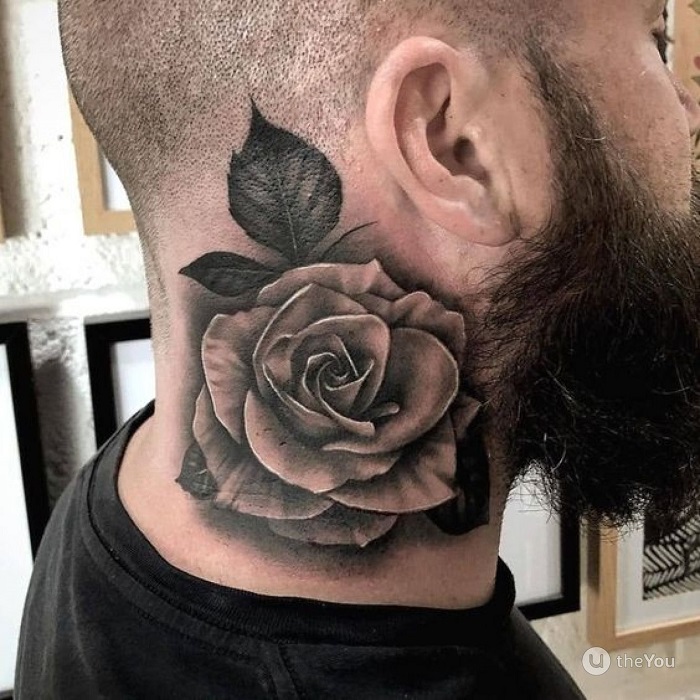 #18: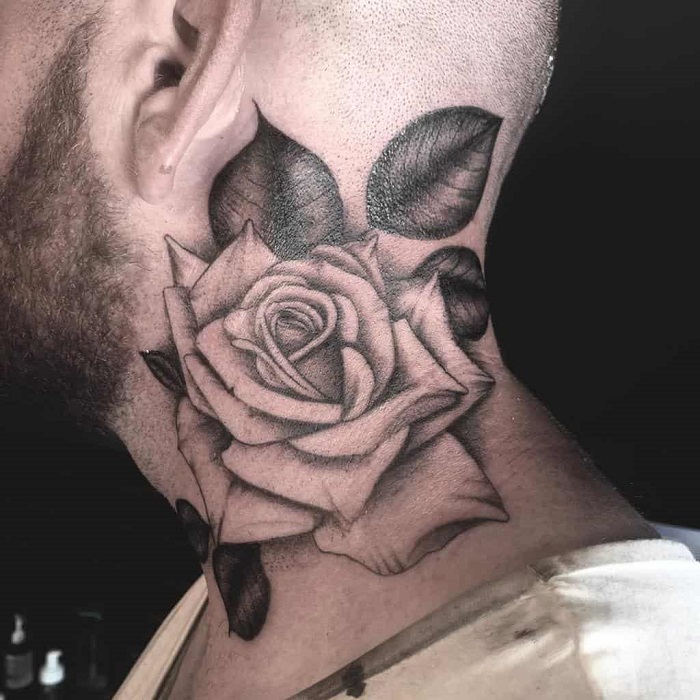 #19: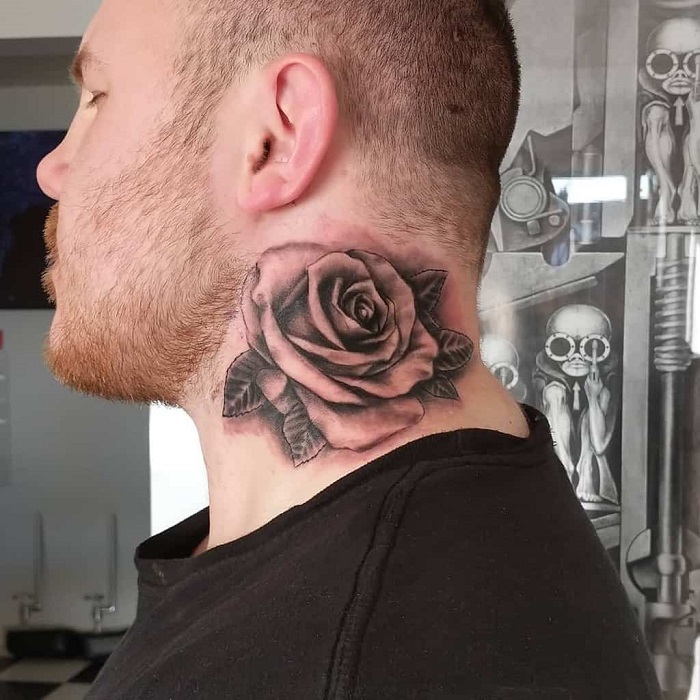 #20: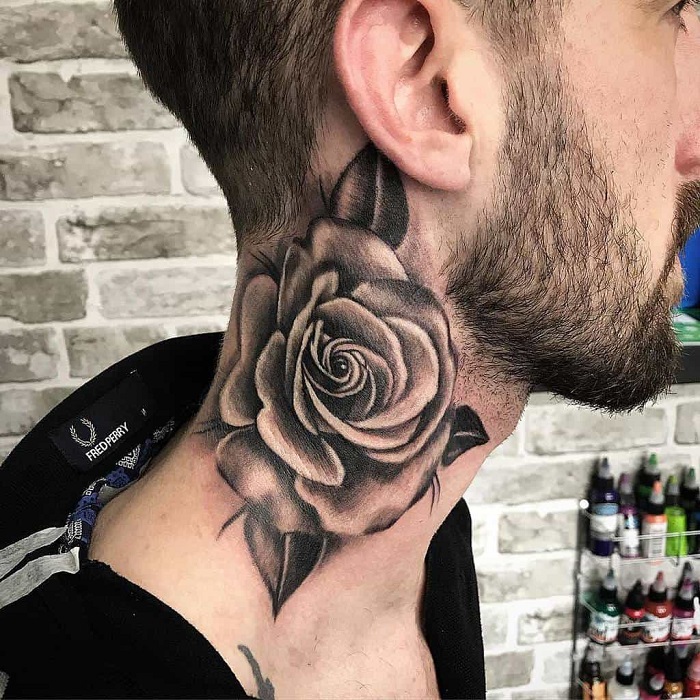 #21: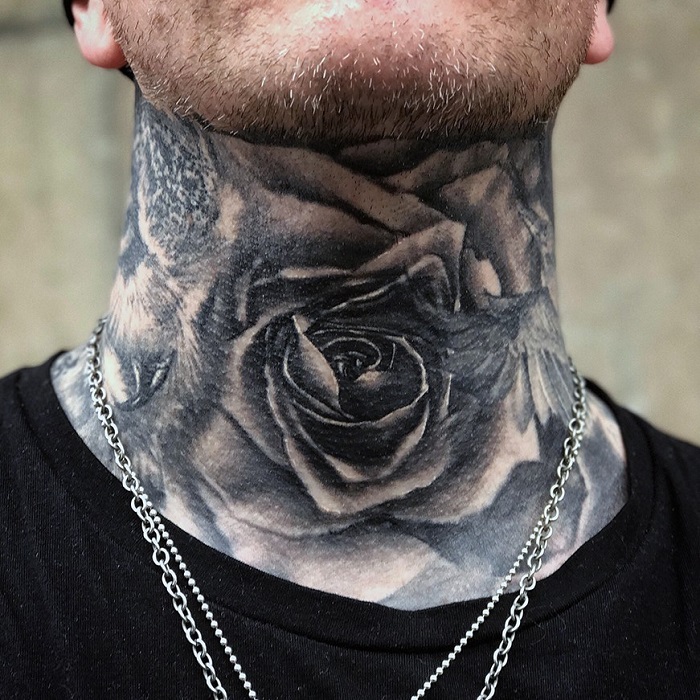 #22: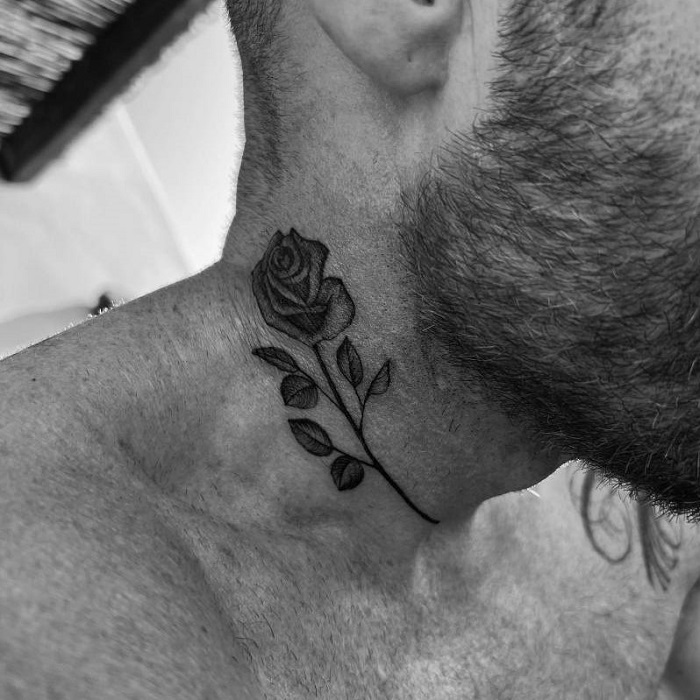 #23:
#24: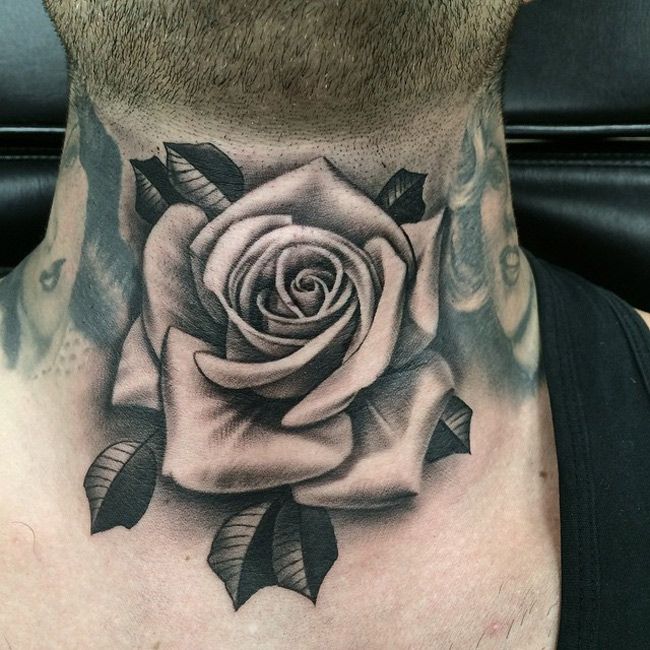 #25: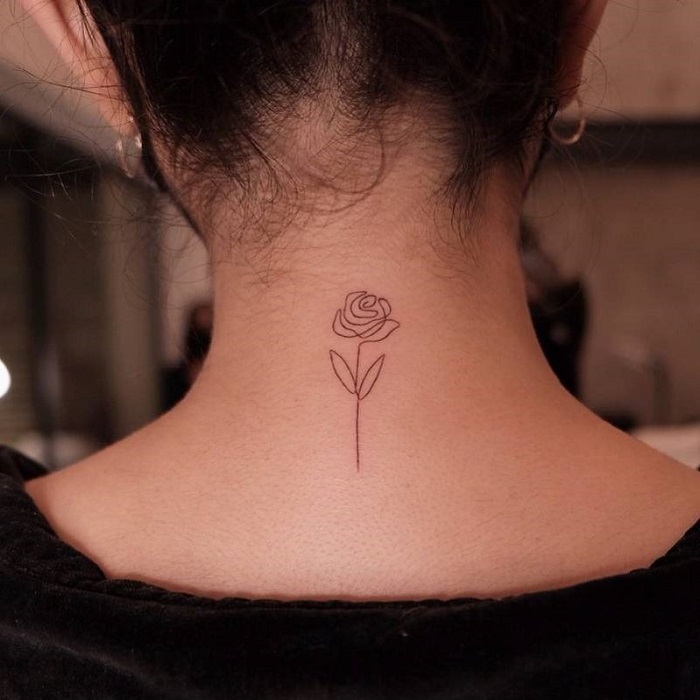 #26: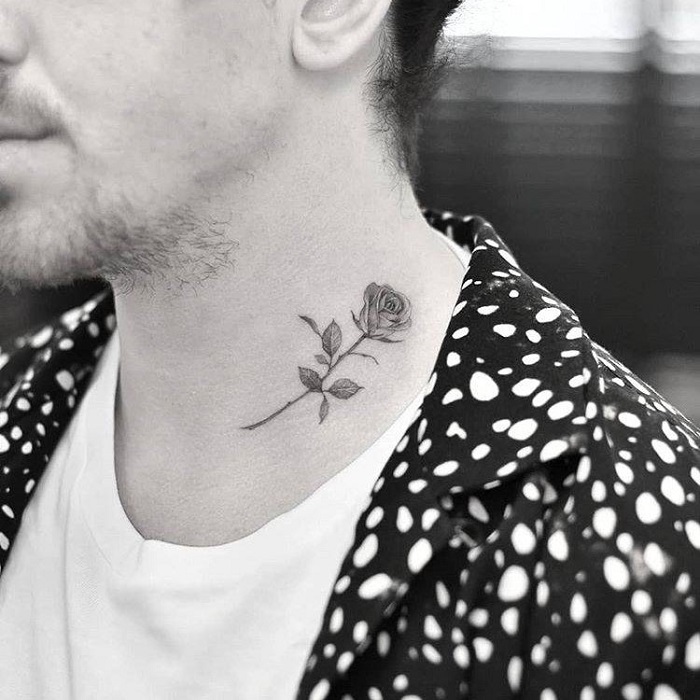 #27: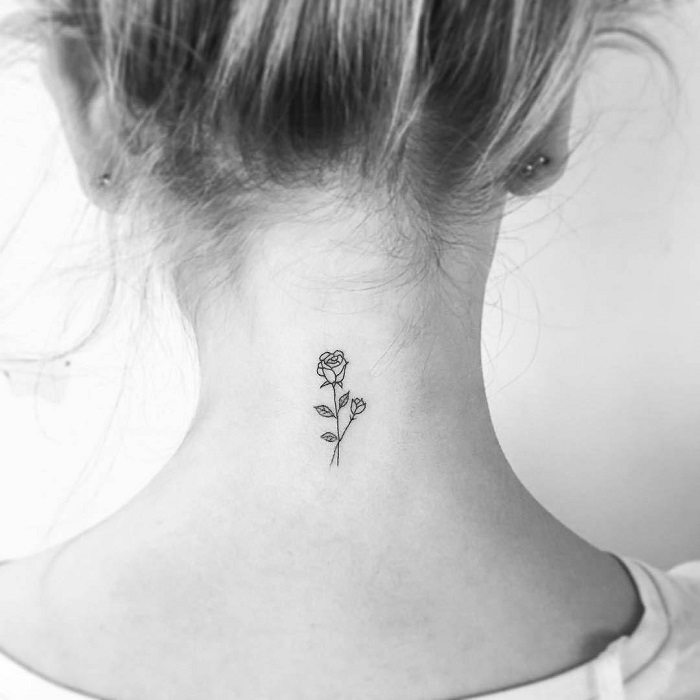 #28: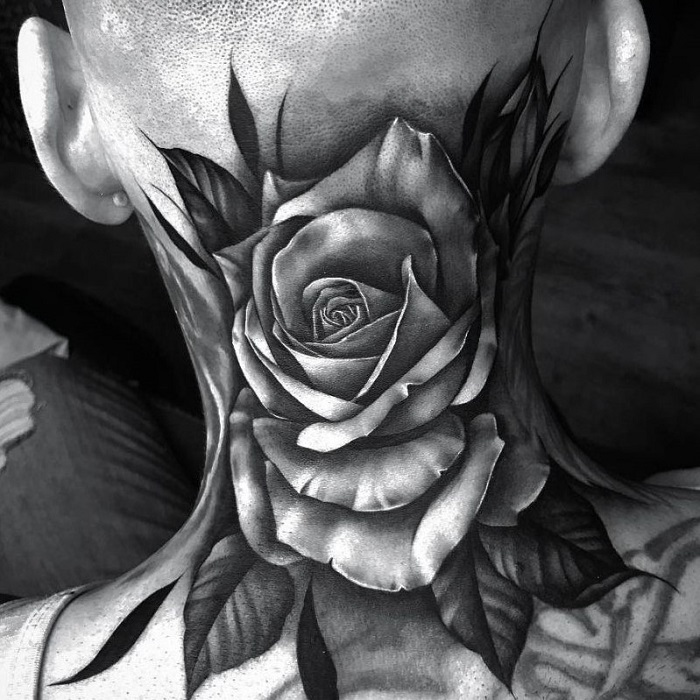 #29:
#30: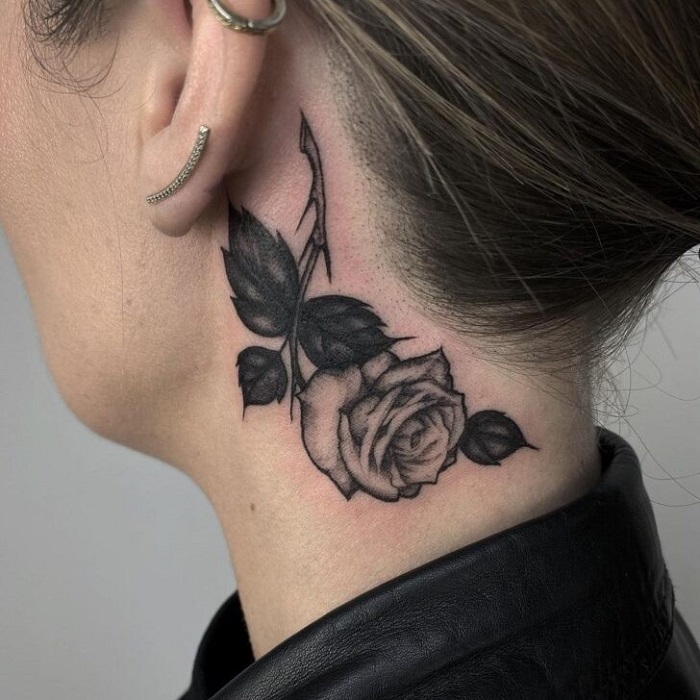 #31:
#32: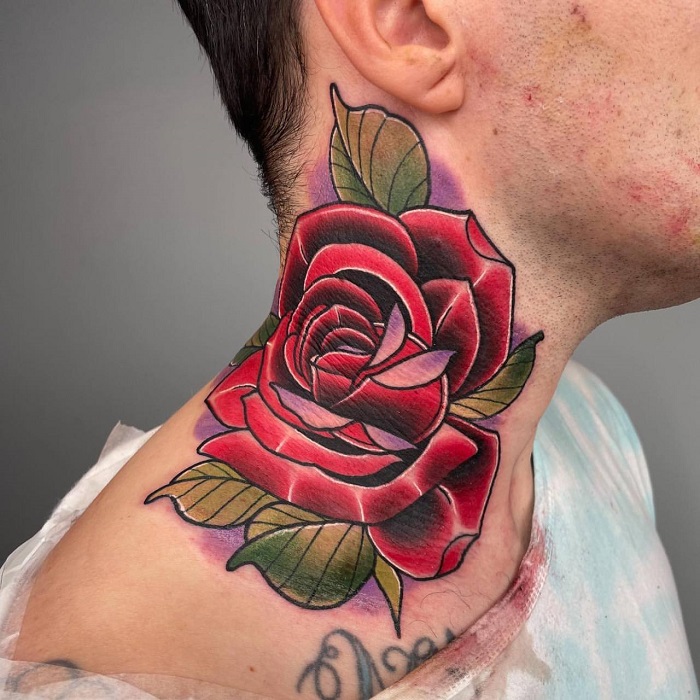 #33: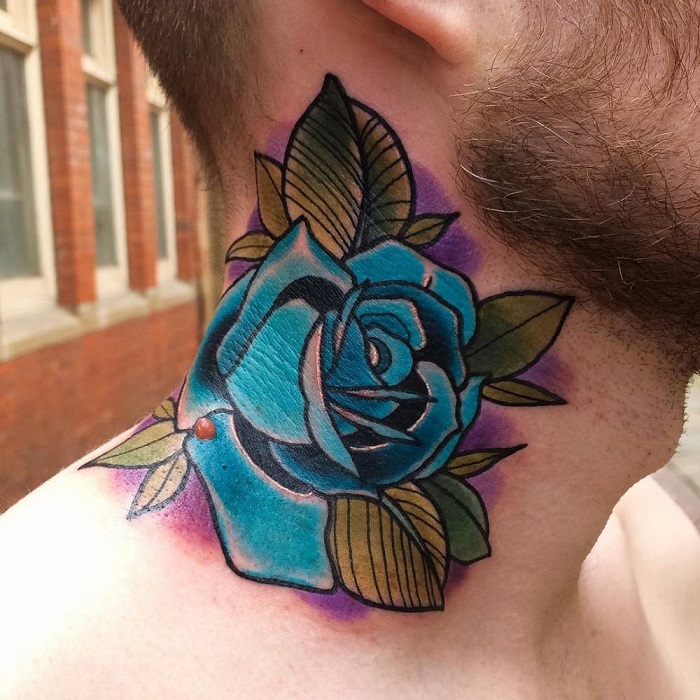 #34: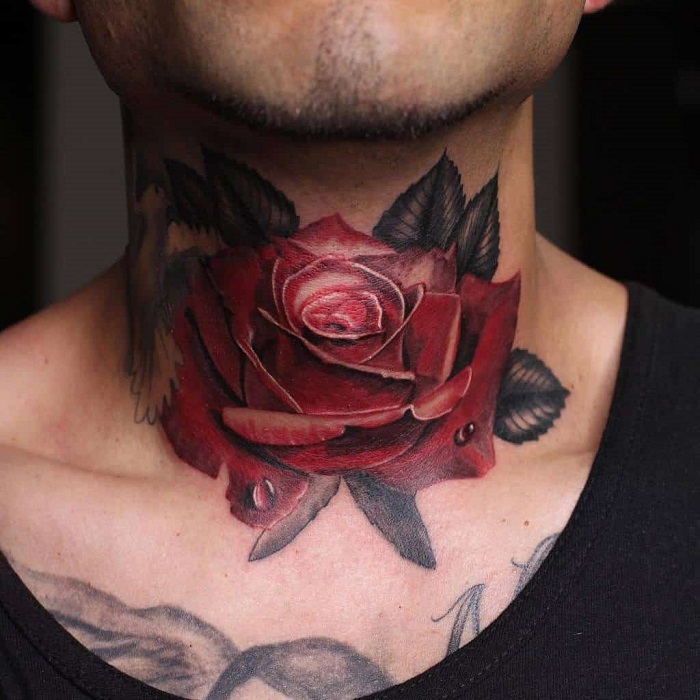 #35: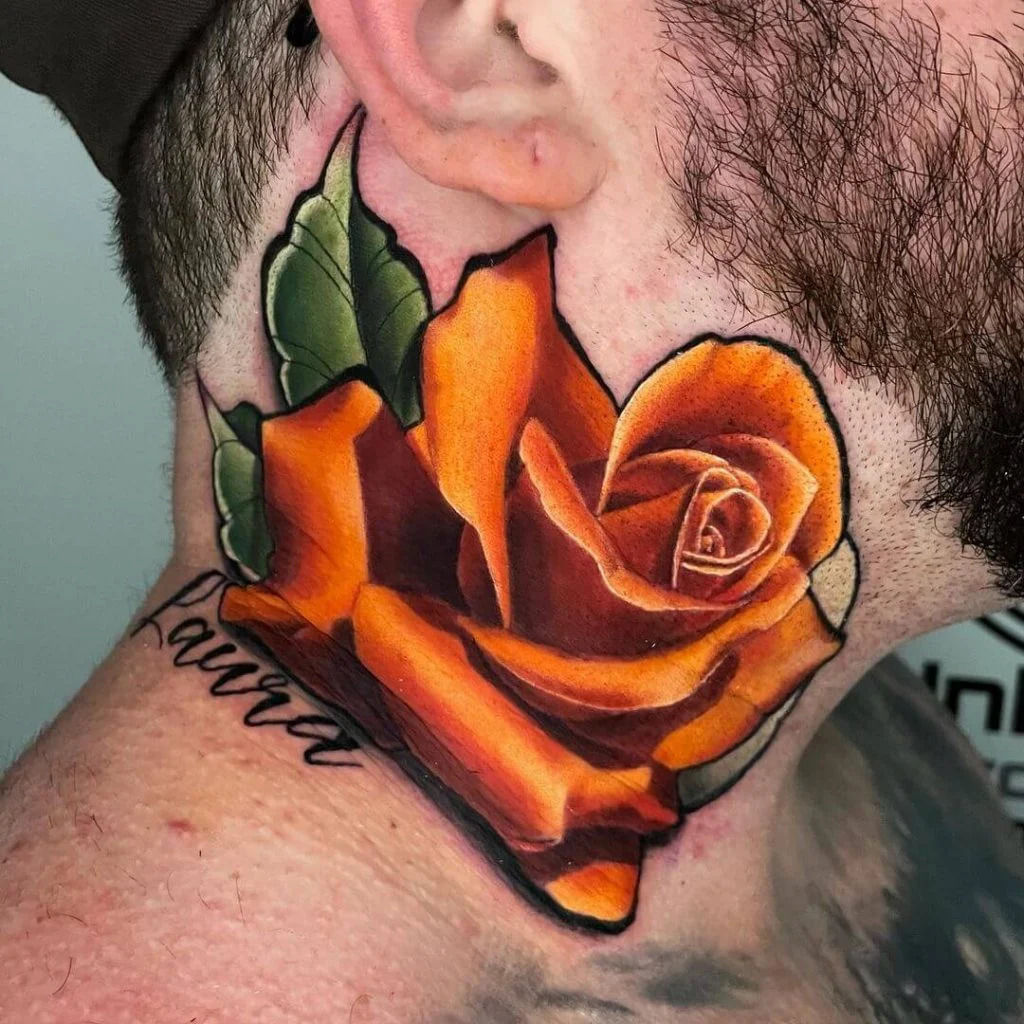 #36: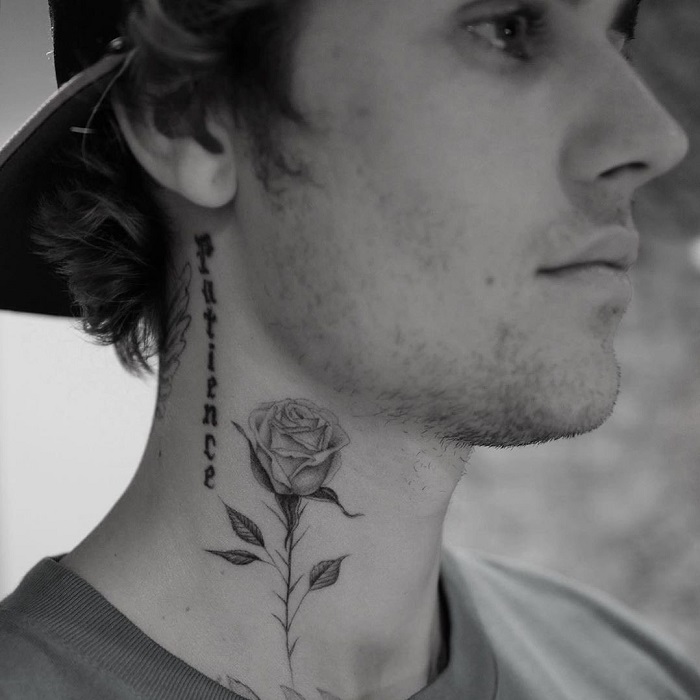 History Of Rose Neck Tattoos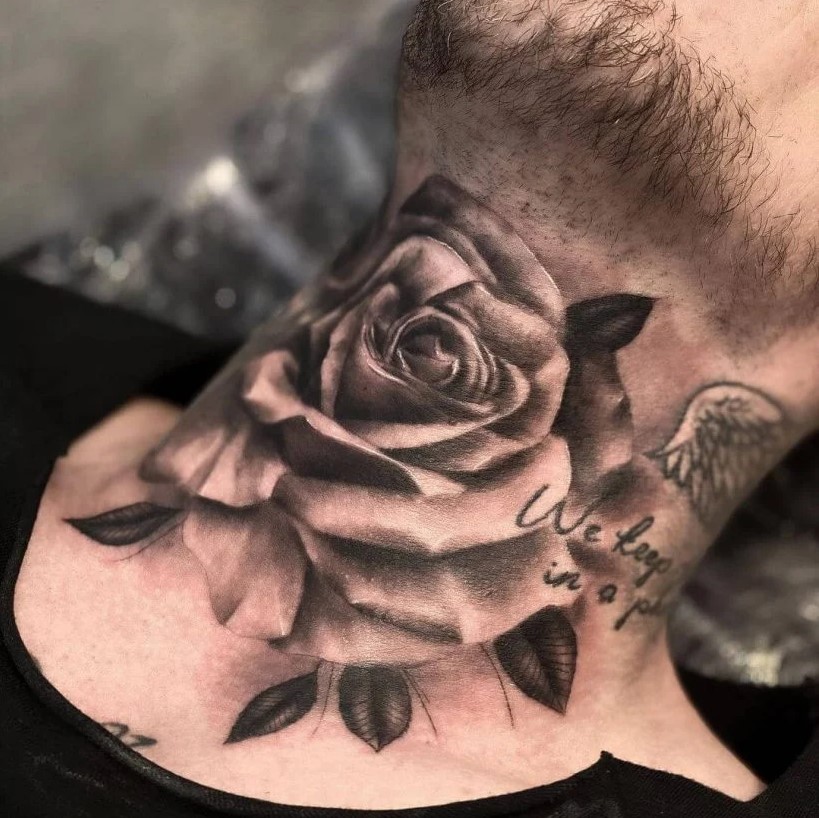 Rose tattoos in general have a long and detailed legacy, going all the way back to Roman times. So, if you're a history buff and the background of a tattoo is your primary concern, know that in those days, roses symbolized wealth and secrecy.
Then again, some of the longheld symbolism that roses stood for in ancient times is just as relevant now as it was then. For example, roses will always symbolize beauty and passion.
Of course, since roses are an international flower, there's a good chance that every person, place, or culture has adopted their own personalized meaning for roses.
Keep in mind that although roses are a thing of regal beauty, they're also sensory. They stimulate both our sense of smell and taste, not to mention our vision.
As a result, folks may have memories or ideas subconsciously associated with roses. And these personal memories could add another layer of meaning to the tattoo.
Basically, by getting a rose tattoo—especially one that's on your neck—you'll be showcasing a fiery, passionate symbol for all to see and admire. Plus, your tattoo will also represent compassion, mystery, and so much more.
A few other rose neck meanings can historically be found in the following places:
Tarot cards
Greek tradition
Medieval folklore
Which Celebrities Have A Rose Neck Tattoo?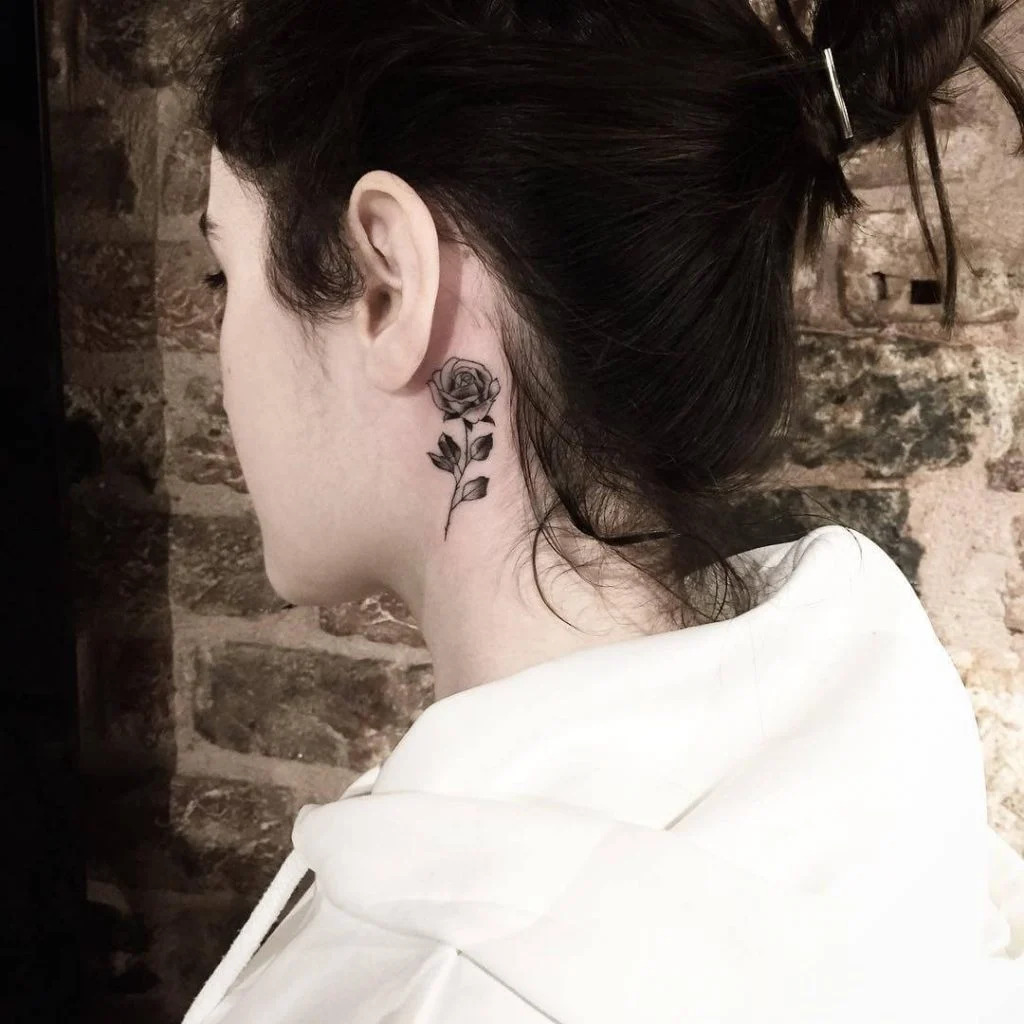 Rose neck tattoos have been a common and traditional way to add a piece of art to a person's body for a long time. And this is why there are plenty of celebrities and well–known icons that have rose neck tattoos. 
Since rose tattoos have become so popular, plenty of celebs have opted for a rose as part of their body ink—including Lady Gaga, Lena Dunham, and Dua Lipa.
However, only a select few have gone as bold as a rose neck tattoo, including rapper JonBoy, and Kaitlynn Carter.
As of late, one of the most notable and iconic Hollywood personalities to add a rose neck tattoo to his growing portfolio of body art is Justin Bieber.
Although Biebs opted for a smaller, more modest rose neck design, the flower's placement is still bold and noticeable, as it isn't just the bud or petals, but the whole rose, including the thorny stem.
---
Looking for more inkspiration? We've got you covered:
30 Best Hydrangea Tattoo Ideas 
30 Best Aster Flower Tattoo Ideas 
Get Access to Exclusive Deals
Subscribe for free to get exclusive deals in your inbox. 100% privacy