30 Best Hydrangea Tattoo Ideas 
About Hydrangea Tattoos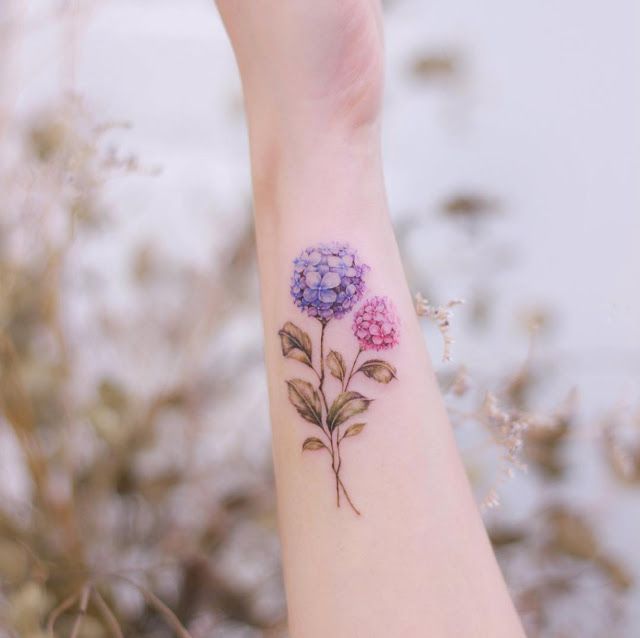 Hydrangeas are a beautiful and world-renowned flower that has, over the course of its time on this planet, become a popular and symbolic blossom of flora.
So, it's no wonder that hydrangea tattoos are now among the most striking and colorful tattoo designs you can get.
With their elegant blooms and their multicolored petals, these gorgeous, round, and full-bodied beauties are seen almost everywhere.
People love their graceful blossoms and their shapely contours. But their popularity isn't solely a result of their appearance. Hydrangeas and hydrangea tattoos also carry deep meanings and symbolism.
Originating in Japan and becoming an internationally cultivated flower, this centuries-old blossom holds significance and importance in many cultures.
If you've been thinking about getting a hydrangea tattoo, then you might have questions about what's in store for you. If so, I have the answers you're looking for.
In this article, I'll delve into hydrangea ideas, hydrangea designs, how much these tattoos might cost, and the history of this beautiful flower. But first, let's explore what a hydrangea tattoo might mean.
What Do Hydrangea Tattoos Mean And Symbolize?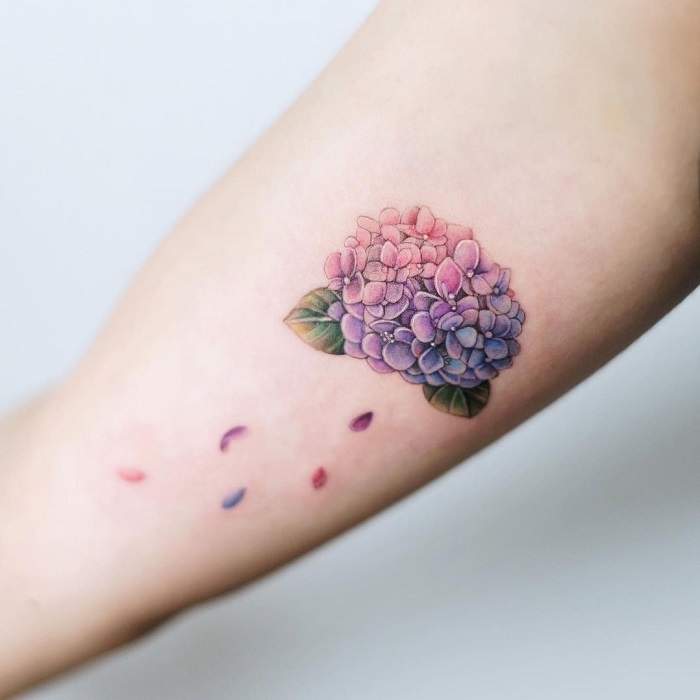 Since hydrangea flowers have been around for so long, and have appeared in many countries and cultures, it's no wonder that they carry a hefty number of meanings and symbolism.
Luckily, if you're considering getting a hydrangea tattoo, the various meanings tied to this blossom are predominantly positive.
Hydrangea meanings differ in specifics but they all seem to share one common theme. I can sum up this theme in three words: bounty, tranquility, and emotion.
For example, in some cultures, hydrangea tattoos will stand for grace and beauty. In others, these flowers can symbolize gratitude and abundance. 
Keep in mind that, regardless of the plentiful meanings behind a hydrangea tattoo, there is no limit to what these beautiful flowers could mean to you.
Also, feel free to get some fresh new floral art just for the sake of beautifying your body with blossoms. Hydrangeas can hold a personal significance to you, or you can just admire how pretty they are.
Regardless of your motive for getting a hydrangea tattoo, it might be nice to know that these flowers are well-loved and admired by folks worldwide. Plus, they're associated with a number of admirable meanings, including the following:
Love
Harmony
Peace
Emotions
Understanding
Where To Get A Hydrangea Tattoo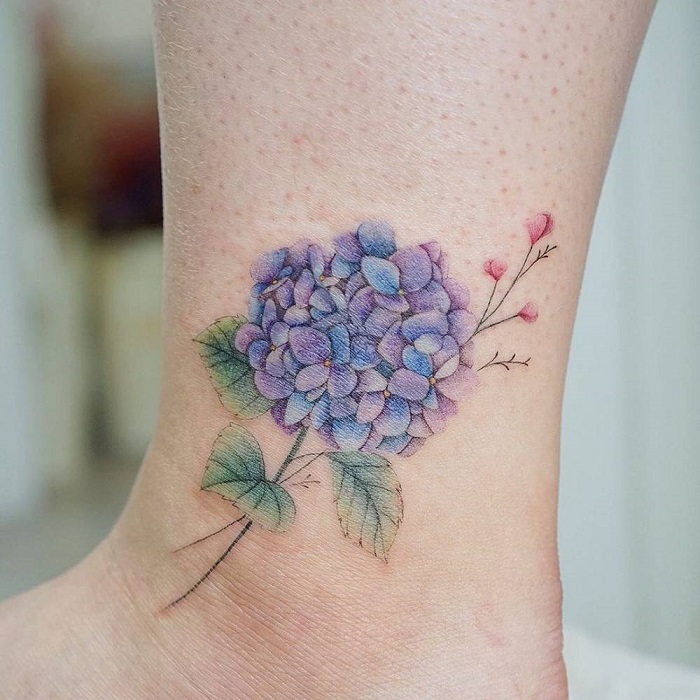 Although any spot on your body is perfectly eligible for a hydrangea tattoo, there are a few areas that might be better options than others.
When considering some hydrangea ideas and where they might fit best, first, you may want to think about the size you want the design to be. Also, consider what style of tattoo you're going to get.
For example, if you're considering a bouquet of hydrangeas in full color, you may want to use your shoulder as a placement for your hydrangea tattoo. Because the shoulder has a naturally round curvature, this location would suit the roundness of a hydrangea blossom.
Then again, if you'd prefer something simpler—such as a colorless outline—then the side of your torso is a perfect location for your hydrangea tattoo. Since this is a long and narrow spot, it could house a larger tattoo. In this case, a stem and a hydrangea bud would fit nicely.
Another area that could be the ideal setting for your hydrangea tattoo is your forearm. Here, you can get a tattoo that's big, small, shaded, or in color. The forearm is a delicate and generous area that provides lots of room for your hydrangea design. Plenty of styles could fit here and look beautiful.
If none of those bits of real estate interest you, consider some of the locations below. They're also popular spots for a hydrangea tattoo:
Nape of neck
Hand
Calf
Shoulder Blade
If you're looking to do something totally out of the ordinary, and all of my suggestions don't seem to fit the hydrangea tattoo design you have in mind—or your personality—then go ahead and get creative!
There's nothing off limits for your new ink. And the most important thing about your body art is that it's special to you, and only you.
How Much Do Hydrangea Tattoos Cost?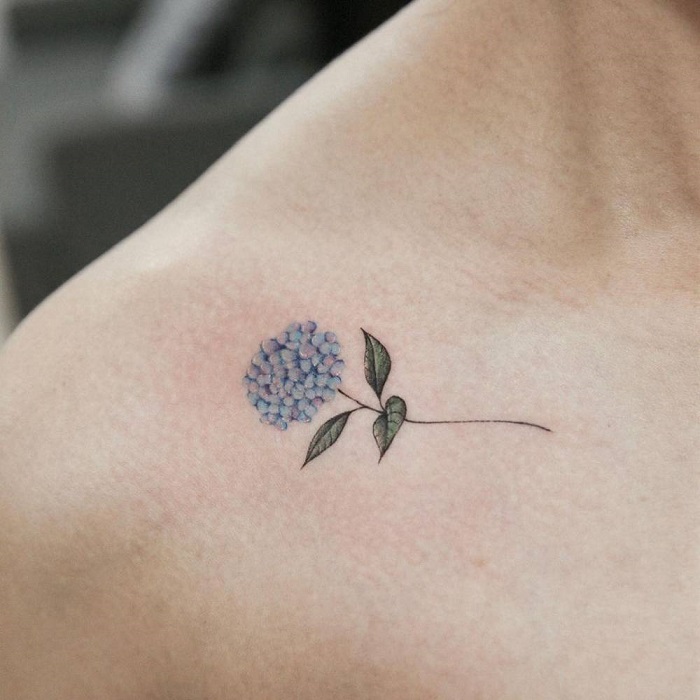 Hydrangea tattoos come in all shapes, sizes, and of course, colors. Since they're designed in such a varying range of styles, they all come with their own cost. This means they can be anywhere from cheap, to expensive, and everything in between.
The price of your new ink will be determined by the location, size, and tattoo artist, among a few other factors. The biggest variable that will affect the cost is the design.
For instance, whether or not you're just getting a simple outline that can be executed in a short and fast hour, or if you're getting a full-color piece that could take more than one session.
Although I can provide you with a rough price estimate for your hydrangea tattoo, it's super important to consult with your tattoo artist directly. That's because some shops or individuals might charge more than others.
Typically speaking, a simple outline of a flower (like a hydrangea) that's the size of your palm or smaller should take no longer than an hour to complete. This means it would be eligible for a minimum charge, which at most shops is about $100.
Then again, if you're looking to get a whole shoulder piece in full color, that's going to be a different story. If the hydrangea tattoo design you've been considering is about the size of your whole hand and includes four or more colors, it'll likely cost around the $400 mark.
To give you a rough estimate of how much your hydrangea tattoo will cost, here's a brief list of prices and sizes:
Basic black, 2" x 2": $100–$150
Basic black, 4" x 4": $200–$300
Color, 2" x 2": $200–$300
Color, 4" x 4": $400–$500
Although the price of a hydrangea tattoo will typically fall within the range outlined above, there's a chance you might find someone who will charge less or more for their services.
Of course, how much an artist charges will also depend on their skill set and how many years of experience they have.
30 Best Hydrangea Tattoo Designs
#1: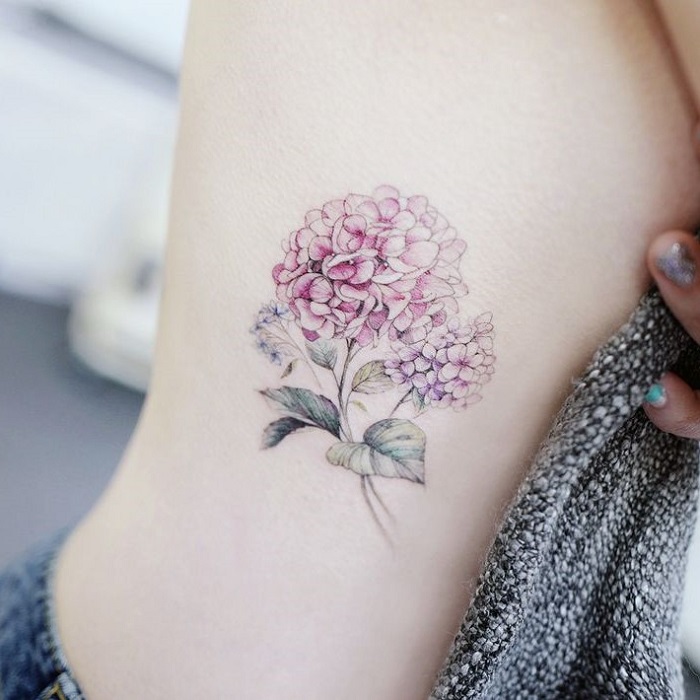 #2: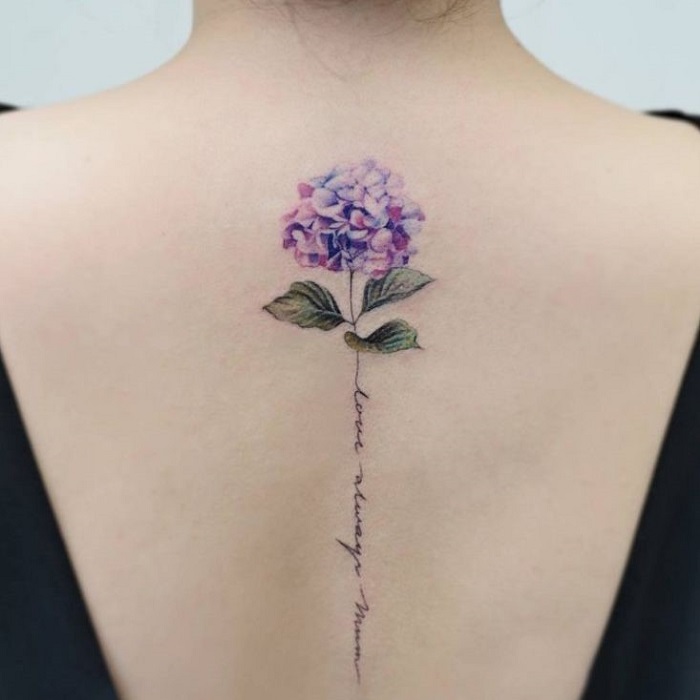 #3: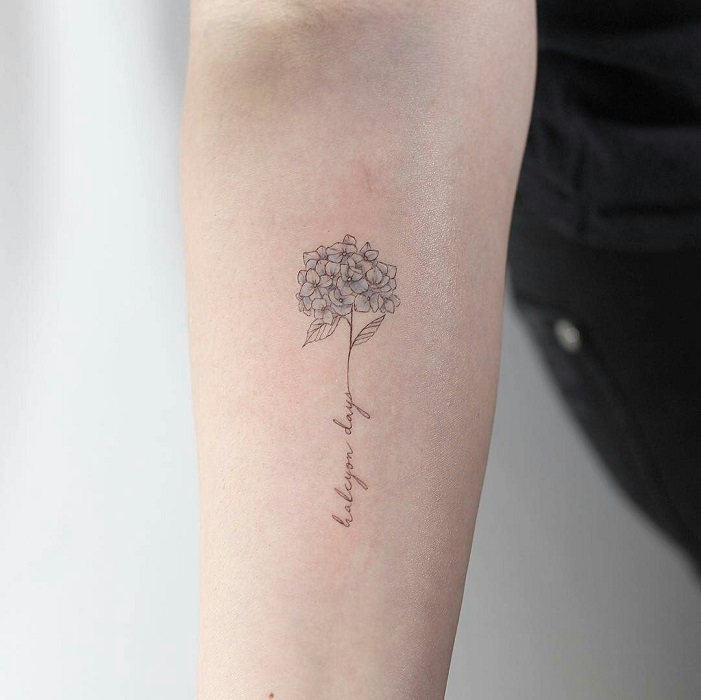 #4: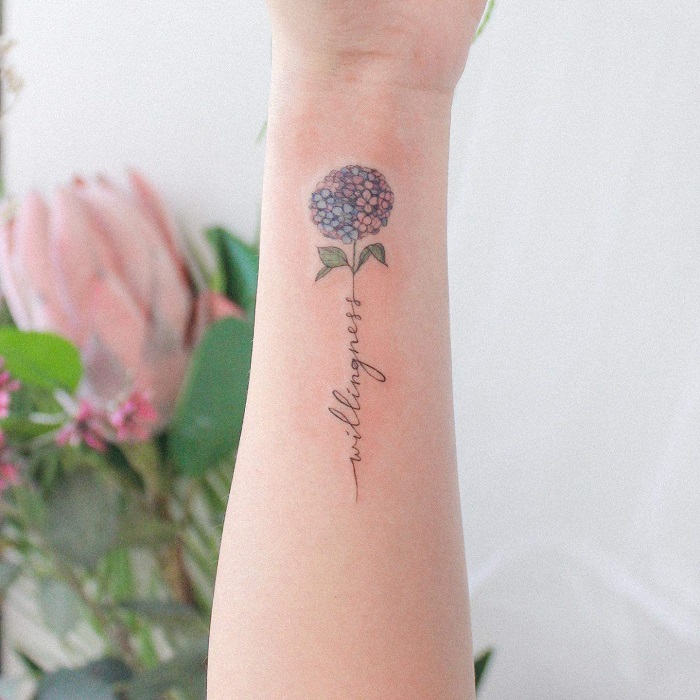 #5: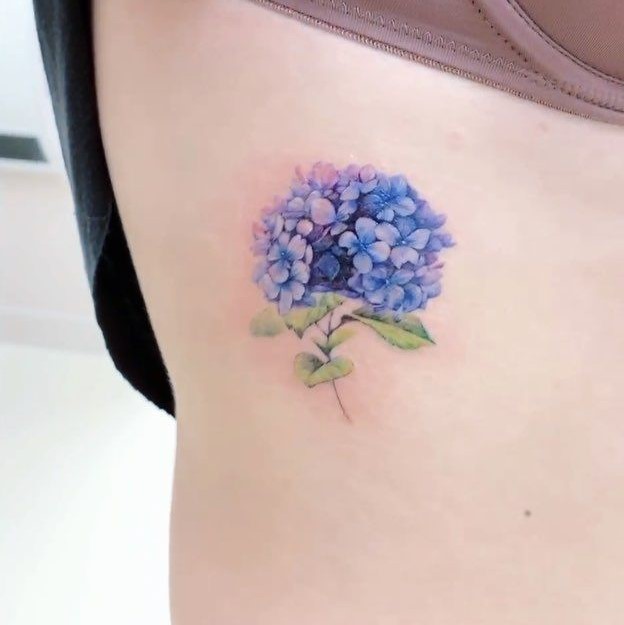 #6: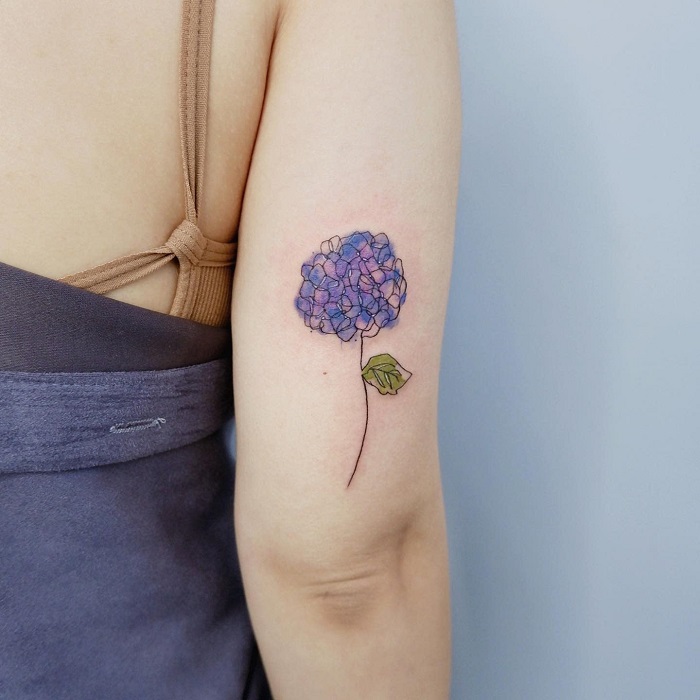 #7: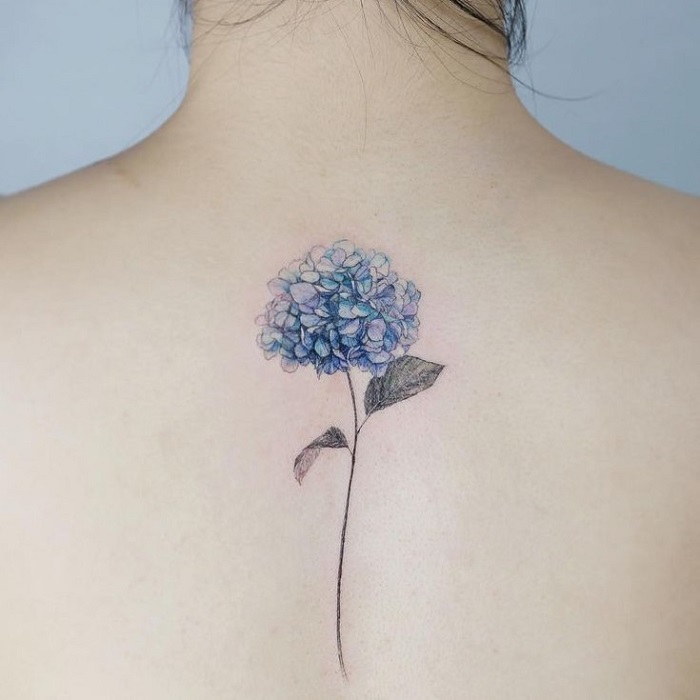 #8: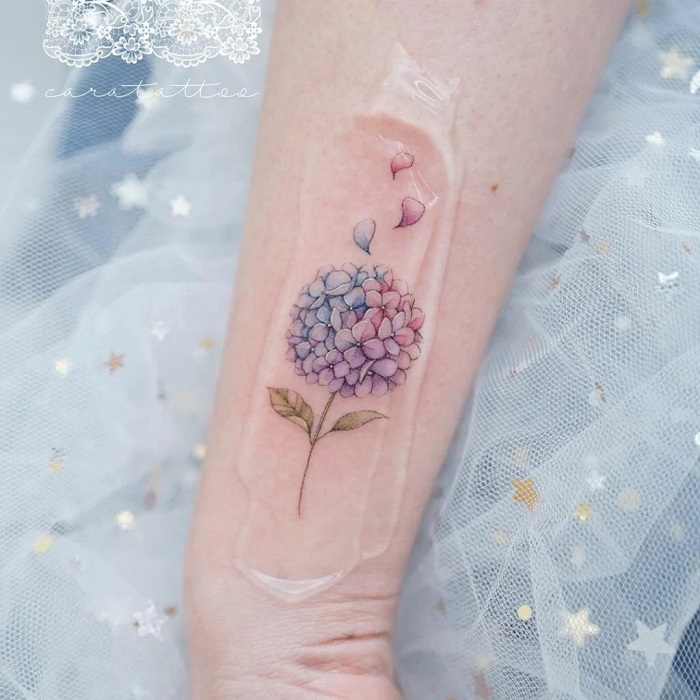 #9: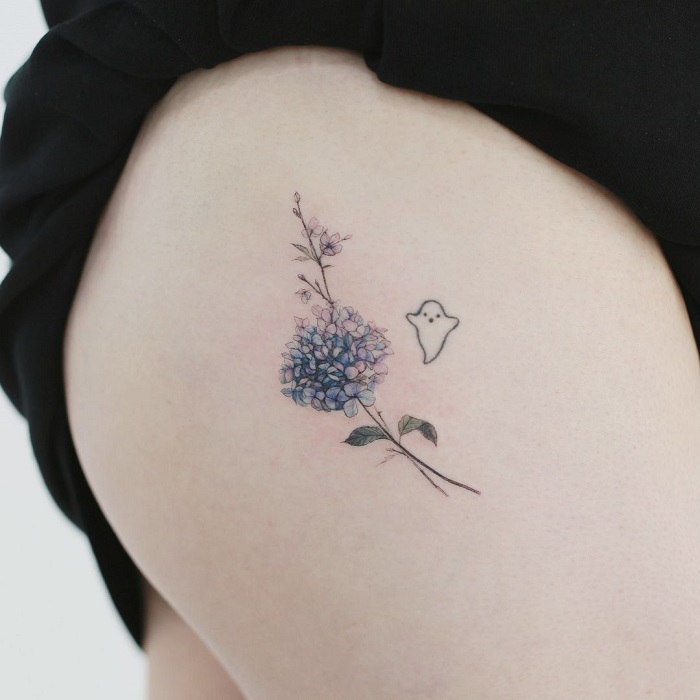 #10: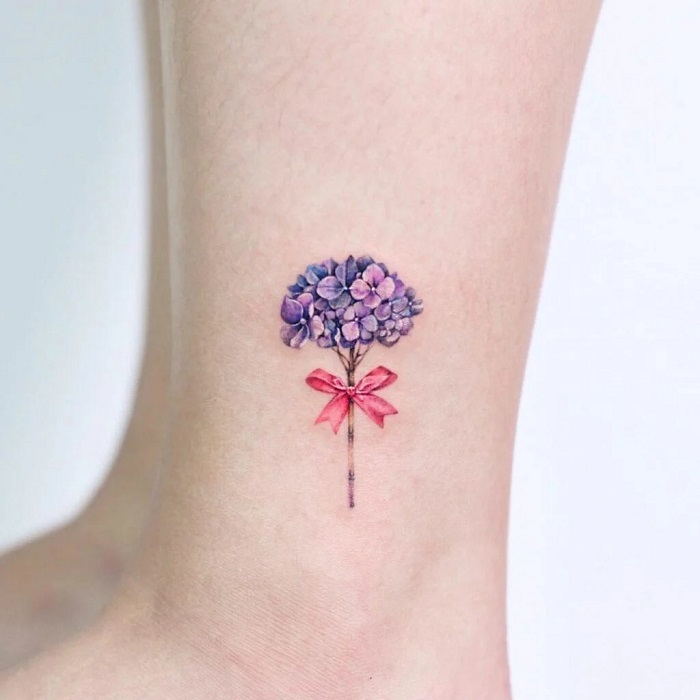 #11: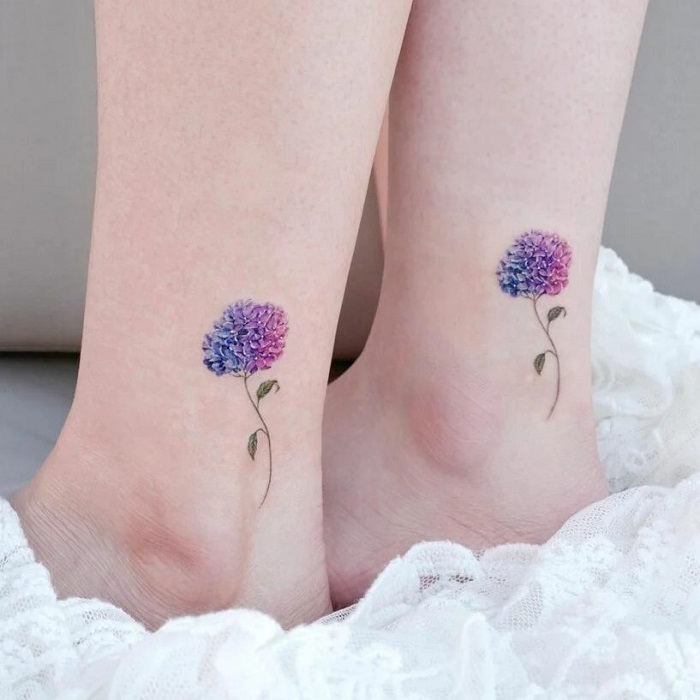 #12: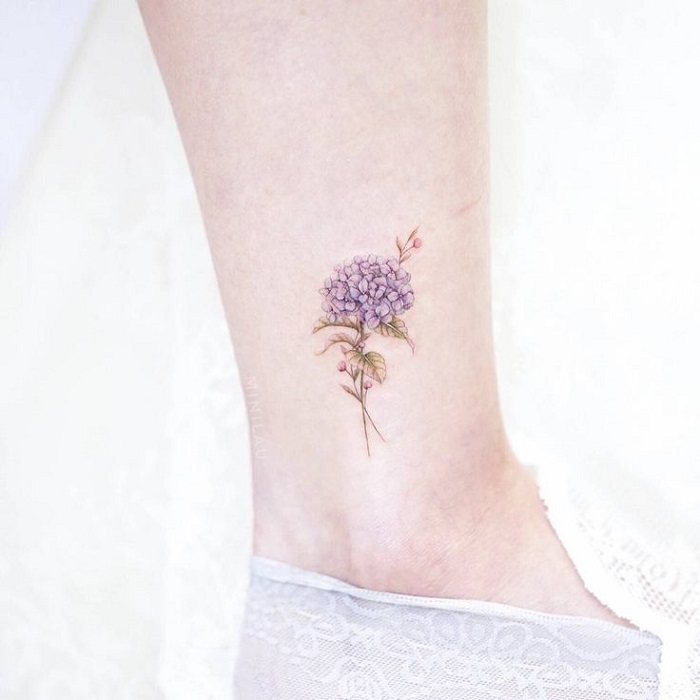 #13: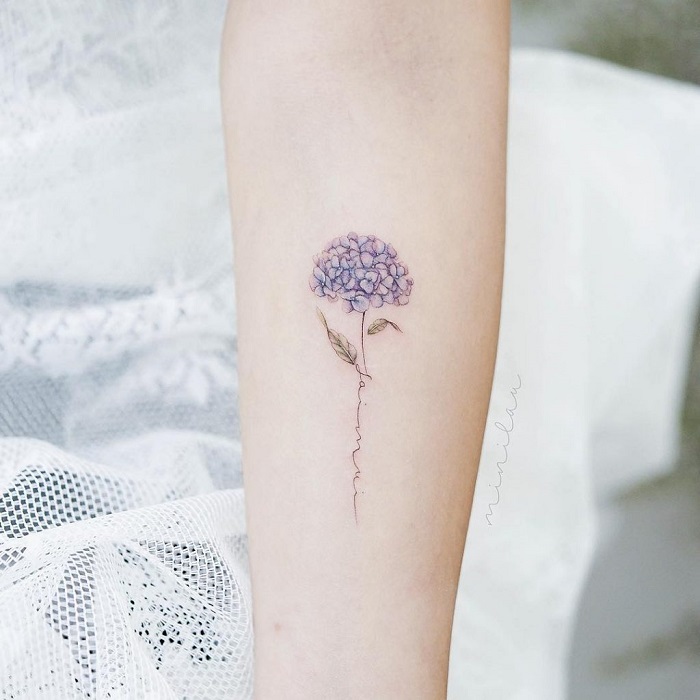 #14: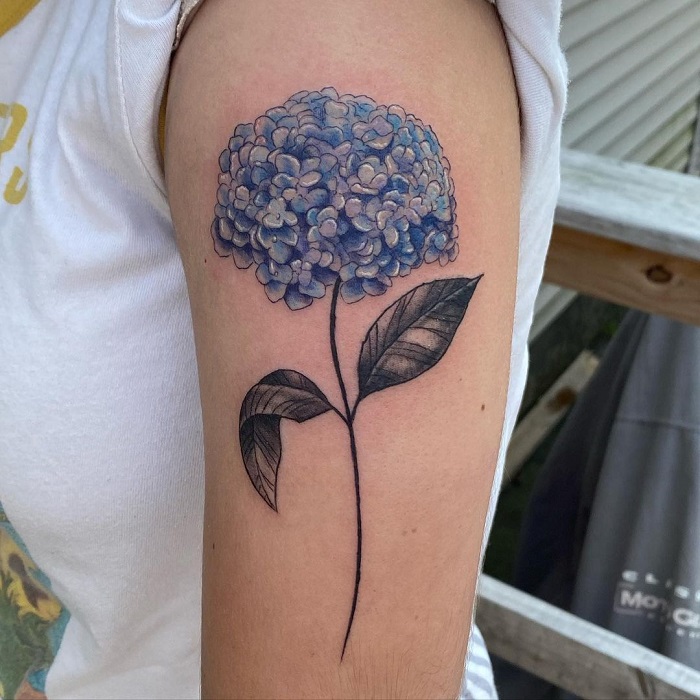 #15: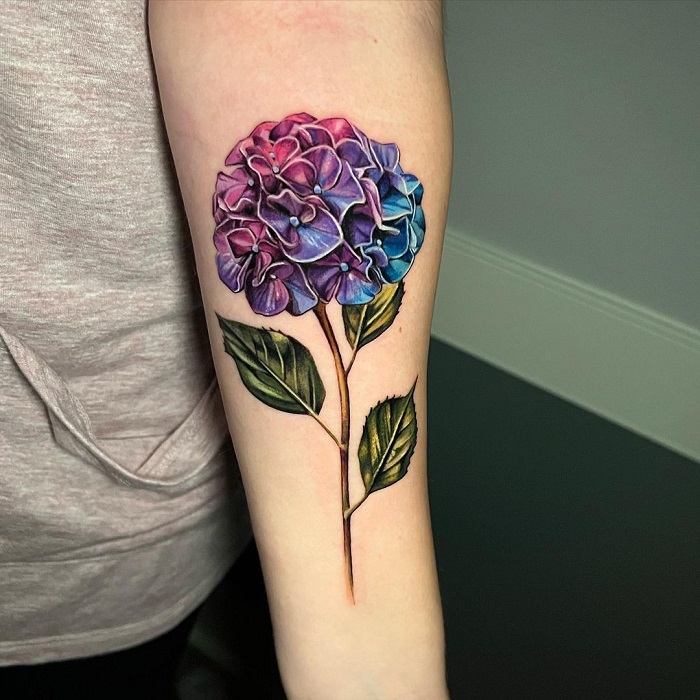 #16: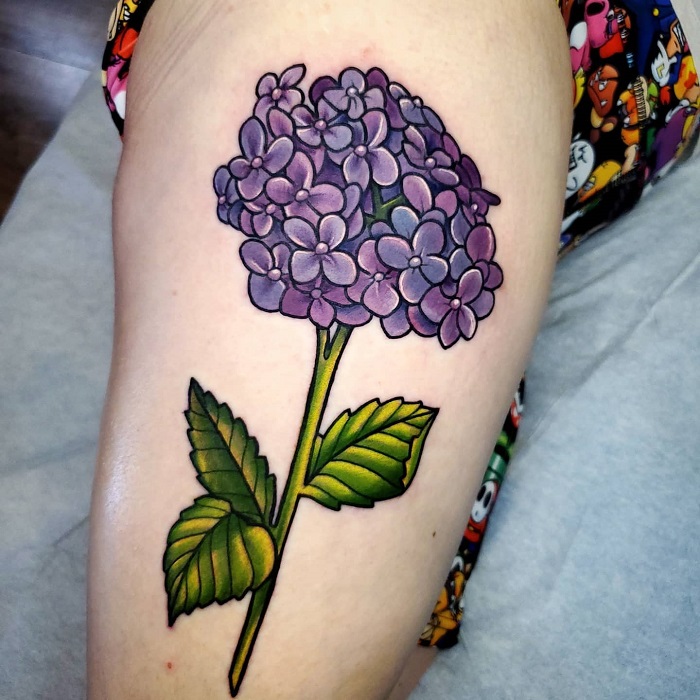 #17: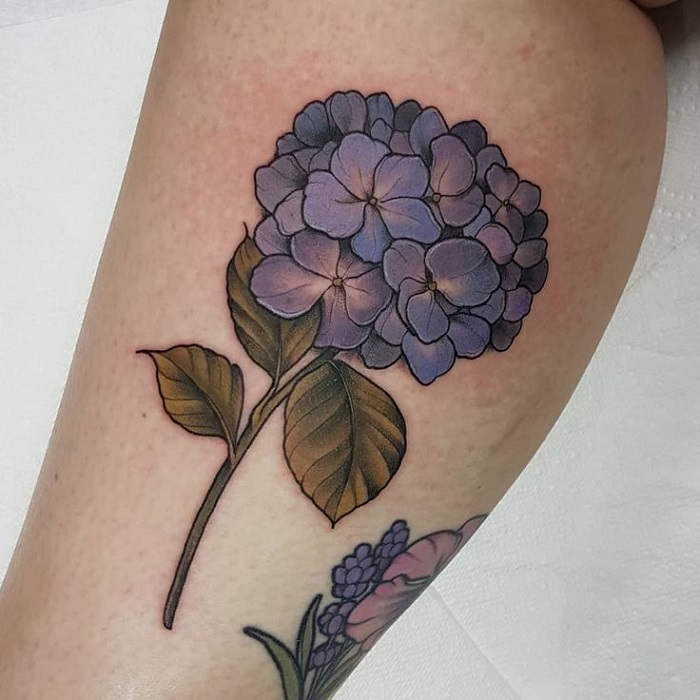 #18: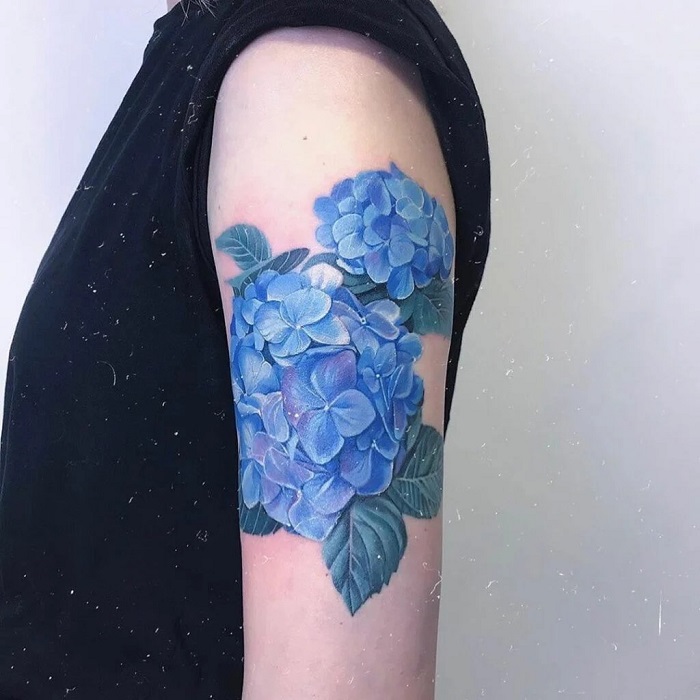 #19: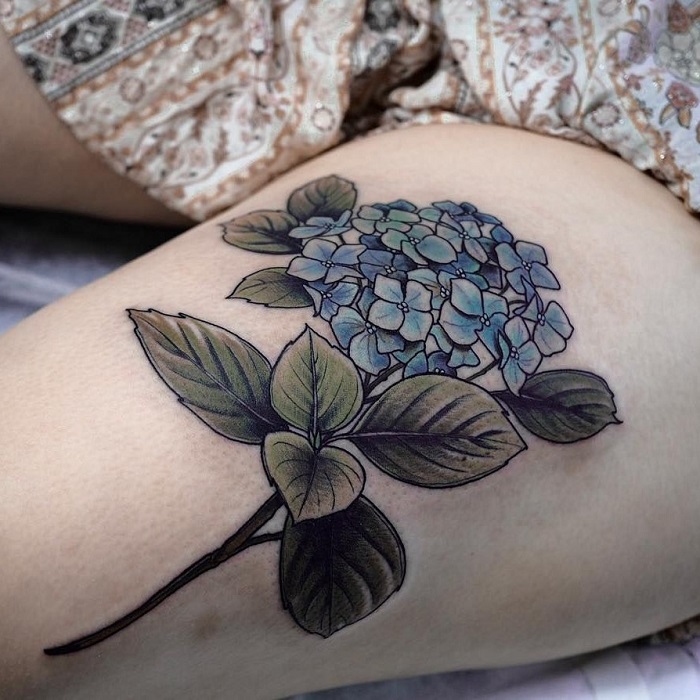 #20: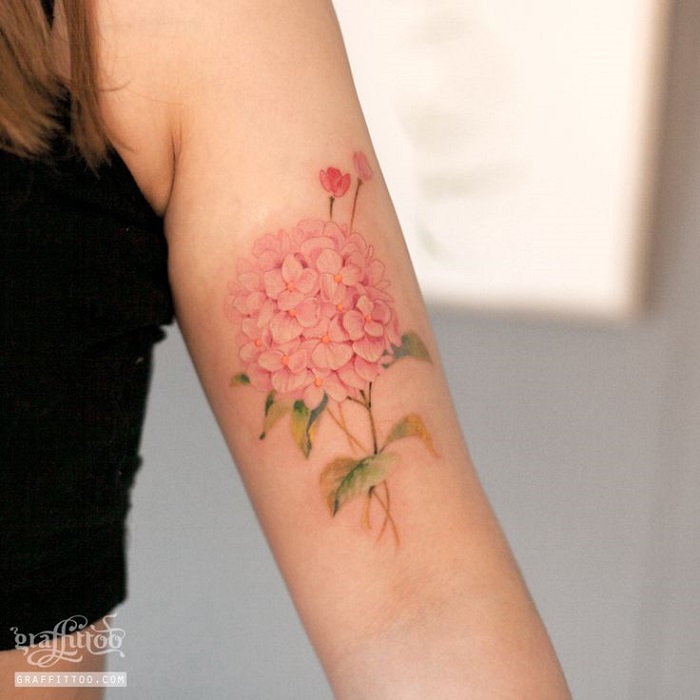 #21: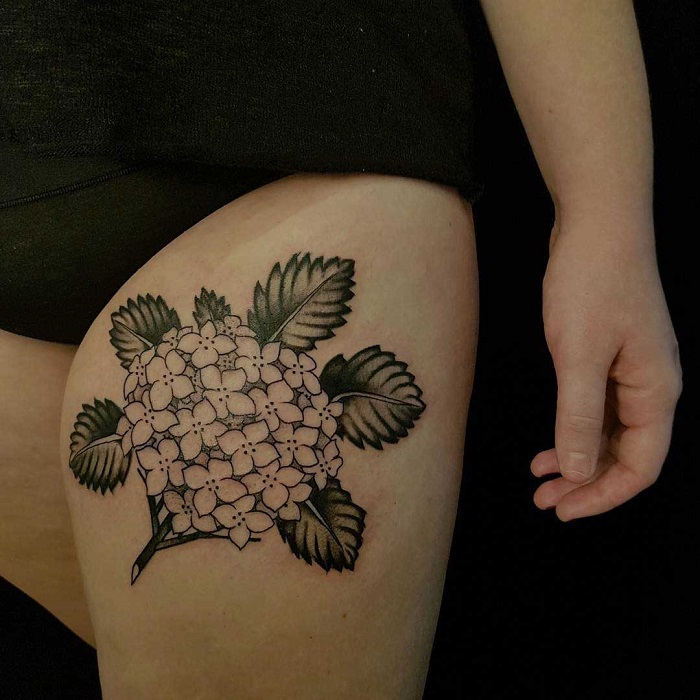 #22: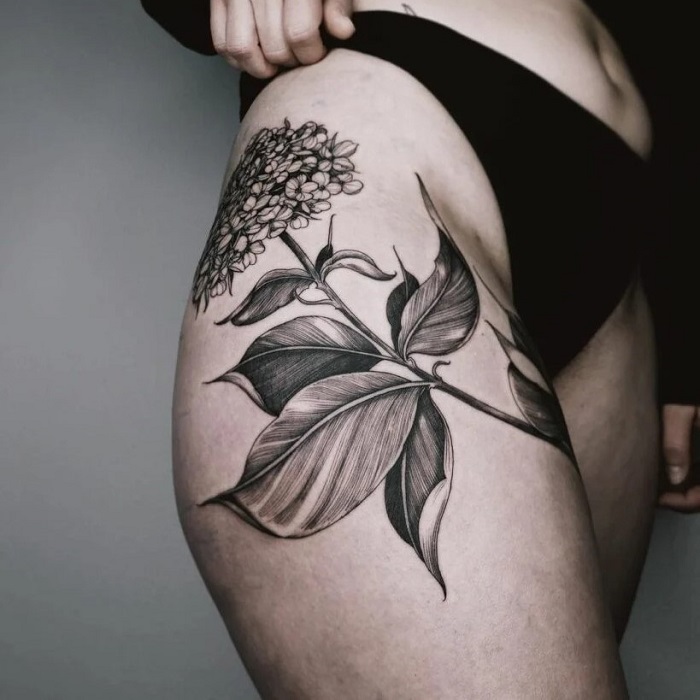 #23: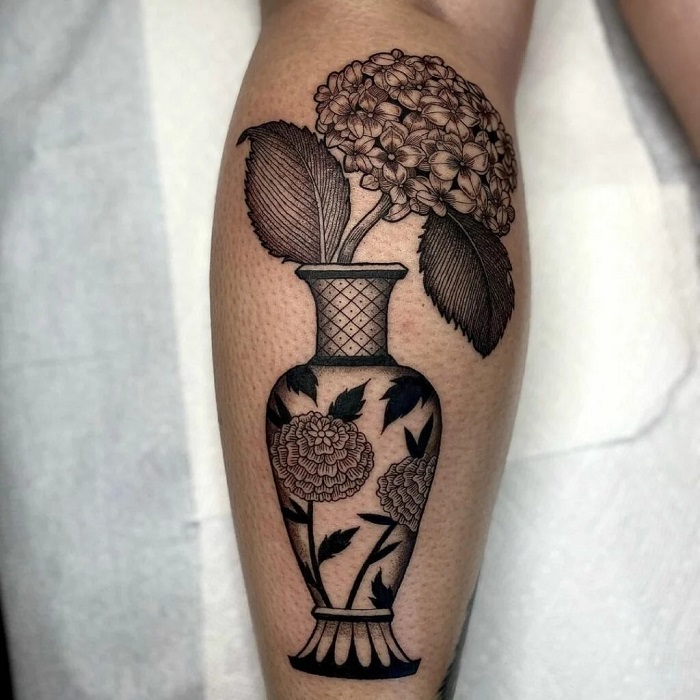 #24: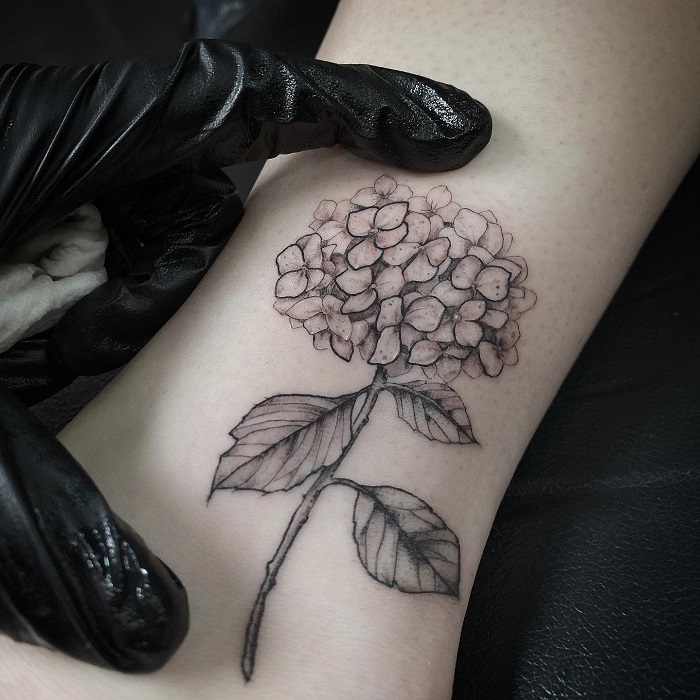 #25: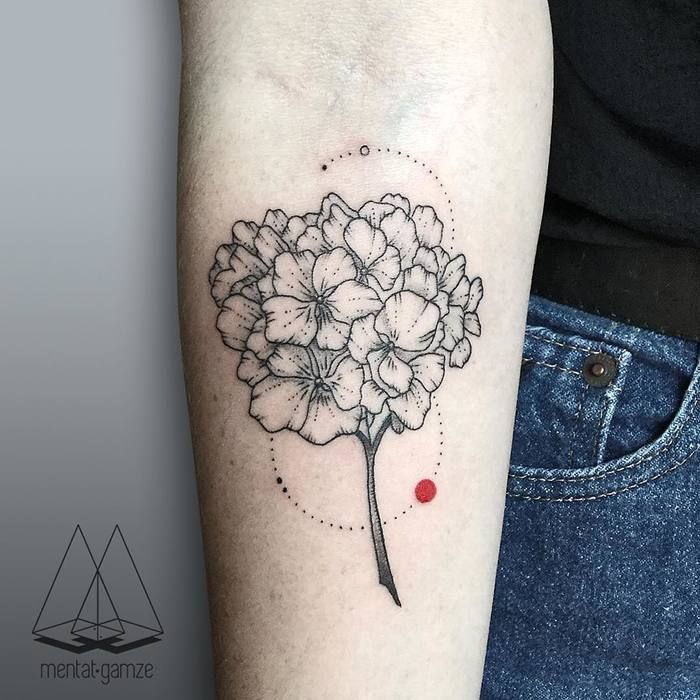 #26: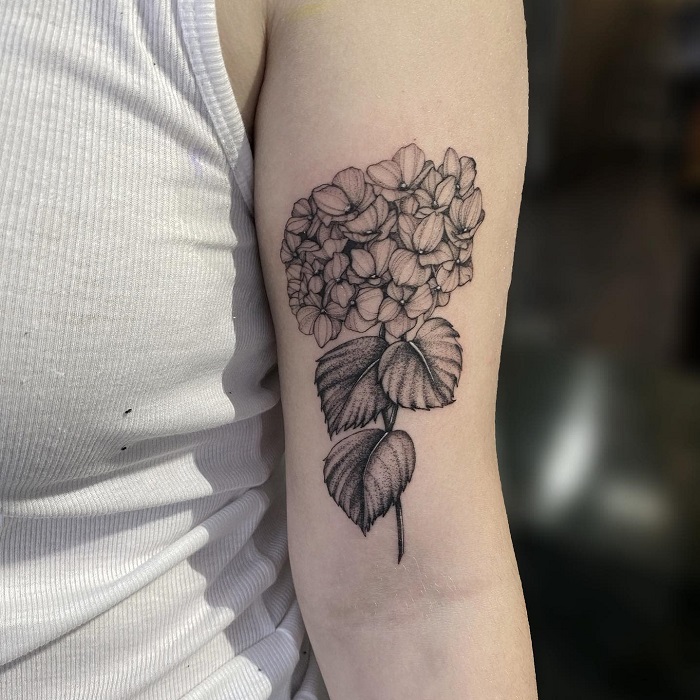 #27: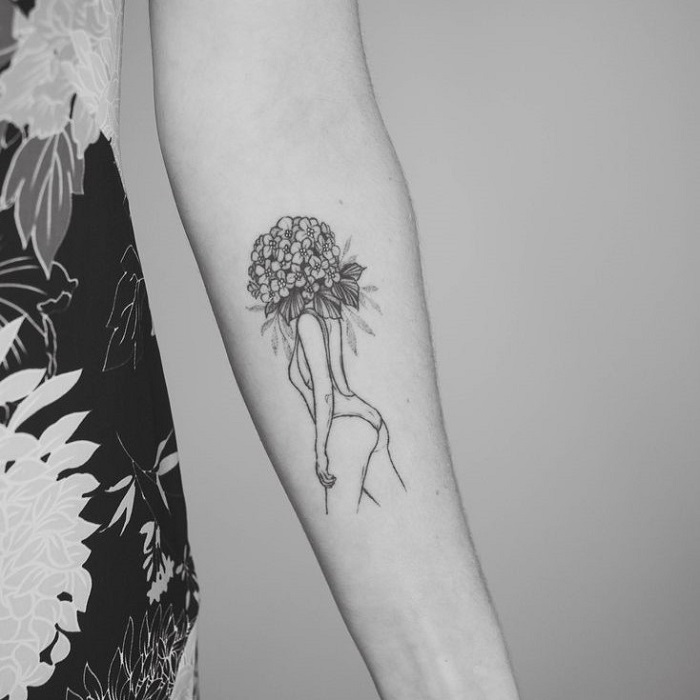 #28: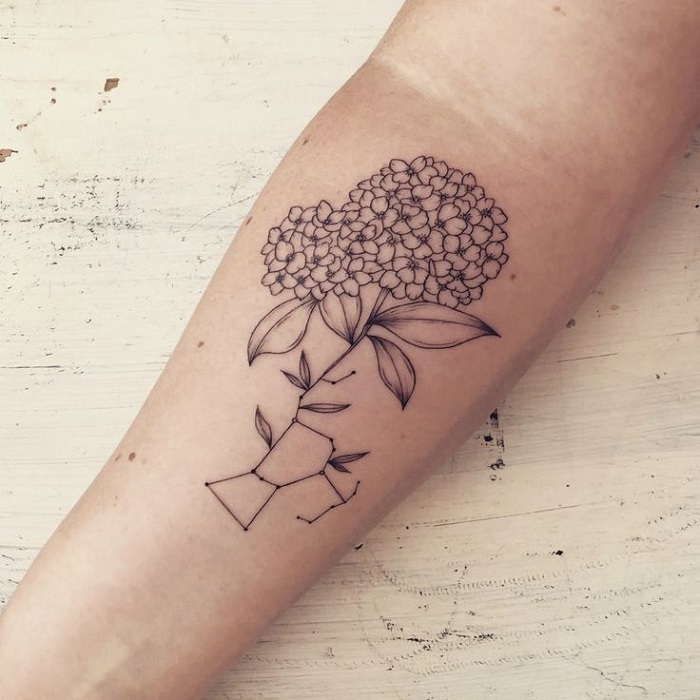 #29: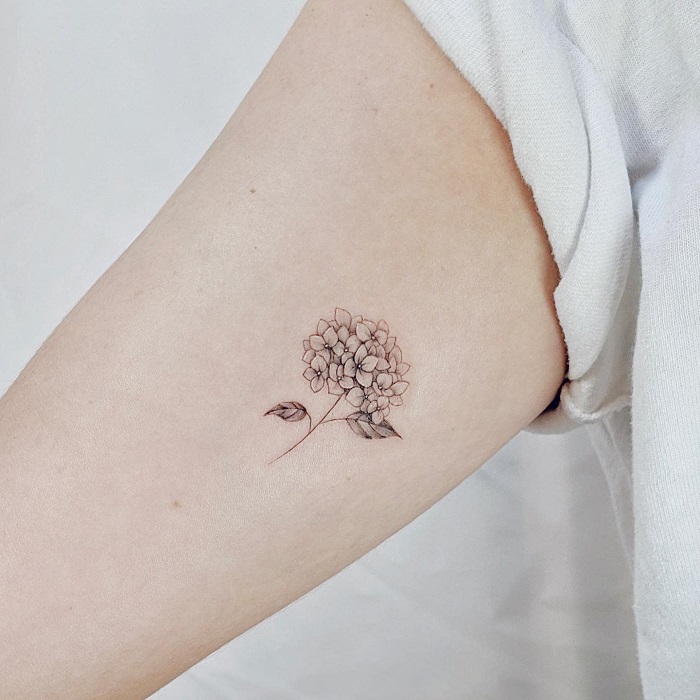 #30: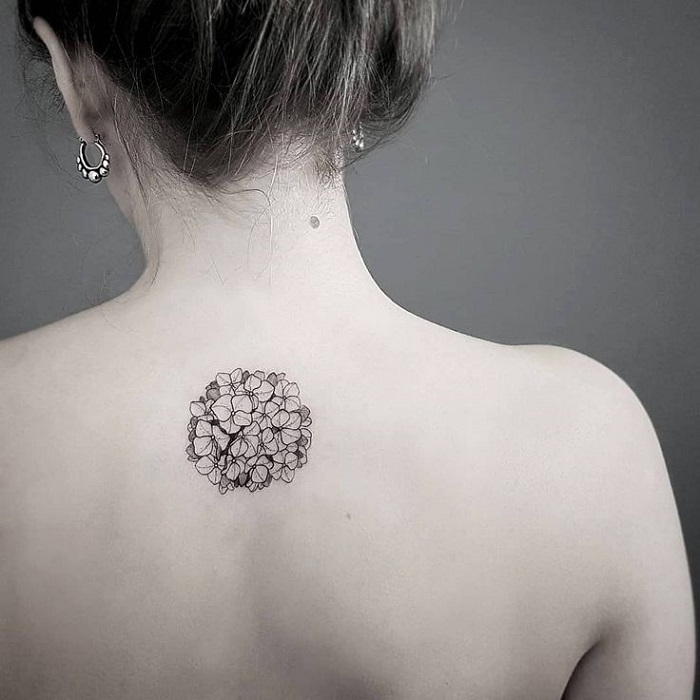 History Of Hydrangea Tattoos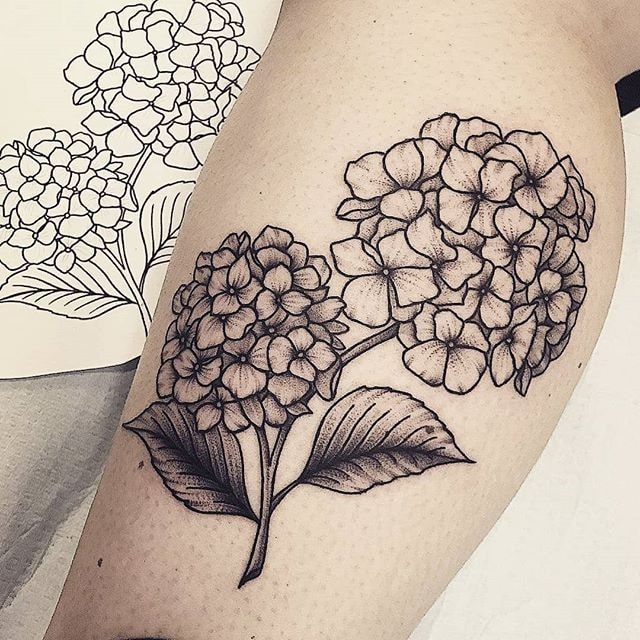 As I've mentioned, hydrangeas are internationally grown flowers. Plus, they're well-loved and super popular—both for their aesthetic value and because of their deep symbolism in countless cultures.
Although nowadays they're one of the most widespread types of flower species, with over 75 different varieties, they do have more specific historical roots.
Hydrangeas go all the way back to over 23 million years ago when they were first cultivated in Japan. Because of their easy-to-grow qualities, they soon became well-known in Asia and the Americas.
With such a lengthy and deep legacy, it comes as no surprise that many people are opting for a hydrangea tattoo.
One of the reasons why this gorgeous, globe-like flower is so popular is because of the variety of colors it comes in, as well as its rich symbolism—which makes it appropriate for various celebrations, like birthdays or weddings. Basically, it's a feel-good flower that's tied to many positive occasions.
Interestingly enough, even the name itself was derived from its shape, which looks like a water pitcher. In 1739, a botanist named Grovonius named the flower.
To do so, he combined two words together: 'hydro' (which means water) and 'angeion' (which means pitcher). 
Ultimately, with its peaceful and tranquil colors and orb-like shape, there's nothing to dislike about the hydrangea—or a hydrangea tattoo!
Which Celebrities Have A Hydrangea Tattoo?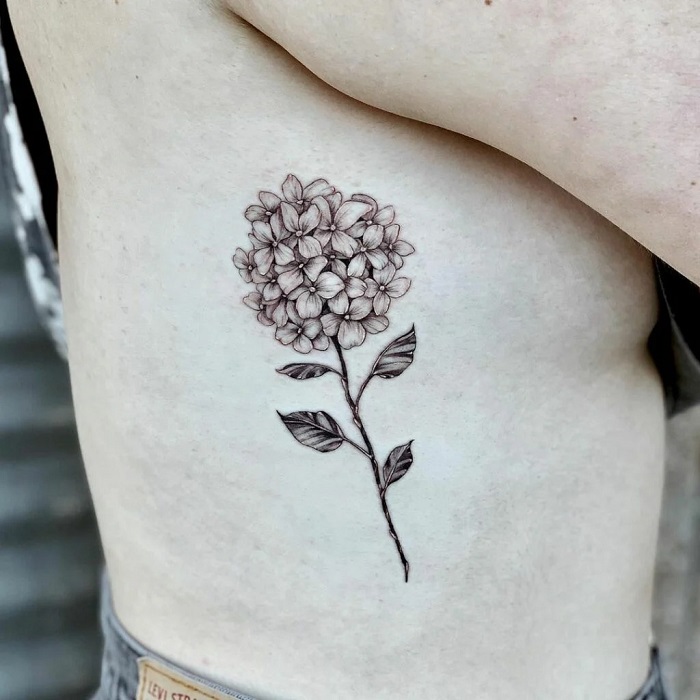 Despite its popularity, I was unable to find any celebrity that has a hydrangea tattoo. However, plenty of stars have gotten inked with flower tattoos.
For instance, Iggy Azalea, an Australian rapper, has a prominent, black and gray rose tattoo on the back of her forearm. And to keep the flower theme going, she has a black and gray chrysanthemum tattoo on her right wrist. 
Another star that got inked with a lovely floral tattoo is actress, Sammi Hanratty. Located on her left side, just below her arm, this delicate string of flowers features several multicolored blossoms. And, each tiny flower is linked together by a long, green stem. 
Famous actress Christina Applegate chose to get a teeny tiny flower tattoo. The green vine of this tattoo wraps all the way around her ankle and includes lots of small, quaint leaves. At the end of this stem, there's a cute little flower.
Another Hollywood actress, Leighton Meester, has a colorful pink, purple, and yellow flower inked on her wrist. Outlined in black, this bold tattoo doesn't include the stem or the leaves.
Now that you've seen a few celebs with a pretty floral tattoo, do you feel ready to schedule your appointment at the parlor? If so, I'll share a few tips to keep in mind.
With more and more people getting hydrangea tattoos, there are plenty of talented and renowned artists out there who are specializing in this style of tattoo. And one of these experienced artists might be able to create the design that you're looking for.
Of course, it's always a good idea to check out samples of the artist's previous work before scheduling a session.
For example, if you're hoping to get some real–life hydrangeas that imitate the actual thing, that will take a special skill set.
Studio By Bol (known by the Instagram handle @donghwa_tattoo) specializes in real art flowers and has nearly 150k followers. If you want to find a good example of a hydrangea tattoo in this style, then look no further than their Instagram page.
On the other hand, if you want to get a colored hydrangea tattoo, but are looking for a fuller color piece—that includes a bouquet of hydrangeas rather than focusing on a single delicate real-life blossom—then you might want to check out Fallen Angel Tattoo (@fallenangeltattoo in Instagram) in California for bookings or inspiration.
Another example of a well–known tattoo artist creating a specific style of hydrangea tattoos is Roberta Mazziotti in Italy. She executes her art at Moriah Tattoo Studio, which has nearly 6k followers on Instagram.
For amazing and detailed flower outlines, including hydrangeas, this is where you'll want to look for inspiration.
---
Looking for more inkspiration? We've got you covered:
30 Best Aster Flower Tattoo Ideas 
30 Best Blue Lotus Tattoo Ideas 
30 Best Gladiolus Tattoo Ideas 
Get Access to Exclusive Deals
Subscribe for free to get exclusive deals in your inbox. 100% privacy