15 Best Sweatpants Outfits For Men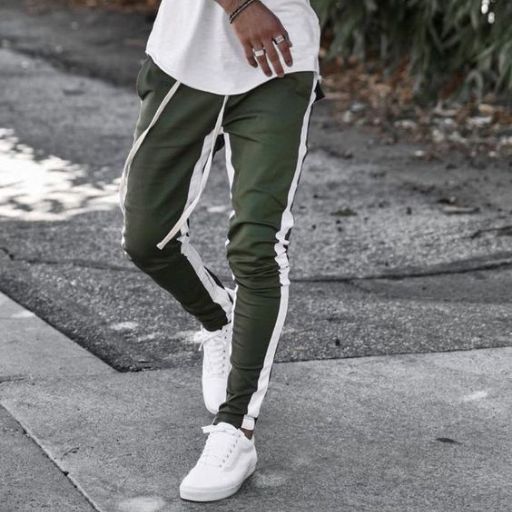 The couch potato aesthetic is not just an image; it's a state of being.

Of course, it doesn't have the most glamorous vibe, considering its stereotypical association with junk food and spilled soda. But let's not forget that being lazy doesn't automatically equate to ugliness.
The sloth mentality can also involve a quiet morning with a quaint cup of tea or a leisurely stroll through social media after a week of grinding 9 to 5.
Obviously, the best way to unwind is to wear sweatpants. While they're typically considered the antithesis of fashion, this doesn't stop us from copping a pair.
But thanks to social media, the loungewear aesthetic has now been transformed into 'lax luxury.' After all, nothing's more Instagrammable than sporting a cute matching set.
Whether it's for workouts or lounging around on the weekend, everyone needs a cozy pair of joggers. Below, we've gathered 15 of the best sweatpants outfits for men that are all the rage this season.
What Makes A Good Sweatpants Outfit For Men?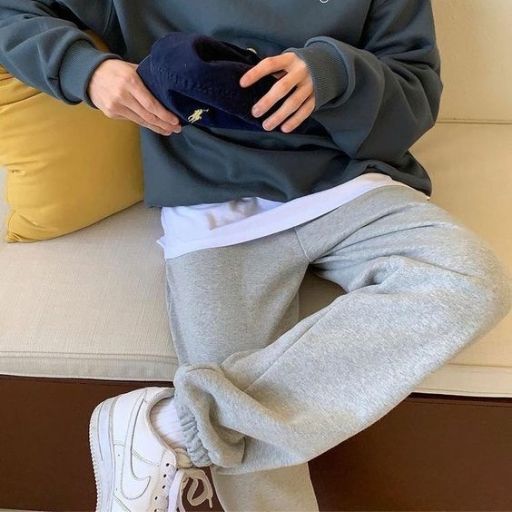 Weekends are best enjoyed comfortably. Obviously, achieving that lax mood requires a snug pair of sweatpants. If you're after only the best, it's important to account for material composition.
A good pair of joggers should be made out of cozy textiles, which include cotton, polyester, elastane, jersey knit, and cashmere. They shouldn't feel abrasive to the touch, even if they haven't been 'broken in' yet.
In addition, customers should look out for certain features such as elasticated waistbands, drawstrings, and pockets for added flexibility and convenience.
Finding The Best Sweatpants Outfits For Men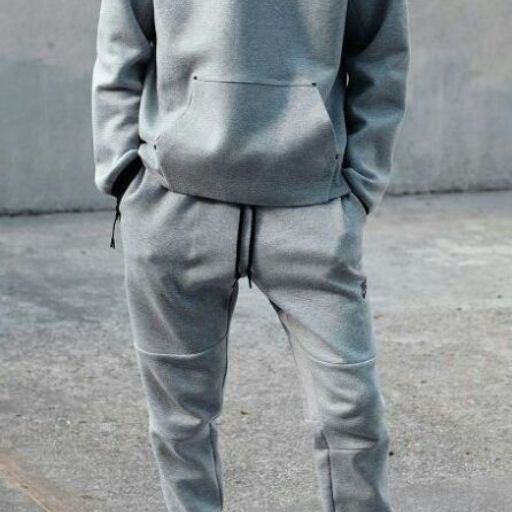 In terms of sweatpants outfits for men, quality is key. As we've mentioned, customers must consider the fit's material composition and overall construction.
Keep in mind that those made out of premium fabrics, such as organic cotton and cashmere, will usually carry a higher price tag. 
You should generally avoid fast fashion companies since they'll usually skimp out on craftsmanship and detail. In most cases, the fabric will feel thin in texture which will cause it to have lots of loose threads down the road.
By no means are we suggesting that customers gravitate towards designer brands. There's a broad assortment of affordable alternatives out there. From Givenchy to Zegna, you can rest assured that our list only includes the best. 
The 15 Best Sweatpants Outfits For Men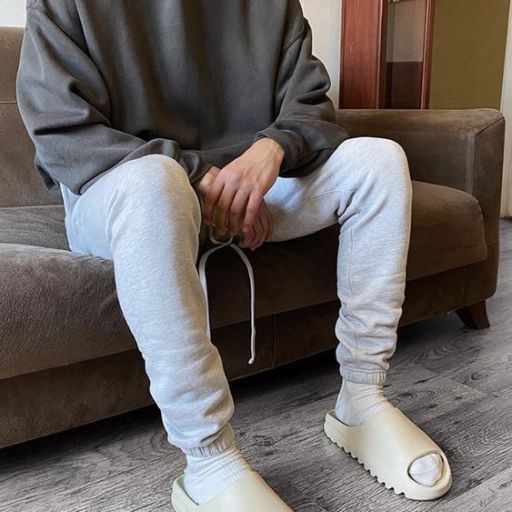 Finding the best sweatpants outfits for men should feel like a walk in the park. But on the contrary, the convenience of online shopping has made the process rather difficult. We don't have the time or the patience to sift through thousands of designs, after all.
Fortunately for you, we've put together a nifty list of trendy styles for shoppers to consider. Check out all of the options down below.
#1: Men's Logo Side-Zip Sweatpants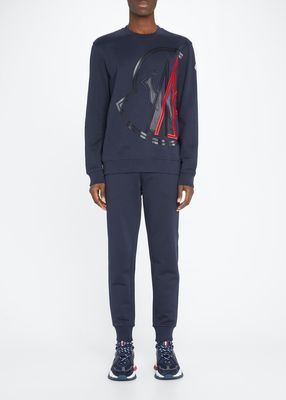 ---
#2: Men's Addison Logo Sweatpants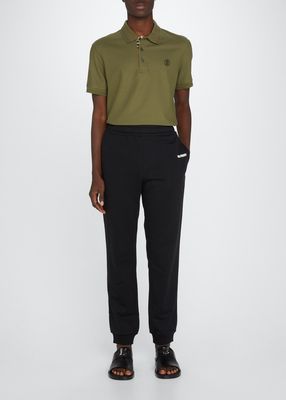 ---
#3: Men's High Perormance Wool-Stretch Sweatpants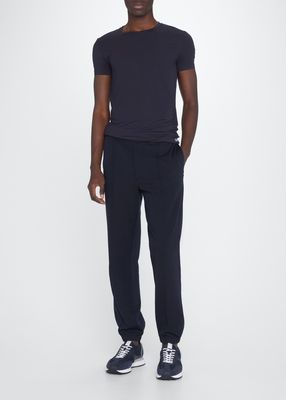 ---
#4: Men's Squiggle Wave Terry Sweatpants
---
#5: Men's Stretch-Cotton Cargo Sweatpants with Side Stripes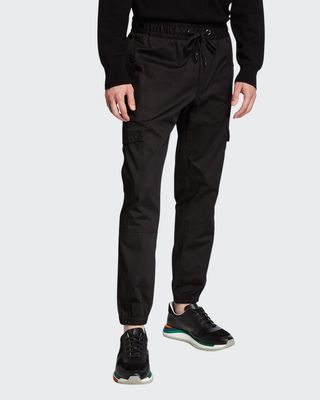 ---
#6: Men's MA-Logo Tie Dye Sweatpants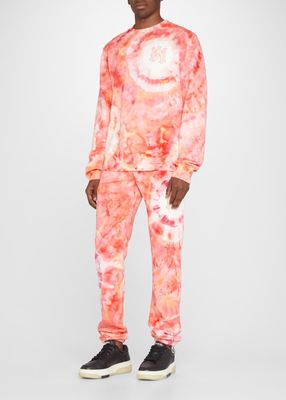 ---
#7: Men's Wool-Cashmere Knit Sweatpants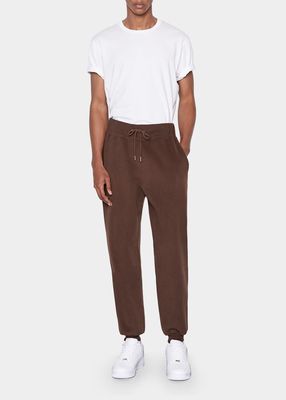 ---
#8: Men's Core Logo Sweatpants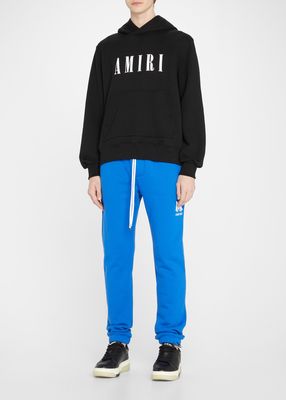 ---
#9: Men's Cashmere Ribbed Sweatpants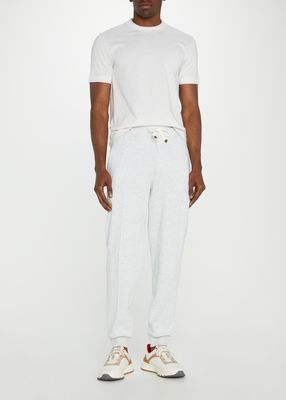 ---
#10: Missoni Men's Sweatpants in Beige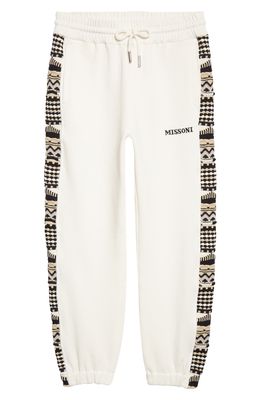 ---
#11: Men's Tactical Cargo Sweatpants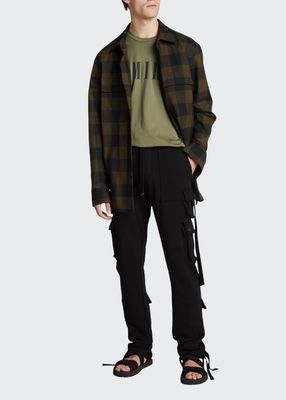 ---
#12: Men's Cashmere-Blend Sweatpants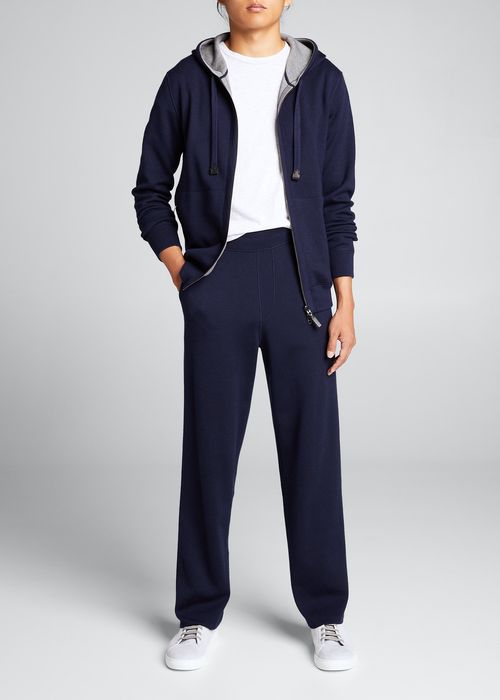 ---
#13: Men's Donegal French Terry Sweatpants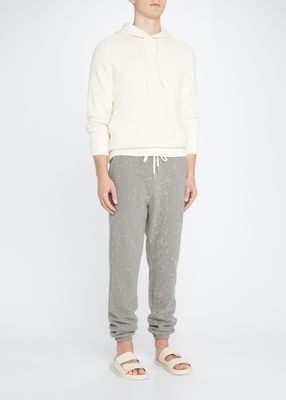 ---
#14: Men's Cashmere Sweatpants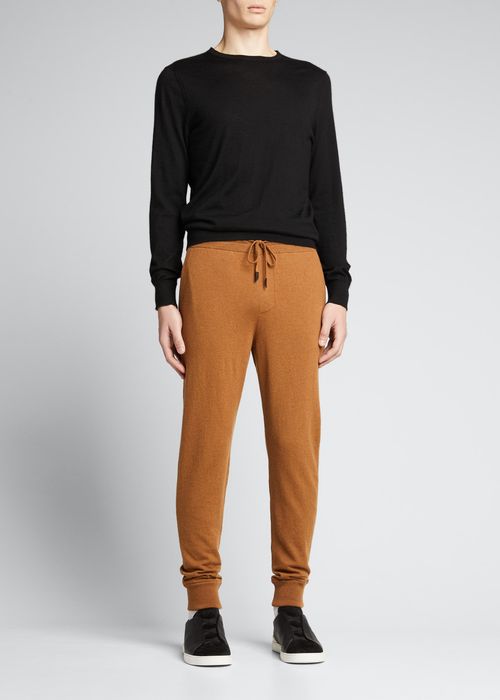 ---
#15: Men's Faded Cotton Terry Raw-Hem Cropped Sweatpants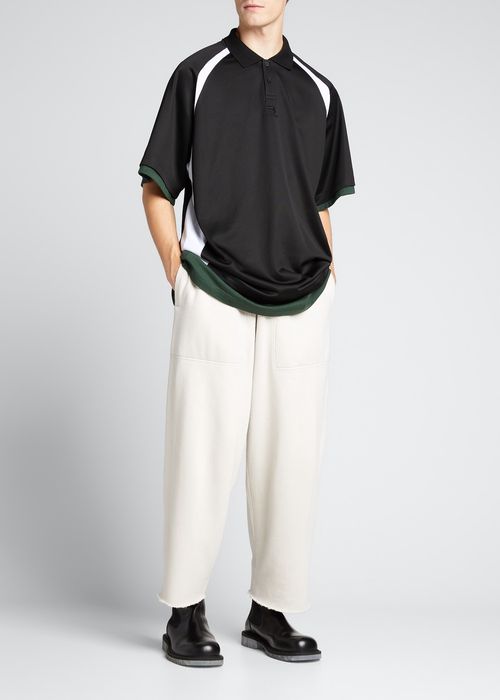 ---
What Are The Most Popular Types Of Sweatpants Outfits For Men?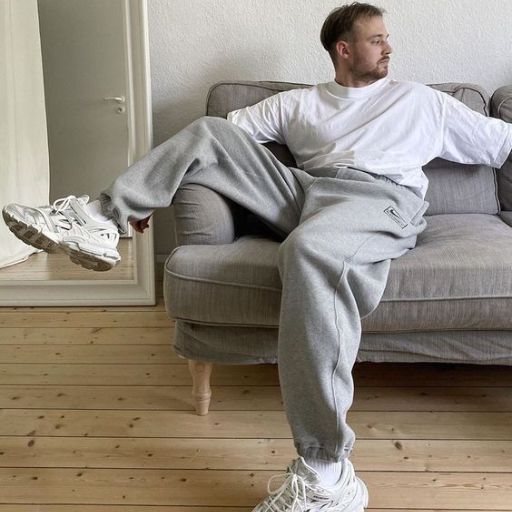 Out of the 15 designs we've featured, there's a good chance that we missed a few bestsellers when putting together our list.
For those in need of additional recommendations, next up, we'll highlight a few more options. These are some of the best types of sweatpants outfits for men. 
The Gucci tracksuit (offered in various prints)
The Adicolor Essentials Trefoil Hoodie and matching pants 
The 2019 Champion Men Long Sleeve Tracksuit 
The Polo Ralph Lauren Varsity Satin Bomber Jacket and matching track pants
What Are the Most Comfortable Types Of Sweatpants Outfits For Men?
Comfort depends on material composition. In order to guarantee coziness, you must look out for specific fabrics when choosing sweatpants outfits. Textiles such as cashmere, cotton, polyester, elastane, and silk are known to be quite snug and breathable.
With that in mind, you should generally stay away from heavy-duty alternatives such as denim, canvas, and nylon. They're relatively stiff in construction, which is not what you want with a pair of joggers.
How To Style Sweatpants Outfits For Men
The couch potato aesthetic can look glamorous. If you want to exude that 'lax lazy' aesthetic, you need a considerable amount of confidence and styling prowess to pull it off. For those in need of fashion inspo, we'll show you a few ways to finesse your final look.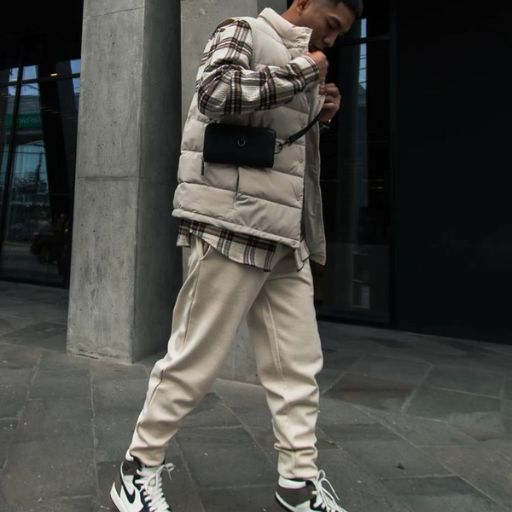 Pullovers and sweatpants require additional accessorizing. That is if you intend on wearing them out in public.
Take, for instance, this stylish outfit, which features a puffy vest, Air Jordans, and an oversized flannel shirt underneath. Matching in hue, this is the perfect fit to wear if you can't be bothered to dress up.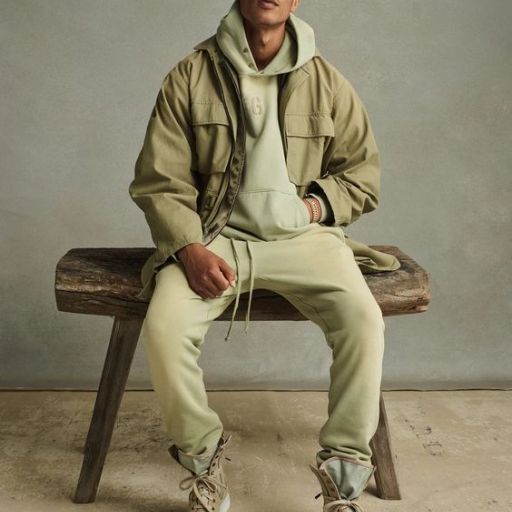 We'll admit that we over-glorified the monochrome OOTDs in hundreds of articles, but can you blame us? This chic ensemble features a stunning selection of muted greens, ranging from the jacket to the pair of sweatpants. Accentuated with boots, this outfit definitely deserves a 'chef's kiss.'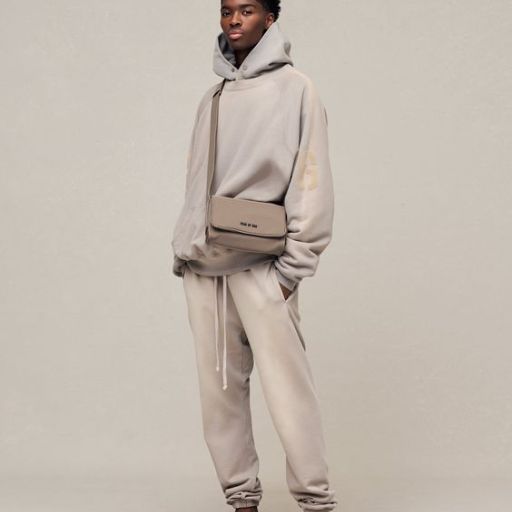 There's nothing like a cute carry-on bag to tie a whole outfit together. This sweatpants ensemble from Fear of God features a simple bag with a matching loungewear set.
---
Looking to up your fashion game? We've got you covered:
20 Best Summer T-Shirts For Men
Get Access to Exclusive Deals
Subscribe for free to get exclusive deals in your inbox. 100% privacy