10 Best White Pants For Men
White: it's probably the worst color to wear if you plan on wine and dining. Nevertheless, it's still a popular shade of choice for many trendsetters, since this specific hue helps to brighten up an outfit.
Perfect for weddings, graduation ceremonies, and cocktail parties, white is often perceived as a friendlier alternative compared to black. This includes a wide assortment of garments, ranging from evening dresses to white pants for men.
If you're tired of tuxedo black, perhaps it's time to consider its polar opposite. Of course, white pants aren't exclusively worn at formal events—they're also worn casually.
Best paired with creamy hues, beiges, and shades of grey, you might be surprised to know that this particular shade is considered second to black.
In need of a solid pair? If so, I'm counting down 10 of the best white pants for men. Be sure to check out my FAQ section as well, where I'll answer some of your burning questions related to shopping and styling.
What Makes A Good Pair Of White Pants For Men?
Finding the perfect pair of pants has nothing to do with their color. It really boils down to fit and practicality, since we usually gravitate towards garments that flatter our figure.
From jeans to trousers, it's important to find a design that hugs your hips, waist, and butt. Extra fabric, saggy corners, and excessive bunching are considered no-gos when shopping for bottoms.
The market for white pants for men is very expansive. There are hundreds of cuts to choose from, including high-waisted, low-rise, bell-bottoms, and the classic pair of skinny jeans. Of course, it's important to consider your current aesthetic before settling on a style.
Do you prefer the Y2K craze of low-waisted bottoms, or do you want something more modern like a mid-rise pair? Ultimately, it's crucial to ask yourself these questions before heading to the checkout.
Finding The Best White Pants For Men
Quality versus quantity: it's a tale as old as time. If you want to become a responsible shopper, you must consider these two crucial factors. A good pair of white pants for men should strike an even balance between both of them.
Quality relates to the material, level of construction, and degree of practicality. Quantity refers to how much you're paying for said garment. As a general rule of thumb, customers should settle for a reasonably-priced pair instead of spending over their budget.
The 10 Best White Pants For Men
Whether they're eggshell, alabaster, or cream, there's a broad assortment of white pants for men on the market.
On the following list, I'll share some notable details concerning price, brand, and what makes each design special. Hopefully, after reading this article, you'll walk away with your coveted pair.
#1: ASOS 4505 skinny fit ski pant with quilted moto style-White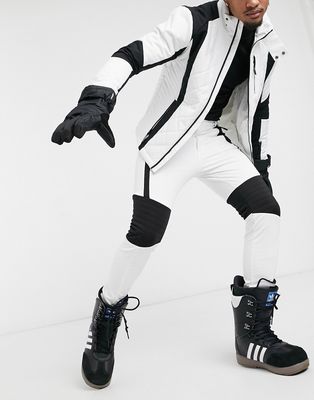 ---
#2: Off-White CORP DENIM CARPENTER PANT WHITE BLACK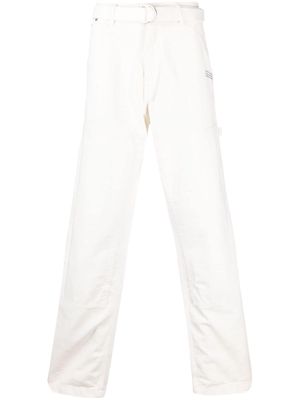 ---
#3: C.P. Company Off-White Stretch Sateen Cargo Pant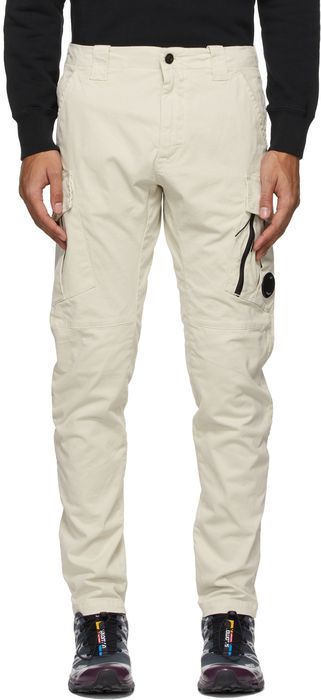 ---
#4: ASOS DESIGN smart flared pants with belt in high shine white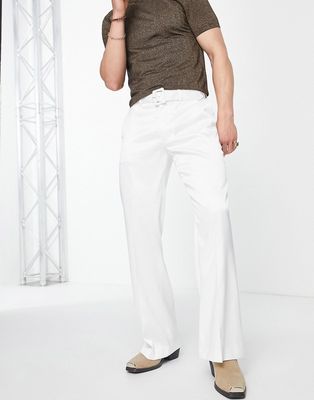 ---
#5: Sixth June regular fit strap cargo pants in off white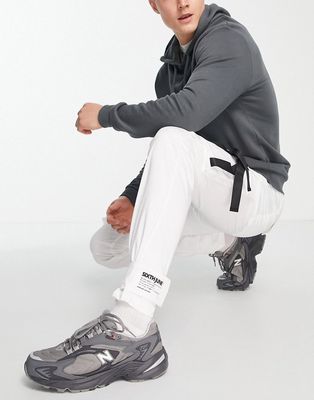 ---
#6: Topman skinny cargo pants with elasticated cuff in off white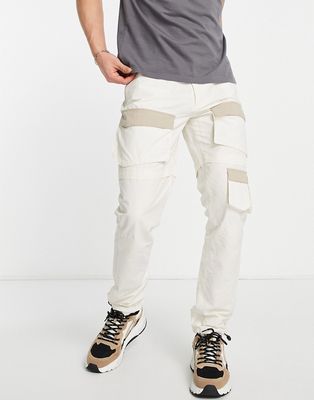 ---
#7: Jack Victor Sage Five-Pocket Pants in White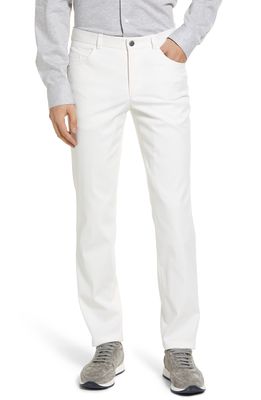 ---
#8: Youth adidas White Real Madrid AEROREADY Training Pants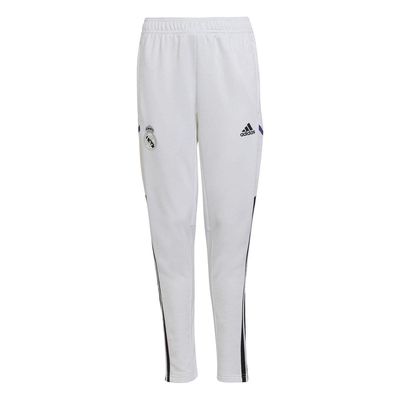 ---
#9: Bethany Williams text-print track pants - White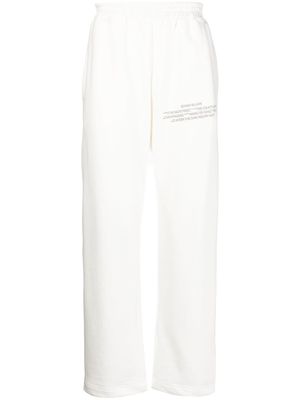 ---
#10: Lacoste stretch-cotton track-pants - White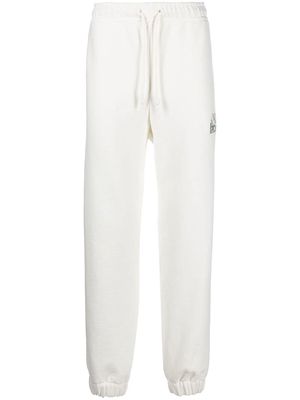 ---
What Are The Most Popular White Pants For Men?
From Levi's to Rick Owens, you can rest assured that my list only includes the best of the best.
But for those in need of additional recommendations, I'll spotlight some extra contenders. Here are a few more trendy pairs of white pants for men.
The Levi's 501 Original Fit Men's Jeans
The Amiri Jeans in White Denim
The Moncler Ombré Logo Cotton Joggers
The Rick Owens X Champion Men's Drawstring Organic Cotton Prisoner Pants
Can White Pants For Men Be Worn At Any Time Of The Year?
White isn't exclusive to a specific season or occasion. This particular shade can be worn any time of the year. It's worth noting that light colors are typically worn during the summer and spring because they help reflect light.
Plus, since white pants are known to be more breathable and comfortable when it's humid outside, it's no wonder why most trendsetters opt for white instead of black.
How To Clean White Pants For Men
There's nothing more soul-destroying than getting a ketchup stain on your pair of white pants. If you're caught in such a predicament, don't be tempted to rub it out with a wet paper towel.
Doing so will only spread the blemish further. Instead, you should opt for the dab method to help contain the problem area.
In terms of an in-depth cleaning, white pants are best washed with cold water and gentle detergent. If they're full of stains, I recommend spot-bleaching instead of dousing your pair in the solution.
How To Style White Pants For Men
Compared to black, white is typically perceived as a bold shade to sport. For those struggling to come up with outfit ideas, I'll show you how to style white pants for men.
It's a well-known fact that white pairs well with black. If you're looking for a simple way to style your eggshell pants, I recommend wearing a houndstooth jacket.
Speckled with a checkerboard-esque print, this snazzy coat can help add some dimension to your final look.
Care for a pop of color? If so, I suggest pairing your white pants with a bright yellow sweater. Accentuated with a crossbody bag, this simple yet chic look is ideal for everyday wear.
White on white can look uninviting if styled incorrectly. To help mellow things out, I recommend wearing different shades of cream. For instance, this model chose to pair their alabaster pants with an ivory jacket and a matching cable-knit sweater.
---
Looking to up your fashion game? We've got you covered:
Get Access to Exclusive Deals
Subscribe for free to get exclusive deals in your inbox. 100% privacy