What To Wear For Engagement Photos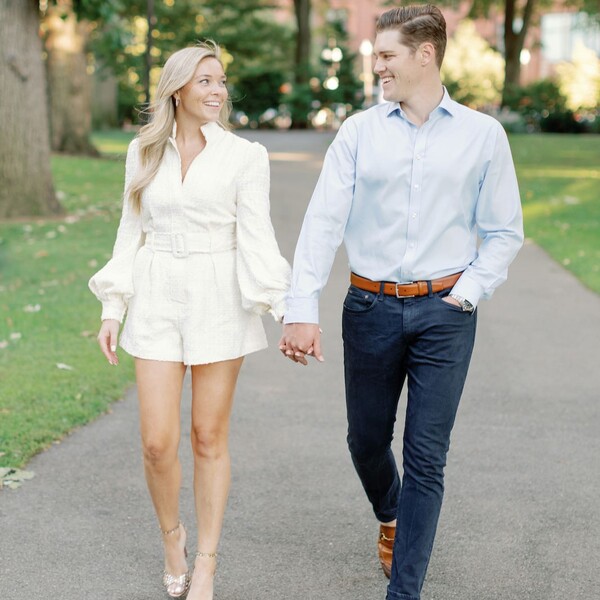 Weddings hinge on a simple "yes" or "no." If you're fortunate enough to receive (or give) a yes, it's time to look forward to a 'second' honeymoon.
Engagements are always a merry occasion, as couples undergo a cheerful celebration of a relationship 'level-up.' While the planning process may seem like a stressful venture, there's always something to look forward to.
Usually viewed as an exciting rite of passage for to-be-weds, engagement photos are treated as a 'secondary' option to the actual event, as couples typically request a photo shoot after being affianced.
Whether you're prepping for a lakeside destination or a prairie flower field as your picturesque backdrop, you're probably wondering what to wear for engagement photos. 
Leave the worrying to things such as the cake, the venue, and the party favors. I'll teach you what to wear for engagement photos using 12 outfits. I'll be sure to touch upon multiple style topics, which may or may not include:
What to wear for engagement photos outdoors
What to wear for engagement photos summer
What to wear for engagement photos fall
What Are Engagement Photos?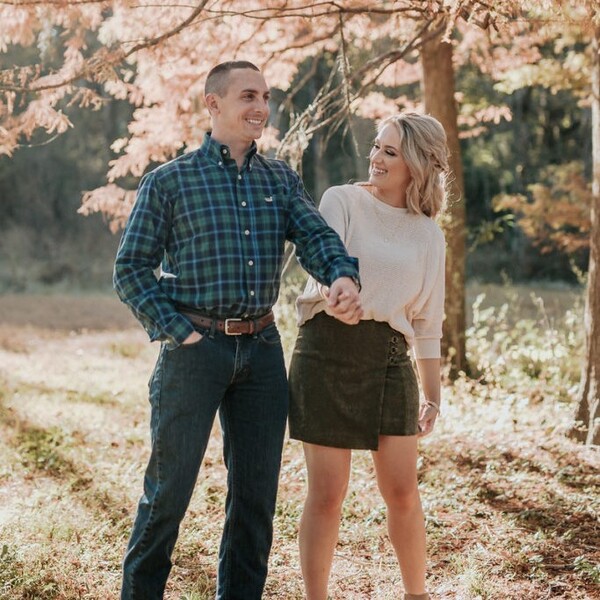 As previously mentioned, engagement photos typically happen after the 'affiancing.'
There's a possibility that your partner might've hired a photographer to lurk in the background before popping the question, but given the ambiguity of the occasion, it might not be the best opportunity to snap pics. 
Engagement photoshoots can happen weeks or a month before the wedding. Stylized and sentimental in composition, they're generally devoid of any snot bubbles or ugly crying which can happen during the day of.
History Of Engagement Photos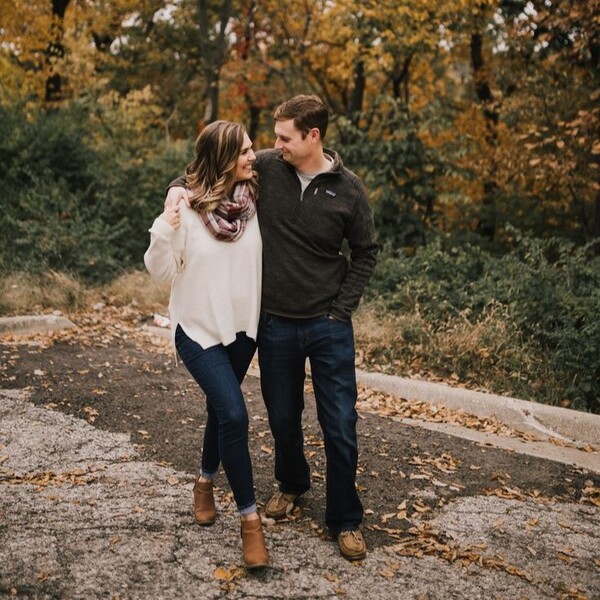 Given that engagement photos fall in the category of wedding photography, it's only fitting that I combine both disciplines into one. In the early 1840s, the daguerreotype portrait was immensely popular with the public. However, it had its limitations, considering that it only allowed for one still photo compared to digital prints. 
Wedding shoots required bulky, expensive technology, which was only accessible to the wealthy for a short period of time. For example, consider the ever-iconic still of Queen Victoria and Prince Albert in the 1800s. They were one of the first couples to ever engage in early wedding photography.
Today, engagement photos are considered vital in terms of completing the quintessential 'wedding experience.' While optional, couples use it as an opportunity to express their love, devotion, and happiness to others.
12 Outfit Ideas For Engagement Photos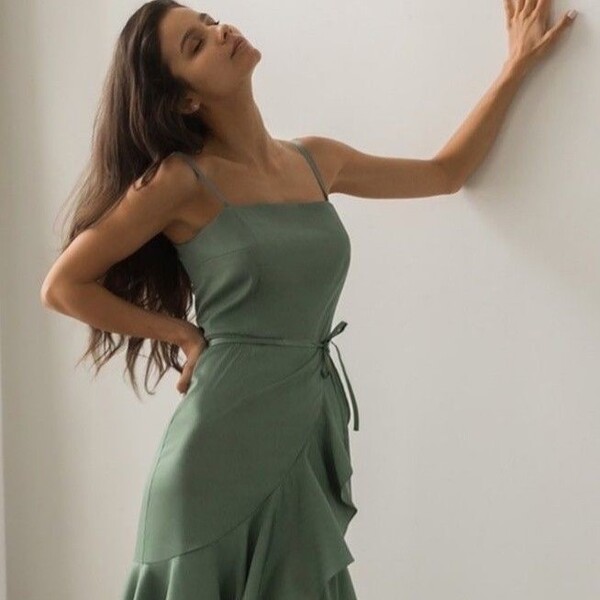 Engagement photoshoots usually exude a sense of class. Ultimately, there's a reason why we don't opt for our usual set of sweats for professional pics—unless it's the vibe you're going for. So, it's always a good idea to consider semi-formal dresses for the occasion. 
This satin green number features a stunning wrap detail, scaffolding ruffles, and a set of dainty spaghetti straps to help keep things simple. Accentuated with a pair of block heels, it's the perfect go-to for summer-themed photoshoots.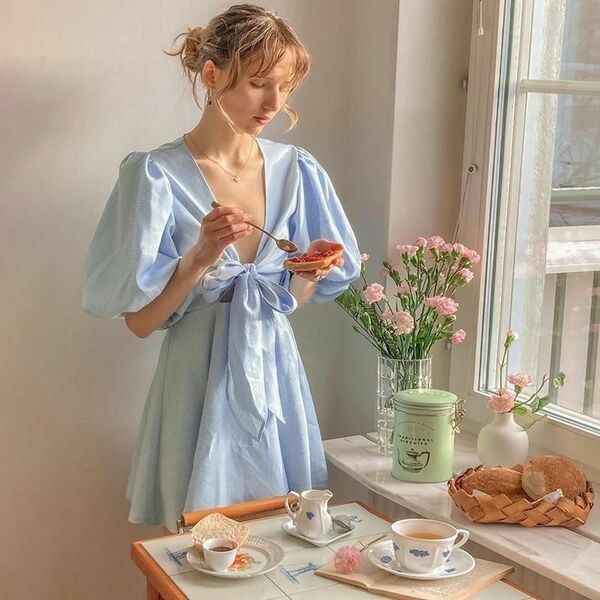 City-themed engagement pics aren't everyone's cup of tea. Where's the romance in bustling streets, touring buildings, and cough-inducing smog? If you'd prefer to 'go back to the basics,' conducting a cottagecore photoshoot can act as a suitable alternative. 
In terms of fashion, I highly recommend donning your best princess-like dress. This gorgeous blue number is assumably made of silk, which is known to create some dramatic pleats and ruffles when gathered.
Ideally paired with dainty jewelry and a pair of kitten heels, countryside romance has never been this easy to achieve.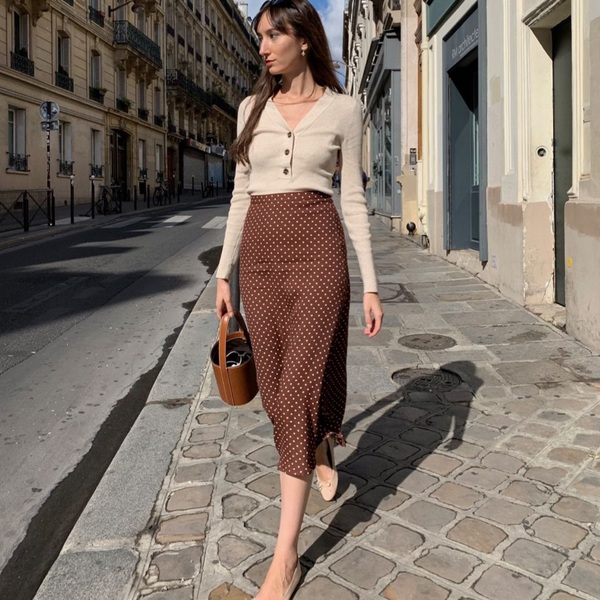 Pondering what to wear for engagement photos typically triggers a self-debate about whether to don formal or casual attire. Believe it or not, most couples opt for a relaxed vibe in order to not outshine their wedding outfits. 
If you're in the mood for something lax, chill, but somewhat romantic, this OOTD requires some serious consideration. Composed of a midi polka-dot dress, a beige long-sleeve shirt, and a pair of nude ballet flats, this outfit is regarded as a prime example of casual Parisian fashion.
I highly recommend adding a floral bouquet to help bring a sense of 'freshness' to the entire look.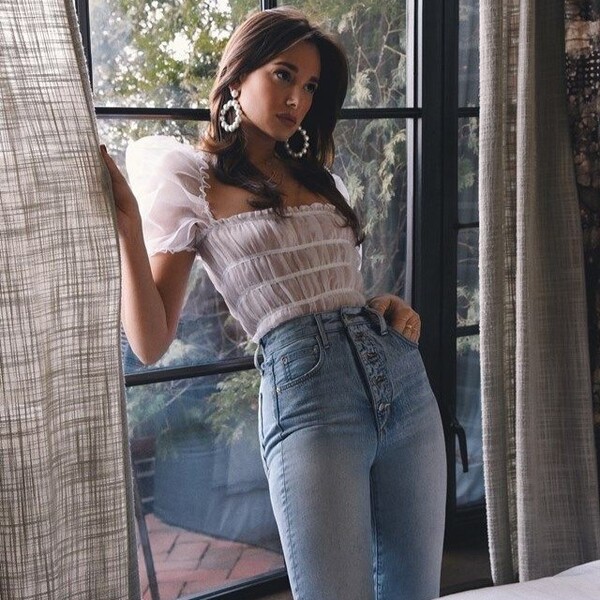 Are jeans too casual for engagement photoshoots? Given the vast amount of couples that opt for Levis, I think it's safe to say no.
Obviously, wearing a standard white tee or a hoodie isn't going to cut it. Instead, a dramatic blouse is considered a more appropriate choice. 
This stunning top has a gathered bodice and puffed sleeves. Constructed out of white chiffon, it can be viewed as a subtle 'sneak peak' of your bridal gown. Don't forget to top the look off with a pair of matching heels and pearl jewelry!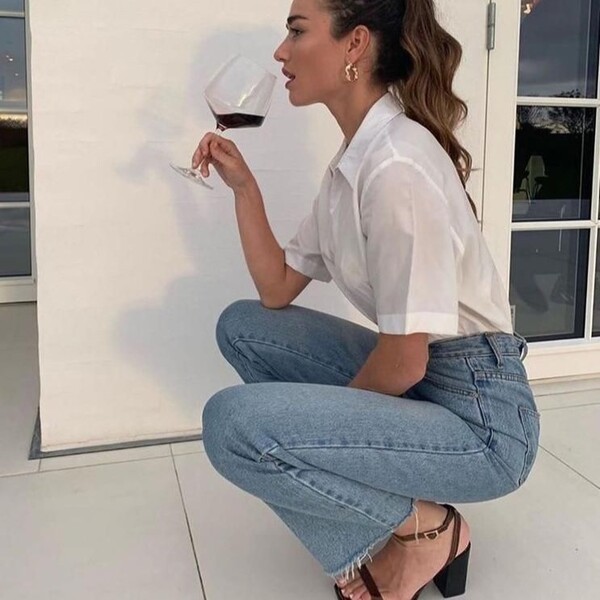 Considered a subtler version of the previous outfit, this 'what to wear for engagement photos' contender keeps things simple, practical, and comfy for two-hour-long picture-taking.
The white button-down blouse offers a sophisticated, corporate touch, while the fitted jeans help to keep the ensemble casual. 
The block heels, on the other hand, work to 'dress up' the OOTD, which cannot be accomplished via a pair of sneakers or boots. Enhanced with gold hoops and a high ponytail, this outfit exudes a sense of elegant youthfulness for mature couples.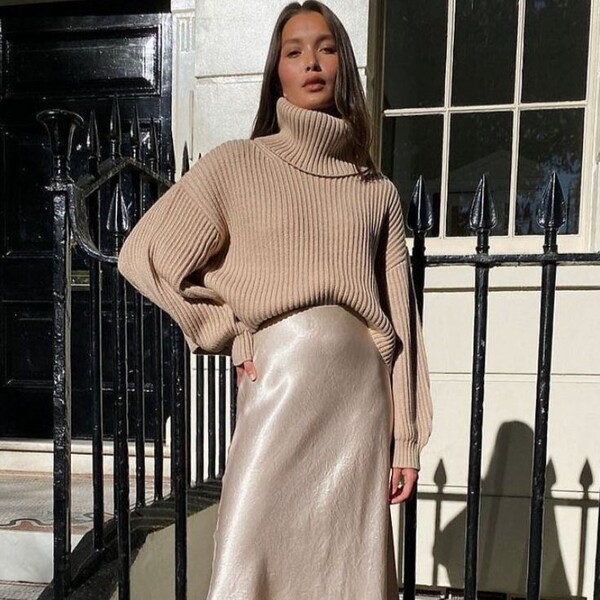 Autumn is a popular time for engagement photoshoots. The changing colors offer a lush background that's perfect for picture-taking. The outfits, on the other hand, are quite limited. Layering will usually result in unnecessary bulk, which is something you don't want to show in the final prints. 
If you prefer to keep things flowy and romantic, you can never go wrong with the quintessential turtleneck and silk midi skirt duo. Simplistic in fit, this OOTD keeps things composed and elegant for fall-themed shoots. And if the weather is on your side, take it as an opportunity to swap your ankle boots for heeled mules instead.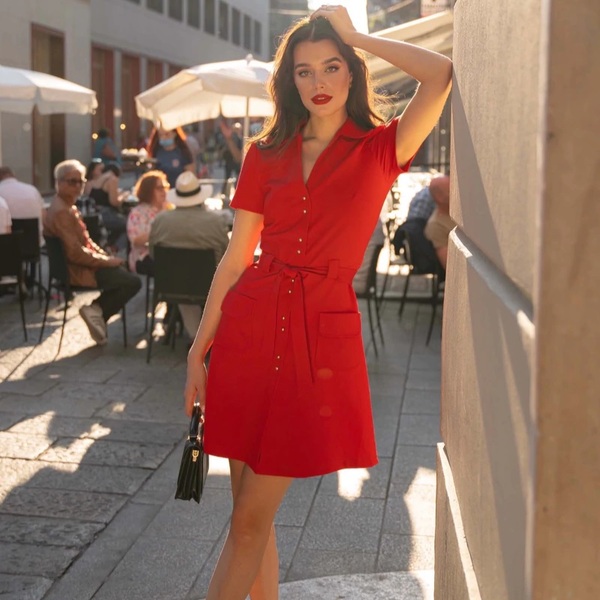 Bold in hue, this jaw-dropping dress will help ensure that all eyes stay on you (and your partner).
Its silhouette is relatively simple, as it features a collared neckline, a button-down front, and an A-line skirt. Accentuated with cap-toe flats, this Parisian-chic OOTD is meant for romantic photoshoots, such as those situated in France.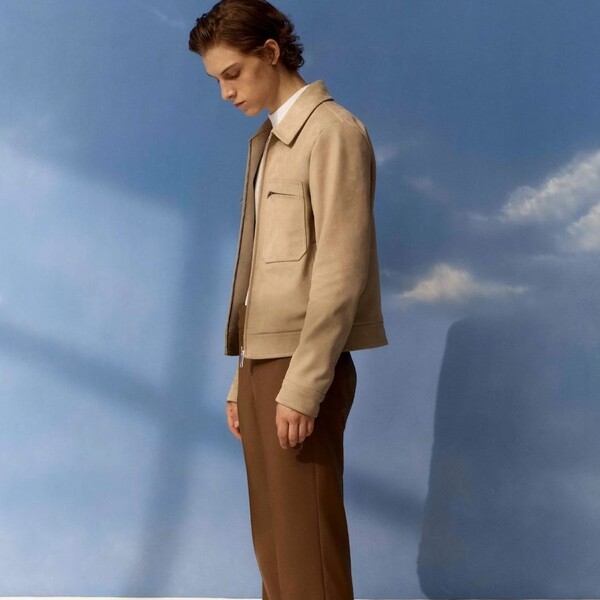 Sandro's menswear collection is best described as 'quiet finesse.' From the get-go, this brand's outfits are relatively basic—but there's an element of sophistication that's hard to explain. 
This OOTD is considered a prime example, as it features a traditional set of espresso-stained trousers, a beige collared jacket, a white mock neck tee, and a pair of brown loafers. Subdued in color, this 'what to wear for engagement photos' contender keeps things neutral for themed photoshoots.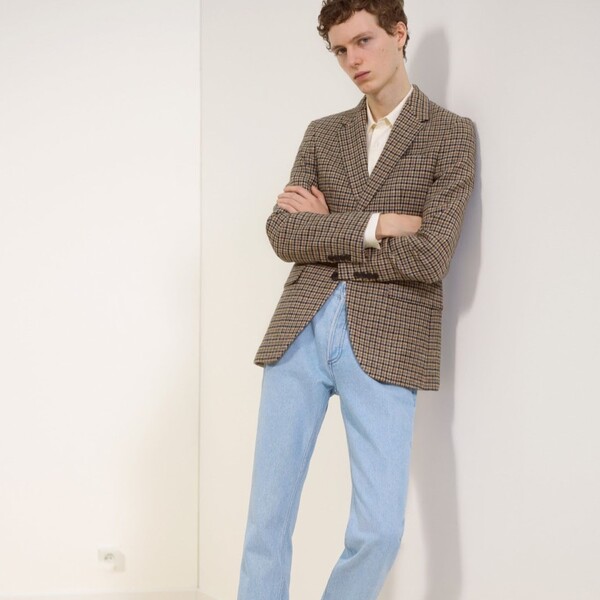 Preppy, casual, and perfect for engagement shoots, this stylish outfit features a pair of traditional blue jeans, a plaid blazer, and a simple cream button-up shirt for a pop of freshness. The simplicity of its silhouette allows the neutral colors to shine through. 
In fact, it acts as a prime example that you don't have to wear bright reds or purples to stand out in a photo shoot. Instead of opting for sneakers, I recommend sticking with a pair of old-school loafers for a touch of elegance.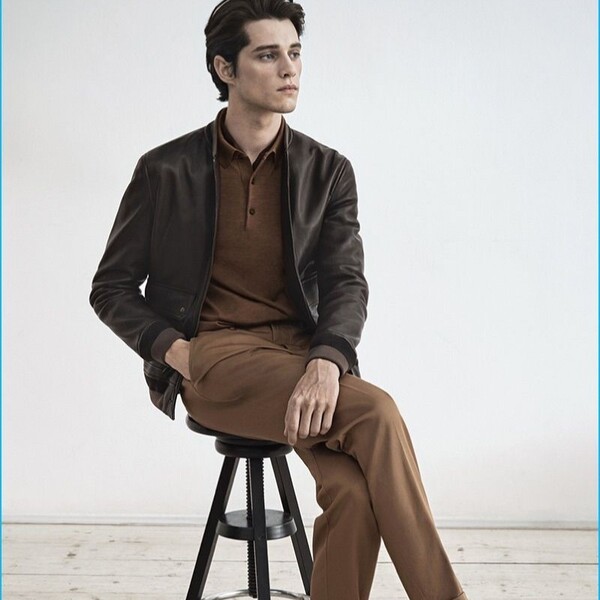 Casual tuxes are usually the first outfits that come to mind when you're wondering what to wear for engagement photos. While the event is quite serious in nature, that doesn't mean you should stick to stiff button-ups or blazers. 
If you'd prefer something more casual, I suggest this chic OOTD. Composed of a dark brown leather jacket, a polo shirt, and a matching pair of trousers, this monochrome ensemble is a prime example of modern contemporary fashion.
It's timeless in aesthetic, which is something to opt for if you intend on scrapbooking your engagement pics.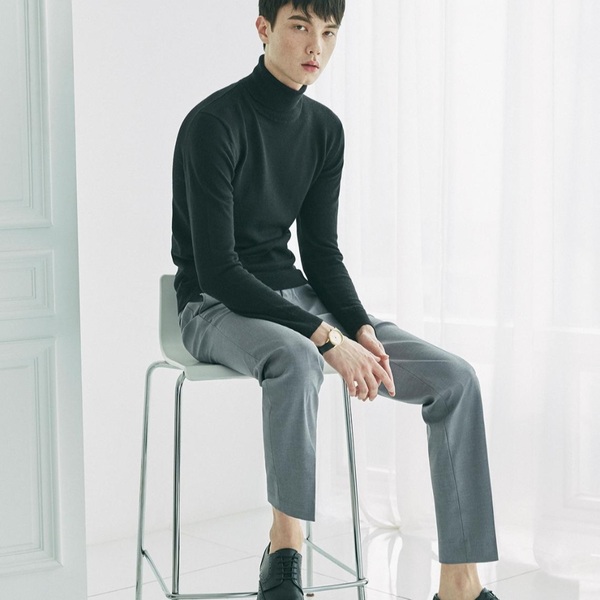 Industrial-chic, this 'what to wear for engagement photos' contender is something to consider if your mood board on Pinterest features brick walls, city lights, and black and white compositions. 
Turtlenecks and tailored pants are always a timeless duo, as they do wonders by accentuating your height and body shape. Plus, the watch and the pair of leather loafers help to emphasize the sophisticated nature of this OOTD. For those in need of additional layering, you can never go wrong with a standard trenchcoat or a relaxed blazer.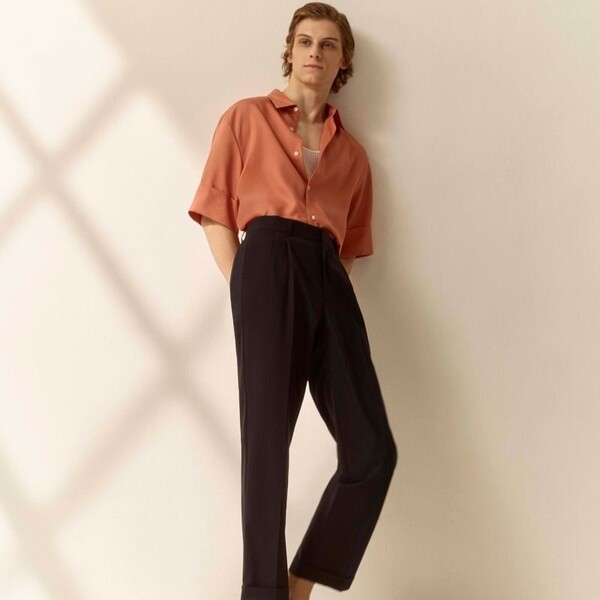 This simple yet romantic ensemble should definitely be on your list of potential outfits for engagement shoots. 
The relaxed silhouette of the pink collared shirt paired with the fitted trousers is a peak example of subtle sophistication.
Instead of buttoning up the entire tee, I recommend leaving a few buttons loose to let your white crewneck peep through. Best accompanied with brown loafers, this casual OOTD is certainly worthy of an 'I do.' 
What Type Of Engagement Photo Outfits Can You Get?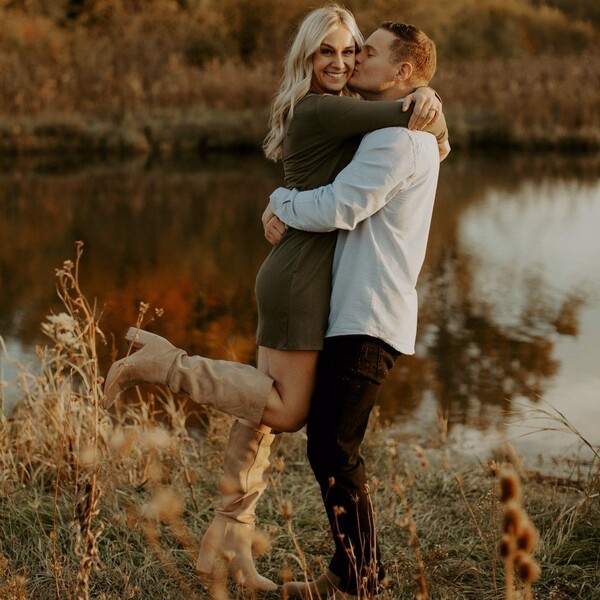 Pantsuits and evening dresses are reserved for reception parties only. As previously mentioned, engagement photo outfits are typically semi-casual in nature.
They're basically a mix of jeans, blouses, relaxed blazers, kitten heels, and loafers. Of course, there's an element of seriousness when picking the right OOTD. But let's be honest—you can't live, laugh, or love in a form-fitting tuxedo.
To help streamline outfit coordination, I'll discuss some trendy outfits to consider in this 'what to wear for engagement photos' style guide.
The prairie girl dress: Considered a cottagecore staple, this garment usually features dreamy florals, lots of ruffles, and copious amounts of chiffon.
Parisian chic: French fashion generally includes timeless garments and neutral tones. It's a great way to look sophisticated without the need for a tux.
The blouse and jean combo: If you're wondering what to wear for engagement photos, you can relax knowing that denim is considered acceptable. Just be sure to dress up your Levis with a frilly blouse or an elegant button-up.
50/50 streetwear: Wearing leather jackets and sneakers can be regarded as appropriate so long as they're paired with 'fancier' garments, such as tailored trousers.
How To Choose The Best Engagement Photo Outfit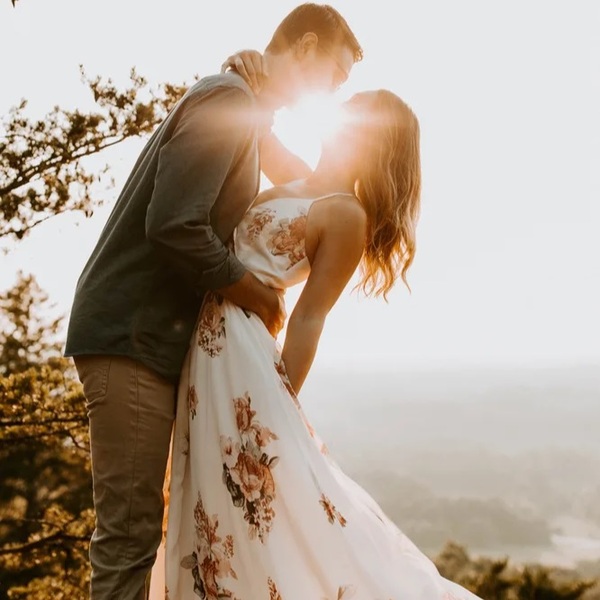 Weddings typically call for a whole new wardrobe. From engagement shoots to farewell brunches, couples and guests alike usually spend the majority of their budget on fashion alone.
Fortunately, there's really no need to shop for a new outfit when it comes to 'affianced picture-taking.' You'd be surprised by the amount of event-appropriate clothing that you already own. 
That said, there's a good chance that some of you are missing a few quintessential pieces to complete your final outfit. If that's the case, then you'll need to go shopping. Keep in mind that responsible shoppers typically consider four things before heading to checkout: material quality, design, practicality, and price.
Opting for well-made garments is always a recommended practice, as it's never a good idea to resort to fast-fashion stores. Cheap outlets are notoriously known for cutting corners—as uneven hems, loose threads, and thin materials are commonplace with discount shops. 
Instead, you should be on the lookout for reputable sustainable brands that utilize durable fabrics like satin, twill, and silk.
In addition, when prepping for an engagement shoot, it's important to consider the theme.
Countryside backgrounds and parks usually call for more relaxed silhouettes and neutral colors. On the other hand, for those situated in the city, brighter tones and embellishments are more appropriate. 
Coordinating your outfit with your partner is always a good move too, as it mitigates the risk of clashing with each other. In regards to practicality, I suggest opting for clothes that are breathable and flexible. After all, it's best to wear attire that makes posing easy.
Price-wise, a decent engagement photo outfit shouldn't cost more than $200. Of course, personal budgets depend on the brand, the design, and what you find cheap or expensive.
While it may seem bizarre to spend that much money on an event-specific OOTD, you can rest assured that most engagement pic outfits can be reused for several occasions. 
How To Style Engagement Photo Outfits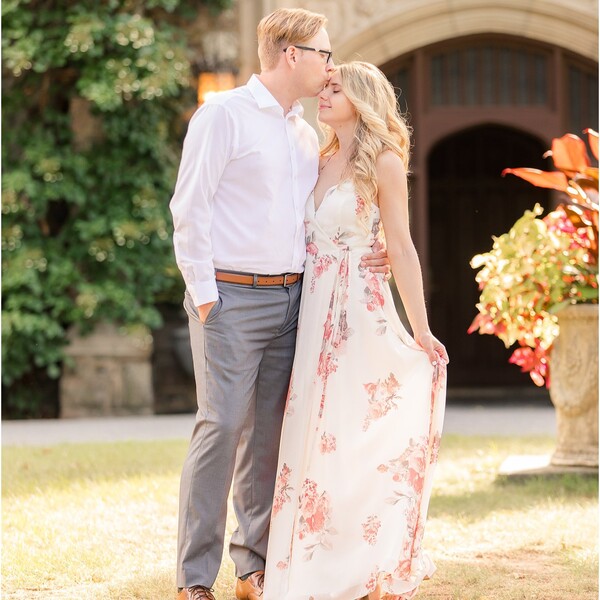 Photographers will do their best to stylize each photo to match their clients' taste. That said, camera quality and After Effects can only do so much to ensure you get the perfect pics.
Fashion plays a significant role when it comes to photoshoots, as finding an ideal outfit can help accentuate the subject in the frame. It's worth mentioning that this includes clothes and accessories alike.
For those in need of styling tips, I'll provide a few recommendations for trendsetters to consider. This can range from what to wear for engagement photos spring outfits to what to wear for engagement photos winter ensembles.
Dainty jewelry: Wearing bold accessories is considered a no-go for engagement shoots. At the end of the day, the focal point should be you and your partner—not the accessories you wear.
Simple footwear: Strappy heels and monochrome loafers are usually the go-to move for many trendsetters.
The rings: You can't conduct an official engagement photoshoot without showing off your rings! Be sure to wear your Swarovski or Tiffany band with pride.
Bouquet of flowers: Some photography sessions have props for couples to hold. Instead of popping streamers or a bottle of champagne, a flower bouquet can help add some freshness to the final pic.
Fashion Tips To Avoid With Engagement Photo Outfits
It's no secret that wedding fashion has a long list of dos and don'ts. The consequences are quite permanent, as engagement pics, bridal shoots, and other miscellaneous events are usually photographed. Plus, couples aren't saved from judgemental stares—after all, they're the center of attention.
If you're not fond of post-ensemble regret, I'll share some fashion tips to avoid with engagement photo outfits.
Streetwear: Specific garments such as bomber jackets, chunky boots, and distressed shorts are considered poor taste for engagement photo shoots.
Complete formalwear: Evening dresses, tuxes, and pantsuits should be reserved for wedding ceremonies and reception parties only.
Branded clothing: Trust me, you do not want to be shown wearing head-to-toe Abercrombie & Fitch in something as permanent as a photo shoot.
Avant-garde ensembles: Unless you and your partner are fashion nerds, it's always a good idea to stick to traditional silhouettes and neutral tones.
Extreme white or black: Bright alabaster has a tendency to wash out your skin tone. On the other hand, head-to-toe black can make you look like a floating head.
How To Take Care Of Engagement Photo Outfits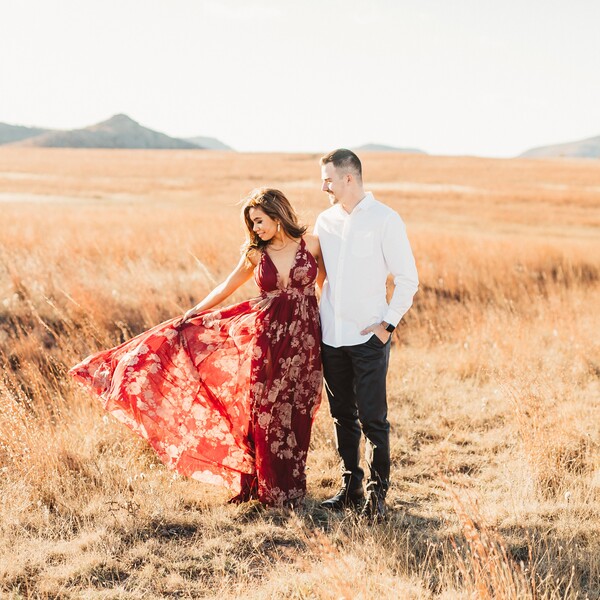 Given that most engagement photo outfits are comprised of wardrobe basics, you should treat them as you would your regular laundry load.
As a precautionary measure, I highly recommend double-checking the care tag of your garment. Some clothes require professional help, such as those that need dry-cleaning. 
'Regular' clothing can be washed in lukewarm water with gentle detergent. You can either opt to machine dry your garments or have them air-dried. For wrinkles and creases, a hot iron can do wonders by ensuring a crisp and smooth texture. 
Best Places to Buy Engagement Photos Outfits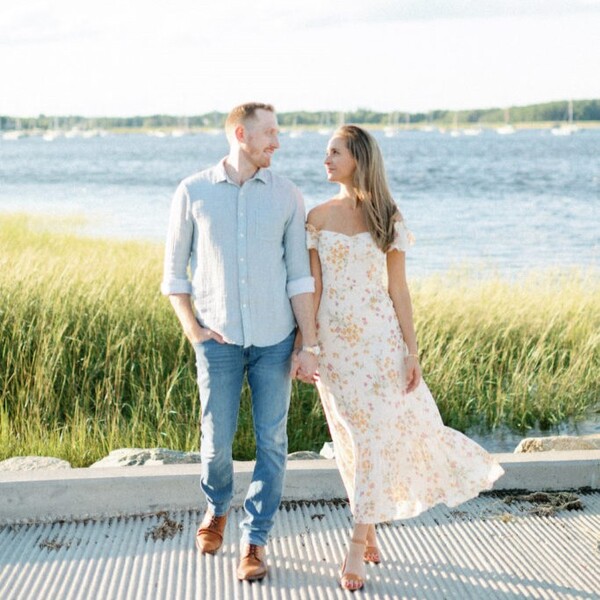 Before this style guide comes to a close, I'd like to recommend a few trendy shops for trendsetters to check out:
Nordstrom 
Moda Operandi 
Everlane 
Uniqlo 
Aritzia 
Reformation
Final Thoughts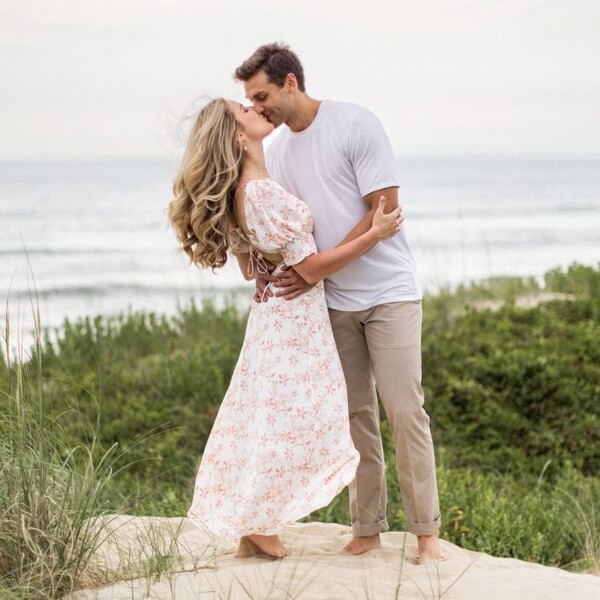 Finding the perfect outfit for any occasion is easier said than done. Engagement shoots typically don't involve much worry compared to the actual wedding, but it's common to feel nervous once the day approaches.
Take this as a sign to take a deep breath and relax. This momentous occasion typically calls for semi-casual attire—which is relatively easy to compose. 
From cable-knit sweaters to fairytale dresses, I'm fairly confident that you know what to wear for engagement photos. Oh, and just a word of advice: I recommend taking some inspo from Annie the musical: "you're never fully dressed without a smile."
---
Do you hear the church bells ringing? Check out some of our other style guides:
What To Wear To A Formal Wedding
What To Wear To An Outdoor Wedding
What To Wear To A Winter Wedding
Get Access to Exclusive Deals
Subscribe for free to get exclusive deals in your inbox. 100% privacy