What To Wear To A Winter Wedding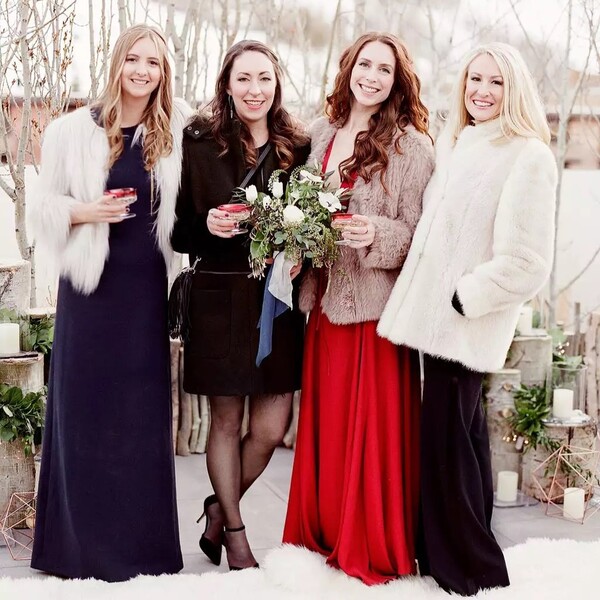 Winter weddings are a magical affair. Typically hosted before or after Christmas, the joyful holiday spirit manages to creep into the air—which is already filled with marital romance.
Fantasy aside, it's quite an unusual time to exchange vows, given the drop in temperature. No longer can you sport cocktail dresses or tuxes (not without underlayers, anyways). 
In addition, winter can pose a significant challenge for trendsetters. Outfits are usually disguised in multiple layers, which isn't a desirable look if you're attending a formal event.
And if you're wondering what to wear to a winter wedding, I'll provide some OOTD inspo that's both functional and fashionable. There's no need to worry about looking like the Michelin Man here. 
From extravagant fur coats to stunning ankle-cut dresses, I've gathered some of the trendiest outfits to consider if you're wondering what to wear to a winter wedding.
Also, be sure to check out the FAQ section, where I'll address some common queries associated with shopping and styling. 
What Is A Winter Wedding?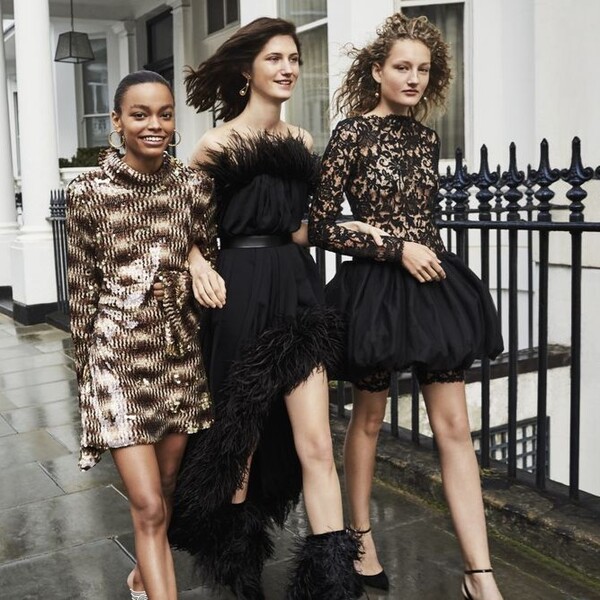 A winter wedding is a wedding set in winter—surprise, surprise. It's become all the rage in the past few years, as couples can look forward to icy environments and cascading snowfalls as a change in scenery. 
Cities and parks are considered peak destinations to host winter weddings, as they both offer a distinct aesthetic. Again, given the drop in temperature, brides, grooms, and guests must consider functionality when choosing the right outfit. 
Like all weddings, formal wear is mandatory. So, dresses, tuxes, blazers, and extravagant jumpsuits should be on your list of potential options. It's worth mentioning that the couple or wedding planner will typically issue a theme for guests to follow. This could be a specific color palette or even a select material. 
12 Outfit Ideas For A Winter Wedding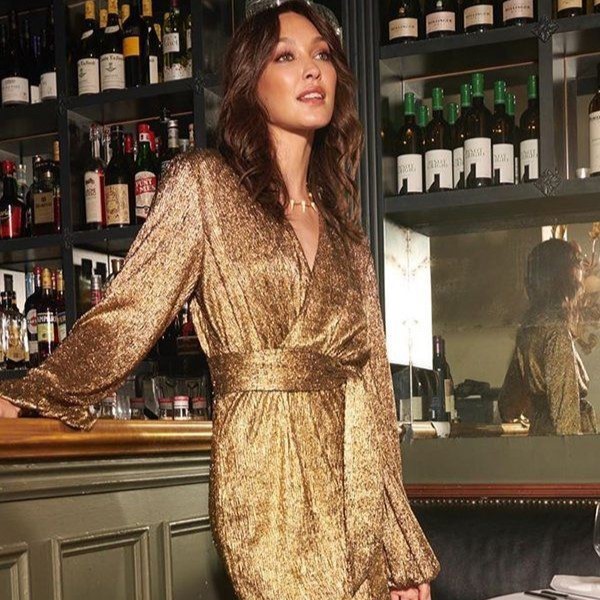 Glamor and functionality are considered polar opposites when it comes to outfit coordination. Extravagant OOTDs shouldn't be concealed under an ugly puffer jacket, which especially bodes true for trendsetters who put a lot of time and effort into their look. 
Case in point, the best solution available is to opt for glitters and sequins to help ensure you stand out. This gorgeous number consists of a gold wrap dress with a simple pair of black stilettos.
Of course, wearing open-toed shoes isn't recommended for winter weddings, which is why I suggest swapping them for closed-toe pumps or boots instead.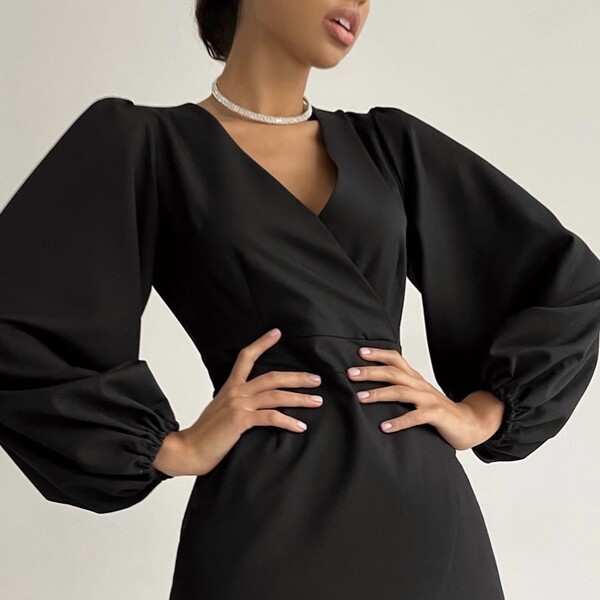 Wearing a cocktail dress in -30 degree weather may seem like a bad decision, but hear me out. Fleece-lined tights can help save any outfit, especially if you're prepping for a formal event. 
This 'what to wear to a winter wedding' contender is relatively warm in fit, as it features puffed sleeves and a modest neckline.
Offered as a wrap dress, it provides a decent amount of room for under layering if you want to don shapewear or a tank top for extra coverage. I highly recommend topping the look off with a pair of high-heeled boots and a dainty diamond choker.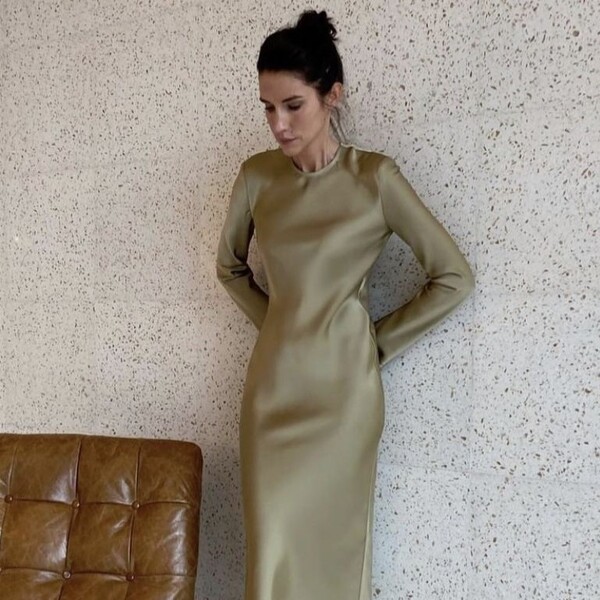 Unless the bride and groom are prepping for an all-outdoors event, winter weddings are typically an indoor affair.
While it's easy to breathe a sigh of relief knowing that you won't be freezing in -30 degree weather, staying inside has its own disadvantages. One, it can get pretty hot, especially if you're wearing multiple layers. 
To help keep things sweat-free, a full-coverage silk dress can do just the trick. Relatively breathable in construction, it's definitely a more appropriate alternative to thick sweater gowns.
It's worth mentioning that indoor winter weddings present a unique opportunity to wear open-toed heels, given the lack of slush and snow.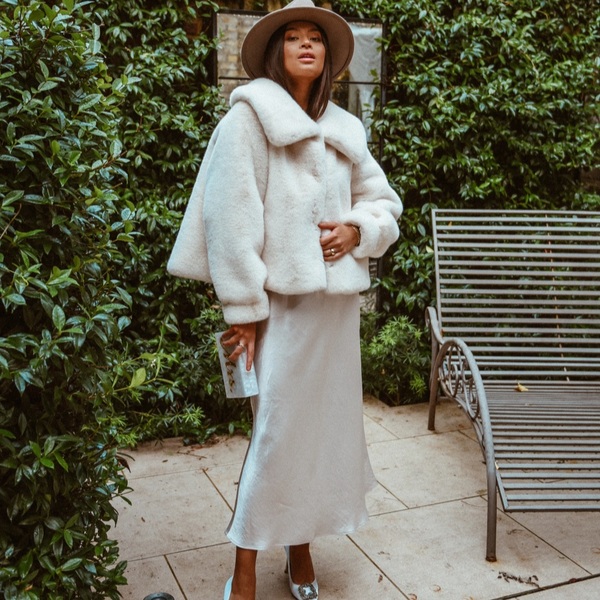 Given the color of this ensemble, I think it's safe to say that this 'what to wear to a winter wedding' contender is exclusively meant for the bride.
Featuring a silk midi dress, a white fur coat, and a stylish pair of Manolo Blahnik heels, this sophisticated OOTD manages to blend fashion and functionality together. 
The obvious star of the show is the jacket, as it provides a dramatic silhouette that contrasts with the simplicity of the dress. If you're not a fan of the hat, I suggest opting for a fur headband for an extra touch of elegance.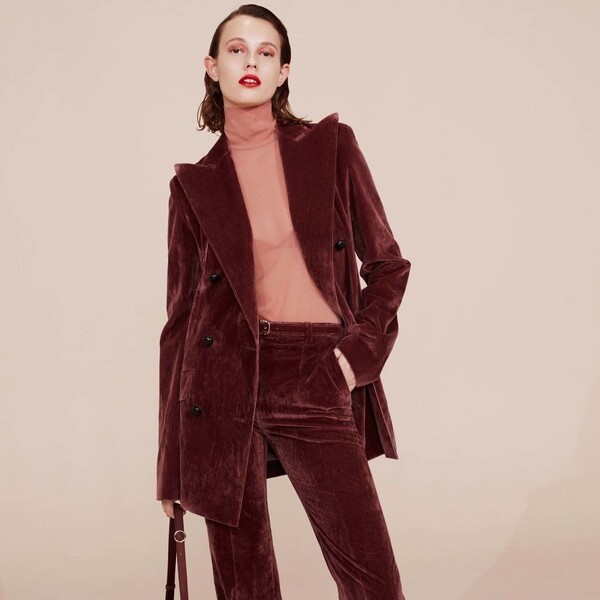 Velvet pantsuits should definitely make the list when it comes to wedding outfit ideas. Their luxe exterior coupled with their amount of insulation makes them perfect for sub-degree ceremonies. 
While you're welcome to wear a traditional white button-up shirt and a matching tie, I highly recommend donning a slim-fit turtleneck for a style switch-up.
It's definitely a warmer alternative, given that collared shirts are notoriously known to feel sheer in cold weather. And don't forget to top the look off with a pair of pointed-toe boots!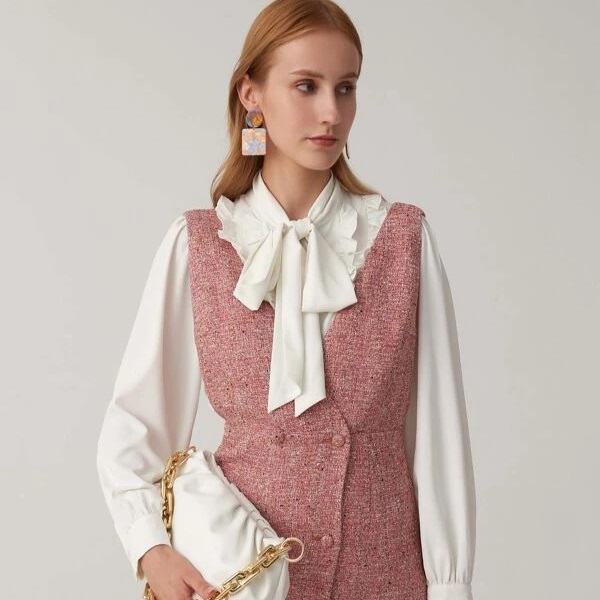 In some cases, wearing white is passable. Cream-colored button-ups and blouses are considered appropriate, as long as you pair them with a juxtaposing color. 
Take, for instance, this stunning outfit, which includes a white long-sleeve top and a pink tweed wrap dress.
Accentuated with a tie-up detail around the neck, it definitely exudes a level of sophistication needed for formal events. But given the cropped hem of the skirt, I recommend layering up with fleece-lined tights underneath.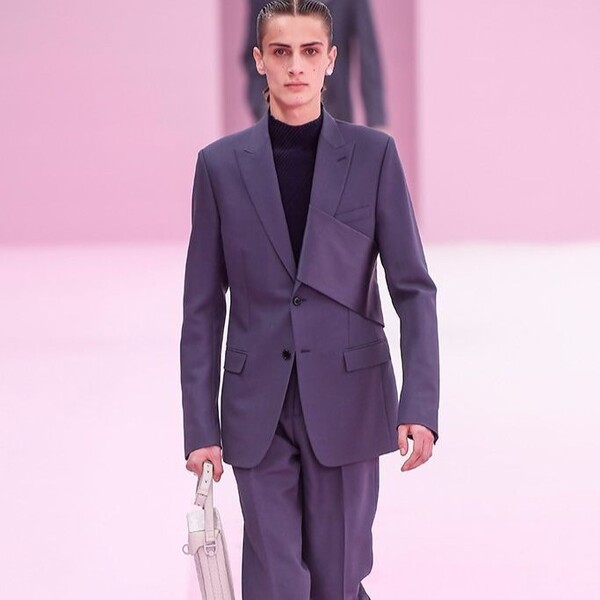 Contrary to popular belief, you aren't forced to wear a button-up shirt to every formal event. If you'd prefer a more comfortable alternative, why not opt for a good ol' turtleneck?
Slim in silhouette, it can do wonders by accentuating your neck and decolletage without the need for a collar. If you intend to cop this look, a matching pantsuit is a must.
I'll admit that opting for Dior is quite a bold move, but it's worth mentioning that this high-end look is relatively free of branding, which ensures a subtle flex for trendsetters.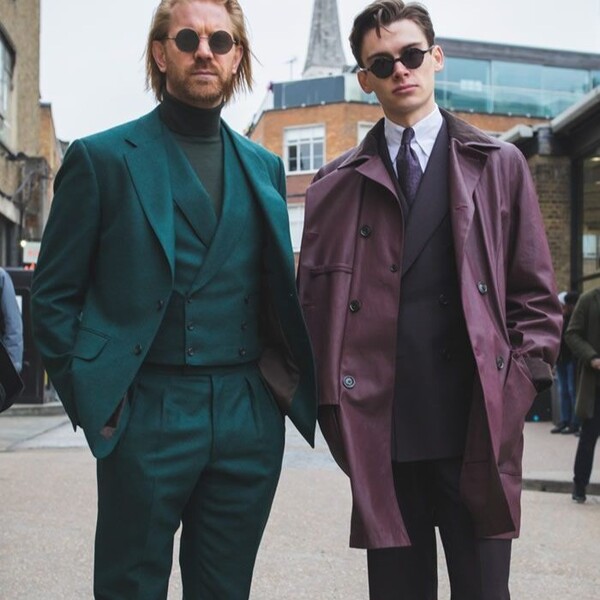 If you're wondering what to wear to a winter wedding, you should know that monochrome suits are the peak of formalwear fashion. It's an easy way to look composed without putting forth any unnecessary effort, as it only requires a rudimentary level of color theory. 
These two looks are considered prime examples, as they both feature a mix of turquoise and purple. Offset with black or white undertones for a pop of color, you'll definitely garner some respect from the couple and guests alike.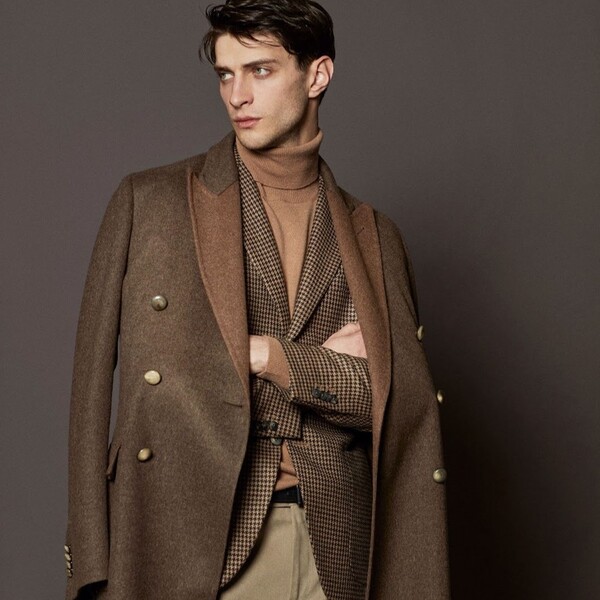 Forget fifty shades of gray; fifty shades of beige is where it's at. If you want to exude a level of sophistication at the wedding, opting for different tones of brown is a recommended look. 
This monochrome ensemble consists of a simple trench coat, a micro-plaid blazer, a slim-fit turtleneck, and a pair of pleated trousers. Composed in fit, the outfit offers a softer take on stark formalwear. Plus, you're more than welcome to add a blanket scarf if the weatherman calls for sub-degree temperatures.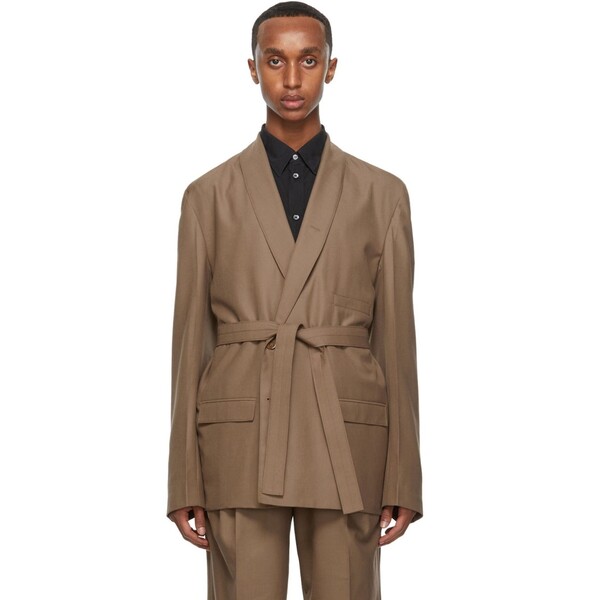 Ever heard of a wrap blazer? It bears a slight resemblance to a traditional suit jacket but provides a cinched-in waist to help define the silhouette. Snug in fit, this garment can help offer some warmth in those biting December winds. 
You can either opt for a classic button-up shirt to keep things fancy or wear a slim-fit turtleneck for a more contemporary look. For the rest of the outfit, I recommend donning a matching set of pants and a standard pair of Oxfords. If you're wondering what to wear to a winter wedding, this OOTD should definitely be on your top 10 list.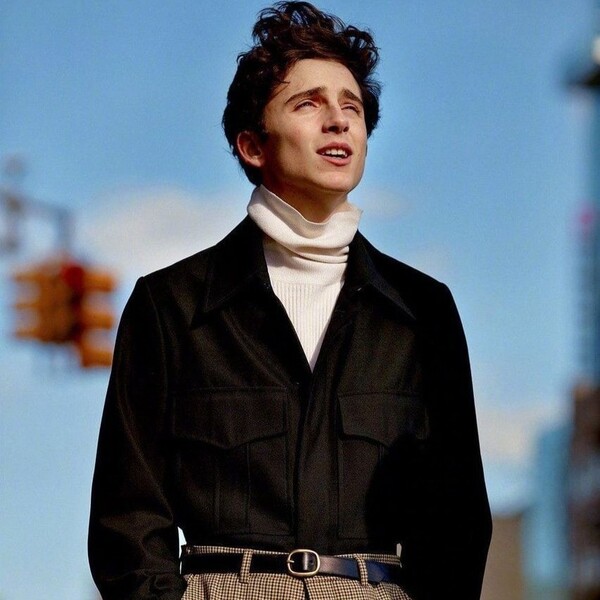 If Beau Brummell lived in the twenty-first century, I'm fairly certain that he would've popularized this look.
Slightly reminiscent of 18th-century menswear fashion, this vintage-inspired outfit consists of a white turtleneck, a fitted black jacket, and a pair of micro-plaid trousers. 
Boxy in silhouette, this sophisticated OOTD is perceived as a more modernized update on waistcoats, cravats, and breeches. Given the amount of warmth provided by its full-coverage construction, it's a great ensemble to consider if you're wondering what to wear to a winter wedding.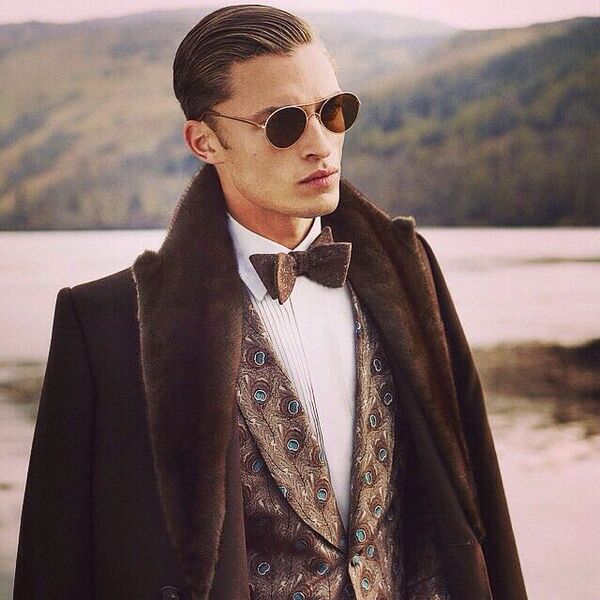 Is it possible to be overdressed at a wedding? Absolutely, but it's quite difficult to achieve if it's a white-collar event. If the dress code calls for extravagant fits, you should use it as an opportunity to look your very best. 
Case in point, this ensemble features a brown fur coat, a printed blazer, a white button-down shirt, and a brown bow tie to help complete the final look.
If you really want to make a big impression, I suggest wearing a pair of sunglasses and Oxford shoes for a touch of sophistication. 
What Type Of Winter Wedding Outfits Can You Get?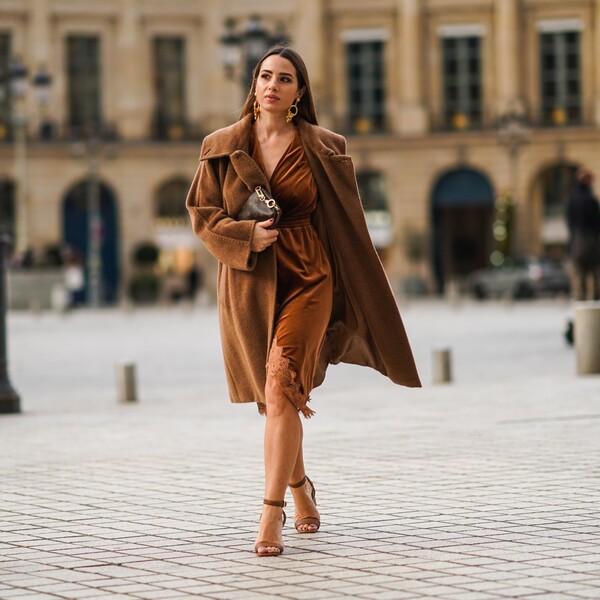 Compared to spring and summer, winter wedding outfits are quite limited in terms of selection. This is partially due to the weather, as attendees must be mindful of functionality.
It definitely poses a challenge, which can be exciting for some trendsetters or confusing for novice dressers. If you fall in the latter category, I'll feature some trendy fits to consider. 
Cocktail dresses with fleece-lined tights: As previously mentioned, short dresses can be considered for winter weddings. That said, they should always be worn with something warm to ensure decent coverage.
Ankle-cut dresses: The best way to ensure warmth is to don a full-coverage gown. Bonus points if it has sleeves.
Fur coats and blazers: This isn't the time to don your North Face puffer jacket. Instead, you should opt for something more sophisticated, such as a faux fur coat.
Velvet tuxedos: Elegant in fit, this type of pantsuit is considered a go-to for winter weddings. Plus, they're quite warm to wear.
Jumpsuits: You can never go wrong with an extravagant one-piece. If you're keen on wearing coveralls, I recommend opting for luxurious fabrics such as silk, satin, or velvet.
How To Choose The Best Winter Wedding Outfits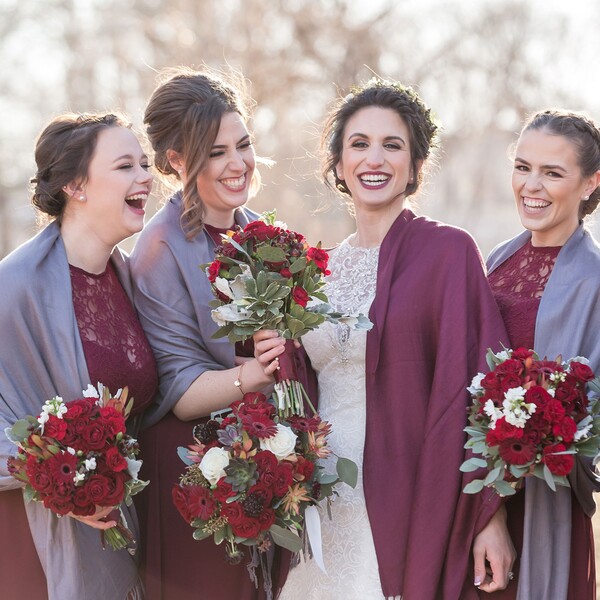 Winter-appropriate formalwear requires more forethought compared to any other season. As previously mentioned, functionality is considered a necessary asset—especially if the venue is outside.
If you're searching for the perfect fit, it's important to take note of material quality, design, practicality, and price before heading to check out. Require a brief rundown? If so, I've got your back.
Material quality is of primary importance. Customers should look for durable and insulated fabrics if they're attending a winter wedding. Velvet, wool, cashmere, and faux fur offer the perfect 50/50 mix of style and functionality.
Obviously, these select materials aren't commonly used in dress-making, but you can easily layer up with a jacket or a cape.
It's worth mentioning that most winter weddings are hosted indoors, which offers some flexibility when it comes to outfit coordination. In that case, you're freer to wear silks, satins, and other looser textiles. 
In terms of design, it's always a good idea to double-check the theme of the wedding. Most couples recommend certain colors, materials, and silhouettes for guests to wear. Typically, weddings are organized in terms of different formalities, which range from black-tie, white-tie, and semi-casual.
Based on what's written on your invitation card, I recommend following up accordingly when picking the perfect outfit. As a general rule of thumb, minimalist ensembles are always a good move. There's nothing more distasteful than outshining the bride and groom.
In addition, it's easy to blow your budget when it comes to finding the perfect wedding outfit. To help prevent overspending, I recommend working with a budget that's below $500. This should be more than enough to find a dress or a tux, and a snazzy pair of shoes of decent quality.
How To Style A Winter Wedding Outfit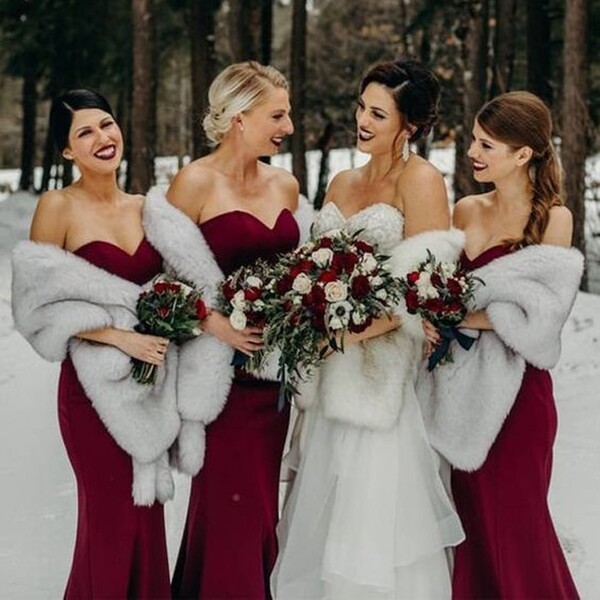 Accessories matter when it comes to winter wedding outfits. Why? Well, there's a solid chance that your ensemble of choice will be buried in a jacket.
Jewelry, extravagant scarves, and even ear muffs can help emphasize the 'coolness' of your fit. Puns aside, I'll show you what to wear to a winter wedding by offering up some styling tips. 
Exaggerated 'insulators': Fur hats, oversized ear muffs, and blanket scarves can help add some drama to your final look.
Jewelry: You can never go wrong with a dainty pair of diamond studs or a fancy watch. I recommend opting for one material grade (such as gold or silver) to help keep the outfit cohesive.
Fancy boots: Forget open-toed shoes; boots are where it's at. Try experimenting with different materials and silhouettes if you want to exude a level of sophistication.
Professional manicures: This isn't the time to do a regular swatch of white or baby pink. Weddings present a unique opportunity to get your nails done.
Glittery makeup: Considering that winter is all about snow and ice, it seems appropriate to wear some glittery eyeshadow to help get in the spirit. I suggest sticking to subtle shimmers to keep things tasteful.
Fashion Tips To Avoid With A Winter Wedding Outfit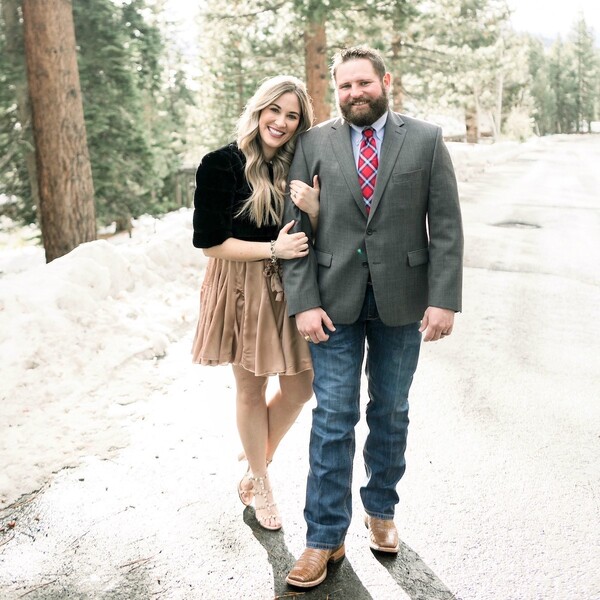 In case you haven't observed, winter fashion entails more don'ts than dos. This is partially due to the temperature, as we usually gravitate towards full-coverage clothing. If you're prepping for a formal event, I'll share some fashion tips to avoid when wearing a winter wedding outfit.
The 'fashion demands sacrifice' look: There are situations where functionality should not be overlooked. If the weatherman calls for a -30-degree drop, it's probably best to take a coat with you.
The maximalist fit: Again, it's never a good idea to outshine the couple in question. If you're wondering what to wear to a winter wedding, you should always stick to minimalist ensembles unless the invitation card states otherwise.
White: This is an obvious fashion faux pas, but I thought to include it just in case it's your first time attending a wedding.
Open-toed shoes: Even if the wedding is inside, I recommend sticking to closed-toe heels and loafers to help ensure proper insulation. It's worth mentioning that those who opt for boots should settle for a more stylish version instead of chunkier alternatives, like Doc Martens.
Athleisure winter coats: When I recommend wearing a jacket, I don't mean donning your North Face puffer. Instead, I'm referring to a faux fur coat or a velvet cape.
How To Take Care Of A Winter Wedding Outfit
Given that weddings are formal events, I think it's safe to assume that you should wash your outfit separately from your regular load of laundry.
In addition, some garments require professional help—especially those that can only be dry-cleaned. I recommend handwashing your dresses, button-ups, or ties with cold water and gentle detergent. 
Also, tossing them into the dryer may encourage ripping and stretching. You should never machine-dry formalwear. Instead, opting for the natural method and air drying them is preferred. And to help prevent wrinkles and creasing, ironing and hanging your clothing is a must.
Best Places To Buy A Winter Wedding Outfit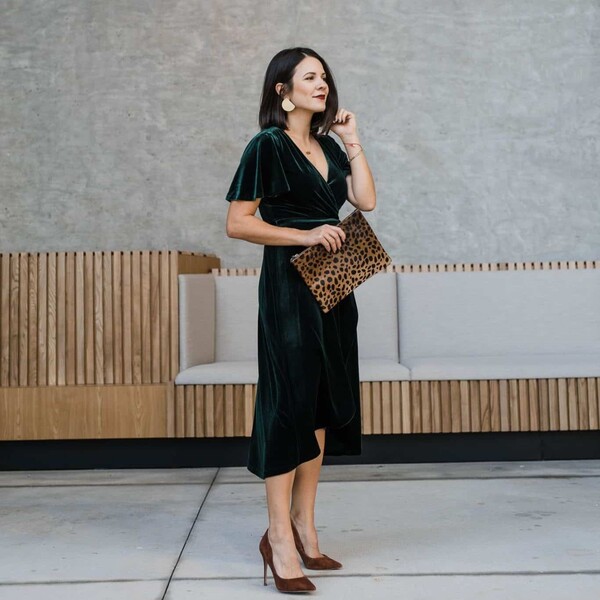 Everybody can benefit from a list of store recommendations. So, I'll share some trendy shops to consider if you're in need of a winter wedding OOTD.
BHLDN
Nordstrom 
Aritzia 
Indochino

Final Thoughts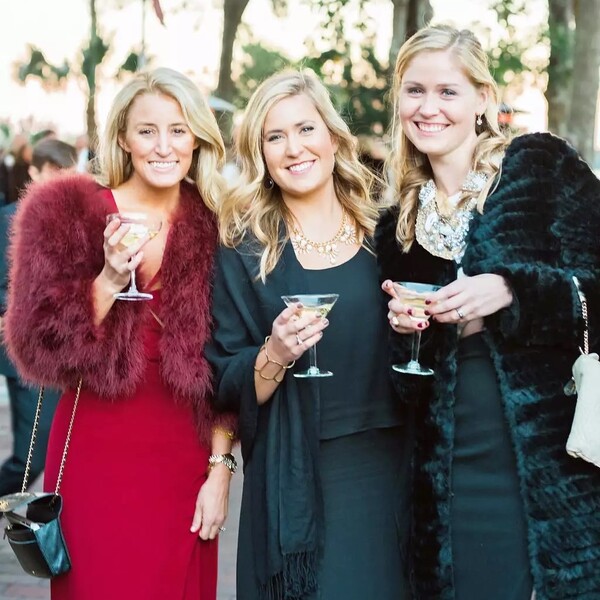 Finding the perfect outfit for a wedding is challenging enough. If you add winter to the mix, it only complicates things. In most cases, it narrows down your list of options—but is that necessarily a bad thing?
Being confronted with a limited selection of looks can help keep outfit coordination straightforward. Especially when compared to summer weddings, which entail a hundred-some list of possible ensembles. 
After viewing the 12 outfits I've featured, answering the 'what to wear to a winter wedding' question should be a walk in the park. Here's to hoping that you've found at least one ensemble that speaks to you.
---
Can you hear the church bells ringing? Check out some of our other style guides:
What To Wear To An Engagement Party
What To Wear To An Outdoor Wedding
What To Wear To An Indian Wedding
Get Access to Exclusive Deals
Subscribe for free to get exclusive deals in your inbox. 100% privacy