What to Wear Paddle Boarding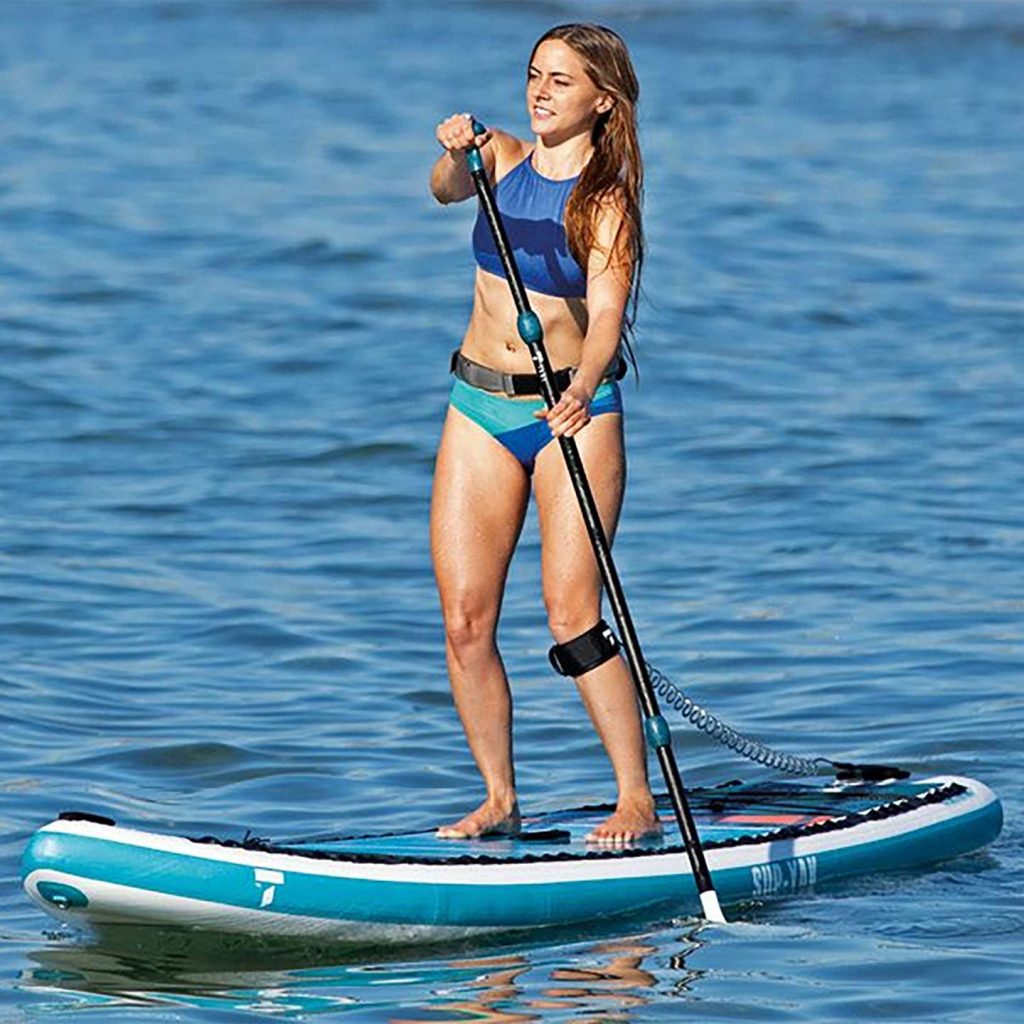 You may be a regular water sports enthusiast, or you could be trying your beginner's luck with a new, less risky water sport. Whatever the case may be, we understand that your concerns about what to wear paddle boarding have probably brought you here.
Well, you can drown those worries in the water underneath that paddle board of yours, because we're here to help you solve all of your paddle boarding fashion dilemmas. We've developed a guide for you with lots of ideas, tips, and outfit inspirations just for you.
You can use this guide, with its sacred list of dos and don'ts, to help you decide what to wear when you're having a wonderful time on the water. So, the next time you're wondering what to wear paddle boarding, you'll have a long list of outfit ideas to refer to.
After reading this guide, you'll know all about paddle board gear plus lots of other key info, such as the following:
What to wear when paddle boarding
What to wear for paddle boarding in different seasons
What to wear stand up paddle boarding
How to appropriately style your paddle board outfit
What is a Paddle Board?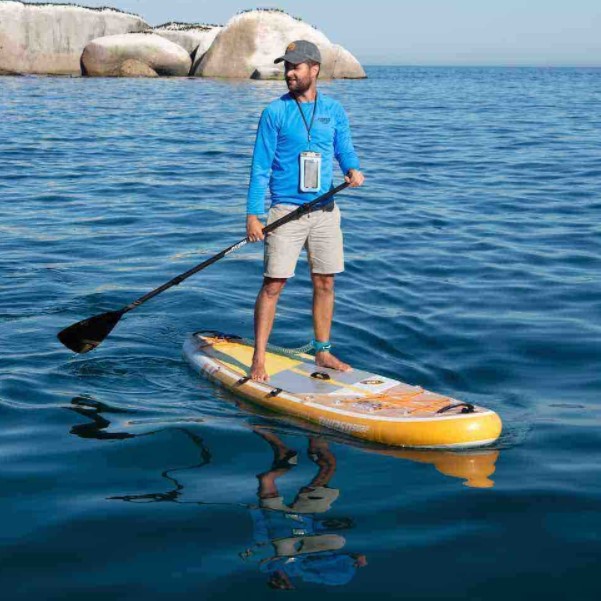 Before we can think about what to wear paddle boarding, we need to answer this important question: what exactly is a paddle board? According to the Merriam-Webster Dictionary, a paddle board is defined as "a long narrow buoyant board used for riding the surf or in rescuing the swimmers."
Similar to the surfboard, the paddle board allows you to balance yourself and move easily with the flow of the water. It's great for sitting on to enjoy some relaxing paddle boarding.
Or you could stand on top of it, which is a sport known as stand-up paddle boarding (SUP), to experience the thrill of walking on water. 
The transformative ability of this sport— how it can move from a calm to thrilling experience— is what makes so many water sports enthusiasts reach for a paddle board, instead of a surfing one.
What to Wear Paddle Boarding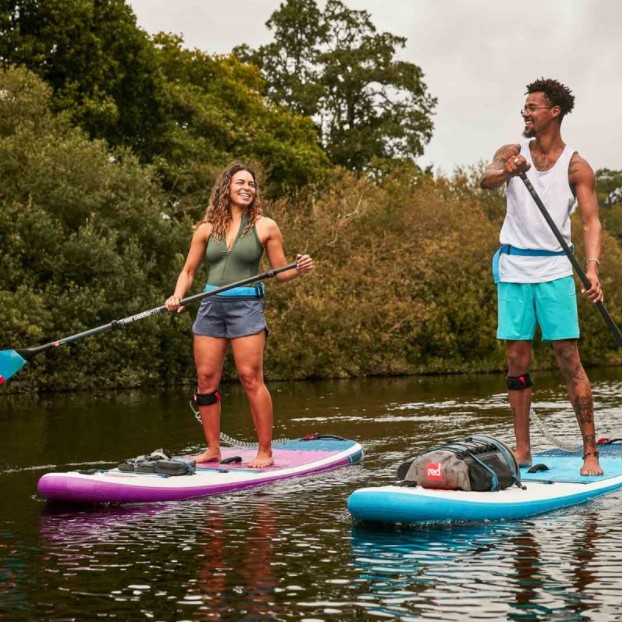 The only way to have the most fun during a sporting activity is to make sure that you're both comfortable and bringing your best self. And since paddle boarding is a water sport, and there are certain dangers involved, your level of comfort and safety is most important.
As it is with any type of water sport, being cold and wet are the two major concerns. So, first and foremost, you'll want to make sure that your paddle board suit takes care of both of those concerns, before tackling any other outfit dilemmas.
We recommend researching the location and climate of your paddle boarding destination well in advance, so you can find the appropriate paddle boarding outfit.
The weather plays a huge role in determining what you'll need to wear, especially when you're thinking of what to wear paddle boarding in summer versus what to wear paddle boarding in winter. Along with that, the location you've chosen for your paddle boarding adventure— whether it's an ocean beach or a lake beach— will help you decide whether things like a rash guard will be necessary.
Basically, when thinking about what to wear paddle boarding, the goal is to focus on the practicality of your attire more so than how fashionable it is.
You don't want to be that one person that has to sit and wait for your friends at the shore, because you didn't dress appropriately according to the weather and other requirements of the sport.
4 Outfit Ideas to Wear Paddle Boarding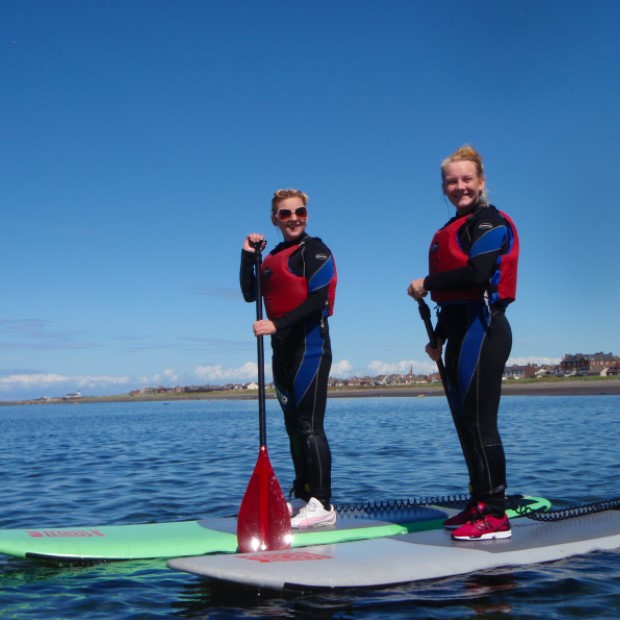 One of the widely accepted surfing outfits, a wetsuit, is also suitable for paddle boarding. The picture shows two adults wearing wetsuits. In this attire, it's easy to see and notice them on the water, which ensures they stay safe.
The black and blue wetsuits will also keep these water sport enthusiasts warm in cold temperatures and on windy days. 
Along with that, they have red life vests on to make sure they stay safe in the open waters. Their shoes appear to have a strong grip on the buoyant board, which prevents them from slipping on the paddle board when it moves along the water.
And one of each of the individual's feet is tied to their respective paddle board, so they won't drift apart from the board if they fall into the water.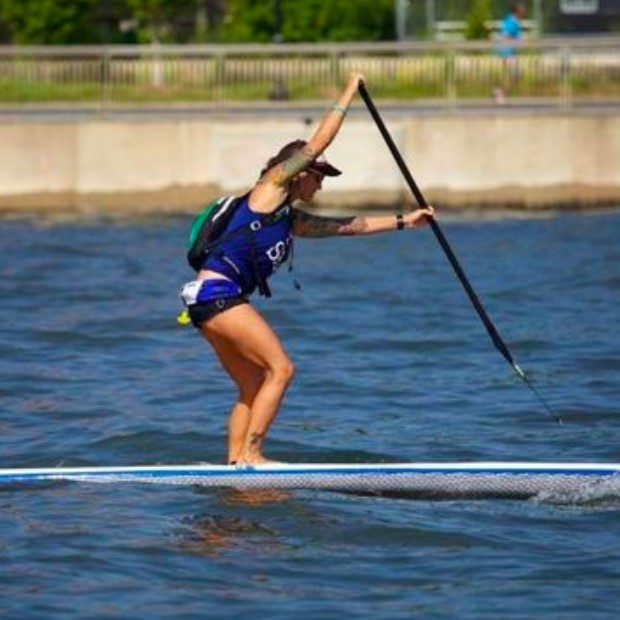 The other option is to dress in your swim shorts along with an athletic top, especially if you're out on the water during those peak summer months.
As seen above, this outfit will help you stay cool and, by wearing a backpack, carrying supplies will be less hassle. The model showcases this by wearing blue swim shorts, a sleeveless top, and a hat for sun protection. 
She's also wearing a whistle around her neck, which may come in handy in case there's any trouble in the water.
It's important to note that her clothes are cooling but not free-flowing, which is great for ensuring that they stay out of her way (even during high winds). So, she can focus on paddling herself in the right direction. 
This paddle boarding outfit is also perfect for both friendly and professional competitions since you'll look stylish and be fully prepared for having some fun in the water.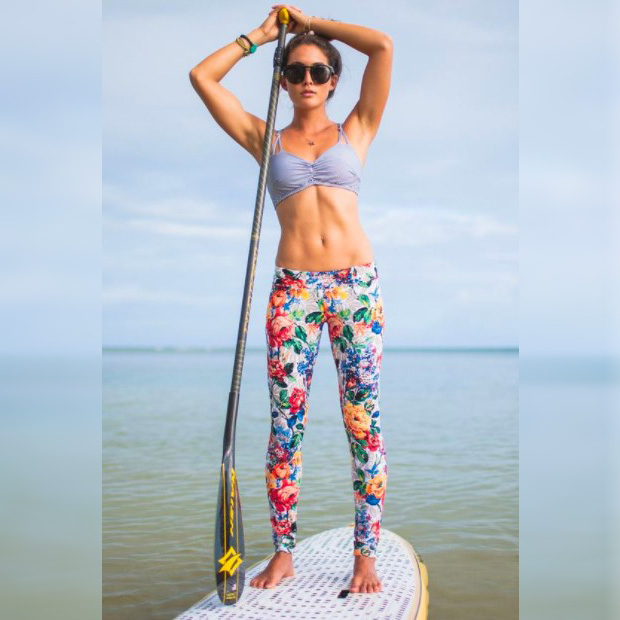 Looking for a way to stay cool and look sexy on the water? Wear your paddle board pants and a bikini top.
The model above is posing with her lilac bikini top that she's paired with floral wind and waterproof pants. She completes the look with a pair of sunglasses to block out the sharp rays of the sun. 
This outfit is ideal for those hot summer days on the lake when you're trying to beat the summer heat, and enjoy some cool lakewater splashes.
Although, if you're not planning on carrying an extra layer with you, then it's best to stay close to the shore and apply lots of sunscreen. This will help avoid sunburn and will prevent any skin irritation from the constant water splashes.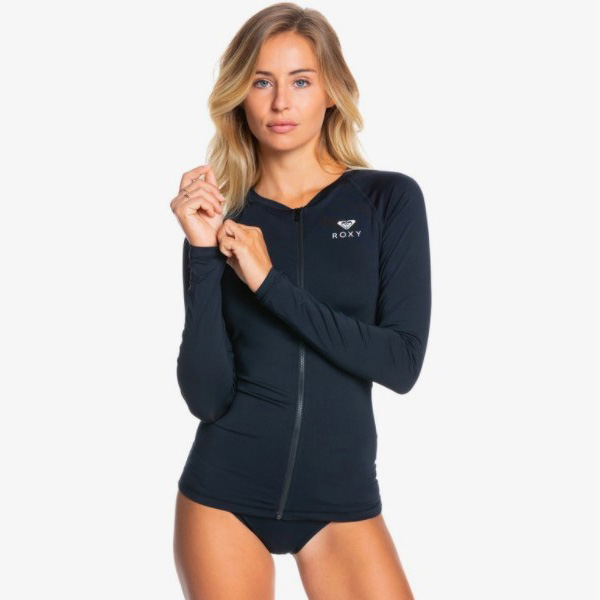 An excellent way to avoid getting skin rashes from the water is to wear a rash guard. The one worn by the model above is from a sport-centric retailer named Roxy.
This anthracite, long-sleeve zip rash guard costs about $65 and has a UPF (ultraviolet protection factor) of 50.
With built-in sun protection and protection against skin rashes, this is the perfect paddle boarding outfit to style either underneath other layers or on its own with a pair of swim shorts. Rash guards are an excellent choice for paddle boarding on ocean beaches, because of the greater risk of skin irritation associated with saltwater.
Always be sure to wear clothes that will shield you from the harmful rays of the sun and the thrashing water, and also keep you cool or warm, depending on the weather.
What Type of Paddle Boarding Outfits Can You Get?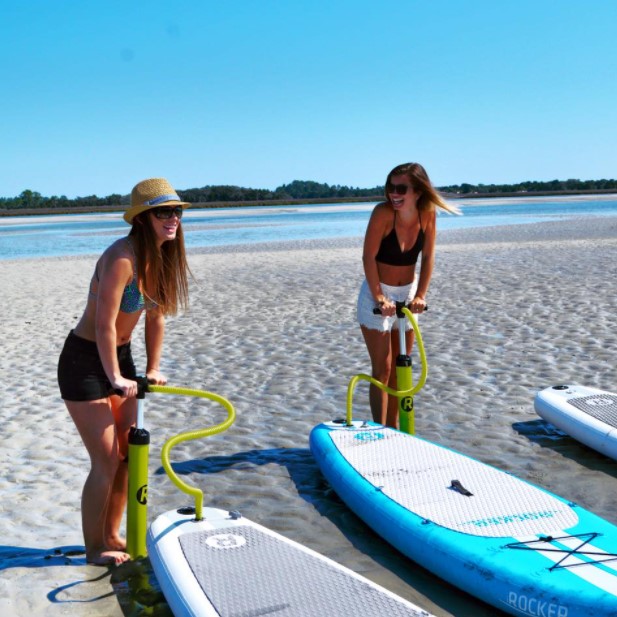 Depending on the season and location, you can choose from a variety of different paddle board clothing options. So the next time you're thinking about what to wear paddle boarding, keep this in mind. A wet suit is a great choice if you're paddle boarding in the winter since it will keep you warm and allow you to move freely. 
Most surfers wear wetsuits because the special material allows them to stay in the water longer and avoid getting hypothermia. Wetsuits are made of neoprene, which is a type of rubber that traps a layer of water between the skin and the suit. 
This layer of water is kept warm by your body heat, allowing you to enjoy your water sport for as long as you want without worrying about freezing to death (quite literally). In contrast, you can wear your sexy swimsuit or your cozy casuals in warmer temperatures and calmer waters.
So if you're wondering what to wear paddle boarding in spring, you can rock that insta-worthy fashionista outfit.
How to Choose The Best Paddle Boarding Outfit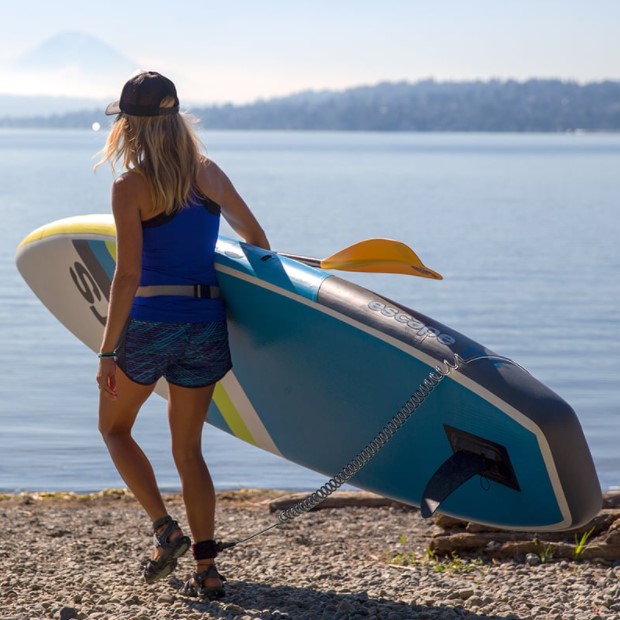 In order to choose the best paddle boarding outfit, there are some other factors— other than season and weather— that should be considered. When thinking about what to wear paddle boarding, consider the following:
Price
Depending on your budget, you need to find a paddle boarding outfit that's both practical and reasonably priced. You could find one based on your personal style, or the specific needs of the sport. But keep the wear and tear of the outfit in mind, choose a quality outfit, and don't spend over your budget.
For instance, a good quality wet suit from Lululemon can cost you anywhere from $75 to about $120 depending on the style, stretch, and material. So, it's important to research different types of paddle boarding outfits before making your purchase.
Quality
The quality of the outfit will determine whether an outfit will last a season or several seasons of paddle boarding. Whether it's a full wetsuit, short surf suit, or just a casual paddle boarding outfit, choose a decent quality outfit so it'll last a good amount of time.
So choose brands that have been fulfilling their promise to provide high-quality apparel for many years, and have allowed many water sport enthusiasts to continue doing what they love— which is spending as much time as possible on the water.
Material
Look for outfits that are both wind and water resistant to help you enjoy paddle boarding without suffering from the wrath of nature, which can often change unexpectedly. Okay fine, we'll stop being dramatic! Basically, find materials that will allow you to comfortably enjoy your time on the water.
For example, if a brand claims to sell good quality wetsuits, then make sure they're made of neoprene. And ensure that they aren't too stretched out because, otherwise, they won't be able to trap a layer of water inside to keep you well insulated and warm.
How to Style Paddle Boarding Outfits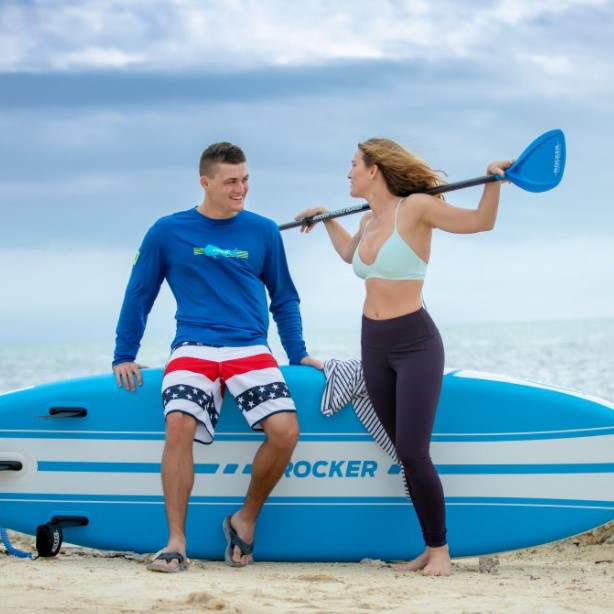 There are many different ways to style paddle boarding outfits. You can either style them according to the weather, or according to the waters you'll be traveling on.
Here are some tips that you can follow to up your style game when thinking of what to wear while paddle boarding:
For those hot summer days, you'll want to style your outfit with the proper summer gear. So, make sure to carry sunglasses, sunscreen, and a wide-brim hat to give you proper shade and protection from the sun.
If you're paddle boarding during the colder months, then style your outfit with a hoodie that's preferably wind and water resistant to help you stay out on the water for a longer time.
Regardless of your outfit, make sure you style it with water and slip resistant shoes. Your paddle boarding footwear is as important as the rest of your attire, so give it some careful thought.
Allow yourself the freedom to wear a swimsuit of your choice, but remember to wear a rash guard on top— or at least carry it with you— to protect you from salt water and sun irritation.
Fashion Tips to Avoid With Paddle Boarding Outfits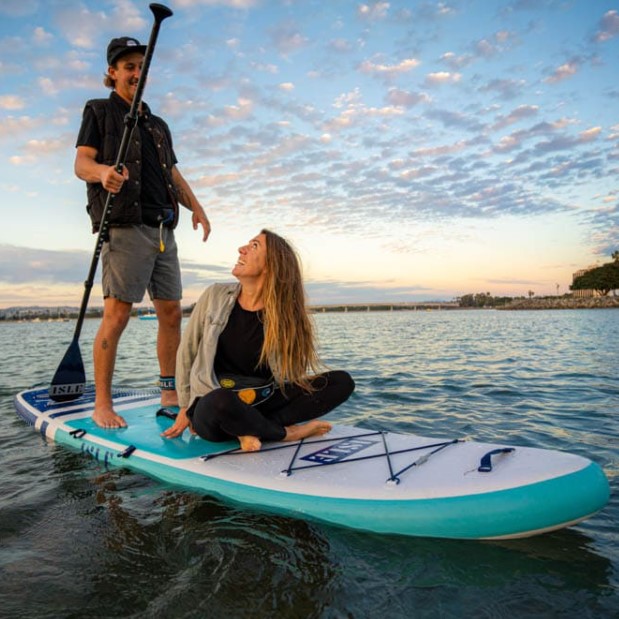 Despite all of the fashion advice on the web regarding what to wear paddle boarding, there are some key things to watch out for. Here are some fashion tips to keep in mind when styling your paddle board outfit.
It's more important to be warm and comfortable on your trip on the water than it is to look like a model on the cover of a water sports magazine. Wear an outfit that will allow you to have fun without any stress of being cold, or having to return to the shore sooner than you wished to.
Wear or at least carry a life jacket, especially if you're a beginner to the world of paddle boarding. Basically, consider safety over everything else— even if that means sacrificing your #ootd social media posts.
Despite not being the best fashion statement, you can wear your rash guard as your paddle boarding outfit. But, just make sure to carry an extra layer such as a shirt or a sweatshirt to keep you warm in case it gets windy.
As much as sports magazines advertise the barefoot paddle boarding look, always make sure to wear slip-resistant footwear. This will help prevent frequent falls from the paddle board, and help you enjoy the sport as much as possible.
How to Take Care of Paddle Boarding Outfits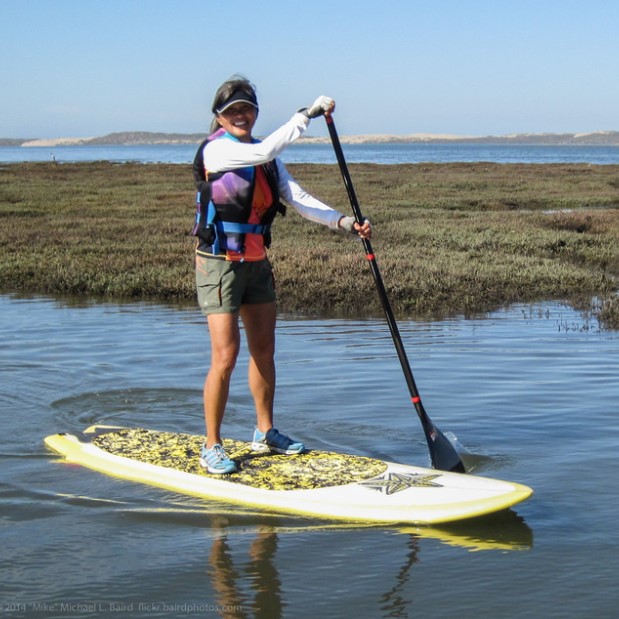 To take good care of your paddle boarding outfits, always pay attention to the washing and drying instructions on the label. Make sure to read and follow these directions exactly as the label suggests.
Most web articles warn against washing your rash guard and swimsuits in hot water, because this may stretch out the material. So, wash both of these items in cold water and hang them dry in order to avoid ruining the stretchy material of your rashguard, wetsuit, or swimsuit.
Also, try to wash out the sand grains from your paddle boarding outfits as soon as possible. The reason for this is that sand wears out the materials of your clothes. 
And if the sand dries up on your clothes and you put them in the wash, you could not only ruin the material of your outfits but also ruin the drum of your washer since sand grains can block up the holes in the machine.
In other words, take proper care and precautions when washing, drying, and maintaining your paddle boarding outfits, since this will save you lots of time, money, and hard work in the long run.
Best Places to Buy Paddle Boarding Outfits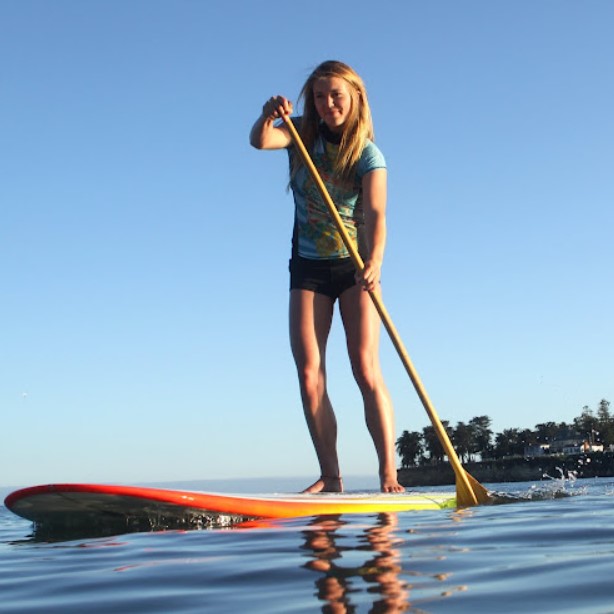 With all of these fashion tips to guide your next shopping adventure, you also need to know where to buy your trendy and effective paddle boarding outfits. So now that you know what to wear paddle boarding, here's where to shop.
There are many sport-centric retailers that sell high-quality water sporting gear. Some of them include Sport Chek, MEC, Live Love Sup, and Roxy. These stores focus on the material, quality, and safety of their athletic wear so that the wearer can continue to enjoy their favorite sports for a long time. 
If you'd prefer a more casual paddle boarding outfit, then any retailer of your liking will be able to help you choose your attire for your next trip out on the water.
Final Thoughts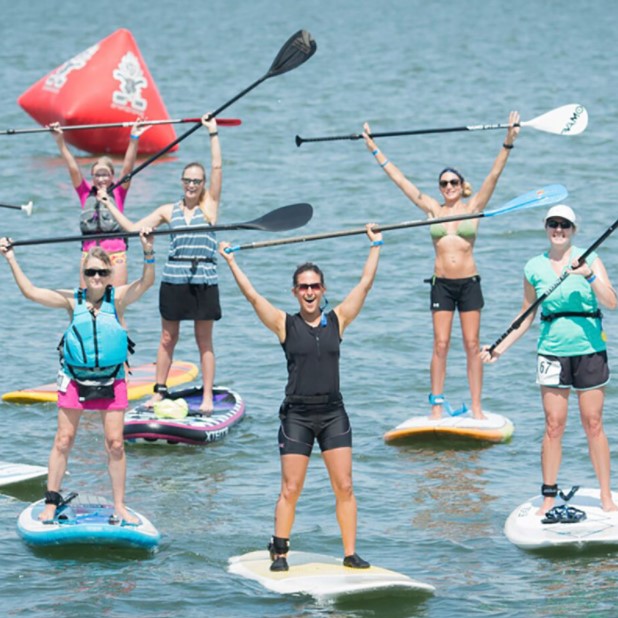 Paddle boarding, or stand-up paddle boarding (SUP), is a great water sport that can be enjoyed by just about anyone with a little bit of practice and enthusiasm. But, before you can plan your ride across the water, it's important to know what to wear paddle boarding.
Using our guide above, look for outfits that will ensure your comfort and safety before anything else. Make sure to find paddle boarding outfits that are affordable, without compromising on good material and quality.
Remember this: although looking stylish out on the water is important for your social media growth, just make sure you're not sacrificing your safety and protection, since there are lots of risks involved in a water sport like paddle boarding.
Above all, have fun trying out different styles of appropriate paddle boarding attire, and this will help you find the one that you feel the most comfortable in. Hopefully, with the fashion and style tips above, figuring out what to wear paddle boarding will be super easy.
---
In need of some more fashion inspo? We've got you covered:
What To Wear To A Basketball Game
What To Wear To An Indian Wedding
Get Access to Exclusive Deals
Subscribe for free to get exclusive deals in your inbox. 100% privacy