What To Wear To A Bridal Shower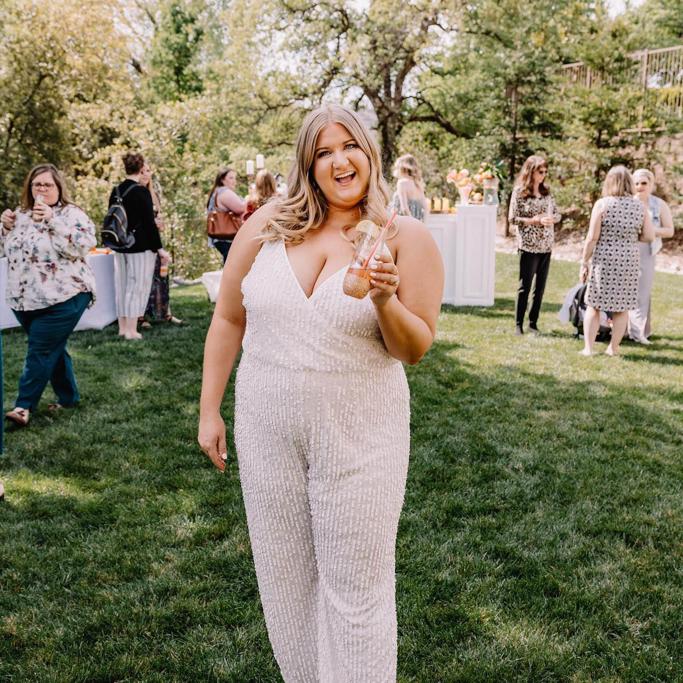 We've all heard the horror stories. The bridezilla forum is one of Reddit's most popular threads. From fights with inlaws to complaints between vendors, it appears that many problems arise when it comes to eternal matrimony.
Surprisingly enough, dress sense is considered a hotly controversial topic for guests and to-be-weds. Fashion has never been taken so seriously.
Aside from wedding gowns and rented tuxes, most have trouble figuring out what to wear to a bridal shower. Guests are usually at the mercy of the bride and groom, as they typically dictate the dos and don'ts for attire.
Their fashion guidelines may seem limiting, but take them as straightforward advice. 
And in terms of formalwear, there is a broad assortment of options out there, which can be quite overwhelming for the novice dresser. 
For those prepping for a day of sparkling champagne, Instagram photo-ops, and lots of presents, I've developed a nifty style guide to ensure you won't draw any questionable stares. Coming up, I'll show you what to wear to a bridal shower using 10 outfits.
Some topics I'll cover may include:
Bridal shower outfit ideas
Bridal shower outfit ideas guests can wear
Winter bridal shower outfits
Bridal shower outfit for brides
What Is A Bridal Shower?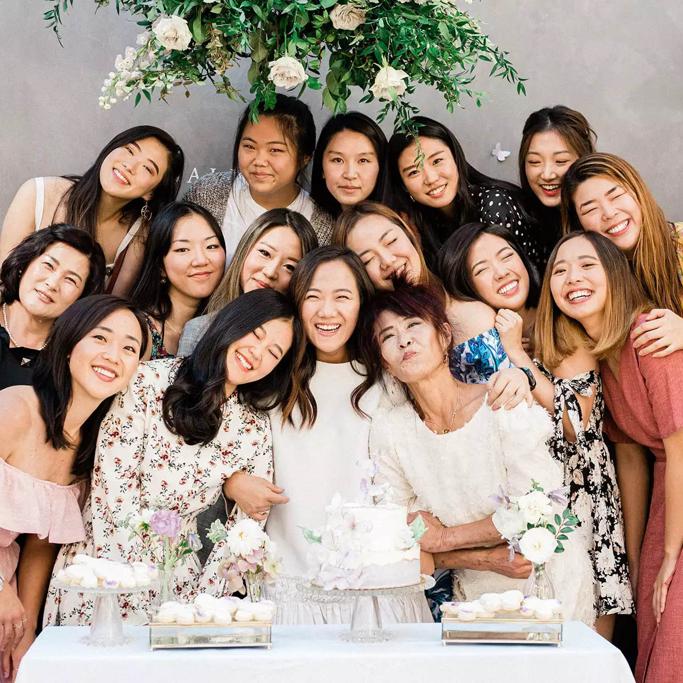 A bridal shower is simply a gift–giving party. It's kind of like a second birthday for the bride, as guests are expected to give presents in celebration of the wedding.
It's worth mentioning that most couples opt for wedding showers, as bridal-specific events are known to be exclusively for women. 
History Of Bridal Showers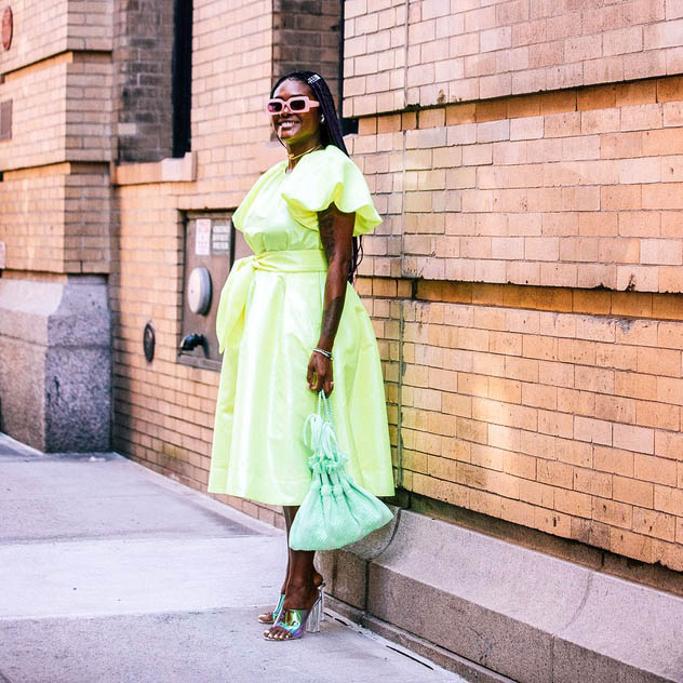 The origin stories behind most wedding traditions are typically headscratchers.
From church bells meant to rid people of evil spirits to garters acting as proof of consummation, matrimony has always been surrounded by superstition and archaic beliefs. Thankfully, the origin story of the bridal shower is quite romantic. 
This long-standing custom can be traced back to 16th century Holland, where a high-society woman fell in love with a low-class miller. The girl's family disapproved of their relationship, given the boy's social standing.
The couple proceeded with the wedding regardless, with the help of friends and local city folk. Rumor has it that their companions, as well as the townspeople, felt bad for the young duo and decided to give them presents in lieu of a dowry.
Over the years, the bridal shower evolved into a more lavish rite of passage, as in the Victorian era, to-be-weds hosted high-profile parties filled with gossip and gourmet food.
Today, it's considered an optional wedding event alongside bachelor parties and farewell brunches. 
10 Bridal Shower Outfit Ideas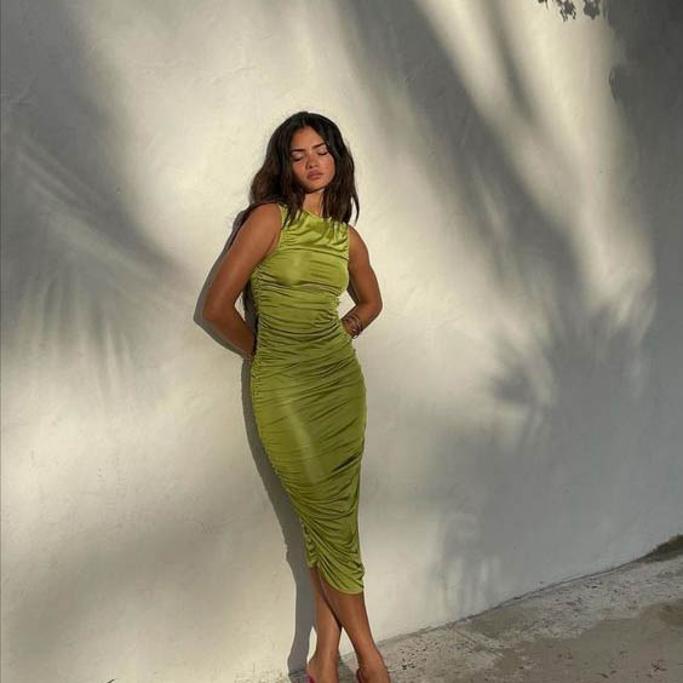 Bridal showers are typically semi-formal events. So, they require a bit more effort than just throwing on jeans and a blouse.
On the other hand, wearing tops and tails is not a recommended look. However, settling for a simple cocktail dress is always a safe move, such as this glamorous contender. 
Featuring a halter neckline, a body-con silhouette, and ruched detailing, this jaw-dropper is tasteful enough to not outshine the bride. The outfit also includes a pair of magenta kitten heels, which do wonders by breaking up the monotony of green.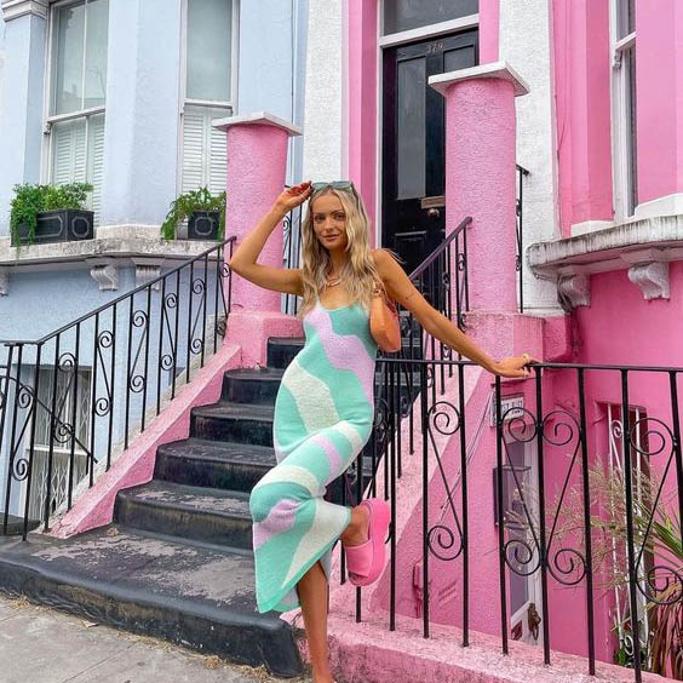 Contrary to popular belief, some bridal showers don't revolve around the ego of the bride.
In fact, some to-be-weds are quite chill, as they use this rite of passage as an excuse to get together and have fun. If the night involves a movie marathon, chips and pizza, and countless bottles of wine, I recommend this playful number. 
Splashed with vibrant colors, it definitely screams party vibes. And the slim-fitted silhouette of the dress helps to keep things semi-formal. Paired with platform heels, this 'what to wear to a bridal shower' contender is perfect for Barbie-themed extravaganzas.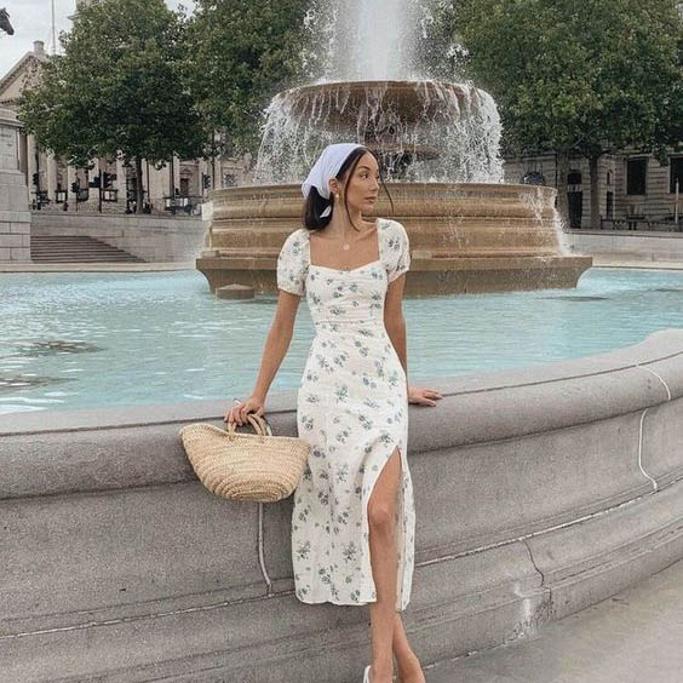 Flirty, fun, and summer appropriate, this 'what to wear to a bridal shower' contender is all prepped for lakeside cottage retreats. The romantic silhouette of the dress paired with the head scarf definitely screams French countryside.
While it may seem sacrilegious to wear white to a wedding-themed event, you can probably get away with pastel yellows and blues. The strappy kitten heels and the rattan handbag only accentuate the fantasy of flower fields and the never-ending sun.
I highly recommend opting for this look if the event calls for garden parties and wine tasting.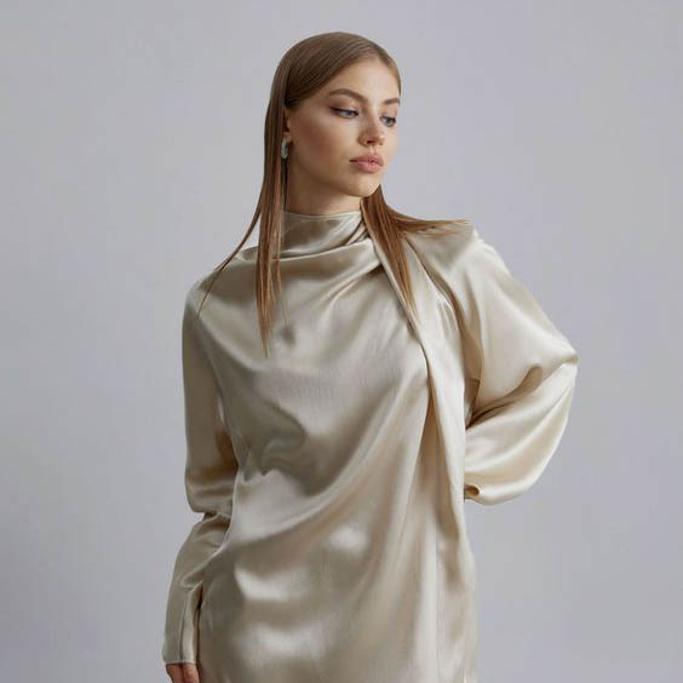 Brides typically fuss over what to wear to a bridal shower. After all, they're the center of attention.
It's common for hosts to gravitate towards the bright and bold to help ensure that the spotlight stays on them. That said, let's not forget about the power of simplicity. 
This gorgeous dress is relatively neutral in color and texture. And the creamy silk is manipulated to achieve dramatic drapes and pleats, which imbues the dress with a sense of sophistication.
Plus, with its turtleneck and puffy sleeves, this 'what to wear to a bridal shower' contender can make for an excellent option during winter. I suggest wearing a pair of sparkling tights for glitz and insulation.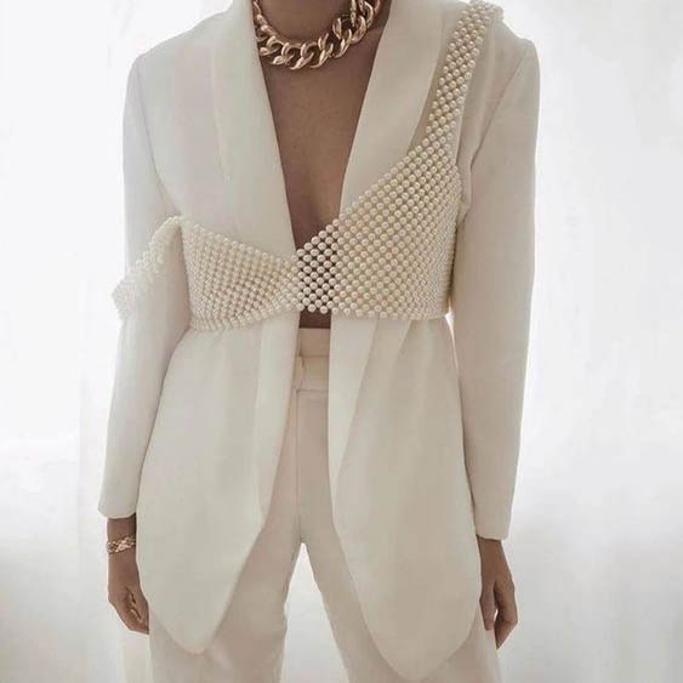 Before you get your hopes up, this fancy number is exclusively meant for the bride.
I don't recommend wearing this outfit as a guest unless you're looking to start drama. Composed of a white blazer and a pair of fitted trousers, the main star of the show is obviously the pearl bralette. 
Intricately beaded and slightly luminescent under the sun, it provides a tasteful amount of glitter if you're not fond of the Swarovski approach. And the chunky gold necklace helps to counterbalance the boldness of the top. Ideally paired with pointed-toe heels, brides can relax knowing that all eyes will stay on them.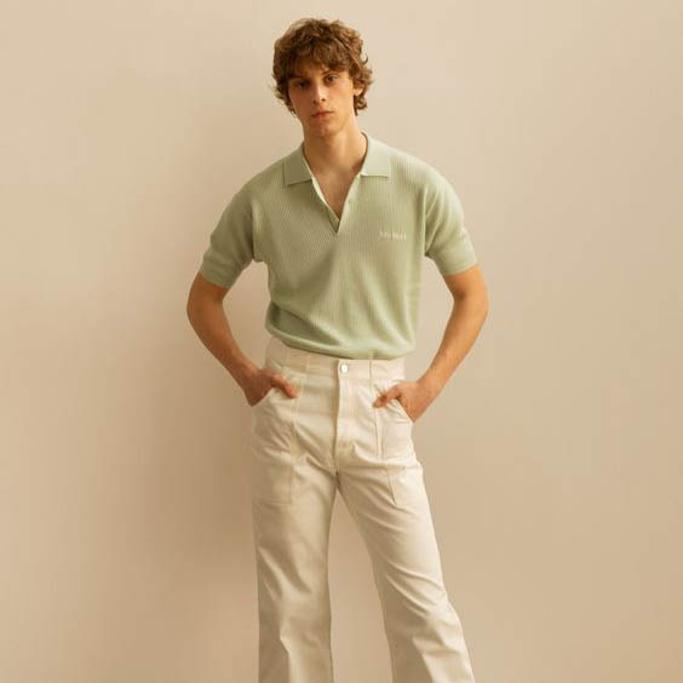 I have a firm belief that tuxes shouldn't be worn at wedding showers. They're extremely formal—especially if the event calls for a quaint brunch and charades afterward.
If you prefer a mix of casual and understated sophistication, Holiday Boileau has the perfect OOTD for you. 
This designer-clad outfit consists of a green polo, white fitted pants, and a pair of brown sandals. Obviously, flip-flops are not an ideal choice to wear at semi-formal events, which is why I recommend swapping them for Oxfords instead.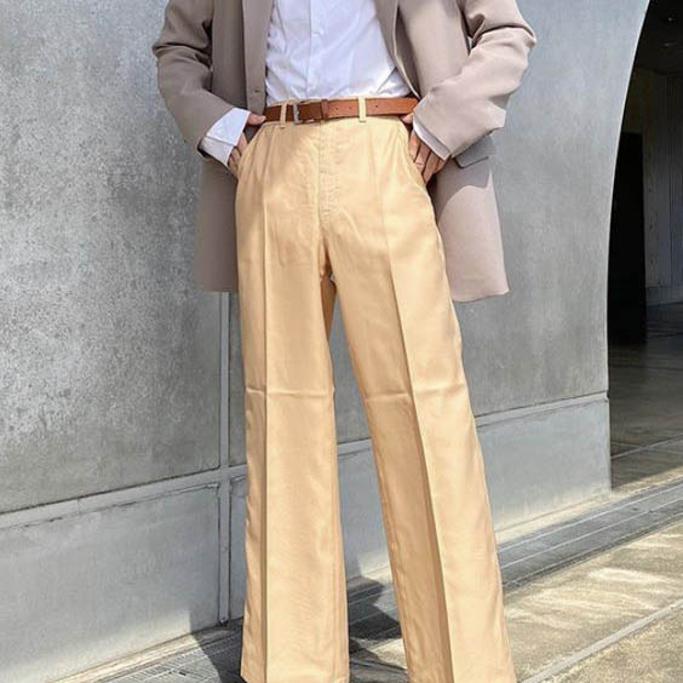 Suppose the host calls for pantsuits and dresses for their wedding shower.
In that case, you can decide to opt for the former, but tuxes are considered a no-go. For those who hate the stiff feeling of traditional tops and tails, this relaxed outfit can be your ultimate go-to. 
Composed of a white button-up shirt, a beige blazer, yellow pants, and black loafers, it's emitting 'Easter Sunday' vibes due to its oversized silhouette. Loose and comfortable in cut, it allows for extra mobility in case of food babies and wedding-themed games.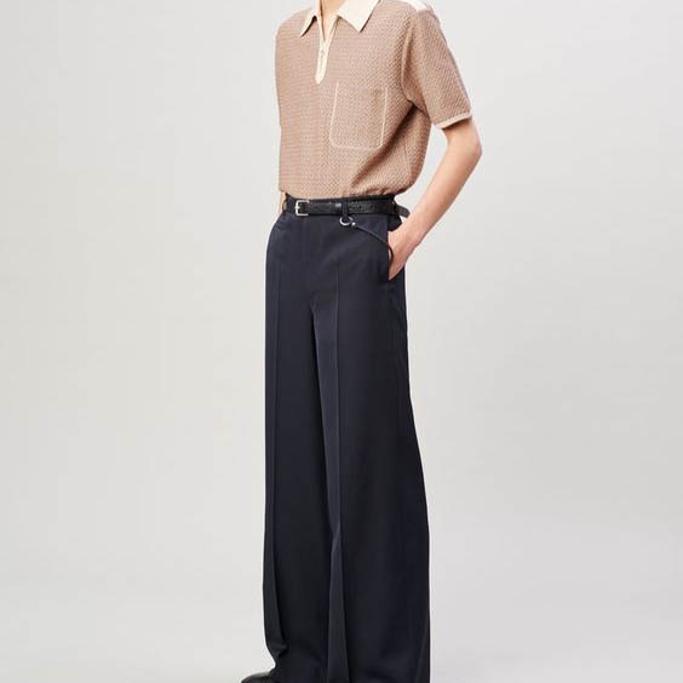 Bridal showers usually trigger the try-hard fashionistas in all of us. We want to look our best, after all. That said, we don't want to go overboard with our outfits. For those in search of the perfect effortless ensemble, this OOTD checks all the right boxes. 
It features a relaxed polo shirt, navy blue trousers, and a pair of black loafers for a touch of sophistication. Lanky in silhouette, there's something to be said about refined, simplistic elegance. If you're prepping for the cold season, I suggest layering up with a blazer over top.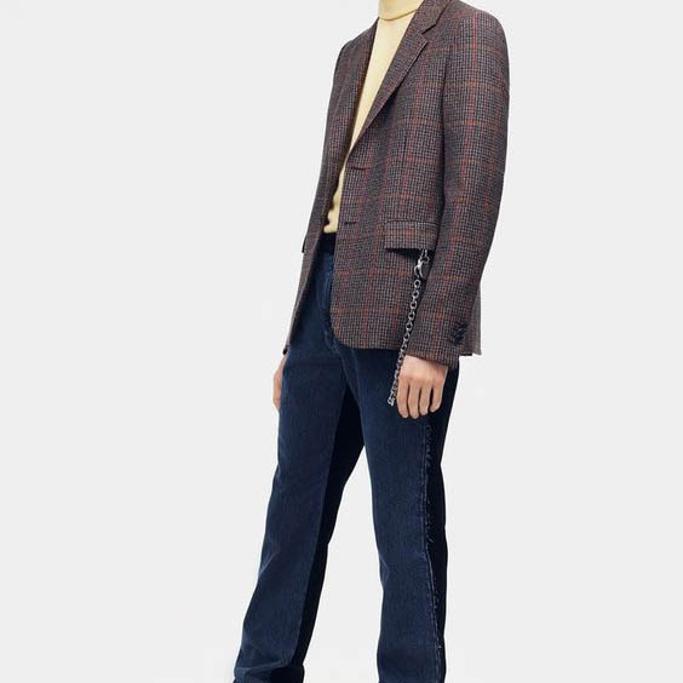 Most wedding magazines assume that tuxes are the go-to outfit for men. I agree that they're a classic staple, but they've definitely been worn to death over the years.
And you'll probably regret your ensemble of choice when presented with the wedding photos, as it usually features a mix of blacks and whites. 
If you'd prefer a switch-up, this jazzy OOTD plays around with colors and different silhouettes. Composed of a micro-plaid blazer, a pastel yellow turtleneck, black trousers, and lavender boots, it certainly exudes that celebratory spirit that weddings are all about.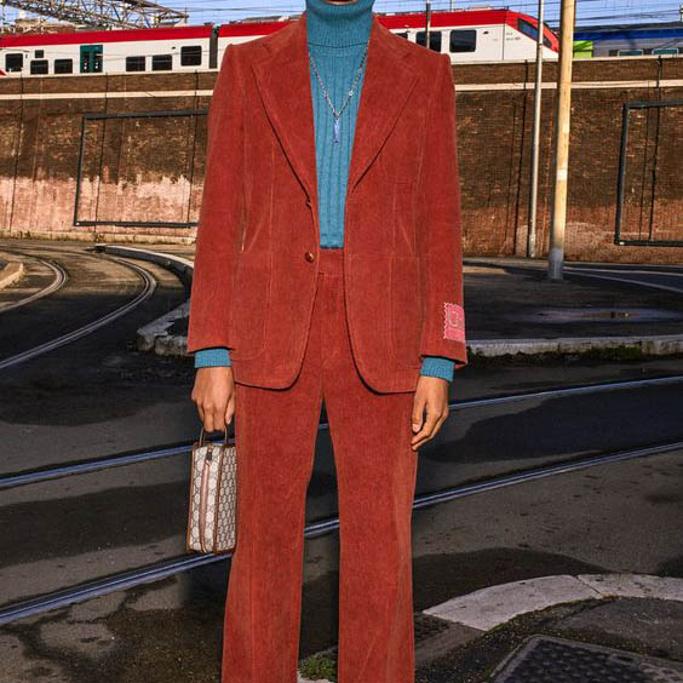 Gucci knows how to make a banging suit. And if you've had your fill of boring tuxes, this bright ensemble could act as a more refreshing alternative. 
The velvet red blazer, matching pants, and cobalt blue turtleneck are considered prime examples of color-blocking, as both hues help to balance each other out.
Given the vibrancy of this 'what to wear to a bridal shower' contender, there's really no need to further accessorize. If anything, a pair of plain black loafers is all you really need. 
What Type Of Bridal Shower Outfits Can You Get?
The bridal shower dress code is both limited and extremely vague. If the host calls for 'simple, yet elegant,' it really doesn't do much to narrow down your list of options. Others may require specific colors and silhouettes, but again—the rest is left to your interpretation.
If you're struggling to find the perfect fit, I'll discuss some types of bridal shower looks that are currently popular.
Silky sophistication: This applies to skirts, dresses, and even collared button-ups. This specific fabric exudes a level of sophistication and class that bridal showers call for.
The body-con midi dress: It's typically poor taste to wear a super skimpy mini dress. As a more appropriate alternative, I suggest a semi-conservative number instead.
Collared shirt and trousers: Considered the literal definition of subtle sophistication, this bridal shower outfit is perfect for those who don't want to wear a tux.
The semi-formal suit: As previously mentioned, I don't recommend wearing tops and tails to bridal showers. Instead, you can probably get away with a semi-unbuttoned shirt and a relaxed blazer.
The runway show: I firmly believe that bridal showers present a unique opportunity to look your very best. And if the host happens to be a fashionista, take that as a sign to up your outfit game.
How To Choose The Best Bridal Shower Outfits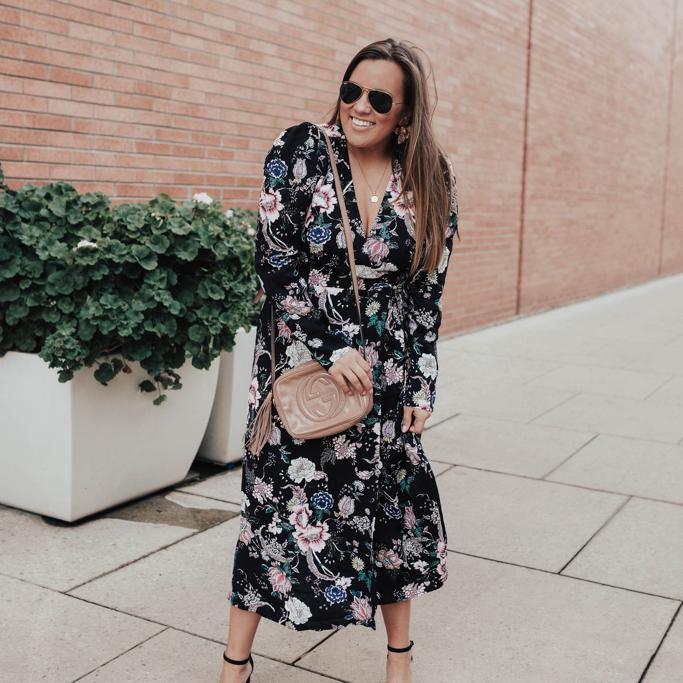 Finding the perfect bridal shower outfit can be a frustrating process. From the get-go, you're probably familiar with the basic style dos and don'ts.
Formalwear usually entails the same-old shtick of tuxes and dresses—but obviously, you don't want to blend in with the crowd too much.
The average guest wants to wear something unique, but not to the point of outshining the host. With that in mind, what should you do?
For one, it's always a good idea to consult the bride and groom. They'll usually provide a guideline for guests to follow, as some couples are specific about fabric types, colors, and silhouettes.
If they're relatively vague, ask for their Pinterest handle. By perusing their liked pins, you can get a general sense of their vision for their wedding. 
In terms of shopping, it's important to consider four things to ensure you're getting the best bang for your buck: material quality, practicality, design, and price.
Fabrics like silk, satin, twill, and herringbone are something to look for, as they're known to be durable and unique in construction. 
Aside from textiles, customers should also be mindful of craftsmanship. Raw hems, uneven cuts, and unsupportive padding are all tell-tale signs of a poorly-made dupe.
And taking practicality into account is typically required when it comes to formal occasions.
Given that it's just an event for one day, you can probably get through wearing uncomfortable embellishments and tight-fitting dresses. That said, those who have difficulty performing the most basic tasks (such as walking and eating) should probably reconsider their outfit of choice. 
The design is another obvious factor to consider. Ultimately, you should settle for something that aligns with your current aesthetic. Opting for an appropriate, well-made, and unique outfit is always the go-to move.
It's natural to assume that high-quality garments usually come with a hefty price tag, but you'd be surprised by the number of affordable options on the market. If anything, you should consider formalwear as an investment, as it can be worn again for several events.
How To Style A Bridal Shower Outfit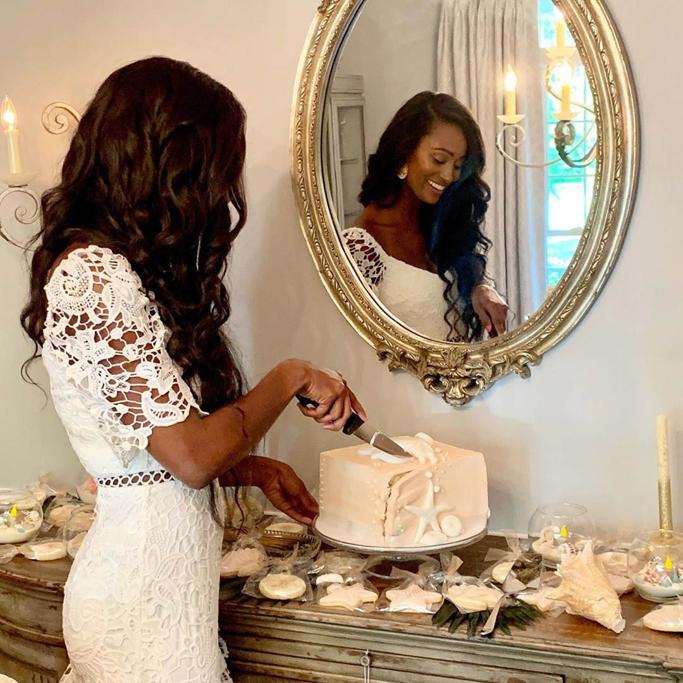 Putting together an outfit involves more than just finding the perfect matching top and bottoms.
To complete an ensemble you'll often need accessories, as most ensembles require a bit of glitz and glam as the final cherry on top. For those who know what to wear to a bridal shower, I'll suggest some styling tips to help you finesse your overall look. 
Dainty jewelry: Simple chains, diamond studs, and minimalistic rings can help add a bit of sparkle to your bridal shower look. 
The cozy cardigan: Some bridal showers are held in the evening. And parties that are held outside may become chilly. So, it's always a good idea to bring a nice-looking cardigan just in case. 
A designer handbag: If you're self-conscious about sporting a $20 Zara dress, you can easily enhance your look with a high-fashion carry-on. It's worth noting that you don't have to spend thousands of dollars on an haute couture purse. For instance, a Staud bag costs an average of $200+. 
Kitten heels: Not a fan of breaking your ankle? If so, you should never underestimate the power of kitten heels. 
Nail polish: Those keen on wearing neutral hues may desire a pop of color. Instead of layering up on garments, a professional manicure can do just the job. 
Fashion Tips To Avoid With Bridal Shower Outfits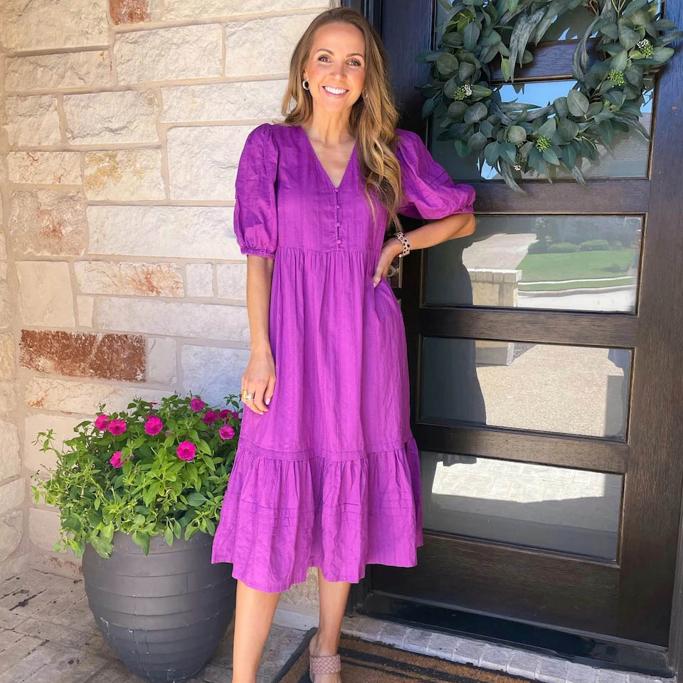 Unless you want to feel the wrath of the bride, the groom, and their inlaws, it's best to contain yourself in the proverbial bubble of formalwear. Of course, don't take that as an excuse to stick to boring silhouettes and colors.
Weddings are all about celebration, after all, and your outfit should reflect the same mood. If you're unfamiliar with the fashion don'ts for bridal shower attire, I'll provide a brief rundown of several below.
Black: This isn't a funeral. So, unless you've been given the OK from the host, it's probably a good idea to opt for other colors instead.
Streetwear: Casual clothes such as jeans, sneakers, and t-shirts are considered inappropriate for bridal showers.
Tops and tails: Tuxedos, cravats, and boutonnieres are considered too formal for events such as bridal showers.
The 'whole hog': It's considered poor taste to outshine the couple in question. So, if you're unsure about your fit, it's always a good idea to consult the bride or groom.
The $5 Shein look: Fast fashion websites should be avoided at all costs when buying formalwear. They're notoriously known to work with cheap, sheer fabrics.
How To Take Care Of Bridal Shower Outfits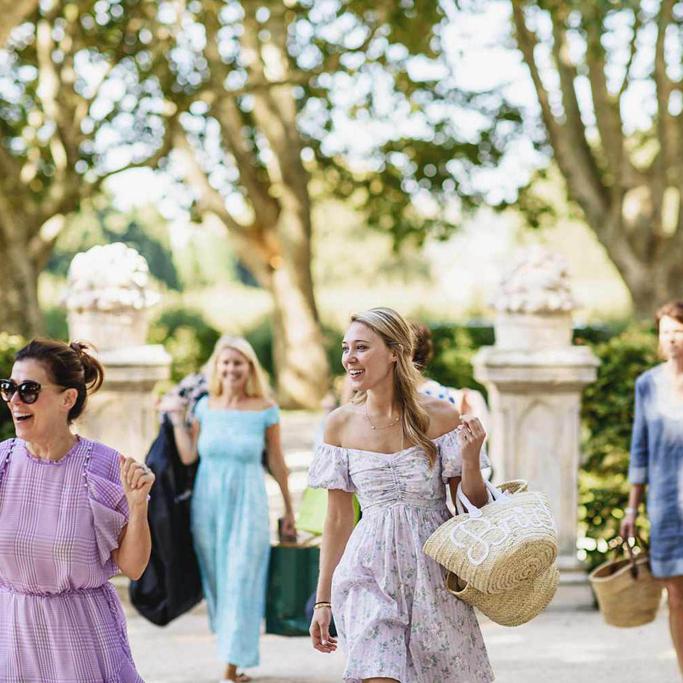 Most view evening dresses and pantsuits as an investment. They're typically worn for future events such as bachelorette parties, graduation ceremonies, and galas.
If you intend to keep your coveted fit for years to come, here are some cleaning tips for trendsetters to consider.
Consider a garment bag: It can prevent dust accumulation and wrinkles, and it can help maintain the quality of your clothes.
Read the laundry tag: Formalwear typically calls for dry cleaning. That said, some garments are machine-friendly.
Spot clean stains: Blemishes can be easily removed with warm water and soap. It's worth noting that some blotches may require professional help.
Best Places To Buy Bridal Shower Outfits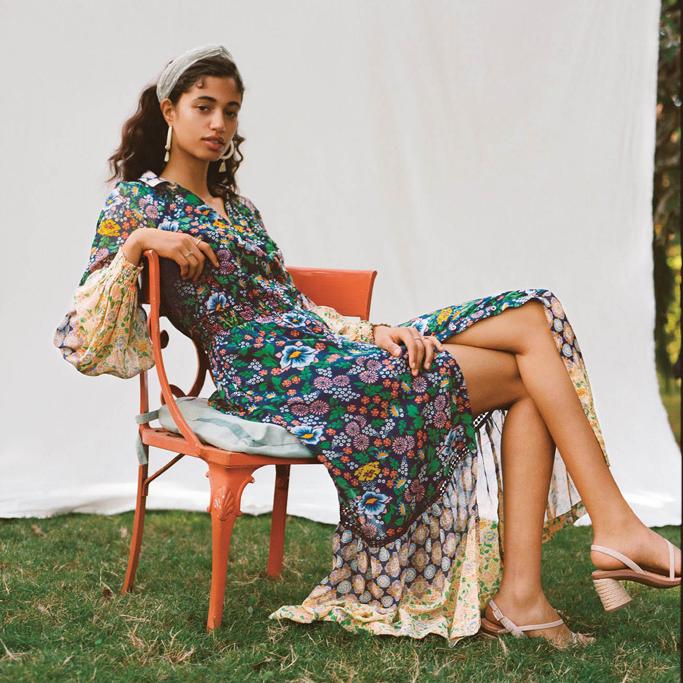 Before I conclude this 'what to wear to a bridal shower' style guide, I'd like to leave readers with some store recommendations:
BHLDN
Reformation 
Nordstrom 
SSENSE
Moda Operandi
Final Thoughts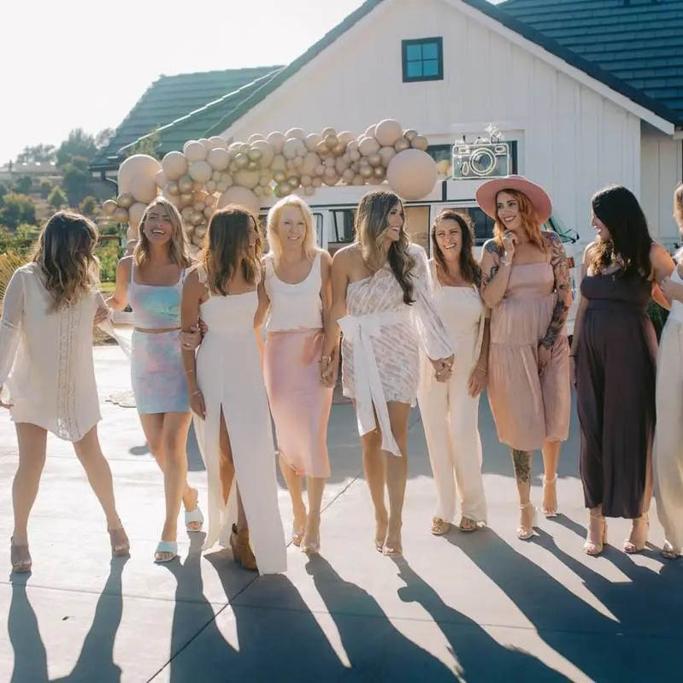 In theory, you shouldn't worry too much about your bridal shower outfit. The real stress comes from the wedding itself. However, this particular rite of passage is relatively casual, as most use it as an opportunity to connect with friends and family members.
Opting for a tasteful, semi–formal ensemble is always a good move. It may even warrant a respective nod from both the bride and the groom.
After viewing the 10 outfits I've featured, here's hoping that you know what to wear to a bridal shower now. And, with that out of the way, you can finally focus on finding the perfect gift. 
---
Can you hear the church bells ringing? Check out some of our other style guides:
What To Wear To An Outdoor Wedding
What To Wear To A Winter Wedding
What To Wear To A Formal Wedding
Get Access to Exclusive Deals
Subscribe for free to get exclusive deals in your inbox. 100% privacy