What To Wear To A Luau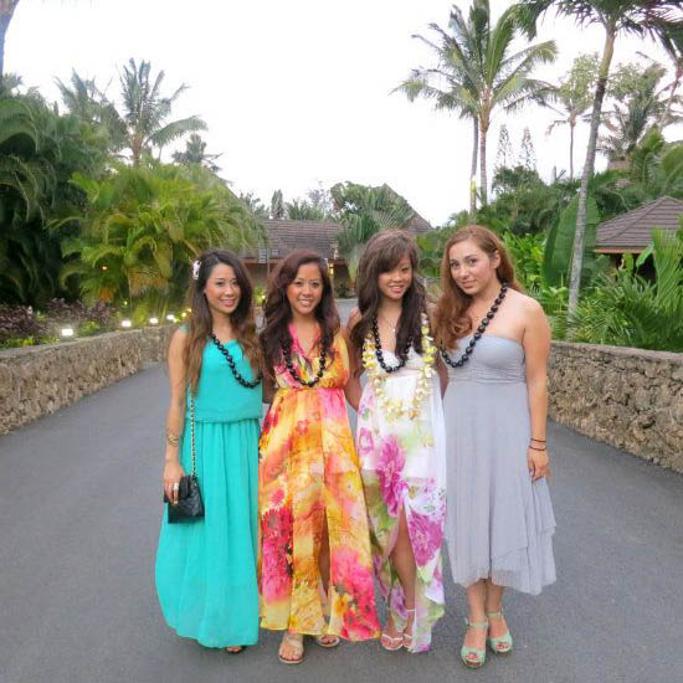 Hawaii continues to be a hotspot for vacationers. Known for its scenic nature, great food, and diverse culture, there's a good reason why it's on everyone's bucket list.
Those looking to achieve the quintessential Hawaiian vacation usually partake in a couple of luaus. While it's considered a traditional festivity among locals, it's regarded as a rite of passage for jet setters. 
Aside from its colorful aesthetic, Hawaii is known for its humid climate. So locals and vacationers usually choose breathable clothing to help combat heat waves.
Before you pack up for your flight, it's probably best to give this week's wardrobe some forethought. If you're wondering what to wear to a luau, I've developed a helpful style guide full of outfit inspo. 
From floral prints to denim shorts, I've gathered some trendy fits that are both practical for the weather and appropriate for the occasion. By the time you're done with my style guide, you'll definitely know what to wear to a luau. Let's get started!
What Is A Luau?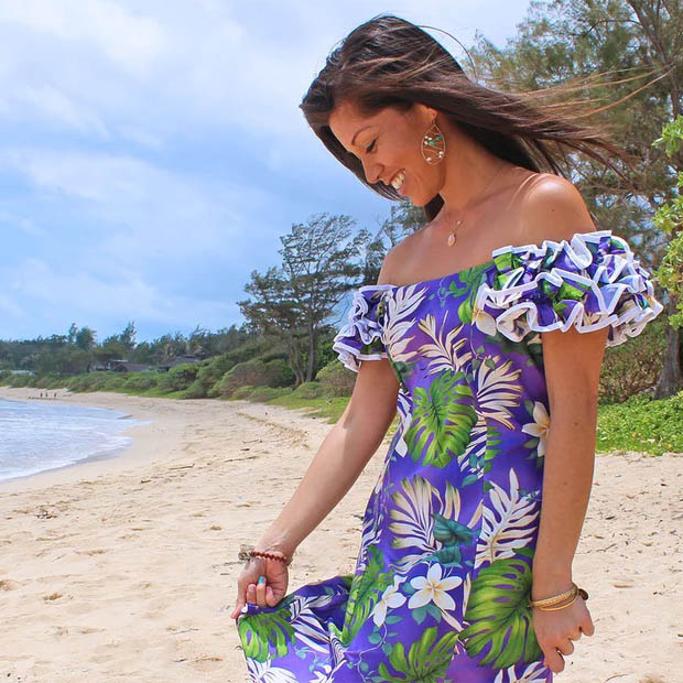 A luau is a social gathering that typically involves entertainment and food.
Hosted in Hawaii, it's traditionally meant as a celebratory event. Dishes such as poke, Lomi salmon, and haupia are often served as performances roll in the background, which may include hula dances and singing. 
It's worth mentioning that the origin behind the luau is a 200-year-old story. Back then, Hawaii practiced a strict social hierarchy in which certain classes could only commune with each other during feasts.
The reign of King Kamehameha II was the first to ease these restrictions, as he allowed women and men to dine together.
He used the term luau to reference these new social gatherings. He definitely put today's luaus to shame, as the king threw lavish celebrations that were full of great food and entertainment.
While it's important to know this rich history, you came here for apparel. Most invitees opt for bright colors and prints to match the celebratory spirit of the event.
If you're still wondering what to wear to a luau, I'll provide some outfit inspo for the trendsetters out there to consider.
13 Outfit Ideas For A Luau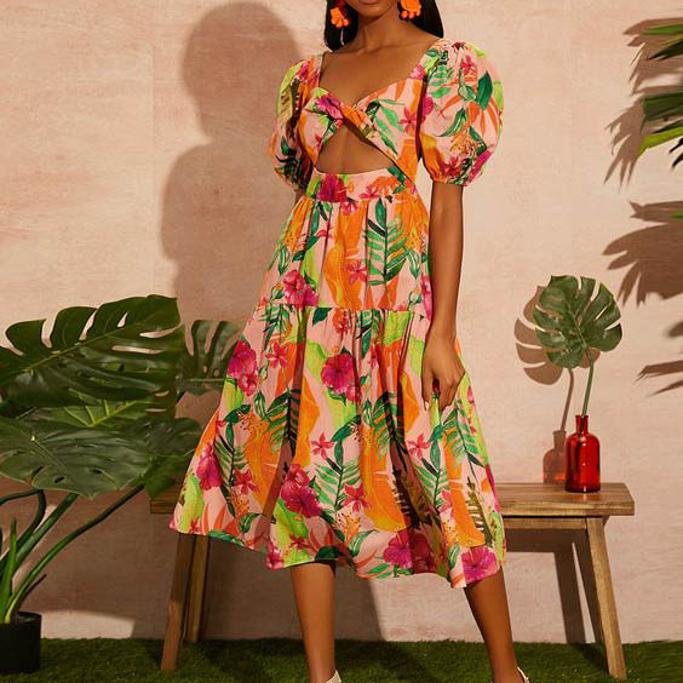 Bright florals practically scream summer. Case in point, those who intend to visit Hawaii during the peak season should consider vibrant patterns when packing their suitcase.
This colorful ensemble is no exception, as it features a puffed-sleeve blouse, a tiered midi skirt, and a pair of white sandals to help soften up the look.
Accentuated with statement earrings for a touch of pizazz, it certainly gives off a party spirit. Even if you're suffering from jetlag. I highly recommend adding a cute rattan bag to help achieve some boho vibes.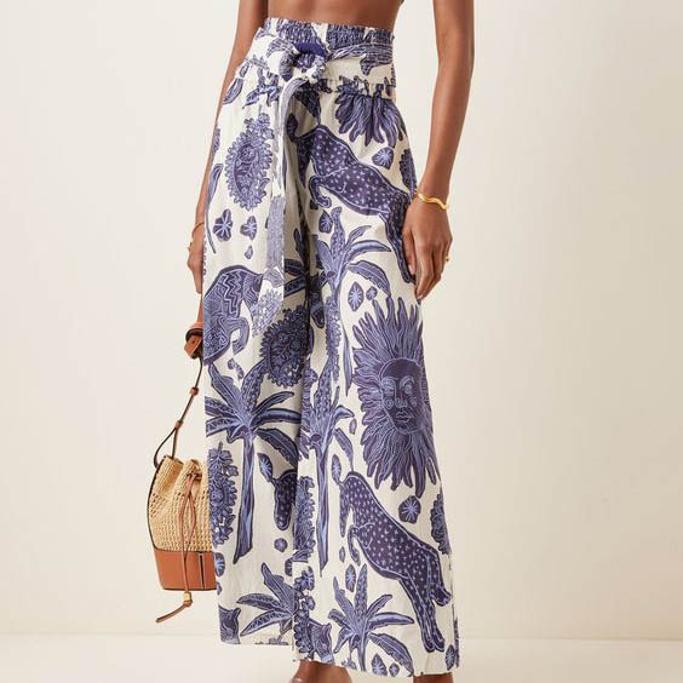 Skipped leg day? If so, there's no need to resort to a stifling pair of Levi's. If you prefer a more breathable alternative, a set of linen pants can do just the trick. This stylish OOTD is composed of high-waisted bottoms and a tie-up crop top. 
Decorated with an intricate blue print, this gorgeous ensemble keeps things bright for sunny luaus.
It's a relatively relaxed fit, which is great for dancing and accommodating inevitable food babies. In terms of accessories, a tote bag and a pair of sandals help emphasize your summer fit.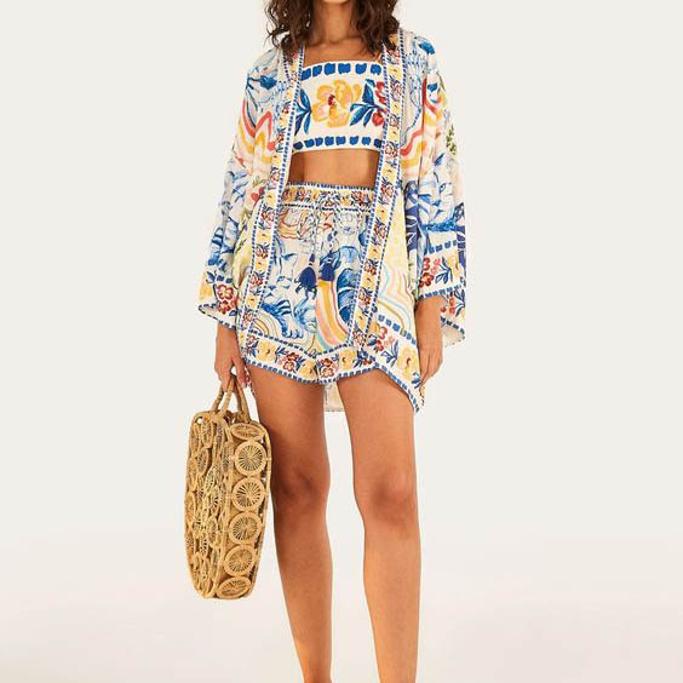 Shorts are usually the go-to garment for hot weather. That said, wearing cropped denim can quickly get boring.
Those in need of a more colorful option should definitely consider these printed bottoms. Decorated with intricate florals and borders, it's further accentuated with a bandeau and a kimono-style jacket.
Breathability is also an important asset to look for, and fortunately, this outfit is devoid of any stiff fabrics or tight-fitting garments. If you're wondering what to wear to a luau, I highly recommend adding this contender to your list.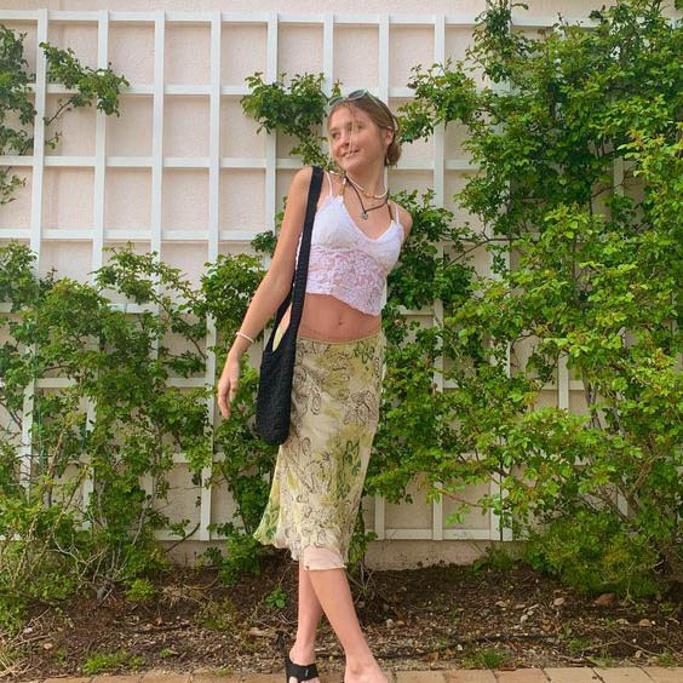 Y2K fashion is usually at its peak during summer. After all, it's a core aesthetic that favors crop tops and low-waisted bottoms. Those looking to incorporate some early 2000s finesse into their vacation fits should consider this ensemble.
Featuring a white lace tank top, a green floral midi skirt, and a pair of black platform flip-flops, it's certainly reminiscent of Bratz dolls and the movie Aquamarine. In terms of additional styling tips, you can never go wrong with an iconic claw clip and a set of shades.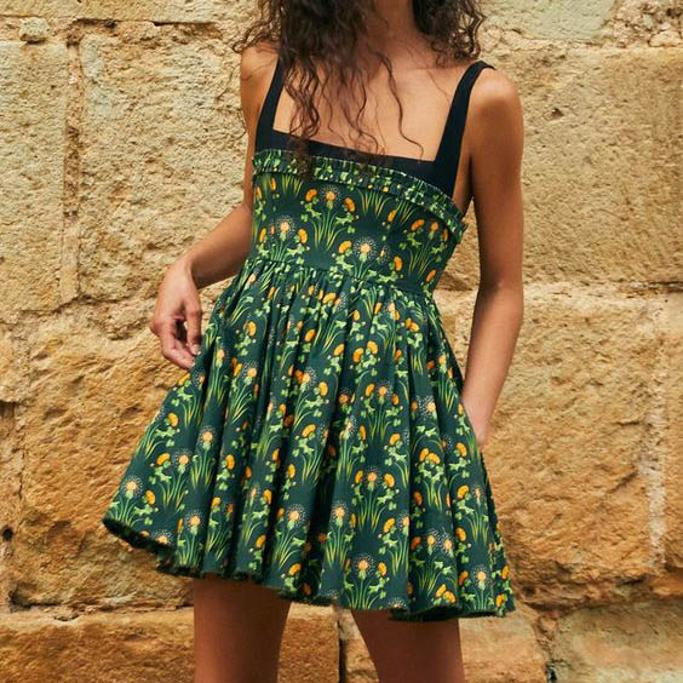 Agua Bendita is a Columbian-based designer known for its vibrant, summer-inspired prints. Given that most of the ensembles featured in my "what to wear to a luau" guide feature floral patterns, I thought it only fitting to include this clothing brand in the mix.
This romantic dress is decorated with petite flowers and growing greens. While it's sleeveless, you're more than welcome to wear a black tank top underneath for some additional coverage. I highly recommend topping the look off with a pair of cute espadrilles.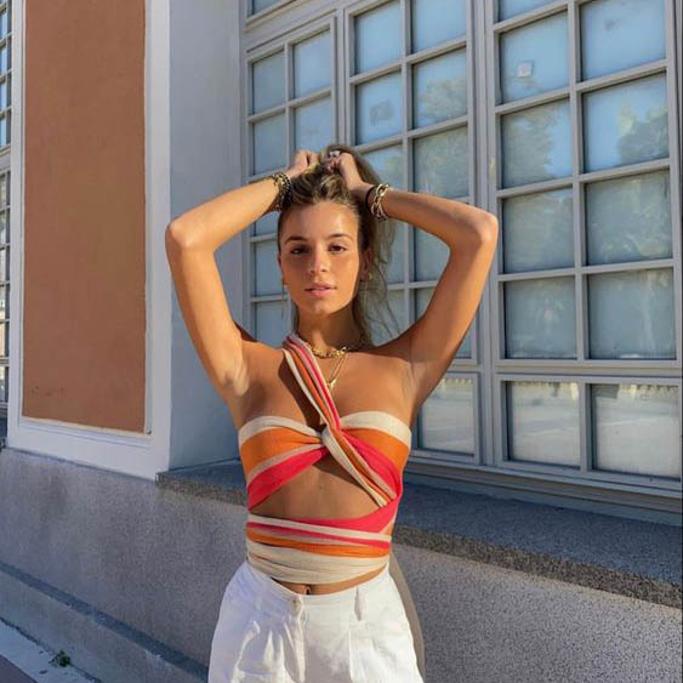 Styling slump gets the best of us. If you've run out of things to wear, may I suggest the good ol' bandeau hack?
This fashion tip makes use of a silk scarf, as trendsetters can easily knot and fold it to create the perfect summer top.
If you're intent on copping this colorful look, I suggest opting for a longer scarf to ensure decent coverage. The rest of the outfit can encompass a pair of white linen pants and an assortment of dainty jewelry to help accentuate the bright tones of the "blouse."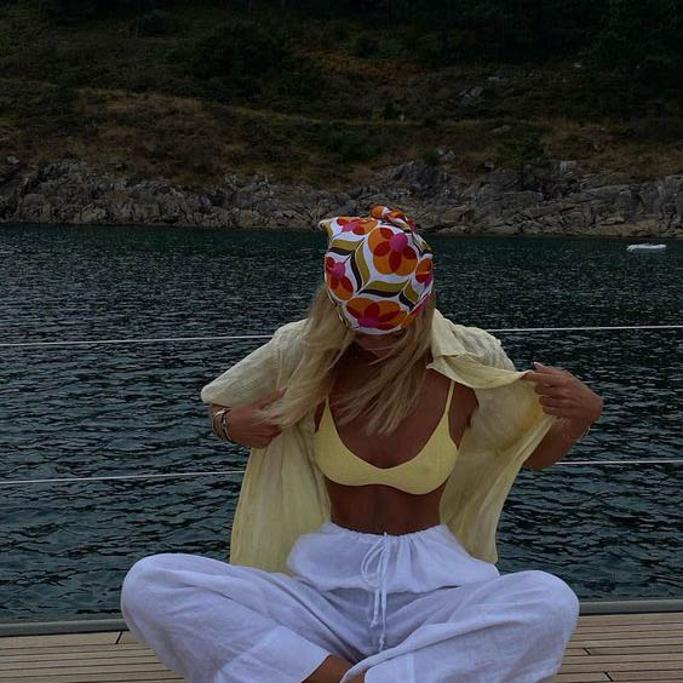 Relatively baggy, this chic OOTD is perfect for 30° humidity. It's made of a yellow bralette, a pair of white drawstring pants, and an unbuttoned shirt for a bit of modesty.
Complemented with a red-print bandana, it definitely screams a casual bachelorette party in Hawaii vibes.
An array of gold-tinted jewelry is a must, as it helps accentuate the bright tones of the ensemble. If you're not keen on going barefoot, I suggest a set of dainty kitten heels for a touch of sophistication.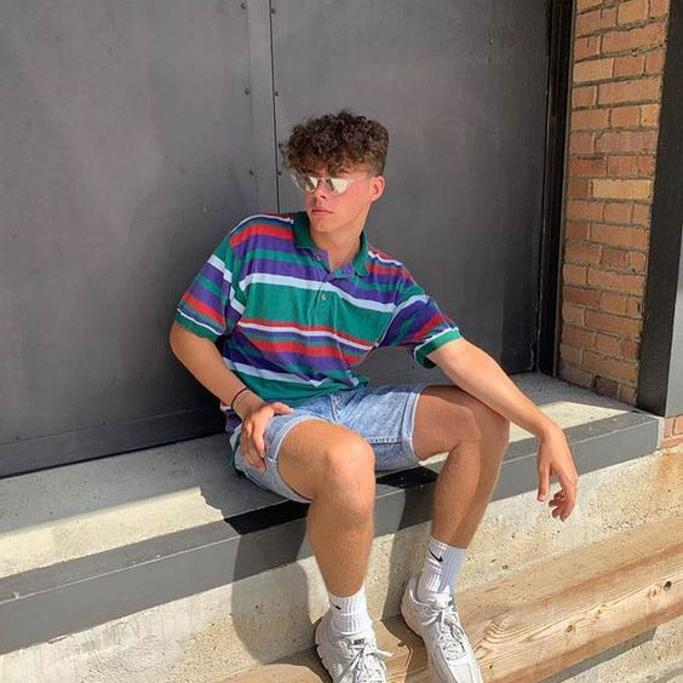 '90s fashion was mostly centered around party-centric clothing. Case in point, those prepping for a luau can definitely take inspiration from the late MTV scene.
This playful number features a striped polo shirt, a pair of denim shorts, running shoes, and a set of retro shades. Offering a casual aesthetic, it certainly has that "too cool for school" attitude that most partygoers exude.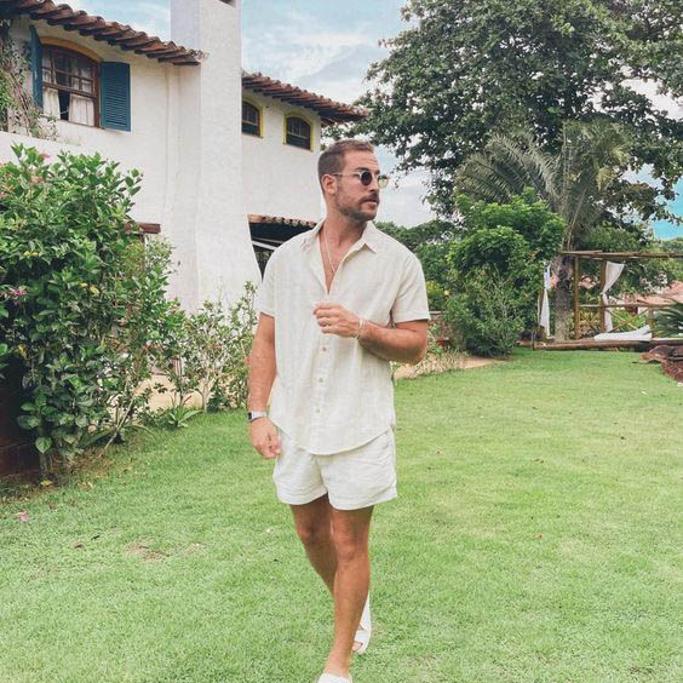 Not a fan of bright colors and prints? If so, minimalist fashion is the way to go. This fashion trend is all about muted hues, traditional silhouettes, and subtle patterns. If anything, it can help you stand out amongst the sea of floral print-clad invitees.
This OOTD features a simple white button-up and a pair of matching shorts. Accompanied by a set of Birkenstocks, it practically screams rich dad on a yacht kind of vibes. Those wondering what to wear to a luau should take heavy inspiration from this iconic look.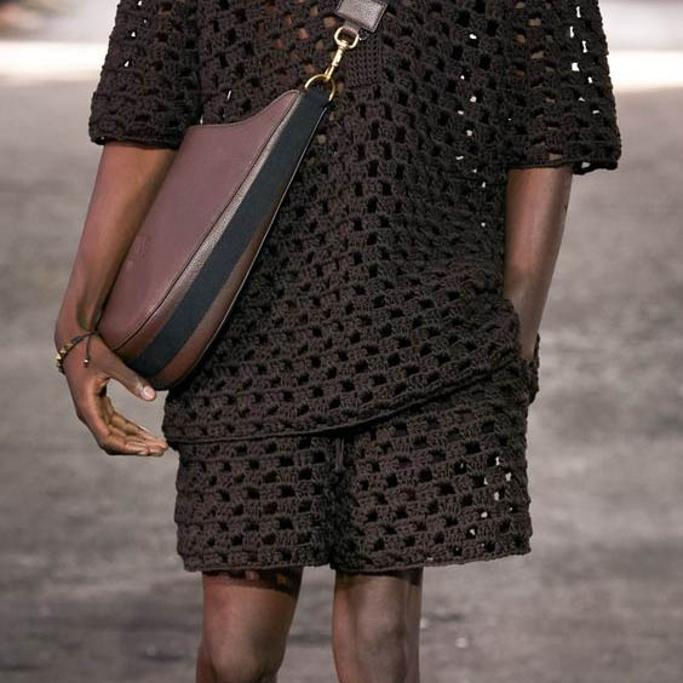 Black is not a recommended color for summer. Given its tendency to absorb heat, this hue can often leave you hot and sweaty. That said, you can probably get away with wearing dark shades if it's linen, chiffon, or crochet.
This knitted matching set is considered the perfect compromise, as it features an oversized polo shirt and a pair of shorts. Its holey nature allows for maximum breathability, which is essential in humid weather.
If you intend on sporting this contender of what to wear to a luau to a beach party, I recommend swapping out the white sneaks with sandals instead.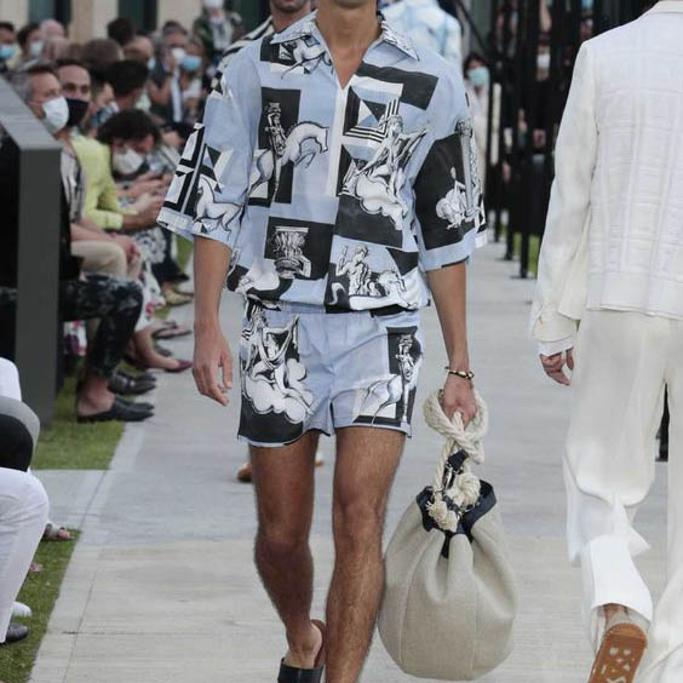 Matching sets are a must-have for July. This especially bodes true for tourists, as it gives off the right amount of "don't bother me, I'm on vacation" vibes. 
This Dolce & Gabanna look is considered a prime example of this aesthetic, as it features a printed button-down, a pair of matching shorts, and a set of black sandals.
Accentuated with a white hat, it exudes a sense of summer sophistication needed for first-class jet setters. The only thing that's missing from this ensemble is a fruity cocktail.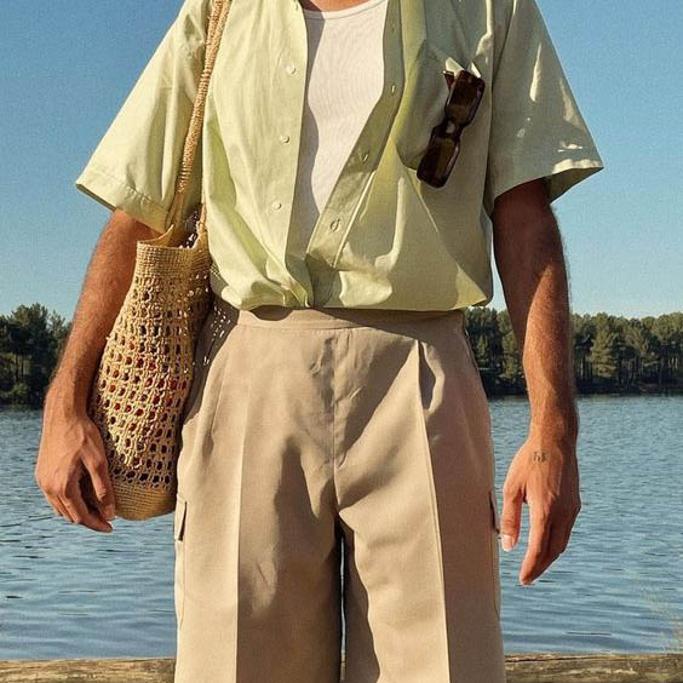 Plain white tank tops can look quite dull. Instead of pairing it with your usual denim shorts, I suggest finessing it with a colorful button-down and a set of khaki bottoms.
It's slightly reminiscent of the cheesy tourist aesthetic, but at least it's free of an oversized floral shirt and binoculars.
The shell necklace and the woven handbag help to imbue a romantic beachy look, which is recommended for those prepping for a luau. For shoes, a pair of Birkenstocks can help tie the whole outfit together.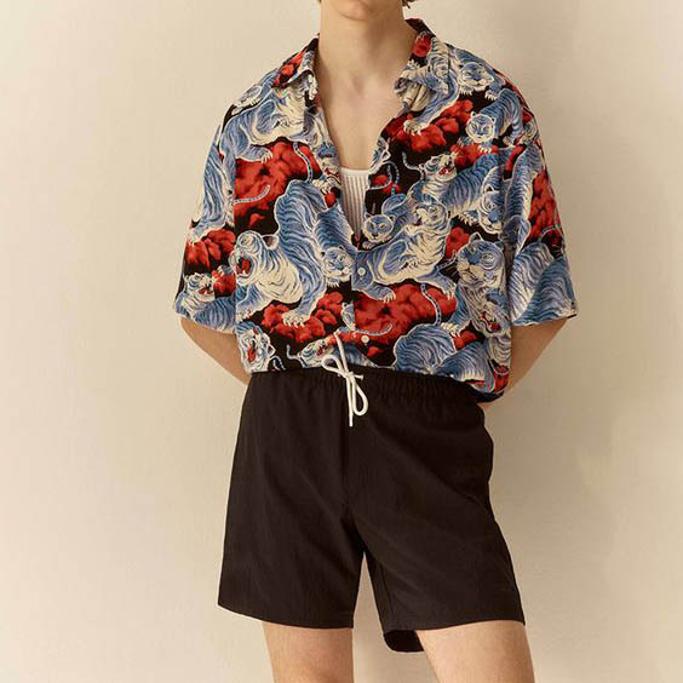 If you're wondering what to wear to a luau, you can always opt for the "just got out of the pool" kind of look. This outfit usually involves a pair of black swim trunks and a loose button-up shirt. 
While you're free to wear nothing underneath, I recommend a white tank top for some added visual interest. Accessories such as a set of sunnies and a neck scarf can help achieve those quintessential summer vibes. Don't forget to top the outfit off with some platform sandals!
What Type Of Luau Outfits Can You Get?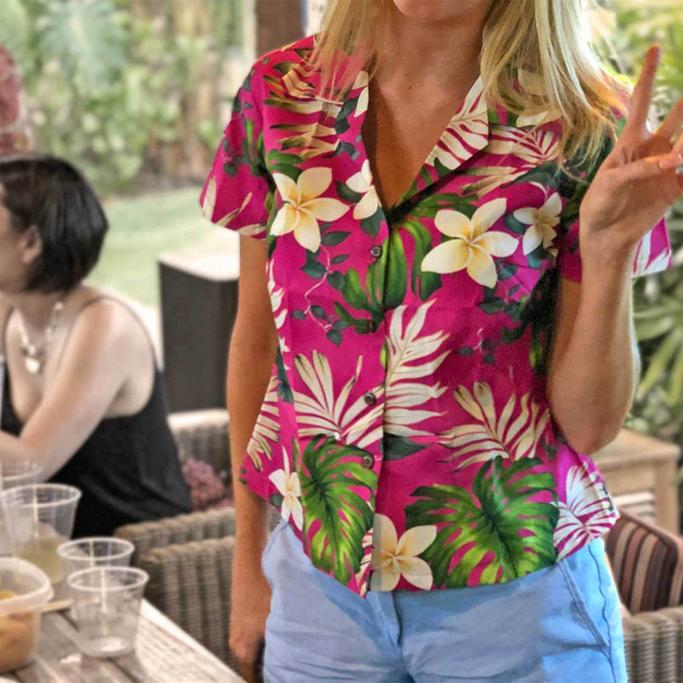 Luaus are quite different from any party you've been to. Traditional to Hawaii, its setting usually calls for loose, breathable clothing.
Most invitees go for bright and colorful garments to pair with the event's mood. If you're still unsure of what to wear to a luau, here are some trendy outfits worth considering:
Button-ups and Shorts: Super breathable, this is definitely something to consider in 30°+ weather. Take this as an opportunity to experiment with different colors and prints.
Midi or Mini Dresses: These two garments are considered summer essentials. They're offered in various patterns and hues. I recommend opting for loose fits rather than tailored alternatives to help prevent sweat stains.
VSCO Girl: This core aesthetic is all about tie-dye, puka shell necklaces, and bucket hats. It's a great trend to follow if you love the Cali girl scene.
Y2K: Not a fan of high-waisted bottoms? If so, I suggest copping the low-waisted skirt and crop top ensemble as a more refreshing alternative.
Minimalism: Not all Luau outfits have to be bright and colorful. If you prefer something more simple, you can never go wrong with a monochromatic ensemble.
How To Choose The Best Luau Outfit
Finding the perfect party outfit usually comes with some worry. For trendsetters, it's all about achieving that 50/50 mix of style and comfort. It's a time-intensive process to ensure that effortlessly chic look.
For luaus, practicality plays a big role in decision-making, as sweat stains have yet to be on-trend. If you're prepping for a long vacay to Hawaii, take note of the shopping tips below.
Responsible shoppers will typically review clothing based on material quality, design, functionality, and price. Given that Hawaii is quite humid during the summer, opting for breathable clothes is a must.
Customers should look out for materials such as silk, linen, and organic cotton. Sturdy fabrics, such as denim, canvas, and leather, should be avoided at all costs.
Cut and silhouette are also important factors to consider, as loose fits and semi-revealing garments are suggested to help encourage aeration.
As mentioned in the previous segment, trendsetters should feel free to experiment with different colors, prints, and core aesthetics. At the end of the day, the resulting outfit should scream summer. 
I highly recommend setting on an ensemble that aligns with your current aesthetic. While it may seem tempting to buy something totally wild and avant-garde, it may not blend well with the rest of your wardrobe.
In terms of price, it's always best to work within a limited budget to help minimize overspending. I recommend a $200 allowance for those who intend on buying one outfit. Of course, this amount could double if you want to shop for a whole new wardrobe.
How To Style Luau Outfits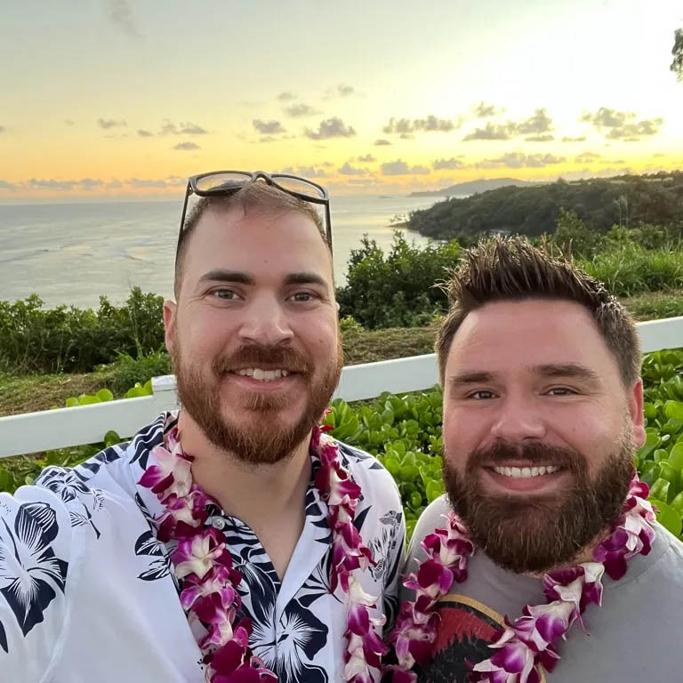 No outfit is complete with accessories. If your outfit is missing that quintessential spark, it's probably due to the lack of jewelry, hair clips, handbags, or neck scarves. So I thought to include some styling tips for those unsure of what to wear to a luau:
Jewelry: Puka shell necklaces, gold trinkets, and Cuban chains practically scream summer. Minimalist and maximalist designs are totally welcome here.
Sunglasses: All summer outfits require a pair of cool shades. Try experimenting with different shades, tints, and frames!
Rattan Handbags: Woven textures are slightly reminiscent of sun hats and picnic baskets. If you're keen on copping that beachy aesthetic, this accessory is a must-have.
Sandals: While you're free to wear sneakers, sandals are considered a more appropriate alternative if you're at a beach or a park.
Decorative Scarves: Head scarves and neckties can help accentuate your chosen OOTD. I suggest opting for designs printed with vibrant colors and prints.
Fashion Tips To Avoid With Luau Outfits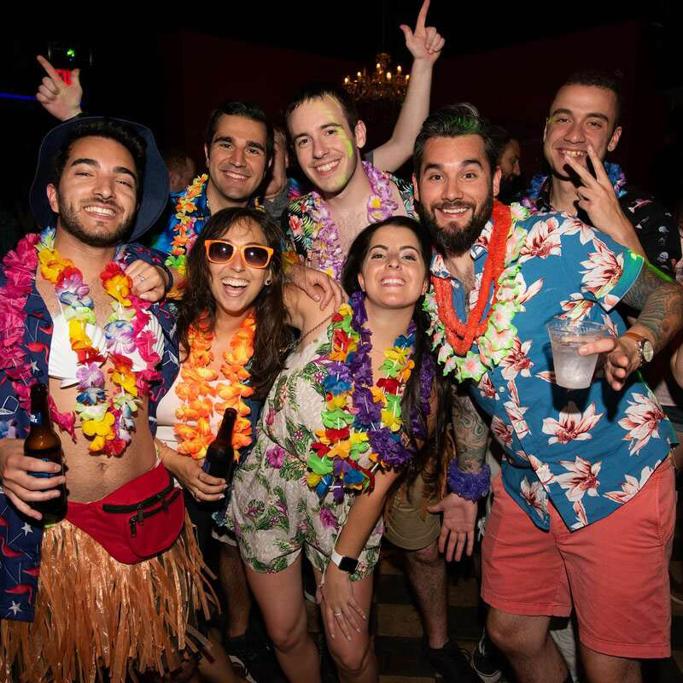 There's nothing more embarrassing than being the center of attention for the wrong reasons.
While some luaus are generally open to the public, they shouldn't serve as an excuse to don inappropriate fits, especially when it comes to cultural appropriation. Cultures are meant to be appreciated, not mocked.
Before you jet-set to Hawaii, here are some fashion tips to avoid with luau outfits:
Cultural Appropriation: As a general rule of thumb, you shouldn't consider traditional Hawaiian clothing as costumes.
Stilettos: Given that most luaus are situated near a beach or park, it's probably not a good idea to wear a pair of thin heels.
Denim: Jeans and denim jackets are not recommended for humid weather. Instead, you should opt for linens and cotton instead.
Formalwear: Luaus are casual parties. This isn't the time to wear evening dresses or tuxedos.
Athleisure: Regarded as the direct opposite of formalwear, it's considered poor taste to wear leggings, sports bras, or track pants to such celebratory events.
How To Take Care Of Luau Outfits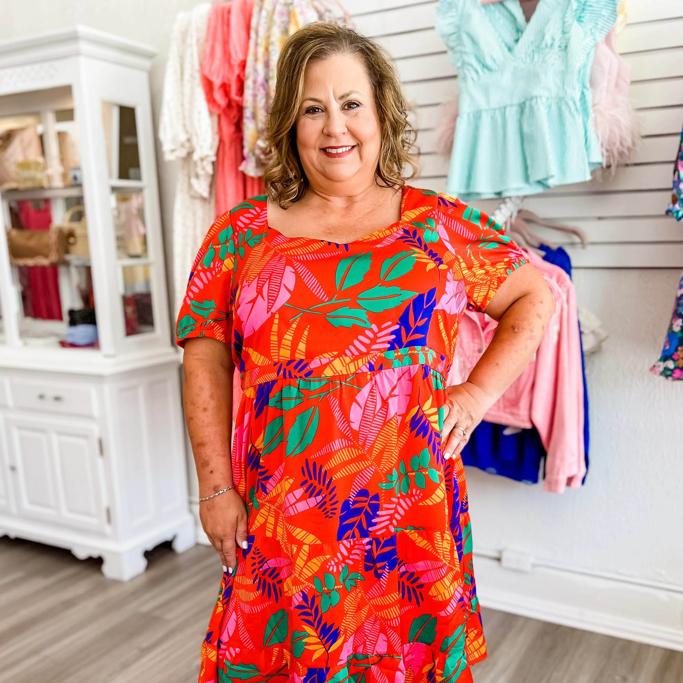 Given that luaus call for casual clothes, I think it's safe to say that you can toss your partywear in your regular load of laundry.
A gentle solution of lukewarm water and mild detergent will usually do the trick in removing odors and stains. As always, it's a good idea to double-check the care instructions of your garment beforehand, as some pieces may require professional help.
Best Places To Buy Luau Outfits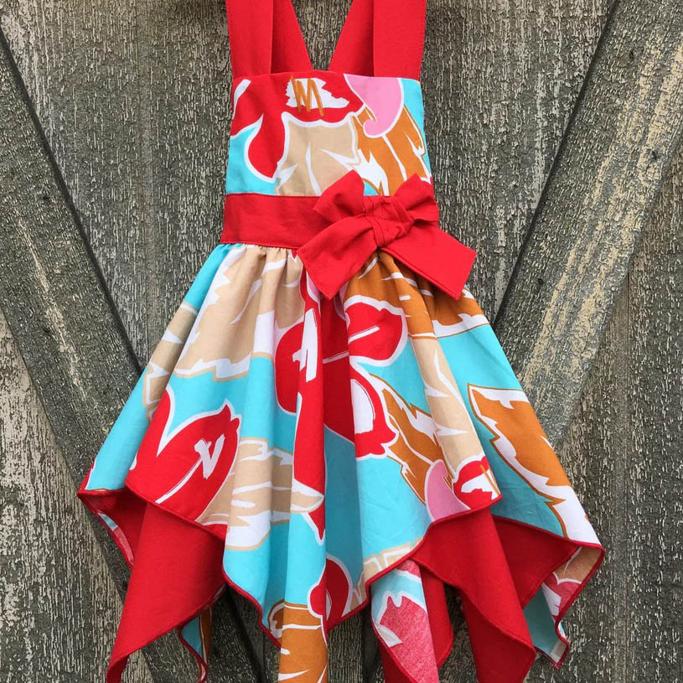 In need of some store recommendations? If so, don't worry. I've got your back:
Reformation 
Moda Operandi
Nordstrom 
Everlane 
Sezane 
Final Thoughts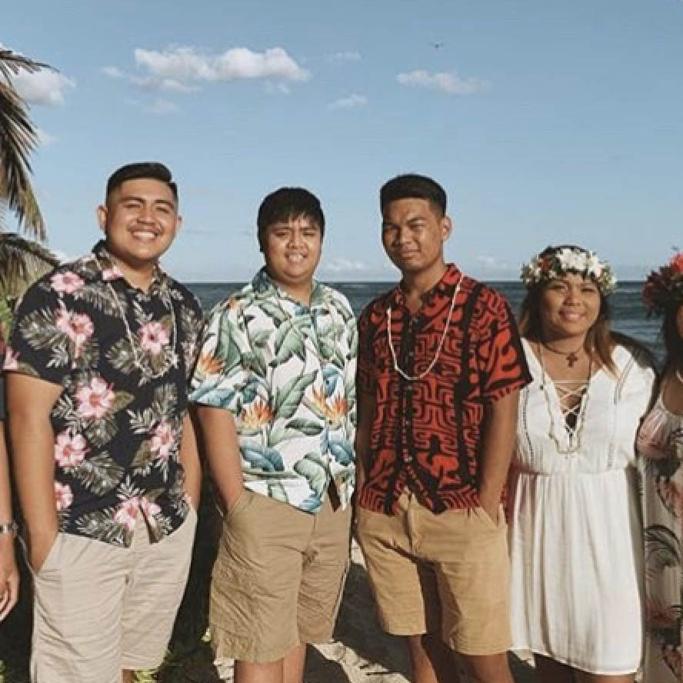 Vacations can help encourage relaxation for anyone stuck in their usual 9 to 5 grind. With that in mind, it seems counterintuitive to worry about holiday outfits.
While it may seem like a life-or-death scenario for some Instagram influencers, most vacay ensembles are relatively casual and relaxed.
Getting ready for a luau is no different, as it's relatively easy to put together a bright and comfortable ensemble.
Of the 13 looks I've featured, I'm fairly confident that you know what to wear to a luau. Practical, comfy, and appropriate for the summer, you can finally put outfit coordination on the back burner as you enjoy your vacation.
---
Check out some of our other style guides:
Get Access to Exclusive Deals
Subscribe for free to get exclusive deals in your inbox. 100% privacy