What To Wear To A Rock Concert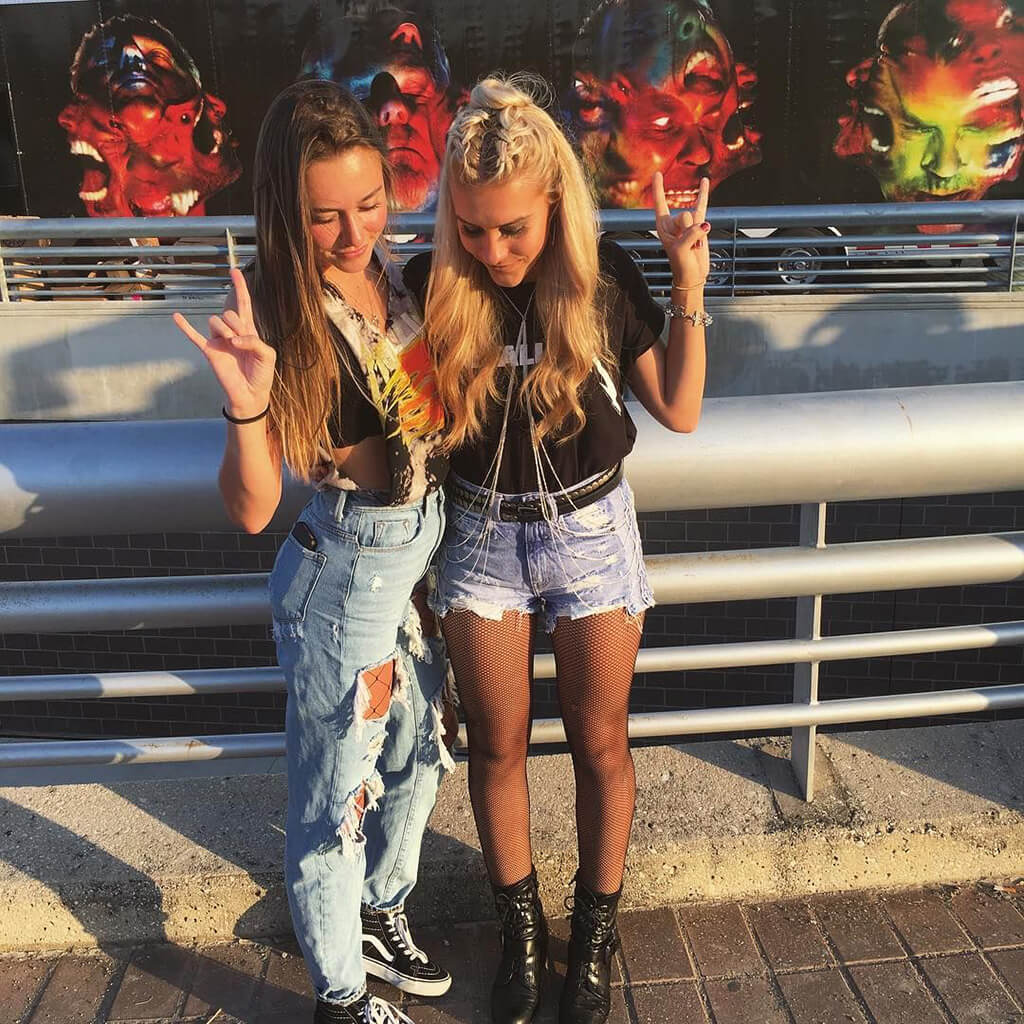 Performers aren't the only people who have to know what to wear to a rock concert.
Sure, they're stepping on stage under a burning spotlight to entertain potentially thousands of people, but you're one of those thousand fans, and you probably want to look your best even if you're sitting way up in the nosebleeds.
Therefore, we'll tell you how to choose what to wear to a rock concert by looking at some of the most vital aspects that go into an outfit. We'll discuss fabrics, shoes, colors, styles, and more.
What Makes Up A Rock Concert Outfit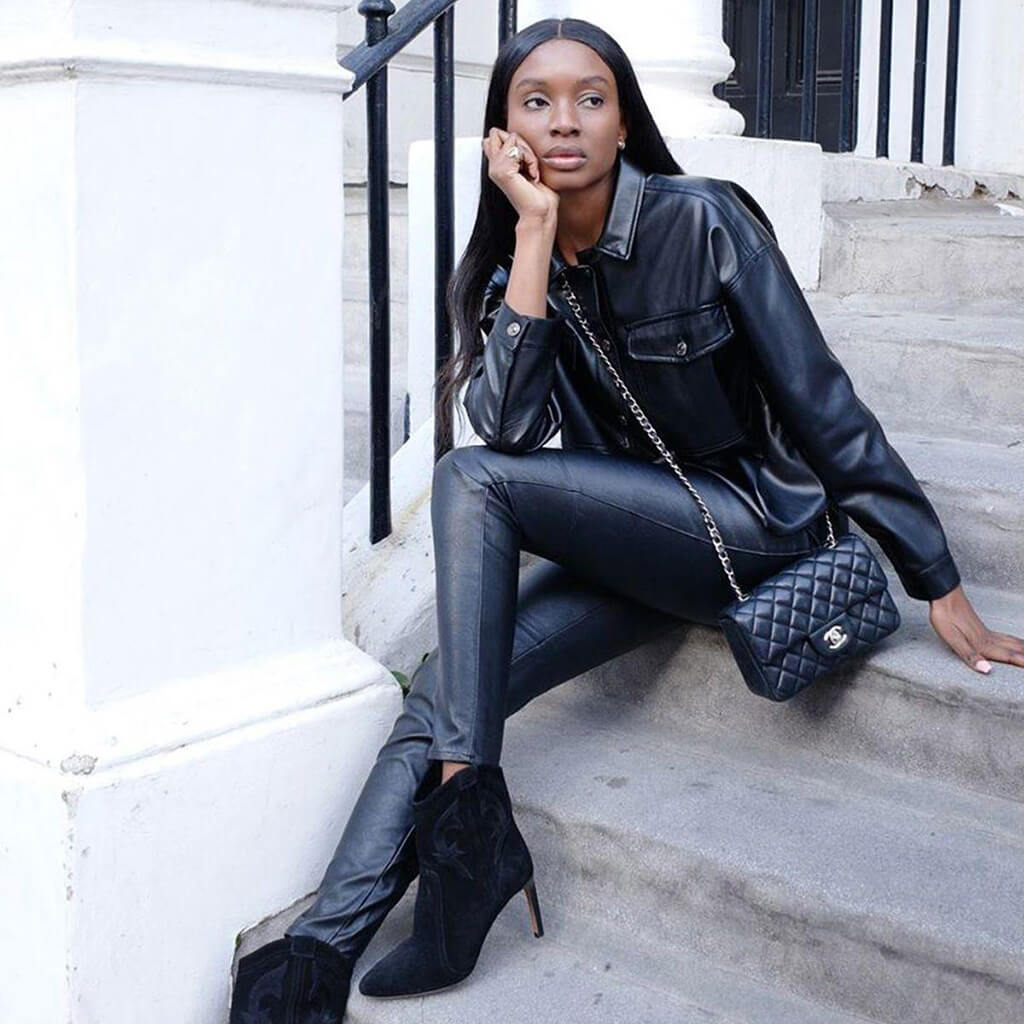 Rock music concerts play it fast and loose with fashion rules so there's plenty of space for you to express yourself. You'll likely find people who use them as excuses to flex their fashion styles at lavish festivals like Coachella.
Alternatively, rock concerts are where you'll find people typically let go of their fashion standards, bust out their decades-old sweat-stained shirts and cargo shorts, and let loose with a flurry of expletives beside a roaring crowd.
The point of that comparison was to prove to you that there aren't many rules when it comes to what to wear to a rock concert. These are some of the most common pieces you'll find in most outfits:
Black t-shirts
Flannel overshirts
Jeans
Combat boots
Common sneakers like Converses
Ripped denim
Don't confine yourself to just these items. Fashion and rock music overlap in regards to how much they encourage people to play around with conventions and break the rules.
We recognize that it can be difficult to escape from rigid mindsets if you don't know what those mindsets are, so we'll still give you some tips about what to wear to a rock concert after we tell you a condensed version of their history.
History Of Rock Concerts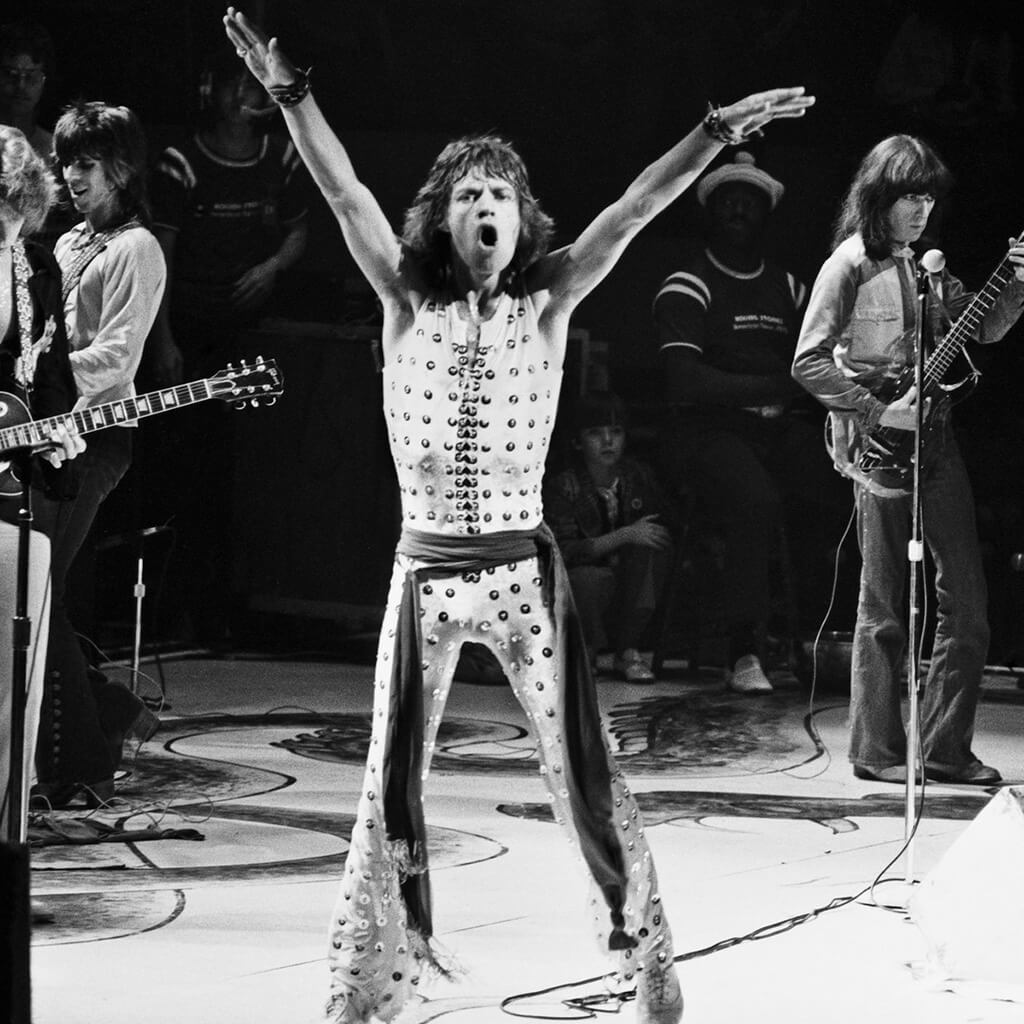 Just as the idea of what to wear to a rock concert has evolved over time, so has the occasion it's suited for. Rock concerts drew from many live music staples and thrust them into the modern age of 1950s America.
The idea wouldn't exist without centuries of live music history that predates recording technology and rock music as a whole.
But most of that isn't necessary to understand how rock concerts became the entertainment spectacles they are today. Big band jazz and smaller country concerts paved the way for the growing interest in live music.
After the Second World War America entered a fruitful period of economic prosperity and material gain, leading to many people seeking new forms of entertainment.
At the same time, musicians were combining genres like blues, western, and tin pan alley to form the earliest incarnations of rock music.
Alan Freed, a disc jockey at the time, started organizing live music performances for rock bands. And while he was instrumental in their genesis, Bill Graham, a Jewish promoter, shaped the majority of the experience.
Graham promoted concerts for three decades from the 1960s until the 1990s and innovated practices like sanitation guidelines, advanced ticket sales (something he later expanded upon with digital tickets), and overall safer practices.
More and more young people started attending rock music concerts because they represented growing countercultural movements. Seeing live rock music was a safer way for people to rebel against America's societal norms at the time.
Nowadays, rock concerts are some of the most profitable media ventures. They're how many bands generate enough revenue to keep the lights on, connect with fans, and sell their merchandise.
Speaking of merchandise, that's something that quickly comes to mind when people think about what to wear to a rock concert, but as you'll learn by the end of this article, it's not the only thing that's acceptable.
4 Outfit Ideas To Wear To A Rock Concert
Let's begin with one of the safer rock concert outfit ideas. This is a really simple look to put together so if you're pressed for time, unfamiliar with the band, or can't decide what to wear then we recommend an outfit like this.
It comes down to three main components:
A graphic black t-shirt
Lightwash high-waisted jeans
Boots
We're particularly fond of the way white boots stand out with this outfit, but any color of boots will work just as well. Actually, you can swap the white boots out for black boots for a more dangerous concert-ready look.
And of course, the obvious answer when considering what to wear to a rock concert is a graphic band t-shirt like the one in this outfit.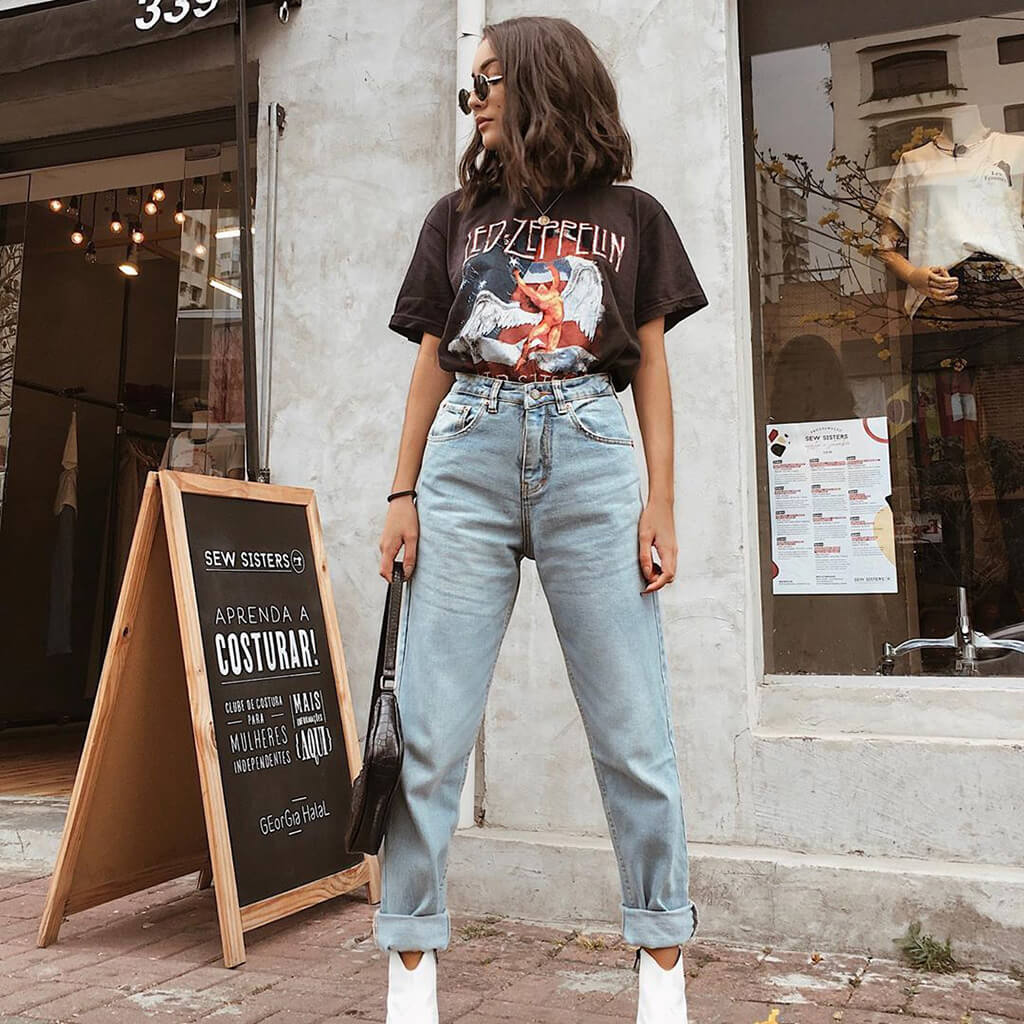 If you can wear the merchandise of a band similar to the one you're seeing then that's great. Another option is to wear any other band t-shirt given that those types of pieces are making a comeback.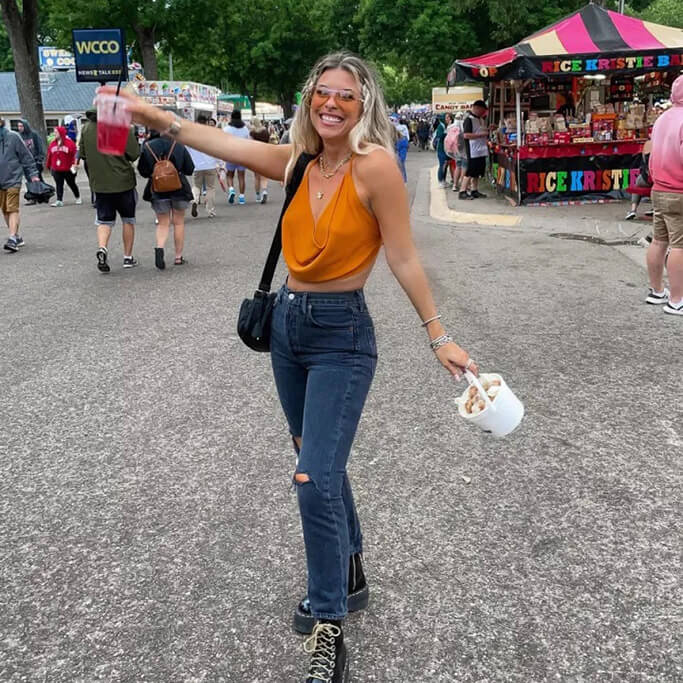 Here's our suggestion for what to wear to a rock concert in summer. This outfit may not fly during sweaty weekend-long festivals because of the jeans and the heavy Doc Marten boots, but those pieces are exactly why this look succeeds for nighttime concerts.
Specifically, it's perfect for summer concerts when the sun crashes behind the horizon and the band flies into their deepest cuts. It has a breezy orange top that showcases the fun of warm weather music but the boots keep rock's spirit alive and well.
Also, note the gamut of silver accessories this model is wearing. She has multiple bracelets, rings, and a necklace. All these subtle details take this rather simple outfit and give it a bit more depth.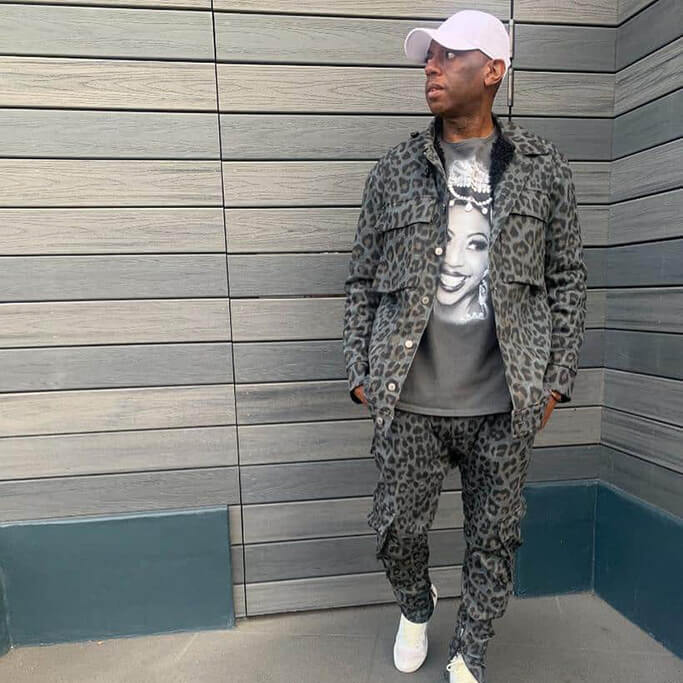 Curious about how to stand out from everyone else looking up what to wear to a rock concert guys edition?
Looking for a more unique look that'll grab people's attention while staying classy? This might be the look for you.
In fact, this outfit works for a plethora of music concerts too. You can wear it to hip-hop concerts, funk shows, and even a disco night. What makes it so versatile are the matching leopard print blazer and pants.
Normally we'd advise against a full-body pattern, but we like the grey colorway as it makes the outfit a bit more suave and much less cliched.
Equally important are the white shoes and cap. This combination designates the outfit as thoughtfully curated rather than randomly assembled.
They balance out the showy leopard print and graphic t-shirt, toning it down and bringing the fit back into our orbit.
Alternatively, what to wear to a rock concert women's style can be just as edgy as any rock band that hits the stage. The easiest way to accomplish that is with fashion's hardest working color: black.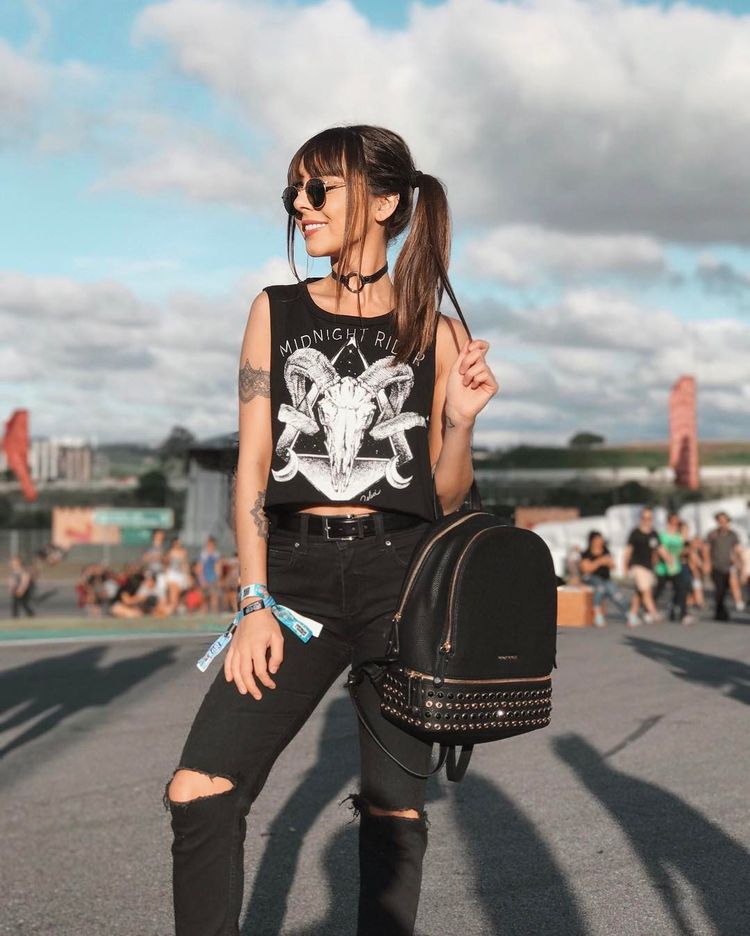 All-black outfits seem like they were scientifically designed for rock concerts. They nearly always go with each other, allowing you to play with different textures and materials like the ones in this outfit.
Another unspoken advantage of all-black outfits is that they do a great job of concealing the sweat you'll likely gather from the concert.
It's almost impossible to guarantee that you'll leave a show without perspiring just a little bit, so instead of ruining your fun by trying to stay dry, embrace the fact that you'll likely get a little sweaty. Use black clothes like a shroud to keep yourself looking cool.
What Type Of Rock Concert Outfits Can You Get?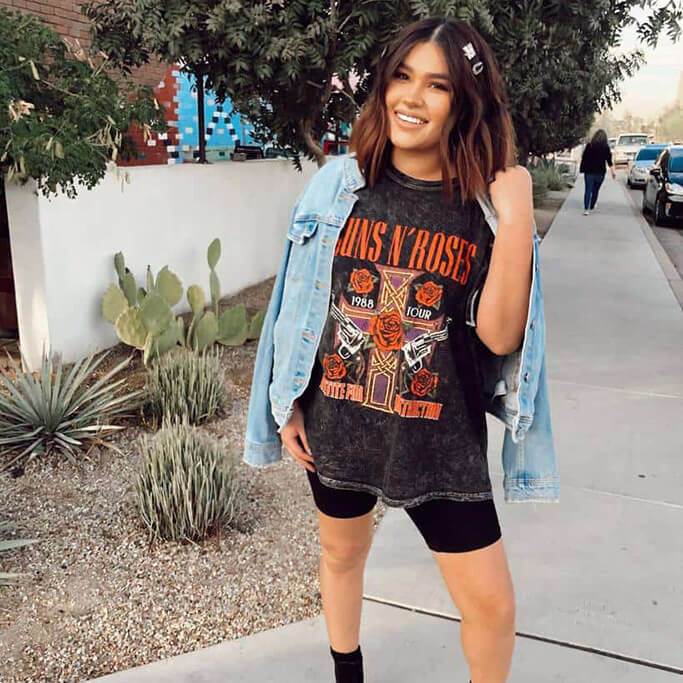 You can get various types of rock concert outfits from the simpler ones to the more elaborate get-ups.
For the former, you can pass into a crowd without batting an eye by wearing an effortless combination of study pants, decent sneakers, and a plain t-shirt.
There are some rock concerts that almost embellish performative crowds. That's why you'll see some fans dressed up like they're touring members of KISS, trying to audition as an extra for The Warriors, or arrive with layers of make-up and hairspray.
All of these outfit styles are feasible when going to a rock concert. They're all about fun, so you should dress in a style that allows you to have the most amount of fun that you possibly can.
How To Choose The Best Rock Concert Outfits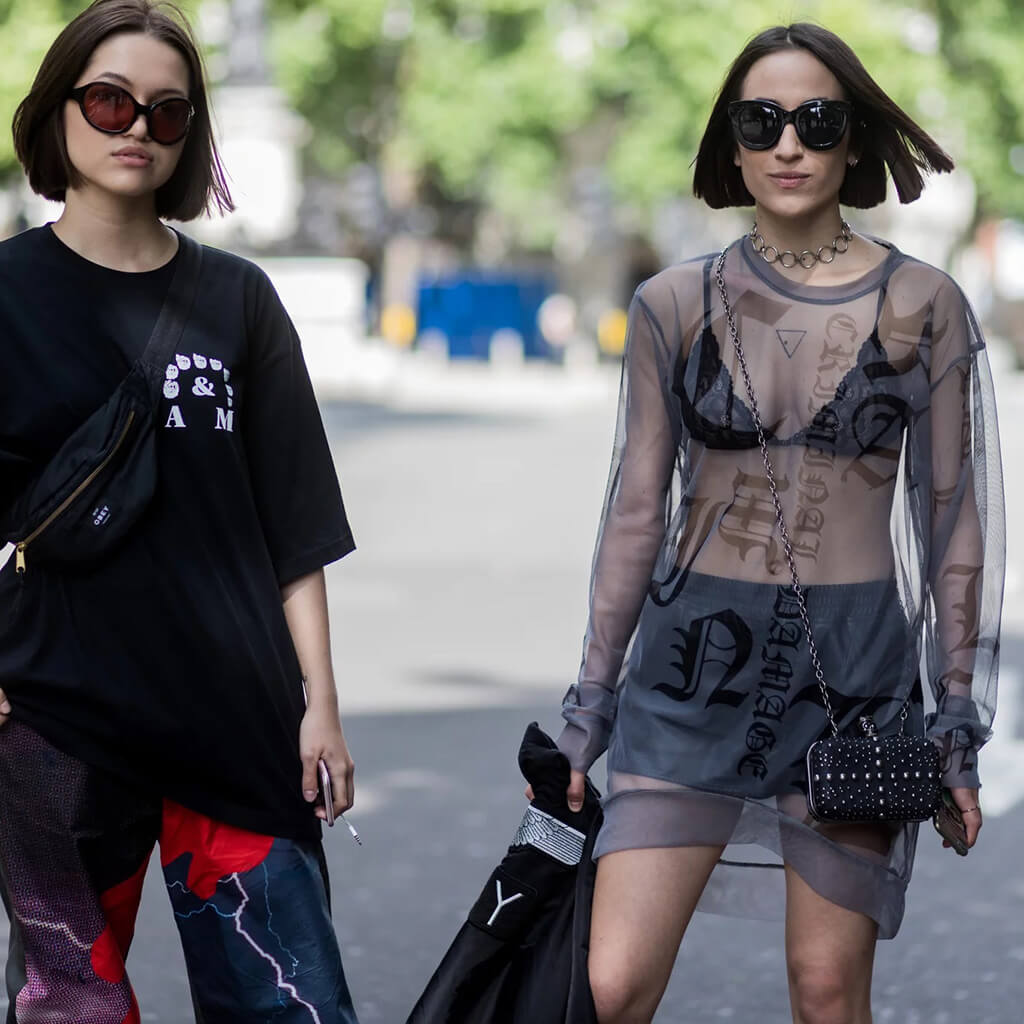 When you're thinking about what to wear to a rock concert, it's common to feel either overwhelmed or apathetic.
We can't help you if you fall into the latter camp more often than not because if you don't care about how you look then no amount of guidance will resonate.
We encourage you to invest in fashion, but we understand if you only want to want your old high school football hoodie.
Conversely, we can help you choose what to wear to a rock concert if you feel like there are too many options by breaking down three concepts that guide most of our outfit selection principles.
First, think about how much you want to spend on an outfit. This can vary depending on whether you'll wear the clothes again if you regularly go to these types of concerts, and whether you're wearing these clothes just for concerts or if they'll become wardrobe staples.
If you see yourself wearing these items frequently then we think it's okay to spend a bit more money on them.
Next, think about which performer you're going to see. There are some outfits – particularly all-black ones – that can fit in at almost every rock concert, from the Arctic Monkeys to Cannibal Corpse.
Others are best suited for certain styles of rock music. You wouldn't wear a suit and blazer to a Guns N Roses show, for example. Thus, think about which band you're seeing and dress accordingly.
In a similar vein, consider which venue you'll be visiting on the night of the concert. Dive bars can house some of the most intimate concerts but they're usually not the place for clothes that you hold near and dear to your heart (or wallet).
On the flip side, fancy halls are great places for you to adorn more stylish and sophisticated pieces.
How To Style Rock Concert Outfits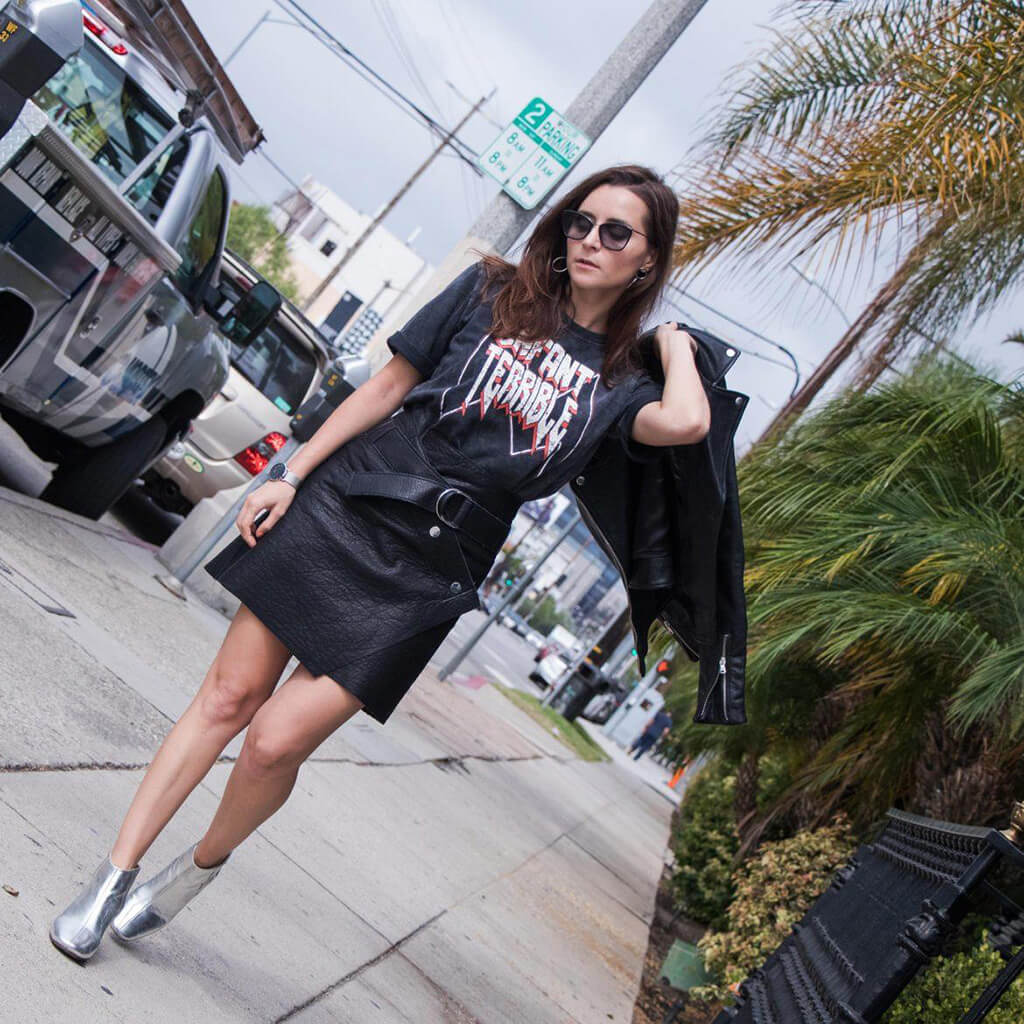 Learning the nuances of styling rock concert outfits is a myth because there aren't any secrets that only apply to these types of looks. Any fundamentals that inform good fashion choices carry over when it comes to what to wear to a rock concert.
If you already know advanced concepts like color blocking, layering, contrasting textures, or framing, then you're probably in a good position.
If all of those terms are new to you then don't worry, you don't need them unless you're really interested in improving your overall fashion game.
Here are a few basic principles to follow for styling concert outfits:
Prioritize mobility and comfort. Rock concerts can get rowdy and you'll likely be standing for hours on end. Pick clothes that you can move around in easily.
If you do wear white shoes we recommend designating a pair as your concert shoes. People may step on your feet, spill drinks on your shoes, and outdoor concerts can get quite muddy. You don't want to ruin a pair of Rick Owens by taking them to a concert where nobody is even looking at the ground.
Building off of that last tip, invest in a good pair of boots. Black boots are essential as they're durable, versatile, and fashionable.
Have fun with your outfits. Rock concerts are meant to be places where you can let loose and forget all of the day's pressures and stresses. Embrace your wild side and show off a piece of you that most of the world rarely sees.
Fashion Tips To Avoid With Rock Concert Outfits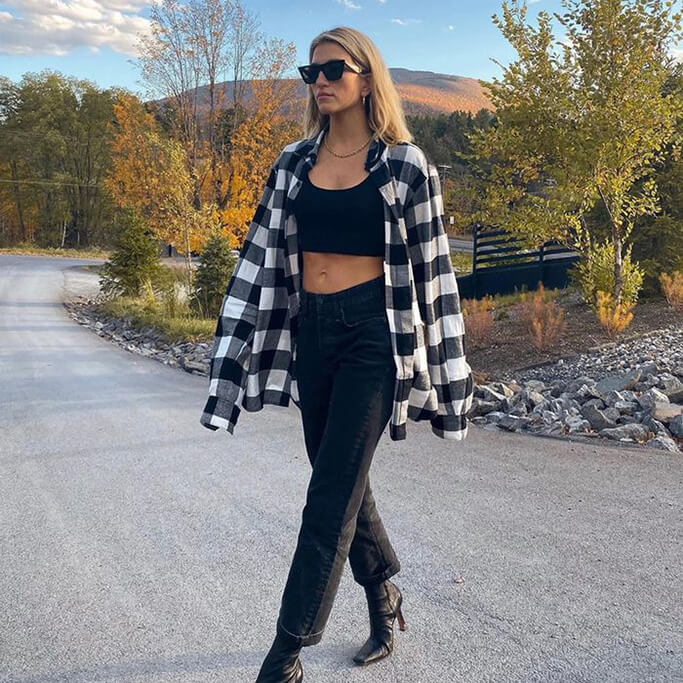 So now that we've covered what to wear, how to wear it, and how to build an outfit that's perfect for you, let's talk about what to avoid when it comes time to make an outfit.
You're going to want to stay away from materials that restrict your movement and retain heat unless you're seeing an outdoor concert in the winter.
Rock concerts are almost always hot, and you do not want to be suffocated by hot air while surrounded by hundreds of people.
This may seem counterintuitive when it comes to leather since so that material is heavily associated with rock music, but it's a smart idea to go lighter with it compared to other fabrics.
Use it for accessories or top layers rather than pants or shirts. You should also stay away from velvet, wool, or other incredibly dense fabrics.
Another tip is to avoid dressing too rigidly. You're not going to a concerto orchestra, you're seeing Japandroids play in front of 200 people. There's nobody to impress and thus no need to dress more formally than the occasion calls for.
Our final piece of advice, and arguably our most controversial, is to exercise caution when wearing a piece of band merch for the band you're seeing.
Some people see this as a sign of poseurdom and deem it corny while others think it's totally inoffensive.
Due to the polarizing nature of the garment, we think it's best to wear another band's shirt instead to avoid any annoying gatekeeping conversations with others.
Best Places To Buy Rock Concert Outfits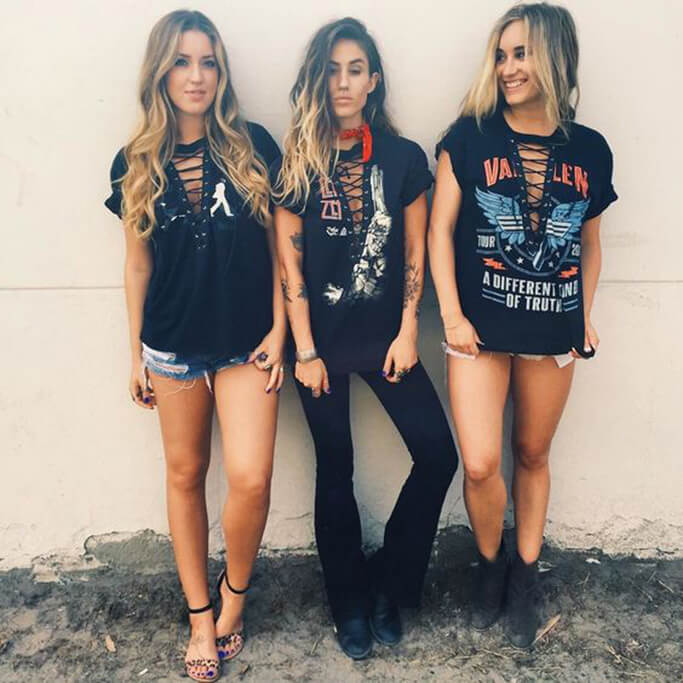 If you're in the business of searching for rock music t-shirts then you should without a doubt support the artist directly.
We highly recommend that you do not buy from big-name stores that sell band merchandise as the musicians will not take in nearly as much of the profit as they would if you bought their clothes directly from them.
In those cases, here are the best places where you can support the artist by buying their merch:
At the merch table during their live concerts
Through their record label's online store
Through their Bandcamp page
But maybe you already own a dozen Twenty One Pilots shirts and want to buy something other than a band t-shirt.
You should consider checking out vintage stores or thrift clothing markets for low prices on denim vests, flannels, and other pieces of clothing that you'll often see at rock concerts.
Lastly, stores like Levi's and Converse are synonymous with rock music in general. Plenty of musicians have worn these brands without even being sponsored by them but because they are so comfortable and convenient.
As such, you can definitely find some good apparel at either of those locations.
Final Thoughts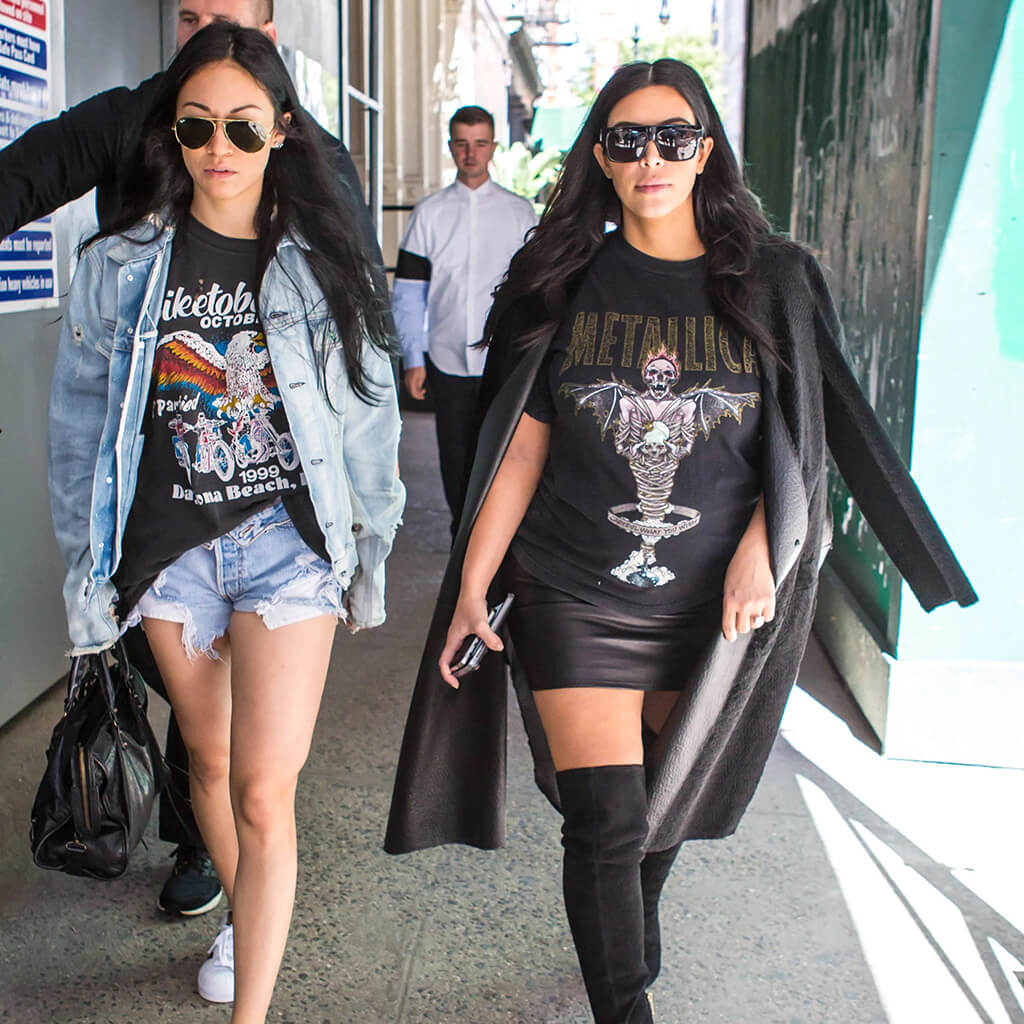 The main purpose of rock concert outfits is to get you to the concert in style and to help you enjoy the show. Your focus should be on the people you're with, the band you're seeing, and the memories that combination creates. 
Obviously, a stylish fit can reel in some likes on the Gram and TikTok, but they should be more functional than anything else, with an emphasis on fun.
---
Looking to up your fashion game? We've got you covered:
What To Wear With Dark Blue Jeans
Get Access to Exclusive Deals
Subscribe for free to get exclusive deals in your inbox. 100% privacy