What To Wear With Dark Blue Jeans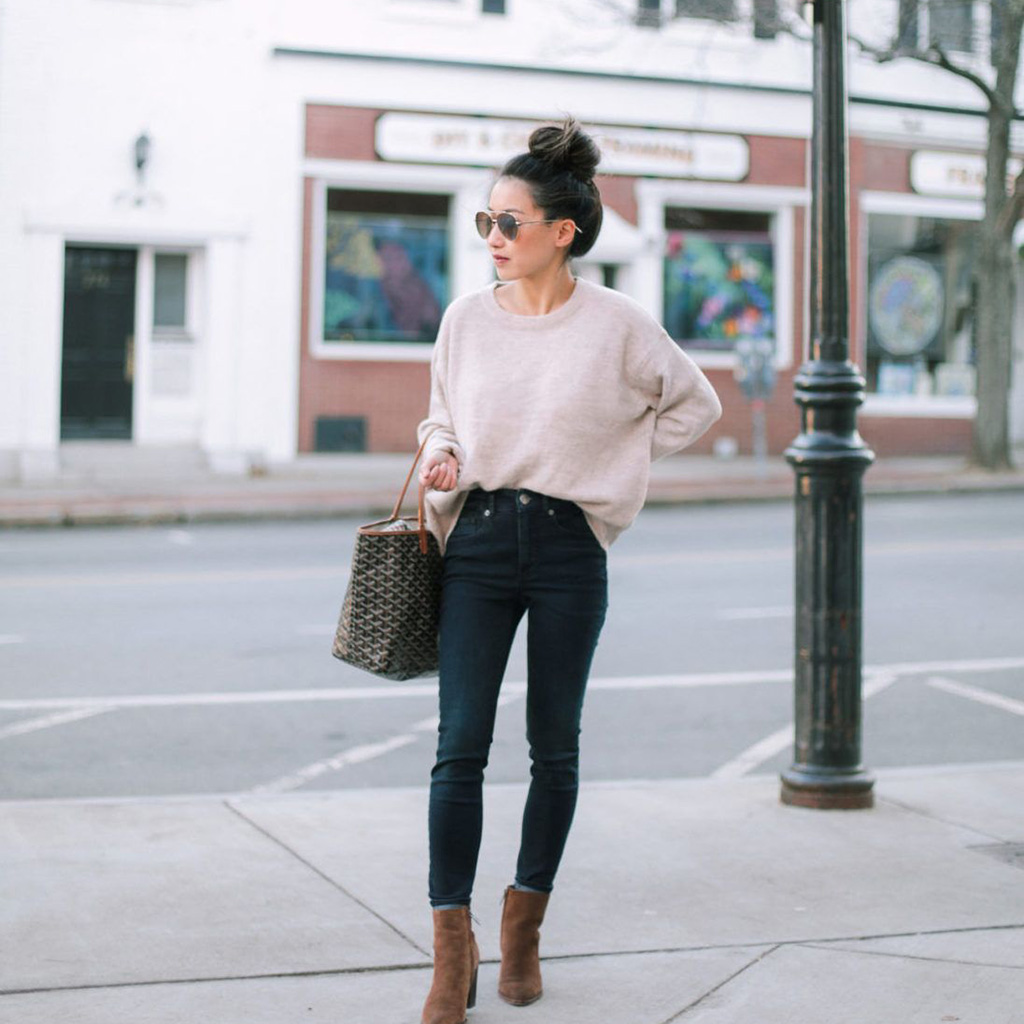 Bruce Springsteen's Born in the USA is one of the most iconic pieces of art in modern times, encapsulating an entire generation's feelings of ennui inside a snapshot of 1980s America. It helps that the album was quite good too.
Yes, I'm talking about the famous photo of the Boss' denim cheeks, because it's one of the most popular album covers of all time while also showing off how a simple pair of dark blue jeans can look so good.
However, you might find it difficult to know what to wear with dark blue jeans if you're not already a diehard denim addict like me. That's why I'll tell you about the intricacies when it comes to styling dark blue jeans. 
I'll give you some outfits for inspiration, a few guidelines to help you build your own dark blue jeans looks, how to care for your dark blue jeans, where to shop for a pair, and a couple of things you should avoid doing when you don a pair of jeans.
When To Wear Dark Blue Jeans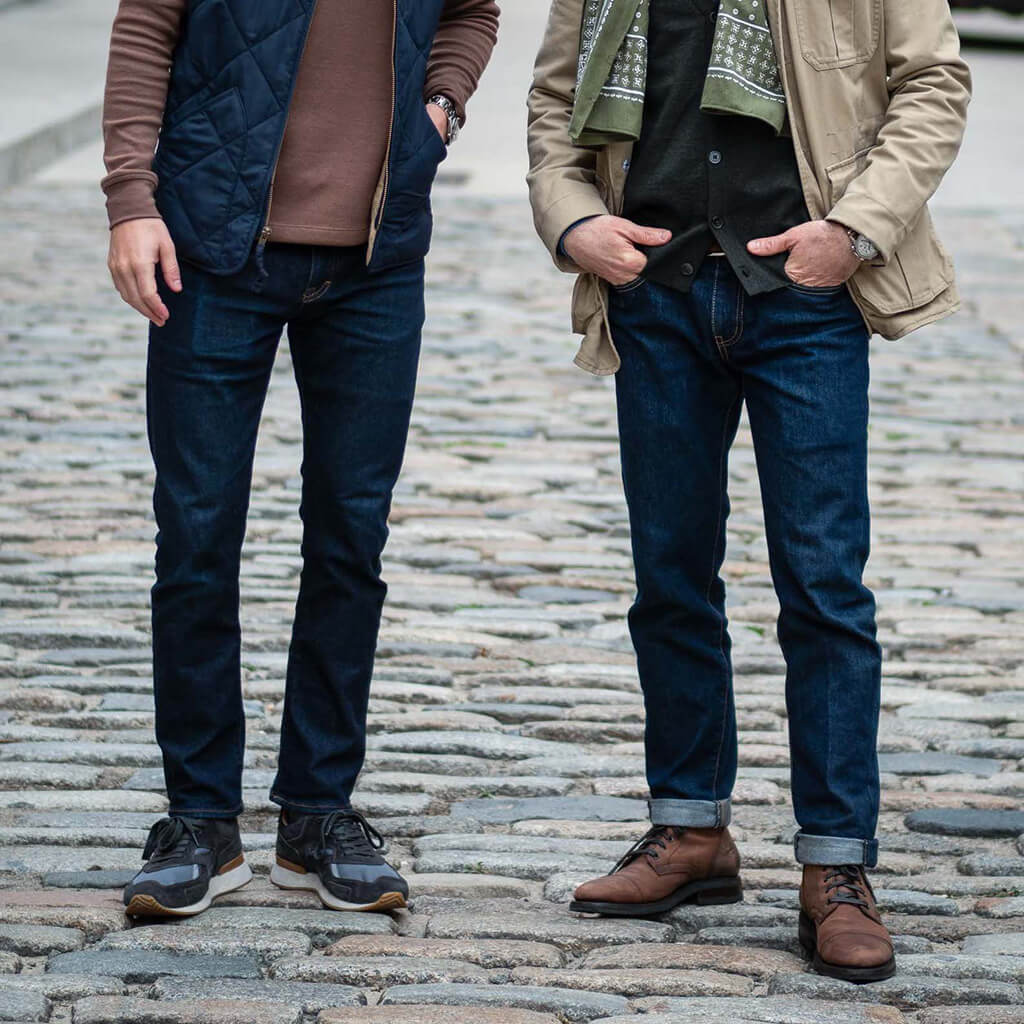 Is there ever a time not to wear dark blue jeans? Actually, there are a few, but they're so obvious that you probably already know them, but I'll tell you anyway. Don't wear dark blue jeans in the middle of summer or to formal gatherings. 
Aside from those two occasions, you can wear dark blue jeans whenever you please.
They're particularly great during the fall and winter when temperatures drop and your fashion options become limited.
They're a great way to complement winter jackets and scarves in case you were wondering what to wear with dark blue jeans in the cooler months.
You can also wear them for business casual events. This is one time when dark blue jeans are better than light blue ones as the darker tone makes them appear more formal.
Tie them together with a button-up shirt and a classy pair of shoes and you're all set to charm your work superiors and maybe earn a promotion.
What To Wear With Dark Blue Jeans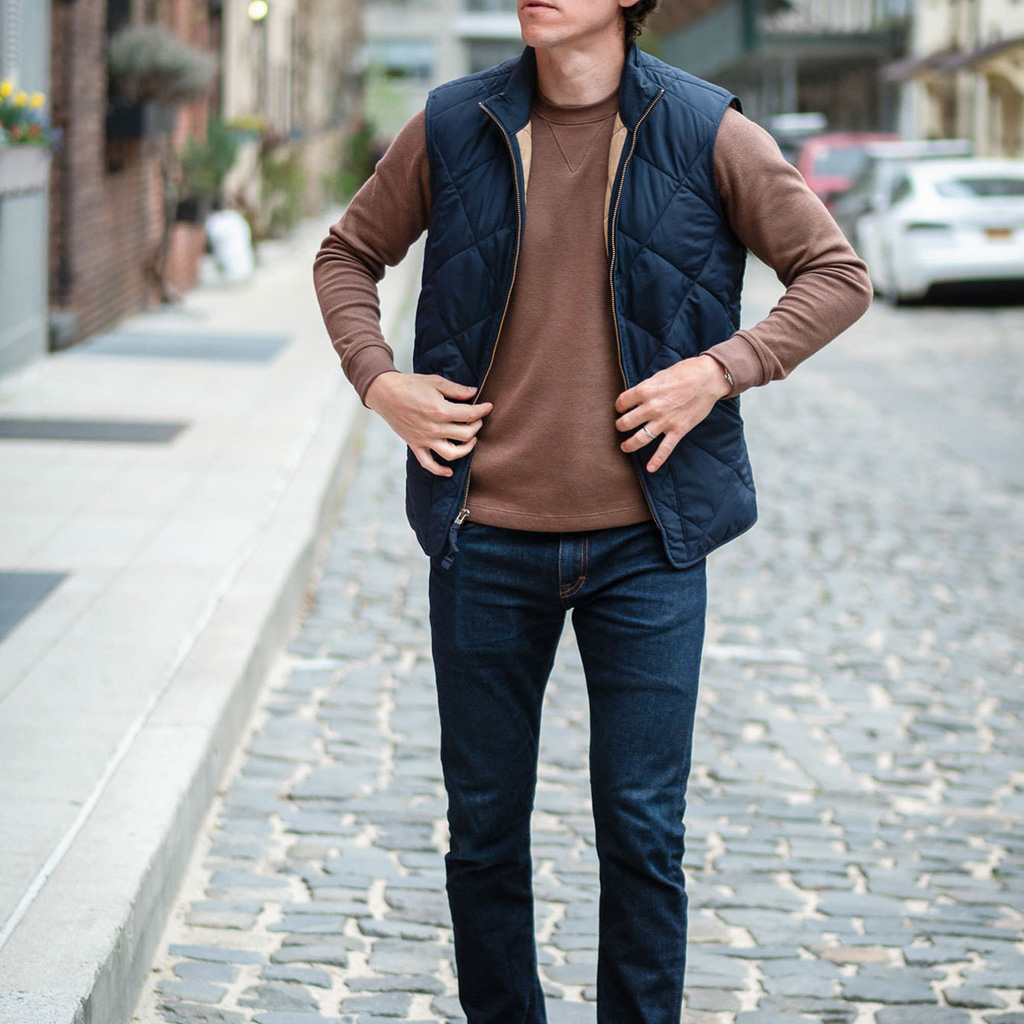 Luckily, jean outfits for women and men can follow the same basic principles. There are plenty of options when it comes to what to wear with dark blue jeans depending on the occasion, the weather, your personal style, and more.
This makes dark blue jeans one of the best pieces you can use to express yourself because they fit into so many different looks.
Sure, it might be hard to find a pair of dark blue jeans that fits into the traditional techwear schema, but remember that we've put men on the moon; we can do anything we put our minds to.
If you really want a quick checklist of items that you can nearly always wear with dark blue jeans then I'll happily supply you with one. In fact, you could make a capsule wardrobe out of these pieces.
White shoes and dark blue jeans are a match made in heaven and you can hardly ever go wrong by wearing them together. Similarly, white shirts have a chemistry with dark blue jeans that seems like it came straight out of Romeo & Juliet.
But with all that clutter out of the way, let's give you some outfit ideas to help you decide what to wear with dark blue jeans.
4 Outfit Ideas With Dark Blue Jeans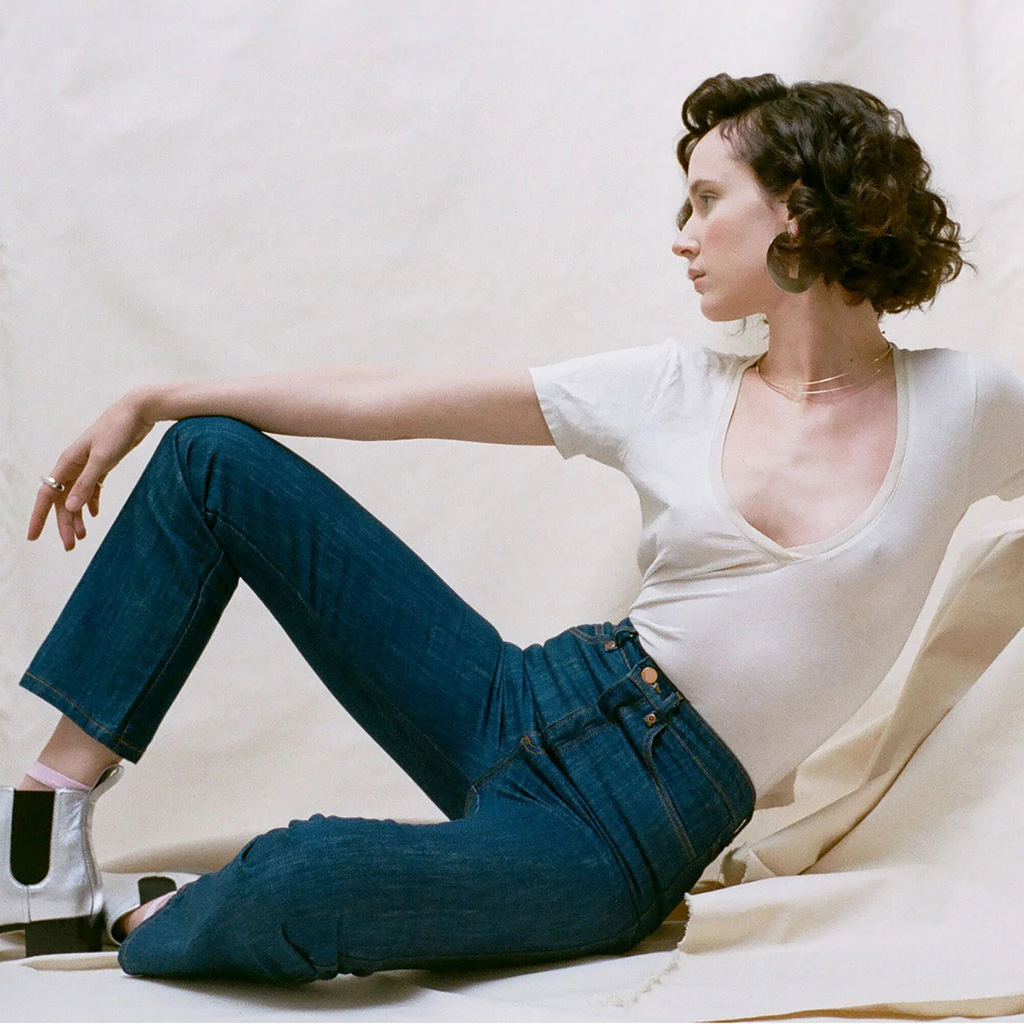 Our first entry into this list is what to wear with dark blue jeans women's edition. The outfit follows a simple principle, that being contrast.
Dark blue jeans are great with lighter colors, and you couldn't ask for a better contrast than white.
As such, this outfit's imbalance between white and dark blue makes both colors stand out more.
Matching the white of the shirt with the white of the boots, as this model has done, works in both pieces' favor. That's a great idea if you want to show off a flashy pair of white shoes while keeping the outfit simple.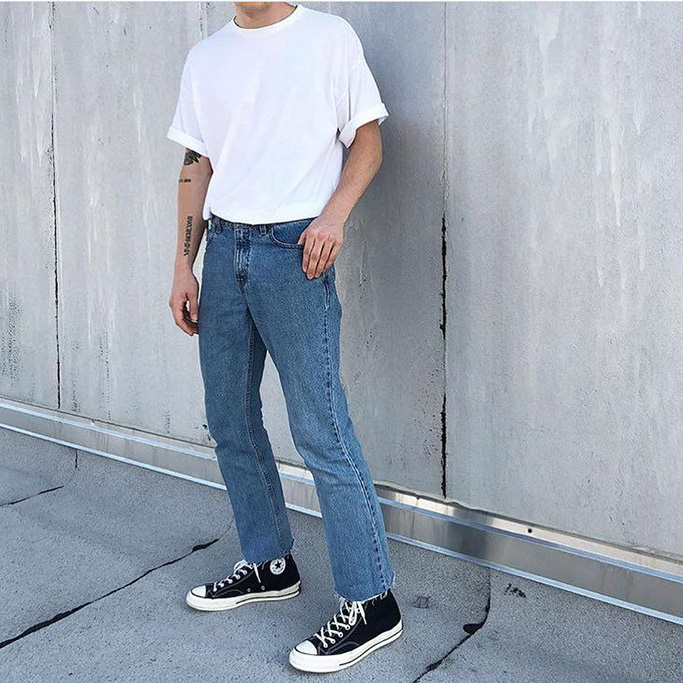 This outfit is a dark blue jeans men's look that relies on the strength of the jeans. Like the previous outfit, it keeps things simple by eschewing accessories, layers, or graphics in favor of intelligent color selection.
However, this specific dark blue jeans outfit rests upon the strength of the individual items. Even though there are only three items here, those being;
Converse Chuck 70 Vintage Hi Sneakers in Black
Levi's 501
A white t-shirt
Each one stands out for its pedigree. You arguably could get away with any brand of dark blue jeans, an unbranded set of black shoes, and a throwaway white tee, the brand name of each piece subtly communicates intentionally.
It looks like you put effort into assembling this outfit, and everyone appreciates a little bit of effort. This is a classic take on what to wear with dark blue jeans and I am here for it.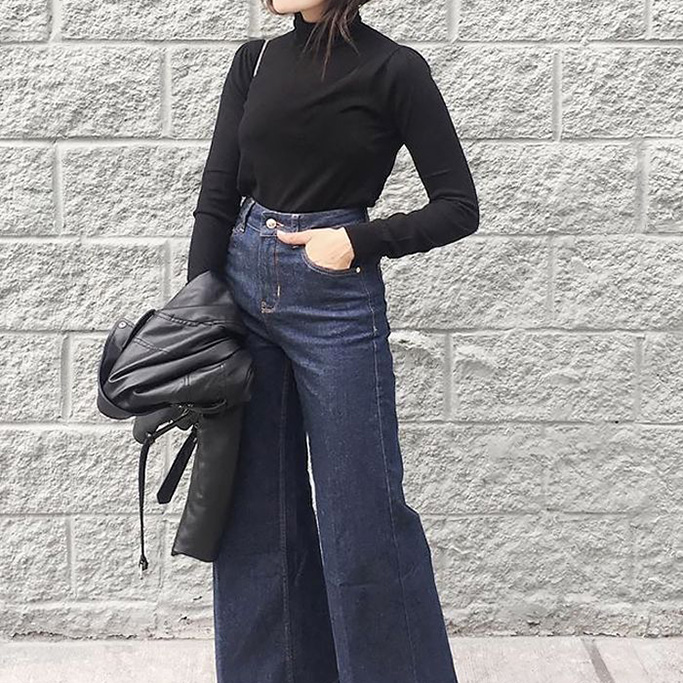 Knowing what to wear with dark blue jeans ladies' looks can vary depending on the style of the jeans.
In this case, I'll highlight how a pair of flared dark wash jeans, which may seem like a difficult item if you don't know how to handle them, can make your outfit compelling
In this instance, you'll want to keep the focus on the jeans. This outfit does a perfect job of that by keeping everything sleek and slim except for the jeans.
The model is wearing a black turtleneck, black boots, and has a black jacket in case the weather drops to a lower temperature. This homogeneity can keep the jeans as the focal point of the outfit.
Another important thing to notice about this outfit is the power of tucking in your shirt. Doing so can give you a more flattering silhouette than if you were to drape it over your jeans.
Flared dark blue jeans are baggy by nature, so wearing a baggy shirt can look clumsy. Instead, tucking a thin shirt into the jeans creates an interesting dynamic.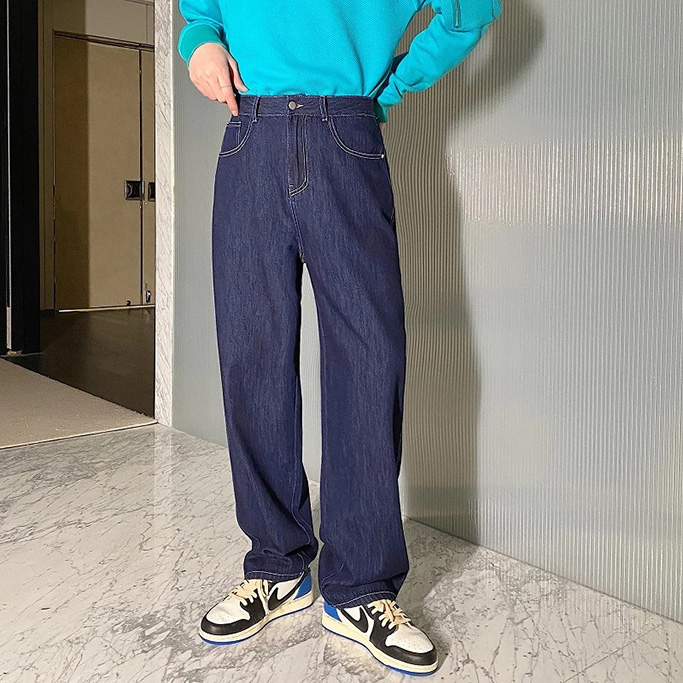 Next up are retro-inspired dark jean outfits for men. These jeans in particular benefit from a brightly colored top and a flashy pair of sneakers. Both choices make it a bit more vintage and recall a time when wide-fitted jeans such as these were the norm.
This is an extremely casual dark blue jeans outfit, so I wouldn't recommend wearing it anywhere that requires formal attire. 
What I would recommend is tossing in a few accessories like a belt or some rings to make the whole look pop. You'll likely be okay if you stick with a bold shirt and loud sneakers, but those subtle details can crank this look up to 11.
What Type Of Dark Blue Jeans Can You Get?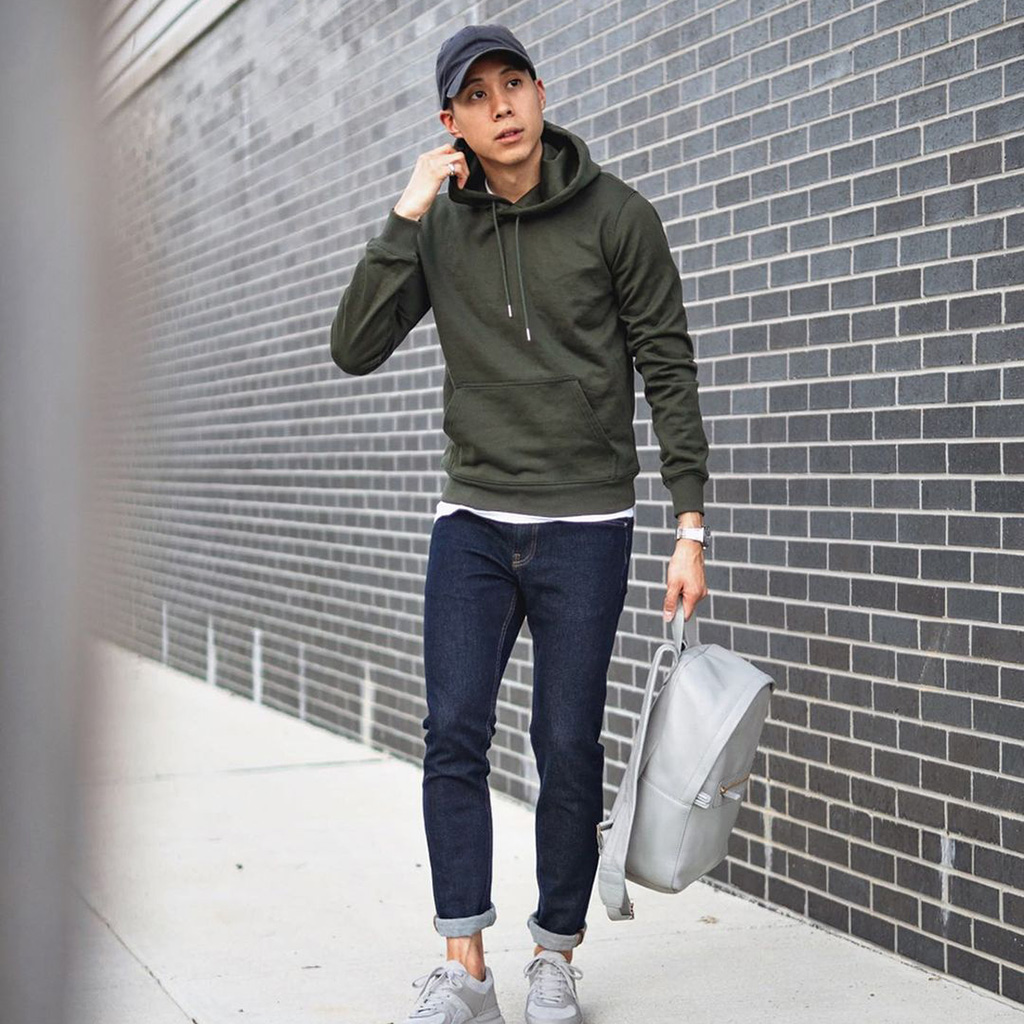 What to wear with dark blue jeans changes based on the type of jeans you get. They come in a variety of sizes and fits, and sadly not every company uses the same names or proportions.
What I mean is that what may be considered a boyfriend jean – a pair of jeans with a fitted waist and relaxed legs – by one company could be another brand's standard sizing.
That being said, there are a few terms that are unanimously recognized by clothing companies.
A quick rundown of these include:
Straight fit – jeans that run the same width from waist to ankle
Skinny fit – jeans that follow the curves of your body
Boot cut – jeans with slightly larger openings at the bottom
Wide fit – jeans that widen as they run down your legs
Distressed – jeans that have some form of damage like rips or tears
How to Choose The Best Dark Blue Jeans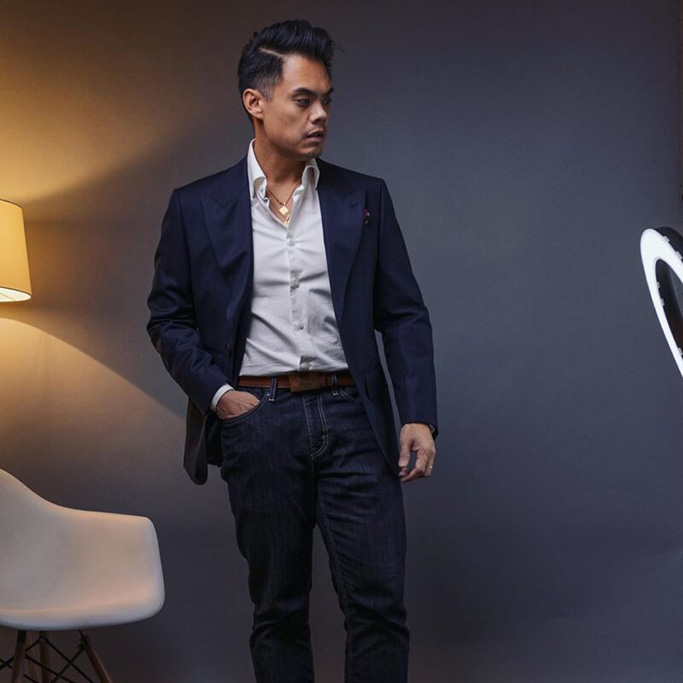 Jeans, especially dark blue ones, are some of the most versatile bottoms you can add to your wardrobe.
They can look good with most articles of clothing, but this means that you should be extra attentive about choosing the best pair.
Here are the three most important factors when it comes to buying the best pair of jeans:
Price speaks for itself. Your budget will somewhat determine which jeans you can realistically add to your collection, but you don't need a pair of Maison Margiela pants for them to be worthwhile. Plenty of brands make high-quality dark blue jeans for affordable prices.
That brings us to the next most essential part of the equation – branding. Some brands are world-famous for the quality of their denim as well as their comfort.
Other companies make jeans that may be light on your wallet but can't even withstand a few days of wear before they tear in the crotch.
This has to do with price too as you can't expect a pair of $20 jeans to survive for as long as a $500 pair, so I recommend finding some jeans that sit somewhere in between that price range that come from a reputable brand.
On the subject of rips and tears comes the importance of good material. Denim is tough but some manufacturers cut corners by combining it with other weaker materials. 
In some instances, these blends actually improve the product by adding more stretch and flexibility like when developers combine denim and spandex.
The material can affect what to wear with dark blue jeans just as much as it can change when you wear them, so it's equally as important to consider when you go shopping.
How to Style Dark Blue Jeans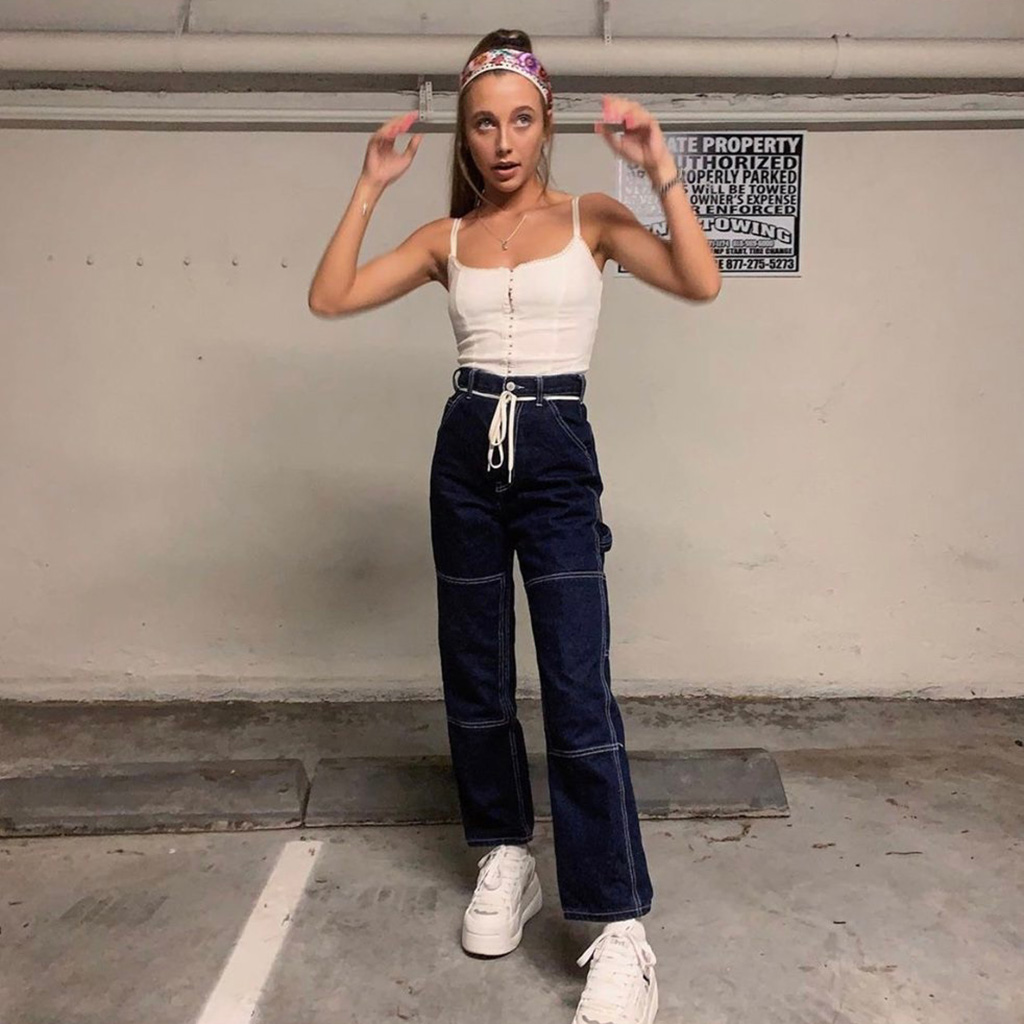 As I mentioned earlier, dark blue jeans are like the Frank's Hot Sauce of fashion; they're a little spicy, a tame way to dip your toes into new waters, and go with nearly everything.
You're only limited by your vision when it comes to what to wear with dark blue jeans.
However, a few styling guidelines can go a long way. For example, I like to wear my dark blue jeans when there's another piece I want to show off, whether that's a graphic t-shirt or a rare set of sneakers. 
Dark blue jeans can be so reserved that they fade into the background when paired with more expressive items.
Another styling tip is to buy dark blue jeans that are slightly larger and/or baggier than your standard pants.
Dark colors are already slimming by nature and jeans don't normally give way or lose their shape. That being the case, you may think this makes dark blue jeans a perfect choice for slim fits.
While I won't tell you you're wrong (I do have a tiny bit of class, you know) I'd recommend going the opposite route. Light-colored jeans better show off curves than dark blue jeans and can look a tad unflattering if they're too baggy. 
A good pair of darker denim allows you to style wider fits and more relaxed shapes without clashing with the rest of your outfit. Plus, they'll still have a slightly slender look because dark colors are so good at framing our bodies.
Our final styling tip is to embrace color. Dark blue jeans can complement nearly every color, so they're the perfect set of bottoms if you want to wear a colorful polo or a tasteful tropical shirt.
Heck, they're pretty good at making rather ugly fashion items look better, so when it doubt, bust out the dark blues.
Fashion Tips to Avoid With Dark Blue Jeans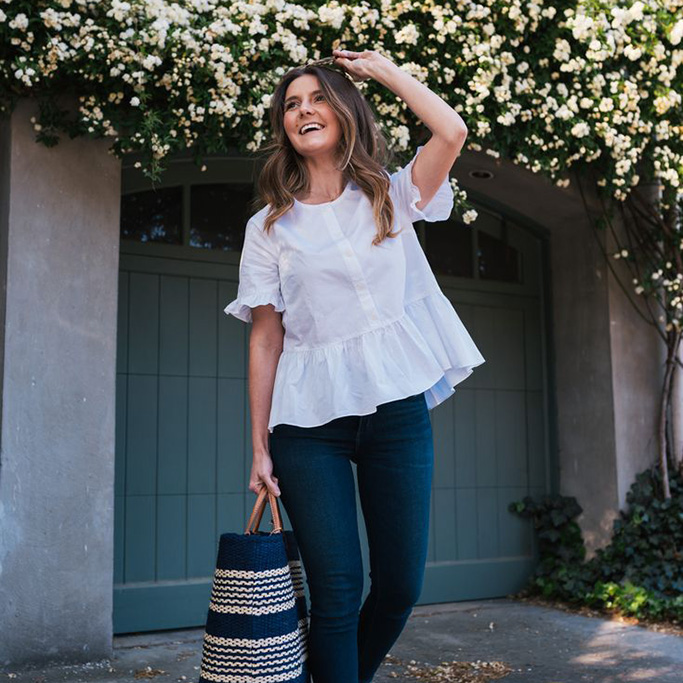 Sadly, the one disadvantage of dark blue jeans is that you can't pair them with other denim items.
You can wear a light blue jean jacket with some light wash denim bottoms, but that combination doesn't work with dark blue jeans. It looks tacky at best and like you have some unrealized fixation at worst.
Another tip to steer clear of when thinking about what to wear with dark blue jeans is the color blue. I know, I said that nearly everything goes with dark blue jeans, but different shades of blue can be finicky to make collaborate. 
It's probably best if you save yourself the headache and reserve your blue items for when you want to wear khakis or chinos.
How To Take Care Of Dark Blue Jeans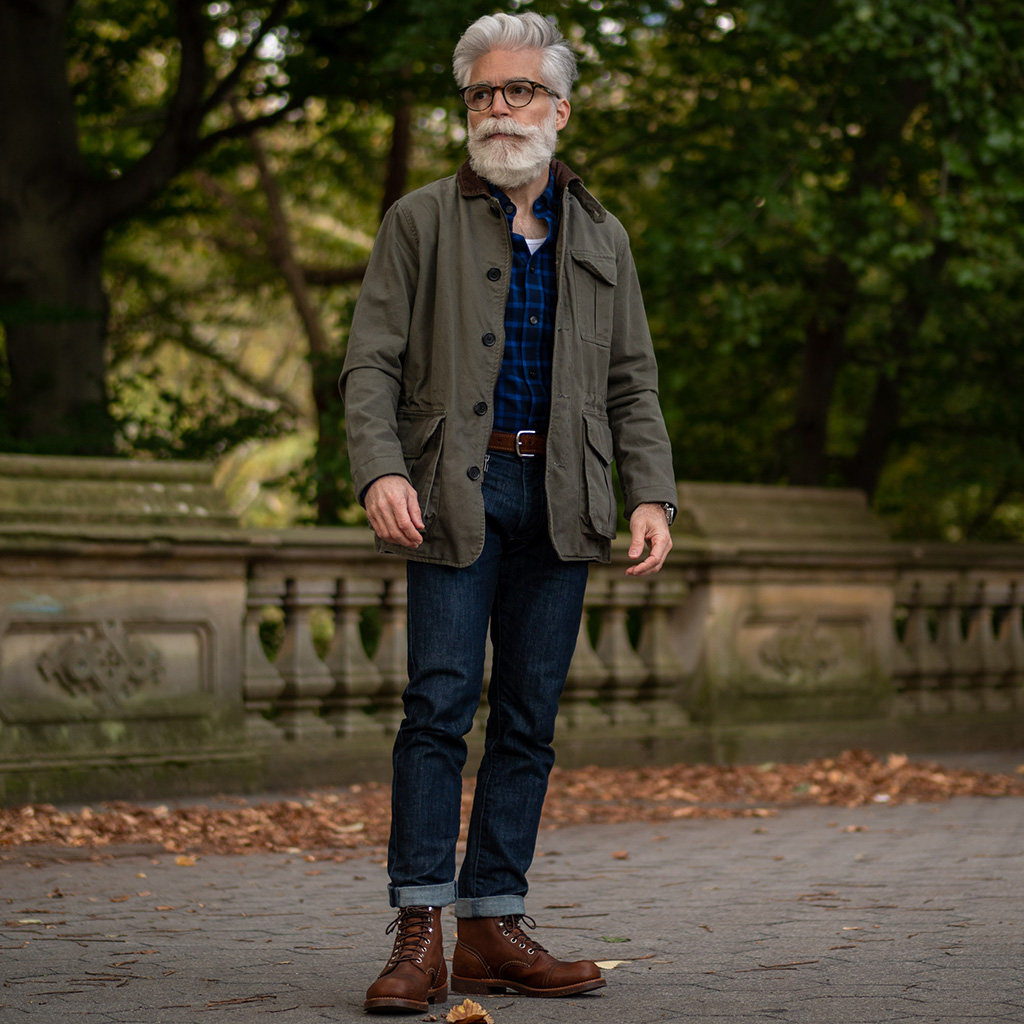 Proper denim maintenance is a matter of preserving the color of the pants. Jeans are lucky in that they don't require much care in order to keep them in peak condition.
In fact, a better principle to follow is that the less thought you put into caring for them, the better. 
I'll expand on that thought with three points:
Wash your dark blue jeans inside out to keep their color as strong as possible. You don't even need to wash them if they only have a small patch of dirt as you can scrub that one area by hand.
Use cold water when washing your jeans. This will help preserve their shape and hopefully stop them from becoming blankets you wear on your lower half.
Dry them on a clothing line instead of in the drying machine. This tip can also save your other pieces of clothing as the jeans' dark blue color can sometimes seep onto the machine due to the heat and, by proxy, turn the rest of your clothes blue.
Best Places to Buy Dark Blue Jeans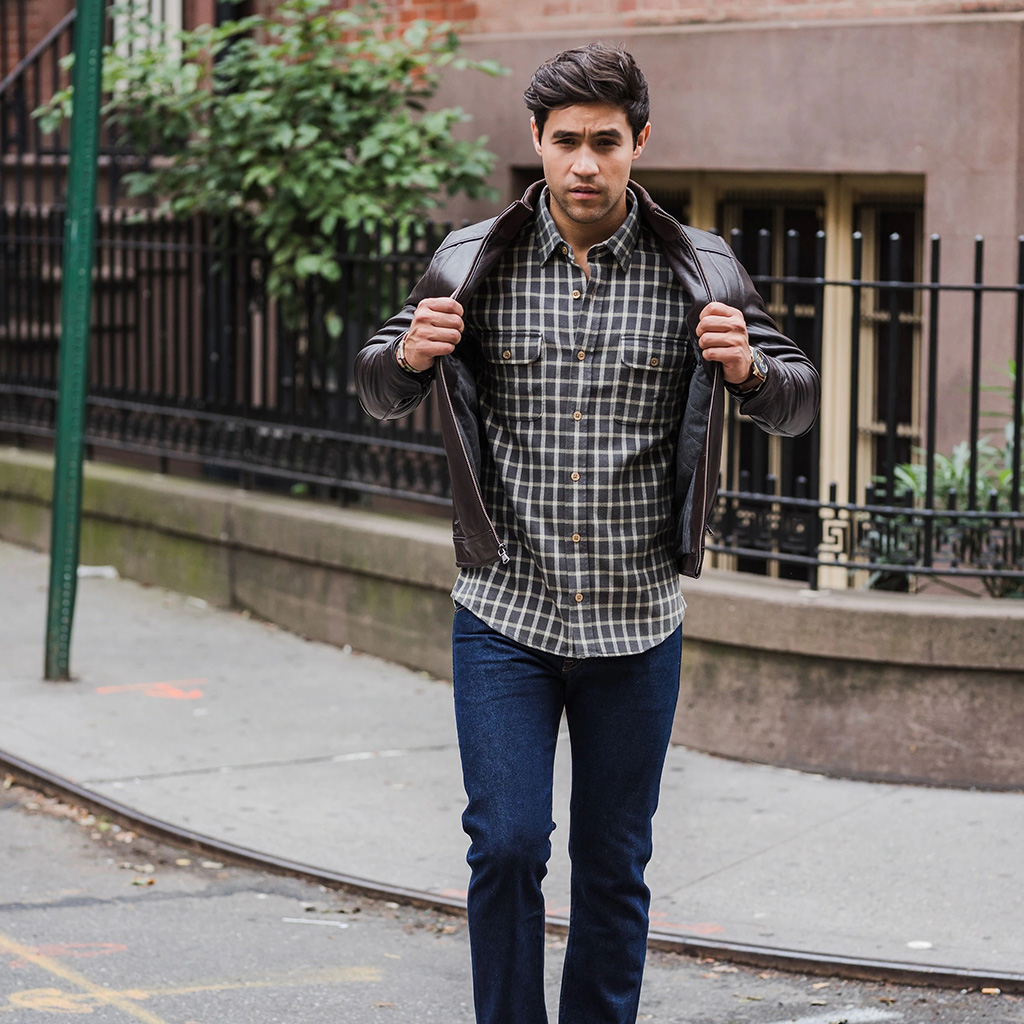 There are some tried and tested retailers that carry quality dark wash jeans for both men and women. They each give off a different vibe so I recommend checking them out and seeing which one best lines up with your aesthetic.
Levi Strauss & Co. – colloquially known as Levi's – is most people's first stop when shopping for dark blue jeans, and I can't blame them. They have one of the deepest rosters of jeans in a variety of styles, shapes, and lengths. 
They're known for lasting users upwards of years and their classic appearance means that they're always fashionable.
Recently, Abercrombie has been experiencing a renaissance as one of the best places to buy dark blue jeans.
Many women claim that Abercrombie's jeans fit their bodies better than any other company, so I recommend checking them out if you're having trouble with other brands.
Finally, I have to mention Carhartt and its streetwear subdivision Carhartt WIP. Both are great producers of dark blue jeans that cater to the workwear trend.
Seeing as how their jeans are built for manual labor, you can rest assured that Carhartt's denim should maintain its shape and style for years to come.
Final Thoughts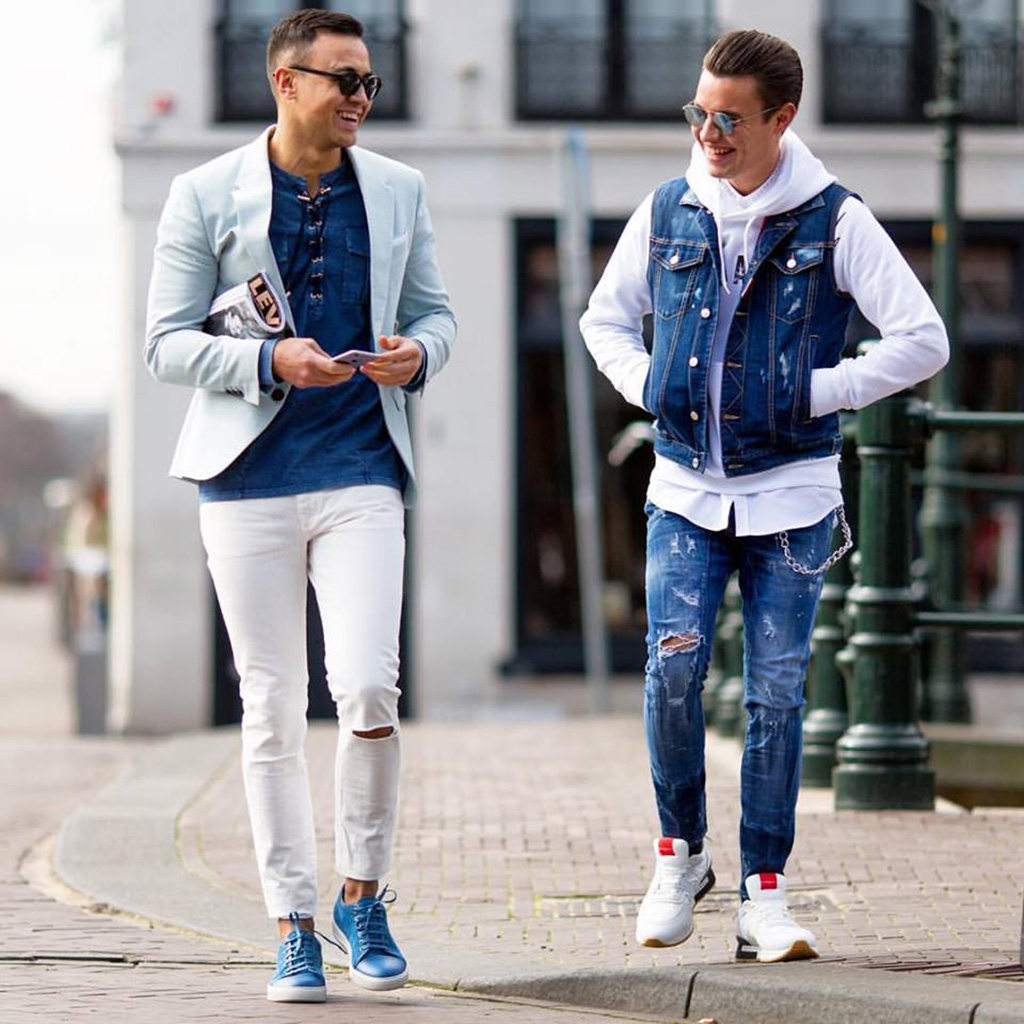 There's really no right or wrong train of thought when it comes to what to wear with dark blue jeans.
I've hammered home the idea that they go with nearly everything, but the only way for you to learn that is to try it out for yourself.
Thus, my biggest piece of advice is to experiment and figure out what you like. I encourage you to use this article as a framework and a good starting point, but I hope that it propels you to apply your own style and tastes to create a look that's utterly your own.
---
Looking to up your fashion game? We've got you covered:
What To Wear In 40 Degree Weather
What To Wear With Black Shorts
Get Access to Exclusive Deals
Subscribe for free to get exclusive deals in your inbox. 100% privacy