What To Wear To An Engagement Party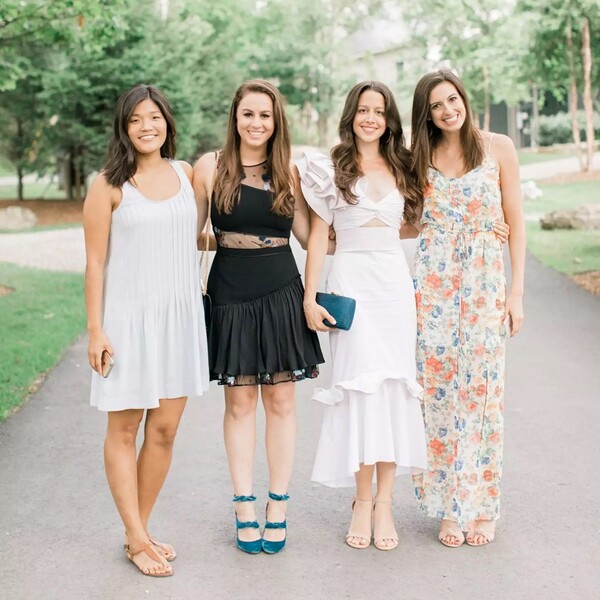 The three most intimidating parties when it comes to fashion are '80s dance parties, all-denim parties, and engagement parties. Sadly, these three hardly ever overlap, though if you have one coming up that does then please send me an invite.
In any case, it's imperative that you know how to dress your best for any party.
While the first two options allow more flexibility, engagement parties can make people squirm because they simply don't know what's expected of them. Thankfully, I can help you learn how to make the most of the dress code.
So yes, you'll learn what to wear to an engagement party today, but that's not all (forgive me for sounding like an infomercial). In addition, you'll pick up a few handy lessons like:
How our cultural perception of engagement parties came to be
Some examples of good engagement party outfits
How to choose a collection of pieces you can always go back to for outfits
How to style your ensemble depending on the vibe of the party
What you should avoid when you're dressing for an engagement party
Besides that, you'll also find this guide useful if you've looked up any of the following search terms:
What do you wear to an engagement party?
What to wear to an engagement party as a guest
Party outfits
Engagement party dresses
Engagement dress
Engagement outfits
What Is An Engagement Party?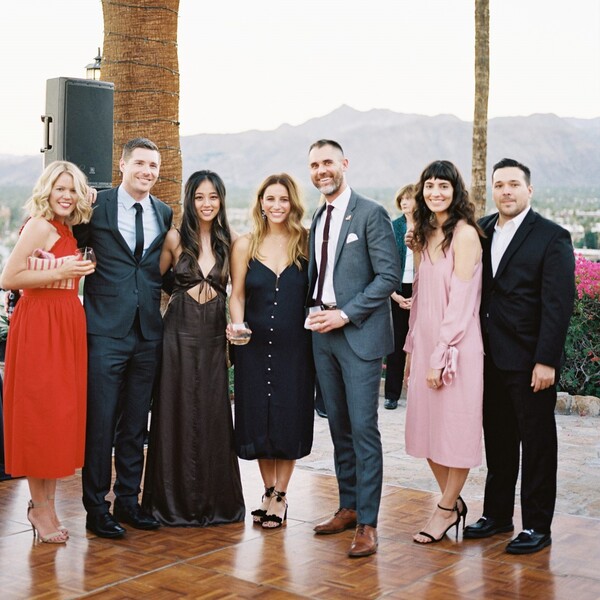 It's pretty vital that you know the difference between an engagement party and a wedding because it's gotten to a point where both pull from one another.
Some people hold engagement parties that are as large and lavish as their weddings. However, engagement parties are different events with different goals.
You could consider engagement parties to be the warm–up for the wedding. The focus remains on the wedding party but it's also a more social event that remedies one of the largest problems that plague weddings. Namely, how do masses of people who don't know each other entertain themselves?
Thus, engagement parties are a venue where guests can connect and introduce themselves to one another so that the wedding night isn't entirely filled with awkward first meetings.
They're different from bachelor and bachelorette parties because they celebrate the eventual union of people instead of acting as a last hurrah to one's single lifestyle. There's less debauchery, fewer dancers hiding in cakes, and much more focus on building a community.
That focus on community and interactions means that it's imperative that you look the part—whether you're the bride, groom, or a guest.
Everyone needs to know what to wear to an engagement party. But before I get into that, I want to tell you about how engagement parties came to be.
History Of Engagement Parties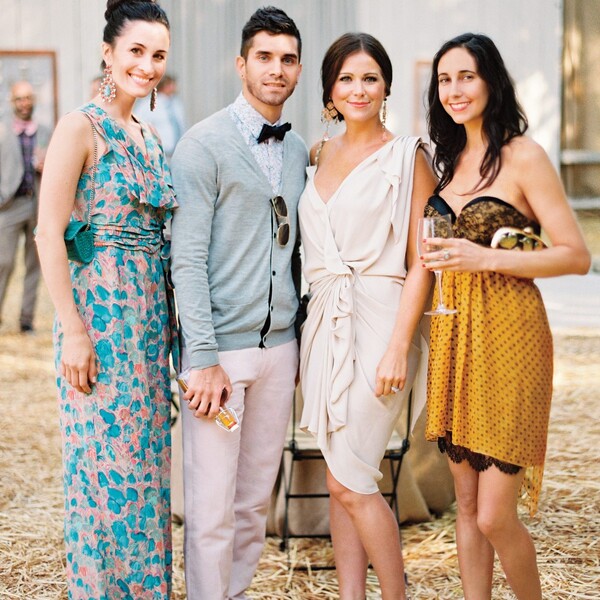 We can trace the history of engagement parties back to antiquity when they weren't much of a party or about an engagement. In Ancient Greece, they were more like automobile trade deals between the two parties exchanging the bride.
The father of the bride and the groom met and gave oral consent to the agreed-upon terms of the marriage. Typically the bride wasn't invited.
Gee, doesn't that sound lively? Thankfully, there are a few other examples of jovial celebrations where people seemed to be, you know, happy to be getting married.
These include vorts—Jewish engagement parties that involve smashing ceramic plates, and other exciting traditions. Another historical engagement party is the rèiteach, an older dance party that comes from the annals of Scottish history.
Finally, there were Christian betrothal ceremonies that celebrated the time between engagement and the wedding.
Moving along the historical timeline, we see that engagement parties used to be closer to surprise parties. They were parties held under a different assumption where the father of the bride broke the news of the engagement to the guests.
He was tasked with the job because the groom had to approach him beforehand to ask for his blessing. 
Eventually, people either got over the surprise angle or recognized that there was a pattern to these parties and just assumed that the engagement was imminent. Either way, engagement parties gradually transformed into the celebrations we know them to be today.
Knowing both the purpose and the history of these events can help you plan what to wear to an engagement party if you have one coming up.
It'll give you a better context to understand their vibe and what role you'll play there. If you're one of the people getting married then all eyes are going to be on you. If you're not then you're there for support.
Now then, let's get into what to wear to an engagement party if you want to look good.
What To Wear To An Engagement Party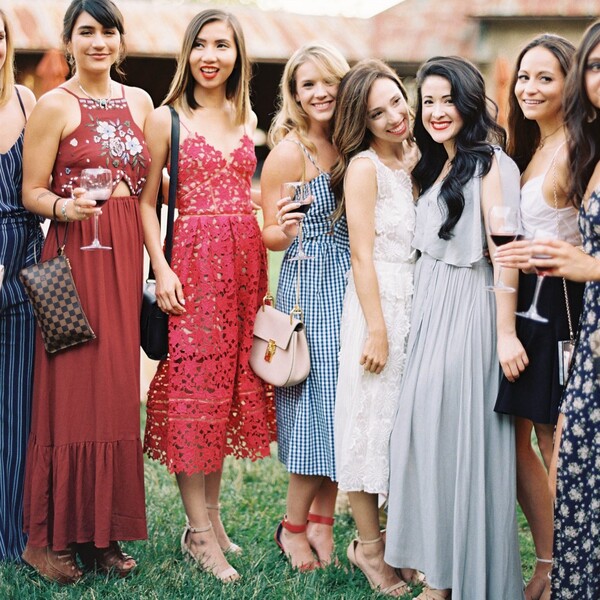 Regardless of where they take place, engagement parties still have an aura of formality surrounding them. Yes, 'party' is in the name, but you have to approach them with a degree of maturity. What that usually means is following the dress code and acting appropriately.
Granted, this doesn't always give you enough information to know what to wear to an engagement party—as much as it does what not to wear. Terms like 'formal,' 'backyard BBQ,' and 'riverside excursion,' can be as confusing as they are exciting.
The first thing you want to keep in mind is that you're not the star of the show if you're the guest. You matter, of course, and you want to express your style, but engagement parties aren't the occasions to bust out your wildest fits. Instead, it's best to pick outfits that are more reserved and classic.
For instance, women can never go wrong wearing a sundress or lace dress. Men can always rely on a pair of chinos and a good button-up shirt. However, what's considered appropriate can change depending on the theme of the party.
The next thing you should consider is the venue where the engagement party is taking place. This will allow you to prepare yourself to meet the venue's dress code (if there is one). Plus, it can give you some inspiration as well as tell you what to expect.
Lastly, there's a key piece of information that many people ignore on the engagement party invitation when they plot out their outfits—the time. Think about it this way: you don't wear the same outfit to a night party that you do to an afternoon gathering. 
And knowing what to wear to an engagement party becomes much easier when you know what time of day you're expected to be there. You can usually get away with wearing more casual looks when the sun is still up; however, evening attire tends to be more formal.
That's plenty of theory for you to digest in one sitting. It can seem like too much to consider if you don't have any concrete examples, which is why I've included some photos in the next section of this guide.
I'll break down why each one works so that you can see how to adapt those principles to your engagement party outfits.
4 Outfit Ideas For Engagement Parties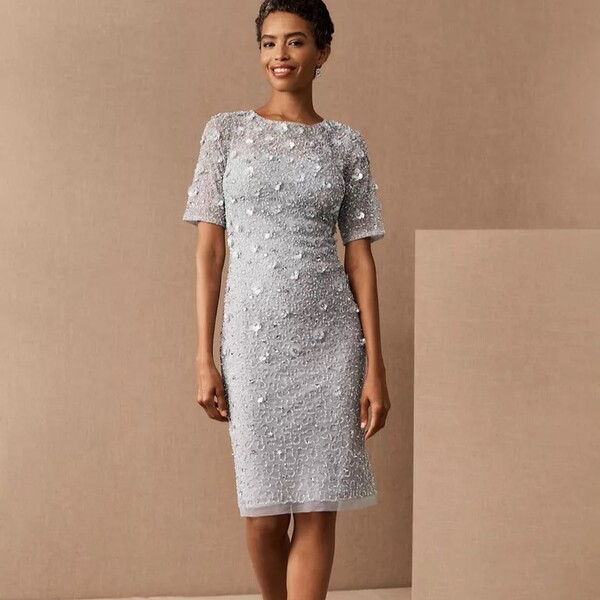 The first thing that should come to your mind when considering what to wear to an engagement party—whether you're a guest or the bride—is a dress.
This dress, in particular, is flashy so it's probably better for brides, but if the dress code calls for something with a little glitz then guests can wear this dress too.
It has a great color that's just the right balance between glamorous and laid–back. The short sleeves go well with that vibe, but it's the small details and pattern that push this dress to 'must-wear territory.'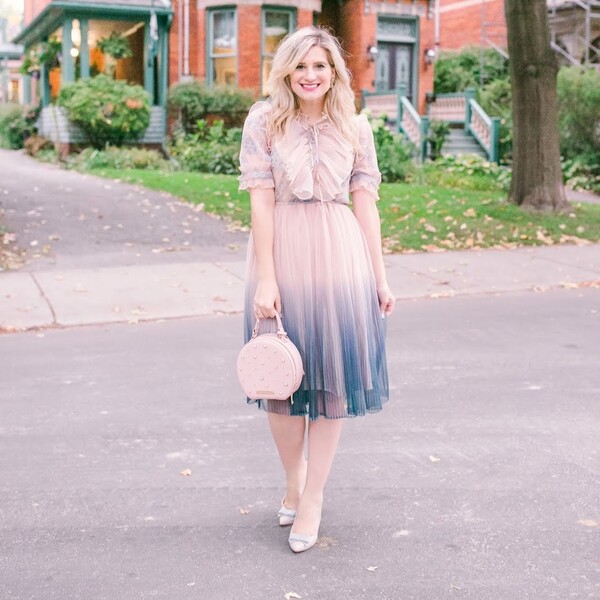 Here's another cute engagement party dress that can help you look like you're there for a good time without making it seem like you're trying to show off.
This dress is better for guests because the cut and fit are modest. Fortunately, that also helps the colors poke through.
I also have to note the importance of color coordination with this outfit. Matching your purse with your shoes is always a tool you should keep in your arsenal. It does so much for your style, as this outfit shows off beautifully.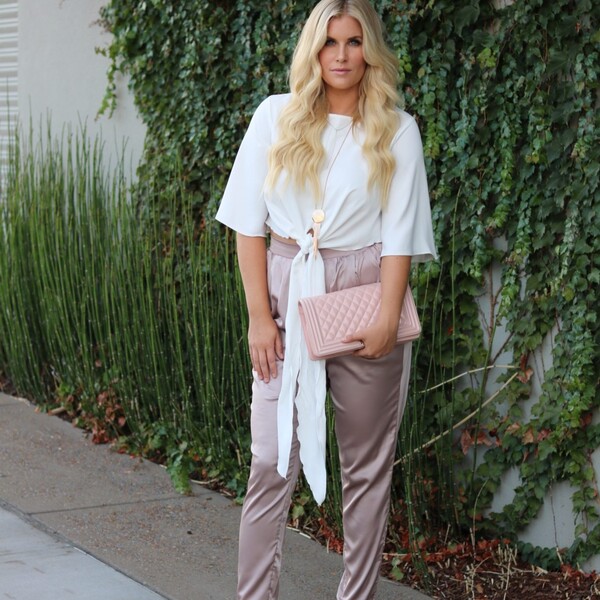 Some engagement parties are going to have more lax dress codes and atmospheres, so you'll need some outfit ideas for these occasions. After all, you don't want to be the person showing up to a backyard engagement party dressed in a full leather outfit.
That's why I've included this low–key look. It features simple and warm colors and exudes a summery vibe. I'd recommend this style for the bride because of the whole debate about whether or not guests can wear white to an engagement party.
If you're going as a guest and want to copy this look then swap out the shirt for another neutral color. A pale cream shade would look just as good here, especially along with the pink pieces.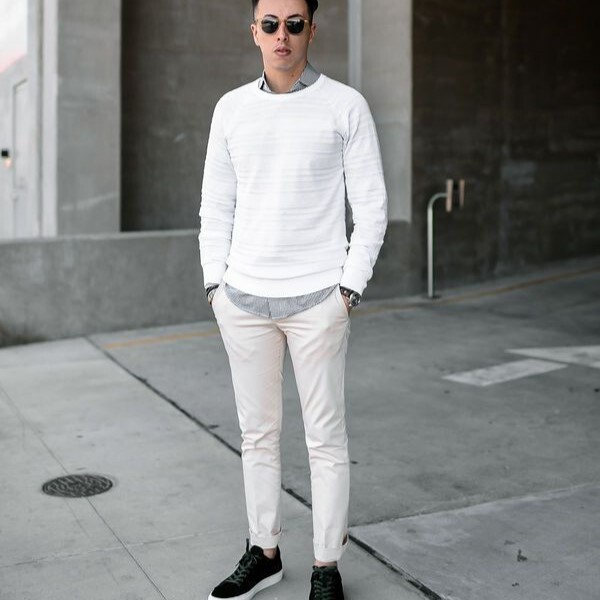 Guys are in a tricky position if they're tasked with deciding what to wear to an engagement party. They only have so many blazers and chinos, and they have to save some of those for the wedding. So, are they going to buy two suits? In this economy?
Listen, fellas, I feel you, and that's why I'm here with a more casual alternative to those outfits.
This is a great ensemble for the groom because it's a creative way to wear white without sporting a button-up shirt. As you can see there's still a button-up shirt in this outfit, but it's layered beneath a soft white sweater. 
What Type Of Engagement Party Outfits Can You Get?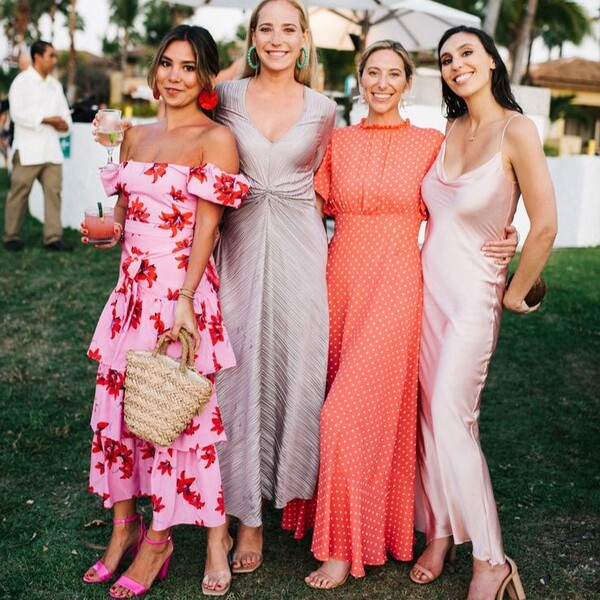 I haven't even covered all of the possible engagement party themes out there, meaning that there are probably countless outfits that you could put together.
The most common themes for engagement parties are backyard BBQs, wine tastings, and church parties, and each one has a different set of acceptable clothes.
There are some overlapping items that these themes share, but there are also vast differences between what you'd wear to one versus another. As such, it's hard to estimate how many different types of engagement party outfits you can get.
How To Choose The Best Engagement Party Outfit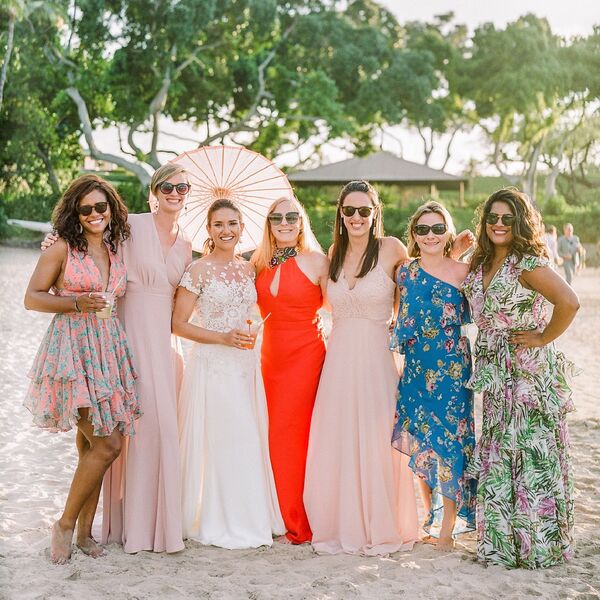 Unless you're building an outfit entirely from scratch, I'd advise you to consider choosing what to wear to an engagement party from your wardrobe. Use the dress code for the event as a base and work up from there.
I do mean work up in the literal sense. Your shoes can set the tone for your entire look but they can also be the hardest item to work around. So, knowing which shoes you're going to wear can give you a sense of direction for the rest of your outfit.
Next, pick a material that's comfortable yet suits the vibe. Considering that most engagement parties happen in the spring or summer when it's warmer out, you're going to want to choose lighter fabrics like linen or cotton.
How To Style Engagement Party Outfits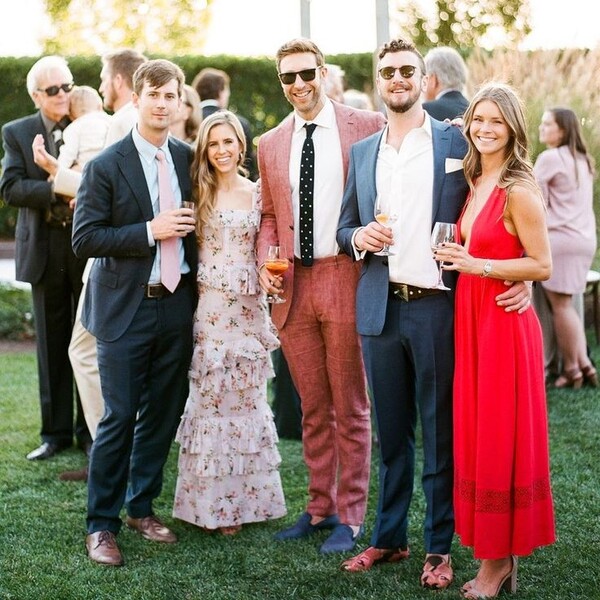 If you really can't crack the code on what to wear to an engagement party it's always best to keep things simple. You'll never receive flack for dressing too tame as a guest, and it's better (and safer) to stay on the conservative end of the style spectrum.
If you really want to express your individuality then I recommend doing so with your accessories. Rings, watches, bracelets, necklaces, earrings, and bags are all phenomenal tools to help you put yourself out there.
Fashion Tips To Avoid With Engagement Party Outfits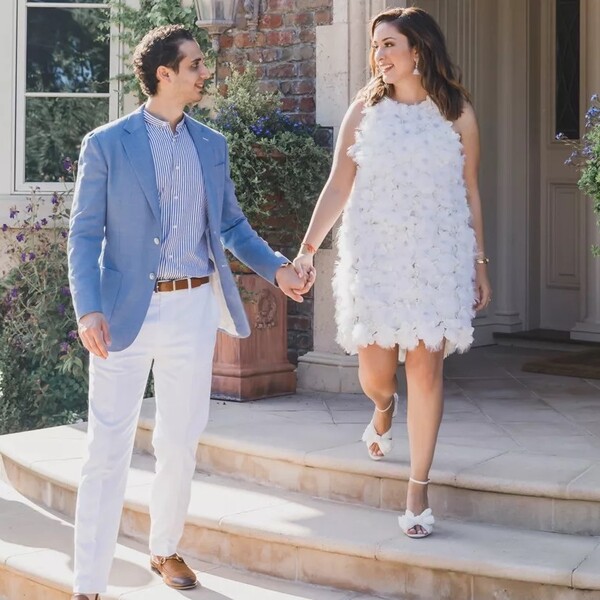 Interestingly, there are a number of mistakes you can make when planning what to wear to an engagement party. Some of these faux pas are universal while others apply only to guests and not to the bride or groom.
I'm going to start by listing what those getting married should avoid:
Don't try to make mismatching outfits work: You don't have to look like you're wearing a uniform with your partner, but you two should coordinate colors or patterns.
Don't wear denim or other pieces of everyday wear: Remember, this is a once-in-a-lifetime event, so you may as well dress in once-in-a-lifetime clothes!
Don't sport your wedding attire: This may seem obvious, but with weddings having more relaxed dress codes these days, this is a mistake that some people may still make.
Don't wear an outfit that's similar to your wedding attire: For example, if you're going to wear a traditional wedding dress then you should opt for a dress with a different silhouette or pattern for your engagement party.
Now, let's go over the fashion don'ts that guests should concern themselves with:
Don't wear white: Again, this is another obvious tip, but I have to say it because at nearly every engagement party there's always someone who asks, "Is white allowed?" If you have to ask, then the answer is "no."
Don't wear your boldest outfits: I encourage you to show off your style, but you don't want to take attention away from the people who are actually getting married.
Don't forget to check the dress code: It'll tell you what you should specifically ignore and/or avoid when you're planning what to wear to an engagement party.
How To Take Care Of Your Engagement Party Outfit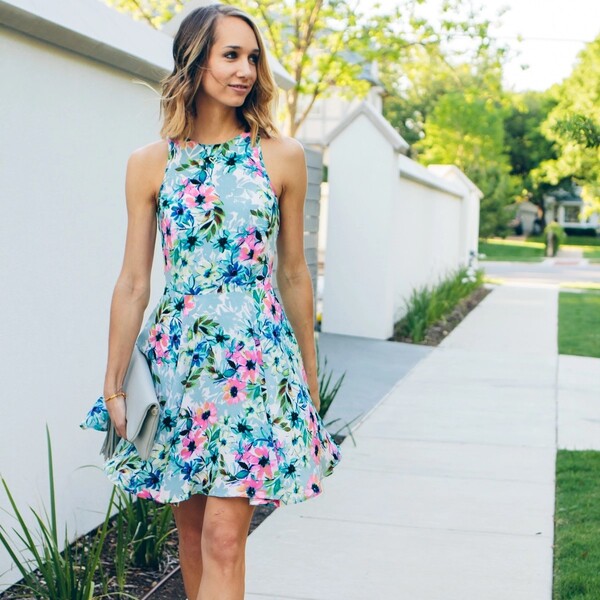 It's hard to give a definitive answer to this question because every outfit is different. If your ensemble includes a delicate piece like a dress then you should take it to the dry cleaners. They'll know how to keep it in tip-top shape.
Best Places To Buy Engagement Party Outfits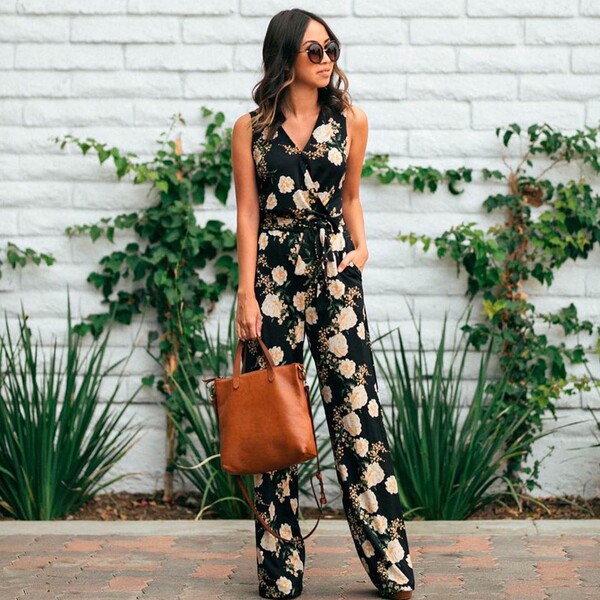 A few places that people usually mention when they talk about where they buy their engagement party outfits are MyTheresa, Baacal, Nordstrom, and David's Bridal.
Final Thoughts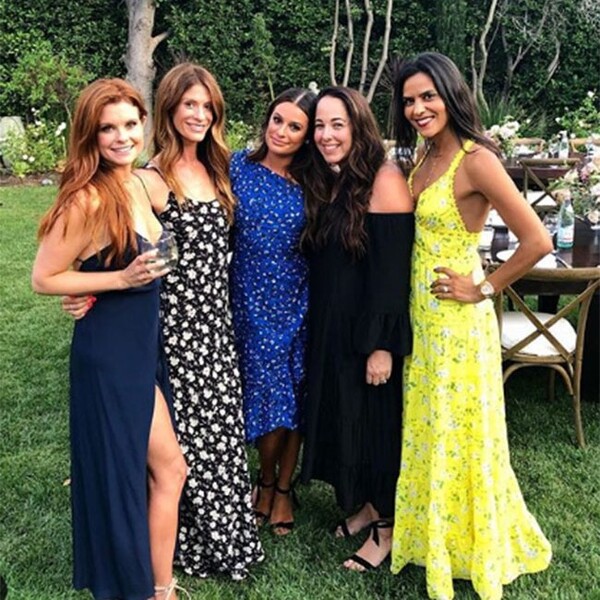 Here's the most important thing that you should take away from this guide: if you want to know what to wear to an engagement party the dress code is your best friend. The dress code can sometimes be limited, but despite that, there will always be countless options to choose from.
Or, if you're the one writing the dress code, I encourage you to have some fun with it. Give your guests permission to dress creatively and make the event a blast for everyone involved.
---
Looking to up your fashion game? We've got you covered:
Get Access to Exclusive Deals
Subscribe for free to get exclusive deals in your inbox. 100% privacy