What To Wear To Disneyland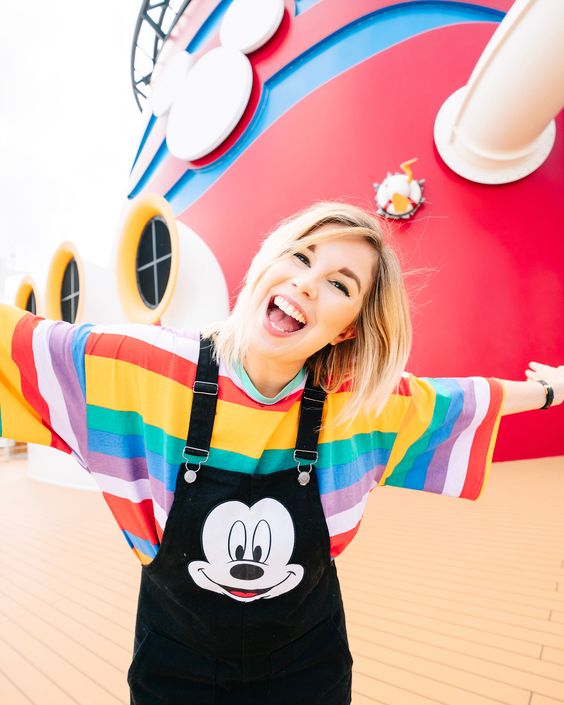 Ah, Disneyland. It's considered the go–to destination for families, soon-to-be-weds, and film fanatics. For most, it's a bonding trip between friends and relatives, considering that most of us have nostalgic memories about Aladdin, Buzz Lightyear, and Cinderella.
While some show their love by purchasing a $255+ ticket, others prefer to Disneybound to help display their loyalty. 
Coined by blogger Leslie Kay in the mid-2000s, Disneybounding refers to the practice of dressing up as your favorite character, but not in a literal way.
It's more of an interpretation rather than cosplay. But for those not keen on costumes, you may find yourself wondering what to wear to Disneyland. 
Considered the perfect time to dust off those bold pieces hidden in your wardrobe, this 'what to wear to Disneyland' guide will feature some trendy outfits worth considering.
Hopefully, by the end of this article, you'll know all about:
What to wear to Disneyland in the summer
What shoes to wear to Disneyland
How to dress for Disneyland
Cute Disneyland outfits
What Makes Up A Disneyland Outfit?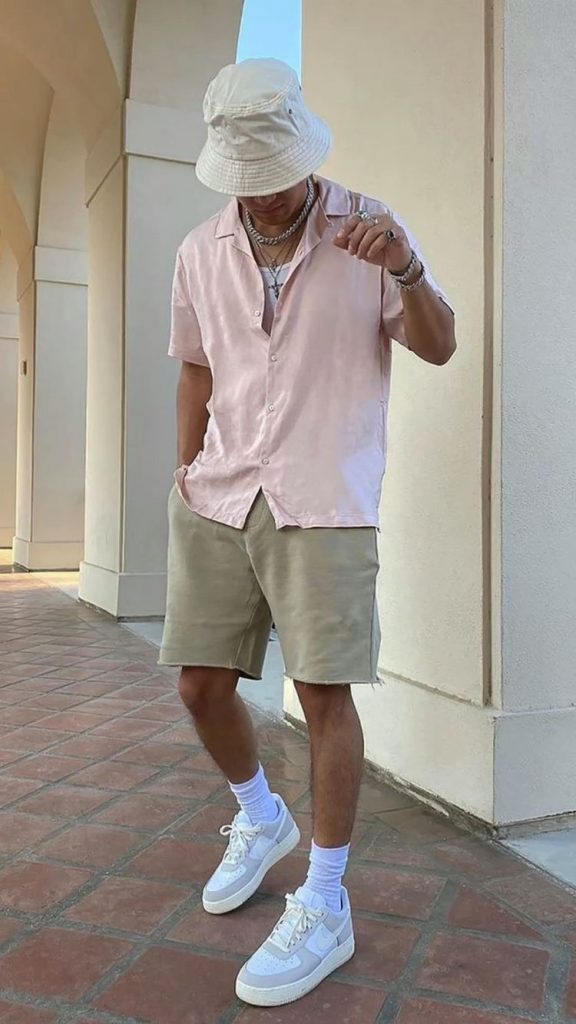 This isn't the time to sport a minimalist ensemble. Disneyland outfits should mirror the same level of whimsy, color, and print that Disney is known for. 
Of course, that's not to say that you're only limited to costumes, as there's a wide assortment of trendy aesthetics to sport.
I recommend dipping your toes into cottage-core, renaissance-core, Lolita, and kid-core if you're looking to channel some nostalgia. 
If you want to Disneybound, you should know that exact costumes are prohibited at the theme park. This is to ensure that kids only interact with cast members and not strangers.
For those keen on dressing up as Ariel or Sleeping Beauty, you can try copying their silhouette or color palette as outfit inspiration. 
History Of Disneyland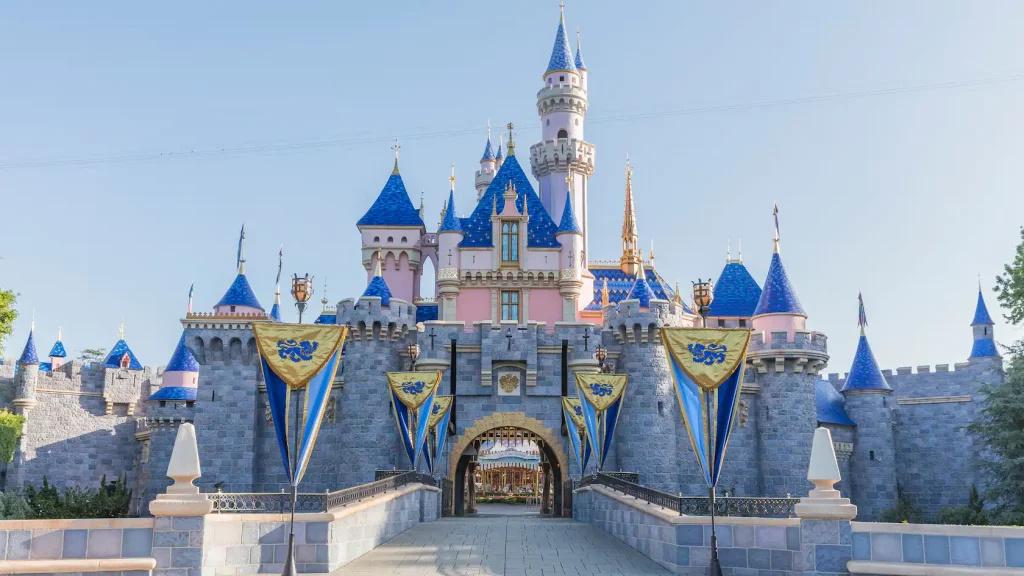 Not to be confused with Disneyworld, Disneyland is an amusement park exclusively located in Anaheim, California. It's home to several iconic epi–centers, including Fantasyland and the Downtown District.
In 1955, Walt Disney began designing this historic landmark after the continued success of his animation company.
Made for entertaining adults and kids, the debut of Disneyland was met with overwhelming success. It was estimated that over 28k people showed up on opening day. 
Over the years, Disneyland has evolved to include other famous attractions. The Jungle Cruise, Splash Mountain, the Haunted Mansion, and the Mad Party Tea ride continue to be favorites among the public.
In the following decade, Walt Disney died in 1966. As a nod to his influence, the park established a statue to commemorate his legacy. 
15 Outfit Ideas To Wear To Disneyland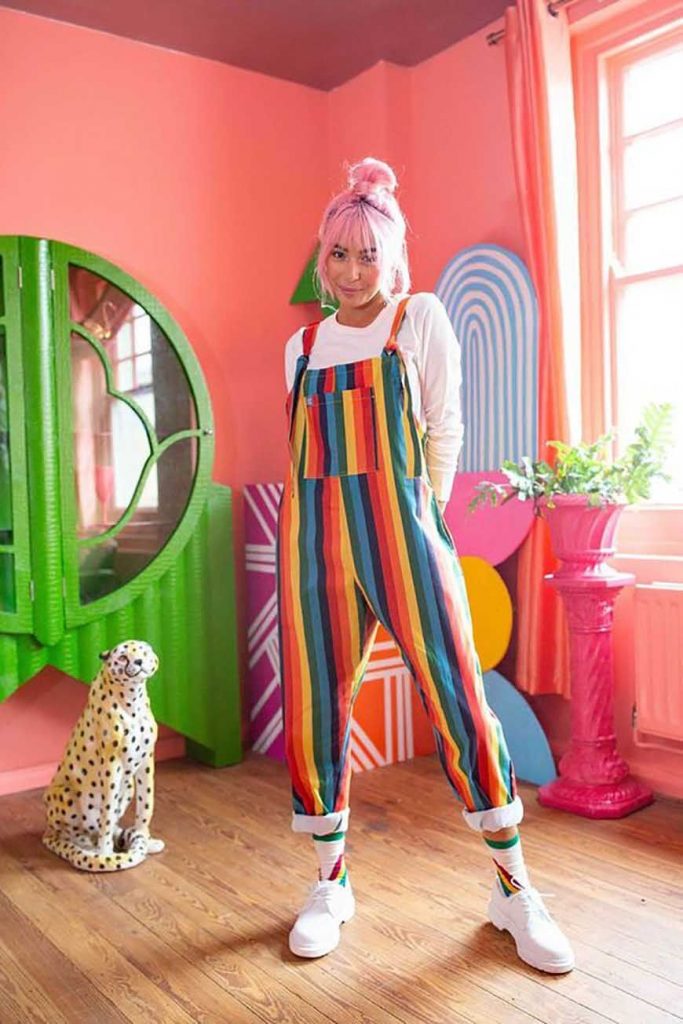 Disneyland is the place to channel your inner kid. This is the time to go all out when it comes to color—which presents the unique opportunity to finally wear 'that' piece. 
Composed of rainbow overalls, a white tee, and a pair of matching shoes, this vibrant OOTD is definitely playful, bright, and cheery. Obviously, the pink hair is totally optional, but it helps to add that final spirited touch to the entire look. If you're wondering what to wear to Disneyland, this is the outfit to opt for.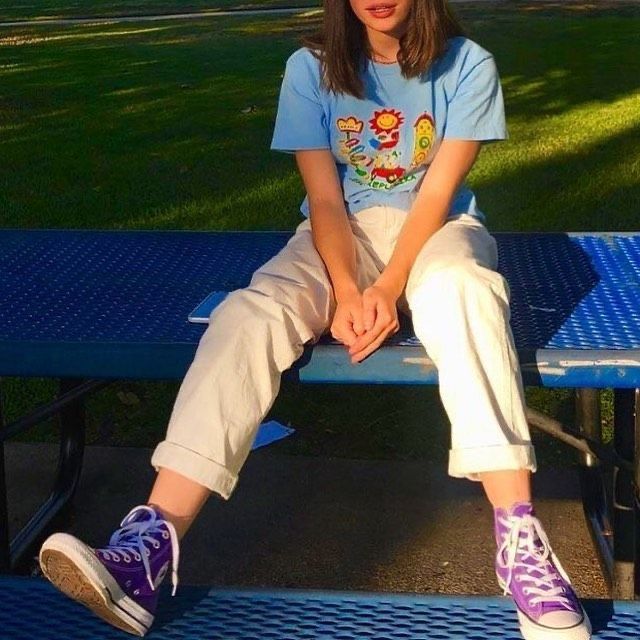 Looking for something simple and stylish? If so, there's no harm in wearing a cute baby tee, elasticated pants, and a pair of kiddish Converse sneakers. Compared to the previous outfit, it's still colorful in aesthetic, but it's a lot more minimalistic in silhouette.
Designed to be comfortable and hassle-free, this is one of the many outfits to wear to Disneyland that you have to try. Of course, I highly recommend wearing a set of Mickey Mouse ears to help top off the look.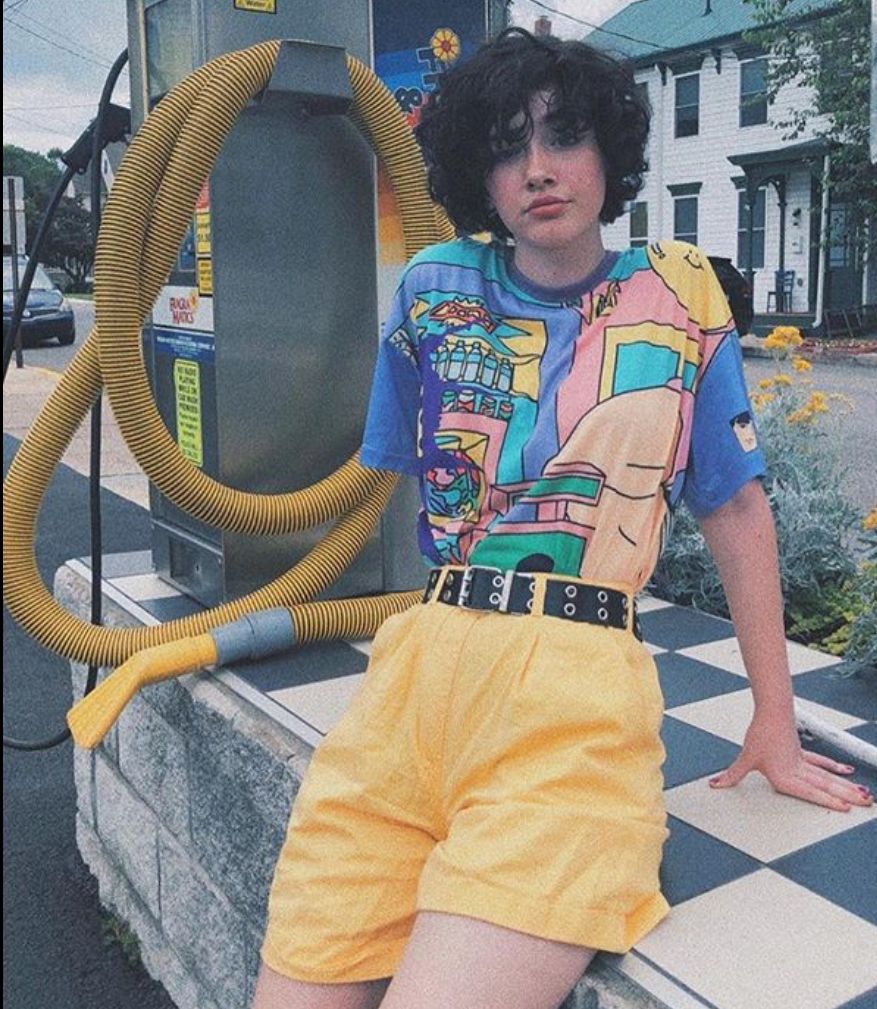 Disney nostalgia isn't just a mood—it's also an aesthetic. For OG fans, this means sticking to old-school classics such as Oliver & Company, Treasure Planet, and Peter Pan.
If you want to showcase the vintage fuzz of early Disney, then a retro outfit is a must. Composed of tailored yellow shorts, a graphic T-shirt, and a black belt, this 'what to wear to Disneyland' contender gives off serious late '80s vibes.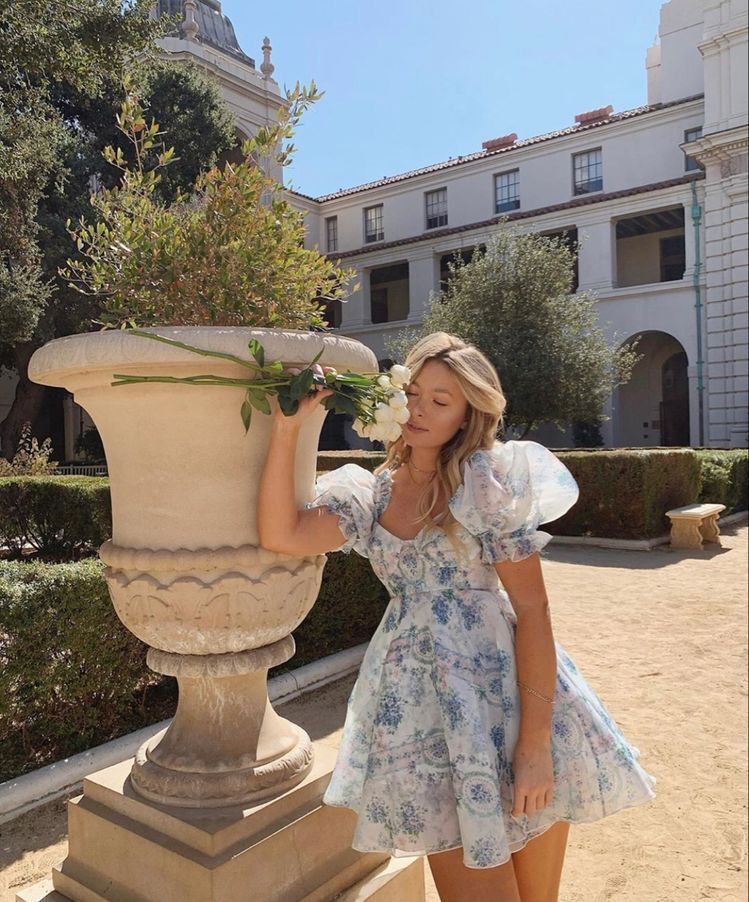 You'll definitely garner some attention by wearing a Cinderella ballgown to Disneyland. That said, you may run into some trouble with the employees. Plus, it's not the most practical piece of clothing, given its heaviness and size.
If you're looking for something a bit more functional, this 'what to wear to Disneyland' guide highly recommends this mini dress. It features a white puff gown with sleeves, a bustier top, and a cropped cut. While you're free to wear heels, I suggest opting for sneakers as a more comfortable alternative.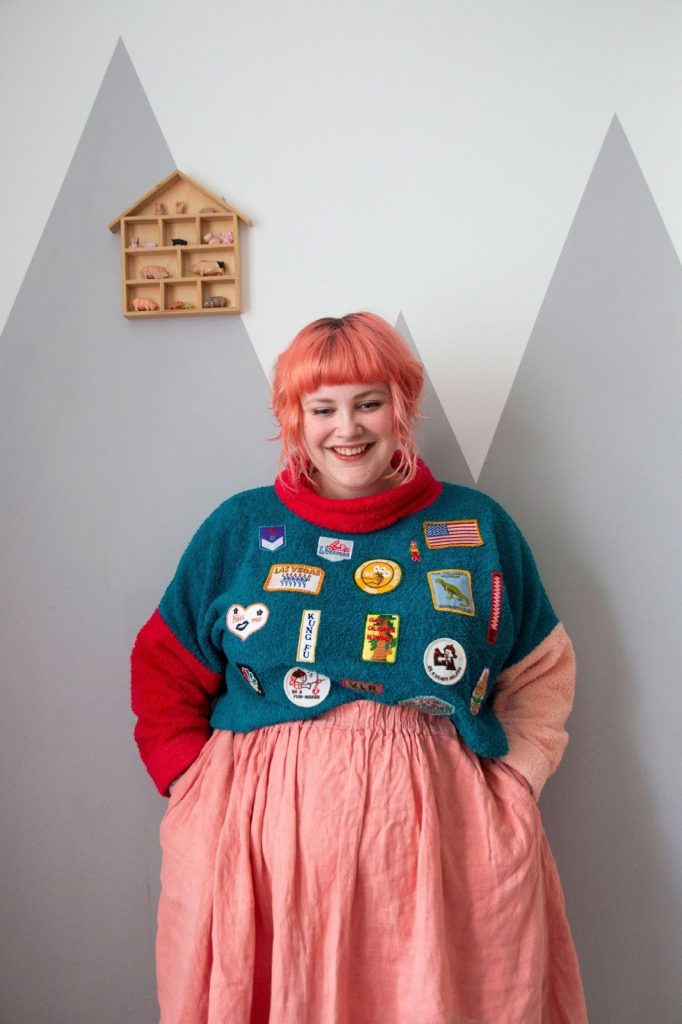 Contrary to popular belief, not all people visit Disneyland during the spring or summertime. Some prefer to go during fall or winter. Obviously, you'll want to bundle up to help keep warm.
Instead of opting for a puffer jacket, I suggest a colorful sweater, a midi skirt, and tights as a more playful alternative. Boots are an absolute must with this outfit since they'll help 'bolden' the entire look.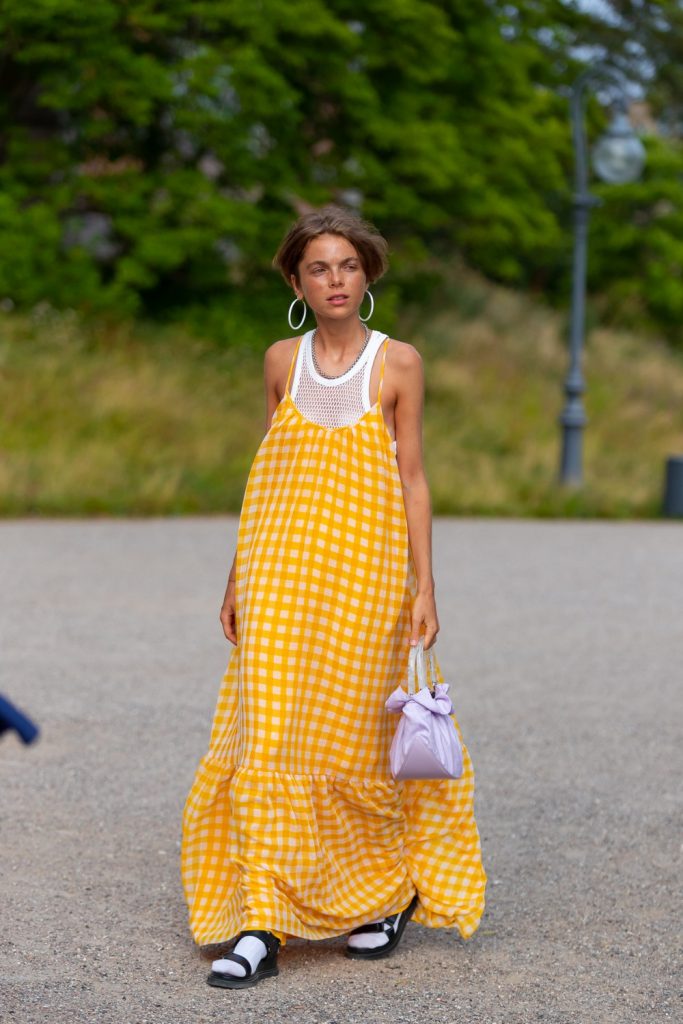 Can't afford to borrow Emma Watson's Belle dress? Perhaps that's for the best, given its enormous size and added weight. If you're looking for a more breathable alternative, I suggest this cottage-core number.
It features a yellow gingham dress with a white mesh tank top underneath. Paired with matching socks and black sandals, it's a relatively conservative outfit for amusement park dates. Don't forget to finish things off with hoop earrings and a cute handbag.
Consider this next option as two looks in one. First, let's address the outfit on the left. Composed of a pink midi dress and an accentuated belt, it perfectly combines function and fashion together. 
The sunnies and the matching Vans help to mellow out the boldness of the entire OOTD, as opting for heels would border on 'professional' rather than 'playful.'
The outfit on the right can be considered a unique take on Minnie Mouse. Featuring a polka-dot dress with a black shirt underneath, it's a relatively simple look to don. The matching sandals and the woven handbag work wonders by romanticizing the overall ensemble.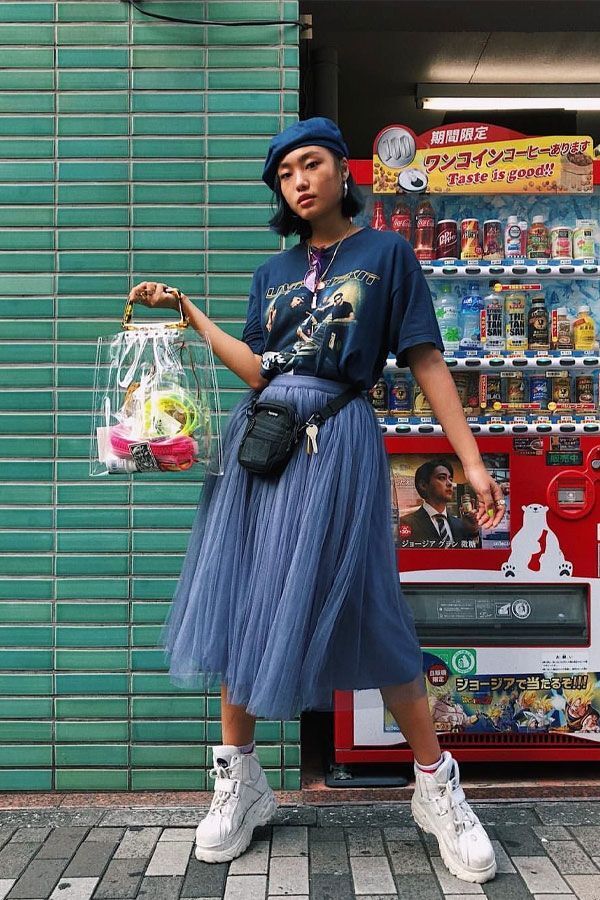 Care for something a bit romantic? To be fair, this next contender is relatively free of Parisian allure, but it's fantastical nonetheless.
Outfitted with a tulle midi skirt, a graphic tee, and a pair of chunky shoes, it's the perfect mix between summer romance and streetwear. Plus, the beret and fanny pack help to elevate the entire look.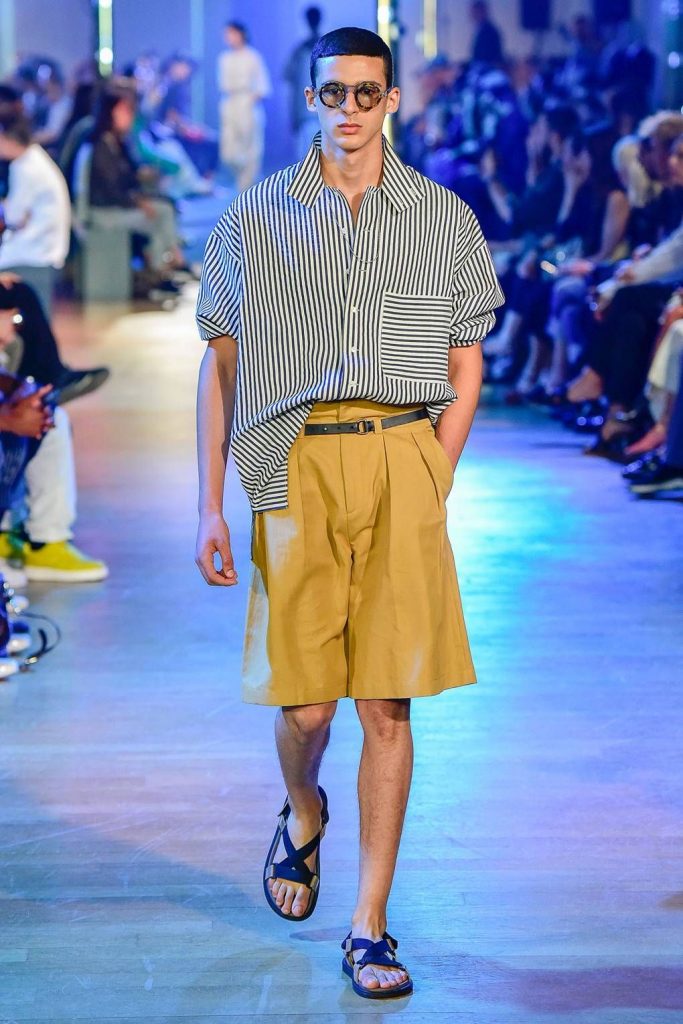 Ultra-breathable and roomy, this iconic outfit borders on the dad aesthetic without being overly cheesy. It's composed of a striped button-down top, yellow shorts, black sandals, and a pair of rounded spectacles.
Oddly charming in aesthetic, it's definitely a more modern take on the classic Hawaiian shirt and cargo pants combo. To top things off, I highly recommend accessorizing with a bucket hat and a fanny pack.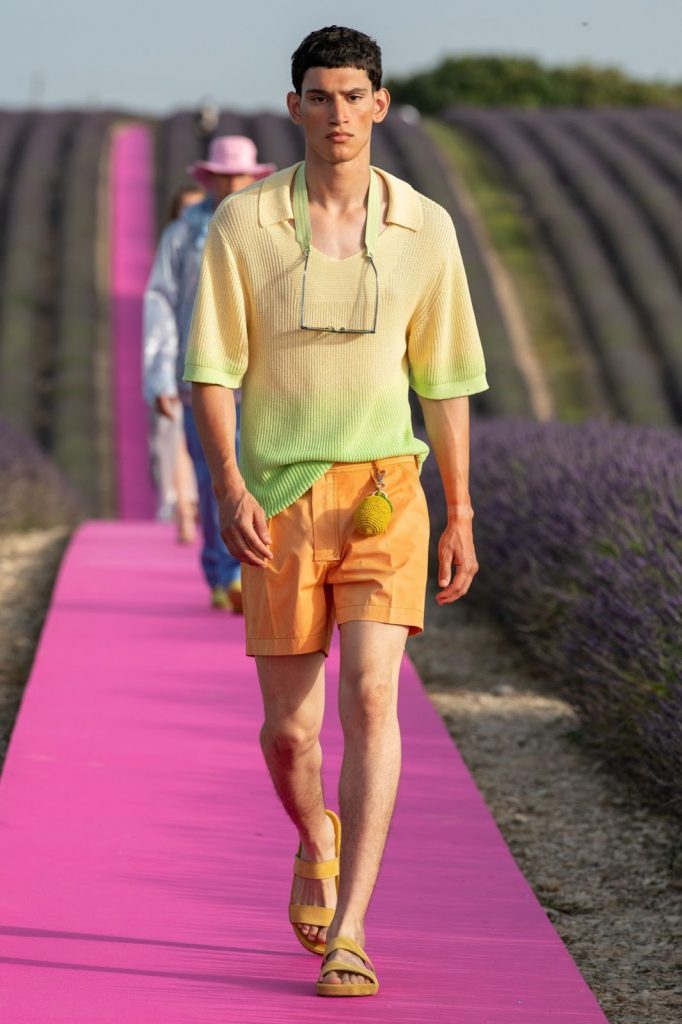 Reminiscent of orange Fanta, fruit sorbet, and lemonade, this Disneyland outfit definitely screams summer vibes. It's comprised of an ombre ribbed shirt, fitted shorts, matching sandals, and specs for added flare.
The adorable lemon key chain is totally optional, but it does add a level of intrigue to the final look. Obviously, a pair of Mickey Mouse ears is an absolute must in order to complete the entire ensemble.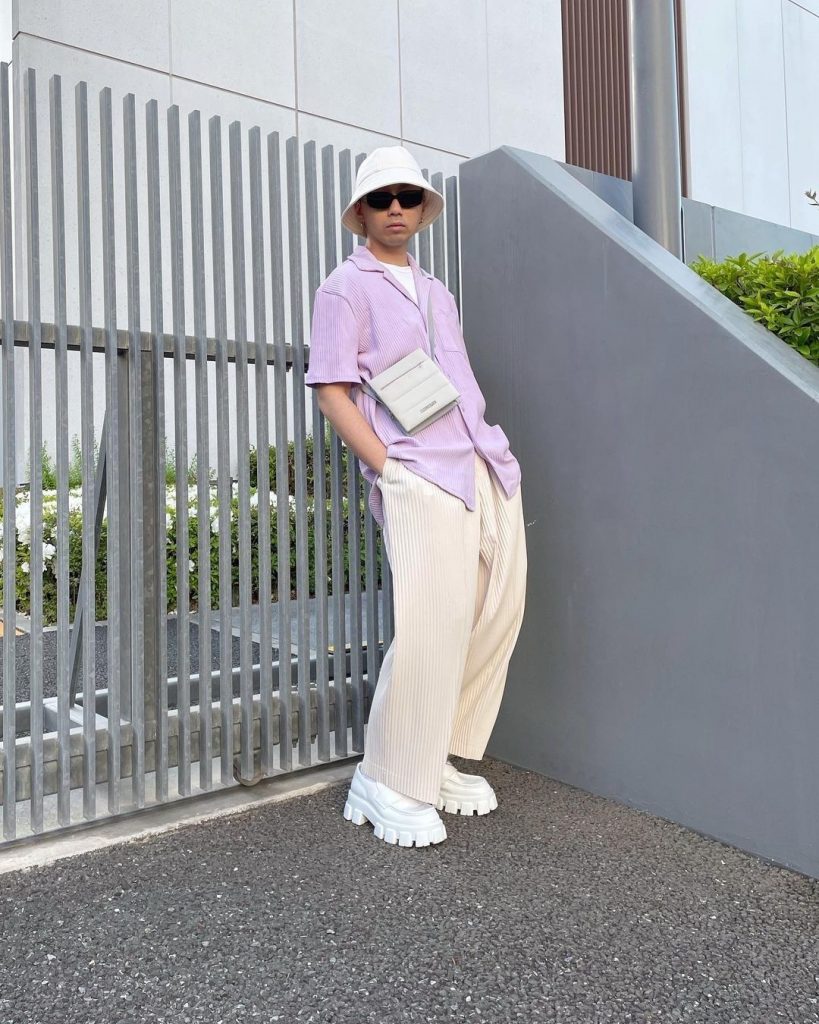 Unless you're channeling your inner Edna Mode, I don't recommend wearing black clothing to Disneyland. This is especially true during the summer since it's known to get excruciating hot in Anaheim, California.
To help keep things breathable, a light–colored outfit is an absolute must. This stylish ensemble features a pair of white pants, a lavender button-up shirt, and a matching bucket hat.
Paired with a crossbody bag, this is the perfect look to sport if you don't know what to wear to Disneyland.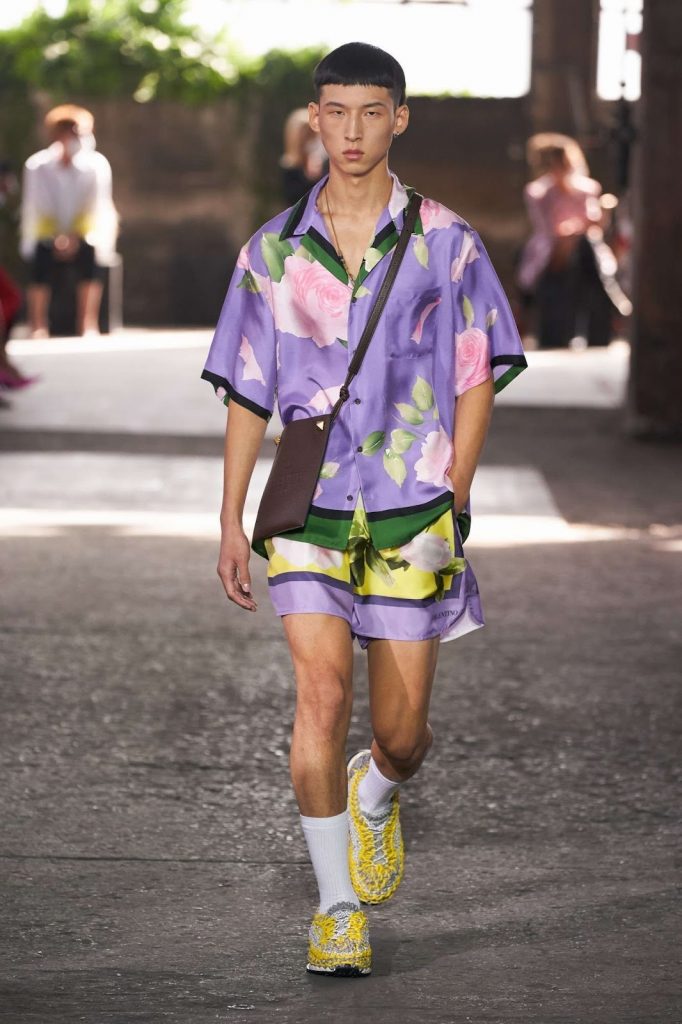 Wearing sweatpants to Disneyland is a tell-tale sign that you've given up on fashion. Sure, their degree of comfort is undeniable, but they're not the most flattering number to wear. Instead, why not opt for a silk matching set?
Considered one of many fashionable Disneyland outfit ideas, this ensemble features a floral button-down shirt, shorts, and a pair of sneakers. It slightly borders on a 'pajama look,' but the fanny pack and shoes help to mellow out the 'lazy' vibe of this outfit.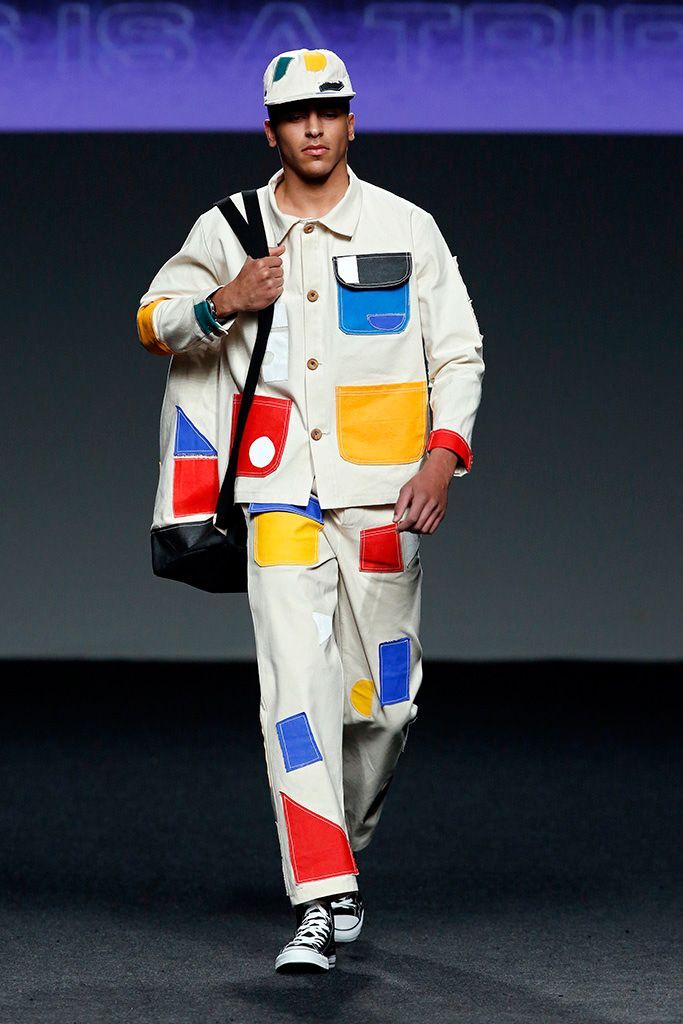 It's kid-core but with a more 'adult' twist. Composed of a white button-down top and matching trousers, this playful matching set features multicolor shapes throughout the ensemble.
It's a cheerful take on the traditional monochromatic look, which is great for those not fond of minimalism. Paired with a bag, hat, and Converse shoes, this is what to wear to Disneyland if you're feeling especially extra.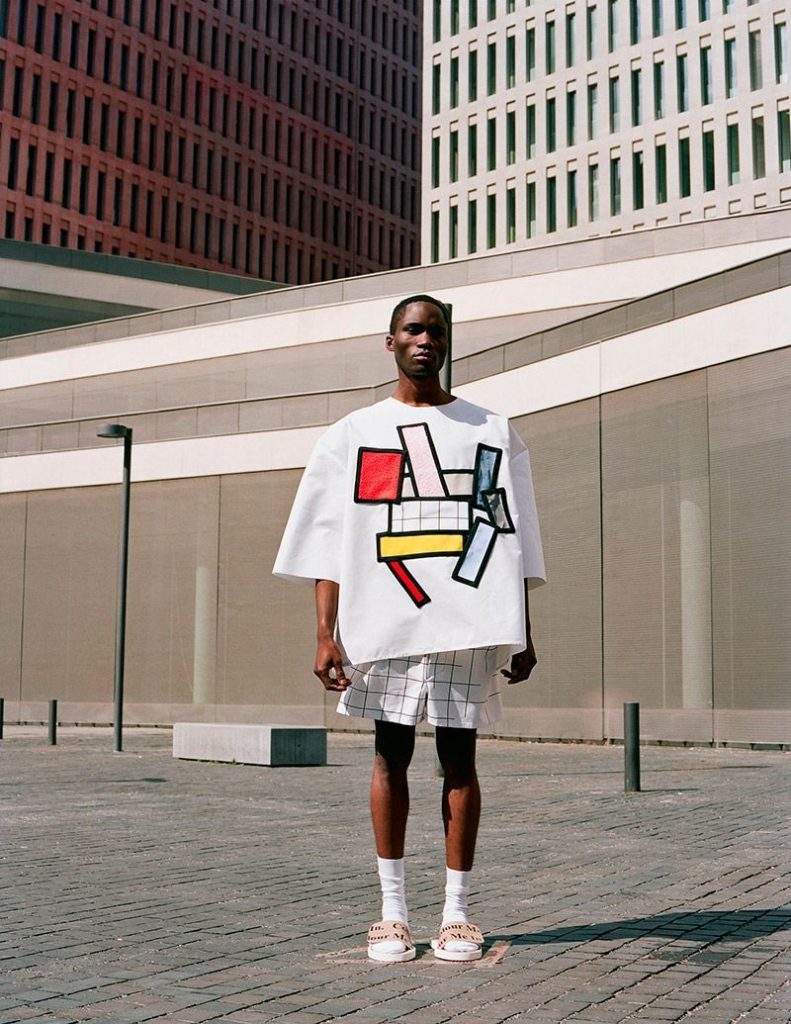 Exaggerated in silhouette, this 'what to wear to Disneyland' contender will definitely keep you sweat-free during your visit. The shirt features a vibrant geometric print in complementary colors.
The model chose to accentuate his outfit with a pair of grid-print shorts. Finished off with socks and sandals, it's the easiest way to get into kid–core without looking too childish.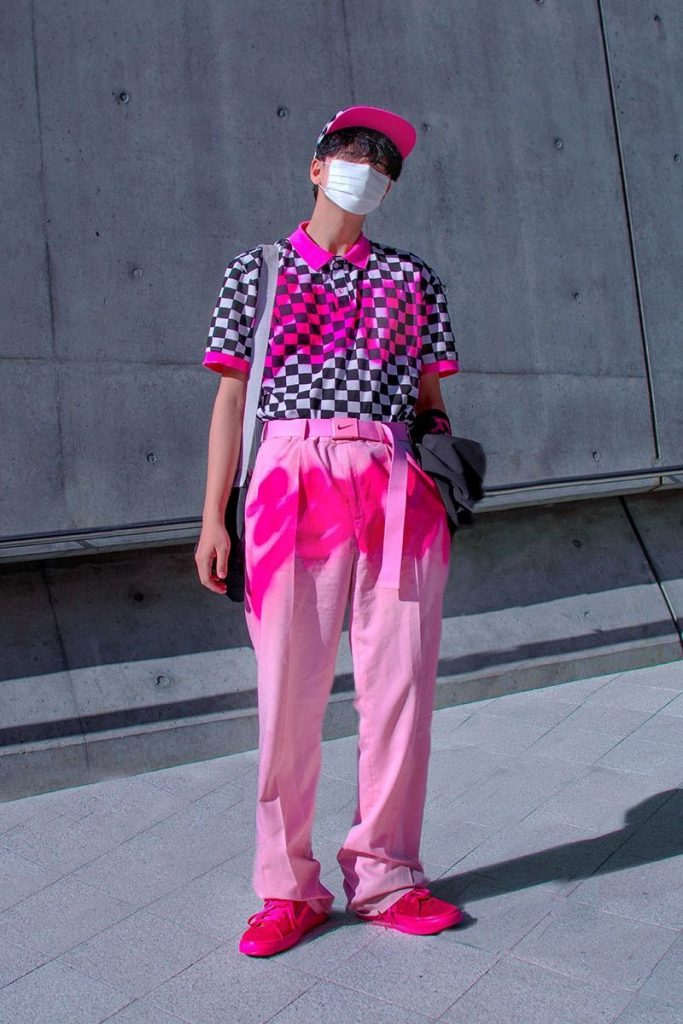 Are you fond of pink? If so, then it's time to channel your inner Aurora, Ariel, and Charlotte La Bouff. This vibrant outfit is composed of blush pants, a checkered T-shirt, a matching hat, and a pair of streetwear sneakers. 
Retro in aesthetic, it still exudes that classic Disney spirit due to its bright color palette. But for those who think it's a little untamed, I recommend swapping out the top for a Mickey Mouse shirt instead.
What Type Of Disneyland Outfits Can You Get?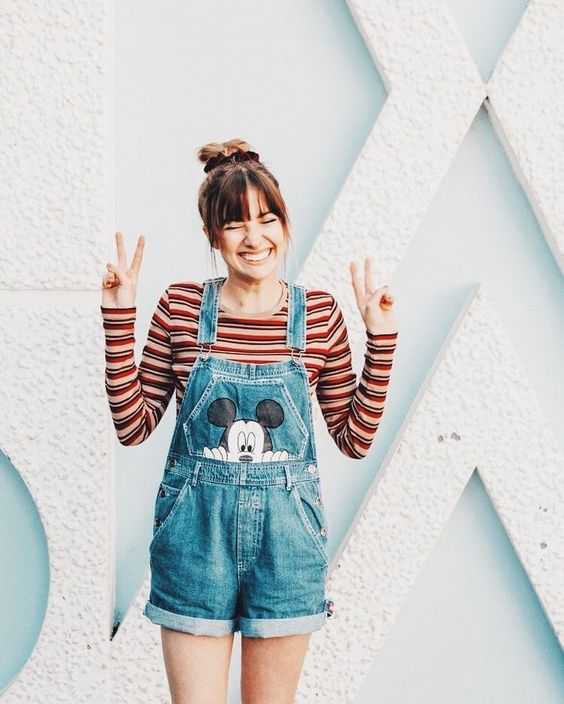 As previously mentioned, Disneyland outfits tend to feature bright colors, vibrant prints, and exaggerated silhouettes.
Consequently, this only broadens the number of outfit options you can choose from—which can cause frustration for some novice trendsetters. 
So, if you need some fashion advice, this 'what to wear to Disneyland' guide will discuss a few notable fits to help keep things straightforward.
Disneybounding: Considered the go-to choice for many fans, this fashion trend allows you to dress up as your favorite character without resorting to cosplay.
Kid-core: If you're looking to channel your inner child, this is the trend to follow. This aesthetic leans heavily on rainbow colors and bright prints.
Cottage-core: Romantic in aesthetic, this specific style can help emit that Disney princess vibe. Think of white flowy dresses, peasant blouses, and corsets.
Lolita: For those keen on copping that 'Alice in Wonderland' aesthetic, Lolita is definitely the way forward.
Disney paraphernalia: This category refers to clothing that features the Disney logo. This includes the iconic Mickey Mouse Ears to the Disney X Gucci collab.
How To Choose The Best Disneyland Outfits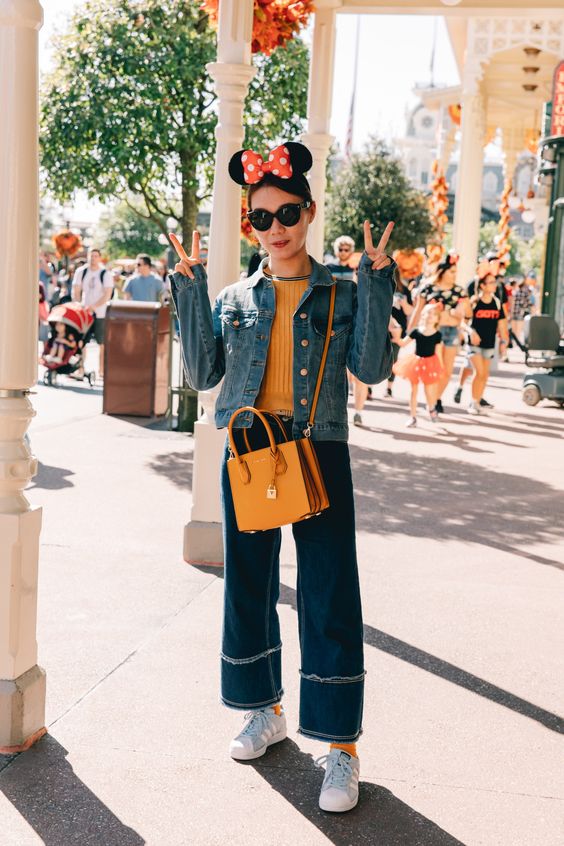 Picking the perfect Disneyland outfit is no walk in the 'amusement' park. It actually requires a certain level of styling prowess, planning, and confidence.
This is especially true for Disneybounders since it typically takes weeks or even months to create an inspired ensemble. But for those keen on just looking trendy, I'll discuss some notable variables to consider. 
Before you put together your outfit, it's important to consider the weather. The peak season for Disney is typically summer.
That's why most fashion guides advise travelers to stick to breathable clothing. Materials such as linen, cotton, and chiffon are generally preferred because they're lightweight. 
On the other hand, some fans prefer to go during autumn or winter, which requires wearing warmer garments. Wool, denim, cashmere, and other select fabrics are the go-to for many visitors during this time of year, given their degree of insulation.
While it's easy to cop a $10 set on fast fashion websites, I don't advise opting for the cheap route. Discount clothing is usually poorly constructed and made from thin fabrics, which are susceptible to ripping and fading.
Of course, that's not to say that designer goods are the only way forward, as you can find a broad assortment of reasonably priced clothes online. 
The design of any garment is treated as a priority for most trendsetters, and for good reason. Functionality can only go so far, as continued wearability depends on how cute the outfit is.
Again, there's no such thing as a standard Disney ensemble, but it usually involves a colorful set of clothing. But, all in all, you should always settle for something that aligns with your current aesthetic.
How To Style Disneyland Outfits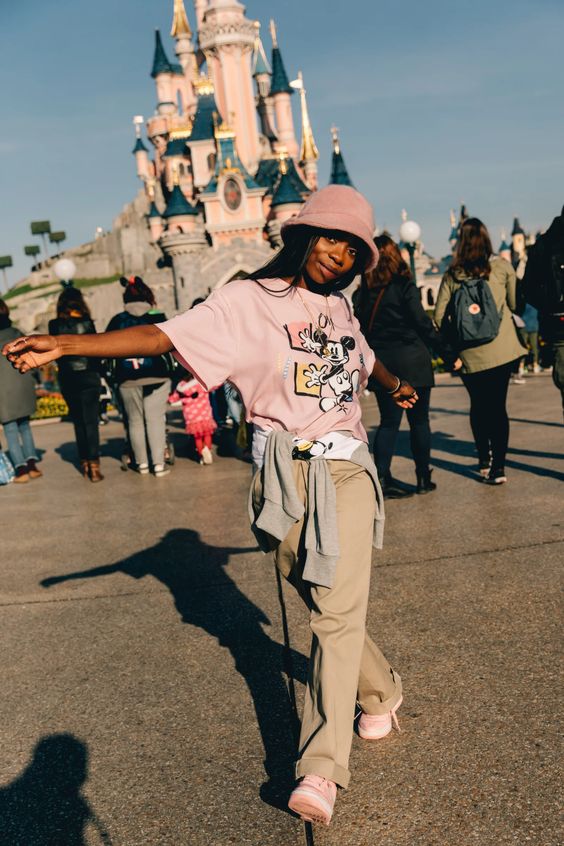 Imagine Sleeping Beauty without her tiara or Belle without her blue hair bow. Is it even possible?
Obviously, accessories are super important when it comes to Disneyland outfits. If you're in need of inspiration, here are some ways to style your final look. 
Costume jewelry: If you need a reason to sport those chandelier earrings or sapphire necklaces, booking a trip to Disneyland can act as your excuse.
Handbags: Dainty clutches and carry-ons can help accentuate your final look. Obviously, you don't have to opt for a designer purse if you can't afford it.
Scarves: Considered the go-to accessory for Esmeralda, this versatile wrap can be used to accentuate the head, hair, or neck.
Mickey Mouse ears: This accessory seems like a no-brainer, but I thought I'd include it anyway. It's a simple way to turn any mundane ensemble into a Disney homage.
Hats: If you're planning on visiting Disneyland during the summer, you should definitely wear a cap to prevent heatstroke.
Fashion Tips To Avoid With Disneyland Outfits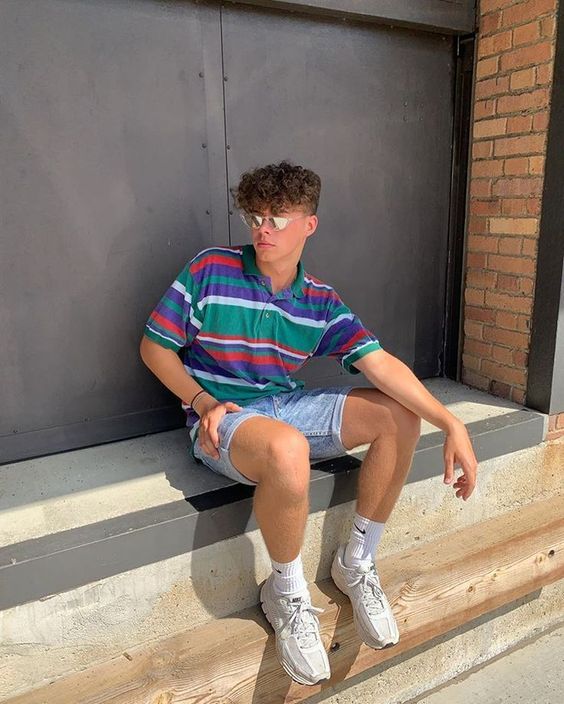 The last thing that you want to do is to upset Edna Mode.
Obviously, there's no fashion police at Disneyland, but there are some unspoken rules to take note of. For those not fond of getting their ensemble made fun of, Cinderella-style, here are five fashion tips to avoid with Disneyland outfits. 
Costumes: Visitors are not allowed to wear a full-on costume at Disney. This helps to prevent any confusion between strangers and cast members.
Dressing for the weather: Trust me, you do not want to wear leather pants in 85-degree humidity. On the other hand, wearing biker shorts in October is also not a good option.
Heels: I fully understand that stilettos play a critical role in your Disneybound outfit. That said, do you really want to explore the park wearing six-inch platforms?
Sexy outfits: Disneyland is catered toward kids. With that in mind, it seems distasteful to walk around wearing a revealing dress or a super short mini skirt.
Hypebeast: Wearing head-to-toe Supreme and Off-White can look jarring at a kid's amusement park. Of course, this may not apply to designer Disney collabs.
Best Places To Buy To Disneyland Outfits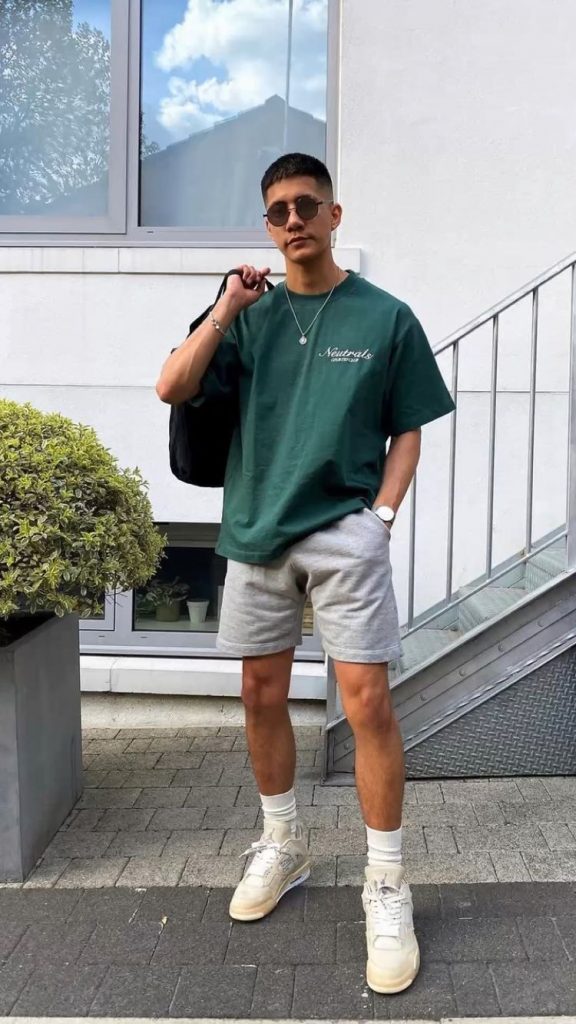 Consider yourself briefed on what to wear to Disneyland. With your mind filled with inspiration, now is the time to do some shopping. Below, here are a few stores I recommend checking out.
Selkie 
Nasty Gal 
Dolls Kills
Nordstrom 
ASOS 
PrettyLittleThing
Final Thoughts
The perfect Disneyland outfit should offer a hint of childhood whimsy. Unless you're fixated on functionality, fashion has the power to boost one's mood or sour one's ego.
This is especially true for the 'happiest place' on earth—considering that style plays such an important role in the Disney franchise. I mean, can you imagine Cinderella without her blue dress? I shudder. 
From kid-core-themed outfits to retro-inspired ensembles, here's hoping that you know what to wear to Disneyland. Happy styling! 
---
Looking to up your fashion game? We've got you covered:
Get Access to Exclusive Deals
Subscribe for free to get exclusive deals in your inbox. 100% privacy