What to Wear to Disney World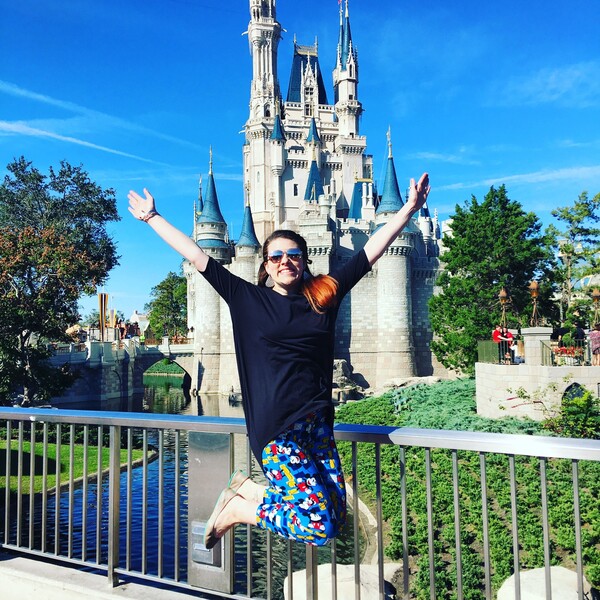 Dressing up is for kids, right? Well, you'd have to convince blogger Leslie Kay, who invented the term Disneybounding in the mid-2000s.
Considered an acceptable way for adults to cosplay as their favorite characters, it's relatively common to find a mix of cartoon-inspired fits and real-life cast members on the park premises. You'll find hundreds of creatively-made costumes, ranging from retro-inspired fits to Renaissance-themed ensembles.
As a tourist, you may feel forced to Disneybound. It's not a required practice, but some hardcore fanatics may question your lack of DW love. Of course, it's not the only way to express your passion for Aladdin or Sleeping Beauty.
If anything, that $255 ticket is enough to prove one's long-lasting devotion. With that in mind, you're probably wondering what to wear to Disney World, minus any costume-inspired fits.
Hop on our magic carpet. We can show you a world (or a list) full of shining, shimmering, and splendid outfit ideas. From princess-poofy dresses to comfy tees, we've developed a nifty guide to help you decide what to wear to Disney World. By the end of this article, you'll hopefully understand:
What to wear at Disney World
What to wear to Disney World in July
The Disney World dress code
What to pack for Disney World
Some common outfits for amusement parks
What is Disney World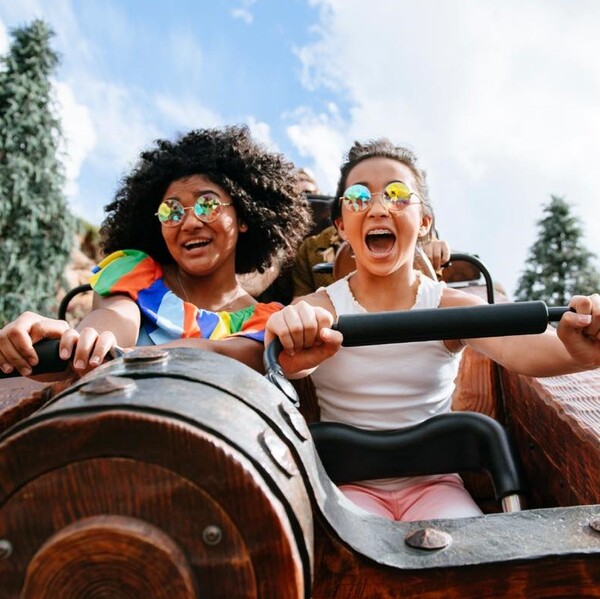 Disney World is the happiest place on earth. Despite the trademark, it's an amusement park full of Disney-themed rides, food, and gimmicks.
You should know that Disney World and Disneyland aren't located in the same state. DW is found in Orlando, Florida, while its Californian counterpart is in Anaheim. They also have locations in Paris, Japan, and Shanghai. They differ in terms of size and tourist attractions.
Disney World is frequented by families. It's mostly for kids, but it's seen an influx of Disneybounding teens and adults over the years. If anything, the theme park is a celebration of childhood. It's one for the memory books, whether that be visiting your favorite Disney princess or getting engaged in front of Cinderella's castle.
History of Disney World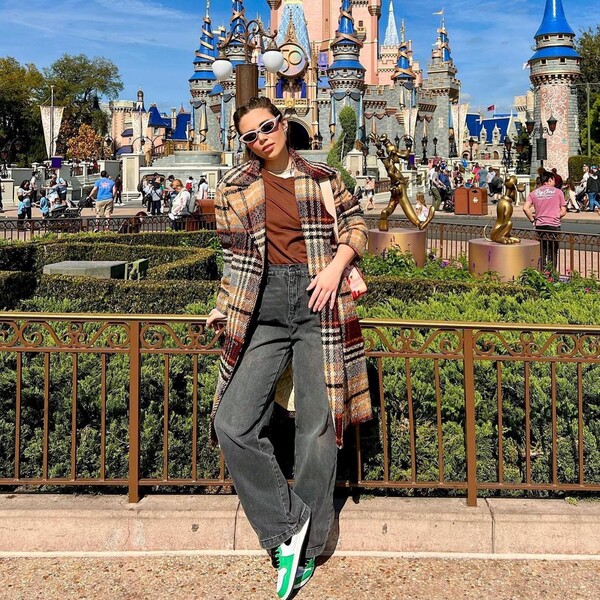 In the decade of critically-acclaimed movies such as The Jungle Book and Mary Poppins, the talks of expanding Disney started in 1964. Walt had a vision. He wanted to create a destination for families to enjoy the splendor of his characters and creations.
It wasn't just a theme park, but a rather celebration of childhood fun. The blueprints included hotels, golf courses, and shops, all located in sunny Orlando, Florida.
Sadly, Walt Disney passed away in 1966. But, his death didn't impede the growth of his theme park. Passing the baton to his brother Roy, Disney World began to amass nationwide anticipation.
They employed over 9,000 people, opened potential business opportunities for nearby restaurants and vendors, and hired celebrities (such as Julie Andrews and Bob Hope) to cut the ceremonial ribbon. Finally, Disney World opened its doors to the public in 1971.
Today, Disney World is one of the hottest attractions to visit. It encompasses over 30,500 acres of land, sees a turnover of 57,000 guests per day, and makes billions of dollars every week.
What to Wear to Disney World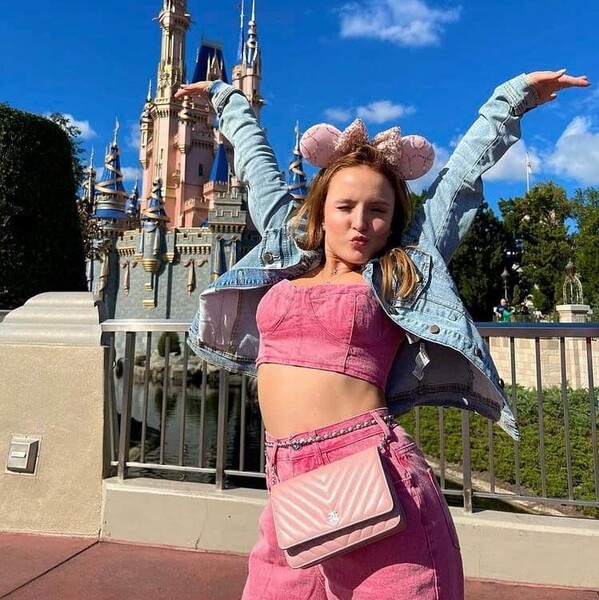 Disney World mandates a unique but strict dress code. Let's address the legal stuff first. One, you can't wear an actual costume on the park premises. While it may seem like a bummer for avid cosplayers, the explanation is quite reasonable. They don't want kids mistaking tourists for their cast members. With that being said, you're free to Disneybound as your favorite character.
For summer vacationers, you're probably wondering what to wear to Disney in July. Shorts, loose tees, and mini dresses are the go-to for many tourists, considering Orlando sees temperatures up to 30-degrees.
Most people opt to visit the theme park during the off-season due to the humidity and a better chance of snagging deals. With that in mind, you could be wondering what to wear to Disney World in December. In this case, we suggest jeans, sweaters, and a snug trenchcoat.
As an underlying fact, outfits for Disney World should be light, bright, and playful. This isn't the time to opt for minimalism or grunge-based ensembles. If you're in need of specifics, we'll show you what to wear to Disney World using 10 OOTD ideas. Let's get started!
10 Outfit Ideas for Disney World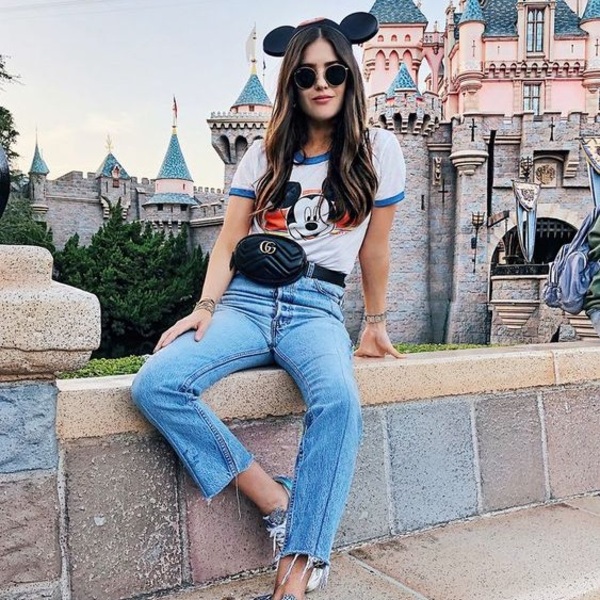 You can never go wrong with a pair of jeans and a Mickey Mouse tee. Considered the safest way to tackle the "what to wear to Disney World" query, this classic combo keeps things simple for the day.
It's a great alternative for adults not keen on cosplaying, but it still provides that element of childhood fun and imagination. The Gucci fanny pack is definitely an added flex, but consider it an adult touch for something intrinsically kiddish. Don't forget to top the look with a pair of glittery shoes.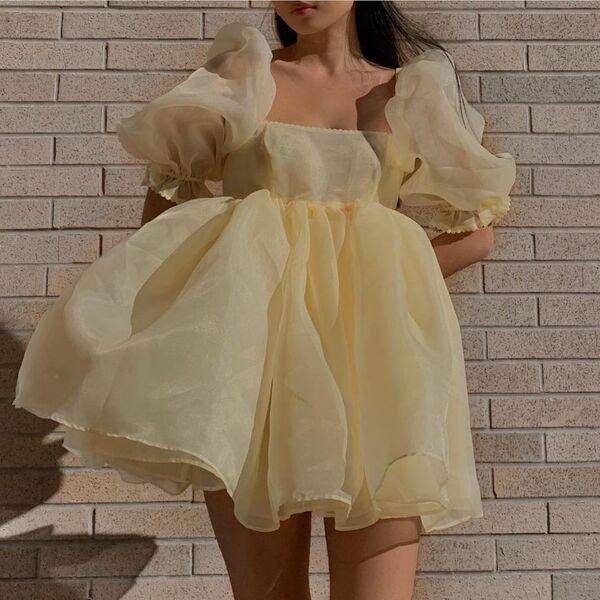 Everyone dreams of donning a Belle-inspired ball gown. And no, we aren't referring to Emma Watson's disappointing version in the 2017 remake. If you prefer flouncy over flaccid, we suggest wearing the Yellow Puff Dress by Selkie. 
Dreamy and poofy in silhouette, this stunning number comes with exaggerated sleeves, a short bodice, and a gathered circle skirt. It's definitely a winner if you ask Lumière and Madame Garderobe. If you're wondering what shoes to wear at Disney World, we recommend a pair of chunky heeled sandals for a magnifique look.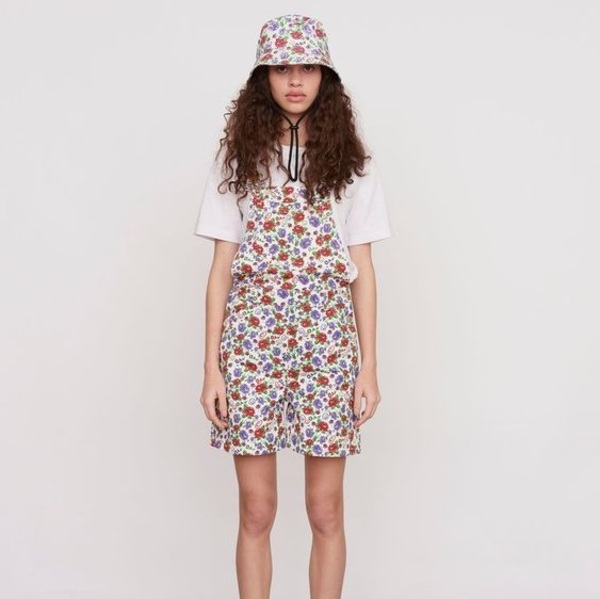 So, you can't figure out what to wear to Disney World in March. The best way to tackle the styling slump is to consider the vibe the occasion exudes. If it's Disney, it's all about embodying that main character energy. While this outfit isn't a homage to any DW icon, it definitely gives off the same impression. 
Composed of a floral jumpsuit, a plain white tee, and a matching bucket hat, this bright OOTD can help you stand out amongst the cosplayers. For those wondering what are the best shoes for Disney, there's nothing wrong with donning a pair of comfy, platform sandals. Of course, this look isn't complete without some bright green socks.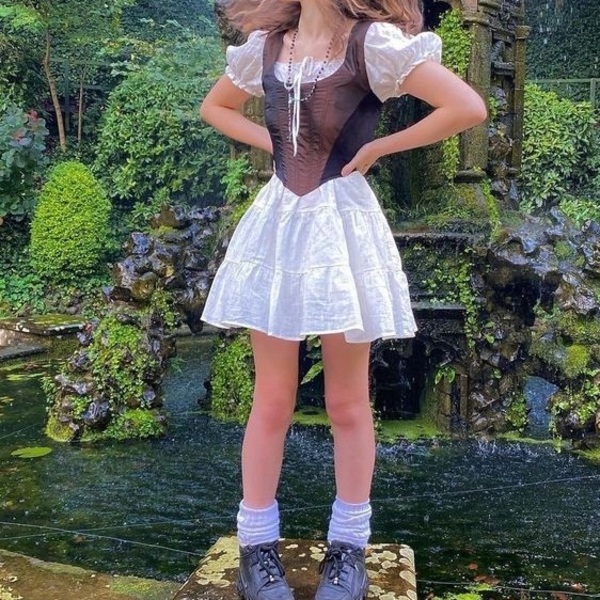 You shouldn't 'sleep' on corsets: they're a wardrobe 'beauty.' Disney puns aside, this Sleeping Beauty-inspired look is considered a modern take on Aurora's everyday dress in the movie. It features a white dress with a brown bustier on the front. 
Complemented with socks, chunky black sneakers, and stacked necklaces, there's a good chance you'll allure some potential suitors. Those wondering what to wear to Disney World in November can easily layer up with a cardigan and a pair of tights.
Disney is the one place you can be a kid again. Naturally, your outfit should embody the same kind of mentality. A colorful set of overalls can definitely do the trick, as it imbues the right level of playfulness for adults to enjoy. 
Paired with a rainbow tee, Converses, and space buns, it's the main character outfit that pays homage to no DW icon. But, if you were looking to Disneybound, we suggest swapping the multicolor shirt with a red top for a Winnie the Pooh-inspired look.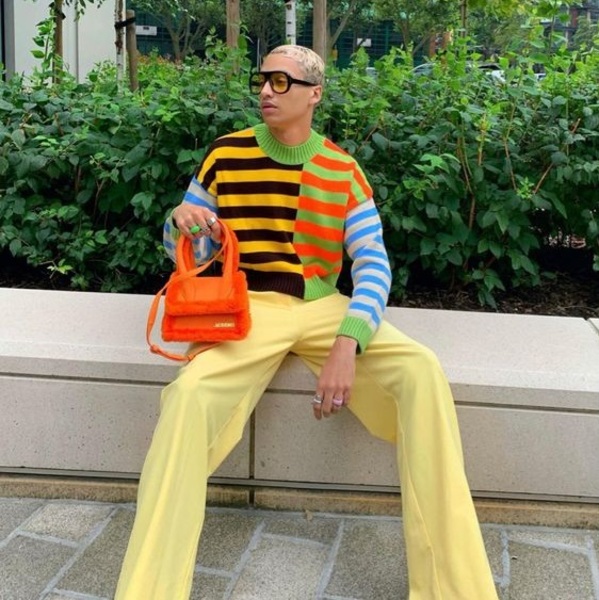 If Lewis from Meet the Robinsons had an Edna-style makeover, I'd imagine she'd come up with this outfit. Composed of a multicolored striped shirt, bold glasses, and yellow pants, this "what to wear to Disney World" contender will definitely turn some heads at the park. 
We recommend wearing this ensemble during the fall months unless you love perspiring in Orlando heat. Complete with a signature, orange Jacquemus purse, it's the "Simple, elegant, yet bold" ensemble that Edna Mode would be proud of.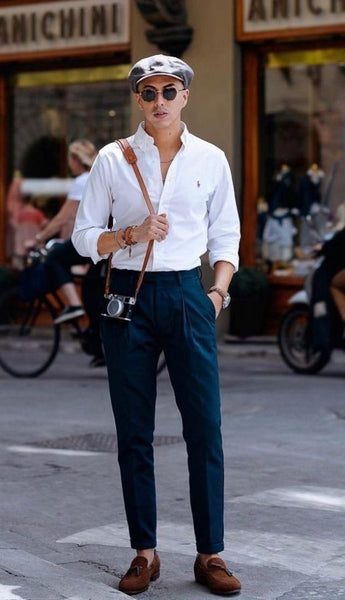 Let's be honest. Prince Eric has to be one of the most boring characters in Disney film history. Yes, he's handsome, but he doesn't do much other than sail and save Princess Ariel. With that being said, your outfit shouldn't reflect the same monotonous mentality.
Considered a more stylish take on Eric's look, this OOTD features the iconic white button-up paired with navy blue pants, but with a few additional twists.
For one, it comes with a quirky set of glasses, a newsboy cap, and a pair of brown loafers. This 'what to wear to Disney World' featurette interprets Prince Eric as less of a stock-image character and more like a coffee boy hipster.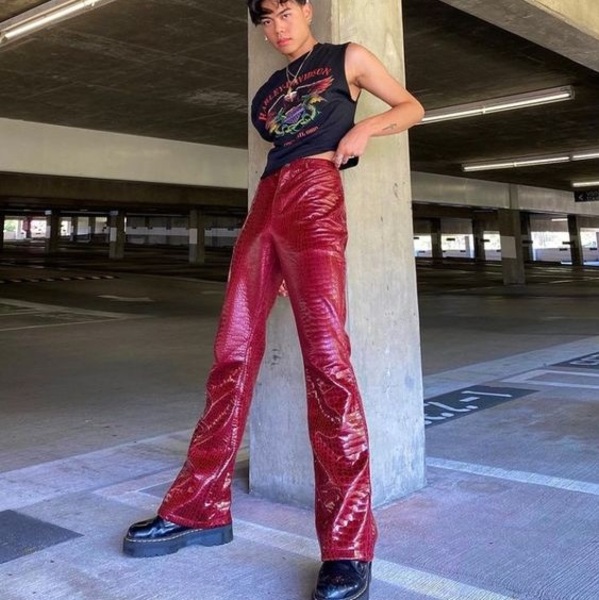 It's Jafar, if he was an edgy teenager in 2022. Comprising red leather pants and a sleeveless black shirt, this 'what to wear to Disney World' contender is considered a sultry version of a villain costume, but more PG for audiences. 
The stacked necklaces and the chunky Doc Martens help round off the entire look. If you really want to pay homage to this Aladdin character, we recommend adding a snake pendant or ruby studded jewelry.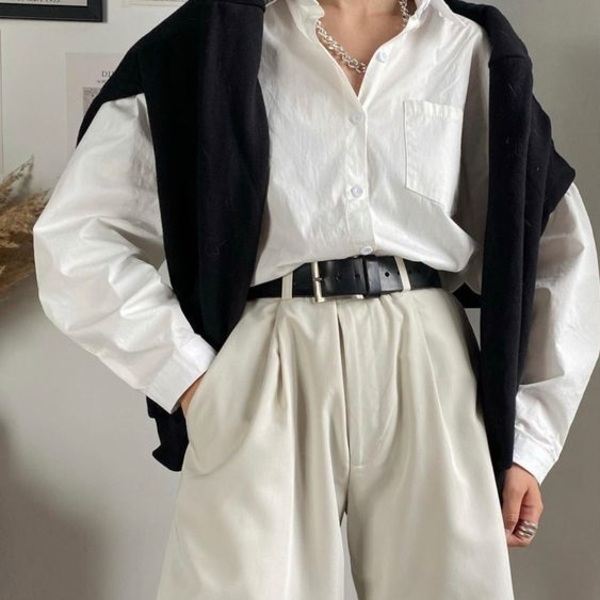 Arguably, one of the most sought-after Disney aesthetics is the Milo Thatch look. Designed to be collegiate and classy, it's a super wearable look that can be worn outside of the park. If you prefer subdued styles over bright colors, we suggest this Atlantis-inspired OOTD. 
It comes with a loose white button-up, cream-colored shorts, a black belt, and a draped sweater for some added visual interest. For those who need glasses and can't decide what to wear to Disney World, this is the look to opt for. In terms of shoes, a pair of Oxford loafers will definitely do the trick.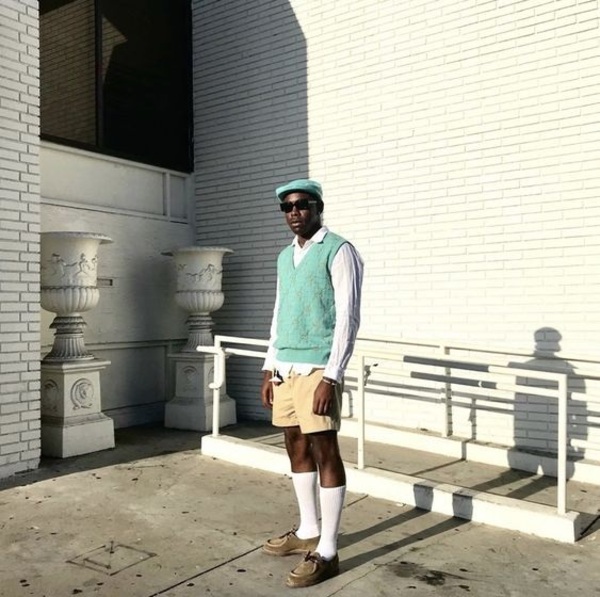 I'll admit it; this is a very loose interpretation of Buzz Lightyear, but I think it embodies the same playful vibe. This outfit features a bright green sweater vest, a white long-sleeve shirt, yellow shorts, and a matching beret. 
Just close your eyes and imagine some purple accents, such as lavender bottoms or socks. Nevertheless, it's a cool look that goes from infinity to beyond. For those wondering what shoes to wear at Disney World, we suggest a pair of comfy streetwear sneaks.
What Type of Disney World Outfits Can You Get?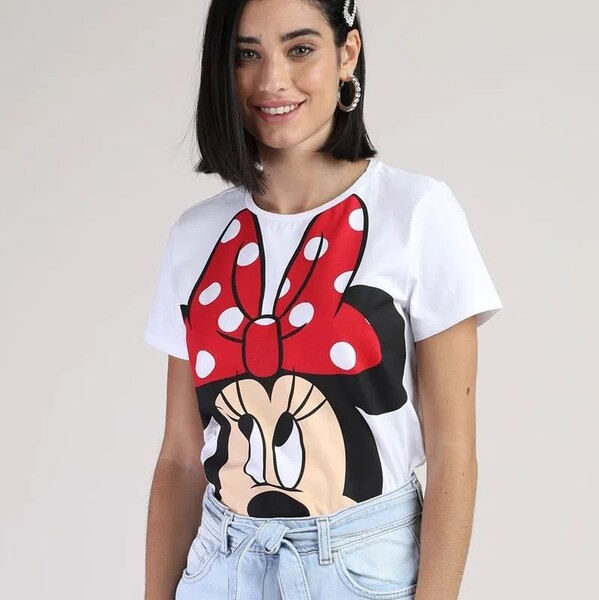 Since it's trademarked as the happiest place on earth, your clothing should reflect the same level of playfulness and vibrancy that Disney emanates.
There are other ways to imbue that classic DW magic without the need for cosplaying. If you're still wondering what to wear to Disney World, here are some popular OOTDs to consider: 
Disneybounding: Not familiar with the term? In short, it means dressing up as your favorite character without explicitly wearing their costume. This can involve matching colors, similar aesthetics, or retro-inspired fits based on popular icons
Kidcore: Considered a type of fashion aesthetic, this clothing style is all about nostalgia, playfulness, and bright colors. It's basically a hodgepodge of rainbow patterns and overalls
Mickey Mouse paraphernalia: This includes Mickey ears, t-shirts, bags, dresses, and anything that depicts this lovable mouse
Denim shorts and a tee: Summer is the peak season for Disney. If you want to survive the Orlando heat, it's best to don a breathable pair of shorts and a casual shirt. Believe me, most tourists opt for this classic combo in 30-degree humidity
How to Choose The Best Disney World Outfits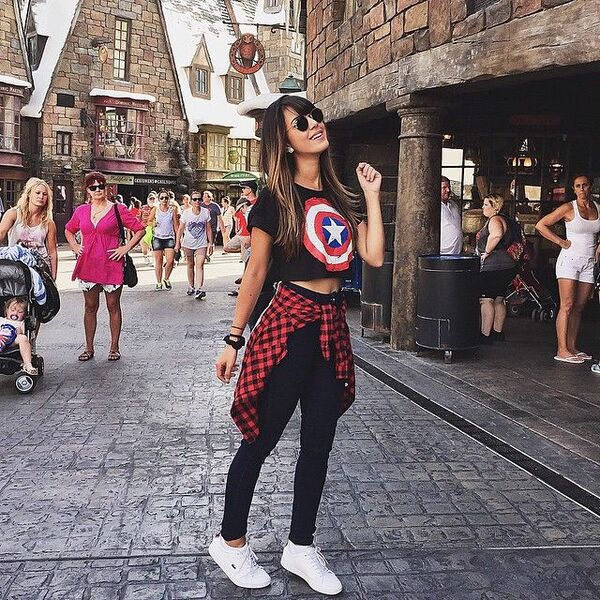 Like regular clothing, Disney World outfits should be practical and stylish. A majority of tourists stay for hours on end, and they're typically surrounded by trendsetters and Disneybounders.
You don't want to look like a casual dresser, nor is it desirable to wear a stiff Instagram ensemble when walking around. With that in mind, what are some things to look for when it comes to clothes shopping? In our opinion, it's all about price, quality, material, and comfort.
Before you enter Cinderella's kingdom, it's important to consider the current season. Summer requires breathable fabrics, such as cotton, linen, and silk. Insulated clothing, like jeans and coats, should probably be left at home.
If you're visiting in winter or fall, you can definitely get away with textiles like denim and wool. Regardless, all outfits should offer a decent level of comfort and flexibility, no matter the season. Remember, Disney World is a full-day activity, not an hour-long excursion. 
You don't have to spend an excessive amount of money on a Disney OOTD. Unless you plan on wearing something extravagant for an Instagram shoot, it's best to keep the budget below $300. We highly recommend thrifting your clothes if you're Disneybounding, as you'll mitigate any risks of outfit clashing.
How to Style Disney World Outfits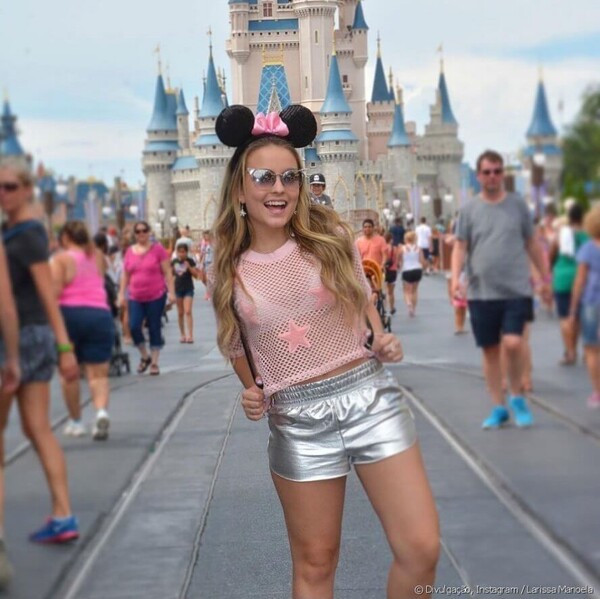 So, have you finally figured out what to wear to Disney World? If so, it's time to Bibbity Bobbity Boo your final fit. Consider us your magical fairy godmother, as we'll feature some common ways to style Disney World outfits:
Mickey Mouse ears: Considered a must-have accessory for Disneybounders, no outfit is complete without a set of Mickey Mouse ears. We highly recommend ordering a pair off of Etsy to help out your local vendors
Character-specific jewelry: This can include Rapunzel's tiara or Jasmine's hoop earrings. It's an easy way to transform a casual outfit into a Disney-themed ensemble.
Have fun with colors: Disney is full of bright colors and fun patterns. Naturally, you'll want to cop the same kind of vibe
Bring a hat: It doesn't matter if your character doesn't wear a hat. That scorching Orlando sun doesn't take too kindly to unprepared tourists. With that in mind, it's best to don a chapeau to prevent heatstroke
Fashion Tips to Avoid With Disney World Outfits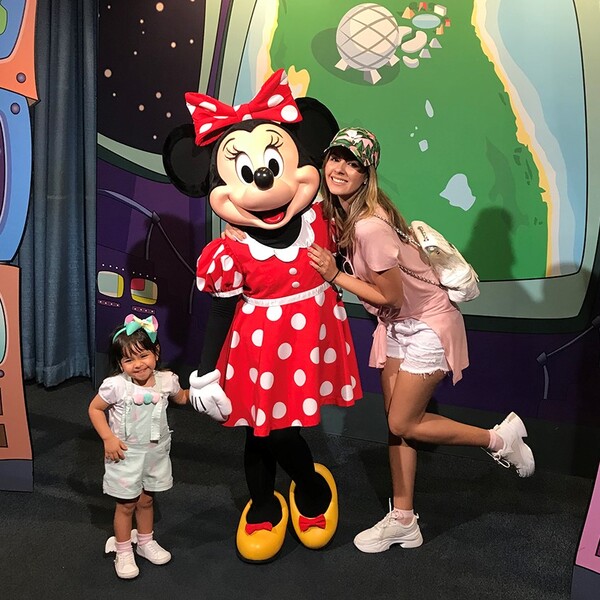 As previously mentioned, Disney implements a strict dress code. Aside from character costumes, there are some styling no-no's to consider if you're visiting for the day. To prevent unwanted stares and polite escorts, here are some fashion tips to avoid with Disney World outfits. 
Character customers: As we said before, you cannot wear costumes to Disneyworld. This prevents any kids from mistaking you as a cast member. With that being said, Disneybounding is fair game 
Super sexy Disneybounding. Come on, guys. Disney is full of little kids. You don't want to confuse or scare them by wearing something super revealing. Plus, it might warrant a distasteful look from nearby parents 
Drab outfits: This isn't the time to fashion minimalism or hardcore-grunge. Disney posits a unique opportunity for trendsetters to have fun with color 
Uncomfortable shoes: Stilettos, chunky platforms, and ballet flats shouldn't be worn at Disneyworld. Trust me, your feet will thank you later 
Best Places to Buy Disney World Outfits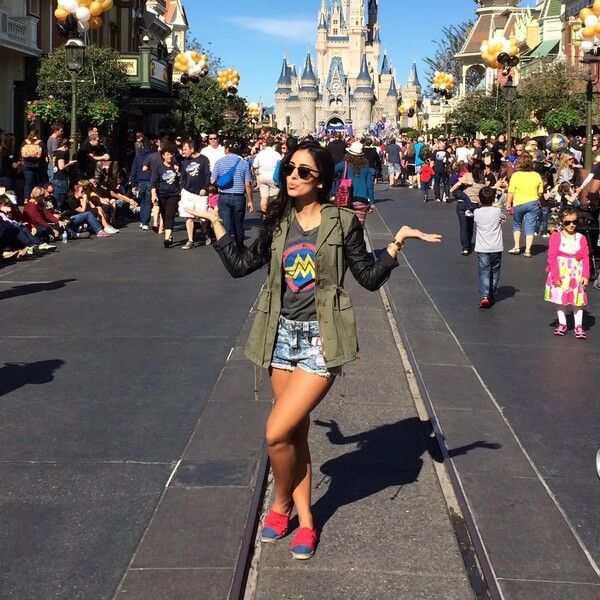 Congrats! You finally figured out what to wear in Disney World. For those in need of store recommendations, we'll spotlight a few retailers for tourists to check out: 
Urban Outfitters
ASOS
Selkie
Lazy Oaf
Etsy
Nordstrom
Value Village
Final Thoughts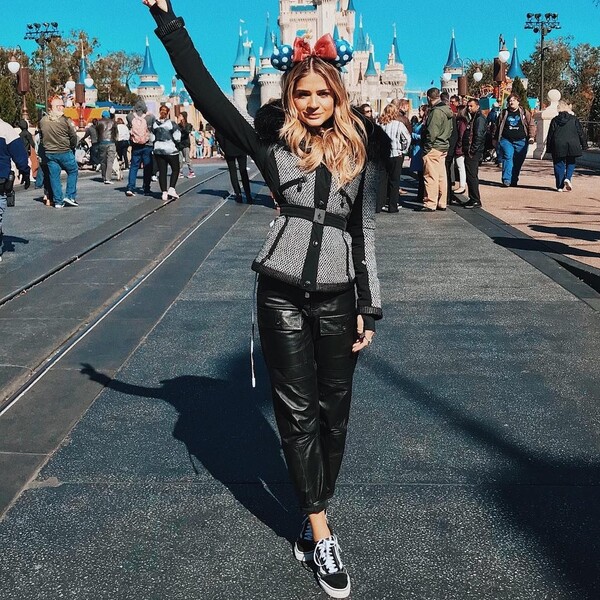 Here's a groundbreaking realization: Disney characters are style icons. They're experts in color coordination, accessory building, and outfit layering. It's probably the reason why thousands of fans covet their aesthetic, as it stands out from regular, everyday clothing.
From Esmerelda's white blouse and purple skirt look to Milo Thatch's approach to light academia, we've been instilled with fashion knowledge ever since we were kids.
Hopefully, by the end of this article, you're one step closer to figuring out what to wear to Disney World. All in all, you should have fun with your final fit. Take this as a sign, and let your imagination roam.
---
In the mood to broaden your fashion horizons? Check out some of our other articles:
What To Wear To A Baseball Game
Get Access to Exclusive Deals
Subscribe for free to get exclusive deals in your inbox. 100% privacy