12 Best White Suits For Men
Every man needs to have a suit on hand for any fancy event that calls for it. There's a good chance that when you walk through the venue doors, there'll be a sea of simple black suits.
Instead of being like the rest, however, you can choose to stand out by shopping for white suits for men.
The white suit offers a clean and crisp look and won't leave you appearing dull or in the shadows. It's also a great choice for formal activities scheduled in the warmer summer months since the bright white will complement the vibe of the season.
What Makes A Good White Suit For Men?
How do you find the best white suits for men? Pay attention to the overall quality of the set. You'll want to shop for suits made from high-quality wool, cashmere, cotton, or linen.
Of course, white is a risky color to wear since you'll be able to easily spot any stains, wrinkles, or tears. If your suit is made of good material, however, this will lessen the chance that it'll easily wrinkle or look overly worn. You'll want the suit to stay looking as crisp and clean as the white material after all.
Finding The Best White Suits For Men
When you're searching for the best white suits for men, there are many options to choose from. So you'll want to narrow down the search. To do so, choose a reputable brand and comfortable fit.
When you think of men's formalwear there are a few companies that automatically come to mind. Moores, Hugo Boss, Brooks Brothers, and Harry Rosen are at the top of the charts for releasing the best and most reliable suit designs for men.
Any white suit from those accessible and relatively affordable retailers will be a high-quality, trendy piece of formalwear.
Once you buy the suit, it will most likely need to be tailored to your body. So, always take the time to get the suit adjusted to your body type. Then, the pants and jacket will look like they were made for you.
The 12 Best White Suits For Men
You may think that you're just looking for a white suit and it can't be that hard, but it might not be as straightforward as you think. There are a variety of looks and styles to choose from.
For instance, you'll have to choose between different shades of white and the suits might have other features such as a funky pattern on the inside of the jacket. So there are a few details that might separate your favorite suit from the rest.
Below, I've rounded up 12 of the best suits for men. Hopefully, this list will help make your shopping decisions much easier.
#1: D4.0 single-breasted linen suit - White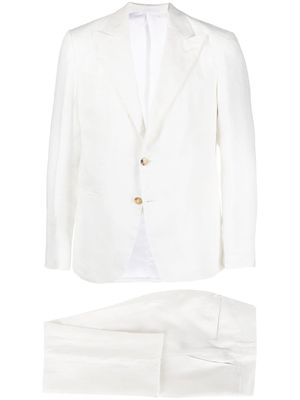 ---
#2: Moustache shawl lapel suit set - White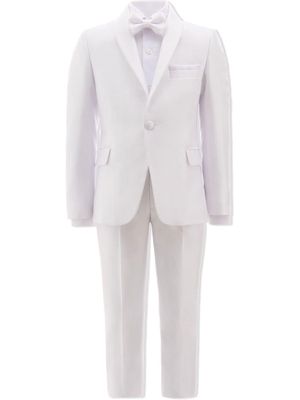 ---
#3: ASOS DESIGN wedding slim suit jacket in white pin stripe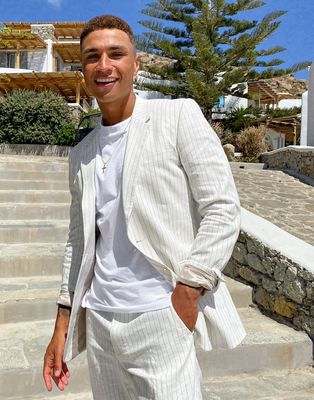 ---
#4: Tagliatore double-breasted suit jacket - White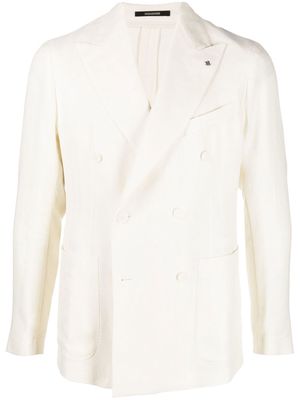 ---
#5: Ambush Virgin Wool Suit Jacket in White/Asparagus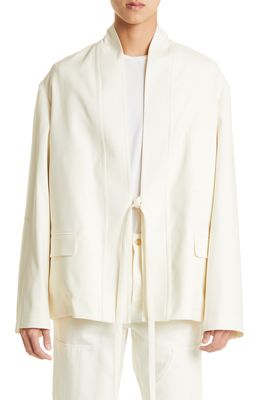 ---
#6: ASOS DESIGN slim suit jacket in white high shine shimmer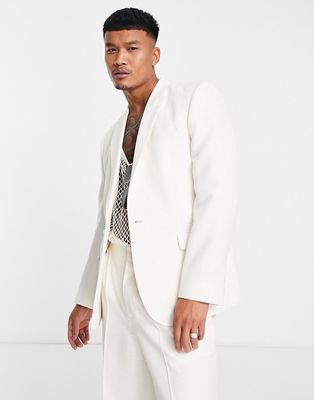 ---
#7: TOM FORD single-breasted two-piece suit - White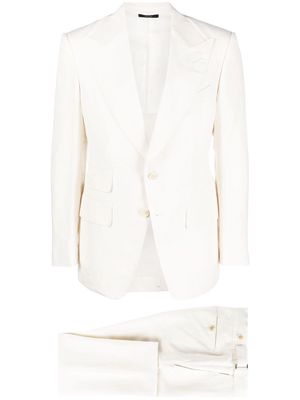 ---
#8: Brunello Cucinelli double-breasted two-piece suit - White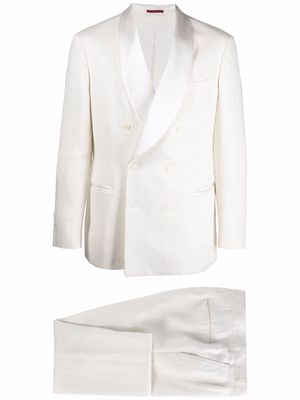 ---
#9: Gianni Feraud wedding slim fit double breasted wool mix plaid suit jacket-White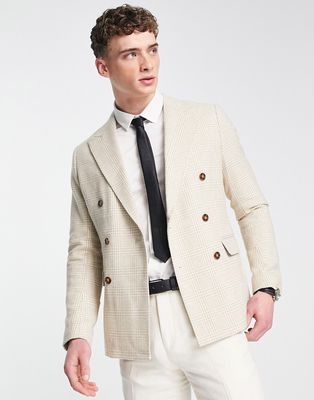 ---
#10: Caruso double-breasted linen suit - White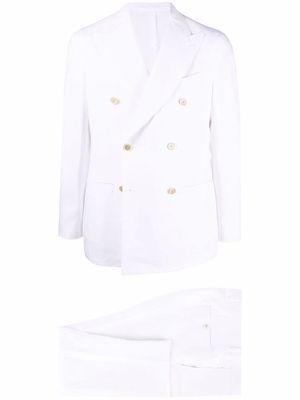 ---
#11: Tagliatore peak-lapels two-piece single-breasted suit - White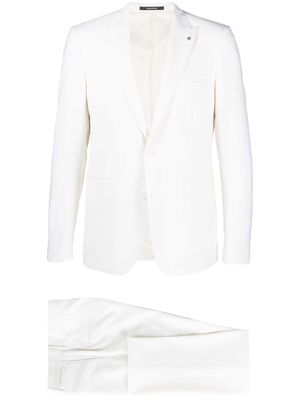 ---
#12: Eleventy peak-lapels two-piece double-breasted suit - White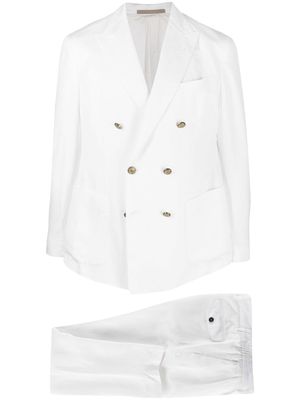 ---
What Are The Most Popular White Suits For Men?
If you're looking online, the Indochino Kentford Wool Silk Ivory Suit will be popping up on your screen. The lightweight suit was meant for extravagant summer events.
This company lets you buy the suit in one purchase for a fair cost. You can also customize it online to add your own personal touch by choosing details like the lining or buttons.
This classic tuxedo design is a popular choice for men who prefer a classic, elegant look. The Dolce & Gabbana Double-Breasted Stretch Wool Tuxedo Suit is a pricier choice but paying for the everlasting quality and timeless design is worth it.
Inspired by the '70s iconic styles, but still trendy to this day, it will stick around for many fashion decades to come.
How To Clean White Suits For Men
Taking care of your suit after every wear is crucial. Keep in mind that a suit can't be thrown into a washing machine, so cleaning it will require some extra time and patience.
If you're unlucky and end up with a stain on the fabric then treat it as quickly as possible by dabbing it with a damp cloth. Hang up your suit in a dry place to let it breathe and to air out any odors.
If you want to thoroughly wash it, sending it to the dry cleaners will ensure a professional, proper clean.
Can Men Wear White Suits Year-Round?
You can break out your white suit for any formal event or a classy night out any day of the year. But, the white suit pairs well with the spring and summer seasons.
The light shade won't attract the sun's rays so it's a prime pick if you're looking to avoid feeling overheated, sticky, or sweaty.
How To Style White Suits For Men
A white suit is a great canvas against a playful print. Here the printed shirt pops out against the white suit but doesn't overpower the entire look.
White linen suits are a go-to choice for men's beach wedding attire. This white suit has a slightly casual, less formal look which matches the more laidback, easygoing vibe of the event.
Rely on your accessories to add a pop of color when wearing a monochromatic, white suit. The matching brown belt and shoes nicely contrast against the white outfit.
These accessories complement the white-on-white look and also break it up at the same time.
---
Looking to up your fashion game? We've got you covered:
Get Access to Exclusive Deals
Subscribe for free to get exclusive deals in your inbox. 100% privacy