3 Airport Outfit Ideas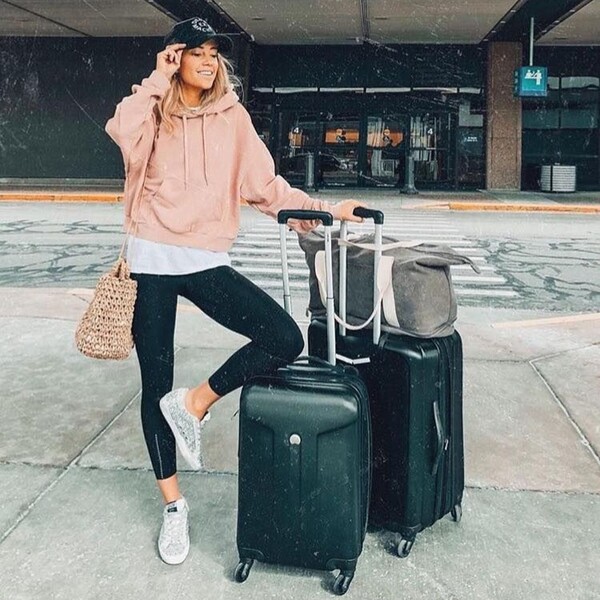 Hollywood's take on first–class flying is usually depicted through sparkling champagne and Frank Sinatra's 1958 classic, "Come Fly With Me," playing in the background.
In actuality, travel is usually stripped of its elegant facade. Considering that most of us can't afford that $1,000 ticket upgrade, we substitute caviar for regular peanuts.
That said, this shouldn't deter you from at least dressing the part.
Fashion can do wonders by disguising which class you're in. While it's easy to don sweats for hour-long flights, I recommend that you step up your OOTD game.
With that in mind, you're probably in dire need of some airport outfit ideas. No need to fear! I've lined up a few notable ensembles to help you look like an elite jet setter.
This airport outfit ideas style guide may or may not include fits such as:
A comfy airport outfit
A long flight airport outfit
A TSA- friendly airport outfit
What Makes Up An Airport Outfit?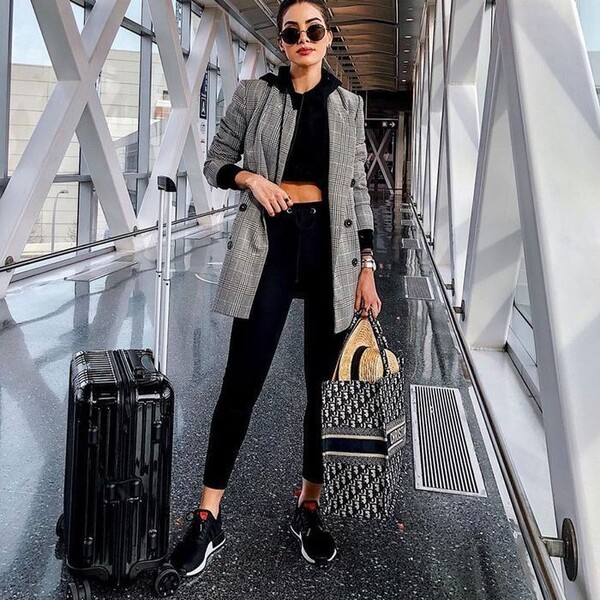 The quintessential airport outfit is casual at best. Most travelers prefer joggers, hoodies, and slides to help them get through their flight. Plus, it's considered a hassle-free OOTD for the TSA.
For those prepping for a business trip, fancier garments such as blazers and pantsuits are often worn. It's worth noting that these ensembles are typically reserved for short flights only.
If you're in need of some airport outfit ideas, you have two options to choose from—business or casual. Both dress senses can be interpreted differently, depending on your taste in fashion. 
What Are Some Popular Airport Outfit Ideas?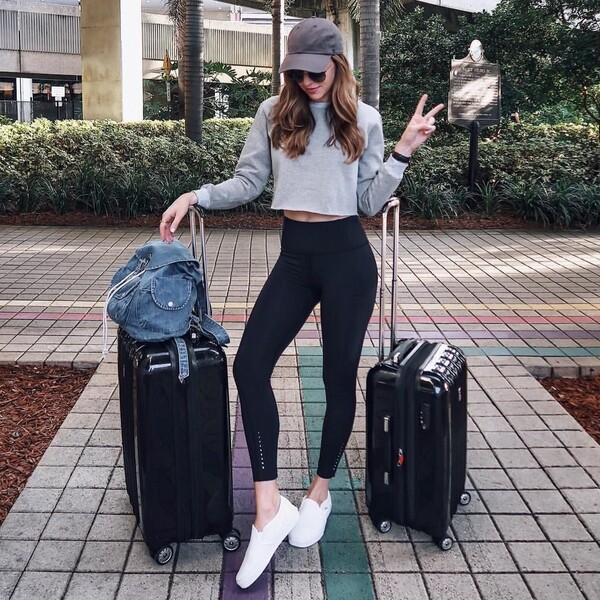 In your round-up of airport outfit ideas, most ensembles should strike an even balance between comfy and composed. You can rest assured that this short list achieves both.
From Y2K-inspired OOTDs to summer boho, I'll provide a few airport outfit ideas that are worth a gander.
3 Airport Outfit Ideas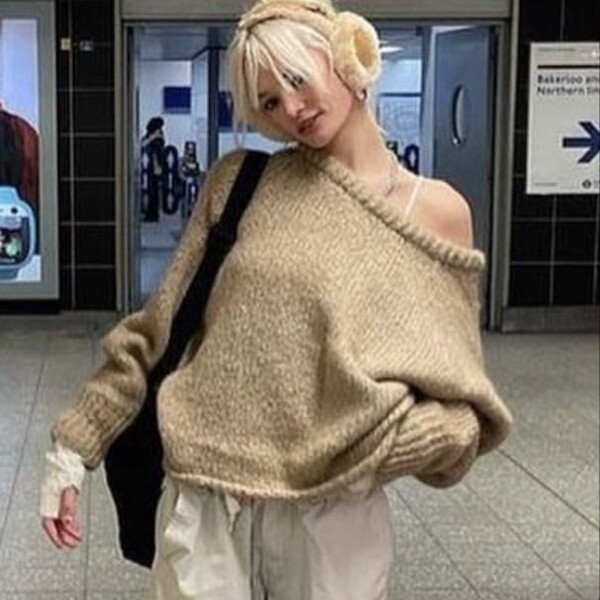 Comfy, casual, and perfect for post-flight Instagram shoots, this OOTD features a cream sweater, white cargo pants, and a black carry-on bag for some contrast. It's relatively baggy in fit, which is recommended for long flights. 
The Nike Air Force 1s are considered hassle–free shoes, and they're highly suggested to help speed up the line at the TSA.
I'll admit that the earmuffs are a bit much, but airplanes are known to get pretty cold. Topped off with a messy bun, you should definitely consider this look in this airport outfit ideas list.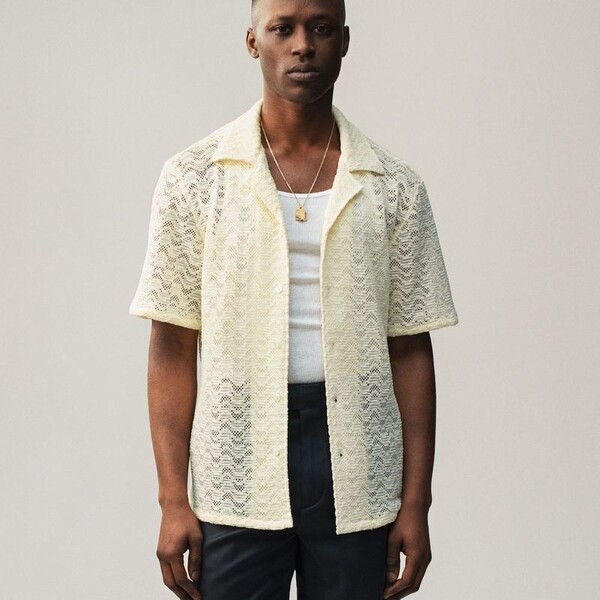 It seems counterintuitive to arrive in the Bahamas wearing sweatpants and a hoodie.
If you prefer a more festive ensemble, I suggest this airport outfit ideas contender. Composed of a mesh button-up shirt, a simple white tank top, and a pair of black shorts, this look practically screams 'goodbye 9 to 5 and hello vacation.'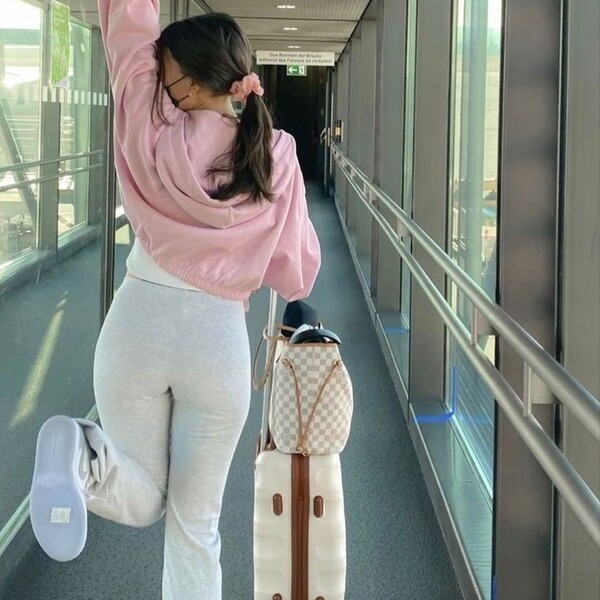 Prepping for a long flight? In that case, it's probably best to don your most comfortable set of clothes instead. This 'airport outfit ideas' contender is comprised of a cropped pink hoodie, gray sweatpants, and a pair of Nike sneakers.
Complemented with a Louis Vuitton carry-on bag, it exudes the right amount of sophistication without resorting to head-to-toe designer. 
Fashion Tips To Avoid With Airport Outfits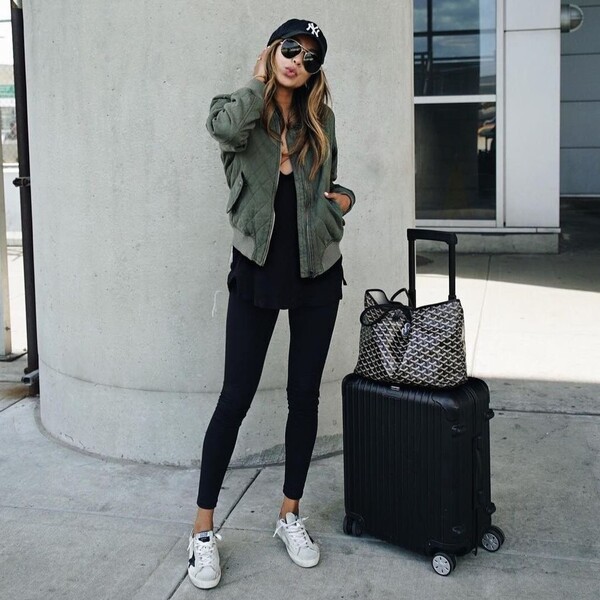 TSA isn't known for its happy-go-lucky attitude. If you're not keen on getting angry stares from officers and fellow travelers, it's best to stay away from some airport outfit ideas.
Don't worry—I'll provide a brief overview of things to avoid up next.
Maximalism: The best airport outfit ideas have some degree of simplicity. Wearing extra layers and embellishments is not advised—especially when heading into TSA.
Metal jewelry: I don't recommend donning stacked necklaces, rings, and bracelets during your hour-long flight. Not only are they heavy, but most security checks require you to strip down.
High heels: It doesn't matter if you're on a business trip. Flats are better than heels when it comes to long flights.
Best Places To Buy Airport Outfits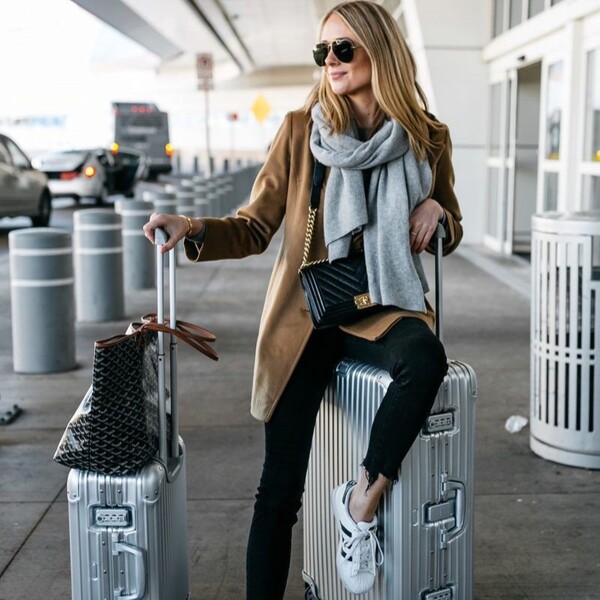 In need of a cute airport outfit? If so, here are some shops I recommend checking out:
Reformation 
Oak + Fort 
Set Active 
Everlane 
Final Thoughts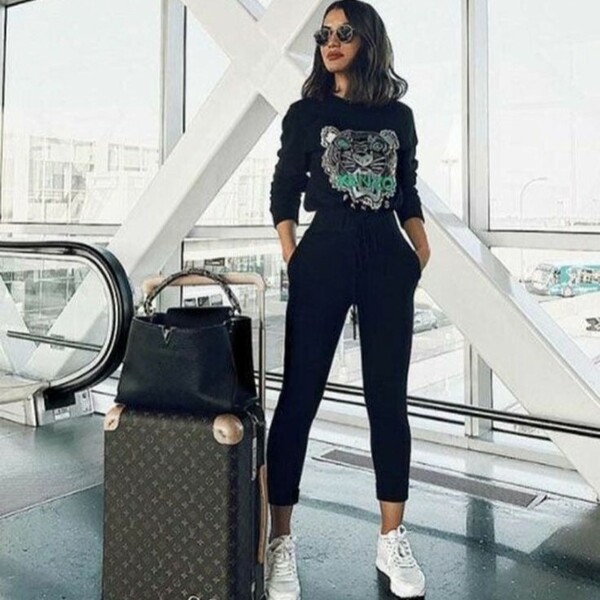 At the end of the day, you shouldn't concern yourself with outfit coordination on the day of your trip. Airports, after all, are not catwalks.
Nobody is going to judge you unless you're dressed in unnecessary layers at TSA. As a general rule of thumb, stick to simplicity. Putting together a casual, comfortable, and chic outfit should be a top priority.
---
Looking for more outfit ideas? We've got you covered:
Get Access to Exclusive Deals
Subscribe for free to get exclusive deals in your inbox. 100% privacy