30 Best Blessed Tattoo Ideas
About Blessed Tattoos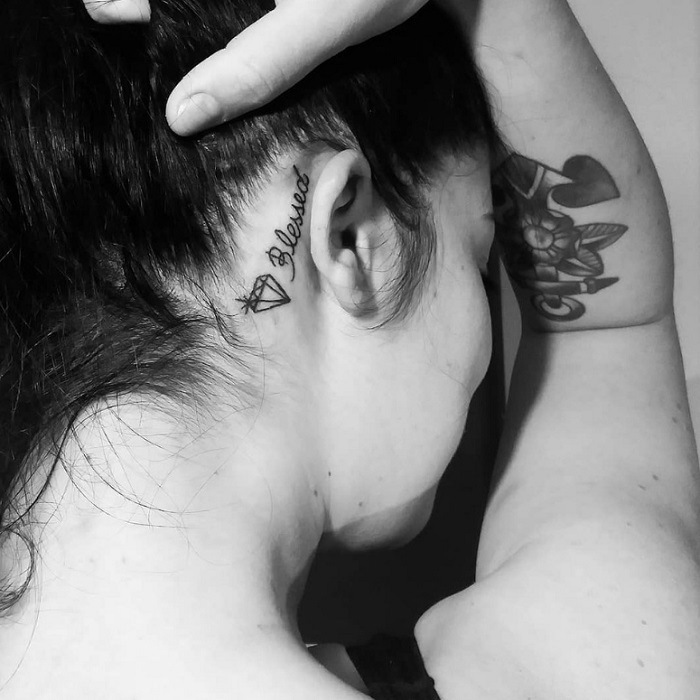 What are you most grateful for? The fact that you are reading this article means you are blessed in one way or another. Sometimes we can focus too much on the negatives in life and we forget to pay attention to the things we already have that bring us joy.
Blessed tattoos are a permanent reminder to be thankful for what we have achieved and overcome thus far in life. Together, we'll explore Blessed tattoo ideas, design options, and also check out some celebrities who have this kind of tattoo.
What Does Blessed Tattoos Mean and Symbolize?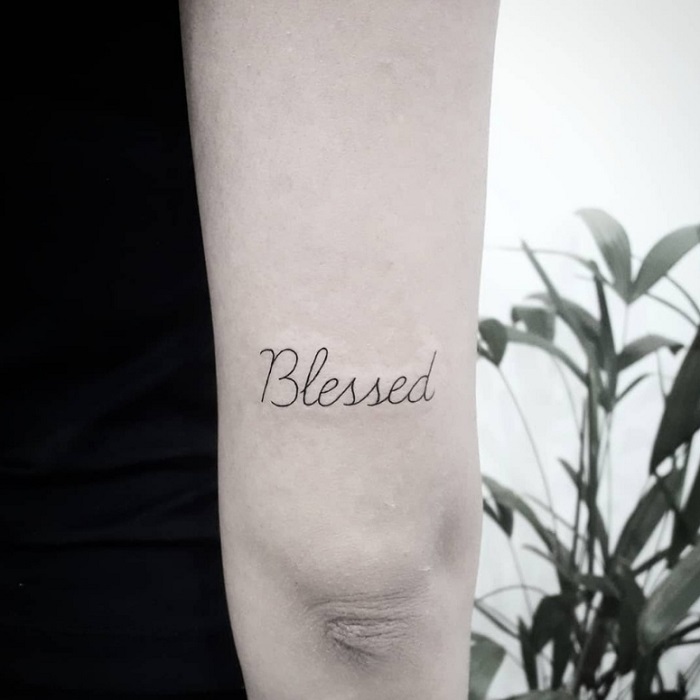 A modern blessed tattoo signifies gratitude. Many people choose to get a blessed tattoo as a reminder of everything they are grateful for — whether that be for good fortune, fame, family, friends, or our health.
There are lots of things that people can take for granted, which is why it's important to be aware of the things that we do have.
Blessed tattoos can also be inspired by religious or spiritual beliefs. Many organized religions such as Christianity, Judaism, Islam, and Hinduism believe in blessings from a higher power. A tattoo like this may therefore symbolize a person's faith.
Here are some other things that a Blessed Tattoo can represent:
Birth of a child
Surviving
Protection
Furthermore, combining a Blessed Tattoo meaning can alter with each individual. You can incorporate a graphic within your design to give the tattoo some personalization. Let's explore the different options and details for these Blessed Tattoos.
Where To get a Blessed Tattoo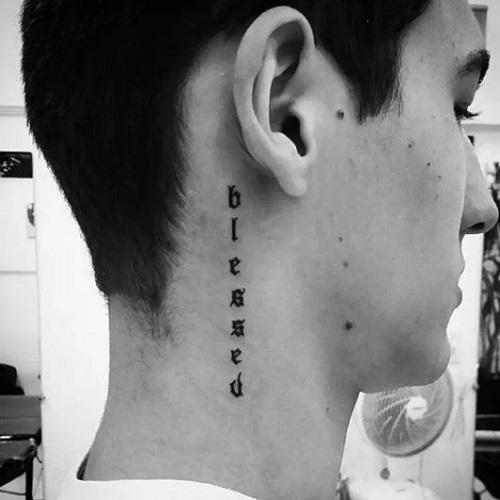 You can get a blessed tattoo anywhere on your body. Since tattoos are permanent, make sure you choose a font that speaks to you and the spelling is correct, as well as an easy-to-read word of significance.
If you want to add a special touch to your tattoo, you can write out the word by hand or have someone important in your life do it for you.
Below are some common places where people tend to get Blessed Tattoos:
Chest
Forearm
Wrist
Underneath the collarbone
Upper back
Neck
Behind the ear
Ultimately, you can choose to get a Blessed tattoo anywhere on your body. Get creative and have fun with it!
How Much Do Blessed Tattoos Cost?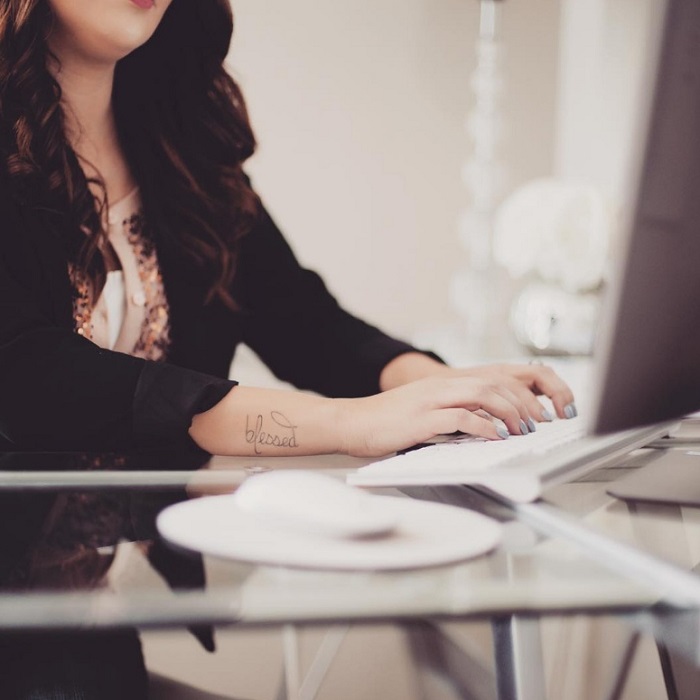 The price of a Blessed tattoo will vary depending on factors such as size, color, placement of the tattoo, complexity, and your tattoo artist's hourly rate. More experienced tattoo artists will charge more than a novice.
Typically the average small tattoo costs between $100 and $250. If you are looking to get a medium to large design, then you can expect to pay about $250-$450.
30 Best Blessed Tattoo Designs
Need some inspiration before committing to a Blessed tattoo? Don't worry, we got you. Let's take a look at some of the best Blessed Tattoo designs.
#1: Small Blessed Tattoo with Cross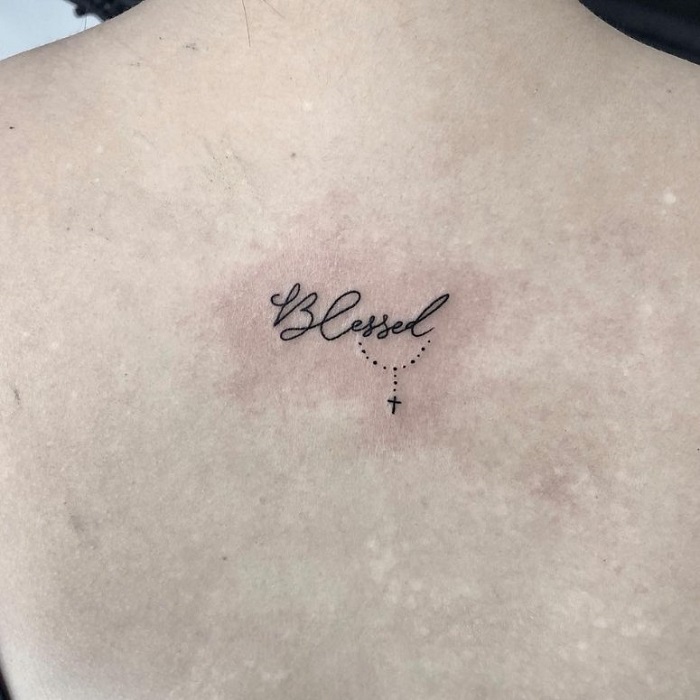 If you are new to the world of tattoos, you may want to opt for a small and delicate stamp before you go for a bigger (and more painful) design.
A tiny blessed tattoo with a cross is a subtle and modest way to pay homage to your religious beliefs without being too overpowering.
And adding a fancy cursive font will give the tattoo a feminine touch. You can also pair a charming heart with your Blessed Tattoo to further embrace your loyalty and devotion.
#2: Blessed Tattoo with Red Ink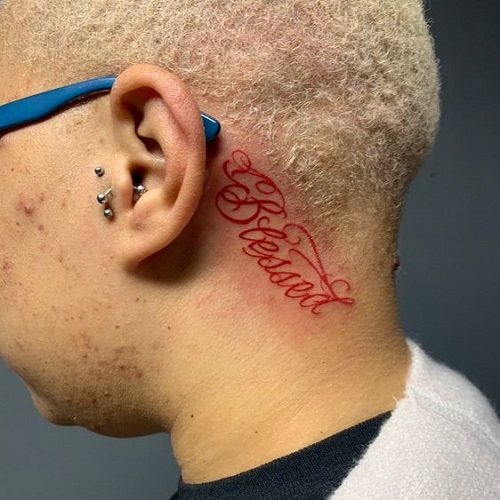 Who best to describe the color Red than Taylor Swift:
"All those emotions — spanning from intense love, intense frustration, jealousy, confusion, all of that — in my mind, all those emotions are red. You know, there's nothing in-between. There's nothing beige about any of those feelings."
Red is well-known for being an attractive color that emits confidence, power, and passion. If you want to stand out from the crowd and catch people's attention, then a Blessed Tattoo with red ink is the way to go.
Since red is also associated with love, it also pairs nicely with the statement of being blessed. This tattoo is definitely for the brave and the bold. We say go for it!
#3: Large Blessed Tattoo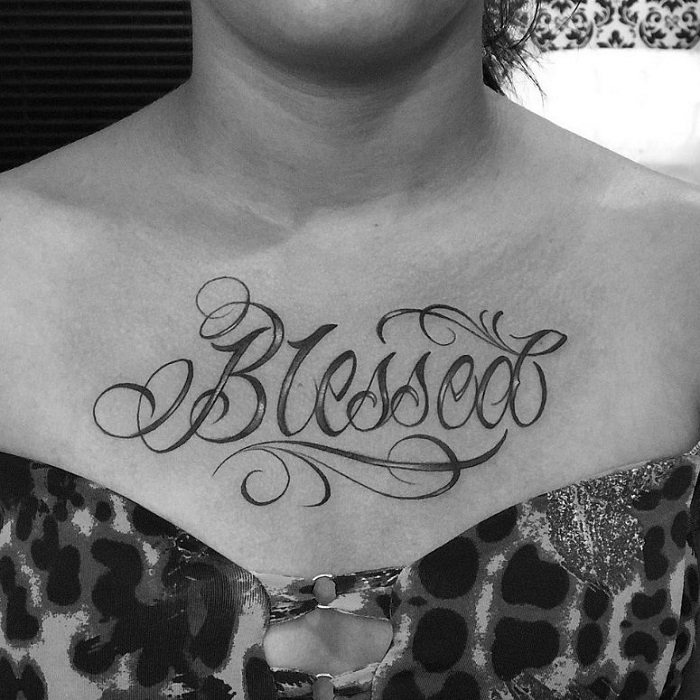 A large Blessed tattoo covering a vast area on your body, such as your chest, arm, or upper back, is a loud and proud way of showing off your appreciation for the blessings in your life.
If you are feeling especially grateful and want to share this sentiment with everyone, then going big is your best bet. As the Texan saying goes, "Go big or go home." You can scream your gratitude from the rooftops!
#4: Blessed Tattoo with a Diamond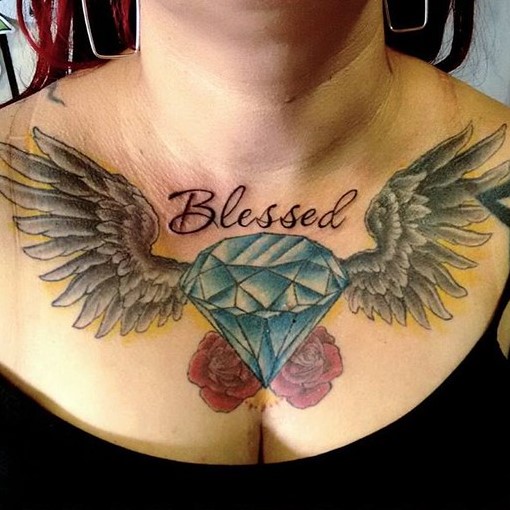 In the words of the iconic Rihanna, "Shine bright like a diamond." Because you deserve to be treated like one.
Diamonds symbolize strength and invincibility and require a lot of pressure in order to emerge. Combining your Blessed tattoo with a small diamond graphic can remind you to keep persisting.
Placing this tattoo in a subtle spot, such as behind the ear, is a humble way of recognizing your power.
#5: Blessed Tattoo with a Rose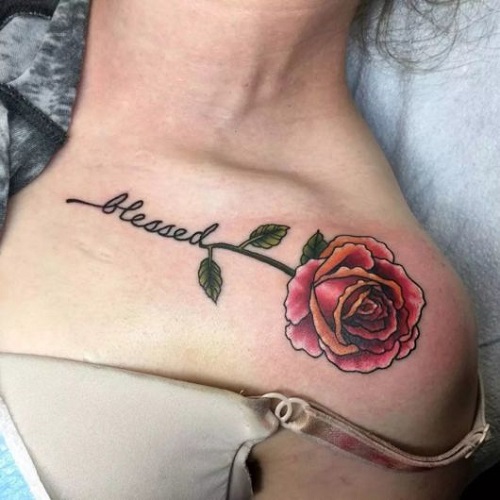 Floral designs can add an element of beauty to your Blessed tattoo. If you want to add elegance to your tattoo, then why not add a classic flower shape?
Many people choose to accompany their Blessed Tattoo with a rose, which symbolizes romance, love, and courage.
Adding this flower to your Blessed tattoo can act as a reminder to give yourself the self-compassion and self-care you deserve while being appealing to the eye.
#6: Blessed Tattoo with Lotus Flower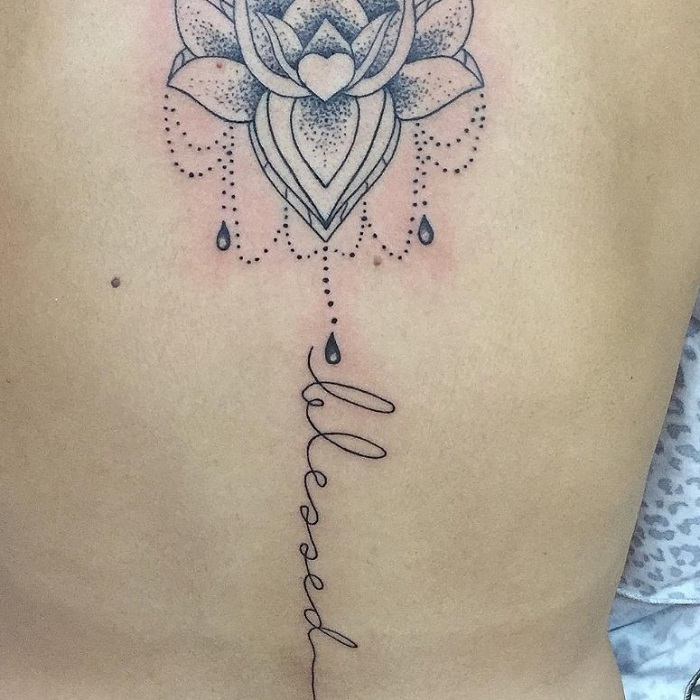 When the going gets tough, keep going. Another floral that can be seen with the Blessed tattoo is a lotus flower. Representing purity, enlightenment, rebirth, and self-regeneration, lotus flowers are symbolic to many Eastern cultures.
Pairing a lotus flower with your Blessed tattoo represents resilience and growth. This beautiful flower blossoms regardless of the conditions of its environment, and so can you!
#7: Blessed Tattoo with Rugged or Angled Design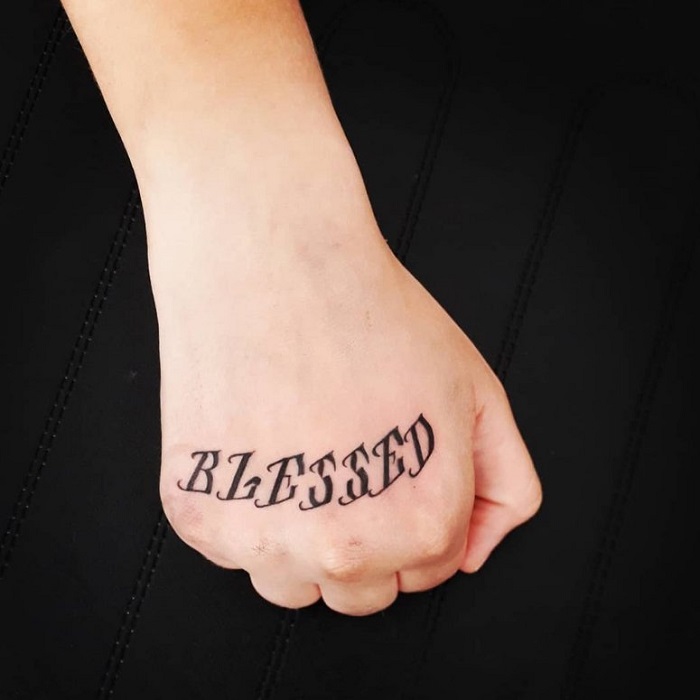 Life can present many hardships. For those who have a story to tell and want to commemorate their challenges and grit, a jagged Blessed tattoo will help you do so.
Overcoming adversity is a feat that often doesn't present itself in a straight and narrow line. Therefore, a tattoo that is a bit off-center and rough can better represent your reality.
#8: Blessed Tattoo with Angel Wing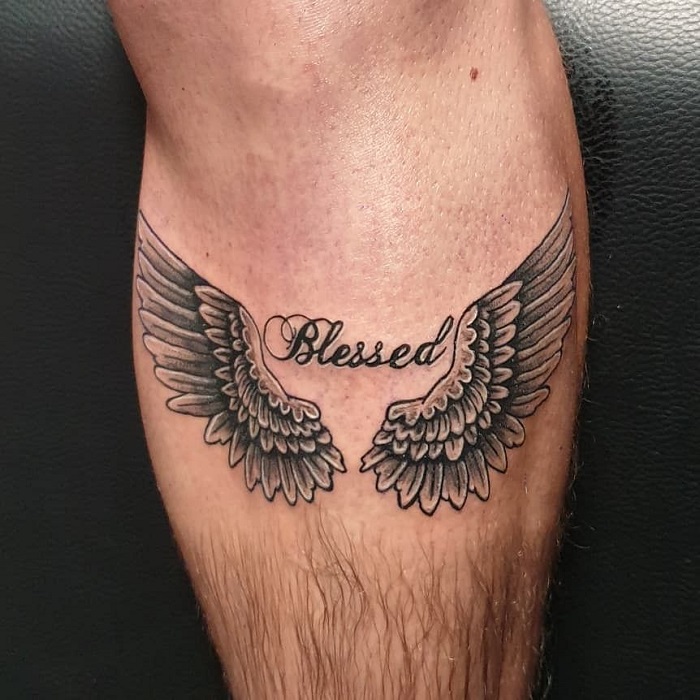 A Blessed tattoo with an angel wing can pay tribute to your guardian angel, in a literal or metaphorical sense. If someone you love has passed away, then adding an angel wing to your tattoo can be a nice way to remember that person.
This small but important detail can add significant meaning to your Blessed tattoo, allowing you to carry a small memorial of this person with you permanently.
#9: Blessed Tattoo with a Four-Leaf Clover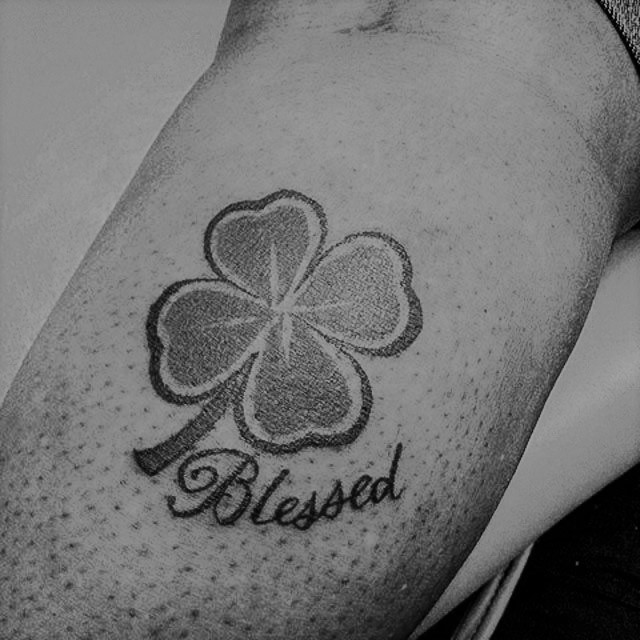 Kiss Me, I'm Irish! The luck of the Irish can be a part of your life if you play it right.
A four-leaf clover symbolizes luck, faith, hope, and love. These special plants can be found all over Ireland. If you're feeling really lucky, or perhaps want to manifest luck, then a four-leaf clover detail will be the perfect addition to your Blessed tattoo.
#10: Blessed Tattoo with a Crown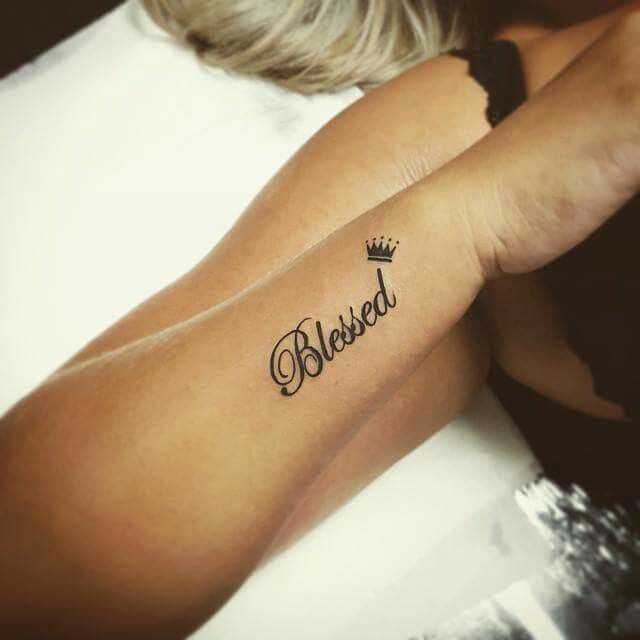 Have you overcome a difficulty you thought was impossible? You deserve to recognize your accomplishments whether big or small.
If you want to amplify your Blessed tattoo, you may consider adding a crown graphic, which represents victory and triumph. This tattoo will be the perfect reminder that you are capable of conquering anything that life throws your way.
#11: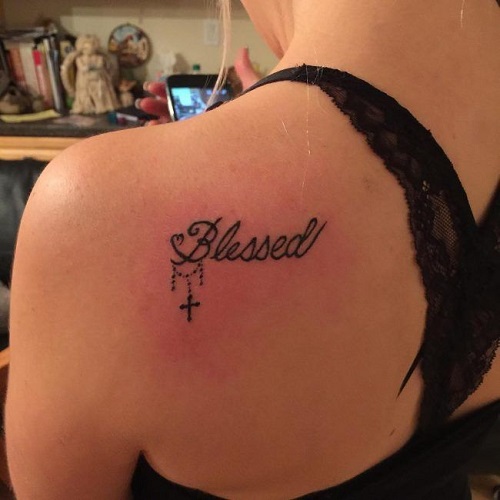 #12: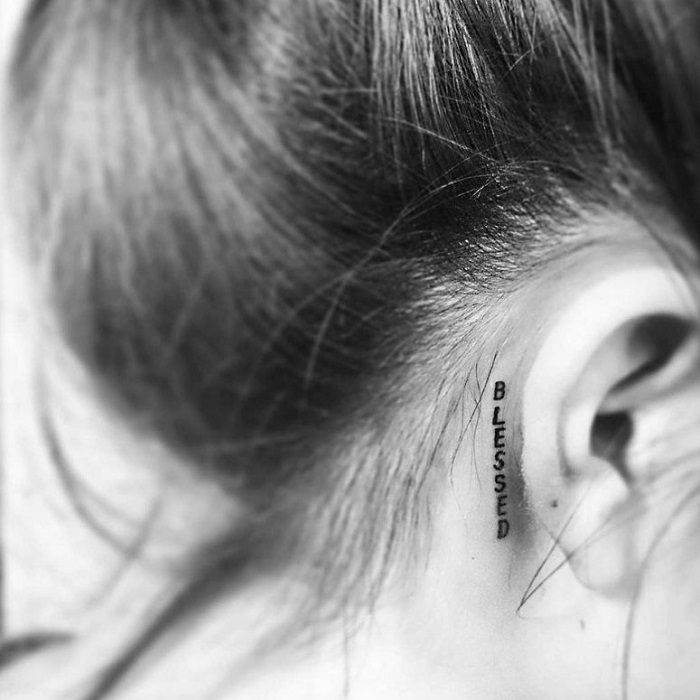 #13: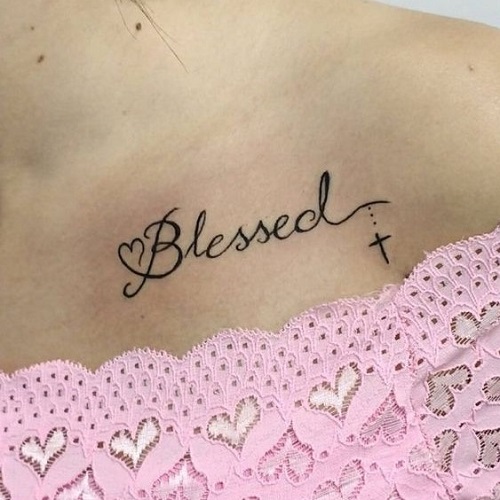 #14: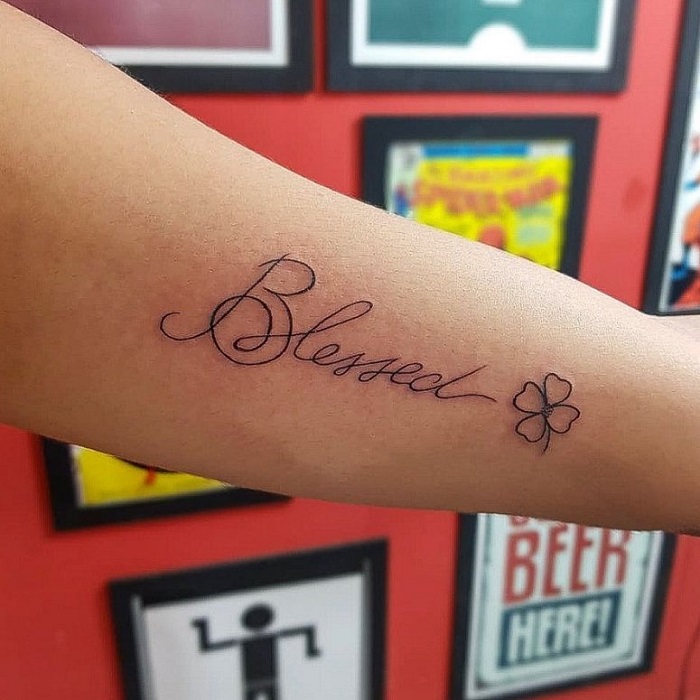 #15: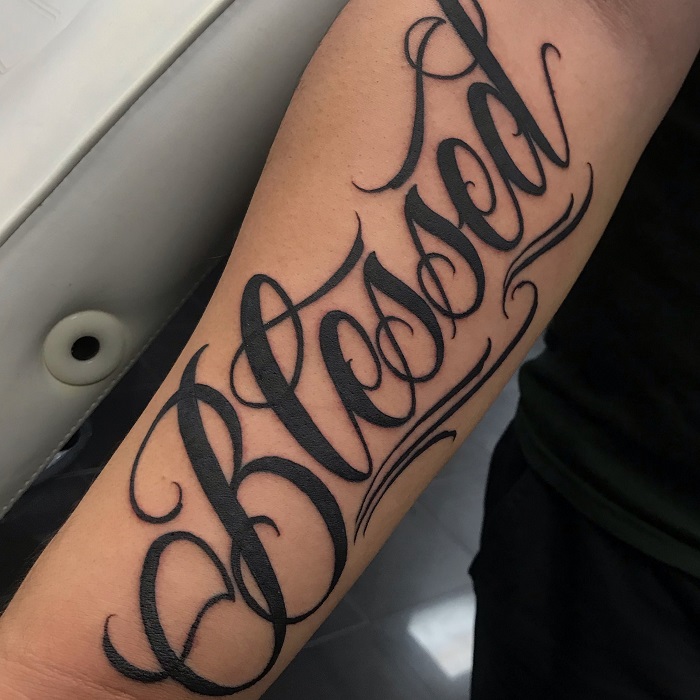 #16: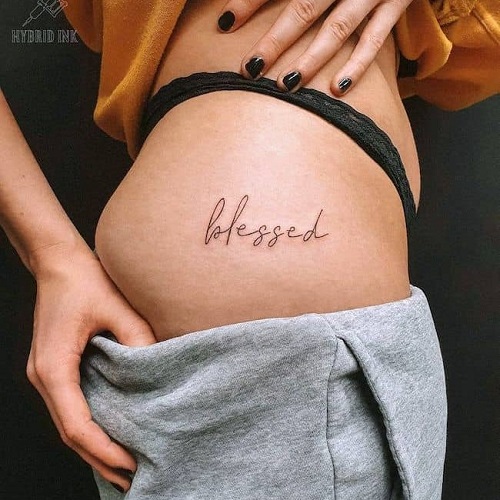 #17: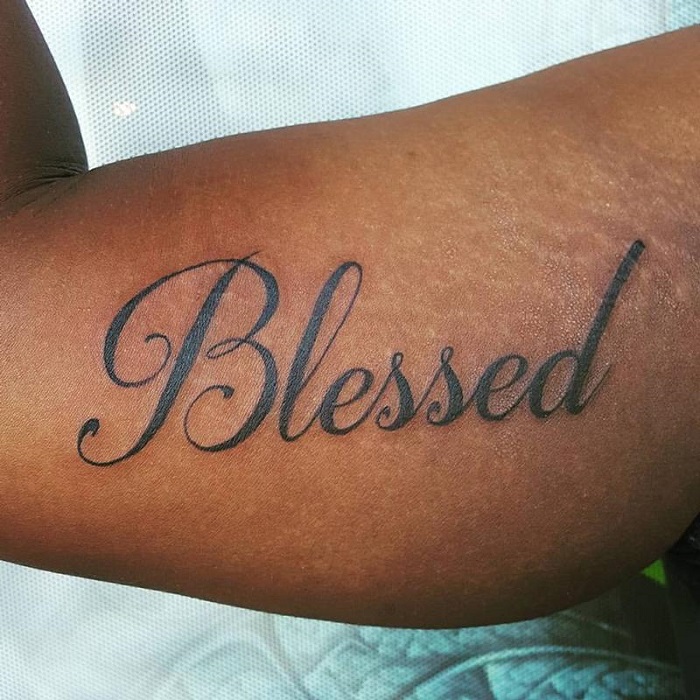 #18: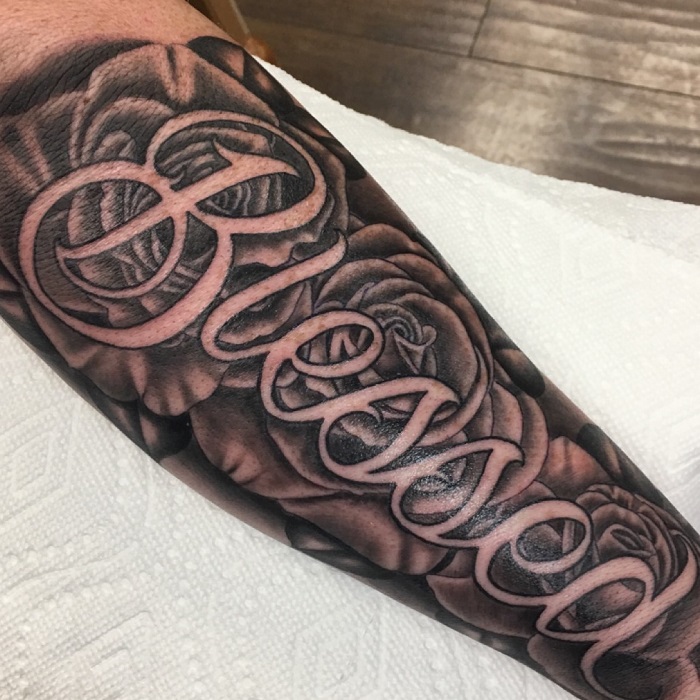 #19: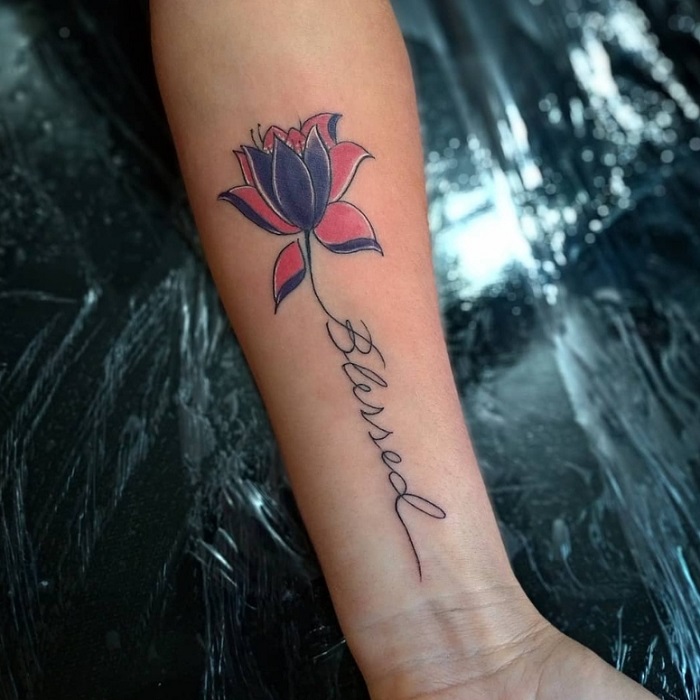 #20: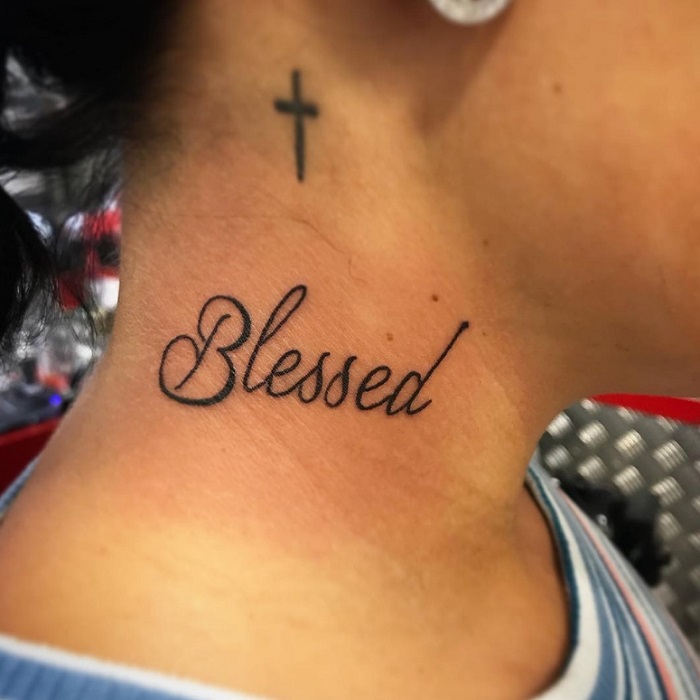 #21: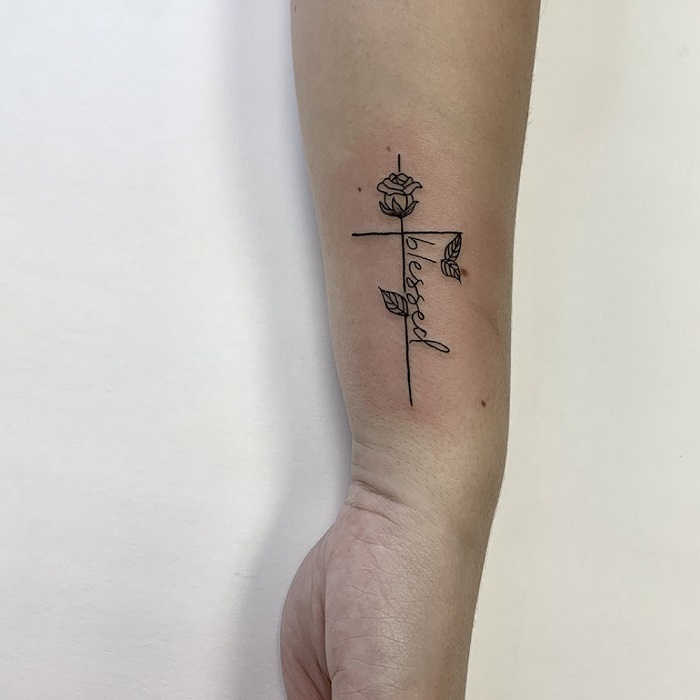 #22: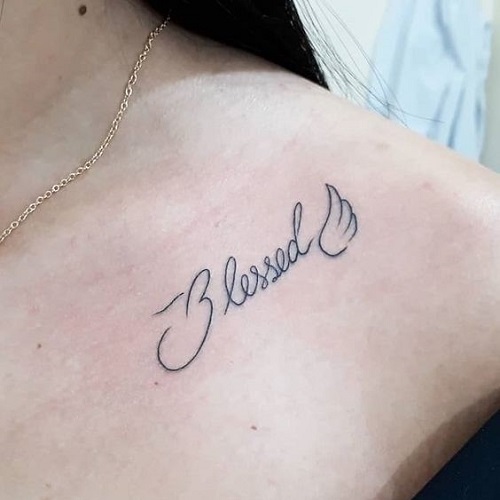 #23: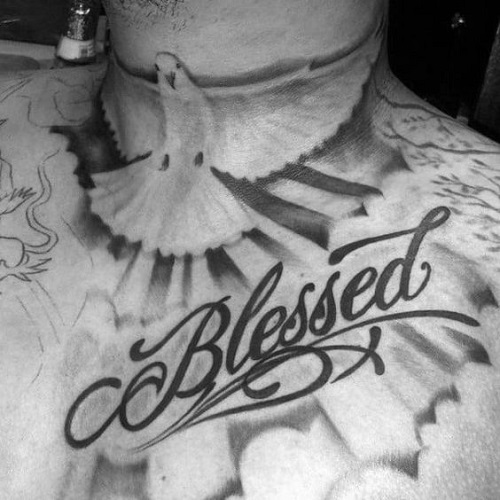 #24: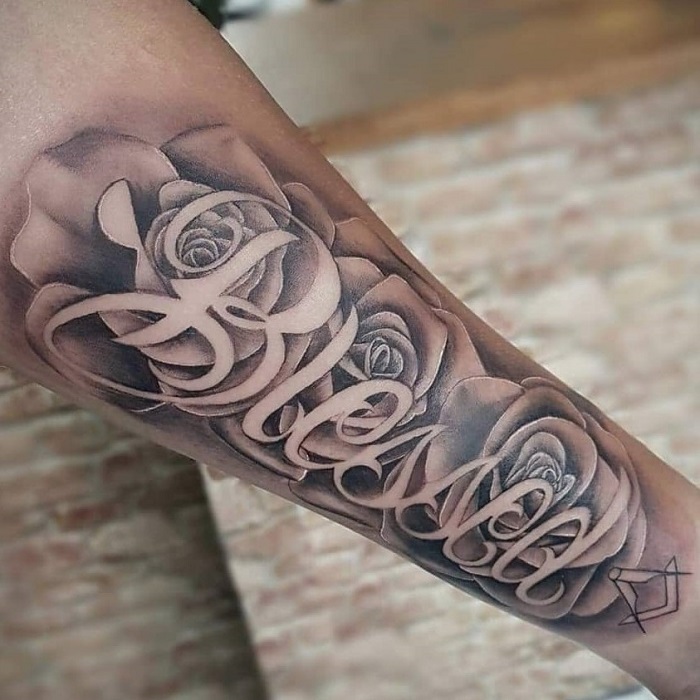 #25: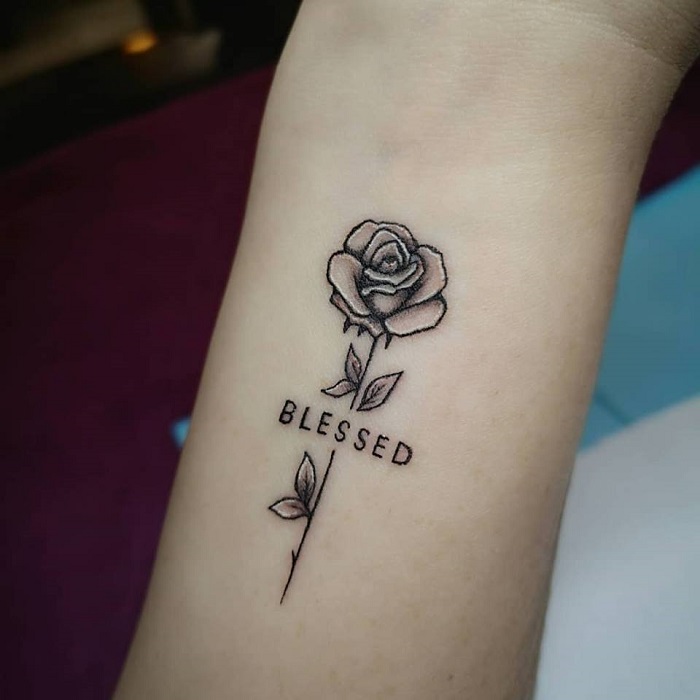 #26: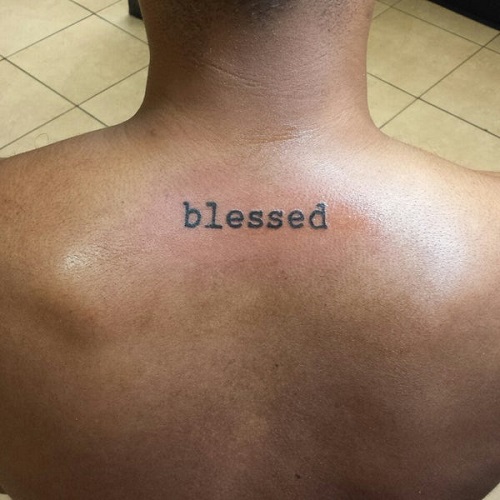 #27: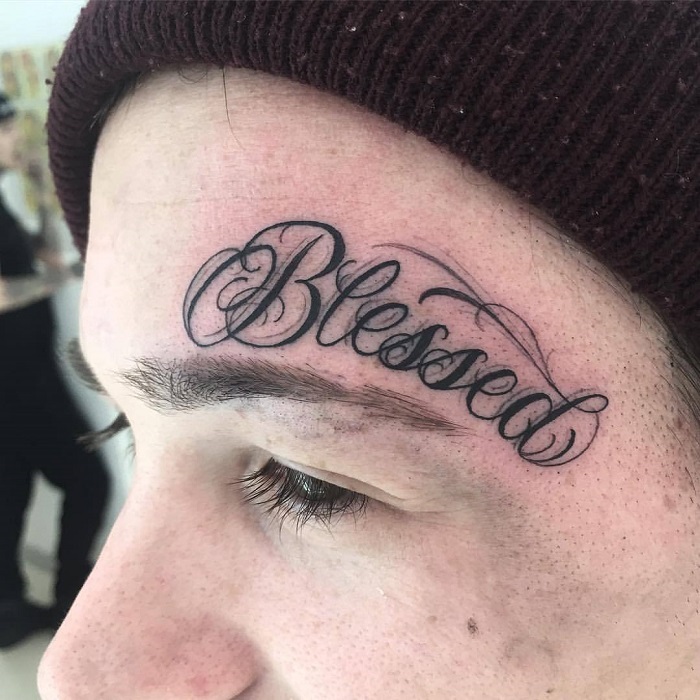 #28: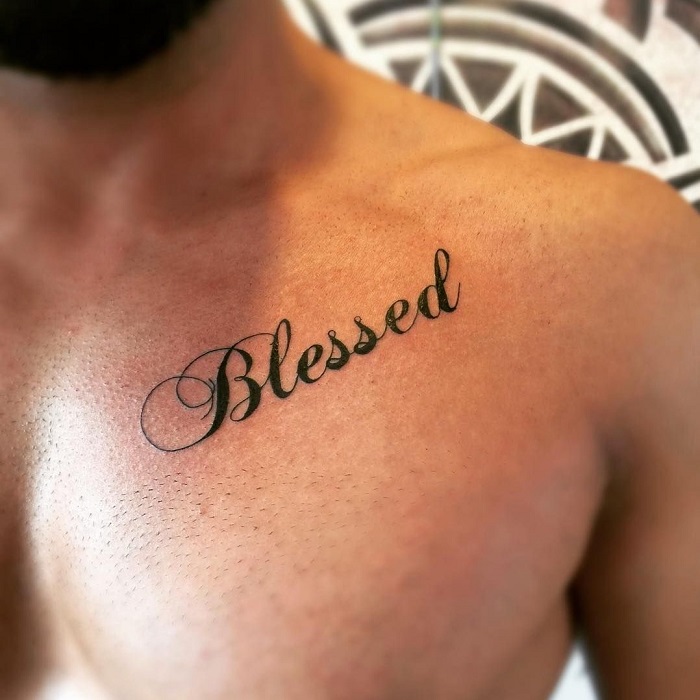 #29: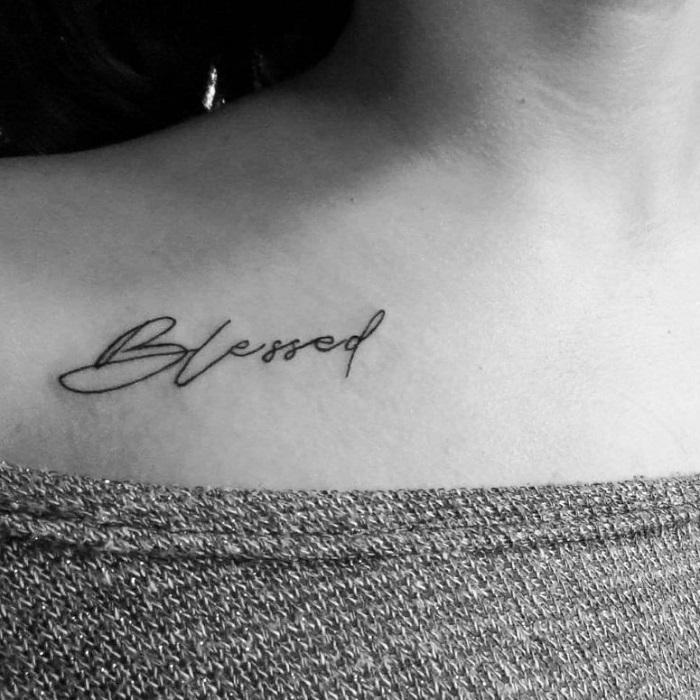 #30: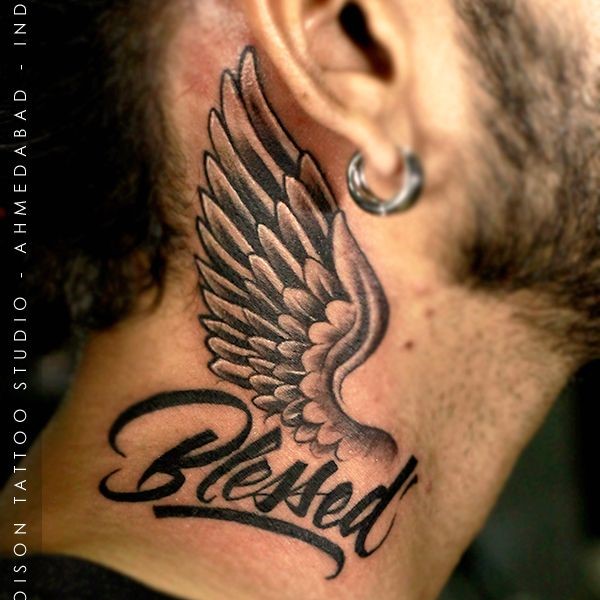 History of Blessed Tattoo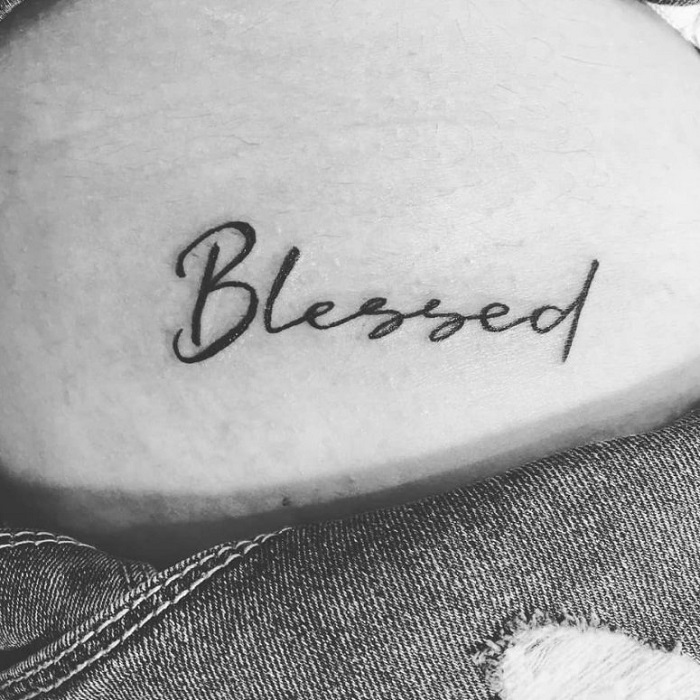 Tattoos have a long history when it comes to social identity, culture, and religion. However, getting a tattoo was seen as a sinful act to many organized religions such as Judaism, Christianity, and Islam. In Ancient Rome, tattoos were seen as barbaric and were banned for a long period.
However, some Christian sectors dating as far back as 200-800 CE used tattoos to visualize their devotion to God. Although they didn't necessarily write the word "blessed" on their forearm, they showed their dedication to God through symbols such as the cross.
Which Celebrities Have a Blessed Tattoo?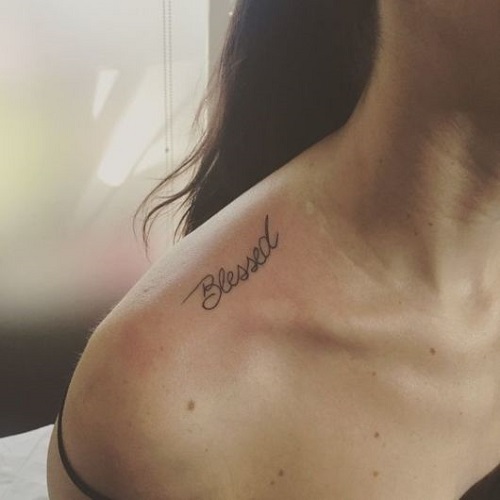 Not surprisingly, several celebrities have Blessed tattoos. One of the most obvious celebrities with this tattoo is Travis Barker from Blink-182. Barker has over 100 tattoos covering his body. However, his Blessed tattoo written in cursive underneath his eye is a fairly new addition.
Rapper Quavo, one-third of the rap group Migos, also has a Blessed tattoo on his left arm. His right arm has the word Truly on it, and together, they form the statement "Truly Blessed."
Finally, Since You've Been Gone musician Kelly Clarkson has a different take on the Blessed tattoo. On her upper back, she has the Japanese kanji symbol for blessed — sweet and subtle!
---
Looking for more inkspiration? Say no more:
30 Best Only The Strong Survive Tattoo Ideas
30 Best Laugh Now Cry Later Tattoo Ideas
Get Access to Exclusive Deals
Subscribe for free to get exclusive deals in your inbox. 100% privacy