30 Best Guitar Tattoo Ideas 
About Guitar Tattoos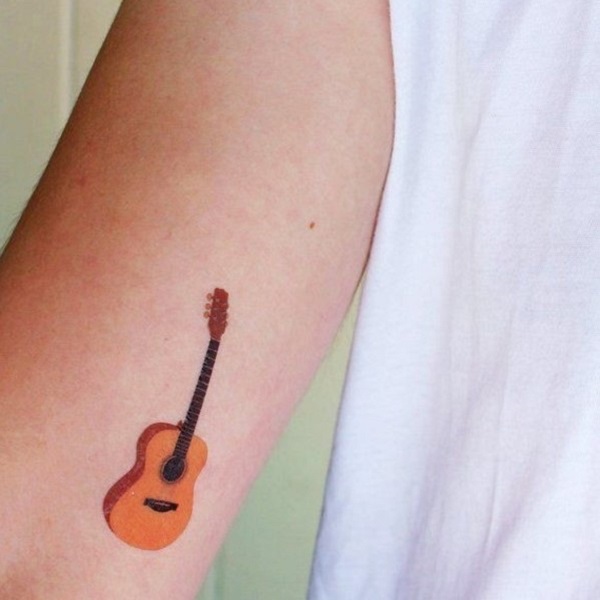 Tattoos are more than just mere images. They can symbolize many things, and each tattoo will have a deeper, more personal meaning. While some people simply want to appreciate the permanent artwork, others have deeply personal meanings attached to their tattoos.
A guitar tattoo is the tattoo of choice for many musicians (especially guitarists). But, you don't need to know how to strum the chords to get a guitar tattoo.
The guitar is also known to symbolize peace, melody, self-realization, and happiness. And a guitar tattoo can also symbolize these same things.
Different types of guitars portray different messages. Adding flowers to your guitar tattoo can elevate the design, and including lyrics can personalize the piece. Like all tattoos, guitar tattoos can truly be one-of-a-kind.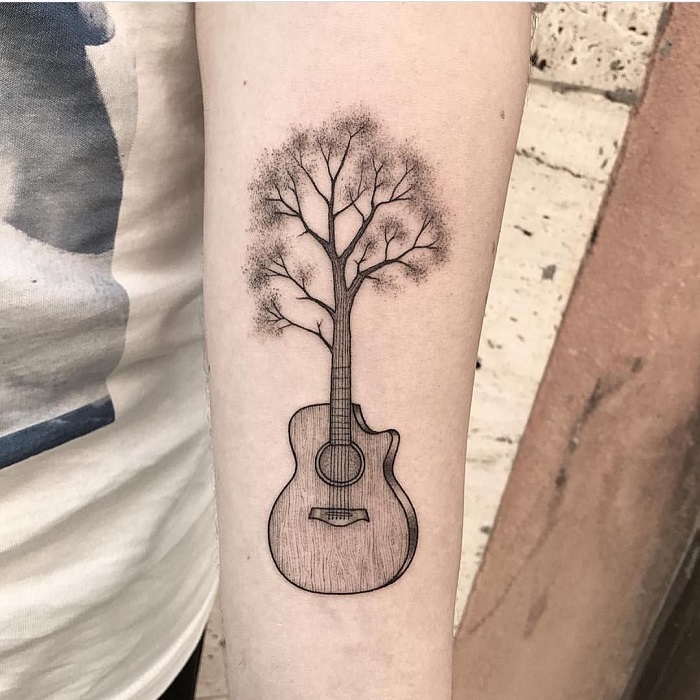 Getting a tattoo is a decision that should never be taken lightly, especially since tattoos are permanent. But don't worry, we're here to help you make the best decision possible.
So, if you're thinking about getting a guitar tattoo, stay tuned. In this article, you'll learn about the following:
Guitar tattoo meaning
Placement ideas
Prices
Guitar tattoo ideas
Guitar tattoo designs
History of the tattoo
What Do Guitar Tattoos Mean and Symbolize?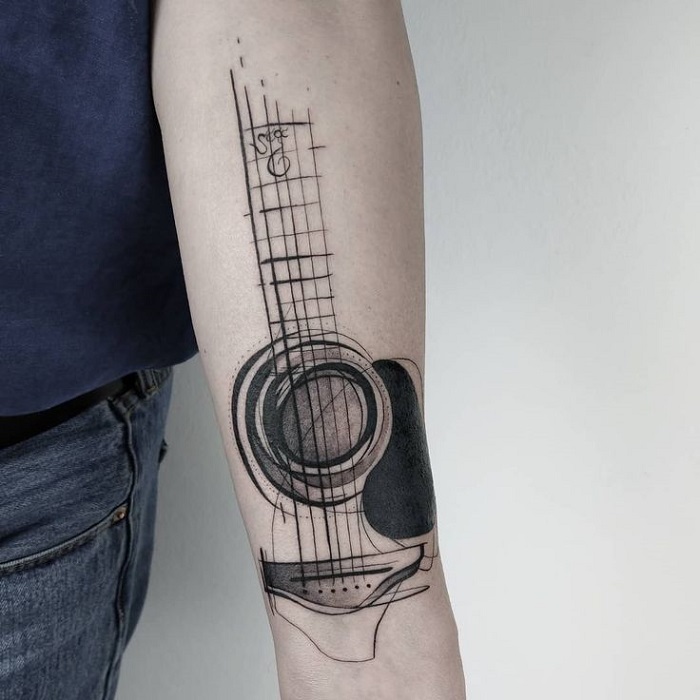 A guitar tattoo is an obvious choice for musicians who dedicate their lives to the art of music. The image of a guitar can be worn by the musicians who play the instrument and want to show their appreciation and love for it.
A guitar tattoo can be a symbol that honors both the living and those that have passed on. It could be a memorial meant to honor a deceased person you loved or admired.
Whether living or deceased, it can pay homage to a person that connects (or connected) strongly to the string instrument.
If this is the purpose behind the tattoo, it will usually be designed with a name and/or date to make the meaning clear.
An acoustic guitar has a more unplugged sound that's popular in country or folk music. This tattoo will have a natural look and a more earthy, soft design. An electric guitar, on the other hand, is found in the rock or metal genre of the music industry. An electric guitar tattoo is a more powerful, bold piece of artwork.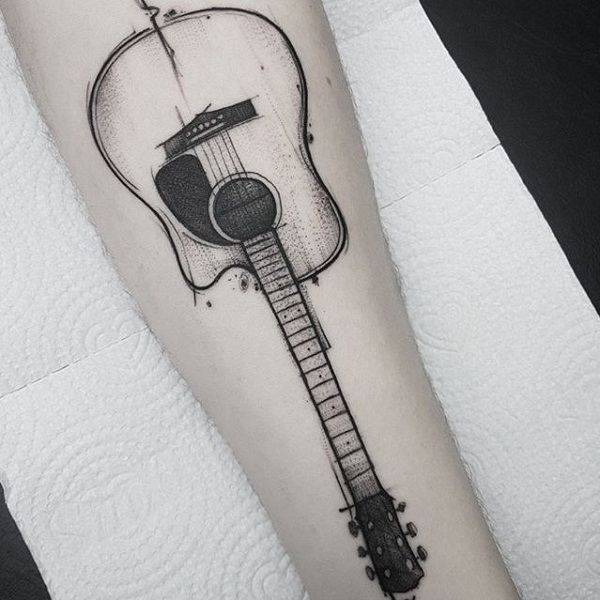 Many choose to add other symbols around their guitar tattoo to enhance the piece. Roses are commonly placed in the design to add a more feminine feel. You can add some thorns on the flower if you're a punk rock chick.
Flames are often incorporated in guitar tattoos, which makes the instrument appear to be on fire. This energetic, edgy design is perfect for metal fans.
Skulls are symbols that often appear in the world of metal rock, and they can symbolize the metal lifestyle. So they can also be included in your tattoo design.
Lyrics taken from favorite songs can be wrapped around the neck of the guitar tattoo. This is one of the best ways to add a personal touch to the design. If you include song lyrics, you can almost guarantee that your guitar tattoo will be rare and unparalleled.
Where to Get a Guitar Tattoo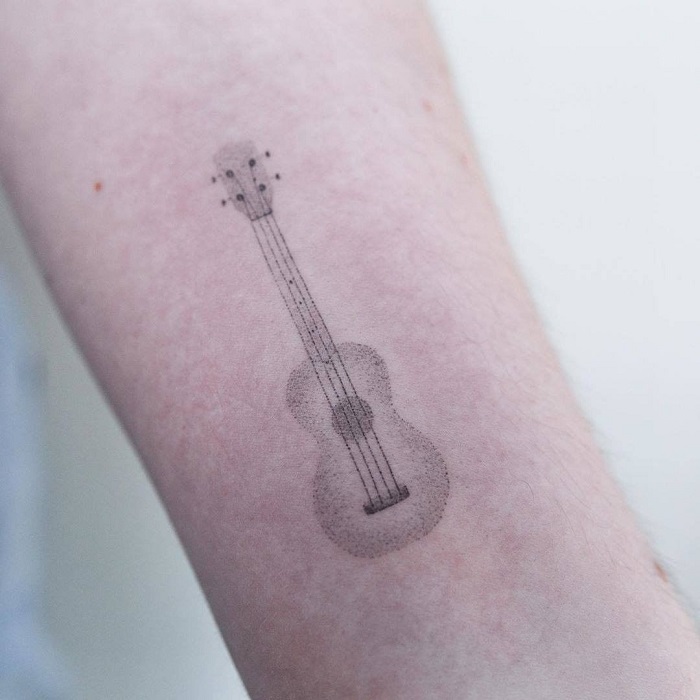 One of the best things about getting a tattoo is that you're in total control. It's your body, so you can always make the final decisions. But, sometimes it's good to get some advice from others before making these choices.
So, we'll recommend some of the best placements for the guitar tattoo. When thinking about where to get your tattoo, a few spots are ideal.
Since the guitar is typically long in length, body parts that provide a longer canvas are a good option—especially if your design will be large. The forearm or calf offers a lengthy, rectangular space that will fit the shape of a guitar perfectly.
Be aware that certain areas, like the forearm or calf, are exposed to the sun more often which could cause your tattoo to fade. The back is another large canvas that has plenty of space for extra details, and it can also be hidden from the sun easily (to prevent fading).
Additionally, excessive moisture or friction can cause your tattoo to fade. The following tattoo spots are more prone to fading:
Palms of your hands (since they experience sweat and contact often)
Feet (they're often rubbed against by socks or shoes)
Lips (the thin skin and excessive moisture will lead to fading)
Shoulder blades (prone to friction from carrying items)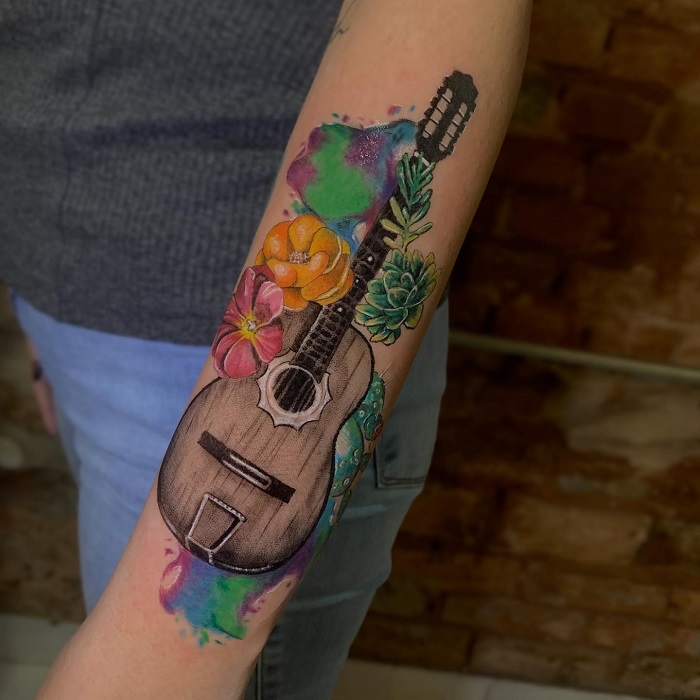 If you're choosing to get your design in color, be aware that the bright hues may not show on the skin as boldly as you'd like. And they may also progressively fade over the years, requiring a touch-up.
Wherever you choose to get your guitar tattoo, follow the after-care instructions carefully and never pick or peel at the tattoo while it heals. Following these tips will help preserve your tattoo so that your guitar continues to look like it's fresh out of the case.
Ultimately, it's your decision where you want to get your tattoo placed. But, it's always important to consider other factors if you want to make sure the final piece looks amazing.
How Much Do Guitar Tattoos Cost?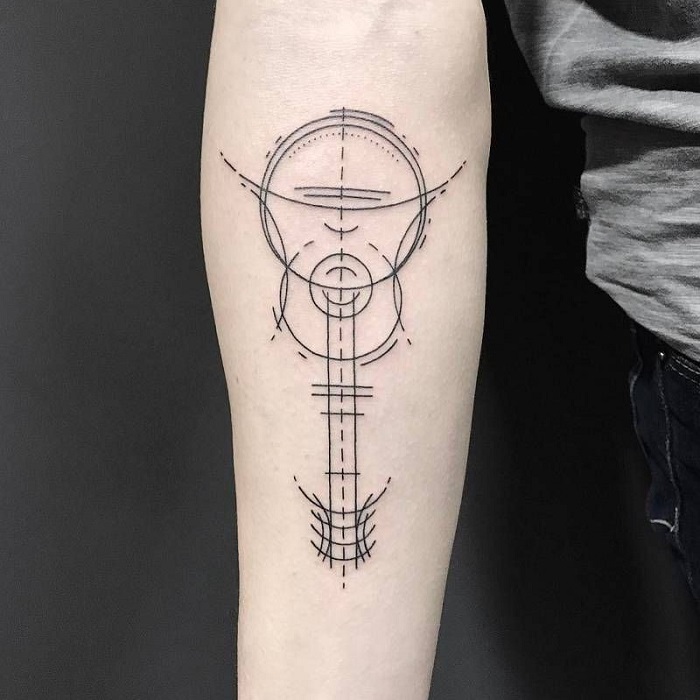 The price of a guitar tattoo is determined by a variety of factors:
Size of the tattoo
Time spent on design and tattooing process
Quality of the ink
Many tattoos can be done in just one session. They can also have a wide price range (from $100-$500 on average). If the tattoo is large or is designed with lots of details, multiple sessions may be required before you get the finished product. If this is the case, you might expect the price to rise.
Small, intricate tattoos are a trend right now. Specialized tattoo artists can design a guitar tattoo small in size for those who love the idea, but don't want to make a huge commitment. Of course, smaller tattoos will also have a lower cost. But, the intense detail in the design will add some value to your tattoo.
The quality of the ink used will determine how long your tattoo will last. If your tattoo seems low in cost, your artist could be using cheaper ink. This could mean your tattoo will fade more quickly, and possibly lose its sharp, distinct shape.
We know that cheaper quotes can be tempting. But, a tattoo is not a purchase you want to find a bargain on. An experienced tattoo artist that uses the best materials available is always the better choice. That way your guitar tattoo will look fantastic for the longest amount of time.
30 Best Guitar Tattoo Designs
#1: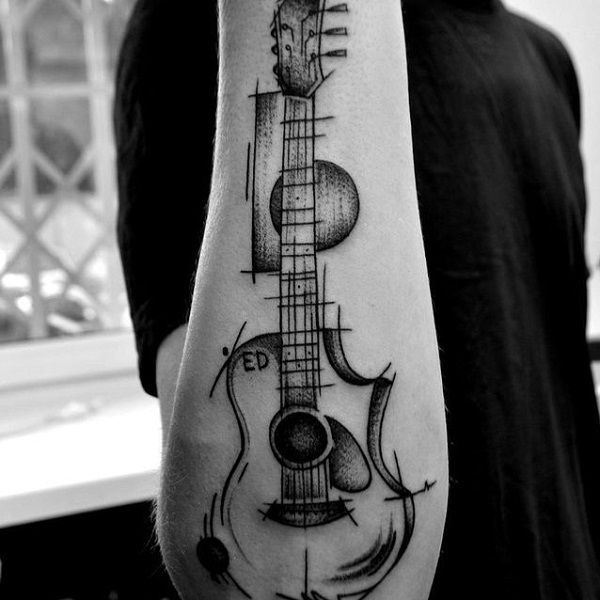 #2: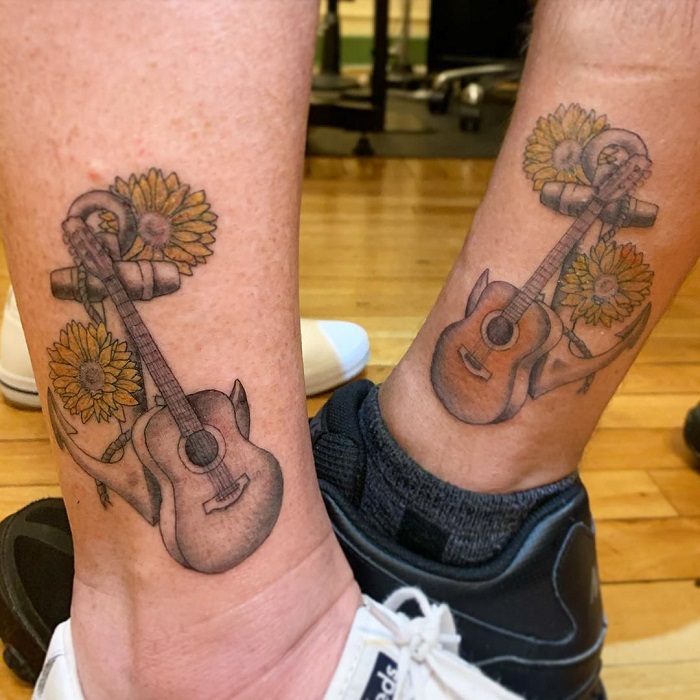 #3: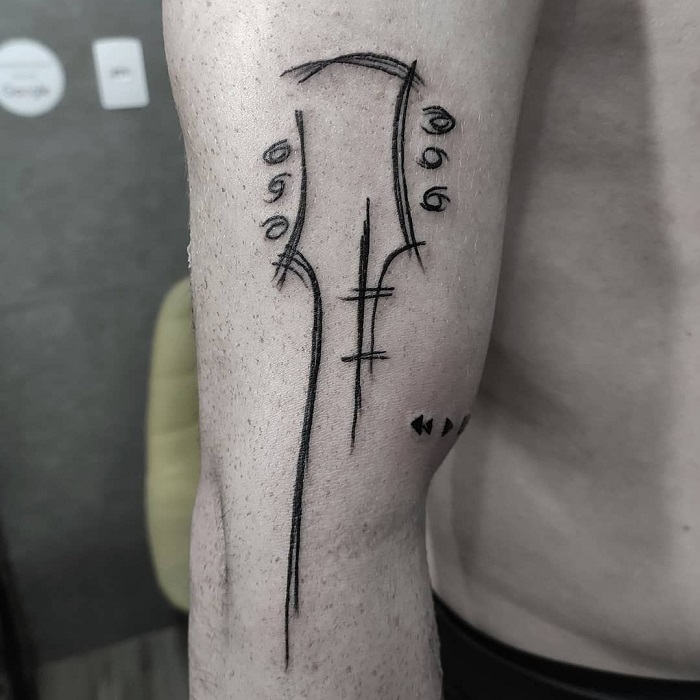 #4: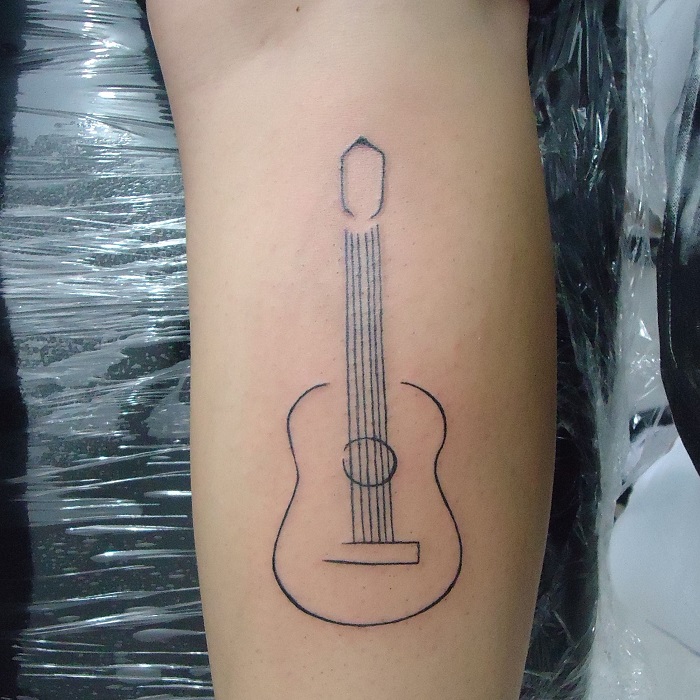 #5: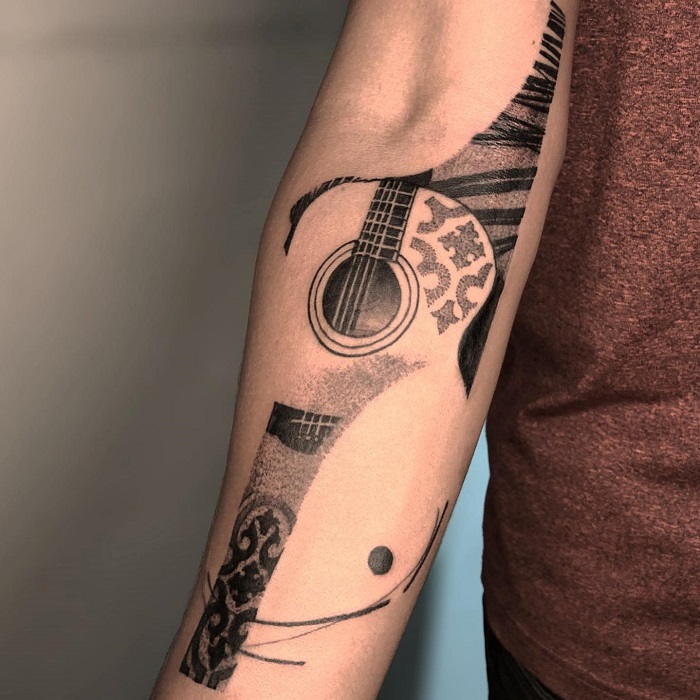 #6: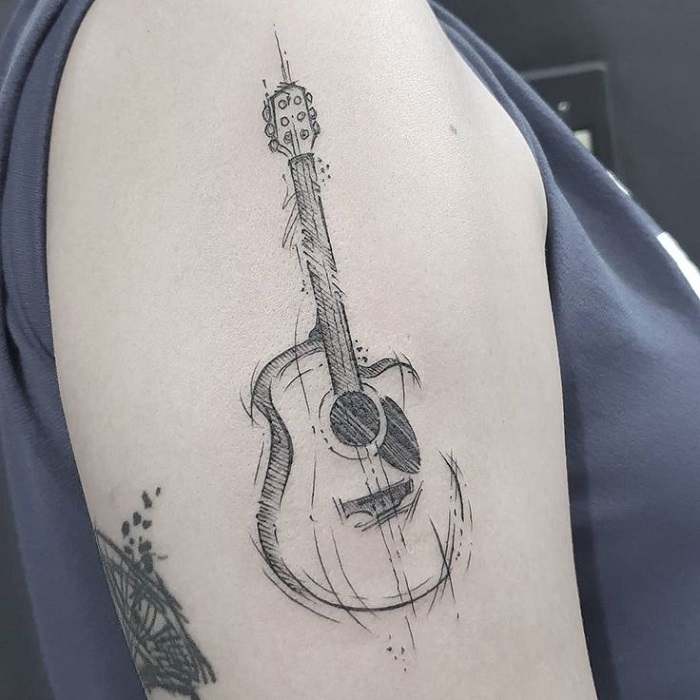 #7: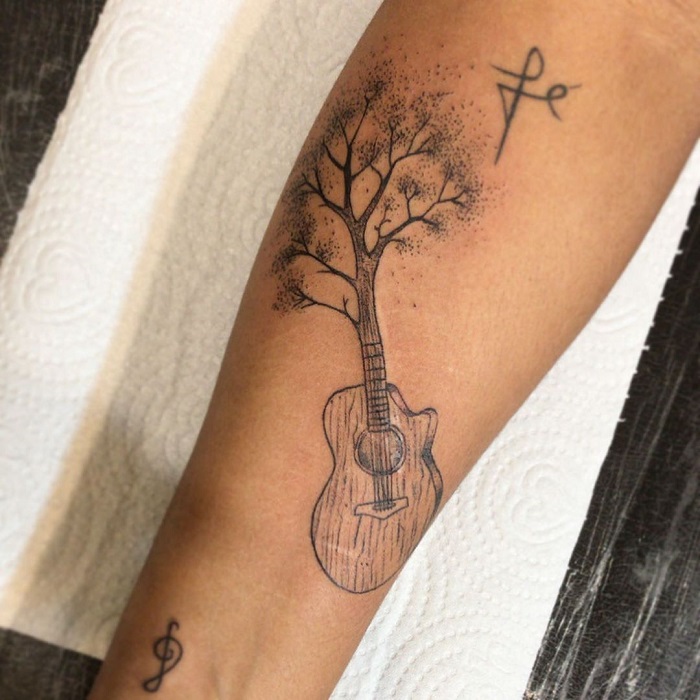 #8: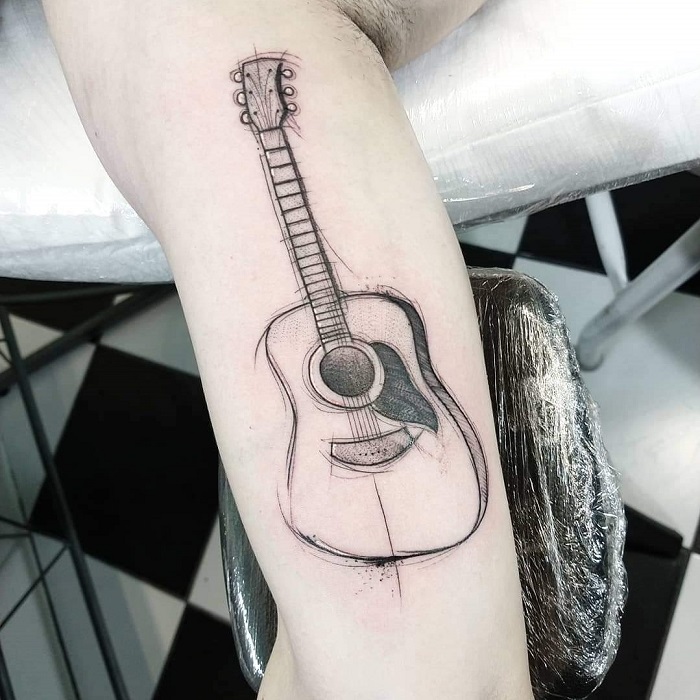 #9: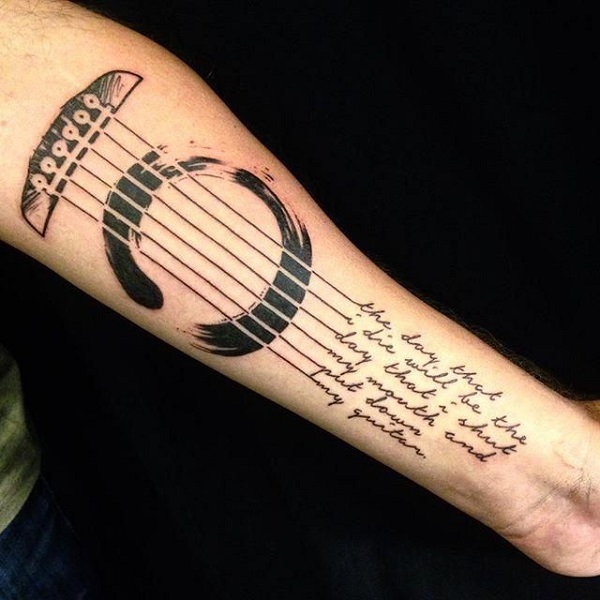 #10: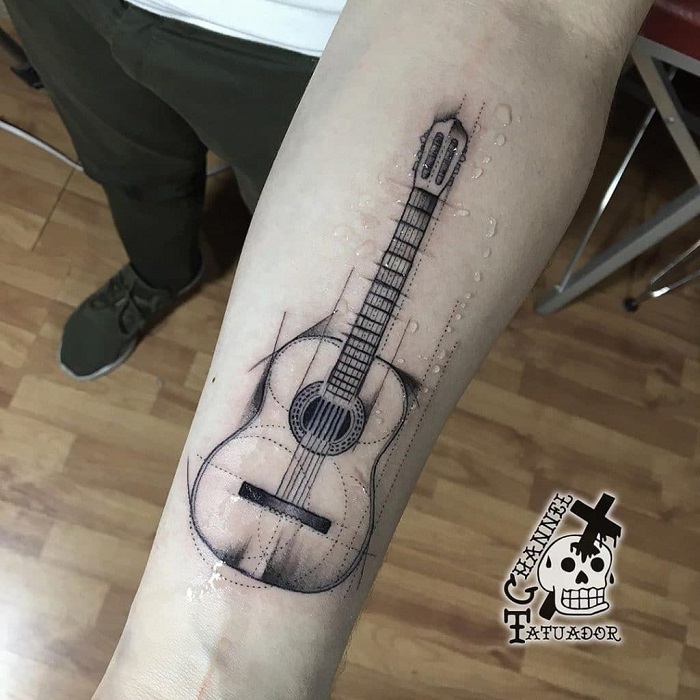 #11:
#12: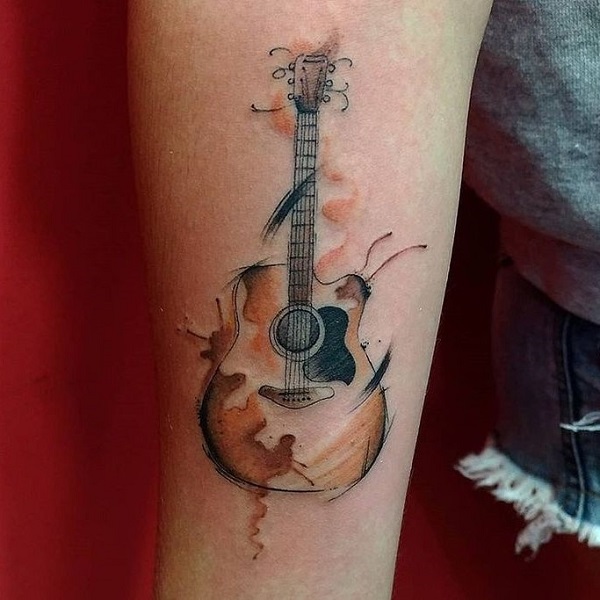 #13: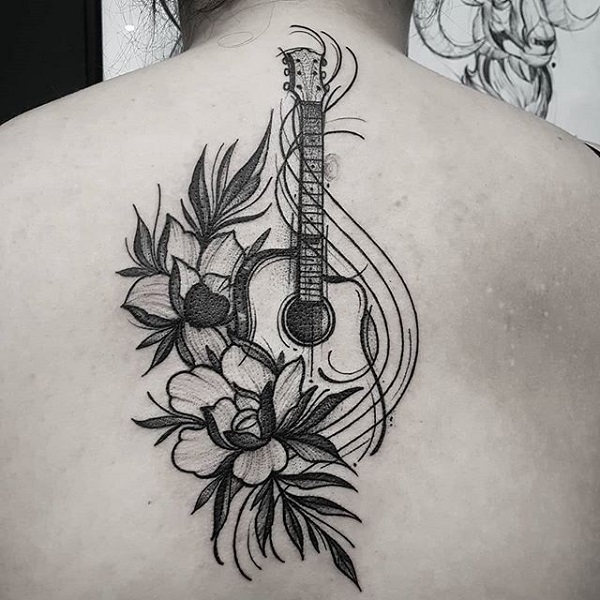 #14: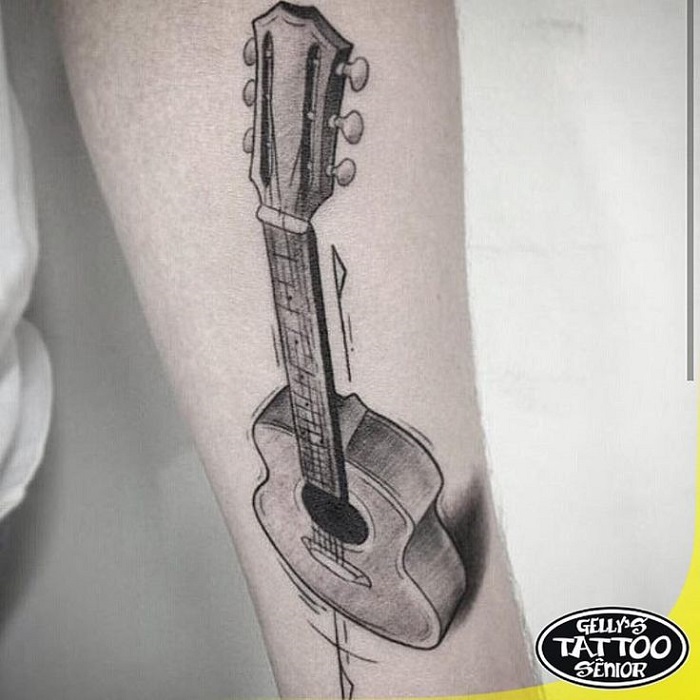 #15: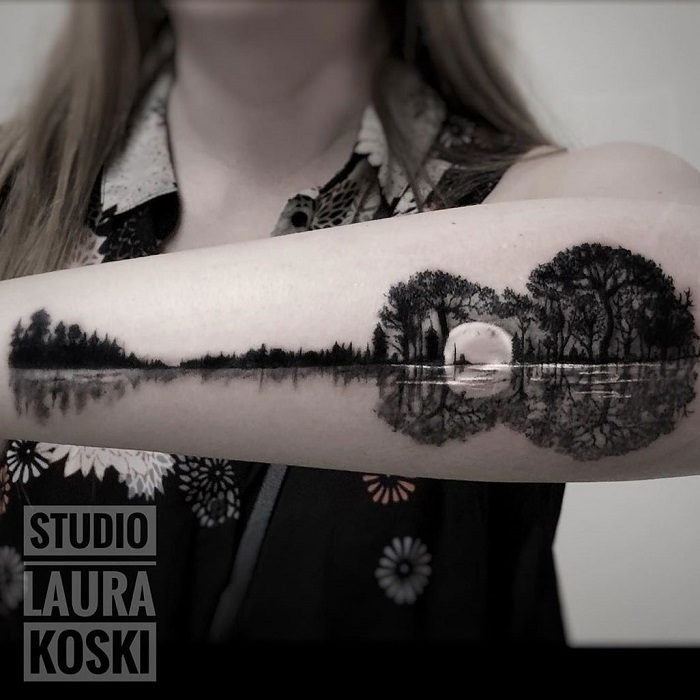 #16: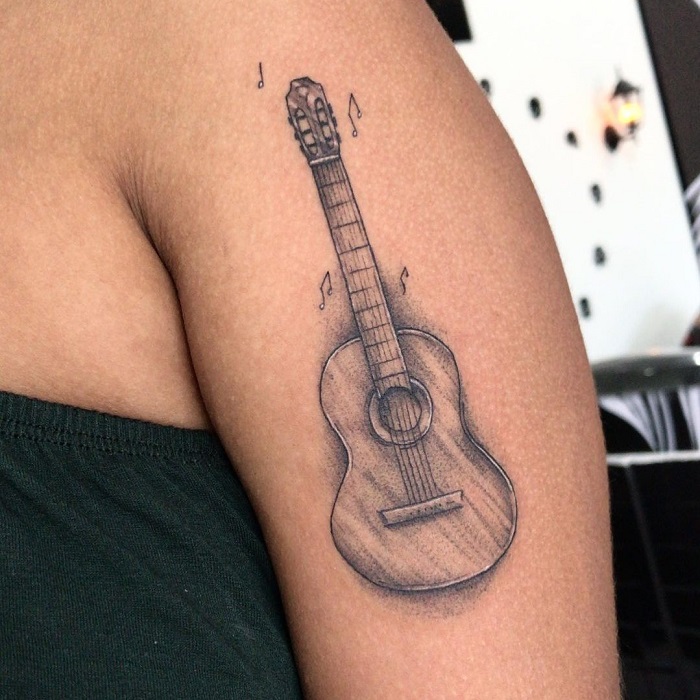 #17: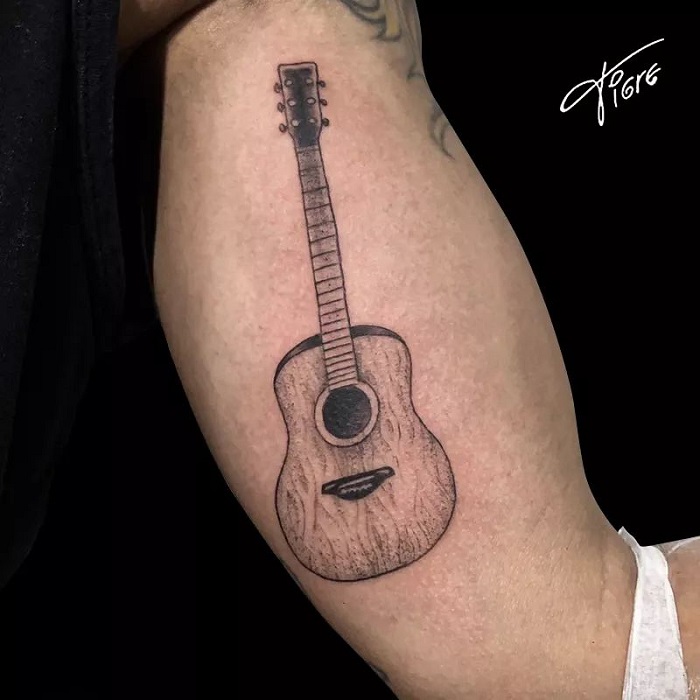 #18: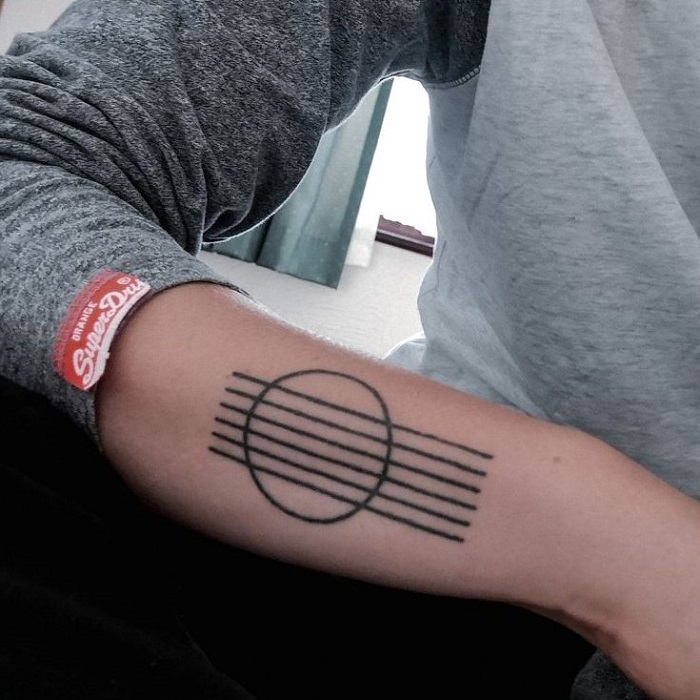 #19: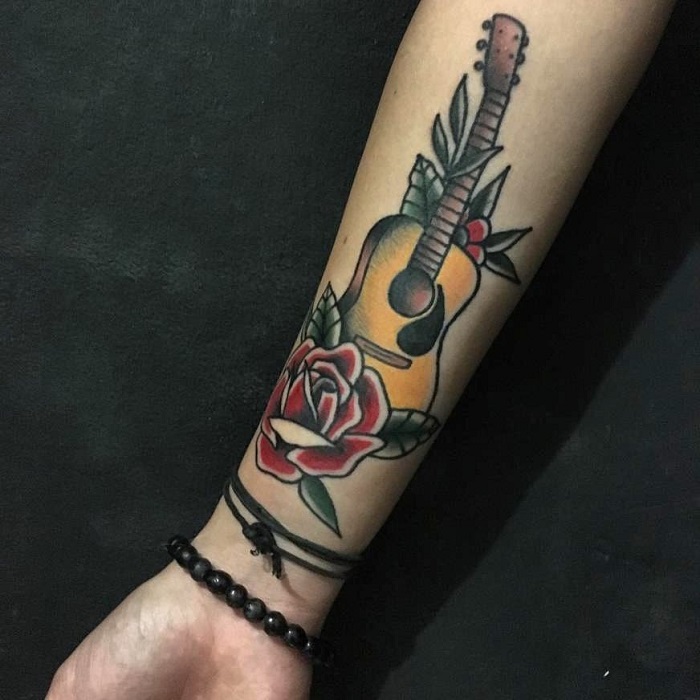 #20: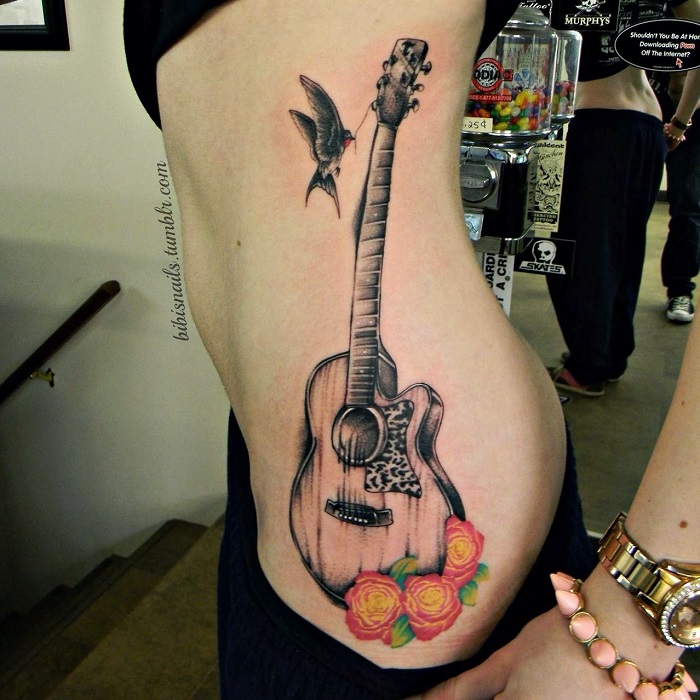 #21: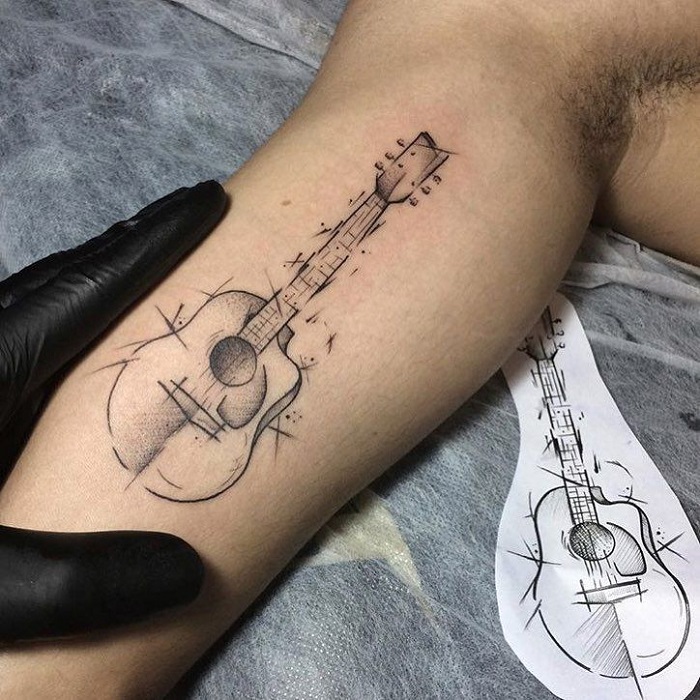 #22: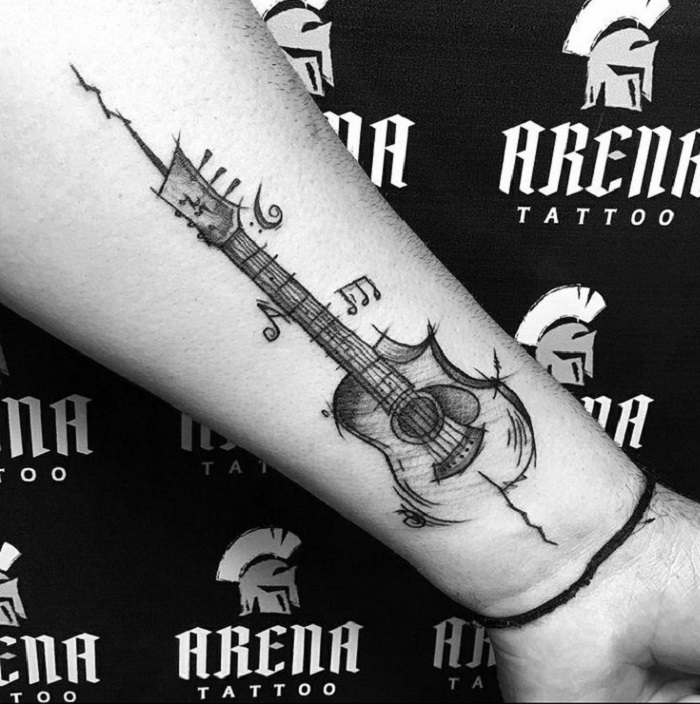 #23: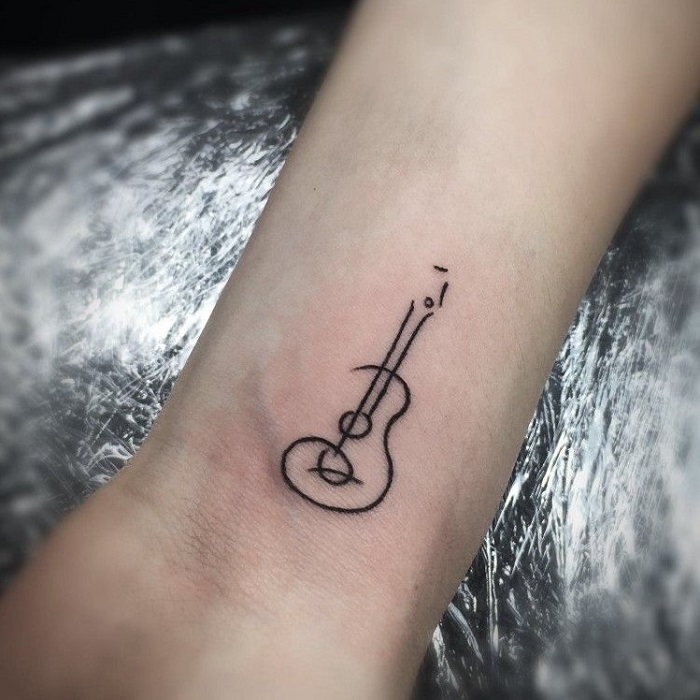 #24: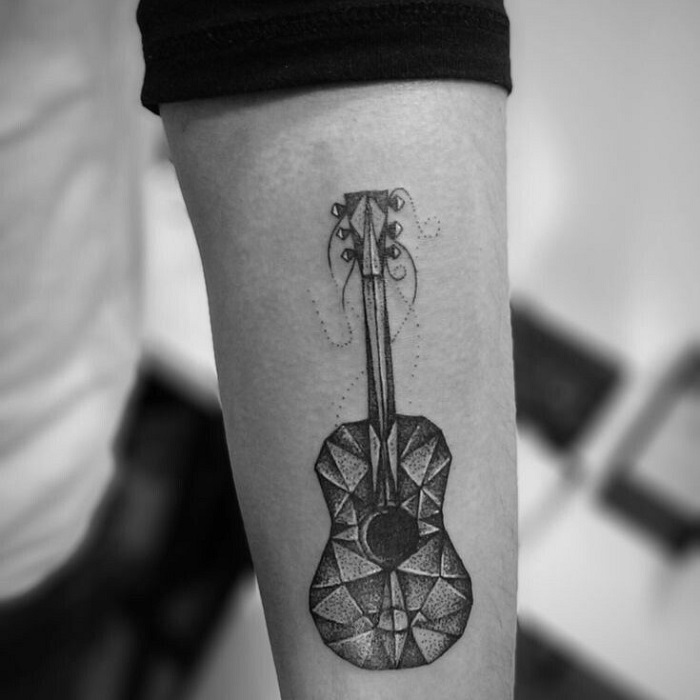 #25: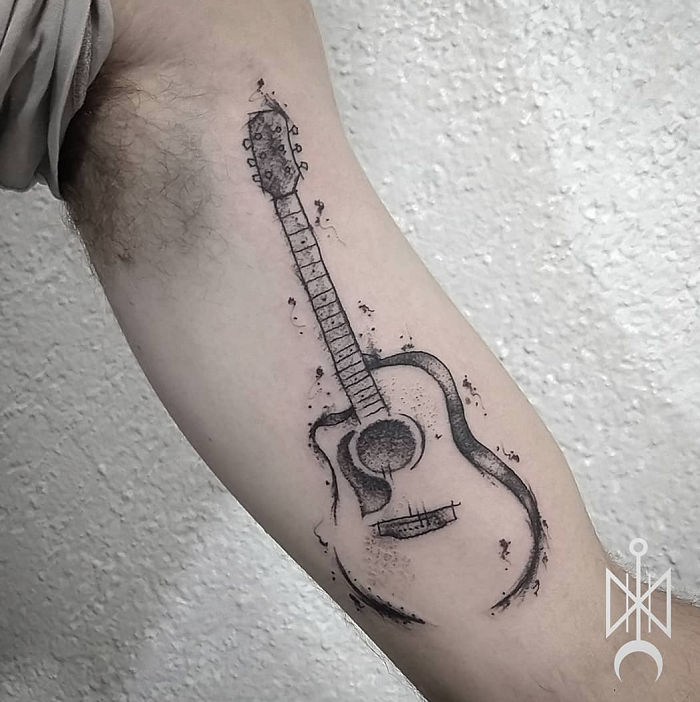 #26: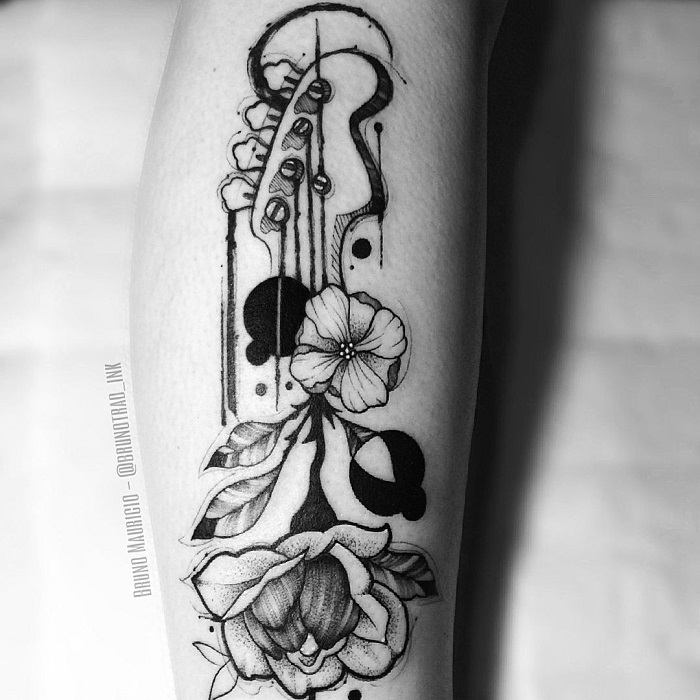 #27: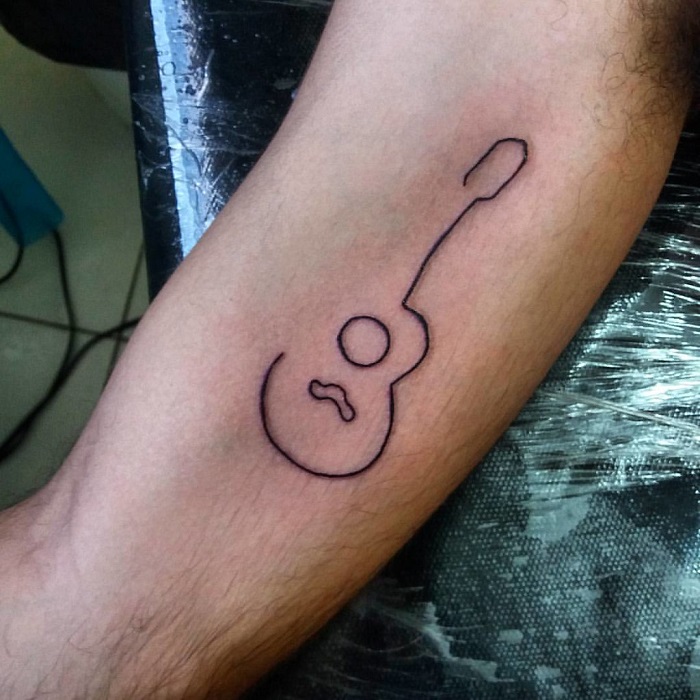 #28: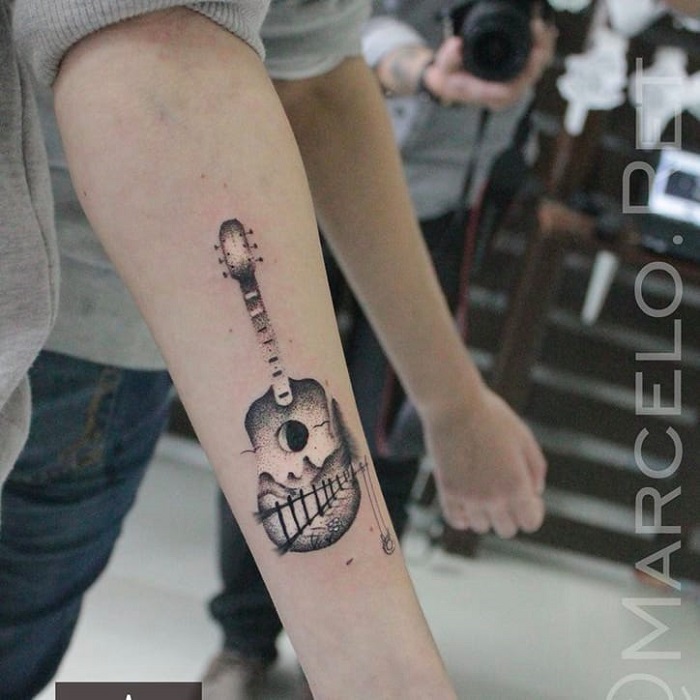 #29: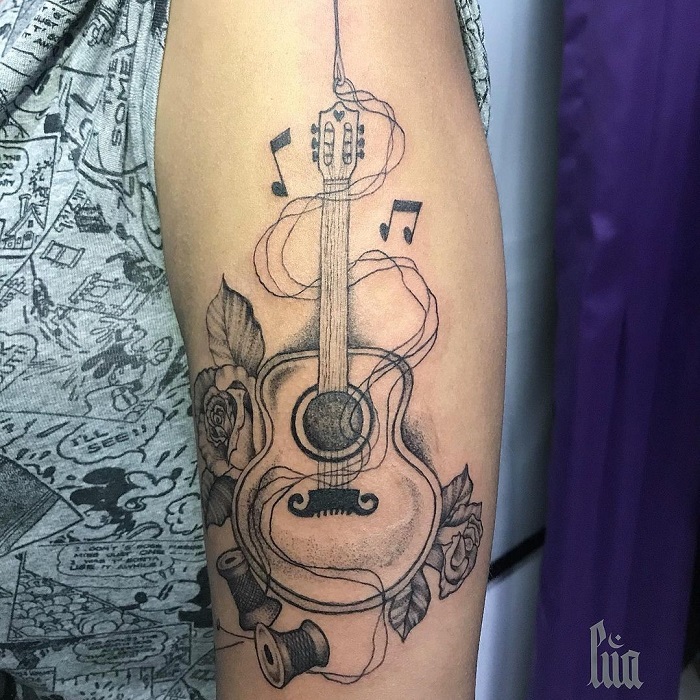 #30: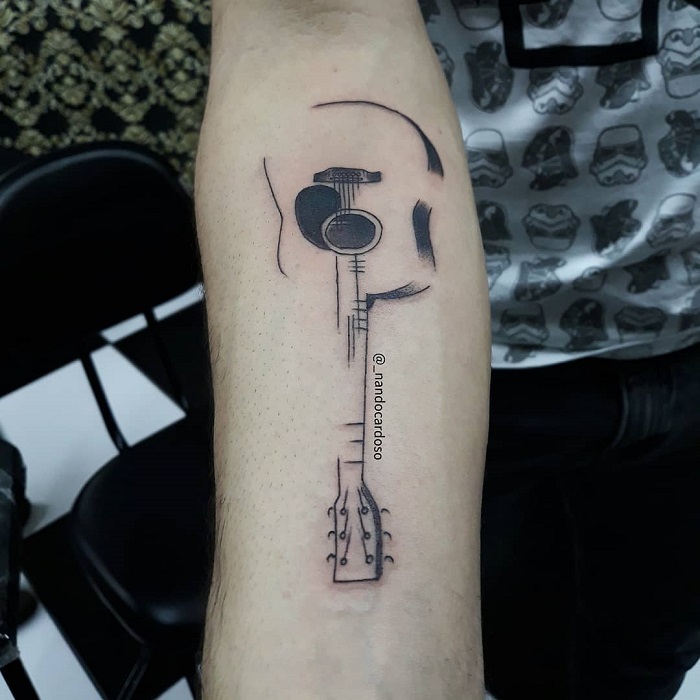 History of the Guitar Tattoo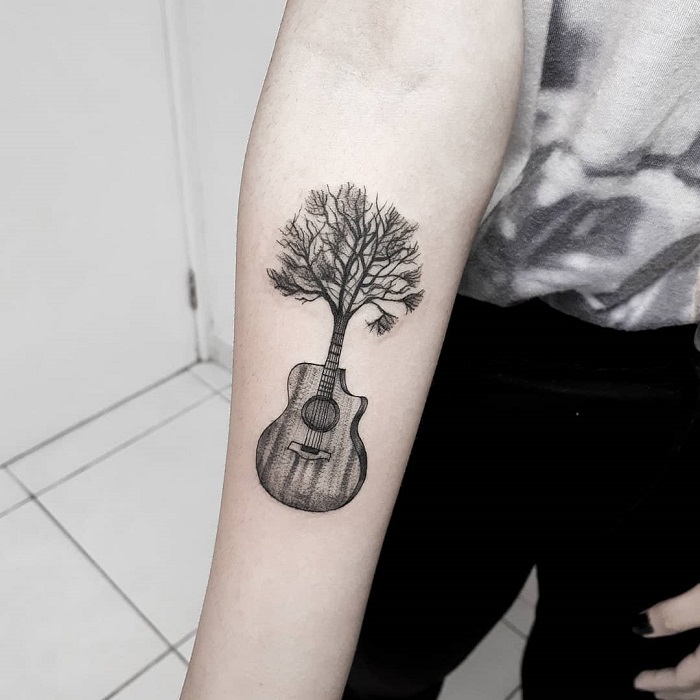 The guitar is an ancient musical instrument that has been played for almost three thousand years. Over the course of its history, many have used it as inspiration for a new tattoo.
When designing the tattoo, the guitars have been interpreted in different ways, and often embellished with designs or lyrics. Many females have gotten a guitar tattooed on their back to accentuate the curves of their body that the instrument seems to mimic.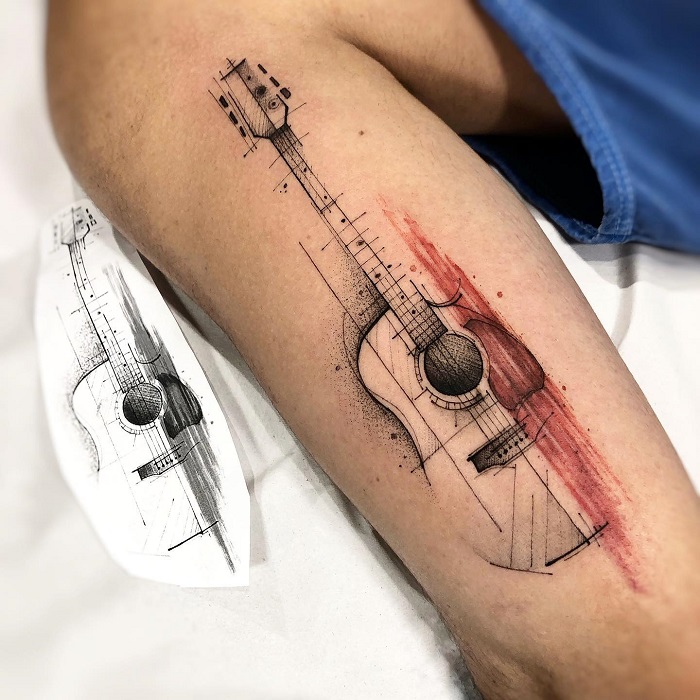 Throughout human history, a guitar tattoo has been known to express rebellion and non-conformity. These designs are usually paired with darker images of skulls or fire.
This tattoo also has a negative connotation amongst prisoners. The criminals branded with the tattoo are often viewed as weak by fellow inmates.
Certain tattoos will honor famous musicians who are/were important figures during key moments in musical history. Portraits of famous guitarists, such as Guns N' Roses Slash or Jimi Hendrix, are common.
Which Celebrities Have a Guitar Tattoo?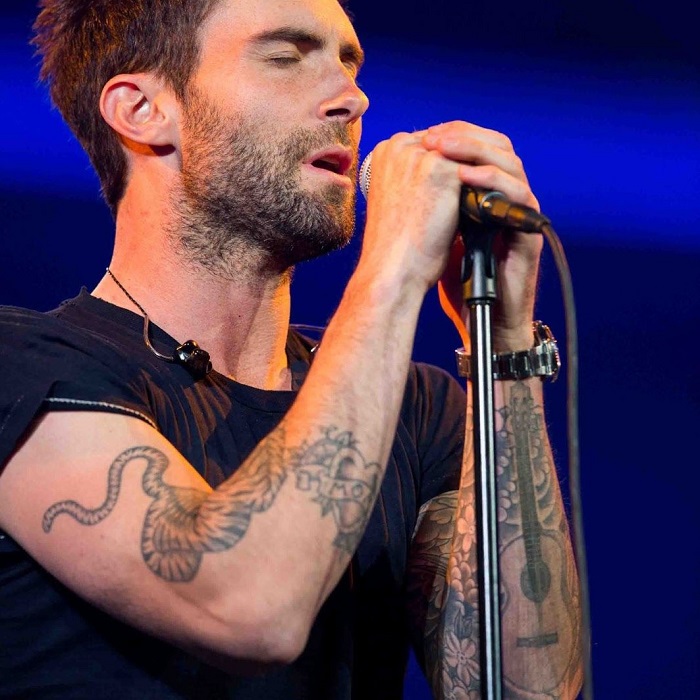 Since guitar tattoos are a great way to showcase appreciation for music, many of your favorite artists will be seen with a guitar tattoo. Each of them adds their own personal flair to the tattoo design.
Maroon Five's lead singer, Adam Levine, wears an acoustic guitar on the outside of his forearm. The pop singer eventually added designs around his guitar tattoo to create a sleeve.
His sound has grown and evolved over the years—from a soulful pop vibe to a more pop-rock feel. So, a guitar tattoo is absolutely fitting for this famous musician.
Amber Rose, a model, chose to cover up a tattoo dedicated to her ex-husband with Guns N' Roses guitarist Slash. The model also named her son after the musician.
In more ways than one, Amber shows that Slash and his incredible guitar skills have influenced her life significantly.
Singer Shawn Mendes has an interesting guitar tattoo design. An organic tree line is mixed in with the design to create the soft silhouette of an acoustic guitar.
The singer started his career with acoustic covers on YouTube. Since being discovered, he has written songs with an unplugged, raw sound that have reached the top of the charts. The outdoorsy design of his tattoo reflects his personality and music perfectly.
As you can see, guitar tattoos are not limited to a specific genre, gender, or age group. By interpreting the guitar in their own way, celebrities of all types have created unique tattoo designs.
Whether they chose an acoustic or electric guitar or a guitarist's portrait, each tattoo design is truly unique.
---
Looking for more inkspiration? Say no more:
30 Best Gladiolus Tattoo Ideas
30 Best Pinky Promise Tattoo Ideas
Get Access to Exclusive Deals
Subscribe for free to get exclusive deals in your inbox. 100% privacy