30 Best Death Before Dishonor Tattoo Ideas 
About Death Before Dishonor Tattoos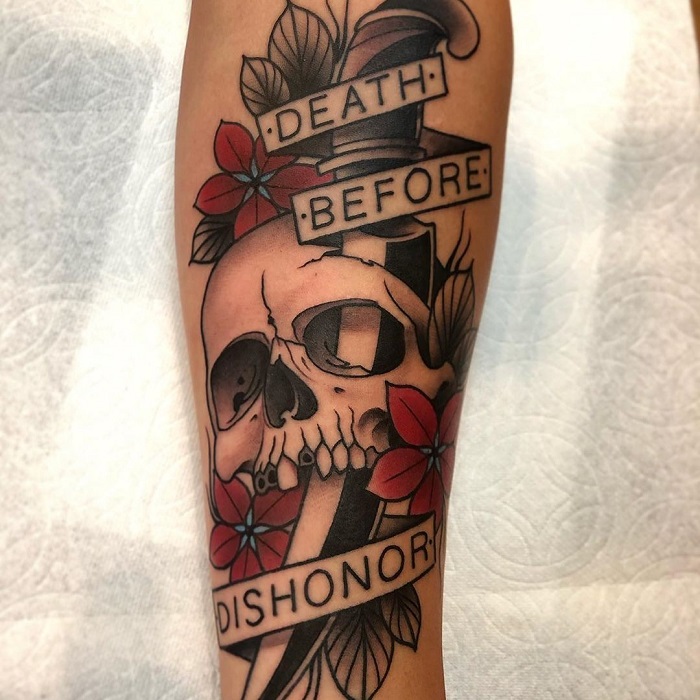 Tattoos can be used to showcase what is important to you. For many military men and women, tattoos are a go-to way to display their national pride and loyalty.
Death Before Dishonor tattoos are common in the military and outside of the military, stressing that one's own life comes secondary to the good of the community.
the best Death Before Dishonor tattoo includes the phrase with the addition of a skull, sword, heart, or all of the above (in our humble opinion). These tattoos are typically done in the American Traditional style: bold lines, clean edges, and two-dimensional images.
If you want a classic tattoo, and if the sentiment of the phrase "death before dishonor" holds personal significance, this may be the tattoo for you.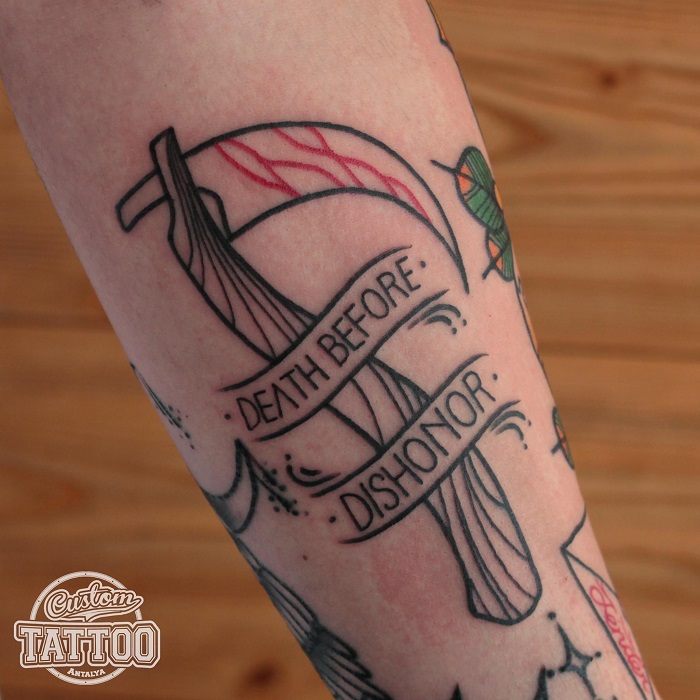 If you're thinking of getting a Death Before Dishonor tattoo, you could stick to the traditional style or shake it up. This article will teach you everything you need to know about Death Before Dishonor tattoos before making that commitment.
What Do Death Before Dishonor Tattoos Mean and Symbolize?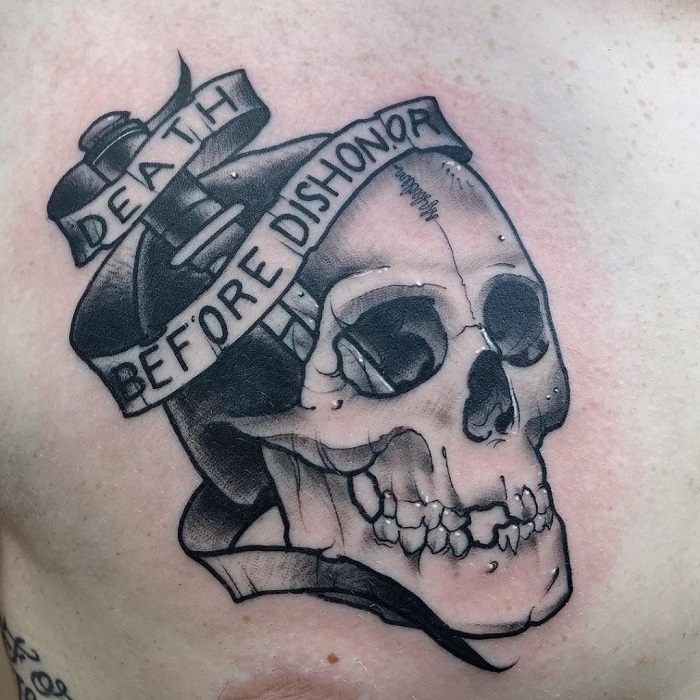 This is a patriotic tattoo common in the United States. The phrase "death before dishonor" means that one would rather die before dishonoring or betraying their country. This rings true for those who find themselves fighting for and defending their country in times of conflict.
As this tattoo becomes more common even among those with no ties to military life, the meaning has expanded to encompass loyalty to one's family, friends, and community.
It's all about selflessness and placing value in others above yourself. The Death Before Dishonor tattoo meaning is very much based on traditional American values.
Where to Get a Death Before Dishonor Tattoo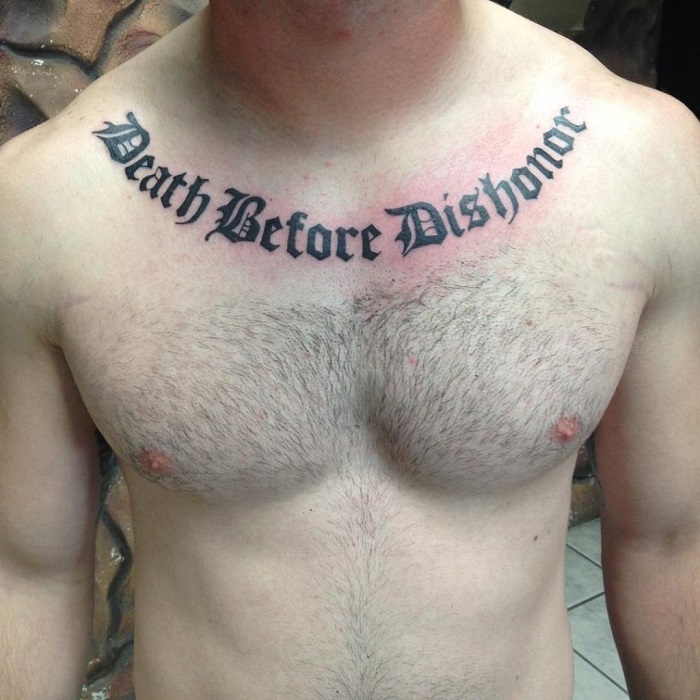 The most common spots for a Death Before Dishonor tattoo are:
Inner forearm
Chest
Back
Ribs
The military has strict rules for tattoos: they don't allow tattoos on your face, hands (some exceptions for finger tattoos), head, scalp, lips, or tongue. As the Death Before Dishonor tattoo is common in the military, these restrictions must be kept in mind.
If you're not in the military but you still want this tattoo, you can get it anywhere you think looks best. Following the lines of the body is a good way to go about any tattoo. Like with many tattoos, the design can be changed to accommodate any part of the body.
Remember that tattoos are permanent, so make sure you're absolutely sure you want it! Also, keep in mind that tattoos with many different colors tend to fade more quickly.
The actual tattooing process is quite painful, but there are numbing creams that numb the skin for 2-5 hours. Speak to your tattoo artist about these logistics before getting inked, and also speak to your doctor to ensure you won't get an allergic reaction from the tattoo.
How Much Do Death Before Dishonor Tattoos Cost?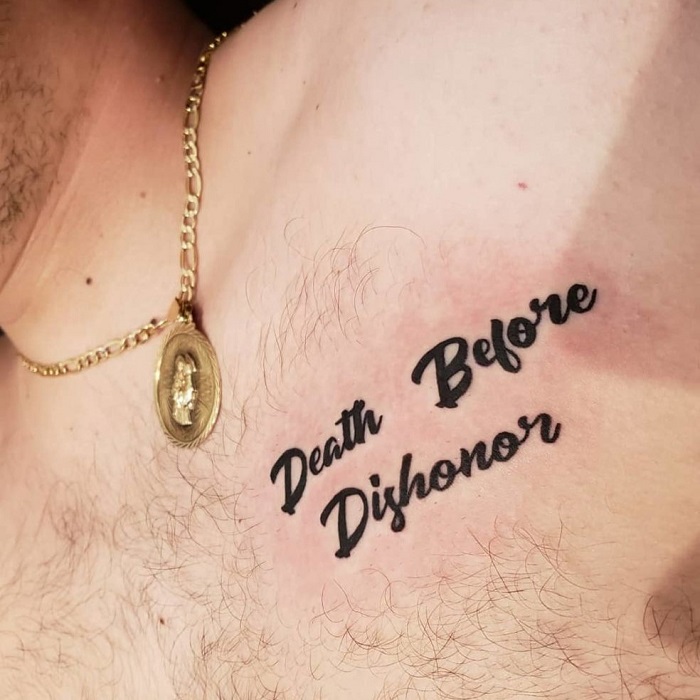 There are a few factors that influence the cost of a tattoo:
Size of tattoo
Design
Colors, ink, and equipment used
Placement
Experience of tattoo artist (an experienced artist will cost more)
Hourly rate
Location of tattoo studio (city studios are most expensive)
When getting any tattoo, the way to calculate the cost is similar. You should be prepared to spend at least $100 for a good, small tattoo. A small tattoo (2-4 inches) can fall between a range of $50-$250, a medium-size tattoo (4-6 inches) can be $150-450, and a large tattoo (over six inches) can fall between $500-$4,000.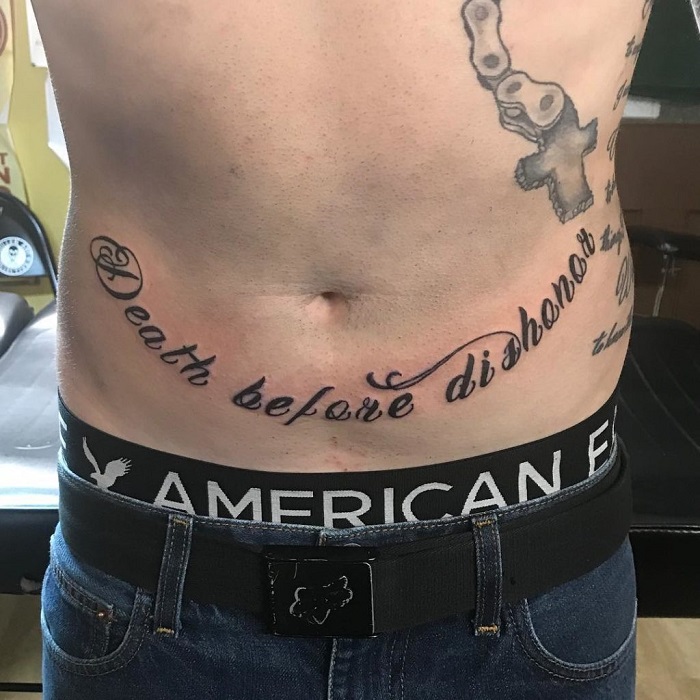 Sleeves and full-back tattoos will cost you a couple of thousand dollars and will probably take multiple sessions to complete. Tattoos with numerous colors will also cost you more.
Every studio varies in how they break down prices, so make sure to chat with your tattoo artist before your inking session to ensure that it falls within your budget.
Death Before Dishonor tattoos are typically on the bigger side, so be prepared to pay on the higher end. Even though too many colors are not usually used, the American Traditional style requires thick, bold outlines.
The more ink your artist will have to use, the more expensive your tattoo will be. Talk to your tattoo artist for an accurate quote.
30 Best Death Before Dishonor Tattoo Designs
Death Before Dishonor tattoos are usually done in the American Traditional, or Old School style. American Traditional tattoos are characterized by bold black outlines and bold primary colors.
The edges are clean and distinct and the images are intended to look two-dimensional, like drawings rather than realistic portraits. This style is immediately recognizable and typically what people think of when they imagine traditional tattoos.
Within the American Traditional style, you can get creative with your Death Before Dishonor tattoo. Here are some common variations, but feel free to chat with your tattoo artist to come up with something truly unique and personal to you. Refer to these Death Before Dishonor tattoo ideas if you need some design inspiration.
#1: Skull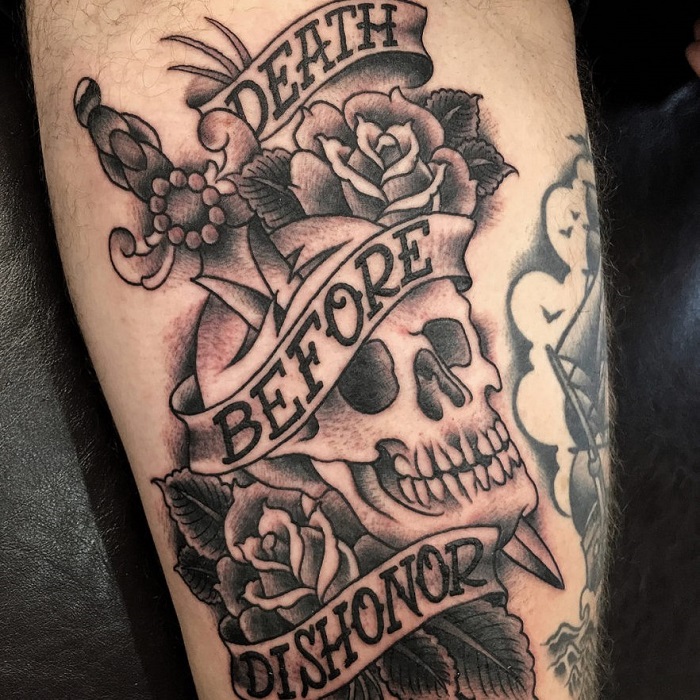 The most common image you'll see paired with the Death Before Dishonor phrase is a skull. Skulls are symbolic of death, so they're a perfect addition to this tattoo design. In this case, they represent sacrificing your own life before letting down your country or community. 
When designing a tattoo, you may also want to keep in mind that others will see your tattoo, and derive their own meaning before you have a chance to explain yourself.
Of course, your opinion comes first, since this is an image on your body. But if you want the meaning to be apparent to anyone who may see your tattoo, adding a skull is a visual clue that your tattoo concerns death.
#2: Blade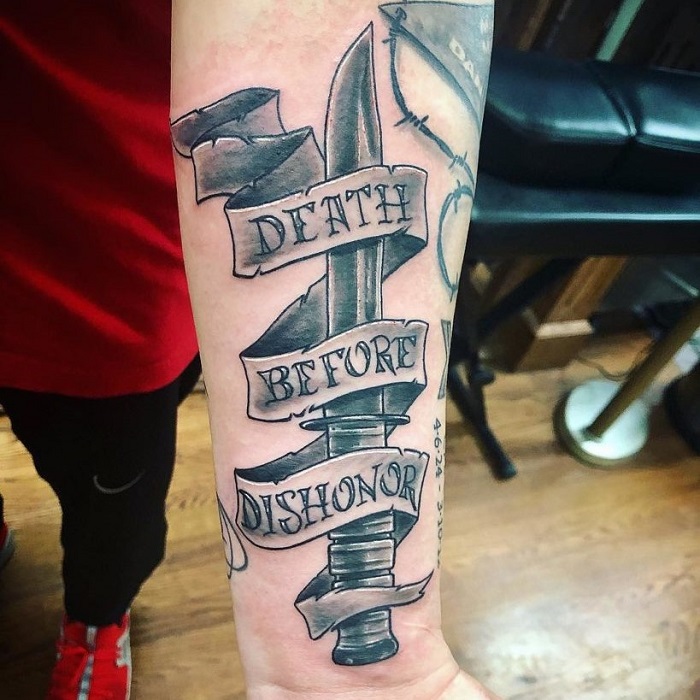 An image of a blade alludes to the rich history behind the Death Before Dishonor tattoo. Its origins can be traced back to the Roman Empire and, most notably, to the Japanese Samurai who lived by the phrase "death before dishonor." 
Similar to the skull, the image of a blade implies death, violence, and a certain lifestyle that would throw you into life-or-death situations. Many people show the blade driving through a skull, combining these two designs and really emphasizing the acceptance of death and danger.
#3: Roses and hearts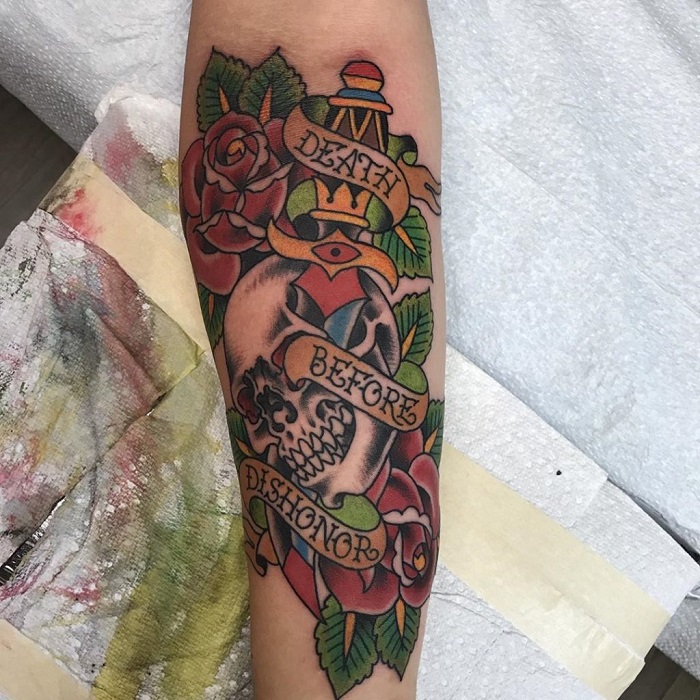 It's also common to pair the Death Before Dishonor phrase with roses and/or hearts. The American Traditional style often involves red as an accent color against a black and white image. Red could also symbolize blood, which falls in line with the themes of death and combat.
Pairing roses or hearts with a skull or blade is a common combination. This adds a layer of dimension to your tattoo since the juxtaposition between these symbols of love contrast with the images of death.
This contradiction sums up the sentiment of Death Before Dishonor, as it preaches the acceptance of death due to loyalty and love of one's country/community.
#4: Other American iconography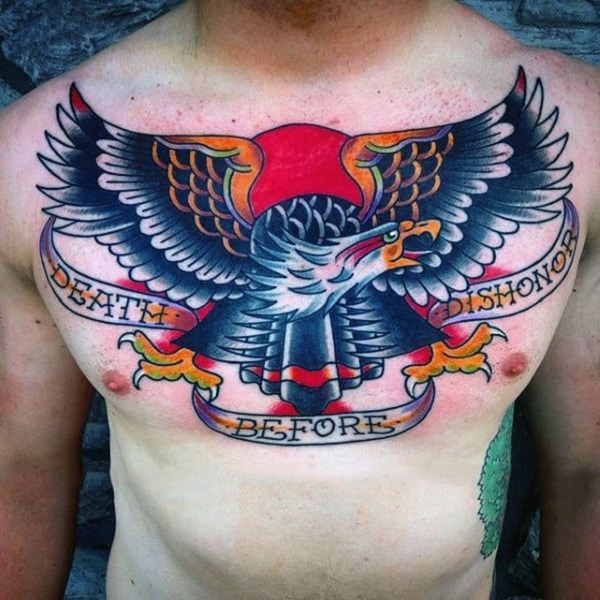 Death Before Dishonor tattoo designs could also include other American iconography, such as American flags, bald eagles, army helmets, and pop culture references. Since this tattoo is most popular within the US military, these images are commonly added to the tattoo, again preaching patriotism and national pride.
#5: Script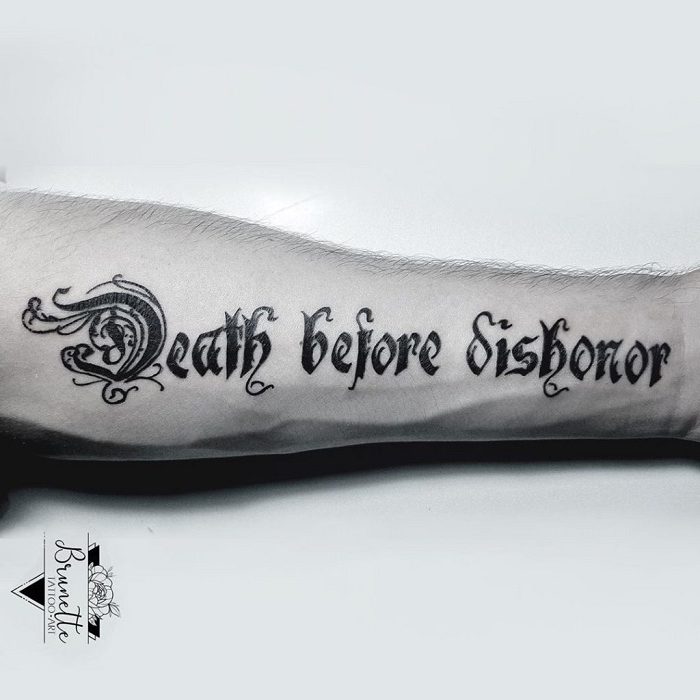 Finally, you can always simplify your Death Before Dishonor tattoo by sticking with the words alone. The phrase "death before dishonor" conveys national pride and loyalty, and for some, that is enough.
If you have other tattoos or are planning on getting more, this may be the best choice for you. This way you won't have to worry about matching images between tattoos.
#6: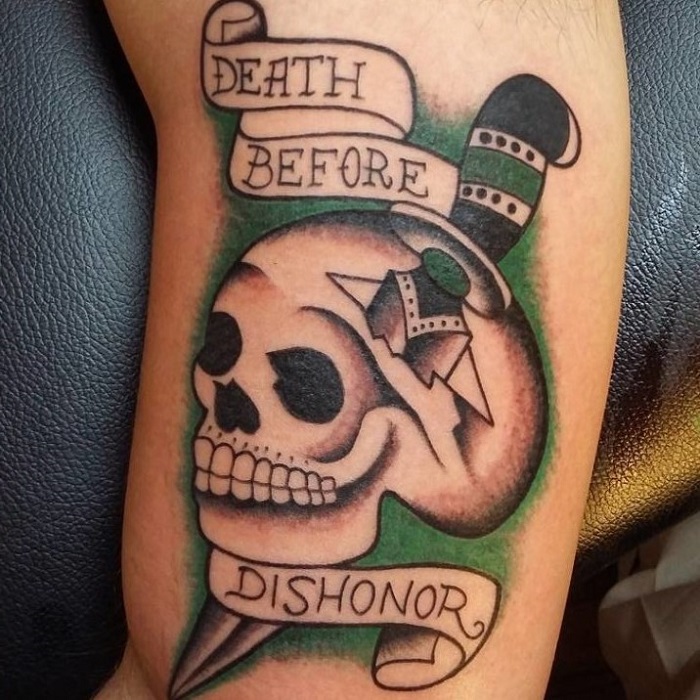 #7: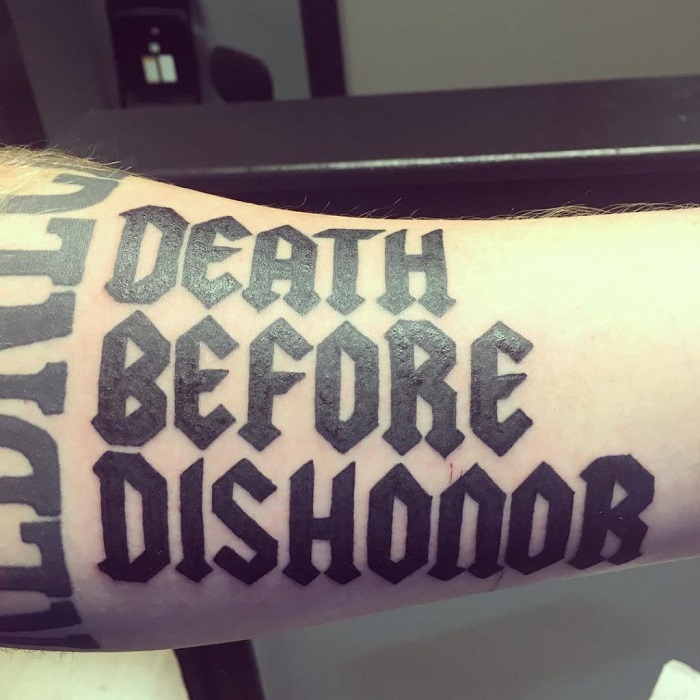 #8: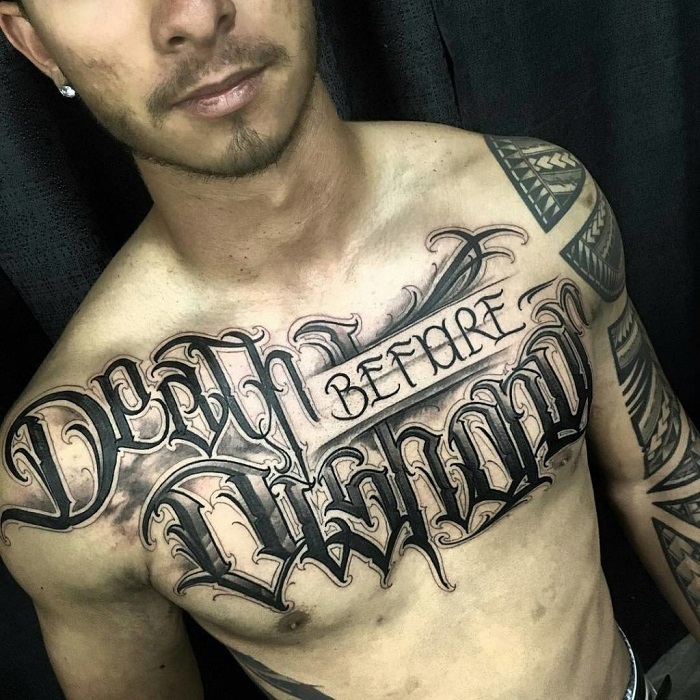 #9: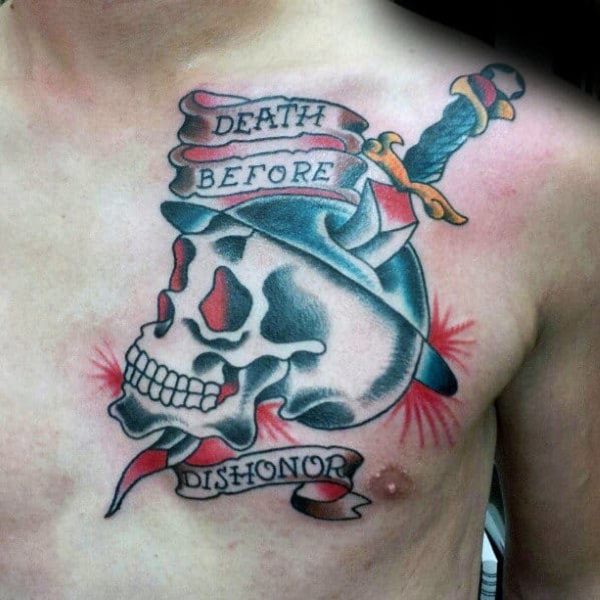 #10:
#11: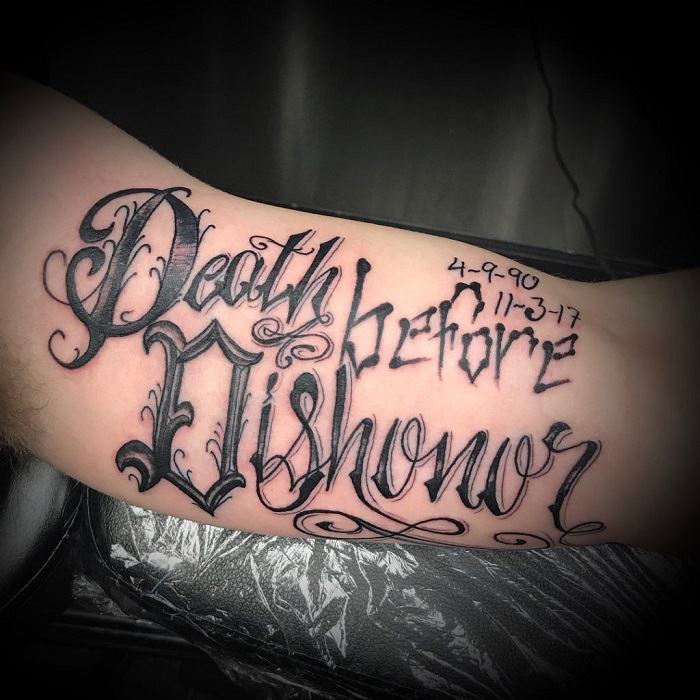 #12: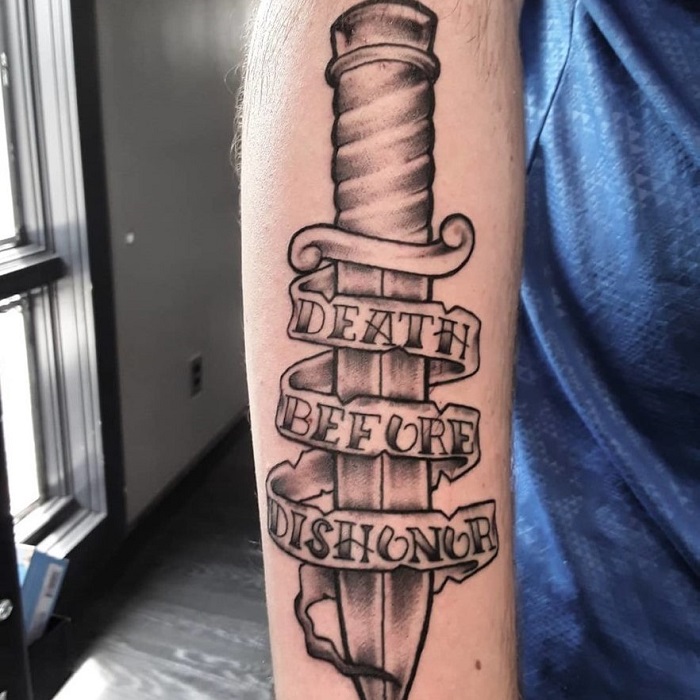 #13: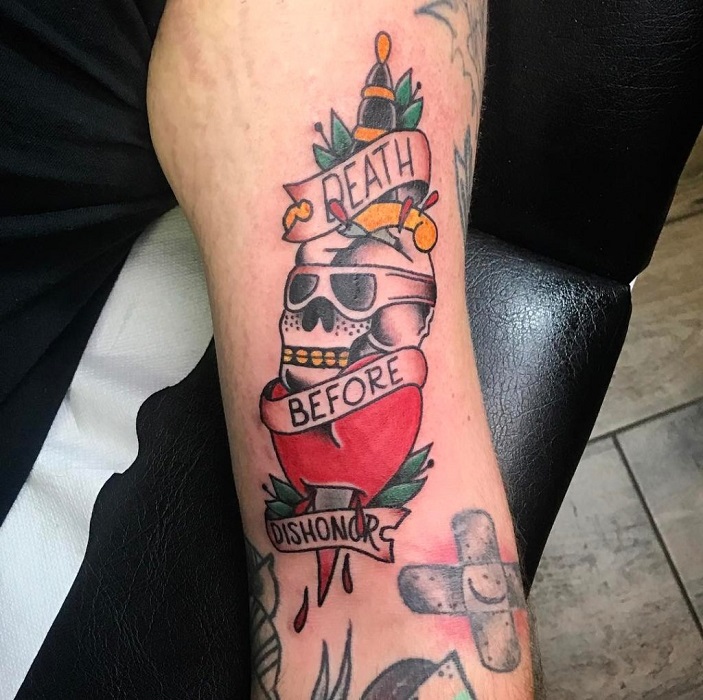 #14: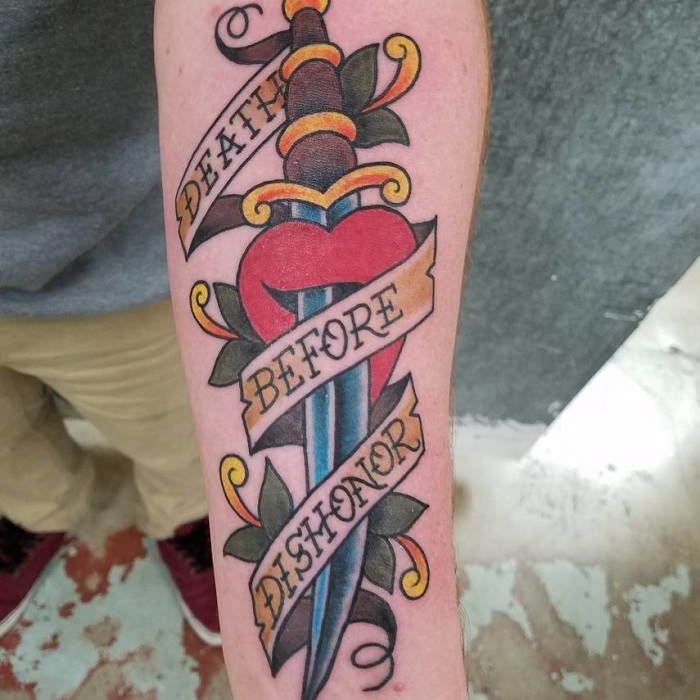 #15: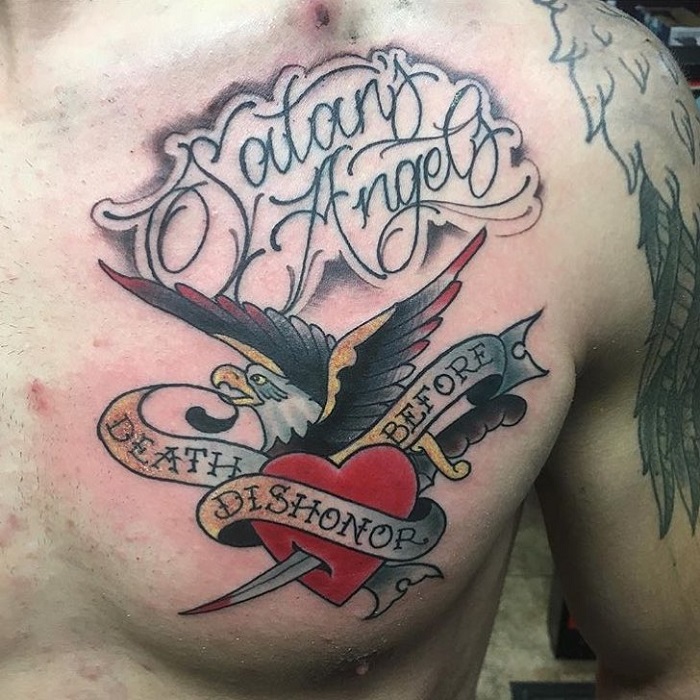 #16: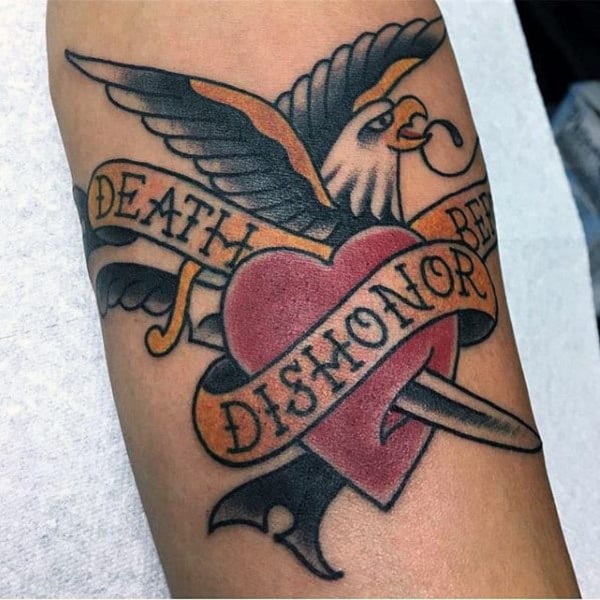 #17: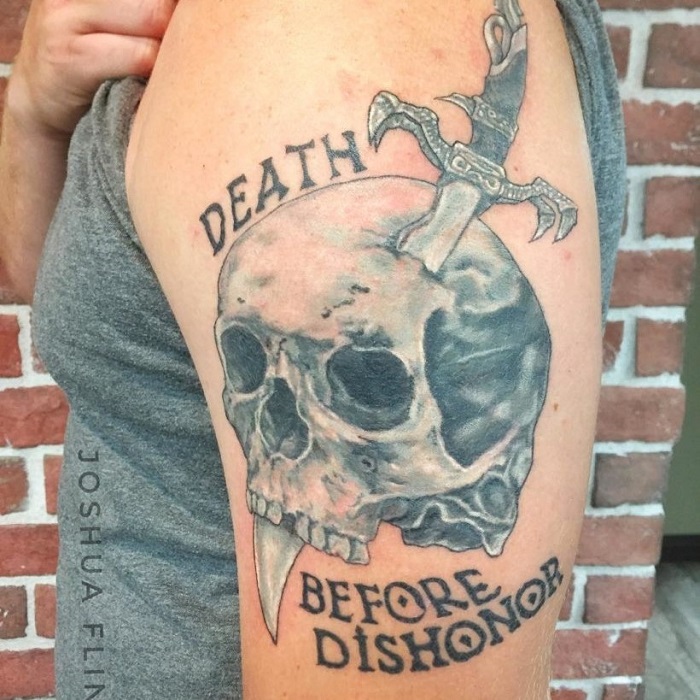 #18:
#19: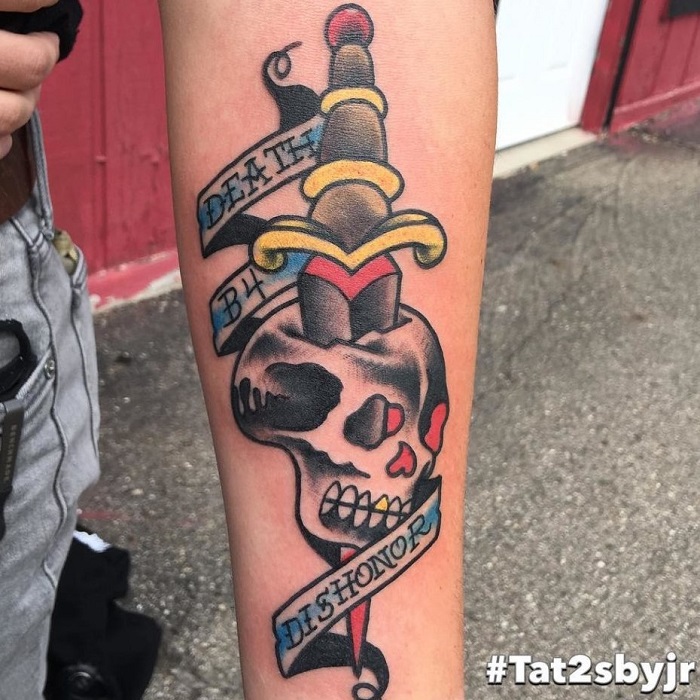 #20: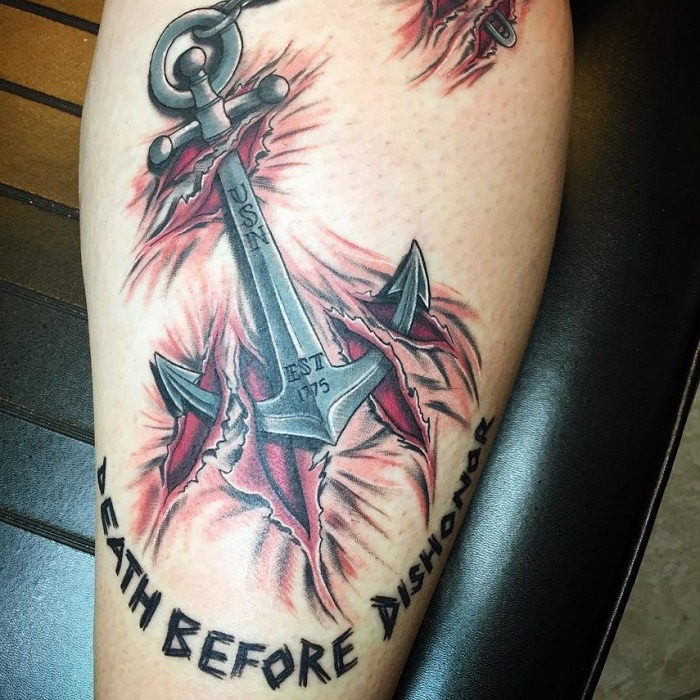 #21: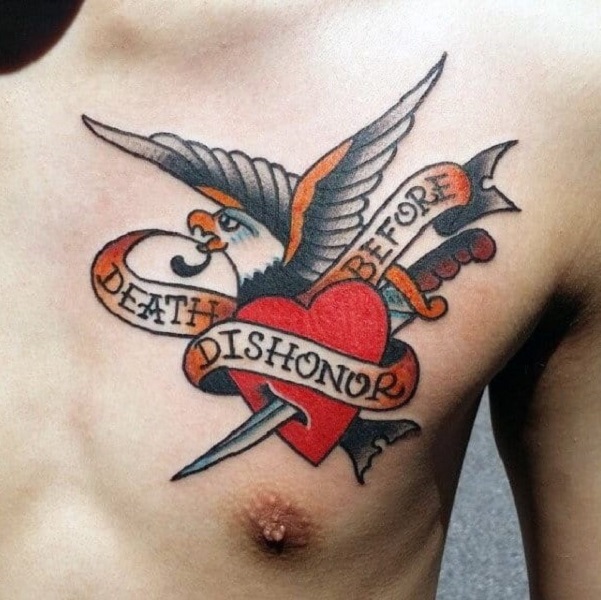 #22: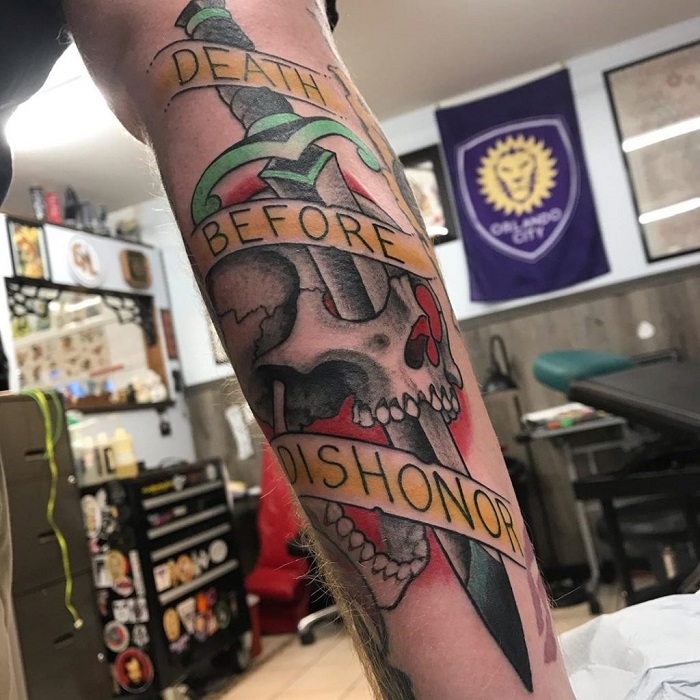 #23: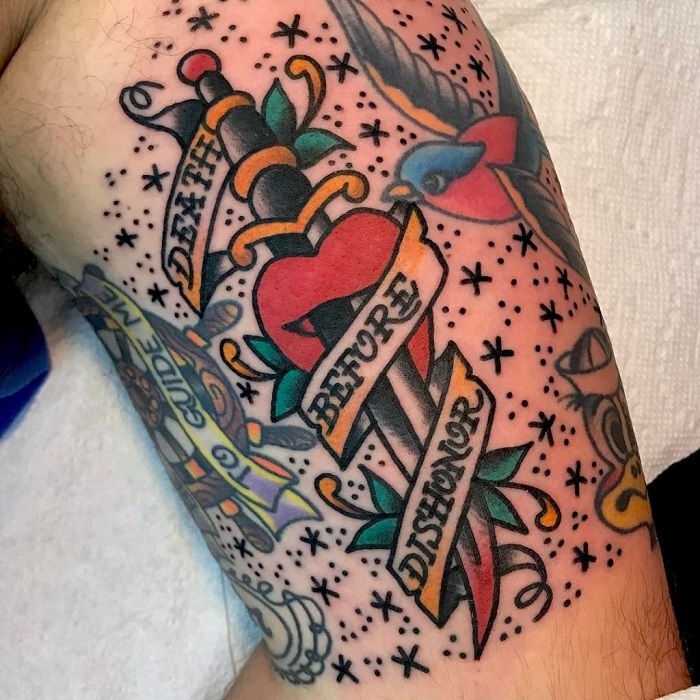 #24: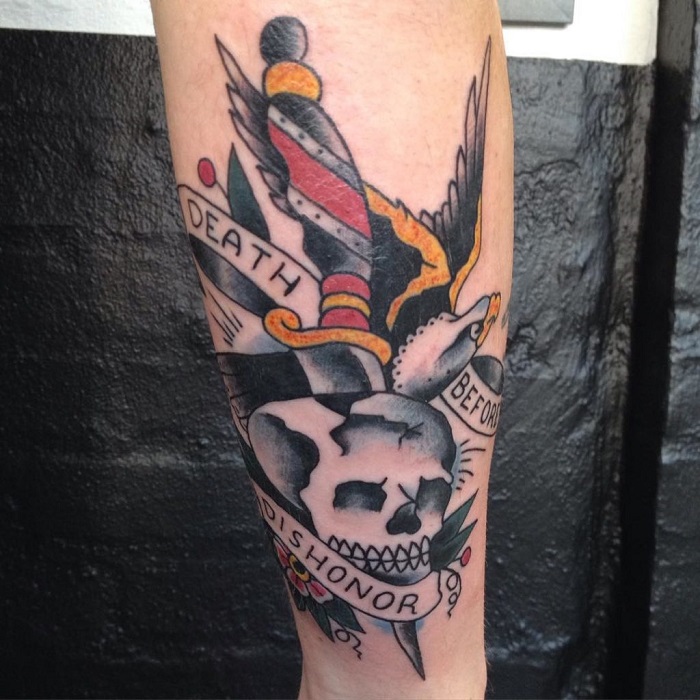 #25: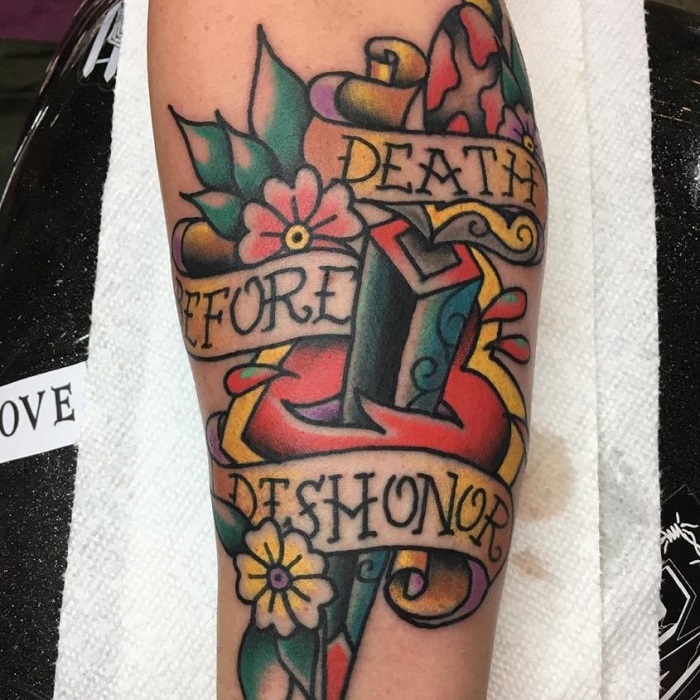 #26: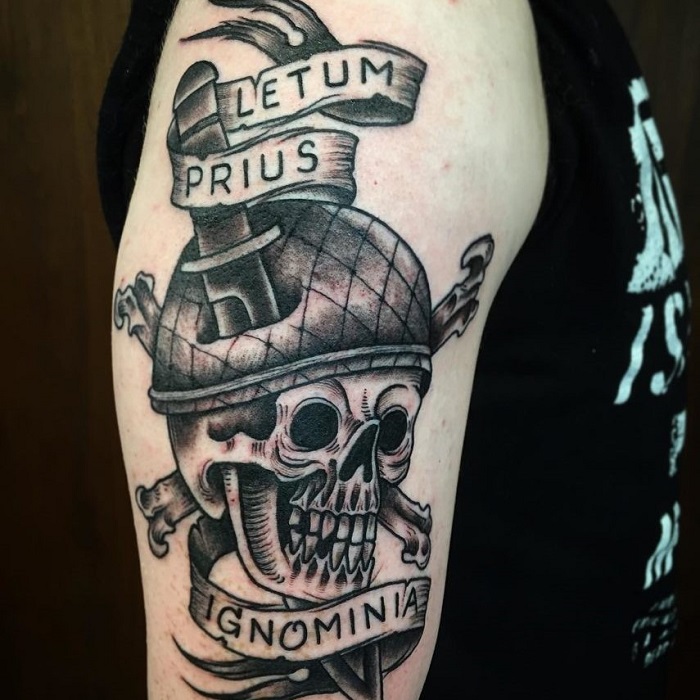 #27: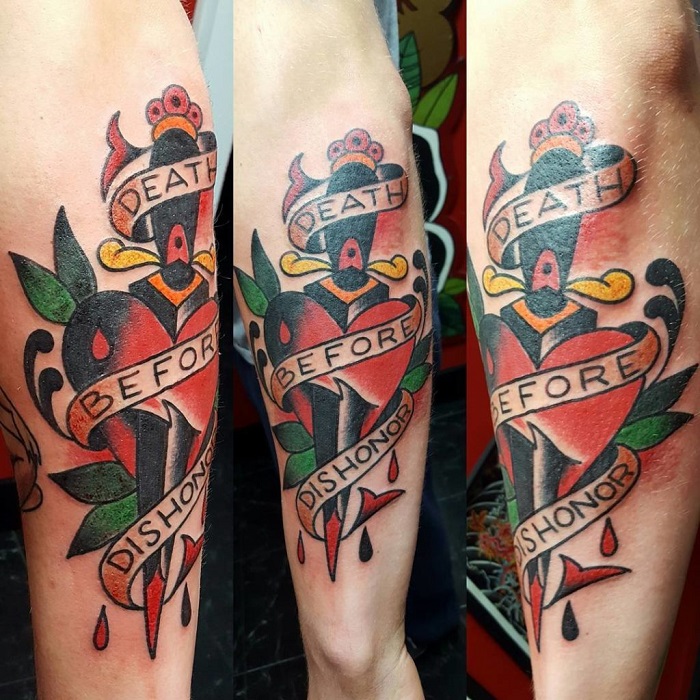 #28: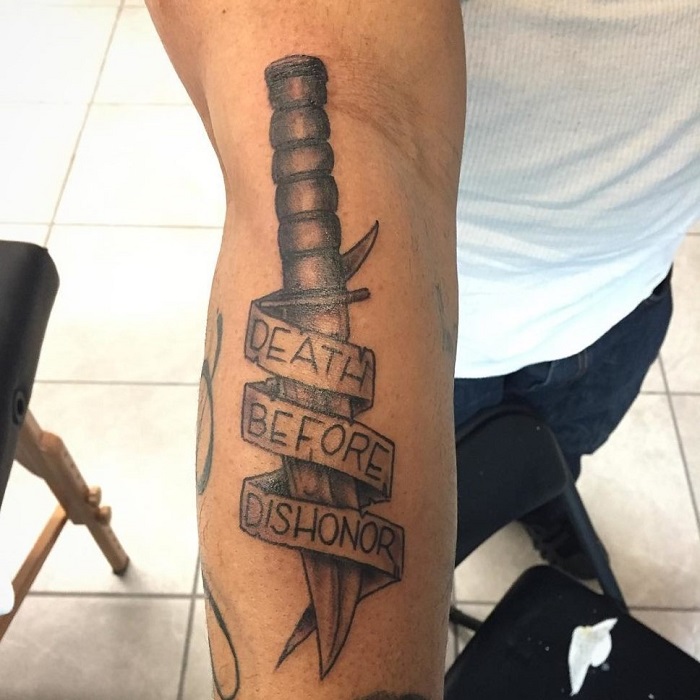 #29: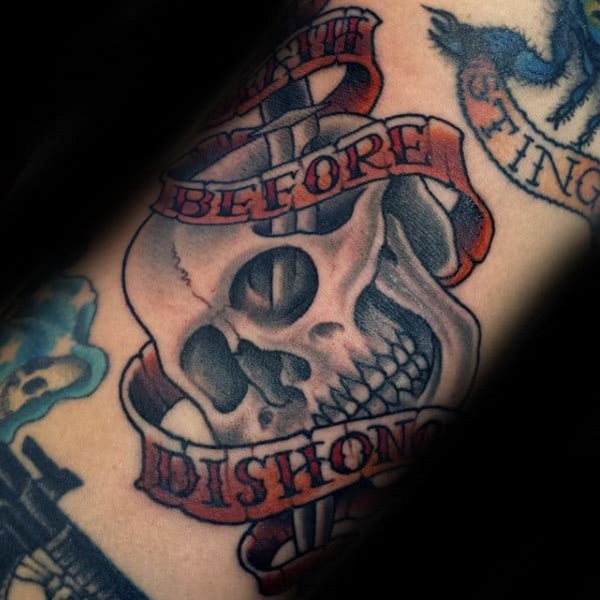 #30: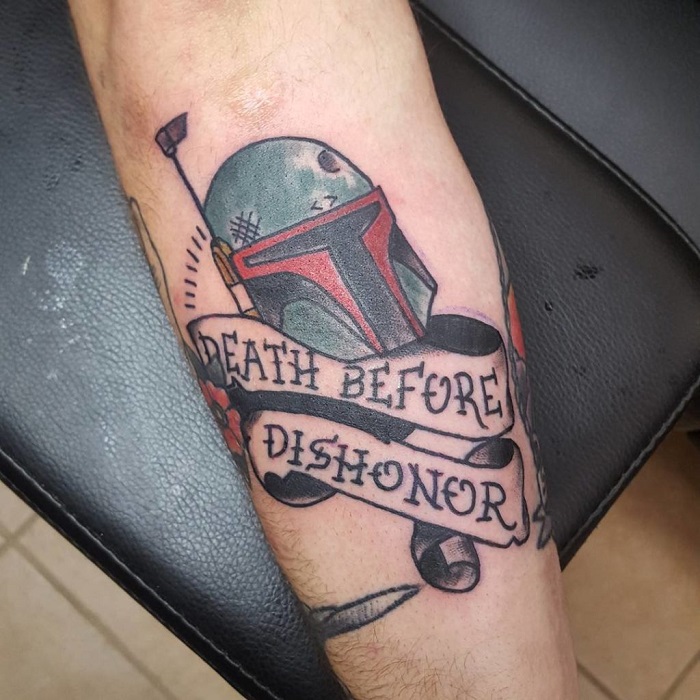 History of the Death Before Dishonor Tattoo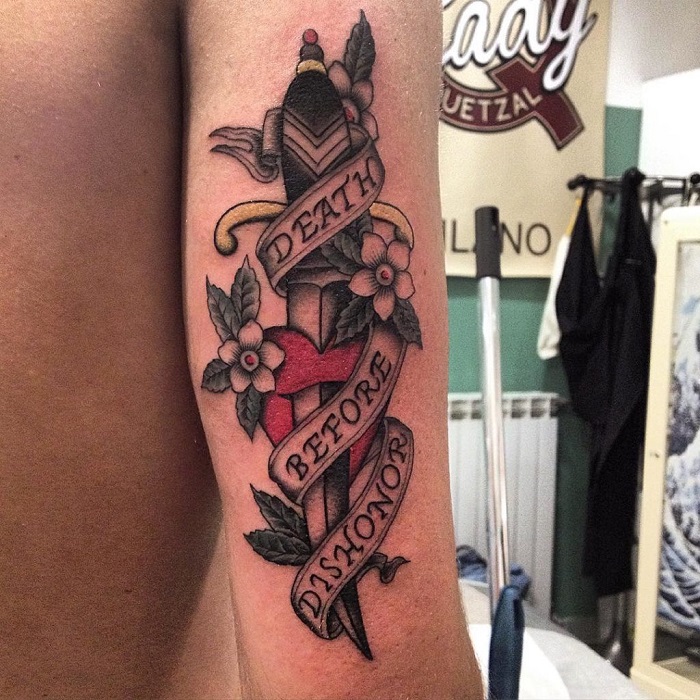 Death Before Dishonor tattoos are popular within the United States military, yet they date back centuries earlier. The phrase "death before dishonor" can be traced back to the Roman Empire, which emphasizes its significance in military history.
It was also prominent among Japanese samurai. For these warriors, it was connected to the symbol of The Three Tears which, according to legend, represented an Okinawan bodyguard and two Japanese samurai.
The samurai, who were working on political orders, stormed the Okinawan king's castle and cornered a bodyguard at the top of the stairs.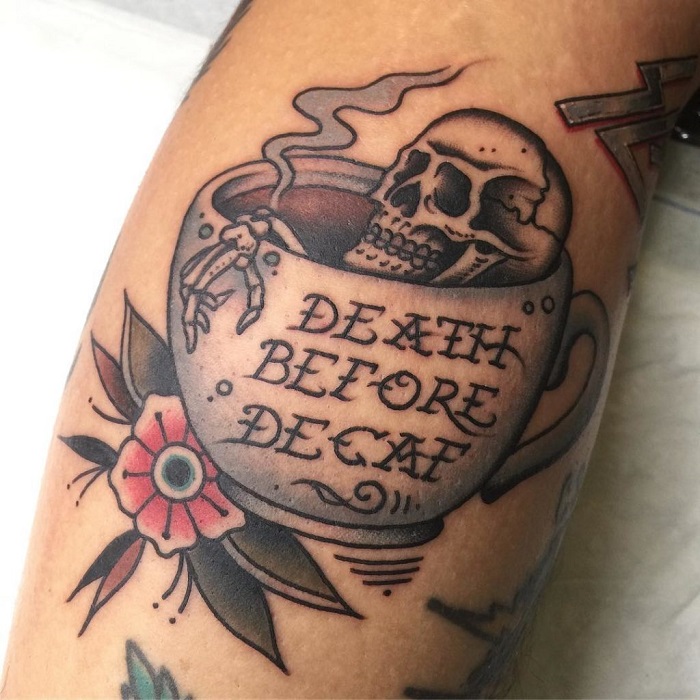 The bodyguard grabbed the samurai and jumped into a boiling vat of oil, killing all three of them. The other samurai were in awe of the bodyguard's loyalty, as he died before allowing the samurai to attack his masters. Variations of this legend exist but the sentiment of "death before dishonor" remains prominent.
"Death before dishonor" was a popular phrase among Japanese Samurai, since they lived and died by the strict warrior code. The word "samurai" means "to serve." Samurai were also masters of the katana, which was a sword with a 24-30 inch blade. Similar blades are often added to Death Before Dishonor tattoos. 
Which Celebrities Have a Death Before Dishonor Tattoo?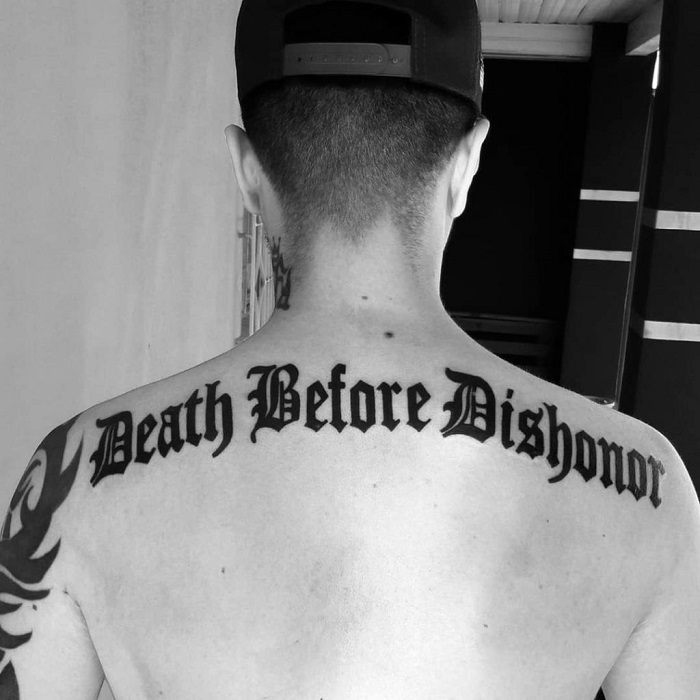 XXXTentacion, who met his untimely death in 2018, had a Death Before Dishonor tattoo on his right cheek.
As someone with no military past, his tattoo signified loyalty to his friends, family, and fans. XXXTentacion opted for a simple script with no accompanying images, probably to emphasize the sentiment behind the phrase itself, not feeling the need to further complicate the image.
Another Death Before Dishonor tattoo can be found on a fictional character. Dr. Conrad Hawkins (played by Matt Czuchry) on The Resident has a simple Death Before Dishonor tattoo across his back. No images accompany the script, similar to XXXTentacion's tattoo.
Dr. Conrad Hawkins' military history explains the origin of his tattoo, as he served in the United States Marine Corps. Fans online are speculating about whether this tattoo is real or not. It isn't uncommon for realistic, temporary tattoos to be used on film sets.
---
Looking for more inkspiration? Say no more:
30 Best Only The Strong Survive Tattoo Ideas
8 Best Demon Slayer Tattoo Ideas
30 Best Laugh Now Cry Later Tattoo Ideas
Get Access to Exclusive Deals
Subscribe for free to get exclusive deals in your inbox. 100% privacy