30 Best Gladiolus Tattoo Ideas 
About Gladiolus Tattoos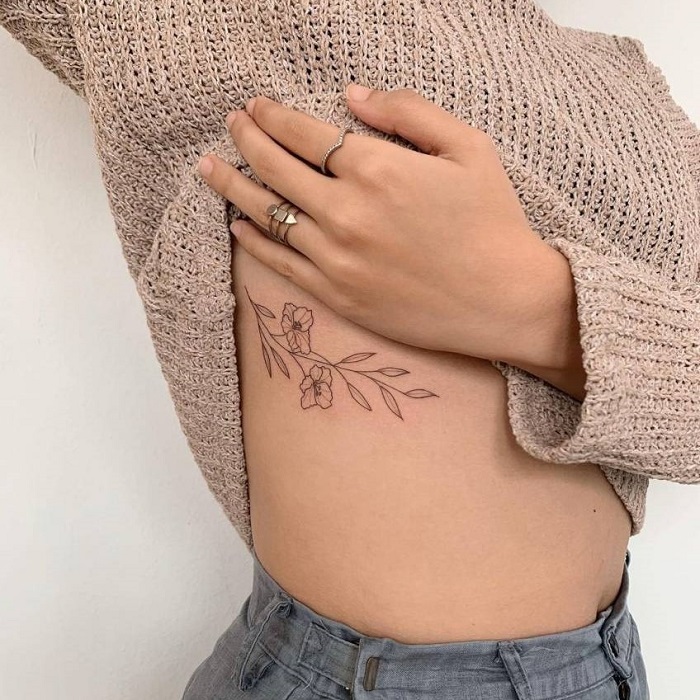 Tattoos are vessels for self-expression and an opportunity to show off your creative side. You can pick a design that's meaningful to you or one you just find beautiful. Whether you're thinking about your first tattoo, or a design to add to a sleeve, floral tattoos are always a good option.
Floral tattoos are common for both men and women and come with endless possibilities for unique and creative designs. There are many flowers to pick from and if you don't want to go with the standard red rose, a gladiolus tattoo may be the design for you.
Gladiolus tattoos are popular choices, yet no two gladiolus tattoos look exactly the same. A gladiolus is a long, pointed flower that comes in an array of colors.
It can represent strength as well as grace. And it's the perfect jumping-off point for designing creative tattoos that are timeless and suited to the individual.
If you're thinking about getting a gladiolus tattoo, stay tuned. This article will tell you everything you need to know about the tattoo before you get inked.
What Do Gladiolus Tattoos Mean and Symbolize?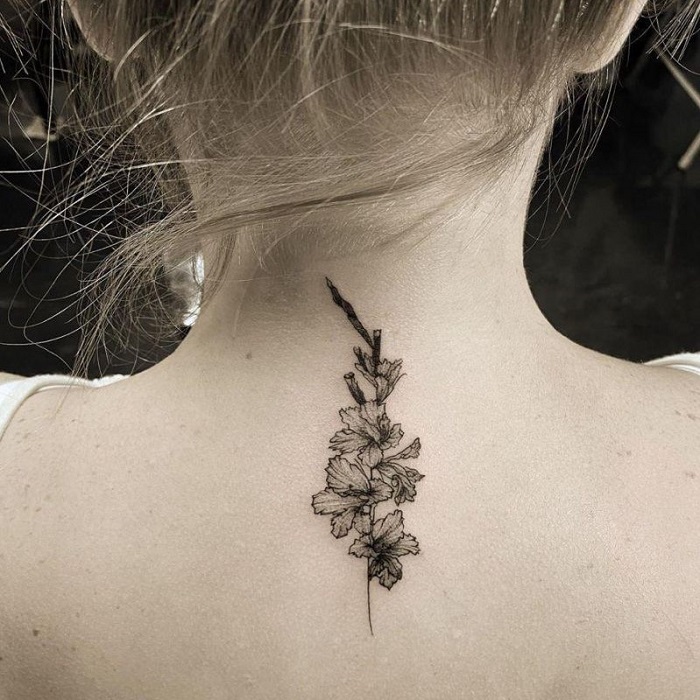 As we've mentioned, a gladiolus tattoo can symbolize strength and grace, and many other floral tattoos can represent these same qualities. Of course, strength and grace are opposite qualities.
But this seeming contradiction captures the true nature of all human beings since we're both tough and delicate at the same time.
Other meanings of the gladiolus tattoo include elegance, love, tenderness, loyalty, integrity, and confidence. It can also symbolize health and healing since the flower has been used for medicinal purposes throughout the years.
The gladiolus flower is also the 40th-anniversary flower, and it symbolizes infatuation, sincerity, and admiration. And finally, it's the flower of August, which is why many people with August birthdays have a gladiolus tattoo on their bodies.
The meaning of the flower also changes depending on its color: yellow symbolizes friendship, red symbolizes love and eroticism, and pink symbolizes the love of a mother. So the gladiolus tattoo meaning can be quite profound.
Where to get a Gladiolus Tattoo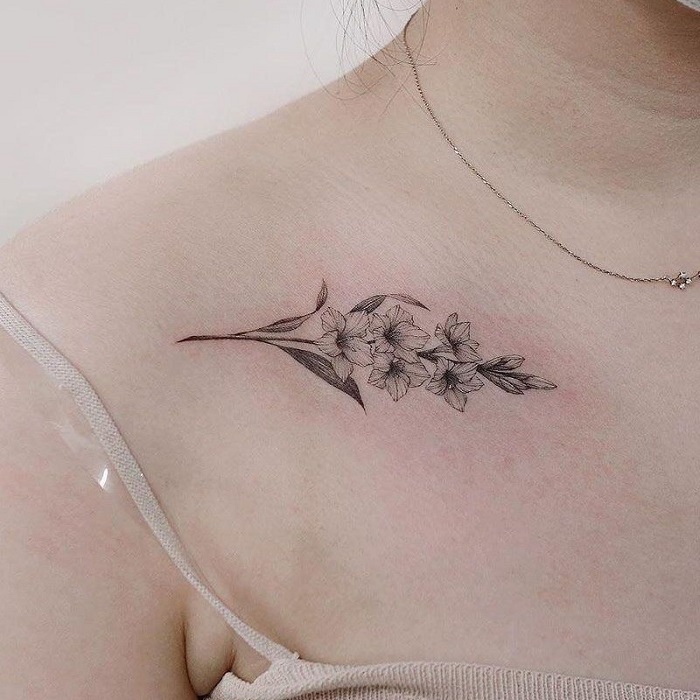 Tattoos can be placed anywhere on your skin, but remember that your design needs to complement your body. A good rule of thumb is to follow the natural lines of the body. Tattoos are accessories, after all, and can be used to emphasize the existing beauty of the human form.
The best placements for a gladiolus tattoo include:
Forearm
Along the spine
Thigh or calf
Ribcage
Wrist
Ankle
Gladiolus tattoos have a streamlined shape and would look best on parts of the body that are also long and narrow. You can get a gladiolus tattoo on your arm, leg, down your spine, or horizontally along your ribcage.
If you want something a little smaller, gladiolus tattoos also look great on a wrist or ankle. This tattoo will accentuate the body's natural lines.
If there's a specific spot you want your tattoo, you can then design it to complement that part of the body. For example, if you want it on the back of your neck, maybe a bouquet or two crossing flowers would fit best.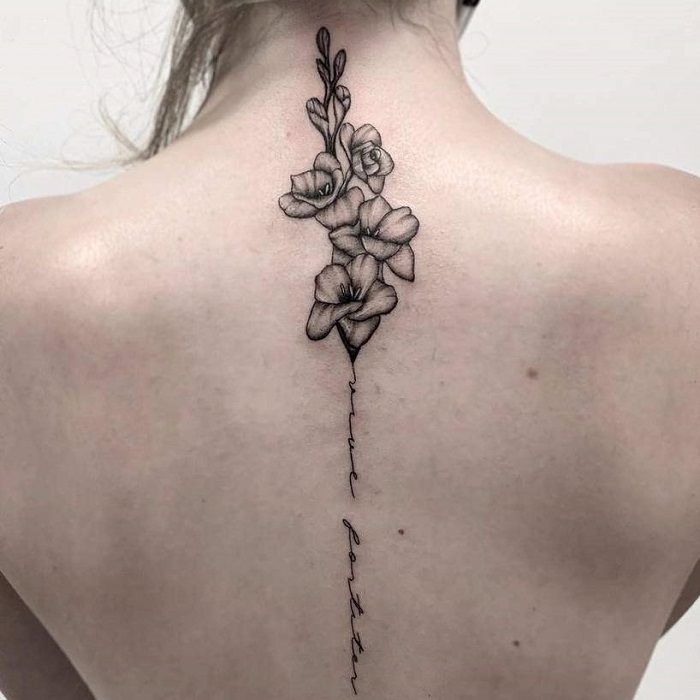 Tattoos are permanent, although they can be lasered off if necessary. Colorful tattoos tend to fade over time, but you can go back to the studio for touch-ups.
The inking procedure is quite painful, so ensure that you have a strong pain tolerance. Thankfully, numbing creams can be used, which will numb your skin for 2-5 hours as the tattoo artist is at work. Also, talk to your doctor before getting a tattoo, to ensure your skin won't have an allergic reaction.
How Much Do Gladiolus Tattoos Cost?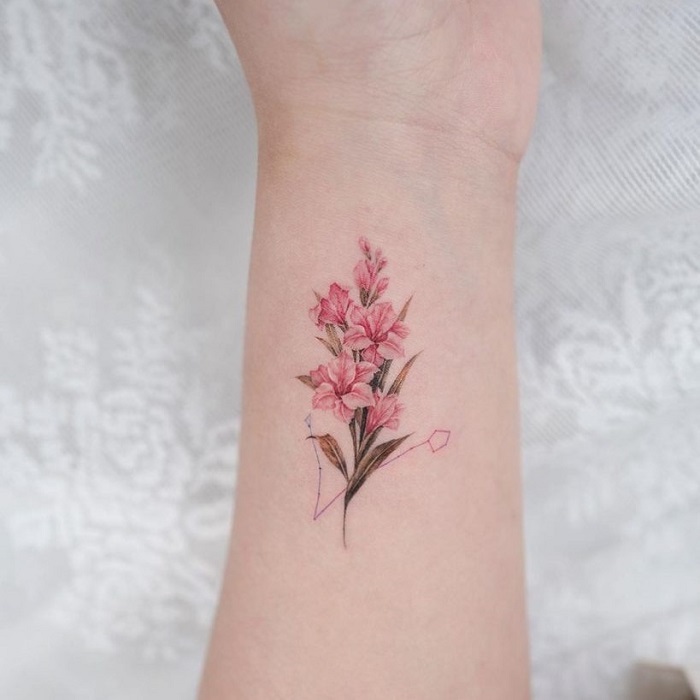 There are a few factors that influence the cost of a tattoo:
Size of tattoo
Design
Colors, ink, and equipment used
Placement
Experience of tattoo artist (an experienced artist will cost more)
Hourly rate
Location of tattoo studio (city studios are most expensive)
The average price range for a tattoo is $50-200 but, generally speaking, you should be prepared to spend around $100 for a good tattoo.
A small tattoo (2-4 inches) can cost between $50-$250 on average, while a medium tattoo (4-6 inches) can be $150-450, and a large tattoo (over six inches) can fall between $500-$4,000.
Sleeves and full-back tattoos will cost you a couple of thousand dollars and will probably take several sessions to complete. Tattoos with multiple colors will also cost you more.
Many tattoo parlors charge by the hour, and a bigger tattoo will take longer and possibly multiple sessions to complete. Every studio has a slightly different way of calculating prices, so it's important to chat with the staff beforehand to ensure that your tattoo is within your budget.
Some studios also require a deposit before starting the procedure, unless it's a walk-in session.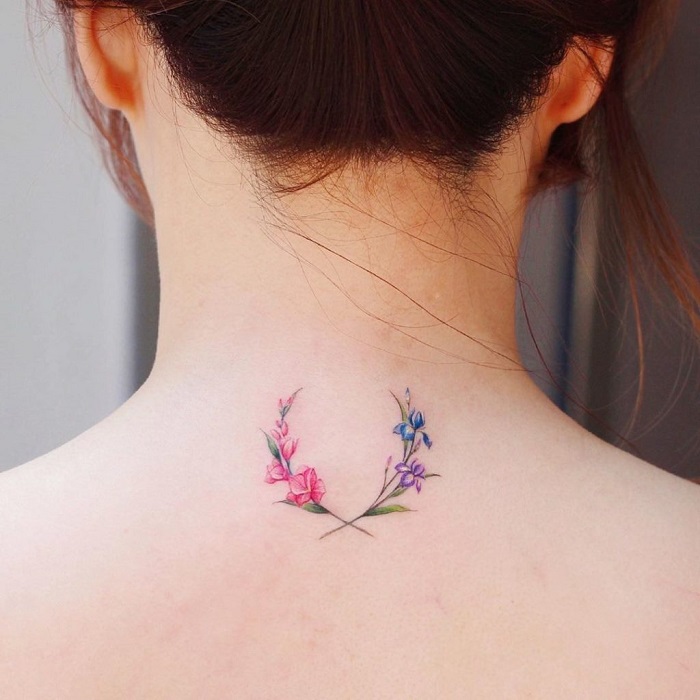 Picking the right tattoo artist for you is possibly the most important step in this process. Of course, you'll want to find someone who will accurately bring your vision to life.
Booking one or more consultations with the artist prior to the actual procedure is a good idea. That way they can help you develop your design and ensure that you'll love it.
Also, word of mouth goes a long way, so ask your friends where they went for their tattoos!
30 Best Gladiolus Tattoo Designs
When designing your gladiolus tattoo, the possibilities are endless! Here are some popular choices for gladiolus tattoo designs, but this list is really just a good starting point.
Feel free to get creative and design something that best reflects you. But if you need some Gladiolus tattoo ideas, check out the list below.
#1: Watercolor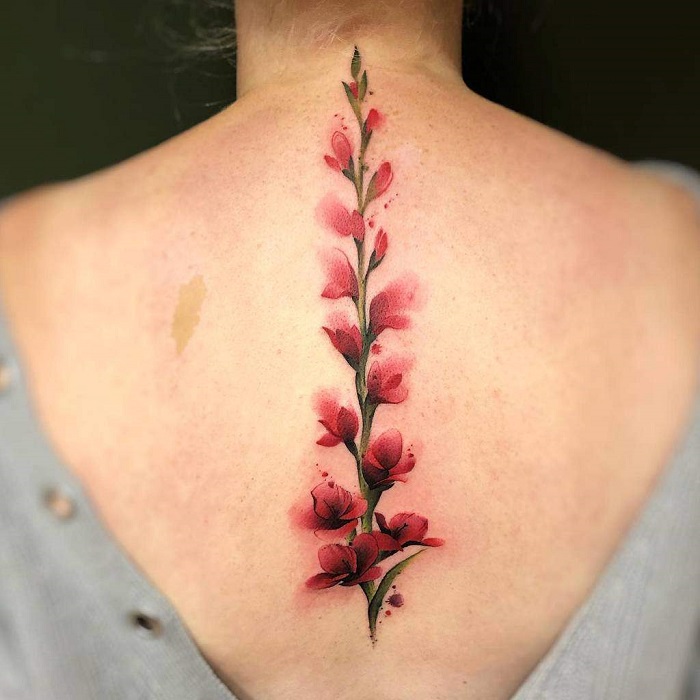 This design features multiple colors in the style of a watercolor painting. Since the gladiolus tattoo is sculpted after a real flower, the design can reflect nature's colors. The actual flower can be red, pink, green, yellow, or white—you name it!
The only thing to be cautious of with colorful tattoos is that they do fade more quickly than traditional black and white tattoos, and they also cost more.
#2: Black and white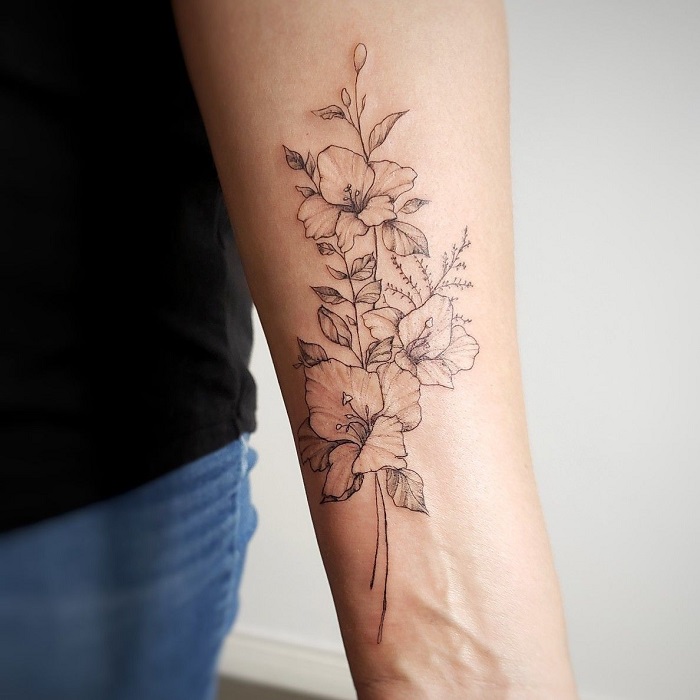 Keeping the image black and white is a more traditional approach to tattoo design. But that doesn't mean your tattoo will be boring! Shading different parts of the flower will add depth and complexity to your tattoo, making it really pop.
Also, if you have other tattoos (or are planning on getting more), you won't have to worry about matching the colors of each one if you choose this black and white option.
#3: Minimalistic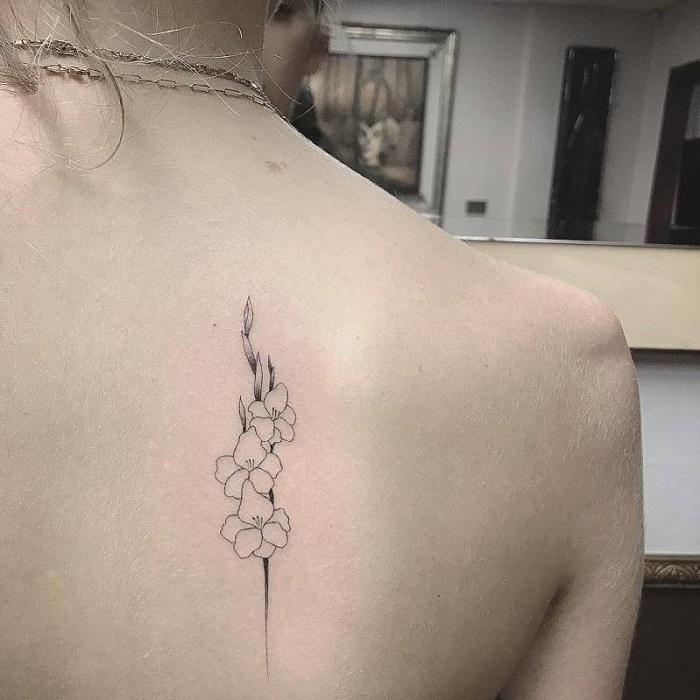 Another tattoo trend that's becoming more popular is the minimalistic approach. As far as design, a minimalist tattoo will have a thin outline and not much more. This look is very delicate and timeless.
Compared to complex designs, this simple tattoo will also appear more natural and at home on your skin. This design emphasizes the curves of the gladiolus flower, showcasing it in all its natural glory.
#4: Quotes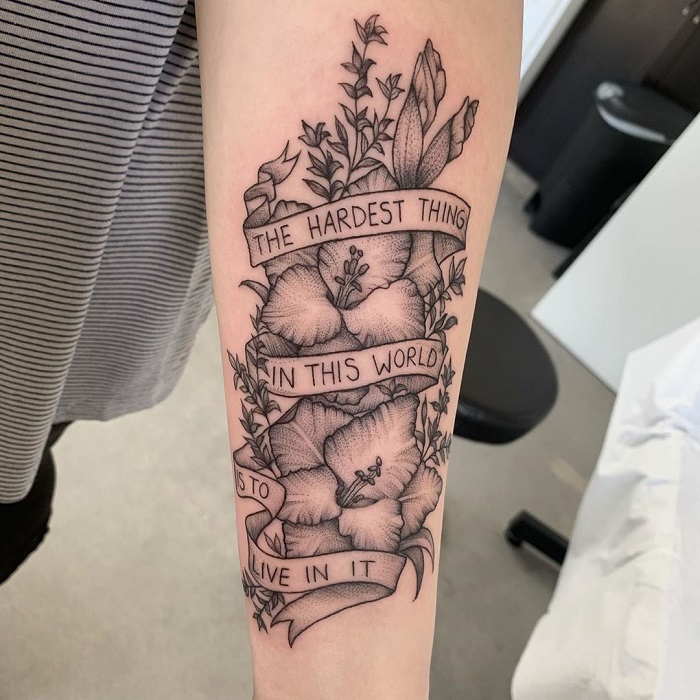 You can add quotes around your gladiolus tattoo to truly display who you are and what's important to you. Ribbon quotes are a classic tattoo look and could easily wrap around a bouquet of flowers.
Quotes can be added to any design in a complementary style, bringing your tattoo to the next level. Since this flower is rich with symbolism and has many meanings, a quote that reflects this symbolism would be a good choice.
#5: Bouquets and other natural elements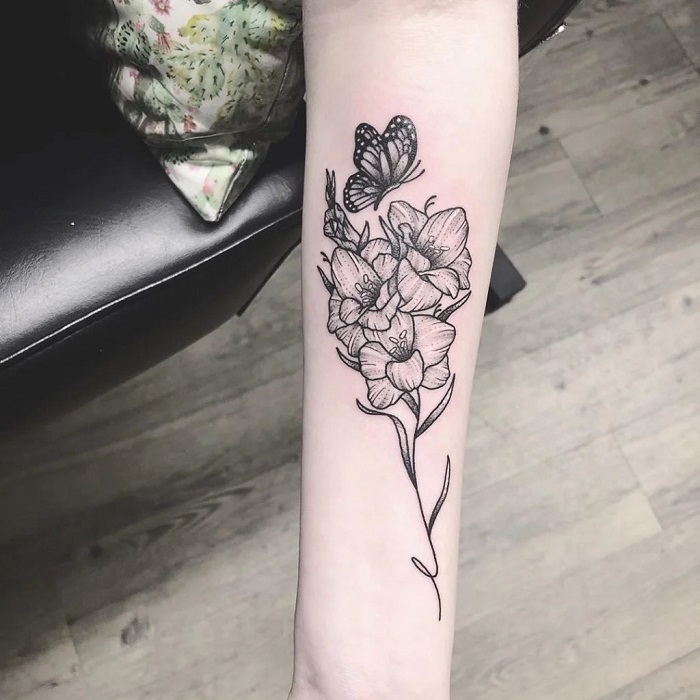 You can get more than one gladiolus flower on your body, or pair the gladiolus with other flowers, leaves, birds, or butterflies to complete the natural look of your tattoo.
#6: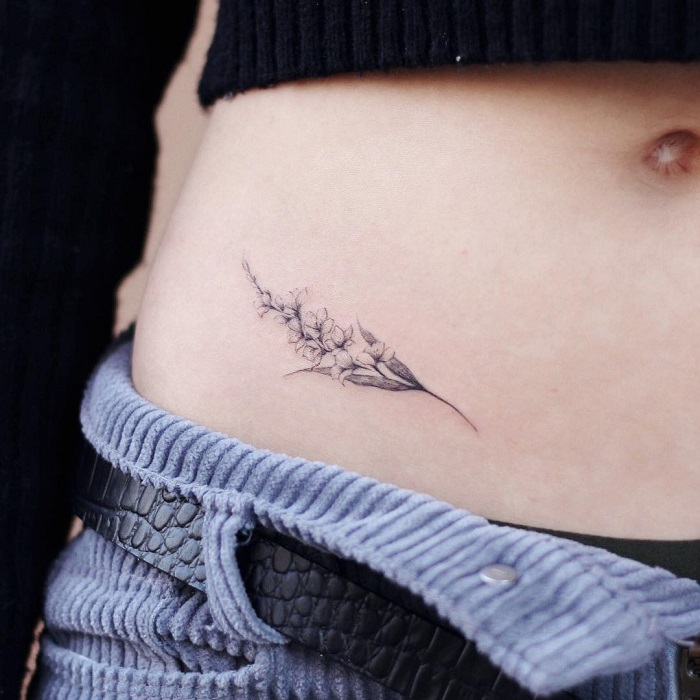 #7: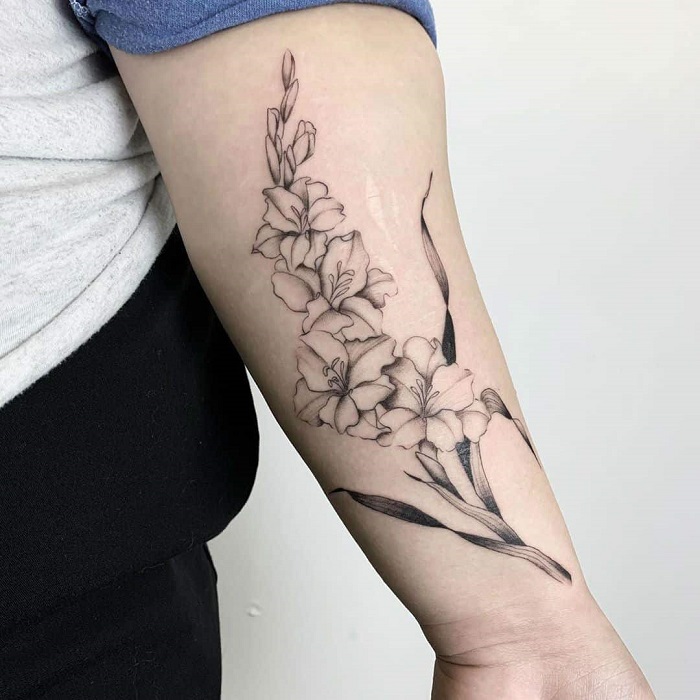 #8: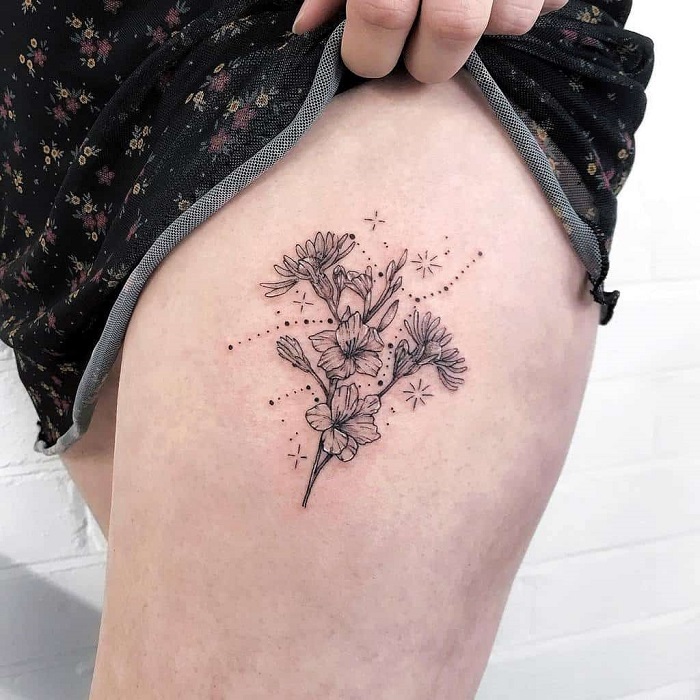 #9: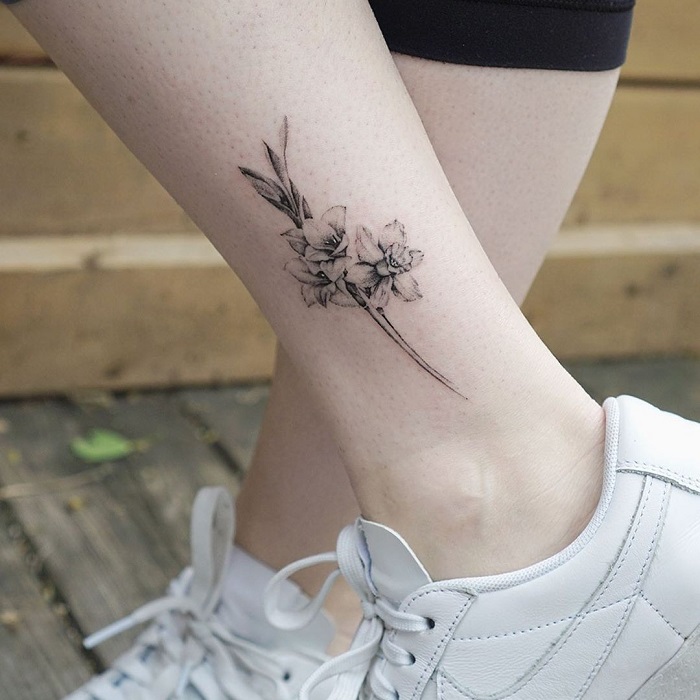 #10: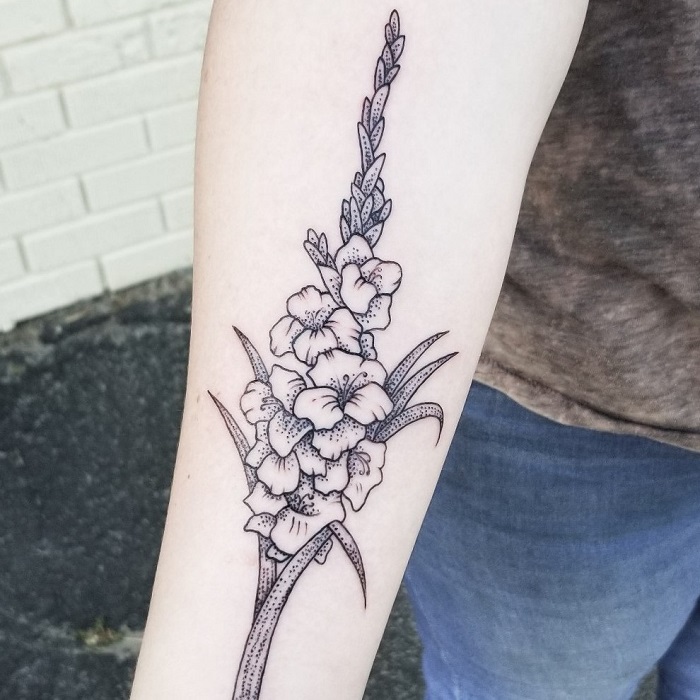 #11: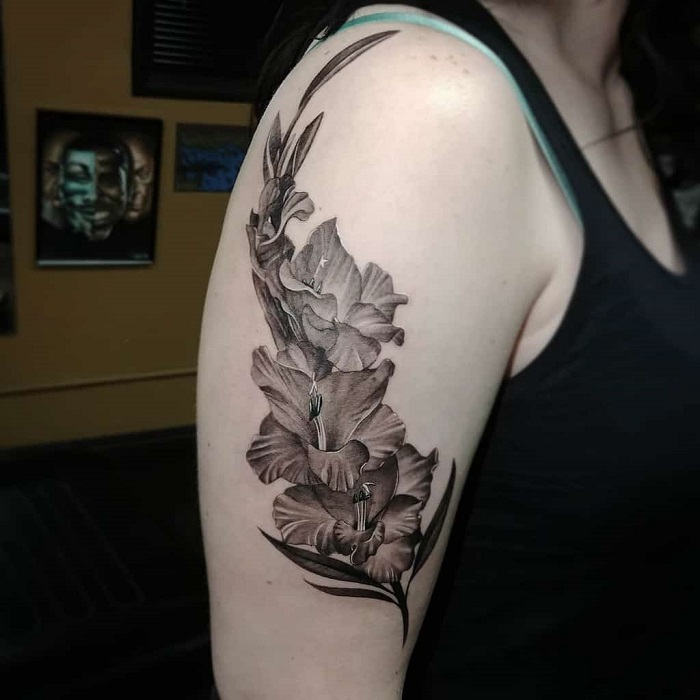 #12: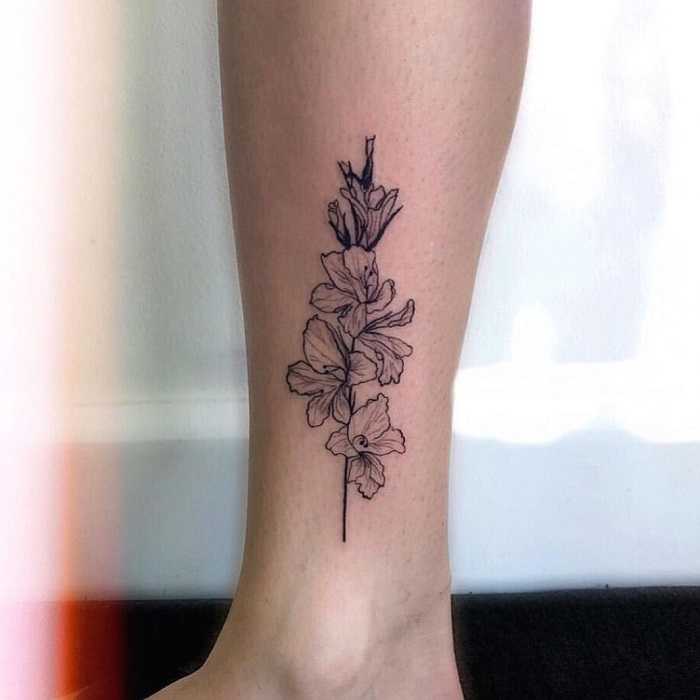 #13: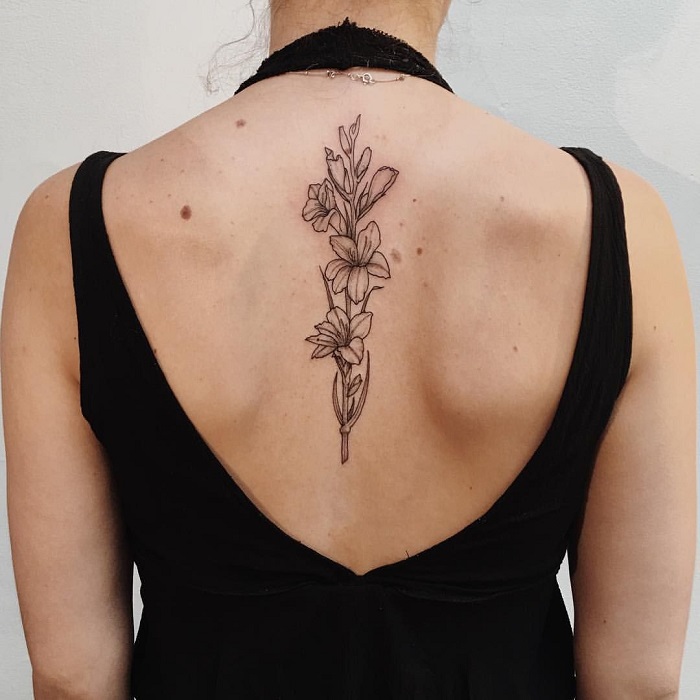 #14:
#15: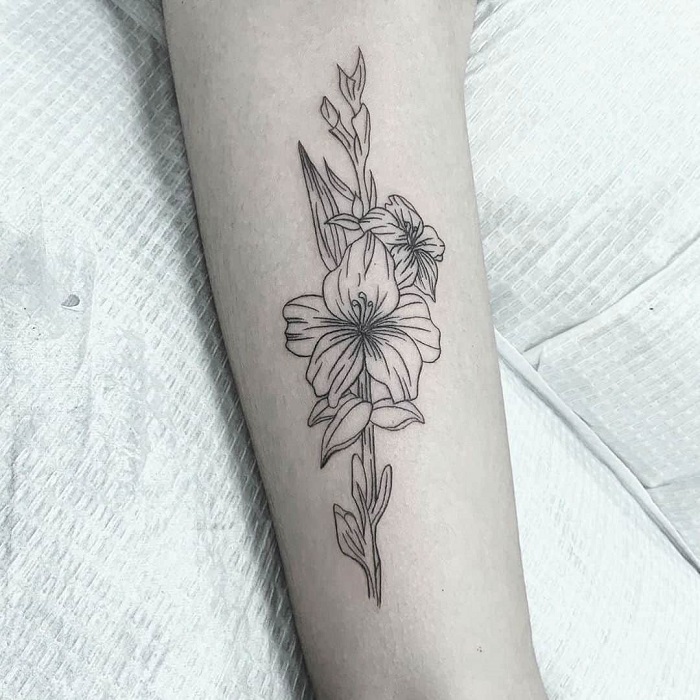 #16: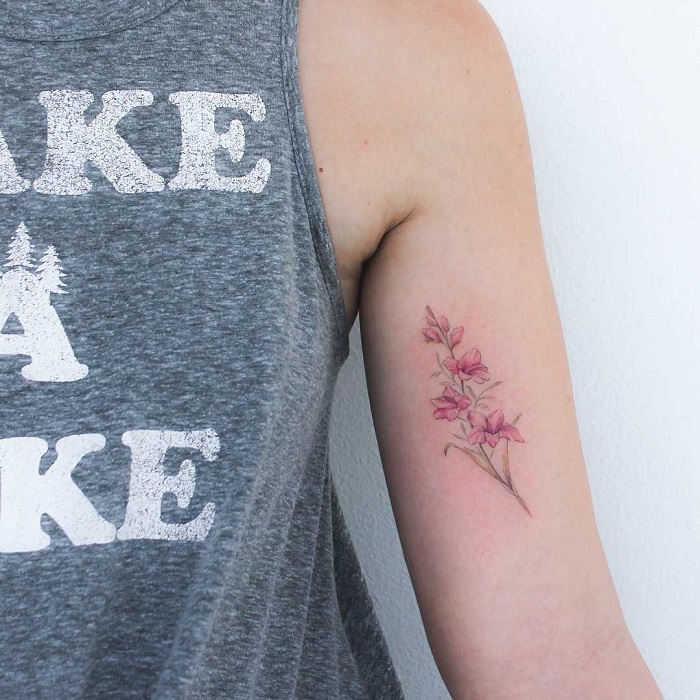 #17: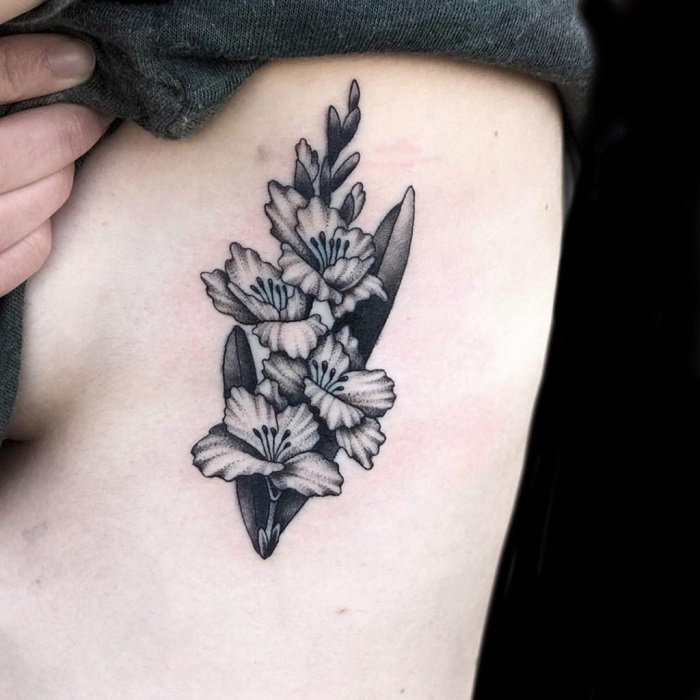 #18: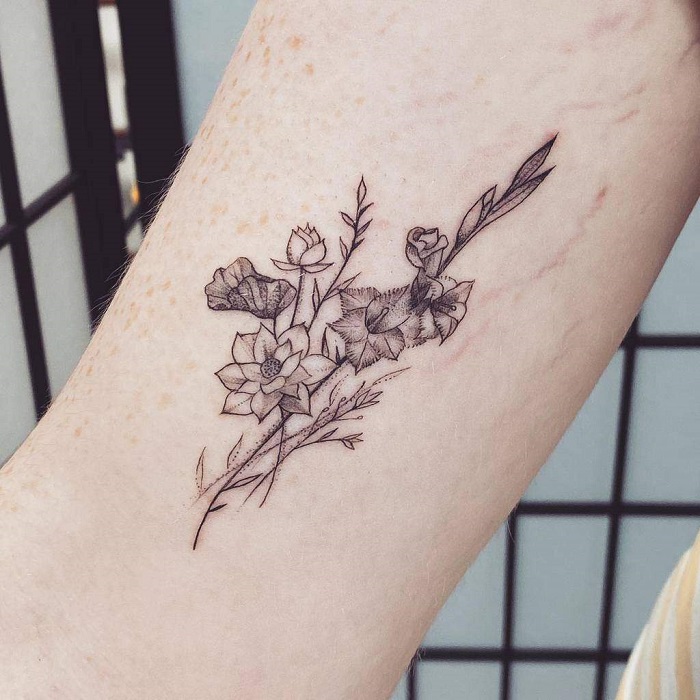 #19: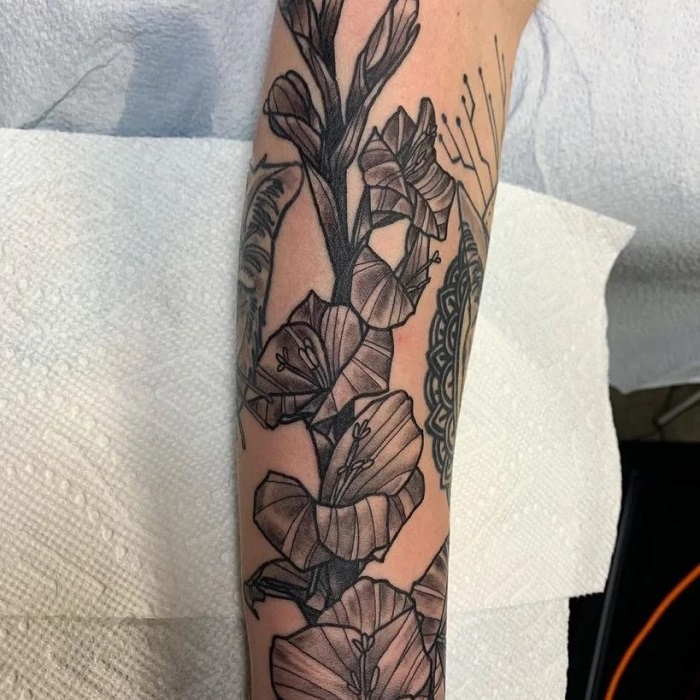 #20:
#21: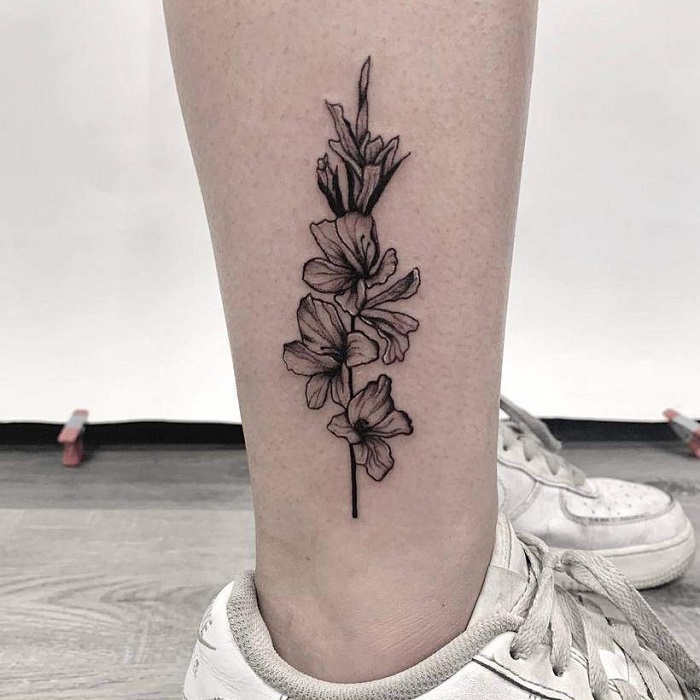 #22: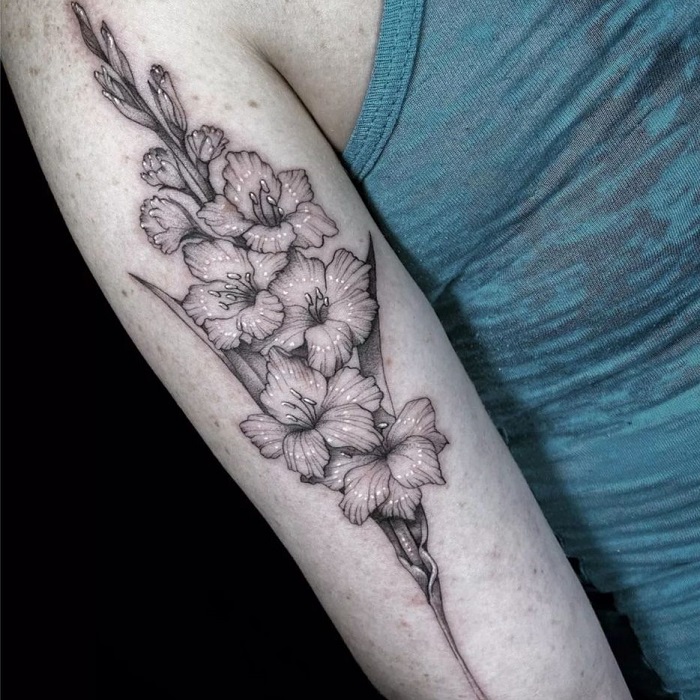 #23: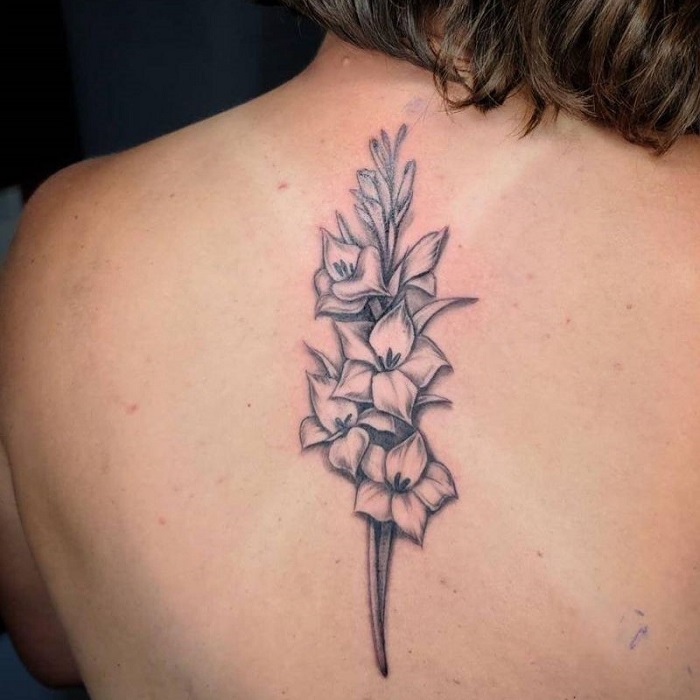 #24: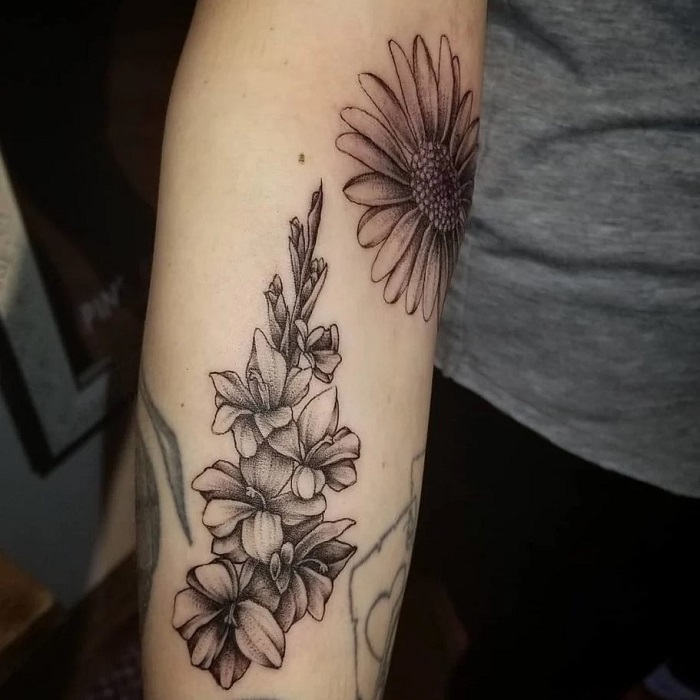 #25: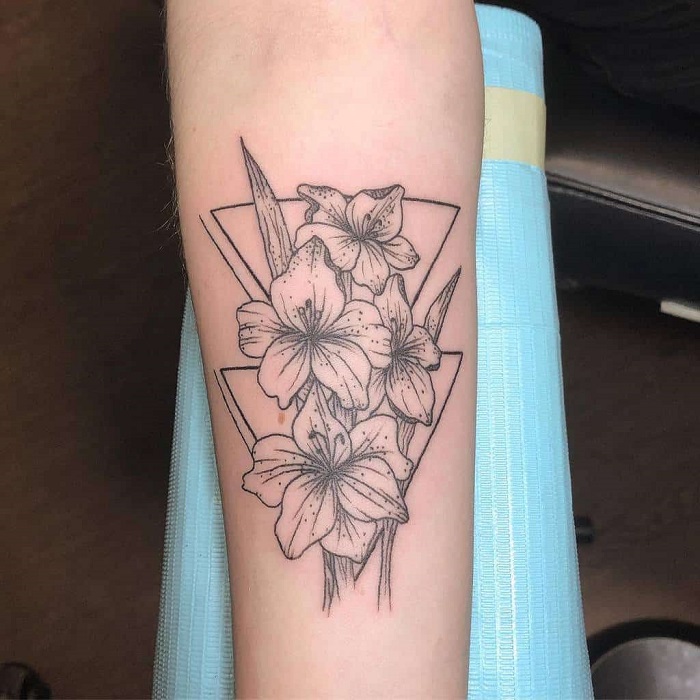 #26: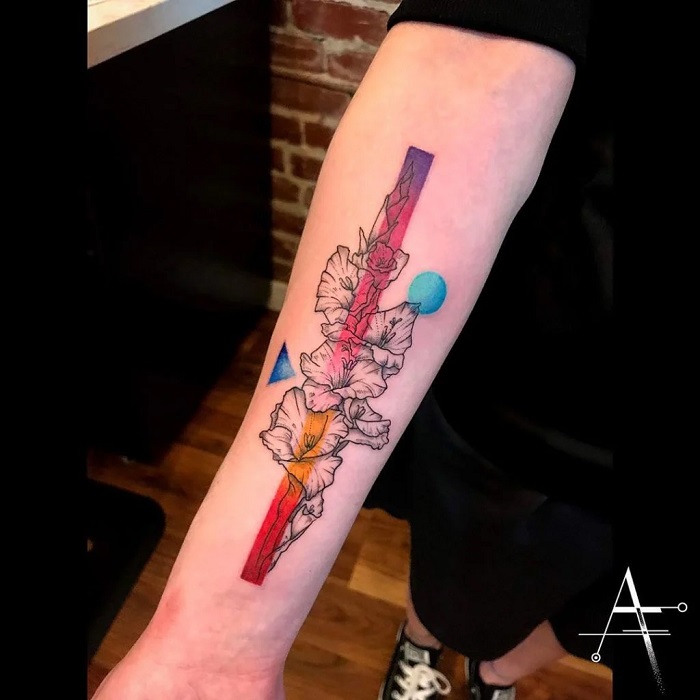 #27: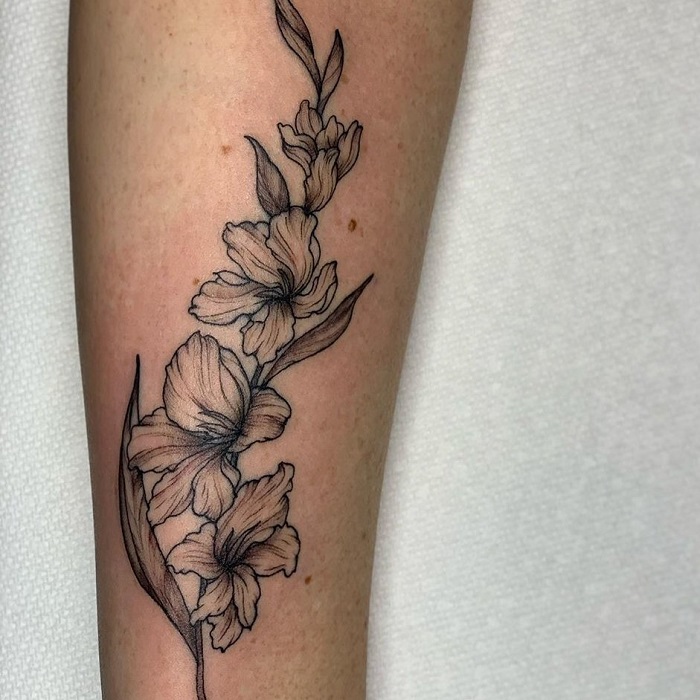 #28: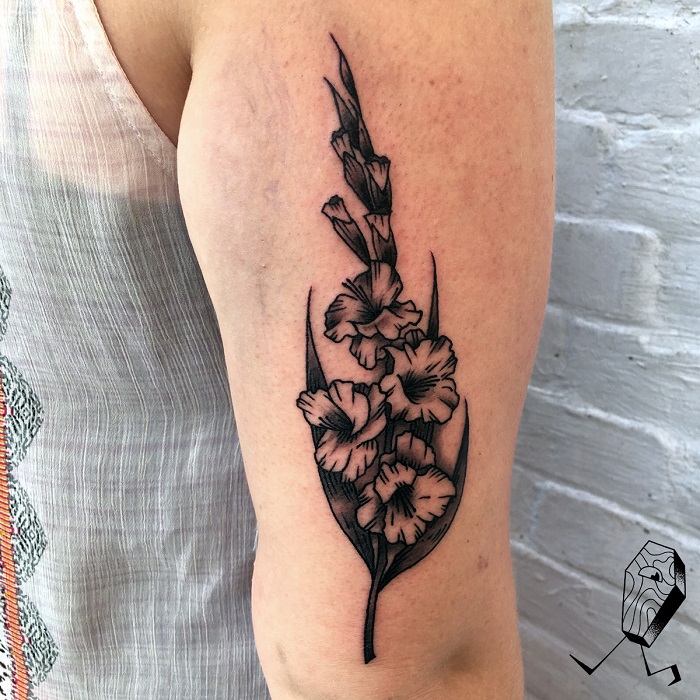 #29: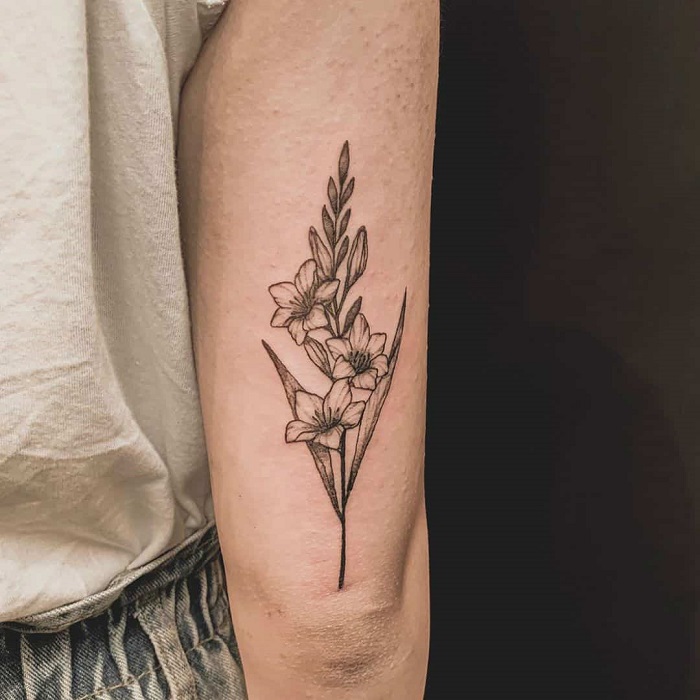 #30: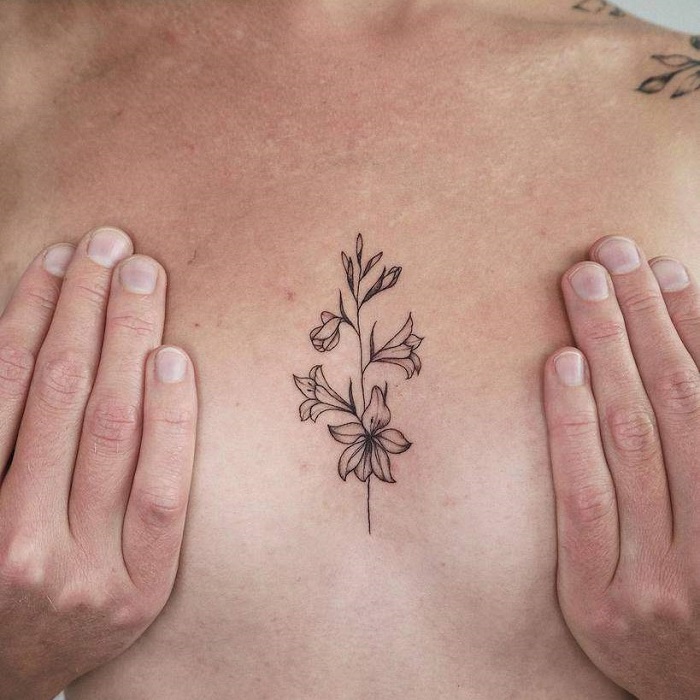 History of the Gladiolus Tattoo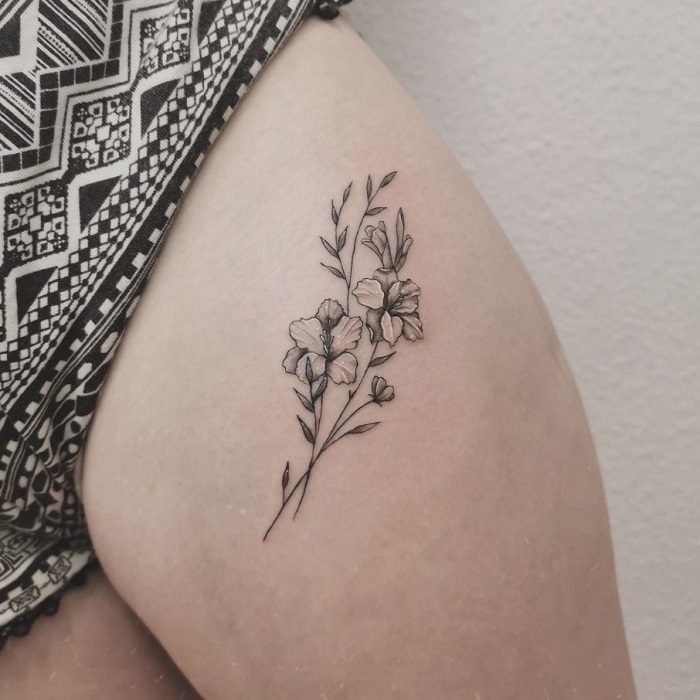 Gladiolus tattoos have a rich and interesting history. The word gladiolus comes from the Latin word 'gladius' meaning 'sword,' which makes sense because the flower has a long and pointed shape, just like a sword.
In ancient Rome, gladioli were associated with gladiators. It's reported that gladiators would paint gladioli on their bodies to protect themselves in battle.
They also hung them around their necks, since the flower symbolizes victory, strength, and justice. Although not many of us are going into battle anytime soon, this meaning may still resonate with you!
Gladioli are part of the iris family and can be found all over the world, including South Africa, Mediterranean Europe, and Asia. They grow from symmetrical, rounded corms (stems) and can reach as tall as a meter and a half! They bloom in summer and fall, which is why they're considered the August flower.
Which Celebrities Have a Gladiolus Tattoo?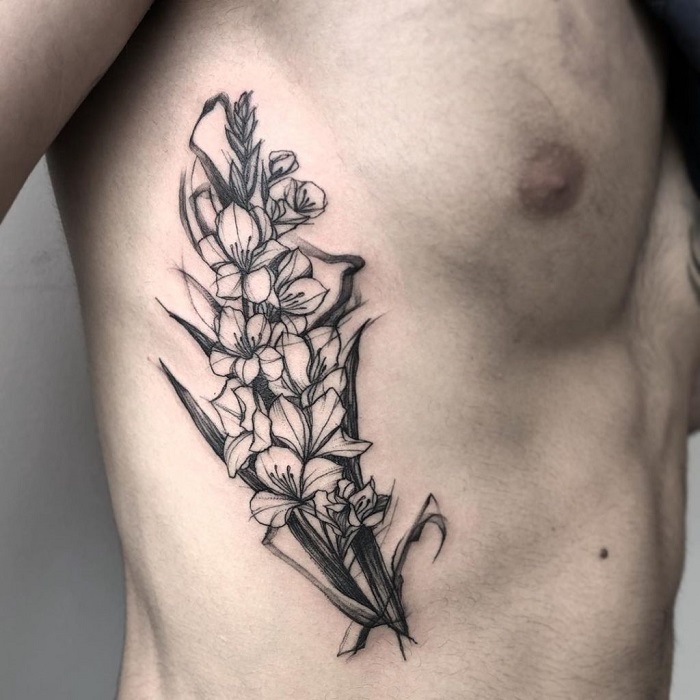 To the internet's vast knowledge, no celebrity currently has a gladiolus tattoo. However, many stars have floral tattoos decorating their bodies, such as the iconic rose tattoo.
If you have aspirations to walk down the red carpet one day, you could be the first to do so with a gladiolus tattoo!
---
Looking for more inkspiration? Say no more:
30 Best Pinky Promise Tattoo Ideas
30 Best Twin Flame Tattoo Ideas
Get Access to Exclusive Deals
Subscribe for free to get exclusive deals in your inbox. 100% privacy