30 Best Pinky Promise Tattoo Ideas
About Pinky Promise Tattoos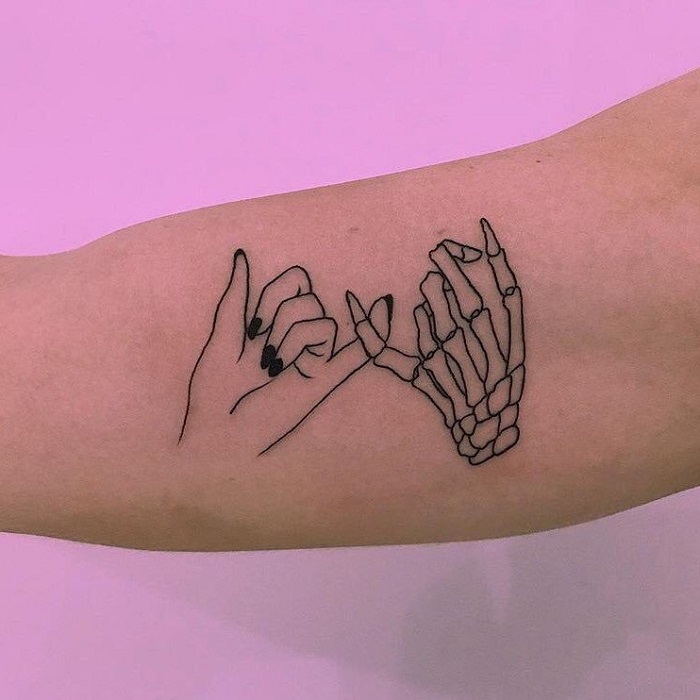 They're the peanut butter to your jelly, the Bonnie to your Clyde, and the Red Robin to your Batman.
Besties are forever, and you've probably expressed your gratitude through gift-giving and heart-felt text messages. But, for those who really want to cement their friendship forever, there's something even better than the traditional charm bracelet.
Tattoos are a great way to immortalize your commitment, whether that be friend, family, partner, or even foe. While some resort to names, symbols, and quotes, the iconic pinky promise is definitely one of the more sentimental images out of the bunch. With that in mind, what design should you opt for?
From intricate line art to the fully decked-out, we're counting down 28 of the best pinky promise tattoo ideas popularized on social media.
What Does Pinky Promise Tattoos Mean and Symbolize?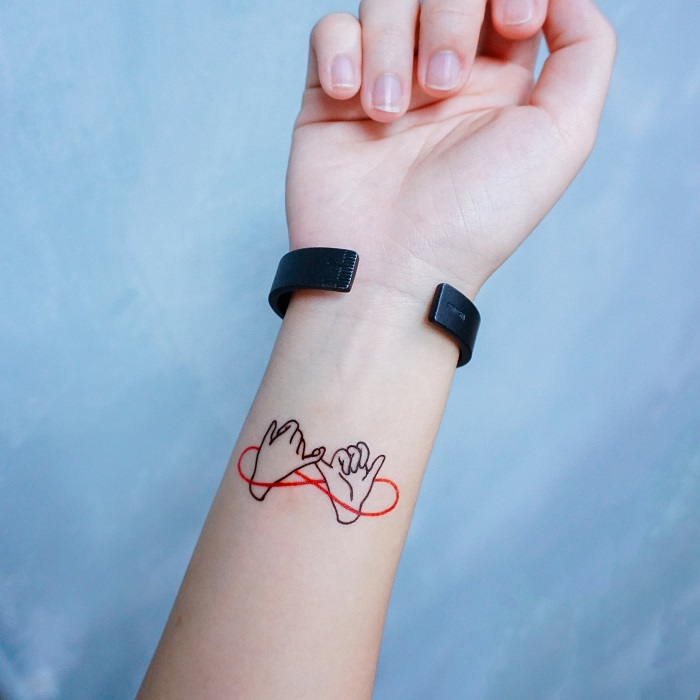 In short, the pinky promise symbolizes life-long commitment. It's usually considered one of the more 'subtle' acts of loyalty, compared to more serious imagery such as the infinity symbol, the Yin Yang, or the ouroboros.
The pinky promise is supposed to feel sentimental, innocent, and childish. If you're thinking of gym class buddy-system and playground 'cross my heart and hope to die,' you're definitely on the right track.
Where to Get a Pinky Promise Tattoo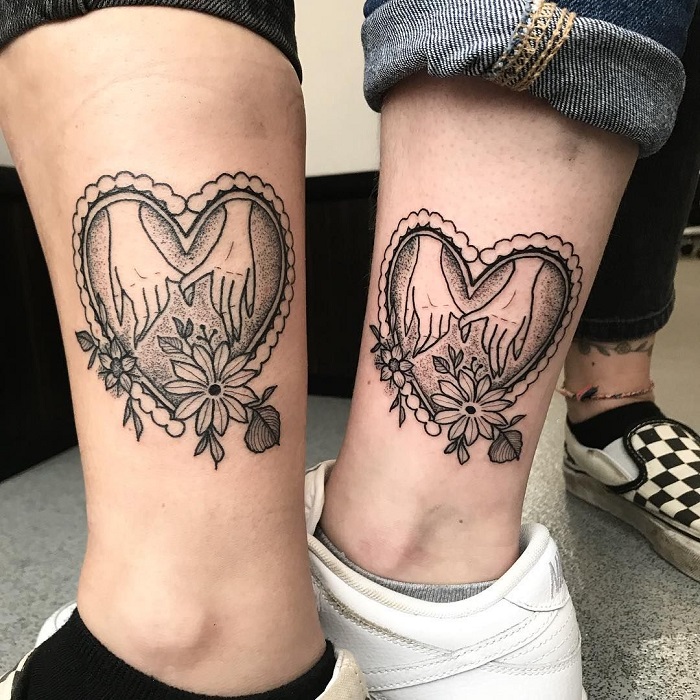 So, where would you like to be tatted? The most popular areas include the forearm, shoulder, lower back, wrist, and front chest. It's important that you consider where you want your pinky promise tattoo to show—given that it's fully permanent.
Do you prefer to show off your designs, or do you like to keep things private? You should answer these questions before committing to ink.
Obviously, you'll need to do some prior research on tattoo parlors within your area. They should be reputable, relatively active on social media, and affordable depending on your budget.
How Much Do Pinky Promise Tattoos Cost?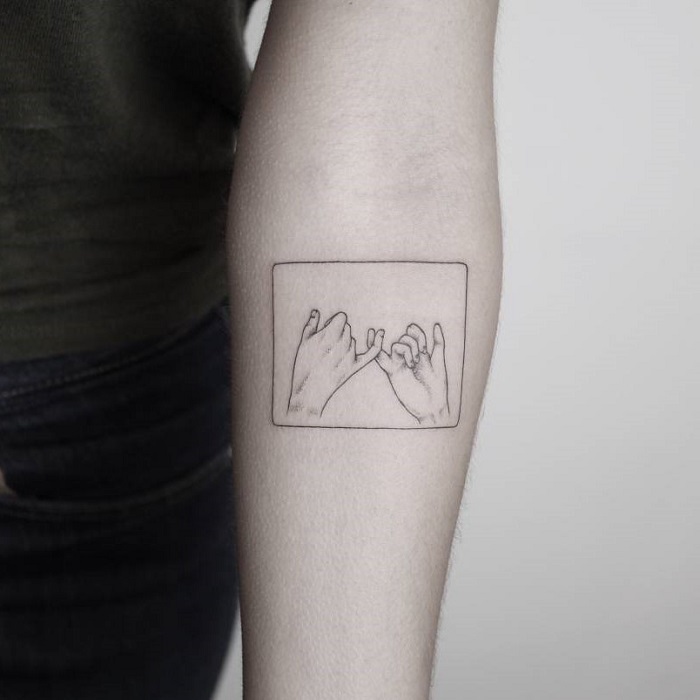 Cost will depend on several factors: size, color, and amount of detail. Generally, pinky promise tattoo ideas are relatively simple and small in design, so you should expect a ball-park of around $50 to $100. We highly recommend reaching out to a reputable artist to see what their prices are.
30 Best Pinky Promise Tattoo Designs
#1: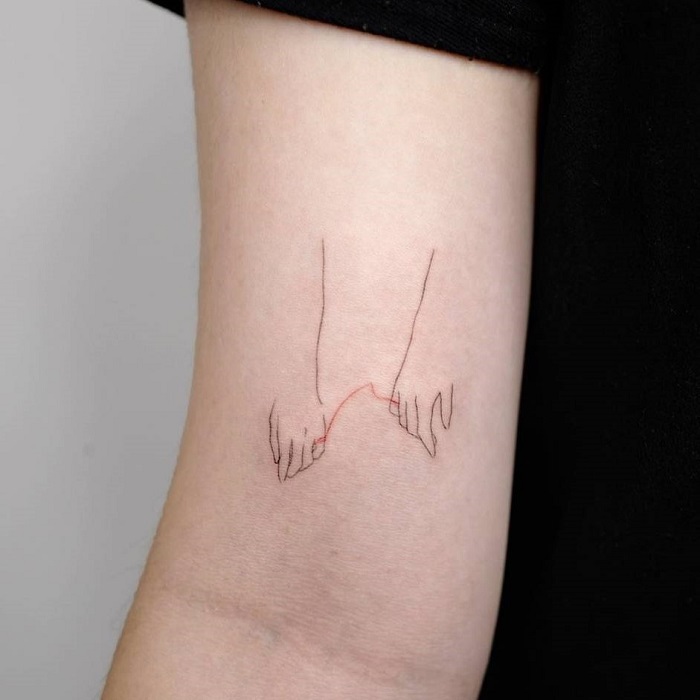 Friendship is magic. Whether you're an avid My Little Pony fan or not, this adorable tattoo showcases a pinky promise in action. It features a bold red line to help signify your long-term pact.
Of course, you're free to add color, but what makes this design so captivating is its clean, simplistic lines. Your friendship is uncomplicated, and so is this tattoo.
#2: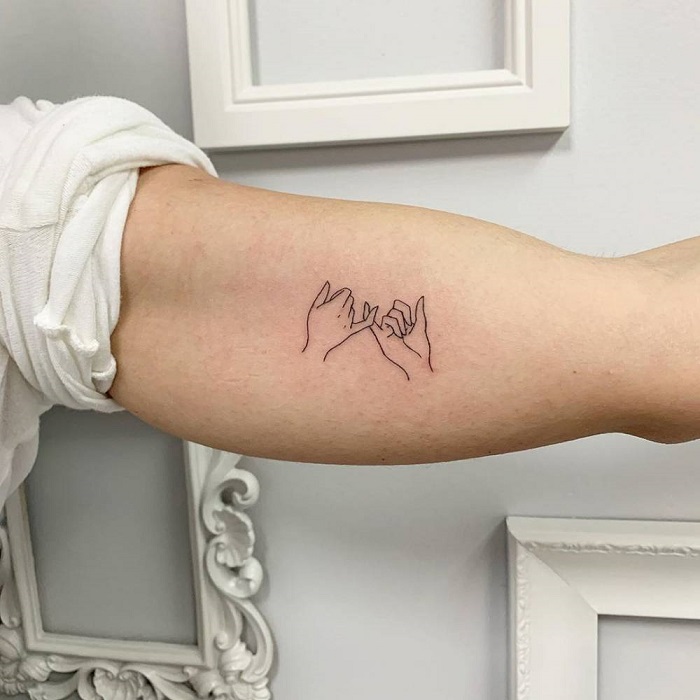 There's nothing wrong with opting for simplicity. This gorgeous design features a line-art drawing of two hands intertwined. Located on the forearm, this minimalist tattoo isn't too bold in illustration, which is great for those not keen on getting too much attention.
#3: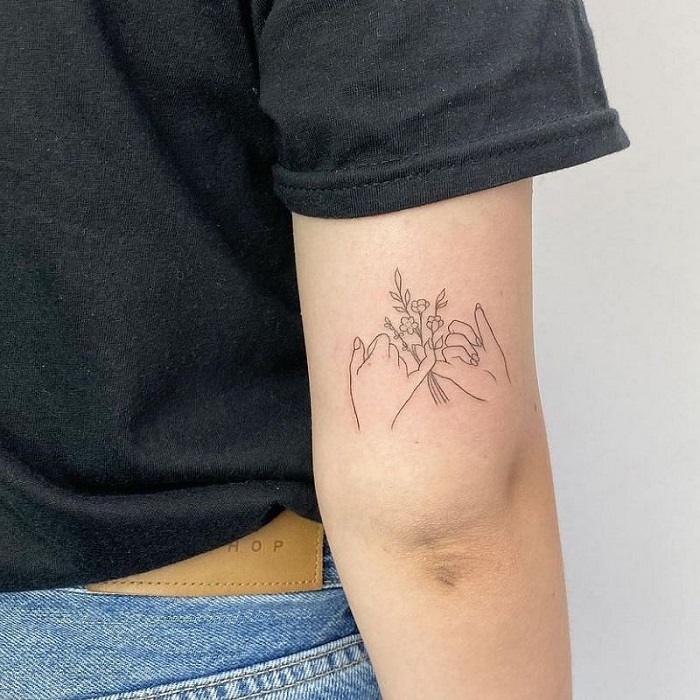 If you and your friend share the same cottage-core aesthetic, then this is definitely the tattoo to get. Refreshingly simplistic, this gorgeous illustration reveals two hands conjoined with a petite bouquet in the middle.
It may be random to include flowers in the mix, but hey—spring is the symbol for joy, fullness, and new beginnings.
#4: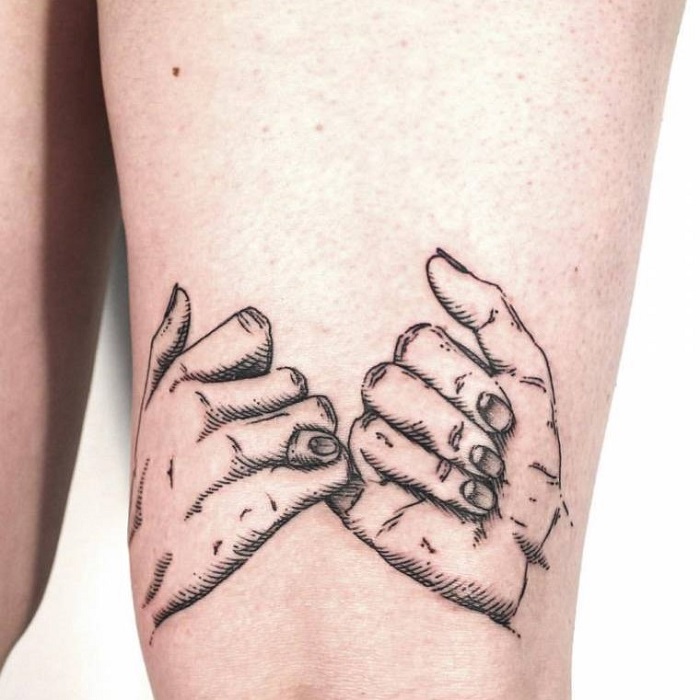 Is it just me, or does this tattoo scream 'The Creation of Adam' vibes to you? Etched in cross-hatching, bold lines, and simplistic shading, this highly detailed tattoo is catered for those who love realistic illustrations.
It's relatively bold in design, making it the perfect set of ink if you want to flex your friendship in public.
#5: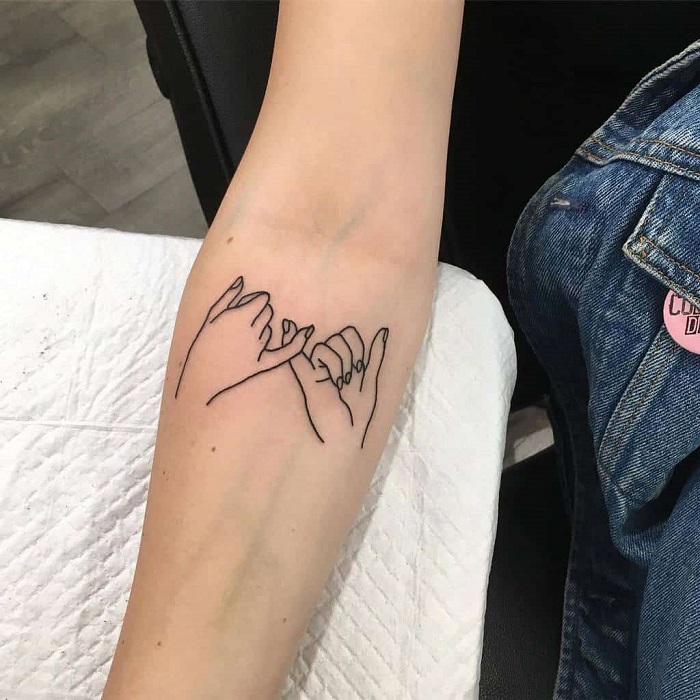 Betty and Veronica are diehard besties, and I'm sure avid Archie fans may find similarities with this simplistic tattoo to the comic book's art style.
Vintage-inspired, this clean design showcases a pinky promise conducted by two elegantly-poised hands. Bonus points to those who decide to add a 'sugar, sugar, oh, honey honey' quote as an added tat.
#6:
Besties aren't exclusive to just two. If you come in fours, I'm sure this tattoo will serve as an excellent alternative. Featuring a simplistic drawing of a pinky promise, this design is further accentuated with olive branches located near the wrist.
If you know your symbology, then it should be fairly obvious that it's a sign of peace. That means no fighting over boys.
#7: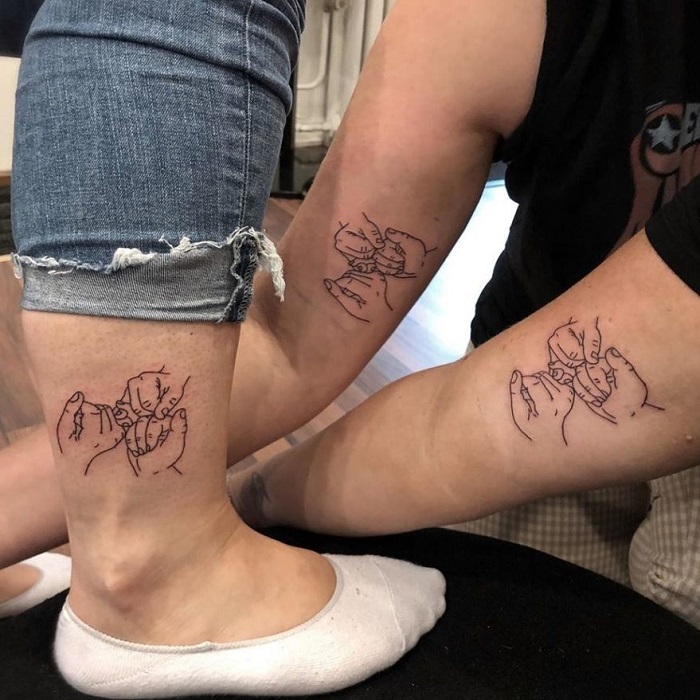 If your group chat involves a +1, this tattoo can help ensure that everyone gets included. This highly detailed tat showcases a triple pinky promise in action.
It's relatively busy in design, but it manages to keep things simplistic by only featuring line-art. As featured in the photo, we recommend placing it where others can see, such as the calf or forearm.
#8: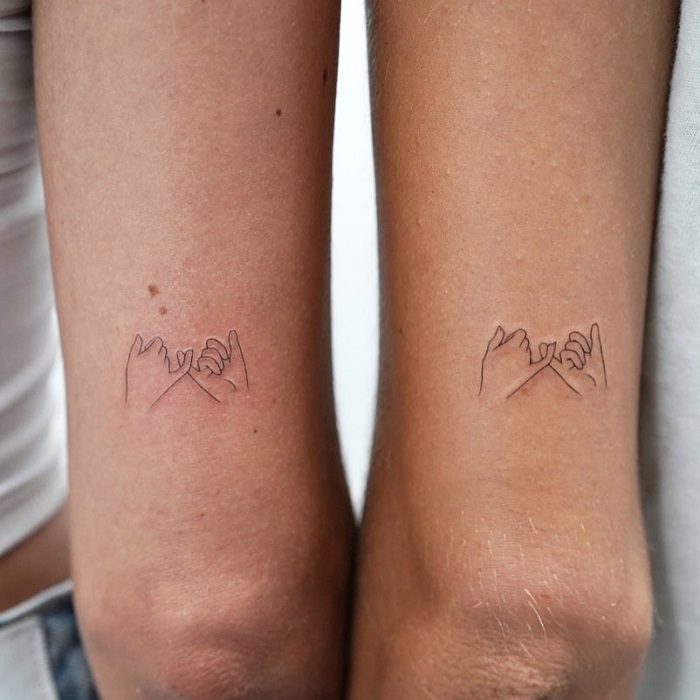 If you're a stickler of simplicity, this demure design should speak to your minimalist needs. Compared to the illustrations we featured so far, this beauty is quite petite in size. It's small and sentimental—just like the flame of friendship. This tattoo is definitely for those not big on bold designs.
#9: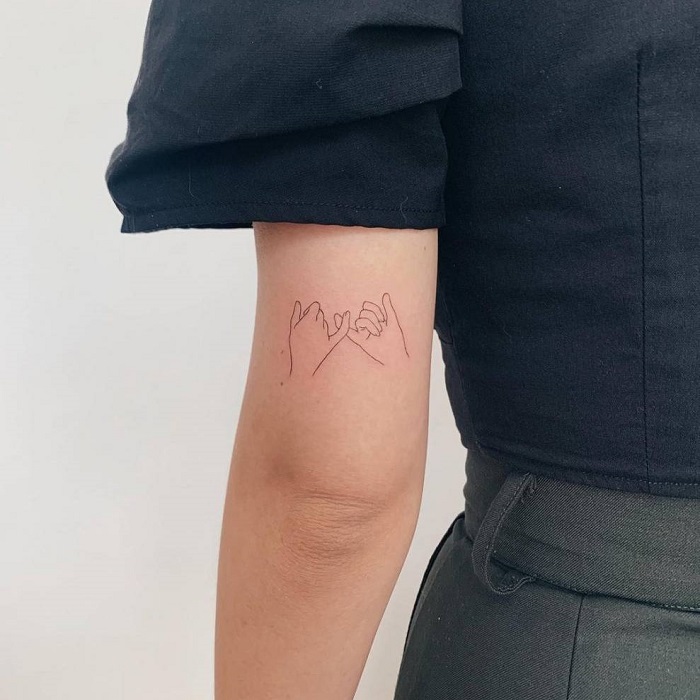 Can't wear your heart on your sleeve? Well, what about your elbow? This pinky promise tat is relatively generous in size, and it's quite noticeable if you wear a tee.
Featuring clean lines with no shading, this plain-Jane beauty signifies the simplicity of friendship. You've got history, but at the end of the day—it's all about unconditional love.
#10: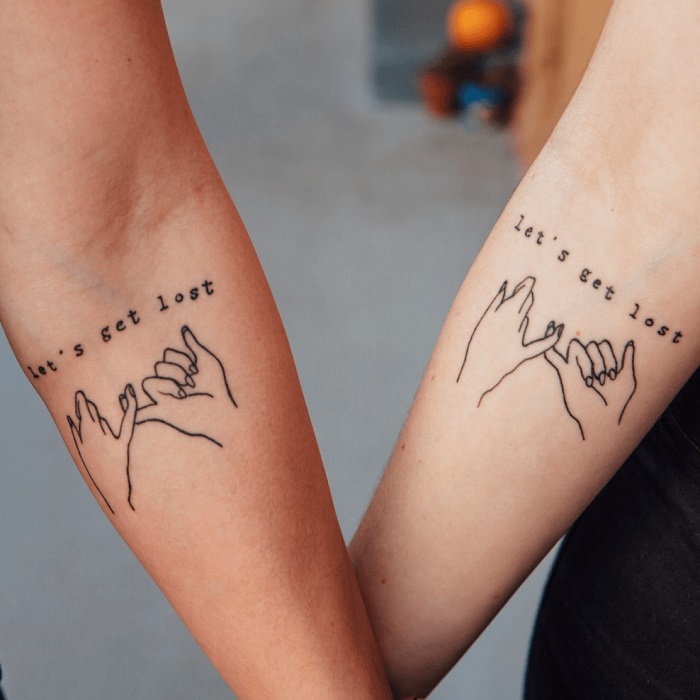 The best kind of friendships are the ones characterized by Thelma & Louise and Timon & Pumba. Basically, they signify a sort of adventurous spirit shared by you and your loved one.
This tat is no different, as it features a heartfelt pinky promise with the words 'let's get lost' written in typewriter font. Whether it symbolizes future vacays or spontaneous road-tripping, this design showcases the love of travel felt by bestie to bestie.
#11: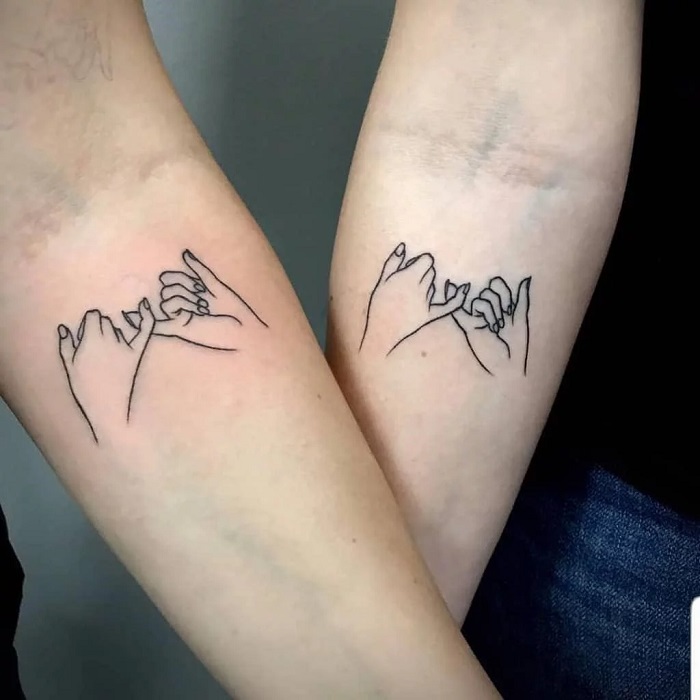 Slightly bolded in design, this heartfelt tattoo is catered for diehard besties and long-life partners. It's worth noting that the pinky promise isn't exclusively about friendships, as it can also signify marriage as well. If you're looking to double up on your engagement ring, this is the tat to do it.
#12: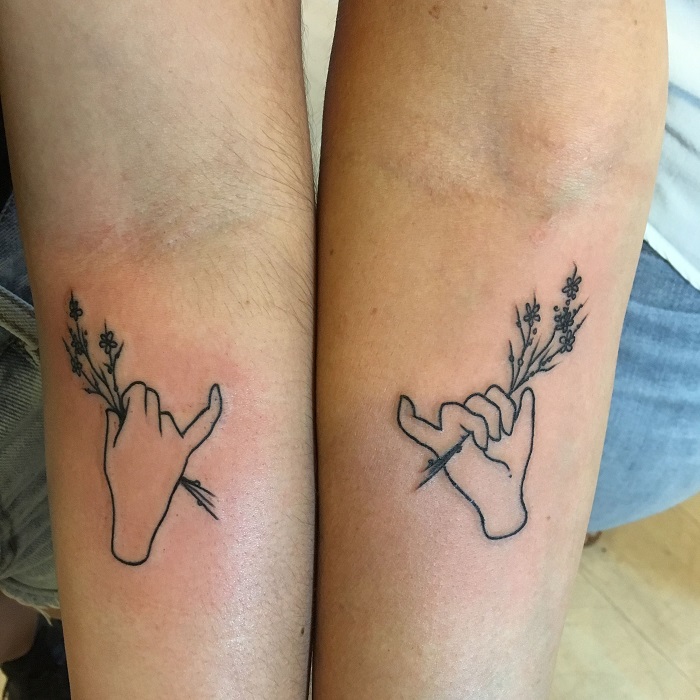 Is your bestie pursuing their dreams overseas? If so, this heartfelt tattoo can act as a 'connecting string' to help you stay in touch. Designed to look like an interconnecting puzzle, this illustration features a separated pinky promise while holding some flowers.
It's sentimental, tear-jerking, and a great way to remember yourself of the good times.
#13: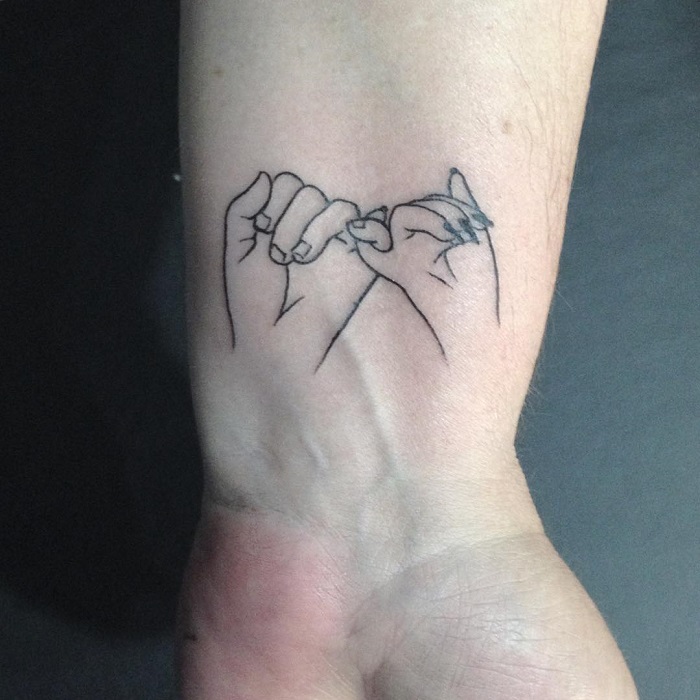 We're not all blessed with elegant hands, and fortunately, this tat celebrates imperfection. Featuring a juxtaposition of small and dainty with square and chunky, this charming illustration showcases the quirk of unlikely friendships.
If you consider your company on par with Lilo and Stitch, then this tattoo is definitely for you.
#14: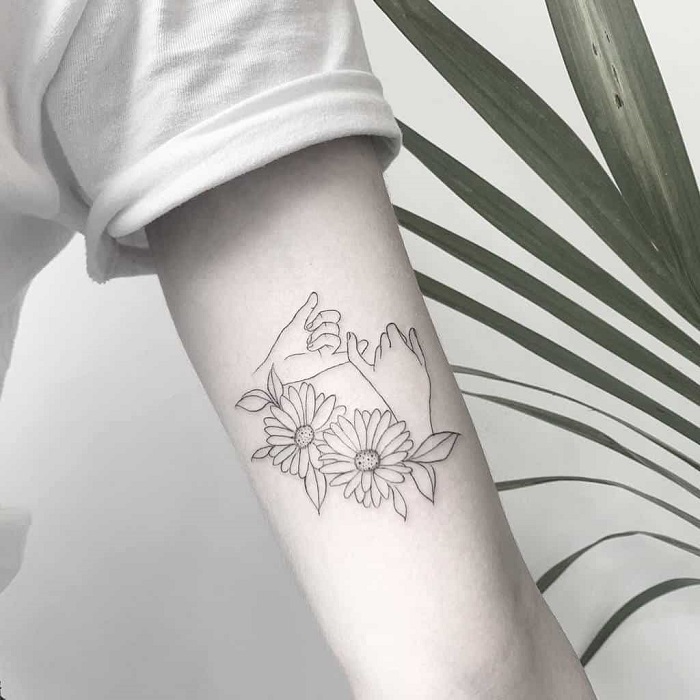 It's often said that kindred spirits share the same hobbies and interests. If you share the same love for gardening, picnics, and flowers, we highly recommend getting this design tatted on you and your friend's arm.
It showcases a simplistic drawing of a pinky promise with the addition of sunflowers. FYI, it's a symbol of warmth, adoration, of happiness.
#15:
Featuring the same design we previously mentioned, this pinky promise tattoo is located near the elbow. Honestly, it's an unconventional area to place a permanent illustration—but to each their own, right? Medium-sized and minimalistic in design, this design is catered for simplistic souls only.
#16: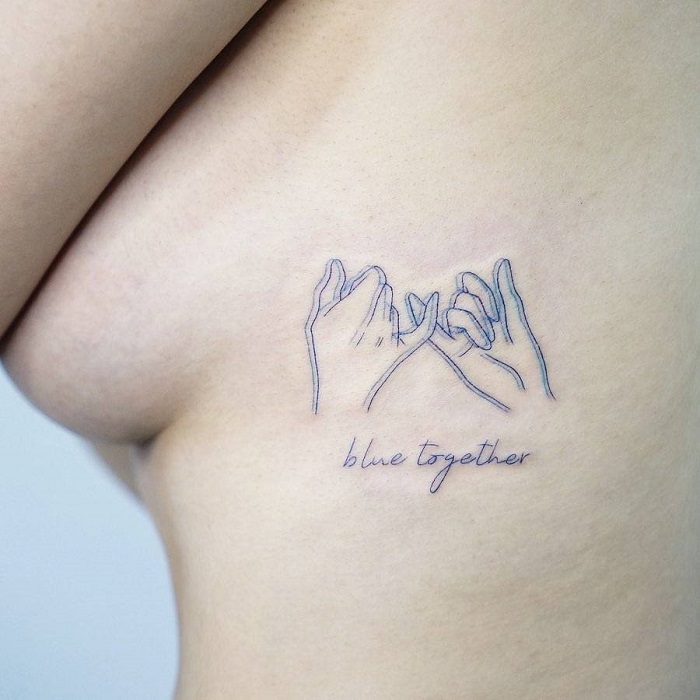 If you're not a fan of the traditional pinky promise, this unusual tat features one in action—and we mean that quite literally.
While it's not actually moving, the design comes in a slightly blurry effect to help create the illusion of movement. Inked in azure, it also displays a quote on the bottom: "blue together." Perhaps it means 'sad together?' Well, it's sentimental nonetheless.
#17: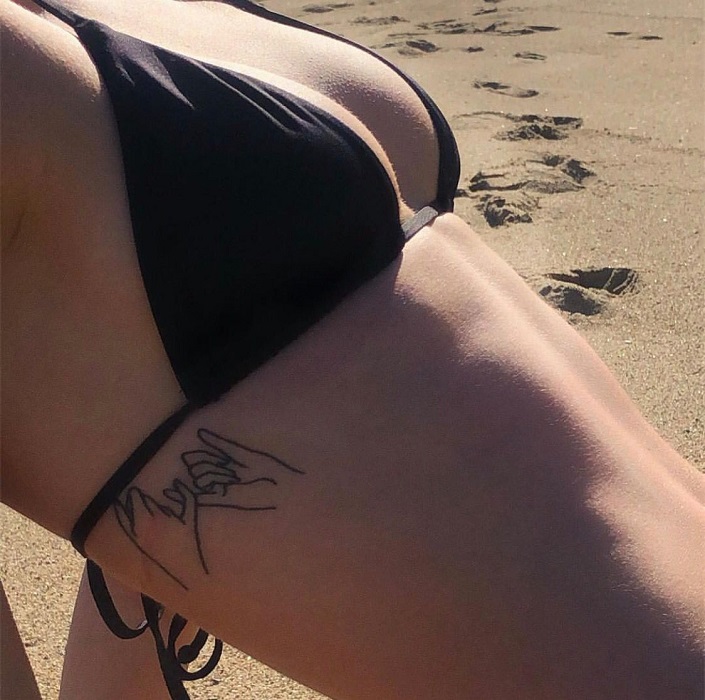 Peek-a-boo tats offer some sort of privacy. It's a great idea if you want to keep the symbolism of your design to yourself. In addition, it prevents unwanted eyes and questions.
For those who prefer to keep their friendships a low-key thing, this stunning illustration displays a pinky promise in bold. It's placed below the side-boob, which—in our opinion—is the best area to get an elusive tat.
#18: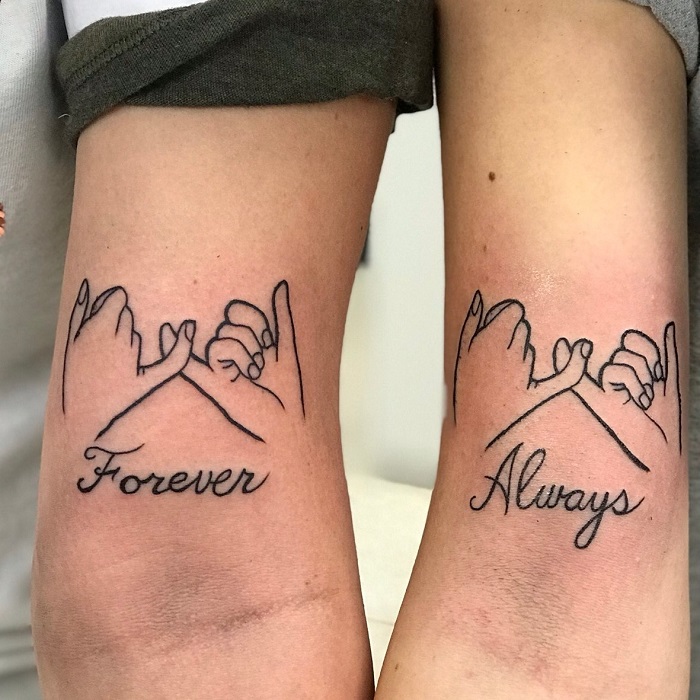 If you consider your friendships the real-life version of Thelma and Louise, then I'm sure you'll fall in love with this tattoo idea.
Comical and bold in design, it's the perfect set of ink to get with you and your bestie. For those looking to up the sentimental factor, the addition of 'forever' and 'always' acts as the final nail in the coffin. You're trapped in the buddy system—it's ride or die, baby.
#19: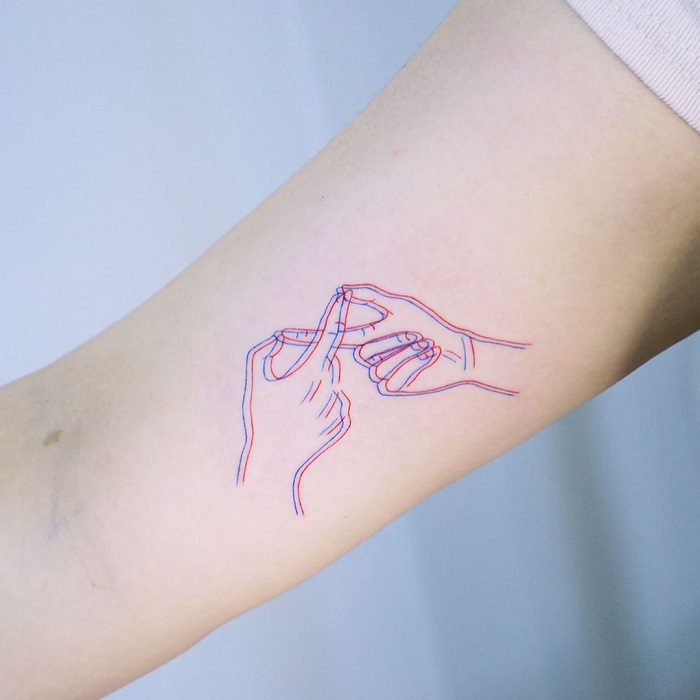 This tattoo isn't necessarily a pinky promise, but it embodies the same meaning. If anything, it's the E.T version of a growth oath.
Featuring a unique design composed of touching pointers and thumbs, this blurred illustration is tatted in blue and red to help give off the 3D effect. It definitely makes you squint, but for all the right reasons.
#20: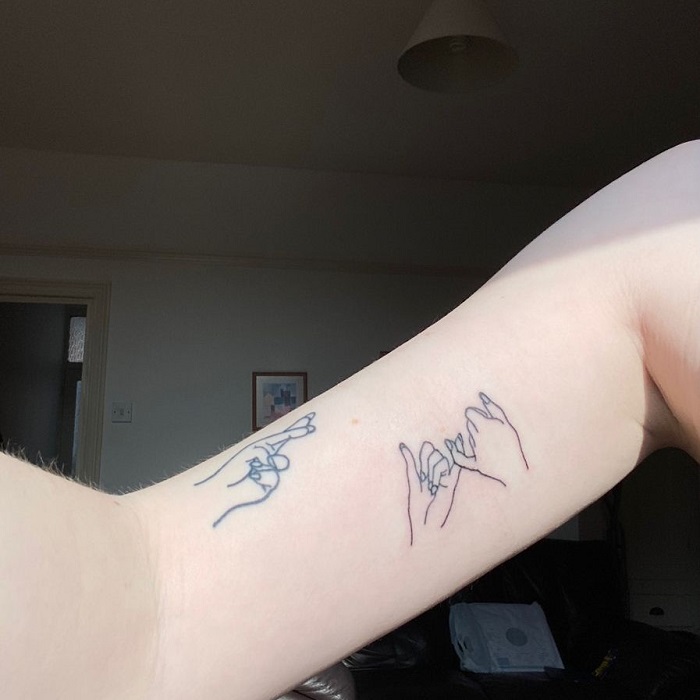 If Roald Dahl had a pinky promise tattoo, then I'm 100% certain he'd get this inked on his forearm. Compared to the usual set of clean symmetrical lines, this haphazard design features a continuous contour with no pauses, etches, or shading.
It's a great look if you're trying to simulate Dahl's art style. As a result, the tat comes out a little crooked and misshapen—but it adds to the charm of the illustration.
#21: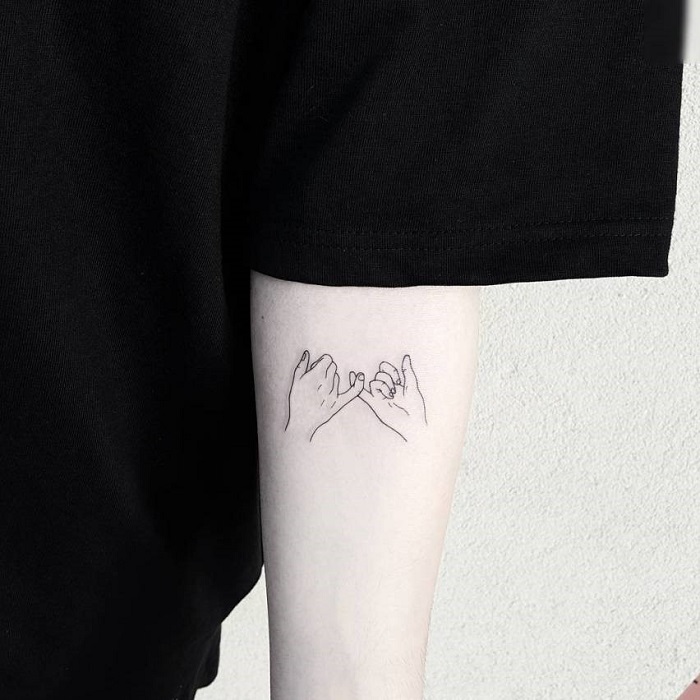 In pop culture, friendships are usually wild, adventurous, quirky, and unusual. Of course, this isn't the case with real-life bonds, as they're generally average with a bit of fun mixed in.
This tat symbolizes the ordinary nature of most platonic relationships. Simple, understated, but still loving, it's a wonderful idea for those who like to keep things low-key.
#22: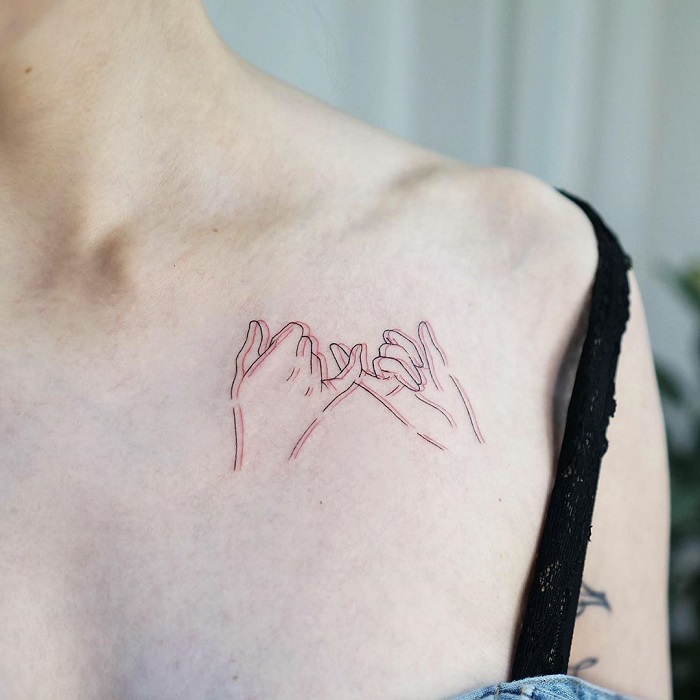 Displaying the same blurry effect, this pinky promise tattoo comes with paired lines linked in red and black. It's designed to give off the same 3D effect, but—in our opinion—gives off a whole other vibe.
This tat embodies a sort of old-school retro tone that's intrinsic to diner neon lights and theatres. If you and your bestie are on the same wavelength, then this is definitely the design to get.
#23: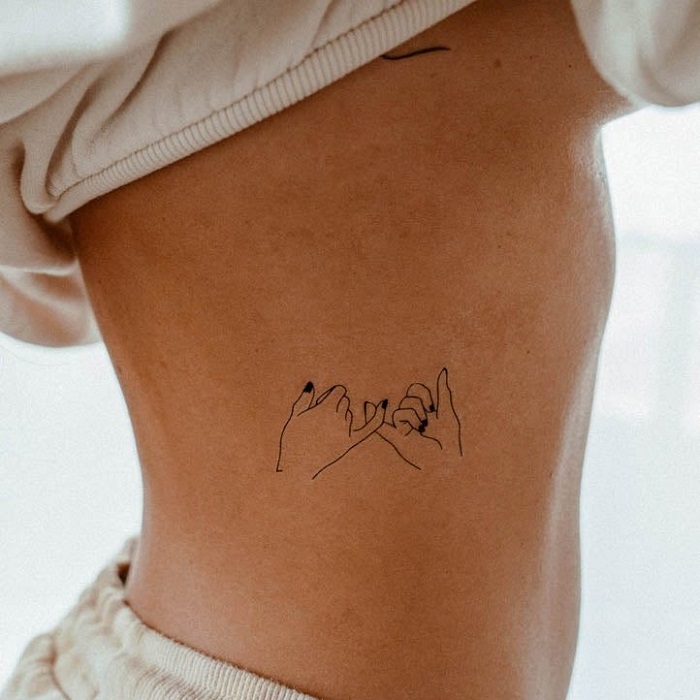 Some friendships usually involve a paired hobby or practice. Here, this tat symbolizes the shared love of getting your nails done. Painted in classic black, it's an excellent design that signifies self-care in the form of press-ons, gels, and French tips.
If anything, this pinky promise tattoo acts a long-term commitment to always get manicures with your bestie.
#24: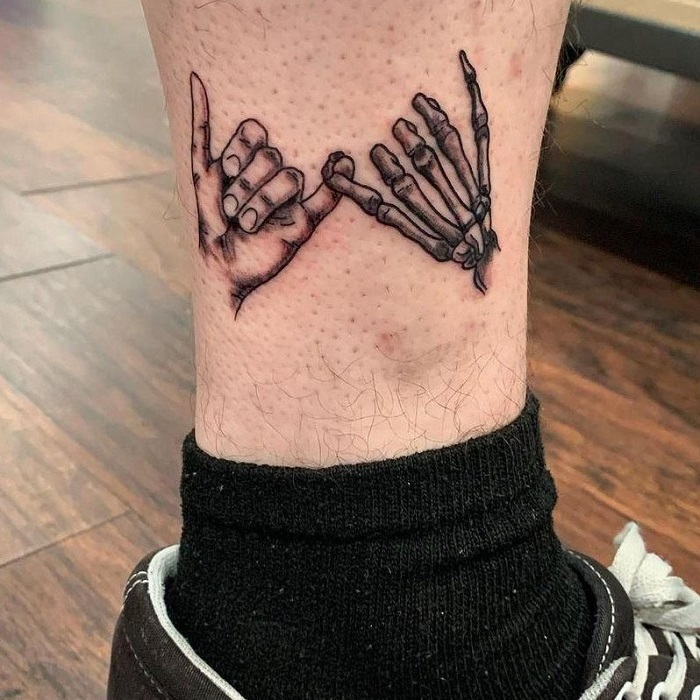 'Til death do us part?' Nah, friendships last no matter your current situation. If you and your homie are ride-or-die pals, this hard-core tat features a pinky promise shared between the living and the dead.
While it's radical in design, it's quite a sentimental tattoo to get if you recently lost a loved one. In that case, the meaning switches over to 'see ya on the other side.'
#25: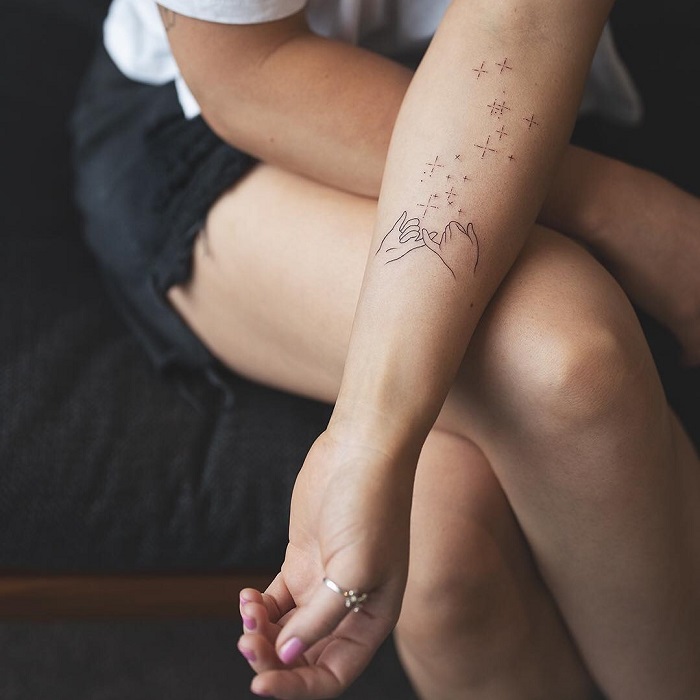 Sparkles make everything better, and that includes pinky promises. For those who've made a life-long pact, this magical tat showcases the sentimental whimsy of hedge pledges. It's lighthearted, playful, and of course—glittering in design.
Colors are completely optional, but wouldn't it be cool if you added some bright yellows and pinks?
#26: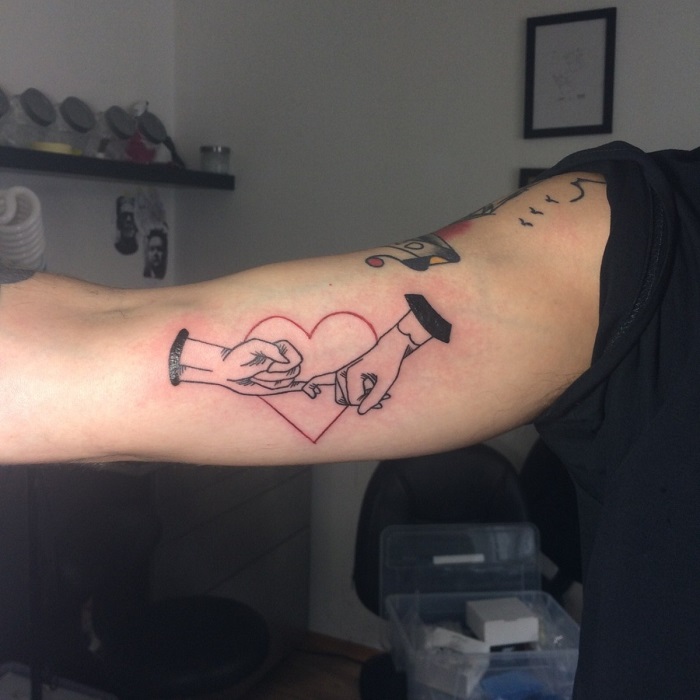 Sharp, bold, and angular in design, this pinky promise tattoo is quite detailed compared to the illustrations we've featured so far. For one, it 'rounds' off the wrist area instead of leaving it open. There's also a heart drawn in red for the background.
The color combination is definitely giving me Emily the Strange kind of vibes, which is perfect for besties who share the same macabre spirit.
#27: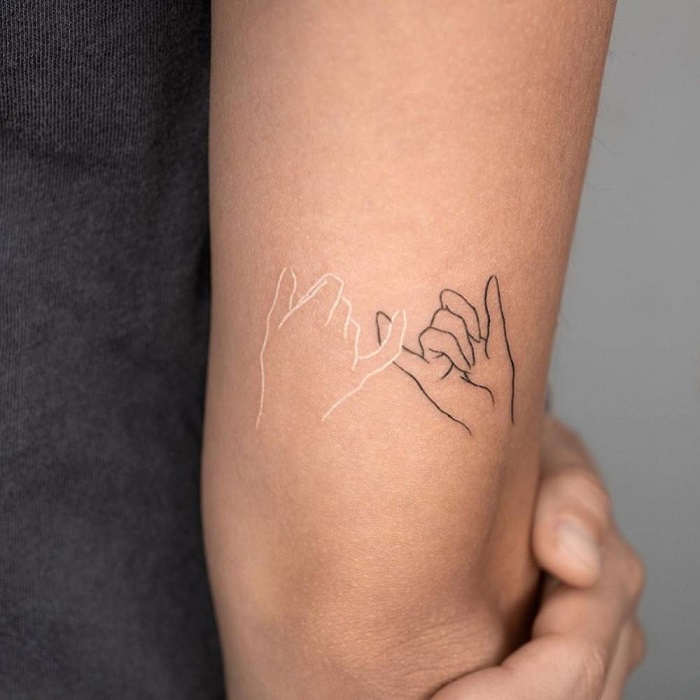 Kindred souls can be polar opposites—and this tat displays it perfectly. Showcasing a pinky promise drawn in white and black lines, this simplistic illustration signifies the unusual harmony of north and south relationships. It may also symbolize a lost loved one due to the faintness of the white.
#28: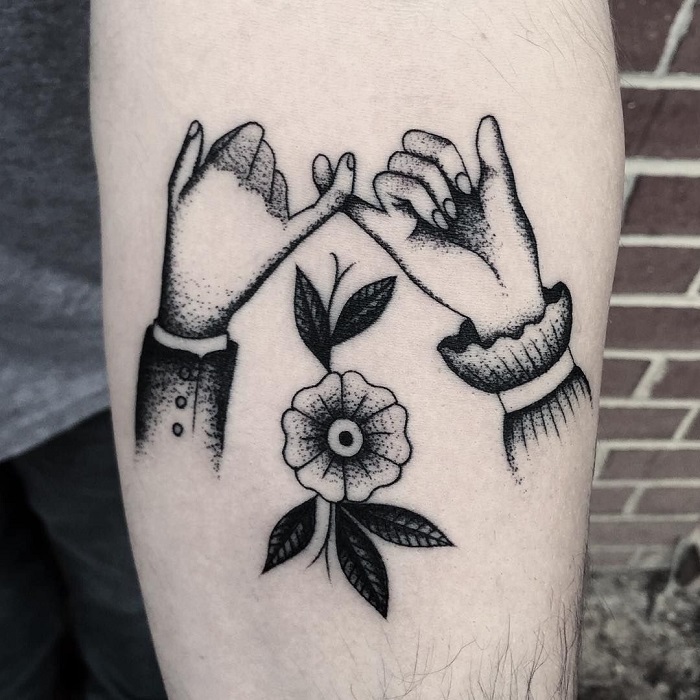 By far, this pinky promise tattoo is the most detailed out of the bunch. Shaded with pointillism and bolded with dark lines, this intricate illustration features the unity of childhood pacts.
It's definitely realistic in composition due to the addition of clothing drawn in. As an added bonus, a petunia is centered directly in the middle.
#29: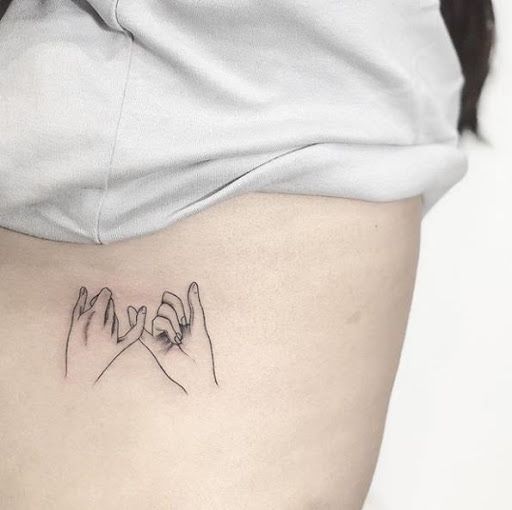 #30: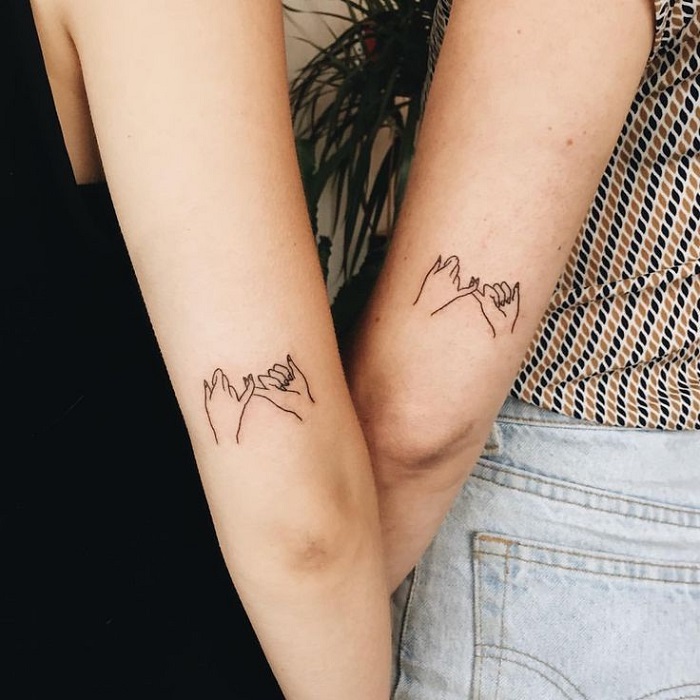 History of Pinky Promise Tattoo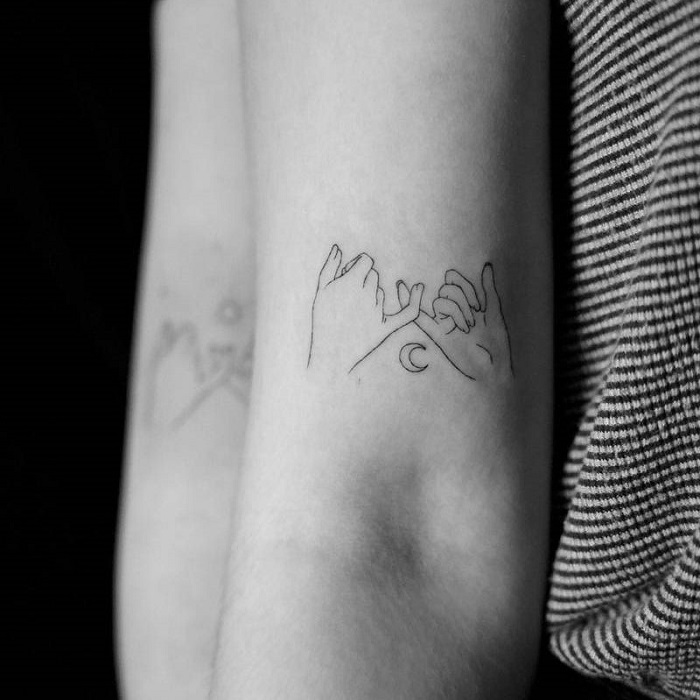 For most, committing to permanent ink must come with some sort of symbolism. With that in mind, is there a pinky promise tattoo meaning? The origin story behind the elementary-school hedge pledge is darker than it seems.
Some historians point to the Japanese tradition of 'Yubikiri,' which was supposedly created by the Yakuza. Basically, it meant that commitments should never be broken, and the consequence of doing so involves a clean slice of your pinky. Ouch.
According to the internet, other origin stories may be linked to the pinky promise. This mainly involves 1860s American nursery rhymes, prostitutes, and wedding traditions. Honestly, the history behind the growth oath is left up to debate, but the meaning still stands.
Which Celebrities Have a Pinky Promise Tattoo?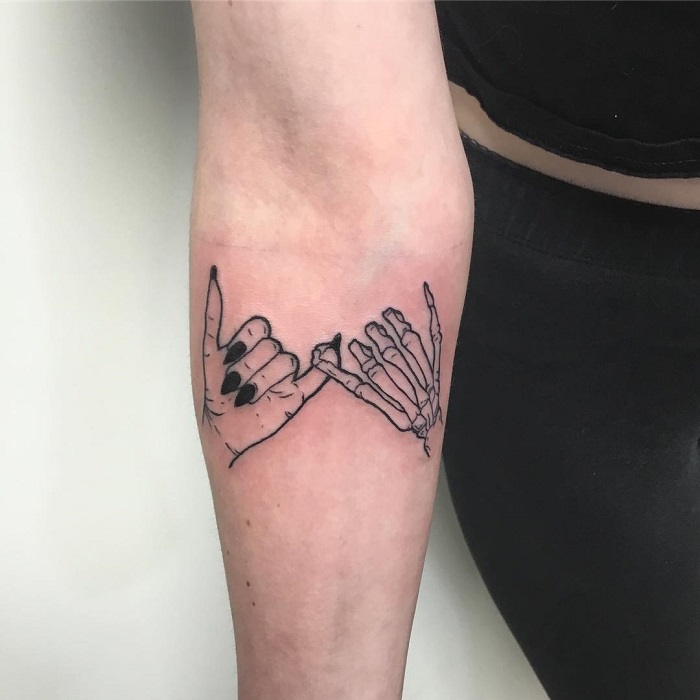 Pinky promise tattoo designs are usually a private affair shared between two kindred spirits. Some influencers, such as Jackie Cruz and Marzia Kjellberg, have been spotted with this tat—but aside from these two, we couldn't find any so far. It's possible that multiple celebs have this design inked on, but we will never know.
---
Looking for more inkspiration? Say no more:
30 Best Gladiolus Tattoo Ideas
Get Access to Exclusive Deals
Subscribe for free to get exclusive deals in your inbox. 100% privacy