10 Best Black Jeans For Men
Nothing beats having a versatile piece of clothing in your closet that can be styled for any occasion on any day of the year. If there's one color that can be incorporated into any look, it's black.
This dark tone can be worn for formal events and even casual outings.
Of course, pants take up a large portion of any outfit. Plus, they can be a backdrop, allowing other pieces, colors, and prints to stand out against them.
Black jeans for men are a wardrobe staple just like a little back dress is for women. Basically, black jeans are easy to style and a must-have for pretty much anyone.
What Makes A Good Pair Of Black Jeans For Men?
Good quality jeans aren't too hard to find. Most stores sell reliable, durable, and simultaneously fashionable denim.
So, when looking for a quality pair of black jeans for men, you can likely hit up your go–to stores to find what you're looking for. And a quick feel of the jeans will help you determine whether they're strong and the material is thick.
Finding The Best Black Jeans For Men
Knowing your personal style and desired fit will narrow down your search for the best black jeans for men. As with other denim, you can choose from a few different fits—including slim, skinny, or loose.
A slim fit is one of the better options in terms of versatility for day to evening wear.
Of course, it's always recommended that you try jeans on before you buy them.
Although sizing numbers are usually the same across brands, all jeans fit differently. So the safest bet is to try them on to make sure they fit exactly how you want them to.
The 10 Best Black Jeans For Men
Of course, everyone's style is unique. But, there are a few of the best black jeans for men that seem to be the most trendy.
So, take a look at the list below and you might find a pair that stands out to you. Happy browsing!
#1: Dolce & Gabbana brushstroke-print slim-fit jeans - Black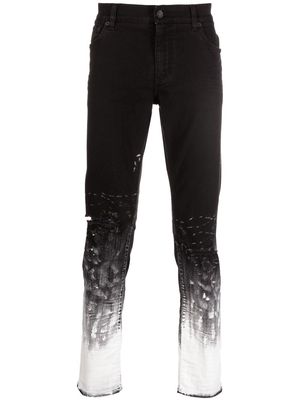 ---
#2: Alexander McQueen ripped-detailing straight-leg jeans - Black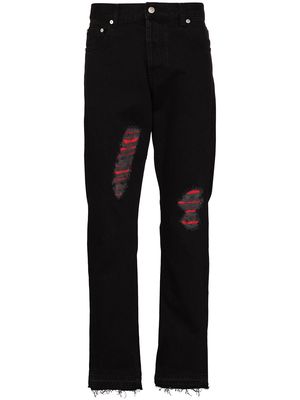 ---
#3: Ralph Lauren Purple Label mid-rise slim-cut jeans - Black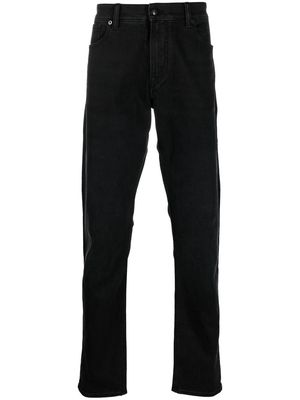 ---
#4: Alexander McQueen Black Embroidered Jeans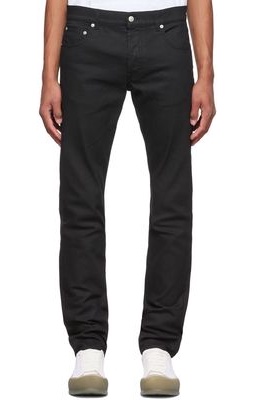 ---
#5: AMIRI Watercolour logo-print skinny jeans - Black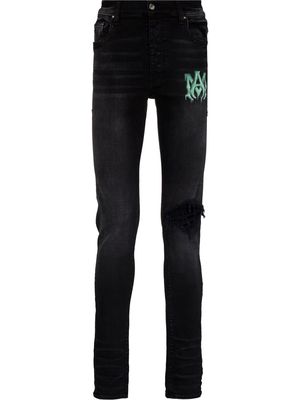 ---
#6: Fendi straight-fit jeans - Black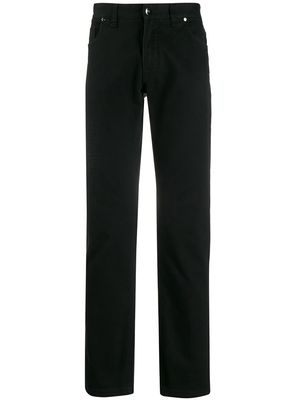 ---
#7: Balenciaga ripped straight-leg jeans - Black
---
#8: Off-White logo-print denim jeans - Black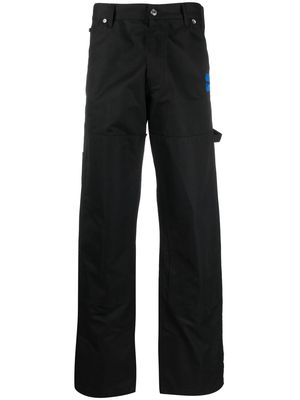 ---
#9: Rhude Black Embroidered Jeans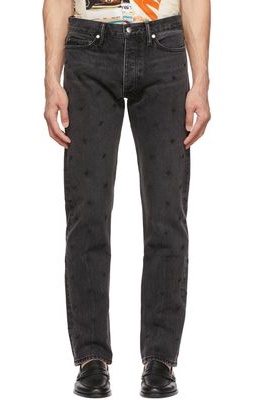 ---
#10: Mugler Black Spiral Jeans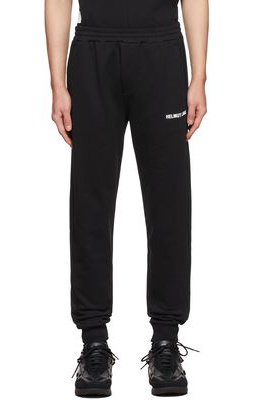 ---
What Are The Most Popular Black Jeans For Men?
The Slim LUXE Traveler Black Jean from Banana Republic has a tapered slim fit that can complement most men's physiques.
The name of these pants gets it right because the tapered fit will definitely appear to slim down your body and accentuate your legs and hips. Plus, this pair of dark denim pants can easily be dressed up or worn casually.
When you think of denim, one of the first brand names to pop into your head is likely Levi's. The 505™ Regular Fit Men's Jeans have a more loose straight leg fit and a very dark tone.
This pair is made for the guys who live a more chilled lifestyle and like to prioritize comfort in their wardrobe. Levi's also sells some of the most high–quality, reasonably priced denim you can buy.
What Style Of Black Jeans For Men Can You Get?
Surprisingly, basic black jeans actually come in a variety of styles. Also, keep in mind that there are different shades of black. For instance, you can choose a really dark hue or a more lightened acid wash shade.
Then, like I already mentioned, there are several different fits to choose from. For example, there's slim, skinny, straight-leg, loose, or even a cargo style.
How To Style Black Jeans For Men
This is an example of how to style skinny black jeans for an outing that needs a little extra glam.
While the mid-wash, denim shirt with rolled-up sleeves adds a casual vibe to the look, the slim black jeans dress it up. Plus, the brown Chelsea boots give the ensemble a touch of sophistication. Now he's ready to hit the town!
I told you that dark denim jeans can be worn all year round without looking out of place, and they pair well with your winter coat too! Here's a perfect example of what I mean. Featuring mostly neutral shades, this man's ensemble looks put together and suave.
Then, of course, there's the casual look that includes a cozy hoodie, some of your best, comfiest sneakers, and a pair of snug dark-wash jeans. Even though this guy chose to sport a casual outfit, he certainly didn't compromise on style.
---
Looking to up your fashion game? We've got you covered:
15 Best Cocktail Attire For Men
Get Access to Exclusive Deals
Subscribe for free to get exclusive deals in your inbox. 100% privacy