4 Blazer Outfit Ideas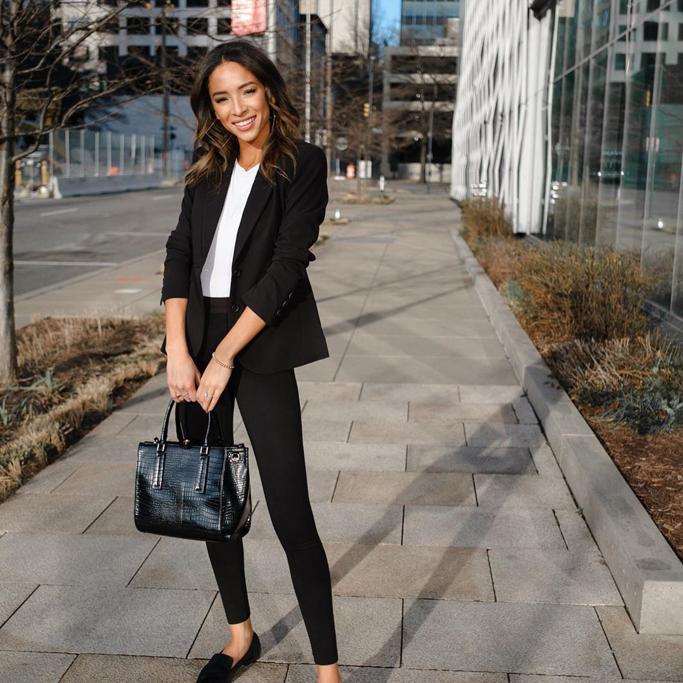 The quintessential blazer often exudes a strict corporate vibe. In the '80s, shoulder-padded coats were a sign of female empowerment, given that women were allowed to be treated equally as their male colleagues in the workplace.
Nowadays, this particular garment is less affiliated with the office. It's now considered a staple for formal and non-formalwear.
If you're an avid scroller of TikTok and Instagram, you've probably been bombarded with thousands of blazer outfit ideas. From Matilda Djerf to Hailey Bieber-inspired looks, this wardrobe basic is considered a closet must-have.
For those who have yet to jump on the bandwagon, this style guide may or may not include OOTDs such as:
A blazer dress outfit
A white blazer outfit
An oversized blazer outfit
A classy blazer outfit womens
A leather blazer outfit
A pink blazer outfit
What Makes Up A Blazer Outfit?
The blazer outfit is up to interpretation. There's really no standard ensemble to model your OOTD after, as there are hundreds of different looks to consider.
But, if I were to condense today's fashion trends into two separate categories, I'd say that there are two fits to consider: modernized corporate and classic streetwear. 
This includes blazer outfit ideas such as:
The Nike Blazer Mid '77 Outfit
The grey blazer outfit
The office blue blazer outfit
A printed blazer outfit
The standard black blazer outfit
Both aesthetics cover thousands of looks. But picking one or the other is a good place to start if you're in need of blazer outfit ideas.
History Of Blazers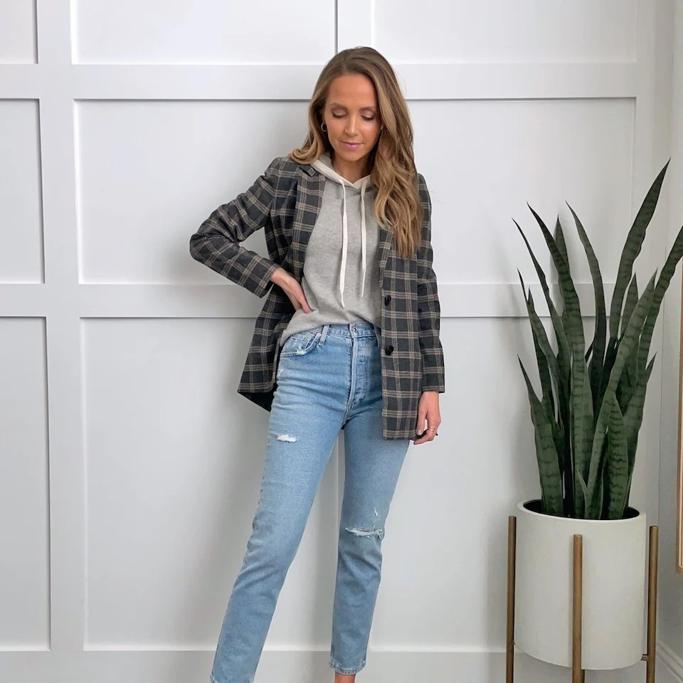 Given its level of sophistication and class, it shouldn't be surprising to know that the blazer originated in 19th-century Britain.
Commonly associated with sports and country clubs, they were considered casual before becoming associated with formality during their latter years. Blazers were less structured in silhouette and were typically worn without matching pants. 
Over the years, blazers were adopted as part of school uniforms, womenswear, and haute couture.
Designers such as Giorgio Armani spun their entire careers off of this particular garment. Today, the blazer continues to be an integral piece of fashion history. 
What Are Some Popular Blazer Outfit Ideas?
Instead of spending hours on Instagram and TikTok looking for fashion inspo, check out this 'blazer outfit ideas' style guide instead. I'll show you a few trendy looks that are worth some major consideration.
4 Blazer Outfit Ideas
Oversized, black, and classy in aesthetic, this chic look ticks a lot of boxes in this 'blazer outfit ideas' guide. It's absolutely integral that you wear a body-con dress underneath, as it helps define your waistline under the coat.
Complemented with sheer tights, ankle boots, and a cute Chanel bag, this ensemble is perfect for coffee dates and Instagram photo ops.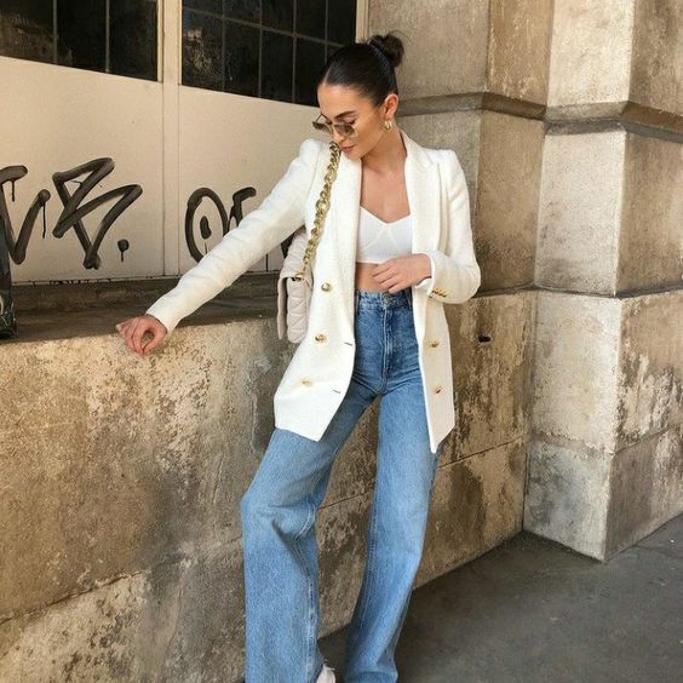 Not a fan of corporate clothing? If so, take this as a sign to transform your office blazer into a streetwear piece.
For instance, this model chose to pair her white coat with a bralette, high-waisted jeans, and a pair of Air Force 1s. Accentuated with a quilted mini bag, it's definitely a look to consider during your off-hours.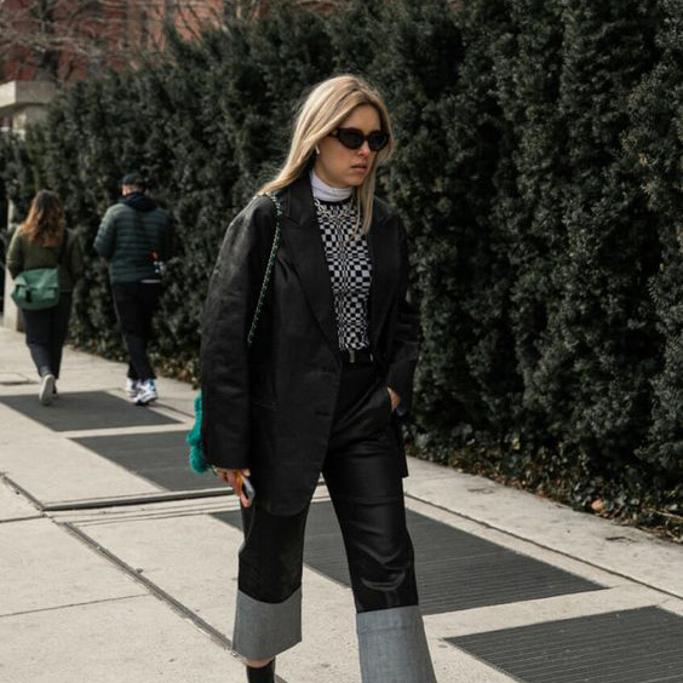 Alternative in aesthetic, this 'blazer outfit ideas' contender is perfect for days when you're not in the mood for bright pastels.
The leather coat paired with the checkered turtleneck emits a hipster vibe, while the pants are strictly 1970s. Finished off with ankle boots and a pair of sunnies, this look practically screams, 'please don't talk to me.'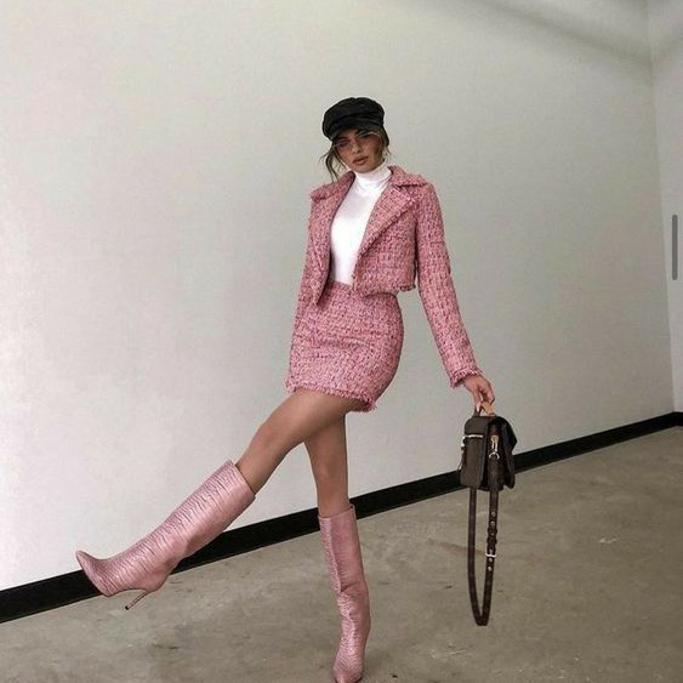 Contrary to popular belief, blazers don't exclusively come in neutral tones. If you prefer a pop of color, I recommend opting for this Chanel-inspired set.
Made out of tweed, this outfit features a cropped coat, a pencil skirt, a white turtleneck, and a pair of knee-high boots. The newsboy cap and the brown bag are a nice touch, as they both help break the monotony of bright pink. 
Fashion Tips To Avoid With Blazer Outfits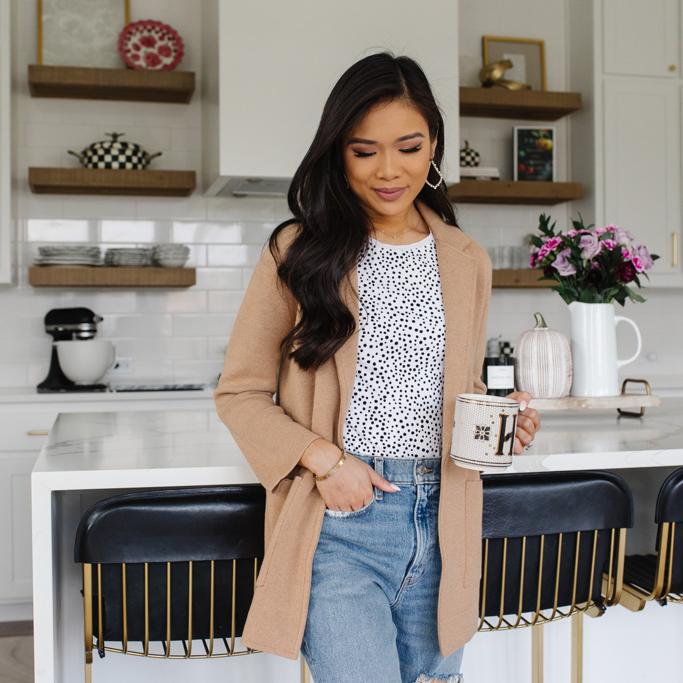 I'm all for fashion experimentation, but there are just some things that don't go well with blazers. To help prevent post-Instagram regret, I'll share a few tips to avoid with blazer outfit ideas.
The DIY crop: If you're fond of cropped blazers, it's best to leave it to the professionals. Handmade garments can look cheap if you don't have experience with sewing.
The extremities: While oversized blazers are considered the peak of fashion, I don't recommend opting for an XXXL coat when you're a medium. This also applies to super small designs as well.
Flip-flops: Generally speaking, this type of shoe doesn't blend well with many ensembles. Try sneakers, boots, or heels for blazer outfit ideas.
Best Places To Buy Blazer Outfits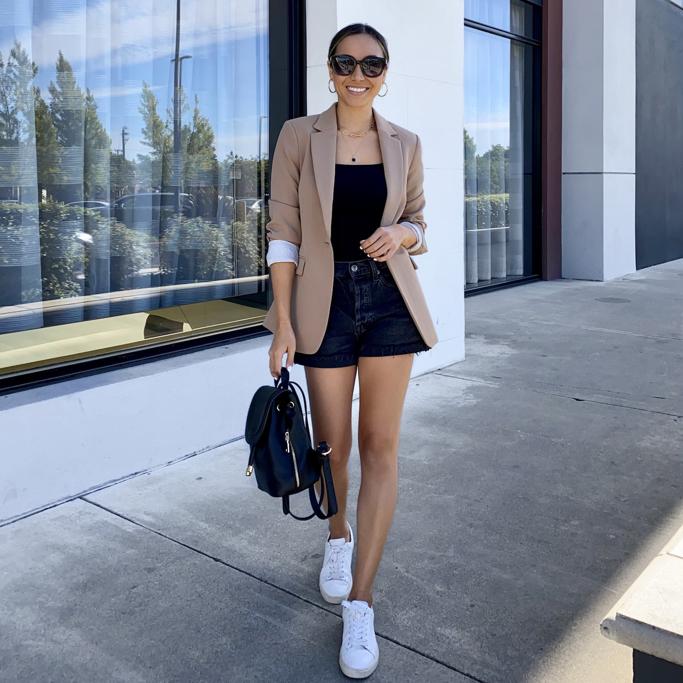 In need of a red blazer outfit? If not, how about a standard black set? Whatever aesthetic you're into, this 'blazer outfit ideas' guide will provide some recommended stores to check out. 
Farfetch 
Moda Operandi 
Nordstrom 
Everlane 
Final Thoughts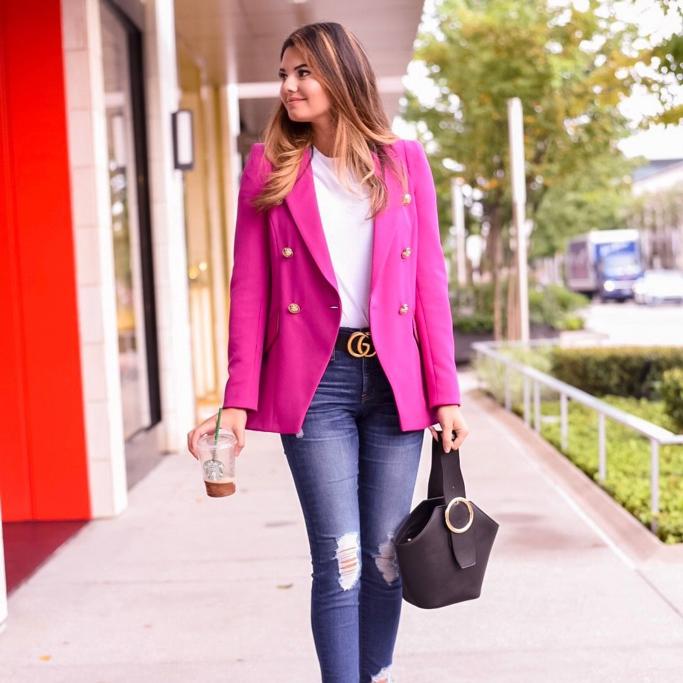 Blazers speak for themselves. As a result, you shouldn't have much difficulty styling them. I suggest keeping things simple and basic.
Once you're familiar with this particular garment, take that as a sign to experiment with different looks. Out of the four blazer outfit ideas I've featured, here's to hoping that one ensemble sticks out to you. 
---
Looking for more outfit ideas? We've got you covered:
Get Access to Exclusive Deals
Subscribe for free to get exclusive deals in your inbox. 100% privacy