3 Best Dior Sneakers
Finding The Best Dior Sneakers
Shoes are a fashion staple that you can wear every day without anyone accusing you of being an outfit repeater. And since you'll be getting lots of use out of them, they're an accessory you can splurge on. They're considered an investment after all.
And don't forget to flaunt your new designer shoes. Let's be real, if you're paying good money for a pair of sneakers then you want the world to see them.
Dior has a fabulous mix of designer sneakers that can be paired with any look. And many of their styles will add some much-needed edginess to your wardrobe.
Men and women have a wide selection of shoes to choose from that can be the perfect addition to any shoe rack.
If there's one thing I've learned in my fashion journey, it's to not underestimate the power of shoes. They can make or break your look! So, excuse me while I act like that friend who persuades you to spoil yourself.
The 3 Best Dior Sneakers
Designer labels are constantly releasing new items that keep getting better and better. And Dior is no exception. Dior's online store lets you browse their sneaker collection and view their latest products.
If you buy from a recent drop, then you're guaranteed to have the trendiest designs laced on your feet.
They also have a handful of collections that accommodate different lifestyles and needs. Like Walk'n'Dior, which is a line that combines the hottest styles with elements of casual footwear.
#1: Jordan x Dior Air Jordan 1 Low sneakers - Grey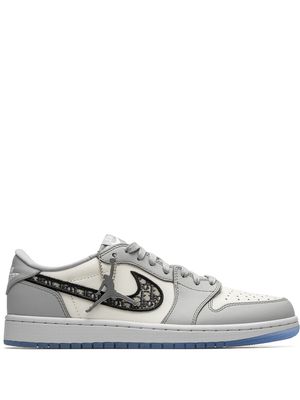 ---
#2: Jordan x Dior Air Jordan 1 High sneakers - White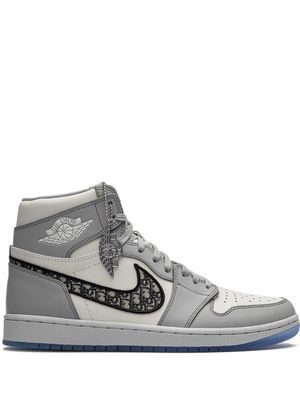 ---
#3: Christian Dior pre-owned Trotter Rasta high-top sneakers - Red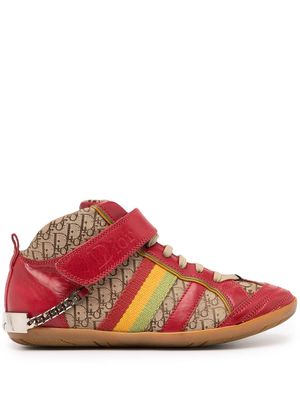 ---
What Are The Most Popular Dior Sneakers
The list of the most popular Dior sneakers could get a bit long—not that we're complaining. If you want to join the 'trendy Dior sneaker club,' then there are a few popular options to consider.
The Dior B23 sneakers come in high and low-top cuts and feature nylon covering over a Dior logo print. This model has a basic, neutral color scheme so it can easily be paired with any outfit.
Buyers also went crazy for the Dior X Air Jordan 1 High OG. We could describe these gray-toned high-top sneakers like this: it's as if your favorite Jordans had a designer baby.
This model is truly the best choice for a minimalistic designer look without straying too far from the streetwear style we all know and love.
Are Dior Sneakers Comfy?
Yes, Dior sneakers are comfy. Most of their shoes are made with thick rubber soles that are gentle on your feet.
Like most shoes, you may find they need to be broken in for the first little while. But after that, they'll mold to your feet and be the perfect fit for you—blister free!
How Much Does A Dior Sneaker Cost?
The latest pair of Dior sneakers will cost around $1,000-$1,200. You can also browse other Dior collections and purchase a pair for about $800-$1,000.
How To Take Care Of Your Dior Sneakers
Obviously, you'll want to take care of your expensive sneakers to keep them looking as good as new. Here's our best tip: invest in a shoe protectant spray.
This product can be bought at just about any footwear store. It's a quick and easy spray to apply, and it will protect your sneakers from most elements and dirt.
If you find your sneakers have gotten dirty or stained, clean them right away. Gentle soap, warm water, and a bit of elbow grease will wipe the grime away easily.
Also, pay attention to the weather outside. For instance, if you know it just rained, then you might want to grab another pair of shoes to wear instead—Dior sneakers aren't the biggest fans of puddles.
How To Style Dior Sneakers
Sneakers can become the focal point of your outfit, even if they're at the bottom of your body. So, a good tip to follow is to pay attention to the details in your shoes.
For example, maybe there's a pop of color found in the footwear that you can incorporate into the rest of your look. And doing so will tie your whole outfit together.

Plus, since they're designer sneakers, you have the option to dress them up or down. A pair of basic black leggings and crew socks could accentuate the shoes.
You could also style them with a sassy dress and leather jacket for a night out too. And with all these style options, we're sure you'll be wearing your Dior sneakers for years to come.
---
Looking to stay up to date on all things Designer? We've got you covered:
Get Access to Exclusive Deals
Subscribe for free to get exclusive deals in your inbox. 100% privacy