How To Wear Hair Clips
The outfit dilemma goes like this: standing still in front of the mirror, you can't help but feel that your OOTD is missing a little somethin' somethin'.
A hat will only cover up that hour-long hairdo. Your chosen handbag is already picked, and jewelry is a no-go. You're well familiar with the existence of hair clips, but before you can put two and two together, you've already given up. 
Barrettes, bobby pins, and metal snaps continue to be that missing puzzle piece that we often forget about. Thankfully, 2022 has been especially kind to the hair clip, as we've experienced a resurgence of Y2K-inspired accessories.
If you're keen on utilizing your forgotten few, I'll teach you how to wear hair clips using 11 outfits. 
In this 'how to wear hair clips' guide, I'll inform you about multiple different designs. This may or may not include:
Hair clips hairstyles
Butterfly hair clips
Metal hair clips
Flower hair clips
Big hair clips
What Are Hair Clips?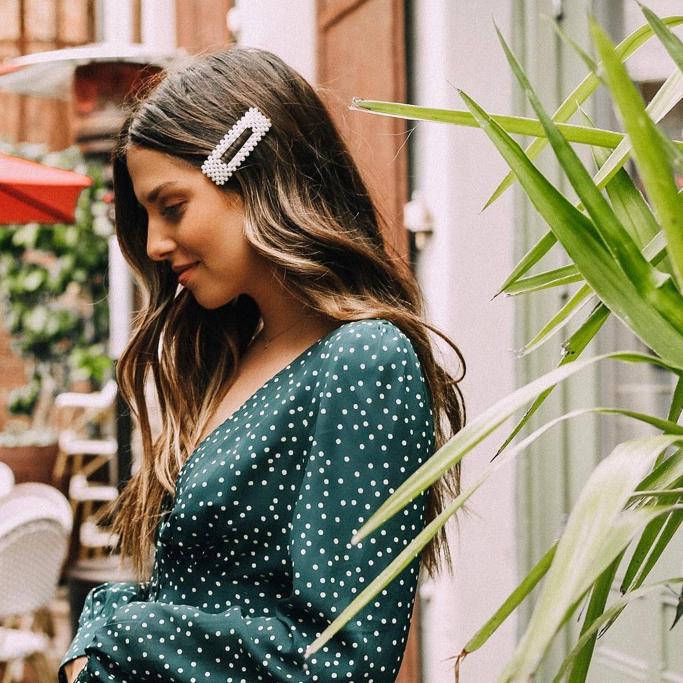 In short, hair clips are a type of accessory. There are several different designs to choose from—including barrettes, claw clasps, bobby pins, and butterfly clips.
Often used for its functionality, this decorative piece is typically worn to accentuate a hairstyle. 
History Of Hair Clips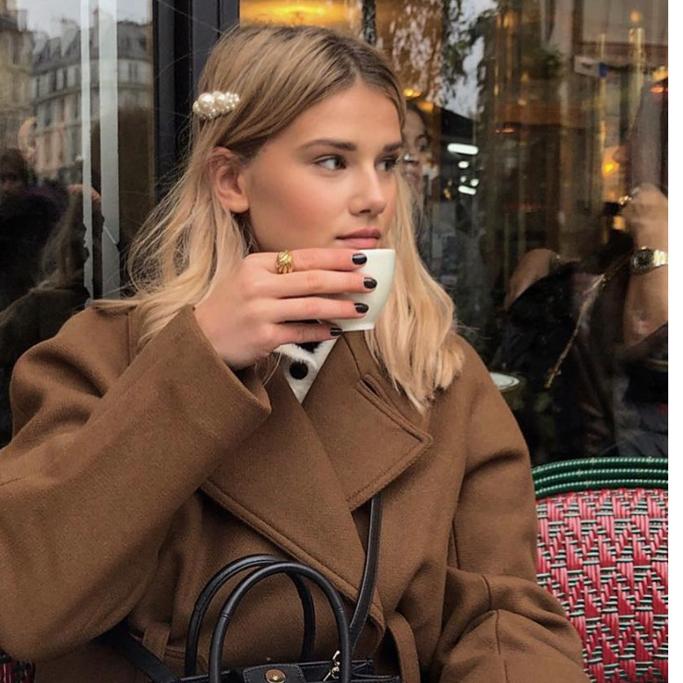 Like jewelry, hair clips have an extensive history. Their origin dates all the way back to 10,000 B.C, as this accessory was used in place of the modern hair elastic.
Ancient Greeks, Romans, and Africans typically sourced materials in nature to make this accessory, which included flowers, twigs, and seashells. Hair rings were considered a symbol of the elite among the Egyptians, as they were typically adorned with rare gemstones and precious metals.
Over the years, hair clips underwent multiple transformations in order to keep up with the fashion trends of the time. For instance, the Victorian era gave birth to the quintessential bobby pin, which helped keep hair in place for the modern-day woman.
And during the 1940s, with the help of hair pins and clips, the iconic bombshell blowout and pin curls were all the rage. 
When To Wear Hair Clips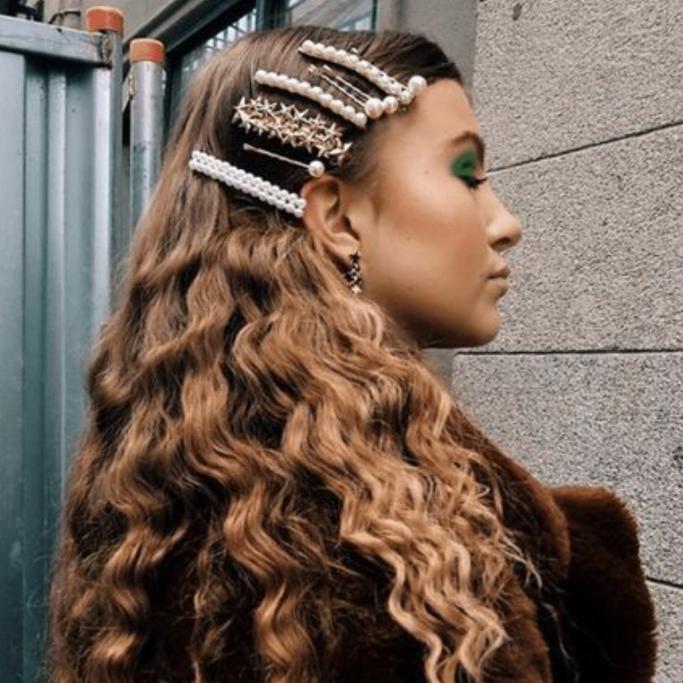 Hair clips are typically worn casually. From bobby pins to claw clasps, most trendsetters opt for a simple barrette to complete their final look.
If you require something a bit fancier, you can rest assured that there are hundreds of more ornate hair clips on the market. This may or may not include:
Gemstone hair clips
Pearl hair clips
Gold hair clips
Silver hair clips
Hair clips are considered a staple accessory in multiple core aesthetics. This includes cottagecore, Y2K, minimalism, light academia, and more.
How To Wear Hair Clips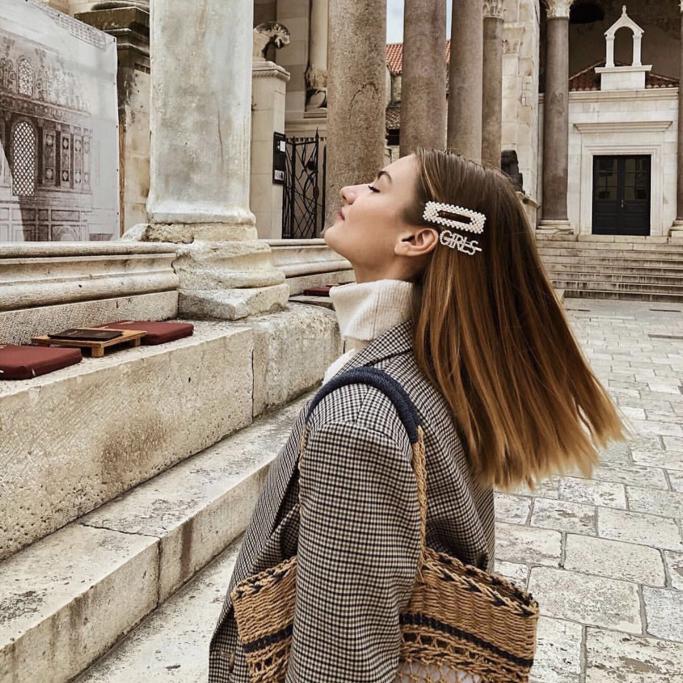 Compared to the nifty elastic, hair clips require a bit of effort to style. It's not a simple matter of 'gather-secure-and-go,' as barrettes are typically used to adorn space buns, ponytails, and half-updo's.
Of course, finding the perfect outfit is a whole other story—as it's important to create an OOTD that aligns with your set of hair clips. 
Need some outfit inspo? If so, I'll show you how to wear hair clips using 11 different looks.
11 Outfit Ideas With Hair Clips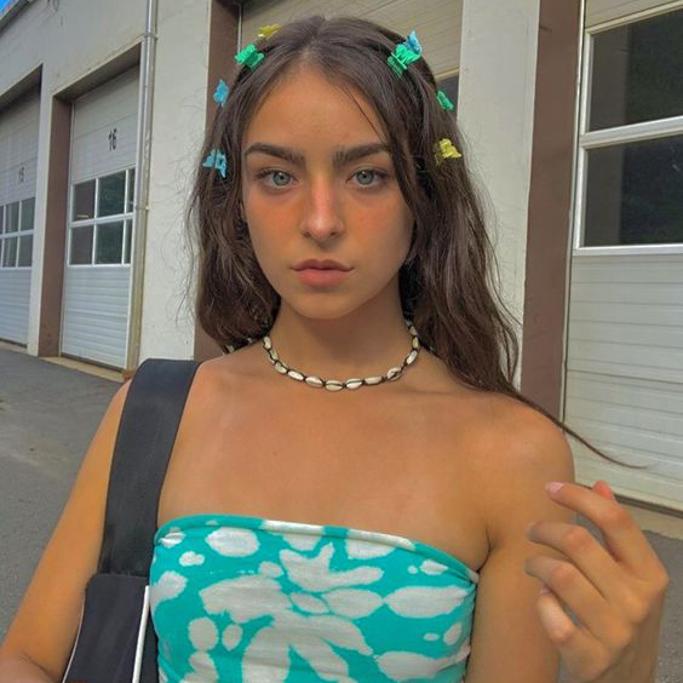 First up in this 'how to wear hair clips' guide is this VSCO-inspired look. Composed of a tie-dye bandeau, a puka shell necklace, and a series of butterfly barrettes, this adorable outfit pays homage to the sea, sand, and summer. 
The hair accessories exude a charming Y2K vibe, which you can't get with a regular set of bobby pins. This model chose to play around with cool tones since they match the color palette of her top.
For the rest of the outfit, this 'how to wear hair clips' guide recommends wearing denim shorts and a pair of Air Force 1s.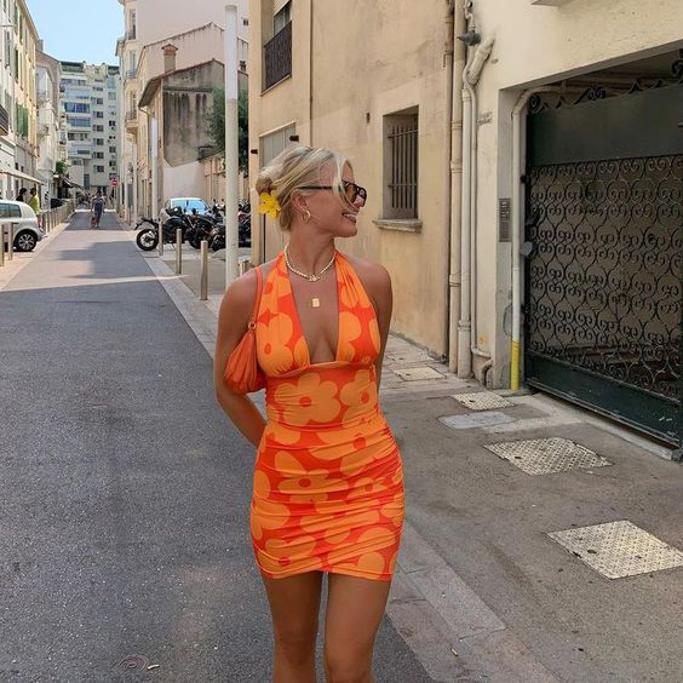 The flower power movement is here to stay. If you're fond of '60s fashion trends, I highly recommend donning this fit. Featuring an orange floral dress and a matching hair clip, this adorable OOTD keeps things bright and light for summer. 
Not only does the claw clasp add a charming feature to the entire look, but it helps keep your hair out of your face when it's hot outside. To complete the outfit, a pair of strappy heels is considered a must.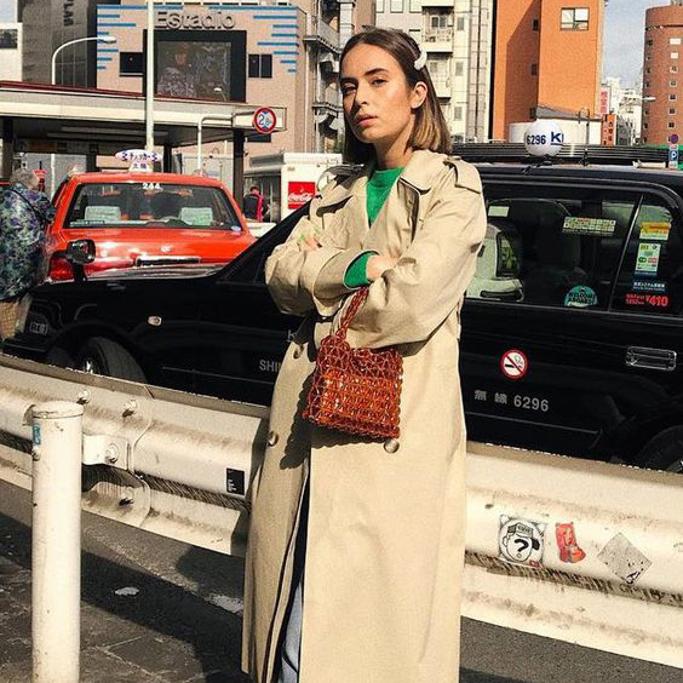 Hair clips are a great way to jazz up a stark-looking outfit. For instance, this classy OOTD is quite strict in aesthetic, considering the plain trenchcoat and pair of simple cigarette jeans. But the pearl barrette adds an adorable finishing touch, as it helps brighten up the look. 
If you prefer a more 'friendlier' fit, this 'how to wear hair clips' guide recommends donning a colorful tee and a printed handbag for some added visual interest.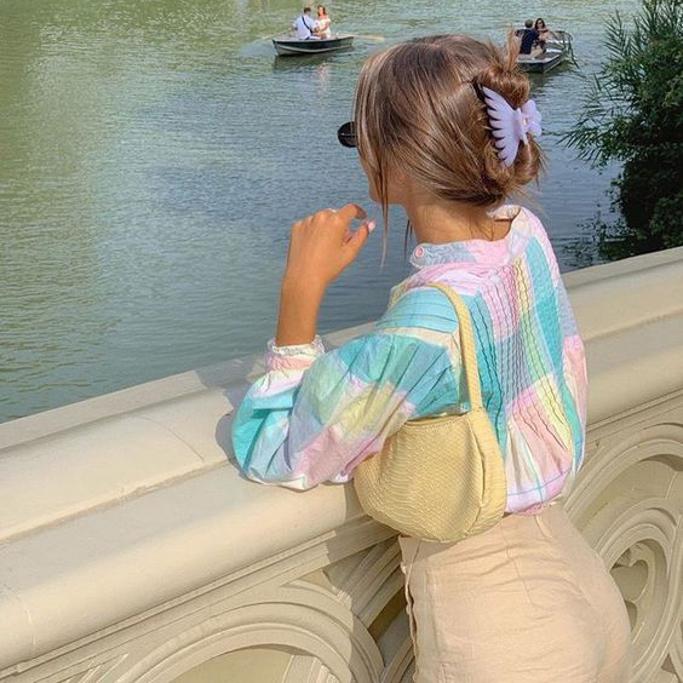 Summer is the season of romance. Case in point, this 'how to wear hair clips' contender makes use of the quintessential claw clasp. It's paired with a rainbow blouse and some cream trousers. The pastel hues of the outfit evoke July vibes and make us think of fruity sorbet on a hot day. 
The matching bag helps to tie the whole look together, as its petite silhouette blends wonderfully with the rest of the OOTD. In terms of shoes, I suggest wearing white platform loafers for a more bookish aesthetic.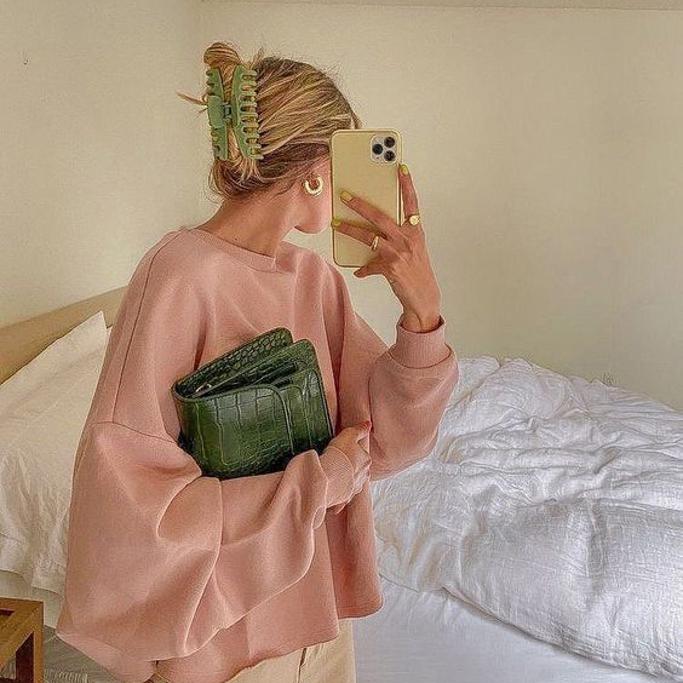 Most girlies prefer to style their claw clasps with casualwear. This OOTD is no exception, as it pairs the traditional banana clip with a relaxed sweatshirt. Assumably matched with khakis, this model chose to accentuate her look with an animal-skin clutch. 
This OOTD is all about pairing colors, as it features a mix of green and light pink. While you're free to wear sneakers, this 'how to wear hair clips' guide recommends slides to keep things casual.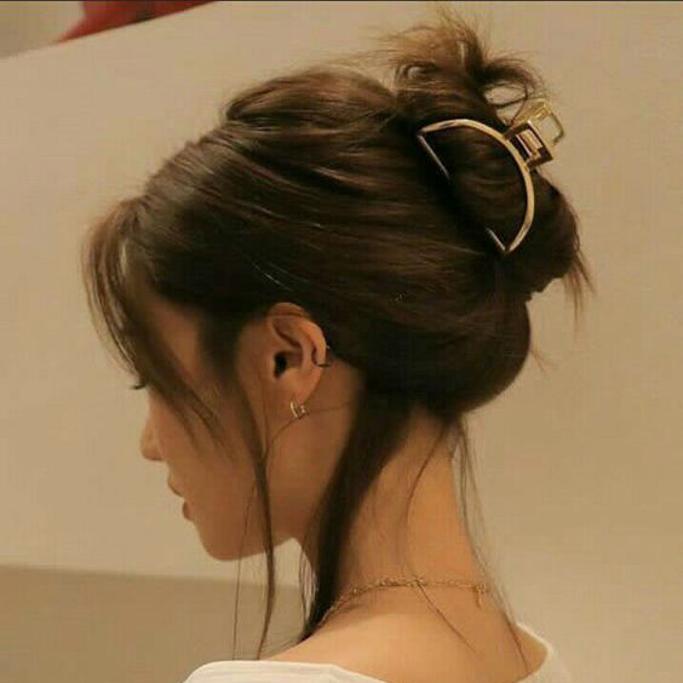 Composed of a simple hair clip and a white pinstripe blouse, this look practically screams 'Y.A love interest.' It's considered a take on minimalism, given that the outfit is relatively free of loud colors and embellishments. 
Uncomplicated in silhouette and design, this OOTD definitely exudes that manic, pixie girl energy that most young adult novels have. For the rest of the ensemble, I suggest keeping things simple by wearing a pair of jeans and some dainty kitten heels.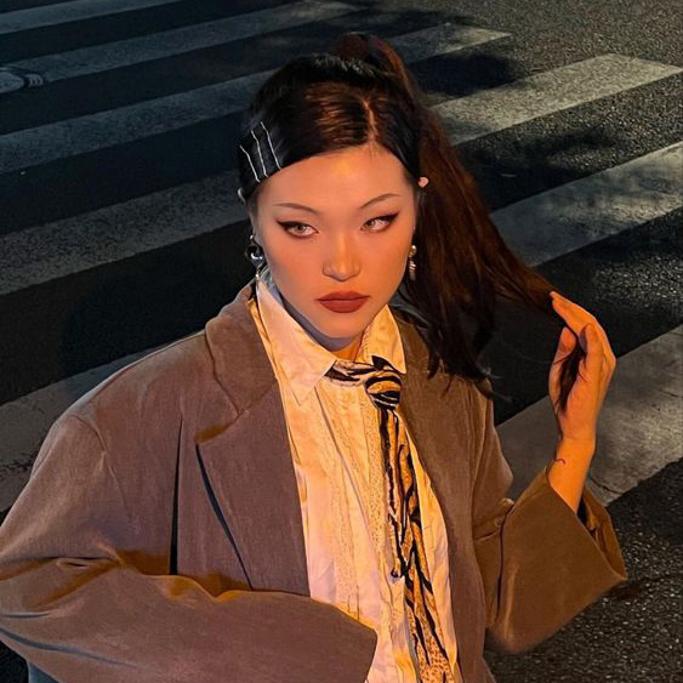 Contrary to popular belief, bobby pins aren't exclusively meant to be hidden. In fact, you can wear them as a statement piece. This model chose to place her hair pins side-by-side, as it adds a touch of edginess to the entire look.
Complemented with a brown blazer, a white blouse, and a neck scarf, this OOTD is considered the alternative version of dark academia. In terms of the hairstyle, this 'how to wear hair clips' guide suggests a simple ponytail.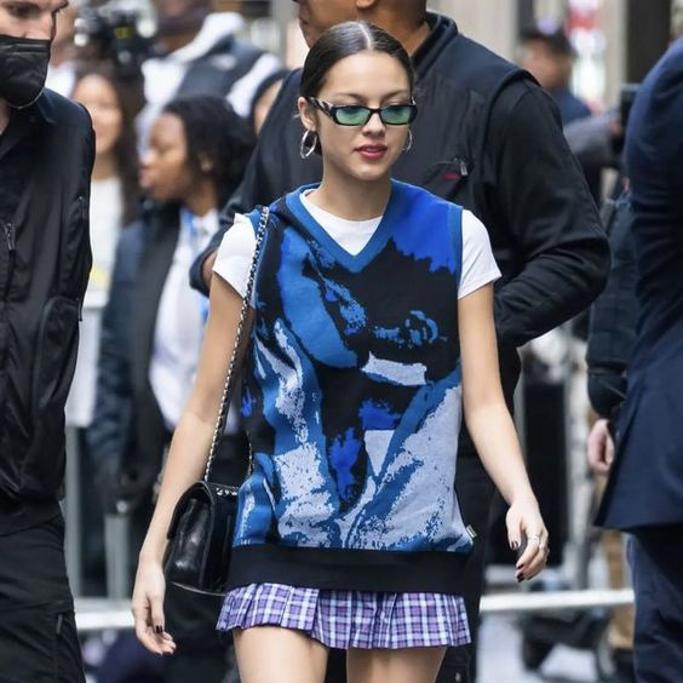 Olivia Rodrigo is known to sport one or two hair clips now and then. Here, her outfit is seemingly devoid of barrettes, but can you imagine if she thought to add some?
Preferably styled with silver bobby pins or butterfly clips, they could do wonders by accentuating her final look. 
Whatever accessory she chooses, it'll definitely match the vibe of her OOTD—as it seems to be a homage to Y2K grunge. Outfitted with an abstract sweater vest, a white tee, a mini plaid skirt, and black loafers, this ensemble is certainly reminiscent of her Sour era.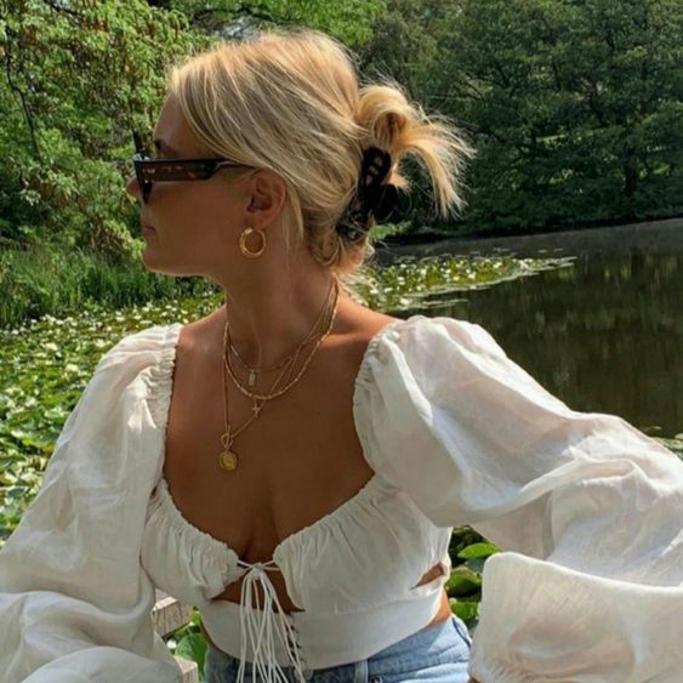 Care for something more romantic? If so, I suggest this notable contender. Composed of a white blouse, a pair of light-wash jeans, and gold jewelry, this OOTD is perfect for spring and summer. 
The dramatic nature of the sleeves is slightly reminiscent of cottagecore, as this core aesthetic is all about billowing dresses and peasant tops. Instead of opting for a traditional bow, this 'how to wear hair clips' guide suggests a simple claw clasp for a more modern approach.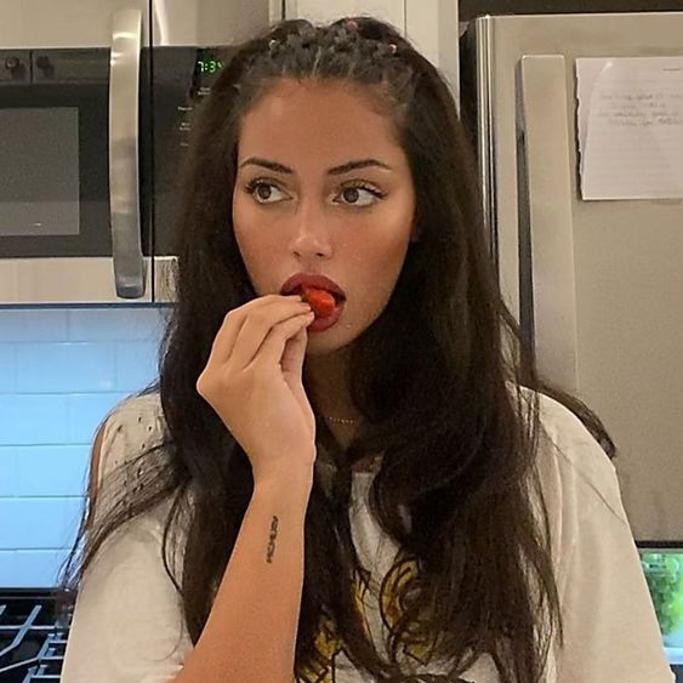 It would be a missed opportunity to exclude butterfly clasps in this 'how to wear hair clips' guide. Considered the peak accessory of the late '90s and early 2000s, this adorable accessory is best styled with dozens of clips at a time. 
From pink to purple, I encourage you to have fun with this decorative hair piece. The up-do itself can be a regular half-up, as butterfly clips can easily replace elastic bands.
Best paired with a simple graphic tee, channeling your inner MTV kid has never been this easy. While this hairstyle doesn't include butterfly clasps, they would definitely make a great add on.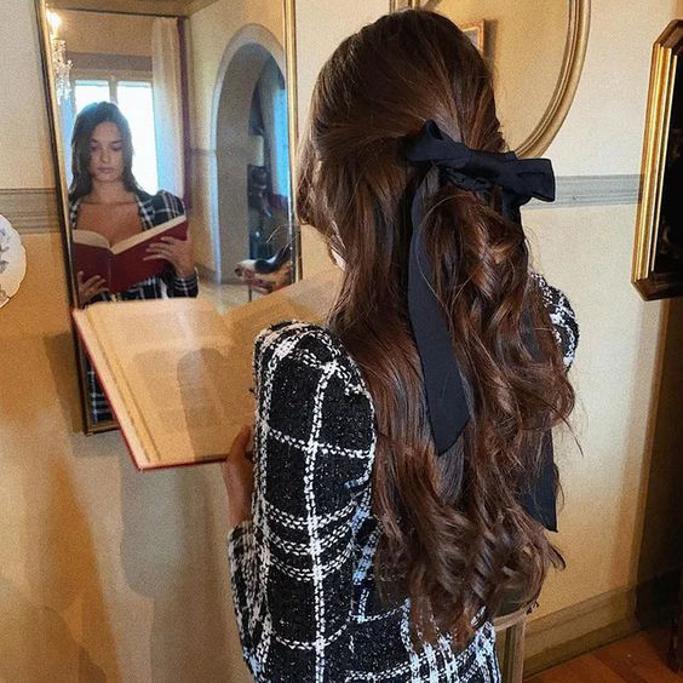 If you're fond of hair bows but hate the effort required to fix them, can I interest you in the ribbon barrette? This nifty accessory takes care of knotting and twisting, so you don't have to worry about lopsided ties. 
To go with this hair piece, I suggest a black and white blazer to help keep things classy. The rest of the OOTD can include a cute mini dress, a pair of kitten heels, and a dainty Chanel bag.
What Type Of Hair Clips Outfits Can You Get?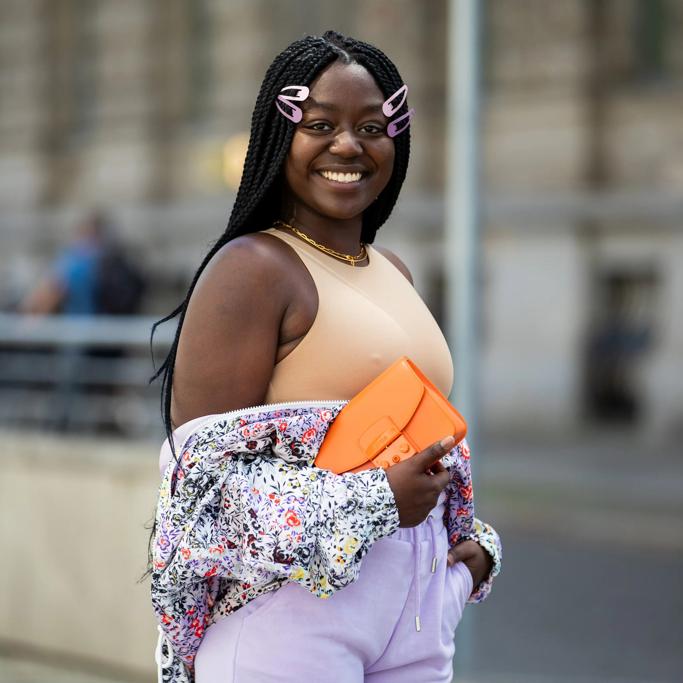 There are thousands of cute hair clips on the market. For some avid trendsetters, this presents a unique opportunity to try out different styles. That being said, it only complicates things for novice fashionistas.
So, I'm here to provide some clarity, as I'll discuss popular hair clip designs (as well as recommended outfits) that are worth a try. 
The Y2K makeover: Typically featuring mini skirts, crop tops, and low-waisted bottoms, this core aesthetic is best paired with butterfly clips and claw clasps.
The 'bare necessities': If you prefer minimalism, I recommend opting for simple hair accessories such as bobby pins and plain claw clips. They should be relatively devoid of bright colors and embellishments.
Grunge girl: This core aesthetic mainly includes plaid skirts, black clothing, and lots of jewelry. Instead of opting for gold hair pieces, I suggest silver accessories to help match the overall grunge vibe.
Dreamy cottagecore: It's worth noting that this also includes light academia as well. These two core aesthetics often feature bookish themes and fantastical elements. Hairpieces, such as vintage accessories and bobby pins, work well with these fashion trends.
How To Choose The Best Hair Clips Outfit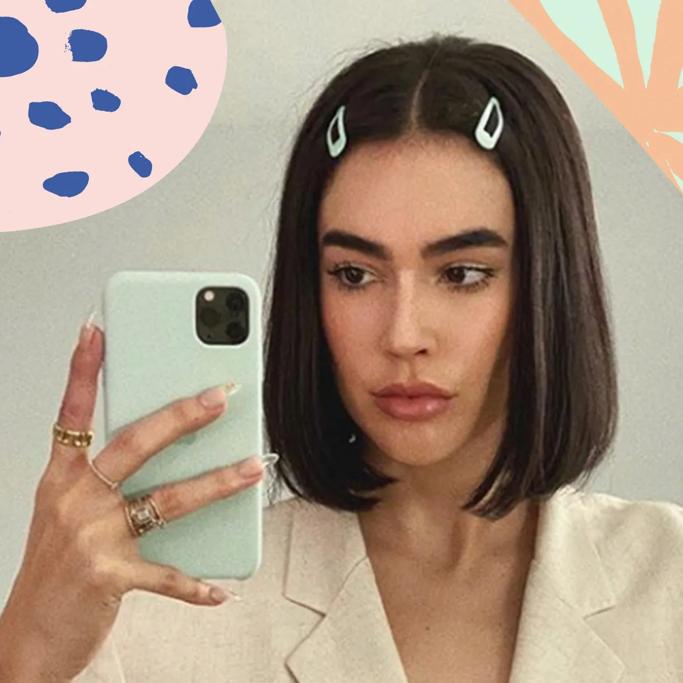 Thanks to fast fashion, it's relatively easy to cop a $5 set of hair clips and call it a day. Unfortunately, these accessories are notoriously known to be flimsy and breakable.
If you're keen on wearing your claw clip or barrette for years on end, it's time to become a responsible shopper. Customers should consider four things before heading to checkout: material quality, design, practicality, and price. 
Material quality relates to the construction of the hair piece itself. Therefore, you should be on the lookout for an accessory that's durable, resilient to stress, and secure when worn.
It's worth noting that most hair ornaments are typically made out of plastic, metal, and resin, which offer varying degrees of strength depending on how the accessory was manufactured.
All in all, it should do a decent job of holding your hair in place without the need for additional support. 
Arguably, the design is the most important factor to consider when buying a hair clip. For instance, do you prefer Y2K fashion, or are you a stickler for minimalism?
You can relax knowing that there are thousands of different designs meant for every core aesthetic. That's why it's essential to only put wearable accessories in your shopping cart.
And, at the end of the day, you should settle for a hair clip that aligns with your current wardrobe.
In terms of price, hair clips can range from $2 to $100 depending on the material, design, and brand. I suggest opting for the mid-way point, as cheap barrettes aren't known to be sustainable or durable.
On the other hand, super-expensive accessories are typically not worth their high price tag. As a compromise, $20 hair pieces are generally considered a solid bang for your buck.
How To Style Hair Clips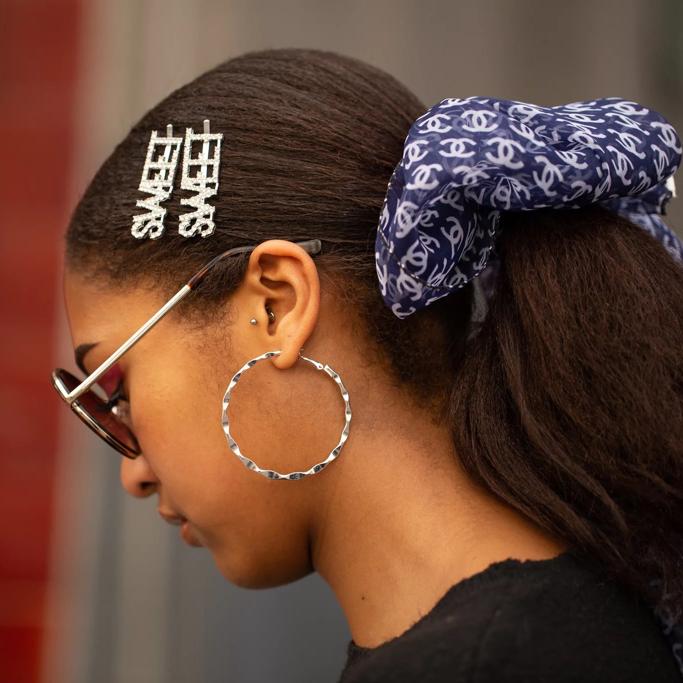 As previously mentioned, hair clips require some handiwork to affix.
Typically used to secure knots, twists, and braids, there's a clear difference between an amateur hair stylist and an experienced professional. For those in need of additional help, I'll discuss some tips and tricks on how to wear hair clips.
The half updo: This hairstyle requires you to partition your tresses into two sections. This can easily be accomplished with a series of butterfly clips or a simple claw clasp.
The messy bun: Typically secured with a claw clasp, this hairstyle calls for some know-how in twisting, knotting, and folding.
The multi bobby pin look: For visual reference, I invite you to look back on outfit #7 of this 'how to wear hair clips' style guide. It's considered a simple way to make use of your dozen-some collection of bobby pins.
The pearl barrette: Romantic in design, this particular accessory will add a touch of class to any look.
Fashion Tips To Avoid With Hair Clips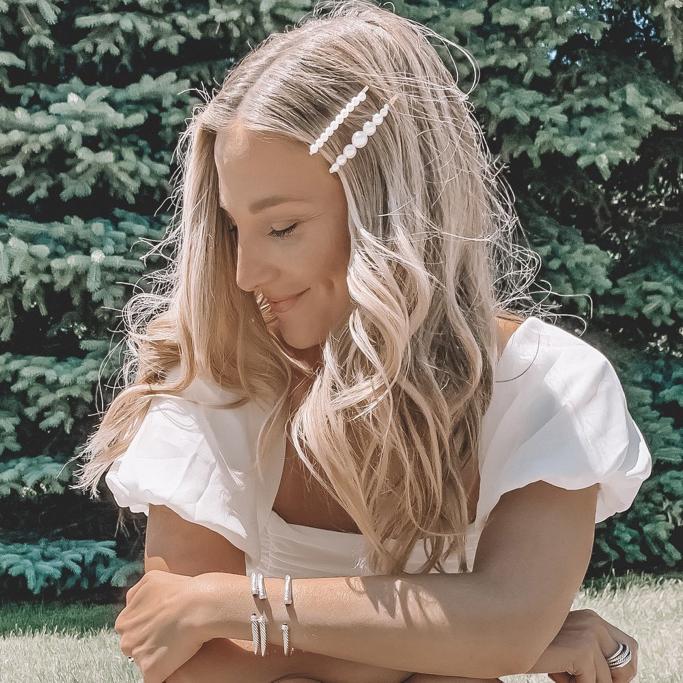 It's easy to go overboard with hair clips. Considered the cherry-on-top of any outfit, you can definitely have too much of a good thing.
If you plan on adding a few barrettes to your look, I suggest keeping things light and simple as a starting point. Up next, I'll share some fashion tips to avoid with hair clips. 
The dainty claw clasp: If you're struggling to secure your claw clip to your hair, chances are that it's too small. I recommend opting for a bigger alternative to help save some trouble.
Party at the top; plain Jane at the bottom: If you plan on wearing multiple hair clips, be prepared to wear an equally bold outfit. Donning your usual set of sweats isn't going to cut it.
Hats: This seems self-explanatory, but you shouldn't wear a cap if you plan on wearing hair accessories. You don't want to cover up all your hard work.
Hair bands: As a general rule of thumb, you shouldn't don a headscarf, elastic band, or any bulky accessory with barrettes. Trust me, your scalp will thank you later.
How To Take Care Of Hair Clips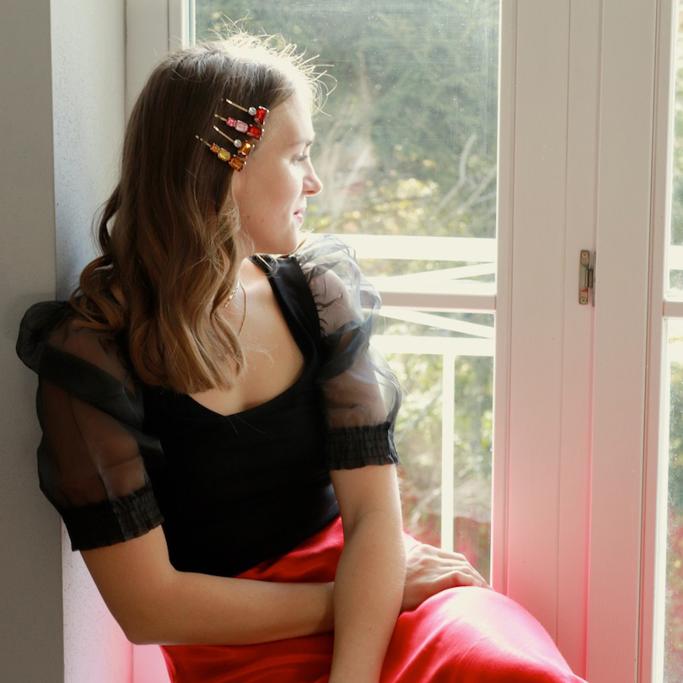 Hands up if you mindlessly toss your bobby pins and claw clasps at the bottom of the drawer.
I, for one, have avidly adopted this bad habit. If you hate re-buying hair clips frequently, here are some tips on how to take care of your precious accessories. 
Separate your hair clips: Take this as a sign to organize your accessories by size and design.
Take inventory of what you have: You'd be surprised by how many doubles you have lying around in your collection.
Wipe away debris and flyways with a cloth: Soft rags will do just the trick. Brushes may lead to scratches and abrasions.
Store in a dark or dry place: Long-term sun exposure may lead to warped shapes.
Best Places To Buy Hair Clips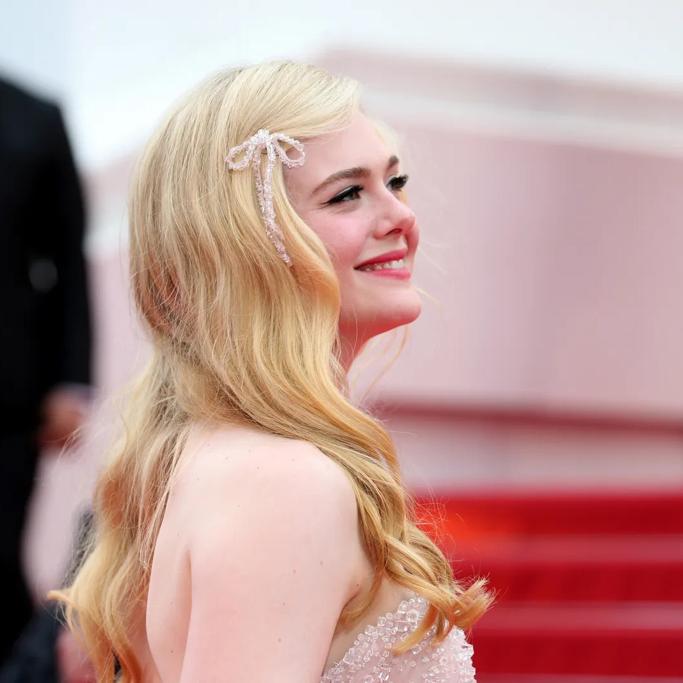 In need of some banana clips for hair? If not, how about a set of '90s-style butterfly clasps? Whatever design you're into, these select stores are full of trendy barrettes to choose from.
While Target hair clips are the perfect go-to, there are many other places to buy these accessories.
Etsy 
Nordstrom 
Sally Beauty 
Antler & Acre 
Final Thoughts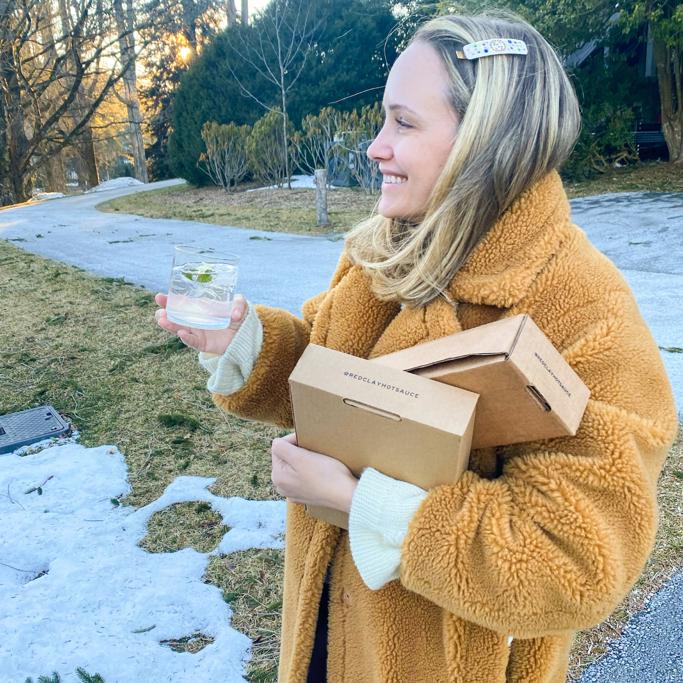 Think of it this way: hair clips are the sprinkles, cherry, or chocolate drizzle of an ice-cream sundae.
Alone, they're quite bold and 'sugary' in aesthetic, but when paired with foundational components (such as a chic outfit), they can do wonders by accentuating your entire ensemble. 
Take this as a wake–up call to not sleep on hair clips—for some, they're regarded as the 'pièce de résistance' of an OOTD.
From Y2K-inspired looks to light academia fits, here's to hoping that you know how to wear hair clips. There's definitely no shortage of cute ensembles to peruse on social media, so you should have zero problems finding the perfect outfit. 
---
Looking to up your fashion game? We've got you covered:
Get Access to Exclusive Deals
Subscribe for free to get exclusive deals in your inbox. 100% privacy