How To Wear A Saree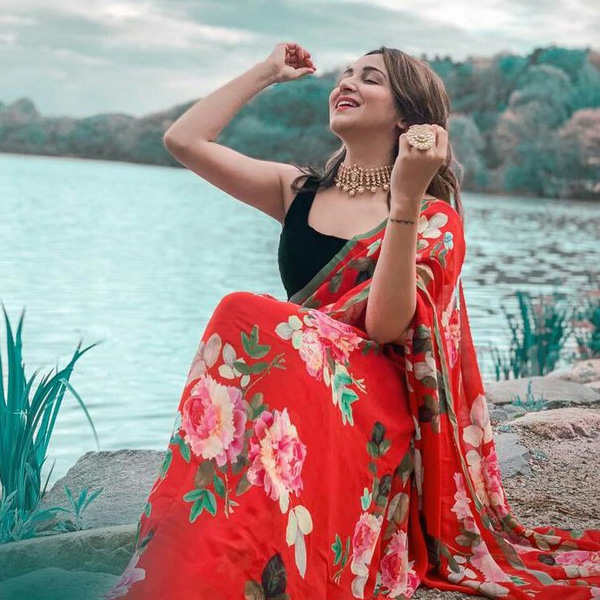 Pre-modernist fashion relied on ships, hand–written letters, and word of mouth to spread trends and clothes around the world.
For instance, the Kashmir scarf was considered a coveted staple during the Victorian era, which was popular shortly after the British stepped foot in India. Today, we're continuously exposed to numerous fashion fads thanks to the rise of social media.
From Korean Hanboks to Chinese Qipaos, there are hundreds of stunning cultural garments across the world. Sarees, a classic clothing piece worn in India, are considered one of the more popular wardrobe basics in fashion.
Those who wear it know about its complications. Designed to be pleated and folded elegantly, you're probably wondering how to wear a saree.
Best paired with a choli, statement earrings, and an underskirt for additional support, this 'how to wear a saree' guide will tackle multiple topics, including:
How to wear a saree step by step
How to wear saree for beginners
Saree draping techniques
How to wear Gujarati sarees
What Is A Saree?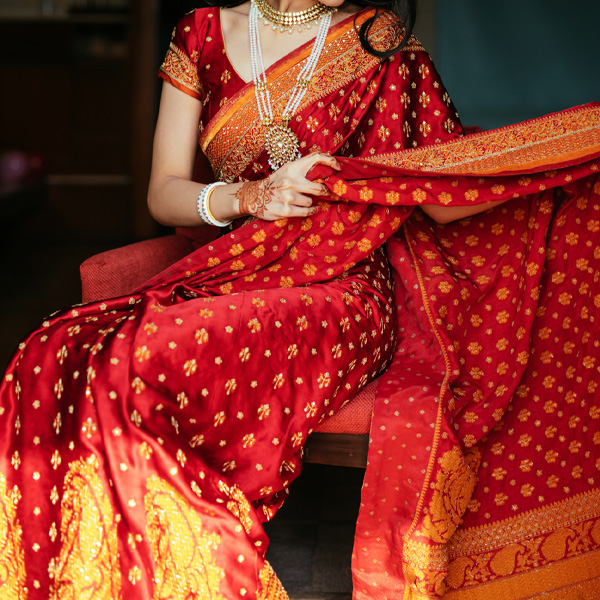 Simply put, a saree (or sari) is a piece of rectangular cloth that drapes around the body. Considered a wardrobe staple in Indian fashion, this women's garment is typically adorned with sequins, jewels, embroidery, and lots of colors.
It's known to be super versatile to wear, considering that users can affix their own pleats and drapes as they wish. 
History Of Sarees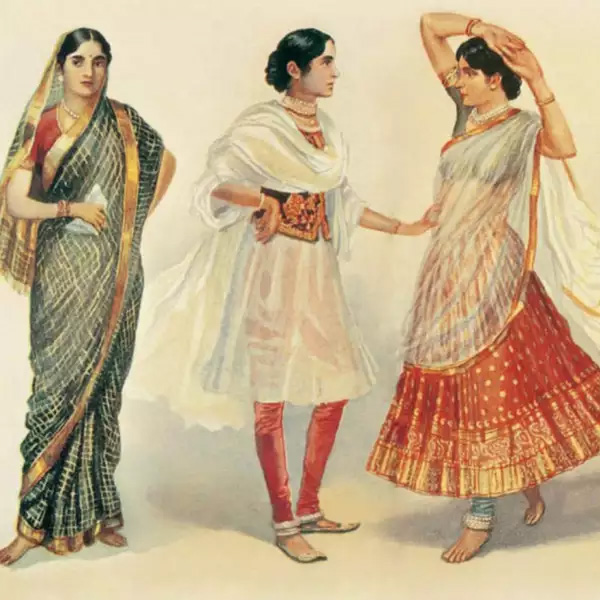 The simple saree is more than just a strip of fabric. To Indians, it represents personality, self-expression, and years of tradition. Its origin story dates back to the fifth millennium BC when cotton production was at its all-time peak. 
During that time, producers started to experiment with different dyes, as they used indigo, turmeric, and other natural additives to color fabric.
In terms of the name itself, 'saree' evolved from the word 'sattika,' which was prevalently used in Buddhist and Jain writings.
Over the years, this historical garment has evolved with modern-day fashion. And nowadays, trendsetters can choose from several intricate designs made from all sorts of materials. 
When To Wear A Saree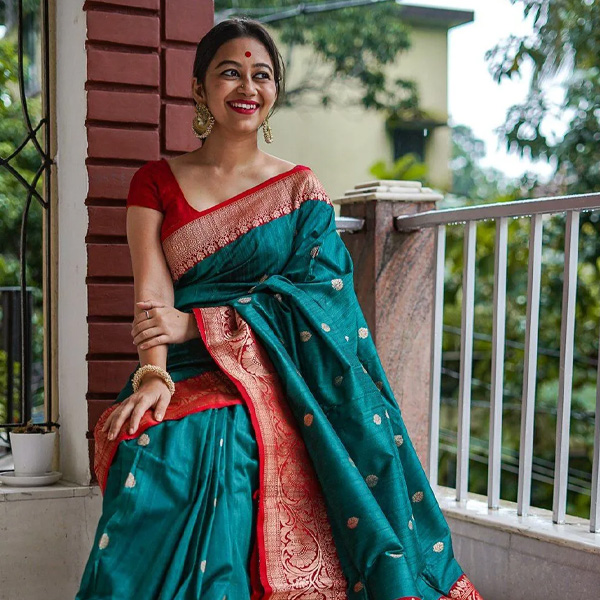 Sarees are considered casualwear in India. According to National Geographic, you'll most likely see them worn by older generations. It's worth noting that there are sarees geared for formal events, such as weddings, funerals, or the occasional fancy dinner.
If anything, you should view this particular garment as similar to a dress—since there are thousands of sarees meant for different occasions.
Due to their breathable nature, sarees are obviously meant for warmer weather. India isn't known for its cold weather, which is why most of the population prefers thin fabrics over wool and tweed.
How To Wear A Saree
Based on my research, sarees can be worn by anybody. They don't hold any religious sentiment, so you shouldn't worry too much about cultural appropriation. 
That said, I highly encourage you to reach out to one of your Indian friends for intel. Draping, pleating, and outfit coordination are quite different from Western clothing, so others may offer assistance to newbies. 
Without further ado, this 'how to wear a saree' guide will provide some fashion inspo in the form of 13 outfits.
13 Outfit Ideas With Sarees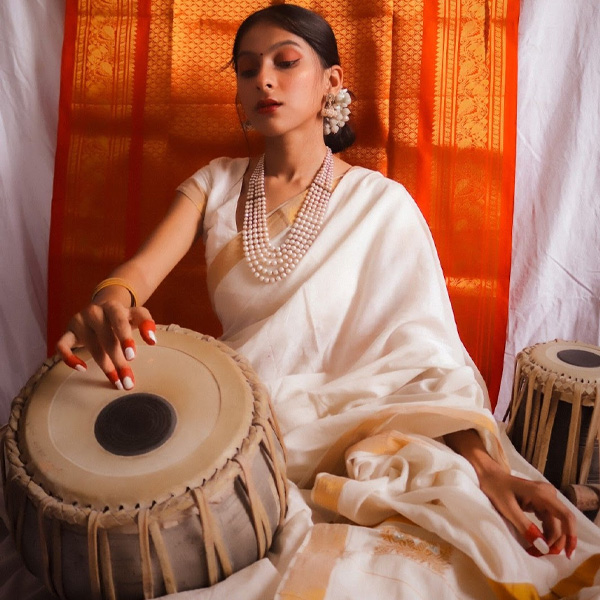 Dreamy in aesthetic, this gorgeous number features a cream-colored saree finessed with golden details. The matching blouse helps to even out the entire look, as bright hues such as purple and pink would only muddle the simplicity of the outfit.
The stacked pearl necklace is considered a subtle homage to Audrey Hepburn's iconic OOTD in Breakfast at Tiffany's, but here, it's more downplayed to emphasize the beauty of the saree. In terms of other accessories, I recommend finishing the look off with a pair of matching earrings.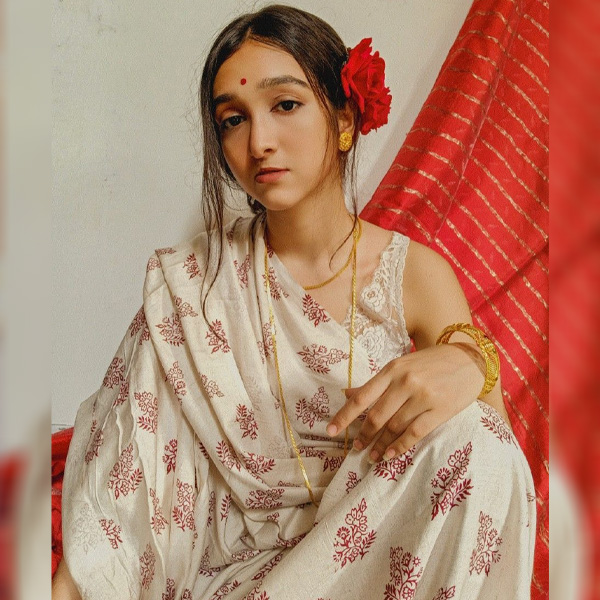 Not a fan of the Tumblr flower crown? If so, you can always place a simple peony behind your ear. Complemented with a matching saree, this gorgeous look is considered one of the more romantic outfits on this list.
The subtle floral accents in the cloth help to blend the whole OOTD together. While this ensemble finds strength in simplicity, you can never go wrong with gold jewelry.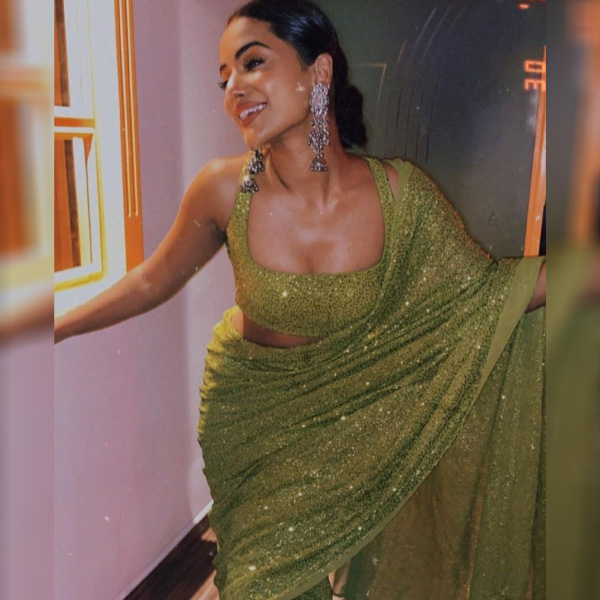 This 'how to wear a saree' contender is considered a modernized alternative to the traditional sari, which is great for those looking for an update. Dyed in olive green and bedazzled in sequins, this chic look also features a sleeveless choli in the same fabric.
Since it's relatively simple in design, it's the perfect base for additional accessorizing. In terms of jewelry, silver earrings and bangles can help enhance the final look.
The hot and humid months of summer require a wardrobe of breathable clothes. So, take this as an opportunity to ditch your usual cotton saree for a chiffon alternative instead.
This show-stopper of an outfit features a floral sari with a white sleeveless choli to help keep things simple. To ensure modesty, I recommend wearing a lehenga or an underskirt for additional coverage.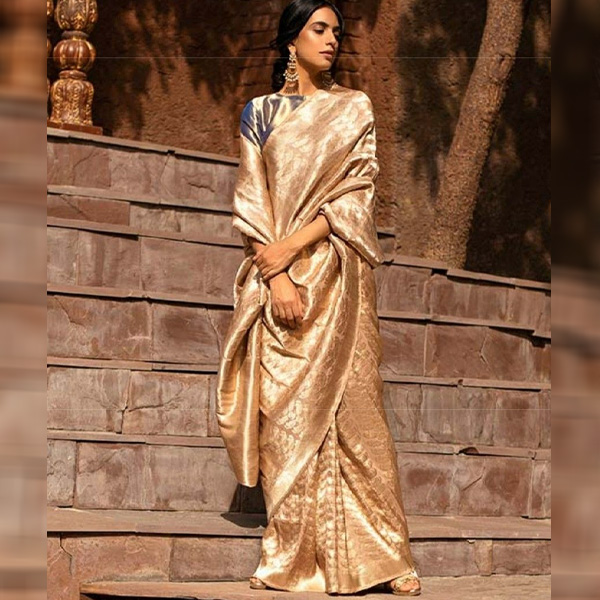 I'm not gonna lie—I audibly gasped when I saw this outfit on Pinterest. Composed of a golden saree and a blue metallic blouse, this jaw–dropper will definitely incite some jealousy at your next cousin's wedding.
The lush texture of the fabric paired with its intricate pattern practically screams royalty and luxury. To help ensure all eyes stay on you, this 'how to wear a saree' guide suggests accessorizing with matching statement jewelry.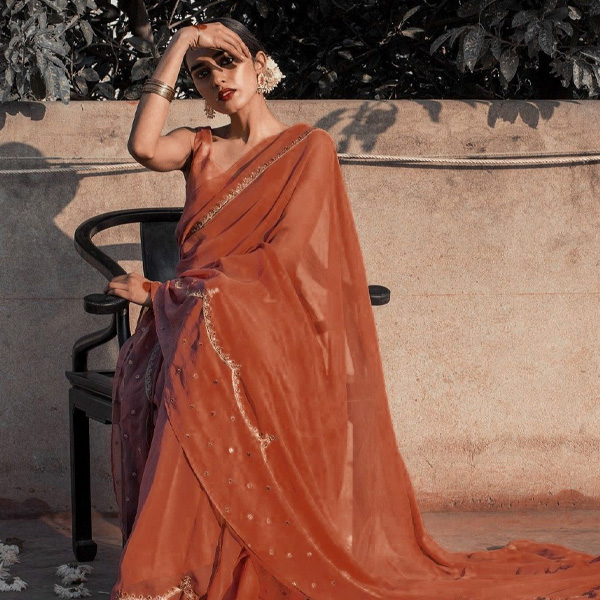 Dyed in burnt orange, this sheer sari is the perfect go–to for summer. The lightweight nature of this fabric results in lots of dramatic pleats and drapes, which saves you the effort of manually styling the garment.
Decorated with golden accents—due to the quiet simplicity of this outfit—it requires no additional accessories. That said, this 'how to wear a saree guide' recommends a flower pin and a swatch of red lipstick for a pop of color.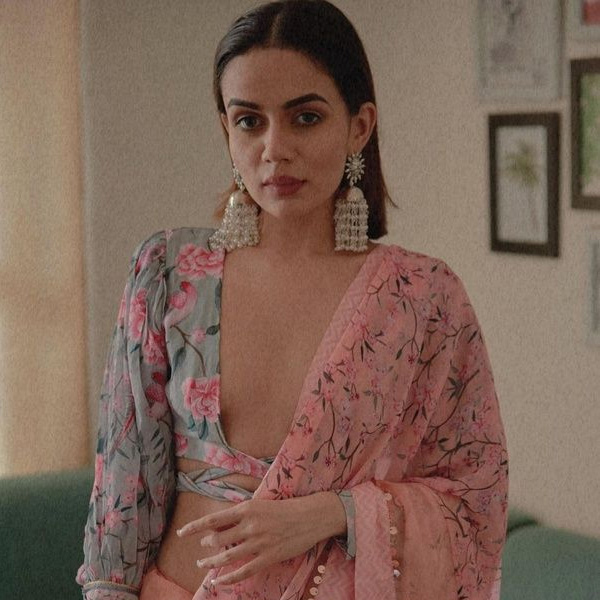 If Kate Spade designed a collection of sarees, I'm fairly certain that this outfit would be included in her lineup. Dyed in pastel shades and decorated with floral accents, this spring–inspired number can do wonders by complementing your skin tone.
The blush pink sari also comes with a sequined hem, which adds a touch of glitz to the entire look. Given the bold nature of the plunging neckline, I recommend wearing a simple choli if you want to keep things conservative.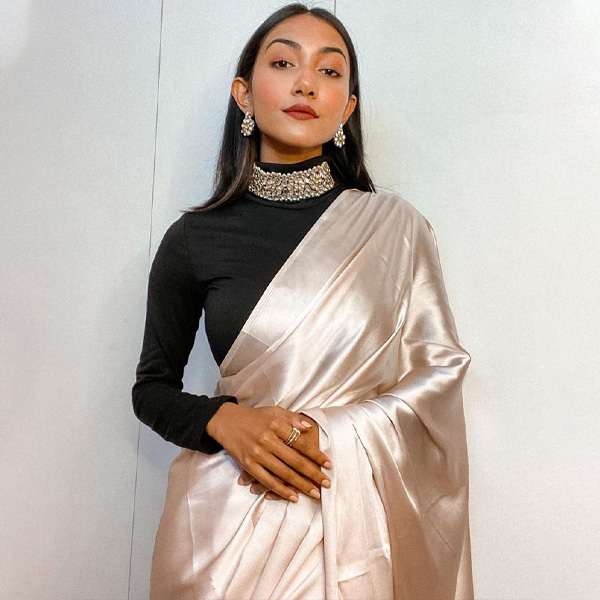 In need of some additional coverage? If so, this 'how to wear a saree' guide suggests trading in your choli for a standard turtleneck. It's considered a great alternative if you live in a colder climate, as this outfit is composed of multiple layers.
Paired with a cream silk sari and silver jewelry, this OOTD acts as a compromise between functionality and fashion. To help keep things extra cozy, you can never go wrong with a pair of leggings underneath.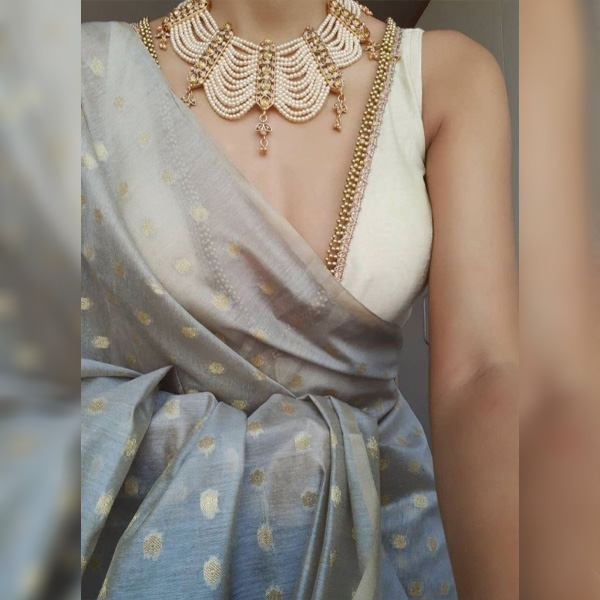 Considered a slight homage to ancient Greece, this fancy outfit bears a small resemblance to the traditional white toga. The only point of difference is the saree, which is dyed in an exquisite royal blue.
Complemented with golden accents and pearls, I highly recommend donning this fit for fancy events, such as weddings, five-star dinners, or graduation ceremonies. For shoes, a simple pair of pointed-toe pumps can enhance the final look.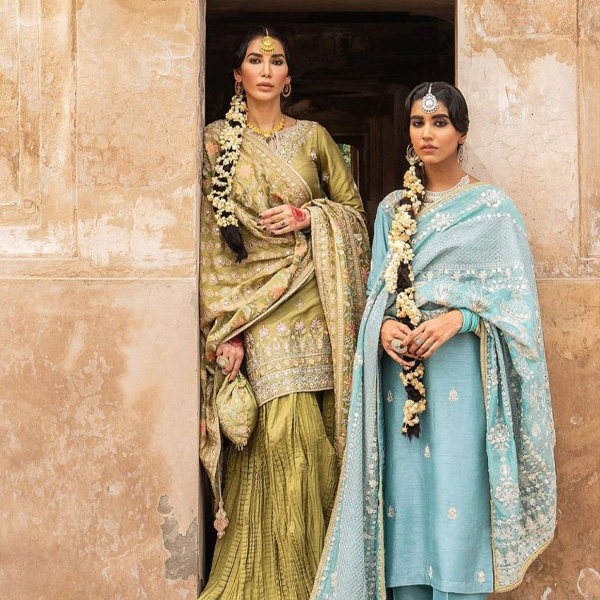 To help avoid outfit confusion, this 'how to wear a saree' guide suggests sticking to monochromatic ensembles. Basing your look on a single color can help prevent color clashing and ugly OOTDs.
Case in point, these two contenders strike an even balance between simplicity and glamor. If opting for standard green or blue is too plain for your liking, I suggest getting your hands on embroidered or bejeweled saris as another alternative.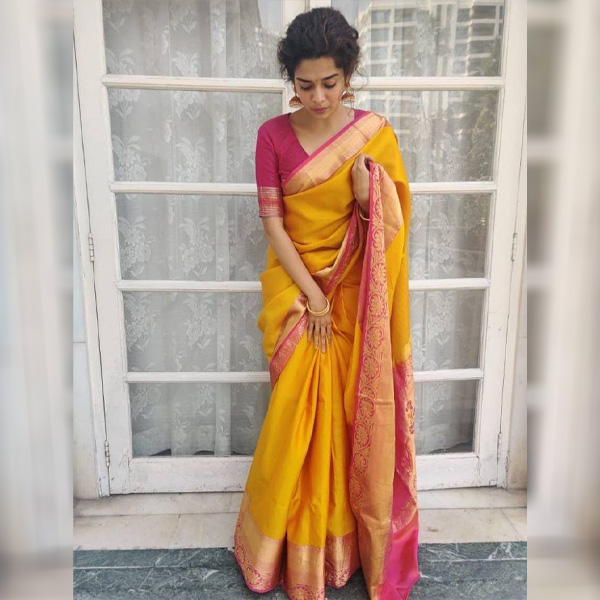 Featuring yellow and pink, this gorgeous number is definitely reserved for celebrations. The bright colors are further complemented with gold detailing and matching bangles. 
Designed to provide an hourglass effect, I highly recommend looking up some tutorials on TikTok and YouTube for advice on draping and pleating. In terms of shoes, I suggest keeping things simple by wearing a pair of gold-colored heels.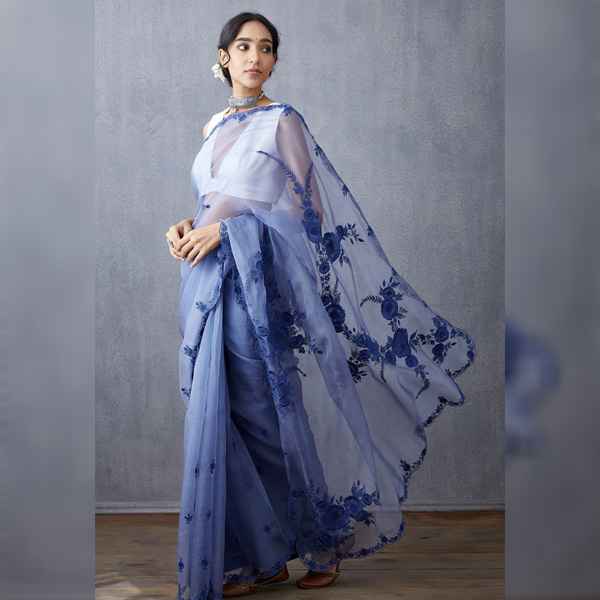 Reminiscent of the ocean, the sky, and everything blue, this gorgeous sari exudes a meditative vibe for those who choose to wear it. The garment is made out of lightweight chiffon and is further decorated with floral details.
Complemented with a white blouse, brown slippers, and silver jewelry, this look strikes an even balance between 'casual summer afternoon' and royal elegance.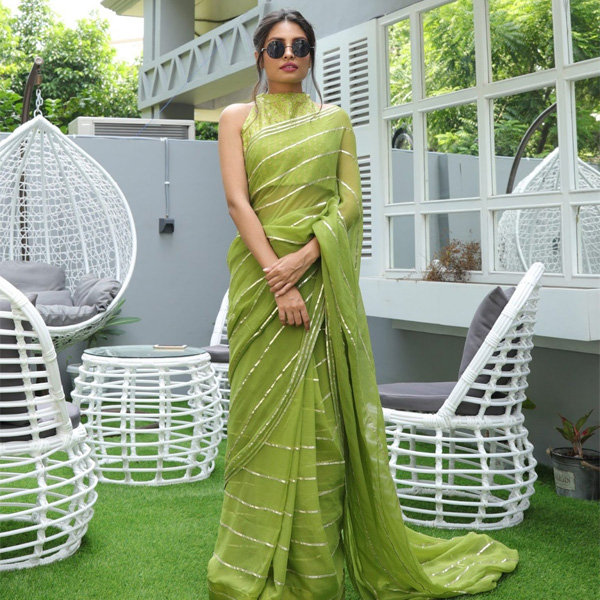 If you're looking to achieve an hourglass silhouette, look no further than Gota fabric. This specific material is known to produce the best drapes and pleats, which leaves you with the perfect figure.
For instance, this saree features a halter-neck style wrap-around, which is dyed in sage green. Accentuated with silver ribboning, this look provides a slight glam effect if you're not into bold jewelry. In terms of additional accessories, you can never go wrong with a pair of sunglasses.
What Types Of Sarees Can You Get?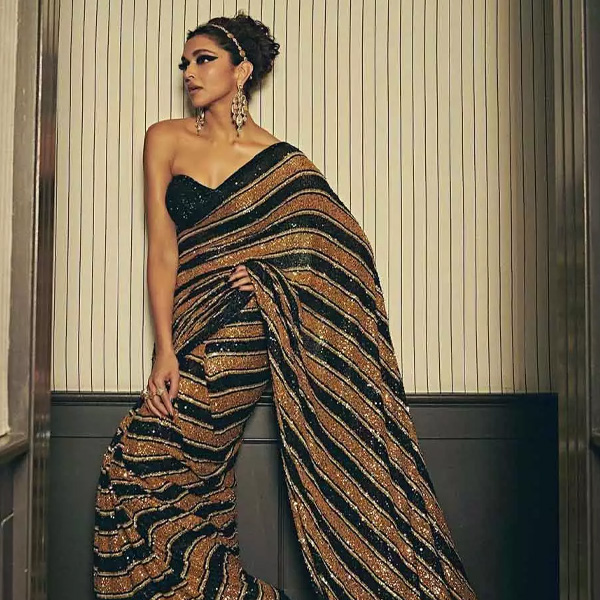 Since its iconic birth during the fifth millennium BC, the saree 'family tree' has branched out to include multiple style divisions.
If you're keen on getting your first one, it's best to be specific with the shopkeeper. Considering how many unique designs there are, this 'how to wear a saree' guide will provide a short list of notable contenders. 
The Assam silk saree: Spun out of domesticated silkworm, manufacturers typically use different types of wild blends such as gold muga silk, eri silk, and white pat silk.
The Baluchari saree: This unique sari showcases Indian mythology through its fabric print. In terms of material, it's typically made out of cotton and silk.
The sheer applique saree: Transparent in nature, this sari is often decorated with embellishments and embroidery.
The Gota Patti saree: Made out of Gota fabric, this garment features a unique metallic sheen on its surface. It's usually embroidered with decorative motifs.
How To Choose The Best Sarees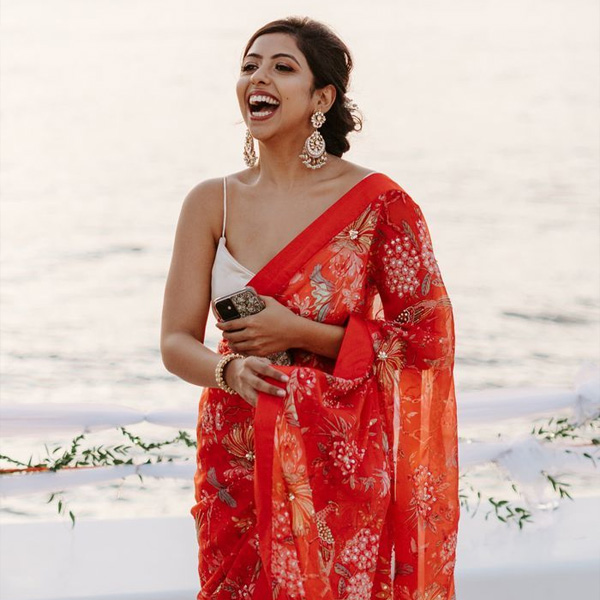 Choosing the perfect saree has a lot to do with your body shape. Fabrics play a big role in providing the figure that you want, as thinner materials can help de-accentuate key areas while thicker textiles can help provide volume.
Given that sarees come in multiple different swatches, it's important to consider the silhouette you're looking to achieve. 
For instance, those who are tall and slim may find net and lacework saris a more flattering alternative. These two textiles are quite thin in texture, which helps emphasize your figure while providing some dramatic draping.
You can also opt for heavier fabrics as another option, given that they'll add shape and bulk to your look. 
While most stylists recommend specific patterns and colors for different body shapes, I recommend selecting a design that reflects your personality. 
For instance, if you're the bright and bubbly type, bright hues like pink and yellow can be your go-to shades. If you're more lax in character, neutral tones such as beige and black can help you express your current mood.
Obviously, sarees styles vary when it comes to embellishments, so it's important to find a piece that blends with your final look. 
Price-wise, sarees can retail from as low as $15 to as high as $600, depending on the fabric and design. You can rest easy knowing that there are thousands of affordable options out there, so you shouldn't feel forced to resort to super-expensive alternatives.
How To Style Sarees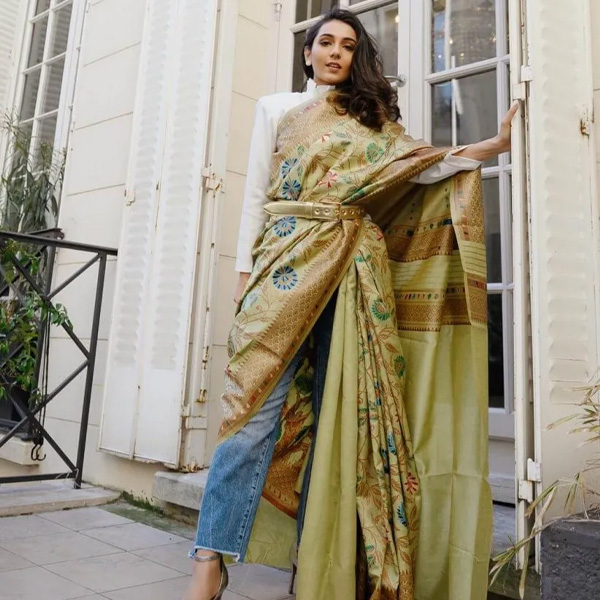 Traditional Indian dress is rarely simple. Out of the outfits I've featured so far, most of them feature intricate embroidery, sequins, and other decorative embellishments.
Naturally, one will feel compelled to style their sarees. For those in need of additional inspo, I'll supply some tips worth considering. 
Play around with different draping techniques: As previously mentioned, there are hundreds of helpful tutorials on pleating sarees. I highly recommend looking up a video online for in-depth specifics, as written step-by-step instructions may confuse new wearers.
Jewelry: This includes bangles, rings, necklaces, earrings, and head jewelry. I suggest opting for statement pieces, as dainty accessories may get lost in the busyness of your outfit.
Hair accessories: From flowers to hair barrettes, this styling tip can help balance your overall look.
Consider various matching garments: Lehengas, cholis, and other key clothing pieces play an important role in completing your final ensemble.
Heels: You should never underestimate the power of a glamorous stiletto. If six-inch platforms aren't your thing, you can always resort to the dainty kitten heel.
Fashion Tips To Avoid With Sarees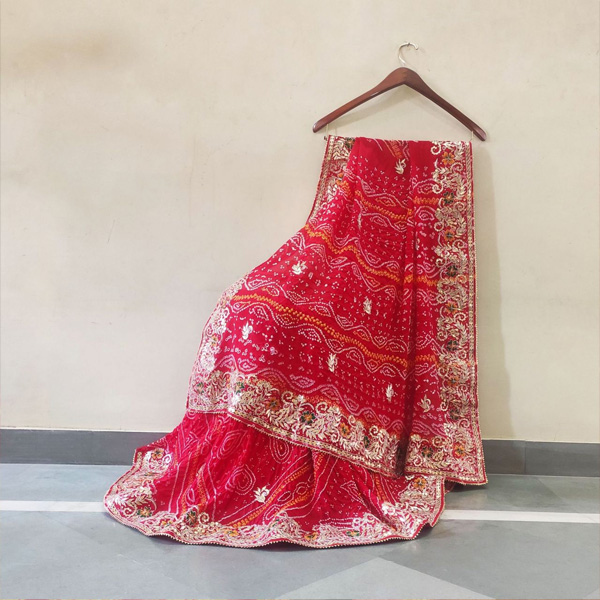 Given its busy nature, it's natural to assume that everything pairs with sarees. That said, there's nothing more annoying than getting a judgemental stare from your aunties and uncles.
If you're not keen on being the center of attention at the next family function, I'll share some fashion tips to avoid with sarees. 
The zero undergarment approach: If you plan on wearing a sheer sari, it's best to keep modesty in check by donning leggings or an underskirt.
Time & place: Plunging necklines should be worn at casual events. As a general rule of thumb, I don't recommend donning jaw-dropping drips at family functions.
Too-short; too-long: The perfect saree should hit at a comfortable length. If you're new to the draping technique, I suggest requesting the help of a friend.
Lack of accessories: Sarees, cholis, and lehengas are best complemented with jewelry, hair pieces, and other additional accessories.
How To Take Care Of Sarees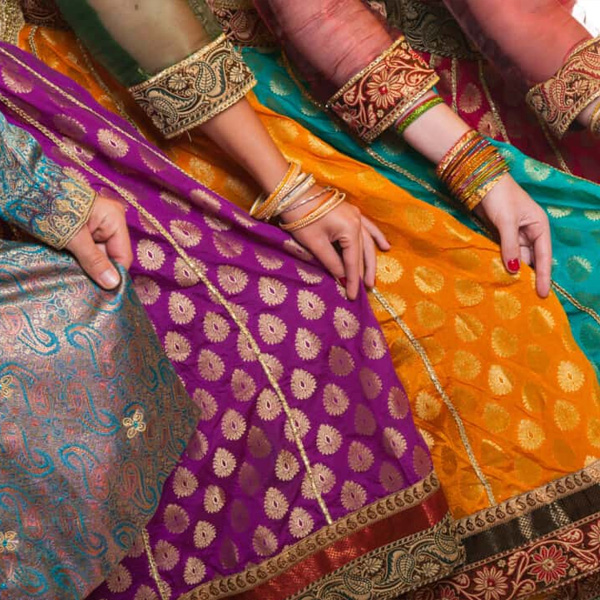 The Muga silk saree is estimated to be worth over $6,500. Considering its high price point, it's absolutely vital for trendsetters to implement some routine care and maintenance.
But for those who don't own a rare muga silk wrap, you should still take good care of your garment. Below, this 'how to wear a saree' guide will provide some helpful cleaning tips. 
Clean once in a while: You should never include your sarees in your weekly laundry load. Instead, they should be washed as little as possible.
Consider dry cleaning: Some saris require professional care given their material blend.
Handwash only: Try using cold water and light detergent as a viable solution. Hot water and abrasive cleaners may ruin the quality of your sari.
Line dry your saree: It's worth noting that this particular garment should never be under direct sunlight for lengthy periods. Doing so may cause color fading.
Best Places To Buy Sarees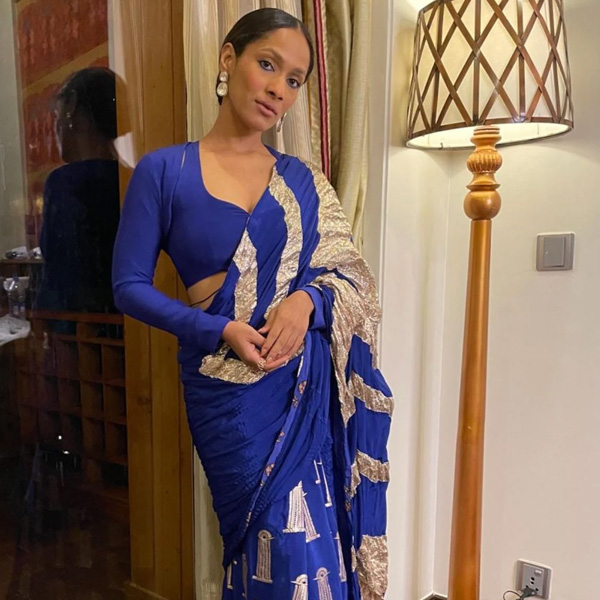 Before this 'how to wear a saree' guide comes to a close, I thought it best to provide some store recommendations. I suggest checking out these retailers:
Samyakk
Gravity Fashion
Utsav Fashion
Panash India 
Final Thoughts
What is a saree? Given the intensive nature of this article, I'm fairly confident that you know the answer already. It's more than just a simple piece of fabric, as this garment holds a long, rich cultural history in India.
Regarded as a custom, a generational heirloom, and a form of self-expression, it's meant to embody the character of the person that's wearing it. 
Here's to hoping that you know how to wear a saree—whether you choose to pair it with a choli, lehenga, or a decorative flower. The options are literally limitless. 
---
Looking to up your fashion game? We've got you covered:
Get Access to Exclusive Deals
Subscribe for free to get exclusive deals in your inbox. 100% privacy