How To Wear High-Top Converse Shoes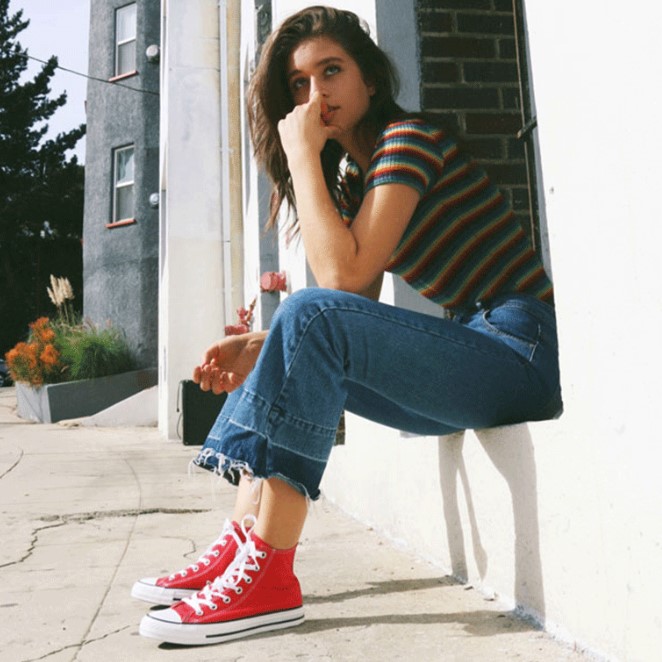 So, you wanna learn how to wear high-top Converse sneakers? Do you want to learn how to look good sporting shoes so legendary that they've eclipsed the athlete they were named after in terms of popularity? Do you want to style the shoes that have graced the gentle soles of Kurt Cobain?
Well then, dear reader, you came to the right place. Today, I'll teach you a bit about the history of high-top Converses, the different styles you can get, how you should style them, and more.
You'll also gain knowledge about how to wear high-top Converse shoes for more specific circumstances and to match various trends.
For example, some other topics you'll learn about in this guide are related to these common online searches:
How to wear high-top Converse girl
How to wear high-top Converse with skinny jeans
How to wear high-top Converse guys
How to wear high-top Converse men
How to wear high-top Converse with shorts
How to wear high-top Converse women's
How to wear high-top Converse with jeans
So regardless if you have long legs or short legs, one leg or two legs, red legs or blue legs, or any combination of those then you'll want to read through all the information I've gathered for you today.
What Are High-Top Converse Shoes?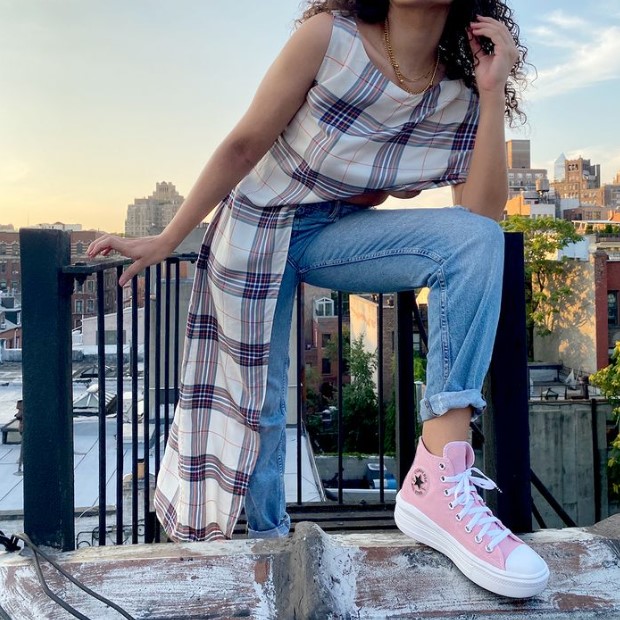 Whenever people mention the 'high-top Converse,' they're referring to a shoe of many names. Officially, the sneakers are known as the Chuck Taylor All-Stars, but they've gathered numerous nicknames in their 100-year history, including:
Converse All-Stars
Chucks
Chuck Taylors
Cons
These are all terms that refer to one shoe. However, considering that they're one of the most popular shoes on the planet, there have been some deviations between models. This leads me to distinguish between high-top Chuck Taylor All-Stars and the low-top variety.
If a shoe is a high-top sneaker, then its canvas and laces will extend above the ankle. Conversely (pun not intended) low-top sneaks end before the ankle.
In this style guide, I'm only going to be telling you how to wear high-top Converse shoes.
While some principles are interchangeable between the high top and low top models, others aren't as universal—so that's why I'm only going to be focusing on high tops.
History Of High-Top Converse Shoes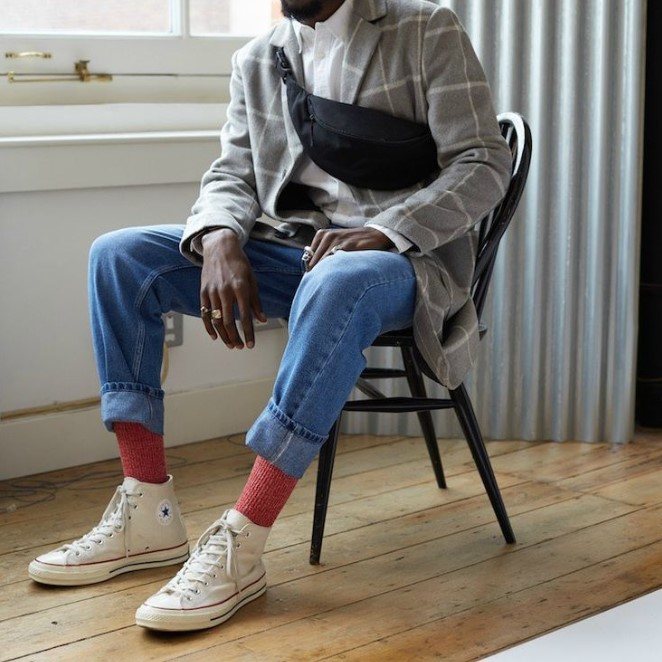 High-top Converses have a history that's more gripping and detailed than most other sneakers. They were the first basketball shoes created by the American brand Converse all the way back in 1918.
The tale only picks up from there. Legend has it that years later, the semi-professional basketball player Chuck Taylor walked into the Converse offices, complaining about his sore feet, and looking for a solution.
Converse offered him a deal that would've been foolish to refuse: the company hired him as a salesman and he worked with them to improve the shoes.
Over the years, he helped develop shoes made with better ankle support and greater flexibility—two key features that basketball players require to play optimally.
Taylor also added his signature to the side of the shoes along with the All-Star logo. This made the Chuck Taylor All-Stars the first ever celebrity-endorsed sneaker.
Taylor traveled around America throughout the 1920s holding basketball clinics. He would teach people how to play the game, improve their craft, and understand the fundamentals of the sport—all while advertising the newly designed high-top Converse shoes.
It didn't take long for the shoes to catch on. Professional basketball players began sporting All-Stars on the court.
Additionally, Converse became the official sponsor for the Olympics for over three decades (from 1936 to 1968). The American armed forces even adopted them as the official training shoe for recruits during World War II.
The popularity of the shoe within the athletic world peaked during the 1960s as it's estimated that up to 80% of the basketball sneaker market was controlled by high-top Converses.
However, Converse faced a rough decade in the 1970s. And in the 1980s, Nike and its star performer Michael Jordan rose to the spotlight. This led to a decline in the popularity of the All-Stars within the NBA.
While they may have faded away from basketball, high-top Converses proliferated in numerous other subcultures.
They've been linked to some of the most famous actors on the planet like James Dean and Michael J. Fox. Plus, they've transitioned over to less mainstream sports like skateboarding and powerlifting.
Yet the one domain where the Chuck Taylor All-Star reigns supreme is in the music industry. Punk bands like The Ramones and The Clash helped enmesh the shoes in the music countercultural sphere while other groups like Nirvana kept them relevant among younger audiences.
That's just the tip of the iceberg when it comes to musicians who have sported high-top Converse All-Stars.
The list goes on and on. Musicians like Snoop Dogg, Ice Cube, Avril Lavigne, The Game, and Lana Del Rey have helped the shoes infiltrate nearly every corner of the music world.
With all this legacy and history backing them up, it can seem daunting to learn how to wear high-top Converse shoes if you've never worn a pair yourself.
However, there's a reason why they've stuck around for over 100 years—they look good with almost anything.
When To Wear High Top Converse Shoes
When is it a great time to wear high-top Converse shoes? Luckily, you have plenty of options.
They work well in the spring, summer, and fall, and they're not half bad in the winter unless the temperature drops below freezing and there's ice everywhere.
You can even wear high-top Converse shoes at the gym because their structure is perfect for lifting heavy weights. The main point is that these shoes can fit in anywhere with any vibe you ascribe to them.
How To Wear High Top Converse Shoes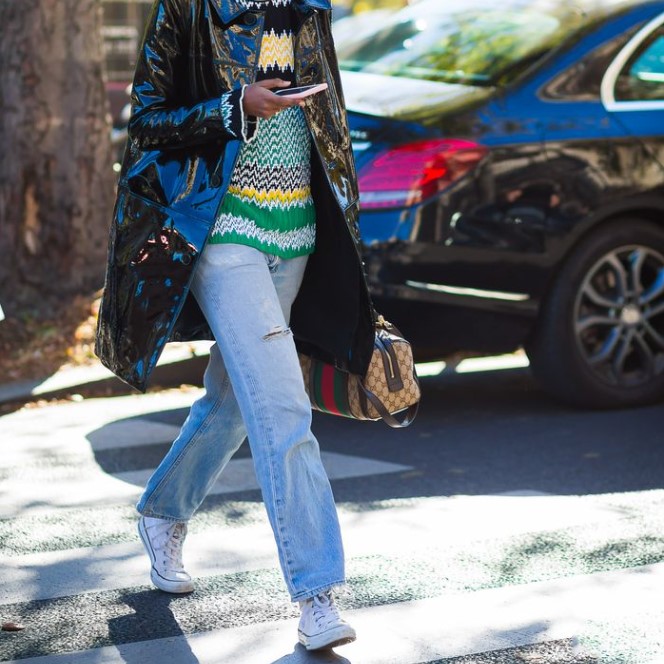 The versatility of high-top Converse shoes extends beyond the date, place, and time. There's also a nearly unlimited number of ways to answer the question, "How to wear high-top Converse sneakers?"
If you don't believe me then take a peep at some of the outfit ideas I've included in this guide. After you do, you'll realize that the only thing limiting your ability to wear high-top Converses is your imagination.
However, it's worth asking this question: what makes these shoes so easy to wear?
It's a combination of these factors: they have a modest shape, they come in every color imaginable, and they're made from canvas. This unique make-up, along with their rubber sole, means that they can fit into most outfits.
To provide you with some better examples, I've picked a few photos of outfits that stood out to me the most.
Each one makes great use of the high-top Converse shoe. I've also explained what makes each outfit work so that you can learn how to wear high-top Converse shoes and apply those ideas to your own wardrobe.
5 Outfit Ideas With High Top Converse Shoes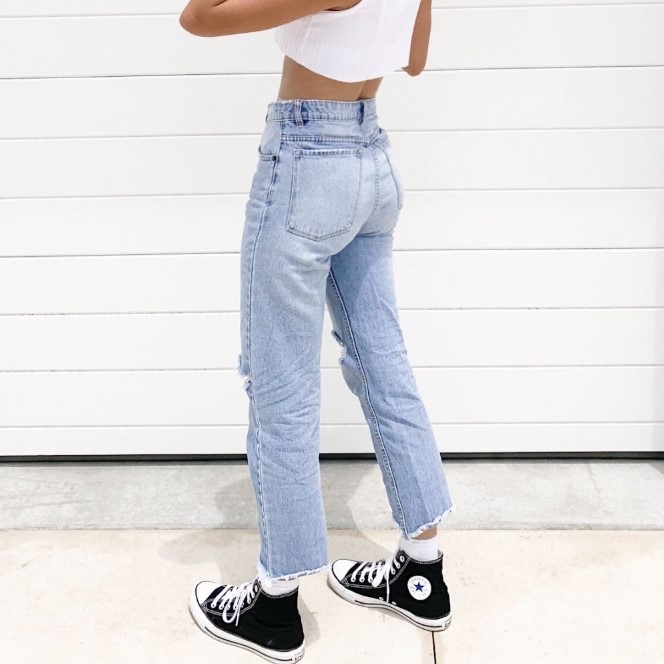 Let's start with the basics, shall we? This is how to wear high-top Converse shoes with jeans (i.e., the most fundamental way you can style them).
There's little in the way of nuance with this look, and there doesn't need to be. Simply wearing a pair of high-top Converses with light wash denim and a white t-shirt is a great foundation for an outfit.
To make this style shine you should definitely add some accessories. For example, the model is wearing a bandana on her head. That gives off a grunge vibe, and it's one of many ways that you can personalize this basic outfit to your liking.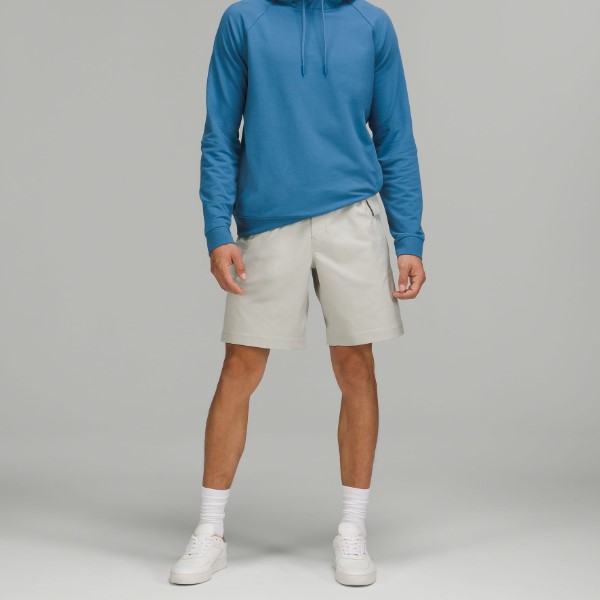 Another great idea when thinking about how to wear high-top Converse shoes is to go back to the sneakers' athletic roots. This outfit gives off a sporty attitude without having to break a sweat. Plus, you don't even have to be athletic to wear it.
What I particularly like about this example is that the bottom half of the body is totally white.
And while this outfit is missing a pair, you can easily imagine the model wearing some white Chuck Taylor All-Stars. So, the bottom half of this fit will block out and contrast with the bold blue of the hoodie.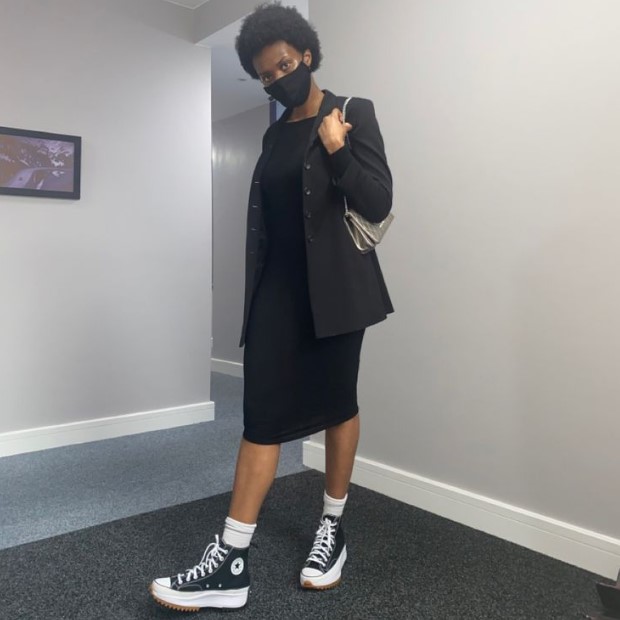 This next outfit idea is a two–for–one type of deal. Not only is it a good bit of inspiration for how to wear high-top Converse shoes with a dress (i.e. keep it casual), but it's also a primer on how good an all-black outfit can look with these shoes.
That said, all-black outfits look good with almost everything, so it's no surprise that high-top Converse shoes look smashing here.
However, there's some depth to this outfit. The black jacket on top of the black dress adds some necessary ruffles to elevate this style from basic to badass.
But what caps off this ensemble is the choice of platform high-top Converse shoes.
They're a bit more of a showboating shoe than a regular pair of Chuck Taylor All-Stars, but given the reserved nature of this look, they work. Oh, and I guess that makes this outfit idea a three-for-one deal instead of a two-for-one. Lucky you!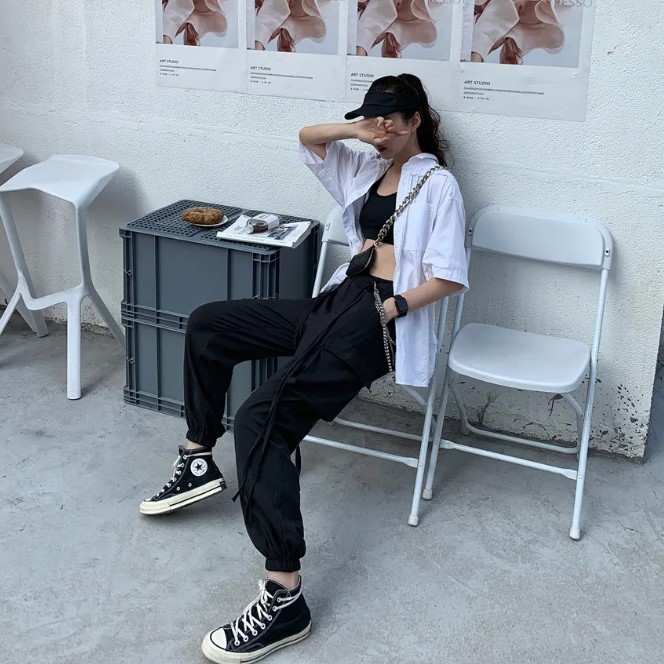 While jeans and high-top Converse shoes may be like Romeo and Juliet—or for a more timely reference, Edward and Bella—you can consider cargo pants to be the Jacob in that love triangle.
See, cargo pants bring out the workman–like quality of high-top Converses that you don't always get from jeans. Cargo pants emphasize the dirty and gritty feel that Converses have.
The simplest way to make this pair work is to wear neutral–colored cargo pants (the black pair in the example work well) and either black or white high-top Converse shoes.
You can continue with this thought process by wearing a black undershirt and an oversized white button-up top for a nice layering effect.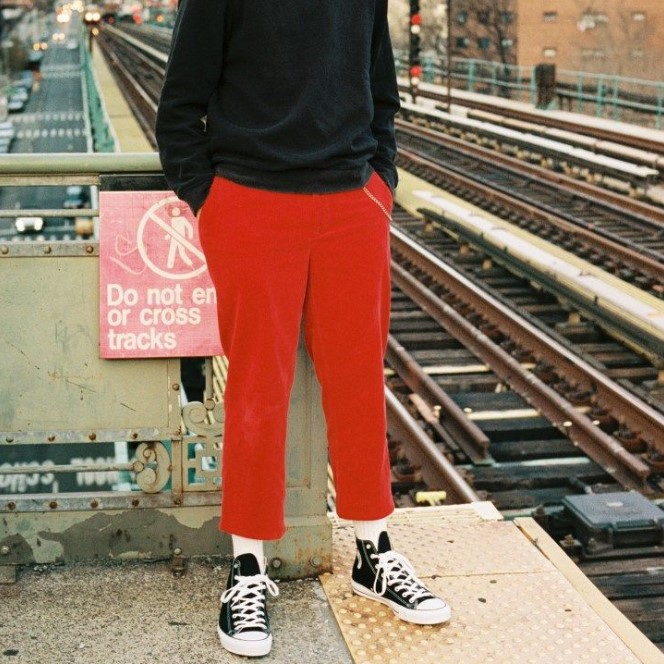 A benefit to wearing high-top Converse sneakers is that they're an easy way to inject a vintage vibe into any outfit. Why not build upon that by following in this model's footsteps and going for a tastefully retro look?
The key to an outfit such as this is to pick bold, solid colors and loosely fitting garments. The black sweatshirt slightly drapes off of the model's shoulders and those pants are so red that they could stop traffic. It's an outfit that runs counter to modern sensibilities, and that's why it works.
It brings back memories of a time when fashion was louder, had more attitude, and was a bit more fun. The high-top Converses are the perfect pair of shoes to go along with that vibe.
What Type Of High-Top Converse Shoes Can You Get?
There are so many styles and colors of high-top Converse shoes available these days. Essentially, if you can picture it in your head, then it probably already exists. Some of these are just single colors while others feature multiple colors and patterns.
Plus, I have to mention high-top platform Converse shoes because those are blowing up everywhere. They're a retro shoe with a huge attitude, and they're currently my favorite variation on the Chuck Taylor All-Star design.
How To Choose The Best High-Top Converse Shoes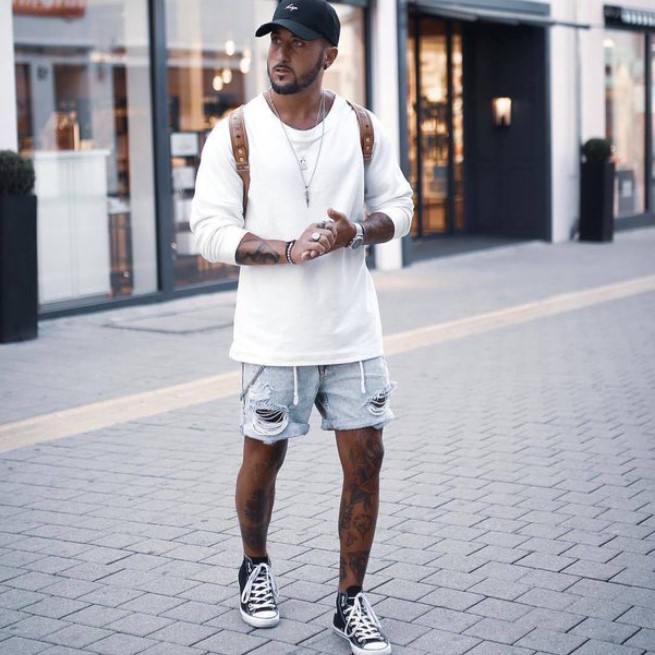 The good news is that there aren't many variables to consider when it comes to choosing the best pair of high-top Converses for you.
There are some ludicrously expensive pairs out there, like the Dior collaboration that costs over $1,000, but you'll likely find a pair that suits you perfectly for an affordable price.
Another piece of good news is that nearly all pairs of Chuck Taylor All-Stars are made of the same material so you don't have to worry about buying a pair that's inferior to what your friends have.
Really, the color is the main variable you need to concern yourself with. If you want a statement piece then buy whichever color you like the most.
However, if you want a pair of high-top Converse shoes that you can wear with anything, then you should either pick up an all-white or an all-black pair.
How To Style High-Top Converse Shoes
So there are two main schools of thought when it comes to styling a pair of high-top Converse sneakers. Either you don't think too much about styling them, or you find a way to work them into every outfit you own.
To be honest, both approaches are solid. High-top Converse shoes are low-key enough that you can slip them into even the most normcore of outfits and they'll look phenomenal.
They're the perfect base for most outfits because of their versatility. Essentially, you should wear them when you want to show off other, more exciting pieces in your ensemble.
Fashion Tips To Avoid With High-Top Converse Shoes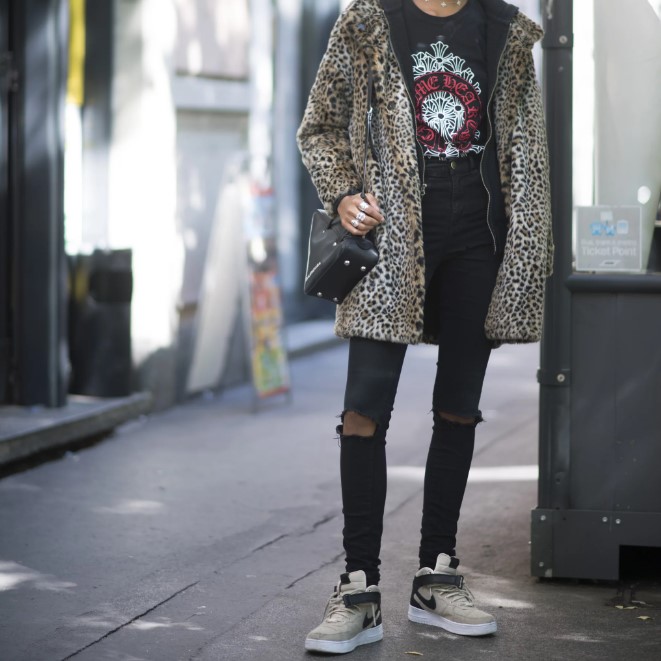 The main thing you should remember when styling your high-top Converse shoes is that they're not meant for formal occasions.
So, they should stay away from clothes that you would wear to a business meeting or a fancy dinner. 
How To Take Care Of High-Top Converse Shoes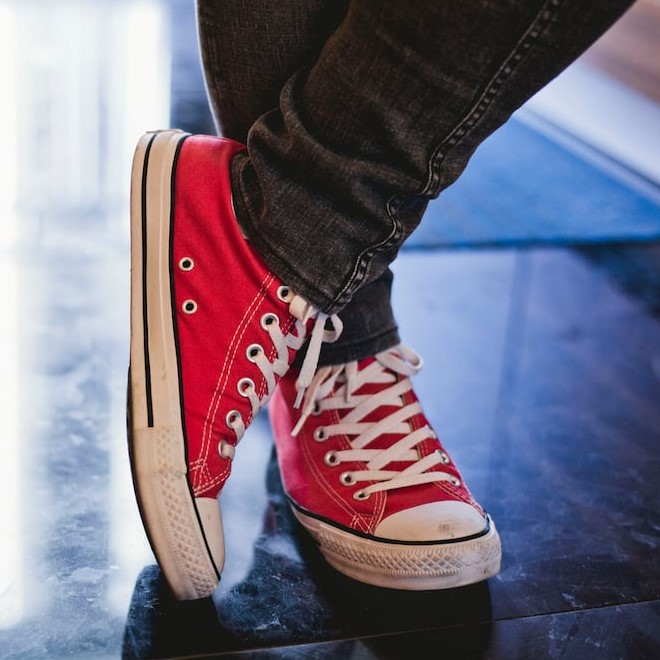 I think that one of the best ways to ease anyone into wearing Converse sneakers on a regular basis is to have them beat the crap out of their shoes.
Seriously, you can tell so much about somebody by how they take care of—or how they choose to not take care of—their Converse shoes.
Another advantage to buying a pair of high-top Converse shoes is that repairing the soles is an easy task that anybody can do. Simply glue the sole back to the shoe, let the glue dry, and you're all set.
Best Places To Buy High-Top Converse Shoes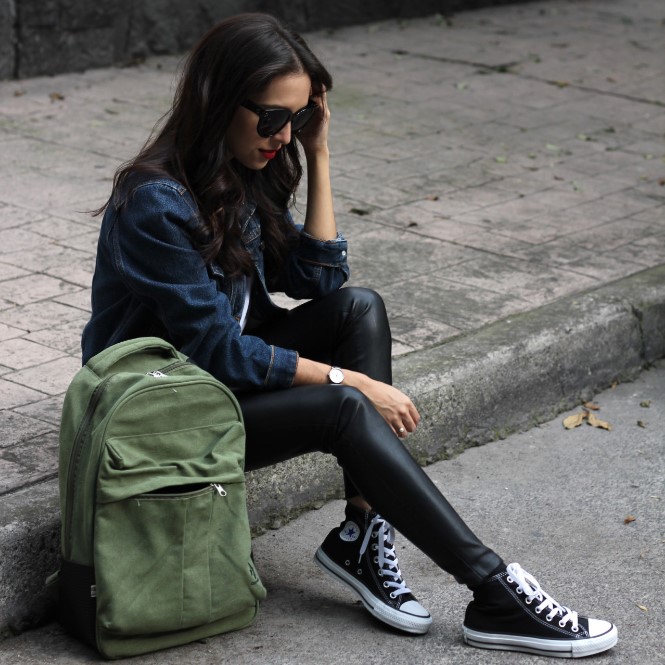 Rather than tell you that you can buy a pair of high-top Converse shoes almost anywhere (which you can), I thought I'd share some of the stores with the largest selection.
Sport Chek
Dick's Sporting Goods
Nike outlet stores
Foot Locker
Final Thoughts
The main takeaway of this 'how to wear high-top Converse shoes' guide is that these are the workhorse of sneakers.
They're much easier to style than other flashier pairs, they usually last longer than other sneakers, and they're so affordable that even if you do cause them irreparable harm, you can always purchase another pair.
To be honest, you can buy a pair of black or white high-top Converse shoes and come up with enough outfits that you could write your own guide to inspire your friends.
Maybe that's the best thing about these shoes—they continue to inspire new creatives as they have for the past 100 years.
---
Looking to up your fashion game? We've got you covered:
Get Access to Exclusive Deals
Subscribe for free to get exclusive deals in your inbox. 100% privacy