How To Wear Oversized Sweaters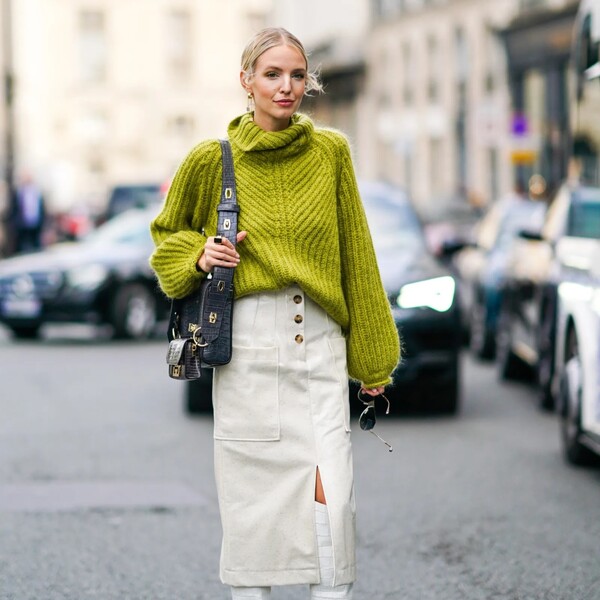 In 2016, Ariana Grande was a leader in a quiet style revolution. Unbeknownst to her (and her stylist team), her iconic oversized look became a staple in streetwear fashion.
Of course, I'm not saying that Ari was solely responsible for the 'extra-large and in-charge' silhouette, but she was definitely a pioneer for the aesthetic. 
Since then, influencers and celebrities alike have added oversized clothing to their everyday wardrobe. It's a comfy yet chic alternative to tailored garments.
Plus, it provides the illusion of a more demure silhouette, as extra-large garments do exude that 'boyfriend hand-me-down' vibe. With that in mind, you're probably wondering how to wear oversized sweaters. 
Fortunately, you don't have to be an experienced fashionista to pull this look off. In fact, this iconic garment pairs well with several outfits. For those in need of OOTD inspo, I'll show you how to wear oversized sweaters using 12 different looks.
What Is An Oversized Sweater?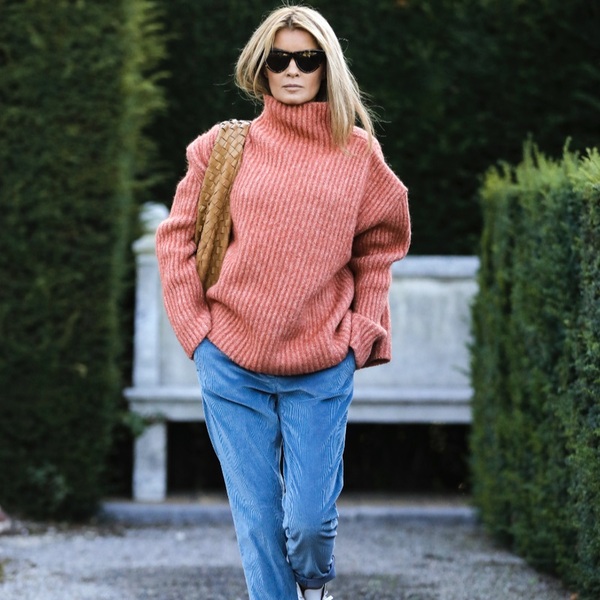 There's no hidden meaning or irony found in the oversized sweater. It's simply an extra-large cable-knit. Obviously, your definition of the word 'big' will depend on your current size, as those who opt for XXS garments may interpret medium as XL.
When worn, they usually feature a baggy silhouette composed of roomy sleeves, a drop shoulder cut, and a below-the-hip hemline. Plus, they're typically paired with slim-fit clothing to help provide some additional shape.
History Of Oversized Sweaters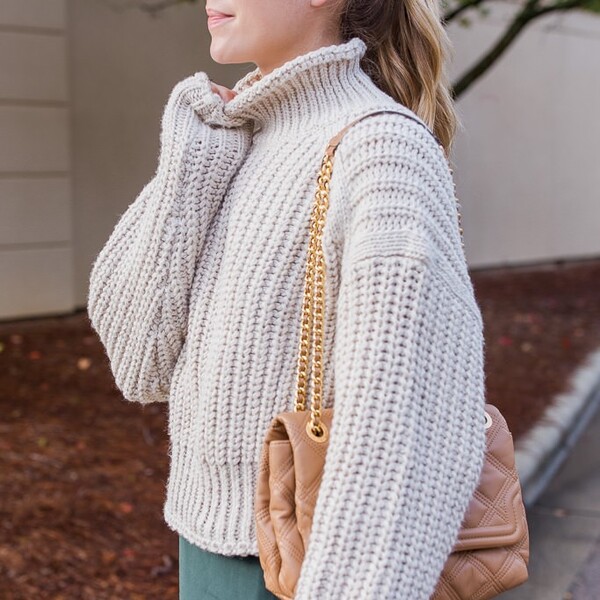 I won't entertain you with the tale of the sweater. In fact, I'm fairly sure I've provided a brief rundown in a past style guide. Instead, I'd like to focus on the history of oversized clothing.
Fashion experts can't exactly pinpoint the origin of the baggy silhouette, but some agree that it began during the 1920s. The lax social attitude of the golden age prompted a looser fit for womenswear.
Obviously, their interpretation of 'oversized' may seem tailored for modern-day stylists, but it was considered revolutionary during the women's rights movement and as the popularity of Coco Chanel continued to rise. 
And the oversized silhouette boomed in popularity in the '80s and '90s. Thanks to the rise of hip-hop, crunk, and rap, baggy clothing became very common in streetwear.
Massive jeans and extra-large tees were the norm, as celebs such as Biggie Smalls and Will Smith were the front leaders of this trend. 
Today, oversized clothing has a looser connection to music, as it's now commonly associated with loungewear and all-around comfort. 
When To Wear Oversized Sweaters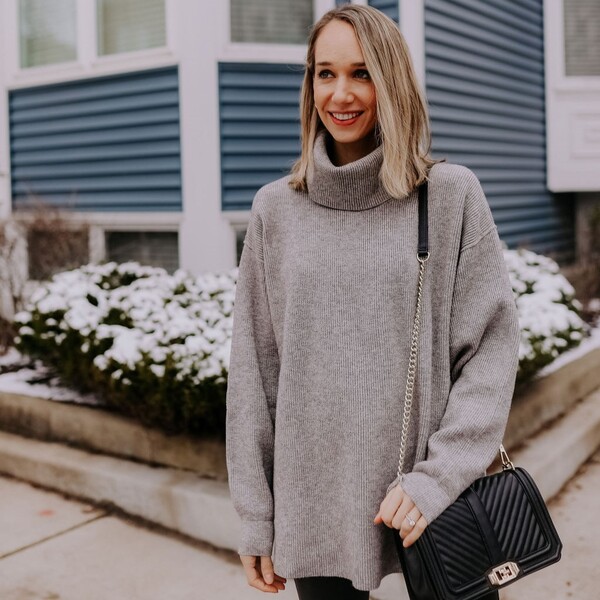 Given the amount of coverage they offer, oversized sweaters are considered a staple for fall and winter. They provide ample room for layering in case you want to wear a tee, a tank top, or a turtleneck underneath.
Lax in silhouette, this streetwear staple can only be worn casually. It's considered a wardrobe essential in various core aesthetics—ranging from grunge, Y2K, and cottagecore, to academic fashion. 
How To Wear Oversized Sweaters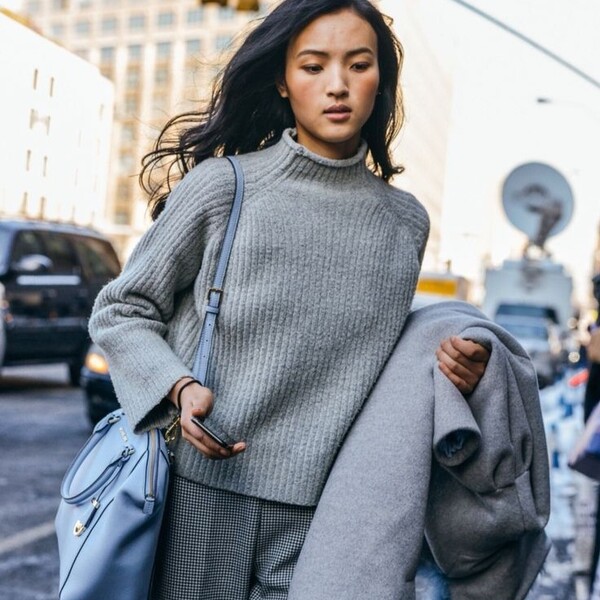 Oversized sweaters are one of the easiest garments to style. Trendsetters who opt for this wardrobe staple aren't typically concerned with form-fitting silhouettes, so you don't have to worry about wearing corseted tops or bustiers.
Instead, attaining your desired shape can be achieved through other means, such as wearing a pair of tights or a tailored pencil skirt. 
If anything, this style guide will provide a crash course on how to achieve a unique silhouette. Coming up, I'll show you how to wear oversized sweaters without sacrificing comfort or style. Let's get started! 
12 Outfit Ideas With Oversized Sweaters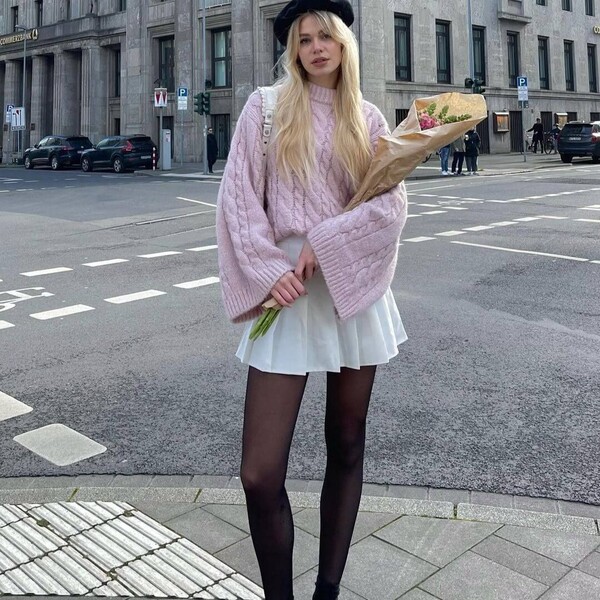 Cable knits and tennis skirts are the bread and butter of Parisian fashion. Romantic in aesthetic, this ensemble is actually quite comfortable to wear. The oversized silhouette of the sweater allows for additional layering.
Plus, it's considered a more breathable alternative compared to form-fitting long sleeves. 
In addition, the pleated skirt and the tights help to provide some shape to the OOTD, as they offer the illusion of a slim body shape. Accentuated with a black beret and a pair of leather Prada loafers, it's the kind of outfit you'd use to romanticize your everyday life.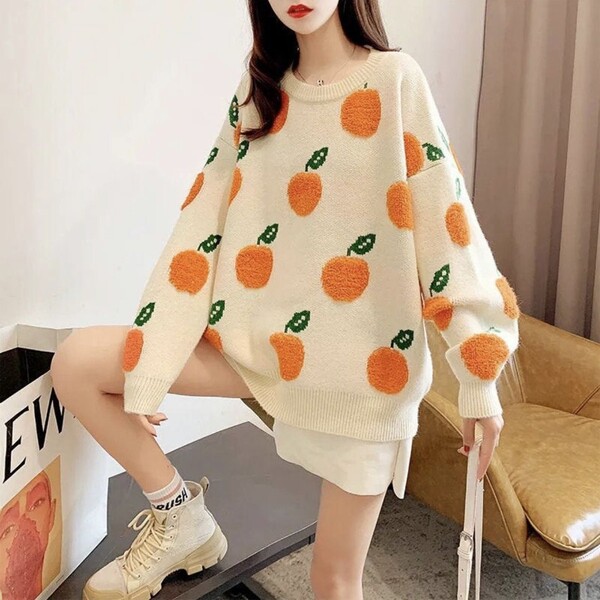 Oversized sweaters and shorts may seem counterintuitive, but boy, do they make an amazing outfit. Considered a prime example of dysfunctional fashion, this OOTD features an adorable cable-knit printed with fuzzy peaches. 
Complimented with white bottoms, matching socks, and lace-up boots, this can be your go-to look for those weird hot/cold afternoons. And if you're not a fan of sweat, you can always swap the cable knit for a button-up cardigan instead.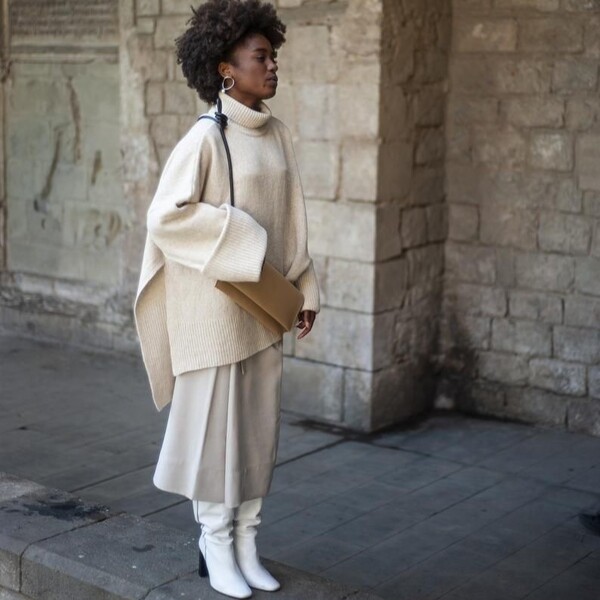 Oversized sweaters can't look elegant, right? Well, contrary to popular belief, baggy silhouettes have a place in semi-casual wear.
For example, this sophisticated OOTD is composed of an exaggerated white turtleneck, a matching cream skirt, leather booties, and a beige handbag for a pop of color. 
Muted in hue, this monochromatic outfit is ideal for corporate events or office spaces. And it's relatively cozy in fit—especially if you're prepping for the cold season.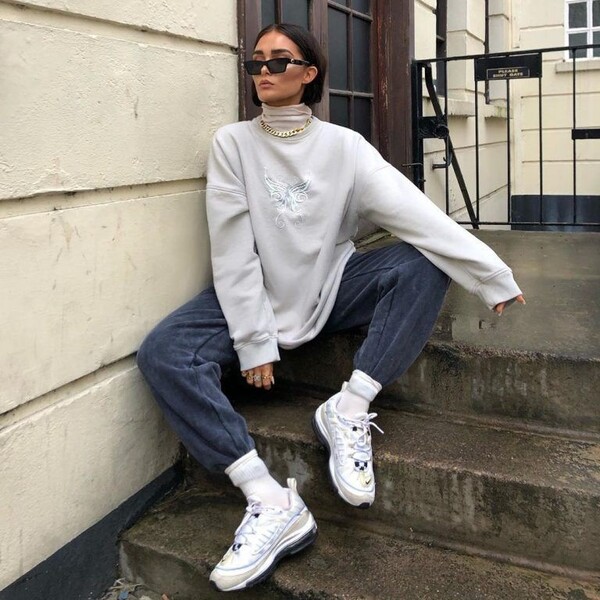 Dad-core continues to be a hot trend among the youth. I, for one, don't totally get it—but I definitely vibe with this outfit. 
Featuring a white collegiate sweater, a layered turtleneck, a pair of navy blue joggers, and sneakers, this cheesy OOTD manages to look cool thanks to the model's expert styling.
Plus, the chunky gold necklace and the shades help to elevate the entire look. I suggest adding a cute, Y2K-inspired handbag to complete the final ensemble.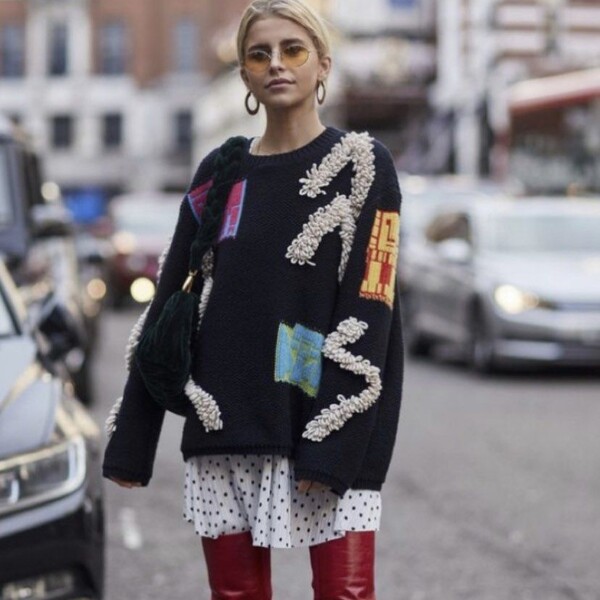 Are knee-high boots too tame for your liking? If so, how about a pair of thigh-high stiletto boots? Complemented with a '90s-inspired oversized sweater, this eccentric look manages to pair two statement pieces together without looking overwhelming. 
If the polka-dot skirt is too kitschy for your tastes, you can always swap it out for a standard black mini instead. Additionally, a pair of distressed black shorts can do the job just as well.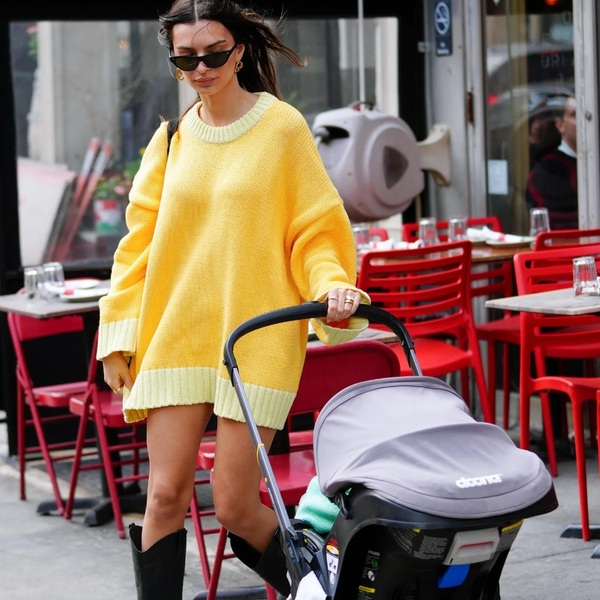 For those wondering how to wear oversized sweaters, there's a good chance you probably opted for the 'dress' look. It's the simplest way to style an extra-large cable knit—given that any shorts you wear will be hidden underneath the massive hem. 
Despite being effortlessly chic, I totally understand if you require more coverage. Case in point, a pair of knee-high cowboy boots can do just the trick. Designed to provide a bit of modesty, these shoes can do wonders by accentuating your final OOTD.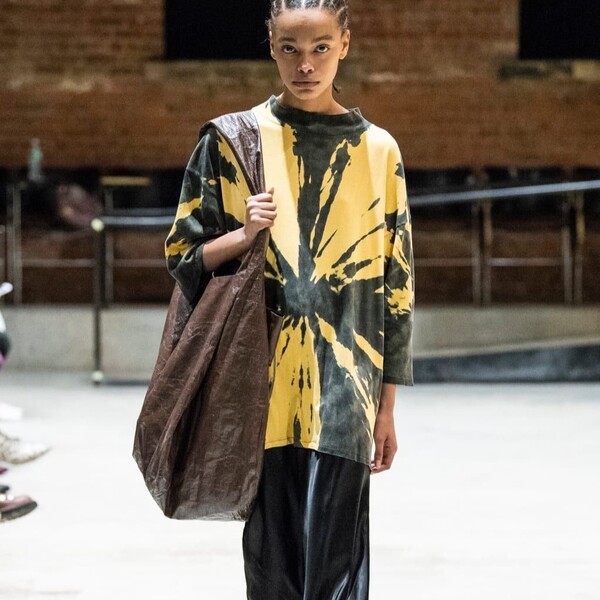 Unisex in design, this comfy yet chic look is composed of an oversized tie-dye sweater, black silk pants, and an extra-large tote bag to further exaggerate the outfit.
Plus, the ensemble is relatively relaxed in fit, which is great for those not fond of skin-tight clothing.
And while baggy garments have a tendency to look carefree, the bright print of the tee paired with the lux nature of the bottoms works against the traditional 'couch potato' vibe.
This, ladies and gentlemen, is how to wear oversized sweaters if you value practicality and style.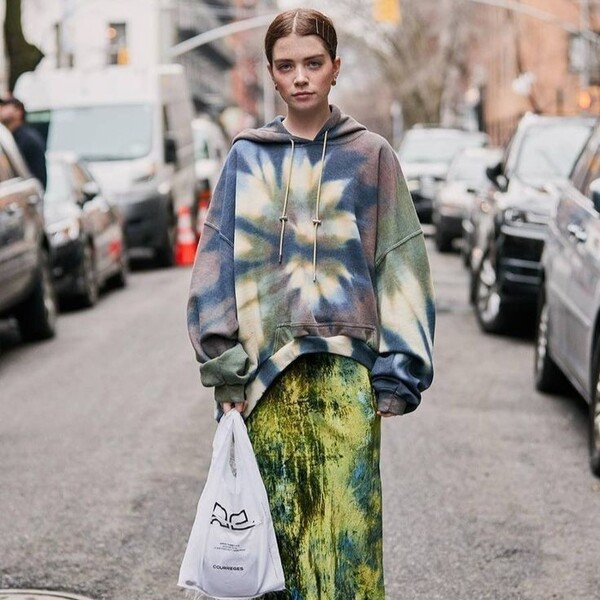 The hoodie is the pinnacle of streetwear. On the other hand, midi skirts are intrinsic to semi-casual fashion. Combining the two may sound bizarre, but trust the process. It's important that you opt for matching designs, such as tie-dye, to ensure a uniform style. 
Given the alt-punk aesthetic of this OOTD, a pair of chunky Doc Martens is in order. Unique in silhouette and print, this outfit is considered the love child between the '70s psychedelic rock, Seattle grunge, and athleisure.
As previously mentioned, oversized sweaters are typically paired with form-fitting garments. This outfit is considered a prime example of this traditional go-to, as it features a striped cable-knit and a pair of semi-tailored black pants. 
Since the long-sleeve sweater is cropped, it allows the graphic tee to peek through. Plus, the shortened hem does wonders by accentuating the waistline.
Still comfortable in fit, this is the perfect OOTD for when you want to look fashionable but aren't feeling like putting in the effort.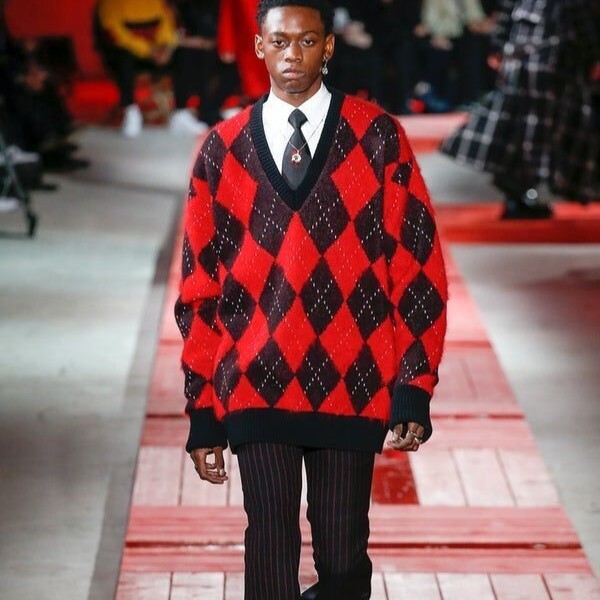 Collegiate fashion lives and dies with cable knits. It's considered a key item in this core aesthetic, which is why I thought it necessary to include one example in this 'how to wear oversized sweaters' style guide. 
This fancy number from the Alexander McQueen 2018 runway collection features a red and black plaid long-sleeve sweater, a white button-up shirt, a black tie, pinstripe pants, and a pair of black loafers.
Semi-distinguished in style, it definitely exudes that 'high school delinquent' vibe as a result of its exaggerated silhouette and bright color palette.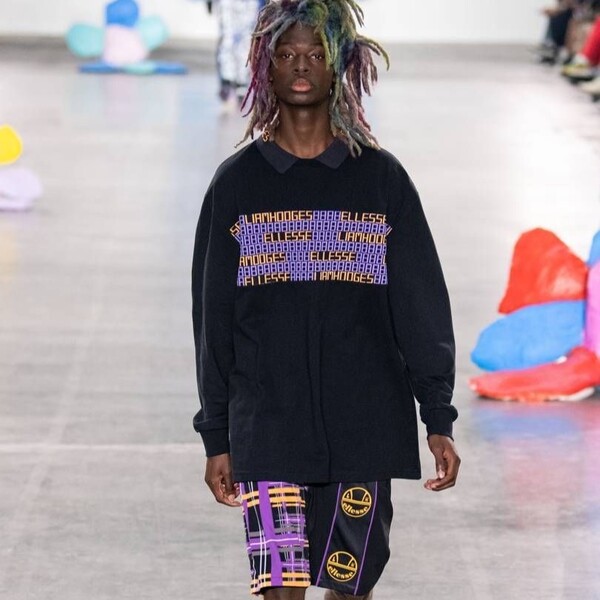 If you'd prefer your bottoms to peak through, you can never go wrong with a pair of board shorts. Also known for their exaggerated print, they pair very well with oversized sweaters. 
To help counterbalance the baggy silhouette, the bright purple pattern acts as an additional focal point for the rest of the outfit. It's intentionally carefree but in a cool way. Worn with matching socks and sneakers, it's regarded as the perfect mix between skater boy and pro gamer.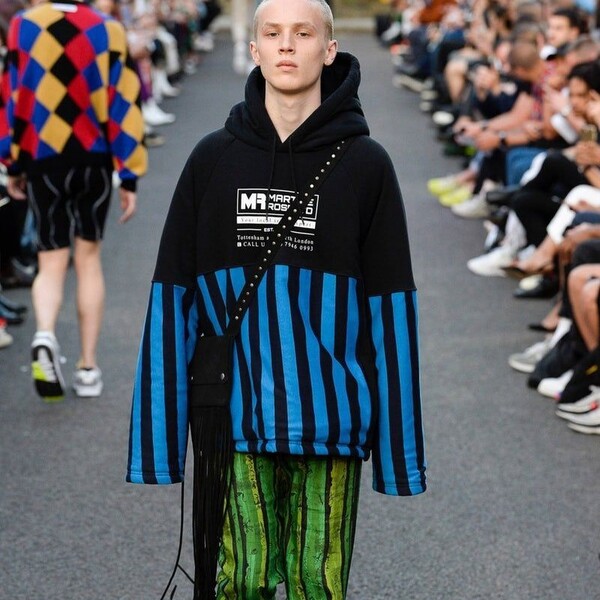 There are days when jeans and cargo pants just don't cut it. Those in search of a jazzier alternative may find these striped green bottoms a notable substitute.
Complemented with a blue and black hoodie, this OOTD has a somewhat trippy look due to its bizarre color palette. 
If you're wondering how to wear oversized sweaters with a bag, I recommend opting for a simple crossbody to help add a bit of shape. For shoes, a pair of sneakers is an absolute must.
What Type Of Oversized Sweaters Can You Get?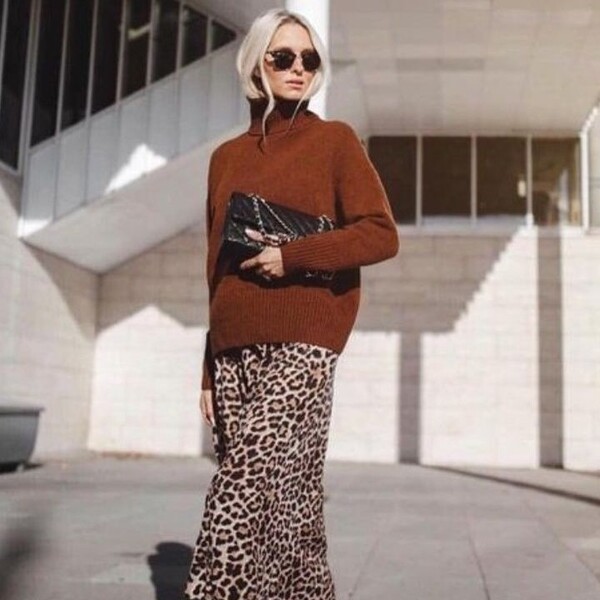 Given their exaggerated silhouette, you'd think that oversized sweaters are quite limited in style. In actuality, there are dozens of different designs to choose from.
To help streamline outfit coordination, I'll discuss some popular options next in this 'how to wear oversized sweaters' style guide. 
The 'dress' look: Considered one of the most popular ways to wear an oversized sweater, this outfit practically buries any bottoms or skirts you currently have on. Plus, the sweater typically features a below-the-hip cut and a drop-shoulder detail.
The cropped sweater: Those who prefer to accentuate their waistline may find value in cropped silhouettes instead.
The slightly oversized look: If you're not fond of extra-large sweaters, you can easily make do by going one size up.
The boyfriend hoodie: Comfy in fit, this type of sweater can help you look 'taken' even if you're single.
The grandma cable-knit: You know those extra-large sweaters that your grandma made in hopes you'd grow bigger? Yep, they're considered on-trend nowadays.
How To Choose The Best Oversized Sweaters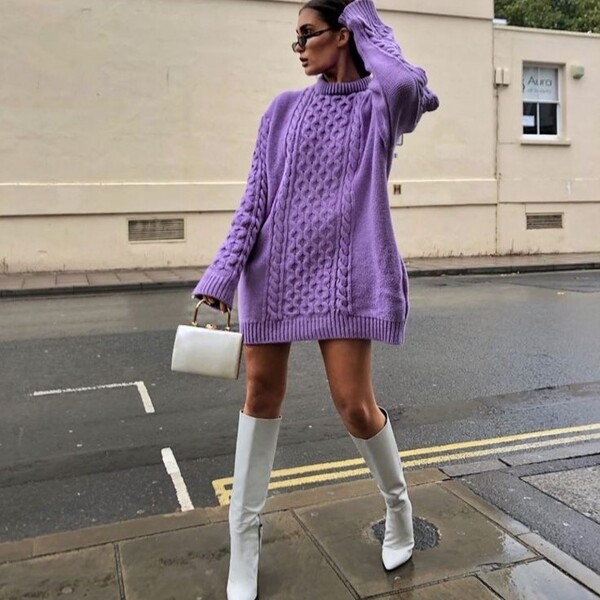 I've had my fair share of copping $5 sweaters at my local fast-fashion store. While affordable in price, I suffered the consequences through post-laundry rips, insurmountable balls of lint, and accidental shrinkage.
So here's my word of advice: pay for premium garments. It may be a hard bullet to bite, but trust me—high-quality sweaters are definitely worth the investment. 
When shopping for an oversized cable-knit sweater, you should consider four things before heading to checkout: material quality, design, practicality, and price.
Well-made sweaters are typically made out of polyester, organic cotton, and cashmere. Soft and durable in construction, you shouldn't have to worry about transparent textures or holes here. 
It's worth noting that 100% wool long sleeves aren't recommended unless you're acquainted with sub-degree temperatures. They rank low in breathability, which is why I suggest opting for a fabric blend to ensure no sweat stains.
Design relates to print, color, and silhouette. When picking an oversized sweater, you should consider how large you want it to be. It can be the 'one size up approach or the XXXL 'accidental dress.'
Whatever cut you choose, it will have a drastic effect on the resulting look. As always, practicality plays a major role in the decision-making process, as you shouldn't select a cable-knit that impairs your ability to move.
In terms of price, a high-quality oversized sweater can retail for $30-$200, depending on the brand and the design. As I've stated previously in other style guides, I suggest sticking to a limited budget to prevent overspending.
How To Style Oversized Sweaters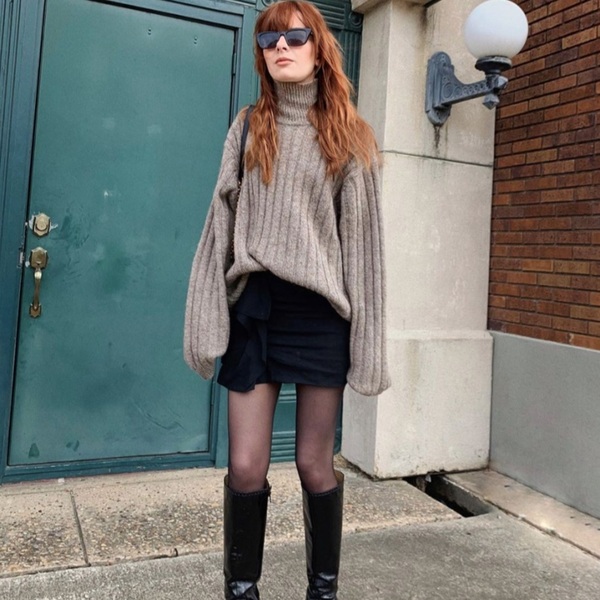 Those wondering how to wear oversized sweaters should know the importance of accessorizing. The baggy silhouette of cable knits typically requires a bit of 'jazz' to pull off.
So, before you conduct your Instagram photoshoot, I'll share some styling tips in this 'how to wear oversized sweaters' outfit guide. 
Slim fit pants or tights: Fashion is all about juxtaposition. For example, wearing a pair of tailored trousers or stockings can help balance out the baggy shape of oversized sweaters.
Dainty jewelry: Minimalist necklaces, earrings, and rings can help offset the bulky nature of oversized clothing.
Shorts and tennis skirts: Considered a favorite among Kpop idols and the one and only Princess Diana, these two iconic looks should rank high on your list of outfit ideas.
Knee-high boots and sneakers: Intrinsic to casualwear, these shoes can help accentuate your oversized outfit.
A statement bag: Whether small or large, adding a purse to your final OOTD can act as a quintessential cherry on top.
Fashion Tips To Avoid With Oversized Sweaters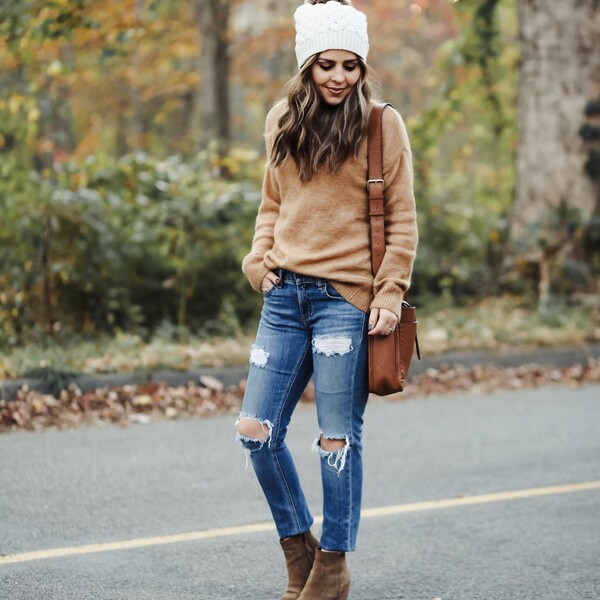 Every garment has its own list of fashion faux pas. And oversized sweaters are no exception. To help avoid post-outfit regret, I'll share some fashion tips to stay clear of with this iconic wardrobe basic.
The super oversized look: As a general rule of thumb, you shouldn't wear a 4XL hoodie if you're a size 2. Trust me, you don't want to be buried in several folds of fabric.
The exaggerated neckline: This fashion faux pas is another direct result of the super oversized look. Usually, oversized sweaters will have a bigger neckline, which may look unflattering if you want to wear a collared shirt underneath.
The no pants approach: While most choose to wear their oversized sweaters like dresses, they still don some bottoms underneath for protection.
The 100% wool sweater: Unless you love the look of sweat stains, I recommend reserving this long-sleeve for -30-degree weather.
Fitted accessories over top: If you intend to wear a harness, corset, or belt, it's best to don them underneath an oversized sweater. Doing the opposite will result in unnecessary bulk.
How To Take Care Of Oversized Sweaters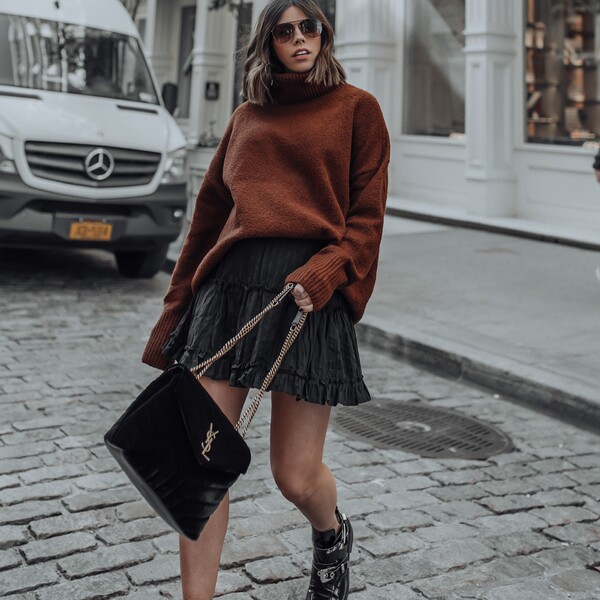 There are two types of oversized sweaters: the traditional cable-knit and the cotton/polyester blend.
The former typically requires handwashing to ensure no unraveled yarn or color transfer. On the other hand, if you own a regular hoodie or long-sleeve, you can easily toss it into the laundry machine or dryer for peace of mind.
As always, it's a good idea to double-check the care tag for more in-depth instructions. 
Best Places To Buy Oversized Sweaters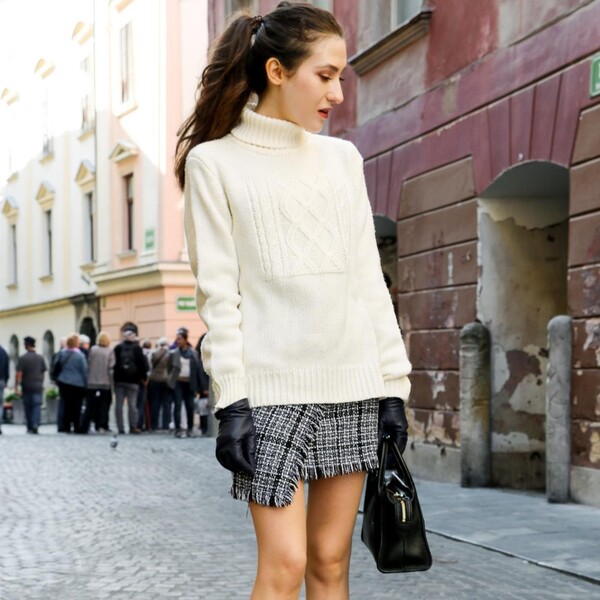 Here's to hoping that you know how to wear oversized sweaters. Before I conclude this style guide, however, I'd like to share some store recommendations.
Gentle Herd 
Kotn 
Aritzia 
Sezane 
Patagonia 
Final Thoughts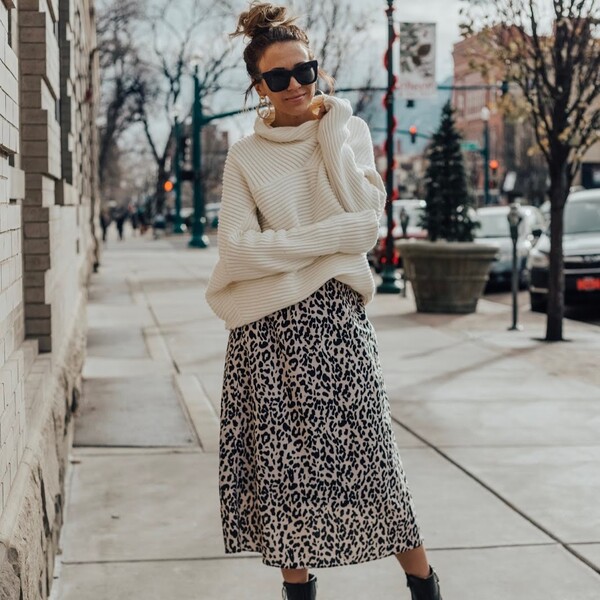 Compared to other garments, oversized sweaters typically don't trigger much worry with inexperienced trendsetters. Their relaxed silhouette is generally forgiving, and there are zero expectations to attain that hourglass body shape. 
Instead, we're tasked with achieving other stylish looks—whether that be the classic '90s hip-hop ensemble or the Parisian girl chic outfit. And whatever aesthetic you prefer, I'm fairly certain that, after reading this style guide, you know how to wear oversized sweaters.
---
Looking to up your style game? Check out some of our other articles:
Get Access to Exclusive Deals
Subscribe for free to get exclusive deals in your inbox. 100% privacy