How To Wear A Cardigan
The quintessential cardigan is more than just a closet staple. To some, it's a signifier of the holidays, a comfort blanket in the midst of winter, or a symbol of hand-knitted love.
I, for one, own too many, as I view the cardigan as all of the above. Whether you view it as a sentimental garment or a commodity, we can all agree on one thing: its timelessness is unmatched. 
From the '90s-inspired crop tops from Euphoria to the cozy white cable knits that Taylor Swift adores, this wardrobe basic is found in various core aesthetics. With that in mind, you're probably wondering how to wear a cardigan.
I'm here to supply some much–needed outfit inspo. Coming up, I'll be sure to cover a majority of fashion trends within this 'how to wear a cardigan' article. I'll also touch upon a few style topics, such as:
How to wear a cardigan men
How to wear a cardigan without looking old
How to wear a long cardigan
How to wear a cropped cardigan
How to wear a cardigan women
What Is A Cardigan?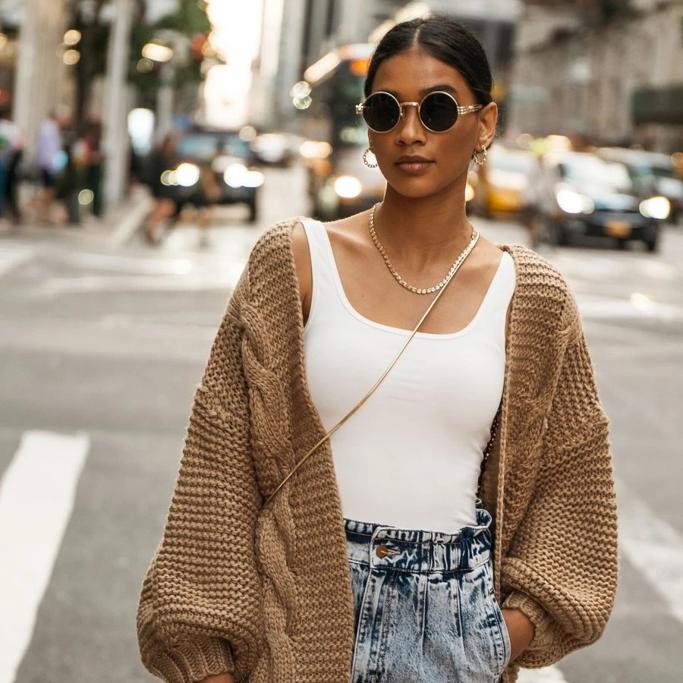 A cardigan is typically a knitted sweater with a button-down front.
Worn like a jacket, this garment traditionally comes with long sleeves and a relaxed fit. It's worth noting that the current fashion scene has re-interpreted the standard cardigan in different ways. 
Take, for instance, the Le Cardigan from Jacquemus. It still features the classic shape of the clothing piece, but it comes with a plunging neckline and a tiny front strap for added security.
In terms of the material itself, cardigans are usually made out of wool, cashmere, acrylic, and cotton. The silhouette depends heavily on texture, as trendsetters can choose between bulky or thinly-woven knits.
History Of Cardigans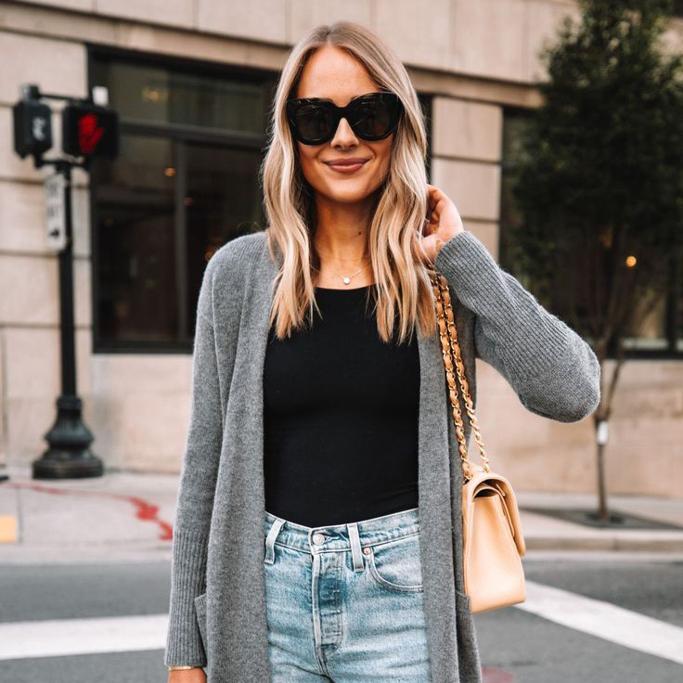 Despite its association with cheap $20 knits you can find at fast fashion retailers, the origin story of the cardigan is a tale of sophistication, pretentiousness, and early British menswear.
The story starts with a fellow named Lieutenant General Brudenell—or, as he was most famously known, the Seventh Earl of Cardigan.
Arrogant in behavior and style, Brudenell reportedly spent thousands of pounds on fashionable uniforms. One of his iconic garments was a tailored waistcoat, which was soon mass-produced in factories given its affiliation with British patriotism.
The cardigan continued to rise in popularity thanks to Coco Chanel. Responsible for creating luxury perfumes and coining the term 'LBD,' she was one of the first designers to reinvent this wardrobe basic.
At the time, Chanel began designing menswear-inspired pieces, as her version of cardigans came dripped with ribbons, buttons, and other sparkling embellishments. 
Over the years, countless people came to adopt the cardigan as a timeless closet staple.
Worn by the likes of Jayne Mansfield, Cameron Diaz, and humorously, Robin Williams as Mrs. Doubtfire, cardigans continue to be highly regarded for their casual and sophisticated nature. 
When To Wear A Cardigan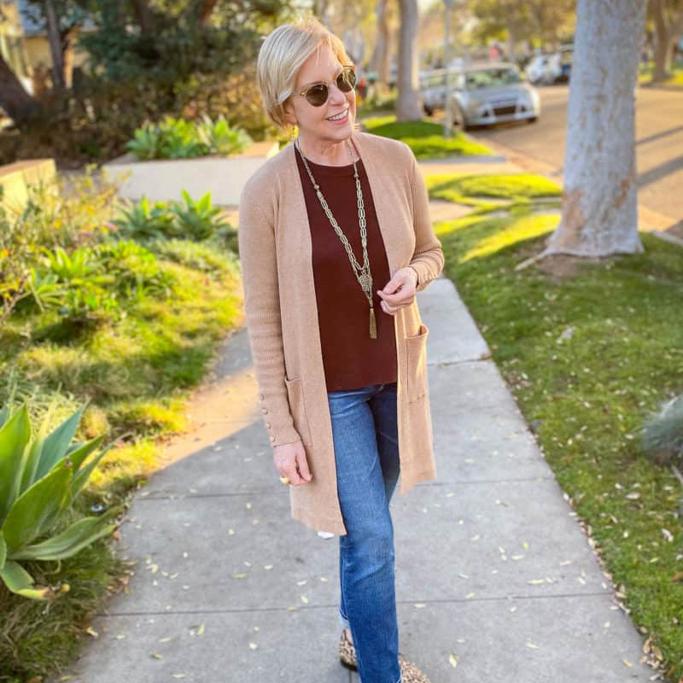 Cardigans are typically worn during the cool seasons. Considered a must-have in the fall and winter, this garment is usually paired with other warm clothes such as turtlenecks and trousers. 
They're considered a part of casualwear, given that most designs feature a relaxed silhouette. That said, formal cardigans do exist, as they're usually worn in the office.
Generally paired with a collared-tee and a tie, they're regarded as a more casual alternative to blazers. 
How To Wear A Cardigan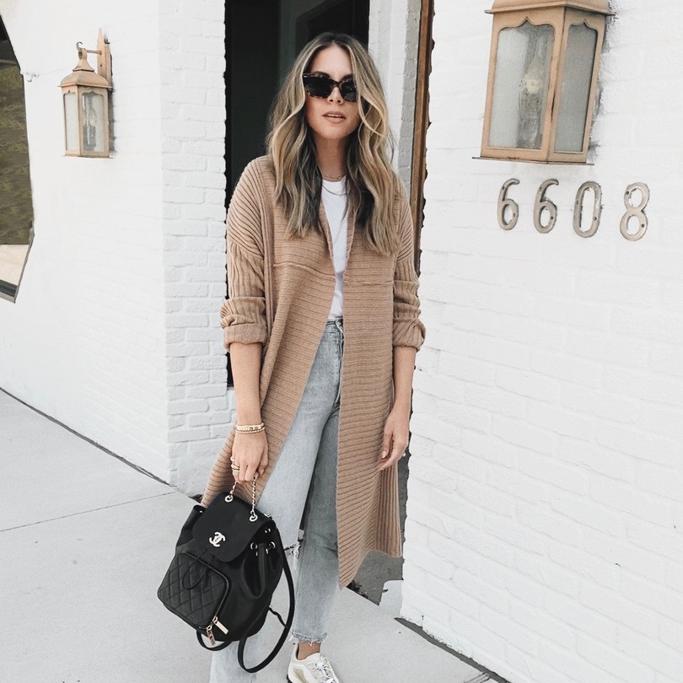 Cardigans can be worn with several different outfits. If you routinely find inspiration on social media, you'll be glad to know that TikTok, Pinterest, and Instagram are full of notable ideas.
Of course, the thousand-some selection of trendy ensembles is quite overwhelming to sift through, which is why I thought to tackle some styling queries such as:
How to wear a cardigan sweater
How to wear a cardigan with a dress
How to wear a kimono cardigan
How to wear a duster cardigan
Without further ado, this 'how to wear a cardigan' style guide will showcase some chic outfits that are worth a try.
11 Outfit Ideas With A Cardigan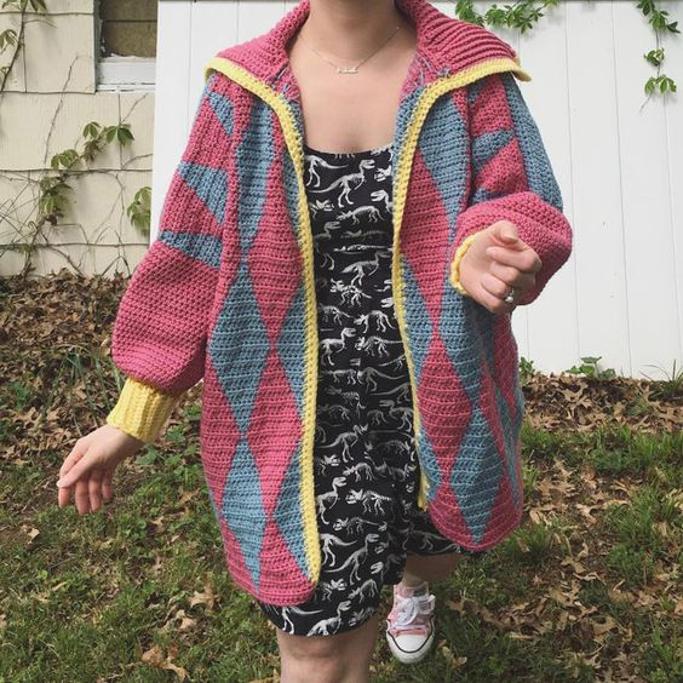 Care for a slight movie reference? If you vibe with the vintage fashion shown in Howl's Moving Castle, this outfit is sure to light the Calcifier in you. The pink and blue checkered cardigan is a direct copy of what Howl wore in the film.
Complemented with a black skater dress and a pair of pink Converse shoes, it's considered a more modern take on the iconic ensemble.
Flick references aside, this 'how to wear a cardigan' contender exudes a charming 'granny' vibe that hand-knit garments often do.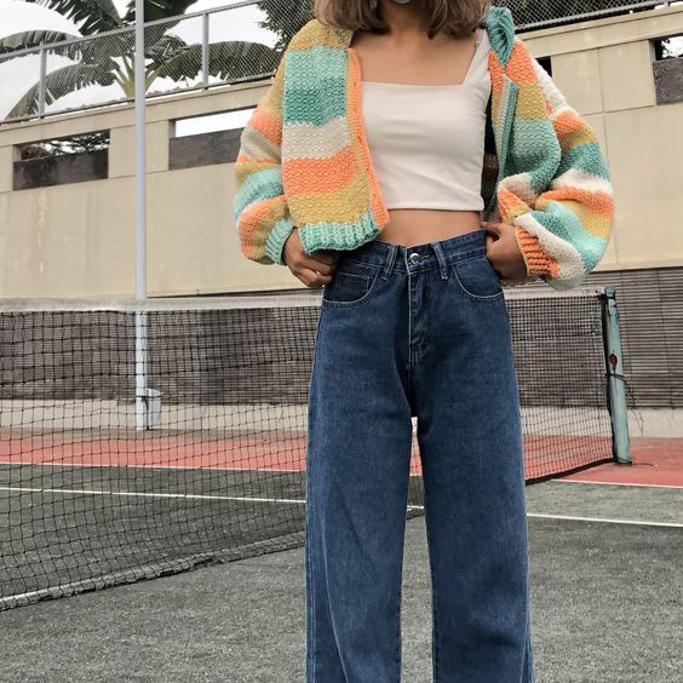 Cold winter nights call for a cozy session of crocheting while drinking hot chocolate. If you're up for a project, this cute cropped cardigan is the perfect way to pass the time. Dyed in turquoise, green, orange, and yellow, it features a series of horizontal stripes. 
Of course, this outfit isn't the most winter-friendly, given the white tank top and blue jeans, but the cardigan itself is definitely something to look forward to in the winter.
As an additional accessory, in this 'how to wear a cardigan' guide, I recommend crocheting a bucket hat for some extra style points.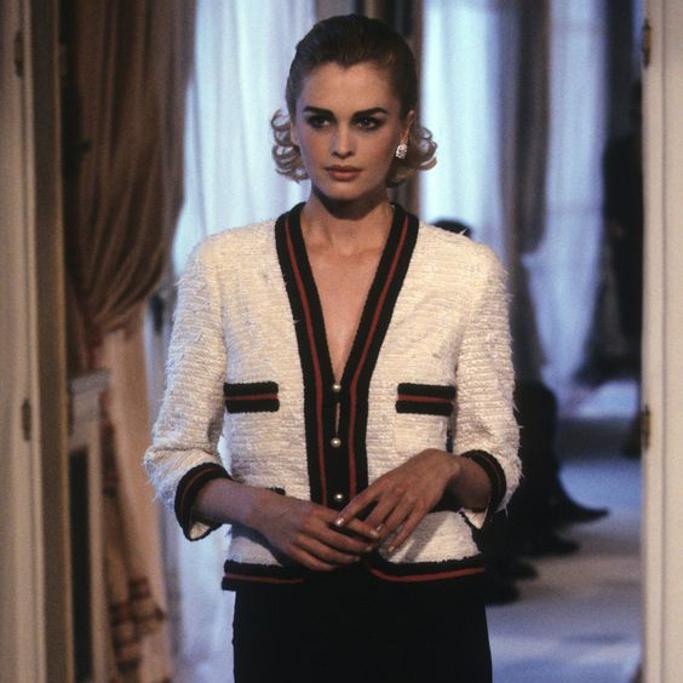 Given that Coco Chanel was one of the first to popularize this garment, it would be a missed opportunity to exclude an example within this 'how to wear a cardigan' article.
This formal button-up cardigan features a white tweed exterior, ribbon trimmings, and pearl fasteners for a touch of sophistication. 
Paired with a flattering midi skirt, this elegant OOTD is ready for afternoon tea or important meetings. Unfortunately, I couldn't find the exact design on the brand's website, but you should know that a standard Chanel cardigan retails for a hefty $2,000+.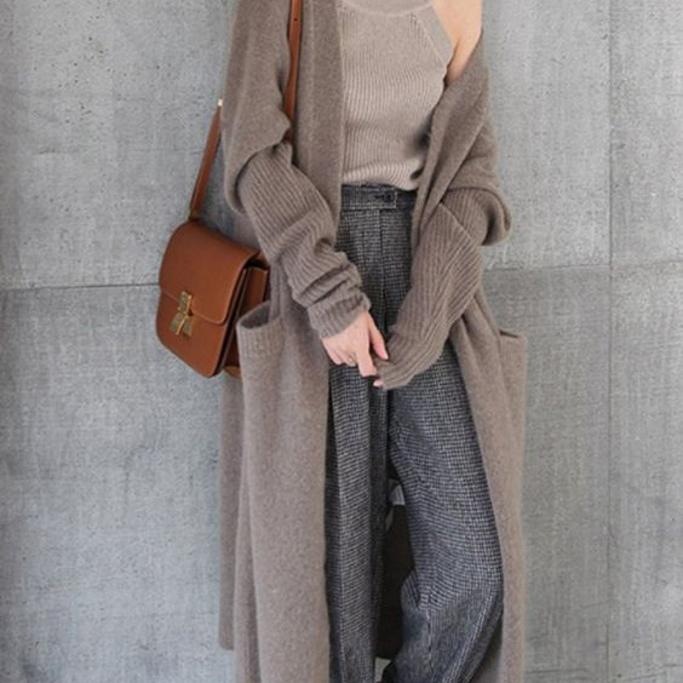 Cardigans aren't simply a wardrobe basic—they're also a state of mind. After all, nothing screams 'hot chocolate on a cold winter's day' than a cozy cable-knit sweater. Case in point, this homey OOTD is ideal for getting toasty. 
Composed of a beige duster, a halterneck top, tweed pants, and a brown crossbody bag, it's considered the perfect balance between chic and comfortable.
However, the trousers are a bit too formal for everyday wear, which is why this 'how to wear a cardigan' guide suggests swapping them out for tailored joggers instead.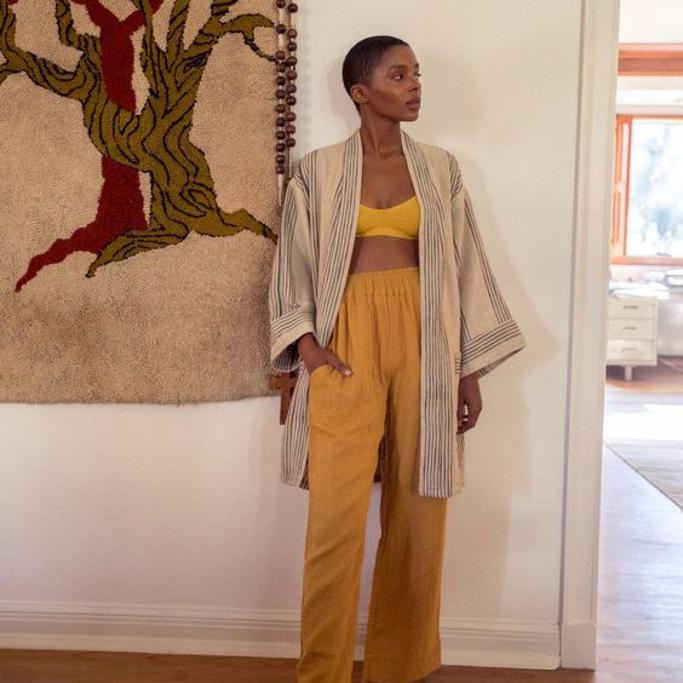 If you're not fond of chunky cable knits, you'll be glad to know that kimono–inspired cardigans exist. Breathable in design, this cover-up provides wearers with more movement and flexibility on hot and humid days. 
This is partially thanks to its material composition, as the number is probably made out of cotton or linen. For those looking to beat the summer heat, this 'how to wear a cardigan' guide suggests a matching set composed of a bralette and drawstring pants.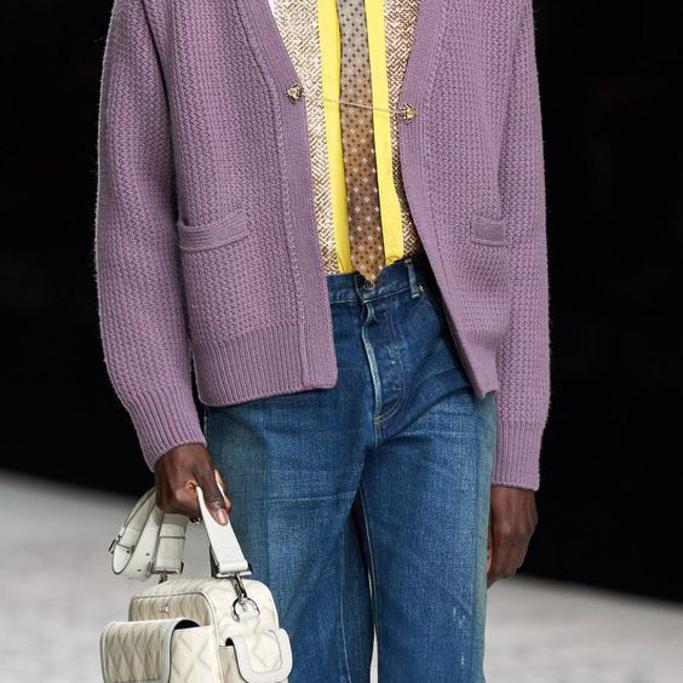 Speaking of designer knits, how does a $2,000+ Dior cardigan sound? This chic outfit features a purple cable-knit cardigan, a gold-trimmed button-up shirt, blue jeans, and a stylish white bag to match. In place of buttons, a collar pin is used the secure the sweater. 
It's definitely a bold OOTD to consider, given its color palette, which is why this 'how to wear a cardigan guide recommends saving this look for special occasions. For shoes, you can never go wrong with a traditional pair of oxfords.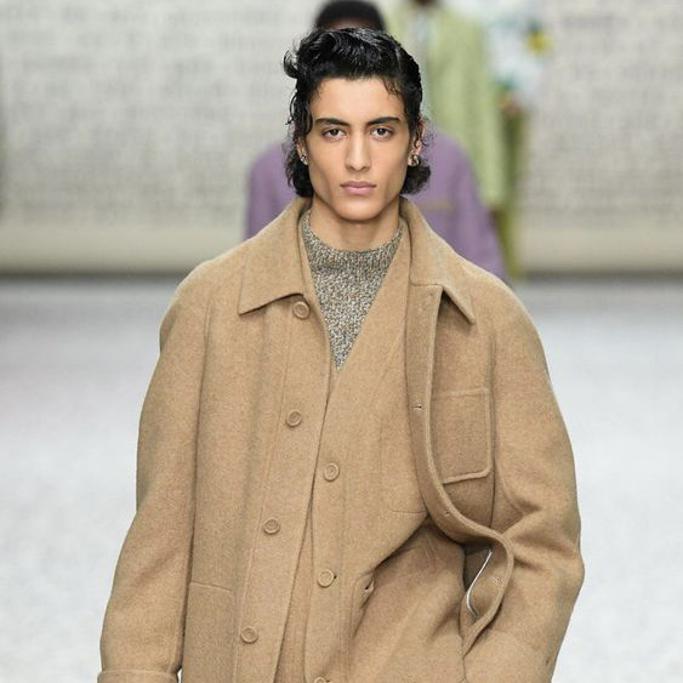 If you're not fond of the bulky silhouette that many cardigans have, this runway look transforms the traditional granny knit into something more formal.
Tailored in fit, this button-up cardigan is further complemented with a matching coat, a salt and pepper sweater, gray trousers, and an animal-skin handbag for a touch of class. 
This ensemble has a more relaxed shape, which is great for those who hate stiff blazers and collared shirts. Plus, if you're not keen on wearing office shoes, you can always opt for sneakers instead.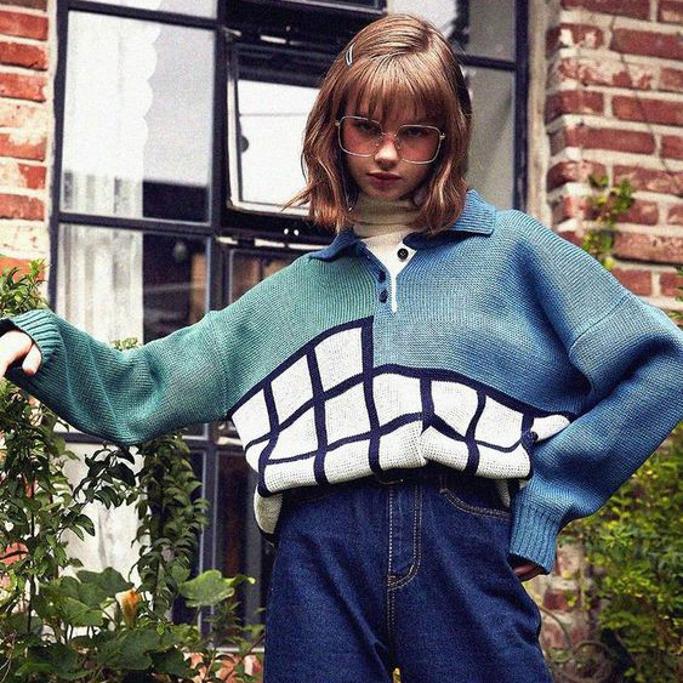 After close inspection, I've finally deduced that the grid-line shirt isn't actually a separate top but a part of the cardigan itself. This unique zip-up offers an optical illusion, as it features a turquoise off-cut with an entirely different pattern on the bottom. 
Since this 'how to wear a cardigan' contender is quite bold, wearing a simple pair of jeans can help mellow out the loudness of this look. Also, feel free to wear any matching garments, such as a cream turtleneck or some vintage glasses.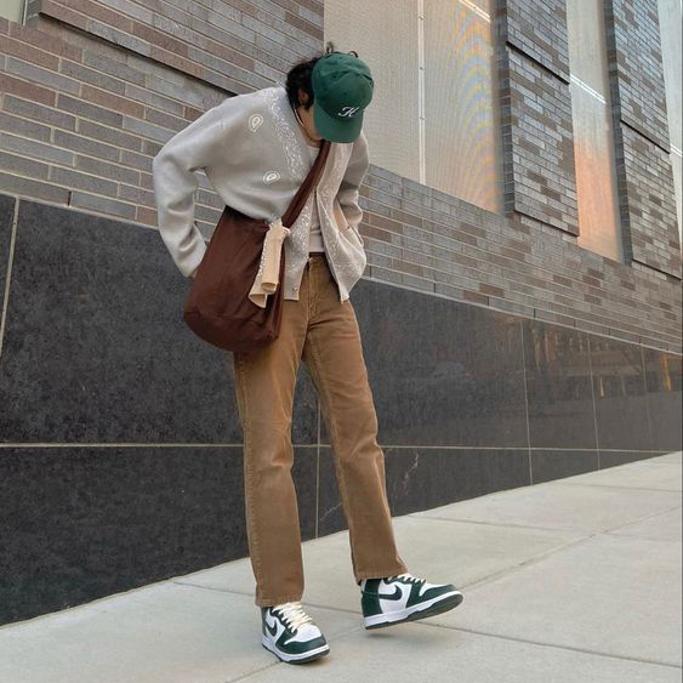 This is the type of look that fashion students wear when they're 'not trying.' Outfitted with a gray cardigan, corduroy pants, Air Jordans, and a matching green baseball cap, this OOTD is considered the perfect mix of 'skater boy' and light academia. 
In my opinion, the expresso-stained satchel completes the whole ensemble, as it helps marry the jacket and trousers together. The white embroidery on the cardigan is a nice touch as well.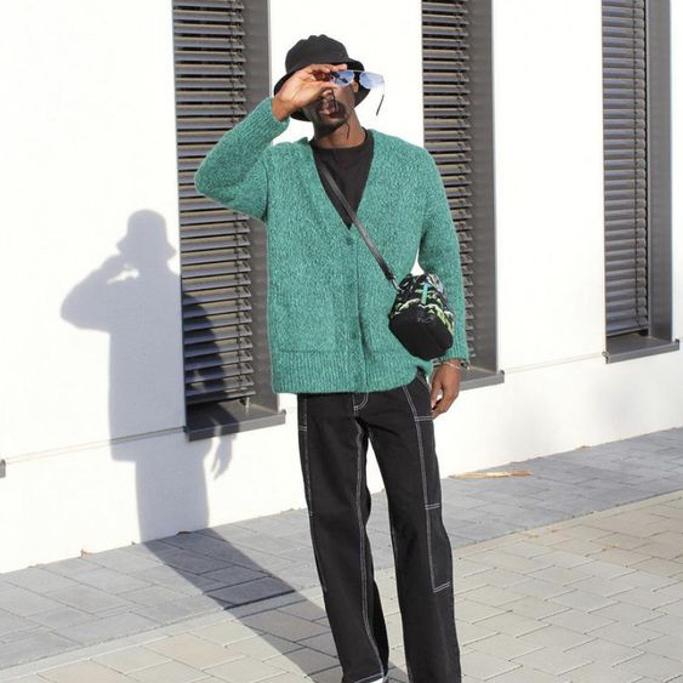 Considered one of the simplest fits in this 'how to wear a cardigan' style guide, this OOTD makes the turquoise cable-knit the statement piece of the entire look. 
The black cargo pants and tee are a must, as they help mellow out the bright tones of the button-up cardigan. In terms of additional accessories, a retro bucket hat, a crossbody bag, and a pair of white sneakers can do wonders by freshening up this outfit.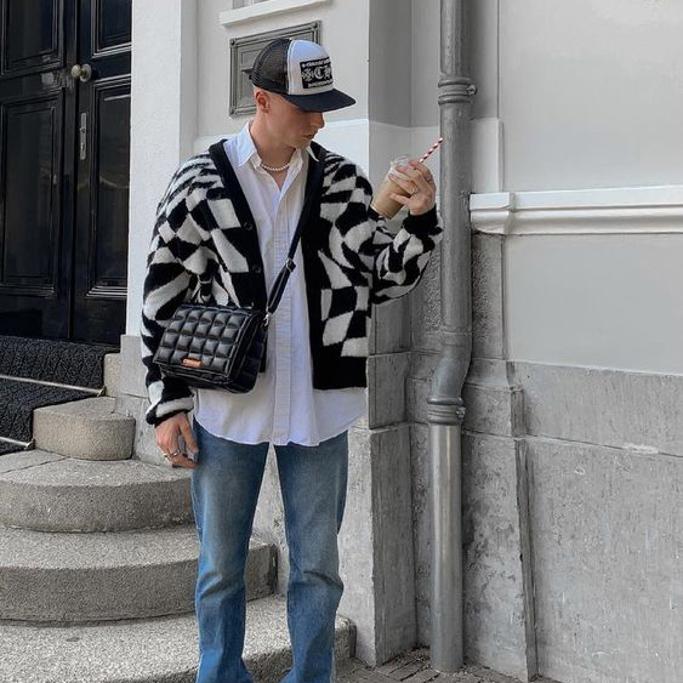 Trippy in aesthetic, don't be surprised if you end up with a headache after viewing this unique cardigan. The psychedelic nature of the checkered print is slightly reminiscent of optical illusions and late '60s rock bands. 
The white tee paired with blue jeans helps tone down the strangeness of this OOTD—considering that they're free of whimsical colors and shapes. Care for some additional accessories? If so, this 'how to wear a cardigan' review suggests Doc Martens and a simple crossbody bag.
What Type Of Cardigans Can You Get?
Over the years, this coveted garment has been transformed and restyled to meet the demands of various core aesthetics and clothing brands.
If you can't be bothered to sift through every design, this 'how to wear a cardigan' guide will discuss some trendy looks worth considering. 
The granny knit: Crochet, English knitting, or good ol' continental stitching are popular examples of this unique style. Basically, it should exude a kitschy charm due to its handmade nature.
The Y2K crop: Popularized by the likes of Jacquemus and Euphoria, this flirty cardigan is designed to look more revealing.
The oversized button-up: Ideal for the cold season, this type of cardigan can help you get all warm and toasty during winter and fall.
The long duster: If you love the look of trench coats but prefer a more breathable version, a long duster cardigan can do just the trick.
How To Choose The Best Cardigans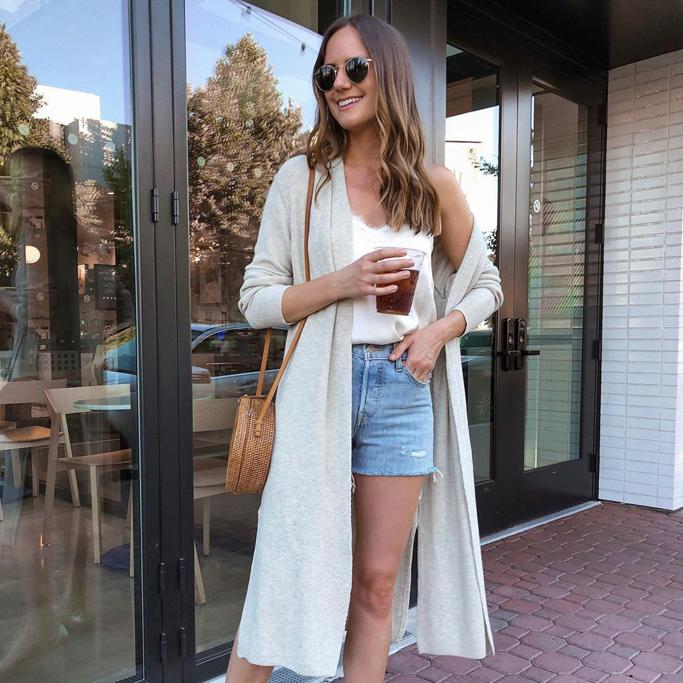 It's relatively easy to find a cheap cardigan online. Despite its affordability and convenience, I don't recommend opting for the fast fashion approach. These bargain cable knits are often thin, poorly constructed, and quickly go out of style.
If you intend on keeping your cardigan for years to come, it's time to become a responsible shopper. This involves considering four key things before hitting the check out: material quality, design, practicality, and price. 
High-quality cardigans are typically made out of wool, cotton, acrylic, and cashmere. It's possible to find a garment that offers a dual blend to ensure flexibility and comfort. Known for their durability, movement, and breathability, you shouldn't have to worry about piling and holes anytime soon.
Quality also relates to the construction of the cardigan itself, as buttons, clean hemlines, and finished seams are also a sign of a well-made garment.
In terms of practicality, you can rest assured that most cardigans are quite functional in design.
That said, it's still a valid point to consider if you can't choose between an extremely long duster or a super cropped cable-knit. The design also plays a big role, as it's best to choose a style that aligns with your current wardrobe. 
Price-wise, I advise trendsetters to work within a $20 to $100 budget. There are hundreds of well-made, affordable cardigans on the market, so you don't have to worry about opting for designer brands anytime soon.
How To Style Cardigans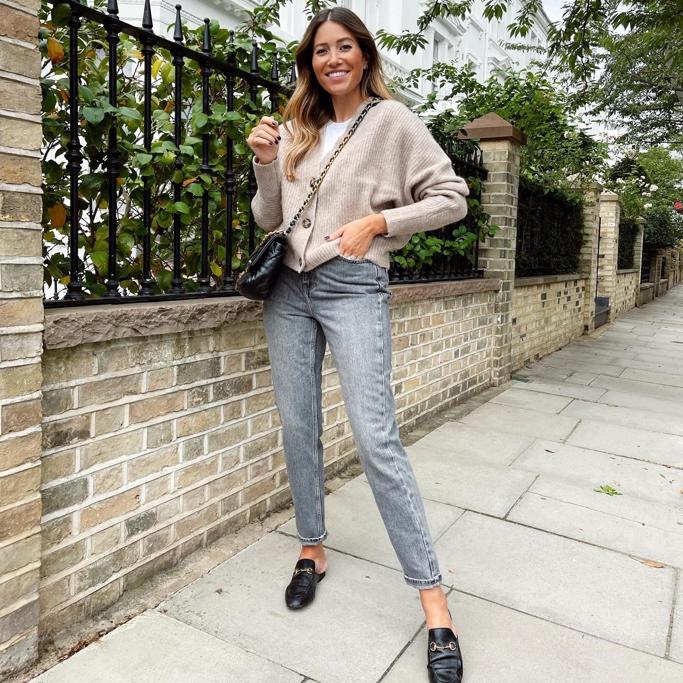 Thanks to its timelessness, there's really no wrong way to style a cardigan—but I'll get into that in a later segment. Due to its simple silhouette, it goes with dozens of core aesthetics.
You might even be surprised by the number of outfits this particular garment blends with. For those in need of additional specifics, I'll share some styling tips for trendsetters to use. 
Jeans: Considered the go-to pants for many trendsetters, denim is viewed as the safest option when it comes to outfit coordination.
Sweaters: This includes crewnecks, turtlenecks, and other popular knitwear. If you're still in the midst of winter, layering up can help you keep warm.
The oversized knit: Emblematic of the Ariana Grande silhouette, this styling tip can help you look more demure and small.
Boots and sneakers: These two shoes are commonly worn with cardigans. Feel free to experiment with different designs and brands.
Fashion Tips To Avoid With Cardigans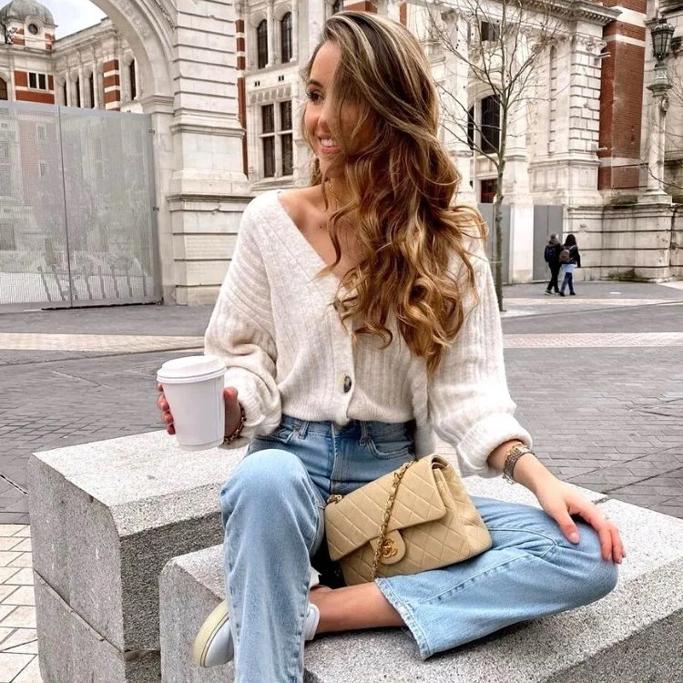 If Coco Chanel was still alive, I'm 100% sure that she would be the one to call the shots regarding cardigan do's and don'ts. But for now, I'll be sure to discuss some fashion faux pas related to this iconic garment.
Flip flops: Summer thongs and slides clash with the cozy nature of cardigans. As previously mentioned, boots and sneakers are the way forward.
Bulky tops: Excessive gathering, puffy sleeves, and ruffles can interfere with the silhouette of the cardigan. I recommend opting for fitted tops as a better alternative.
Formalwear: This mainly includes tuxes and extravagant evening dresses. Trust me, you're better off wearing a blazer.
The itchy grandma knit: There are a few handmade knits that are devoid of kitschy charm. This is especially true for abrasive wool button-ups.
How To Take Care Of Cardigans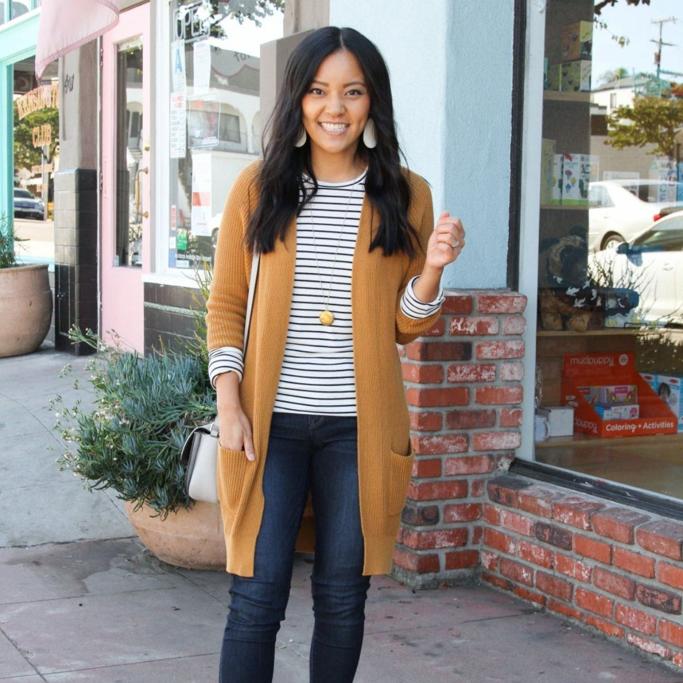 Like any beloved closet staple, cardigans also require some routine TLC. Before you chuck your button-up in your weekly wash, it's best to double-check the laundry tag. Some garments require dry cleaning or manual cleaning to help preserve their quality.
If it's machine-friendly, I recommend using cold water with gentle detergent to prevent color bleeding. Hot water coupled with abrasive solutions like bleach may result in fading.
Since most cardigans are made out of loose-woven material, I don't suggest tossing them in the dryer. Instead, it's best to line-dry your button-up to help maintain its silhouette.
Ironing is typically not needed for cardigans, but there is such a thing as rolled knits. In that case, I suggest opting for the 'heavy book on top of wet fabric method' as a viable solution. 
Best Places To Buy Cardigans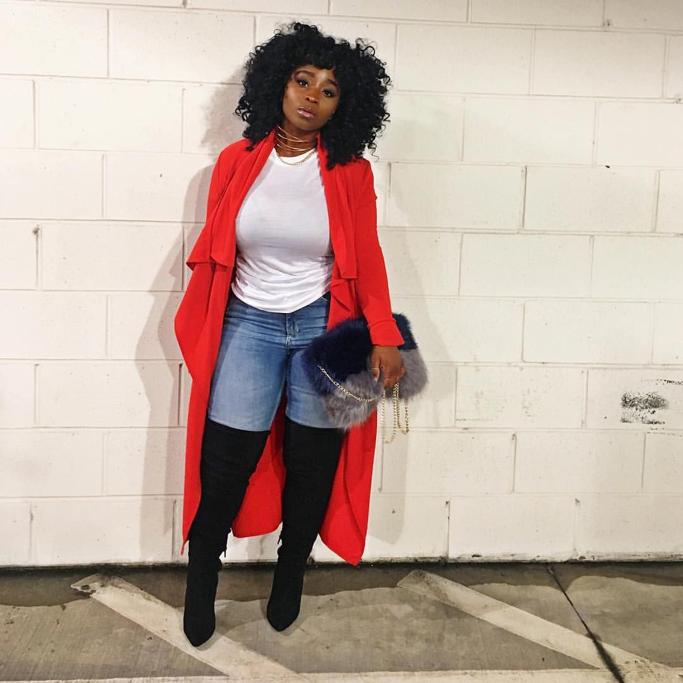 In the market for an oversized duster? If not, how about a breathable summer kimono? Whatever design you're into, here are some shops I recommend checking out:
Khaite 
Everlane 
Gentle 
Naked Cashmere 
Final Thoughts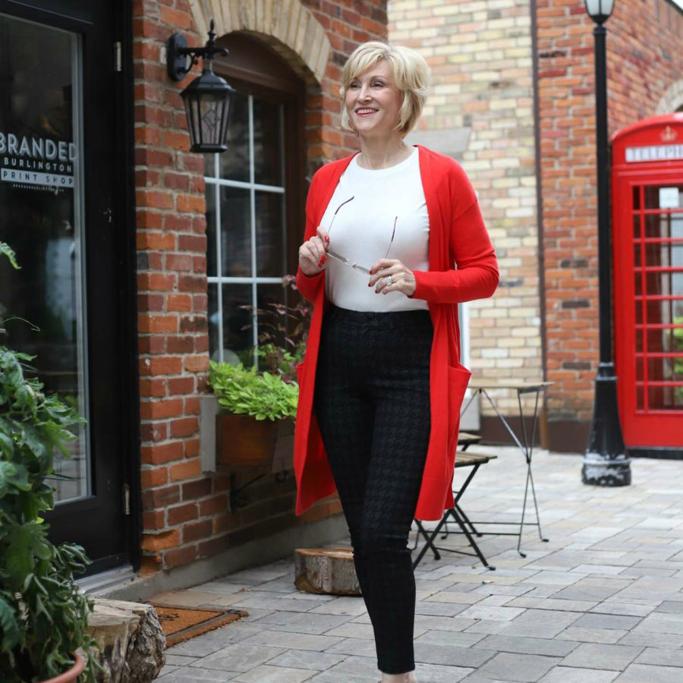 If styled right, cardigans can act as the 'pièce de résistance' of your outfit. They can do wonders by exuding a sense of warmth, coziness, and friendliness.
Of course, this may not apply to some select designs—especially those popular during the early 2000s. Nevertheless, these cable-knit button-ups are undoubtedly timeless, no matter what aesthetic you subscribe to.
After reading this guide and viewing the outfits I've featured, here's to hoping that you know how to wear a cardigan. 
---
Looking to up your fashion game? We've got you covered:
Get Access to Exclusive Deals
Subscribe for free to get exclusive deals in your inbox. 100% privacy