8 Best Louis Vuitton Sunglasses
Finding The Best Louis Vuitton Sunglasses
Sunglasses are a universal must-have accessory. There's that indescribable feeling of grabbing your fave pair when the weather starts warming up.
Since you'll likely be wearing them constantly and they're useful, sunglasses are a staple item that you're allowed to splurge on.
They're totally worth the expense because the need for a trusty pair of shades is not leaving the fashion world anytime soon.
Louis Vuitton releases a collection of the latest sunglasses styles every year. Their designs include the trendiest shapes and colors and are made with high-quality materials.
When you buy designer sunglasses, you're guaranteed to have a sturdy pair that lasts for many years to come.
The 8 Best Louis Vuitton Sunglasses
Trying on sunglasses is definitely the best way to find your perfect pair. So, going into a store to browse before you spend the cash is the route to take.
You'll have to decide between the different shapes available, like square, oval, or even the tiny glasses trend. And trying on the shades in the best way to see which shape suits you.
Currently, Louis Vuitton doesn't have a try-on feature online so you'll need to head to a store to try some on—but a shopping adventure is always fun!
Once you figure out which shape suits your face best, then you can decide between your favorite designs. Most people opt for a black or brown pair, but Louis Vuitton does have a colorful collection for the bolder babes.
Some styles will be more sleek and chic, while others might be decorated with designer details like charms or prints.
#1: Diabolo Menthe Sunglasses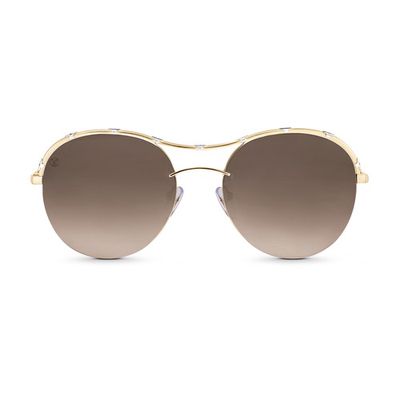 ---
#2: La Piscine Sunglasses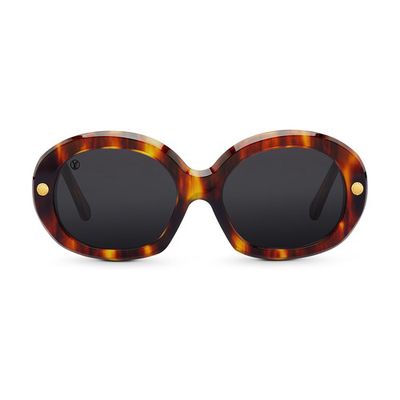 ---
#3: The Party Sunglasses
---
#4: Serpico Sunglasses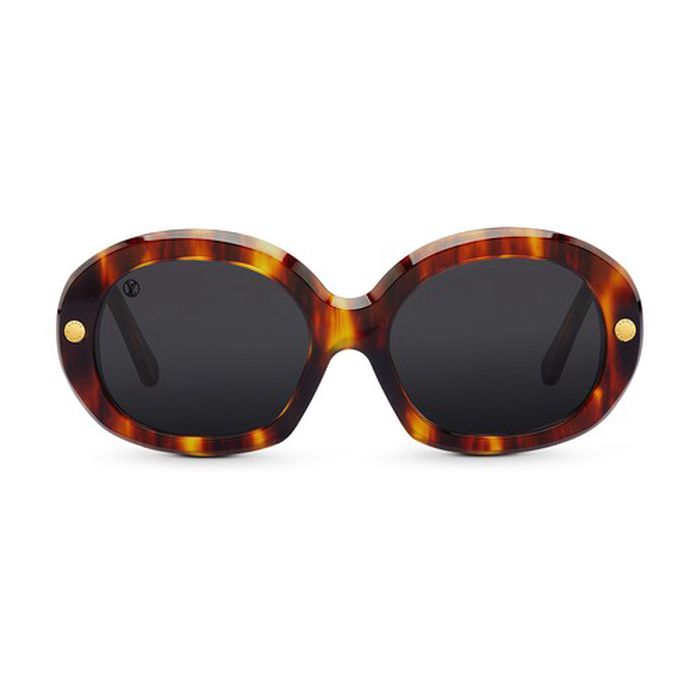 ---
#5: Vertigo Sunglasses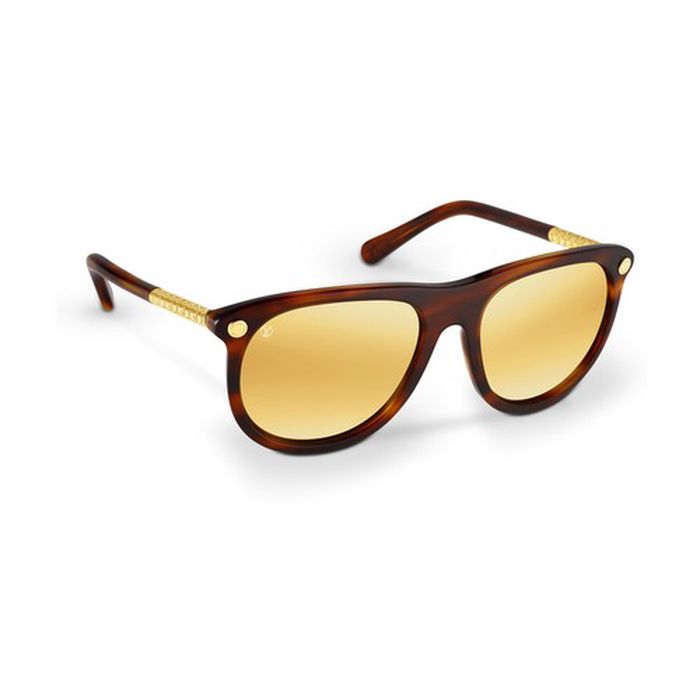 ---
#6: Fanfan Sunglasses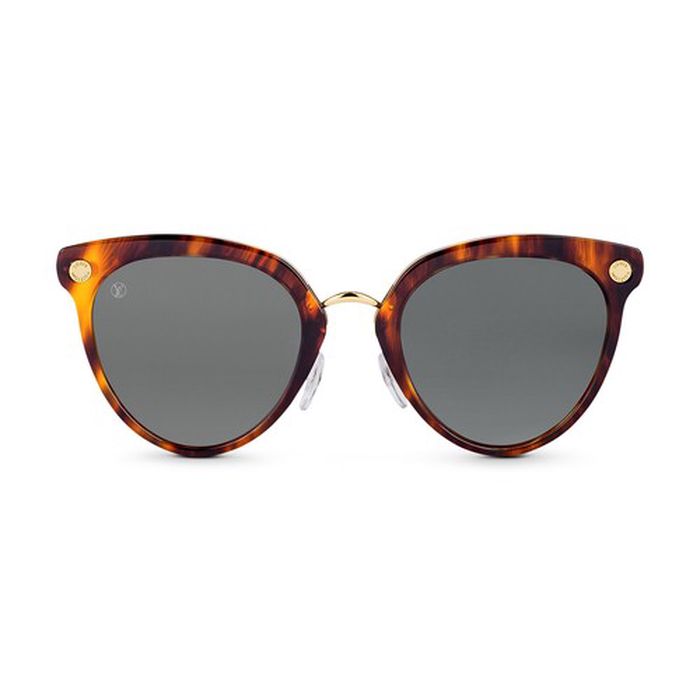 ---
#7: For Your Eyes Only Sunglasses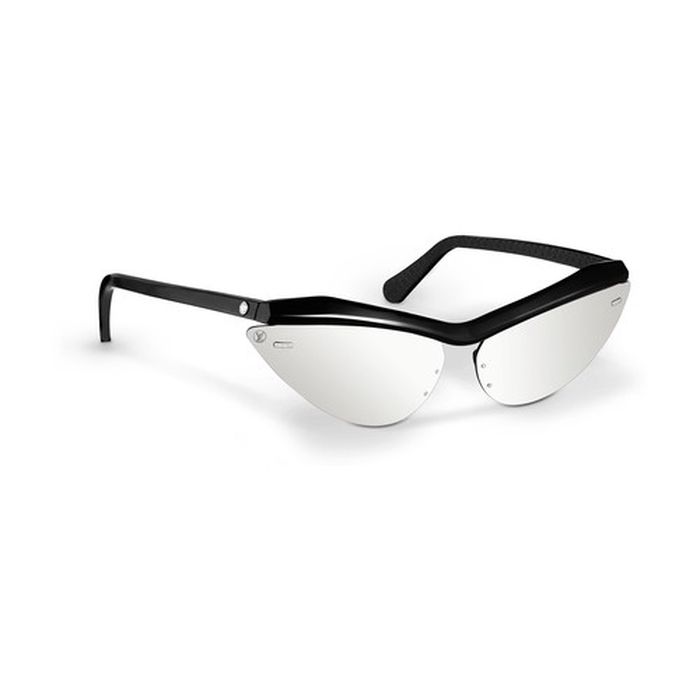 ---
#8: La Piscine V Sunglasses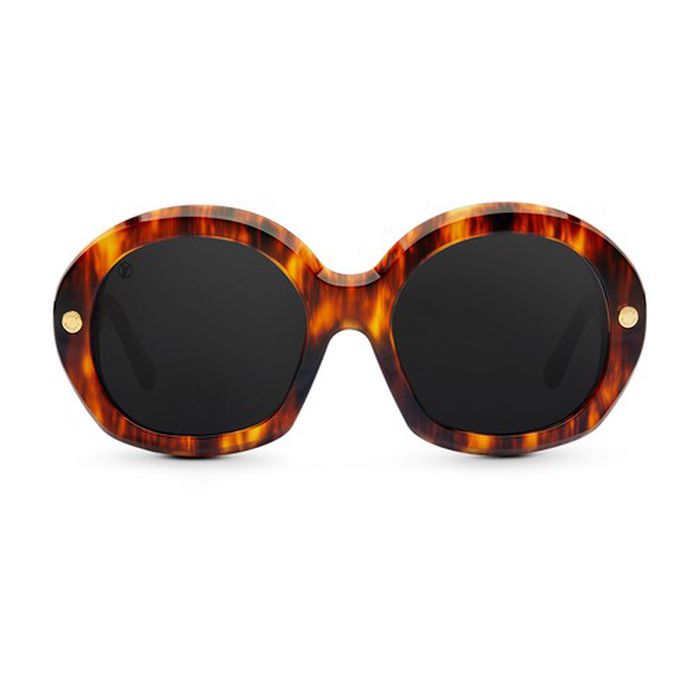 ---
What Are The Most Popular Louis Vuitton Sunglasses?
The Grease Sunglasses are many people's most coveted designer shades. The aviators are a classic look that features caramel-colored lenses and dainty gold arms.
This is an example of a simple popular pair of Louis Vuitton sunglasses. These are truly foolproof and you can't go wrong with buying this design. 
Channel your inner celebrity with the Louis Vuitton Cyclone Sunglasses. This popular pair turns things up a notch with the thick black frames and large square shape.
The designer company adds a more luxurious vibe by detailing the glasses with a gold LV monogram and a shiny jewel in the middle of the frame.
Do Louis Vuitton Sunglasses Have UV Protection?
Yes, Louis Vuitton sunglasses have 100% UV protection.
How Can I Tell If My Louis Vuitton Sunglasses Are Real?
Figuring out if your Louis Vuitton sunglasses are real requires a lot of attention to detail. One of the best methods to spot a fake pair is by inspecting the inscription on the side of your sunglasses.
The inscription usually has the serial number and the location where the glasses were made.
If the glasses are fake, the font will look thick. Authentic Louis Vuitton glasses have very thin, delicate inscriptions. You can search for a photo online as a reference.
What Is The Difference Between E And W In Louis Vuitton Sunglasses?
Great question! If you spot an E on your Louis Vuitton sunglasses it refers to an Eastern frame or an Asian frame. These frames are designed for people with a flatter nose that have less of a bridge for the glasses to rest on.
If your shades have a W inscribed on them, it symbolizes a Western frame. A Western frame is designed for people with a higher bridge on their noses. This design difference is mostly for comfort.
How To Style Louis Vuitton Sunglasses
Don't overthink how to style your sunglasses. People wear sunglasses with any outfit for almost any occasion. At the end of the day, they're more for your protection than anything else—the style is just an added bonus.
But, if you're wondering how to match your sunglasses with the rest of your outfit then know the vibe of your shades.
For instance, if you're wearing a chunky, large pair then make sure your outfit matches the dark and mysterious energy of your sunglasses.
On the other hand, if you're wearing a pair of aviators, then a chic, casual outfit will match the cool, sophisticated vibe of your shades.
---
Looking to stay up to date on all things Louis Vuitton? We've got you covered:
The Best Louis Vuitton Clutches
The Best Louis Vuitton Jackets
The Best Louis Vuitton Backpacks
Get Access to Exclusive Deals
Subscribe for free to get exclusive deals in your inbox. 100% privacy