15 Best Men's Ripped Jeans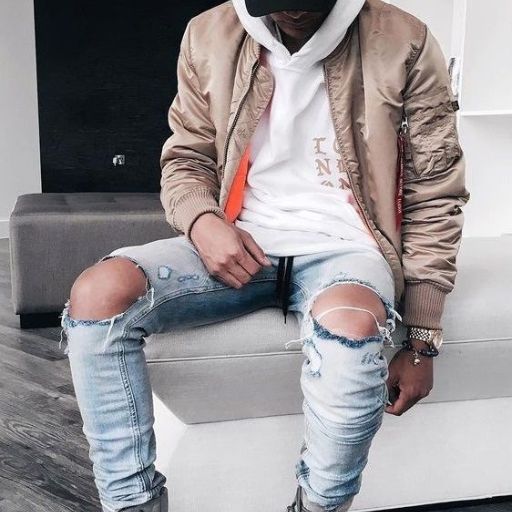 Rips in jeans are probably one of the easiest and most popular ways to enhance the basic look of denim. It could also be a more breezy option if you're wanting to wear your favorite jeans in the summer but don't want to feel overly sticky.
Men's ripped jeans are starting to become just as trendy and offer just as much styling opportunity as women's. For the warmer months that are coming up, or if you're just looking to expand your wardrobe, then ripped jeans could be a great option for you. 
What Makes A Good Pair Of Men's Ripped Jeans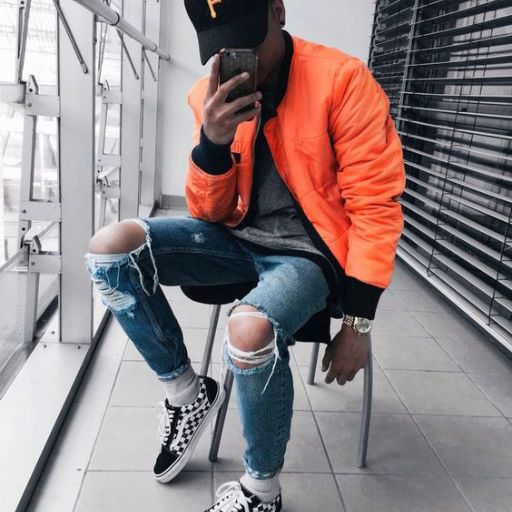 Prioritizing the quality of the bottoms will ensure the best pair of men's ripped jeans are in your possession. Most stores sell reliable denim so they aren't too hard to find. Any store you normally head to when buying jeans will likely carry ripped ones as well.
Since the pants have rips, you'll want to choose a better quality pair to make sure the holes don't tear any further and lose that intentionally worn look. If you buy ripped jeans made from thin material, this will cause them to rip much easier and possibly rip more than you'd like.
Finding The Best Men's Ripped Jeans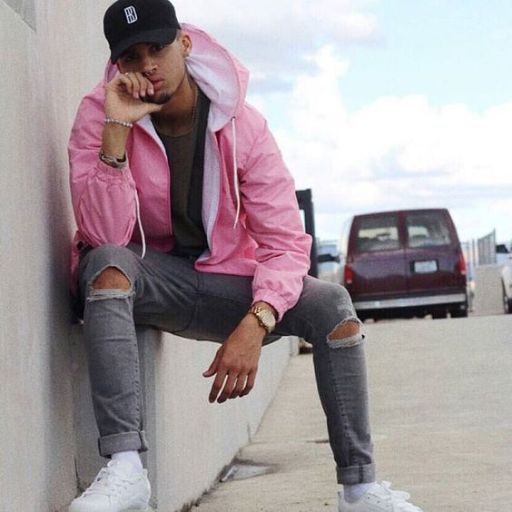 A good pair of jeans will always 'get to know us.' After a few times wearing them they'll fit our bodies perfectly.
So, the best men's ripped jeans will be different for each guy. Truthfully, what makes jeans the 'best' depends on how well they hug your body. 
So, it's important to know the exact fit you're looking for—whether it be skinny or more of a baggy feel. Then, you'll want the length to match your height well so they're not too short or too long.
Also, I recommend trying on the jeans before you buy them to make sure you like how they look and feel. Comfort will be the key to finding the best ripped jeans for you. 
The 15 Best Men's Ripped Jeans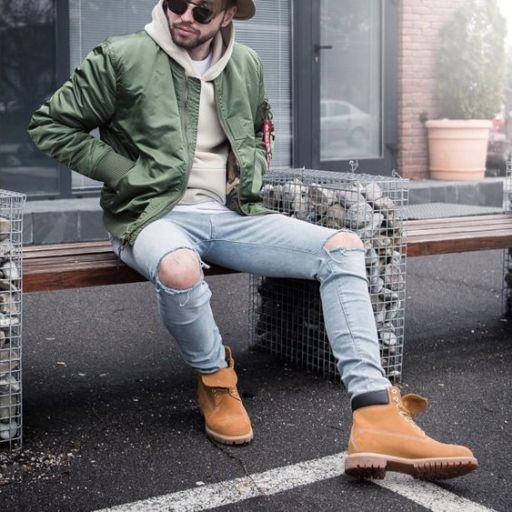 There are many different styles of men's ripped jeans to choose from. The options come in a variety of fits like skinny, slim, or loose. If you find a pair you like, then you can buy one or all the different color washes they come in.
Here are some of the best ripped jeans on the market that we think you'll love. 
#1: Alexander McQueen ripped-detailing straight-leg jeans - Black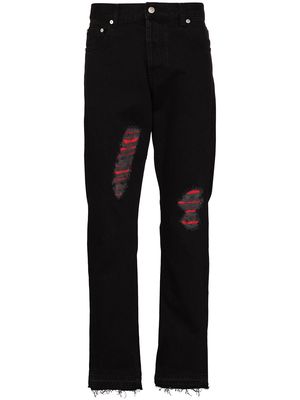 ---
#2: Saint Laurent Ripped Black Skinny Fit Jeans
---
#3: Dsquared2 ripped-detail denim jeans - Black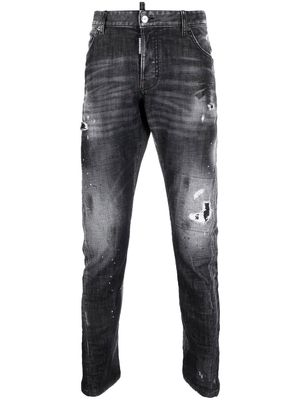 ---
#4: Dsquared2 distressed ripped skinny jeans - Blue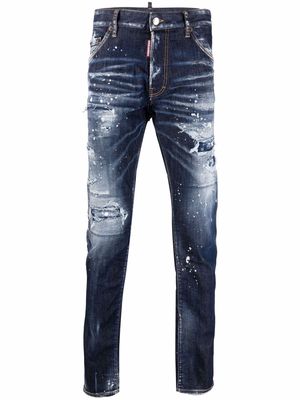 ---
#5: AMIRI Men's Watercolor Logo Ripped Skinny Jeans in Aged Black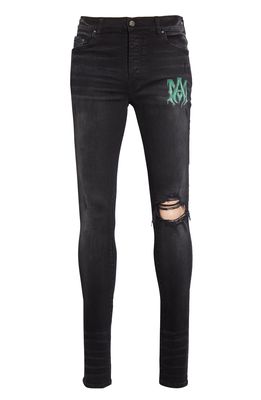 ---
#6: AMIRI Logo Applique Ripped Jeans in Clay Indigo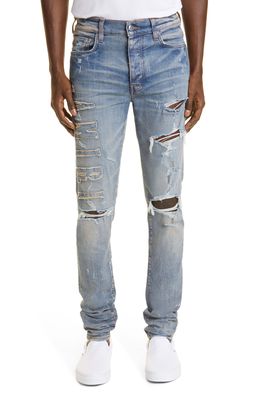 ---
#7: Men's Ripped Button-Fly Jeans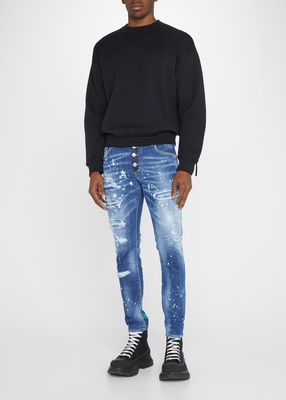 ---
#8: Dsquared2 Blue Ripped Jeans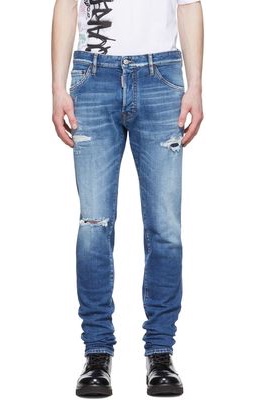 ---
#9: Monfrere Greyson Ripped Paint Splatter Stretch Skinny Jeans in Soho Hendrix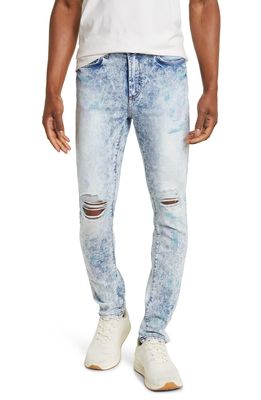 ---
#10: Balenciaga Destroyed Ripped Straight Leg Jeans in Rubber Black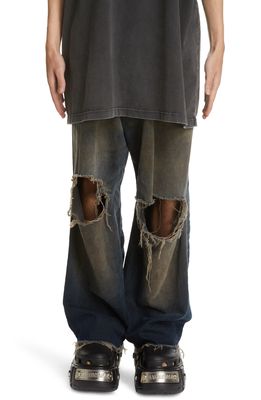 ---
#11: AMIRI Men's Bandana Flame Thrasher Ripped Skinny Jeans in Clay Indigo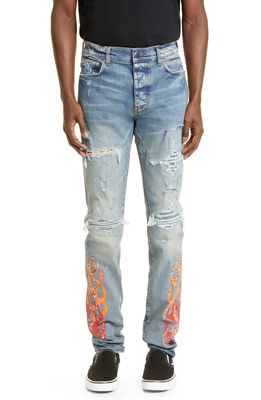 ---
#12: Dolce & Gabbana high-waisted ripped jeans - Black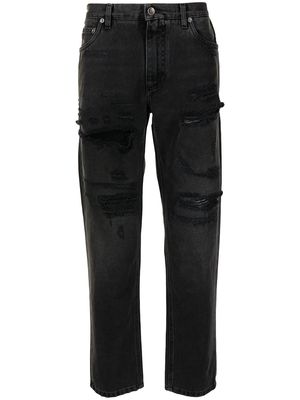 ---
#13: AMBUSH ripped denim jeans - Blue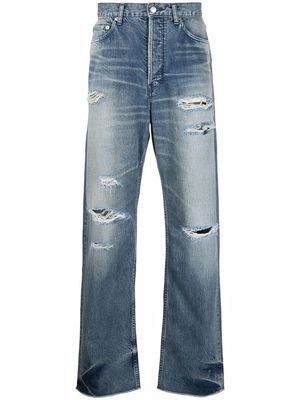 ---
#14: Dolce & Gabbana ripped wide leg jeans - Grey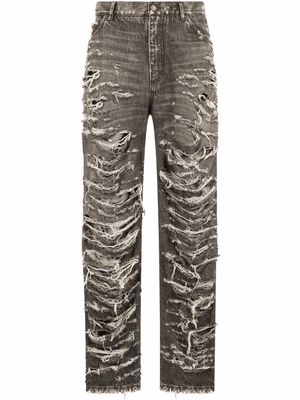 ---
#15: Fumito Ganryu ripped straight-leg jeans - Blue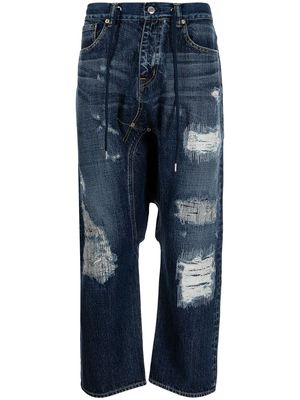 ---
What Are The Most Popular Men's Ripped Jeans?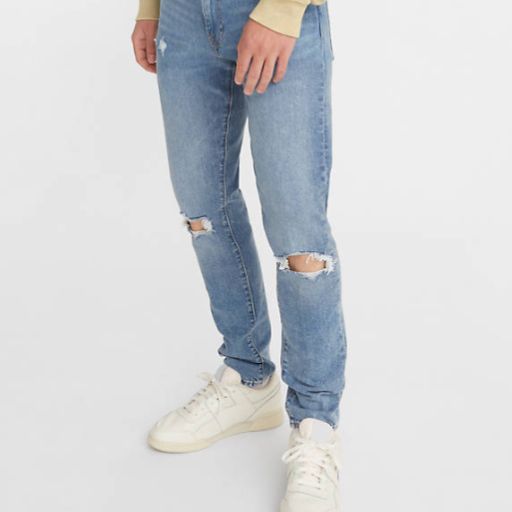 Of course, you could always buy your ripped jeans from the 'king' of denim (aka Levi's). If there's a list of the 'best' men's ripped jeans, then Levi's 512 Slim Tapered Fit Ripped Jeans sit at the top of it. 
You don't hear many people express disappointment about the quality and fit of their Levi's jeans. These are also a good option if you're looking to try ripped jeans without overwhelming yourself since there are only two relatively small holes.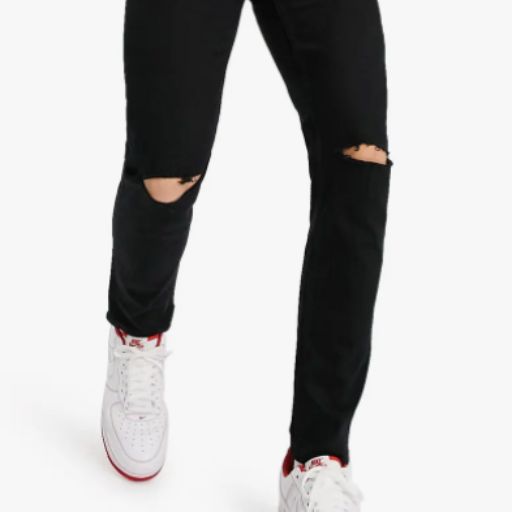 The Topman Ripped Skinny Jeans are another popular, foolproof style. Again, this denim is known for being durable.
Plus, Topman is the perfect store for the trendsetters who enjoy adding a bit more edge and flair to their outfits. There are plenty of washes and fits to choose from at this store. 
What Types Of Men's Ripped Jeans Can You Get?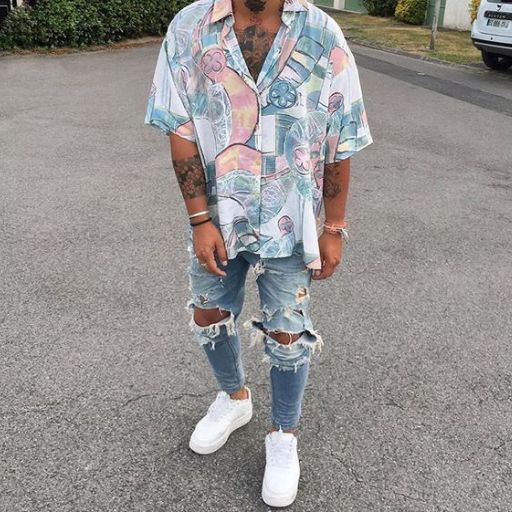 You can get ripped jeans in many different styles. You can browse selections in light, medium, and dark color washes. There are even black, white, or colorful versions of the jeans for you to consider.
You can also get ripped jeans in various fits that will sit on your body differently. For instance, there are skinny jeans that will hug your legs, slim denim that are more tapered, or loose-fitting pairs for extra comfort.
How To Style Men's Ripped Jeans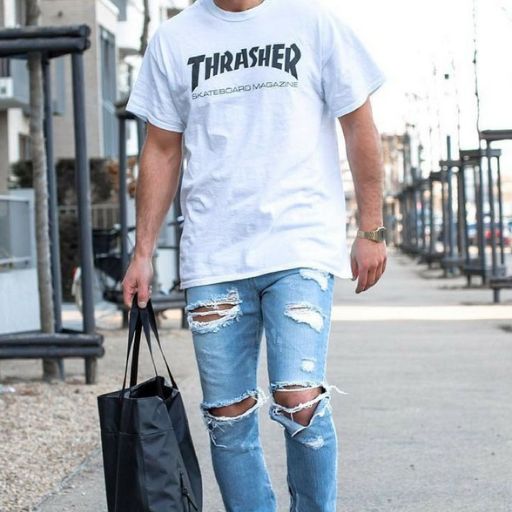 Perhaps one of the most classic ways to style ripped jeans is with a graphic tee of your choice. It fits the relaxed, edgy vibe perfectly.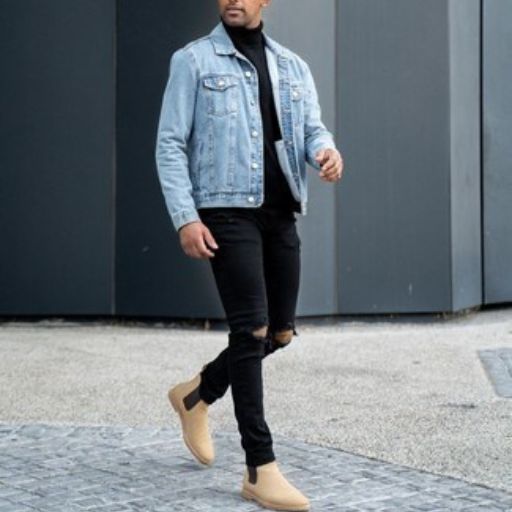 Ripped jeans can also be styled for an occasion that requires a bit more tailoring. For a more formal, sleek look, black ripped jeans are the best option.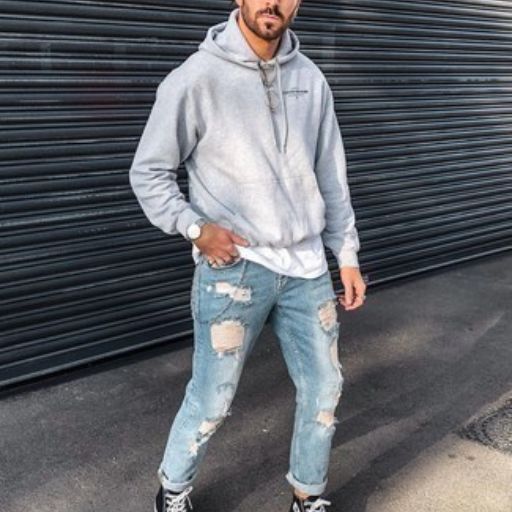 The more rips in your jeans, the more polished the rest of your outfit should be. So, that means wearing solid colors and basic accessories.
---
Looking to up your fashion game? We've got you covered:
20 Best Summer T-Shirts For Men
Get Access to Exclusive Deals
Subscribe for free to get exclusive deals in your inbox. 100% privacy