30 Best Water Lily Tattoo Ideas 
About Water Lily Tattoos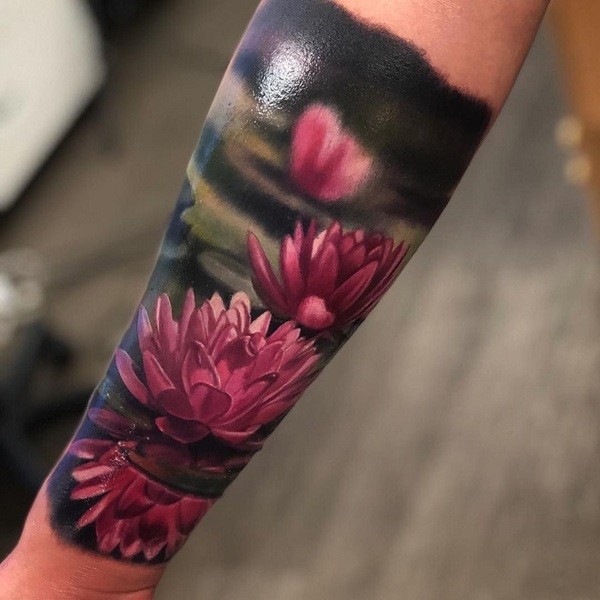 Water lily tattoos have become a popular choice for both men and women. Not only is the flower beautiful to look at, but its deeper meanings also increase the attraction. Plus, the floral style can be drawn in a variety of art forms, like abstract or realism. 
Since the water lily tattoo is eye-catching in any form, deciding which design to get can be difficult. Also, deciding where to get the tattoo can be a challenge.
This article will help narrow down your choices, so you can choose the design that's right for you based on your personal preference. And you can head to the studio with an outline of the best water lily tattoo ideas.
After reading this guide, you'll understand:
What the water lily tattoo symbolizes
The best places to get the artwork on your body
Average costs you can expect
Water lily tattoo designs and ideas
History associated with the tattoo
What Do Water Lily Tattoos Mean And Symbolize?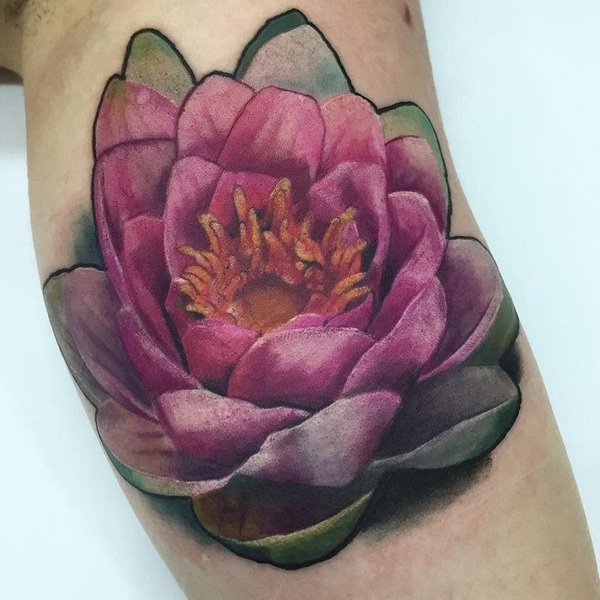 The water lily tattoo meaning has as much beauty as the flower does. The plant lives on and brightens up the ponds they float around in. It's a vibrant cup-shaped flower that sits on top of a large leaf.
Simply put, the water lily tattoo symbolizes peace, purity, and beauty—and just reading those three words makes me feel calm. 
Since the flower is gentle and adds radiance to even the darkest of places, it has many spiritual and harmonious meanings. A water lily tattoo can often mean that you have a lot of patience for others and for yourself.
It can represent a growing love for who you are and your purity. Since the flower grows in darkness and in duller areas, some people associate it with their inner being. They might even think of it as a reflection of their life in general.
People interpret the water lily tattoo in several ways. For instance, it could be a symbol of elegance since the flower started from humble beginnings and still managed to overcome complications to achieve greatness.
This meaning resonates with many who feel that they can relate to the birth and life cycle of the plant—so much so that they get the flower tattooed on their body.
People whose birthday falls in July may also get the water lily tattoo because it's their birth month flower. It's also the national flower of countries like Bangladesh and Sri Lanka, so some may get it to showcase their culture and national pride. 
The symbolism of this flower has been portrayed in lots of designs. Some choose to highlight the flower's vivid pigment by incorporating colors in their design while others choose to keep things simple with black-and-white shading.
A water lily can be the focal point for a tattoo design that's surrounded by other lines or landscape detailing. The depiction of its everlasting beauty can be shown in a way that seems most fitting to you.
Where To Get A Water Lily Tattoo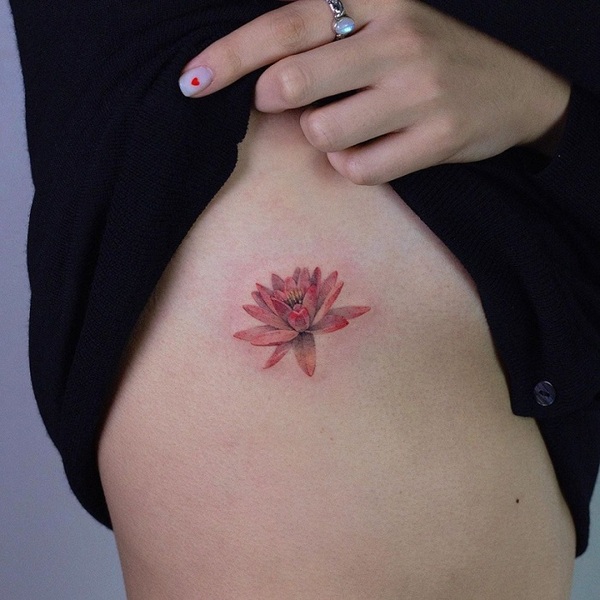 A water lily tattoo can be placed just about anywhere you want. After all, it's your body so it's your choice. However, there are some common body parts that these tattoos can be found.
So, if you're wondering where you should get your tattoo, here are some options to consider:
Inner forearm
Middle or lower back
Ribcage
Inner, front, or back of bicep
Thigh
Calf
Back of neck
Obviously, the size of the area on your body will determine the size of your water lily tattoo.
So, if you're aiming for a larger design rich in details then your artist will need a larger canvas to work with. Although the placement decision is ultimately up to you, there are certain elements to keep in mind before you commit to an area. 
Body parts that are more likely to be exposed to the sunlight could interrupt the healing process or make your tattoo fade quicker, especially if it features color. If you want the longest-lasting ink, a spot that can be protected from the sun's rays might work best. 
If you're planning to get your first tattoo, you could be worried about the pain level—I know I was the first time I walked into a studio.
Body parts closer to bones will hurt more during the tattooing process. In that case, locations like the ribcage or certain areas of the back could be more painful.
Also consider which of these areas will experience the most rubbing or friction, whether it be from a backpack, socks, shoes, or other body parts. Constant rubbing against a new or old tattoo could also increase the chances of the design fading quickly.
Of course, any tattoo, no matter which area you choose to get the design, will be permanent. But, proper care over the years will really keep the tattoo looking fresh and vibrant for the longest period of time.
If you're not sure how to take care of your tattoo, consult with an artist and they'll tell you all you need to know. Make sure you always follow their tips throughout the healing process.
During the healing stage, every artist will tell you to avoid the sun, moisturize a lot, and don't pick at the scabbing!
How Much Do Water Lily Tattoos Cost?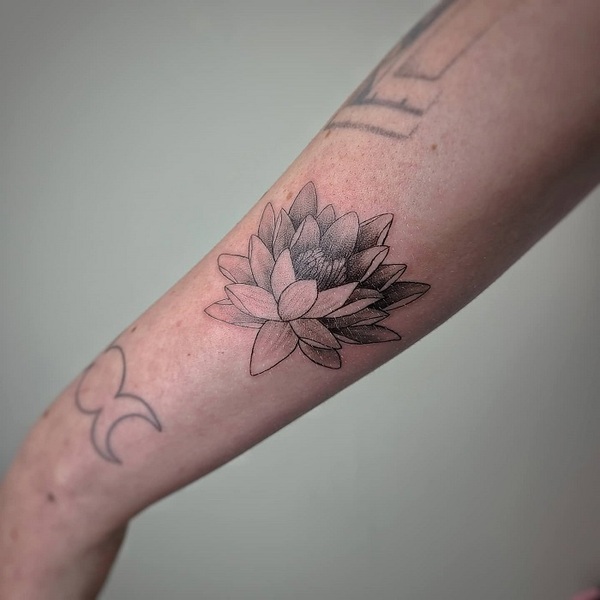 There's no exact cost associated with a water lily tattoo or any tattoo for that matter. Instead, the final price varies based on a few factors. When thinking about your budget and the final cost associated with your design, consider the following:
The size of your tattoo
Amount of intricate detailing
Quality of the ink
Time spent
If the style requires a specialized artist
The bigger the size of the water lily tattoo, the higher the dollar amount will be. If you'd like a tattoo that incorporates lots of detailing like swirls, landscapes, or linework, then it will need extra time which will raise the price tag too.
Of course, the quality of the ink is important. Good-quality ink will ensure that your design looks complete. But it also makes a big difference in terms of cost. However, it's not a good idea to sacrifice quality to save yourself a couple of bucks.
After all, the better the ink, the better the overall look and longevity of your tattoo. So, it's best to pick an artist who carefully chooses their ink.
Certain tattoos need artists that specialize in a particular style. That's because these artists will have a focused skill level.
For example, realism designs require a certain level of expertise to be executed properly and done well. Tiny tattoos are a newer, trendy choice that also should be booked with an artist who excels in that style. 
30 Best Water Lily Tattoo Designs
#1: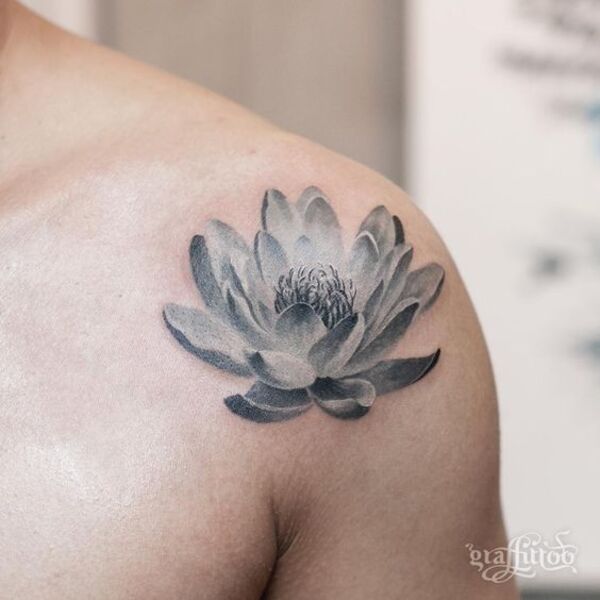 #2: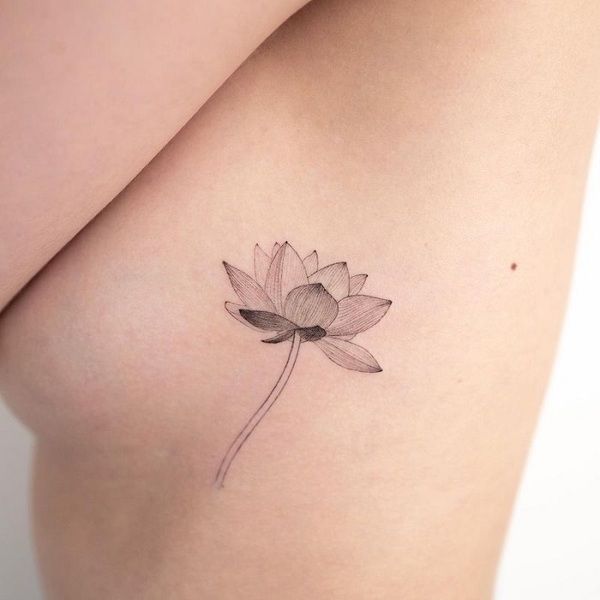 #3: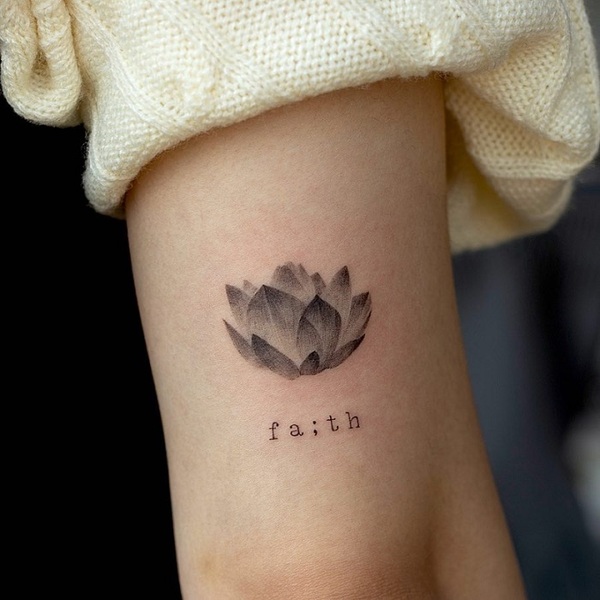 #4: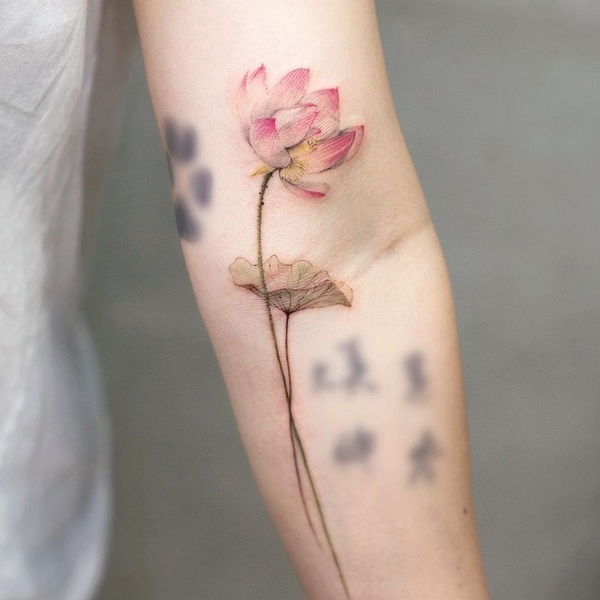 #5: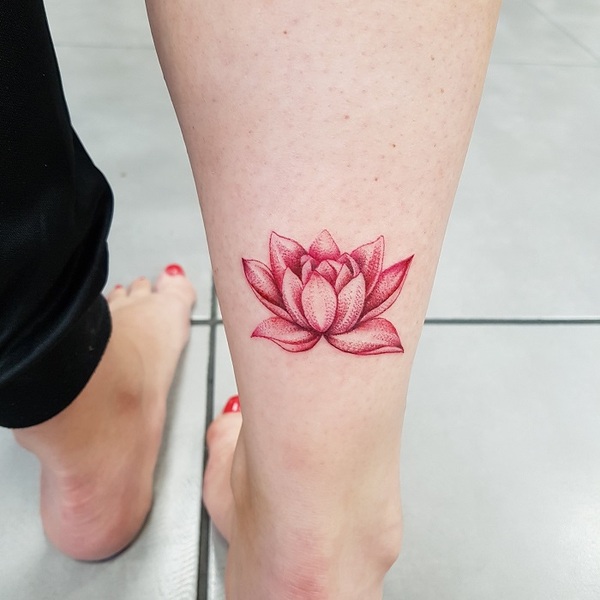 #6: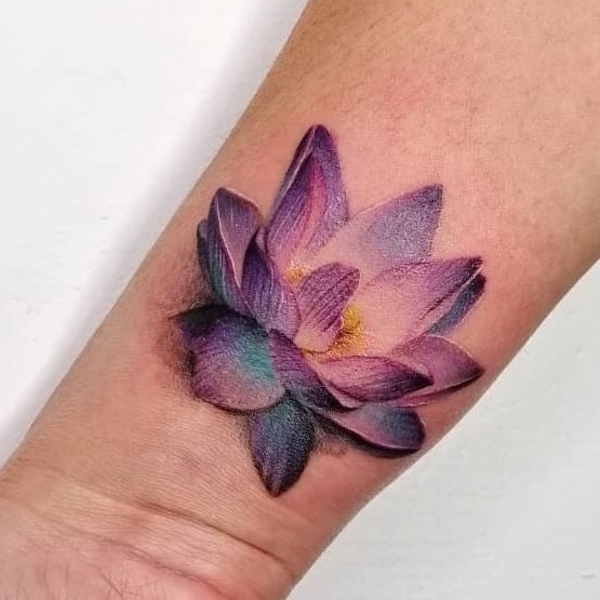 #7: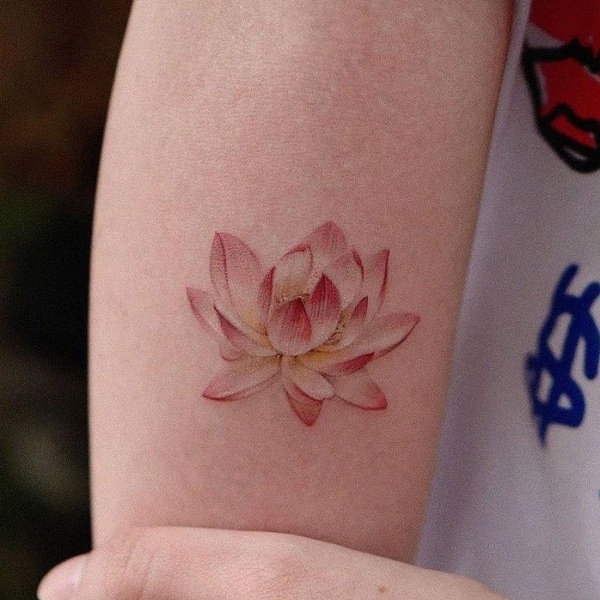 #8: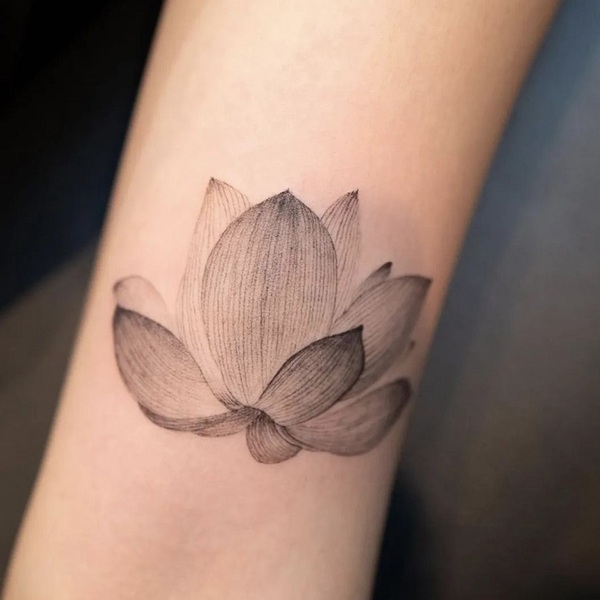 #9: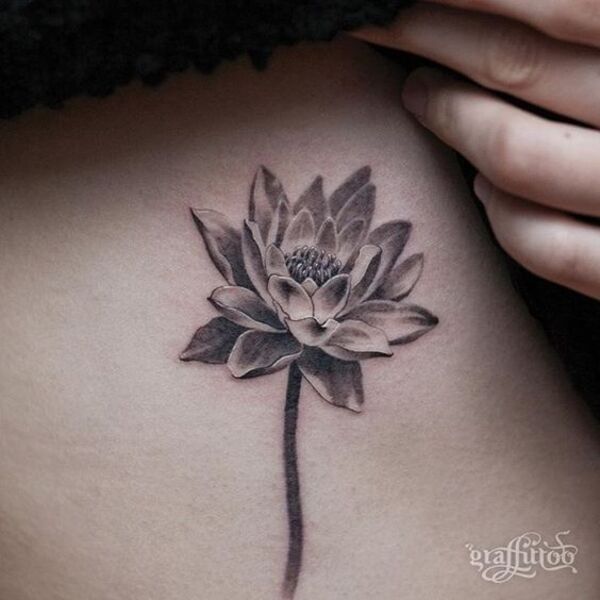 #10:
#11: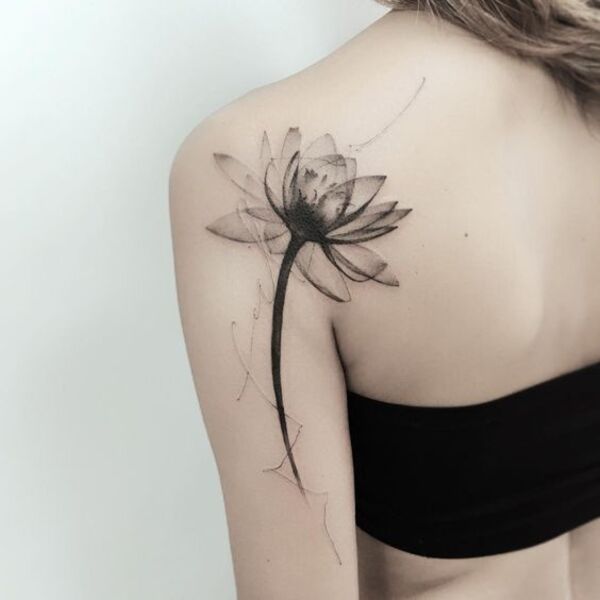 #12: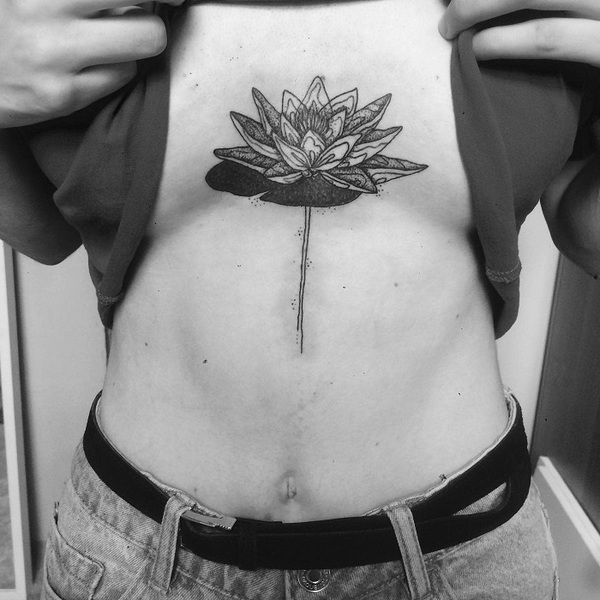 #13: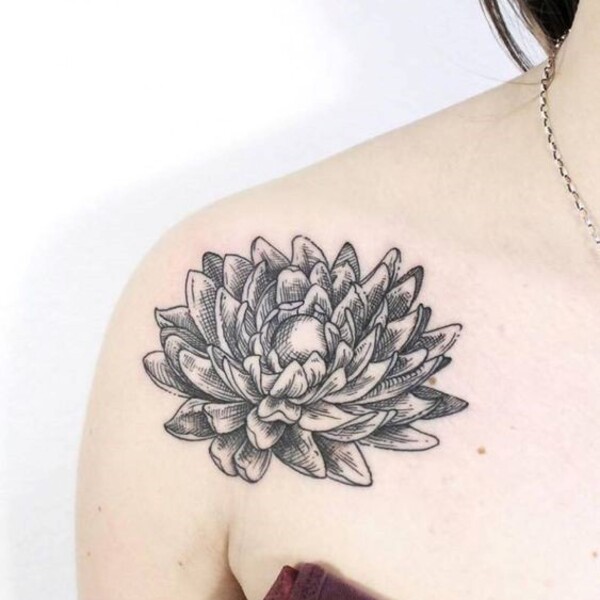 #14: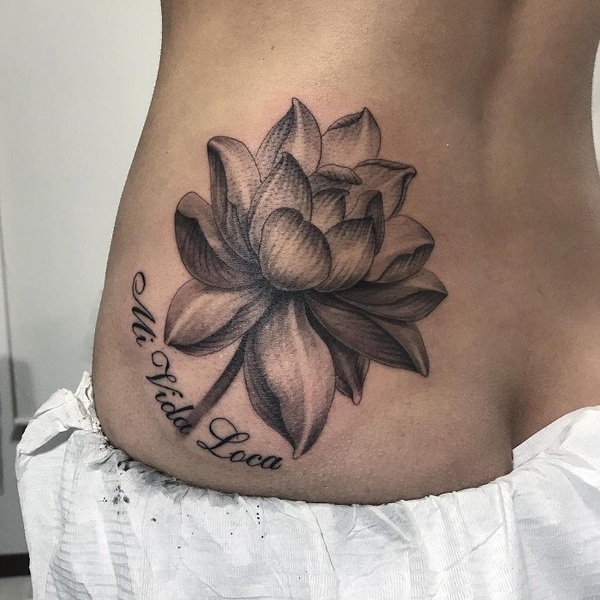 #15: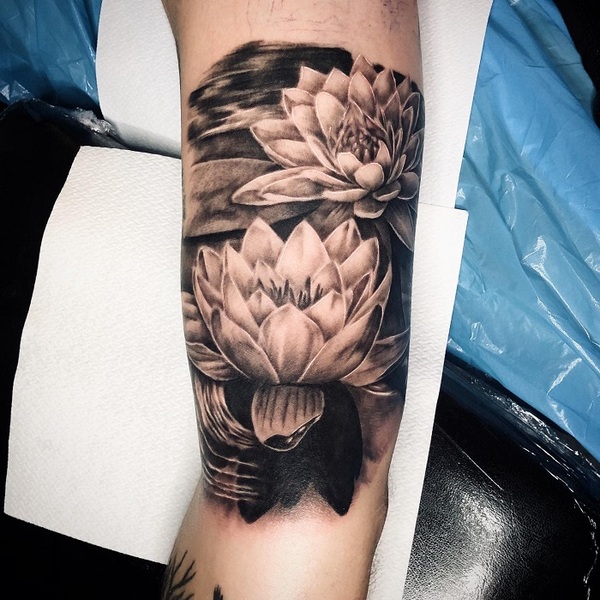 #16: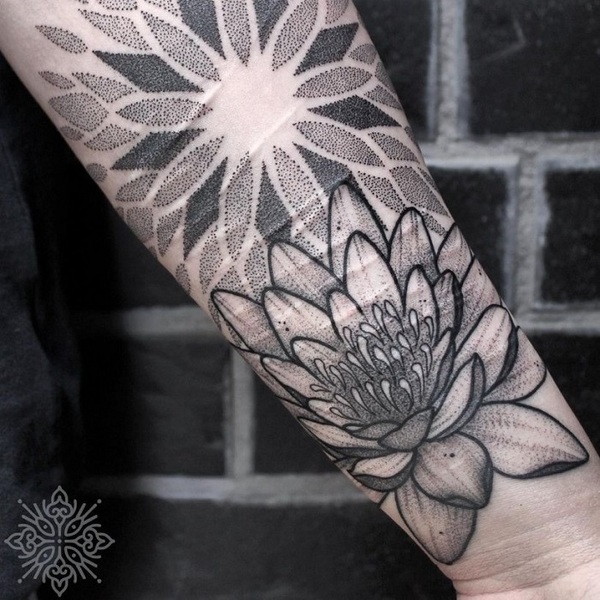 #17: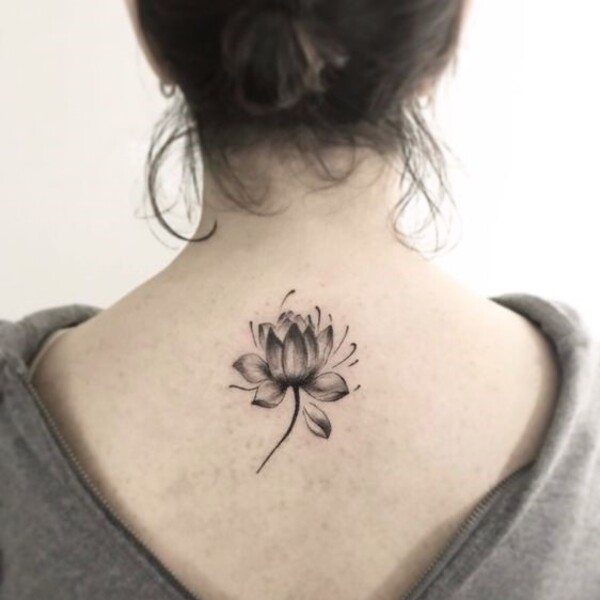 #18: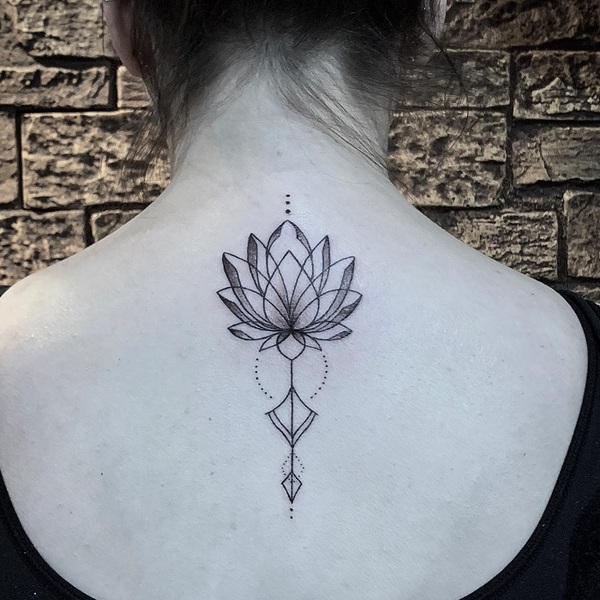 #19: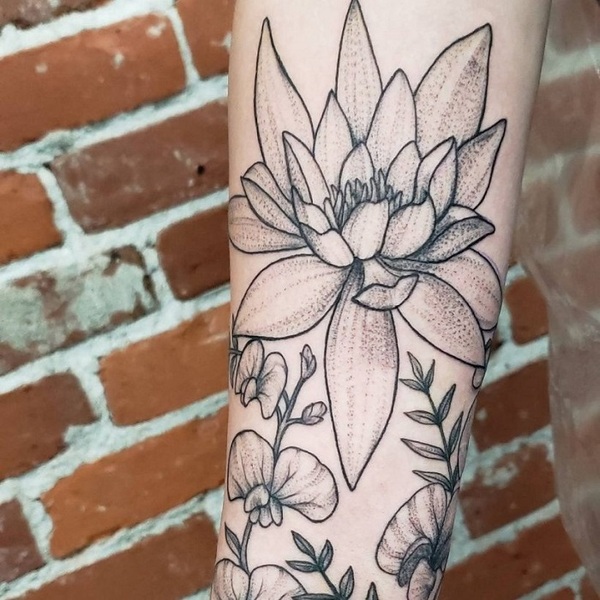 #20: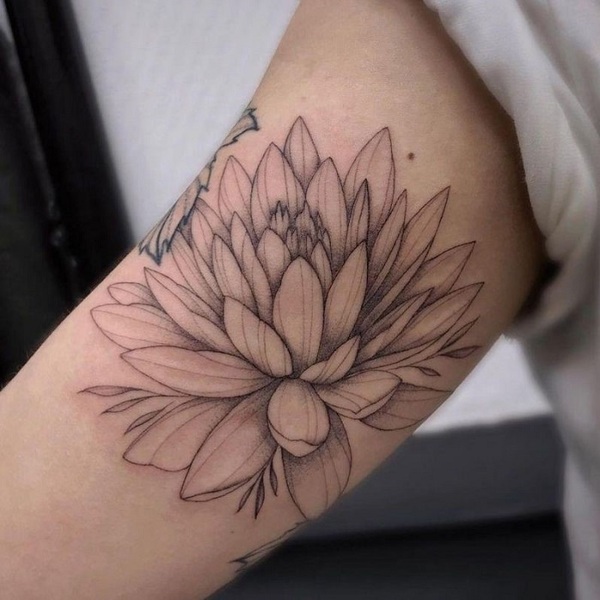 #21: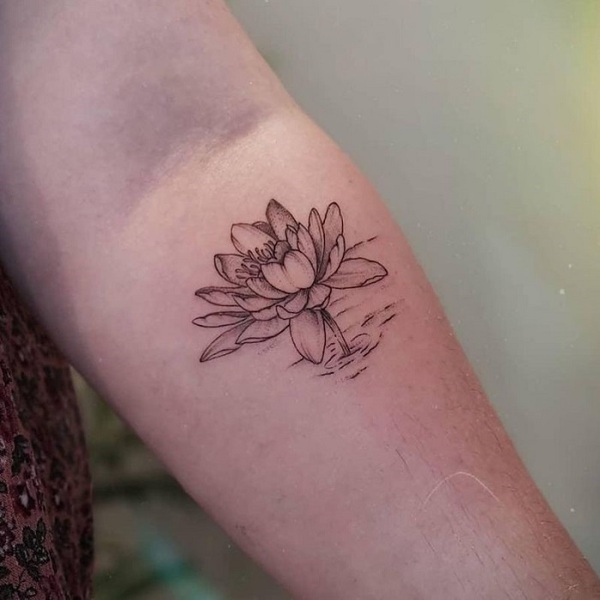 #22: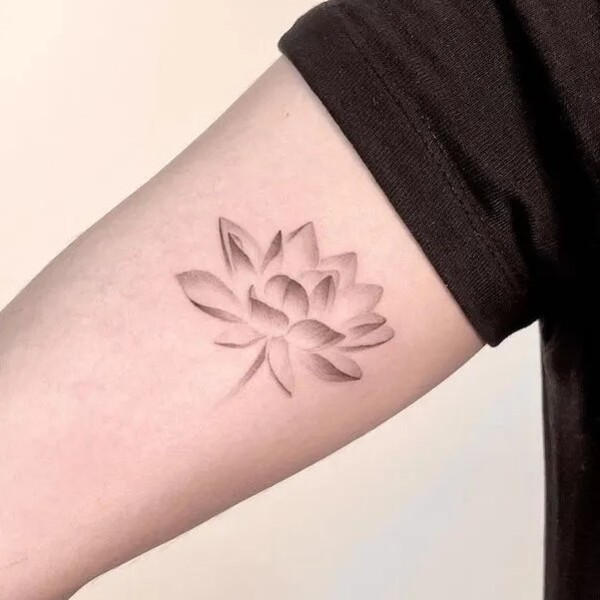 #23: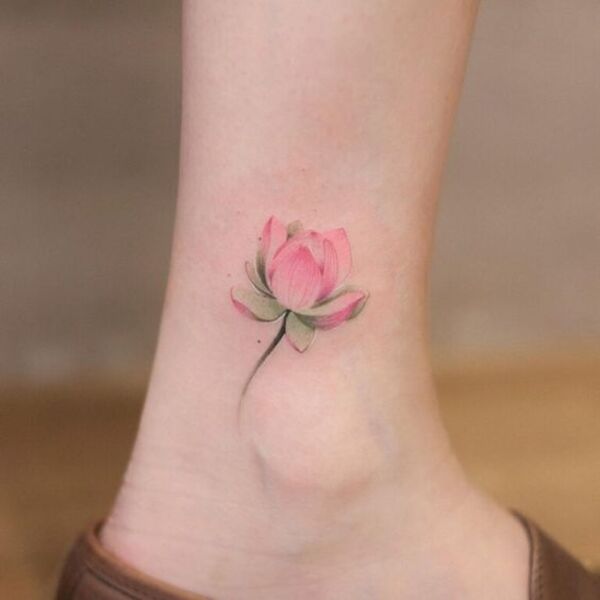 #24: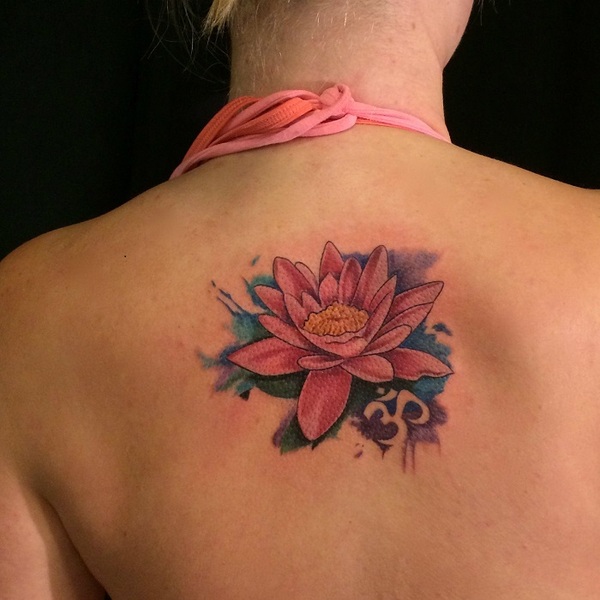 #25: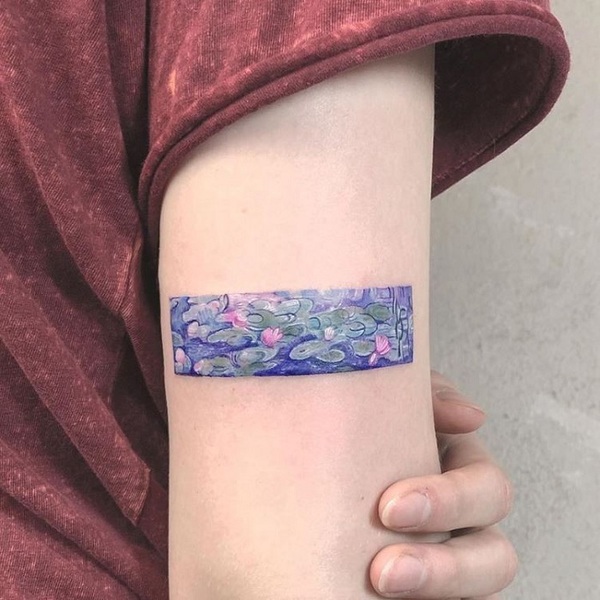 #26: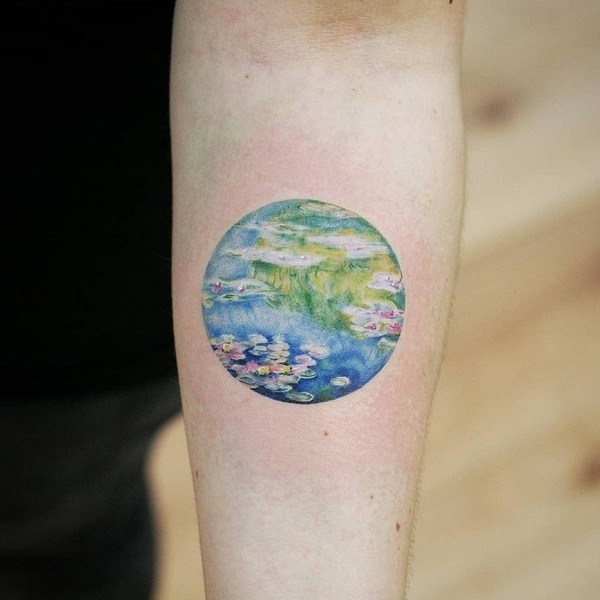 #27: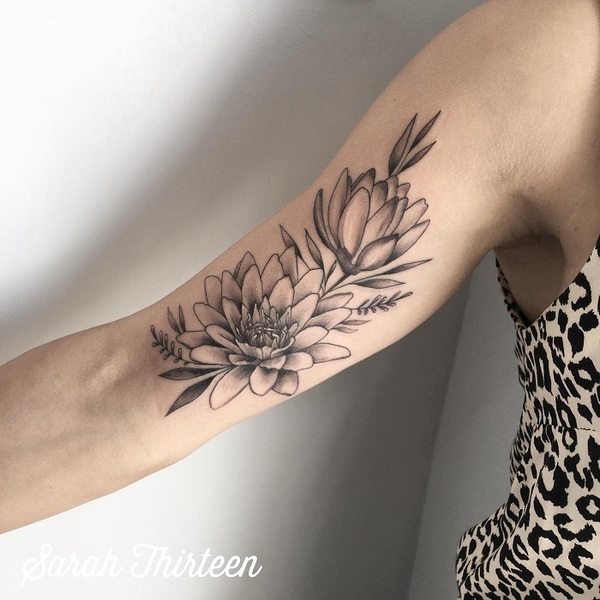 #28: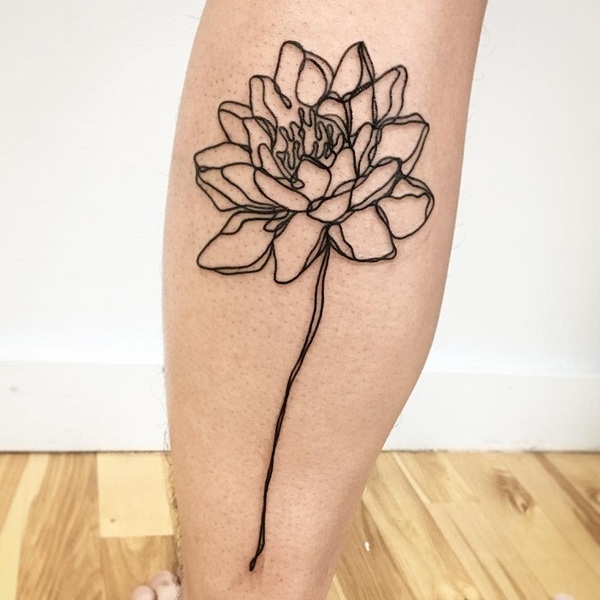 #29: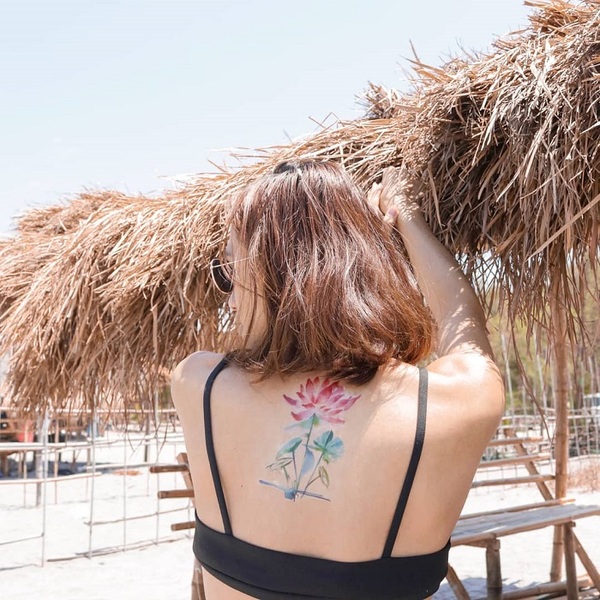 #30: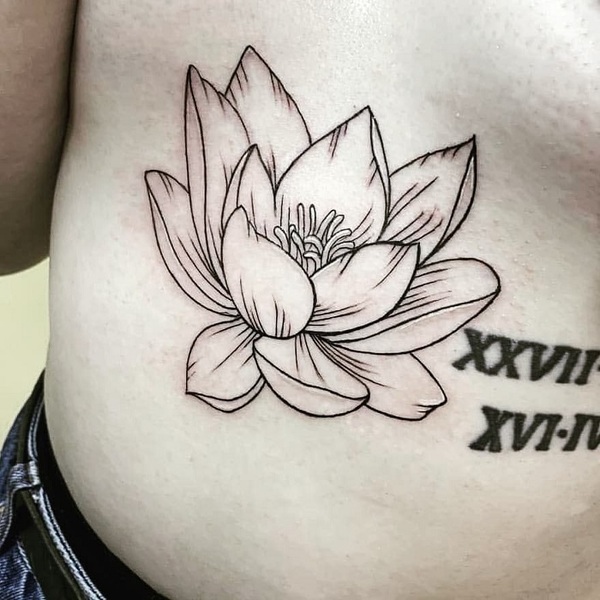 History Of The Water Lily Tattoo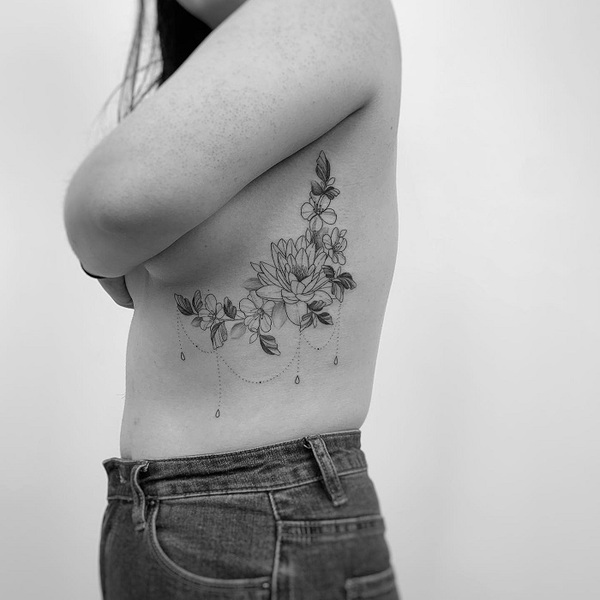 The water lily tattoo actually has a history that dates back thousands of years. Much of the water lily symbolism stems from spiritual traditions.
The flower itself has been very prominent in an array of cultures and religions. And this is another reason people may choose to get it as a permanent piece of artwork.
In Greek history, the water lily is associated with the term 'nymph.' In Greek legends, a nymph was viewed as the safe keeper of rivers. Like a nymph, a water lily clearly flourishes in ponds or rivers.
In many cultural and religious contexts, it represents the cycle of life and death. As we mentioned, the flower only blooms at night so, for that reason, people have considered it a reflection of the life and death cycle.
In the Bible, the water lily portrays purity—given the flower's growth in dark, often muddy conditions.
For example, the book of Matthew (6:28) describes the flowers' resilience with these words: "Consider the lily of the field, how they grow, they do not toil."
That's why some brides incorporate the flower into their bouquet, alongside their white wedding gown, because it's a prime symbol of their purity and chastity prior to the marriage. 
The water lily is also found in Egyptian philosophy and art. In fact, Egypt considers the flower a focal point of their creation myth. Their creation myth suggests that life came from the blooming petals of the water lily.
The flower also symbolically represents the Egyptian God, Nefertem. Similarly, Egyptians also use it as a symbol of life and death since the water lily changes with the setting and rising of the sun.
Since ancient times, the flower has also represented fertility for its constant rebirth as the seasons pass. Many cultures have or still do eat the plant by boiling or roasting it for medicinal purposes.
In many written accounts of history, the water lily has been used as a symbol of remembrance—whether it be remembering a loved one or honoring past trials that led to positive changes for instance.
That's because season after season, the flower always returns to showcase its bright beauty regardless of conditions. 
Which Celebrities Have A Water Lily Tattoo?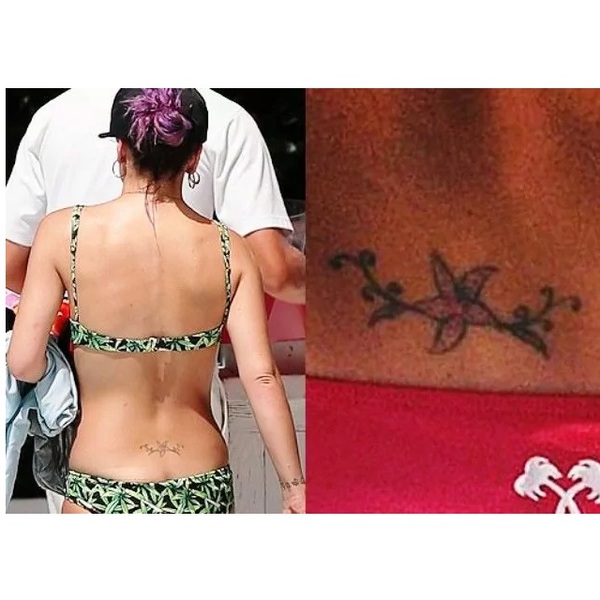 Singer Lily Allen has an older lily tattoo to represent her first name. The English songwriter has it placed on her lower back with green spirals on either side to accompany the smaller floral print.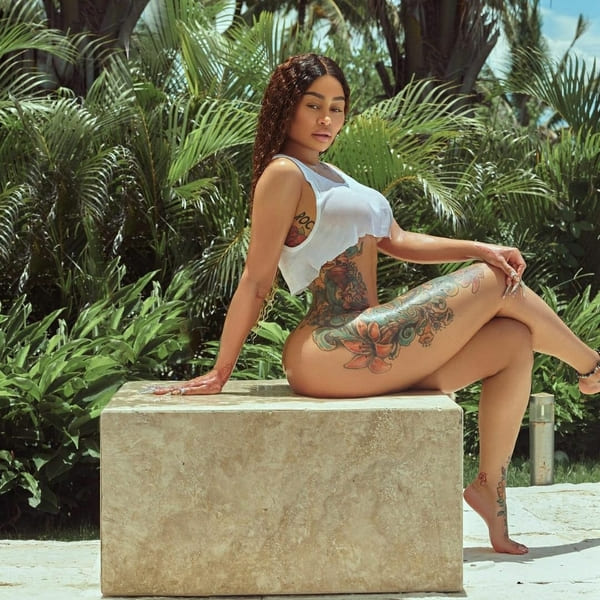 Socialite and model, Blac Chyna, chose an abundance of colorful lilies and water-like swirls to cover up a previous tattoo. The design is large and takes up the front of her thigh and reaches the top of her hip.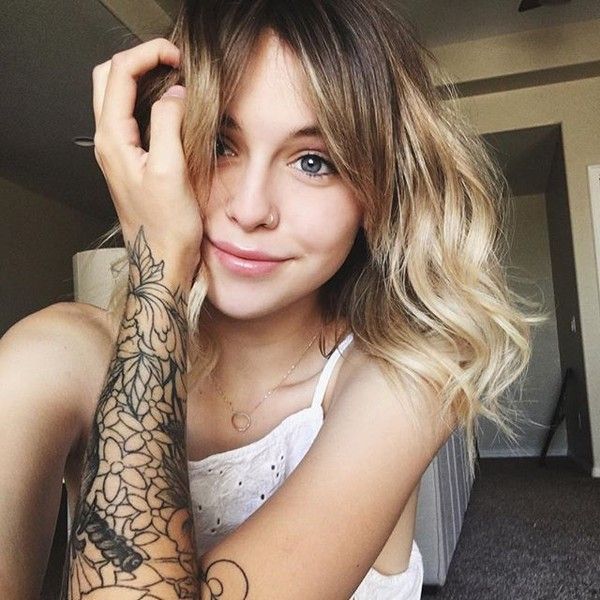 Although this design doesn't fit the typical water lily tattoo ideas we've shown, it's a good example of a modern interpretation of a floral tattoo.
Plus, it may be more suited for this generation's taste. YouTube star Acacia Brinley's sleeve tattoo features a lily of the valley to represent her daughter's birth flower. She chose not to include color in her line design. 
---
Looking for more inkspiration? Say no more:
The Best Bumblebee Tattoo Ideas
The Best Solar System Tattoo Ideas
The Best Flamingo Tattoo Ideas
Get Access to Exclusive Deals
Subscribe for free to get exclusive deals in your inbox. 100% privacy