31 Best Solar System Tattoo Ideas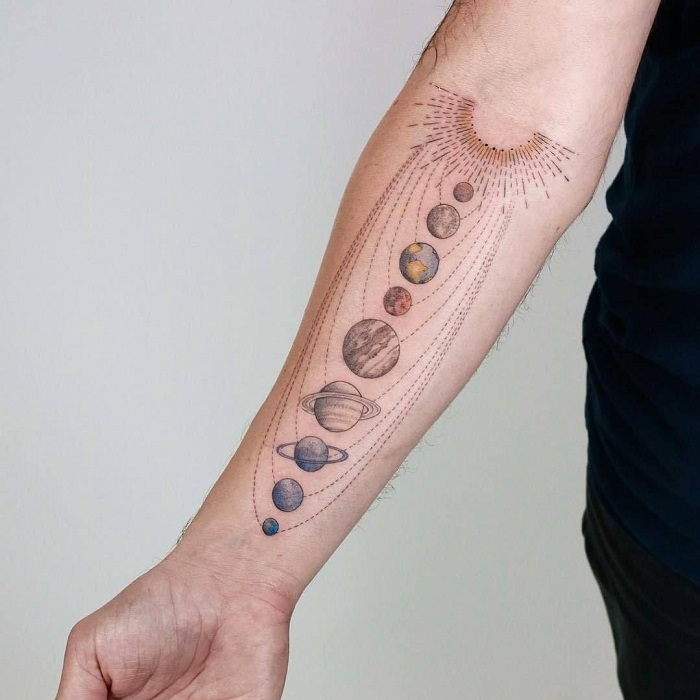 About Solar System Tattoos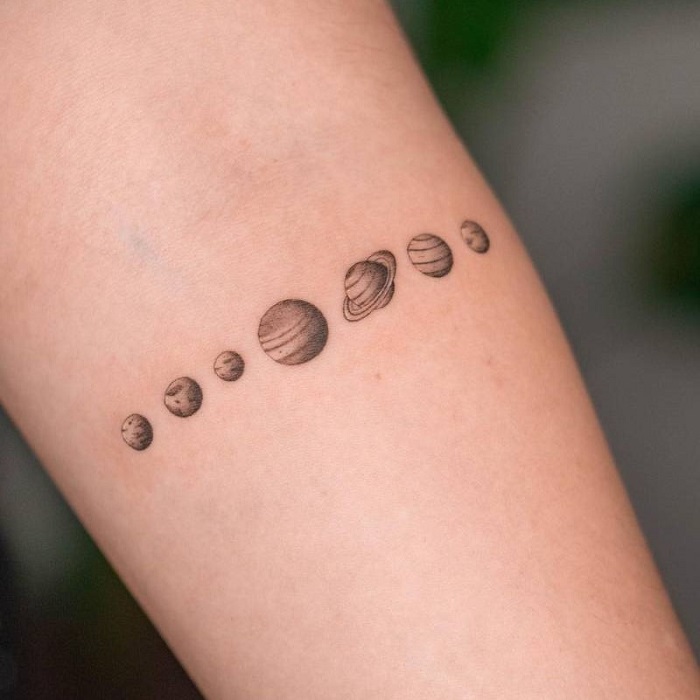 Sometimes it's hard to believe we're just a tiny fraction of the great big universe we live in. Galaxies span for miles and planets triple the earth in size.
It's no wonder some people are hooked on this great wonder of the world the minute we learn about it in elementary school science class. Some people are so hooked they celebrate our great big universe with a solar system tattoo.
Solar system tattoo ideas may seem like a farfetched design choice—but the cool designs of the cosmic world make pretty surreal art—unlike any other tattoo design.
Now, I can't force you to permanently etch the solar system onto your body but if you've been considering getting some new ink, you might want to think about getting this tattoo. 
This guide will show you some really cool solar system tattoo designs, so you can admire their amazing features.
What Do Solar System Tattoos Mean and Symbolize?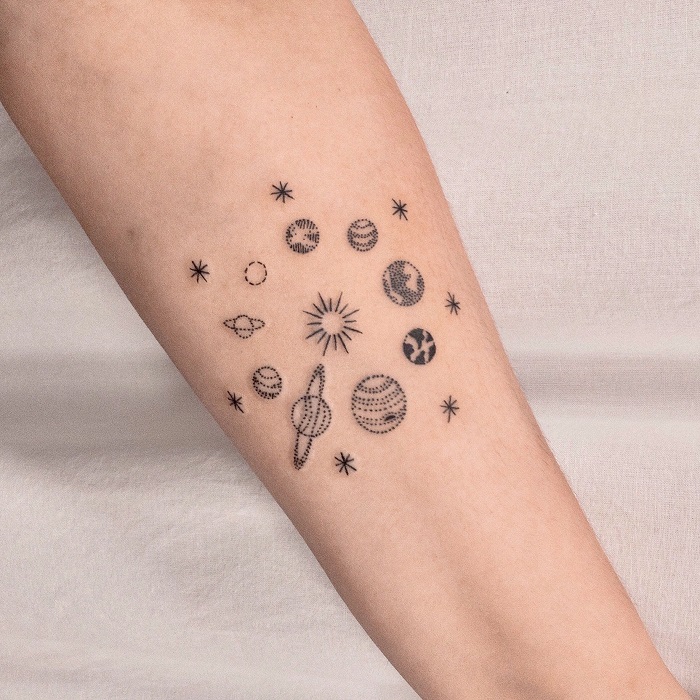 To say a solar system tattoo has some kind of deep and utterly profound meaning with a rich and beautiful history would be dishonest.
The truth is, like most tattoos, the solar system tattoo meaning is up to the wearer. However, here are some reasons one might get a solar system tattoo.
Love for Space
The most obvious reason someone might get a solar system tattoo is simply that they love space and what's not to love! The mysteries associated with its endlessness, and the mystery of the uncharted territory captivate many.
In fact, space is one of the biggest mysteries revealed to us as children so there's no surprise that our solar system has the fan club that it does. 
Sentimental Value
Tattoos often get their meaning from their sentimental value. Whether space is an interest you and a special someone shared or it reminds you of a relative that has passed on, even a solar system tattoo can have a deep and affectionate meaning.
Personal Reminder
Some people get tattoos as personal reminders. While a heart on the wrist might remind the wearer to always approach situations with love, a solar system tattoo might be the finger ribbon they need to remind them of the world's endless possibilities.
Or, like a gentle nudge, it could remind them to never stop dreaming. 
Keeping the Peace
While no one really knows all that goes on in our vast solar system, some people view the cosmos as a big symbol of peace.
After all, there's nothing more relaxing than looking up at the stars and wondering how quiet and peaceful space must be without all the earthly interference.
Where To Get A Solar System Tattoo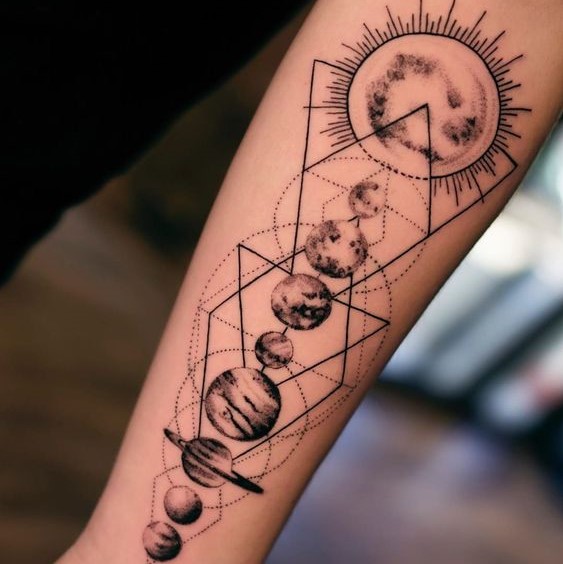 Our skin is our largest organ which means you're dealing with a large canvas for your solar system tattoo.
While the arm and back are the most common places for solar system tattoo designs, it's entirely up to the wearer to decide where they'll be hosting their galactic tattoo. 
Here are some other placement ideas:
Whether the right or left arm, this part of the body holds a lot of real estate for a solar system tattoo. You could use your entire arm and have all eight planets cascading down your limb from your shoulder to your wrist.
Shoulders are another great place for a tattoo such as this. You could utilize the space of each shoulder for a solar system tattoo that stretches across the backs of your shoulders or the front.
This is also a great space for a dainty tattoo of smaller planets that rest right on top of the shoulder. 
The back is another popular placement for a solar system tattoo. Consider your back the largest canvas on your body so you're free to scale your tattoo as big as you want.
You could make your design wide and have the planets orbiting around a huge sun at the center of your back or do something slim and stylish and have the planets in a vertical line right down the middle.
As Y2K trends have cycled back into style, so have ankle tattoos. While our solar system is massive, a small depiction of it on your ankle is just as major and could be the right choice for you.
Like your arms, legs offer up a substantial amount of space for a solar system tattoo.
You could have your tattoo running down the side, front, or back of your leg, or get creative and have your tattoo start on one leg and finish on the other.
For those with a delightful sense of humor, tattoo the sun on your foot and bring a new definition to 'walking on sunshine.' 
How Much Do Solar System Tattoos Cost?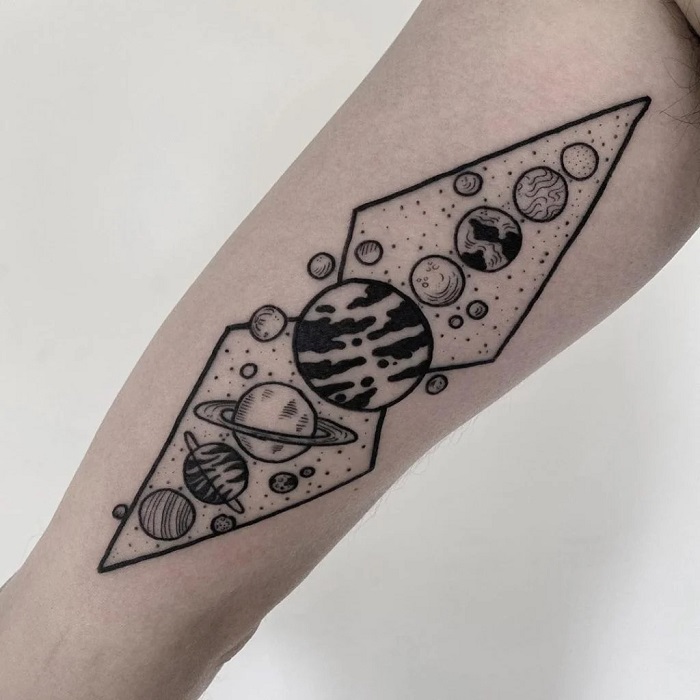 Honestly, any tattoo you get is going to cost you. With the required deposit in mind, you're looking to spend around $100 for the final product and over $50 before the work even begins.
This is due to the deposit required by most artists before they start working on your tattoo. 
In addition to the deposit, tattoo artists charge their clients based on a number of factors:
The artist – Every tattoo artist is different. Some specialize in a set skill like watercolor or script tattoos while others are well versed in other kinds of art.
With that in mind, each artist knows their skill set, how long they've been tattooing, and the intricacy of your design. And all of these things will be considered, by the artist, when charging you.

Size – Like a number of things on sale, the bigger it is the more expensive it is. Tattoos also follow this rule. So if your tattoo is bigger it will require more time and "time is money" as they say.

Color – Coloring a tattoo usually increases the price since colorwork is another special skill set and it requires more time to do.

Time – Whether your tattoo is big and wide or small and extremely detailed, the time a tattoo takes will affect the price—especially when getting tattoos that require more than one appointment. 
When on the hunt for your solar system tattoo artist, be mindful of the above list.
Also, consider how big you'd like your tattoo to be and what kind of work must go into it (script, color, surrealism, etc.) so you know what to look for within the artists' portfolios.
This will also encourage you to ask questions before the work is done to better help you determine a set budget for your tattoo.
The 31 Best Solar System Tattoo Designs
#1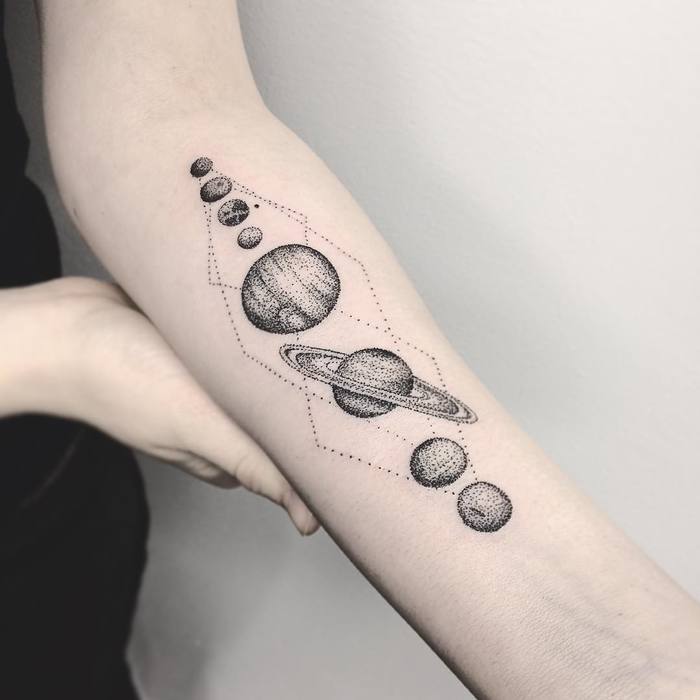 #2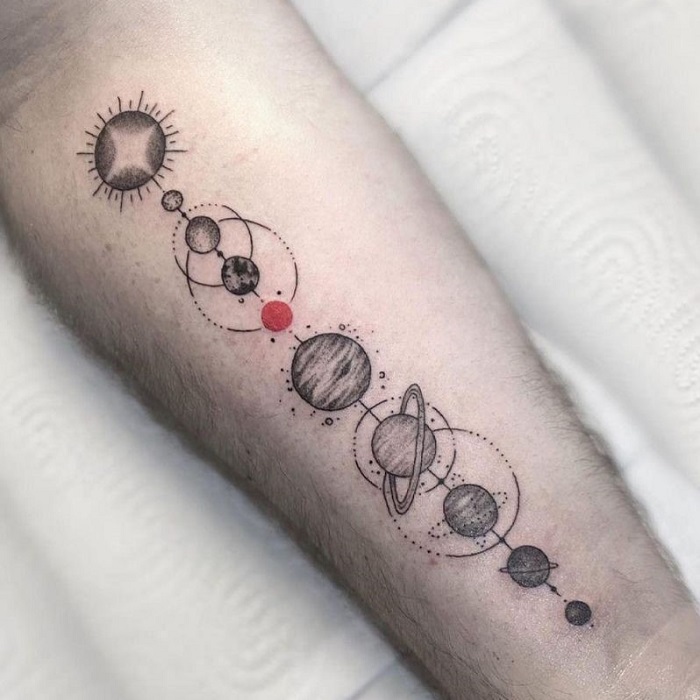 #3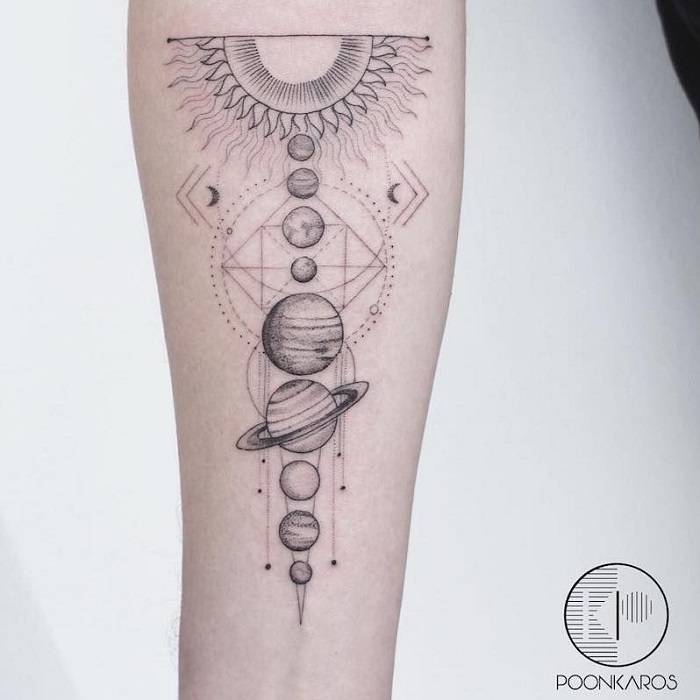 #4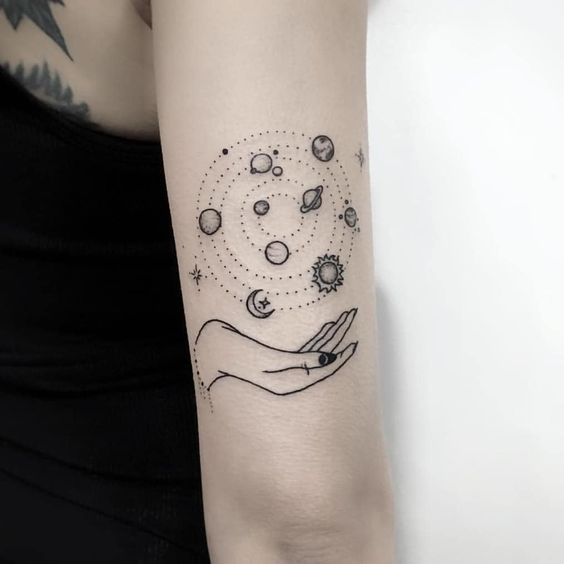 #5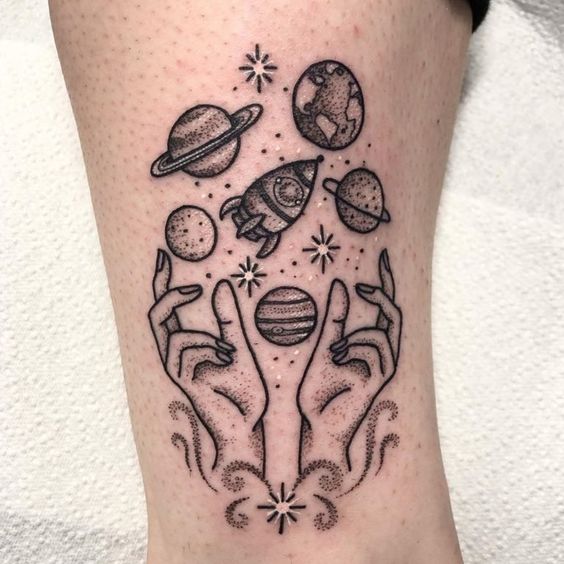 #6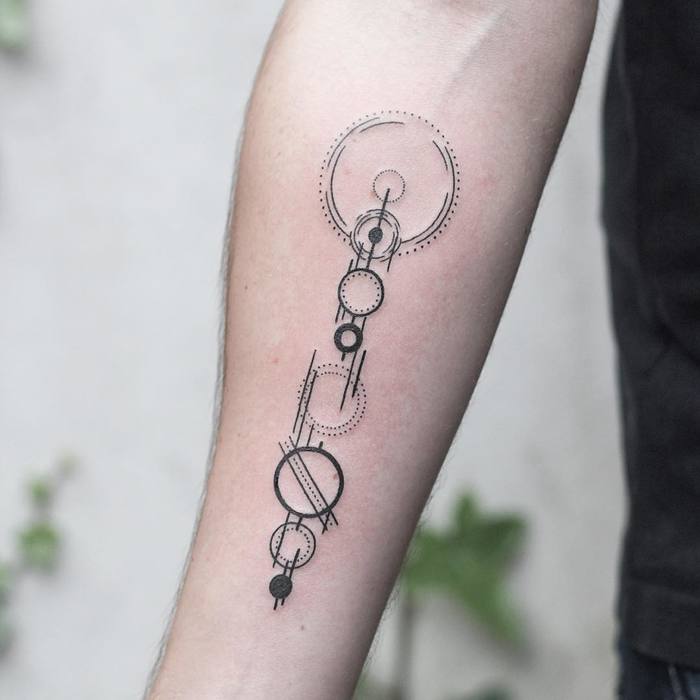 #7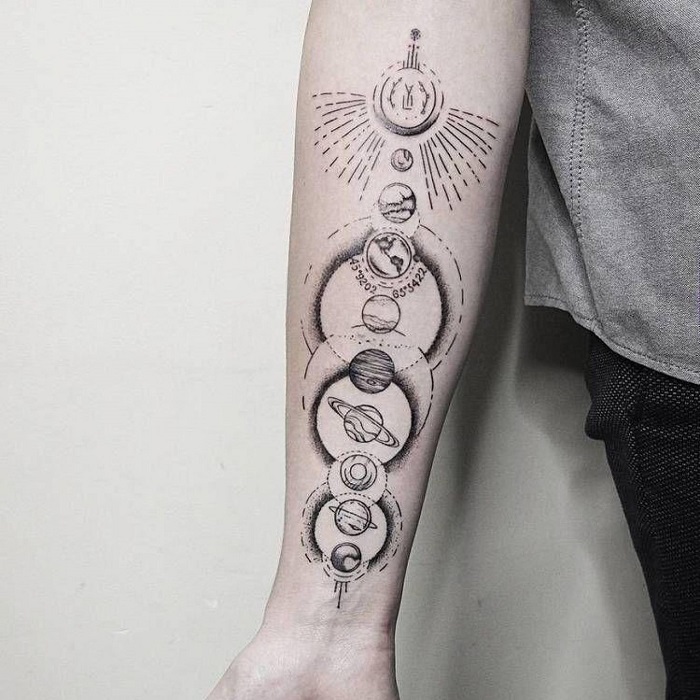 #8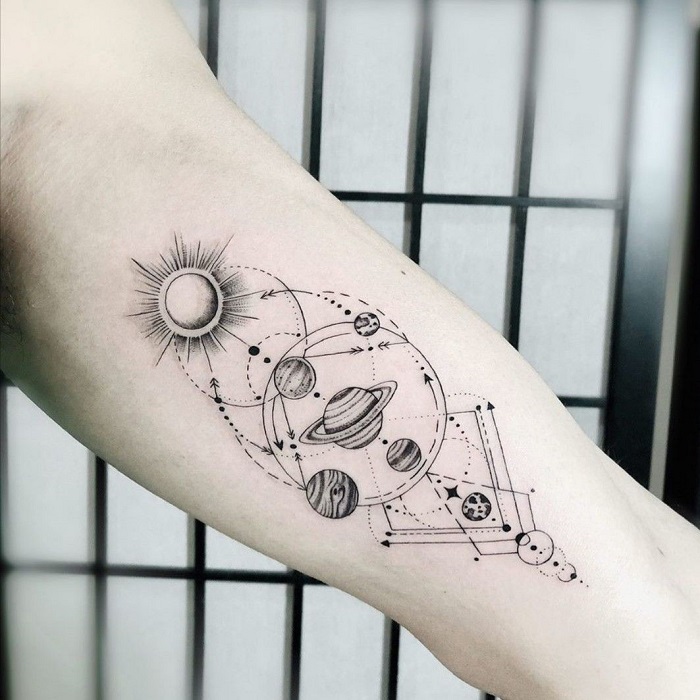 #9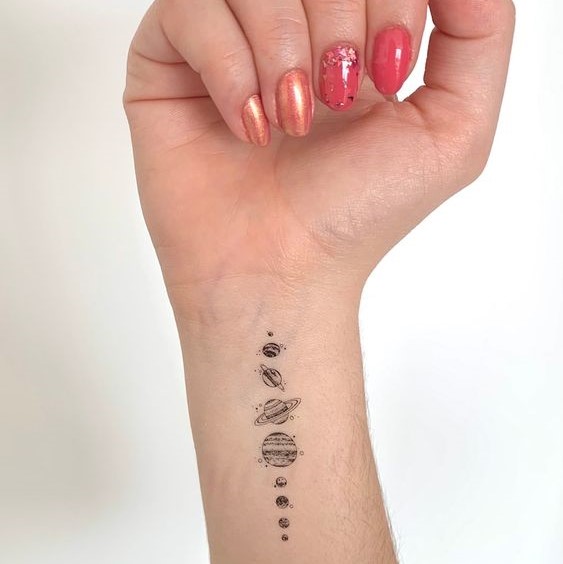 #10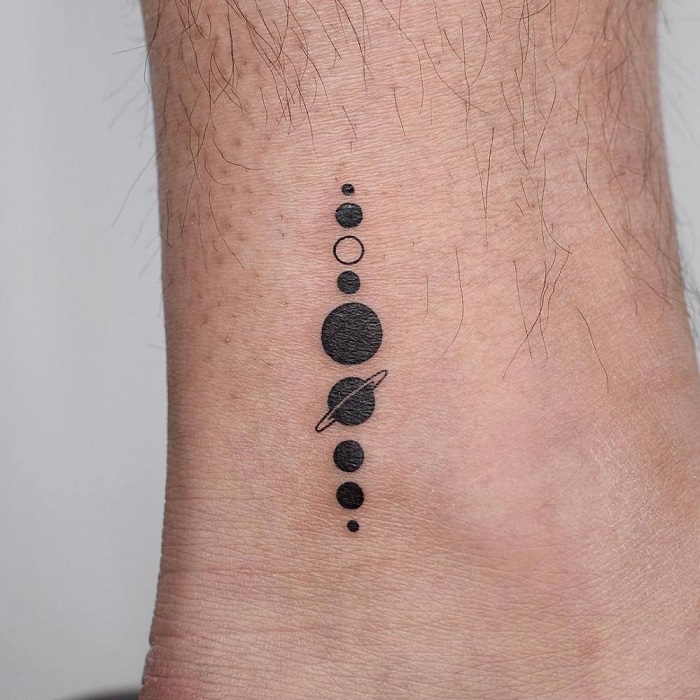 #11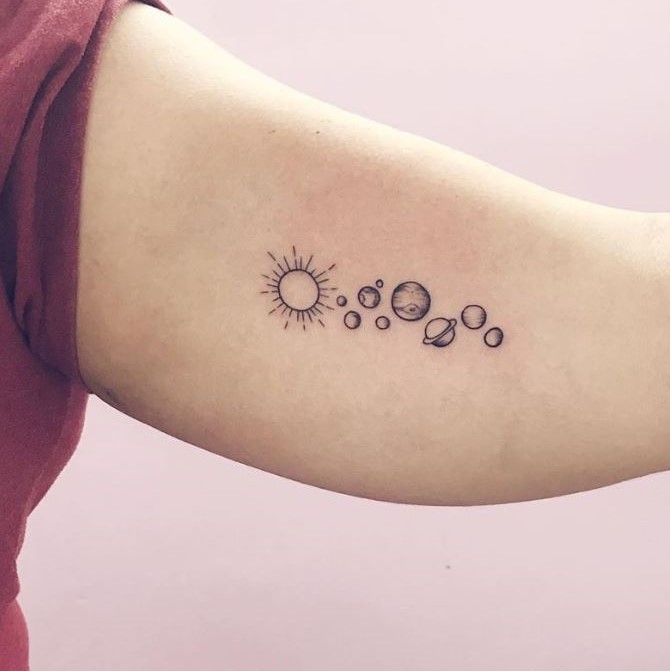 #12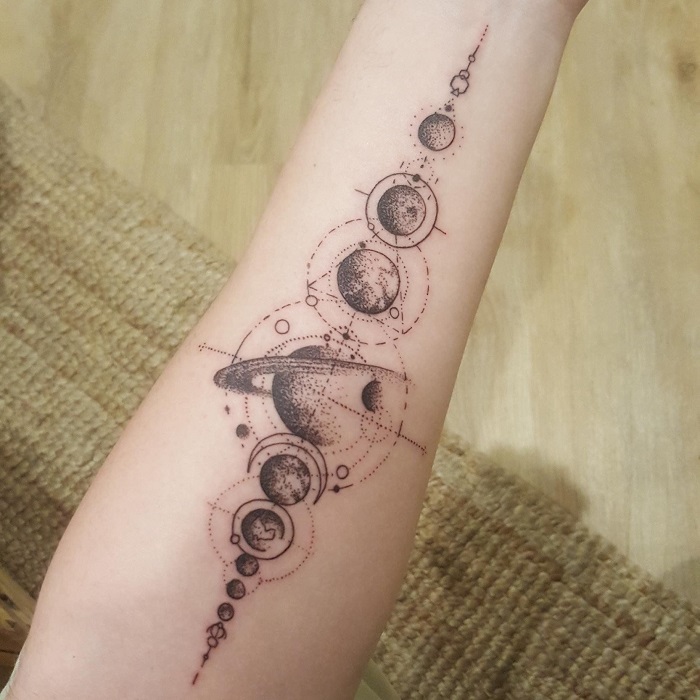 #13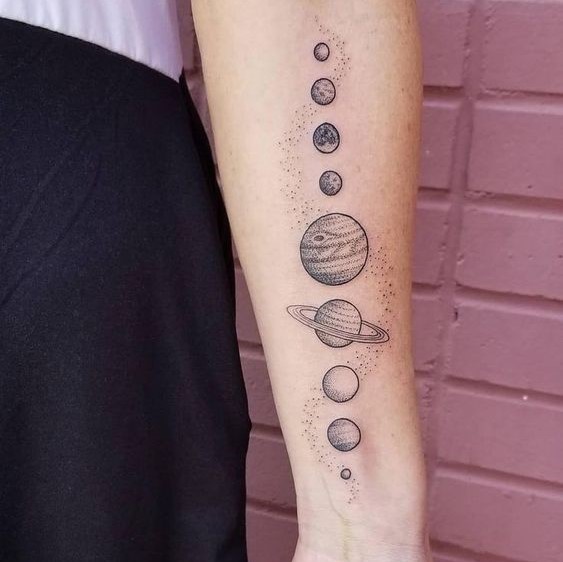 #14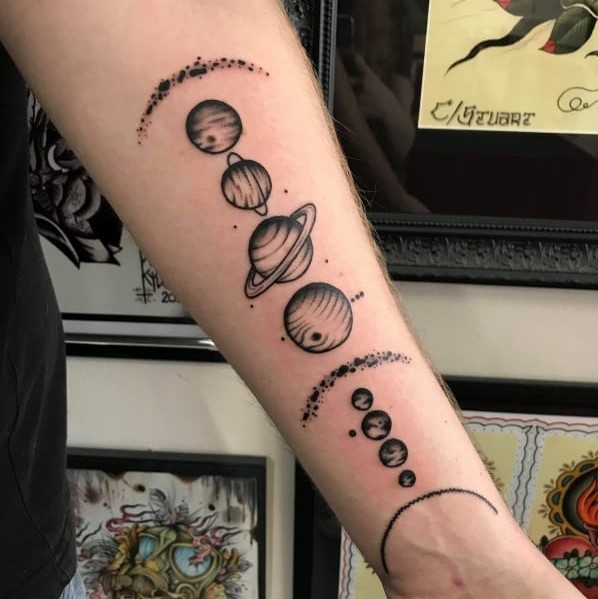 #15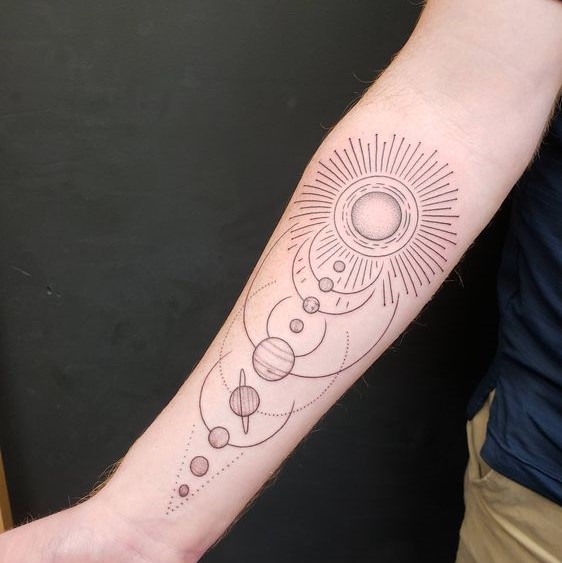 #16
#17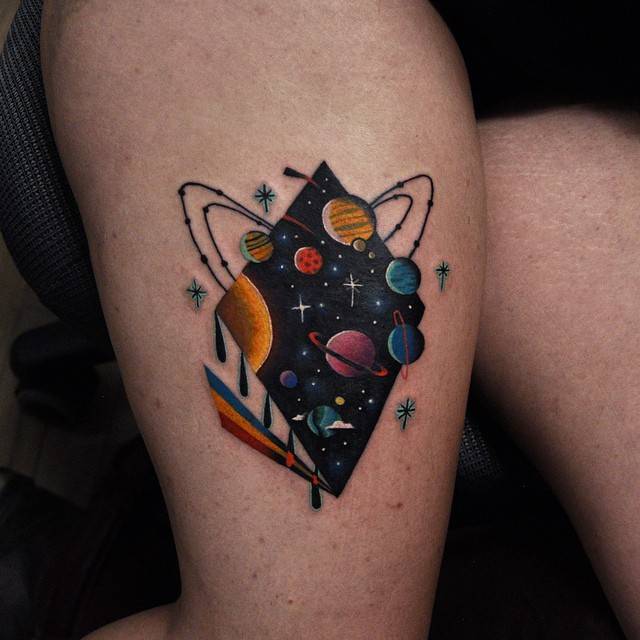 #18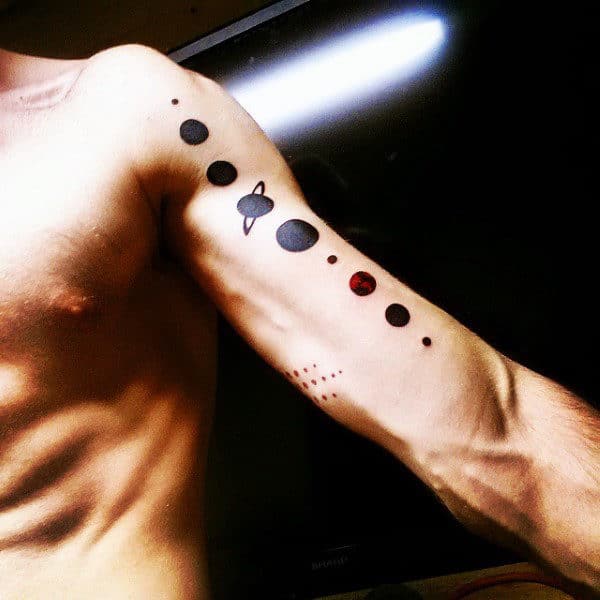 #19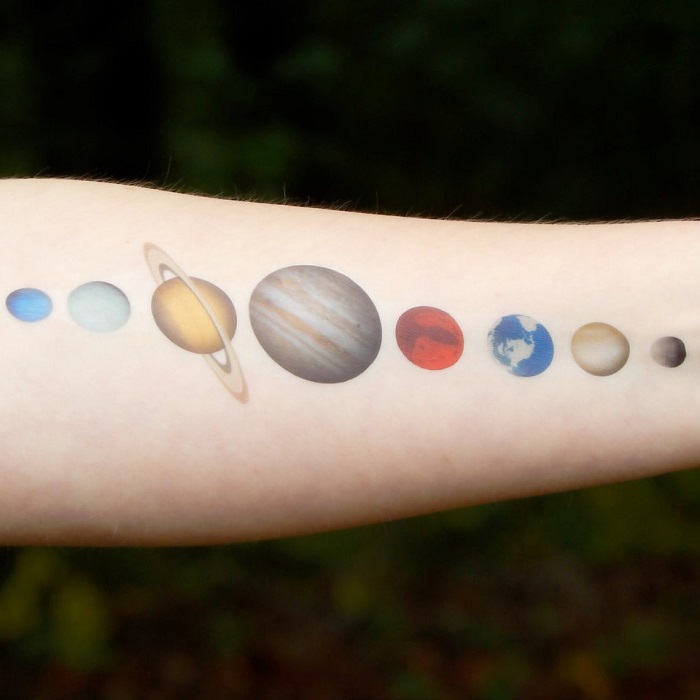 #20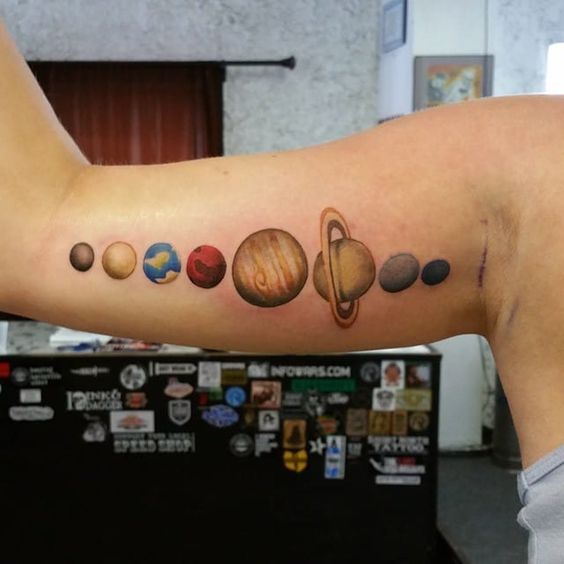 #21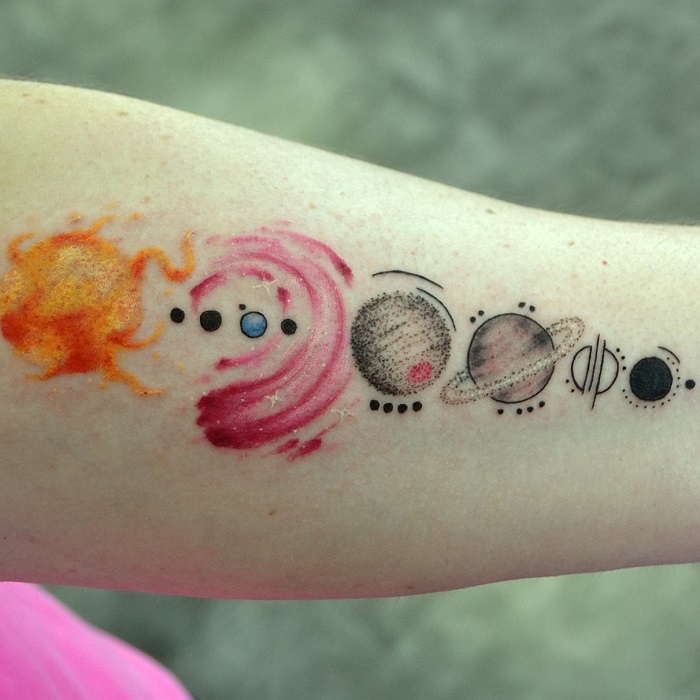 #22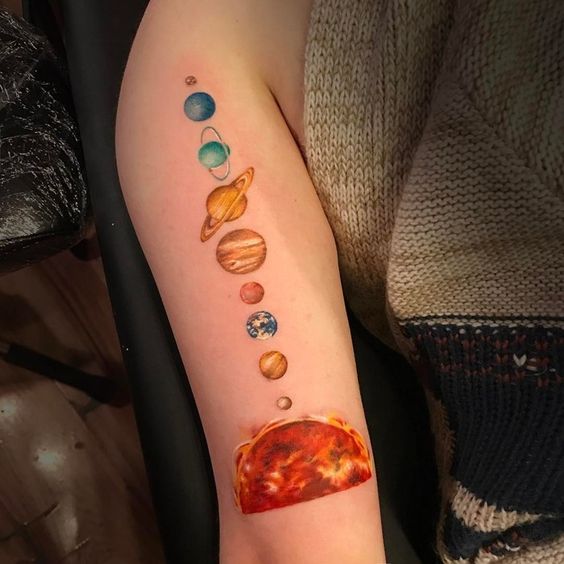 #23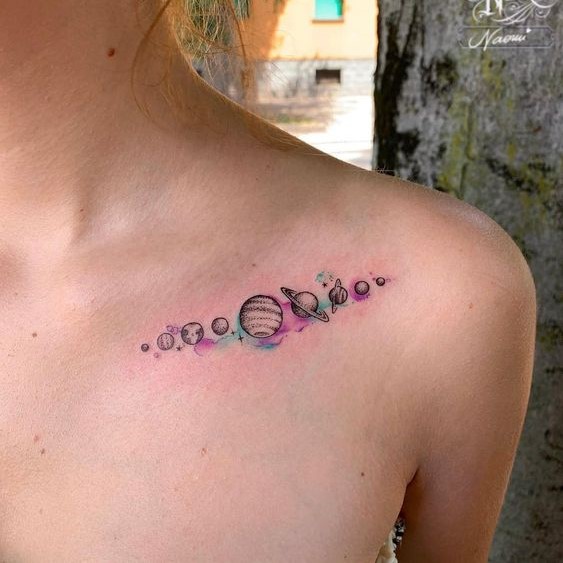 #24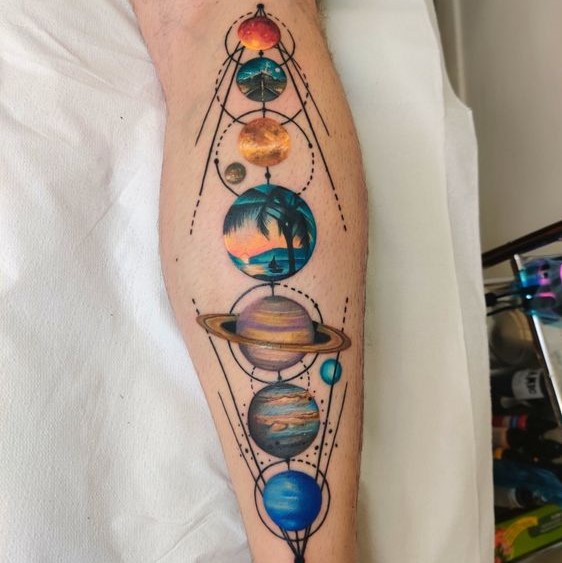 #25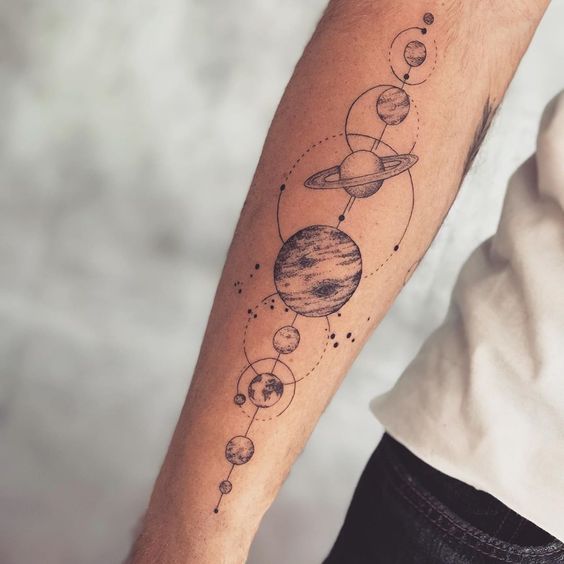 #26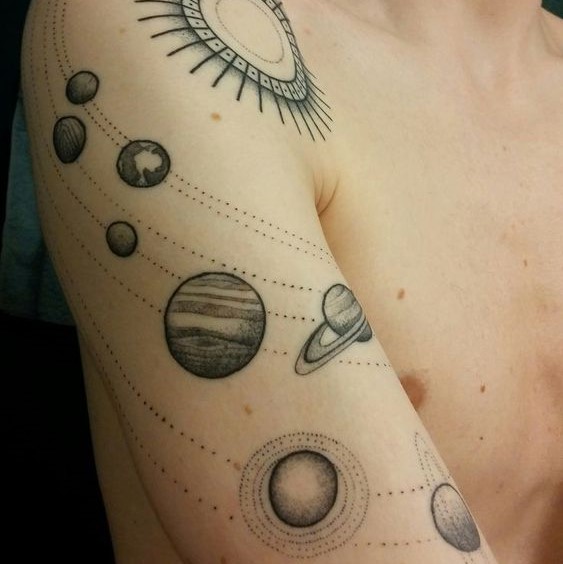 #27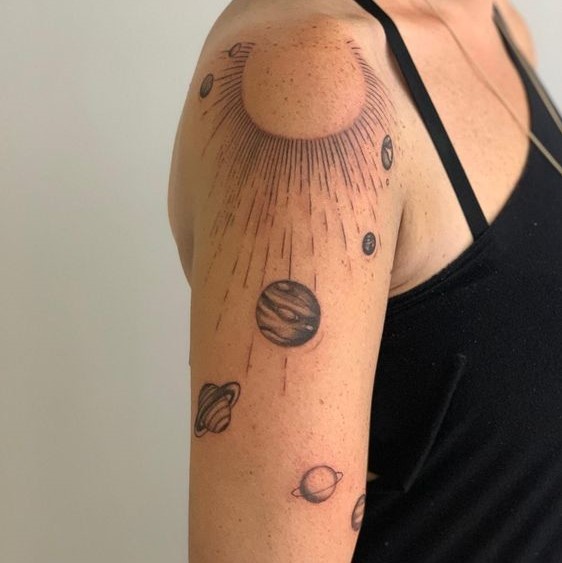 #28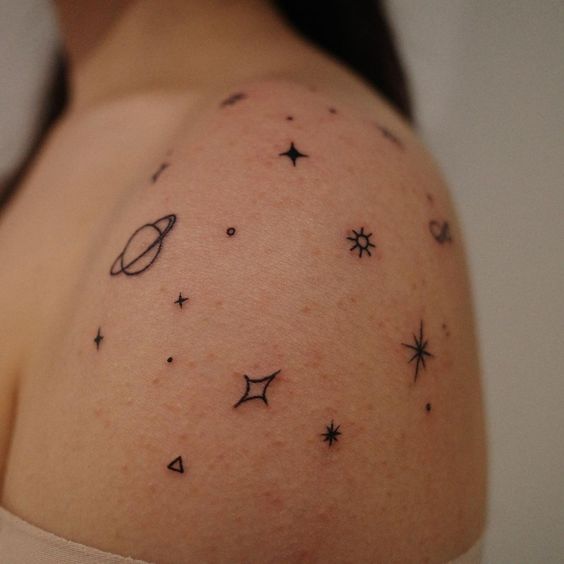 #29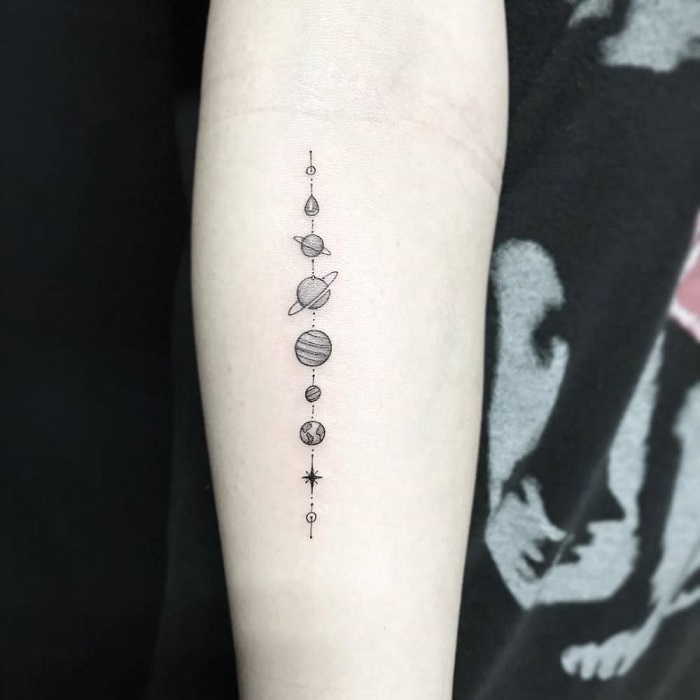 #30
#31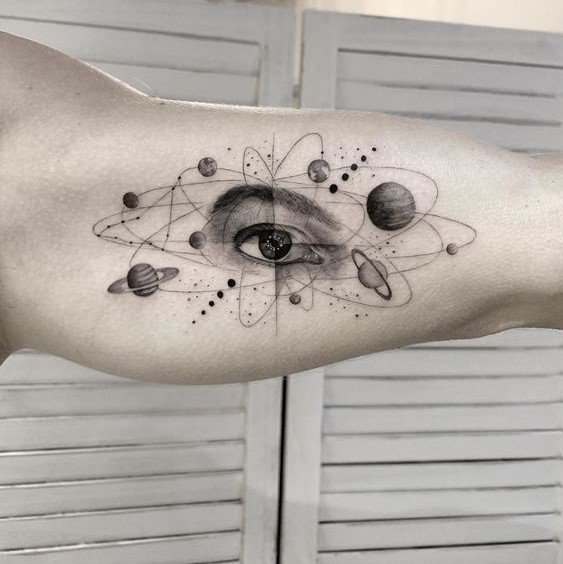 History Of The Solar System Tattoo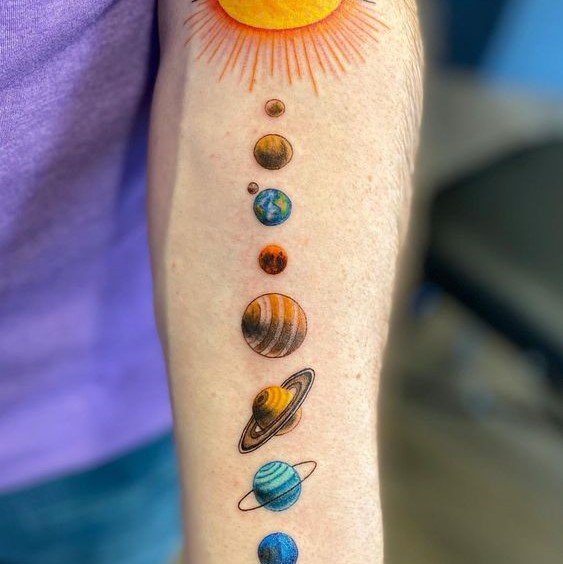 There's no real history lesson on solar system tattoos though some ink addicts and artists will tell you that the design idea has been around for decades.
Artists also note that within the history of the solar system tattoo (however long that may be), the design has changed over time. 
Some space fans design their tattoo with all eight planets orbiting around the sun while others prefer to see their planets in a neatly lined row in front of the sun.
Other designs have included all the moon phases, a confetti-like design of planets sprinkled amongst stars and comets, as well as designs bursting with color to illustrate nebulas surrounding constellations. 
In the early 2010s, space was having a movement and this did include solar system tattoos. If you were to log onto the blogging site Tumblr in the early days of its popularity, you didn't have to scroll far on your dashboard before seeing a moon tattoo.
However, we cannot say that this is when solar system tattoos began to take off, only that they were also popular during this time. 
Although the history of solar system tattoos is unknown, we can only assume (and rightfully so) that the tattoo style won't be obsolete in the coming years or decades.
Which Celebrities Have A Solar System Tattoo?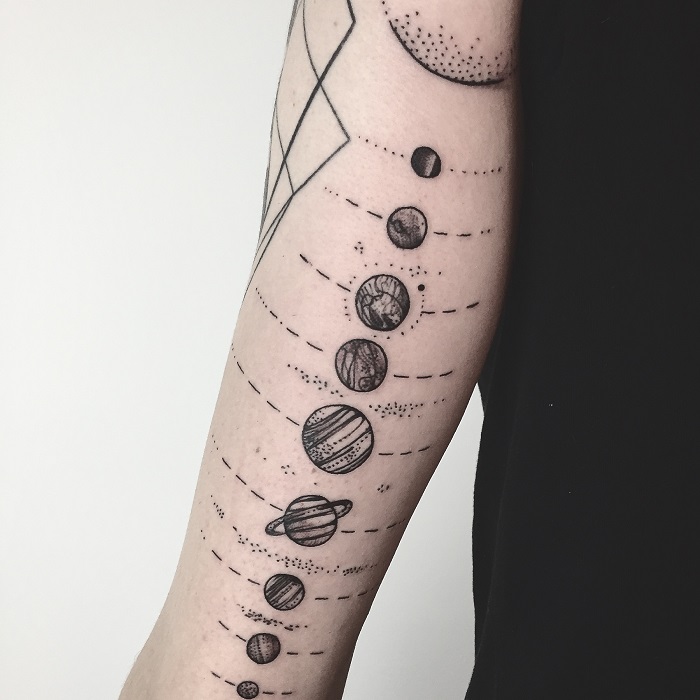 When it comes to the influence solar system tattoos have had on celebrities, well let's just say that it's very big.
While you won't spot a ton of celebrities with the whole solar system inked to their bodies, you'll see a fair collection of A-listers with space-inspired ink. 
Stars are the easiest and most aesthetically pleasing space tattoo you can get, and celebrities Kat Von D, Rihanna, and The Game all have the iconic five-pointed figure inked on their bodies. 
In terms of micro planets permanently placed onto the skin, singer Miley Cyrus is a poster girl for a collection of small tattoos which does include a small image of Saturn. Other celebrities with planet tattoos are singers Adele and Halsey. 
Moon tattoos are also a popular choice when speaking of space-inspired body art.
Billie Lourde has a crescent moon amongst stars on her ankle in honor of her Star Wars starring mother Carrie Fisher. Other stars with moon tatts are Adele, Emma Roberts, Lily Collins, Megan Fox, and Pink. 
While tattoos aren't uncommon amongst the rich and famous—especially those in the music industry—space tattoos seem to be amongst the most popular designs Hollywood's elite take part in.
Small planets on the fingers and arm are among the most loved design/placement for female entertainers while a collection of stars seem to appeal to both women and men in the industry.
And although the listed celebrities haven't yet inked themselves with the entire solar system, who's to say they won't? Or, at the very least, haven't thought about it. 
If any of the 31 designs listed above have inspired you to get your own space-influenced ink, or a full-on solar system tattoo, know that your art will be trendy amongst the stars (outer space and otherwise).
---
Looking for some inkspiration? Say no more:
The Best Bumblebee Tattoo Ideas
The Best Santa Muerte Tattoo Ideas
The Best Jimi Hendrix Tattoo Ideas
Get Access to Exclusive Deals
Subscribe for free to get exclusive deals in your inbox. 100% privacy