What Shoes To Wear With Flare Jeans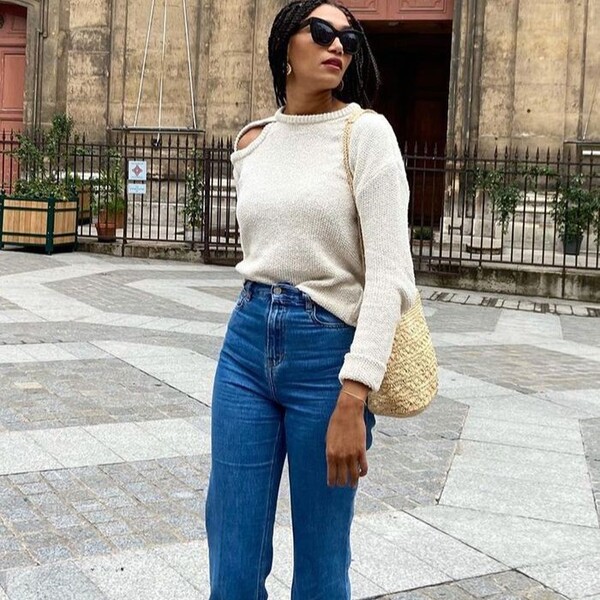 Oftentimes, finding the perfect shoes to go with a specific outfit is no walk in the park. For some, however, it's a simple matter of choosing the right type of footwear for the weather, as rain boots are suited for mud and flip-flops for summer.
But in regards to those picture-perfect afternoons, when the weather is gorgeous, the footwear options are entirely limitless. At those times, trying to decide which shoes to wear could cause some frustration, especially if you're a novice trendsetter. 
Flare jeans aren't considered a difficult garment to style, but they do require some fashion prowess to pull off. You can't just toss any ol' boot or slipper into the 'outfit equation'—putting together your ensemble requires some forethought. 
And if you're wondering what shoes to wear with flare jeans, I've developed a condensed list of outfit ideas that are bound to spark a lightbulb moment.
Plus, be sure to check out the FAQ section, where I'll address some common queries associated with this iconic OOTD. Hopefully, by the end of this style guide, you'll know what shoes to wear with flare jeans.
What Are Flare Jeans?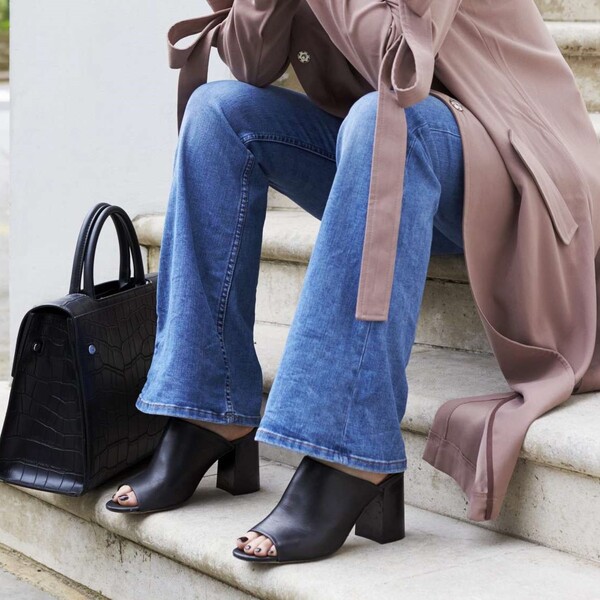 Compared to traditional skinnies, flare jeans feature a bell–bottom silhouette near the hem.
They typically come in slim-fit cuts from the waist to the knees in order to provide the illusion of an hourglass figure. There are various types of designs and washes to choose from—such as light blue, distressed, and vintage worn-in. 
History Of Flare Jeans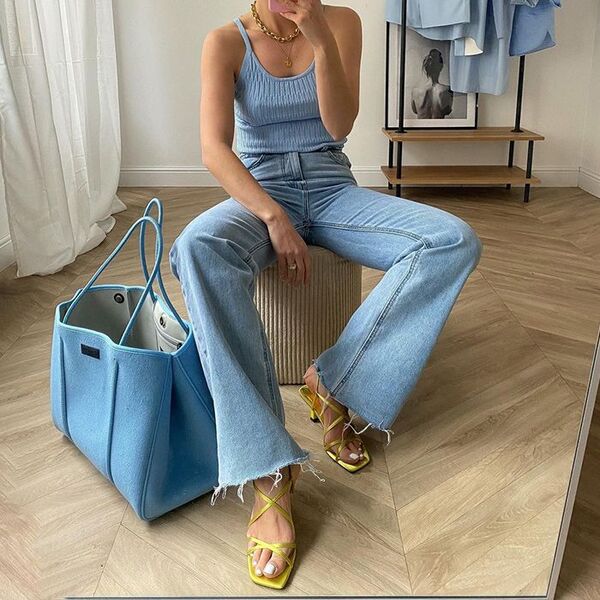 In our minds, flare jeans are usually connected with 1960s counterculture. Before their affiliation with psychedelic rock bands and disco, however, this particular garment was first popularized by sailors in the 19th century.
The functionality of their bell-bottom silhouette is still left up for debate, but most experts speculate that it made getting dressed easier. Others have theorized that it served as a flotation device. But, science has yet to approve or debunk this theory.
Like aviator jackets, military garb has a knack for seeping into mainstream fashion. Flare jeans followed suit, as they rose in popularity during the 1960s. They were considered a symbol of rebellion during the counterculture movement.
Today, FJs are perceived as an homage to authentic vintage fashion. Regarded as intrinsic to core aesthetics such as bohemian and hippie, they continue to be a popular cut of pant for several trendsetters. 
When To Wear Flare Jeans
Considering that flare jeans are made out of denim, I think it's safe to say that they can only be worn casually.
Levi's, Wranglers, Agolde's, and other reputable brands cater to everyday fashion, as their pieces are meant to be mixed with other streetwear classics. 
It's worth mentioning that flared pants aren't always constructed out of denim. They're also made from corduroy, silk, cotton, or linen.
11 Outfit Ideas With Shoes To Wear With Flare Jeans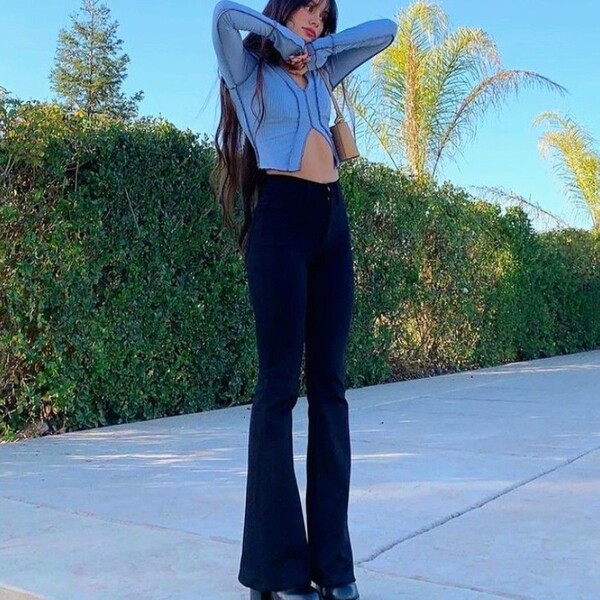 I refuse to believe that Barbie wasn't a source of inspiration behind this outfit. Known to sport the hourglass silhouette, this pop culture icon favored crop tops, platform heels, and the ever-famous bell bottoms.
This OOTD is considered a direct homage to the Mattel doll, as it features a blue long-sleeve top, a pair of black flare jeans, and a set of chunky boots to match. 
Flattering in shape and design, it's definitely emblematic of the late 2000s—which is coincidentally the decade when Barbie was quite popular.
For those in need of accessories, I suggest topping this 'what shoes to wear with flare jeans' contender off with a cute mini handbag.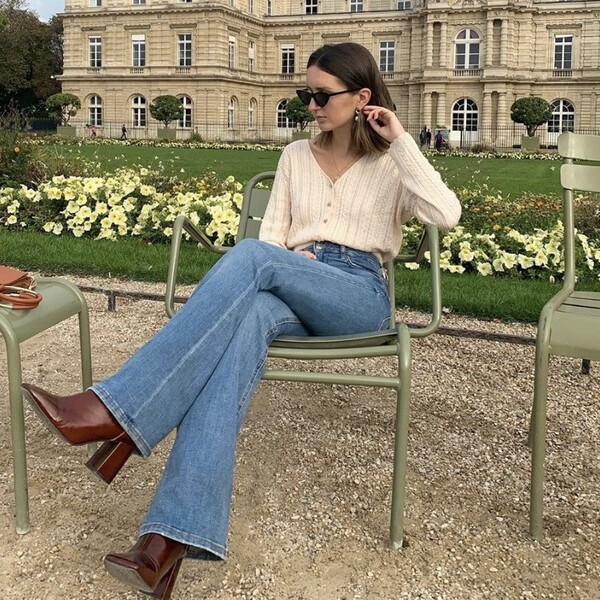 Parisian romance isn't a hard aesthetic to achieve. It relies on simplicity and closet classics, as maximalist prints and colors are typically not favored when it comes to this dress sense. For example, this 'what shoes to wear with flare jeans' contender checks all the right boxes. 
Composed of light-wash bell bottoms, a white cable knit sweater, and a pair of burgundy leather boots, it manages to exude sophistication without the need for a stiff button-up shirt or a blazer.
I highly recommend wearing some gold jewelry to help complement the warm tones of this outfit.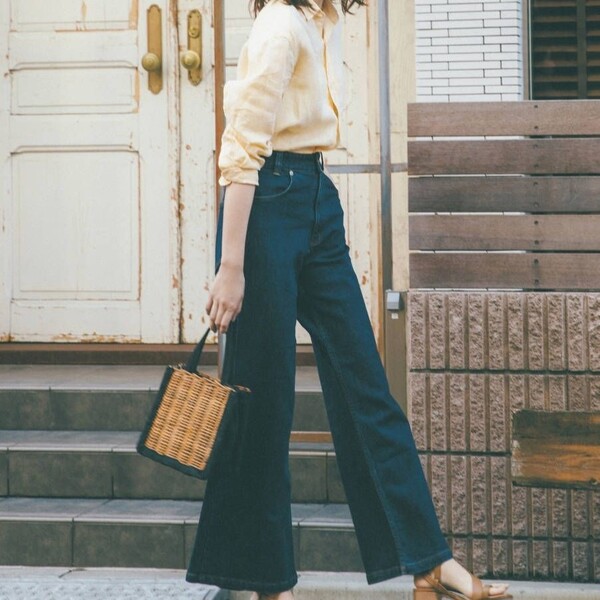 Flip flops and flare jeans are a match made in hell. That said, peep-toe shoes continue to be a popular choice. Instead of opting for a regular pair of beach thongs, I suggest some block heels for a more sophisticated alternative. 
These shoes do wonders by providing the illusion of height, which is great for those under 5'3". The rest of the outfit features a pair of mid-wash bell bottoms, a creamy white button-up shirt, and a woven handbag for a subtle touch of cottagecore finesse.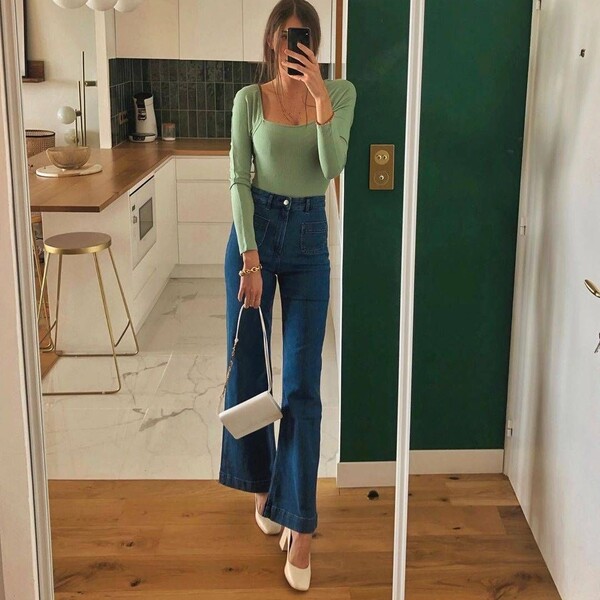 While flare jeans are forever synonymous with the flower power movement of the 1960s, that doesn't mean that you have to opt for the 'rebellious teen' look all the time. Nowadays, this closet staple is linked to other core aesthetics, such as Parisian streetwear. 
This OOTD features a sage green long-sleeve top, a pair of mid-wash denim bell bottoms, and square-toe white heels to help brighten up the ensemble. Simple in silhouette, the outfit doesn't require any loud embellishments to stand out. Its beauty lies in its minimalist nature.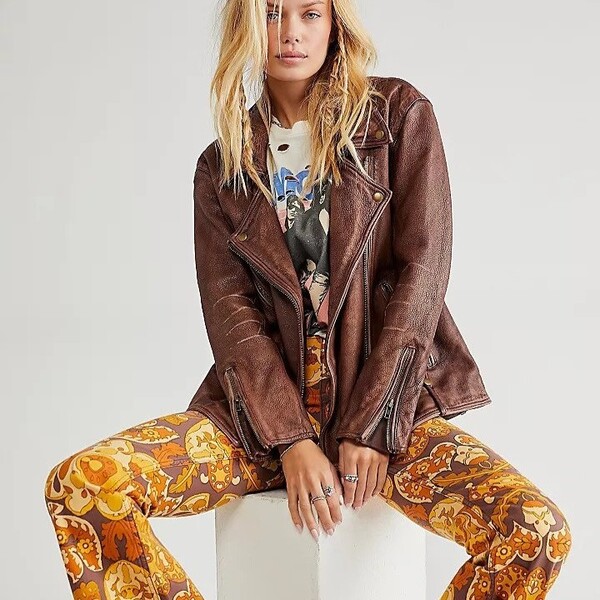 Believe it or not, these funky paisley-print pants are made out of denim. It just goes to show you that jeans aren't exclusively a selection of blues. 
Considered an excellent alternative for those who want a pop of color, this 'what shoes to wear with flare jeans' contender features toffee-yellow bell bottoms, a brown leather jacket, a graphic tee, and a pair of Nike Air Force Ones to keep things casual.
It's paying tribute to classic '70s fashion, given the bold print and hourglass silhouette.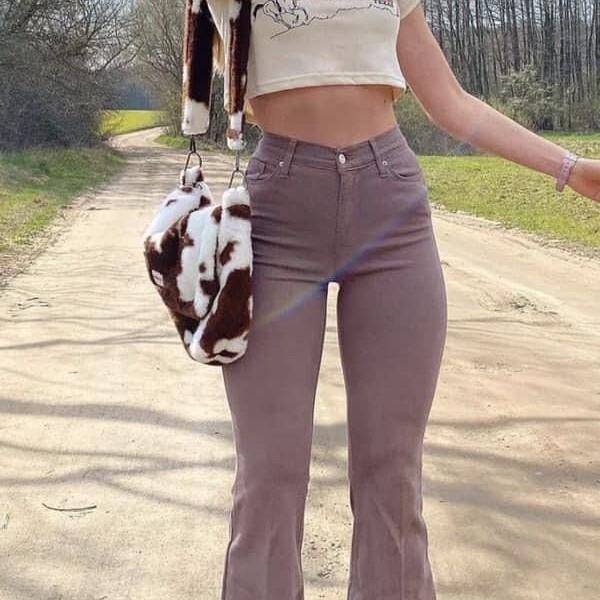 Y2K-inspired, this chic OOTD serves as a prime example that bell bottoms are worn in various core aesthetics. It features a pair of gray, high-waisted flare jeans, a white crop top, a cow-print bag, and Converse shoes to keep things lowkey. 
Accentuated with a series of necklaces, this fashion-forward contender is ready for Instagram photo ops and casual hangouts.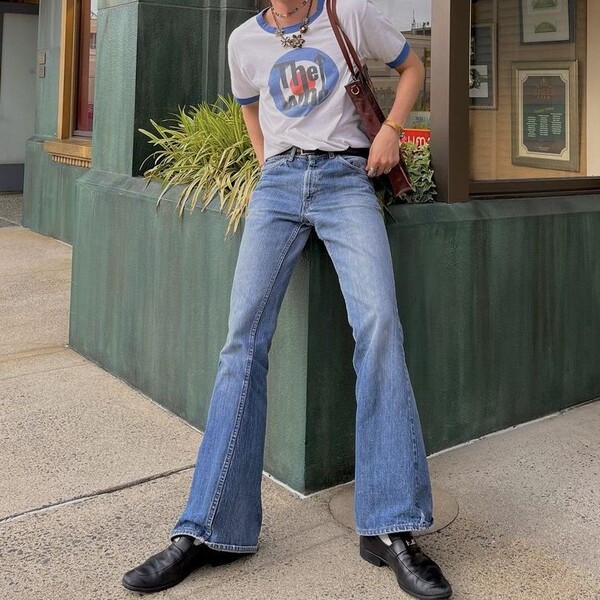 Considering that bell bottoms were popular during the 1960s, it only makes sense for me to include more hippie-inspired OOTDs in this 'what shoes to wear with flare jeans' style guide. 
Emblematic of counterculture, this outfit features a vintage band tee, a pair of light-wash pants, and a couple of black loafers for a touch of sophistication.
The brown tote bag and the stacked necklaces help to break the monotony of blacks, whites, and blues. If you're prepping for the cold season, I recommend adding a leather jacket to complete the look.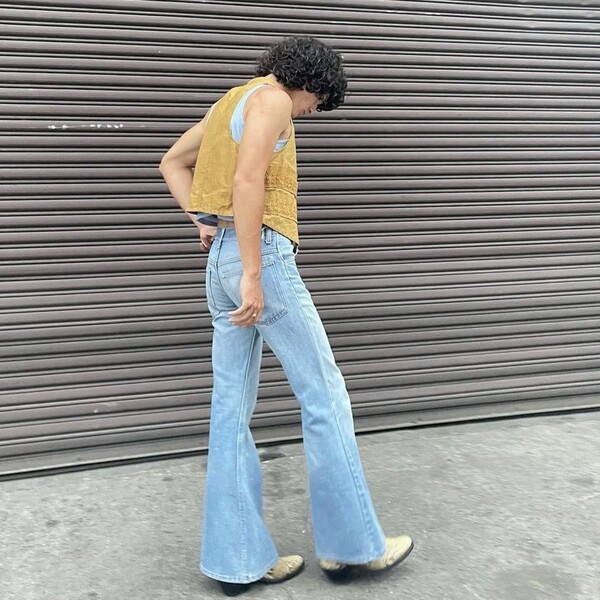 I don't know if you noticed, but we've experienced a second 1970s renaissance over the past couple of years. From music to interior design, it seems that the counterculture movement is back in full swing. 
If you're well ahead of this surging trend, I highly recommend copping yourself a pair of denim bell bottoms and a set of cowboy boots. This iconic outfit was everywhere during this influential era, as it was favored by various celebrities.
For the rest of the OOTD, a standard suede vest and a white tank top can be a notable alternative if you've outworn your go-to vintage tee.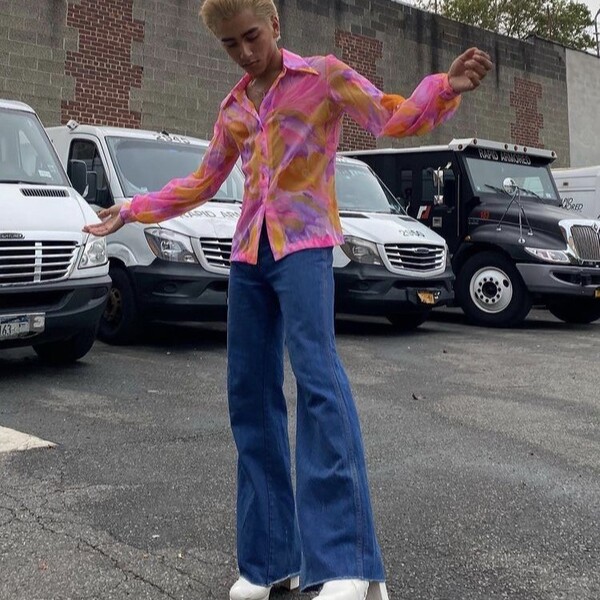 Have you ever had the urge to dress extravagantly for a simple grocery store run?
It's a strange hankering, but I'm sure that other trendsetters can relate. If you're prepping for a quick drive to Trader Joe's, this bright and bold outfit will definitely stand out among the sea of sweatpants-clad customers. 
Composed of a colorful button-up shirt, a pair of mid-wash jeans, and a set of white platform boots, this chic OOTD will likely trigger a 'why are you all dressed up on a Tuesday afternoon?' query from others.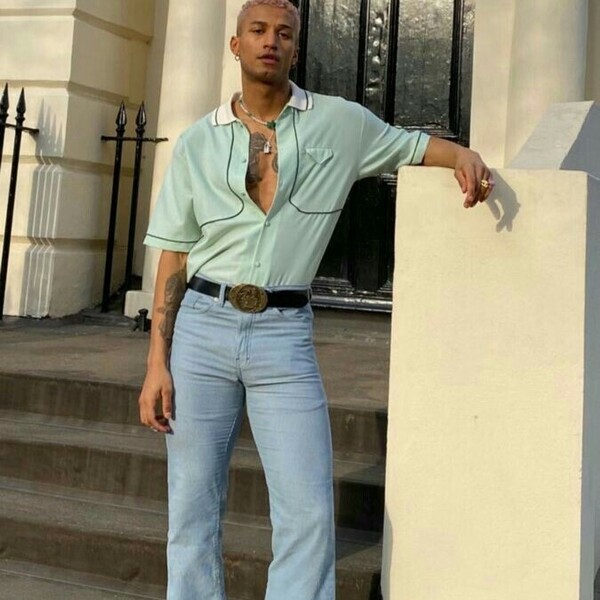 Speaking of 'extra,' this 'what shoes to wear with flare jeans contender' is something you'd wear for Instagram photo-ops.
The mint green button-down top paired with the bright pink boots definitely has a 'Ken doll' vibe, which is great for those looking to cop that Barbie aesthetic. 
While the jeans are quite bold in silhouette, their light-blue wash helps to tone down the vibrancy of this OOTD. In terms of accessories, you can never go wrong with a standard brown belt and a series of stacked necklaces.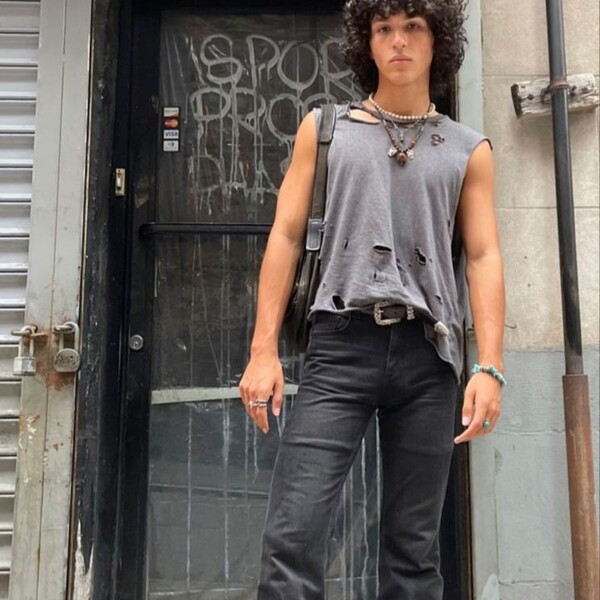 Given that flare jeans are quite fitted in silhouette, adding a tattered tee can help juxtapose the sophisticated nature of bell bottoms.
This outfit is considered a prime example of this, as it features a holey gray tank top, a pair of black pants, and pointed-toe suede shoes for a hint of jazz. 
Plus, the stacked necklaces and the leather belt add a touch of glitz to the entire look, which is necessary given the dark tones of this OOTD. For those in need of additional accessories, a vintage handbag can do the trick.
What Type Of Shoes Can You Get?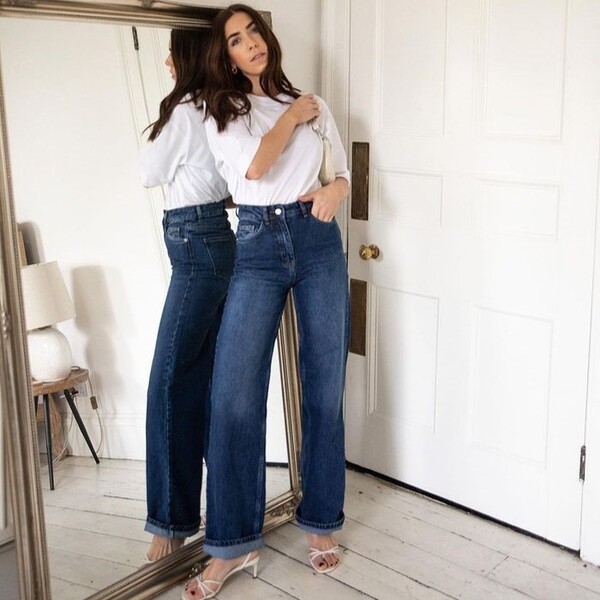 I'm fairly certain that childhood games such as dress-up and playing with dolls were practice for future outfit coordination. We learned that fashion involves thousands of different options, as we were encouraged to get creative with our outfits.
Flare jeans typically require a curated selection of footwear, but you probably already knew that—considering it's a Barbie and Bratz staple. 
Are you still wondering what shoes to wear with flare jeans? If so, I'll discuss some trendy options worth considering.
Platform-heeled boots: Considered a staple in the '60s and '70s fashion, these shoes can help add a touch of 'disco finesse' to your final look.
Doc Martens: Chunky lace-up boots go intrinsically well with flare jeans. They definitely scream 'art school student' vibes.
Open-toe heels: For those in search of a more breathable alternative, these shoes are perfect for the warm season.
Cowboy boots: Western fashion and flare jeans go hand-in-hand. Take this as your sign to experiment with different cuts, colors, and prints.
Pointed-toe boots: Most of the outfits I've showcased in this 'what shoes to wear with flare jeans' style guide feature this type of shoe.
Sneakers: Air Force Ones, Air Jordans, Converses, and Vans offer a modernized look if you're not a fan of '60s or '70s fashion.
How To Choose The Best Shoes To Wear With Flare Jeans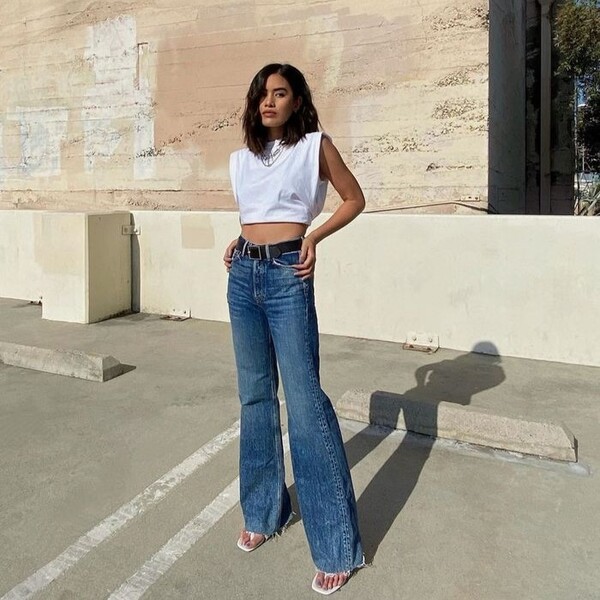 Out of the five shoes I've recommended, there's a good chance that you only own one or two pairs. Additionally, it's natural to assume that some of you are shopping for a new pair.
High-quality footwear isn't a rarity these days, as there are several reputable brands to support. That said, the intermix of fast fashion companies has made it more difficult to invest in a semi-reasonable $100 set.
While it's tempting to settle for a $10 pair of sneakers sold on websites like Romwe or Shein, it's not recommended. Fast fashion brands are notorious for cutting corners, as they typically favor cheap materials and shoddy construction.
On the other hand, a good pair of shoes are usually made out of durable materials such as rubber, canvas, leather, and suede.
Customers should also consider details such as laces, zippers, and any integrated support like insoles. These key features help ensure the overall functionality of the footwear. 
Practicality is another important point to consider. At the end of the day, you should settle on a pair that's comfortable and versatile in terms of outfit coordination.
Neutral tones, such as white, black, and beige, are highly recommended—given that they match several outfits. And if you have a difficult time wearing heels, it's probably best to opt for boots and sneakers instead to ensure continued use.
Price-wise, a good pair of shoes usually retail for $60-$200, depending on the brand and the design. You can rest assured that most reputable brands sell footwear for around the $100 mark, so there's no need to visit your local luxury department store to ensure material quality.
How To Style Shoes With Flare Jeans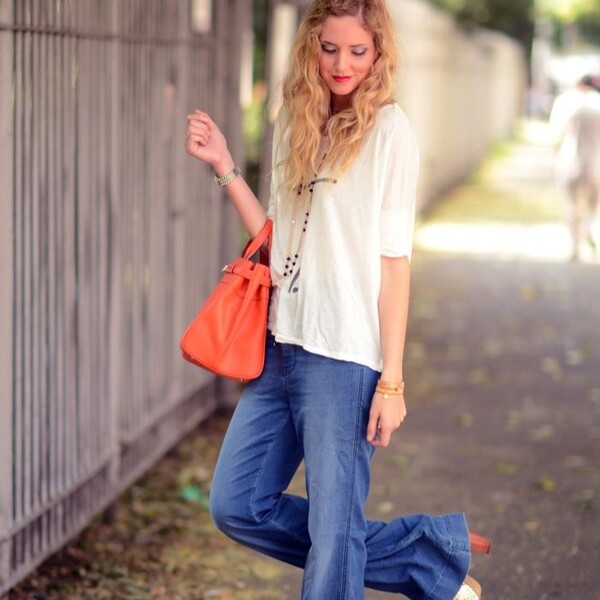 Given their connotation, flare jeans require a bit of 'flair' in terms of accessorization. Consider it a prime example of 'balancing,' as fashion involves a mix of minimalism and maximalism to help ensure a cohesive fit.
So, up next, I'll share some styling tips in this 'what shoes to wear with flare jeans' guide. 
Jewelry galore: Whether dainty or bold, the flamboyant nature of flare jeans pairs well with excessive jewelry—such as necklaces, rings, and earrings.
Counterculture finesse: As previously mentioned, flare jeans were popular during the '60s and '70s. If you're fond of vintage fashion, I highly recommend wearing period-appropriate clothing such as sweater vests, head scarves, and pointed-toe boots.
Loose-fitting tops: Given that flare jeans provide a tailored silhouette, juxtaposing them with a relaxed tee can help balance out your proportions.
Consider the cut, design, and color: Bell bottoms aren't always blue. They can also be brown, black, or even decorated with prints.
A fun handbag: A dainty purse or a crochet tote bag can do wonders by complementing your final look.
Fashion Tips To Avoid With Shoes Worn With Flare Jeans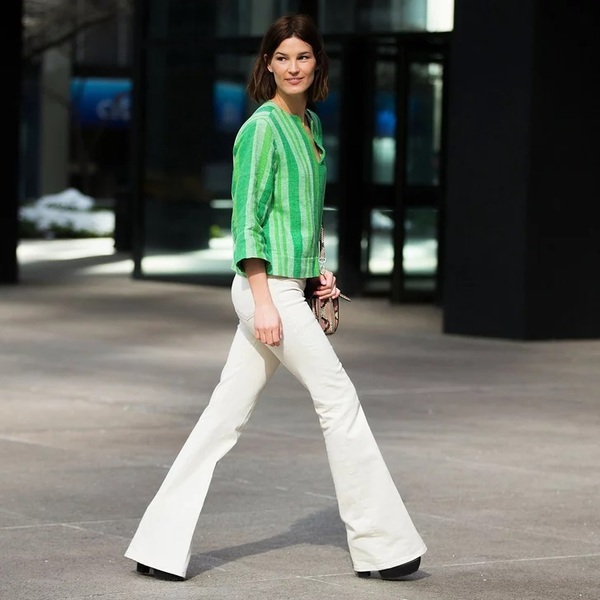 I'm fairly confident that you know what shoes to wear with flare jeans now. Given that I've discussed the fashion do's through exploring several iconic fits, it's time to address the don'ts.
I'll share some styling tips to avoid to help prevent post-Instagram regret. 
Specific footwear: Uggs, flip-flops, Crocs, and Moon Boots clash with the boho nature of bell bottoms. If you're still wondering what are the best shoes to wear with flare jeans, I suggest reviewing the previous section of this style guide.
'Bell-shaped' jackets: The perfect coat will have a tapered, triangular silhouette to help accentuate the waistline. Those that puff out and cinch in the middle will usually create an unflattering shape.
Harnesses: Leave unnecessary belts, straps, and buckles for leather pants. The flamboyant nature of flare jeans speaks for itself.
Hoodies: The lax vibe of pullovers clashes with the bold silhouette of bell bottoms. Sure, they're comfortable, but they do absolutely nothing for you in the fashion department.
The super distressed look: Jeans aren't jeans anymore if they feature a dozen-some selection of holes and rips.
How To Take Care Of Shoes Worn With Flare Jeans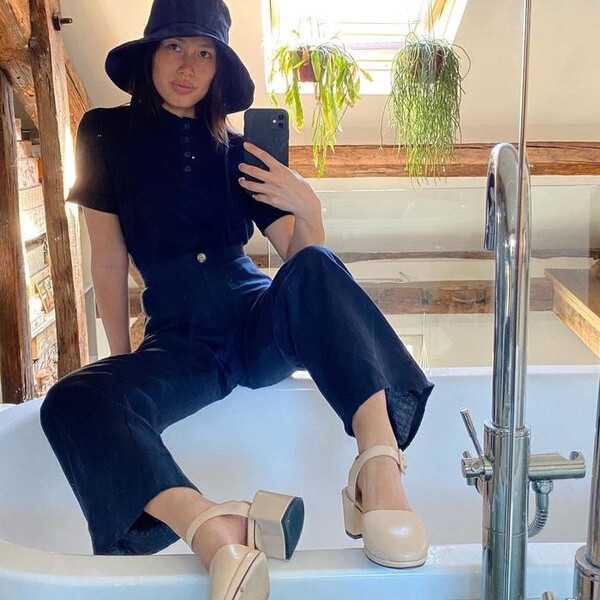 Shoes and flare jeans come with different care instructions, but you probably already knew that.
Footwear requires a routine brush to eliminate any surface-level debris. For stains, you can use a damp cloth soaked in a bit of soap to help remove any blemishes.
Storage-wise, it's always a good idea to keep them in a dark and dry place to ensure they stay in good condition 
When washing flare jeans, a traditional solution of cold water and gentle detergent is always recommended. I don't suggest tossing them in the dryer, as this may result in shrinking and ripping. Instead, you should opt to air-dry them naturally.
Best Places To Buy Shoes To Wear With Flare Jeans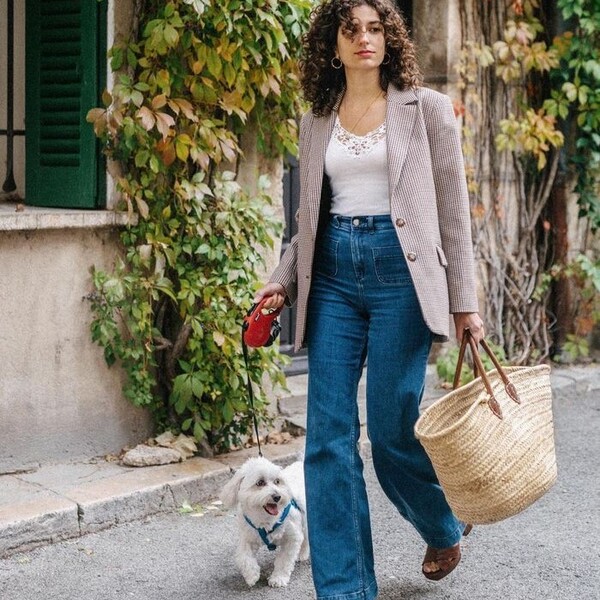 Before I conclude this style guide, I'd like to recommend some stores for trendsetters to consider.
Flare jeans:
Reformation 
Levi's 
Agolde 
Citizens of Humanity 
Shoes:
Sam Edelman 
Church's 
Browns 
Foot Locker 
Final Thoughts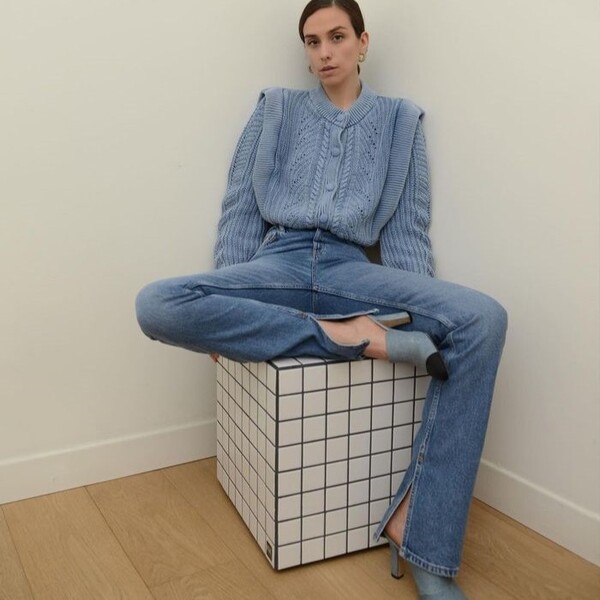 Trying to put together a new outfit you've never worn before will often trigger some anxiety. And it takes a level of confidence to go outside your comfort zone, especially when it comes to fashion.
Thankfully, flare jeans are relatively easy to style, given that they've been around for several decades. In fact, they're intrinsic to multiple core aesthetics, so you're bound to find an outfit that speaks to you.
And after viewing the 11 looks I've featured, here's to hoping that you know what shoes to wear with flare jeans. 
---
Check out some of our other style guides:
How To Wear Oversized Sweaters
Get Access to Exclusive Deals
Subscribe for free to get exclusive deals in your inbox. 100% privacy