What To Wear to a Graduation Party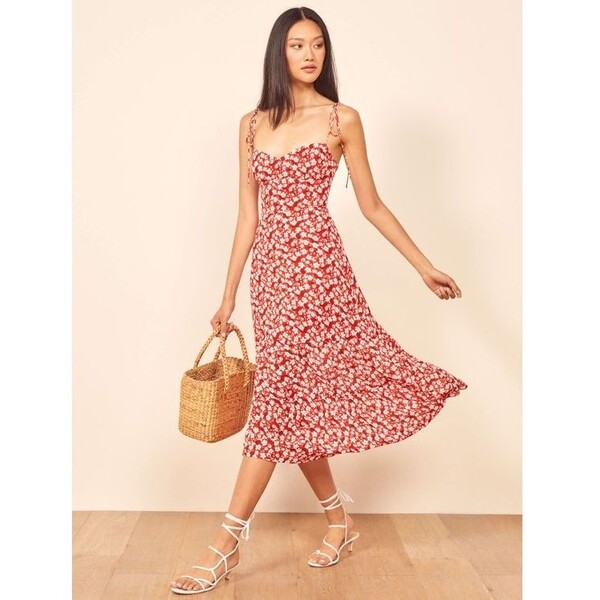 A graduation party is a celebration, not only of the accomplishments you've made but of the memories that you'll hold dear to your heart forever.
That being said, you may be wondering what to wear to a graduation party, especially since the photos you take will probably last the rest of your life.
It can be a little difficult to style the perfect outfit and you may be overwhelmed by all the style options—especially since many of them are either too formal or too casual. Or, you might have trouble picking a stylish look that's comfortable enough to wear to the ceremony and the after-party. 
Fortunately, we're here to help. After reading our guide, knowing what to wear to a graduation party won't be a mystery anymore. you'll know:
A few graduation outfit ideas
What to wear to a graduation party as a guest female edition
What to wear to a graduation party as a guest male edition
Where to buy graduation dresses and outfits
Fashion tips to avoid with your graduation outfits
What is a Graduation Party?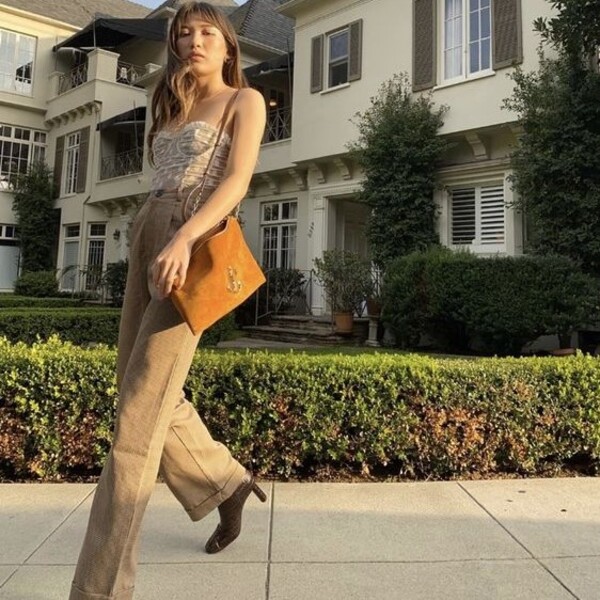 Graduation parties are designed to honor graduates and their accomplishments.
They can take place in a number of locations, from boats, and backyards, to hotels, and golf clubs. Plus, graduations usually occur in the warmer months and double as a great way to start the summer.
They can also include the graduation ceremony itself, where the grad receives a certificate, degree, or some sort of award for what they've achieved.
Essentially, graduation is a right of passage, and a graduation party is meant to celebrate this monumental achievement.
What to Wear to a Graduation Party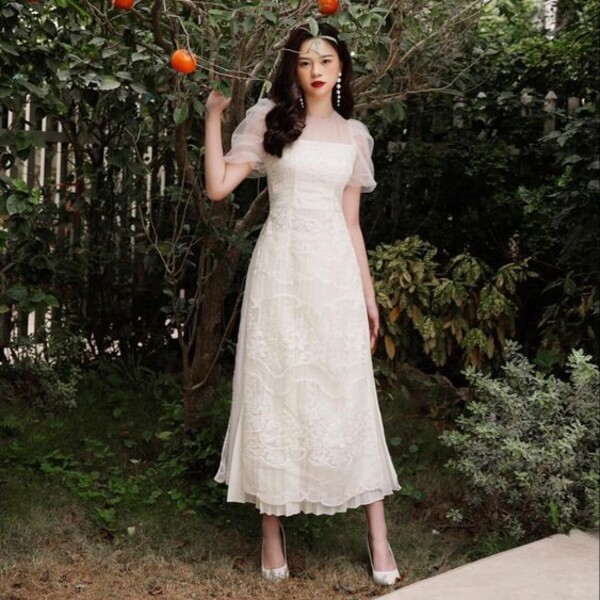 When you're tearing your closet apart on the hunt for something suave and stylish enough for your graduation party—or for a graduation party you're attending—you might have a hard time trying to decide what to wear. But don't worry, there are a few staple pieces ideal for the event.
There is a general 'dress code' for graduation parties: essentially it's a blend between sophisticated and casual. So outfit options can range across the board from there.
A T-shirt and jeans aren't the right option, while a ball gown is way too formal. So, when thinking about what to wear to a graduation party, it's all about finding the look that's 'just right.'
Dresses, pantsuits, skirts, dress shirts, jumpsuits, and dress pants are all perfect, basic pieces that you can build your outfit around. Choose one of these to help get your outfit off to a great start. From there, you can add accessories and choose pieces that either dress up or dress down your look.
With that in mind, we'll take a look at some outfit ideas for what to wear to a graduation party below. We've chosen a selection of graduation outfits for both girls and guys.
5 Outfit Ideas for a Graduation Party for Girls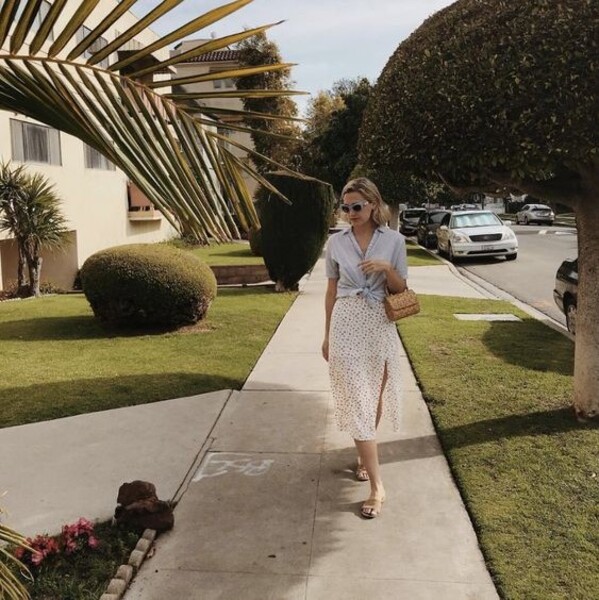 Sophisticated
Whether you're a guest at someone else's grad or attending your own, you can't go wrong with a good ol' jumpsuit. The lengthy, white fabric elongates the legs, making it ideal for gliding across the stage.
The deep navy cape adds a more sophisticated touch, and may also mark the moment when you progress into the business world.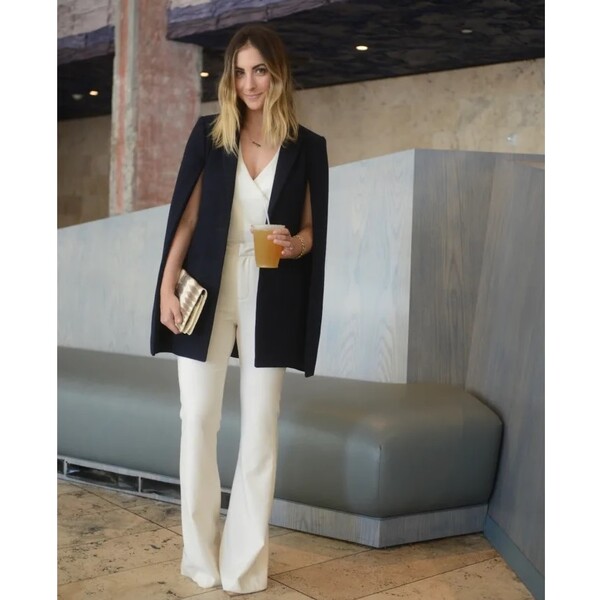 We recommend wearing some strappy black heels, which will peek through whenever your foot shows from beneath the wide-leg jumpsuit. The clutch adds a simple pattern to the outfit, and the taupe color would pair nicely with some dainty gold jewelry.
Summery
For something bright and joyous like a graduation party, opt for a sunny and warm color like yellow. This mini dress features an eyelet detailing, scalloped edge, and ruffle sleeve for a feminine and summery look.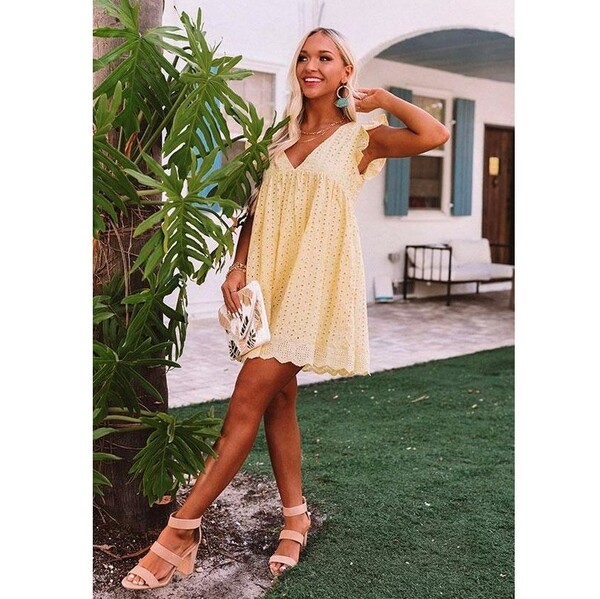 The nude strappy heels elongate the legs, while the turquoise tassel earrings add another bright color into the mix. The gold jewelry pairs nicely with the model's summer glow, while the long curls are reminiscent of beachy waves.
Chic
If you'd prefer something that's chic while still being fun, wear an off-the-shoulder romper. This lilac color feels very spring-like, which is fitting given that a graduation marks the start of a new beginning.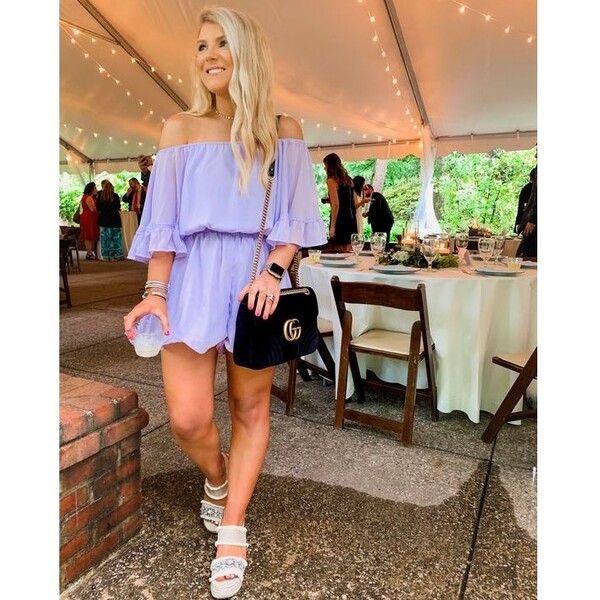 The flowy mesh material looks fresh and airy, which is ideal for a warm day, while the flared sleeve and cinched waist create a feminine silhouette. The chunky platform sandals add a pop of white to the outfit, and the Gucci bag looks deep and bold against the lilac jumpsuit.
Some dainty gold jewelry and long curls complement this look nicely. And both the jewelry and curls are classic and timeless styles, making this look ideal for documenting memories and creating gorgeous, keepsake photos.
Fancy
On your big day, you can opt for something a little fancier too. This look is a bit more minimal when it comes to accessories, which allows the midi-fit dress to do all the talking. The aubergine dress is the main event here, though you could choose another color if you'd prefer.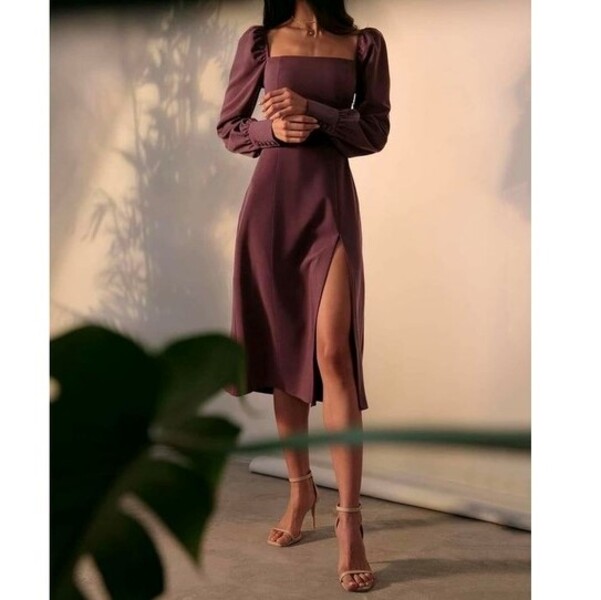 The square neck looks both modest and put together, while the high slit on the leg adds a risqué detail. The puff sleeves and fitted cuff look chic and classic, while the cinched waist and slight flare of the skirt add a little more dimension to this dress.
The strappy nude heels are a simple addition, elongating the legs, and they'll pair nicely with any cap and gown.
Minimal
Guests and grads can dress easily and stylishly in a minimal and comfortable jumpsuit. This jumpsuit, with its wide legs and square neck, has a sophisticated and modest style. Yet, the cutout along the waist creates a curvy silhouette and adds a unique flair.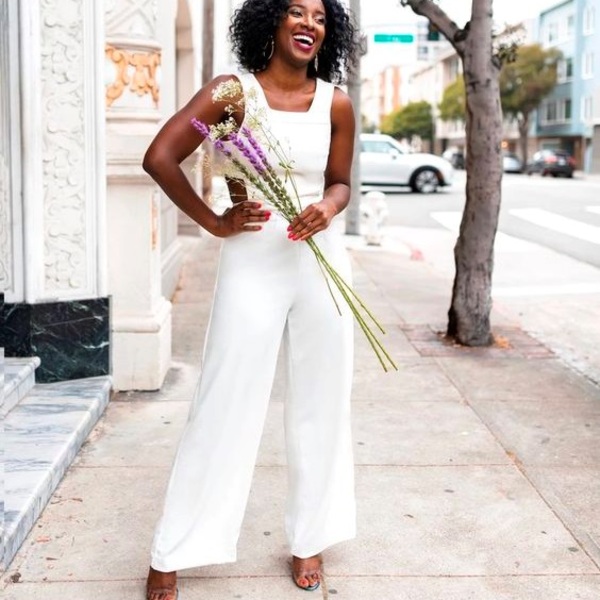 The heels are light and simple in design and complement the neutral tone of the jumpsuit. But we do recommend adding a pop of color, whether that's strappy heels that match your school colors, or a pair of shoes in your fave color. 
Wear some gold hoops and a bold red lip to add a little more pizzazz to this simple ensemble, and you'll be ready to walk across the stage in style and head straight to a party!
5 Outfit Ideas for a Graduation Party for Guys
Classic
A classic grad getup features a lightweight blazer and some dress pants, but this look puts a little spin on this tradition. The pastel shades, with a chambray blue bottom and baby pink blazer, look sweet, simple, but also sophisticated.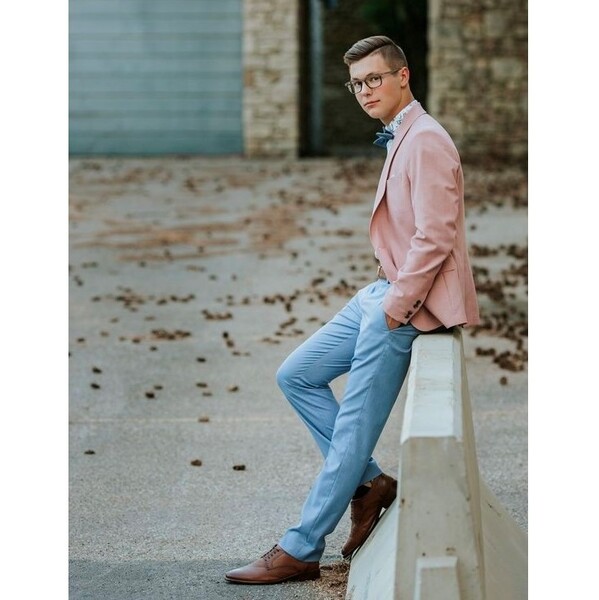 The patterned button-down shirt adds a little dimension to this look, and there are a number of different pattern options you could choose from. The bowtie is a cute, lighthearted touch, while the classy brown dress shoes ground the outfit, and make it look more put together.
Dressy
If you prefer something simple and comfortable that's still dressy, opt for a short-sleeved black polo top with a nice fit. Tuck it into some dark gray, tapered dress pants for a polished, sleek look.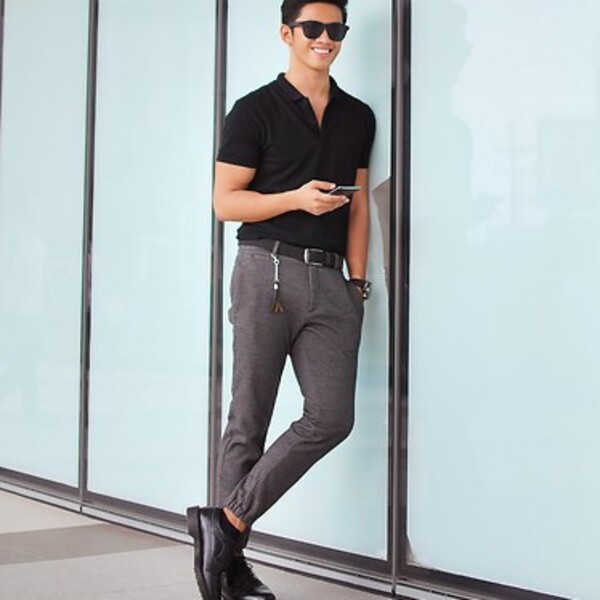 Slip on a pair of black or brown dress shoes or Oxfords to complete the outfit, and add a simple carbon black bracelet for some visual interest.
Patterned
If you're not sure where to start with your graduation party outfit, a patterned top is a great way to make a statement without having to stress too much!
This look features a white, short-sleeved button-down top with a pink feather pattern—although you can choose whatever style and color you like.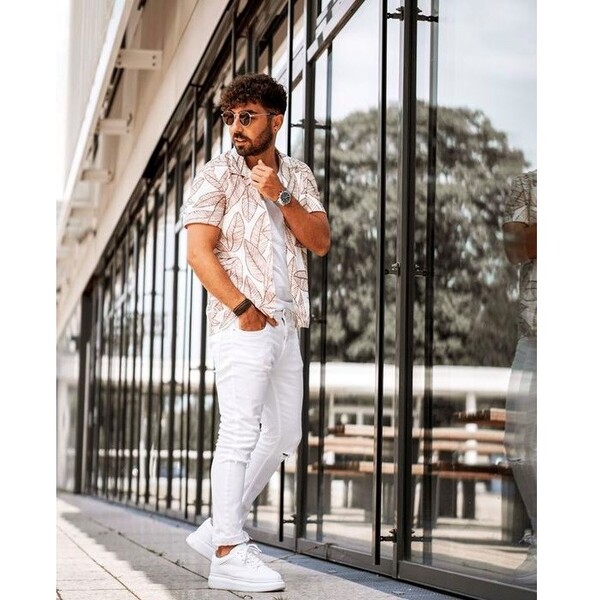 The top is also layered over a tee, but you can choose to button it up, and longer sleeves are also an option. The white skinny pants look a little more sophisticated than a classic pair of denim, but you can opt for dress pants too.
The white shoes add some extra class to this outfit. And, since they're non-traditional lace-ups, they're a bit of a unique option. The sunnies are great for a grad since it will likely be a bright day at the graduation party, but be sure to remove them for a photo op!
Monochrome
A monochrome outfit is a great way to look and feel fashionable without having to stress too much about pairing the right pieces together. Essentially, you just have to pick your fave color and make sure the main pieces in your outfit are a similar shade.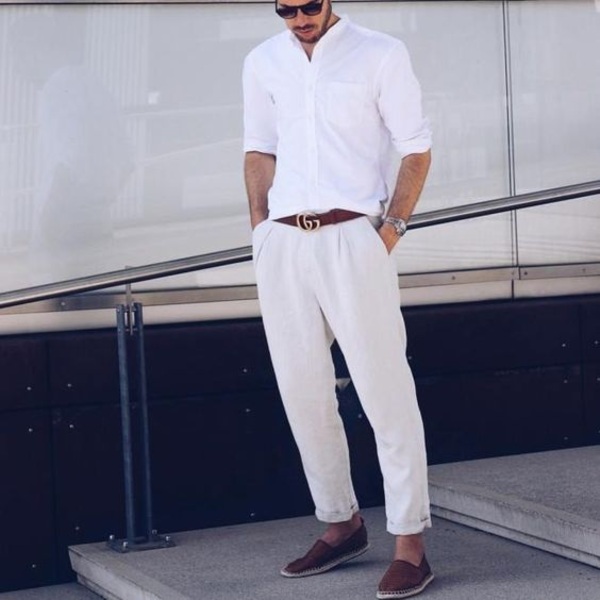 This look features some white linen dress pants and a breezy, white button down-top, which is perfect for a hot summer day. The rolled-up sleeves and cuffs make the outfit a little more casual, which is ideal for the afterparty.
The brown Gucci belt and leather loafers break up the all-white look but, since they're also a neutral color, they complement the monochrome attire nicely. This way, the cohesive, casual look is maintained from top to bottom.
Sophisticated
If you want to go out with a bang and would prefer a more sophisticated look, opt for a navy blue ensemble with fitted dress pants and a matching waistcoat.
Wear a lighter-colored dress shirt underneath your dark vest to create some dimension. Also, add a tie that lands somewhere in the middle of these two shades, to help pull the look together.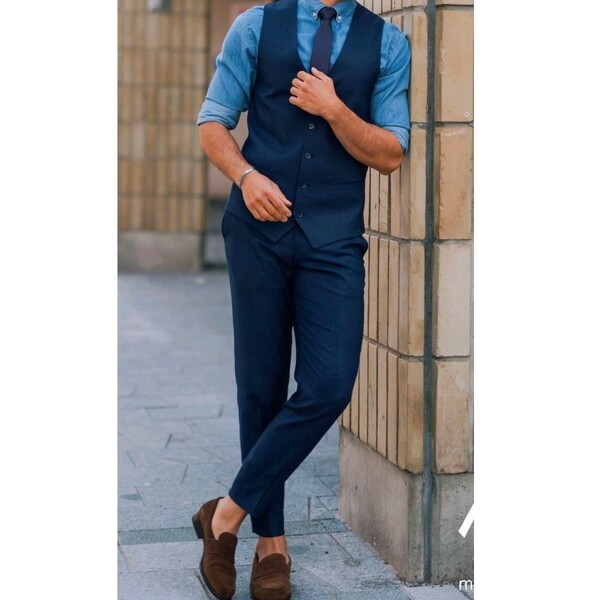 Finish the look off with a silvery cuff or wristwatch and some brown suede loafers, and you'll have a look ideal for every celebration.
What Type of Graduation Party Outfits Can You Get?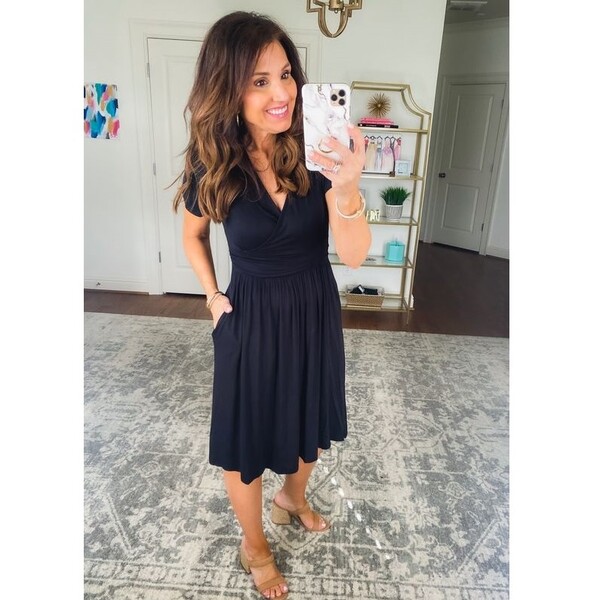 When you're wondering what to wear to a graduation party, doing some research online is a great idea.
Yet, in addition to different outfit recommendations, it helps to consider your personal style as well. Graduation party outfits can range from sophisticated and classy to minimal and casual—which means there's an option for every aesthetic.
If you'd like to wear a dress to the graduation ceremony and celebration, the options truly are endless. You just have to Google 'dresses for graduation ceremony or party' and you'll be flooded with images of all the latest dress styles.
Pants, skirts, and dress shirts are also great options, and can easily be dressed up or dressed down, depending on how you style them. Each one can be styled in a more casual or sophisticated manner, to create the look you prefer.
You can wear attire that's simple and neutral, or add pops of colors and bold patterns. This day is all about you, after all, so you should wear what you feel good in. These classic and stylish looks aren't just limited to the grads either. Attendees can wear them as well, minus the cap and gown of course.
By now, hopefully, you're beginning to understand that figuring out what to wear to a graduation party shouldn't be complicated.
How to Choose The Best Graduation Party Outfit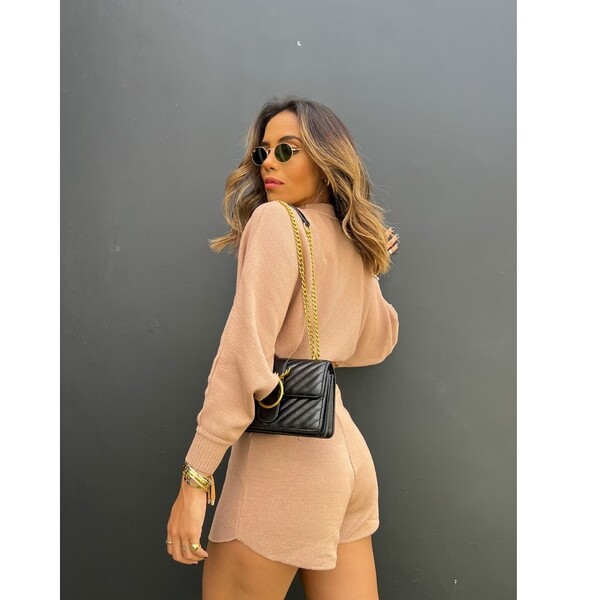 When it comes down to it, we always put a lot of thought into looks for special occasions. So when you're picking out the pieces for your ensemble, we've got a few tips and tricks for you to keep in mind.
What should you consider when deciding what to wear to a graduation party? Here are the key factors:
Price
Quality
Material
Style
Comfort
How it photographs
The price and quality of your graduation party outfit is always something to consider. If you purchase a casual dress, chances are you'll wear it more than once, so it makes sense to invest in something that's high quality.
On the other hand, there's no need to splurge on accessories that you may only wear for that event. You can always wear the simple pieces you already have in your wardrobe, such as classic jewelry, a good pair of heels, or standard dress shoes.
On top of that, material and style are two things to keep in mind. Graduations tend to happen in the summer months, and the ceremonies can last a while, so it's important to wear fabrics that are breathable and comfortable (like linen or cotton).
And the style, as we've mentioned, should be semi-formal or business casual. Also, the outfit and accessories you choose shouldn't cause any weird coloring, or make you look awkward in pics because you'll probably be photographed quite often.
So, it's a good idea to take photos of your graduation party outfit before the big day/night to make sure the pics turn out great.
And, check yourself out in front of a full-length mirror to ensure your outfit looks fabulous and also feels good. With these tips in mind, you're all set to enjoy the celebration.
How to Style your Graduation Party Outfit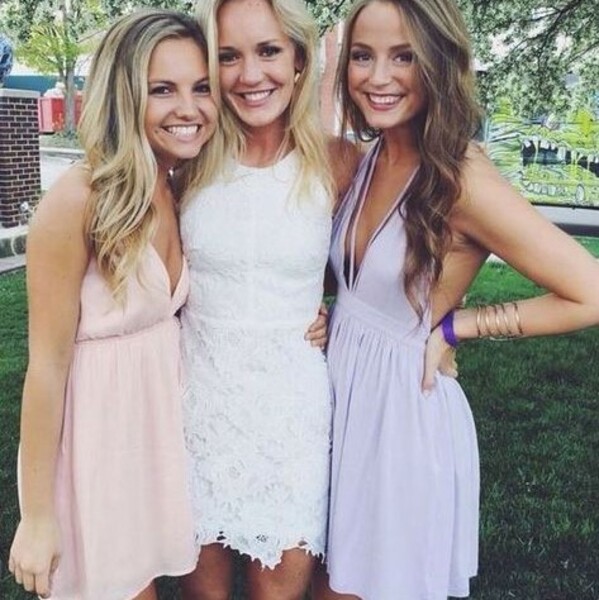 Whether you're walking across the stage to receive your diploma or taking photos with family and friends surrounded by good food afterward, your graduation party outfit will be on display.
And how amazing you look and feel will depend on how you style it. Fortunately, we've got some ideas to improve your ensemble.
Accessories, such as jewelry, purses, cufflinks, and belts, are a great way to add some stylish flair to your outfit.
Sure, a black maxi dress is already stunning on its own, but adding some shiny gold jewelry, a deep purple belt to cinch the waist, and a few barrettes in your hair will pull the look together and really take it up a notch.
Another way to add a little style to your look is with a jacket, scarf, or shrug. These pieces can transform your look and give it an edgy vibe, which is ideal for the after-party.
They can also dress up a casual top and add a touch of class to your ensemble. Of course, your cap and gown will complete the look during the graduation ceremony.
Footwear can also add a sophisticated touch to your outfit, whether you opt for some classic black heels, stylish leather loafers, oxfords, or fancier sandals.
So, when you're headed out the door for your grad party, don't forget to trade your daily sneakers for something a little more dressy and elevated.
Now that you've got some tips on how to style your look, you're almost ready to put together your grad party outfit. But first, we must tell you what not to do. Up next, we'll share our list of fashion tips to avoid.
Fashion Tips to Avoid in a Graduation Party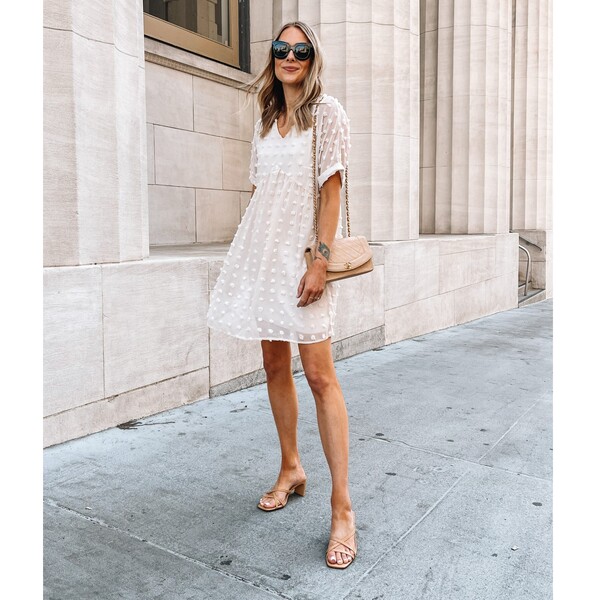 When getting dressed for any occasion, there are a few fashion dos and don'ts to keep in mind.
At this point, you might still have some questions about what to wear to a graduation party. But, don't worry, we've got you covered with our list of fashion faux pas.
First thing's first: don't wear jeans or denim to your graduation party. While your outfit doesn't have to be too dressy and can lean on the casual side of things, a pair of distressed bottoms or a classic jean jacket definitely takes away from the fancier nature of the event.
It's better to go with something a bit more classic and timeless on this day!
While a graduation party is definitely a formal event, a tuxedo or prom-style dress is a bit too fancy for this occasion, so you may show up a little overdressed. Remember the happy medium we talked about earlier in this article and you'll be golden!
On a similar note, some pieces are a bit more formal or sophisticated, while a grad ceremony is a semi-casual event. So, keeping this in mind is very important. Avoid fitted pencil skirts, suit jackets, and padded shoulder blazers when thinking about graduation outfit ideas.
Finally, there's nothing wrong with opting for something bold, with plenty of patterns, or a unique pop of color. After all, your outfit should showcase your personality and sense of style too.
But, be careful to avoid colors that clash with your cap and gown. So, when picking out your ensemble, be sure to check out your school colors first.
Best Places to Buy a Graduation Party Outfit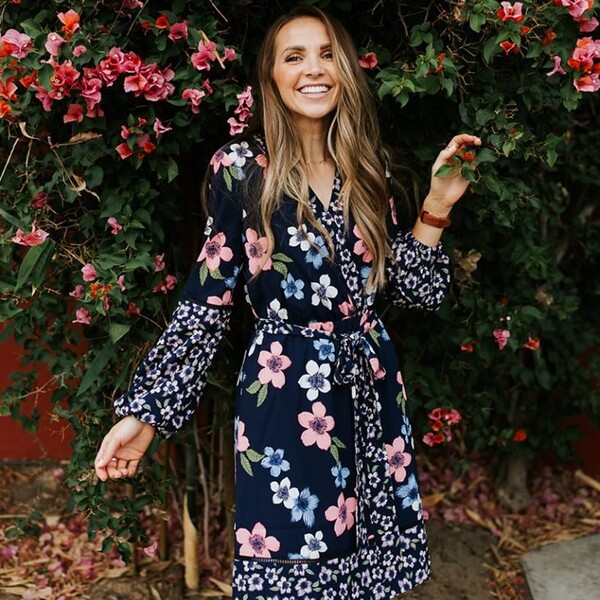 Has reading our guide about graduation outfits inspired you to start putting your outfit together? Maybe you're excited to start shopping for your grad attire. So, now that you know what to wear to a graduation party, you need to know where to shop.
If you're ready to get geared up for the event, check out the list of stores below:
Nordstrom
H&M
Banana Republic
Gap
Aritzia
Frank and Oak
Reformation
Final Thoughts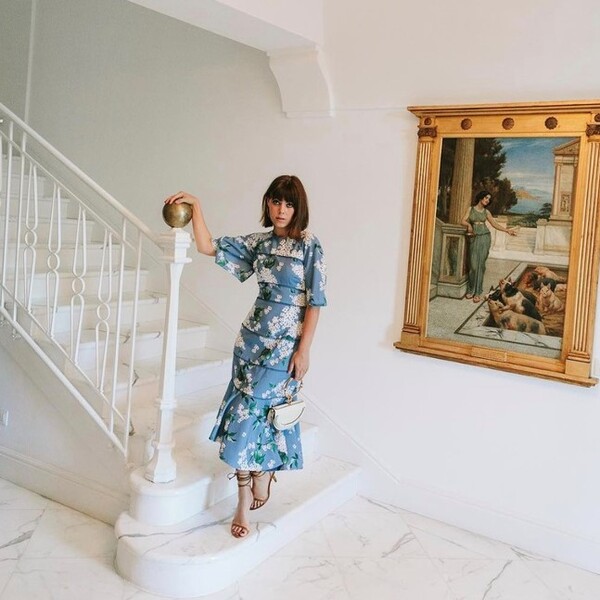 Overall, whatever you choose to wear to your graduation ceremony and party you'll look great. And while looking great is important, it's not the most important thing. Celebrating your accomplishments with friends and family will make memories that'll last a lifetime.
So, don't fret about what to wear to a graduation party. With so many styles to choose from, there's a comfortable and stylish option for everyone.
That being said, we hope that our list of the best outfits to wear to a graduation party, as well as styling tips and what not to wear, has eased any anxiety you might have about the event.
---
Got any more fashion questions on your mind? Check out some of our other articles:
Get Access to Exclusive Deals
Subscribe for free to get exclusive deals in your inbox. 100% privacy