What to Wear To A Viewing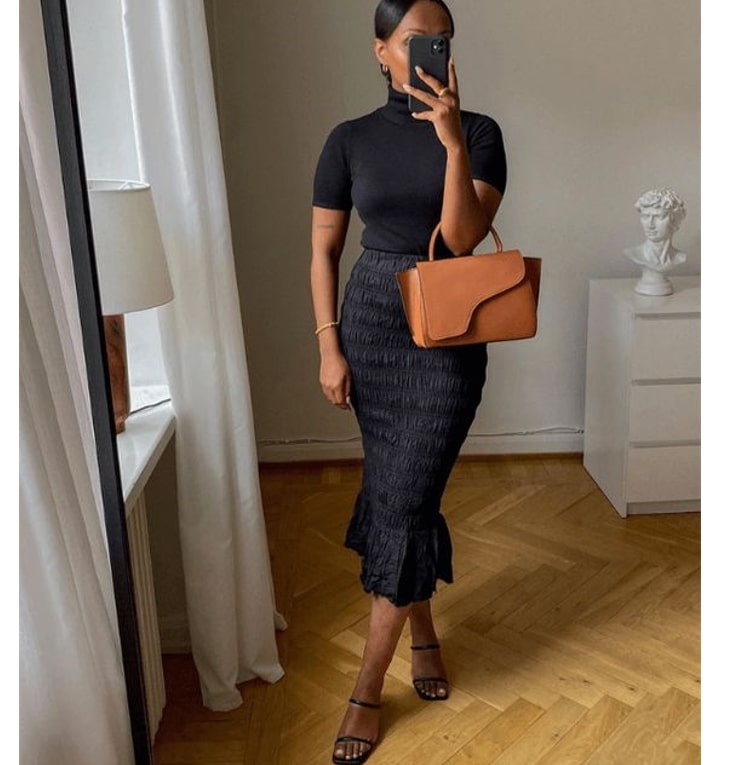 Funerals are an inevitable part of life. But choosing an outfit to wear to a funeral viewing can be a challenge. There is a lot of pressure you can put on yourself to wear something that can express your deepest sympathy for the person that has passed away.
But what do you wear to a viewing anyway? Black attire is most commonly worn to express grief and mourning, depending on your culture. However, as time progresses, formal options have become more flexible. It's always best to proceed with caution when it comes to dressing for a funeral service.
While this article intends to give you style inspiration for what to wear to a viewing, it might be helpful to talk to someone else who is attending the service to get their opinion on whether to go more casual or formal. Expectations for apparel vary depending on certain customs and specific values that each family holds.
Grieving the loss of a loved one is hard enough, and you'll want to make the experience of choosing what to wear to a funeral viewing as stress-free as possible. Instead of worrying about what should you wear to a viewing, focus on taking care of yourself and let us do the work.
This article will provide you with outfit ideas for what to wear for a funeral viewing while also answering frequently asked questions such as: "Can I wear khakis to a funeral?" or "Is it OK to wear jeans to a funeral viewing?"
Let's get right into it, shall we?
10 Outfit Ideas For Viewing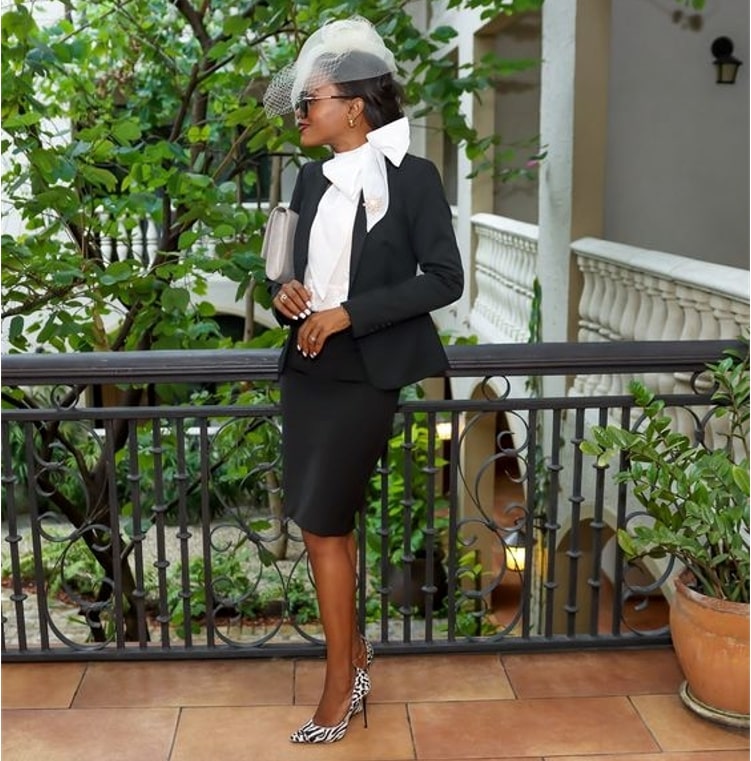 Okay, so you did your due diligence and found out the basic etiquette and expectations for how to dress for a funeral viewing you are attending. Whether you are expected to wear formal attire, casual wear, or something in-between, we have plenty of outfit options to fulfill your needs.
You might also want to consider the weather and whether the viewing is going to be held indoors or outdoors. In either case, layers are always a good option as you still want to make sure you are comfortable and unbothered.
We did our best to compile the best outfit ideas for men and women. And if thoughts of "What color should you wear to a funeral?" are running through your head, then we're here to help you with the outfits below.
All of the suggestions range from business-casual to formal and can act as a broad guideline for what to wear to a viewing. 
Black T-Shirt and Dark Pants with Heels
If you are attending a more relaxed viewing, then you might opt for a casual outfit such as the one above. A dark pair of jeans (that are in good condition, no rips) and a black T-shirt is an accessible option for many. You can dress this casual outfit up to evoke a sense of professionalism and seriousness. 
Adding neutral-toned heels will give this outfit a more classy and sophisticated appeal. As well, a gold bracelet coupled with matching necklaces helps to elevate this outfit and make it look like you put some effort and serious thought into this style. 
In our opinion, this look is best completed with a black mini handbag. 
Casual Black Dress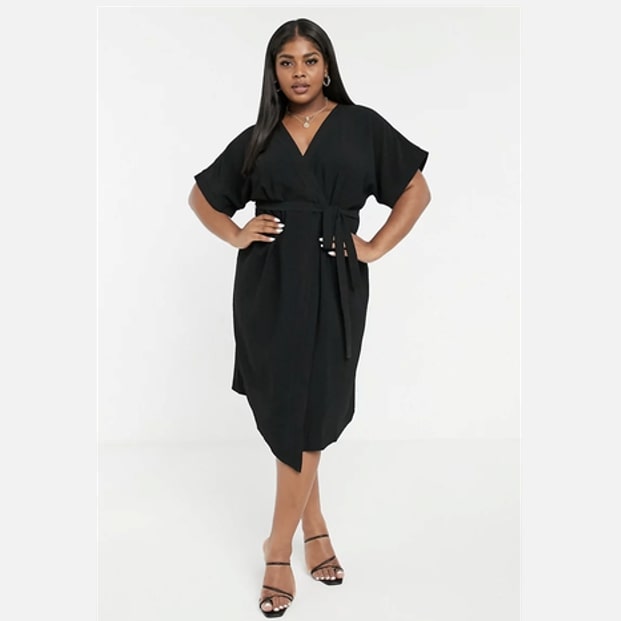 A black dress is a staple in any woman's wardrobe. If you are wondering what to wear to a viewing and want to take a classic approach to your outfit, then we suggest wearing a modest yet stylish dress, pairing it with simple jewelry such as silver hoops and a chain necklace.
This dress is flattering for multiple occasions and is an ideal middle option between conservative and laid-back. As a plus, having a white manicure and pedicure is the perfect accent to an all-black outfit. And combining a pair of strappy heels with your nails can add an element of elegance.
Formal Black Dress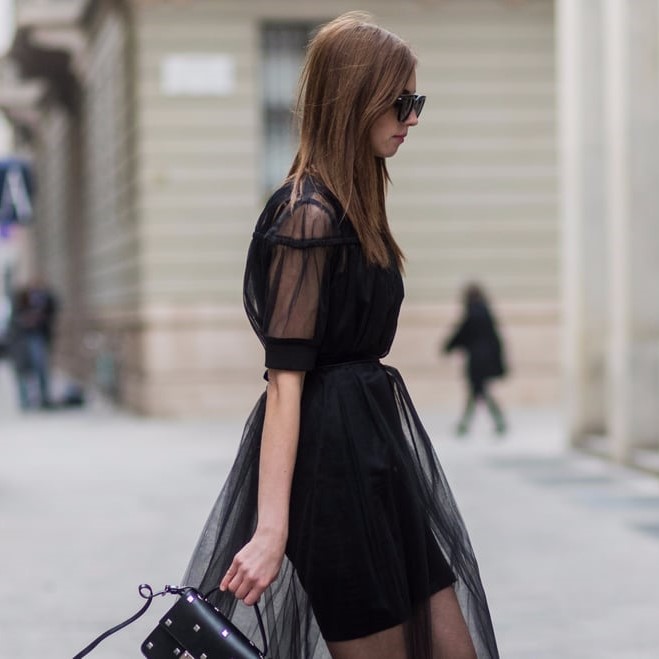 If you're attending a fancier type of funeral, then you'll want a dress to match the mood. This outfit is more on the fancy end of the spectrum, and a black dress or skirt with a sheer black fabric overtop would be a luxe option for what to wear to a viewing.
This outfit works particularly well for a funeral in the summer as the material is breathable while still covering your body. You can wear this dress with a pair of oversized black sunglasses and a black detailed handbag for a simple and delicate look.
Lots of Layers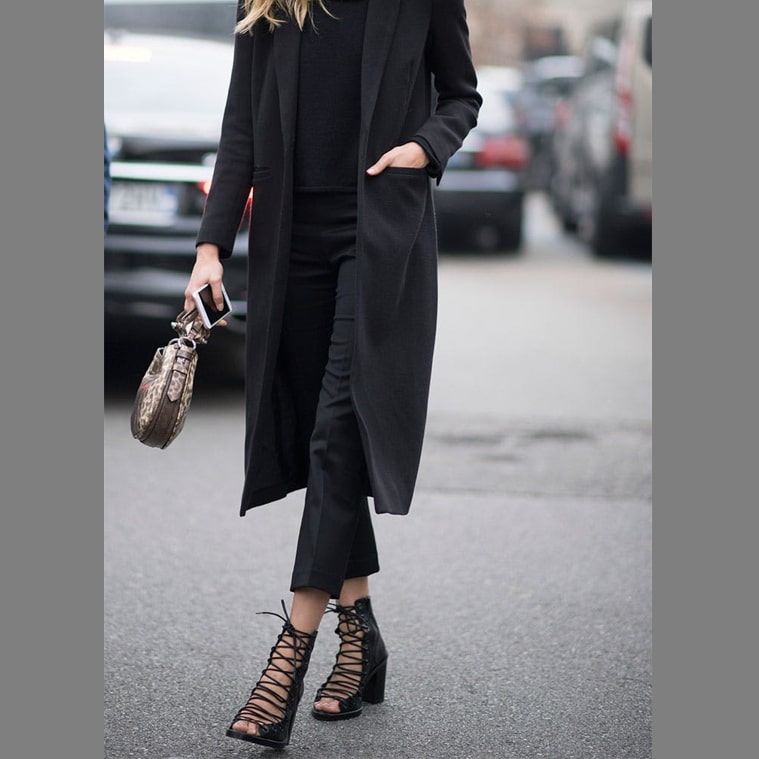 For a casual funeral viewing set in the autumn or spring, we recommend wearing multiple layers to keep warm and comfy.
Throwing on a long black blazer with pockets over your dark pants and blouse is a smart idea. You can store tissues in the pockets without worrying about rummaging in your handbag for one.
Black Jumpsuit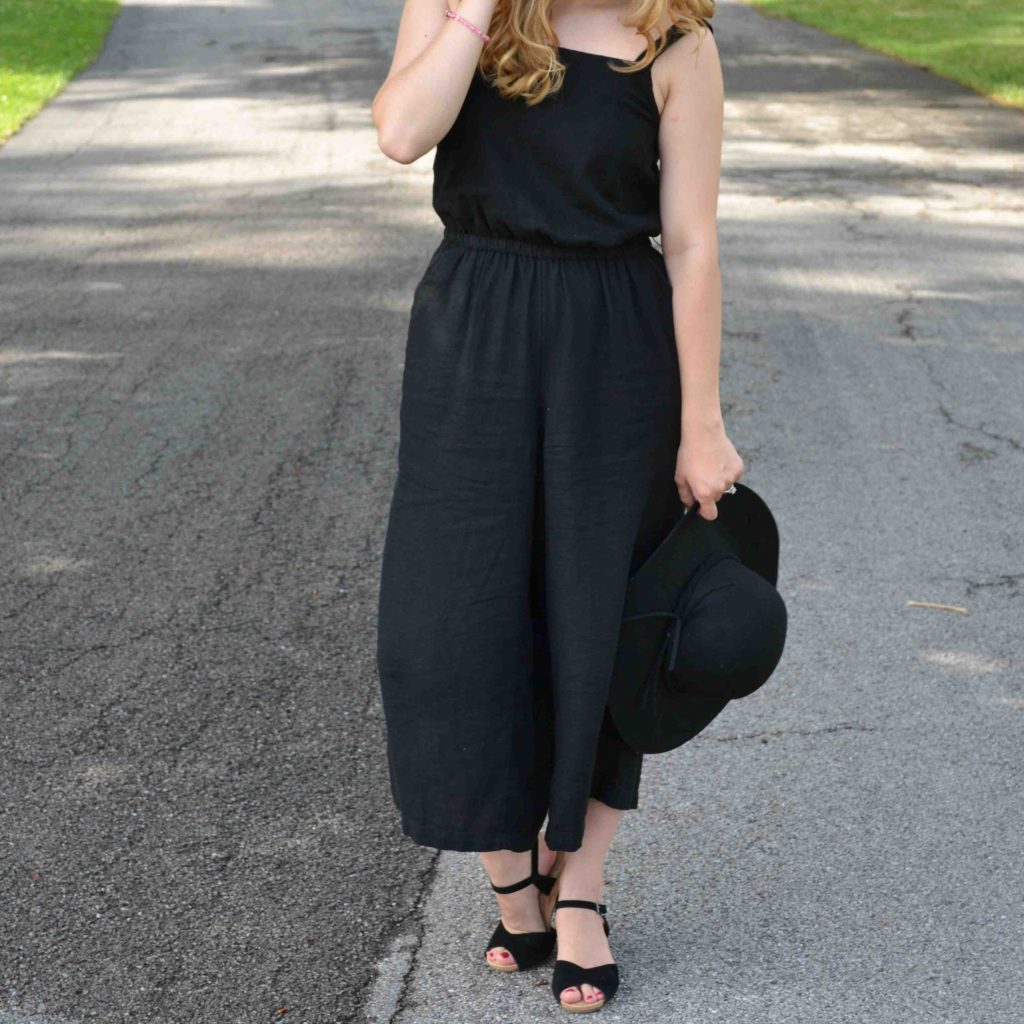 A black jumpsuit with heels is the perfect combination of chic and cozy, making it an ideal choice for what to wear to a viewing. You want to make sure that you will be comfortable throughout the viewing while still dressed appropriately.
This outfit is great for an outdoor spring or summer service as you can always top it off with a cropped jacket if it's on the cooler side.
However, when the service is in the middle of the summer, materials like linen will make it easier to handle an especially hot and humid day. As a bonus, a wide-brimmed black hat will protect you from the sun while looking cute.
Black Dress Shirt and Gray Pants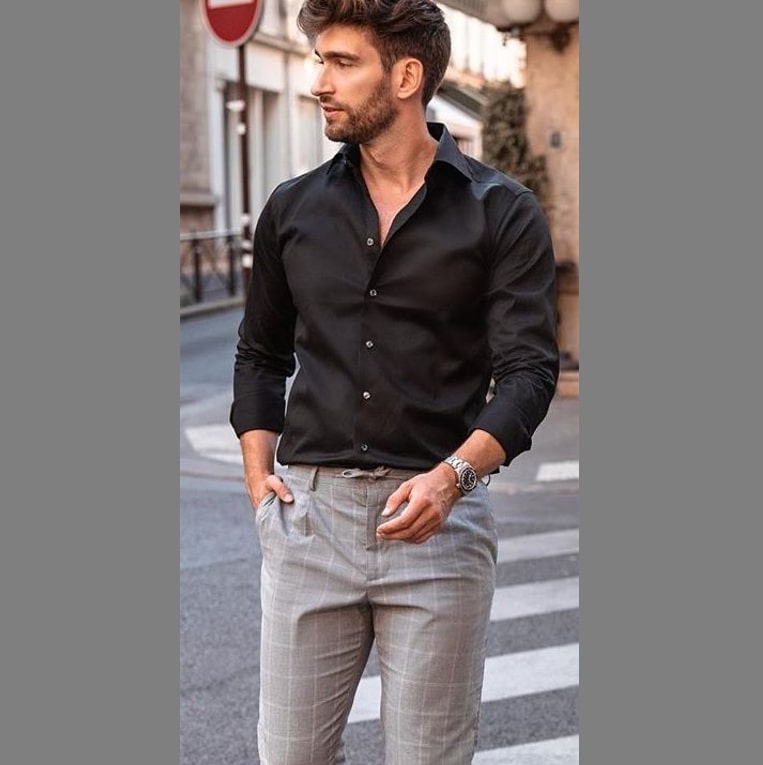 Funerals don't always follow an all-black dress code. There are often many different shades you can use to formulate an outfit that delivers your utmost respect.
Gray dress pants and a fitted black button-down shirt pair beautifully together. The rolled sleeves and opened top button add an air of casualty to the outfit without being sloppy. This combo is perfect for summer, spring, or fall. 
Dark Layers with White Accent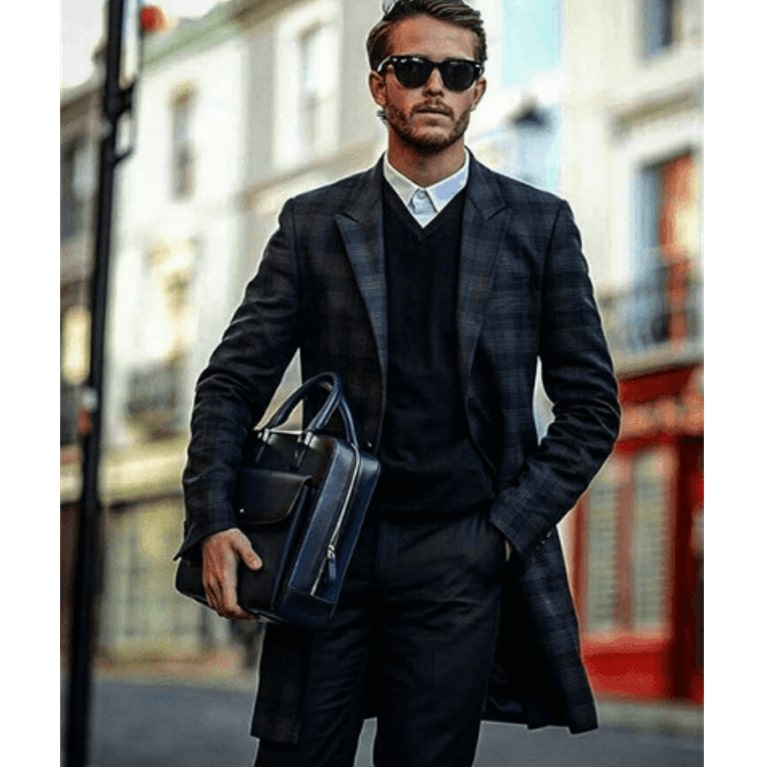 While you can still go for a mostly dark silhouette, why not add a hint of white to your outfit?
A white top under a sweater adds another layer to your typical visitation outfit, providing it with just the right amount of pop. The dark patterned coat adds a twist to the traditional all-black outfit custom in a way that's not too dramatic. If the funeral service takes place in the colder months, then layers will be your best friend. 
Top off this look with a pair of black sunnies and a leather brief for a business-formal touch.
Black Pants and Black Shirt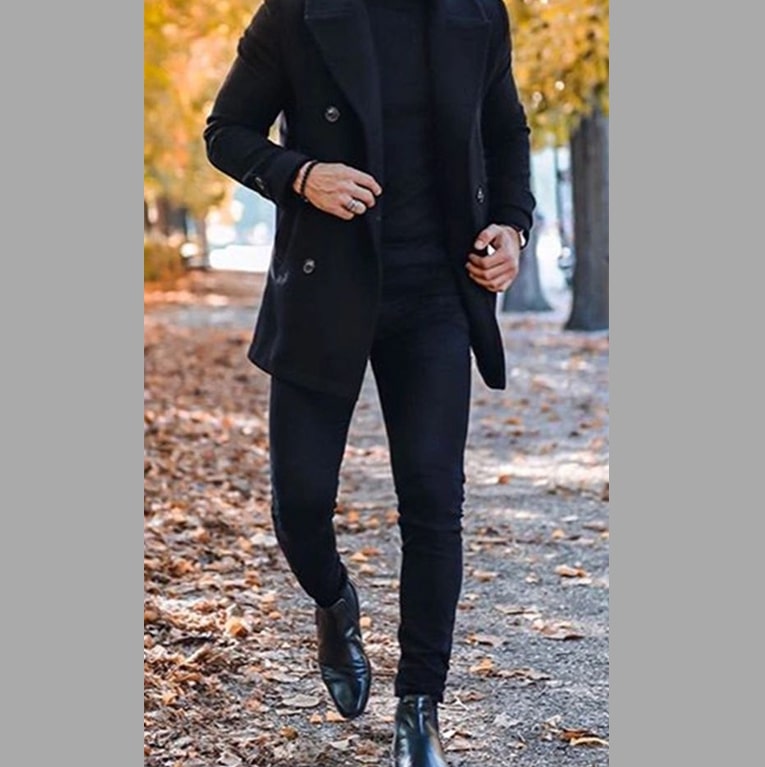 For those who already have several black pieces in your wardrobe, why not consider combining them? Your entire outfit doesn't have to be pristinely black, but you can play with mixing and matching some of the black(ish) clothes you have hanging in your closet.
A turtleneck, black pants, and shiny black ankle boots are a strong option for a fall funeral visitation. You can layer this outfit with a peacoat and hat to further enhance this look.
The best part about this outfit is that it doesn't require you to do any shopping. Most of these pieces, or similar ones, can be found within your existing stash of clothes.
Black Outfit with Gray Coat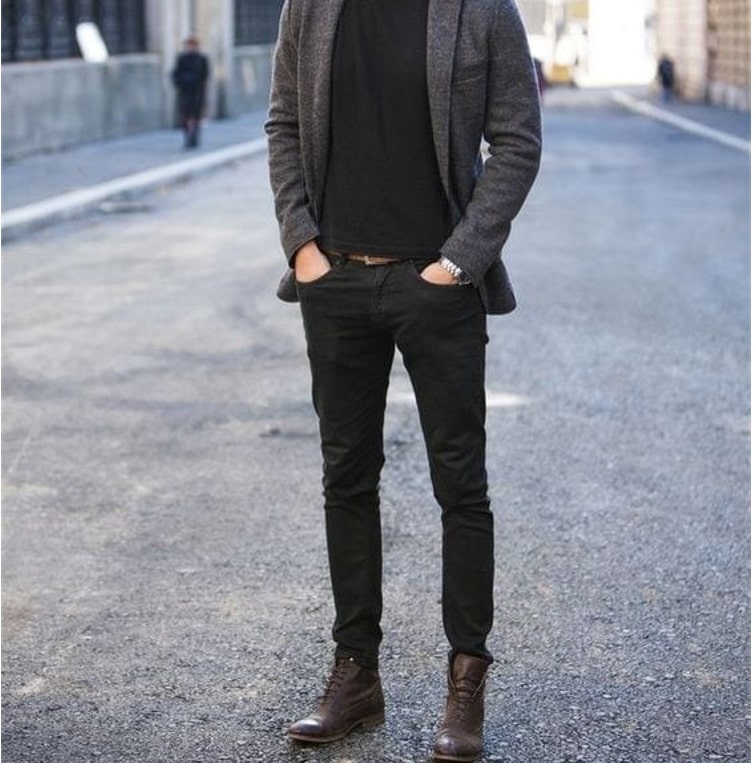 This is another outfit that requires little to no actual effort to put together but still looks composed. If you have no idea what to wear to visitation or do not have any interest in fashion whatsoever, then you will want a staple outfit. 
You can also break up an all-black outfit with brown boots and a brown belt. The gray blazer adds a bit more proportion and a complementing color without straying too far off the path.
Gray Suit with Black Undershirt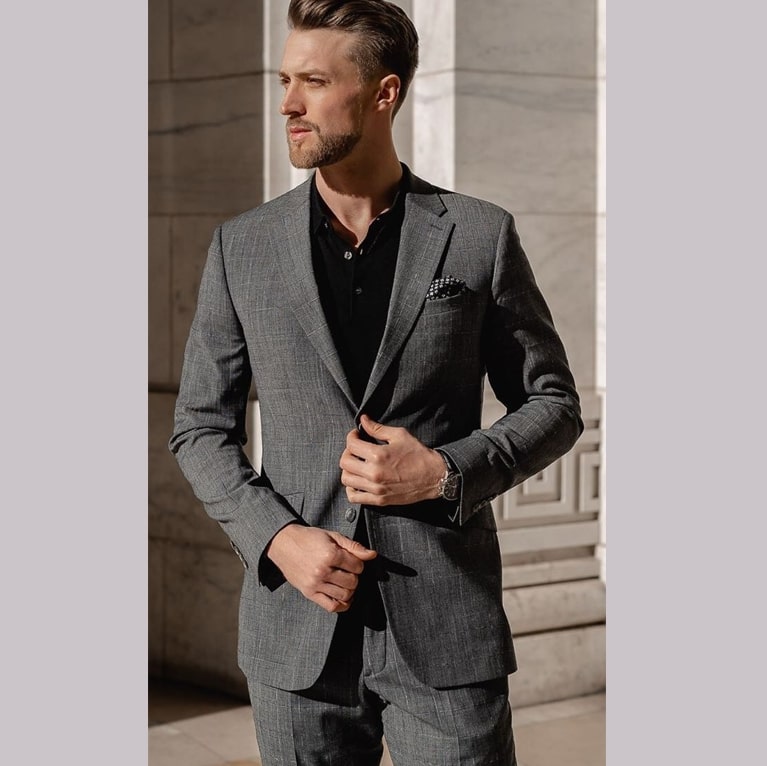 For a more formal funeral viewing, a suit may be in your best interest. And of course, suits are dignified and clean. Just make sure your suit fits well and is in a subdued tone.
Instead of opting for a traditional black suit, a suit in gray or charcoal may be more up your alley. Gray is a neutral tone that evokes a sense of refinement and intellect. 
Wearing a black dress shirt underneath will also give off a somber yet serious impression. Again, you will want to make sure your shirt is pressed and fits you well.
How to Dress For a Funeral Viewing?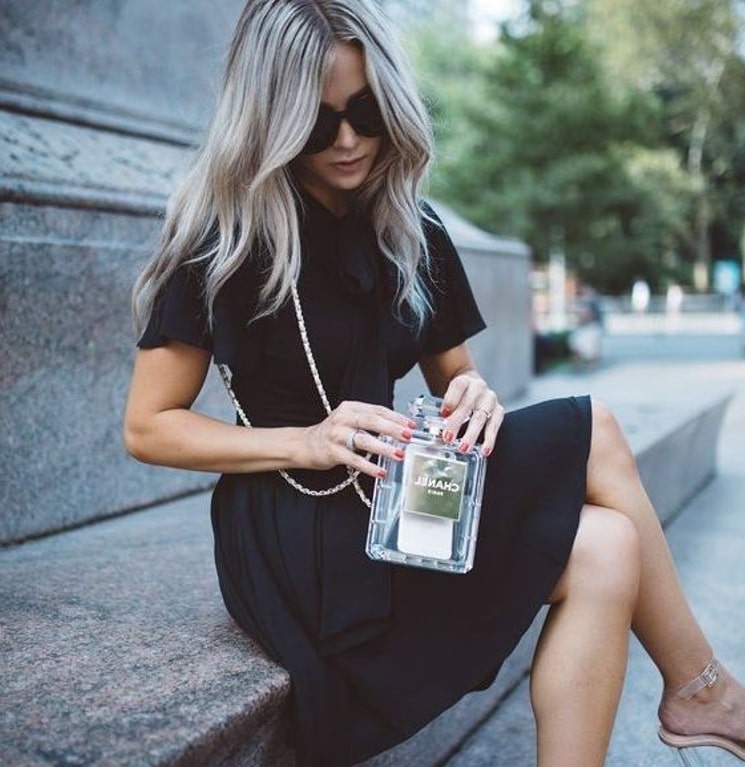 When it comes to what to wear to a viewing, you want to keep things as minimal as possible. No need to go overboard with accessories, fancy up-dos, or extravagant accent pieces.
Of course, this doesn't mean you should forgo all accessories, but being more intentional with the ones you choose to wear for this occasion can help enhance your outfit. Small hoop earrings and dainty necklaces in silver or gold are wonderful accent pieces.
When it comes to footwear, it's best to wear something more dressy. Even if you are wearing a casual outfit, we recommend you wear a nice pair of heels or simple dress shoes.
Now that you have a better idea of how to dress for a viewing, you may be curious about how to style your hair and makeup for the service. Many women choose to simply wear their natural hair down and keep the makeup to a minimum.
Since a funeral viewing is a deeply personal and emotional event, you don't want to go overboard on the eyeliner and risk a face full of smeared makeup by the end of the visitation. If you decide to wear makeup, we definitely suggest going for something waterproof.
What Should You Not Wear to a Funeral Viewing?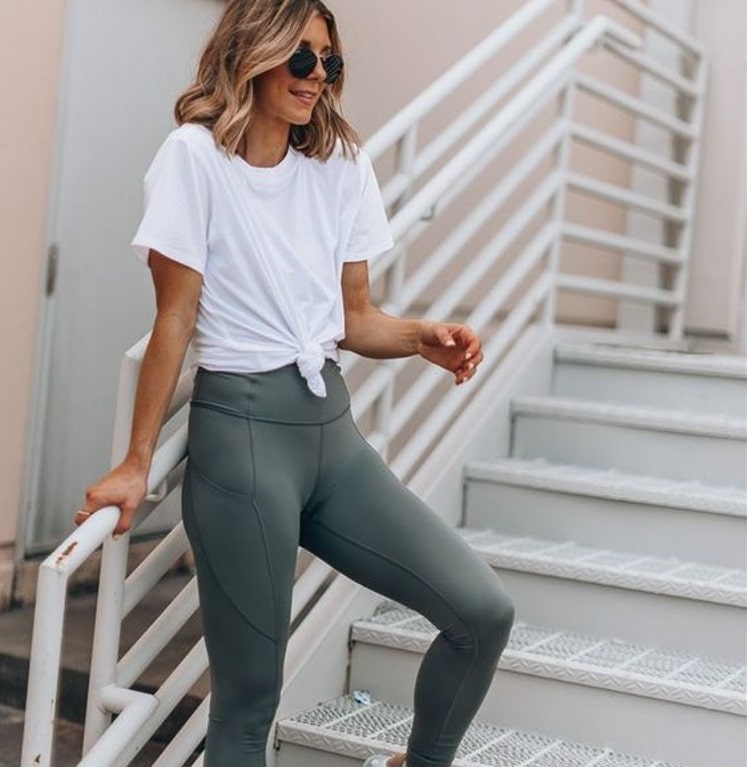 Now that you know the basics of what you should wear to a viewing, you may be wondering: "Well, what should you not wear to a viewing?"
Certain articles of clothing are not appropriate to wear to a viewing. Anything overly casual does not bode well with the crowd and should be avoided. We also highly advise you to put in a bit more effort into your outfit compared to your everyday wear.
In general, you should avoid wearing items such as:
Bright colors
Loud prints
Athletic wear
Ripped clothing
Flip-flops, sneakers, boat shoes, tennis shoes
Blue jeans
What Color Should You Wear to a Funeral Viewing?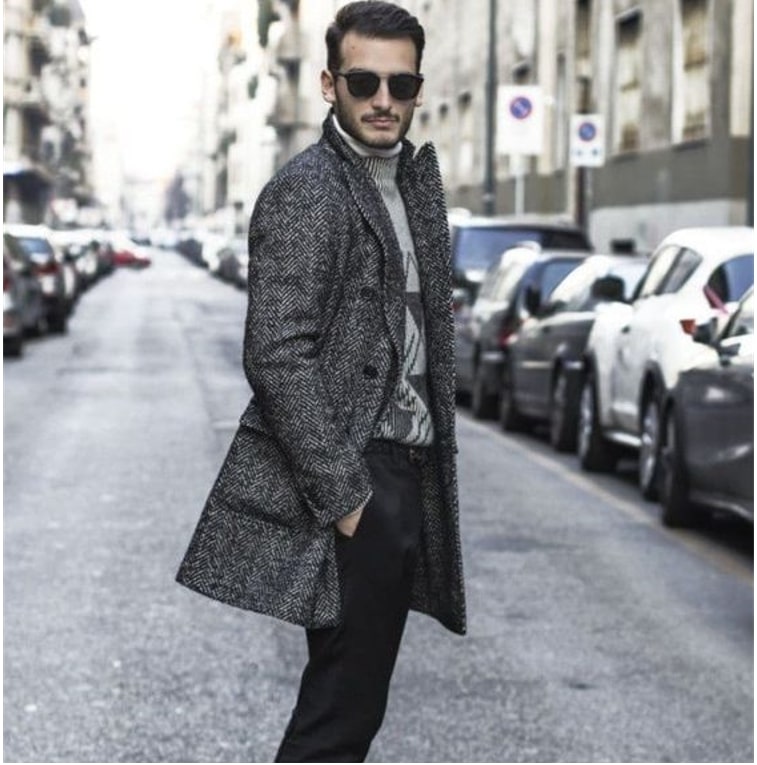 Generally, you want to gravitate towards darker shades when dressing for a viewing. Typically, black is the most appropriate shade to wear to a funeral or visitation service, but there is no hard or fast rule in terms of color (aside from overly bright colors) when it comes to what to wear to a viewing.
Deep blues and dark grays are viable options if you want to move away from black. As well, neutral tones like beige, brown, and light gray are acceptable.
White accents, such as nails and undershirts, are also okay to wear to a funeral or visitation service. You might want to steer clear from an all-white outfit because you may stick out like a sore thumb.
The last thing you want to do is draw attention to yourself during a time of deep sorrow and commemoration. 
What Should Men Wear to a Funeral Viewing?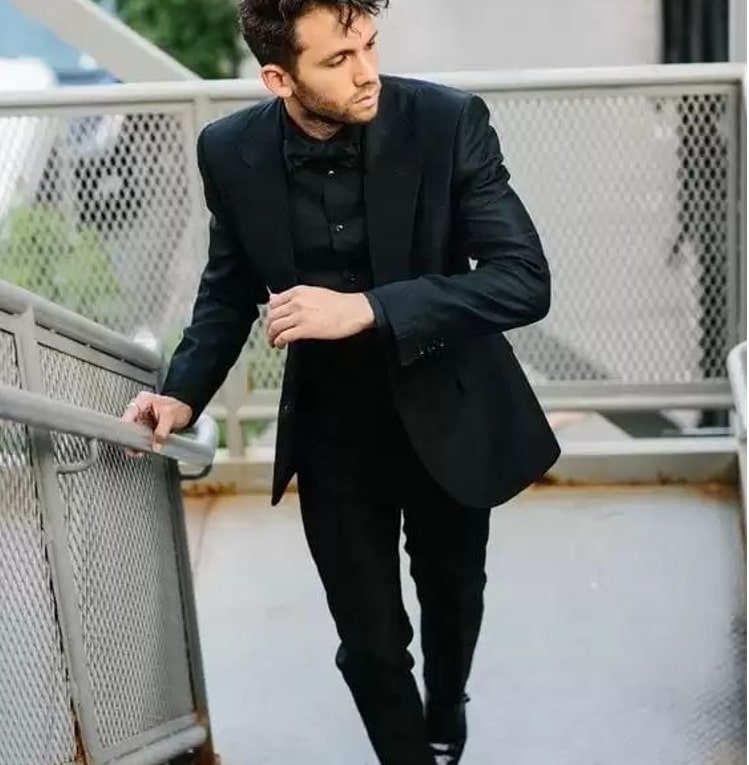 For men, traditional "business" attire is always the best choice for a viewing. For this reason, you can never go wrong with a dark suit.
However, suits are not the only option when it comes to dressing for a funeral visitation. We recommend that you aim for dark shades and a proper fit to avoid looking slouchy. Remember that it's better to be overdressed than underdressed when you are going to a viewing.
Listed below are some basic ideas for men regarding what to wear to a viewing:
Dark suit
Dark button-down shirt (tucked in) and pants
Dark dress shirt (tucked in) and pants
Dark long-sleeve shirt with collar and pants
Dress shoes
Belt (optional)
What Should Women Wear to a Funeral Viewing?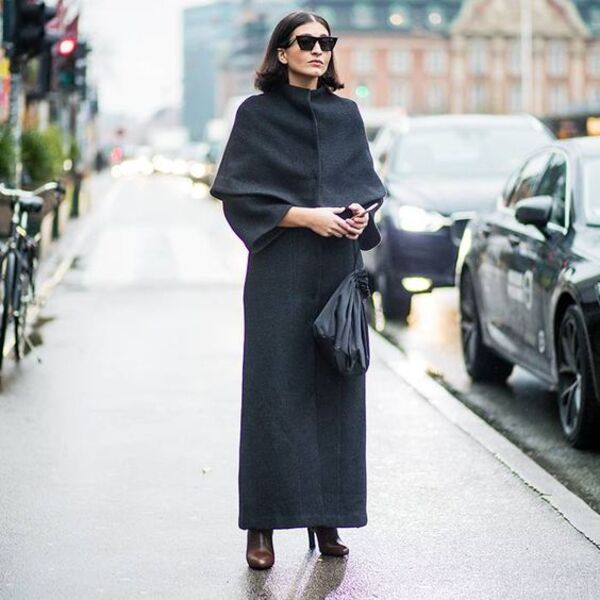 It's best to keep things as modest and respectful as possible. In terms of what to wear to a viewing, there are plenty of options for women to choose from. If you are attending a more traditional service, it is best to go for something formal such as an all-black dress.
However, if you have a bit more flexibility, then you can play around with different outfits, and see which pant and shirt combinations would work for you.
If you are unsure whether to opt for conservative formal attire or casual wear, we recommend that you overdress rather than underdress. A funeral viewing is a time to pay your respects, so putting effort into how you present yourself is better than leaving your outfit until the last minute and throwing on whatever clothing is available.
Here is a list of appropriate attire for what to wear to a visitation:
Dark mid-length to long dresses and skirt suits
Dark pants and a blouse
Dark pants and a dark shirt
Dark pants and a dark sweater
Dark pantsuit
Accent pieces are acceptable
FAQs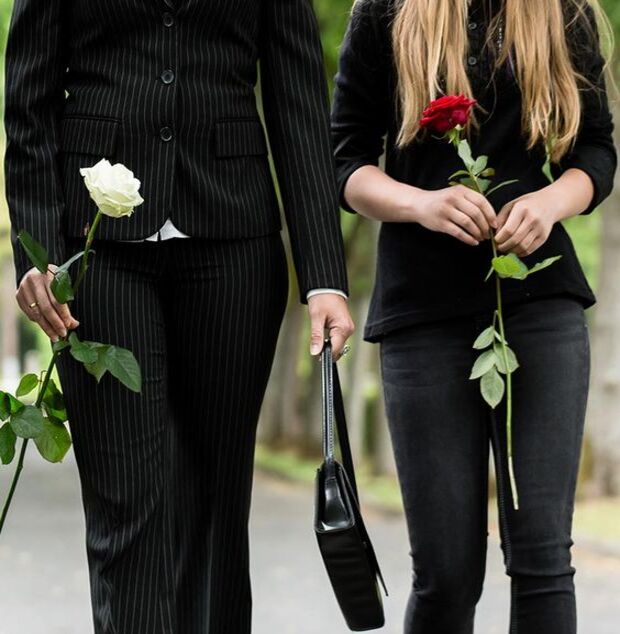 Can you wear jeans to a viewing?
Dark suits and dresses are always welcome at a funeral, but you might be wondering "Can you wear jeans to a viewing?" That's a fair question.
In many cases, it is not recommended to wear jeans to a viewing as denim comes off as casual apparel. 
That's not to say that jeans are strictly forbidden. Not all jeans are designed the same and sometimes jeans can pass as dress pants. If you decide to wear jeans, make sure they are on the darker side, fit you well, and don't have any rips, holes, or other distress.
Can I wear khakis to a funeral viewing?
When it comes to khakis, they are completely appropriate to wear to a viewing. We suggest opting for a black or navy blue pair of pants over the classic beige to maintain formality. You can pair these pants with a button-down shirt or nice blouse to give your outfit a tasteful appearance. 
Final Thoughts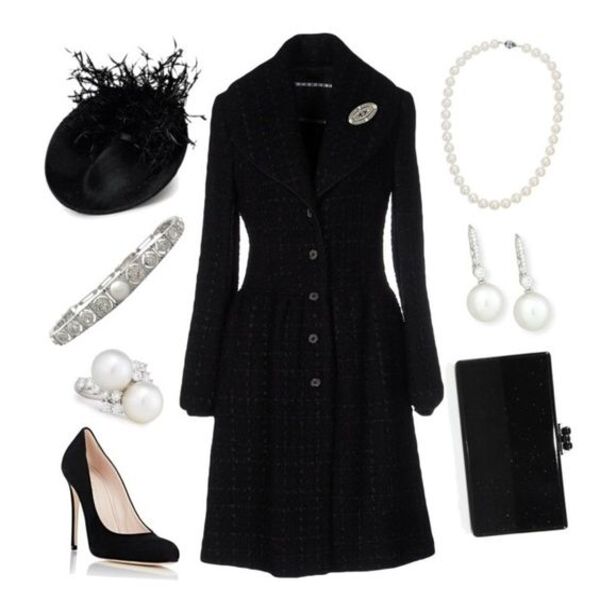 Ultimately, if you have ever wondered what to wear to a viewing, you are not alone. Many people are unsure of the dress code as death can be unexpected, often taking us by surprise.
Dressing for a funeral visitation does not have to be a complicated or stressful ordeal. What you should wear depends on the expectations the family of the deceased has in place, so it's best to make sure you inquire about any special customs.
As an overview, it's best to go for minimal designs, quiet prints and patterns (if any), and dark or neutral shades. We hope that this article has given you some helpful ideas and tips on what to wear to a viewing.
---
Looking for more event outfit ideas? We've got you covered:
What To Wear To A Summer Wedding
Get Access to Exclusive Deals
Subscribe for free to get exclusive deals in your inbox. 100% privacy