What To Wear To An Interview As A Teenager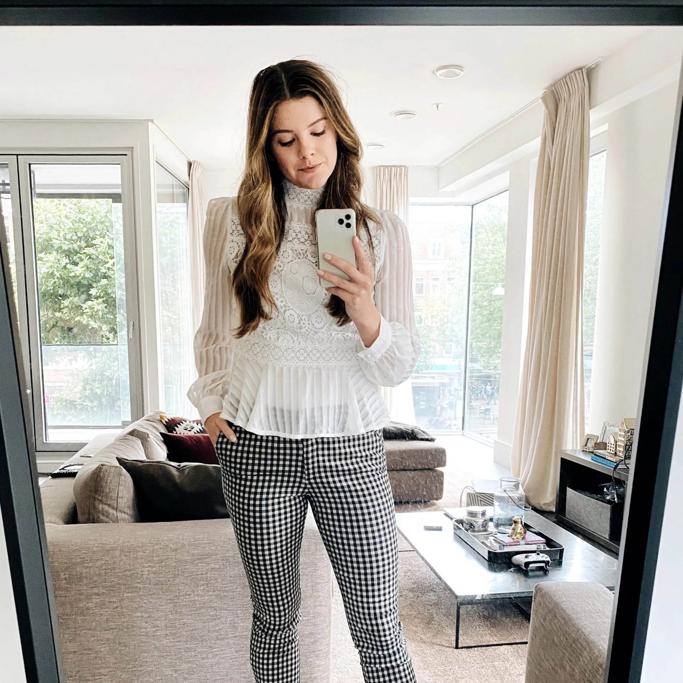 Interviews for executive positions typically entail a tailored pantsuit, Oxfords, pencil skirts, and a pair of simple stilettos.
Prepping for a semi-formal one-on-one with an entry-level job requires a whole other wardrobe, as it's considered overkill to show up in office attire when applying to McDonald's. However, first impressions still matter, so what should you wear?
Teens will usually stress over wardrobe options when it comes to prepping for job interviews. Displaying a sense of maturity is a must, especially for those cursed with a baby face.
If you're Googling what to wear to an interview as a teenager I've developed a helpful style guide for readers to follow. Save your worry for the actual questions.
What Is Interviewing As A Teenager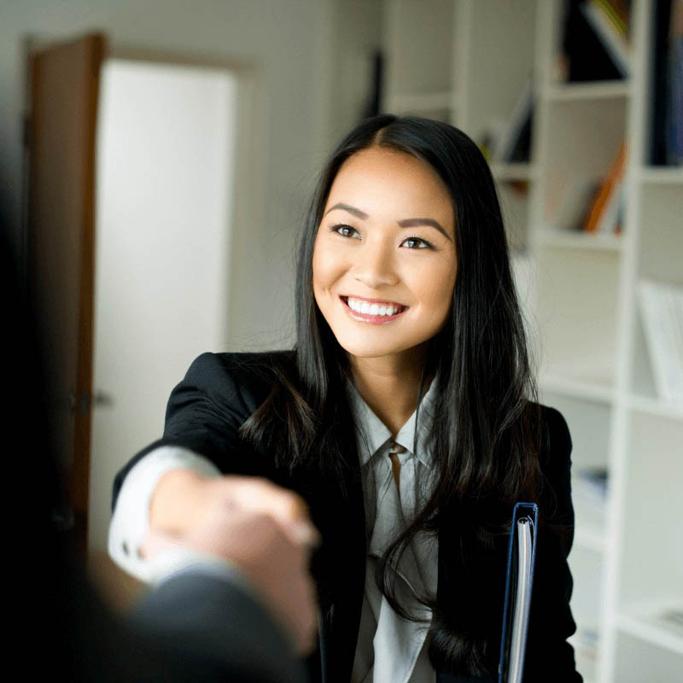 Teens are usually best suited for entry-level positions, given their lack of experience in the workplace. These positions can include being a waiter, cashier, camp counselor, or lifeguard.
Considering that these professions require little to no experience, the interviewer won't expect you to dress to the nines. That said, it's still important to exude a level of sophistication no matter the job.
Are you still wondering what to wear to an interview as a teenager? If so, I'll give you some outfit inspo below before the big day arrives.
14 Outfit Ideas For Interviewing As A Teenager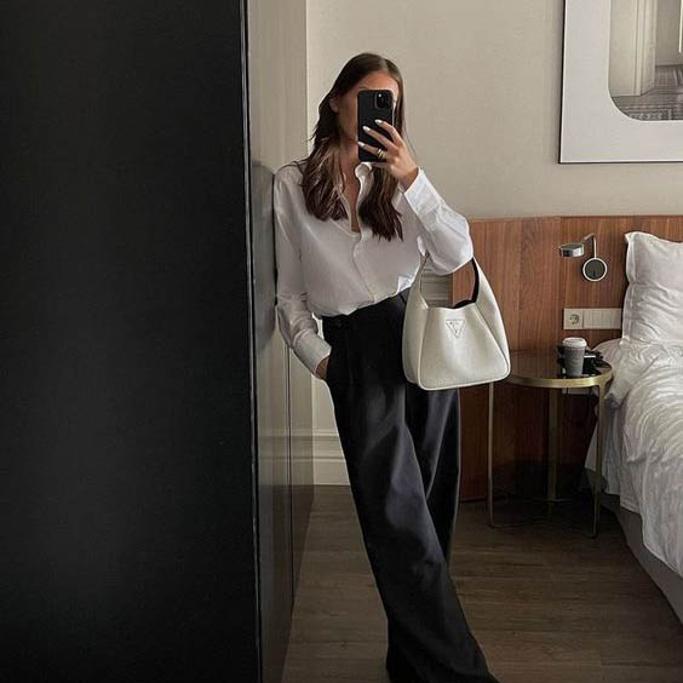 Minimalism is always a recommended move if you're prepping for an interview.
For instance, this simplistic fit features a clean white blouse and a pair of black pants. Relatively sophisticated in aesthetic, you can probably get away with wearing Converses if you're a teenager.
But for those getting ready for a more professional setting, you can always opt for ballet flats or a set of kitten heels. I highly recommend topping this "what to wear to an interview teenager" contender off with some dainty diamond studs.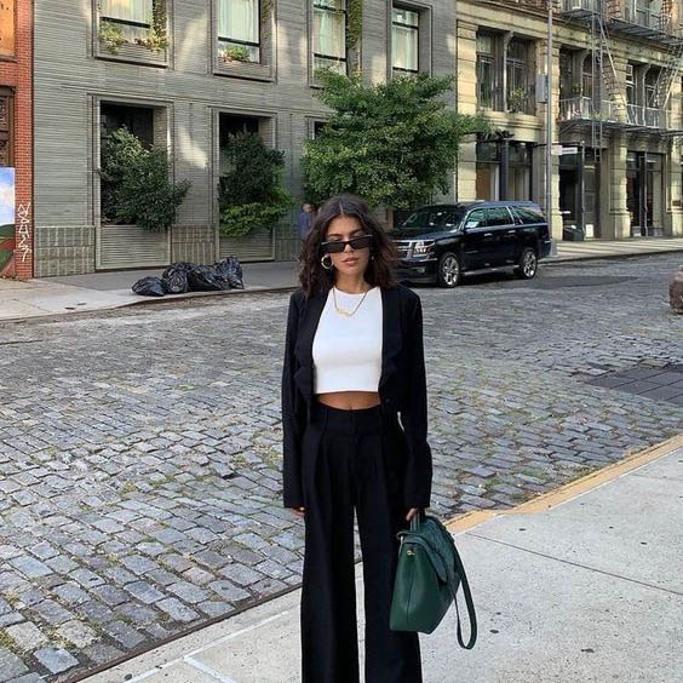 In some instances, wearing a crop top is acceptable for job interviews. This mainly applies to entry-level positions in clothing stores such as Aritzia or Garage.
Obviously, I don't recommend donning a super-high crop. Instead, I suggest showing off a small amount of skin to help keep things appropriate.
This outfit is considered a prime example, as it's made of a white t-shirt, a pair of black pants, a tailored blazer, and a pair of matching boots. Assuredly Instagrammable, this OOTD can help ensure retail employers that you're up-to-date with current fashion trends.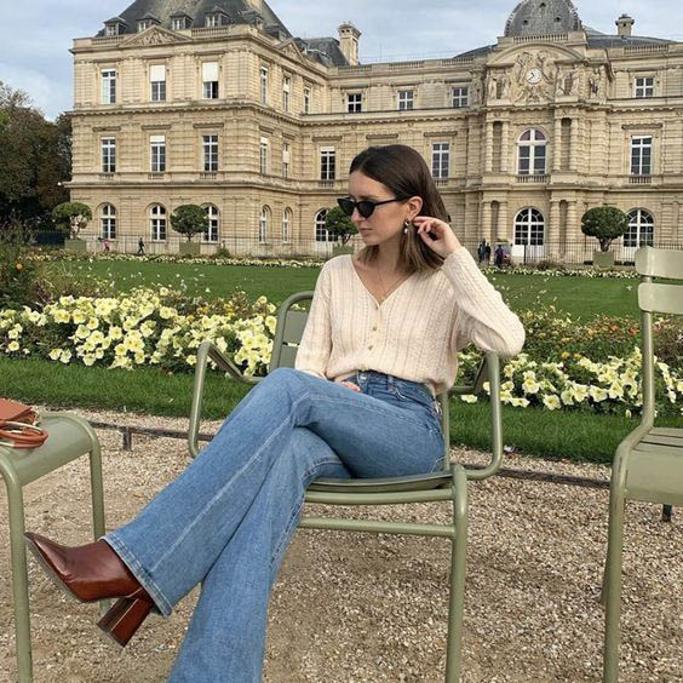 Nowadays, it's considered acceptable to wear jeans. This excludes any distressed pairs you have, as ripped denim is best reserved for everyday use.
To help keep things professional, straight-leg cuts or skinnies are recommended. They do wonders in accentuating your silhouette, which can help denote a sense of professionalism.
While you're free to choose a blazer and a button-down, a semi-casual sweater is also considered a tasteful option. In terms of shoes, I suggest wearing a pair of heeled booties if you're wondering what to wear to an interview as a teenager.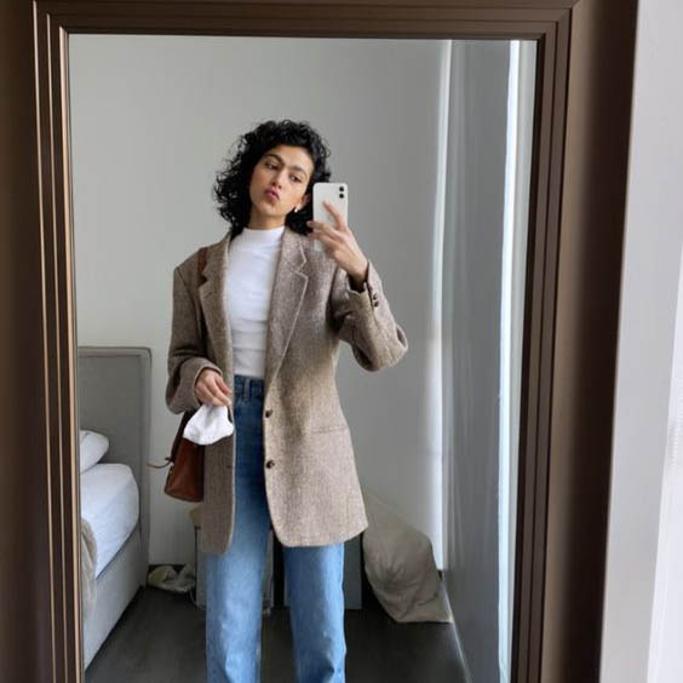 No matter how important the job interview is, there are days when button-ups just aren't it. They're stiff, rigid, and prone to sweat stains. Turtlenecks aren't considered the most breathable option, but they're definitely more comfortable compared to collared shirts.
Ideally paired with a fitted blazer, it's relatively easy to cop that large-in-charge look, even if it's your first time applying for a job. To help keep things casual, I recommend wearing a pair of straight-leg jeans in place of trousers.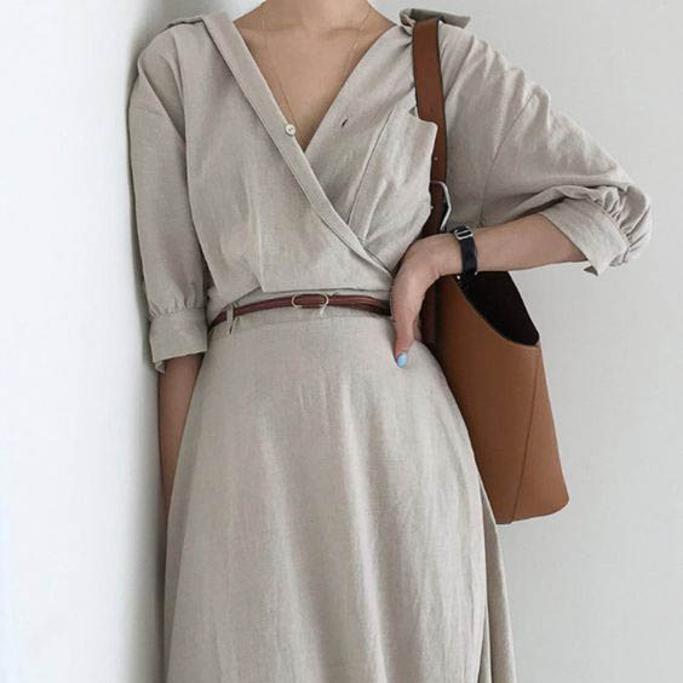 So, you want to wear a dress for the big interview. Body-con silhouettes are considered the norm for one-on-ones.
That said, I totally understand if you prefer a more comfortable alternative. If you hate slim-fit clothing, I suggest opting for the classic wrap dress. 
Loose in cut, this breathable alternative still exhibits a level of professionalism. Linens and cottons are recommended in place of silks and satin, which are best reserved for more formal events. In terms of accessories, you can never go wrong with a waist belt and a tote bag.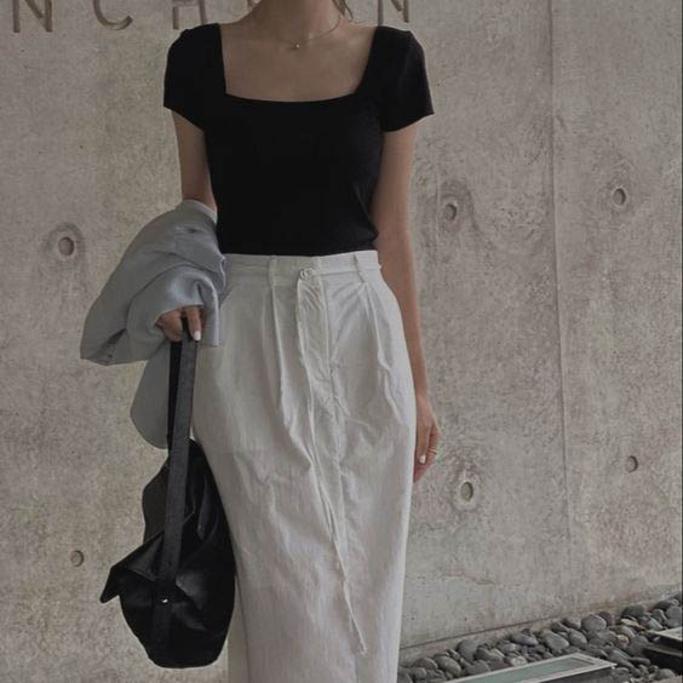 I don't know about you, but I have a love-hate relationship with pencil skirts. Aesthetics aside, they're prone to riding up as you move about, which bodes especially true for sit-down interviews. Case in point, I suggest swapping your mini for a midi instead.
Meant as a more comfortable and modest alternative, this functional garment can help prevent any shifting and bunching. You can then opt for a plain blouse, a fitted tee, or a button-up shirt, depending on the seriousness of the interview.
For shoes, a set of loafers or ballet flats can help complete the final look.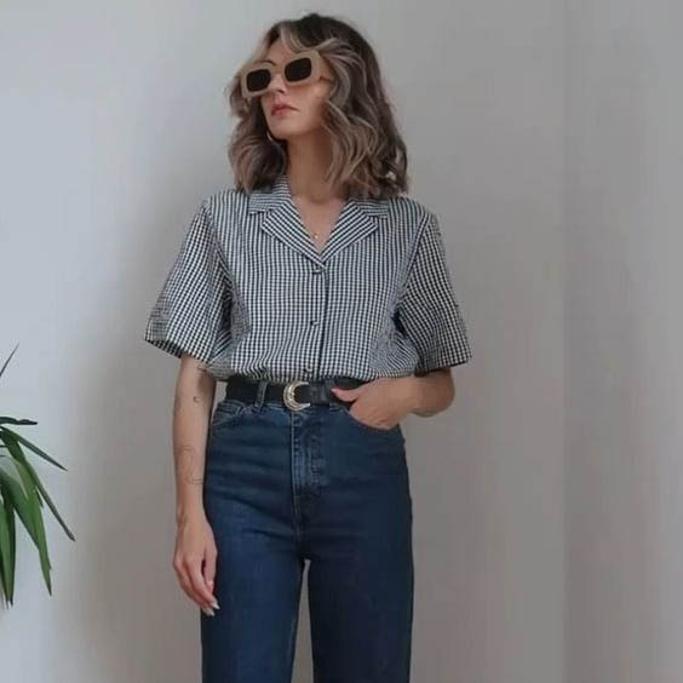 Obviously, wearing sunnies to a job interview is a big no-no. Aside from this, the rest of the outfit is totally appropriate. 
Featuring mid-wash jeans and a gingham collared blouse, this spring-inspired ensemble offers a cheerful disposition if you hate the look of trousers and traditional button-ups. I recommend adding a leather belt and a pair of heeled oxfords to help keep the OOTD classy.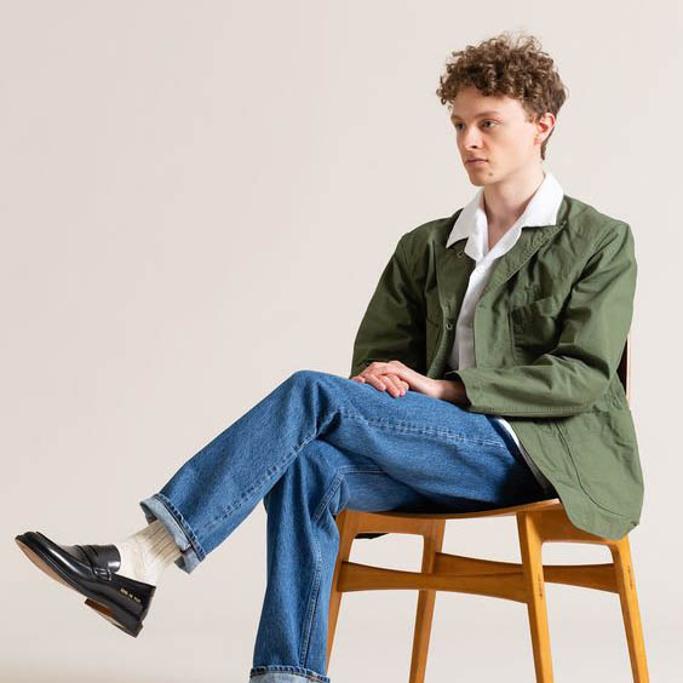 You should never underestimate the power of black loafers. They can transform any everyday fit into a business-casual classic.
This ensemble is no exception, as it features a pair of Italian shoes, straight-leg jeans, a green parka, and a white collared tee underneath.
Youthful and bright, it certainly has an energetic, spirited vibe that most interviewers are looking for. If you're wondering what to wear to an interview as a teenager, this contender is ideal for positions that are quite lax in dress code, such as clothing shops like Spencer's or Zumiez.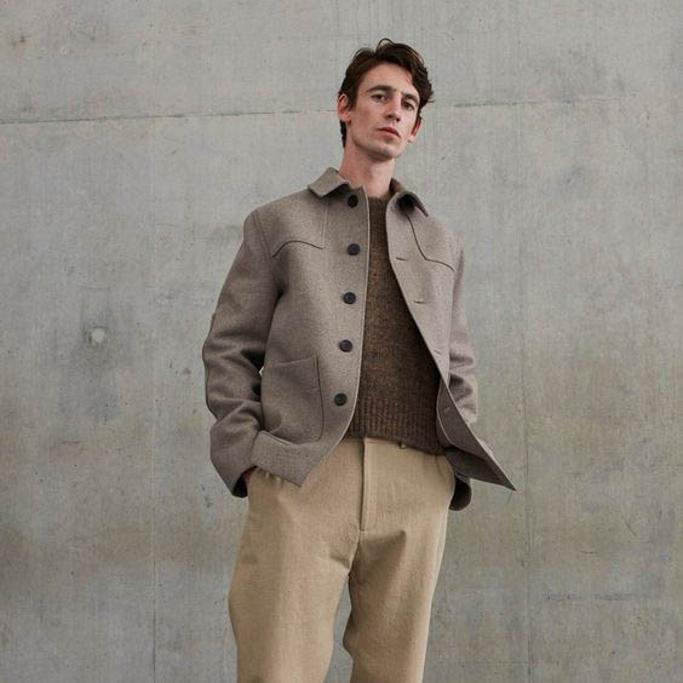 Achieving a sense of professionalism can be done without the need for a blazer. Minimalism, a core aesthetic that focuses on clean silhouettes and neutral colors, can act as an instant hack if you covet the streetwear look.
Take, for instance, this "what to wear to an interview as a teenager" contender, which showcases a brown shacket, an espresso-stained sweater, and a pair of straight-leg khakis.
The white sneakers help brighten up the ensemble. That said, you can swap them out for a set of black oxfords if you want to dress to impress.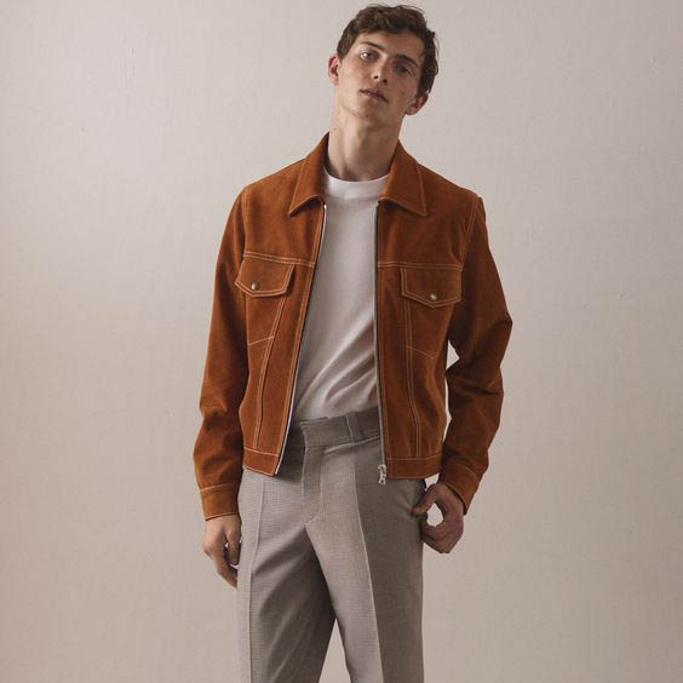 Require a simple cheat sheet of interview-appropriate outfit ideas? If so, trousers and dress shoes should definitely make the list.
This outfit combo is best paired with a plain white tee and a structured jacket, which is great for teens who don't own a fancy blazer or button-up shirt.
With a relaxed aesthetic, it's considered an excellent option for interviewees to exude a sense of friendliness and warmth without sacrificing professionalism.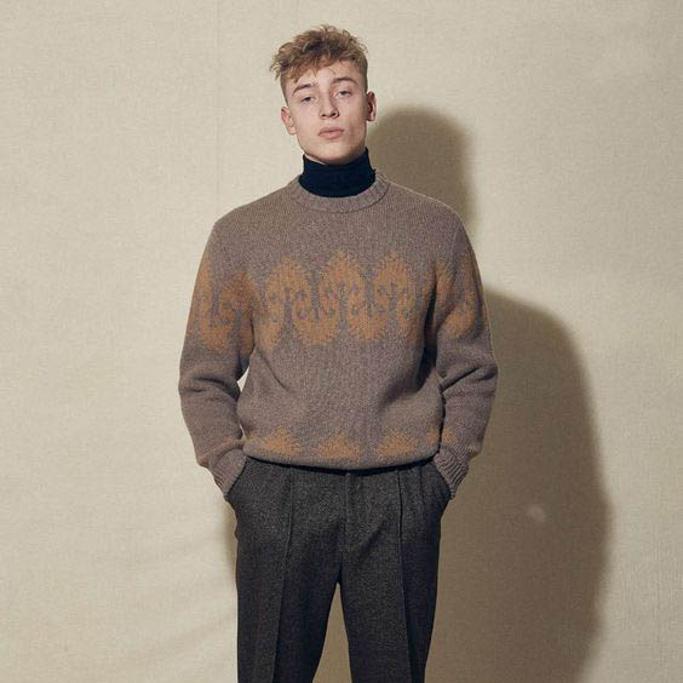 Prepping for a job interview in winter comes with its own set of caveats. The bulky nature of puffer jackets, scarves, and mittens can easily disguise any effort you put into your outfit. Even if there's a coat hanger provided.
If you're not keen on wearing a parka over a blazer, I suggest sticking to the traditional approach of layering a sweater over a turtleneck.
Regarded as a more elegant way to style a jumper, it definitely imbues any outfit with a bookish librarian vibe, which is perfect if you want to look intelligent.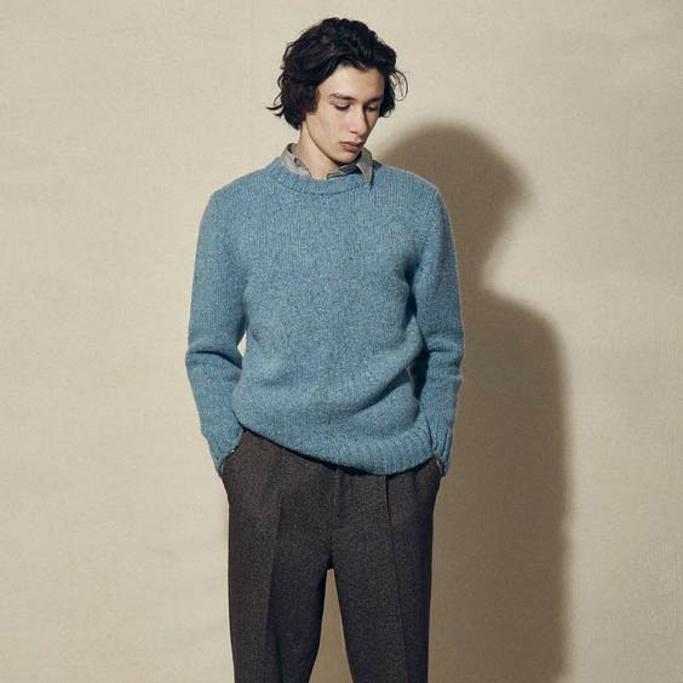 Obviously, the turtleneck and jumper combo isn't the best option for warmer days. If you prefer something more breathable, I suggest wearing a collared shirt underneath. Designed to accentuate your neck, this ensemble is considered the go-to for many corporate occasions. 
The tailored pants and black Italian shoes work to create a foundation for any bright colors.
I recommend opting for pastel hues instead of vibrant tones to help keep things professional. If you're wondering what to wear to an interview as a teenager, this is definitely something to consider.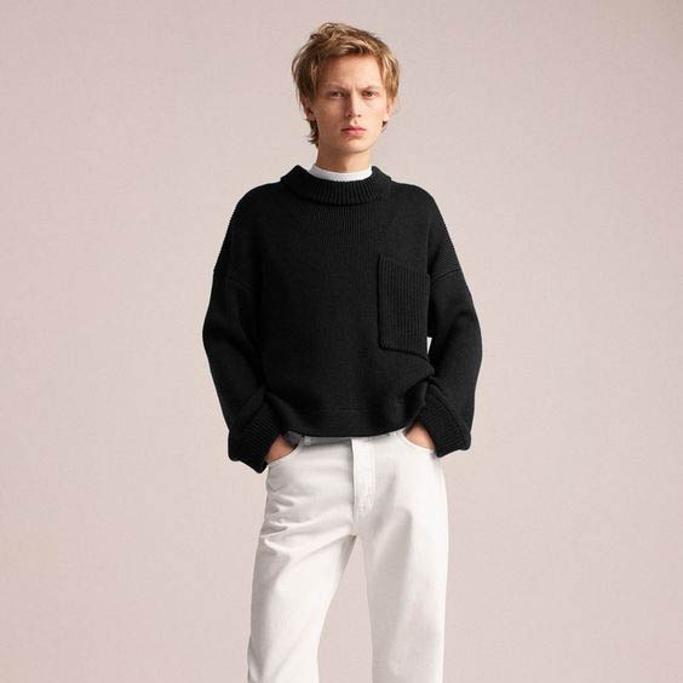 If color coordination is something you're working on, you can always rely on simple white and black pieces. This classic combo is timeless for a reason, as they can be interpreted in many different ways.
For instance, this OOTD features a black jumper, a white sweatshirt underneath, a matching pair of pants, and a set of chunky loafers. It's a relatively simple look to pull off, making it the perfect outfit for the fashion inept.
No longer should you ponder about what to wear to an interview as a teenager if you already own these key garments.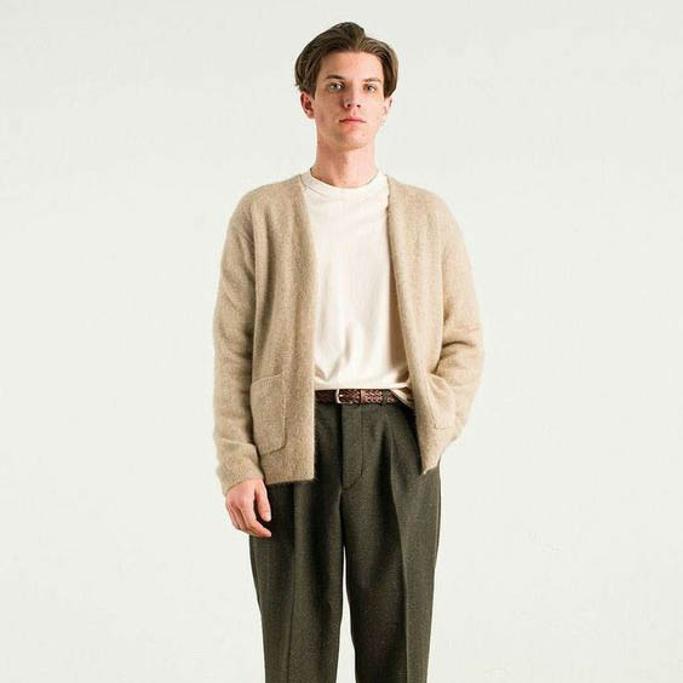 As a general rule of thumb, you shouldn't bring your security blanket to your job interview. No matter how nerve-wracking it might be. But for those who prefer the comfort of a cozy cable knit, you can easily make do with a cardigan.
Ideally paired with either a polo shirt or a plain white tee, it's a great alternative to wear if the position you're applying for is quite lax. 
Instead of jeans, I suggest wearing a pair of pleated trousers to keep things semi-sophisticated. Leather oxfords or loafers are an absolute must if you want to give off the right impression.
What Type Of Teenager Interview Outfits Can You Get?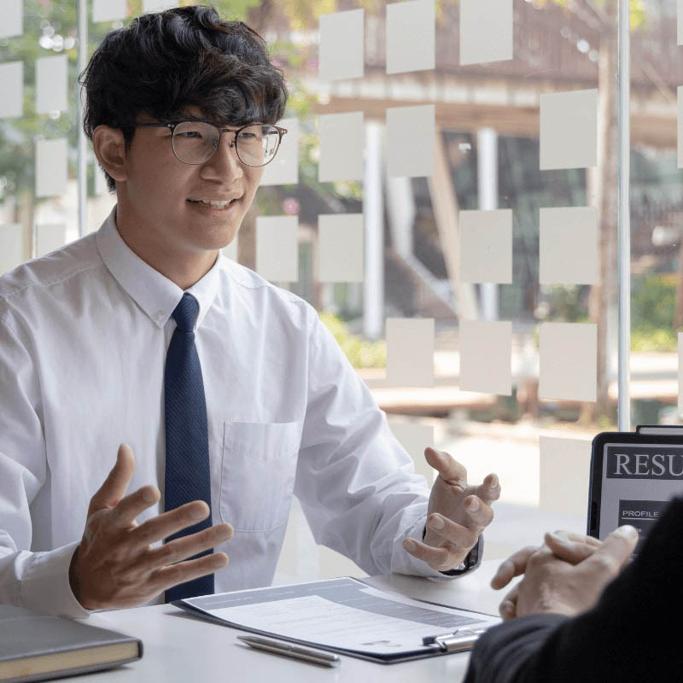 Occasions call for outfit limitations, which bodes especially true for interviews. Suddenly, your hundred-some mix of streetwear clothes becomes a black void as you scramble to find appropriate garments for that important one-on-one.
For those in need of recommendations, I'll show you what to wear to an interview as a teenager using 5 outfit ideas: 
Button-up Tee and Trousers: When you think of formalwear, this outfit usually comes to mind. It's considered the fail-safe option if you've run out of outfit ideas.
Blazers and White Tees: Given that most entry-level jobs consist of a casual interview, it's best to swap out your button-up shirt for a relaxed tee.
Midi Skirts and Blouses: Not fond of minis? If so, you can never go wrong with a midi skirt. To keep things classy, wearing a blouse is highly recommended.
Jumpers: This simple garment can easily be paired with a turtleneck or a collared shirt underneath.
Monochrome Minimalism: This core aesthetic is your one-way ticket to looking professional and sophisticated without putting in much effort.
How To Choose The Best Teenager Interview Outfit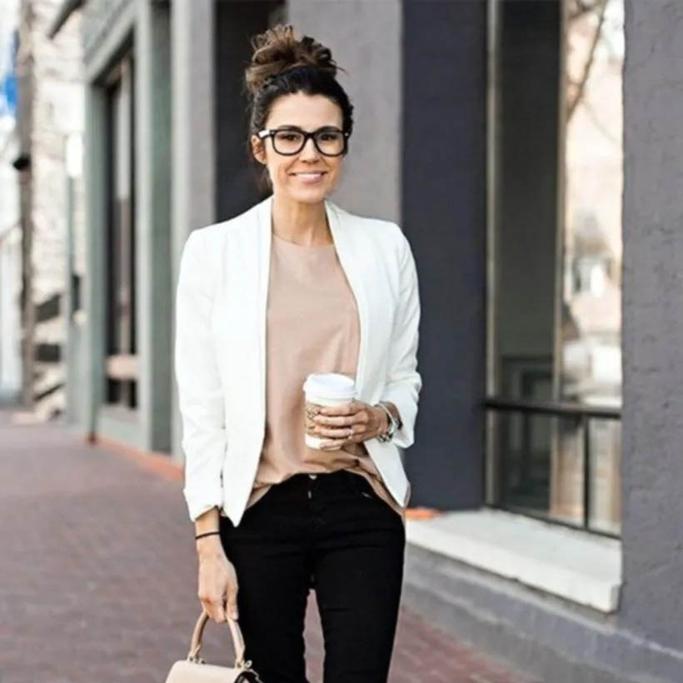 Finding the perfect outfit is usually put to the side when prepping for an interview. There are other things to worry about, as we typically Google practice questions beforehand.
That said, I don't recommend leaving your ensemble to the last minute. Digging through your wardrobe in an attempt to find the right clothes can often lead to more stress.
So if you need some new garments, I'll discuss some pointers to consider when shopping.
As a general rule of thumb, responsible shoppers consider material quality, practicality, design, and price when buying new clothes.
The fabrics you pick can imbue any outfit with a sense of professionalism, as long as they are the right ones. Materials such as herringbone, wool, tweed, silk, and cotton can help you look sophisticated and clean.
Thin polyesters and other cut-corner materials used by fast fashion brands should be avoided at all costs, as they're more prone to ripping and wrinkling.
Quality also relates to the construction of the garment itself. Straight lines, even stitching, and tailoring can do wonders in exuding a sense of prestige.
Practicality bleeds into appropriateness when it comes to job interviews. Ultimately, you should consider the vibe of the place and the seriousness of the position when forming an outfit.
While it's easy to resort to button-ups and trousers, it may not be the most comfortable or realistic option if you're applying as a retail worker. 
In terms of design, it's always a good idea to resort to minimalism. Again, this core aesthetic is all about simplicity, as neutral colors and subtle prints work best in corporate situations. I don't recommend opting for bright hues and busy patterns, as it may seem unprofessional in some cases.
Price-wise, a decent interview outfit shouldn't cost more than $200. There's a good chance that you already own some appropriate pieces, which saves you the need to go on a full shopping spree.
How To Style Teenager Interview Outfits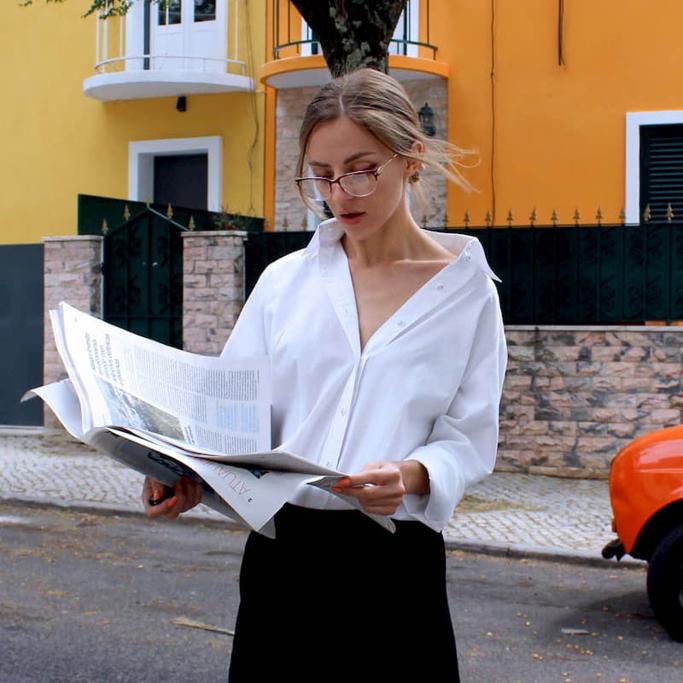 Interviews are not runway shows. There's no need to overthink your outfit, as simplicity usually speaks for itself. That said, there are some OOTDs that require a bit of sprucing up.
If you aren't keen on copping the wallflower aesthetic, I'll show you what to wear to an interview as a teenager by providing some styling tips:
Dainty Jewelry: Simple chain necklaces and diamond stud earrings offer an appropriate amount of glitz.
The Classic French Tuck: Defining your silhouette can help imbue a sense of professionalism into an outfit. Case in point, try tucking the front of your shirt into your bottoms to help accentuate your waistline.
Natural Makeup: Glowy skin, minimal eyeshadow, and a subtle lip stain are all you need for job interviews.
A Leather Tote Bag: Nothing screams boss behavior more than a sophisticated tote bag. You can even accessorize with a canvas carry-on if that's more your style.
Glasses: Want to look intelligent? If so, I suggest swapping your contacts for a pair of sophisticated frames.
Fashion Tips to Avoid With Teenager Interview Outfits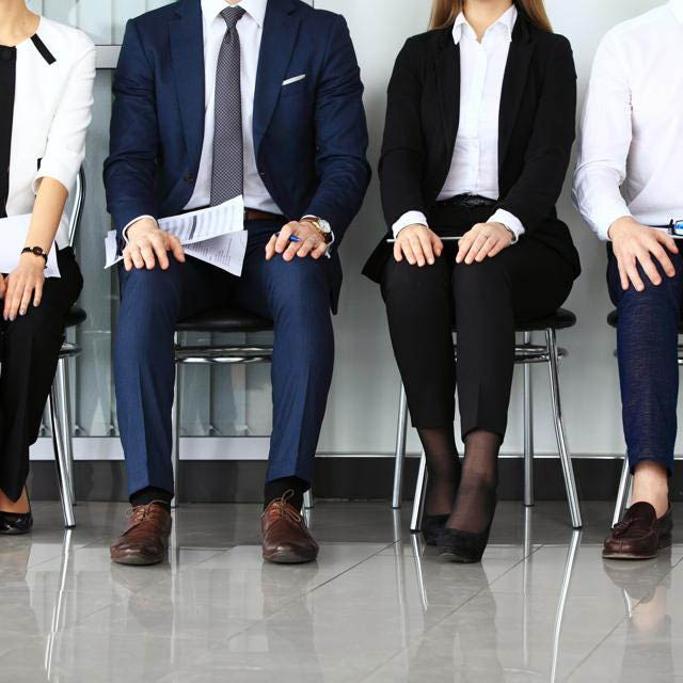 Interviewers try to get a sense of your personality and skillset through the answers you provide. Additionally, judgment on what you wear also comes into play. The outfit you choose will reflect how much you care about the position and what kind of vibe you want to pull off.
Not keen on looking like a potential red flag? If so, I'll share some fashion tips to avoid with interview teenager outfits:
Complete Streetwear: It's considered poor taste to show up to an interview wearing distressed jeans, a graphic tee, and a pair of beat-up sneaks.
Extreme Formalwear: This isn't the time to wear a tux or a fancy dress, even if the position is quite serious.
Hypebeast: While this core aesthetic aligns with streetwear, I'm mainly referring to any designer brand. Interviews aren't the place to rep your Gucci bag or YSL heels.
Maximalism: Unnecessary ruffles, sequins, and poofy skirts are inappropriate for job interviews and other corporate settings.
Long Manicures: If the position you're applying for is a hands-on job, it seems counterintuitive to show up at the interview wearing a long French manicure.
How To Take Care Of Teenager Interview Outfits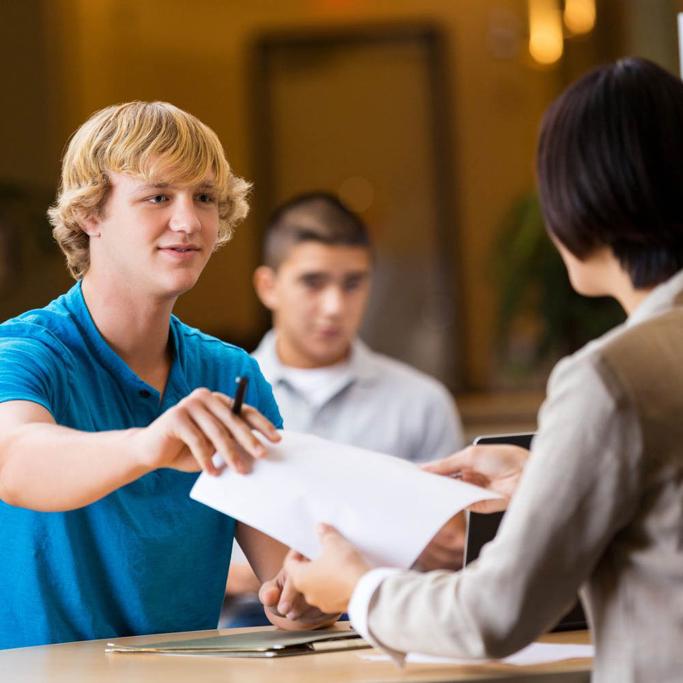 Given that most interview outfits entail a 50/50 mix of formalwear and casual clothing, it's best to double-check the care tag of your garments beforehand.
Some pieces require dry cleaning, while others can simply be thrown in the laundry machine. As a general tip, you should have your ensemble ready to go the day before.
Best Places To Buy Teenager Interview Outfits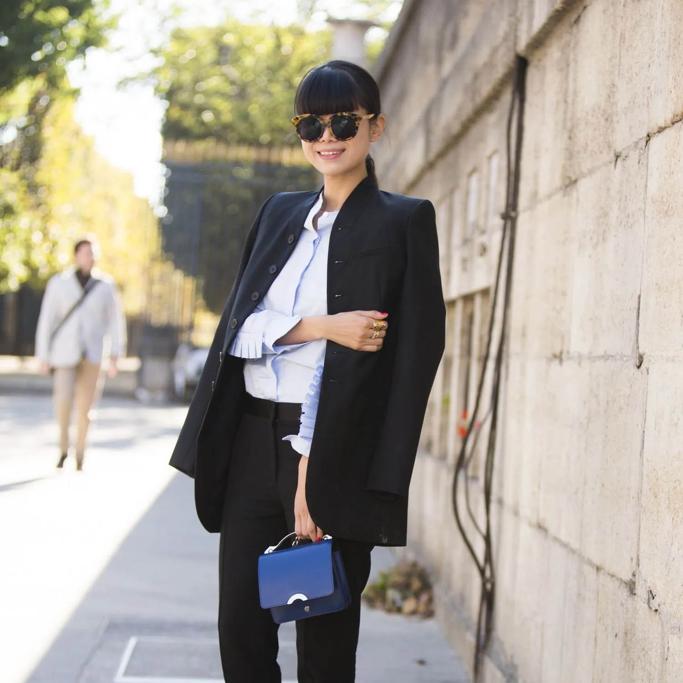 Before I conclude my "what to wear to an interview as a teenager" outfit guide, I thought it best to share some store recommendations for readers to check out:
Everlane 
Kotn 
Pact 
Aritzia 
Final Thoughts
I'm pretty sure you've heard of the phrase, "fake it 'til you make it." Feeling unprepared for the position you're applying for is quite normal, especially if it's something you intend to follow along your career path. Interviewers already know that teens don't have much job experience.
But there's something to be said about a potential employee that's dressed to impress. Sophistication and professionalism aren't hard looks to pull off, but any effort you put in will definitely be remembered.
I'm fairly confident that you now know what to wear to an interview as a teenager, given the number of outfit ideas I showed you. Keep calm and carry on. You've got this.
---
Check out some of our other style guides:
What To Wear To A Graduation Party
What To Wear For Senior Pictures
Get Access to Exclusive Deals
Subscribe for free to get exclusive deals in your inbox. 100% privacy