What To Wear To Topgolf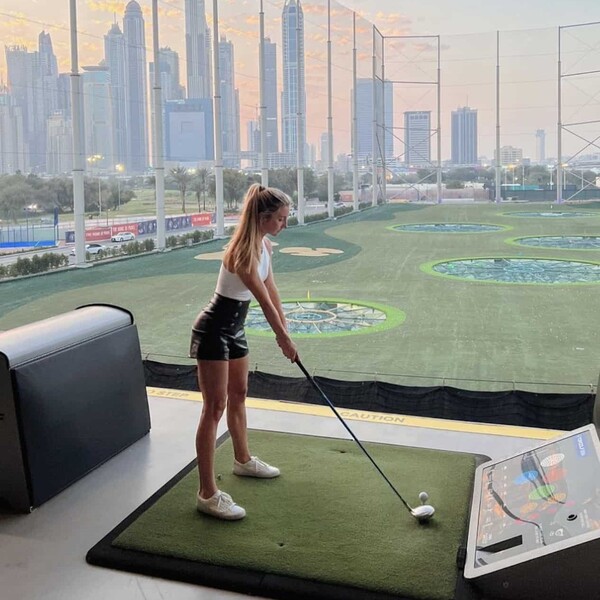 Topgolf is the infomercial solution to golf that we never knew we needed. There's a sense of inaccessibility and obscurity found in the sport, as points are provided based on a visual estimate.
Obviously, this may not apply to professional situations, but in terms of casual playing? Golf is practically reduced to a 'hit ball with club' game. Thank god for technology. 
Through the use of microchipping and computers, golf balls can be digitally traced to ensure an accurate point system. These pivotal updates led to a re-embracement of the sport, which resulted in a massive fanbase.
Now considered a trendy hotspot for date nights and friendly hangouts, you're probably wondering what to wear to Topgolf for the first time. 
There's no need to limit yourself to cargo shorts and dad-esque polo tees. I'll show you what to wear to Topgolf using 12 outfit ideas. This comprehensive style guide may or may not cover topics such as:
what to wear to topgolf in winter
what to wear to topgolf in summer
What Is Topgolf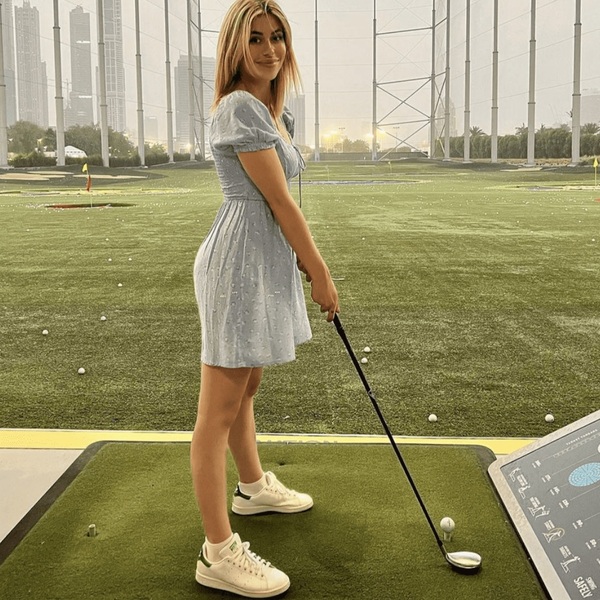 Topgolf is considered a modernized update of the sport. This pastime utilizes microchipped golf balls to help trace each hit.
In a regular game, players can score points by focusing in on the provided targets. Compared to open ranges where carts and different playing fields are provided, Topgolf only involves a single course. 
Over the years, Topgolf has exploded in popularity. Locations are stationed in major cities, including Philadelphia, Baltimore, and Long Island.
History Of Topgolf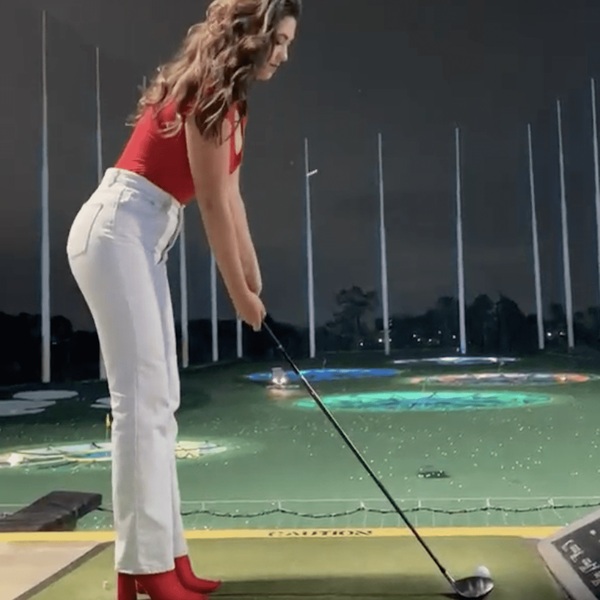 For those unfamiliar with Topgolf, you should know that it's both a sport and a company. Owned by Topgolf Callaway Brands, this entertainment group aimed to solve a common problem posed by players: who hit closer? 
Thus, began a series of upgrades meant to improve this American pastime. By using radio-frequency technology and integrated targets, Topgolf managed to remove the ambiguity surrounding the game.
Founded by owners Dave and Steve Jolliffe, Top Gold has continued to snowball in popularity since its debut in the 2000s.
12 Outfit Ideas For Topgolf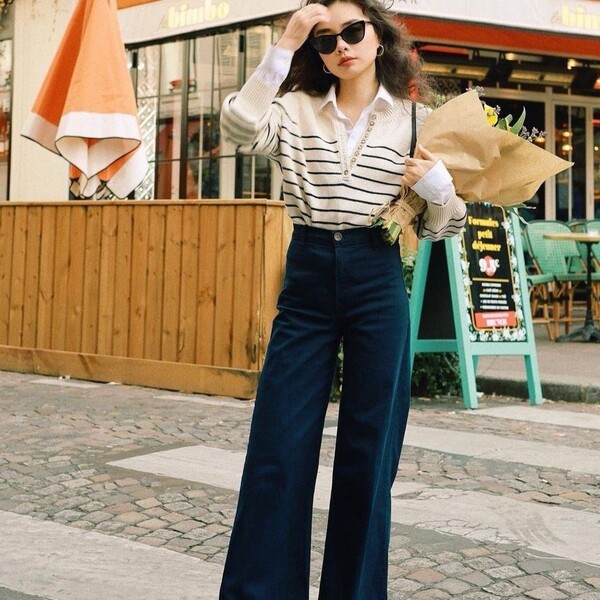 Prepping for a sports event usually entails athleticwear, right? It's not the case for Topgolf, as this activity doesn't mandate a dress code. That said, it's still important to opt for comfortable, flexible clothes to ensure a smooth swing and hit. 
This outfit is considered a great example, as it features a striped polo long sleeve, a pair of straight-leg jeans, and a set of lace-up boots for a style switch-up. Relatively roomy in fit, this 'what to wear to Topgolf' contender is regarded as the perfect mix between function and fashion.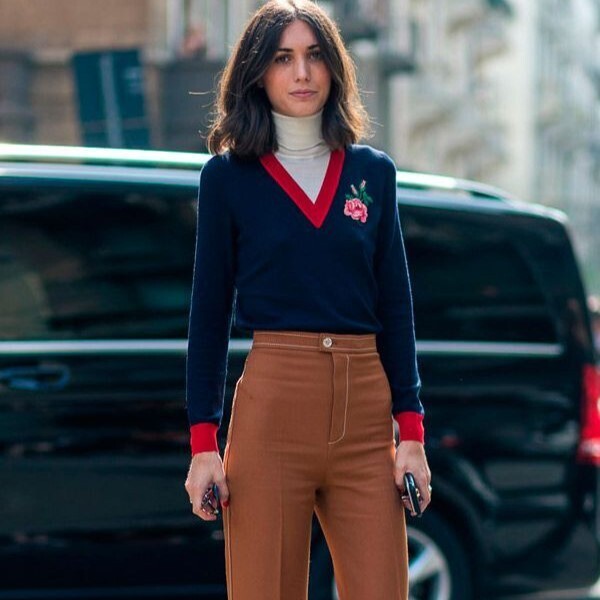 Golf is usually dubbed as the 'old money sport.' Case in point, it posits a unique opportunity to channel your inner snob. This sophisticated OOTD is composed of a varsity sweater, a slim-fit turtleneck, and a pair of leather pants. 
Accentuated with white booties, this elegant outfit will definitely send shivers down your opponent's spine. It's considered an excellent ensemble for winter, given the number of layers it has. But for those in need of additional warmth, I suggest adding a stylish trench coat on top.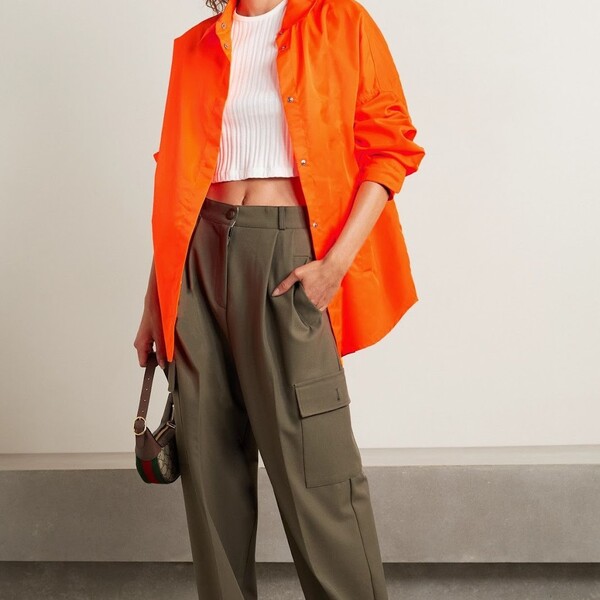 In some cases, Topgolf is within the mix of suggestions after watching a movie or going to a restaurant. It's a casual way to pass the time. In that case, it's best to opt for streetwear to help keep things lowkey. 
For instance, this stylish OOTD consists of an orange button-down, a white crop top, and a pair of green cargo shorts.
Complete with white sneakers, this 'what to wear to Topgolf' contender imbues a slightly sporty vibe, which is what you want if you're a casual player. In terms of additional accessories, you can never go wrong with a baseball cap.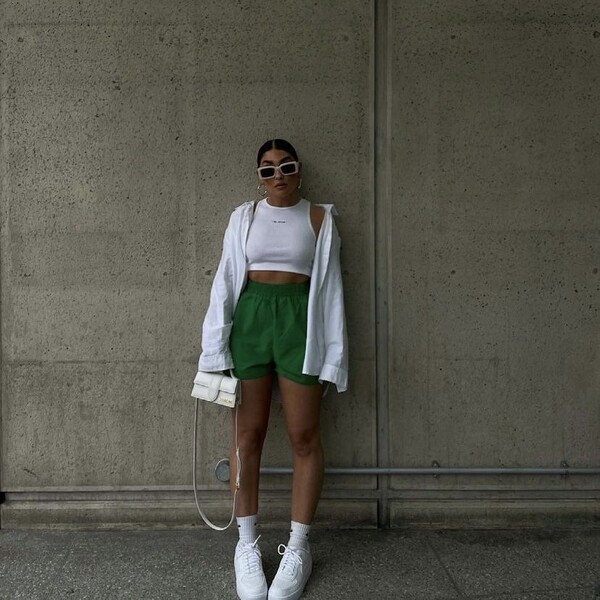 When you think of golf, the frat boy aesthetic usually comes to mind. It's a cheesy look to adopt, but when styled correctly, it can definitely pass the vibe check.
For example, this OOTD consists of a loose white button-down, a cropped tank top, a pair of green shorts, and a set of lace-up sneakers. 
Sporty in fit, the tailored aspect of each garment helps to exude a sense of class and sophistication. While most choose to accessorize their ensemble with the iconic red solo cup and baseball cap, I recommend opting for sunnies and a pair of simple gold hoops.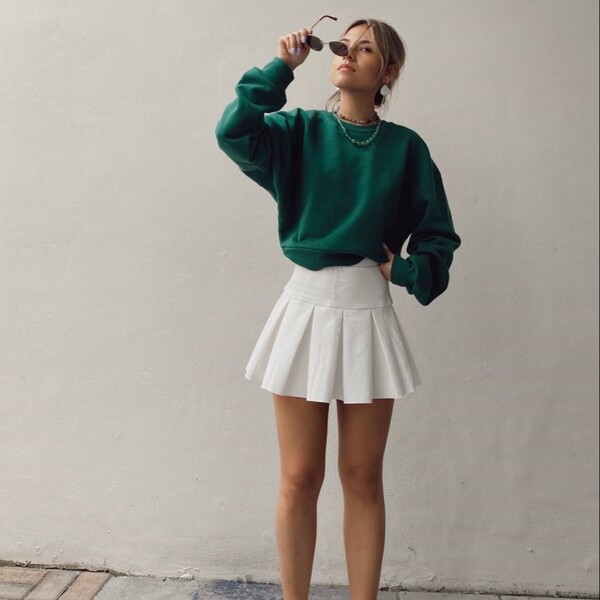 Tennis skirts will never lose their affiliation with sports. With that in mind, you should definitely consider wearing one to Topgolf. The flared silhouette paired with its clean and crisp pleats exudes a sense of prestige, which is probably why it's commonly linked to VIP courts and exclusive country clubs. 
You can either opt for a slouchy collegiate sweater or a slim-fit polo shirt. Both options result in the same look, which is the ever-iconic 'trust fund baby' ensemble. I highly recommend topping this 'what to wear to Topgolf' contender off with sunnies and a cute headband.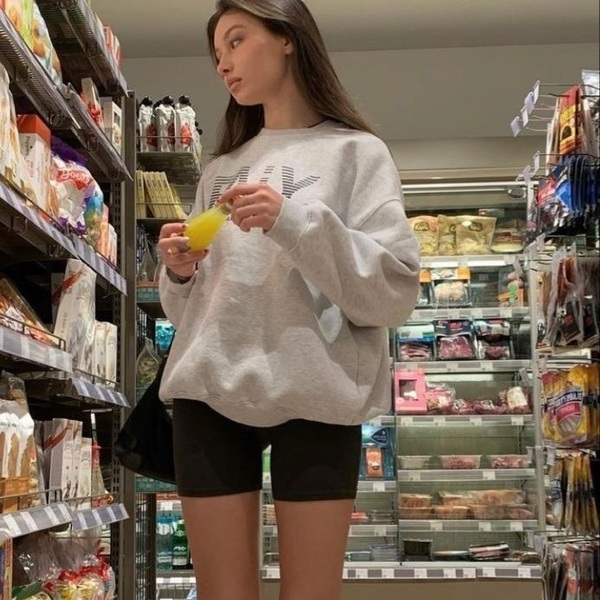 If Princess Diana played Topgolf, I'm fairly sure that she would've worn this iconic outfit. Popularized by Dynasty Di herself, this combo consists of an oversized sweater, a pair of black biker shorts, and a set of white running sneakers. 
Simple in aesthetic, it exudes a slightly sporty vibe without resorting to brand logos and bright colors. The beauty of this OOTD is its level of versatility, as you're free to experiment with different cuts, hues, and designs.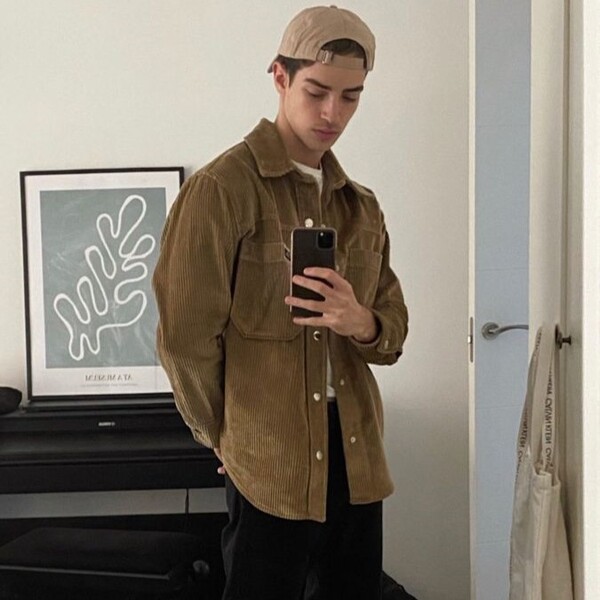 A casual night with friends usually involves drinks, pizza, and a game of some sort. If today's activity calls for another round of Topgolf, this chic OOTD should make a definite appearance. 
Featuring a brown corduroy jacket, a beige baseball cap, black jeans, and a pair of yellow Converses, this casual streetwear look keeps things subtle but playful for lowkey hangouts. Given the simplicity of fit, additional accessories are not needed.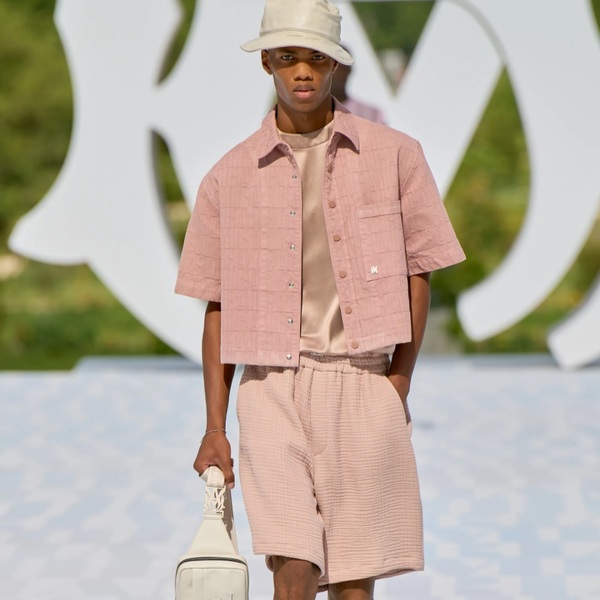 Bright, fun, and playful, this monochrome ensemble should be worn for Topgolf matches in summer. It's composed of a silk shirt, a cropped button-down, and a pair of matching shorts. 
The white bucket hat and the lace-up shoes help to break the monotony of pink, as full-on blush would be too overwhelming.
Care for some additional accessories? If so, I recommend topping off this 'what to wear to Topgolf' contender with a stylish fanny pack.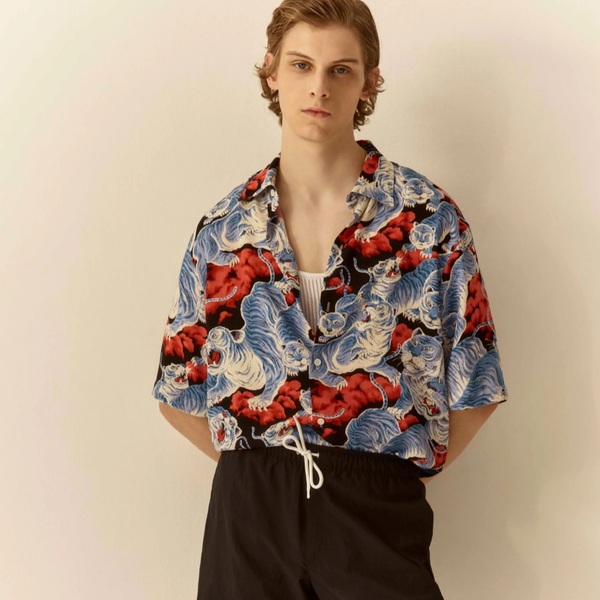 Comfy and casual is usually the go-to move for laid-back sports. Topgolf is no exception, as everyday clothing is considered acceptable. For example, this OOTD features an oversized printed button-down and a pair of black drawstring shorts. 
It's a solid outfit for humid weather, given its degree of breathability and flexibility. If you're looking to jazz things up a little, I recommend layering up with a white tank top underneath. For shoes, you can either opt for a pair of chunky dad-esque sneakers or oxfords for a touch of sophistication.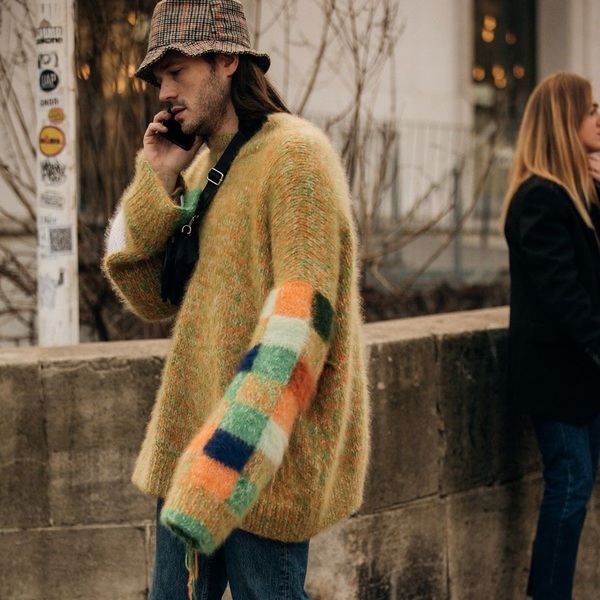 Not fond of sporty 'yacht club' pastels? If so, you'll be glad to know that sportswear isn't limited to soft, warm hues. Muted shades and patterns are considered totally acceptable if you're wondering what to wear to Topgolf. 
This stylish OOTD is composed of a mustard yellow mohair sweater with a rainbow grid pattern.
Oversized in fit, it acts as the perfect statement piece when paired with black straight-leg jeans. Given the cheesy nature of the ensemble, a set of dad-core sneakers can do wonders in accentuating the quirky vibe of the outfit.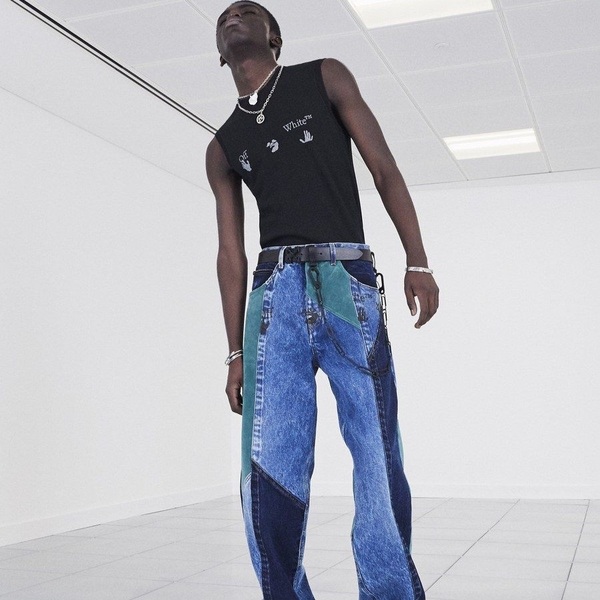 The occasion calls for a casual brunch with friends, a potential shopping spree to kill time, and Topgolf later in the evening. If you require an outfit that matches the 'profile,' look no further than this chic ensemble. 
Composed of an Off-White black tank top, a pair of patchwork jeans, and a set of polished Italian shoes, this casual OOTD definitely screams summer in the city. To help brighten up the dull tones of this outfit, an array of stacked silver jewelry is a must. 
Wondering what to wear to Topgolf? You can practically say goodbye to second thoughts when presented with this iconic ensemble.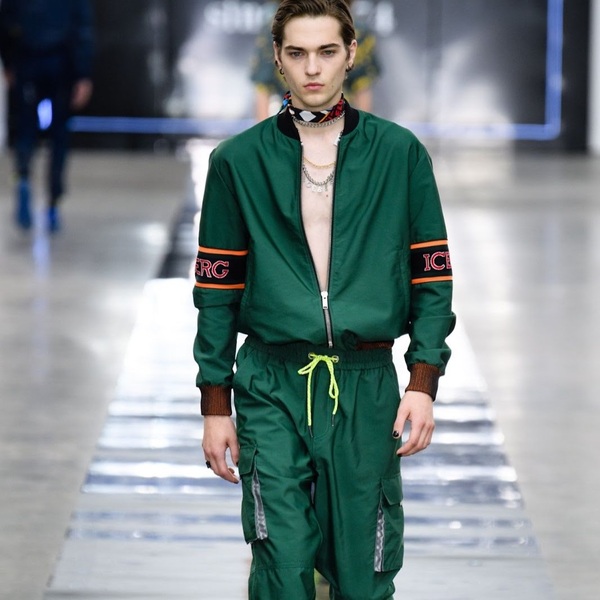 This wouldn't be a complete 'what to wear to Topgolf' style guide without including a complete athleisure fit.
Considered the perfect visual representation of 'I've got money to spend,' this matching set features a green zip-up jacket, a pair of cargo pants, and a set of neon green sneakers. 
I'm totally aware that not everyone is comfortable showing off their chest, especially when it comes to casual sporting events. Case in point, I recommend layering up with a white tank top underneath for some coverage.
For additional accessories, a silver Cuban chain necklace and an array of stacked rings can help emphasize the final look. 
What Type Of Topgolf Outfits Can You Get?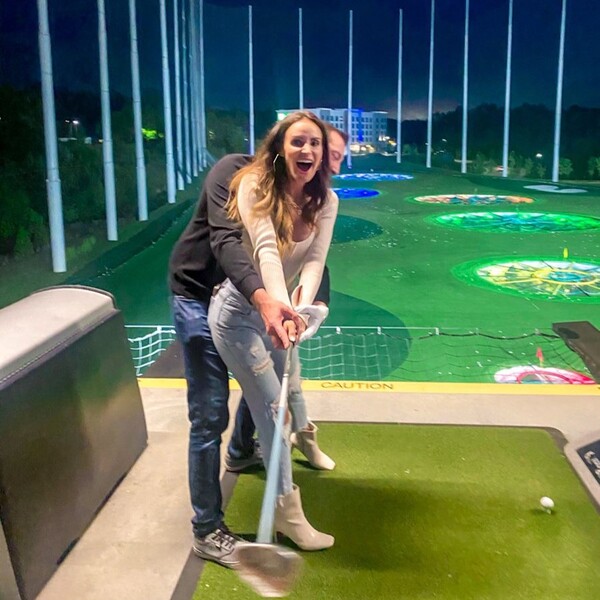 When confronted with a new occasion, finding the perfect outfit can get a bit daunting. Thankfully, Topgolf is a casual event, so you don't have to worry about abiding by a strict dress code.
The options are entirely limitless—that said, this may overcomplicate things for some novice trendsetters. 
To help keep things simple and straightforward, I'll show you what to wear to Topgolf using 5 outfit ideas.
Casual streetwear: When it comes to Topgolf, it is totally acceptable to wear your everyday go-to's. This could be your regular pair of jeans and a plain t-shirt.
Athleisure: Considering that Topgolf is a sports event, it makes sense to opt for performance wear. You can try opting for leggings, hoodies, and biker shorts.
Preppy collegiate: As previously stated, golf is an elitist sport. With that in mind, you might as well don your snobbiest ensemble. This involves collegiate sweaters, pleated trousers, oxford shoes, and tennis skirts.
The 'I came to win' look: This look bears a slight resemblance to athleisure, but minus the leisure part. If you're keen on crushing your teammates, it's probably best to wear moisture-wicking leggings and a comfortable polo shirt.
The romantic first date outfit: In some scenarios, your date might take you to Topgolf. If you're looking to accomplish that 'please teach me how to swing' move, I suggest donning your cutest OOTD.
How To Choose The Best Topgolf Outfit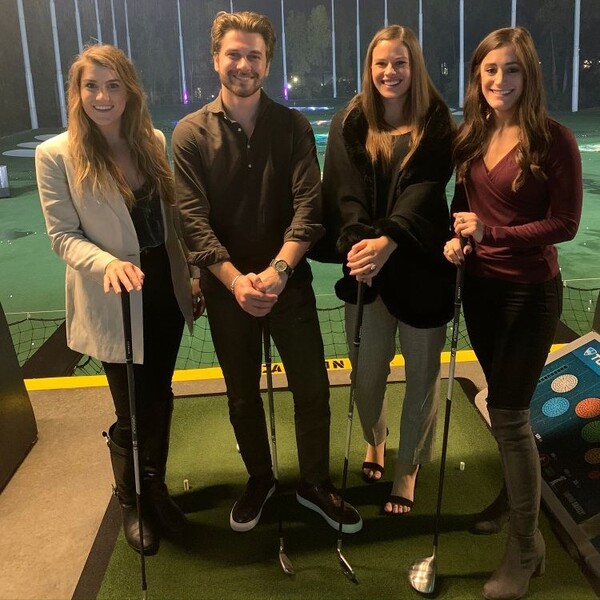 From the get-go, there's no need to buy an entirely new outfit. You can easily form your own OOTD out of pieces that you already own. That said, unique occasions usually trigger the inner shopaholic in us. If Topgolf wins the majority of the vote in your group chat, it may incite some fashion inspo.
Looking to conduct a quick shopping trip? If so, I'll discuss some pointers worth considering.
Material quality, design, practicality, and price are important factors to keep in mind to ensure the best bang for your buck. Given that Topgolf is a sports activity, it's probably best to consider performance wear as a veritable option. 
Comfort, breathability, and flexibility can help ensure a hassle-free game. Fabrics such as Lycra, spandex, rayon, and cotton blends are designed for high-intensity activities.
Given the semi-lax nature of Topgolf, you can usually get away with denim and wool- but you should generally be mindful of your play type and how competitive you plan on being. 
Practicality is an integrated asset in performance clothing. Streetwear, on the other hand, depends on the design. If you plan on crushing your friends at Topgolf, you should opt for loose, breathable clothes. But those prepping for a casual 1v1 can consider fussier garments, such as dresses, skirts, and embellished tops. 
For a single outfit, you should expect to pay no more than $200. Obviously, the price depends on the brand you choose and the design itself. If this budget estimate is out of your personal ballpark, I recommend opting for thrift stores as a cost-effective alternative.
How To Style Topgolf Outfits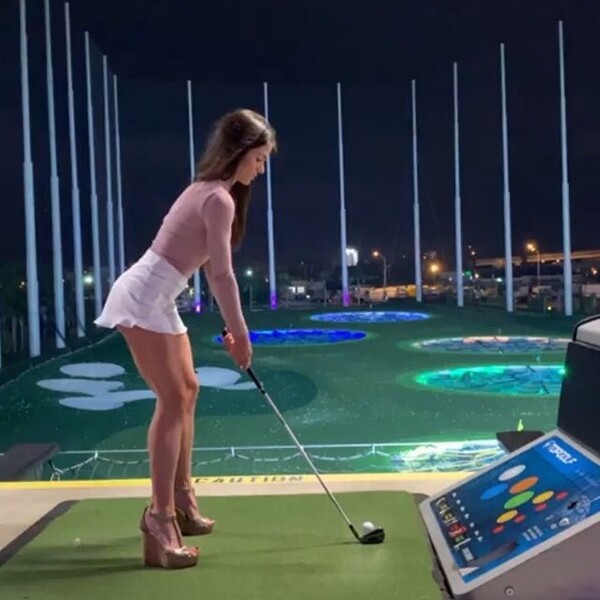 Those serious about sports usually place accessorization at the end of their list of priorities. Obviously, this isn't the case with all recreational activities, such as Topgolf.
If you're looking to cop the perfect Instagram post to flex your win, I'll share some ways on how to style Topgolf outfits. 
A pair of cool sneakers: The best way to jazz up any outfit is to don your coolest set of runners. This could be Air Jordans, Yeezys, or Converses.
Sunglasses: You can never go wrong with a classic pair of shades. Given that golf is usually played during the daytime, wearing a set can help block any annoying glares.
Jewelry: Unlike some sports, you're free to wear necklaces and rings while out on the range.
Decorative handkerchiefs: Considered a subtle way to introduce a pop of color or print to your final look, it can also act as a handy sweat towel during the game.
A cute hairstyle: Most prefer a hassle-free updo to further their concentration. I suggest opting for ponytails, half-ups, or even a messy bun.
Fashion Tips To Avoid With Topgolf Outfits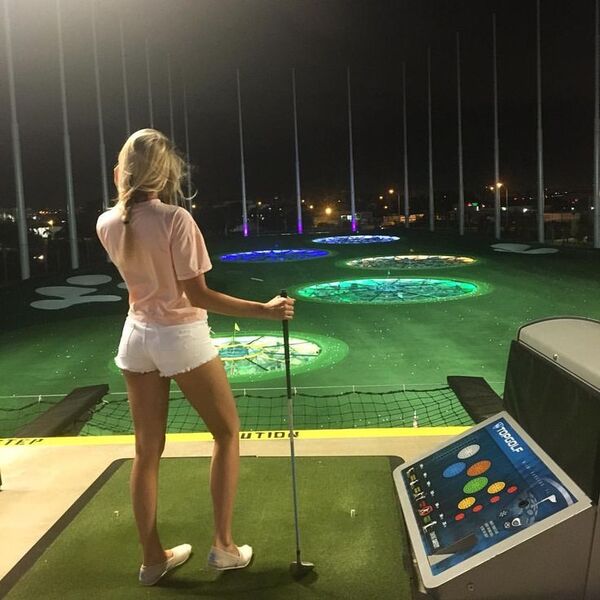 From the get-go, there's really no such thing as a bad Topgolf outfit—unless you opt for the extremes.
Sports activities usually require a breathable, comfortable, and flexible set of clothing, which, obviously, isn't applicable to every core aesthetic. To help mitigate post-ensemble regret, I'll share some fashion tips to avoid with Topgolf outfit ideas. 
Loose bracelets: If you're wondering what to wear to Topgolf, you should generally stay away from super loose bangles and chains. The sport involves a lot of swinging. Case in point, you don't want your Louis Vuitton charm bracelet to go flying with the wind.
Complete formalwear: Poofy ball gowns, mermaid dresses, and stiff tuxes can impair your movement. Plus, they might result in additional sweat if you intend on giving your all in Topgolf.
Heavy garments: To help mitigate any misunderstandings, you're totally free to wear leather jackets and trenchcoats for Topgolf. That said, I don't recommend donning them as you play to help maximize flexibility.
Super-tight clothing: If your outfit of choice limits your ability to stretch your limbs, it's probably best to reserve it for formal occasions and Instagram pics.
The couch potato aesthetic: As a general rule of thumb, you shouldn't wear your Cheeto-stained shirt out in public.
How To Take Care Of Topgolf Outfits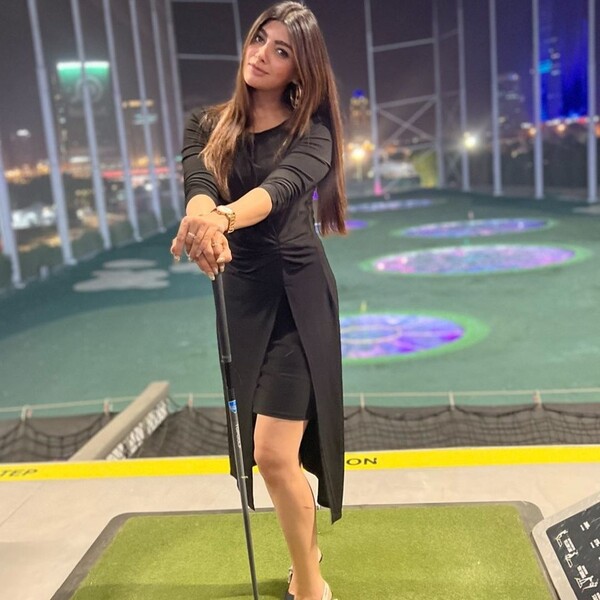 Considering that Topgolf outfits can be interpreted as everyday clothing, I think it's safe to say that you can include them with your regular load of laundry.
As a precautionary measure, it's always a good idea to double-check the care tag of your garment for any specific instructions. There's a good chance that some pieces require dry cleaning or hand washing. 
For 'ordinary' ensembles, I recommend using a gentle solution of lukewarm water and mild detergent. You can either opt for machine-drying or the 'au natural' method.
Best Places To Buy Topgolf Outfits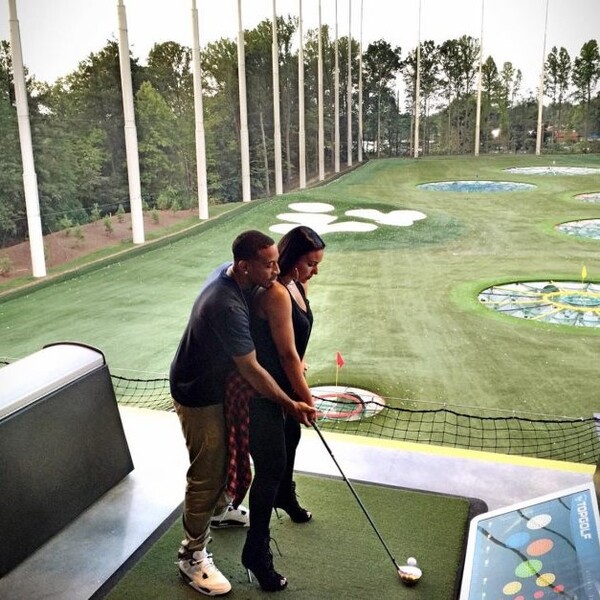 If you know what to wear to Topgolf, you're probably in need of some store recommendations. Below, I'll spotlight a few trendy shops worth checking out.
Everlane 
Nordstrom 
Sezane 
Aime Leon
Final Thoughts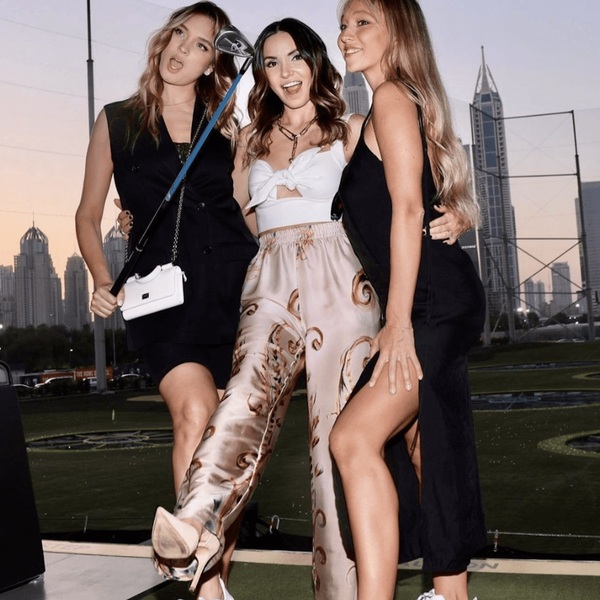 Finding outfit inspo for a specific event can be an overwhelming task. There are thousands of ideas to consider, especially for occasions that don't mandate a dress code.
When it comes to Topgolf, it's always a good idea to opt for elevated basics. Casual OOTDs are easy to compose; putting your spin on these classics can help separate you from the crowd. Your final look should imbue maximum 'win' energy. 
Here's to hoping that you know what to wear to Topgolf. From sporty chic to casual streetwear, I encourage you to get creative with your chosen ensemble.
---
Check out some of our other style guides:
What To Wear To A Golf Tournament
Get Access to Exclusive Deals
Subscribe for free to get exclusive deals in your inbox. 100% privacy