30 Best Berserk Tattoo Ideas 
About Berserk Tattoos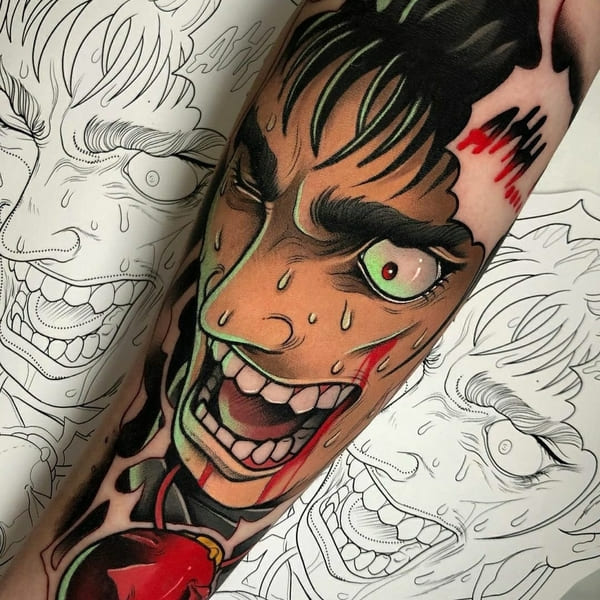 If you're a fan of the hit Berserk series and you've been mulling over Berserk tattoo ideas, this guide is for you. The Berserk series is a dark and twisted fantasy that's considered an acquired taste.
The story is set in a middle-earth European-inspired world, which is certainly different from most popular mangas.
Once you start reading this adventure-driven series, you'll be transported into a world with unique characters and dark storylines that touch on themes of free will, causality, and destiny. 
Berserk is so interesting that it was adapted into not one, but two anime series alongside a feature film and video game.
A series this unique is common in the world of manga and series are often turned into onscreen anime shows or films for further enjoyment and a variety of storytelling. 
With Berserk being as popular as it is, a few Berserk-inspired tattoos have popped up among both the ink and manga communities. Berserk tattoo ideas are special and could have a number of meanings to the wearer.
Read on to discover more about the Berserk series and learn why Berserk tattoo ideas are as appreciated and common as they are.
What Do Berserk Tattoos Mean And Symbolize?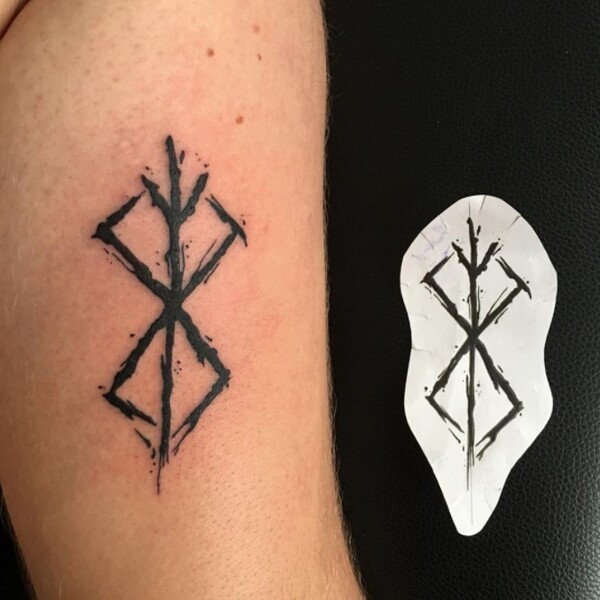 Firstly, what are Berserk tattoos and what do they mean? The most obvious answer is that this tattoo means the wearer is a fan of the show or the original manga. Although, we can only speculate what the actual Berserk tattoo meaning is.
In line with the series' themes, one might research Berserk tattoo ideas because they appreciate the deeper ethos of the show. For instance, if you're a lover of liberty and free will a Berserk tattoo would certainly be appealing to you.
An artistic meaning could be that you have an appreciation for the show's animation style. As an artist yourself, the thick to thin lines may speak to you in a language that non-creatives don't speak.
Another reason one might want a Berserk tattoo is that they consider themselves a philosophical person. The series deals with themes that are rooted in humanity and often morality.
If these are topics that interest you—especially if you often question your own existence or the current state of the world—a Berserk tattoo design might be perfect for you. 
Where To Get A Berserk Tattoo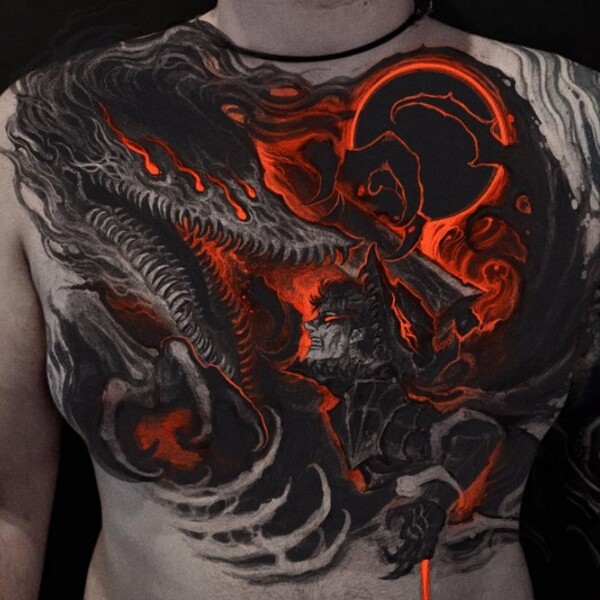 But where should you place this poetic tattoo design? Ultimately, where you choose to place your tattoo is up to you but there are a few spots that are perfect for Berserk tattoo designs.
Consider the human body a walking talking canvas for tattoos—even Berserk tattoo ideas. If you're a longtime fan of the series or are simply curious, these spots are the best places for a Berserk tattoo.
In both the show and the manga, the hand of God is mentioned more than once. Coincidentally, this was the show giving you a subtle hint about where your Berserk tattoo ideas should go.
Both the palm and the back of the hand have enough space for an 'egg of the perfect world' design or even a Berserk wolf tattoo. 
Tatt a quote from the series' leading man Gut or go for something more artistic like a tattoo of the dragon slayer sword. On the neck, both of these designs will shine.
Anime-inspired tattoo sleeves are popular amongst manga and anime fans.
While some dedicate their entire arm to one series and another for the opposing arm, some fans like to tattoo a creative hodgepodge of various characters from their bicep right down to their wrist.
This is easy to attain since the arm offers tons of space to get plentiful with your design. 
Wear your anime-loving heart on your shoulder with a Skull Knight tattoo that goes from the front of your shoulder to the back or get innovative with a cool design of the series' character during one of his insane phases.
Tatt all of your favorite characters or symbols—when you're tattooing your back, there's more than enough space. However, do not feel pressured to create an extra-large design to cover up all that real estate. Dainty and smaller-scaled tattoos also look great on the back.
Leg tattoos are a killer but definitely worth the pain. Like the arm, you can tattoo a whole sleeve down your leg as it offers even more space. From the upper thigh right down to the ankle, your Berserk tattoo ideas are given optimal space to be as unique as the series itself.
How Much Do Berserk Tattoos Cost?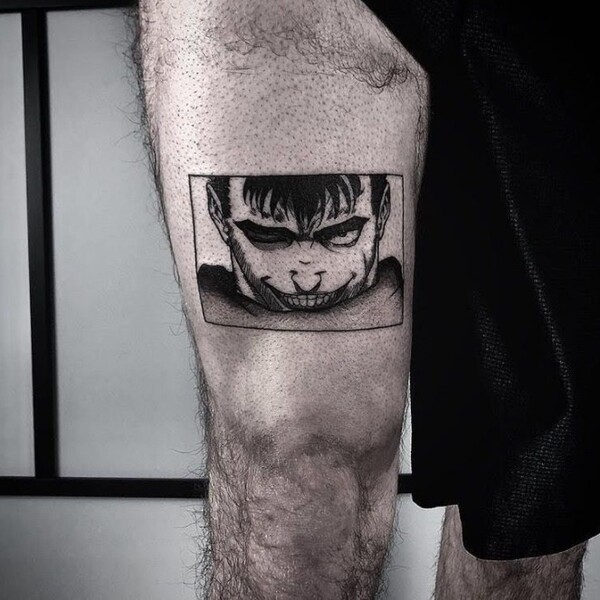 Now that we've properly discussed design ideas, symbolism, and placement, let's talk about the cost. While I'd love to tell you that tattoos are an inexpensive investment, most tattoo artists will tell you that 'cheap tattoos aren't good and good tattoos aren't cheap.'
Since you'll most likely have the tattoo for the rest of your life—unless you remove it—it makes sense that this is a costly masterpiece. However, depending on what you get and where you get it placed, you won't be breaking the bank too much.
With that said, the breakdown of the tattoo's cost is dependent on a variety of variables. The first and most obvious is the artist. Whether your artist is independent or a part of a parlor, their price range will be based on their skill level and tattoo history.
For instance, a more skilled artist with a long history of tattooing is going to charge more than one who is just starting out. While the green artist may be highly skilled, it's to be expected that they won't charge as much.
When totaling the price of your tattoo, here are some other factors to take into consideration:

Size: Go big and go home to get your wallet because the larger your tattoo, the more it will likely cost. Large back pieces or full sleeves often require multiple appointments that can span over months and sometimes years. The length of the work ultimately results in a higher price point.

Color: Colorwork requires a special skill set. And not every artist is capable of or comfortable doing this work. So, it's important to look out for colorwork in your chosen artist's portfolio if that's something you're interested in. In addition to this, be prepared to spend more since most artists do charge extra for coloring your tattoos.

Time: In the end, the more time a tattoo takes, the more expensive it will be. Time is money after all.
In addition to these factors, most artists require a deposit before they can begin work on your tattoo. Usually, this deposit is non-refundable and averages around $100.
30 Best Berserk Tattoo Designs
#1: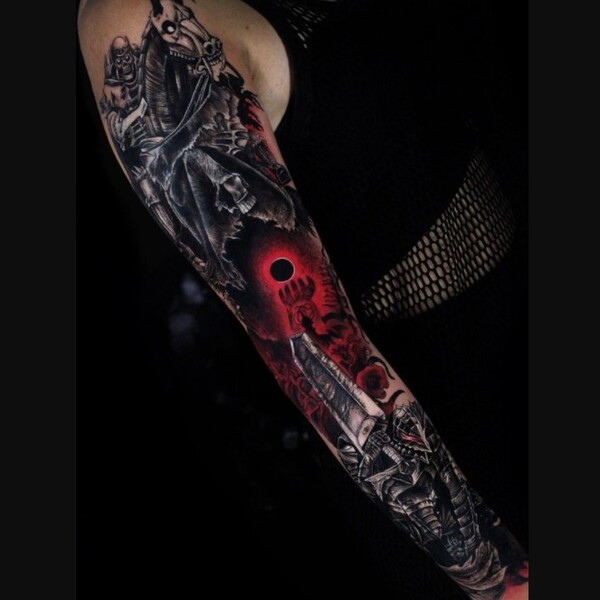 #2: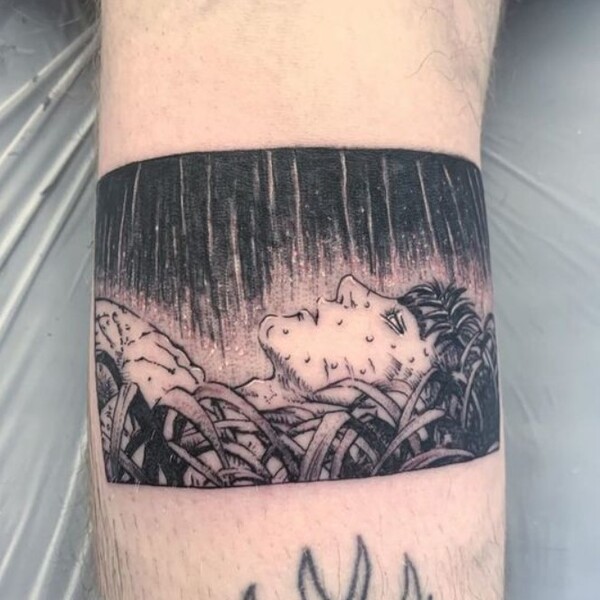 #3: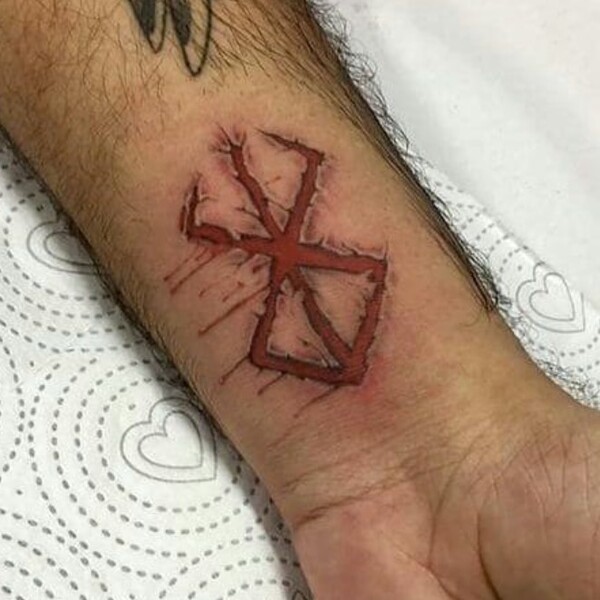 #4: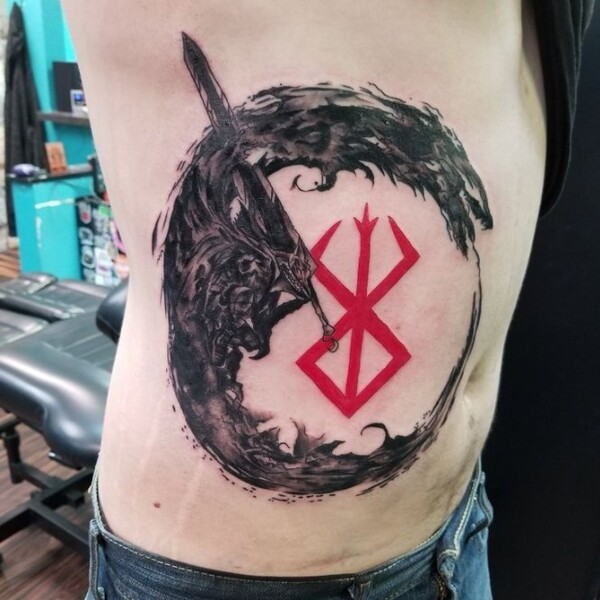 #5: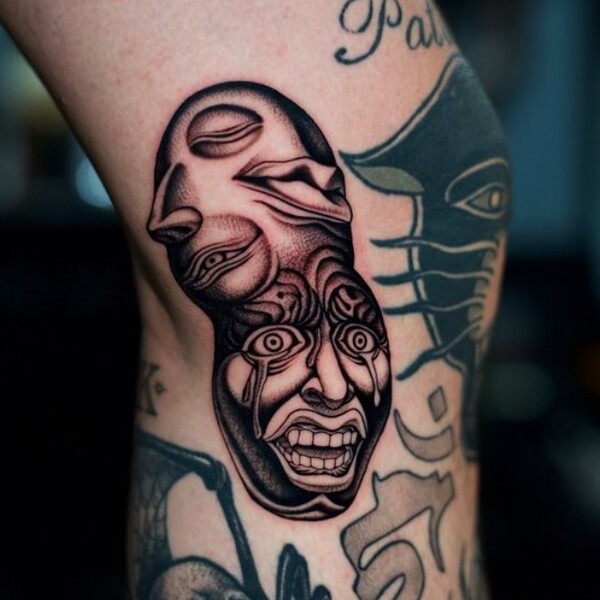 #6: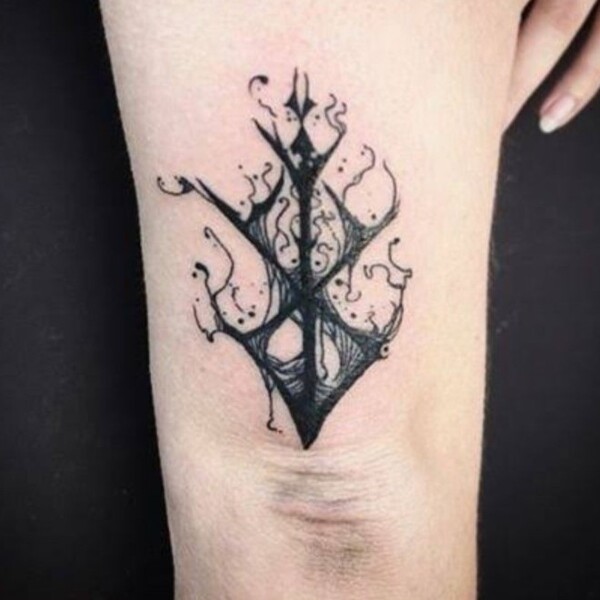 #7: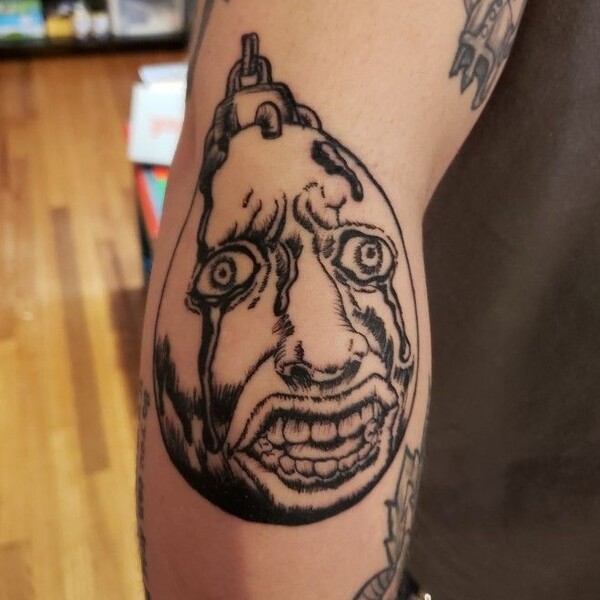 #8: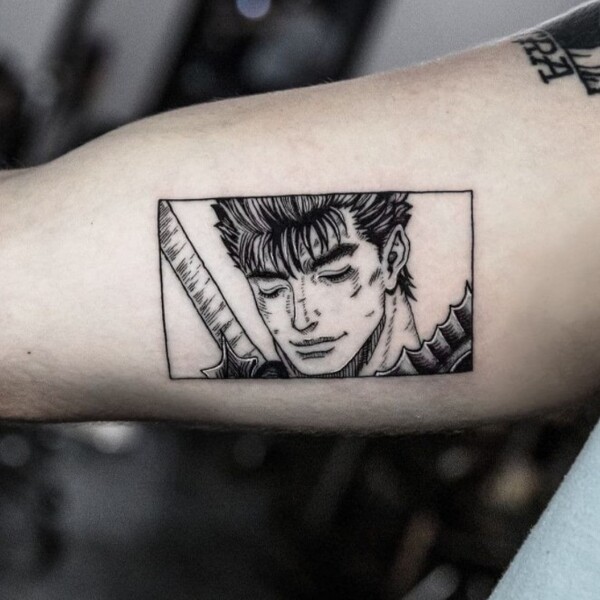 #9: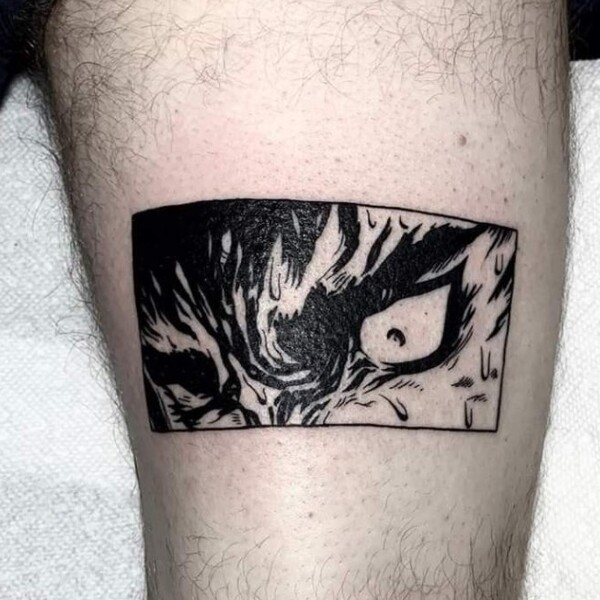 #10: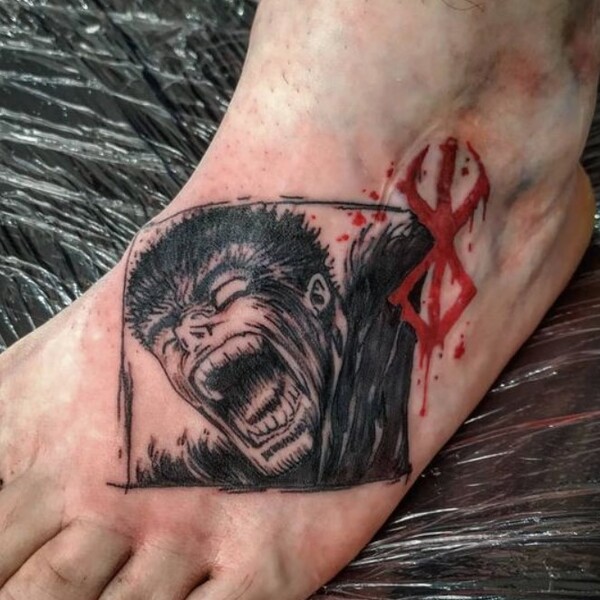 #11: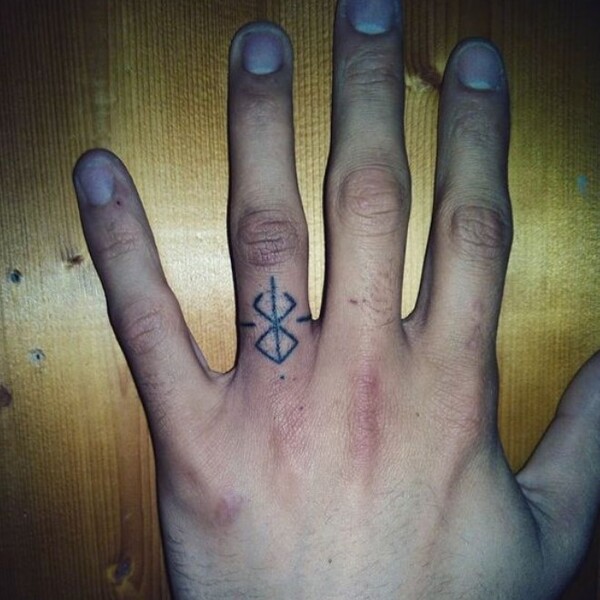 #12: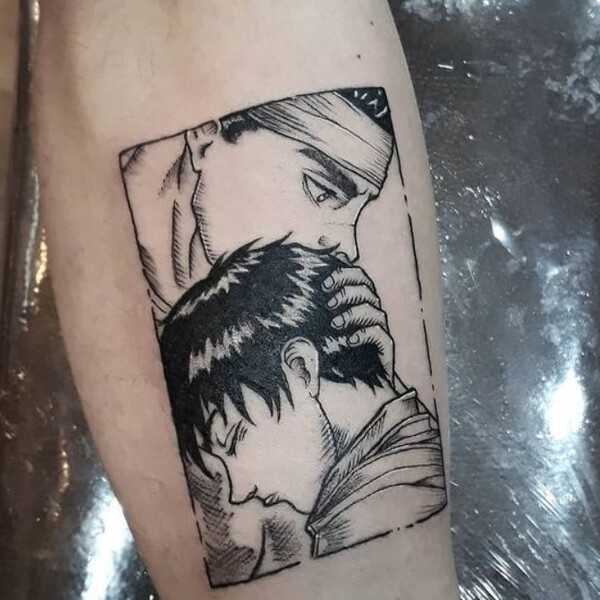 #13: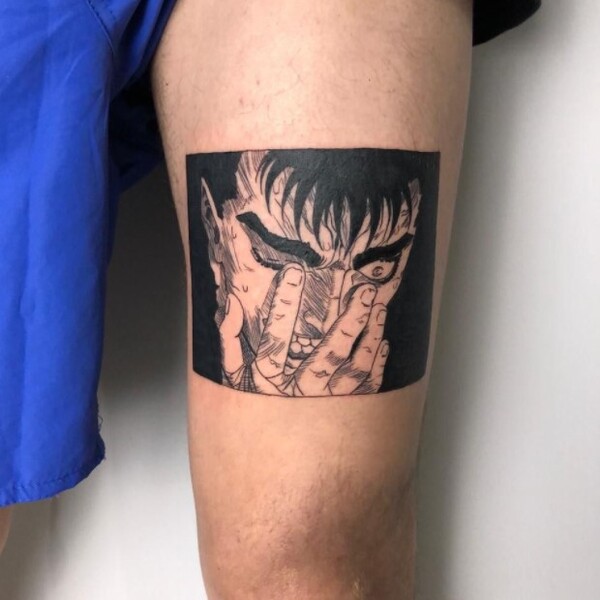 #14: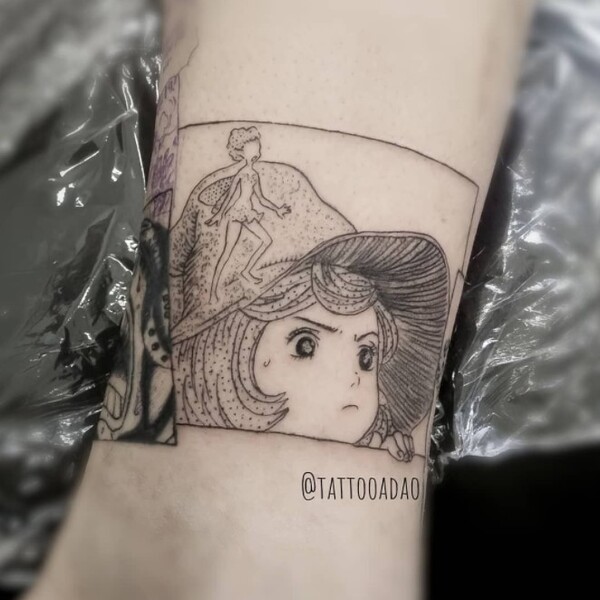 #15: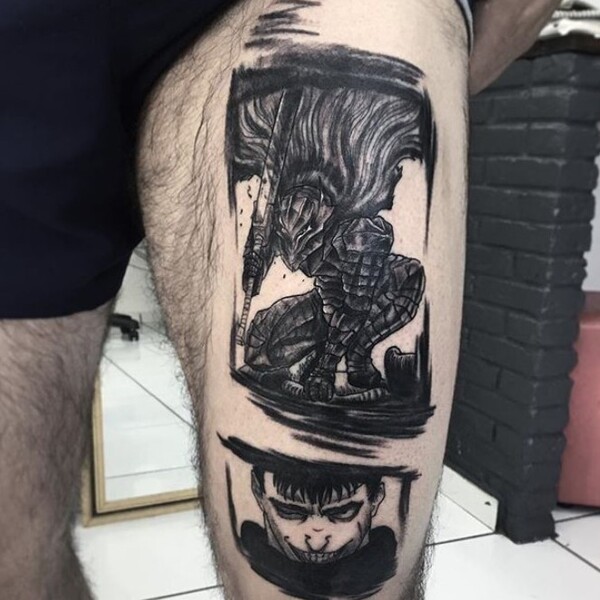 #16: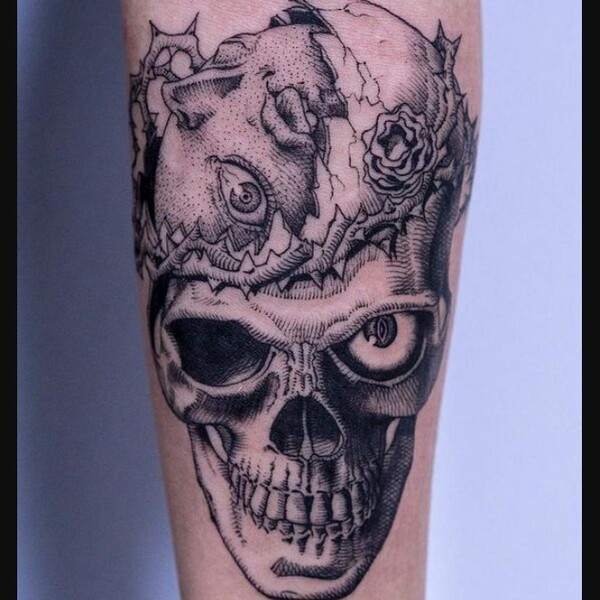 #17: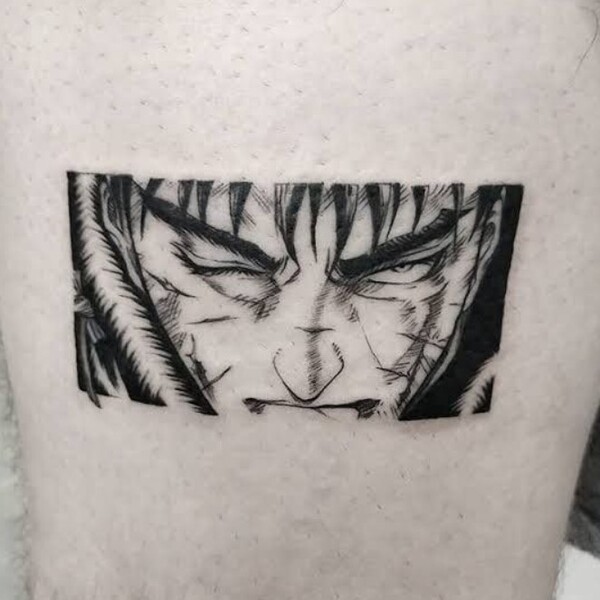 #18: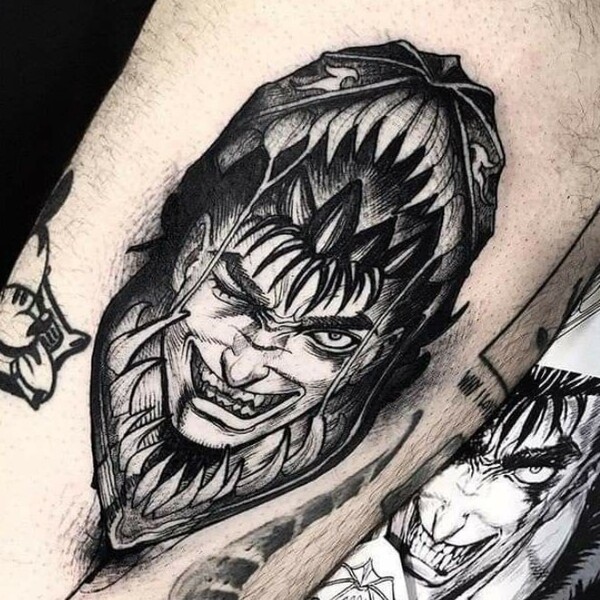 #19: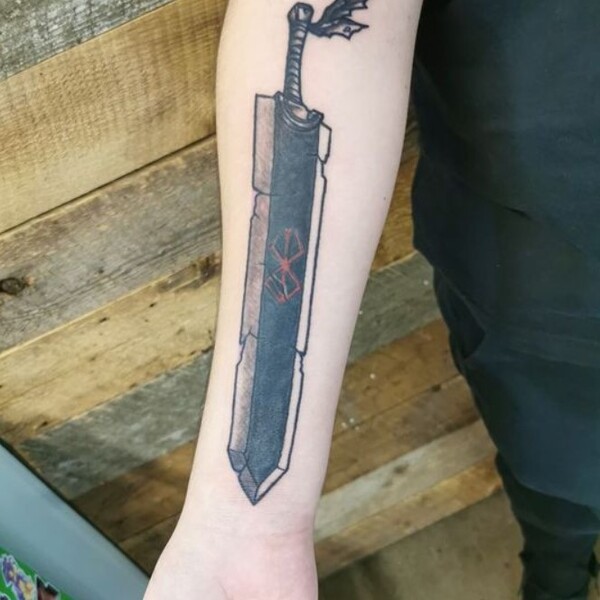 #20: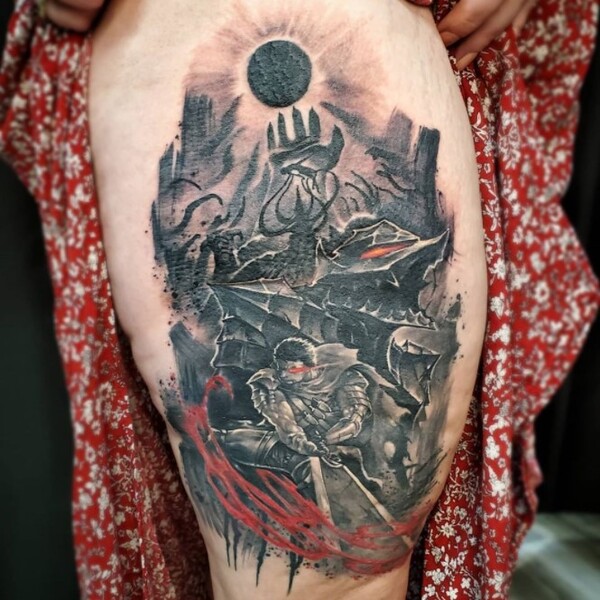 #21: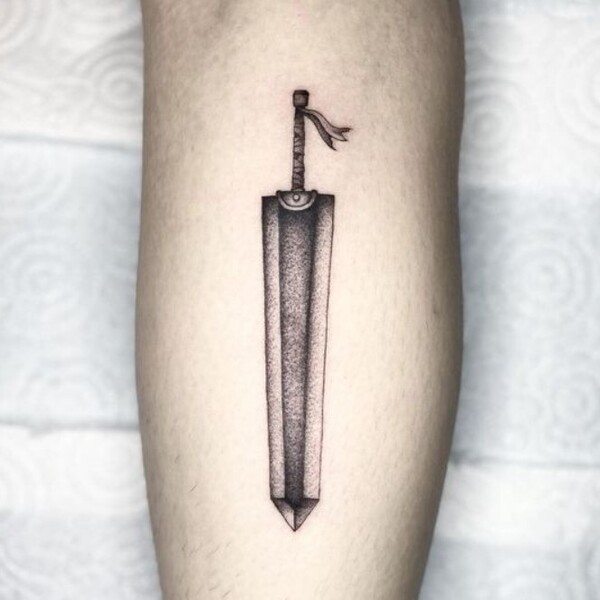 #22: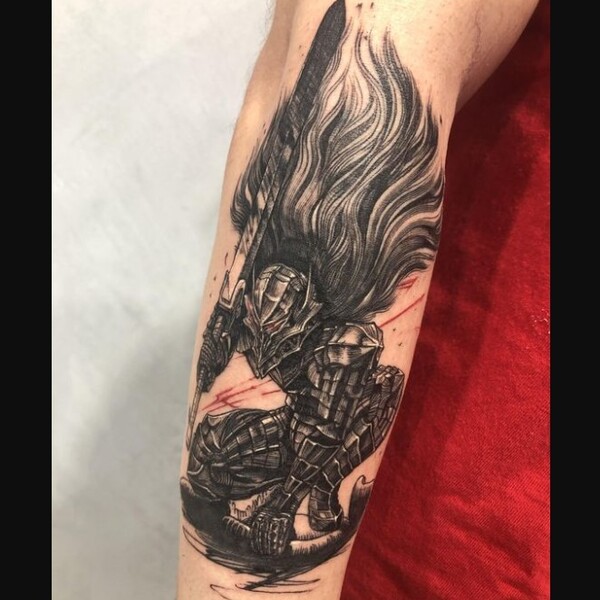 #23: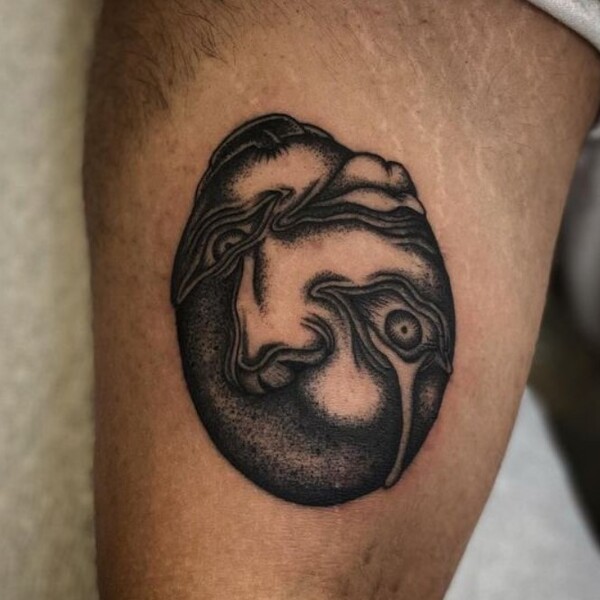 #24: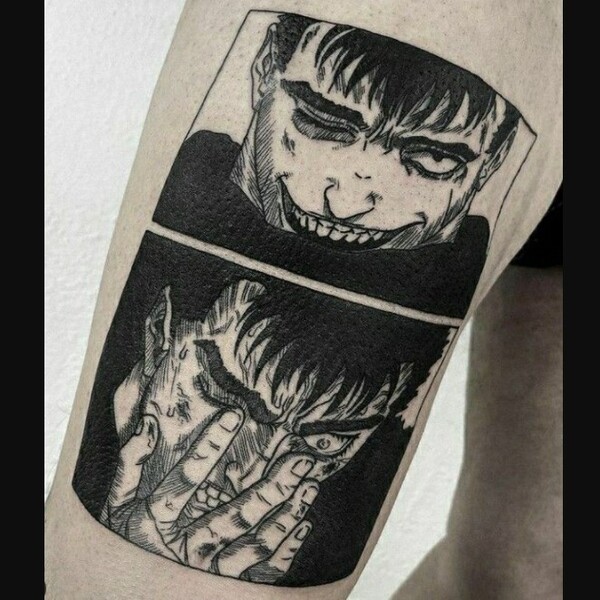 #25: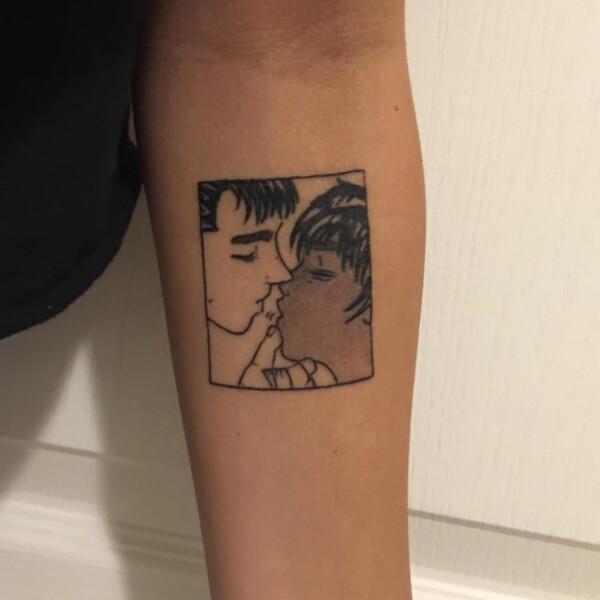 #26: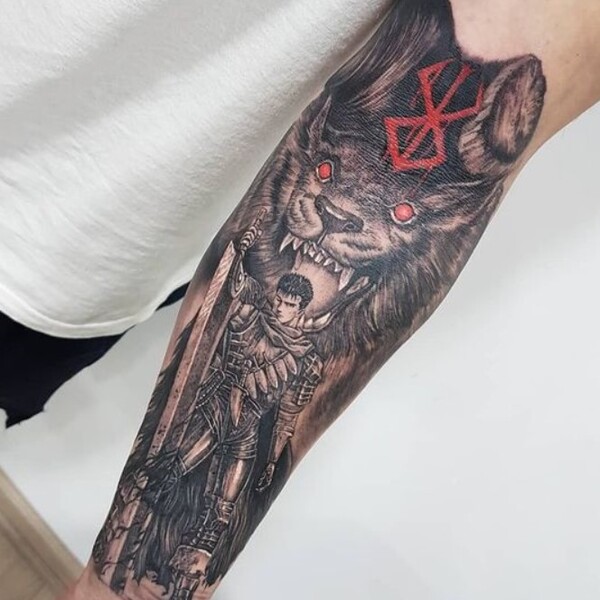 #27: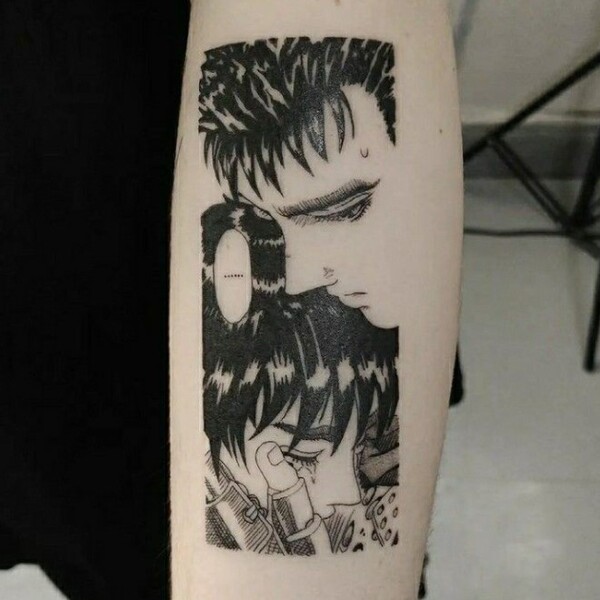 #28: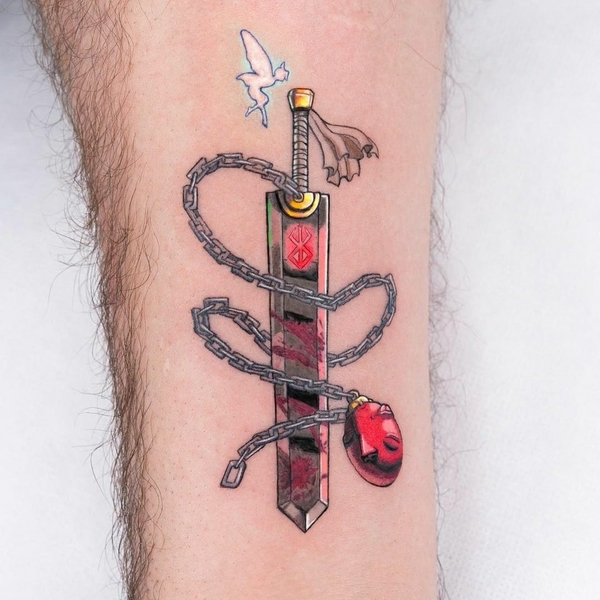 #29: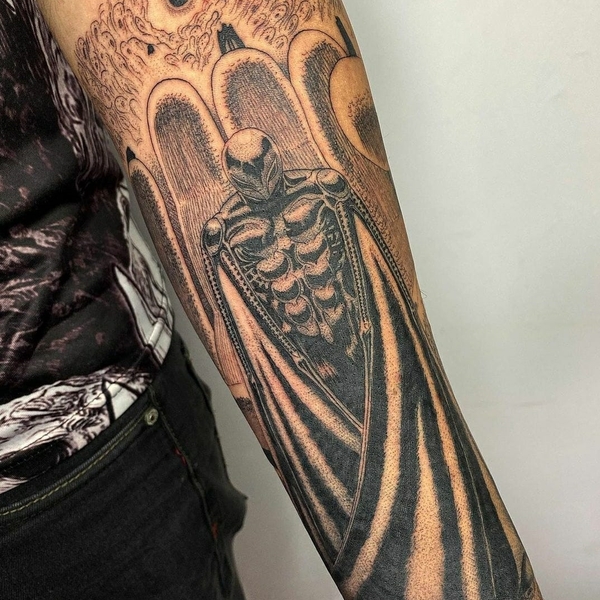 #30: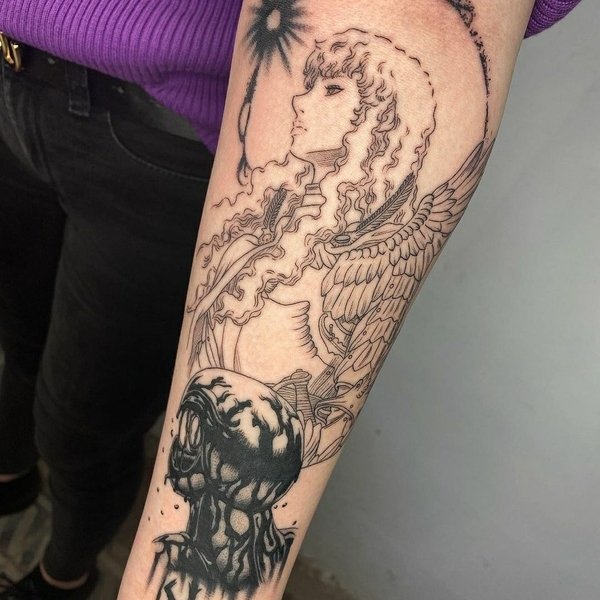 History Of Berserk Tattoos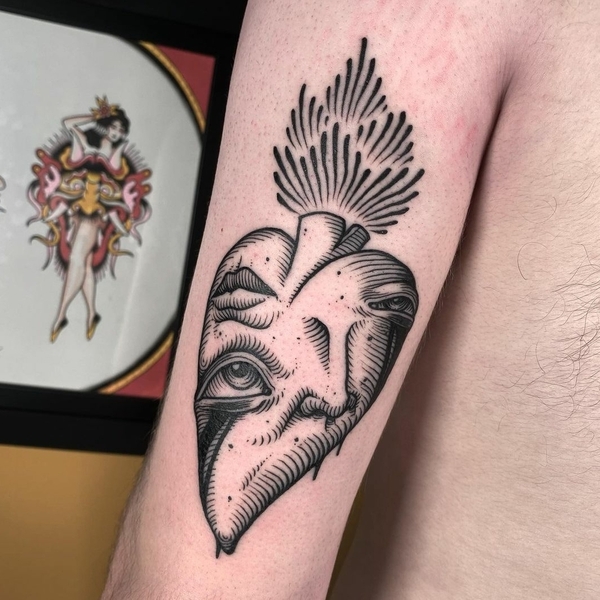 Berserk is credited as one of the greatest manga series of the '90s. As a result, we can assume that Berserk tattoo ideas gained popularity in the late 1990s/early 2000s.
The second release of the anime series aired from 2016 to 2017 which could account for the more recent tattoo designs we see today. 
However, since the series touches on universal romantic and philosophic themes, we'll likely continue seeing Berserk tattoo ideas in the future since the metaphors will connect to people years after the series has ended.
While Berserk tattoo ideas may have been around for decades, the stories in the series and the messages still ring clear to many people nowadays. And so, it's important to note that we are far from seeing the end of this tattoo trend.
Which Celebrities Have A Berserk Tattoo?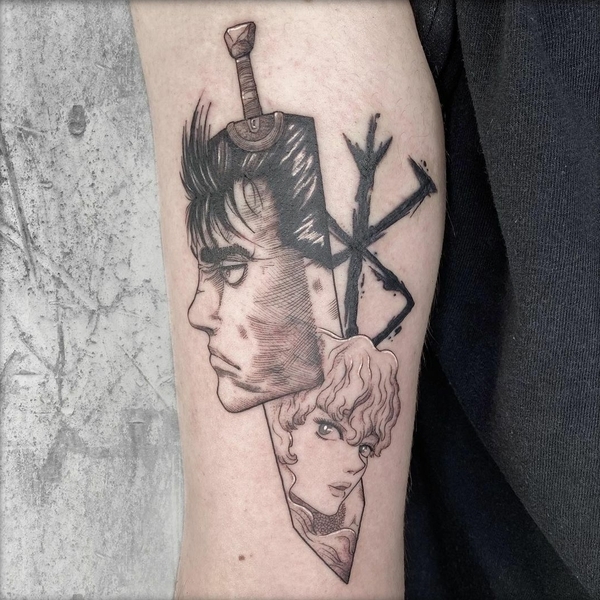 People often say celebrities are just like us, and in a lot of ways that's true. Unfortunately, though, it's never in terms of their wealth or their access to the most exclusive items or events.
Celebrities, however, are just like us in the sense that we often share a similar appreciation for certain tattoo ideas—for instance, anime-inspired tattoos.
While it may be hard to source the web for the hottest stars sporting Berserk tattoo ideas, there are quite a few that enjoy a good ol' anime-inspired tattoo. 
Although no stars to our knowledge have etched any cool Berserk tattoo ideas to their pristine bodies, the following celebs have other anime-inspired artwork:
Grande is known for her appreciation of Japanese culture. The singer has a tattoo of Japanese text on her palm, which she was roasted for on the internet by Japanese fans for thinking her tattoo says '7 Rings' when it apparently is another word for barbeque.
Plus, she has a Pokémon tattoo and a tattoo inspired by the iconic Studio Ghibli film Spirited Away.
Rose first made hearts melt in prison drama Orange Is The New Black, where her numerous tattoos and two tattoo sleeves seemed to fight right in amongst the show's list of creatively styled characters.
Amongst her tattoos of a Teenage Mutant Ninja Turtle, script work, a massive color swatch piece, and more, the Australian actress has two anime-inspired tattoos—Samurai Pizza Cats' Polly Esther and Astro Boy on her forearm.
Kreayshawn may not be creating in the rap game anymore but all her intricate tattoos seem to be intact. This includes a crying kitten tatt, a wicked chest piece, a Sailor Moon tattoo, and more.
---
Looking for more inkspiration? Say no more:
The Best Phantom Troupe Tattoo Ideas
The Best Sailor Moon Tattoo Ideas
Get Access to Exclusive Deals
Subscribe for free to get exclusive deals in your inbox. 100% privacy