10 Best Brown Suits for Men
Whether you're attending a wedding with a color palette or are simply looking for something new in a sea of black and blue suits, this list of the 10 best brown suits for men is for you.
A brown suit is a must-have in every man's wardrobe, but it can be difficult to find an option that suits you. From awkward fits to low-quality materials to astronomical prices, there are lots of suits to choose from, but they're not all great.
Fortunately, we've rounded up the 10 best brown suits for men to narrow down your choices. But before we jump in, I'll share some important info to keep in mind while shopping and answer key FAQs.
Plus, I'll provide a few styling tips to help you put together your final look.
What Makes A Good Brown Suit For Men?
Of course, finding the perfect suit for you takes a lot of thought. However, there are a few key factors that make a good brown suit for men.
First of all, the suit should be properly fitting. The shoulder seams should line up with your shoulders, the jacket should cover about 50% of your backside, the buttons shouldn't pull, and the trouser seat should be smooth.
A good quality suit will also be made of natural materials such as wool, cotton, linen, and silk. These fabrics are known for being both durable and breathable. So, they're ideal for keeping you cool and comfortable and will last for many years.
Finding The Best Brown Suits For Men
When browsing our list of the 10 best brown suits for men, and trying to find an option that's best for you, there are a few things to keep in mind.
First of all, consider the style. Suits come in similar silhouettes, but they may feature different color tones, button details, or stitching that affects how they look and when you should wear them. For example, a light brown suit is ideal for casual wear, while darker browns are suitable for formal events.
Of course, to determine whether it's the right suit for you, the material and fit are crucial. Think about how you want it to look and feel to decide on the best material, and opt for a suit that's true to size—or consider visiting a tailor to get the perfect fit.
Finally, the price of the suit is important since you should set a budget. Suits can really range in cost, so it's important to find something that's both well-made and fits into the budget you've set.
The 10 Best Brown Suits For Men
Now that I've explained what makes a good suit and told you how to find the best brown suits for men, it's time to check out my list below.
From classic styles to more unique options, there's something for everyone and every event. I'll share details on how they look, what fabric they're made from, how much they cost, where you can purchase them, and more.
#1: Dries Van Noten Brown Seersucker Suit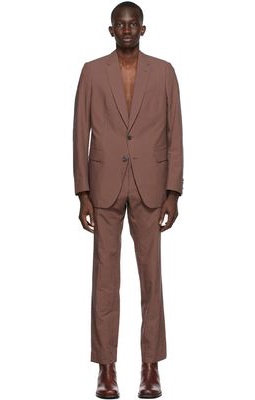 ---
#2: Dries Van Noten Brown Wool Pinstripe Suit

---
#3: Brunello Cucinelli Beige Corduroy Cashmere Suit

---
#4: Ring Jacket Brown Wool Twill Suit

---
#5: Ring Jacket Tan Silk Suit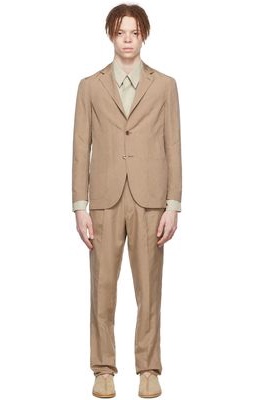 ---
#6: Dries Van Noten Beige Check Suit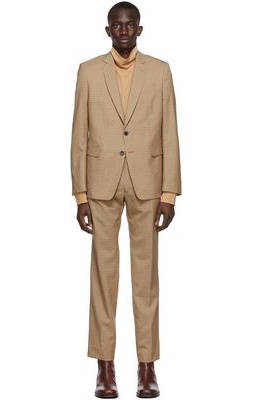 ---
#7: Awake NY Yellow & Black Houndstooth Suit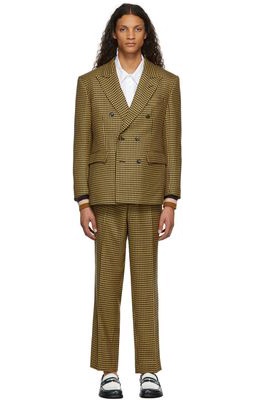 ---
#8: Maison Margiela Burgundy 'Memory Of' Uniform Suit

---
#9: Tom Ford - Pleated Cotton-blend Twill Suit Trousers - Mens - Green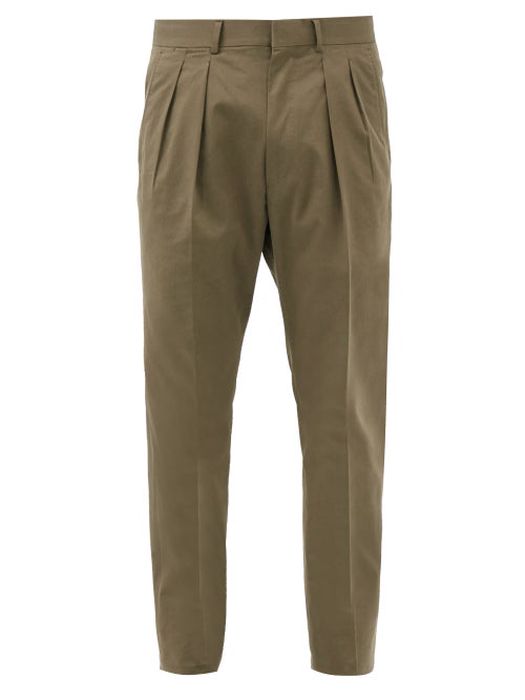 ---
#10: Tom Ford - Double-pleat Silk Canvas Slim-leg Trousers - Mens - Brown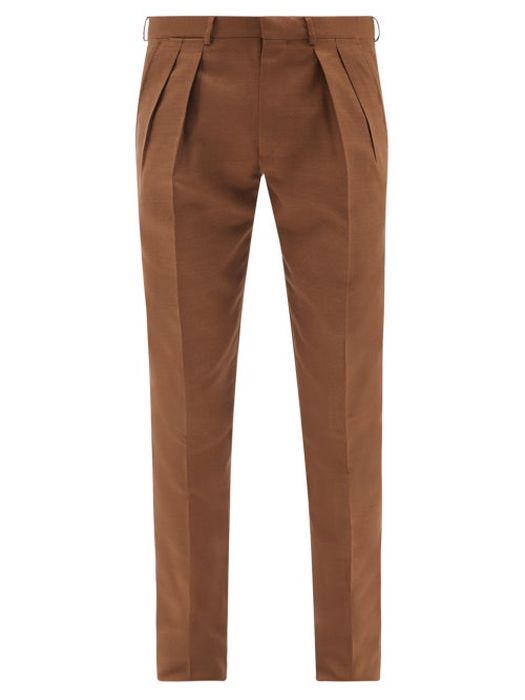 ---
What Are The Most Popular Brown Suits For Men?
The most popular options on our list of the best brown suits for men are the darker, more classic shades.
While lighter shades are ideal for warmer weather and more casual occasions, dark brown suits are versatile enough for formal events, but can still be dressed down by simply removing the jacket or swapping a dress shirt for a tee.
When To Wear Brown Suits For Men
We all know that style is subjective and you can really wear a brown suit whenever you'd like—whether that's to the office or to a formal event. That said, there are a few times when a brown suit is the best choice.
If you're attending a fall wedding, it's time to break out the brown suit. For autumn events, you can't go wrong with earth tones and warm shades.
Keep in mind that brown is an incredibly versatile color and can easily be dressed up or down. So, depending on how you style it, you can transform your look from fancy to casual (and vice versa).
How To Style Brown Suits For Men
Speaking of styling… Now that I've covered some of the 10 best brown suits for men, you may be wondering how to style them. Below, I'll show you some inspo pics to help get you started.
Classic
If you need something formal and stylish but want to avoid the overdone black suit, opt for a classic brown suit instead. The warm, dark tones still feel sophisticated, but the brown is definitely a more unique option.
Casual
Ideal for everyday wear, this brown suit features red tones for a business casual look. Paired over a white tee with white sneakers, it seamlessly blends comfort and style.
Blue & Brown
While you may not have guessed it, a brown suit pairs perfectly with a blue shirt and tie. This light brown option is ideal for a day in the office.
---
Looking to up your fashion game? We've got you covered:
15 Best Cocktail Attire For Men
Get Access to Exclusive Deals
Subscribe for free to get exclusive deals in your inbox. 100% privacy