30 Best Bull Skull Tattoo Ideas 
About Bull Skull Tattoos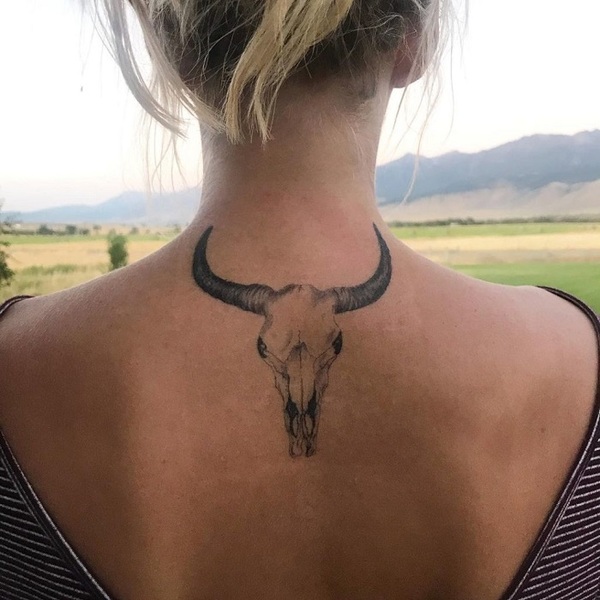 A powerful symbol in Native American and Mexican art, a bull skull is a popular tattoo design. And it appears in a few different styles: realistic, animated, or both.
Your bull skull tattoo can feature flowers, feathers, and geometric shapes and the meaning will depend on which one of these elements resonates with you the most.
Plus, if you're also just looking for a neat tattoo design, a bull skull might be exactly what you're after. 
To give you some ideas and inspiration for your next bull skull tattoo, in this post, we'll take a closer look at different tattoo styles and sizes you can wear on your upper chest, back, or lower calf.
We'll also go over the best bull skull tattoo designs. So if you're looking for some bull skull tattoo ideas, keep reading.
What Do Bull Skull Tattoos Mean And Symbolize?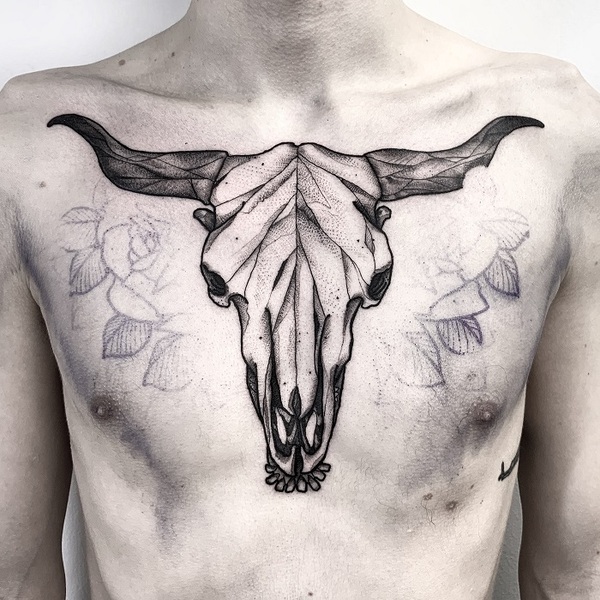 The bull is a strong spirit animal and its symbolism is connected to both strength and destruction, but the meaning is ultimately up to you. It can be rooted in something personal or linked to its spiritual symbolism.
The general meaning of the bull skull tattoo can be two-fold because the bull and the skull carry with them their own individual definitions. The skull is a symbol of natural life processes, while the bull is synonymous with courage and tenacity. 
The bull also stands for these qualities:
Power
Strength
Agility 
Resilience 
The bull can represent some or all of these traits in you. A big bull skull tattoo on your body can be a testament to your character but it could also simply be an artful tattoo design you want to draw on your body.
A bull skull is a powerful symbol of both agility and mortality in many different cultures as well. Native Americans view the bull skull as a carrier of good luck that has protective power against evil spirits.
Where To Get A Bull Skull Tattoo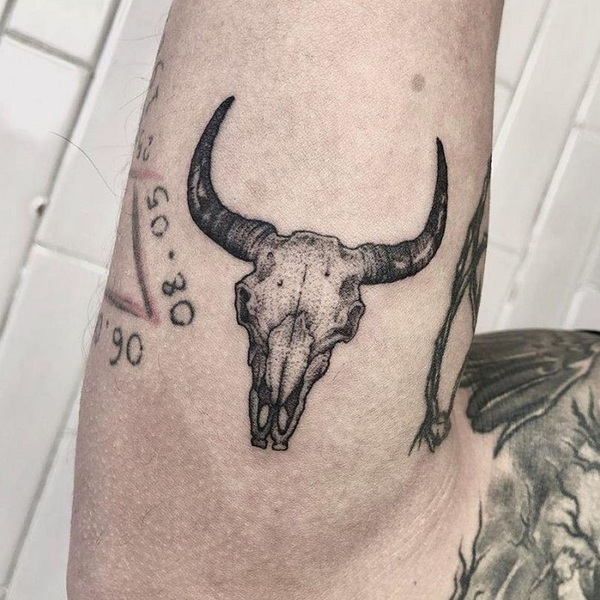 How big you'd like your tattoo will be one of the deciding factors for where you want to place your bull skull tattoo. Your own pain threshold will also inform your decision since tattooing some places on the body might hurt more than others. 
There are many spots where you can get a bull skull tattoo inked on your body. It will look best on your:
Upper chest
Back
Lower calf
Upper Chest
A bull skull tattoo on your upper chest area will outline your collar bone and trace the natural creases of your body. It will also highlight your muscle definition. Plus, it will be one of the biggest and most amazing commitments of your life (no pressure).
The chest is one of the more painful spots on the body to get inked because of how sensitive and bony that area is.
More muscle and fat might make the needle feel less painful on your skin, but you can always work with the artist to schedule a few sessions to help the healing process. 
Full Back
The back gives the tattoo artist a lot of surface area to work with and it makes a great canvas for creating a large bull skull tattoo. Back tattoos are also among the most expensive tattoos you can get.
You might feel some discomfort when getting inked, especially when the needle is going over your shoulder blades, down your spine, and across the rib cage.
A full-back bull skull tattoo takes a couple of months to complete and it's done in a few mini sessions, to make the tattooing process more tolerable. 
Also, assessing your own pain tolerance first is a good idea. This will help you decide how elaborate you'd like your bull skull tattoo to be. 
Lower Calf
There are some pros to choosing the lower calf for your next bull skull tattoo. The first benefit is the smooth surface and the size of that area.
The tattoo artist can easily work with this area of your body because they have plenty of space to create any size tattoo. The artist also has enough room to focus on shading, detailing, and final touches. 
Plus, there's a lot of muscle in the lower calf, so the pain will usually be quite manageable. If the tattoo artist is working out details of your bull skull tattoo around your ankle, you might feel a slight twinge.
The lower calf area is also a great spot if you're considering gradually tattooing your entire leg. Getting a bull skull tattooed on your calf is a great start in that case. 
How Much Do Bull Skull Tattoos Cost?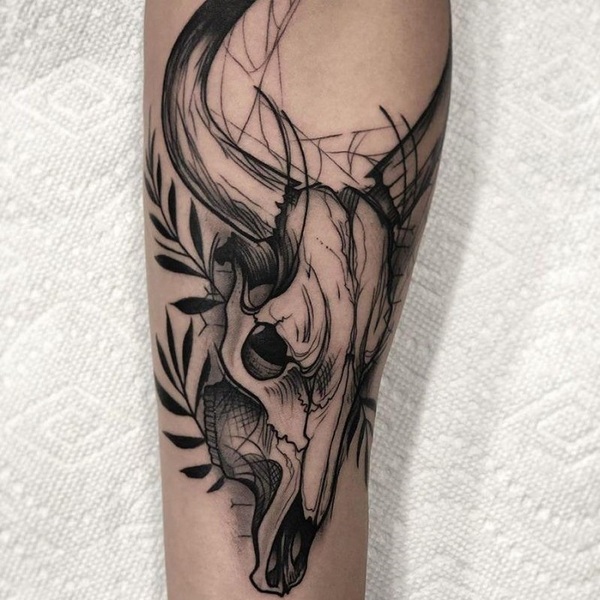 The total cost of your bull skull tattoo will largely depend on its size, color, any shading you wish to see as well as the artist's individual skill level.
This tattoo can take anywhere from 6-10 hours of work per session to finish and some large tattoos require more than one session. 
A smaller bull skull tattoo can cost anywhere between $100 to $450 and it can usually be done in one session unless the level of detail requires you to go in more than once.
For a medium-size tattoo design, you can expect about a five-hour session and the price will range between $300 and $700 on average.
If you'd prefer a bigger bull skull tattoo, the artist will most likely charge by the hour. The average time for each session is four hours and the minimum charge is typically $100 an hour.
The average cost of a full lower calf tattoo can be anywhere from $500 to $1,200. The cost will depend on the number of sessions as well. Since this area is a bit trickier to tattoo, you might have to book a couple of appointments.
30 Best Bull Skull Tattoo Designs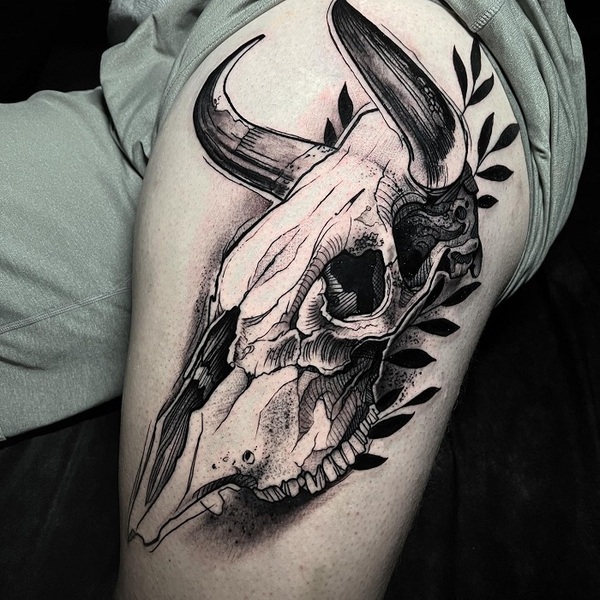 Many bull skull tattoo designs will combine more than one tattoo style to produce an intricate tattoo. Below are a few of the main bull skull tattooing styles we've chosen for you.
Each one utilizes different techniques and art forms, so you have lots of options for creating your own version of a bull skull tattoo. 
#1: Realism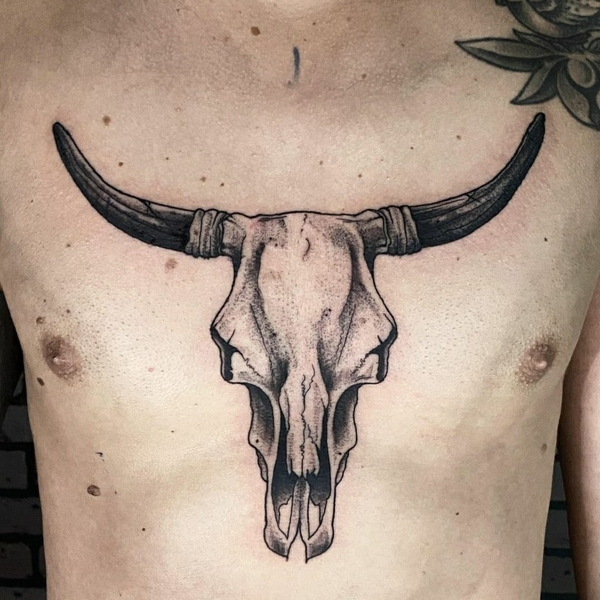 A realistic bull skull tattoo focuses on detail and precision. The artist working this style will have a thorough understanding of needle pressure and shadow work to create an intricate tattoo. Your tattoo artist will also take into consideration proportions, symmetry, and shading to design a realistic bull skull.
This style combines fine lines and contrast and the artist uses a wide range of colors.
If you'd prefer a black and grey bull skull tattoo design, the artist can work with a grayscale color palette to bring your vision of a bull skull tattoo to life. 
#2: Watercolor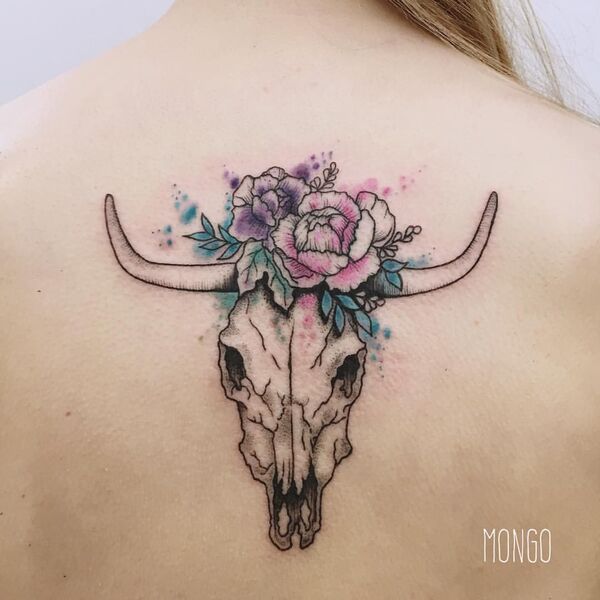 A watercolor bull skull tattoo will feature eccentric colors spread throughout the design. This style also plays around with shading and contrast.
The artist takes brush-like strokes with the needle to structure the design with black outlines and then adds color. 
This style can be quite abstract, but it often incorporates natural elements like animals and plants.
To create a powerful bull skull tattoo, you could also ask your tattoo artist to mix in other styles like surrealism and anime, since the watercolor design works great with other styles as well.
#3: Illustrative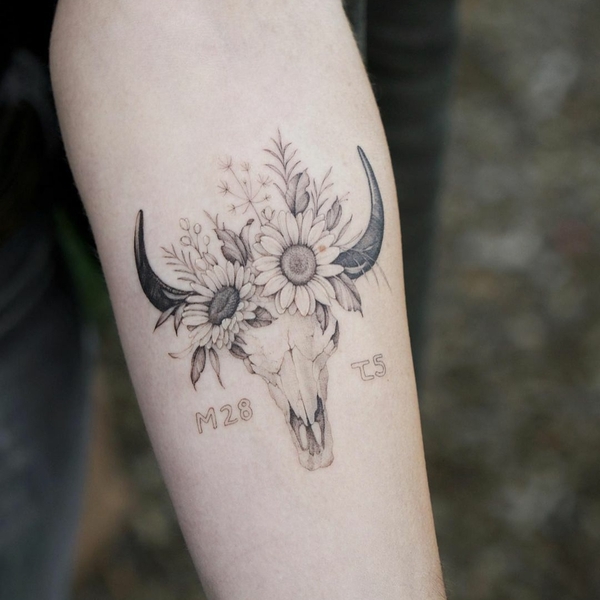 Traditionalism and realism are both infused in an illustrative style tattoo.
The most important feature of your illustrative bull skull tattoo design is that it has an organic and animated feel to it, which gives the artist creative license to design both simple and complex illustrations. 
To create an illustrative bull skull design, artists minimize shading and color gradients. Instead, they outline the design with solid black strokes to produce a 2D illustration. This is one of the most common styles nowadays and many tattoo artists specialize in it. 
#4:
#5:
#6: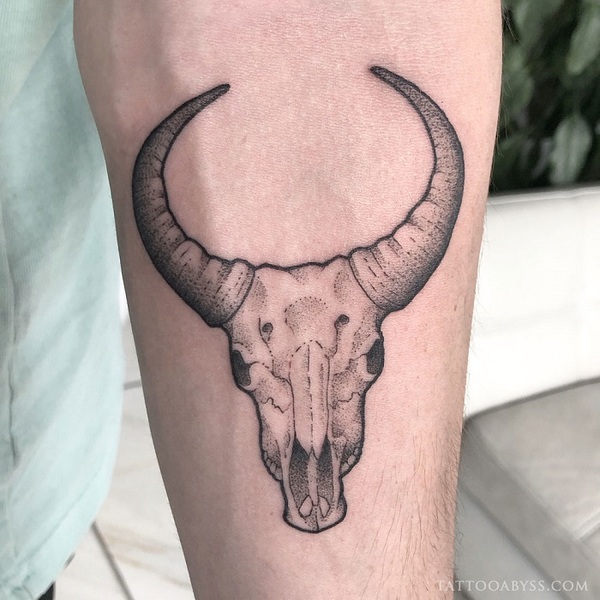 #7: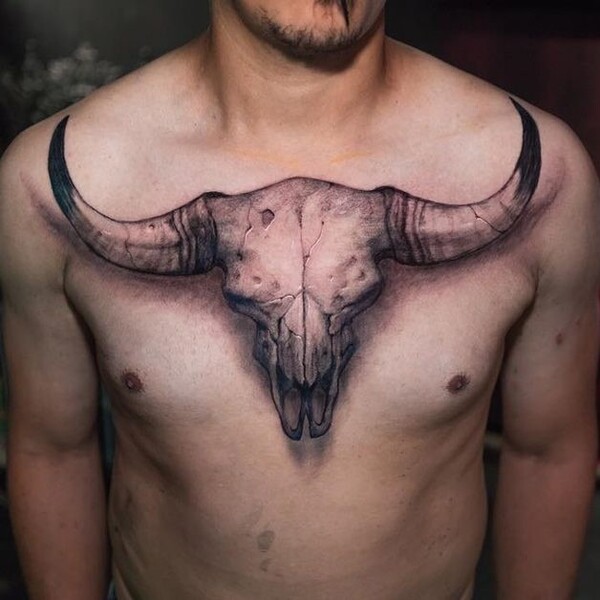 #8: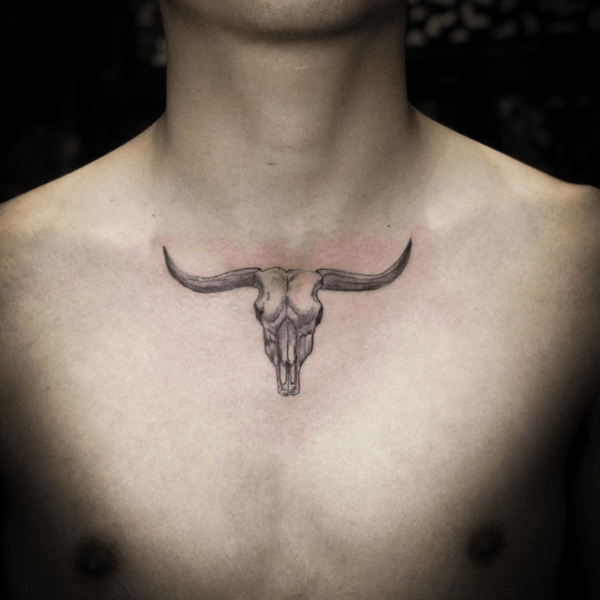 #9: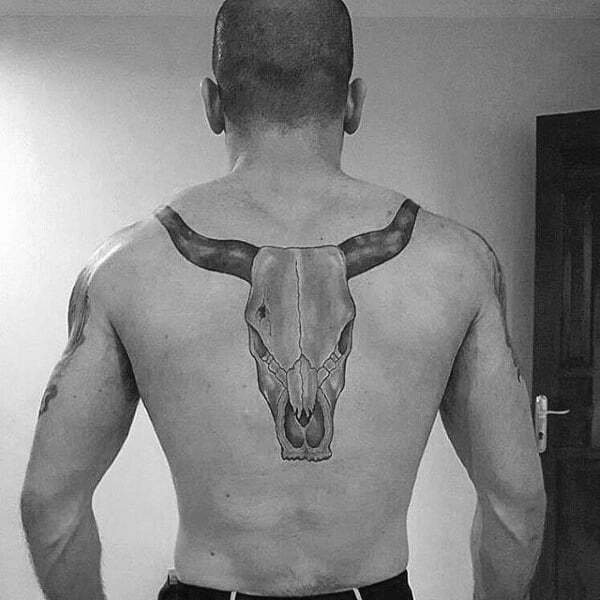 #10: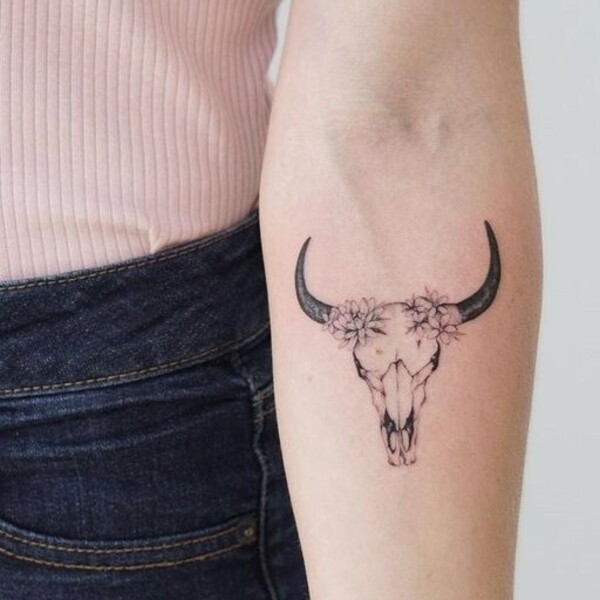 #11: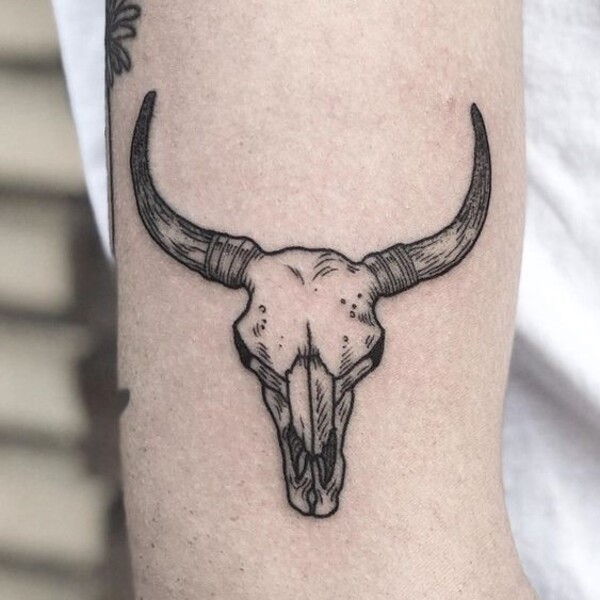 #12: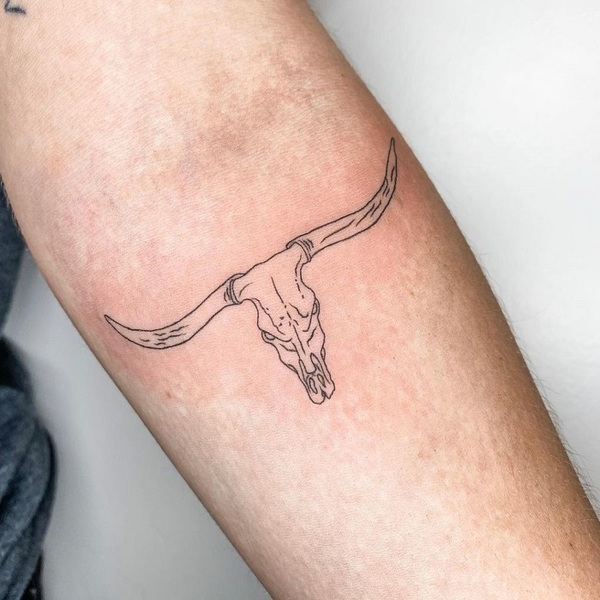 #13: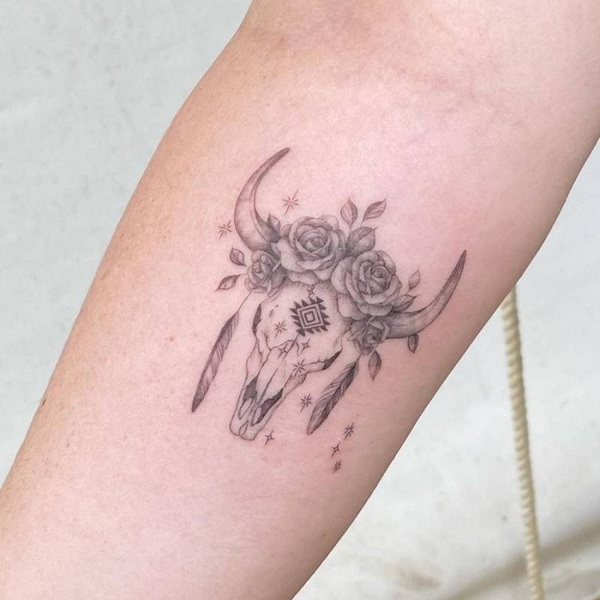 #14: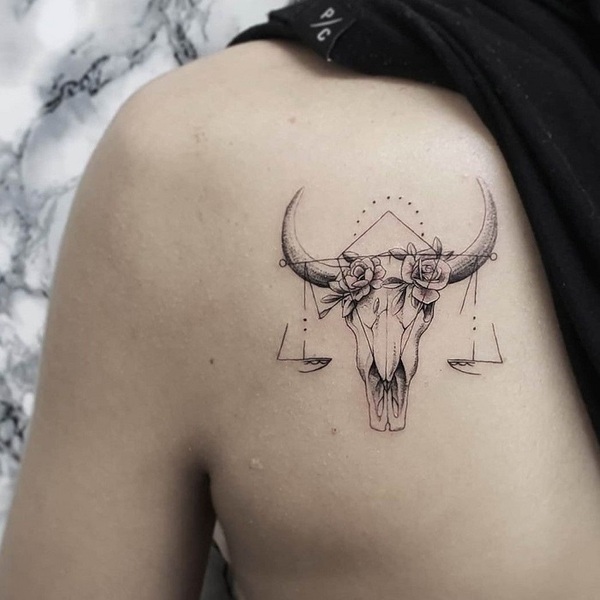 #15: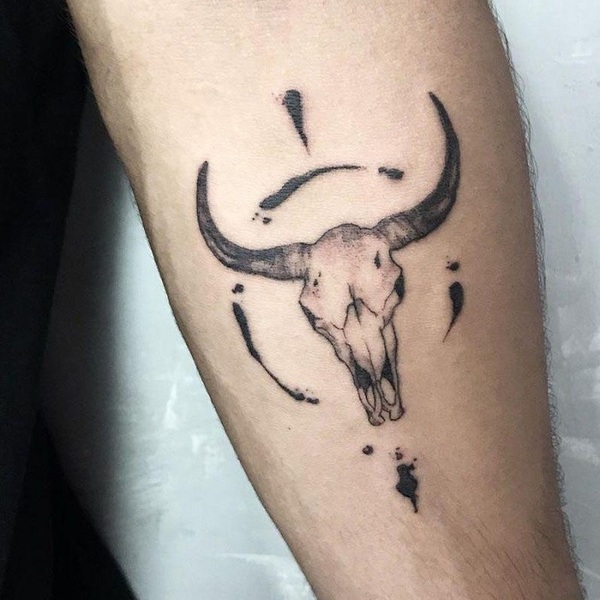 #16: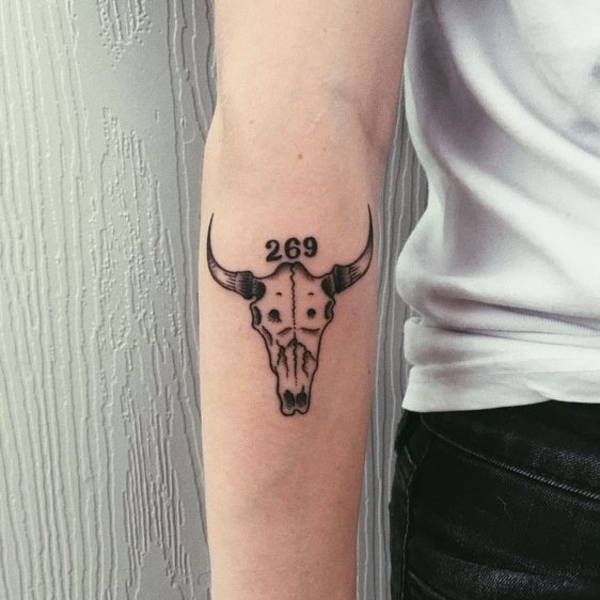 #17: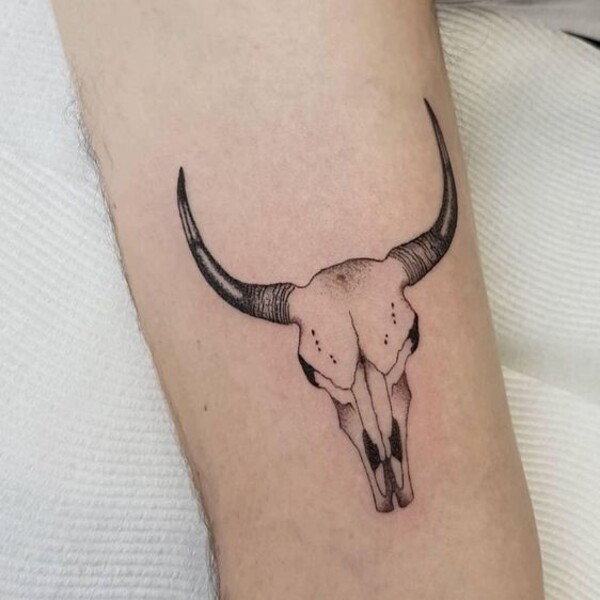 #19: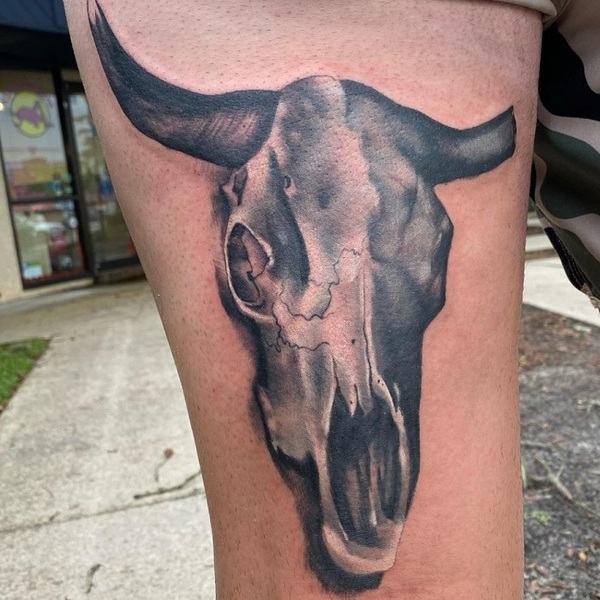 #20: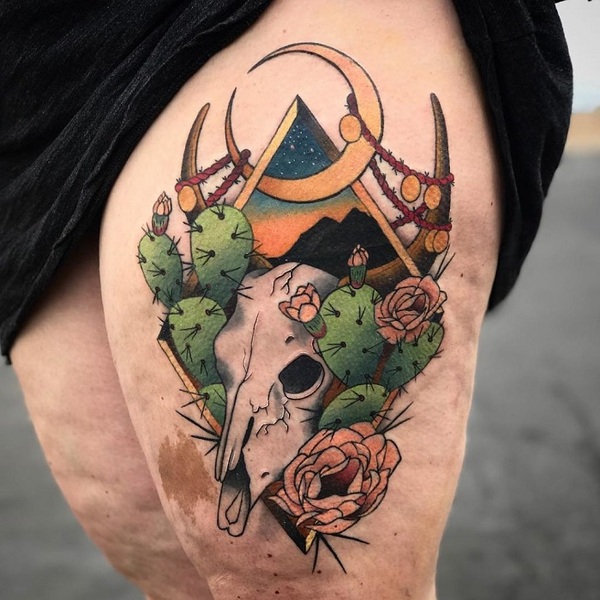 #21: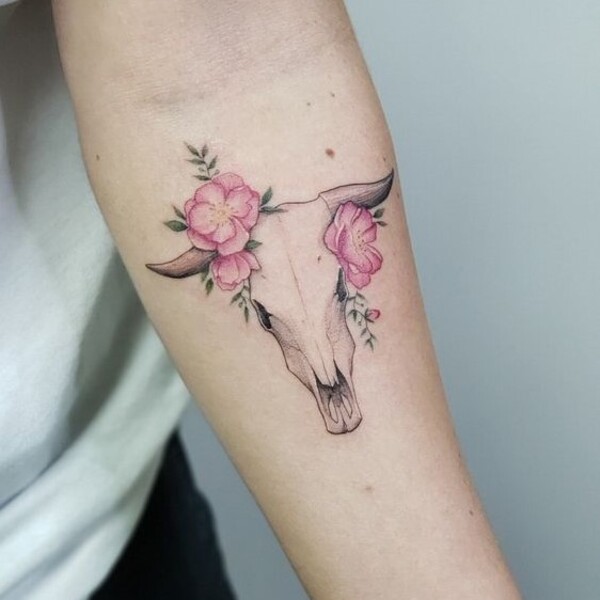 #22: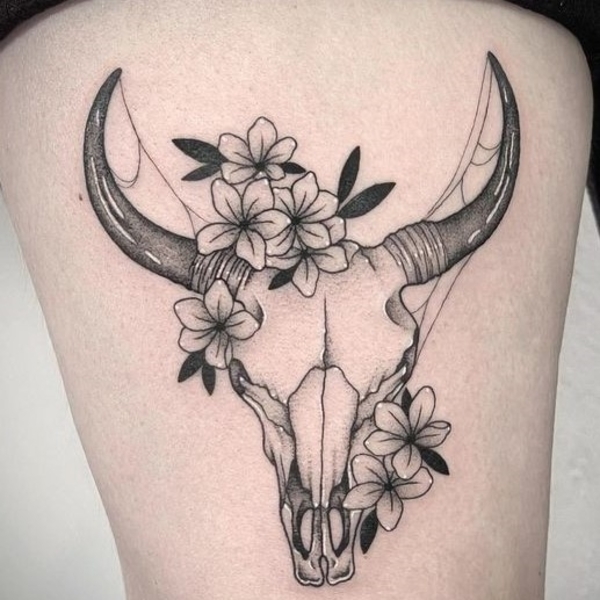 #23: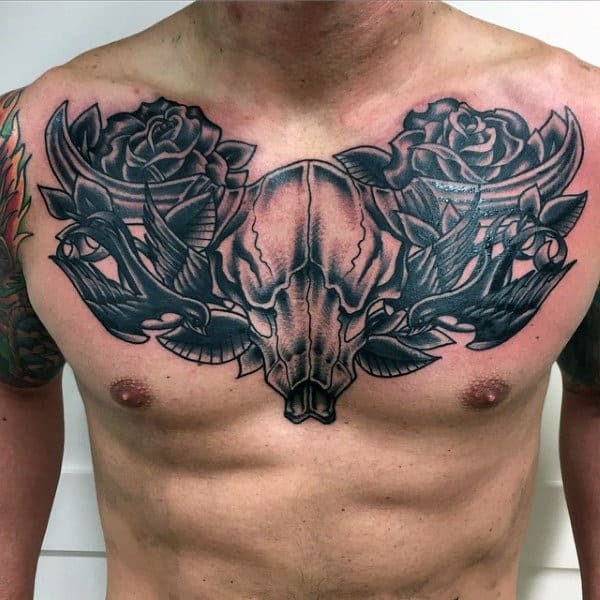 #24: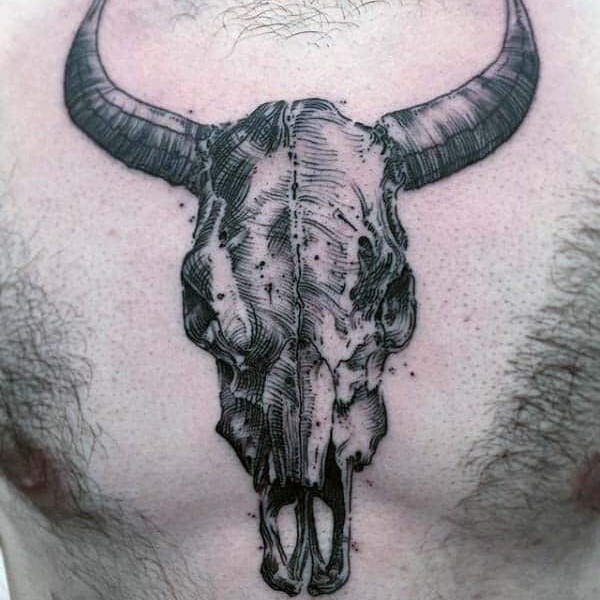 #25: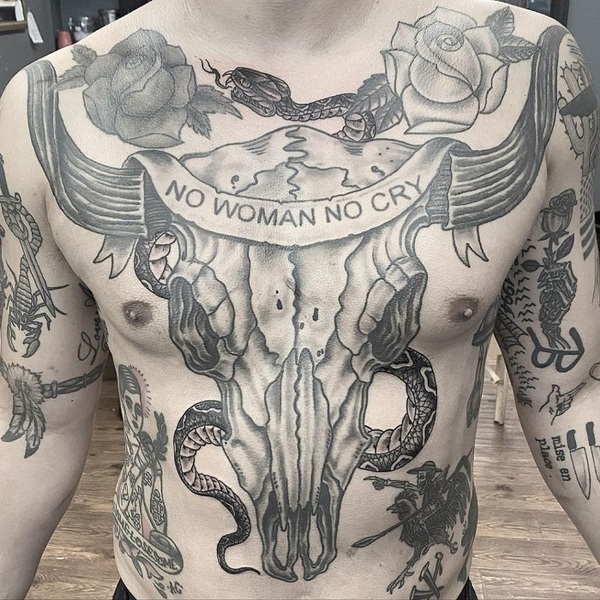 #26: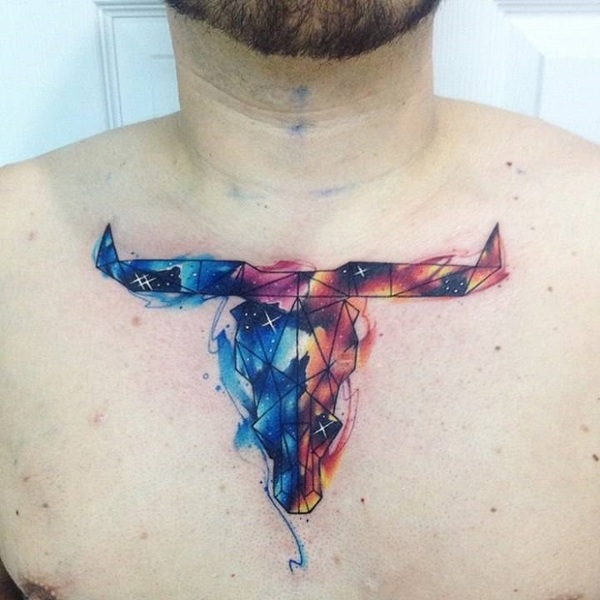 #27: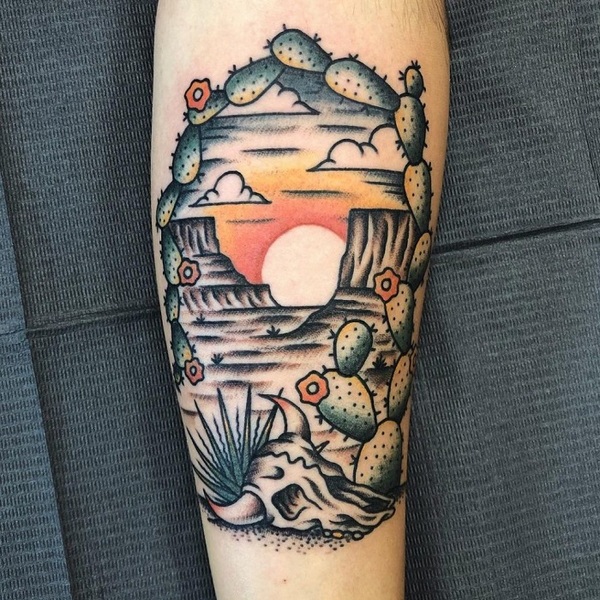 #28: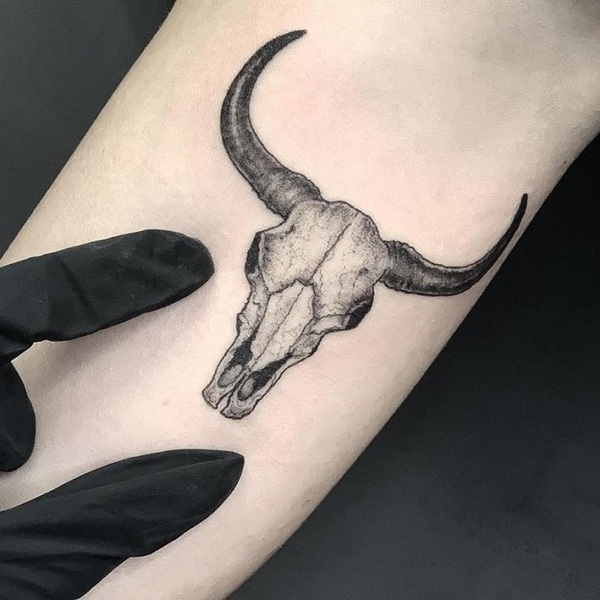 #29: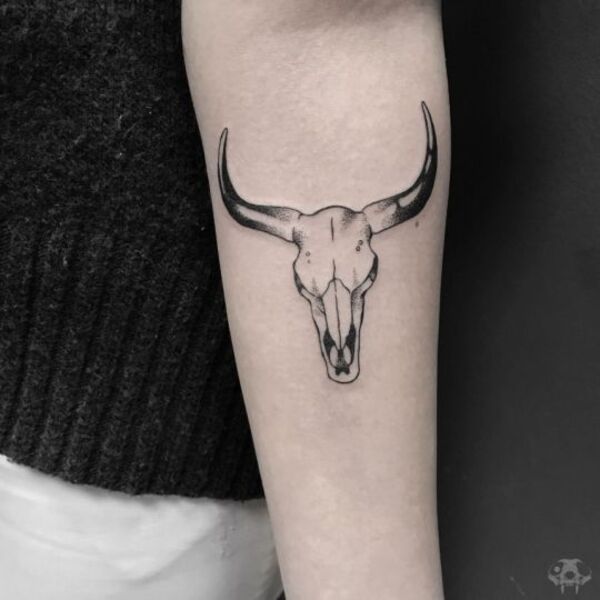 #30: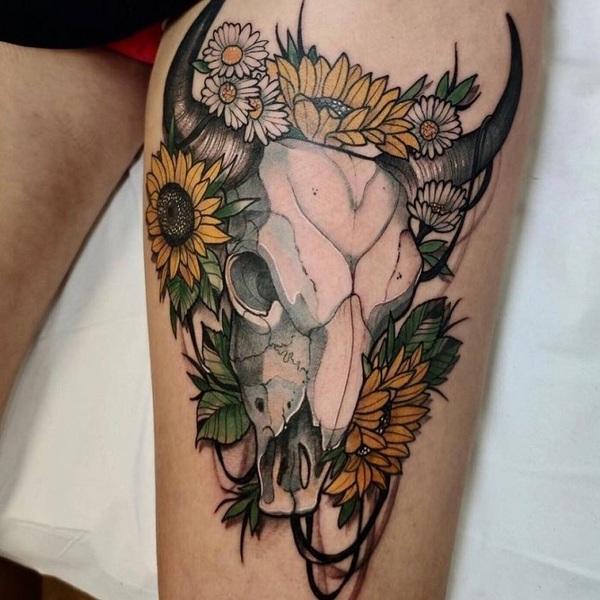 History Of The Bull Skull Tattoo
The bull skull has a long history in Native American and Mexican art. It's been a symbol of protection for Native American tribes for centuries. In tattoo art, the bull skull is presented as a steer bull with horns in black and grey, but some designs feature color as well.
Being a sign of life-long protection from natural forces, it makes sense that this unique tattoo design has attracted a wide range of tattoo artists and fans of tattoo art for many years.
Bull skull tattoo designs are also prevalent among people who value spirituality and view mortality as something to be accepted rather than feared. 
It's also very common to see flowers and feathers accompanying a bull skull tattoo. Bones, flowers, and feathers have been symbols of the spirit world as well and are extremely popular in tattoo art.
Which Celebrities Have A Bull Skull Tattoo?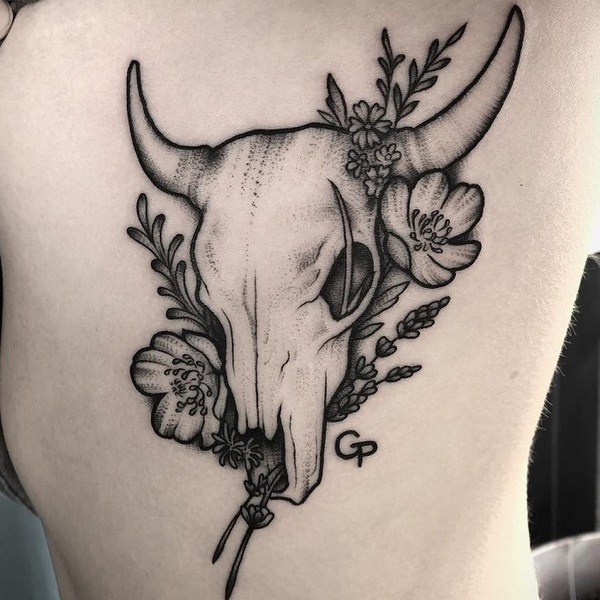 A couple of celebrities have a bull skull tattoo and each one describes the tattoo's meaning differently.
Jordan Hinson (aka Jordan Danger) has a bull skull tattoo on her left forearm. She referenced Texas when trying to explain her bull skull tattoo meaning and described how it's the main inspiration behind her tattoo. 
Dwayne "The Rock" Johnson has a bull skull tattoo inked on his biceps as well.
He talked about the tattoo's meaning and explained that it represents the positive energy that constantly flows through his life. And he further explained that horns are positioned forward to represent progress and readiness for what lies ahead.
---
Looking for more inkspiration? Say no more:
The Best Deer Skull Tattoo Ideas
The Best Larkspur Tattoo Ideas
Get Access to Exclusive Deals
Subscribe for free to get exclusive deals in your inbox. 100% privacy