Best Larkspur Tattoo Ideas 
About Larkspur Tattoos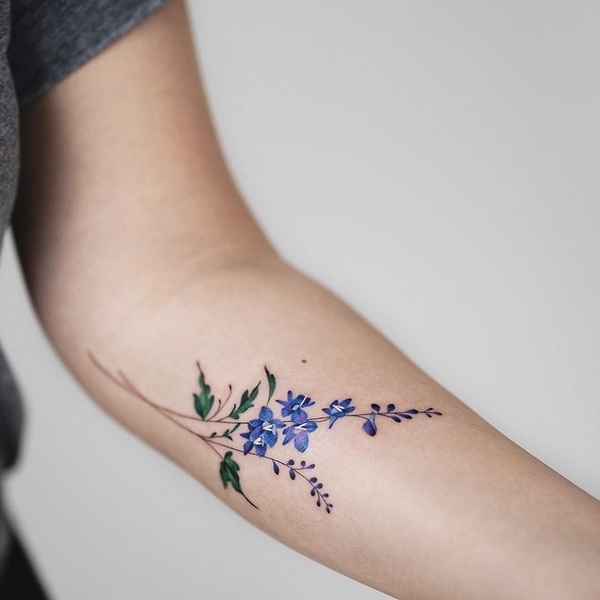 Larkspur is a species of flower you've probably admired but never learned the name of. If you've seen one, then you know it has a long stem rich in blooming petals from top to bottom.
Many trendy tattoos as of late feature the unique shape and beauty of the flower. If you love this flower, then you might be tempted to get a larkspur tattoo.
But, if you're new to the species or unsure how to design the illustration best for you, then this article will walk you through all you need to know. 
After reading this guide, you'll understand:
What the larkspur tattoo symbolizes
Best places to get the design tattooed
Average costs to expect
Larkspur tattoo ideas to consider
History associated with the trend
Whether it's your first tattoo or your tenth, the larkspur is a gentle, feminine design that can be adored on its own or surrounded by other gorgeous details.
You know how they say once you get one tattoo, you can't stop? Well, this flower and these design ideas will leave you wanting another one. Hope you have your tattoo artist's number on the speed dial!
What Do Larkspur Tattoos Mean And Symbolize?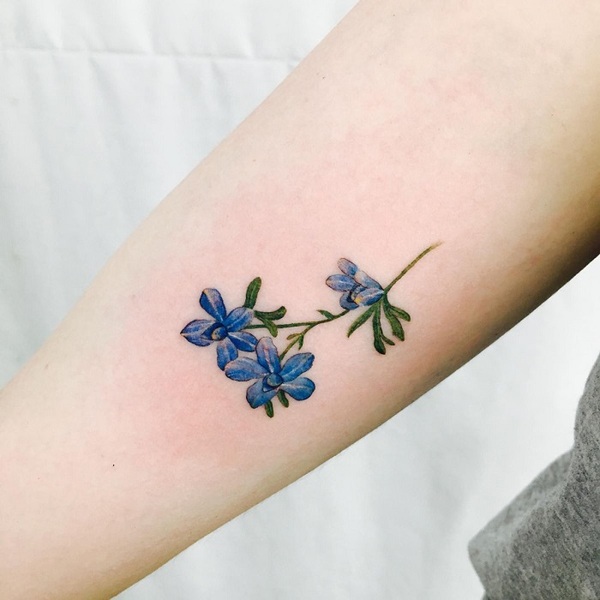 Larkspur is a warm, vibrant reminder of the spring and summer months—seasons we all look forward to and thrive in—just like the flower!
The species flourishes in cooler, humid months throughout areas in North America and Africa. The larkspur typically comes in three different colors, all with three different meanings. 
If it's designed with an indigo color, the larkspur tattoo meaning is often associated with a first love or intense passion, just like the intense purplish-blue shade. A pink hue continues the love theme by symbolizing romance and growth.
On the other hand, a clean white color represents immense joy and happiness. To put it simply, the larkspur's meaning is deeply rooted in feelings of love and strong bonds.
For this reason, it's a good option if you'd like to get matching larkspur tattoos with a loved one such as a sister, mom, or spouse. It also can be a design that honors a loved one.
In this case, it can be personalized with their favorite color and feature the symbolism that resonates most with their personality. 
The larkspur has also been considered a symbol to fend off evil in any form.
It was popular in Victorian-era gardens for this purpose. So, some may get the flower tattoo as a way to showcase its history of warding off any negative energy. 
Calling all our July birthday babes. You're lucky enough to call this natural beauty your birth month flower. So, this might be a good reason for you to get the larkspur tattoo!
Where To Get A Larkspur Tattoo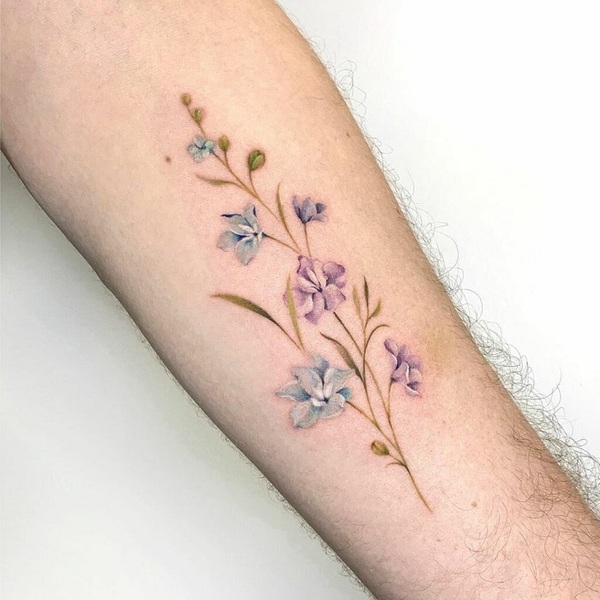 The tall, full shape of the larkspur and its petals can easily be tattooed in a variety of spots. Many choose to place this lengthy tattoo design on longer areas of the body like the arms or legs.
Depending on its size and design, here are some good areas to consider inking your larkspur tattoo:
Back or front of forearm
Outside or inside of the bicep
Middle of the back/spine (a personal favorite that is so pretty and feminine!)
Side of torso
Back of calf
Thigh
Although every tattoo is permanent, you'll want to make sure that the area you choose to get tattooed keeps the design looking as new as possible for the longest amount of time.
Of course, if you want to showcase the vibrant colors in your larkspur tattoo, you'll want those colors to stay bold!
Whether your tattoo features color or not, body parts often exposed to the sun will increase the risk of fading or damage to the ink.
So, if you expect to do a lot of sunbathing, then maybe choose a spot you can easily protect or vow to wear lots of sunscreen. 
The same rule applies to areas on the body that deal with excessive rubbing or sweat like your shoulder, hands, or feet. I have a smaller tattoo behind my ear and let's just say I've had to get it touched up once or twice.
But, these issues aren't things you have to stress over every day—they're just little reminders for you to keep in mind. 
The longevity of your tattoo also depends on how you take care of it during the healing process.
Keep your fresh ink extremely moisturized and don't pick at the scabbing even if it's really tempting! If you're ever unsure what to do, ask your tattoo artist and follow their expert after-care instructions. 
How Much Do Larkspur Tattoos Cost?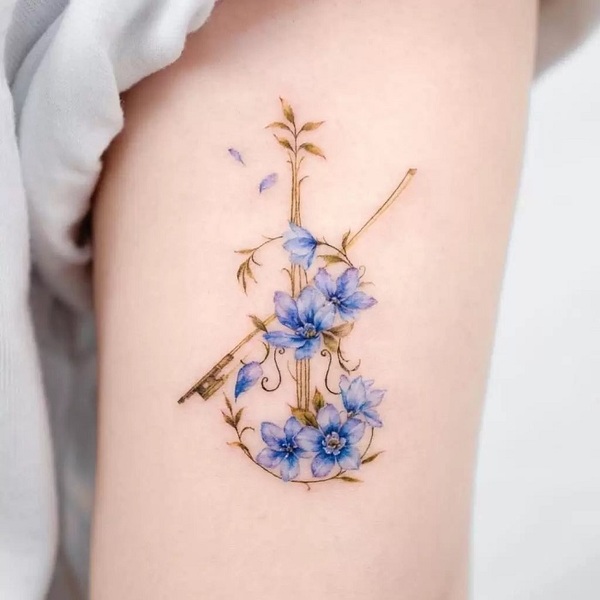 The price of your upcoming stunning tattoo isn't something I can predict exactly. The cost of any tattoo is based on a handful of factors.
So, if you're trying to get an idea of the total of your larkspur tattoo, then think about:
The size of the tattoo
If color is incorporated
Amount of details in the design
Quality of the ink
Time spent
If it requires a special skill from the artist
Larkspur tattoo designs can have so many creative features. If you'd like the flower to be a focal point in a field of other artistic details, then you may be racking up the final cost.
That's because your design will take more time to be drawn and tattooed. Obviously, size matters in the tattoo shop. The bigger the tattoo, the more ink needed and the more expensive it will be. 
Basically, a large portion of the cost is determined by how much time the artist spends during the creative process. That includes thinking of the design, drawing the design, and obviously tattooing it onto your body.
The quality of ink is very important for larkspur tattoo ideas. As you've already learned, the strong colors of the flower are an essential trait of the plant.
So, if the rich tones are featured in your tattoo then you'll want those hues to stay strong. That being said, don't cheap out on the ink even if the lower cost seems appealing. Choose an artist who values the quality of their ink. 
Lastly, there are many different tattoo styles to choose from that have special characteristics that make them noticeable.
If you're gravitating towards realism, old-fashioned traditional, or tiny tattoos then consult with an artist who has advanced expertise in that skillset. This will ensure the best-looking tattoo is done by the most qualified artist. 
30 Best Larkspur Tattoo Designs
#1: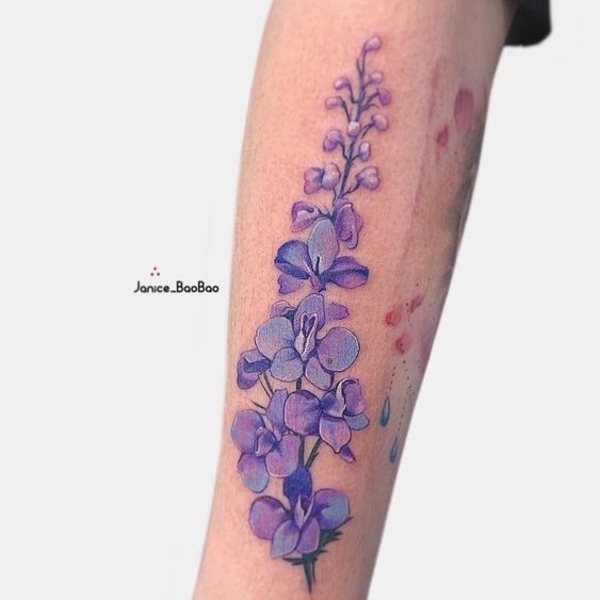 #2: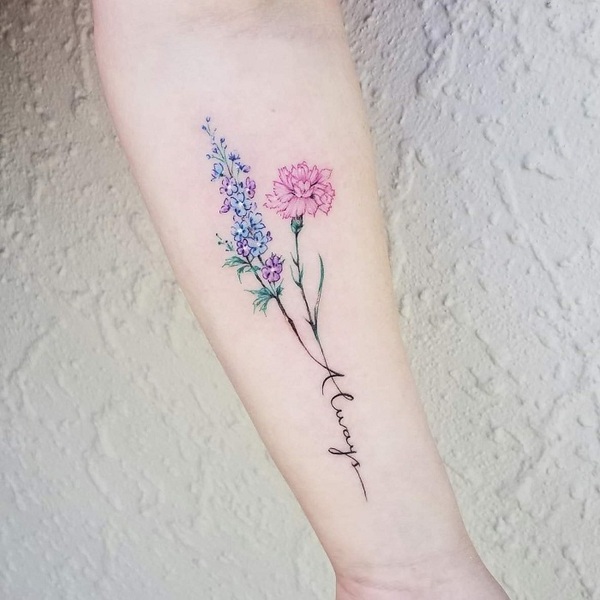 #3: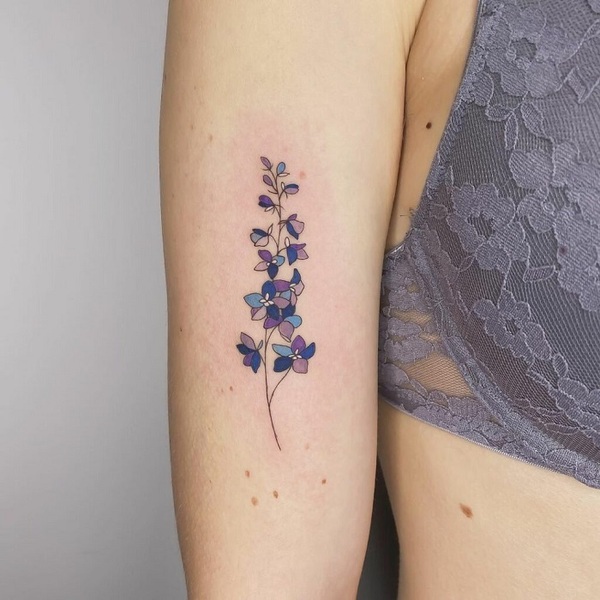 #4: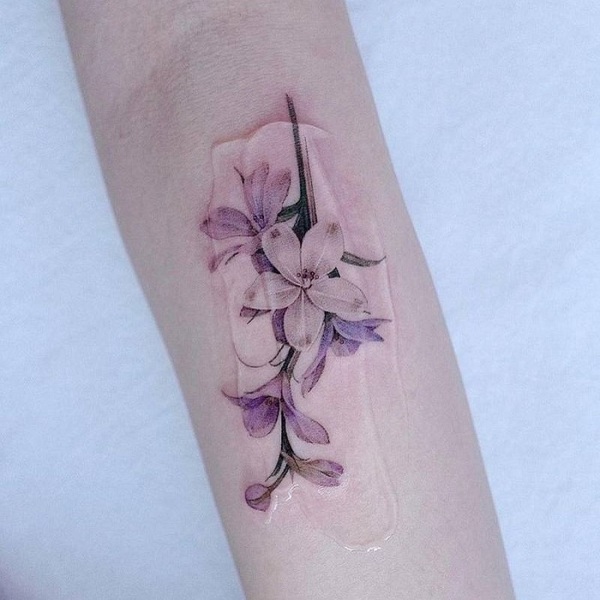 #5: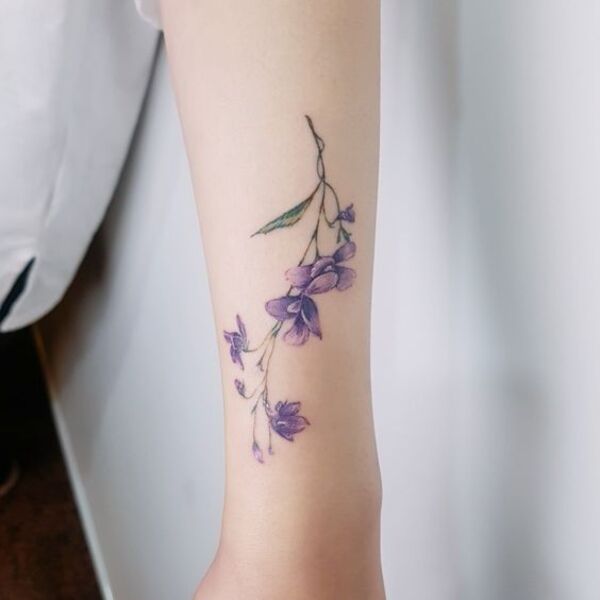 #6: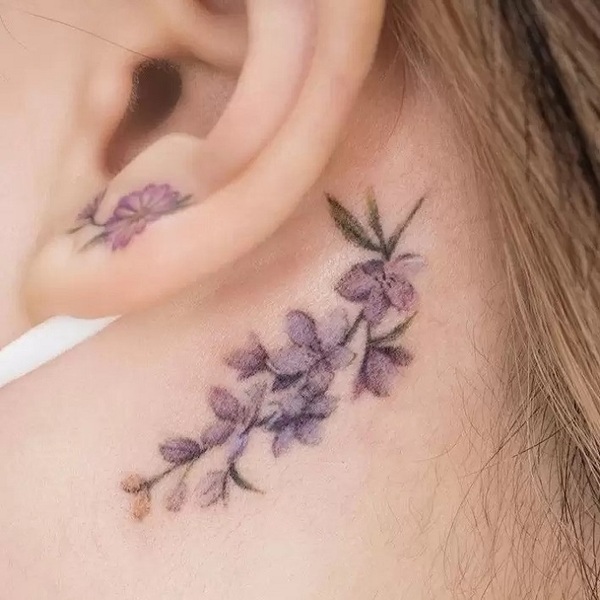 #7: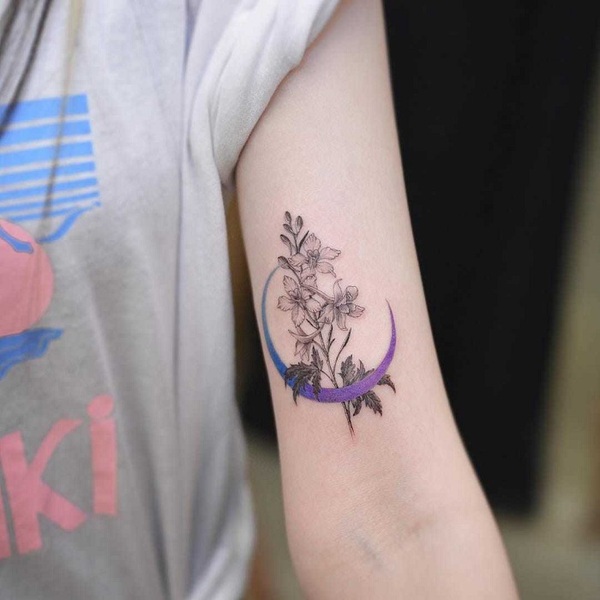 #8: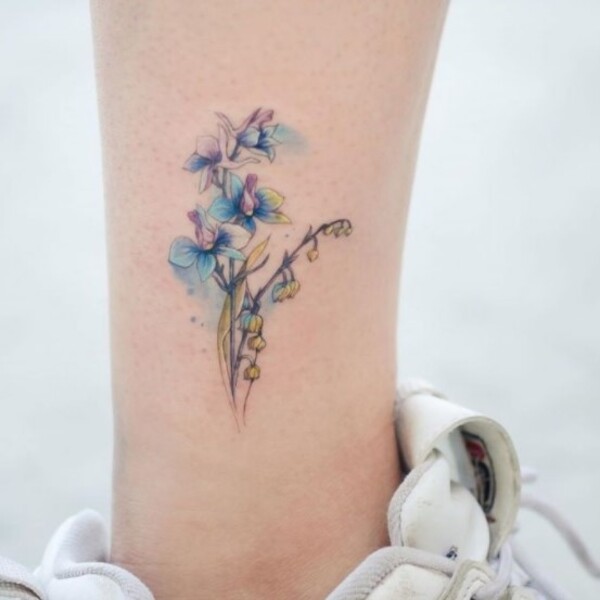 #9:
#10: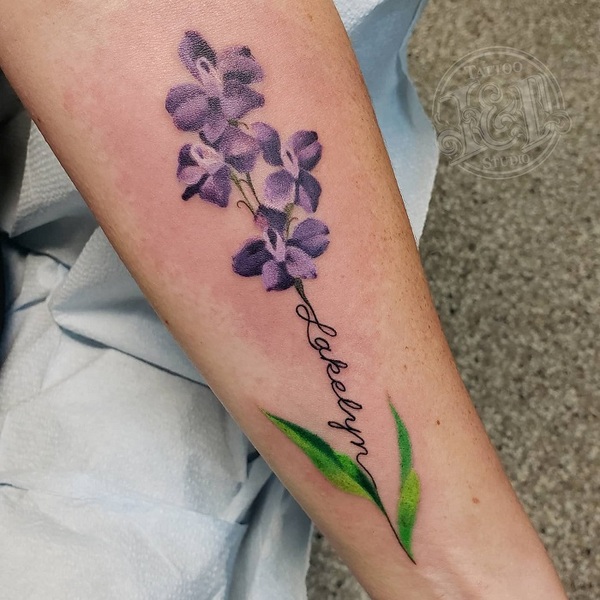 #11: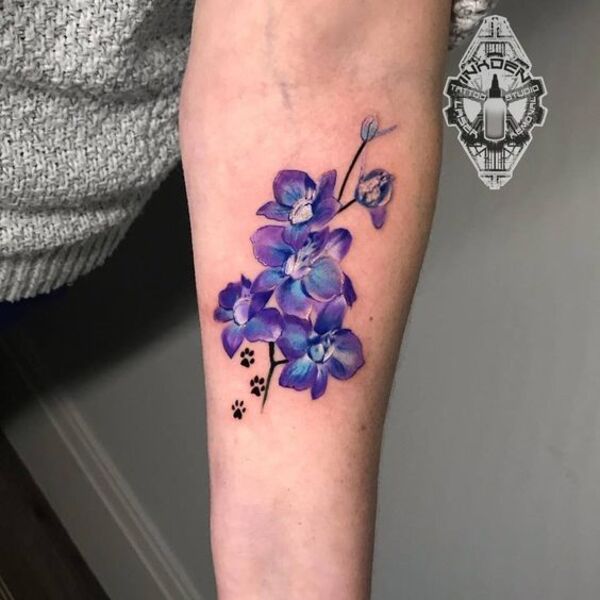 #12: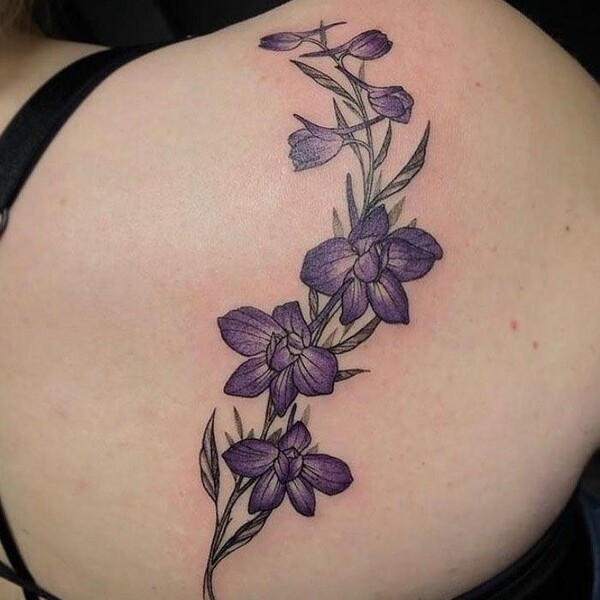 #13: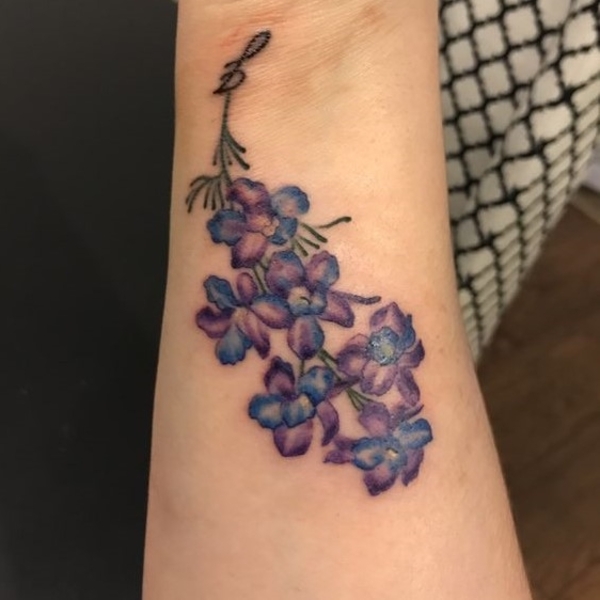 #14: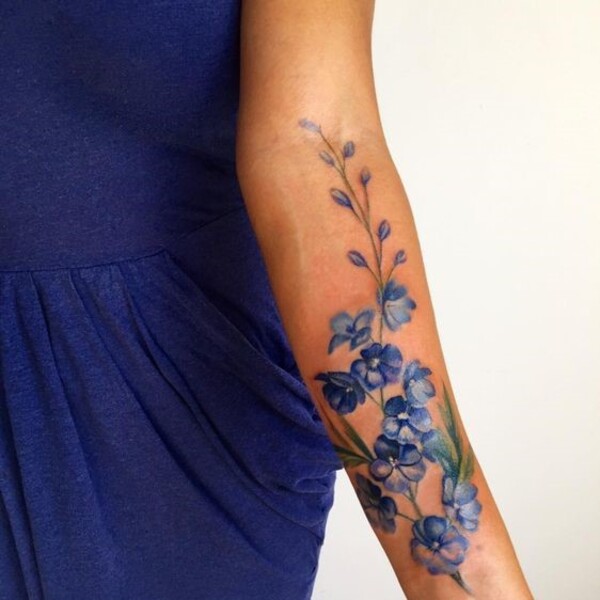 #15: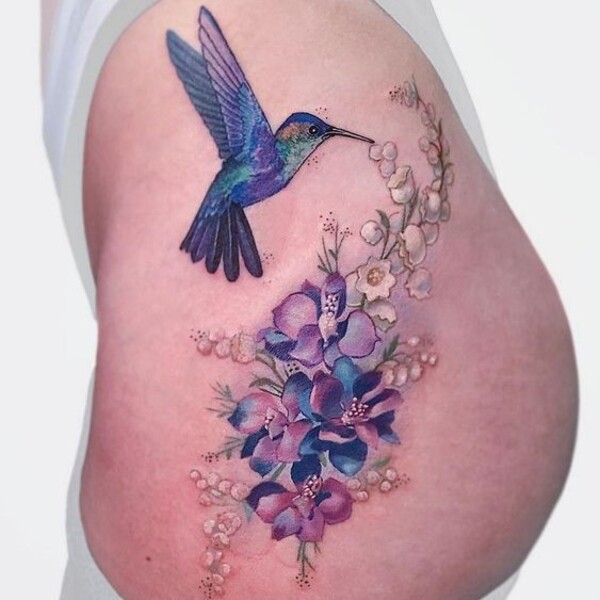 #16: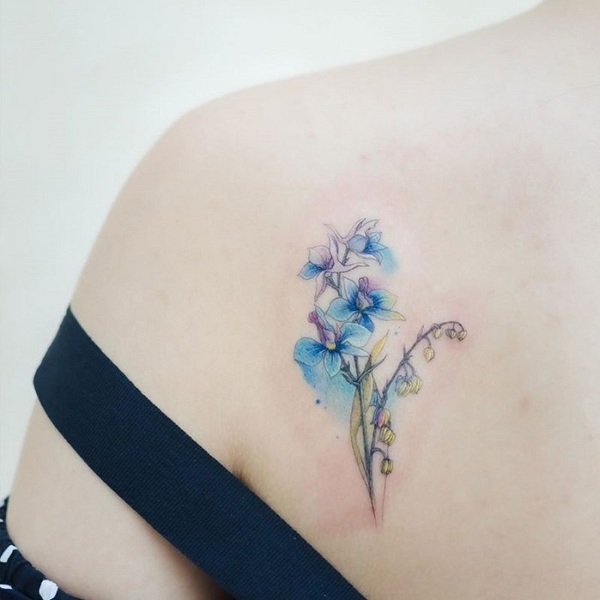 #17: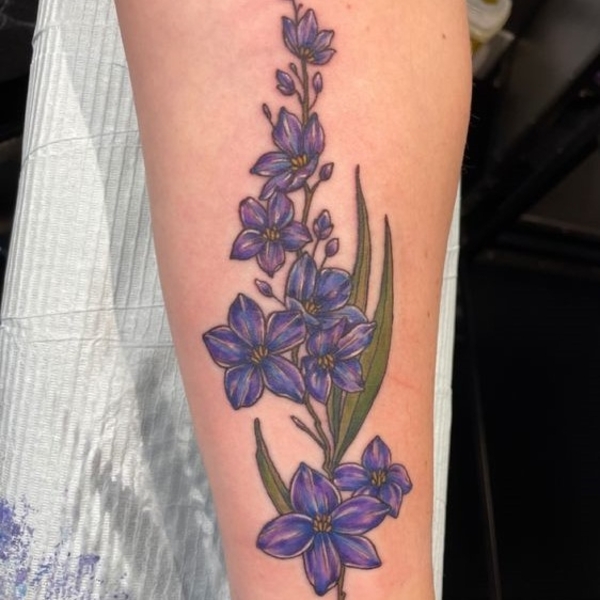 #18: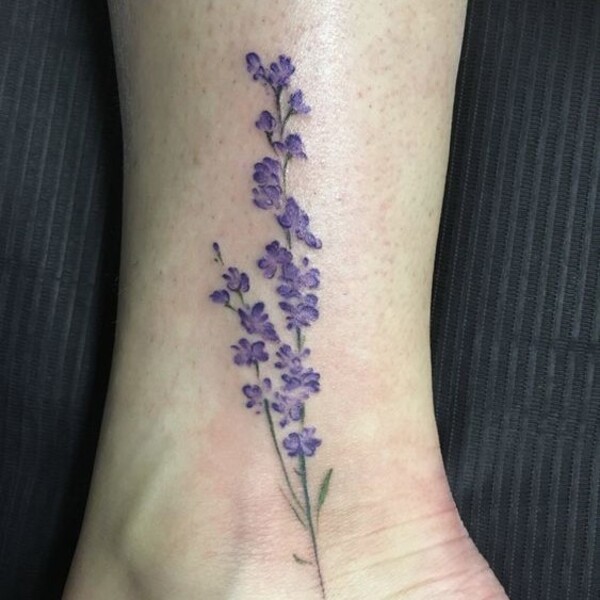 #19: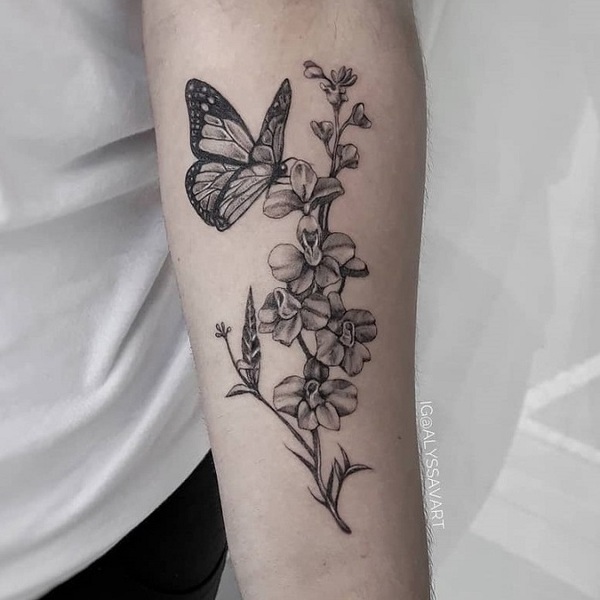 #20: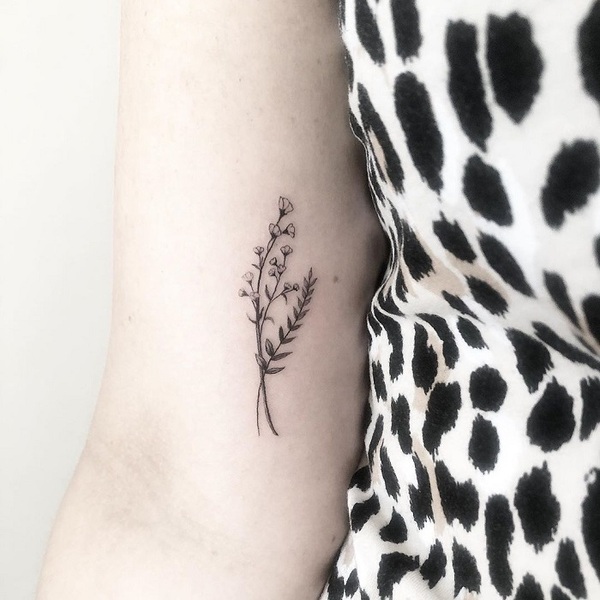 #21: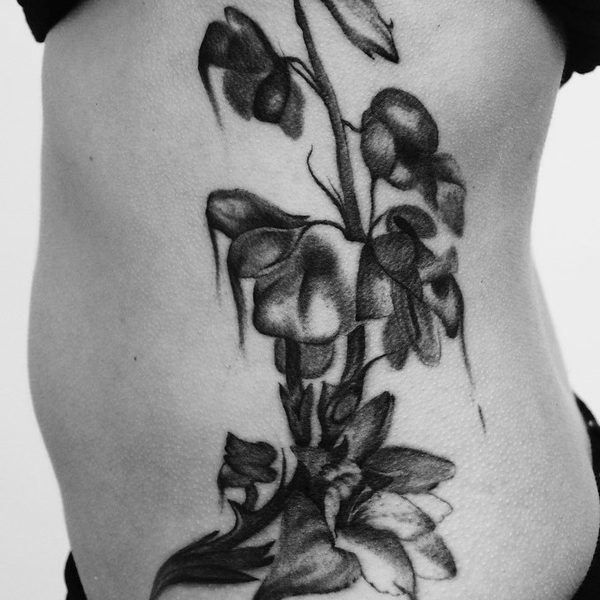 #22: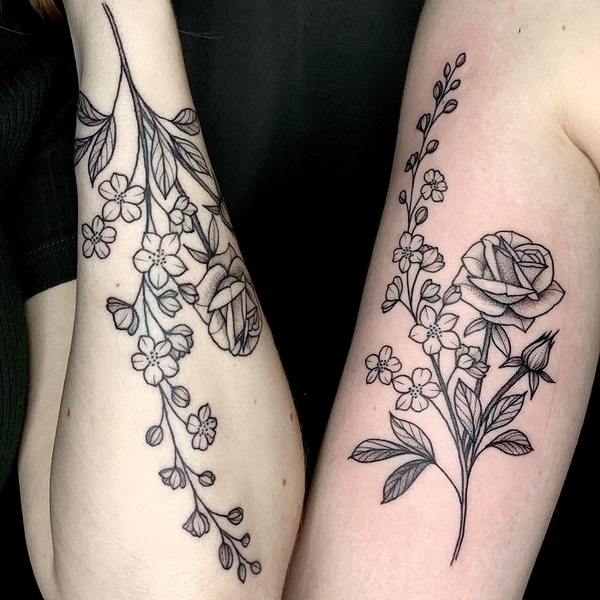 #23: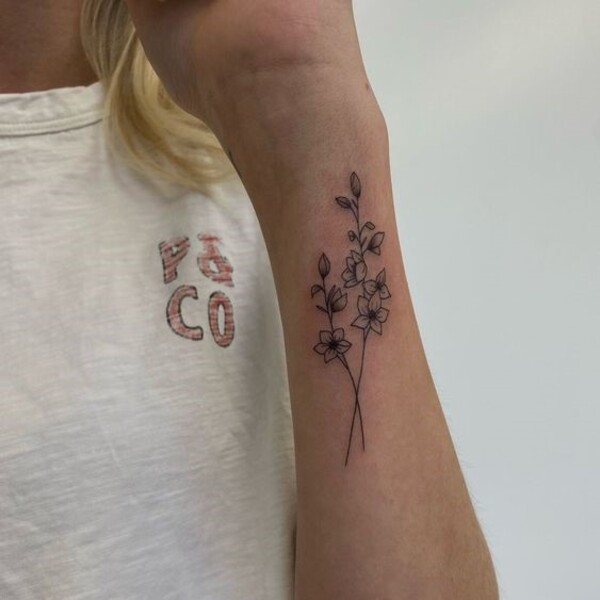 #24: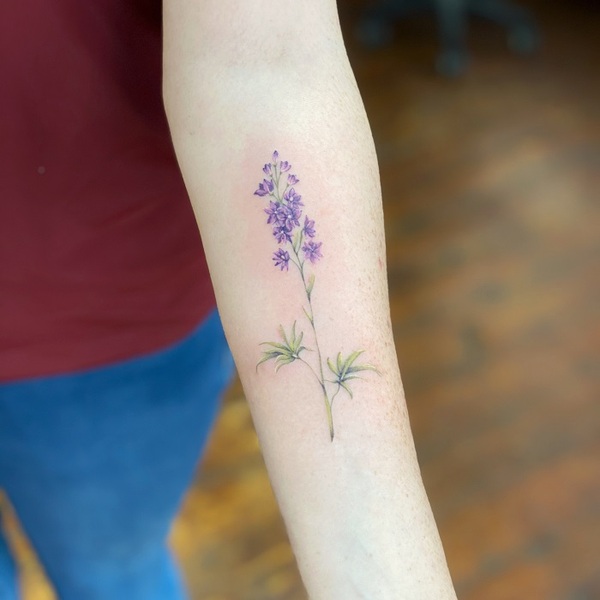 #25: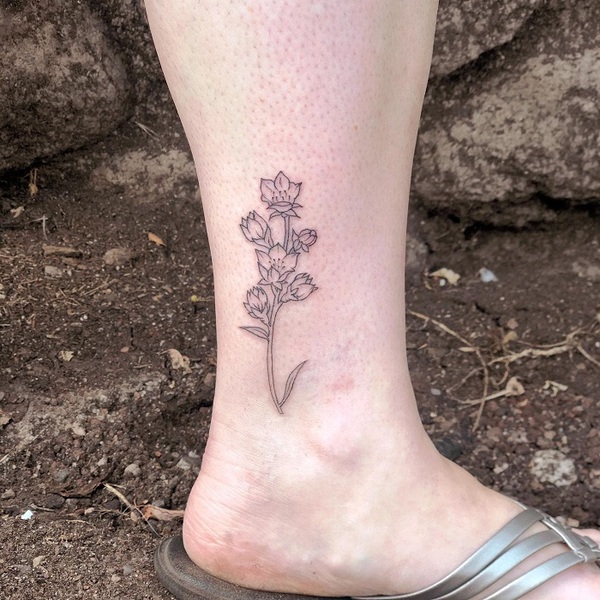 #26: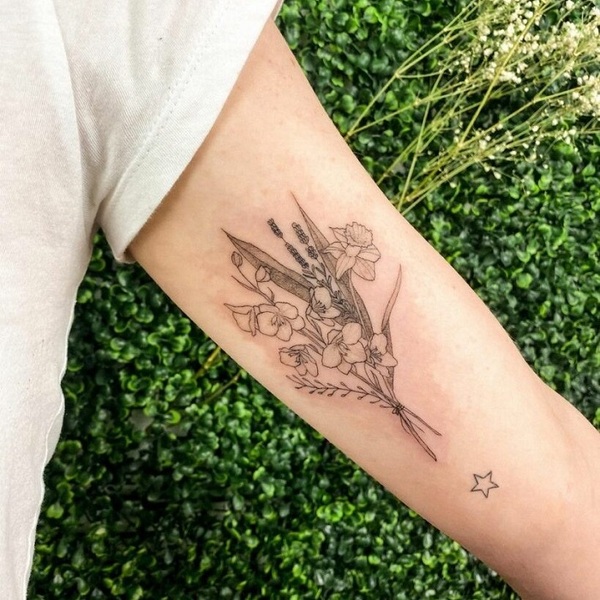 #27: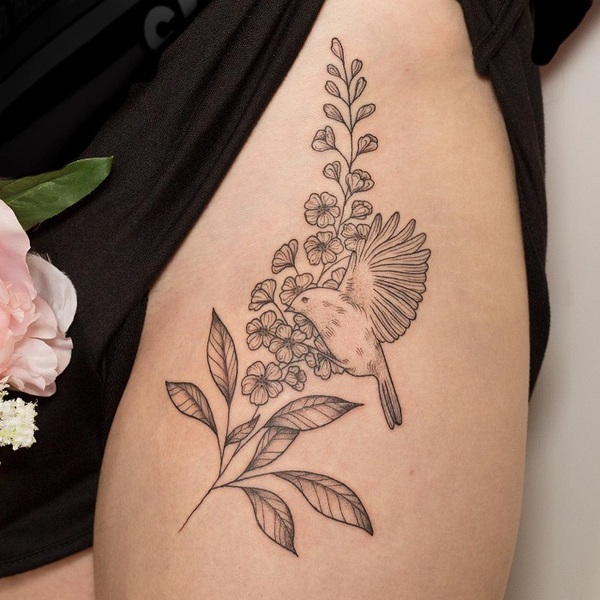 #28: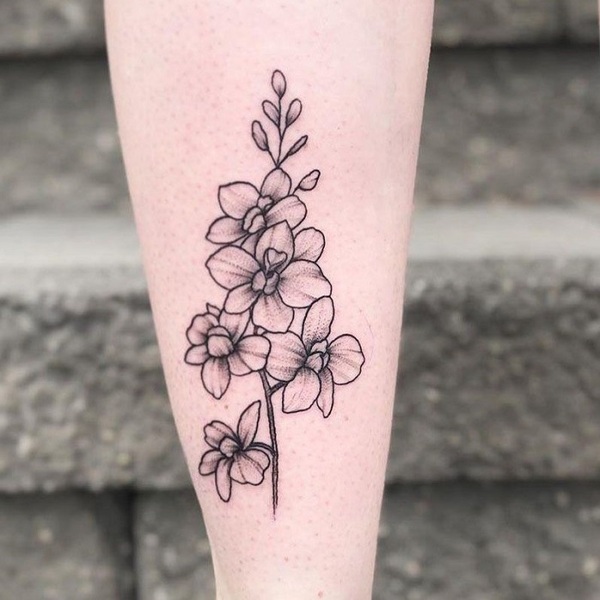 #29:
#30: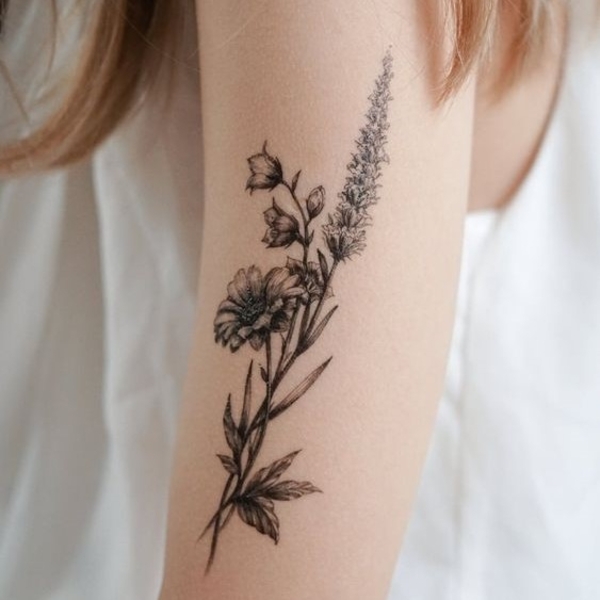 History Of Larkspur Tattoo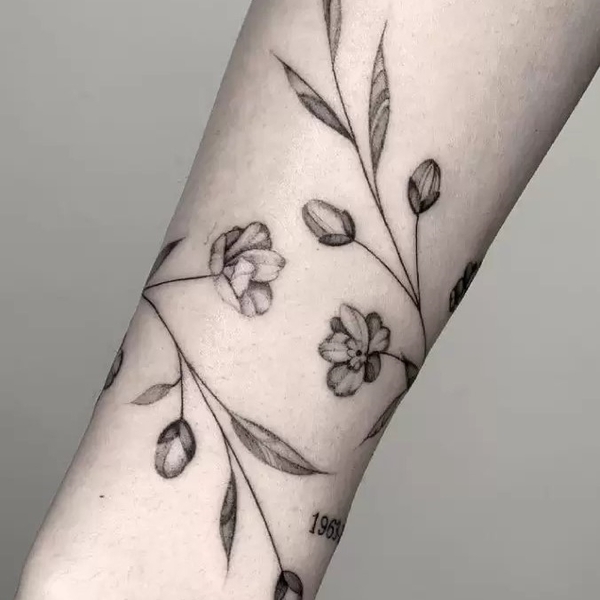 The larkspur has a very rich history throughout many different cultures and regions of the world. Clearly, appreciation for beauty is universal. 
As we mentioned, the flower was commonly found in gardens for hundreds of years due to the belief that it kept evil away.
This was especially the case during the time period when witches and spells were a growing concern. Since the flower had meanings relating to positivity and happiness, it was considered a great protective force. 
The larkspur is also featured in Greek mythology. As the legend goes, the flower first appeared in the Battle of Troy. After Achilles was put to death, his mother insisted his armor be given to the remaining bravest warrior.
After learning that the armor was awarded to Ulysses instead, Ajax plunged himself into his sword as a way to take his own life. Where his blood dripped onto the ground, bright blue larkspur bloomed.
The larkspur has also been important for Native American use and rituals too. They would use the blue flower to create prominent dyes to distinguish their tools like arrows. Plus, they would use the flower for ceremonial purposes.
The larkspur is a symbol of positivity, protection, and healing. Over the course of history, it has been used for medicinal reasons too.
In England, it was used to cure illnesses like intense bleeding, vomiting, or even insomnia. It also has a history of being a remedy for open wounds or poisonous stings. 
Additionally, it has been a popular choice for a gift flower. For many years, people would give the flower to others for special occasions to invite happy, positive energy into a space or to bless the person they're giving the flower to.
Which Celebrities Have A Larkspur Tattoo?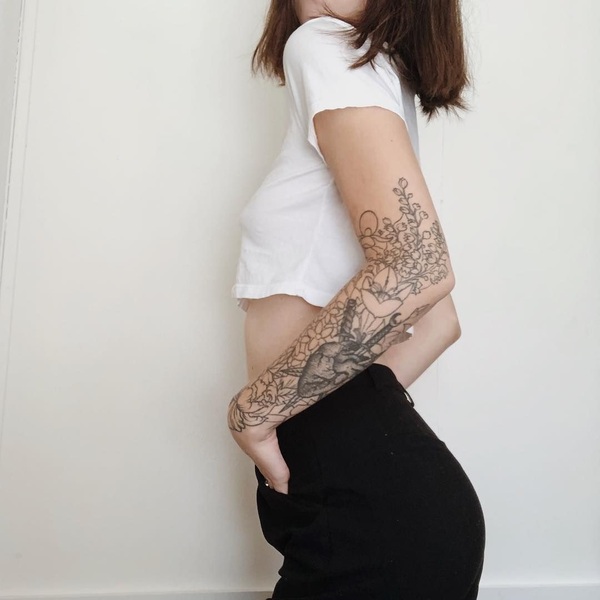 YouTuber Acacia Brinley Clark has a half sleeve that features lots of flowers.
The larkspur is incorporated towards the top of the design, just above her elbow. Her larkspur tattoo has a minimalist design, since it includes strictly black outlining with no color or shading.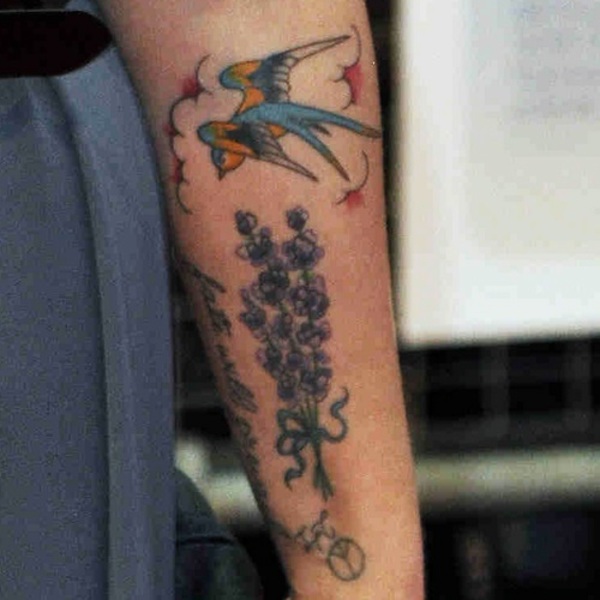 English singer-songwriter Katie Waissel has a bundle of flowers tied with a blue bow tattooed on her left arm.
The X-Factor contestant incorporates the bright indigo shade in her smaller larkspur tattoo design. She surrounds it with a flying bird and a peace sign—really giving off those nature vibes.
---
Looking for more inkspiration? Say no more:
The Best Solar System Tattoo Ideas
The Best Water Lily Tattoo Ideas
Get Access to Exclusive Deals
Subscribe for free to get exclusive deals in your inbox. 100% privacy