About Reaper Death Seal Tattoos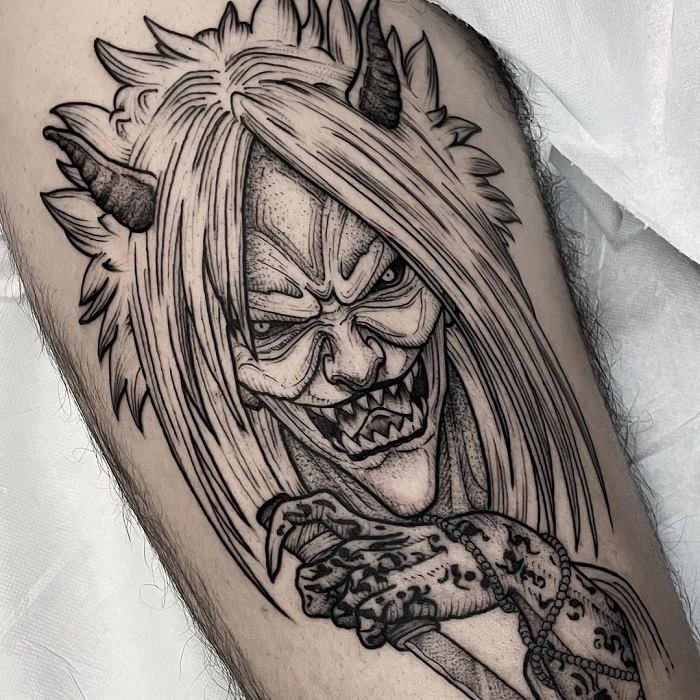 A Reaper Death Seal tattoo features one of the most intriguing characters from the Naruto series—the God of Death.
These tattoos are a fan favorite because Reaper Death Seal tattoo designs come in many different versions of the original drawing. 
To give you ideas for your next tattoo, we've compiled a list of some of the coolest Reaper Death Seal tattoo designs we could find to help you choose one that you'd be happy to get inked.
What Do Reaper Death Seal Tattoos Mean And Symbolize?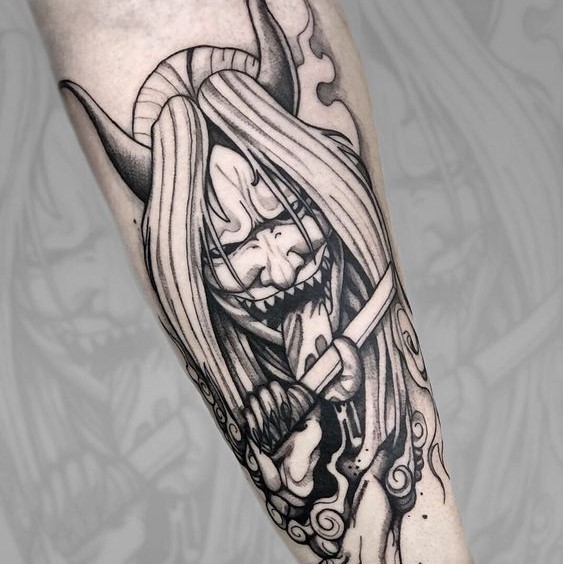 Reaper Death Seal tattoo designs can be very playful and often depict the Reaper as this Joker-like character. This makes the meaning of the tattoo itself multi-layered and personal.
Since Reaper's character represents a dark force, a Reaper Death Seal tattoo can often be associated with more somber themes such as:
Of course, your Reaper Death Seal tattoo meaning will greatly depend on which aspect of his character speaks to you the most, even if loss, sacrifice, and darkness don't as much.
Reaper is an eerie, but entertaining character. Many different Reaper Death Seal tattoo designs feature him with his tongue sticking out and holding up or biting a knife. This means that his image can also be a symbol of your own bold and daring side.
Additionally, the Reaper Death Seal tattoo meaning might depend on what appeals to you stylistically.
All these tattoo designs feature images that have the power to draw in those who are not necessarily avid fans of the show but appreciate that style of animation and drawing. So the tattoo can also mean you have a great taste in art and animation. 
Where To Get A Reaper Death Seal Tattoo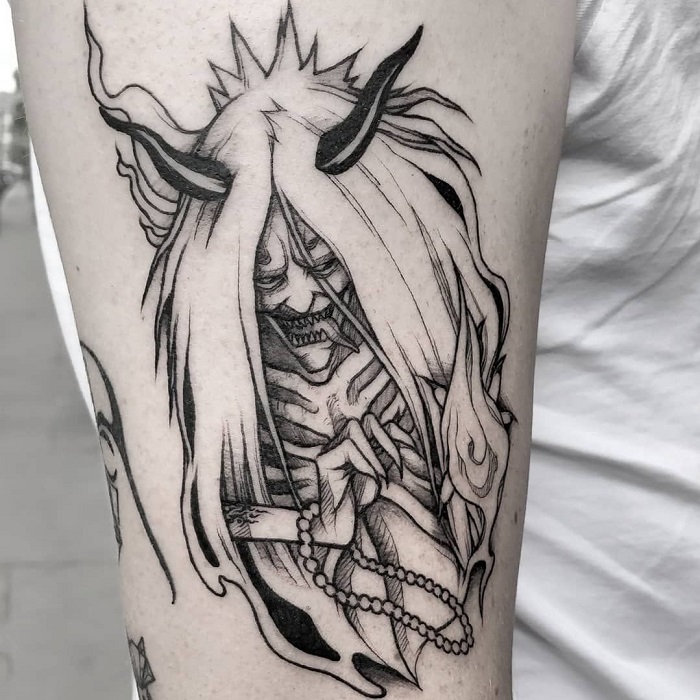 A Reaper Death Seal tattoo can look good pretty much anywhere on your body where there's enough canvas for your tattoo artist to work out small details freely and with ease. For that reason, our top picks for where to get this tattoo would be: 
Forearm
Calf
Stomach
Shoulder
Thigh
Forearm
Your forearm is a great place for a Reaper Death Seal tattoo because of its versatility. You can have it inked on your inner or outer forearm. Plus, it might be a fantastic spot to start tattooing if you plan to get a full-sleeve tattoo eventually.
The skin on your outer forearm has more flesh and muscle, so your pain tolerance might be higher when the needle is going over your outer forearm.
The sensitivity on your inner forearm might be a bit more intensified because the skin is thinner and that area has more exposure to the three main nerves located throughout your arm. 
Calf
Your calf, specifically the back of it, would make a perfect spot for your Reaper Death Seal tattoo—especially since it has great visibility. You can choose a simpler design or something more elaborate since that area is quite painless to ink.
Considering that the pain level will be pretty low, your Reaper Death Seal tattoo design could be completed in one or two sessions. 
Keep in mind that you might feel some discomfort as your tattoo artist moves the needle down to the Achilles heel. There are many nerve endings around your heel that are more sensitive compared to the other spots on your leg. 
Stomach
A Reaper Death Seal tattoo on your stomach can be done in a variety of styles. Plus, it could be as elaborate and intricate as you'd like it to be because of the size of that area.
Your tattoo artist will have enough surface area to work with and could create a detailed design if that's what you're looking to get inked.  
It's also important to consider that your stomach Reaper Death Seal tattoo could be completed in a couple of sessions, depending on your pain threshold.
You can also choose a simple design at first and add layers to it later. The side of the stomach would be the most sensitive, but typically the pain is tolerable. 
Shoulder
The shoulder area works well for a Reaper Death Seal tattoo because of its visibility and versatility. You have the option to tattoo your shoulder blade, the top of the shoulder, or the spot on the front of your shoulder that includes your collarbone.
The pain of being inked on the shoulder area is typically low to low-moderate.
There will be more pain around the neck and down the collar bone—since there's less cushioning between the bone and the skin. The least painful spot on your shoulder to tattoo will be the outer part.
Thigh
The front of the thigh area is a great spot for a large Reaper Death Seal tattoo design.
It's what we meant when we said the artist has enough canvas to work with to create your version of the Reaper Death Seal tattoo. You can get it inked in black and white or color—either way, your tattoo will stand out. 
The skin on your upper and outer thighs is not as thin as your inner thigh, so the pain tolerance tends to be higher in those areas.
Your upper thigh has both muscle and fat that protect the nerves and bone, which gives it enough cushioning and makes the tattooing process a more comfortable experience. 
How Much Do Reaper Death Seal Tattoos Cost?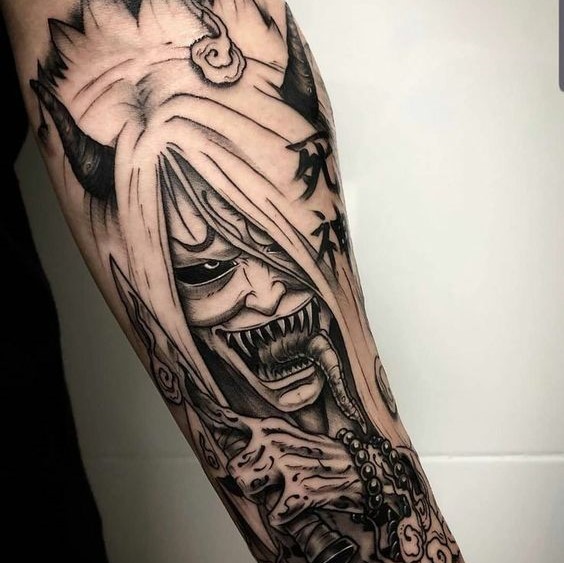 The way to figure out the final cost is to consider the size of your Reaper Death Seal tattoo first. The bigger your tattoo the more expensive it will be. And including more detail means the total cost will go up as well.
Here are a few other factors to consider:
The number of sessions
Tattoo placement
Hourly rate
Tattoo artists usually provide a piece rate or an hourly rate for larger tattoos. Typically, they charge between $120 to $150 per hour. The cost covers the time the artist takes to finesse the design sketch as well.
Adding color will also affect the overall cost of your tattoo. For instance, illustrative-style tattoos are priced higher than black and gray designs.
If you find an artist that charges per piece, prices typically start at $500 for larger designs. If you opt for a more minimalist design instead, you can expect to spend $200 or less.
Here's something else to keep in mind: the cost of a custom design will depend on your artist's rate as well as the other factors we've listed. So choose your artist wisely and in accordance with how much you're willing to spend.
30 Best Reaper Death Seal Tattoo Designs
To give you some inspiration and Reaper Death Seal tattoo ideas, we've compiled a list of the best tattoos out there. You can choose one (or as many you'd like) from the images below.
#1: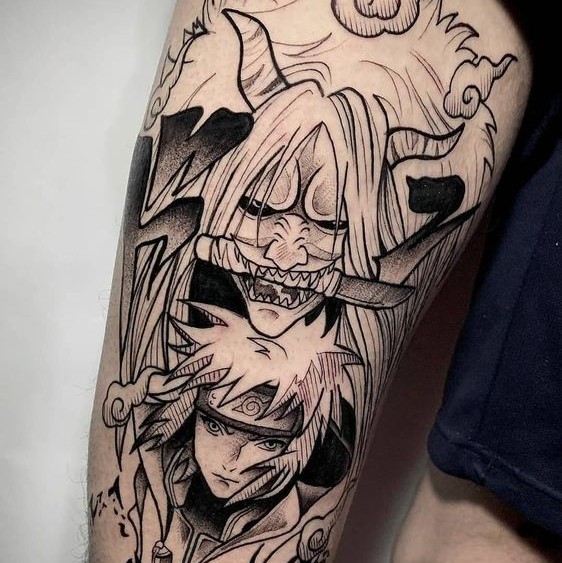 #2:
#3:
#4: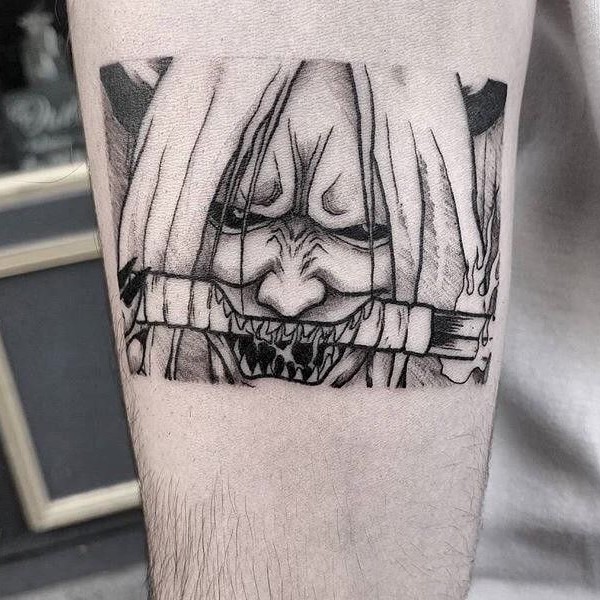 #5: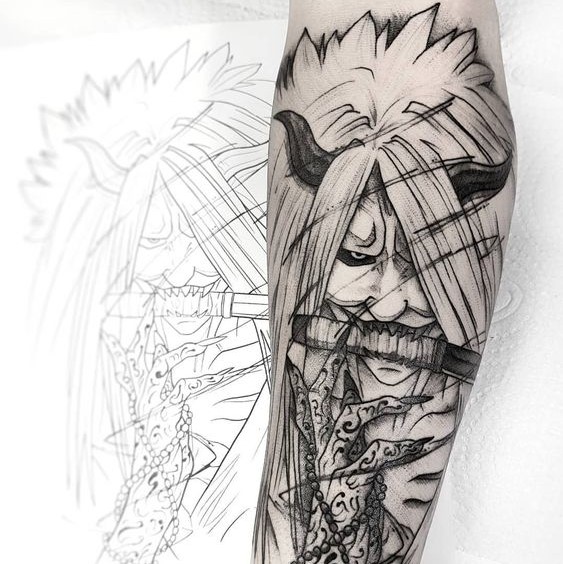 #6: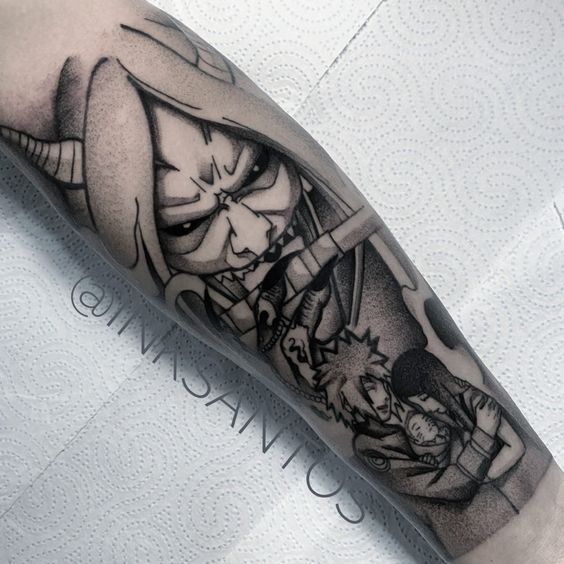 #7: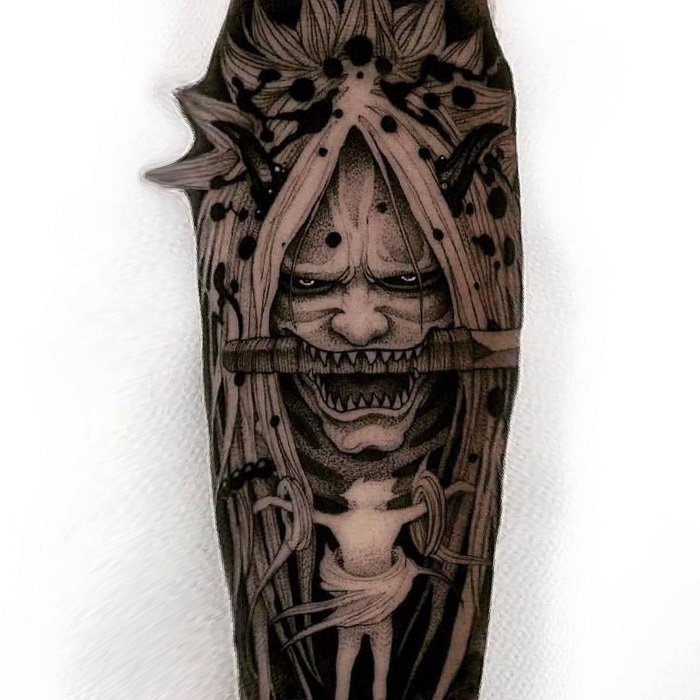 #8: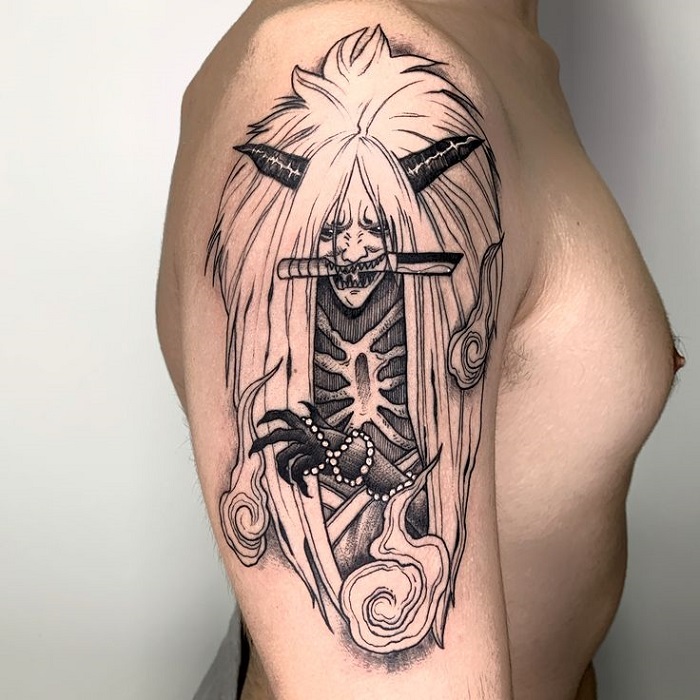 #9: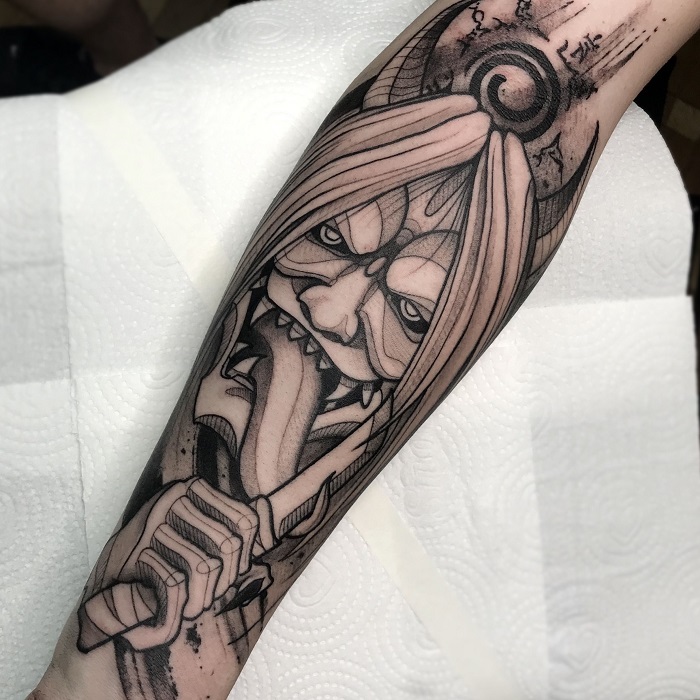 #10: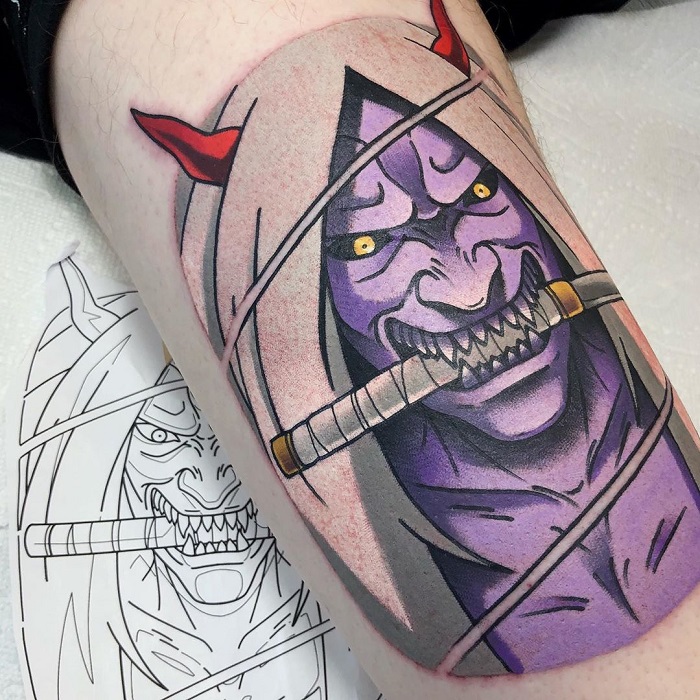 #11: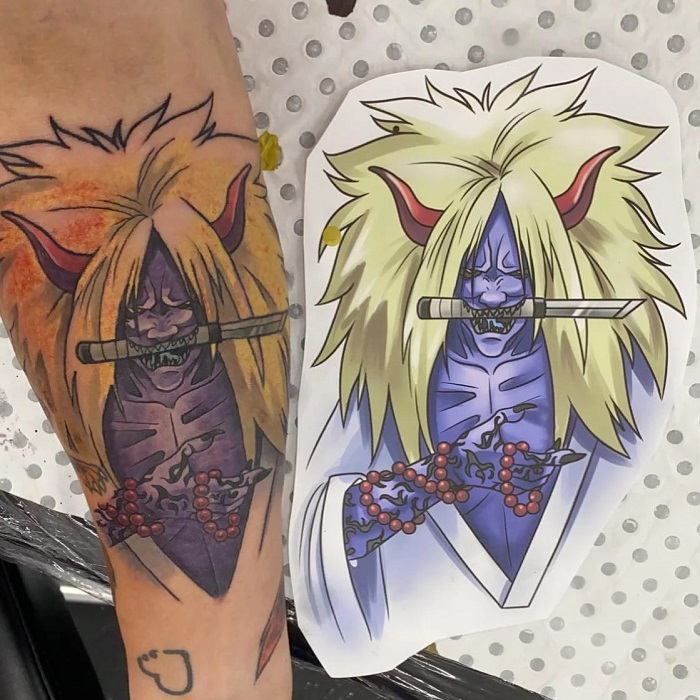 #12: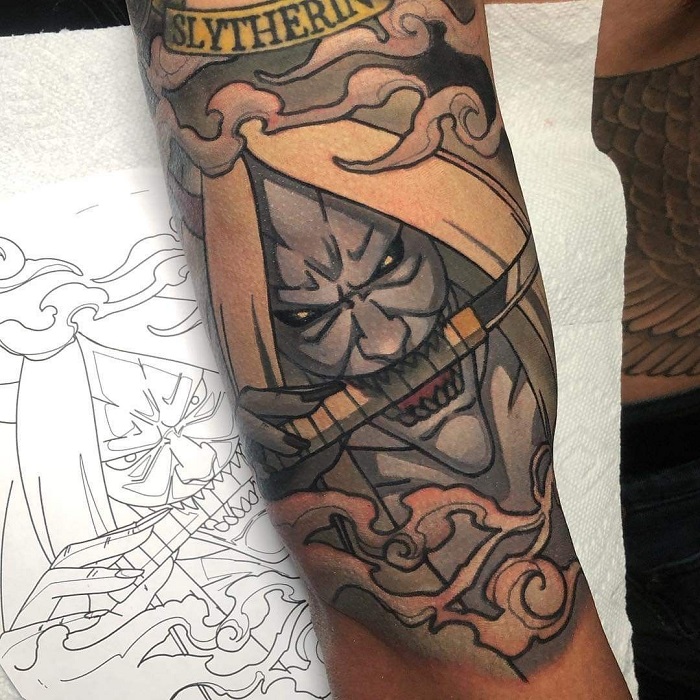 #13: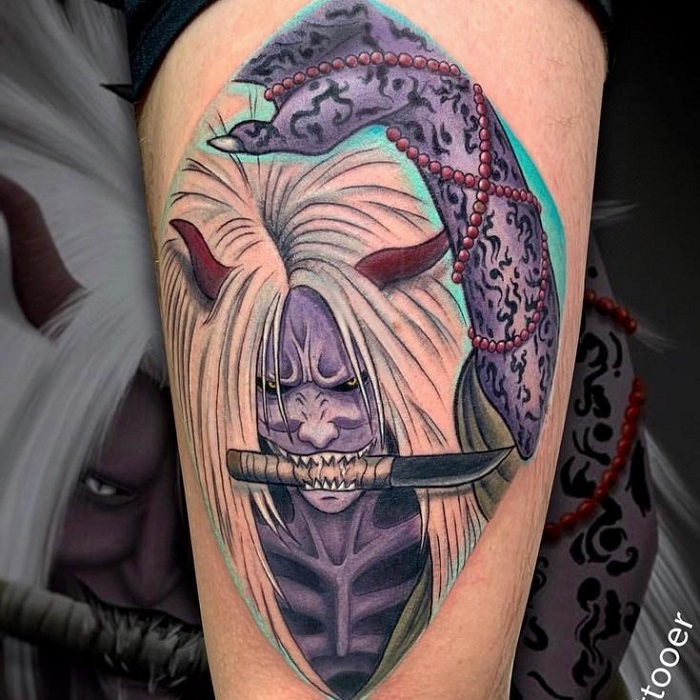 #14: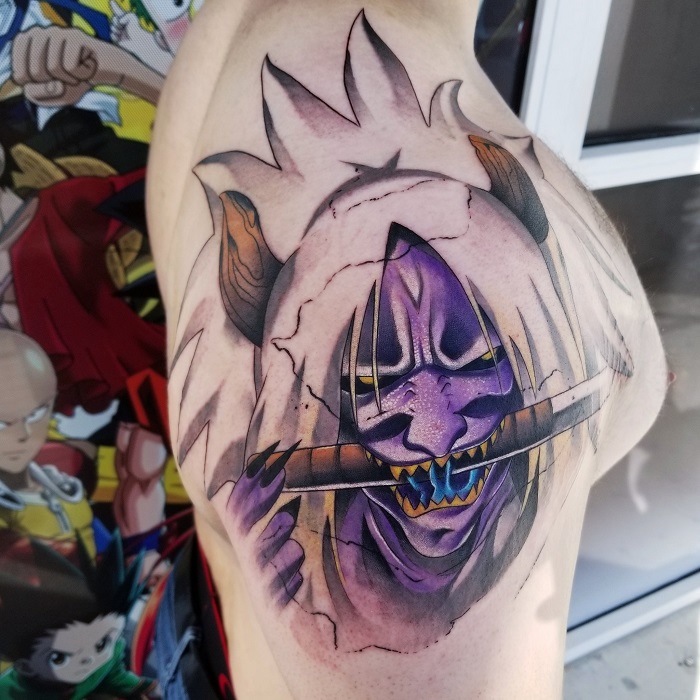 #15: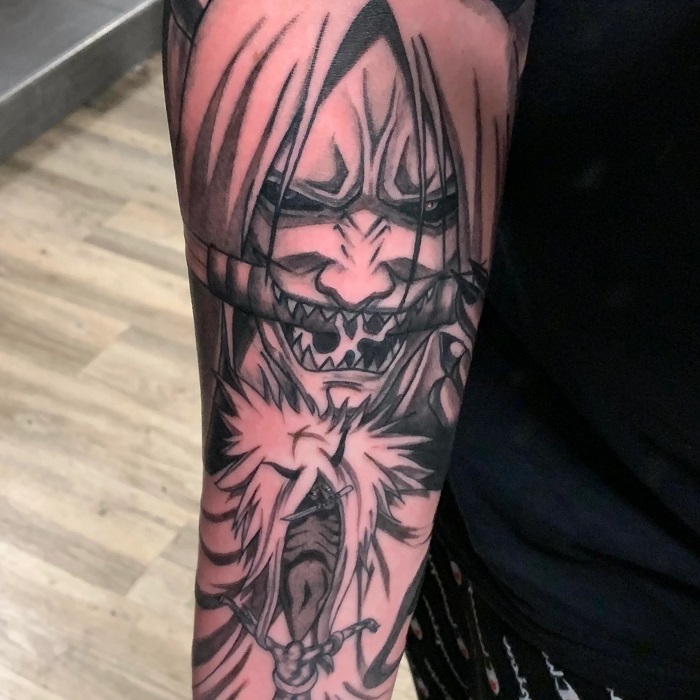 #16: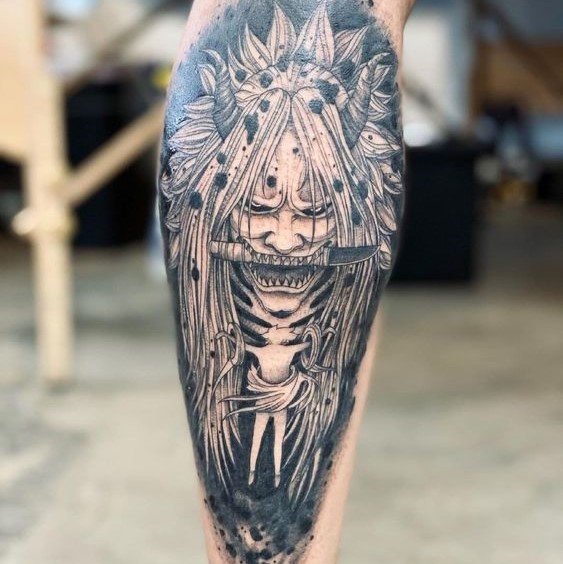 #17: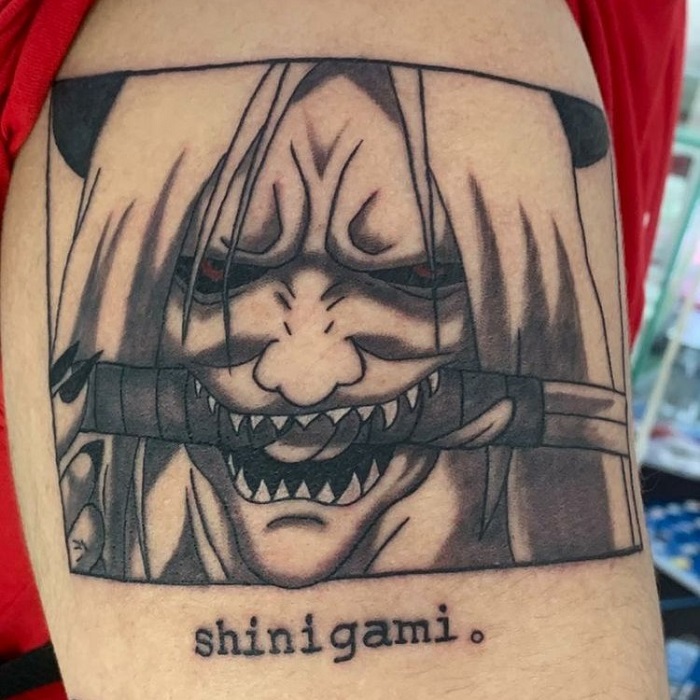 #18: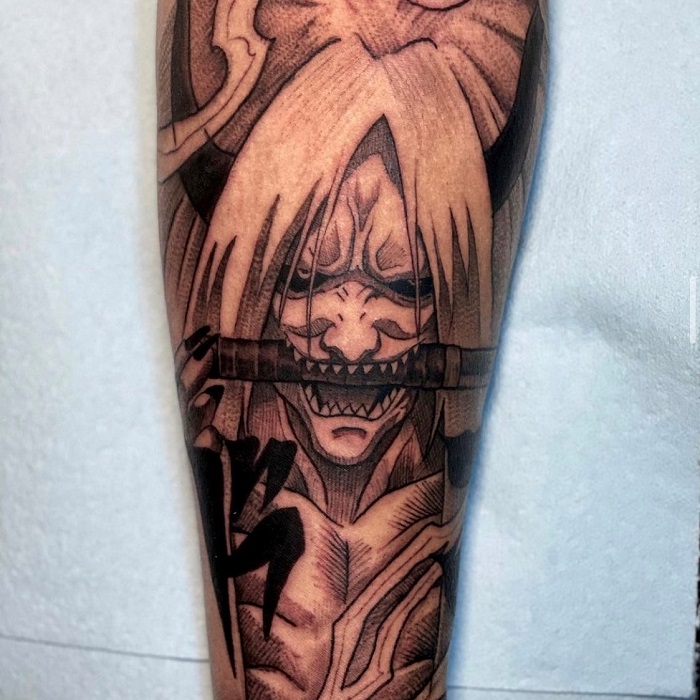 #19: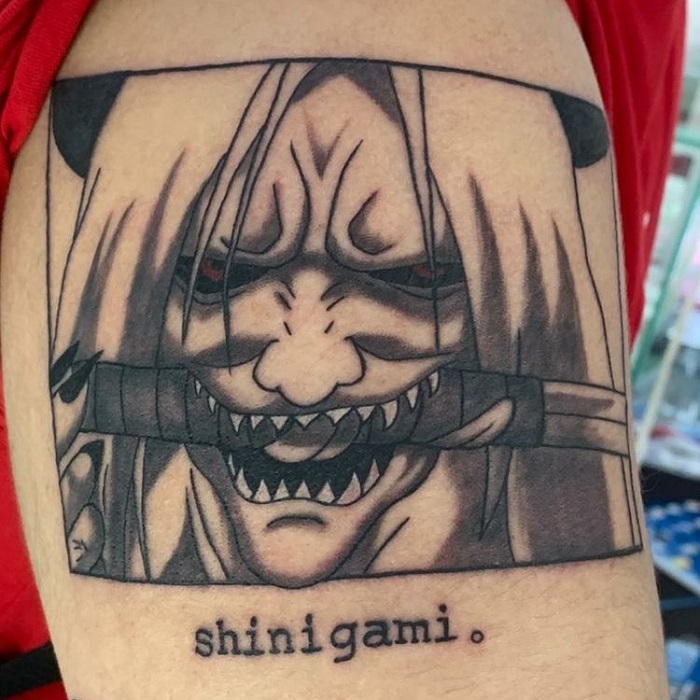 #20: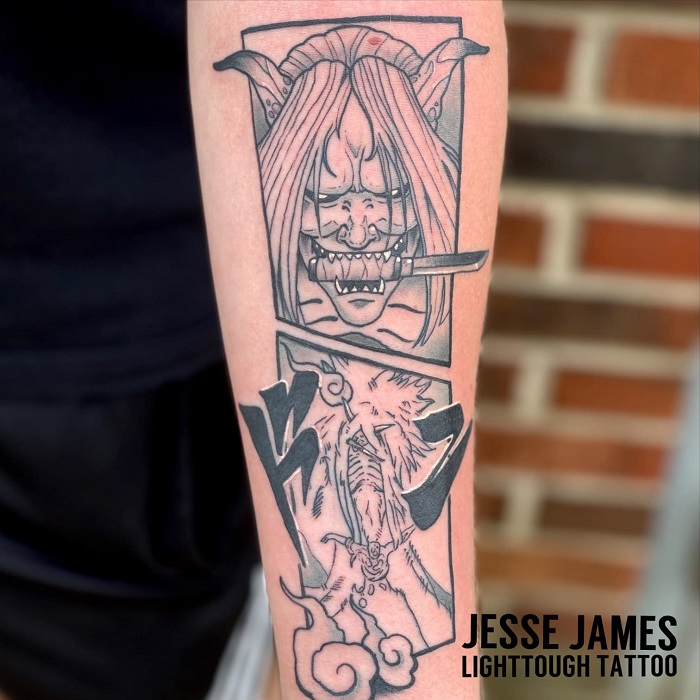 #21: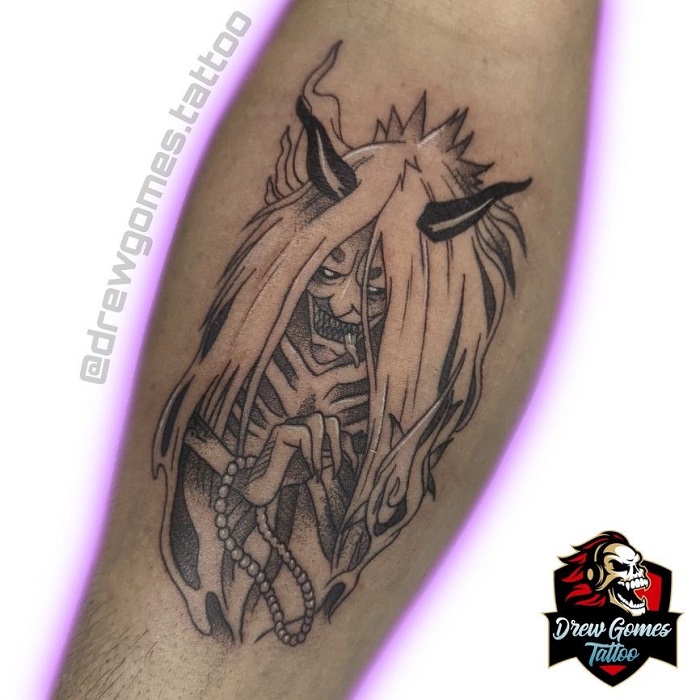 #22: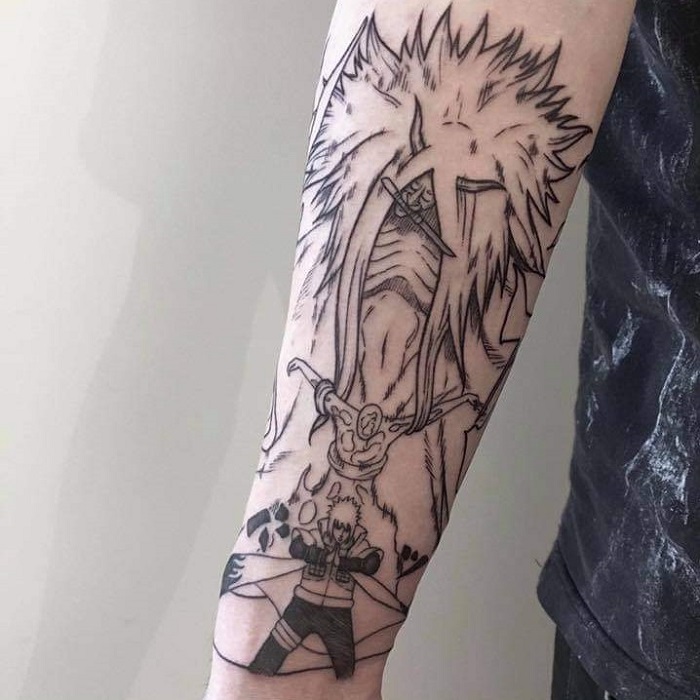 #23: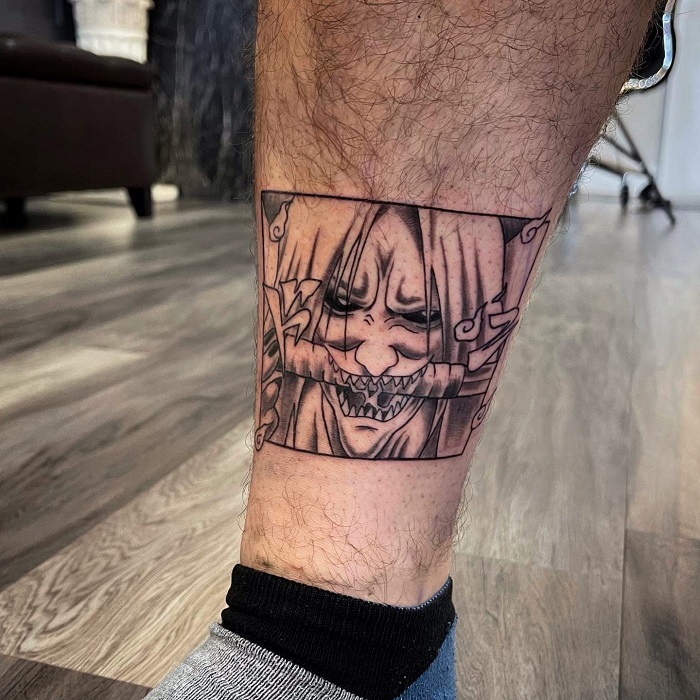 #24: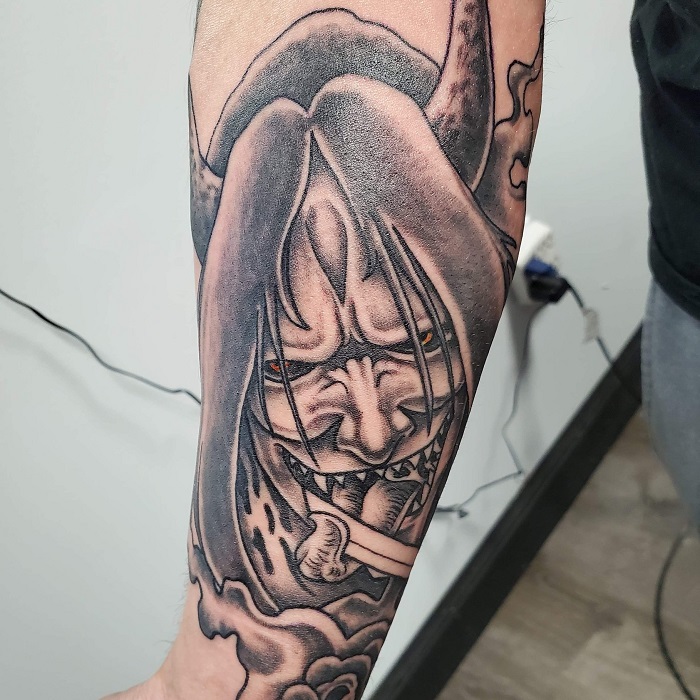 #25: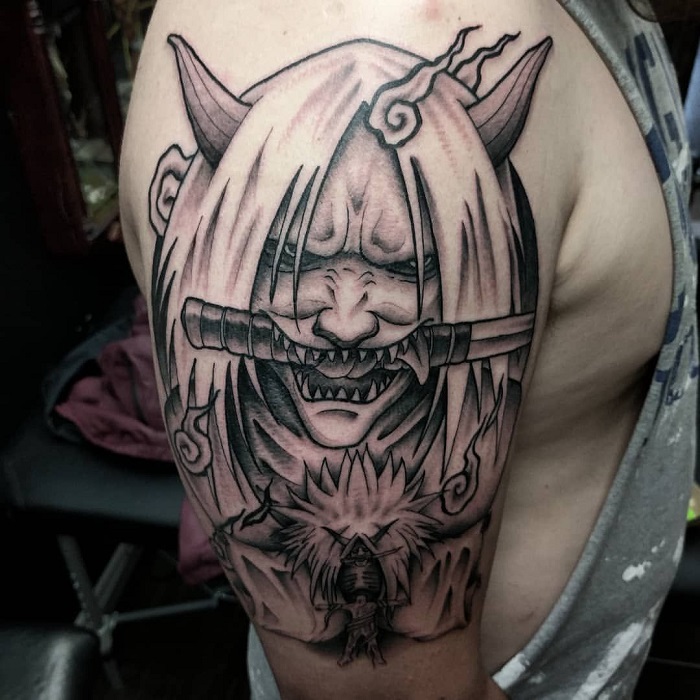 #26:
#27: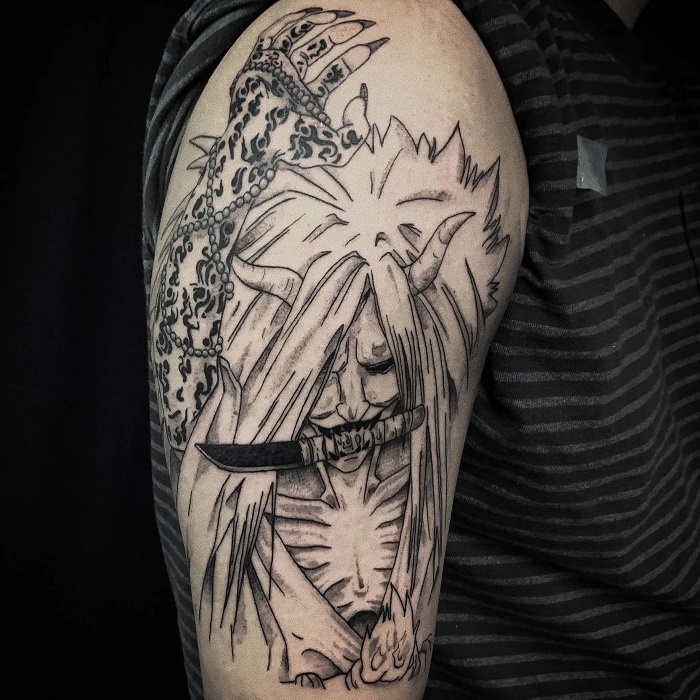 #28: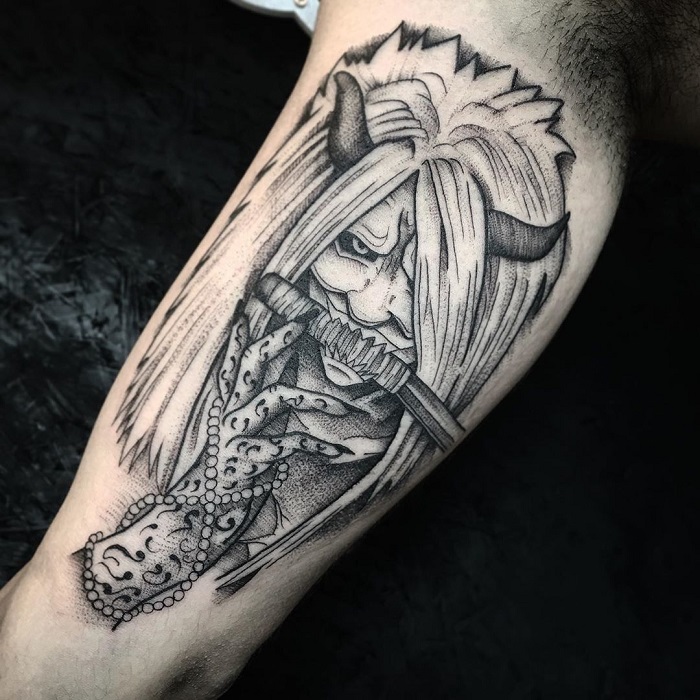 #29: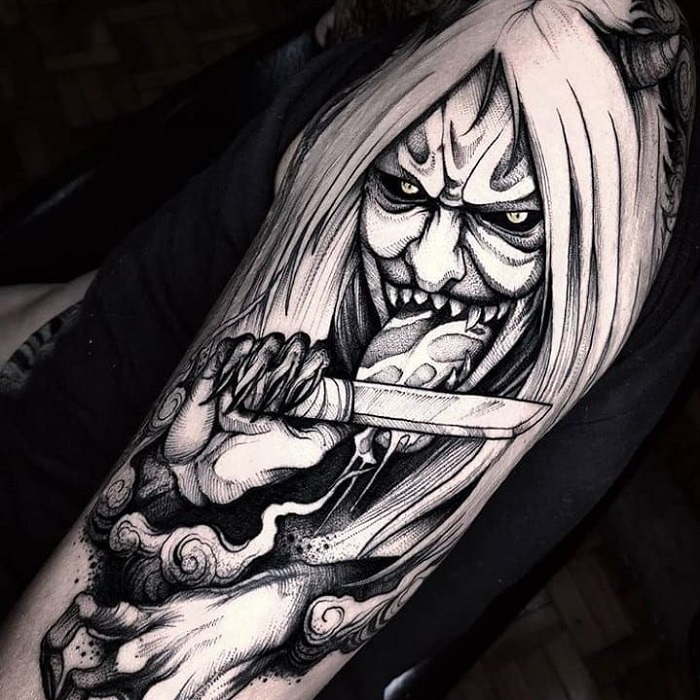 #30:
History Of Reaper Death Seal Tattoos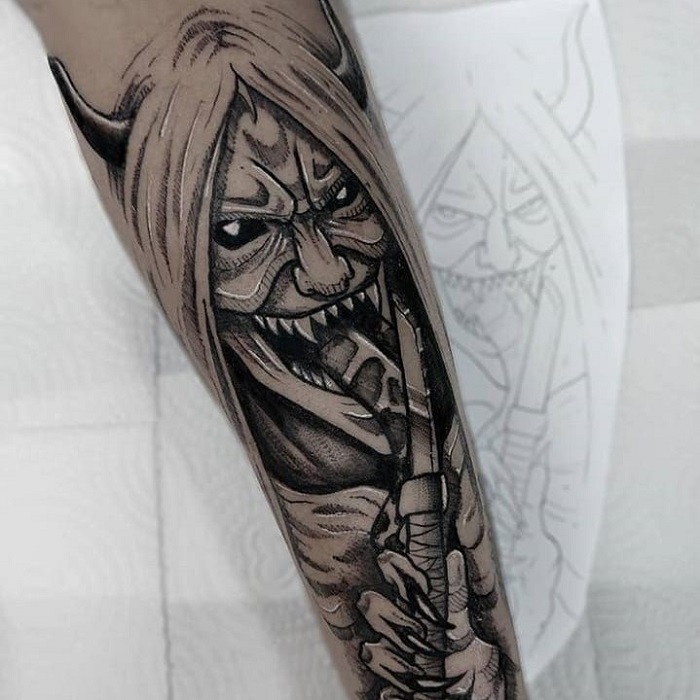 Many anime and manga fans choose to express their love for this genre through tattoo art. But, anime tattoos have also been popular among those who have an admiration for that style of animation and tattoo art.
Historically, anime tattoos, including a Reaper Death Seal tattoo, have been done in these three styles:
New School Anime
Japanese Anime
Illustrative Anime
New School Anime Tattoo Style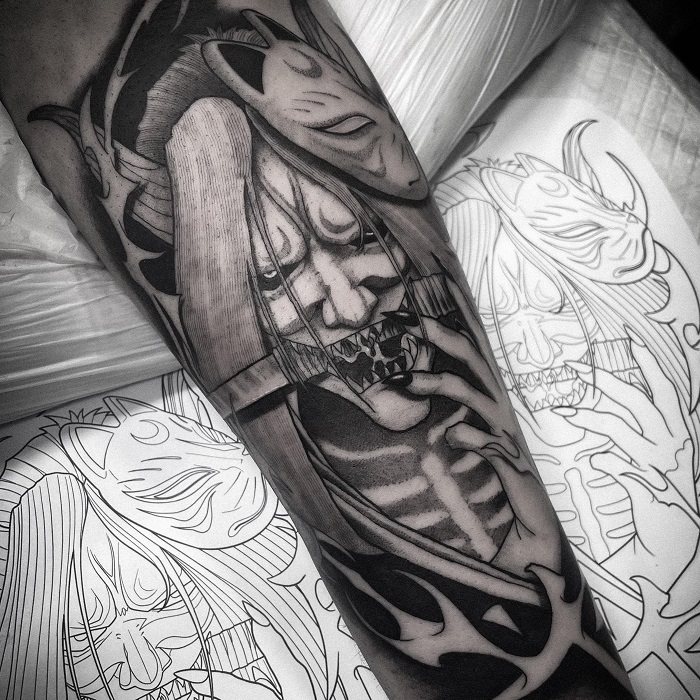 This style has always been known for its use of details and shading to add depth, while artists use bold and vibrant colors to create a 3D effect. Reaper Death Seal tattoo designs that have been done in this style are true masterpieces. These anime and manga tattoos are also known for utilizing solid colors and detailing to create elaborate compositions.
Japanese Anime
Several Reaper Death Seal tattoos have been done in this style because it tends to be aimed at the horror genre. Japanese anime is all about exaggeration and acute angles.
So, the tattoo artists use deep colors to exaggerate images, which is noticeable in many Reaper Death Seal designs that exist today. 
Illustrative Anime Tattoo Style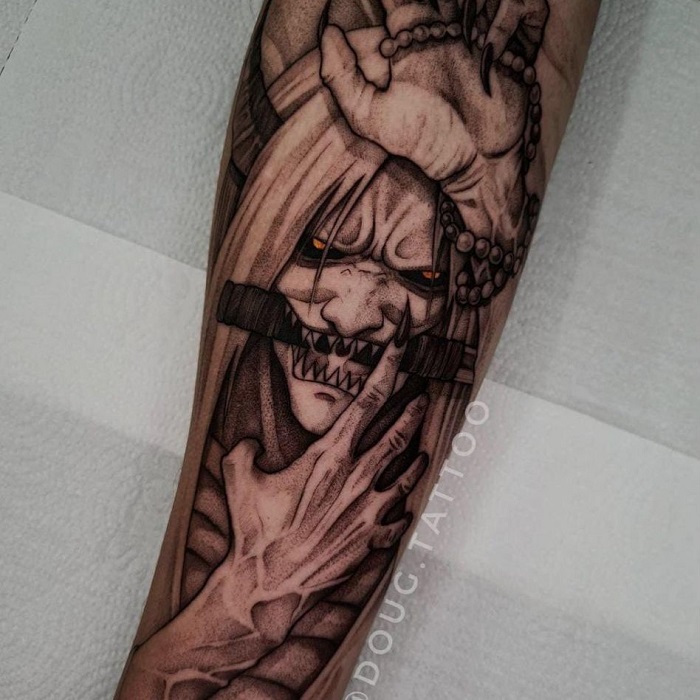 The Illustrative tattoo style is one of the more popular styles in the anime world because it matches the original manga style best.
The artists who work in this style produce some of the best Death Seal Reaper designs we can find today and the images they create have a sleek, two-dimensional appearance. 
Which Celebrities Have A Reaper Death Seal Tattoo?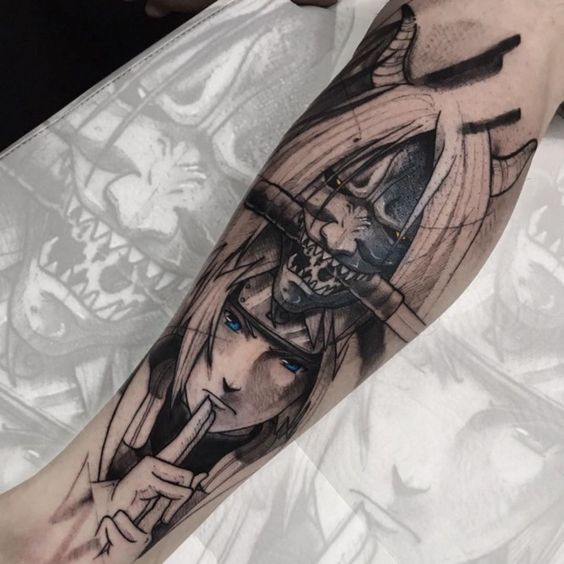 We haven't found any celebs with a Reaper Death Seal tattoo, but many have tattoos inspired by characters from the anime and manga world, including the Naruto series.
For example, one half of the Rae Sremmurd duo, Slim Jxmmi, has an Akatsuki tattoo on his neck. The tattoo represents a symbol of Naruto's main villain group.
Ariana Grande has a tattoo of Chihiro, a character from one of the cult Studio Ghibli productions, Spirited Away. She has an image of Chihiro tattooed on her forearm. The reason why she got it inked is that she sees herself in the character. 
Ariana is also a big fan of Pokémon and has a tattoo of the character Eevee on her upper arm in grey and black. 
Another celeb with anime and manga tattoos is the model and actress, Ruby Rose, who has a tattoo of Polly Esther from Samurai Pizza Cats as well as Astro inked on her forearm.
Astro Boy is a popular Japanese manga series about a robot in search of self-acceptance and his true identity—which is why Ruby got an image of Astro inked on her body.
---
Looking for more inkspiration? Say no more: