15 Best Burberry Hats
Hats are seasonal essentials, whether you need a ball cap to keep the sun out of your eyes or a beanie to keep your ears warm in the winter. And the best way to top any look off is with a designer option, especially if it's one of the best Burberry hats.
Thankfully, I've rounded up all the best designs offered by the label. With an option for every season and every style, there's something for everyone. Luxurious designs and functionality are at the core of every piece, as well as high-quality materials.
But before I delve into the 15 best Burberry hats, I'll provide you with a list of some important things to consider. I'll then answer important FAQs and offer styling tips, so you'll feel all set as you embark on your journey towards an everyday hat.
Finding The Best Burberry Hats
This is a luxury label, so the best Burberry hats are an investment. That being said, they are a more affordable way to add a luxury or designer item into your wardrobe than purchasing a dress or jacket. Regardless, there are several things to consider when shopping.
First of all, think about how often you'll wear it. If you live in a sunny climate, steer clear of winter toques and opt for summery pieces, and vice versa.
Of course, the style should also be versatile enough to be worn often. You don't want a hat you wear once in a blue moon! The design should be neutral enough that it seamlessly transitions along with your wardrobe with features that offer the most functionality.
The material is also important since you'll want something that performs well in certain weather. For winter, think knits, wools, and cotton. And for the summer months, opt for more breathable materials.
The 15 Best Burberry Hats
Whether you're on the hunt for a hat to wear daily, a gift for that special someone, or something to add a little pizzazz to a few of your favorite designer outfits, stay tuned!
This list of the best Burberry hats is here to guide you to the perfect accessory. With options for every style, season, and preference, there's something that will pique everyone's interest.
But wait, there's more! I'll also share the details on the style, material, and cost, to give you an idea of which option deserves a spot in your accessory collection.
#1: Burberry logo-embroidered cotton visor - Neutrals
---
#2: Burberry monogram-motif cap - Black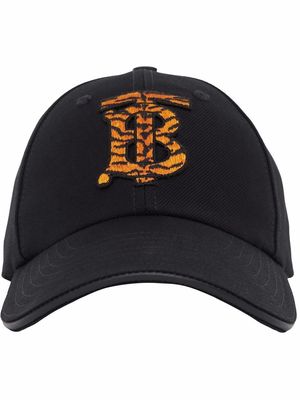 ---
#3: Burberry Beige Canvas Giant Check Bucket Hat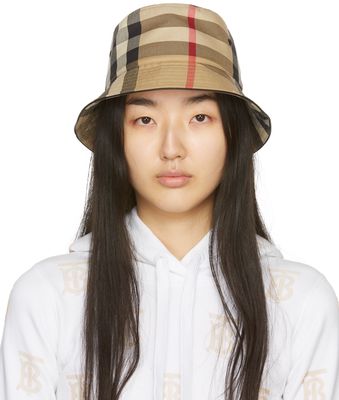 ---
#4: Burberry monogram-embroidered trapper hat - Neutrals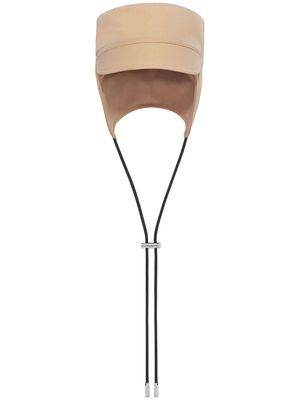 ---
#5: Burberry Beige Crown Cap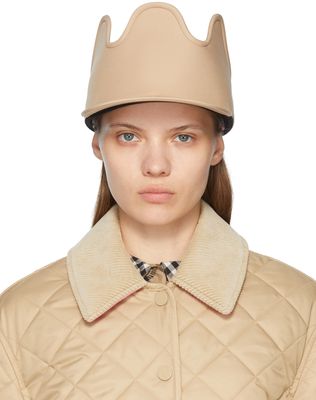 ---
#6: Burberry logo patch cap - Black
---
#7: Burberry Horseferry-motif baseball cap - Black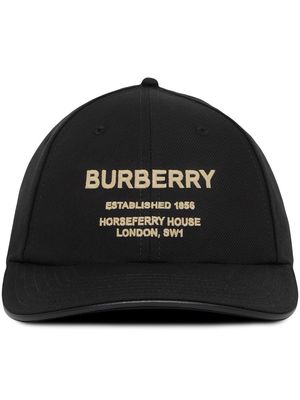 ---
#8: Burberry Beige Horseferry Cap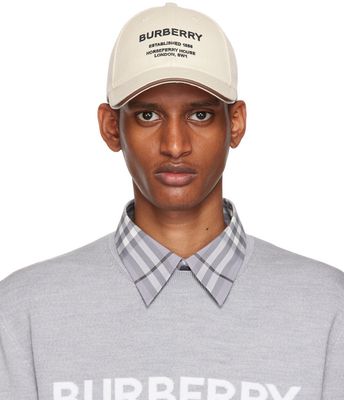 ---
#9: Burberry logo-embroidered cap - White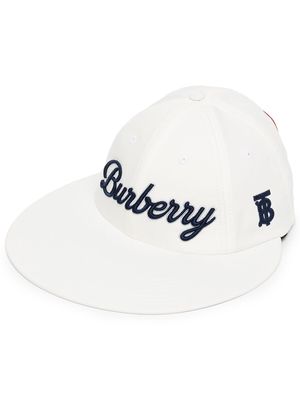 ---
#10: Burberry Horseferry Embroidered Baseball Cap in Black /Beige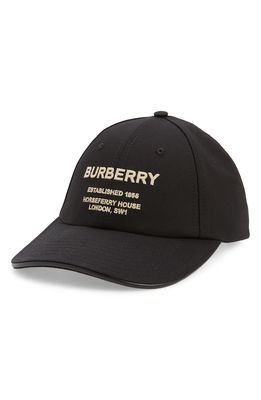 ---
#11: Burberry Monogram Print Denim Bucket Hat in Denim Blue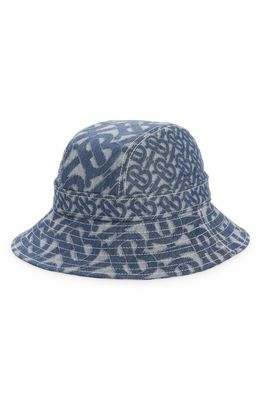 ---
#12: Monogram Denim Jacquard Baseball Cap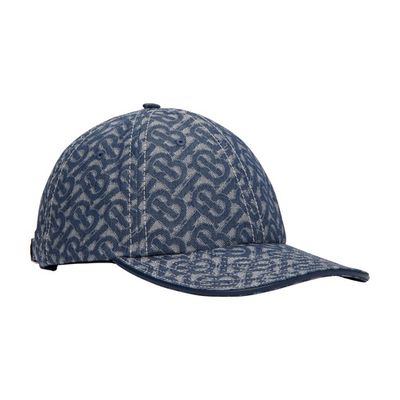 ---
#13: Burberry Horseferry Logo Cotton Twill Bucket Hat in Primrose Pink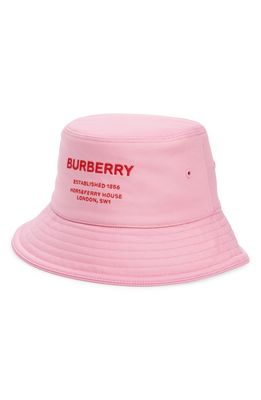 ---
#14: Burberry Horseferry Logo Canvas Bucket Hat in Natural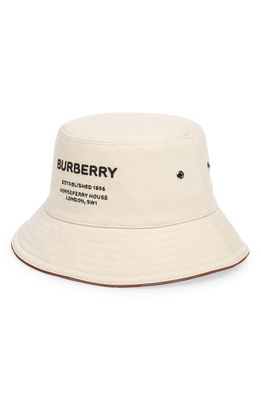 ---
#15: Burberry check-pattern bucket hat - Neutrals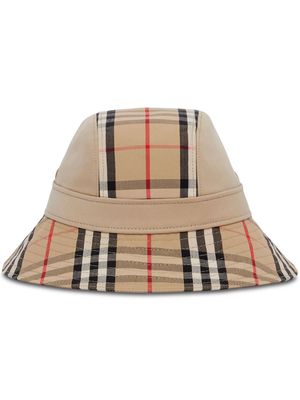 ---
What Are The Most Popular Burberry Hats?
Now that you've leafed through my list of the best Burberry hats, you're likely wondering about the fan favorites. After all, hearts are only stolen by the best.
That being said, it's not easy to say which option is truly the most popular. Snapbacks and baseball caps are common purchases since they are wearable and come in plenty of different color options and designs.
Bucket hats are also having a moment, especially if they're branded. If that's your vibe, look for the iconic Burberry print and you'll be all set.
How Can You Tell If Burberry Hats Are Real?
While you should always shop the items featured in my list of the best Burberry hats from reliable sources, there are a few key details to help determine if your shoes are the real deal:
High quality, careful stitching
Clear logos and consistent stamping
Weighted, high-quality feel
Serial number stamped on the lining
Where Are Burberry Hats Made?
Like many of the brand's products, plenty of the best Burberry hats are made in Italy.
That being said, some styles are made in China or the label's factories in Poland, Romania, India, Spain, England, and the United States. Check the description of each product for clarification.
Are Burberry Hats Good Quality?
If you're on the hunt for a timeless hat that will transition through every trend, chances are you want it to be good quality.
Fortunately, Burberry is more than just a luxury label. The company is committed to providing the best of the best, focusing on careful stitching with timeless features and meticulous detail to ensure the highest quality finished product.
Can Burberry Hats Be Unisex or Gender-Neutral?
The best thing about the best Burberry hats? They are all gender-neutral. They are all one-size-fits-all, but sizes may be smaller or larger for the men's and women's sections respectively, so be sure to review the details!
How To Style Burberry Hats
Now that I've covered some of the 15 best Burberry hats, you may be wondering how to style them. Below, I'll share some inspo pics and ideas to get you started.
Rainy day casual
As mentioned earlier, one of the best Burberry hats is the bucket hat with the brand's iconic pattern. This look keeps things cool and casual with a trench coat and dress shirt, adhering to a monochrome color palette and allowing the hat to stand out.
Sporty chic
A baseball cap is another fan favorite in terms of the best Burberry hats. The baseball hat pairs seamlessly with a beige hoodie for a sporty yet classy look, and I recommend finishing things off with some of the best Burberry sneakers and a pair of black leggings.
---
Looking to stay up to date on all things Burberry? We've got you covered:
Get Access to Exclusive Deals
Subscribe for free to get exclusive deals in your inbox. 100% privacy