20 Best Burberry Jackets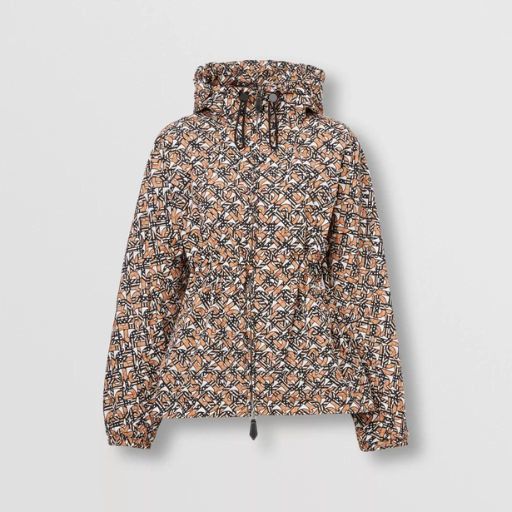 A jacket is a closet essential, but it's also an accessory. So whether you need something lightweight and ideal for rainy weather or a heavy-duty jacket that keeps things stylish and functional, this list of the best Burberry jackets is for you.
From the brand's iconic print to elevated neutrals, there's no shortage of design options in Burberry's collection, each offering an effortless way to add some class to your wardrobe. I've rounded styles for every season, so there's something for everyone.
But I'll share more than just the best Burberry jackets! I'll also break down how to find them, and then I'll answer a few important FAQs and share some styling tips to help get you started.
Finding The Best Burberry Jackets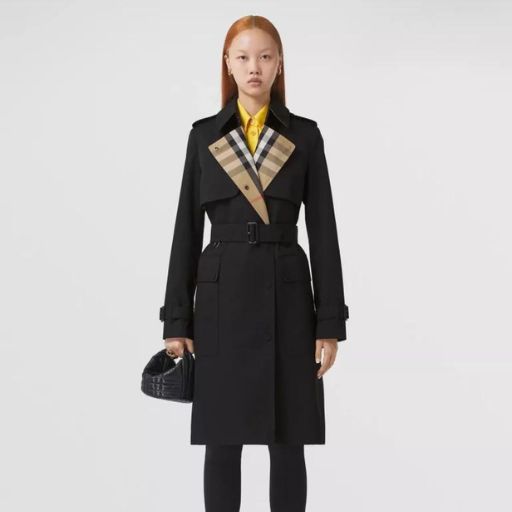 Since the best Burberry jackets are an investment, there are several important details to consider before you find the perfect option.
First of all, the fit and style should be in line with your personal needs and aesthetic. Does the silhouette flatter your figure? And do the features like waterproofing or extra pockets provide the versatility you need for daily use?
The material and durability should also appeal to your needs, whether that is extra warmth or waterproofing and flexibility.
Finally, consider the price tag. While the best Burberry jackets will cost a pretty penny, they are an investment for a reason and will last you for years to come. Keep your budget in mind!
The 20 Best Burberry Jackets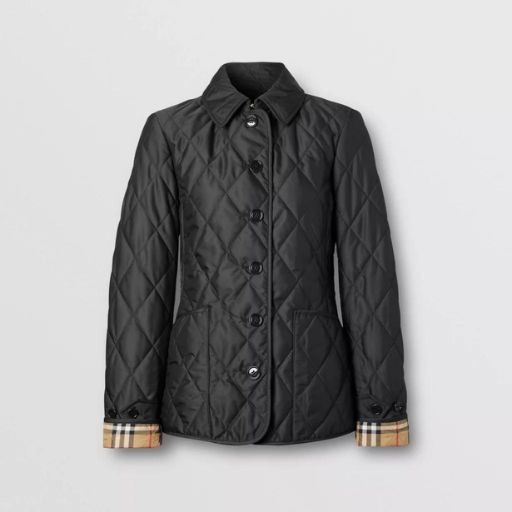 Whether you're on the market for a year-round style or a lightweight, seasonal piece, there's something for everyone on this list of the best Burberry jackets.
And now that I have established how to find the best style for you, it only makes sense to dive right into the options.
Below, I'll share the details on the style, material, cost, and more, to give you an idea of which option deserves a spot in your list of closet essentials.
#1: Burberry - Double-breasted Cotton-gabardine Trench Coat - Womens - Beige
---
#2: Burberry detachable hood car coat - Neutrals
---
#3: Burberry gabardine hooded car coat - Neutrals
---
#4: Burberry monogram motif puffer jacket - Neutrals
---
#5: Burberry Tan Polyester Jacket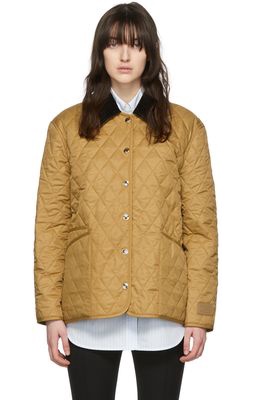 ---
#6: Burberry globe-detail gabardine jacket - Green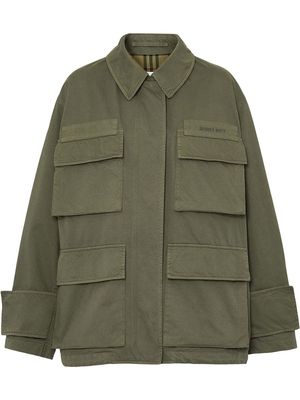 ---
#7: Burberry monogram motif funnel neck jacket - White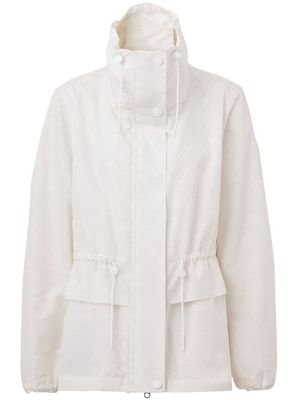 ---
#8: Burberry cropped leather jacket - Neutrals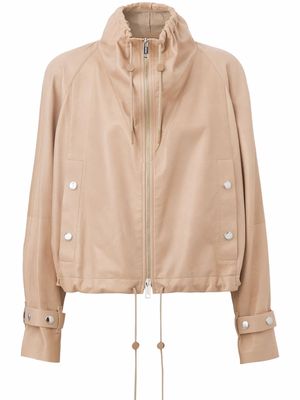 ---
#9: Burberry logo tape Vintage Check hooded jacket - Neutrals
---
#10: Burberry lettering logo hooded jacket - Neutrals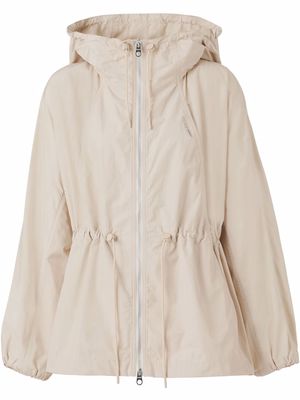 ---
#11: Burberry Beige Quilted Cotswald Jacket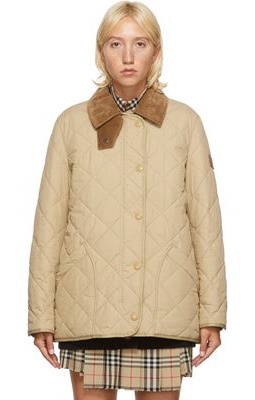 ---
#12: Burberry monogram motif check hooded jacket - Neutrals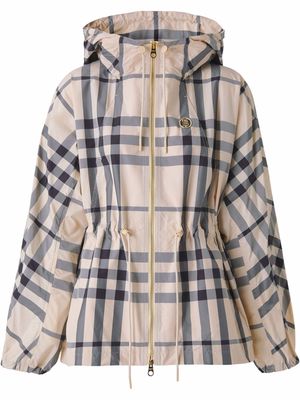 ---
#13: Burberry Horseferry square print jacket - Black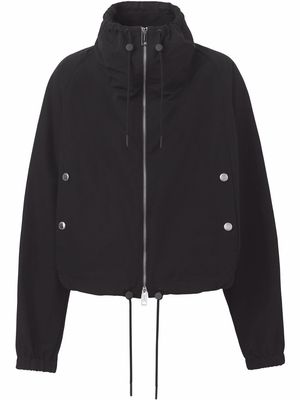 ---
#14: Burberry diamond-quilted thermoregulated jacket - Blue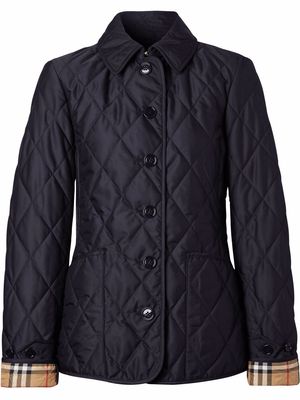 ---
#15: Burberry checked hooded jacket - Brown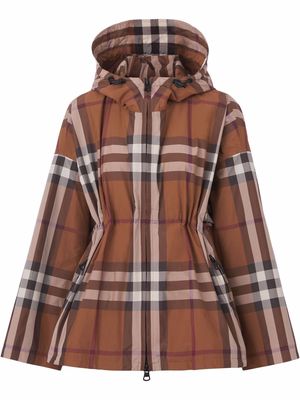 ---
#16: Burberry belted trench coat - Neutrals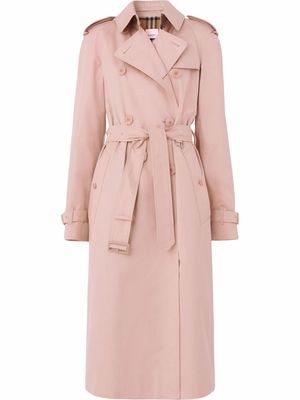 ---
#17: Burberry detachable hood check puffer jacket - Brown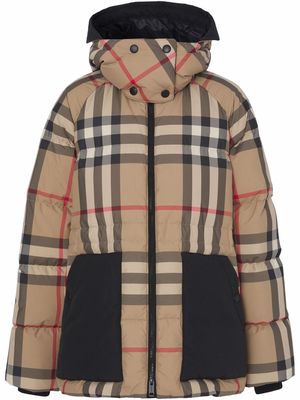 ---
#18: Burberry Black Eppingham Puffer Coat
---
#19: Horseferry Square Print Technical Cotton Jacket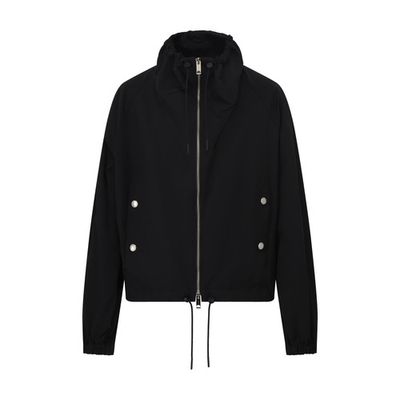 ---
#20: Burberry Navy Quilted Dranefeld Jacket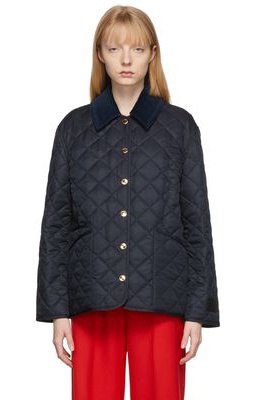 ---
What Are The Most Popular Burberry Jackets?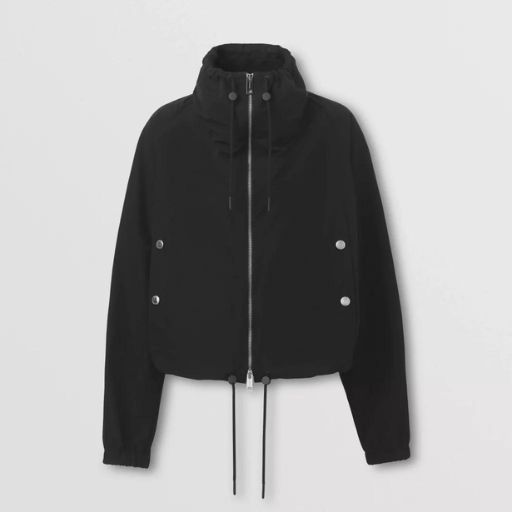 The most popular Burberry jackets tend to be the quilted and puffer styles.
While they are currently trendy, they have also been a top choice for every winter season. Longer silhouettes and puffier shapes are ideal for staying warm, but they are also quite stylish.
Do Burberry Jackets Run True To Size?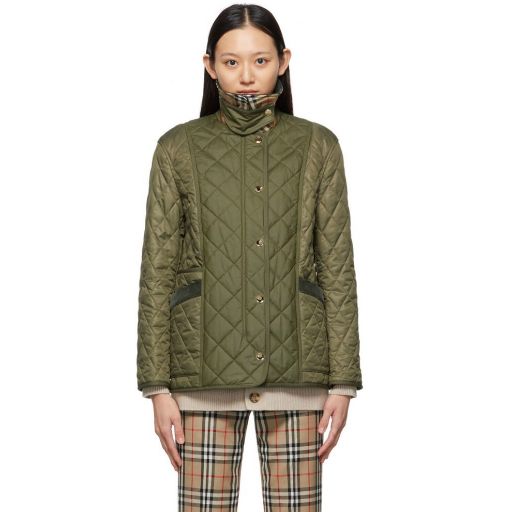 Like many luxury brands, Burberry jackets tend to run a little smaller. According to customers, it's important to review the size chart or try the styles on in real life. And if you're going for an oversized look, you may want to consider sizing up.
How Can You Tell If Burberry Jackets Are Real?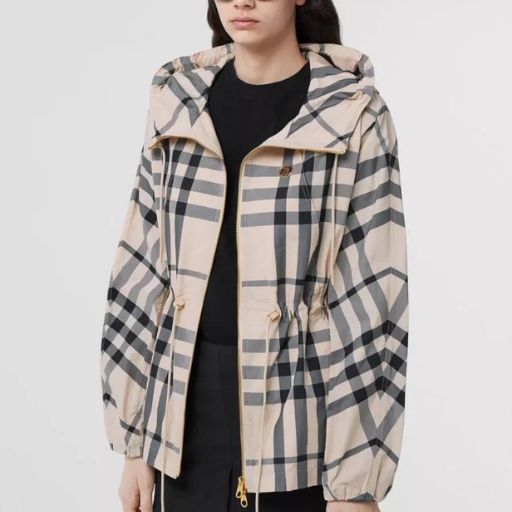 While you should always shop for the best Burberry jackets from reputable retailers, there are a few key details to keep in mind to ensure you've found the real deal. Check them out below:
Ensure the spelling and branding is correct
Look for a high-quality Burberry hangtag
Ensure the logo featuring the left-facing horse is on the inside of the jacket
Look for the iconic Burberry lining
Where Are Burberry Jackets Made?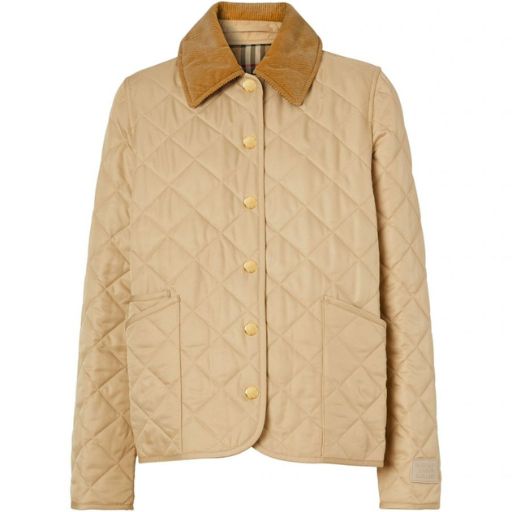 The best Burberry jackets and trench coats are carefully handcrafted by expert workers in Castleford, a town in the north of England.
Some coats may also be made in Italy, Scotland, and China—simply check the product description for more details.
Are Burberry Jackets Good Quality?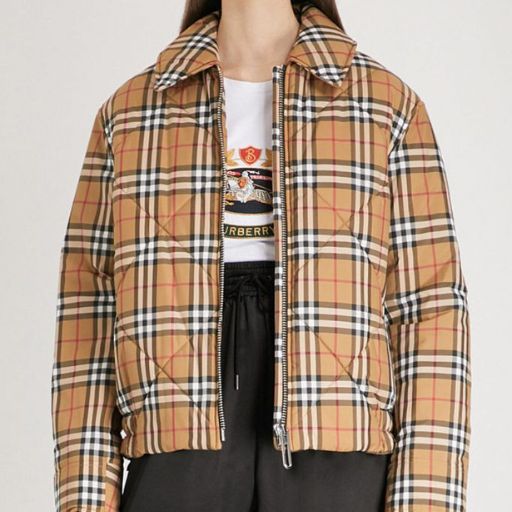 Burberry is synonymous with luxury, and as such, boasts good quality designs. The jackets are known for being both fashionable and functional, serving well through all different types of weather while helping wearers look put-together and styled.
Can Burberry Jackets Be Unisex or Gender-Neutral?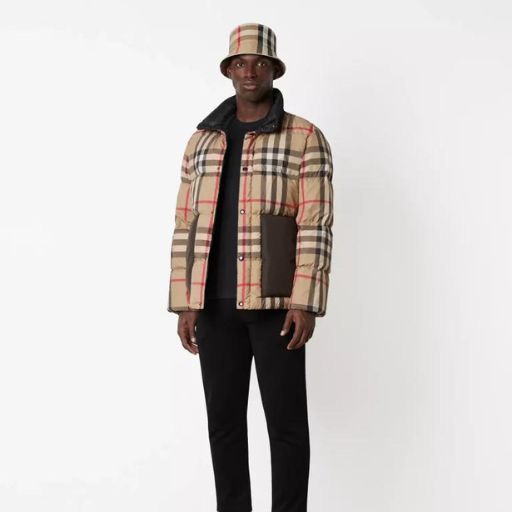 The best Burberry jackets can be unisex since all clothing is technically gender-neutral! Neutral shades are at the heart of the luxury company, and the inclusive size range ensures there's something for everyone.
There are also men's and women's sections on the Burberry website, so you can shop in feminine and masculine styles if you'd prefer.
How To Style Burberry Jackets
Now that I've covered some of the 20 best Burberry jackets, you may be wondering how to style them. Below, I'll share some inspo pics and ideas to get you started.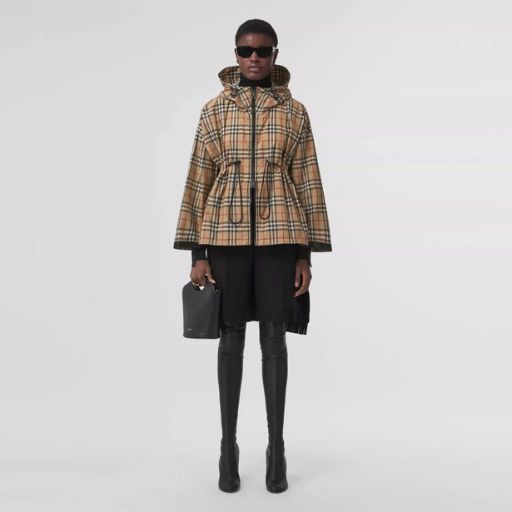 Branded
If you want something that is truly luxurious and embodies the very essence of Burberry, it makes sense to opt for a branded, statement jacket. Of course, this style features the iconic brand's iconic plaid, which is highlighted by the black accessories and clothing.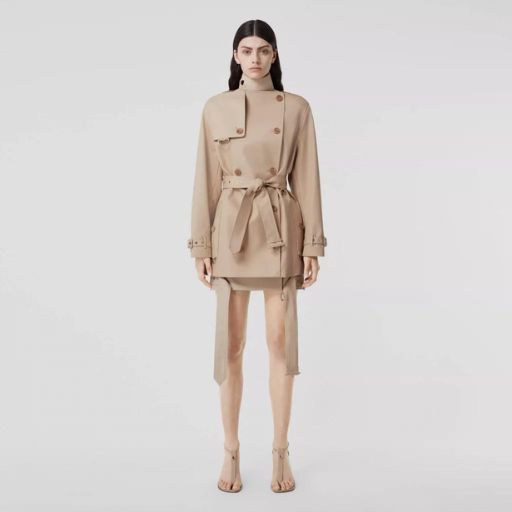 Classic styles
Ideal for everyday wear, no matter what you're wearing, a classic neutral jacket will pair seamlessly with everything in your closet. This look keeps things simple with a monochrome palette, though you could always opt for a bolder color selection.
---
Looking to stay up to date on all things Burberry? We've got you covered:
Get Access to Exclusive Deals
Subscribe for free to get exclusive deals in your inbox. 100% privacy