3 Coachella Outfit Ideas
Prepping for Coachella will usually trigger your inner Valley Girl. And finding the perfect outfit that 'gives' is a lot harder than you might think, as this annual festival requires invitees to go outside their comfort zone.
Glitz and glam are highly recommended. That's why most trendsetters opt for sequins, tassels, bizarre cut-outs, and bright colors in order to stand out. 
If you're not keen on wearing the usual denim shorts and tank top combo, you've clicked on the right article.
Consider yourself to be Cinderella and me as your virtual fairy godmother. I've rounded up a few Coachella outfit ideas that are sure to make you the belle of the 'ball.' 
This short style guide may or may not include looks such as:
A cute Coachella outfit
Summer-friendly Coachella outfit inspo
What Makes Up A Coachella Outfit?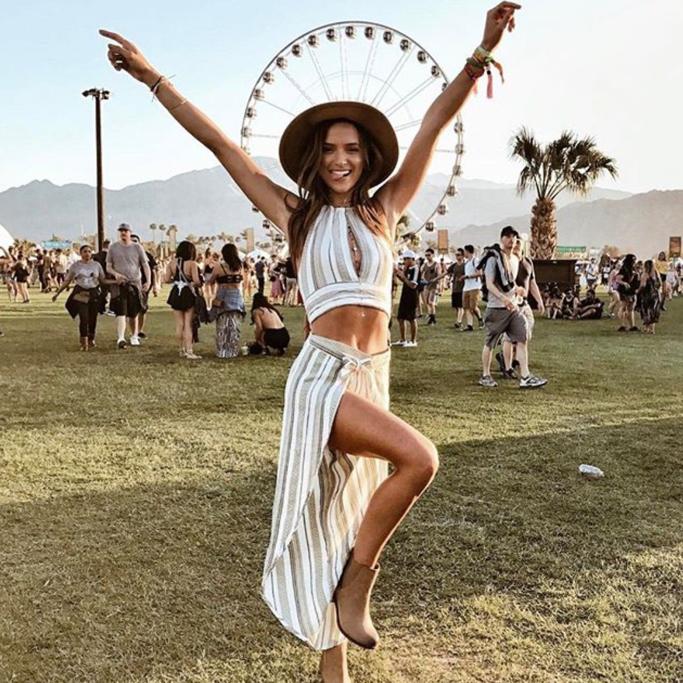 Coachella outfit ideas are usually balls to the walls. There's no room for subtly here, as this festival is all about showcasing one's creativity, imagination, and confidence.
This is your time to finally wear that 'it' piece buried in your wardrobe—whether that be a pair of bright pink leather shorts or a bedazzled tassel jacket. 
Coachella usually caters to specific core aesthetics, including ravewear, cowgirl, VSCO, boho, and vintage fashion. It's worth mentioning that this is strictly a casual affair, which means no tuxedos or evening dresses.
History Of Coachella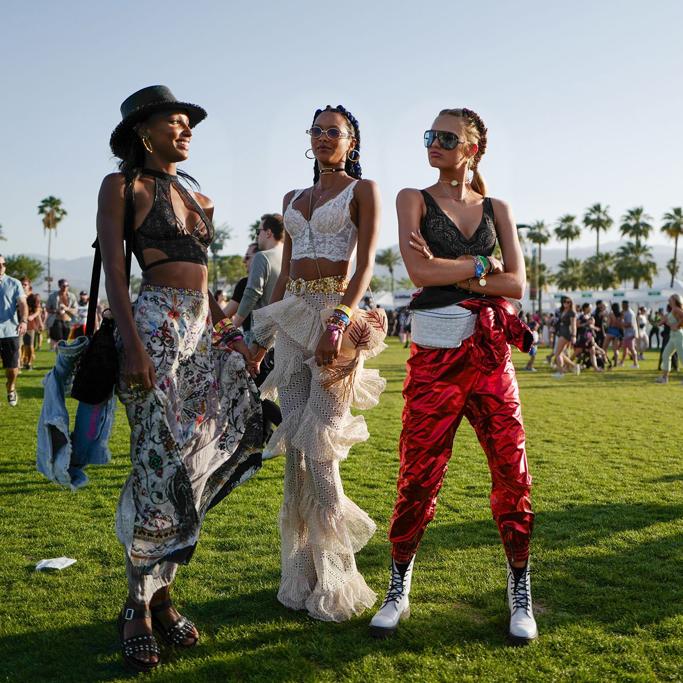 Unfortunately, Coachella's debut is best described as tasteless. Established in 1999, it was considered a direct continuation of the dumpster fire that was the Woodstock music festival.
The turnout wasn't impressive either, given that the event only sold 25k tickets. However, spirits were still high—as event coordinators decided to regroup for 2001. And ever since then, Coachella's popularity has continued to grow every year. 
Stationed in Indio, California, Coachella is an annual festival that happens from April 14th to the 23rd. It attracts thousands of party-goers, influencers, and celebrities alike. 
What Are Some Popular Coachella Outfit Ideas?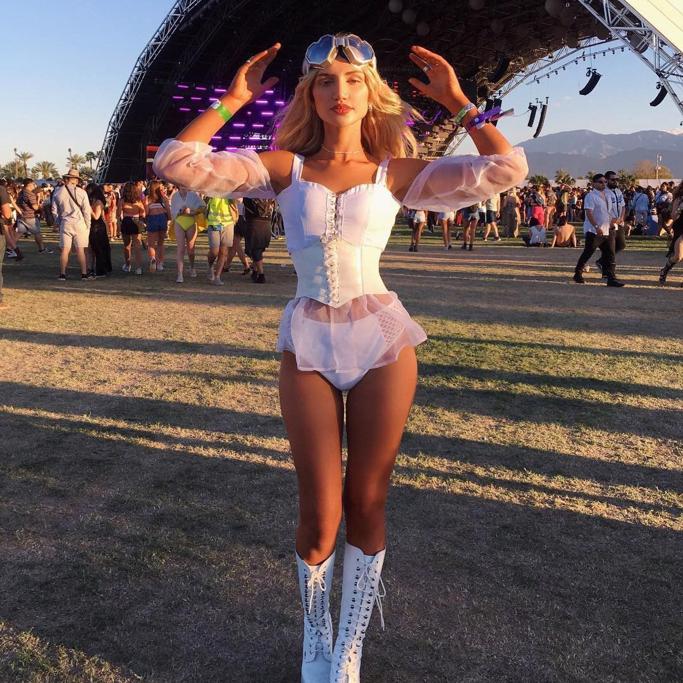 If you're prepping to meet Beyoncé, Drake, or Rina Sawayama, chances are that you're in desperate need of Coachella outfit ideas. Below, I'll share some trendy OOTDs for readers to consider.
3 Coachella Outfit Ideas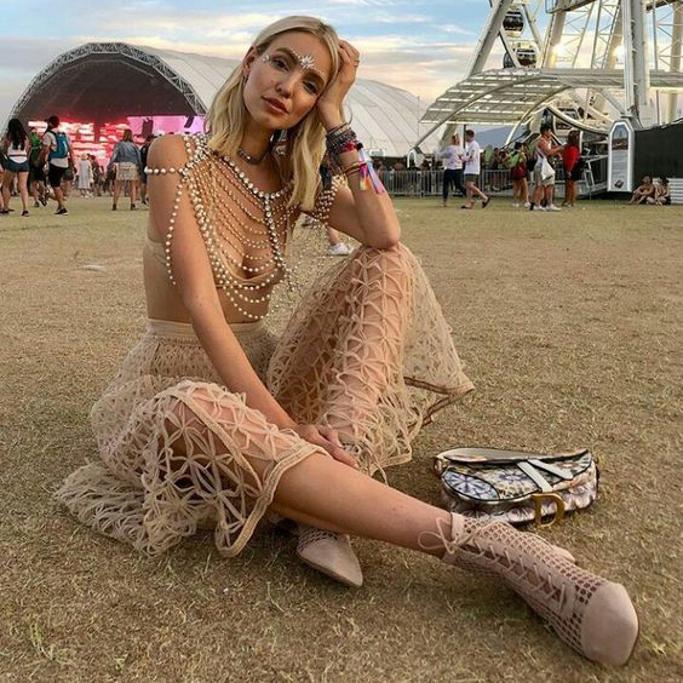 Considered the perfect blend between boho elegance and hipster glam, this 'Coachella outfit ideas' contender can definitely make a grand entrance.
It's comprised of a nude bralette, a mesh skirt, matching booties, and crystal body jewelry for a touch of spice.
For those in need of additional glitz, you can never go wrong with bedazzled stick-ons.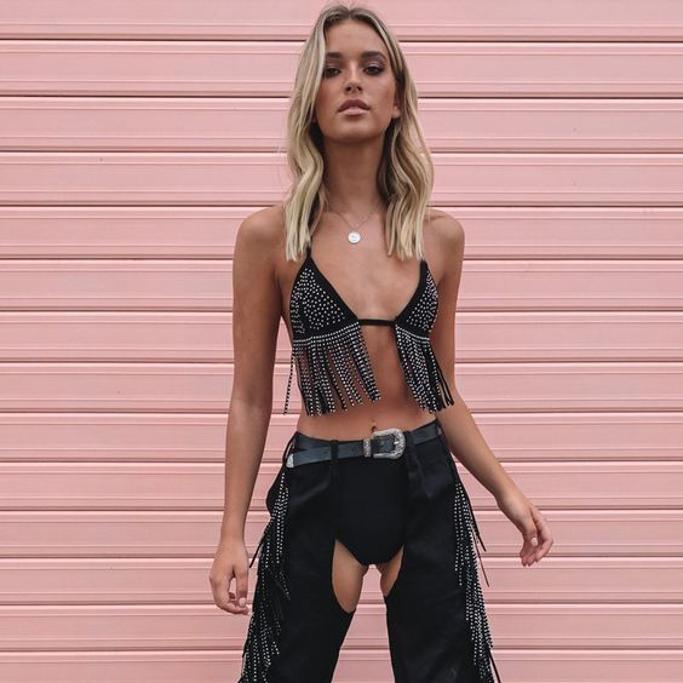 Opting for black is not a recommended move for the summer. That said, fashion does require sacrifice. For those in need of Coachella outfit ideas, this bold OOTD can help ensure that all eyes stay on you.
It features a bedazzled bralette, tasseled chaps, and cowboy boots for a hint of western twang.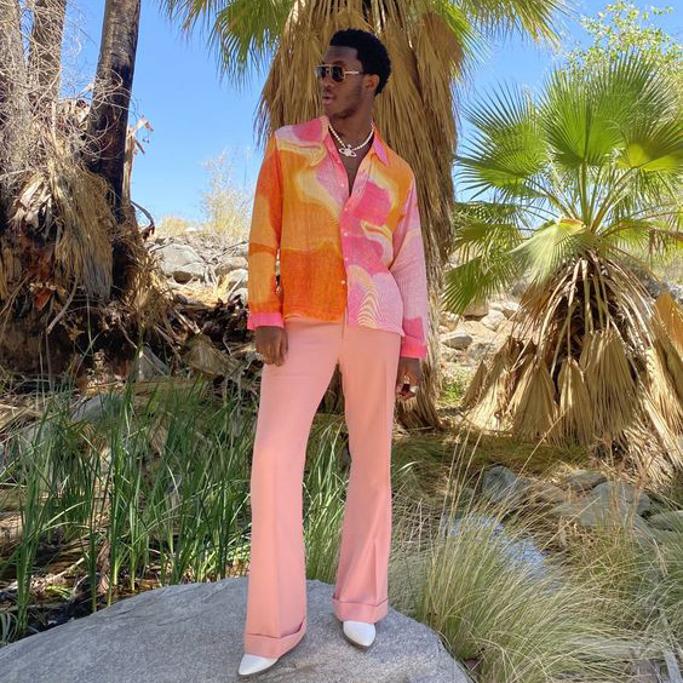 Classy in design, this 'Coachella outfit ideas' option exudes a level of suave-ness that Silk Sonic is all about.
It's slightly reminiscent of '70s fashion—as exemplified by the brightly colored button-down shirt and the pink bell bottoms.
Accentuated with pointed-toe boots, a crystal necklace, and a pair of sunglasses, this OOTD exudes the right amount of vintage vibes. 
Fashion Tips To Avoid With Coachella Outfits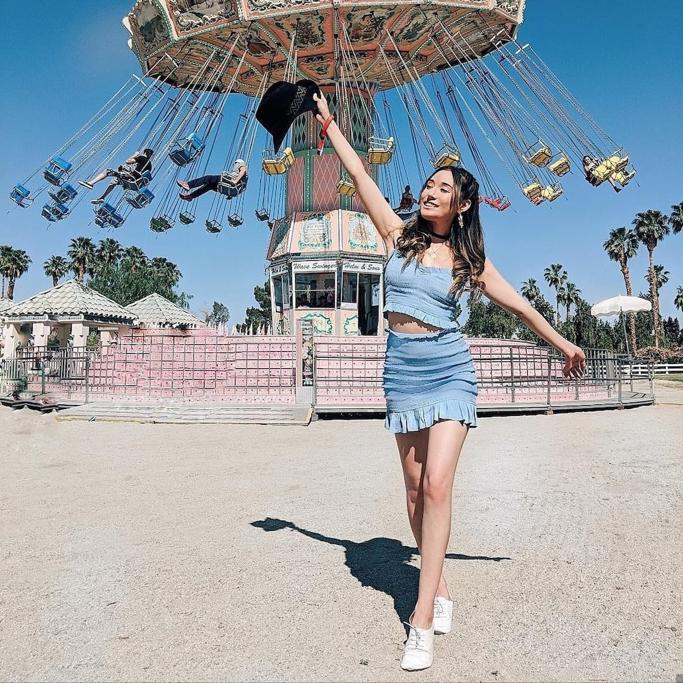 In retrospect, there's really no such thing as a bad Coachella ensemble. This festival is all about celebration, as party-goers are encouraged to wear whatever they want.
That said, there are a few style dos and don'ts to keep in mind. Below, I'll share some fashion tips to avoid with Coachella outfit ideas. 
Your traditional go-to's: This isn't the time to wear your regular pair of jeans and a t-shirt. Coachella outfit ideas require you to think outside the box.
Layers upon layers: Coachella outfit ideas typically involve summer fashion. Considering that Indio, California, gets especially hot in April, it's probably not a good idea to wear a winter jacket in 80-degree humidity.
Zero confidence: Given that most Coachella outfit ideas are quite bold in nature, it's important to exude some level of self-confidence in order to pull them off.
Best Places To Buy Coachella Outfits
Before I conclude this Coachella outfit ideas style guide, I'd like to share some store recommendations for readers to consider: 
Dolls Kill 
Urban Outfitters 
Nasty Gal 
Moda Operandi 
Final Thoughts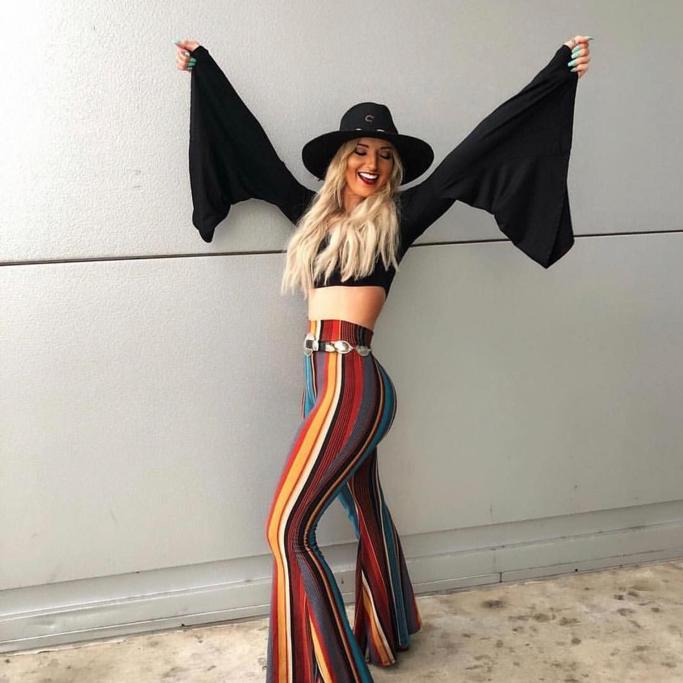 Concert venues and seasonal festivals are now considered 'casual' catwalks. It's no longer acceptable to opt for your mundane wardrobe, as events like Coachella require the bold and the bright. 
Take it as an opportunity to experiment with different core aesthetics, as this festival is receptive to various forms of fashion.
And after viewing the three looks I've featured, I'm sure you've gathered enough Coachella outfit ideas to last you for your entire stay. 
---
Check out some of our other style guides:
Get Access to Exclusive Deals
Subscribe for free to get exclusive deals in your inbox. 100% privacy