10 Best Designer Tights
Designer tights are one of the few exceptions in which it's better to opt for luxury instead of low-end fashion. Take a gander at the pantyhose aisle at your local Target or Walmart—you're bound to find a same-ish selection of standard tights.
Usually offered in traditional black, there's not much variety when it comes to tights. Fortunately, brands like Marine Serre, Versace, and Ganni provide a glamorous collection of transparent knits.
For a garment that's often forgotten in the back of our wardrobe, why bother spending $100+ on a pair of designer tights? Well, some trendsetters prefer conservative fashion. Pantyhose provides a simple solution to help cover up skin.
Aesthetics-wise, transparent tights can help accentuate a dull outfit. It also doesn't hurt to mention that they add another layer of insulation for breezy afternoons.
Looking to enhance your wardrobe? If so, we've rounded up 10 of the best designer tights that are worth some major consideration.
Finding The Best Designer Tights
There's nothing more irritating than ripped tights. One wrong move and your coveted $5 pair have suddenly hit a snag.
If you hate adding pantyhose to your monthly shopping list, perhaps it's time to invest in a pair of designer tights.
Some brands, such as Marine Serre and Wolford, use a patented blend of polyamide and elastane. Stretchy in construction, it's important to find a design that conforms to every movement.
They also shouldn't feel abrasive when worn unless you like the feeling of itchy grandma knits.
Compared to traditional, solid black, the best designer tights usually feature an interesting design. This could be a branded motif, an unusual color palette, or details such as lace.
It's also worth noting that 'tights' is a broad term that may include pantyhose, fishnets, or knee-cut stockings. Ultimately, when shopping for a pair, it's important to read over the product description to help prevent purchasing the wrong item.
The 10 Best Designer Tights
A styling slump is a real thing. It affects 90% of trendsetters. But fortunately, there are ways to cure it.
While some find comfort in buying a cute handbag or a haul of new clothes, we recommend that you opt for the garment 'underdog'—that being a pair of designer tights.
Considered a great way to accentuate any mundane outfit, a decorated pair of sheer skinnies can help provide that razzle-dazzle factor.
There's definitely no shortage of designer tights on the market. On this list, you'll find brands like Ganni and Marine Serre. Best paired with a cute mini skirt or a pair of distressed jeans, here are some of the most stylish tights for trendsetters to consider.
#1: Marine Serre Black Moon Tights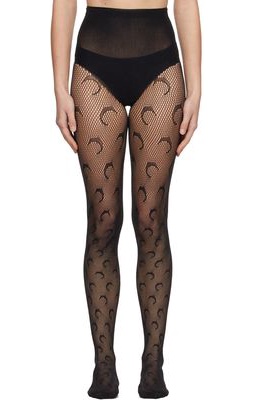 ---
#2: Versace Jeans Couture Black Floral VJC Tights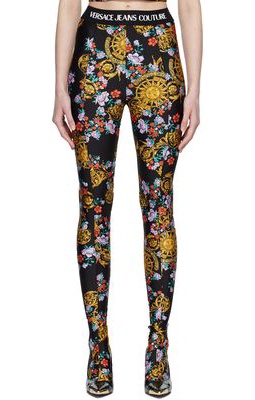 ---
#3: GANNI floral pattern tights - Black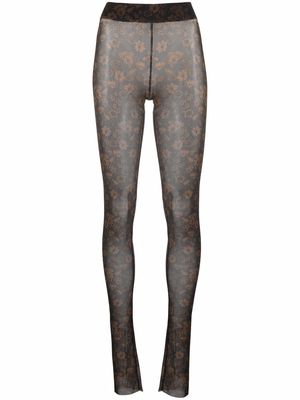 ---
#4: Gucci Beige & Brown GG Tights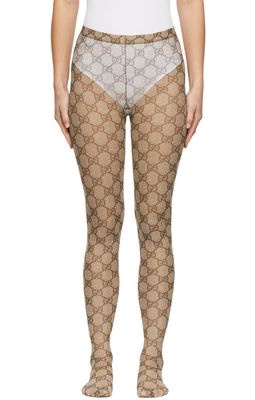 ---
#5: Fendi - Jacquard Tights - Black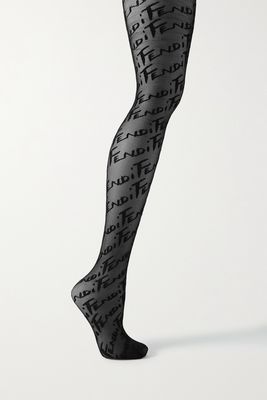 ---
#6: Balenciaga Black Logo Tights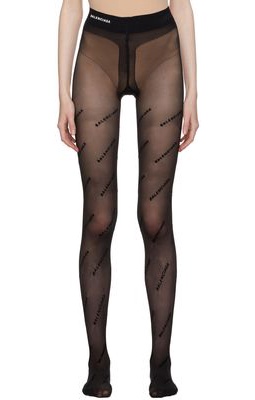 ---
#7: Comme des Garçons Green Nylon Tights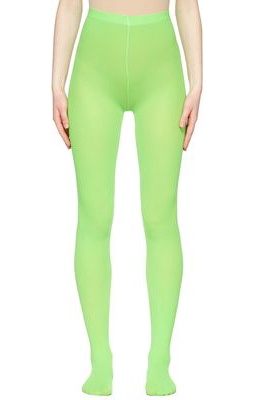 ---
#8: Off-White Beige Logo Monogram Tights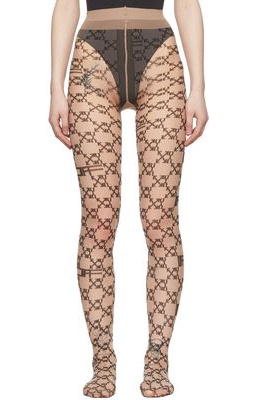 ---
#9: Dolce & Gabbana Multicolor 60s Print Tights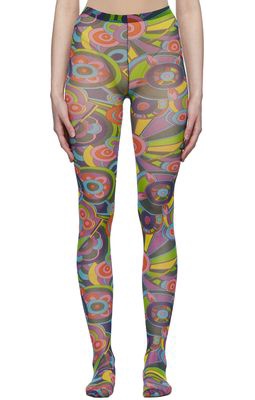 ---
#10: Givenchy sheer 4G tights - Black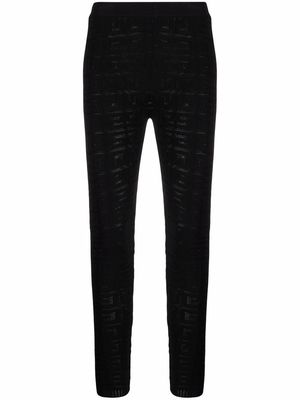 ---
What Are The Most Popular Designer Tights?
There's a surprising market for designer tights. Honestly, I'm not surprised—given the amount of dull, monochrome sheers that are always sold.
Out of the huge collection of luxury pairs, we thought it best to condense our top 10 list of best designer tights into just four recommendations.
Gucci: Sheer in construction, this sultry pair of tights feature the brand's iconic GG motif from thigh to toe.
Fendi: Can't afford the Sheer Mesh boots from this designer brand? If so, you can easily make do with a pair of printed sheer tights and some high heels.
Balenciaga: Offered in pink and black, these tights feature the brand name in vertical stripes.
Marine Sierre: Not a fan of branded logos? If so, this luxury company offers a dazzling selection of interesting patterns and colors to choose from.
What Sizes Do Designer Tights Come In?
Designer tights usually come in sizes from small to extra large. It's worth noting that measurements vary from brand to brand.
For instance, Gucci's perception of 'medium' may be different from Marine Serre's. As always, it's important to double-check the product description before heading to checkout.
What Are Designer Tights Made Of?
Whether it's a designer or department store pair, tights are typically made out of polyamide, elastane, nylon, and lycra. Some brands, such as Marine Serre, use their own patented fabrics.
You should also know that a few companies, like Gucci, prefer to decorate their tights with additional embellishments like crystals. At the end of the day, customers should choose a pair that feels durable in construction and flexible under stress.
Which Designer Tights Are Trending?
You can rest assured that the companies featured in our previous list are currently on-trend. From Gucci to Balenciaga, these four brands are considered the crème-de-la-crème of designer tights.
If you're looking for additional recommendations, we suggest checking out Versace, Givenchy, Saint Laurent, and Vetements.
Are Designer Tights Worth It?
Ultimately, it depends on how often you wear tights. Can you create an outfit without them? If so, then it's probably best to opt for a more affordable pair.
On the other hand, those who wear skin-tight sheers frequently may find value in investing in a $100 pair of tights.
Fortunately, brands like Gucci and Fendi offer a selection of dazzling alternatives if you're not a fan of basic black.
How To Style Designer Tights
Tights rank high on versatility. Often featuring interesting prints and glitzy details, wearing a pair is the quickest way to dazzle up an outfit without the need for body glitter and makeup.
For those in need of fashion inspo, we'll show you some ways to style designer tights.
Suffering through cold weather? We offer our condolences. Winter is especially unforgiving when it comes to fashion, but don't take this as a sign to give up.
Instead, we recommend wearing a cute pair of Gucci tights underneath your distressed jeans. Not only is this a simple way to jazz up an outfit, but it also adds another layer of insulation.
Hands up if you skipped shaving day. We get it—it's a tedious task that requires effort and patience.
If you can't be bothered to hop in the shower, we suggest wearing a pair of Fendi tights underneath some leather shorts. Printed with the brand's iconic monogram logo, it's an easy way to hide those pesky hairs.
Funky tights call for funky shoes. Case in point, these wild tights from Givenchy are best paired with a pair of chunky loafers. For the rest of the outfit, we recommend mellowing out the loud print with a classic LBD.
---
Looking to stay up to date on all things designer? We've got you covered:
Get Access to Exclusive Deals
Subscribe for free to get exclusive deals in your inbox. 100% privacy